Mind's 'maid up: we sort your bridesmaid dilemmas
We have your bridesmaid dilemmas all zipped up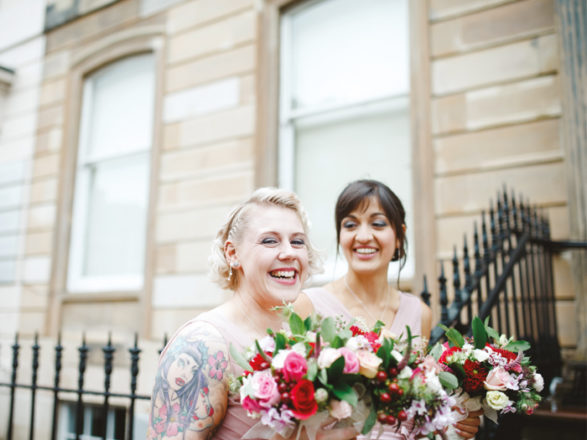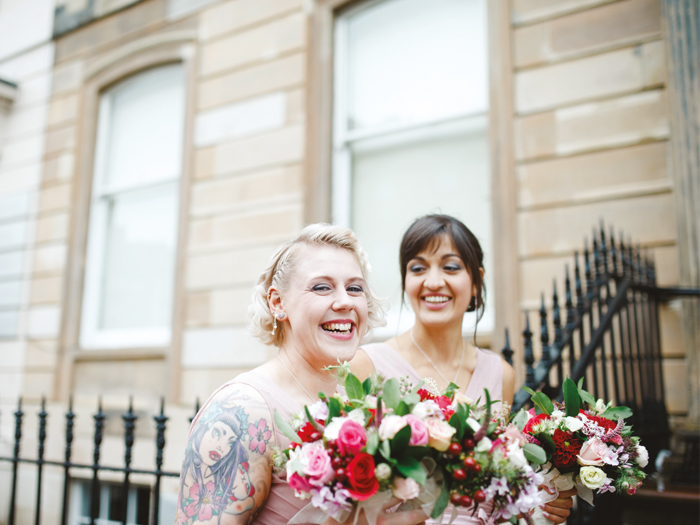 From choosing hair and make-up for five very different girls to the dress woes that come with surprise pregnancies, we have your bridesmaid dilemmas all zipped up.

IMAGE: The Gibsons
HOW DO I ASK MY FRIENDS AND FAMILY TO BE BRIDESMAIDS?
Choosing bridesmaids is often done not long after getting engaged " it's the unofficial starting gun to wedding planning.
It's a big moment, so if you don't want to do it with a whimper over the group chat, try to make an occasion out of it and ask in a way that shows how happy you would be to have them in your bridal party.
A really fun and inexpensive way to pop the question is putting together a bridesmaid survival pack, complete with things your BMs will need such as hairspray, nail polish, breath mints " and painkillers for hangover headaches!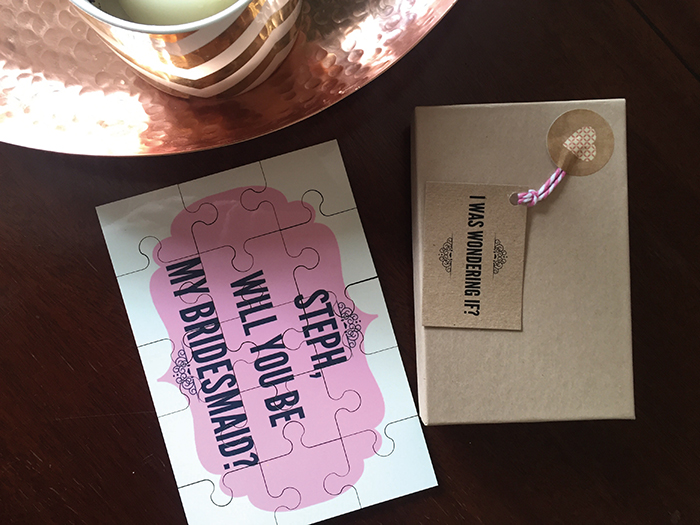 If you want to get really creative, be inspired by what bride-to-be Aspen Cook from Motherwell did for her ˜maids. "I wanted it to be something extra special that was creative, fun and unusual and also something they could keep as a memento," she explains.
"I had a few ideas to begin with but I fell in love with these personalised jigsaws
(pictured above). They were super cute and all my girls loved them!"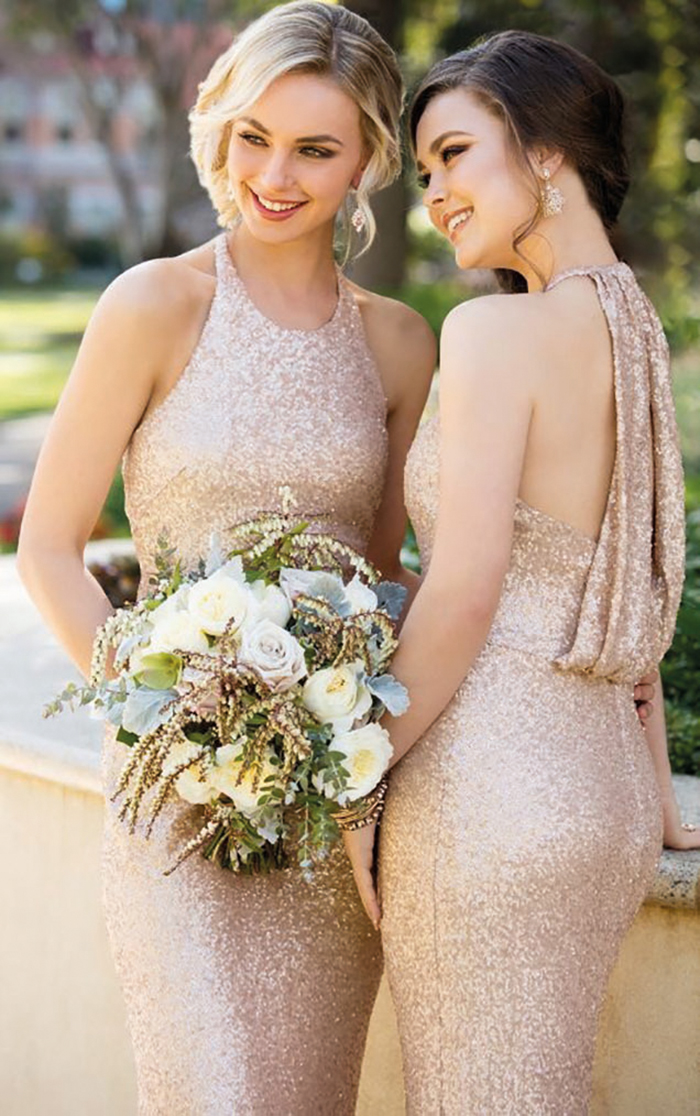 WHAT ARE THE NEXT BIG TRENDS IN BRIDESMAID FASHION?
Say goodbye to floaty tulle skirts in pastels and mints, because things are about to get a lot sleeker and darker.
"This year we've seen a step away from the floaty, gathered skirts of old and instead are bringing beautiful, simple and elegant dresses to the forefront " think Pippa Middleton for inspo," explains Jolene at Apple Blossom Time (dressed pictured above).
"In terms of colour, the warmer the tones the better. It's out with pinks, corals and mint greens and it's in with the earthy drama of burgundy, vintage rose, rose gold and graphite grey."
Clean high necklines are also in, with scoop back dresses helping to make a big statement. Some trendsetting brides have gone down the mix-and-match route, allowing their ˜maids to wear whatever dress they like as long as it fits with the colour scheme.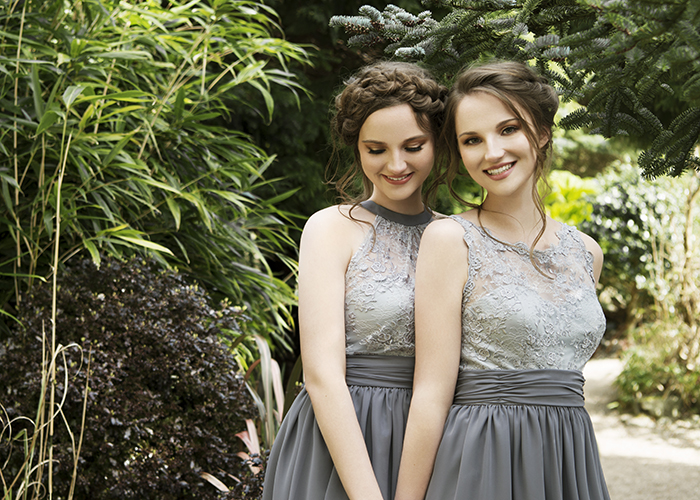 ~ SWD LOVES ~
Kirkcaldy-based designer Mirka Bridal Couture has launched a gorge collection of customisable bridesmaid dresses (pictured above).
If your band of bridesmaids come in all shapes and sizes you may struggle to find one dress that suits all, so going made to measure is a fab option " and with prices starting at £180, it doesn't need to break the bank!
HOW DO I SETTLE ON HAIR AND MAKE-UP THAT WILL SUIT ALL OF MY 'MAIDS?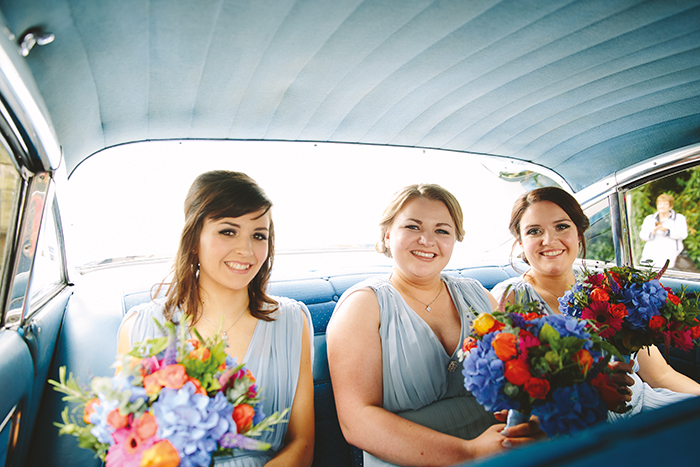 IMAGE: Struve Photography
"I usually suggest that the bride discuss styles with all her bridesmaids, so everyone can have their say," says Kirsty MacPherson Hair and Make Up Artist.
"I'll suggest to the bride that the bridesmaids' styles don't necessarily have to be the same but that they should have similar elements, for example, having all the hair to the side, or to incorporate plaits, or whatever the bride ultimately wants, but tweak it to fit everyone's tastes! It means the bride gets the look she wants but allows the bridesmaids to have the bits they need to feel comfortable."
Lesley McCormick from Pamper and Polish agrees, saying that tailoring the look to suit the individual bridesmaid but keeping similar elements is the key to ensuring everyone is happy.
"I will check the bridesmaid's skin and eye colour and use products that best suit their features. If there's a shade that complements everyone and fits with the colour scheme, like if the girls are wearing a navy dress, then I may be able to apply some navy eyeshadow in the socket area of their eyes to complement each other," she explains.
"I always recommend that they wear similar shades of lipsticks though. It stands out too much if one bridesmaid wears a brick red lipstick whereas the rest are wearing a light pink!"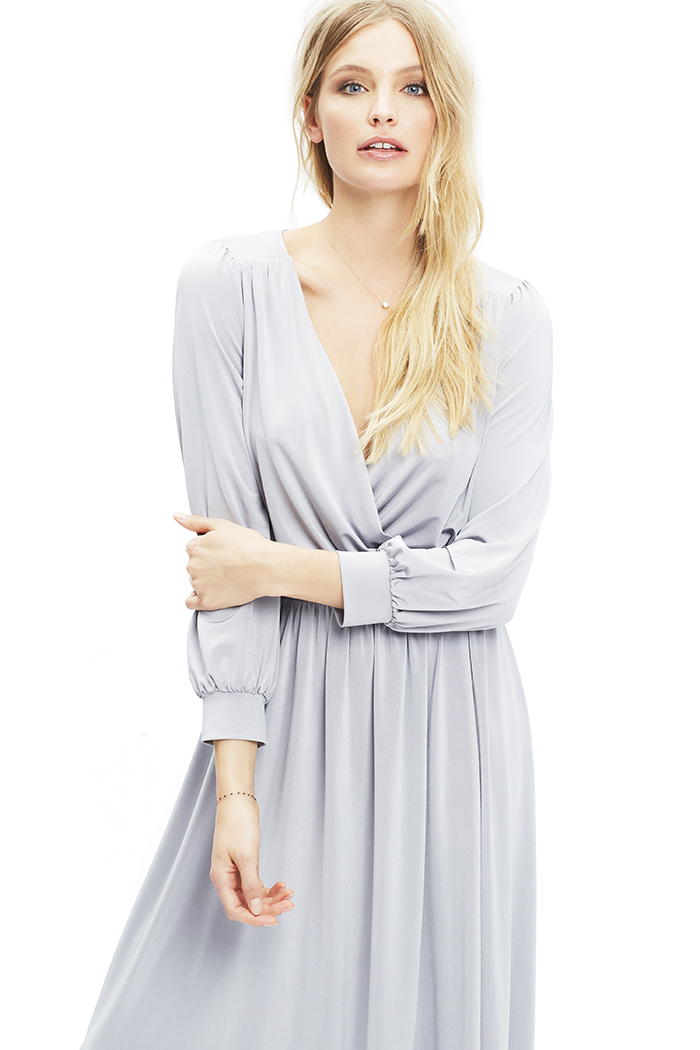 MY BRIDESMAID HAS JUST FOUND OUT SHE'S PREGNANT. HOW DO I FIND A DRESS THAT WILL FIT HER?
"There's no doubt about it, it's difficult to shop for a bridesmaid that's pregnant " especially when they're going to be even more pregnant when the wedding comes along!" sympathises Lisa at Melle Cloche " The Bridal and Accessories Boutique.
"Not only is it important to pick a dress that can accommodate a baby bump but it's important to make your bridesmaid feel comfortable and still look her best.
Twobirds dresses (pictured right) are a great choice in this situation " they are one-size and can be adjusted to accommodate any change in a bridesmaid (be it getting bigger or smaller) so the dress will always fit!"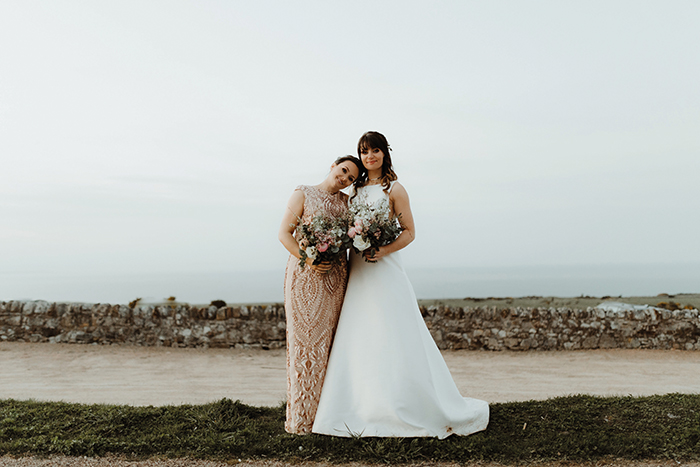 IMAGE: Eric-Rene Penoy
"IT HAPPENED TO ME!"
When Karla Andrews found out she was pregnant four months before sister Kassie's wedding at Kinkell Byre, she'd already bought her bridesmaid dress: a blush pink gown covered in art deco style sequins from Halo.
As Karla is a trained seamstress she was able to alter her dress herself, inserting two plain panels down each side. "The tricky part with a growing bump is that it can change quite considerably in size each week, therefore I completed these alterations two weeks before the wedding to ensure there was enough space for bump and I," says Karla.
Karla was five months' pregnant on the wedding day and looked amazing. "I felt very elegant and didn't feel like the odd one out," she says. Her advice to brides who haven't bought a dress yet for their pregnant bridesmaid is not to compromise on style.
"I think brides tend to lean towards something more ill-fitting to allow for bump, but I would suggest purchasing a larger size in the dress, depending on how far along the bridesmaid will be " perhaps two sizes up " and then have it tailored to them. That way there won't be any need for panels!"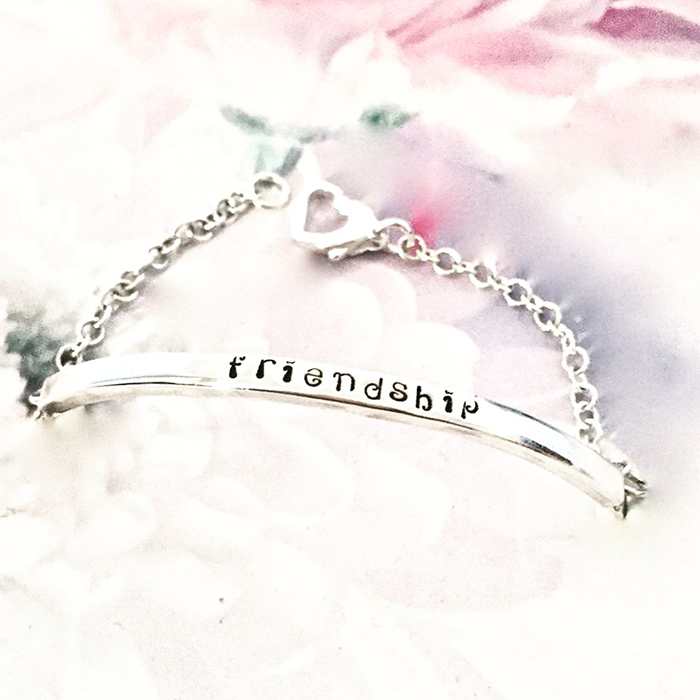 HOW DO I SAY THANK YOU TO MY BRIDESMAIDS FOR ALL THEIR HARD WORK?
Being a bridesmaid is a blast, but it comes with responsibilities. In fact, recent research by Simply Be revealed that bridesmaids' duties take up an average of 43 hours!
Even if you aren't treating your bridesmaids like pro bono wedding planners, they have to give up choosing their own outfits, be on their best behaviour, and generally do what's asked of them (if you think swaying awkwardly with your new spouse in front of everyone you know for your first dance is bad, just think of the ˜maid who's having to do it with a rando groomsman they've just met nicknamed ˜Cookie').
Saying thank you could be taking everyone out for a lush afternoon tea after the wedding to dish on the post-match gossip, or footing the bill for a spa outing in the run up to the big day so everyone can relax and get wedding ready. If you want to give them something more permanent, we love the idea of giving a bridesmaid a token for the day that they could keep forever, such as a piece of jewellery.
"Giving jewellery as a ˜thank you' for your bridesmaids is a lovely idea, as not only can they wear it on the day but it also serves as a special keepsake," says Roz at Sweet Rosie Jewellery (bracelet pictured above). "We can engrave a personal message, or match the stones to the bridal colours."
ONE OF MY BRIDESMAIDS IS A PRE-TEEN. WHAT SHOULD I DRESS HER IN?
This is a toughie, because they're too old for flower girl dresses but too young for traditional bridesmaid dresses with mature cuts meant for grown women.
"It's important to keep it young and fresh," says Lisa at Melle Cloche.
"Adding straps onto a strapless dress can make it much more age appropriate or cutting a full length dress to just below the knee can give your junior bridesmaid a fun look next to your floor-length bridesmaid dresses. Leaving hair down with a curl and minimal make-up will keep it fresh, and why not put them in a pair of converse to let them be totally comfortable?"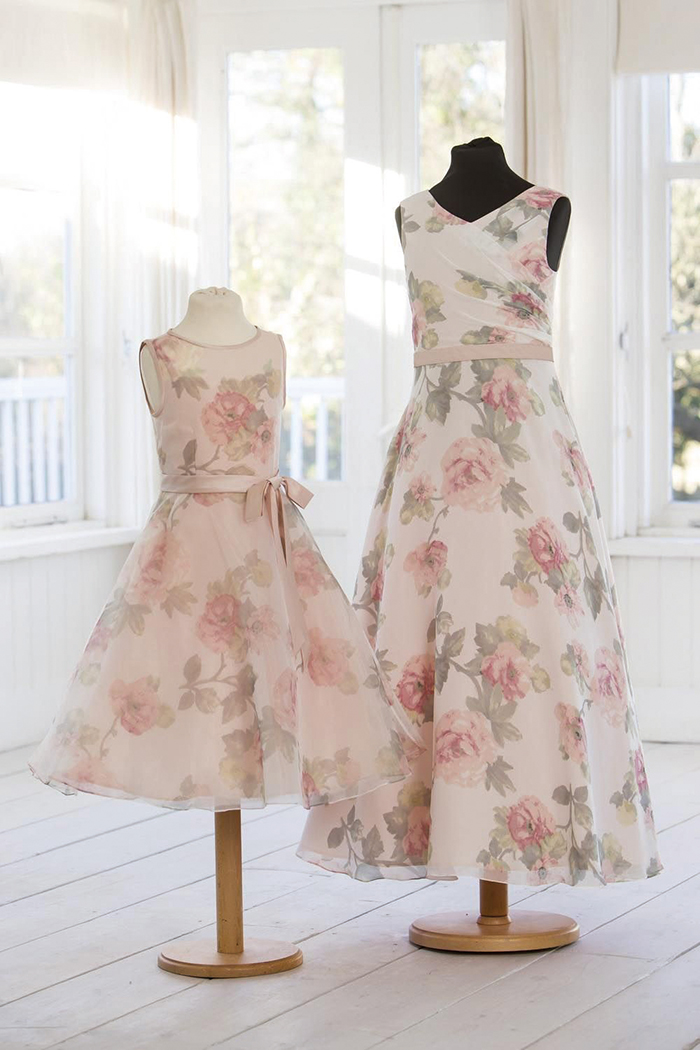 ~ SWD LOVES ~
True Bride has a gorgeous range of junior bridesmaid dresses (pictured above), designed to complement the grown-up bridesmaid styles. We love these floral beauties, available in ages one to 14.
FIND YOUR BRIDESMAID DRESS SUPPLIER WITH OUR ONLINE DIRECTORY!