Your vintage wedding won't be complete without Daisy Love Bug
We're loving this stylish, statement wedding car!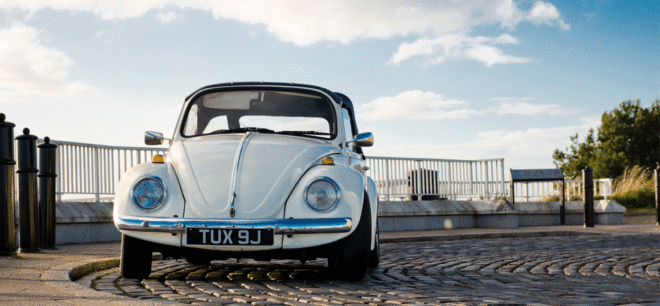 Going for a vintage-inspired big day? Daisy Love Bug is the stylish wedding car you've been looking for!
We're taking a closer look at Daisy and explaining more about hiring her for your special day…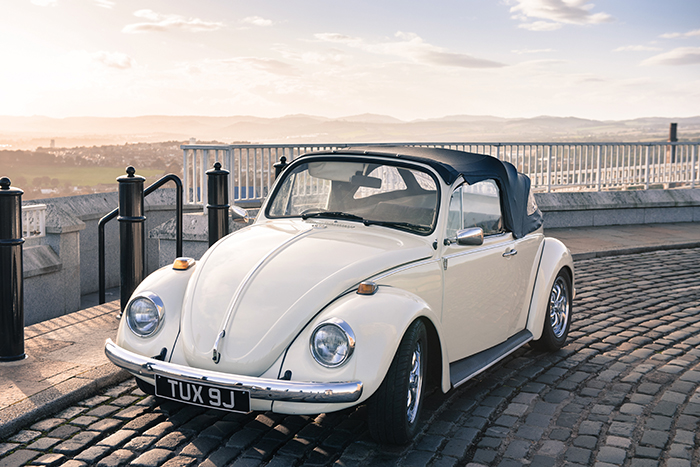 Statement wedding cars are definitely having a bit of a moment! First Prince Harry and Meghan made a smooth, super sleek exit in a Jaguar.
Then, Game of Thrones stars Kit and Rose left their big day in a Land Rover Defender, complete with a traditional white bow and 'just married' signs.
The real reason both were so successful? Each couple picked a car that perfectly matched their wedding style. Nothing else would have complimented Harry + Meghan's luxe and classic day quite so well as a Jag, whilst Rose + Kit's getaway vehicle worked 100% with their country wedding in the bride's family home town.
So we're super excited about Daisy Love Bug, a 1960s classic beetle convertible that's made for vintage-inspired, quirky or stylish weddings.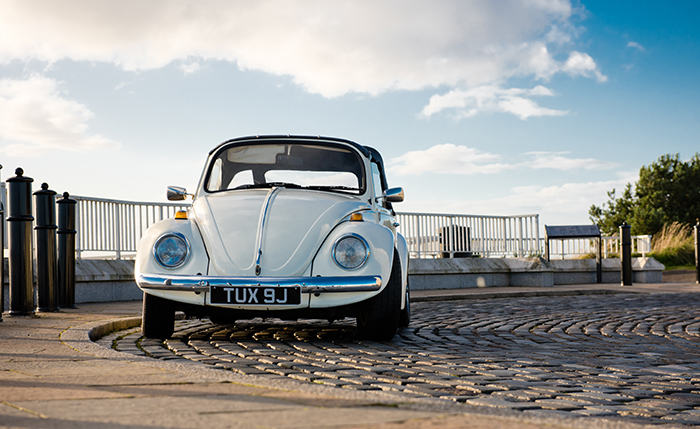 Introducing Daisy
Whether you need her to take you to the church, to the evening ceremony or to head off into the sunset once all the celebrations are over, Daisy will turn heads as she gets you there.
The classic car brings plenty of character and is the perfect backdrop for a few fun bride and groom wedding pics!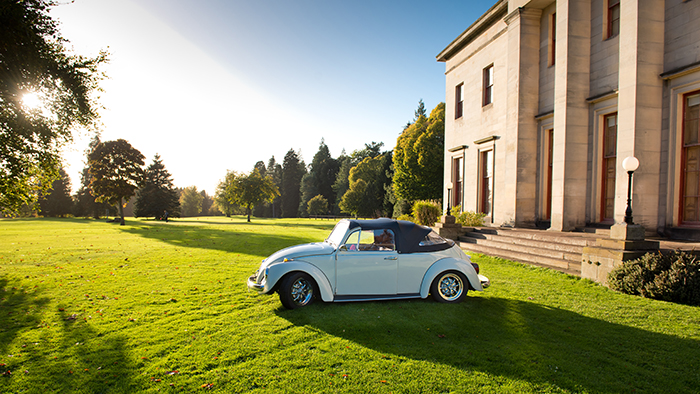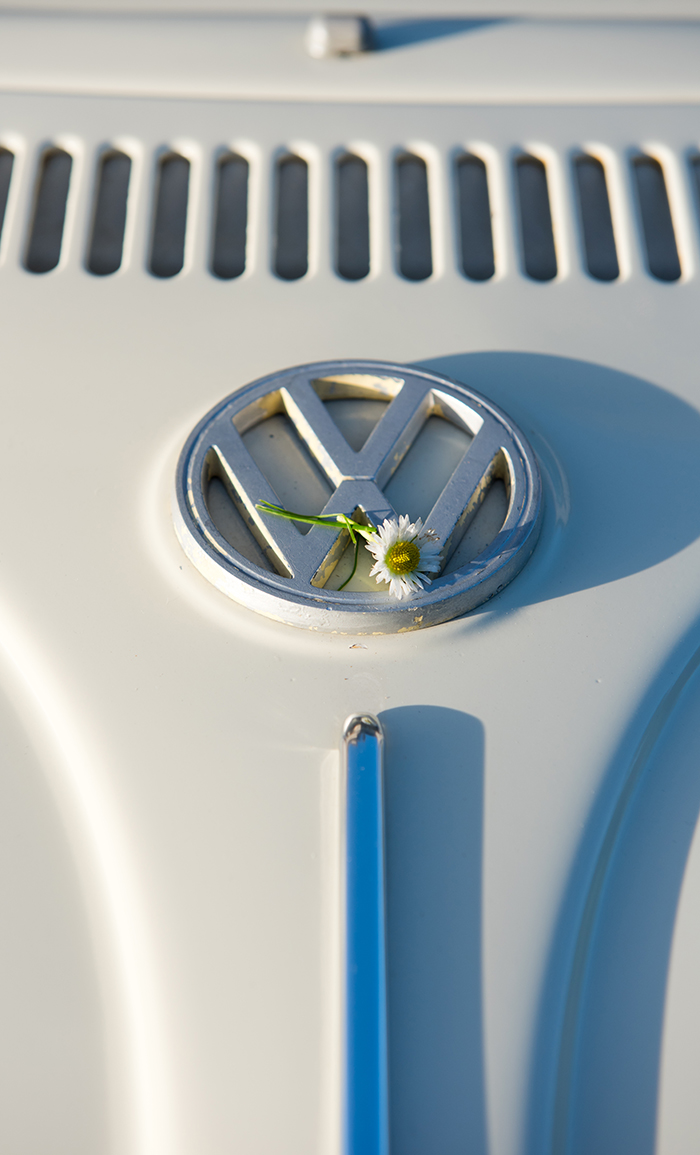 She's also very unique – she's one of the only chaffeur-driven VW classic convertibles available to hire in the Tayside and Angus area!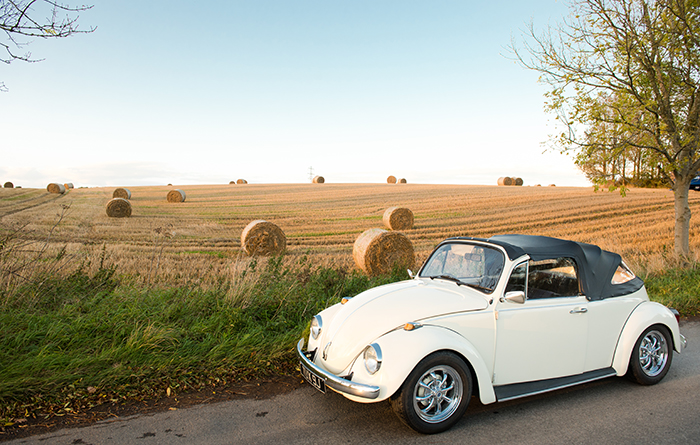 Plus, you're sure to receive amazing customer service if your hire this wedding car! Daisy Love Bug is run by father and daughter team Bruce and Toni, who aim to make every wedding day they work as special as possible.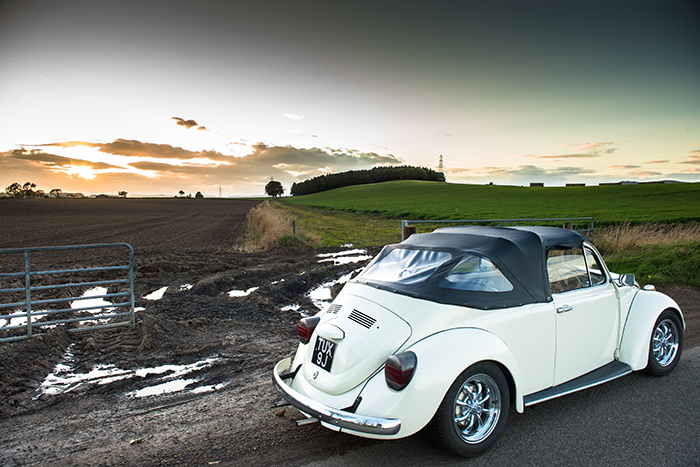 Booking Daisy
Although Daisy Love Bug is based in the Tayside and Angus area, you might still be able to hire her even if your wedding is elsewhere in Scotland – they'll simply hire a trailer to bring Daisy to you and include it in the cost!
All you have to do to book Daisy is get in touch with Bruce and Toni.
You can do this at anytime but the sooner you can book the better (you don't want to end up missing out because they're already booked on your big day!).
You'll need to pay a deposit to secure your booking and then you'll be asked to pay the remainder 8 weeks before your wedding.
The final cost will vary depending on the location and distances, but Bruce and Toni will try to give you the best deal possible!
t. 01382 529777 | e. Brucemorison@yahoo.co.uk