When to propose at Christmas
Thinking of popping the question around the festive period? Here's some top tips!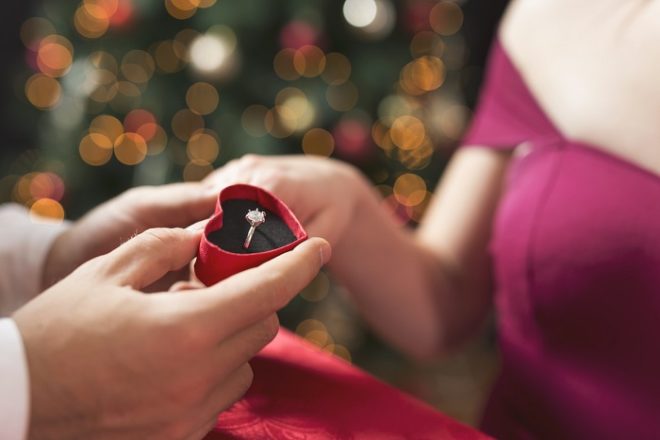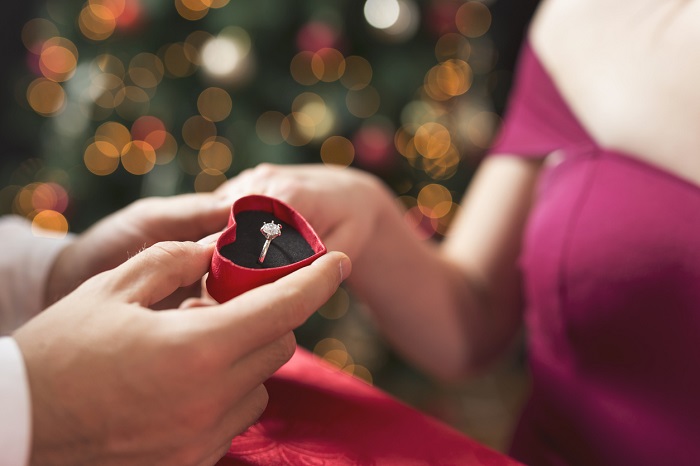 Christmas is one of the most popular times of the year to get engaged, and it's clear to see why; the romance in the air is palpable at a time when friends, family and love are at the heart of the celebrations.
I'm maybe a little bias, because my own OH proposed on Christmas Eve, but I really do think it's such a magical time to get engaged. However, with so much going on, it's difficult to know when the best time to propose at Christmas is.
I've pulled together some suggestions…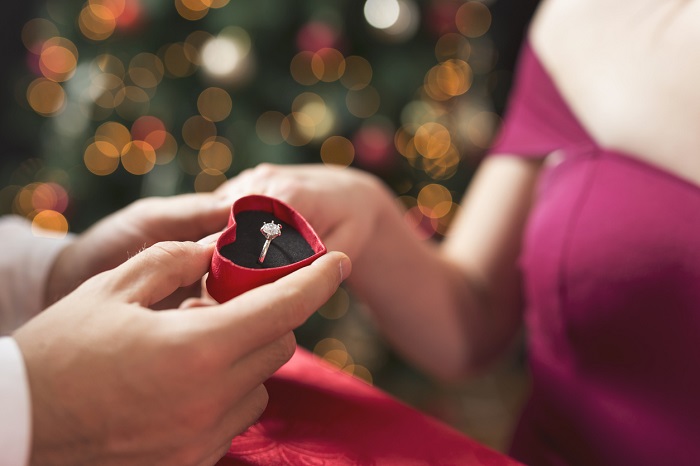 PROPOSE AT CHRISTMAS…
WHEN YOU'RE PUTTING UP THE CHRISTMAS TREE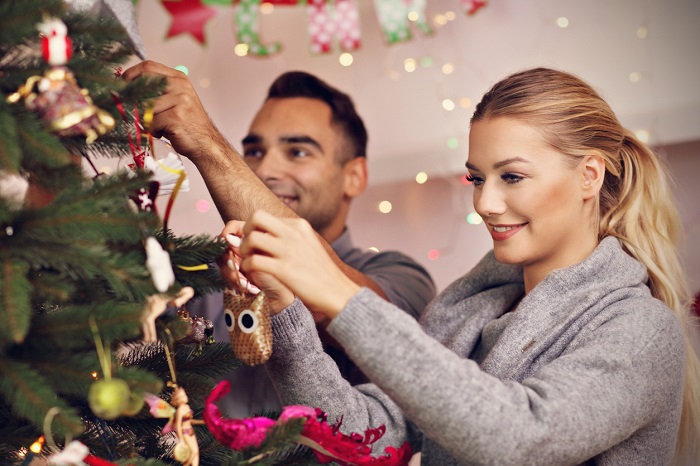 Putting up the tree is an exciting, special time. It marks the start of the celebrations, and it's a lovely thing to do with your other half.
There are lots of moments that would work to pop the Q: you could hide the ring in a new Christmas bauble; get down on one knee when you switch on the lights for the first time; or even wait until you're snuggled up by the glow of the tree lights with a mulled cider.
ON A CHRISTMAS DAY OUT
Do you and your OH usually have a festive day out around Christmastime? If so, this would be the perfect opportunity to propose.
Go see an old fashioned Christmas film together, visit the Christmas markets in Edinburgh or Glasgow or have a lovely meal together somewhere fancy.
WITH A TREE BAUBLE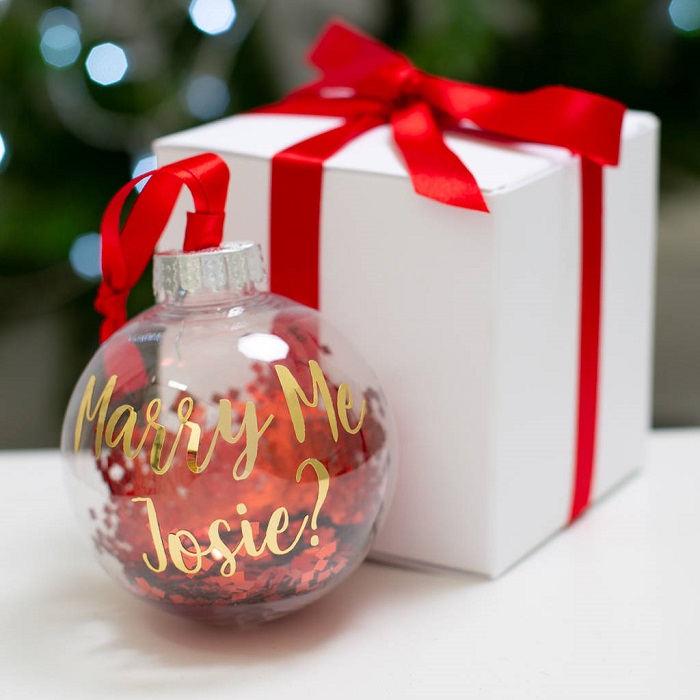 Personalised Christmas proposal tree bauble (£10) Bubblegum Balloons at Not on the High Street 
You can get such cute baubles online that you can personalise with 'Will you marry me?' messages.
Not only is it a special way to propose at Christmas, but it's something you can keep forever, reminding you of that special time every year when you put the baubles on the tree.
---
Celebrate Christmas as a couple this year with our Christmas tradition suggestions for newlyweds
---
IN A CHRISTMAS CARD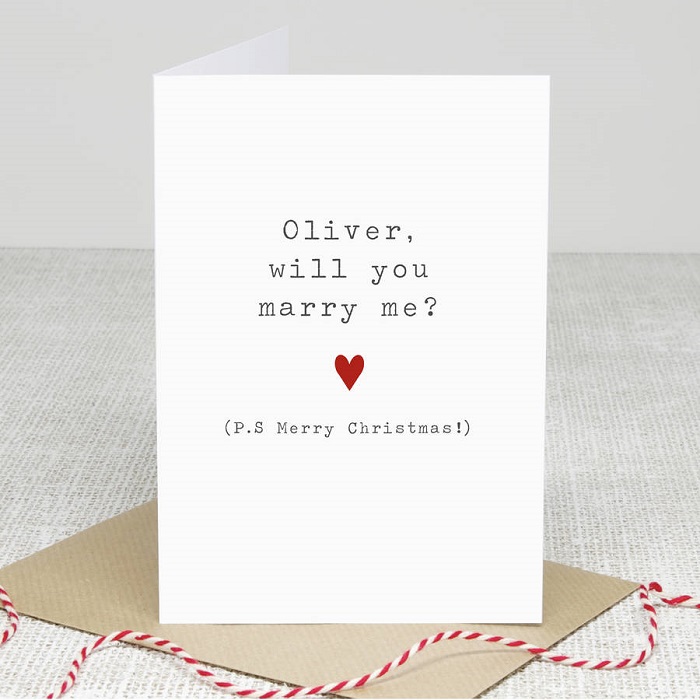 Personalised proposal Christmas card (£3.55) Slice of Pie at Not on the High Street 
Much like the bauble idea, you can get lots of lovely Christmas cards that you can personalise to pop the question.
You could always get one that says 'Merry Christmas to my fiancée/fiancé' and watch their face change as the penny drops!
IN A CHRISTMAS CRACKER
SWD's Claire demonstrated how easy it is to make a lovely bridesmaid proposal Christmas cracker last week, but you could use the same method to surprise your significant other with a ring!
Pop in a love note too – just get prepared for tears in the turkey!
ON CHRISTMAS MORNING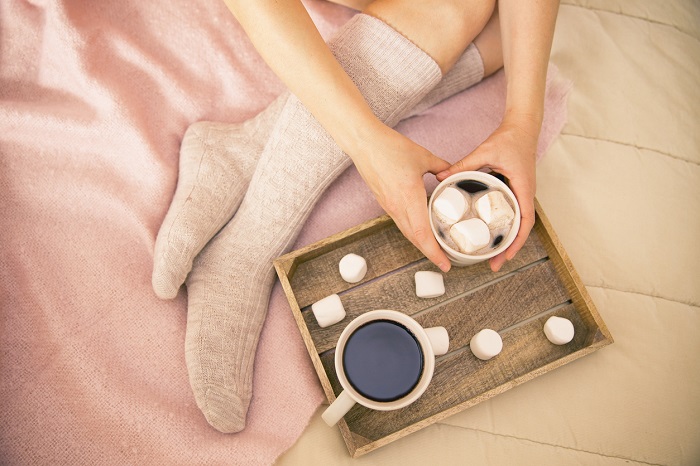 Waking up together on Christmas morning is magical, so why not start the day right with an under-the-duvet proposal?
Make your love a gingerbread coffee and bring that through to bed on a tray with some croissants, and one special little present that they can open before the rest – an engagement ring!
ON A WINTER WOODLAND WALK
My fiancé proposed on Christmas eve, on a woodland walk at our favourite castle spot. I'm obviously bias, but this was a lovely way to propose, and that special place is even more special now.
You could have your engagement photos taken in that same spot like we did.
IN A CHRISTMAS GIFT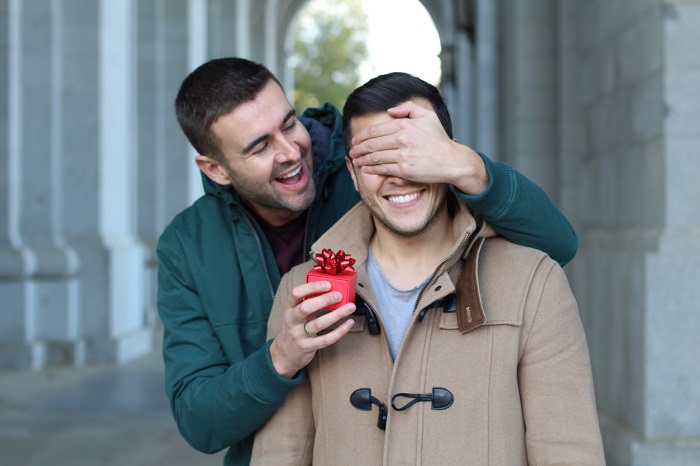 Put the ring in a box, within a box, within a box, and wait for the surprise to be revealed.
ON CHRISTMAS NIGHT WITH FAMILY
This one will only work if you're both big family people, and you know your partner won't mind that attention and sharing the moment.
The good thing about Christmas is that families are normally together at this time of year anyway so, if this was your chosen way to propose, it'll be easy to get everyone in the one place.

CHRISTMAS PROPOSAL TOP TIPS
• Make sure that Christmas is the right time for both of you. If you or your BF/GF have negative connotations with Christmas, or you know there's some kind of sour history there, then it's maybe not the best time to do it.
• Know that other people will have their own celebrations planned. So it might take a wee while for everyone to see you, or get round to celebrating with you. We didn't mind this at all because it gave us both time to process it, but just be mindful of that.
We'd love to see your Christmas proposal plans! Make sure that you send us an email about it and we'll share our favourites in the new year.