How does a wedding stationer get married? Suzanne from Purple Willow Weddings ties the knot
Working in the wedding industry meant Suzanne knew just what she wanted.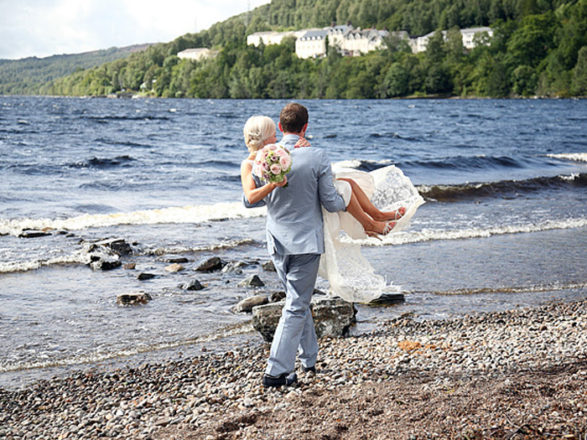 We all know wedding planning is great fun but it doesn't come without its stresses. What theme to go for, who to invite and of course, what style of wedding dress to choose.
So what happens when you work in the wedding industry, with a world of #inspo at your fingertips?
Stationer Suzanne from Purple Willow Weddings married husband Donald in August at Glasgow's Grand Central Hotel and she said being surrounded by weddings day in day out gave her a very clear idea of what she wanted.
She tells us in her own words how she made her wedding wish list a reality: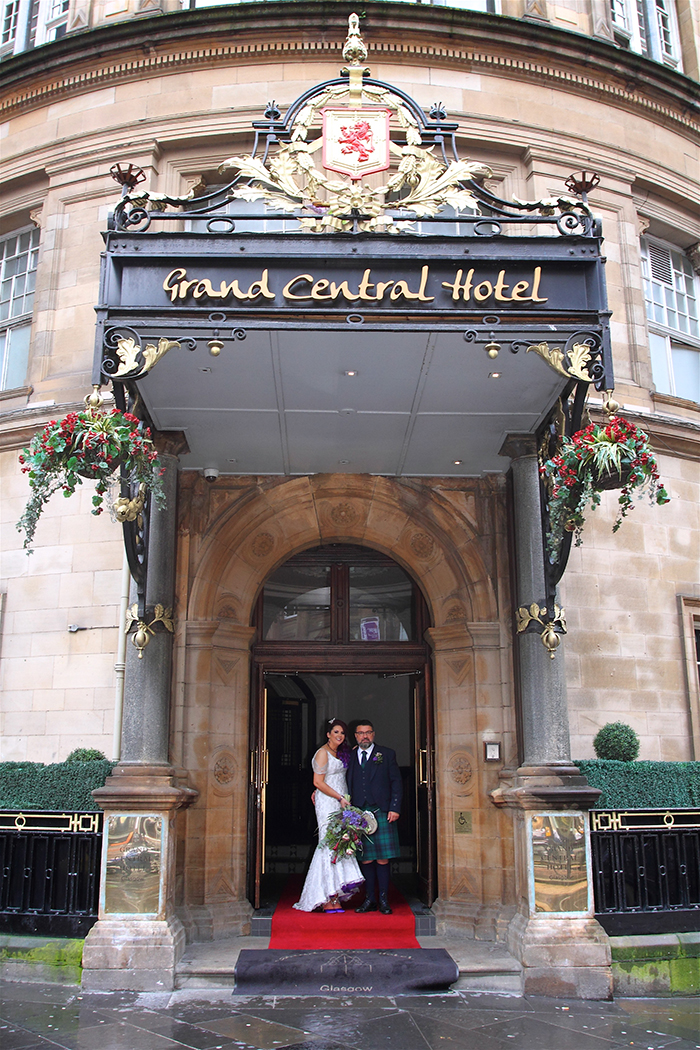 Images | Peter Wills Photography
We first met almost eight years ago on separate nights out. Neither of us had planned to go out but Donald's friend was someone I knew very well through the wedding industry so as I greeted him a handsome man fixed my sleeve as it fell of my shoulder and that was how we met.
We chatted right through the night and couldn't wait to see each other again.
On Christmas morning in 2014, we were exchanging presents and after unwrapping a gorgeous Chinese inlaid jewellery box (purple of course!), Donald told me to open it.
After frustratingly opening a few empty drawers I was pointed in the direction of the lid and, as I opened, it revealed the most stunning engagement ring! Donald dropped off the sofa onto one knee and proposed.
Of course I said yes!!
The fact I was in a reindeer hoodie complete with antlers and he still wanted to marrry me made it even better!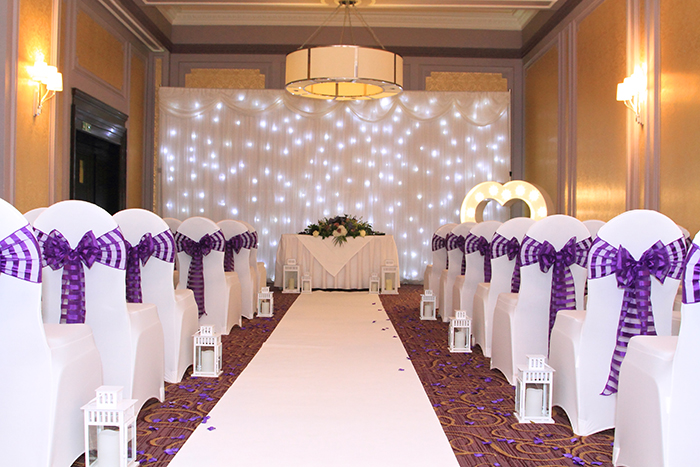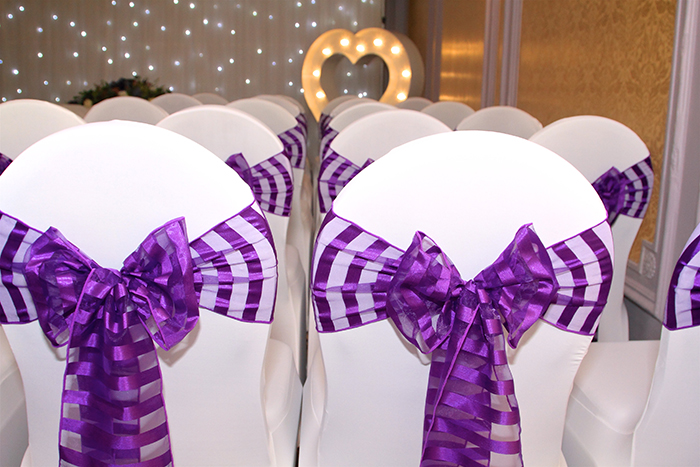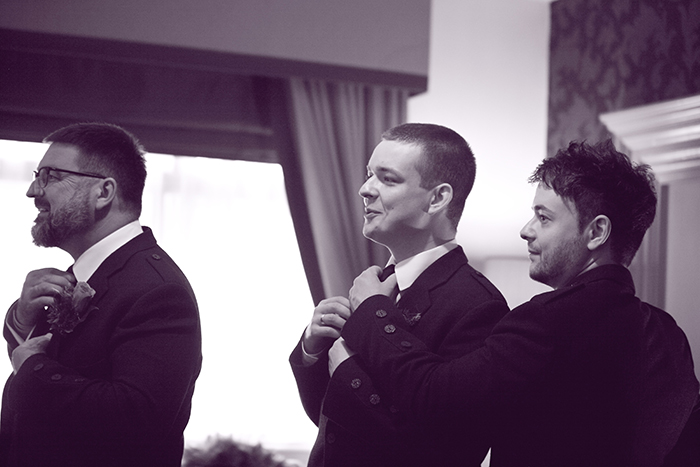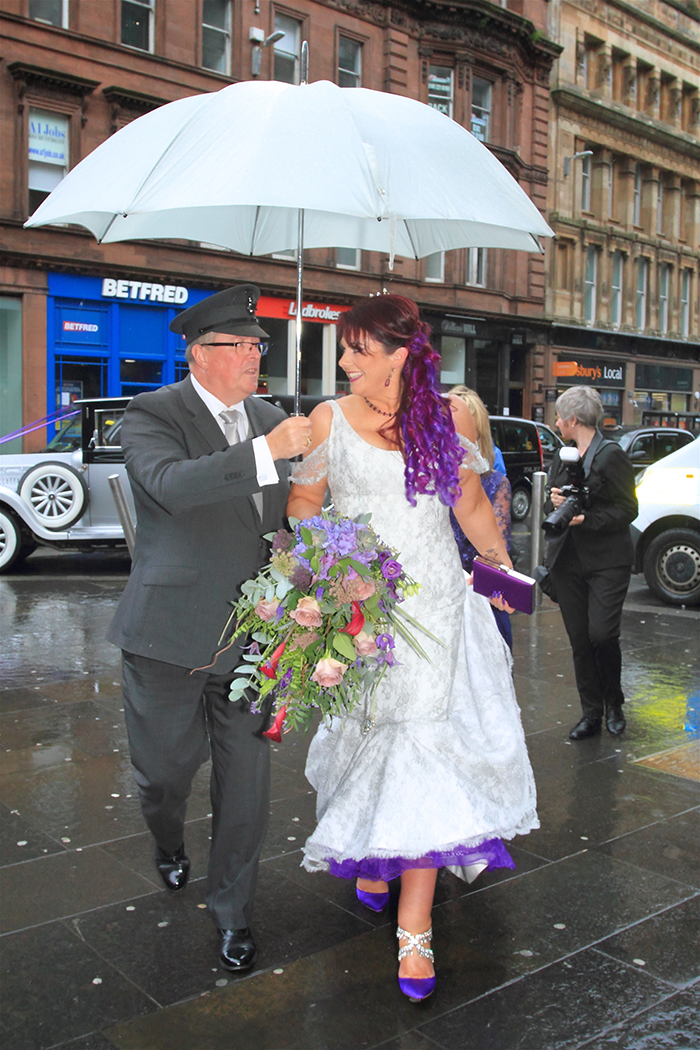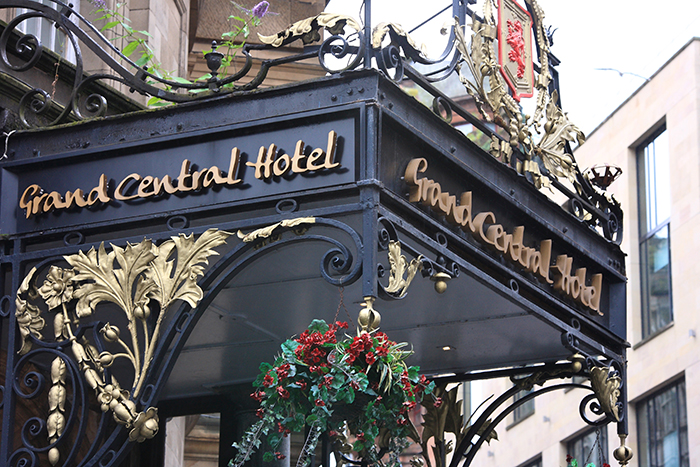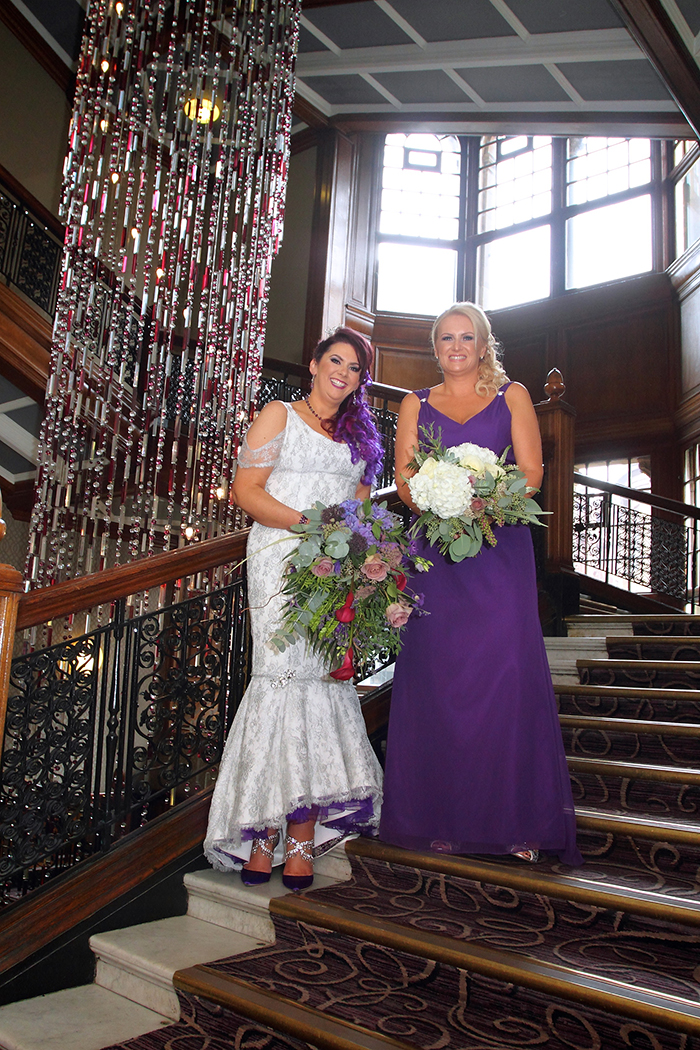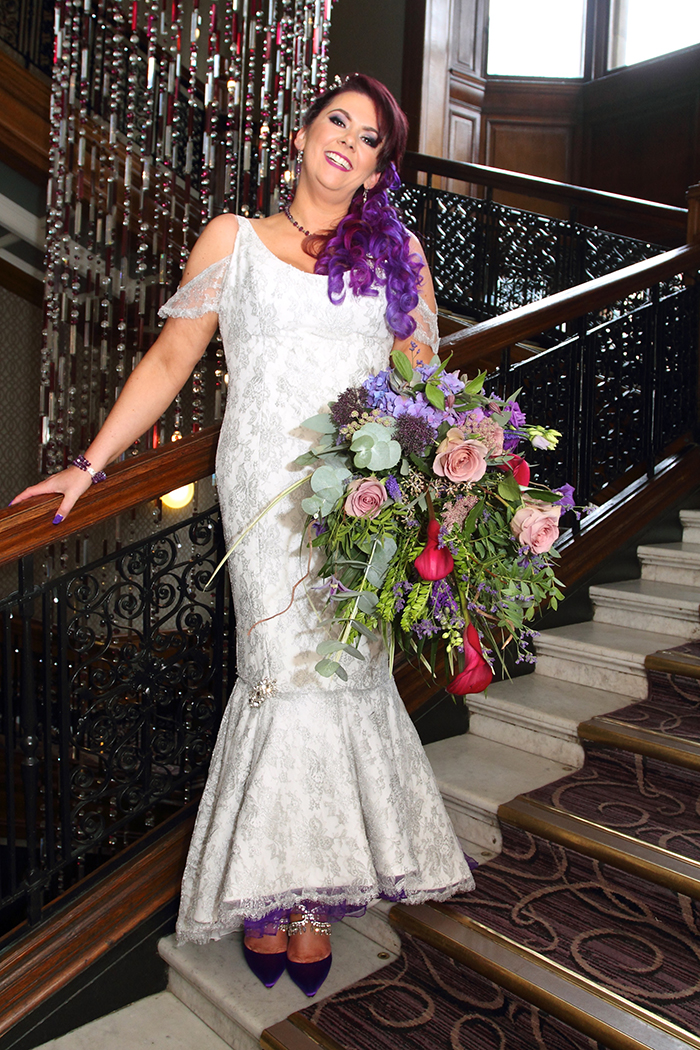 It seemed our venue had chosen us. We'd been to several functions in the Grand Central Hotel; my maid of honour and I enjoyed cocktails after lunch in Champagne Central and it's an ideal location for friends travelling.
We didn't have a set theme, just things we loved including influences of our love of rock music and lots of purple of course!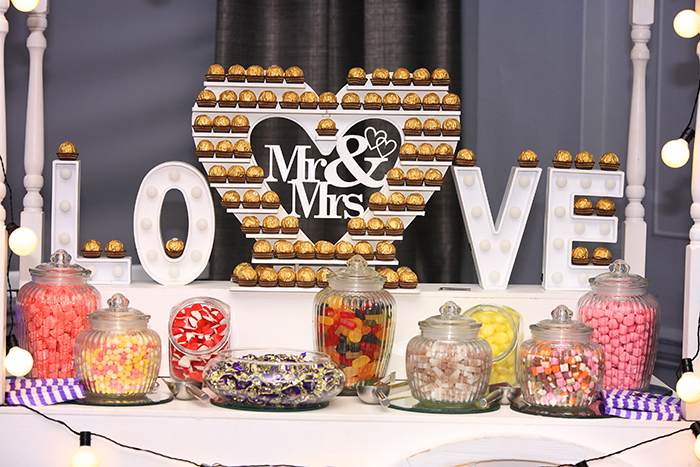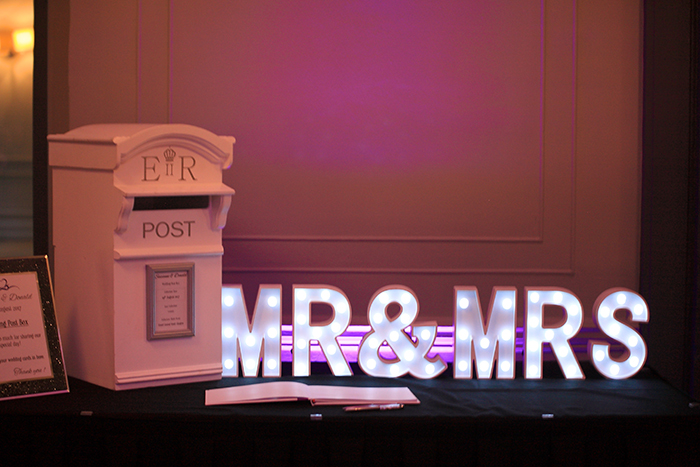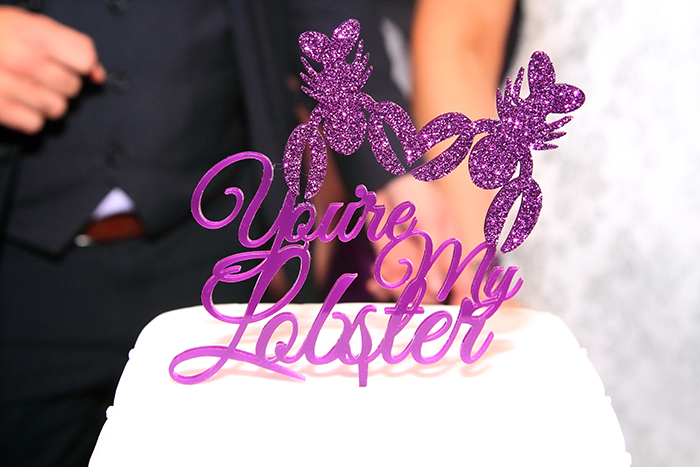 The easiest thing about planning a wedding when you work in the industry is having been surrounded by so much I had a very clear idea of what I wanted, and didn't. With so many talented industry friends it was easy to book people that I trusted.
But the hardest thing was not being able to hire all my friends and colleagues and feeling a bit of pressure that everyone would be looking to see what I did, being in the business.
I found it hard deciding on my own stationery as I was aware people would be expecting something spectacular from me.
I changed my mind many many times before realising that I was over-thinking things and decided to treat it as I would any consultation with one of my couples.
Breaking it down into individual elements like favoured shape, favourite colour resulted in our final design.
Our invitations were scalloped edged, purple pocketfold lined with black glitter and with a black velvet ribbon round the outside and a chunky square brooch that I've never used on an invitation before.
The day invitations were posted in white pearlized boxes. (Images of stationery by Suzanne.)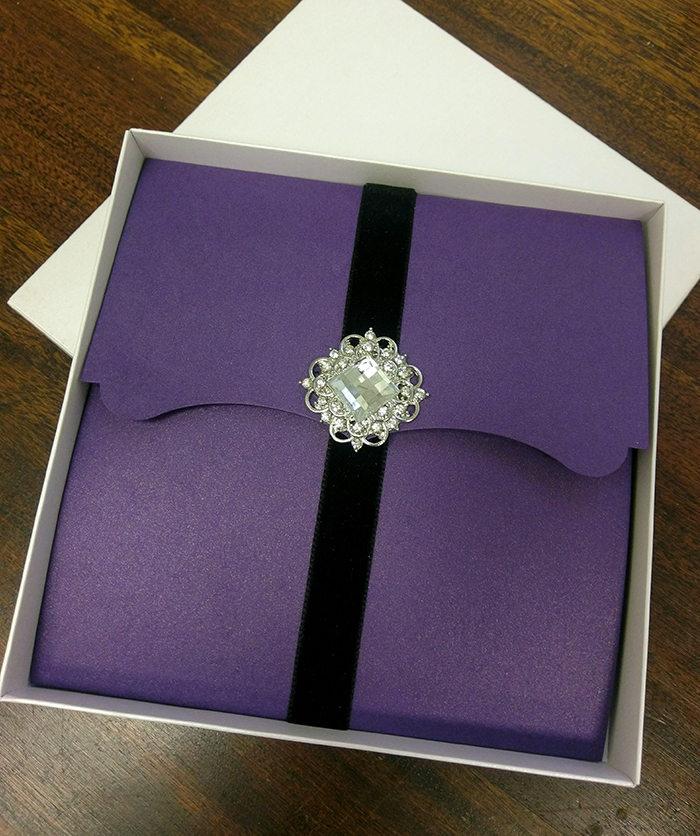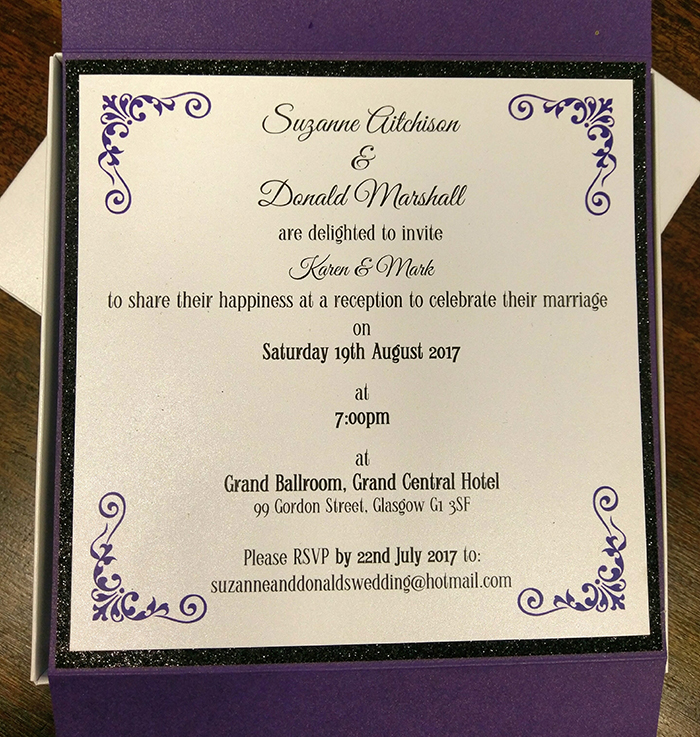 Business had trebled since we booked the wedding so in the lead up I was incredibly busy, working long hours, seven days a week.
The advantage was that I didn't feel any of the stresses a lot of my brides do as I was so focused on ensuring my brides' days ran smoothly.
Add to that the fact that we were doing all the venue dressing for our own wedding – we do venue decor as well as stationery – it could have been highly stressful.
However, the venue allowed us access the day before and a few wedding industry friends came and helped.
We had a great day with the amazing satisfaction of seeing how fab everything looked before a few glasses of fizz, then off home for a quiet evening with Jill, my maid of honour.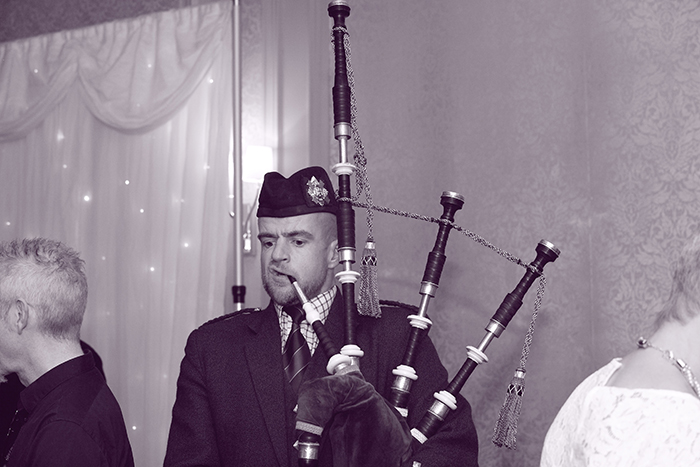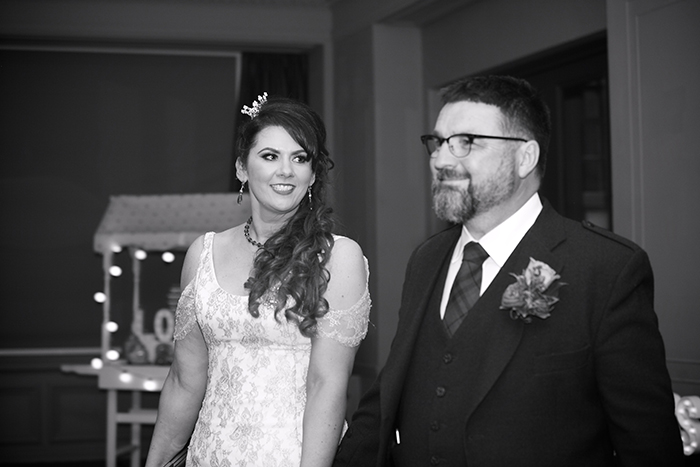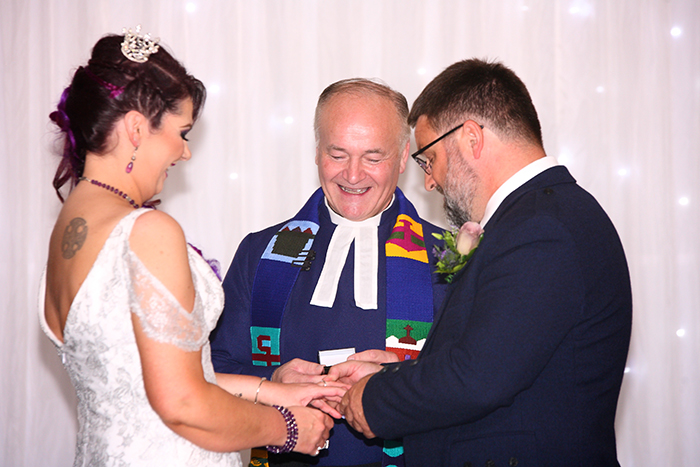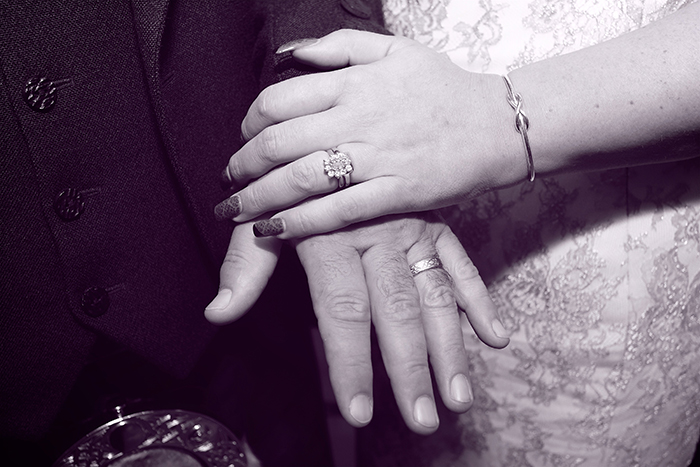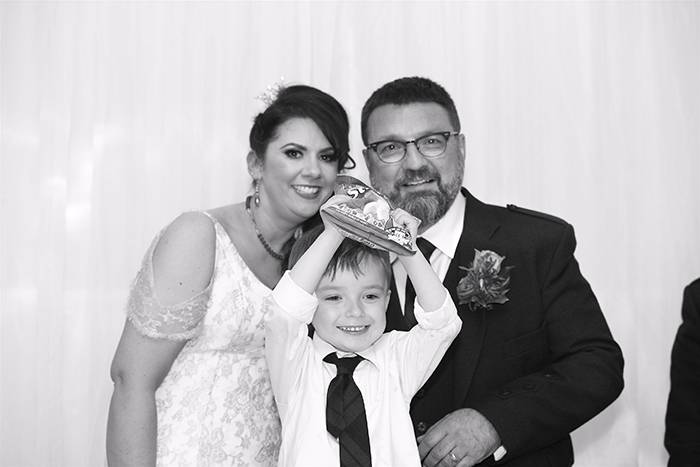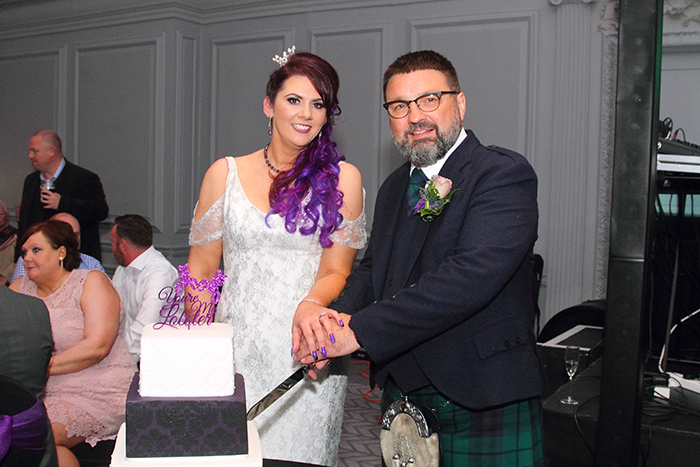 A very important factor in the planning for us was a good band for the reception.
We both love our rock music and live gigs so when we found The Lockhearts we knew we had to have them.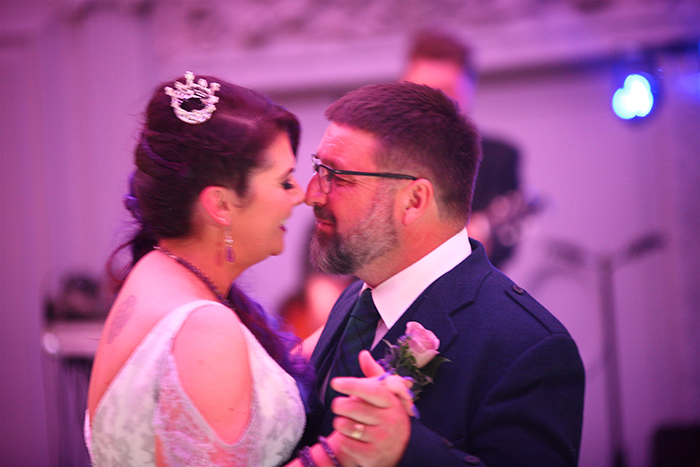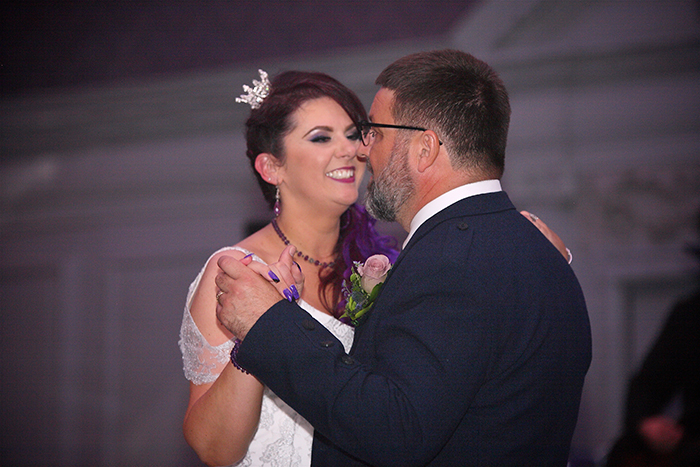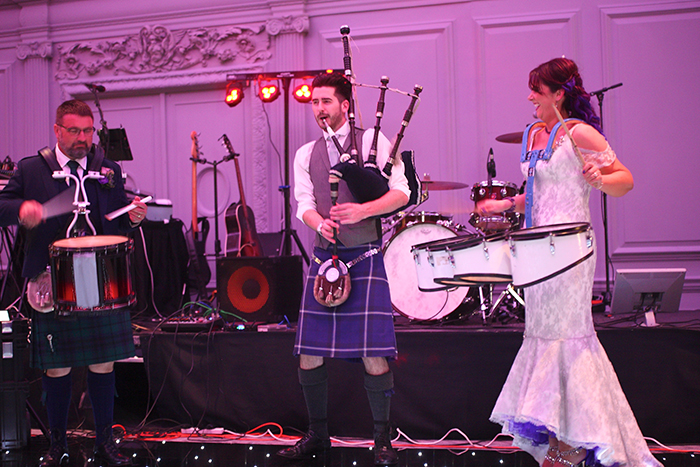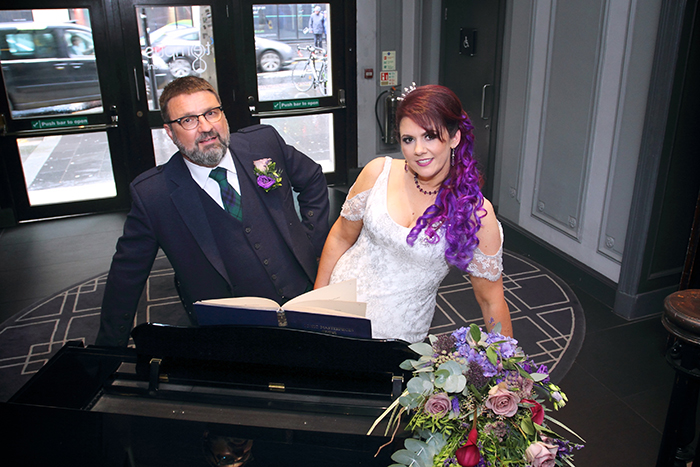 To pick just one highlight is so difficult but walking into the ceremony room, suddenly full of nerves, and seeing the smiles and tears of our friends and family and then my lovely husband welling up when he saw me was the most amazing feeling.
It was such an outpouring of love from the whole room.
During the speeches, looking round the room at everyone crying with laughter and all the separate groups of friends also stands out.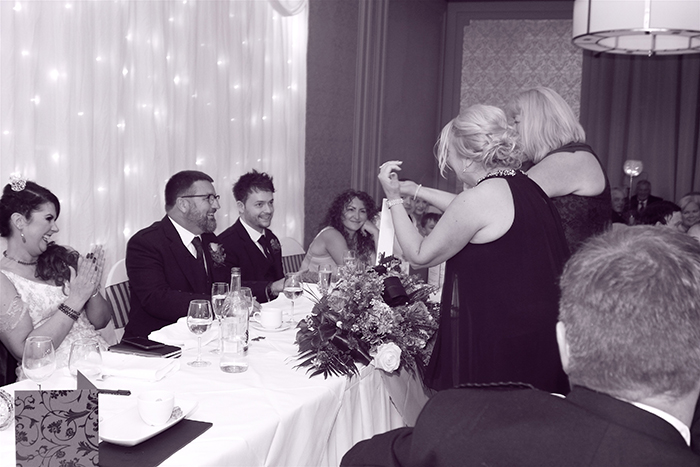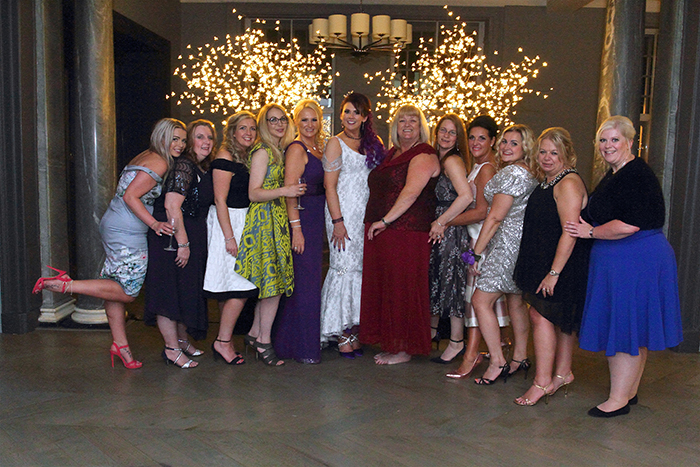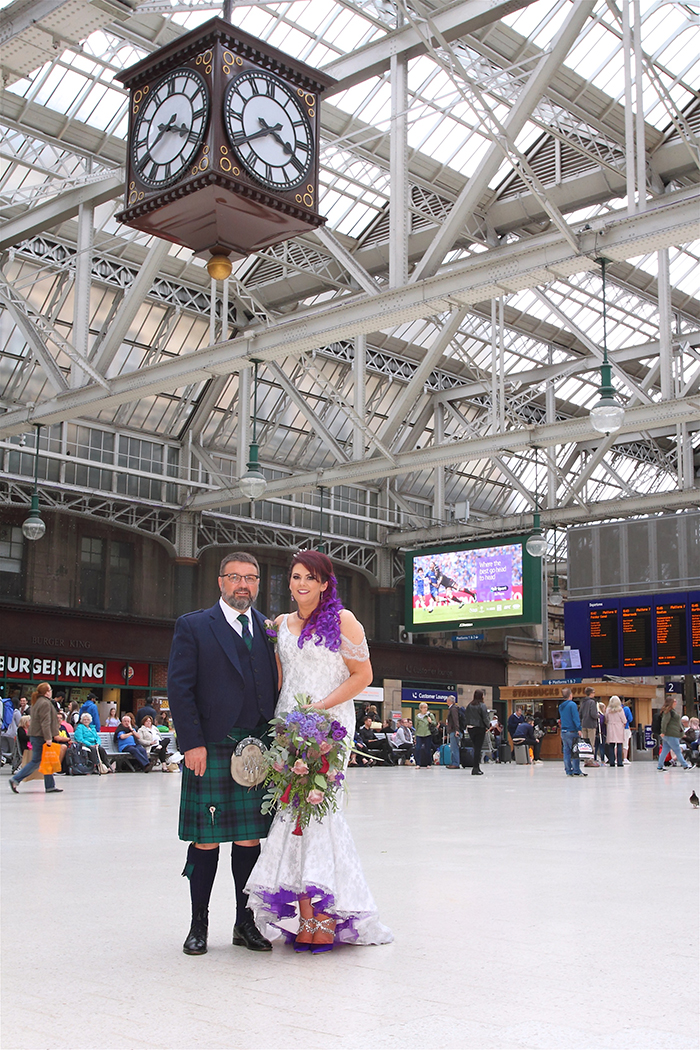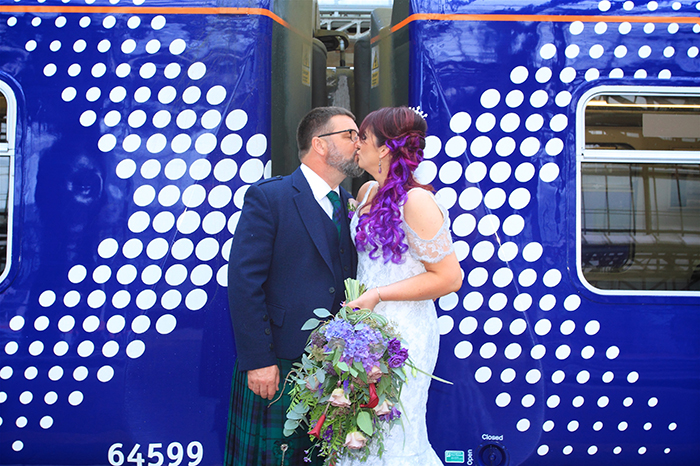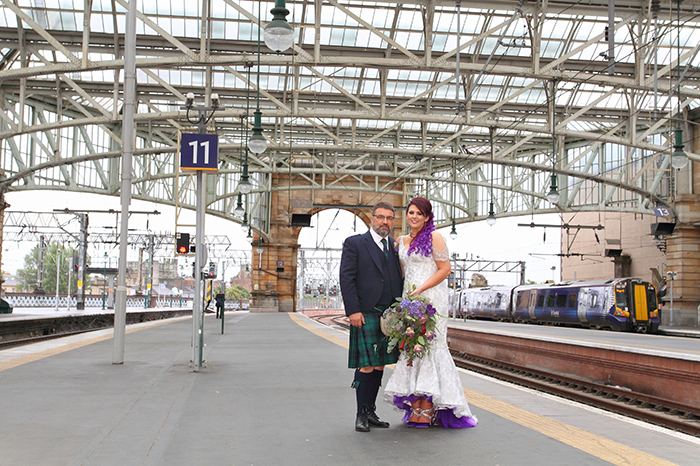 Venue: The Grand Central Hotel | Photographer: Peter Wills Photography 
Bride's dress: A Scottish Touch
Stationery + venue dressing: Purple Willow Weddings | Band: The Lockhearts