A Trash the Dress Campervan Tour of Scotland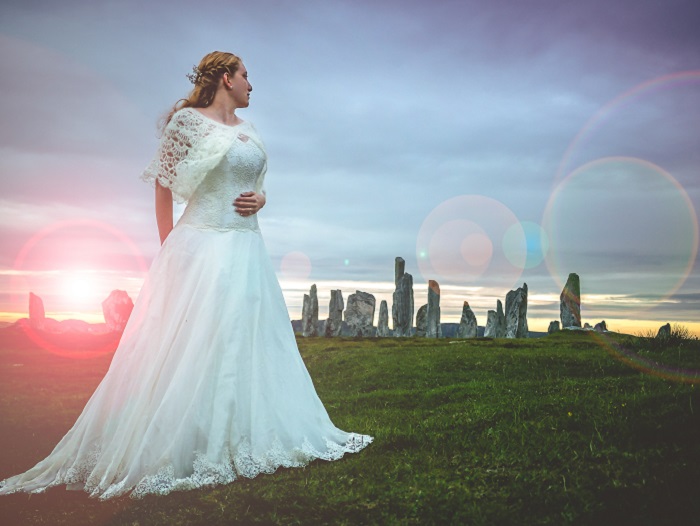 Newlyweds John and Christina Shahabeddin married in Northumberland in June last year after meeting at Stirling University almost 14 years ago.
Their love affair with Scotland was born and, even after moving down south, John tells us that there was only one place they wanted to visit on a honeymoon of a lifetime, taking Christina's wedding gown along for the journey¦
It was inevitable that after our Hobbit-themed wedding that we would head out to Scotland on our three-week honeymoon. It wouldn't just be the two of us though; we'd be taking our beloved camper van, Max, along for the ride.
We set off from Newcastle and planned to head up to Inverness via the Cairngorms, then up the East Coast to John O Groats; along the Northern Coast to Durness; then down to Ullapool. From there, we would head out to Lewis, Harris and Uist; then on to Skye, Lochaber, and finally, Stirling, before heading back home.
Despite being a wedding photographer, I was forbidden (on pain of death!) from even picking up a camera on our wedding day, so I had to make up for it during the honeymoon. I convinced Christina to bring her beautiful dress with us, packing it carefully under the camper's bed.
Our plan was to do one ˜Rock the Dress' Shoot, but as it turned out, we ended up doing six! I must admit, I was so happy to able to do the things that a groom doesn't really get to do, like pick wildflowers for his wife's hair, lace her into her dress and attach the veil.
There was also a magical, heart-warming feeling each time I raised the camera to my eye because the beautiful bride I saw through the lens was my own.
STOP ONE: Dunnet Head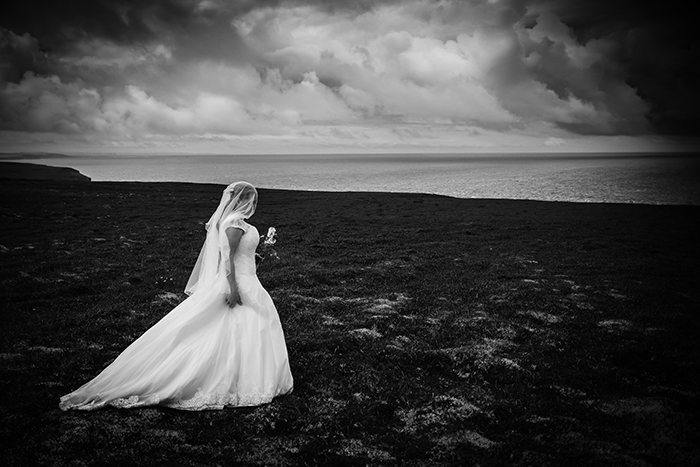 Our first shooting stop was Dunnet Head, near Thurso, the most Northerly point of mainland Britain. We had visited the site the night before the shoot and were so impressed by the drama of the cliffs that we decided to come back the next day. The sky was stormy and the wind was howling away as we made our way to the cliff edge, causing a slight sense of trepidation that one of the gusts might catch the dress like a parachute, and carry Christina off. But with the help of a sturdy pair of walking boots hidden beneath the silk and lace and the characteristic fearlessness I love about her, I was able to capture some pretty dramatic shots, particularly of the veil and dress cascading behind her. These are among my favourite images.
STOP TWO: Ceannabeinne Beach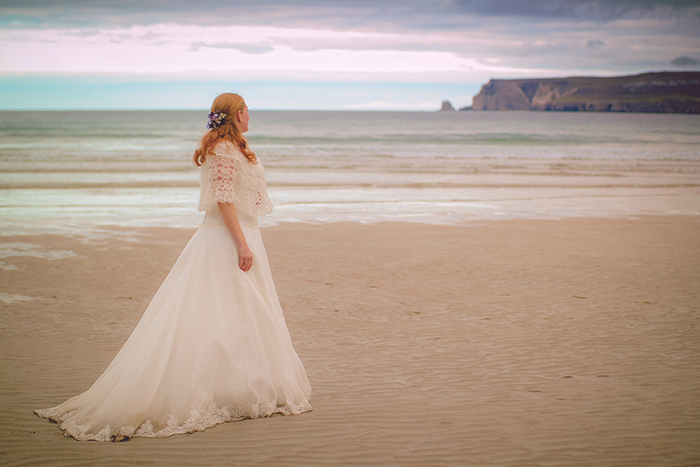 Our next stop was Ceannabeinne Beach, in Durness. We approached this beautiful beach in the early evening just as the clouds were clearing. Seeing its clear turquoise waters against the blue sky and setting sun, we couldn't resist doing another shoot, as the golden sands were completely empty and we had the full run of it to ourselves. This was definitely the most fun shoot, as Christina got to play in the waves, run up and down the beach, and explore rock pools and caves.
STOP THREE: Ardvreck Castle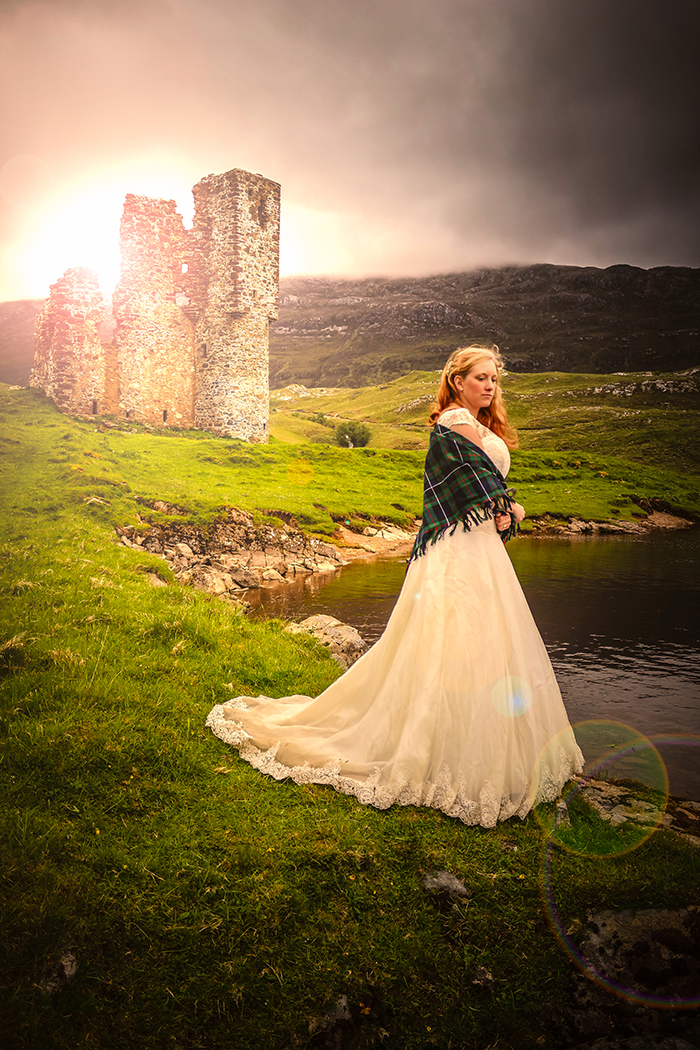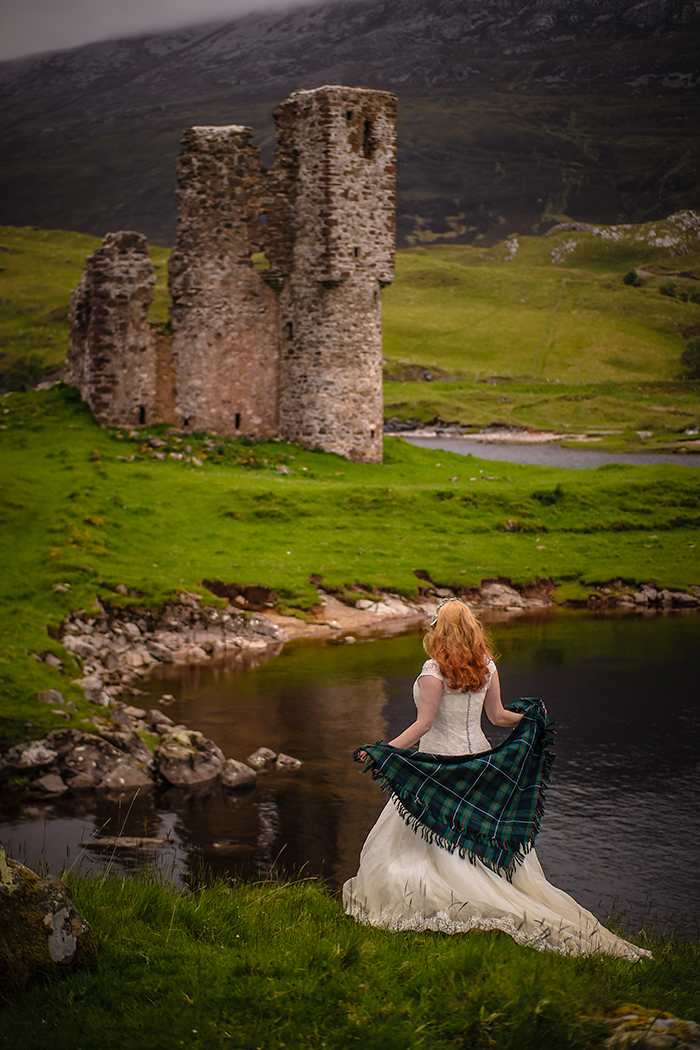 We stopped near this castle for a stroll by a waterfall and decided to do a sunset shoot. This location is amazing, with its rolling hills, beautiful loch, and ruined castle, it really screams out ˜Scotland'. In keeping with this, Christina wore a tartan shawl " the plaid from my wedding outfit " which really reflects the highland atmosphere of the place.
STOP FOUR: Callanish Standing Stones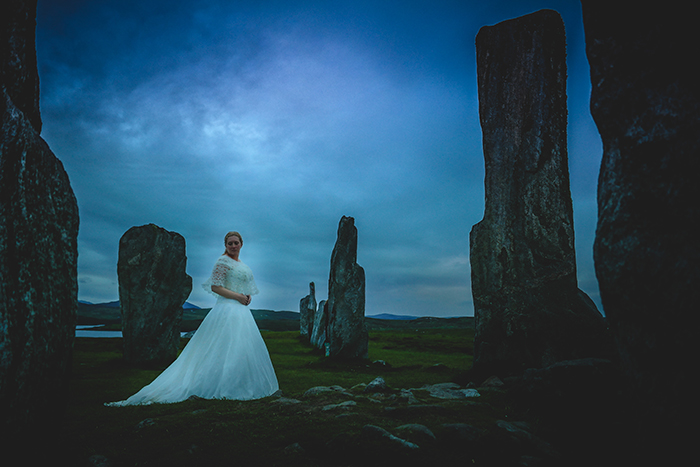 The standing stones on Lewis had been on our to-do list for a very long time and they absolutely did not disappoint! The weather had suddenly turned from rainy to beautiful as the sun was setting, so we decided to head out to the stones for an impromptu shoot. There were loads of other photographers there as well and we were so worried that we wouldn't be able to get any decent shots (without people) " but they were all so lovely, moving aside to give us a clear run at the stones (and maybe getting a few shots of their own). These shots are my favourite " it's not everyday you see brides at standing stones, but it so should be done more often!
STOP FIVE: Old Man of Storr
The Old Man on Skye was also on our shoot location list, but after we saw the monstrous hike up to the top (in a wedding dress!?), we decided against it, and just did the hike as standard tourists!
STOP SIX: Silver Walk, Lochaber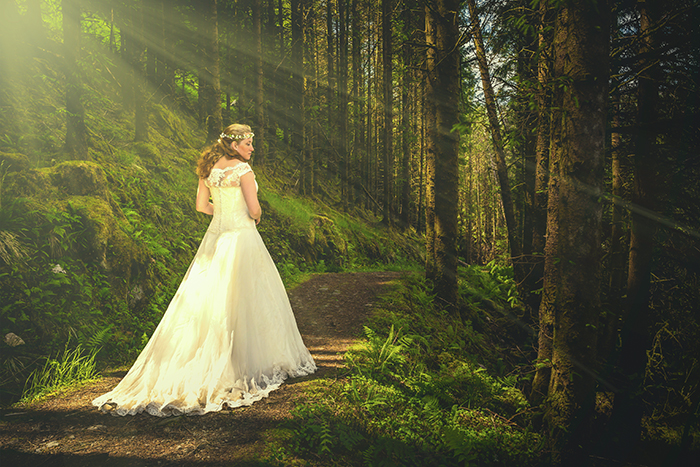 Castle Tioram is our favourite place in the entire world. We first visited a few years ago and knew we had to go back during our honeymoon. Unfortunately, we arrived a little too late to do a shoot at the actual castle, but we did manage to camp out on the beach with a fire like we planned, watching the moon rise over the mountains and the mists descend into the bay whilst deer grazed just a few meters away. It really is that magical! The following day there were quite a lot of people on the beach, so we decided to do the shoot on the Silver Walk, a quiet woodland trail that leads to the castle.
STOP SEVEN: Stirling University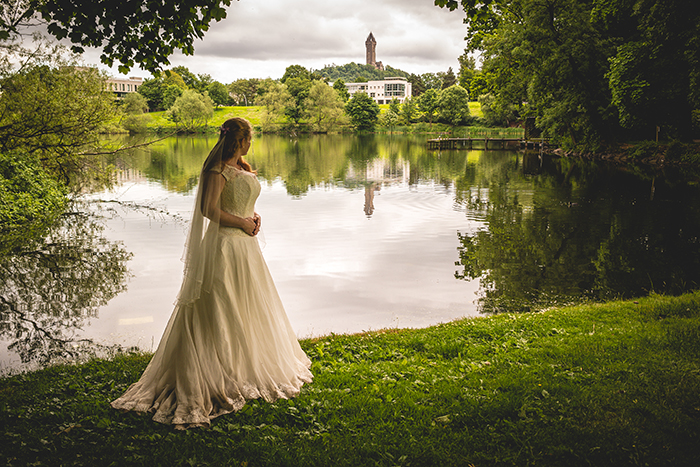 Where better to end our honeymoon than where it all began? As we pulled into Stirling university Campus, all our memories came flooding back and we knew we had to do a shoot (together this time) in front of Airthrey loch, with the Wallace monument proudly towering above us. [You can see this image at the top of the post.]
We spent the evening exploring our old haunts, even managing to get a tour of the flat where we met for the very first time, thanks to the lovely staff (though sadly, my old bedroom has now been turned into an en-suite bathroom, sacrilege!).
The next day, rain meant that our Stirling shoot was almost a washout, but the sun came out just in time for me to capture, with my tripod and timed shutter, the shot that to me represents the culmination of our love story that started in that very place so many years ago.
All images by JPRShah Photography