How to save for your wedding, whatever your budget [advice]
No money? No problem!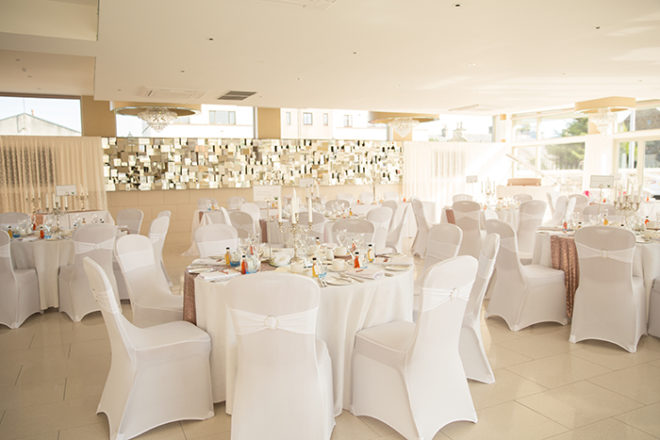 It's depressing. We're part of the worst paid generation, yet the price of getting hitched is going up. So just how do you save for your big day?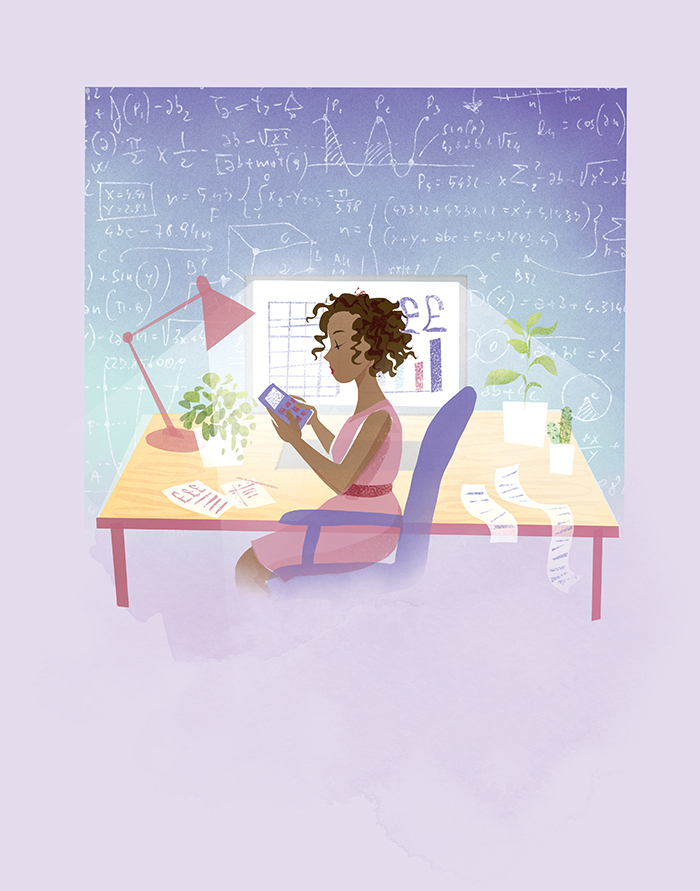 ILLUSTRATIONS | Sarah Holliday
SET A REALISTIC BUDGET
You don't need me to tell you that weddings don't come cheap. According to the Scottish Wedding Census Doublebase, the average Scottish wedding cost £31,167 in 2016. Couple that with the fact that millennials are the best educated but worst paid generation and it's not hard to see why so many of us shy away from talking about our finances.
The countdown to your big day is meant to be joyous, yet time and again we hear from couples worrying about their finances. Recent respondents to our All About My Big Day survey cited "keeping within the budget," "budgeting alongside family life" and simply "saving!" as the most stressful thing about planning their wedding.
So how do you avoid this stress?
"The first thing to do is look at what you can afford to spend and use this to set your budget," says Megan French, consumer expert at MoneySavingExpert.com.
"It's so easy to be swept up in finding the perfect ring, dress and venue and then trying to find a way to pay for them afterwards " but switch this around and decide how much you can afford to spend and then plan your wedding accordingly. It's not worth getting into crippling debt [for your wedding]."
Remember: when looking at what you can afford, take into account all your monthly outgoings and tally up your direct debits and commitments before working out what you can realistically save.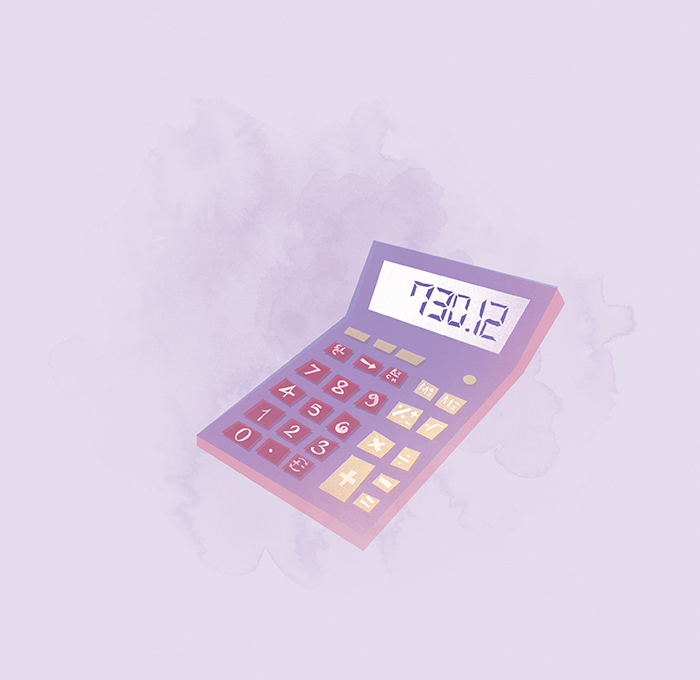 ON THE LIST
To plan a budget you can stick to, make a list of all your wedding day requirements and try to factor in all the little spends as well as the big ones, otherwise you'll find yourself trying to justify that extra £60 on yet another Etsy spend.
"Working through your list, check out costs of venues, catering, dresses, band, photographer, cars, favours, invitations and don't forget your honeymoon," advises Susan Bennett, chartered financial planner at Thorntons Investments.
"Once you know the total cost of all your must-have items, set a realistic budget for each and stick to it. If you do happen to spend more on one item, you have to be prepared to spend less on another."
It's also a good idea to think about who's paying for what. According to the Scottish Wedding Census Doublebase, 31% of couples paid for their own wedding in 2016 with the majority receiving some contribution from parents or others.
However, don't assume you'll receive help. It may be awkward, but by having a frank discussion you'll know how much, if any, you can add to the budget.
"Check who will be making contributions and how much they are contributing," says Susan. "If there is a shortfall you can divide this amount by the number of months to go until the wedding and consider how you are going to save to meet the gap."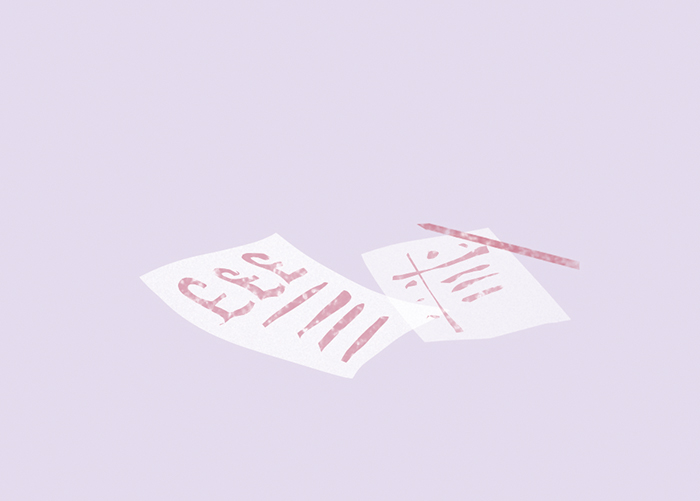 TAKE IT INTO ACCOUNT
When budgeting for the big day, don't be surprised if you end up with more bank accounts than usual. By squirrelling money into different accounts you can see clearly what you have.
"It is always good to have three separate bank accounts," says Susan. "A working account [where] wages are paid in, and direct debits and standing orders are paid out. This way you will be able to see what is left over once all bills are accounted for. Then arrange to transfer the required sum to a savings account to meet the wedding expenses.
Any surplus cash can be moved to a secondary current account which becomes your spending account, with the funds you have left available to spend in any month."
Shop around for the best savings interest rate and remember to check the small print.
"Make sure the money is working for you while it's sat in the bank," advises Megan.
"Check out how you can get the most interest on it, and don't be surprised if this is via a current account. Remember to check how the interest is paid, whether it's monthly or yearly and whether you lose out if you withdraw any cash before a certain date."
She also says it's worth considering the impact on your credit score before opening a joint account.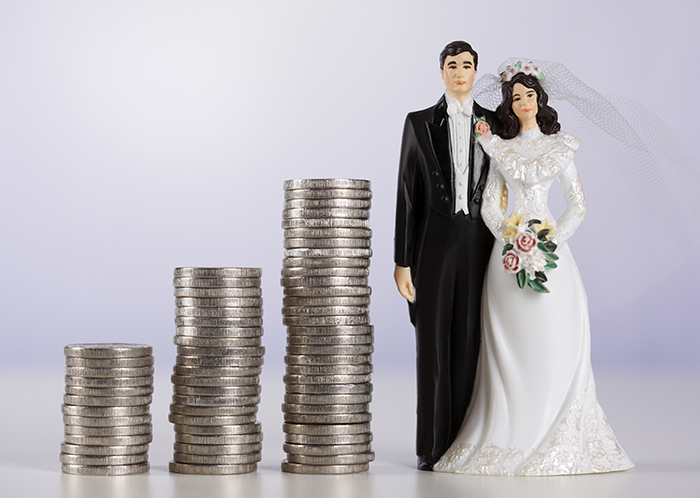 CUT BACK
When taking a hard look at your finances you'll start to see places where you spend unnecessarily.
"The best place to start is to look at exactly what you're spending each month and see what you can cut back on," says Megan. "For example, are you paying for a gym membership that you never use, or buying lunch each day instead of taking a packed lunch? After that, look to see if you can cut your existing bills by switching supplier, or ensuring you're getting any discount you're entitled to."
Even the smallest of changes can help make a difference.
"Look at your daily spending and see if there's anything you can easily change," says Megan.
"If you stopped buying a £1.80 coffee each day you'd save over £600 over 12 months."
And, she adds, when you're shopping ask yourself "Do I need it?" "Can I afford it?" and "Will I use it?"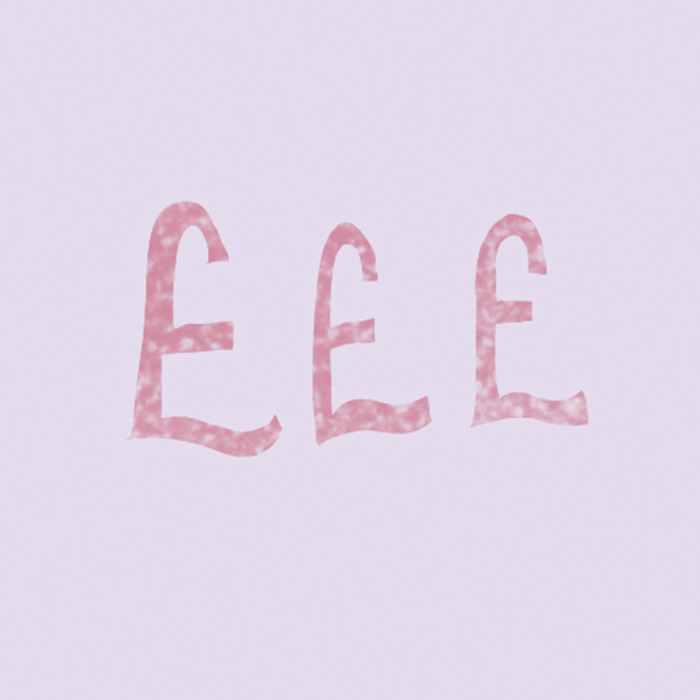 PITFALLS TO AVOID
While of course you want your wedding to be the most amazing, beautifully styled, fun-filled day of your lives, try to remember it's just one day and not worth getting into debt over.
There are often ways to achieve an expensive look on a budget, and no one but you will know what you were originally planning.
"It's very easy to feel pressured into overspending and feeling like you have to keep up with the Joneses when it comes to planning a wedding, but the truth is the guests won't care how much you've spent " they'll just be happy to share your big day," says Megan.
"It can also be very easy to pay over the odds just because the w-word is involved. Some suppliers will up their charges the minute you say ˜wedding' so it's worth checking out if it's cheaper if you say ˜celebration' instead.
And don't forget you can save a lot by doing some things yourself."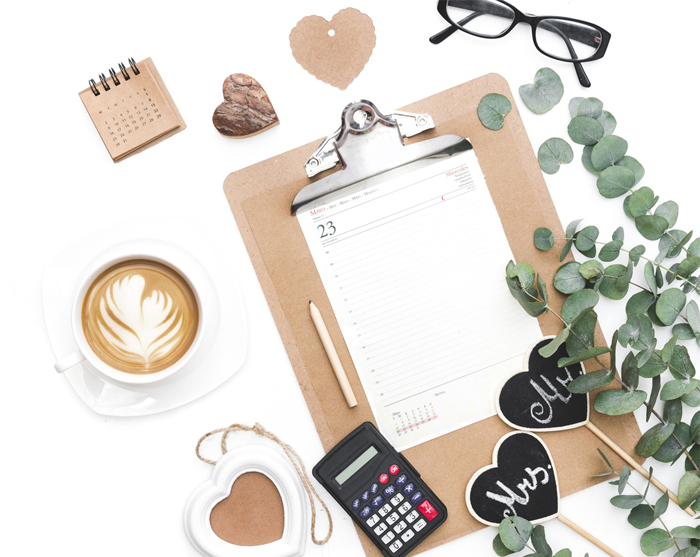 INSTANT MONEY SAVERS
There are a few simple ways to instantly cut the cost of your wedding. A Saturday wedding in the summer months is of course appealing, but if you opt for an off-peak date in winter, many venues will give you a discounted rate.
Some venues also cost less to hire mid-week than they do at the weekend.
Wedding fairs are a great place to save some much-needed cash too with many suppliers offering discounts when you book with them on the day. Similarly, sample sales at wedding dress shops are well worth checking out.
You might just nab a designer dress at a fraction of the original price (but be prepared to pay cash and take it away on the day).
And DIY décor details are another obvious place to start saving. Just be careful not to run up huge bills buying materials, and note all outlays down in your budget spreadsheet!
~ REAL LIFE | "HOW WE PAID FOR OUR WEDDING" ~
Shelley and Matthew O'Neill tied the knot at Elgin Cathedral, followed by Mansefield House Hotel. Here's how they delivered their dream day.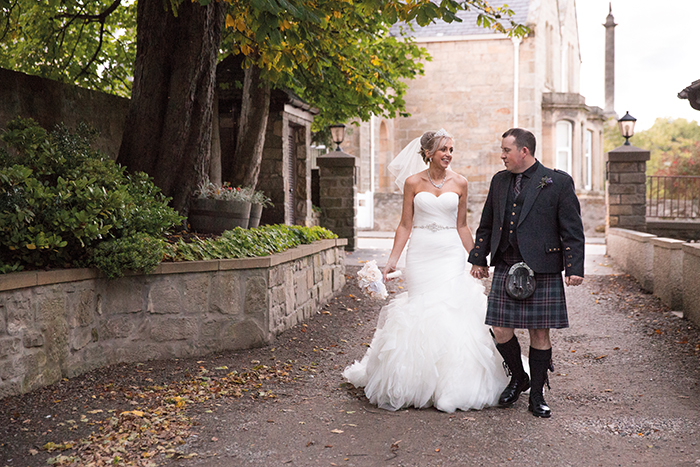 IMAGES | Fledgling Photograhy
FIRST THINGS FIRST
The couple started by writing a list of all the things they wanted and broke down the cost of each. "This gave us an idea of what the overall cost would be and optimistically we thought that we could probably manage everything for under £10,000.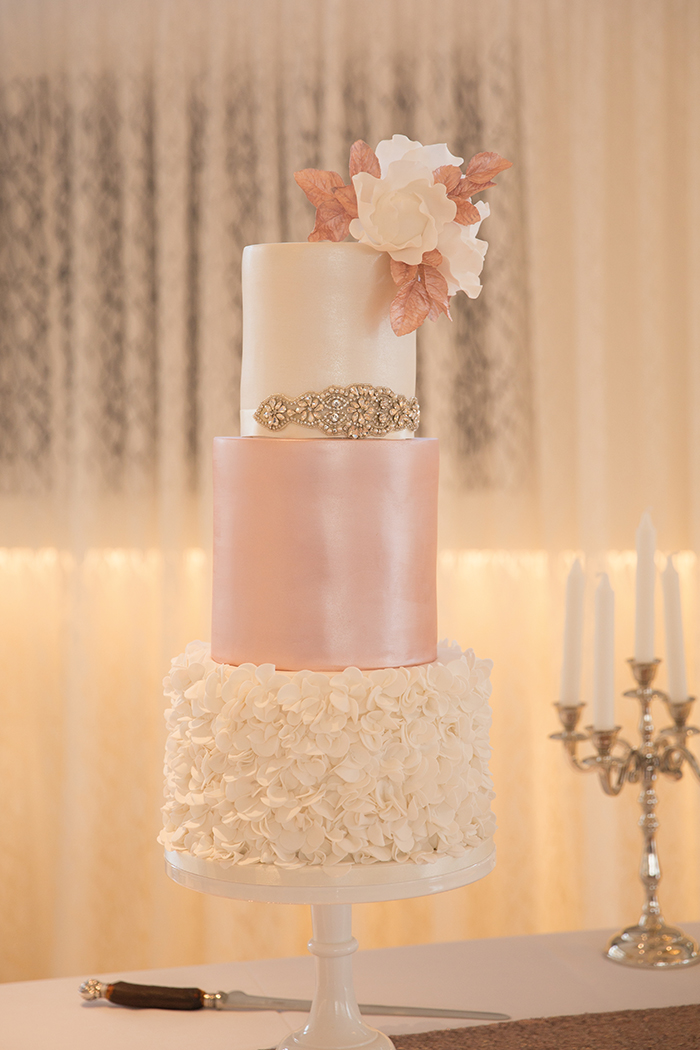 MONEY MATTERS
They opened a separate wedding savings account to keep track of all their savings and spending and made a spreadsheet tracking everything. "All costs were detailed, along with deposits paid and when next payments were due," says Shelley.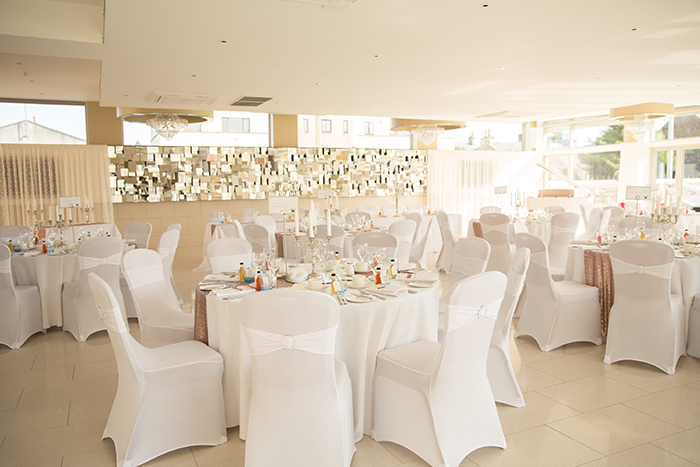 DIY DECOR
While they didn't cut any elements out of their initial plan, they did tweak it when they felt they could do it themselves. They had plenty of help from friends and family crafting away.
Instead of getting a company in to dress the venue they sourced chair covers and sashes, bought candelabras, candles, lights for centrepieces and their own sweetie table elements " many of which they resold or gifted.
Shelley's mum made invitations, the table plan, table settings and favours and her dad's partner also made their gorge sequin table runners.
A family friend took care of the bridesmaid and ceremony flowers and put together the bride's material bouquet.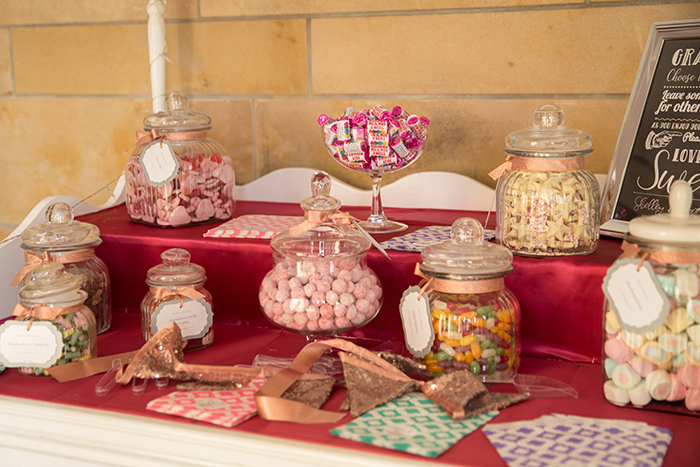 VOICE OF EXPERIENCE
Now their big day is over, the couple have some top tips. "Depending on your budget, you may need to prioritise and consider what's most important to you," says Shelley. "It's also worthwhile weighing up if you can do things yourself rather than paying someone else to do them."
~ OUR MONEY SAVING HACKS ~
Some of Team SWD share how they save money day to day.
"I select three weekly recipes from hellofresh.co.uk, get a step-by-step recipe card and all the fresh, pre-portioned ingredients I need to cook three delicious meals delivered to my door. There's plenty of choice and all for a lot less than I previously spent on a weekly shop, with no waste!"
Siobhan Pretious, Account Manager
"I take a reusable cup to Starbucks every day and save 25p per day. As I go every day, that's over £90 a year savings and it's really good for the environment."
Dawn Stafford, Account Manager
"My husband and I receive childcare vouchers through salary sacrifice so the first big chunk of our childcare bill is un-taxed, saving us some pennies!"
Katie Bletcher, Features Writer
"Last year I finally switched energy provider using the Cheap Energy Club on moneysavingexpert.com. It's the easiest thing I've ever done to save money " your energy company takes care of the switching part, so all you need to do is fill in your details and let them take care of the rest. I reduced my bills by 50%."
Natasha Radmehr, Editor
NOT SURE WHAT YOU'LL BE PAYING OUT?