The Girl with the Big Hair: How I created my DIY imperial and romantic wedding invitations
Our girl is dishing the DIY advice on creating the most gorgeous wedding invites.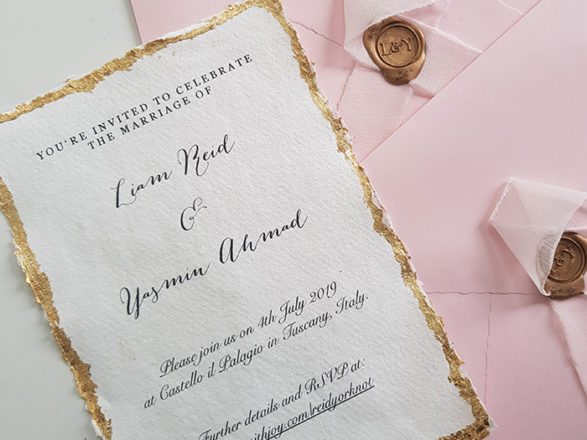 Our guest blogger Yasmin from The Girl with the Big Hair is dishing out her DIY advice on creating the most gorgeous wedding invites.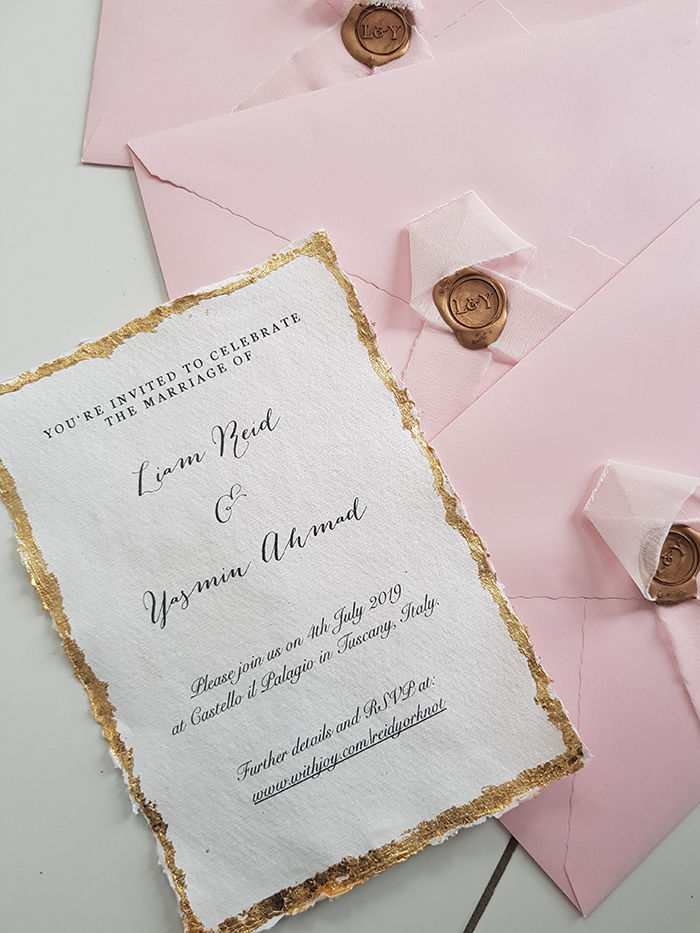 If there was one thing I was certain about for my wedding, even before getting engaged, it was that I wanted to make my own invitations.
Everyone that knows me well knows that I've always had an artistic side and love to create something from nothing.
For me, a wedding invitation is a really special part of the wedding process. It's the moment your loved ones realise they're getting to be a part of your big day and is the first time they get a feel of what's to come, so you want to make a good first impression!
INVITE INSPIRATION
When beginning to seriously think about my wedding invites, I had three themes in mind that matched my overall vision for our wedding.
Whimsical, romantic and soft. But how do you go from a vague theme to the finished product?
Well, for me, it was a matter of researching images online, deciding on key elements of the design that I wanted to include and establishing the budget. I think once you have those three factors nailed, you're pretty much good to go.
Thankfully, I already had a visual in mind and it was the absolutely stunning work of @lailalettering, a super talented Glasgow-based calligrapher.
Everything she creates just oozes romance! Taking inspiration from one particular piece, I decided my invites would have beautiful calligraphy writing, soft pink tones and a wax seal to finish it off.
DIY ON A BUDGET
With the design sorted, I went in search of quality materials that wouldn't break the bank.
In the end my invites ended up costing around £1.50 per invite which is a total bargain for what I created.
So, without further a due, here's how I made my soft and romantic wedding invites.
WHAT YOU WILL NEED
METHOD
STEP 1.
Create the design and layout for your invite on the computer. To give invites a really unique and professional look, I would recommend going beyond the fonts that already exist within programmes like Microsoft Word.
There are a number of great websites from which you can download free fonts (such as DaFont.com), so set aside some time to scroll through and find ones that suit your wedding.
If you like the font styles I used simply search for Bombshell Pro, AvantGarde LT Extra Light and Snell Roundhand.
TOP TIP | to give your invites a modern update, use more than just one font!
STEP 2.
Now that you have the format and text for your invite finalised, it's time to print them. When doing so, be careful as the edging of the handmade paper can easily get stuck in the printer.
To avoid any mishaps, I would print one invite at a time. This takes a little longer, but is worth it to avoid ruining any. Trust me, I've learned from experience!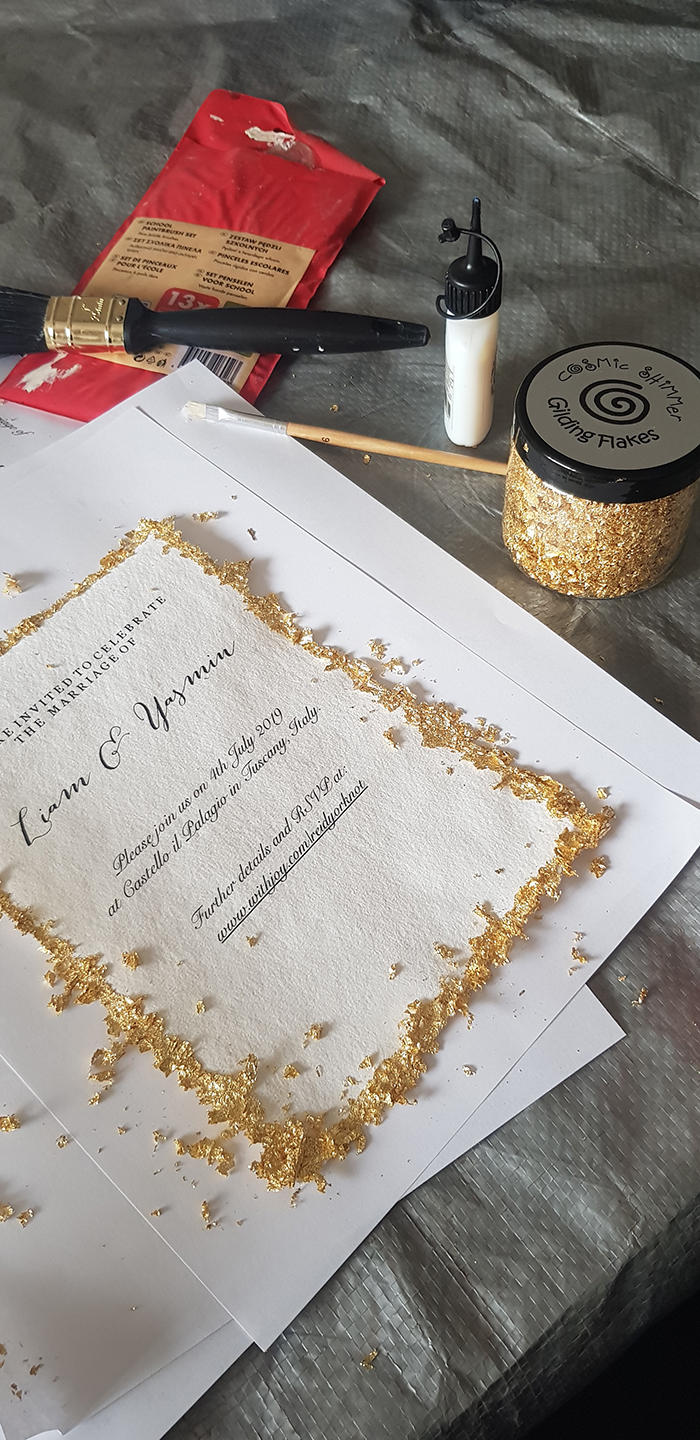 STEP 3.
With your printed invites now ready, it's time to give them their wow factor! If you're new to gilding flakes, it's worth watching a quick YouTube tutorial on how to use them.
From my experience, the key to doing this successfully is preparing the glue. Make sure you only use a very small amount of glue as, if you slap on too much, it won't reach the tacky stage and the flakes simply won't stick.
I would recommend using a small amount and spreading this evenly onto the paper. Leave this to dry clear and check that it doesn't feel too wet before applying the flakes.
TOP TIP | you can never leave the glue for too long. Only leaving it for not enough time will ruin the process.
STEP 4.
As the gilding flakes are tightly packed into their tub, grab a Tupperware dish and empty the flakes into it to allow them to separate.
Grab a pinch-full and sprinkle this over the glue area, continuing until all of the glue is covered. At this stage your invite should look like it's sitting within a beautiful textured gold frame.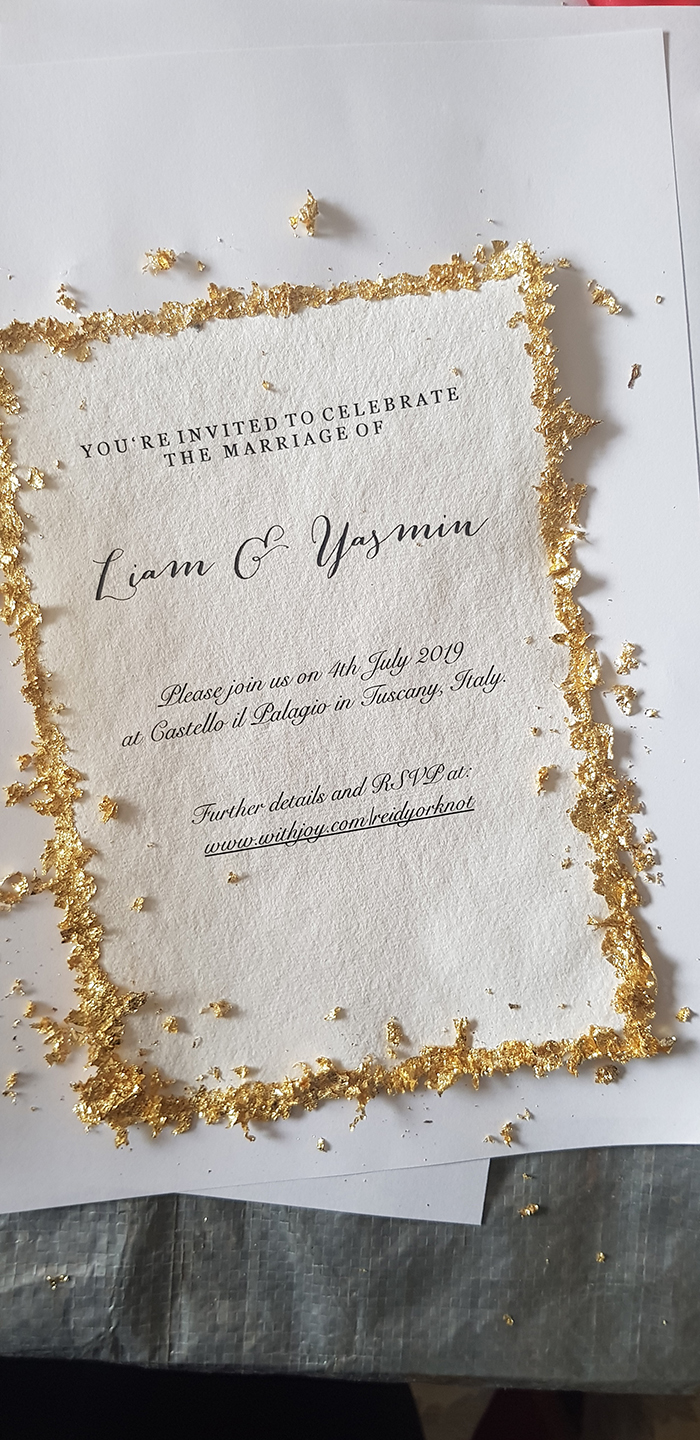 STEP 5.
After leaving your flakes to settle onto the glue for around five minutes, it's time to brush off the excess. Using your brush or sponge, briskly rub across the flakes to unveil your smooth foiled edges.
STEP 6.
Now that you've completed the invite, it's time to prepare the envelopes. Cut small pieces of your chiffon material that you can place under your wax stamp. This step isn't essential, but it really helps to soften up the wax stamp and maintain the romantic feel.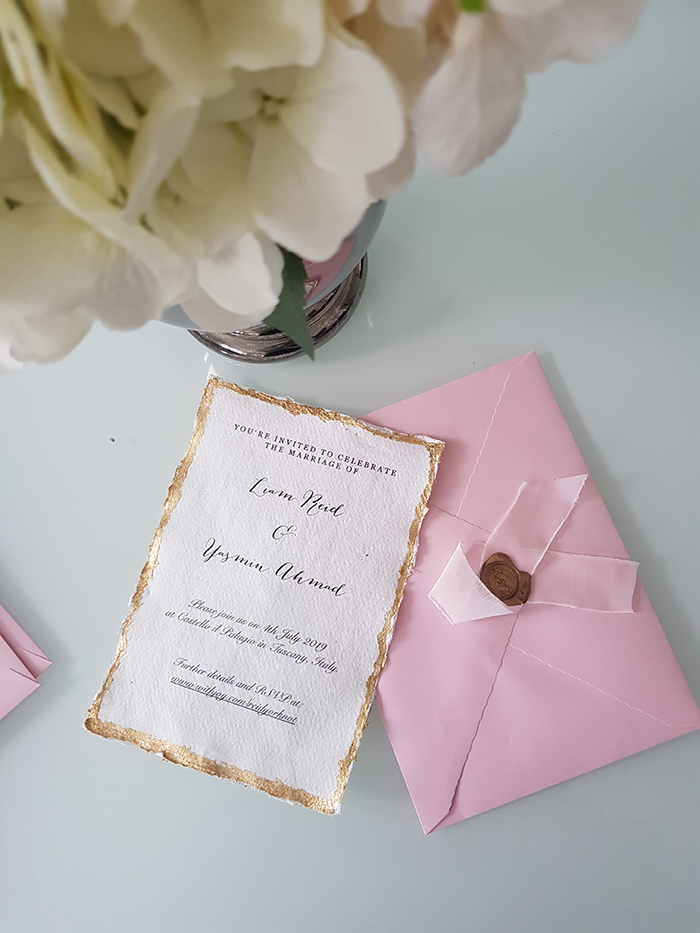 STEP 7.
With the invite inside your envelope (not stating the obvious here…I genuinely forgot to do this a few times!), glue down your piece of fabric on to the edge of the envelope flap.
STEP 8.
If this is the first time you've used a wax stamp, I would recommend trying it out a couple of times on a spare piece of paper. It's fairly simple and you'll get the hand of it quickly.
One thing to note with using wax seals is that it does take time so bear this in mind. Light the edge of the wax stick and begin to drip your wax onto the fabric that has been glued onto the envelope.
Once you have about a 10 pence size circle, use the stamp to press firmly onto the wax.
TOP TIP | keep your wax stamp cool in between each invite as it doesn't work as well when it begins to heat up.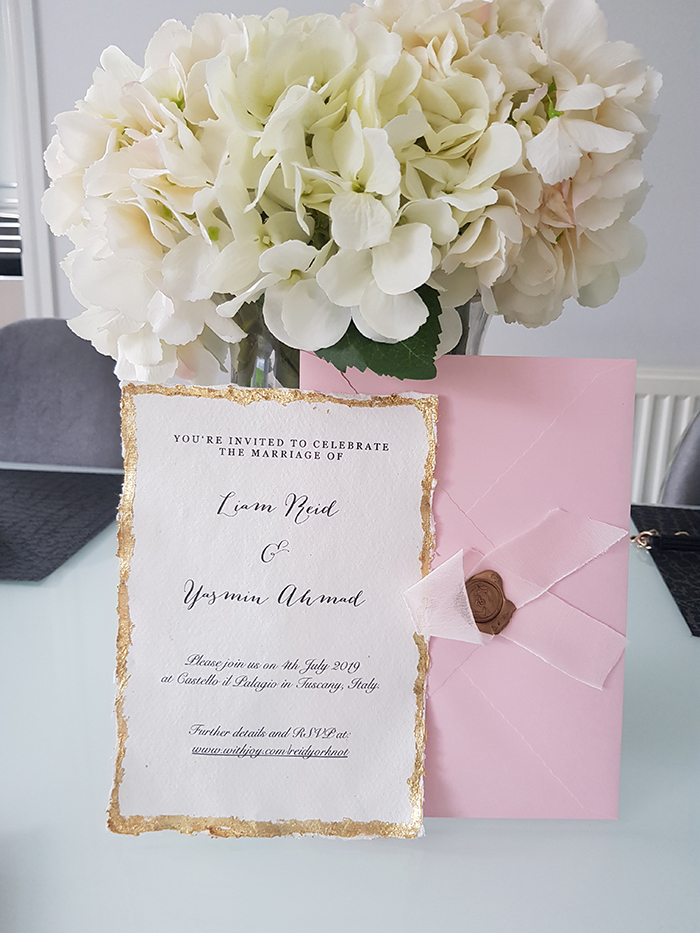 And you're done! I hope this post has given you some inspiration or motivated you to also DIY your own wedding invites! Remember, DIY wedding invites don't have to be perfect – sometimes it's the imperfections that make them really special.
Until next time. xoxo
P.S If you want to see the above steps in real life, check out my latest vlog on my YouTube channel, or watch below.

ABOUT THE AUTHOR
Yasmin is a 20-something fashion, beauty and lifestyle blogger, sharing her interests, passions and general life-happenings on her blog, The Girl with the Big Hair. Following a romantic Loch Lomond proposal in autumn 2016 (you can read more about that here), Yasmin is now an excited bride-to-be and will be sharing every step of her wedding planning journey with SWD.
Yasmin lives in Glasgow with her fiance, Liam, and their Instagram famous pug, Indie. She loves fashion, beauty, dancing, travelling, food, movies, sleeping, and cookies – a girl after our own heart!