Spotlight On… Sweet Rosie Jewellery
[PICTURED ABOVE] Kerry's rings Kerry Cairns married Greg in Florida on 25th June 2014 Sweet Rosie Jewellery created a one carat engagement ring in platinum with pave set shoulders and a matching pave set wedding ring also in platinum. "It's often our emotional attachment to something that makes it so treasured. It's not necessarily that […]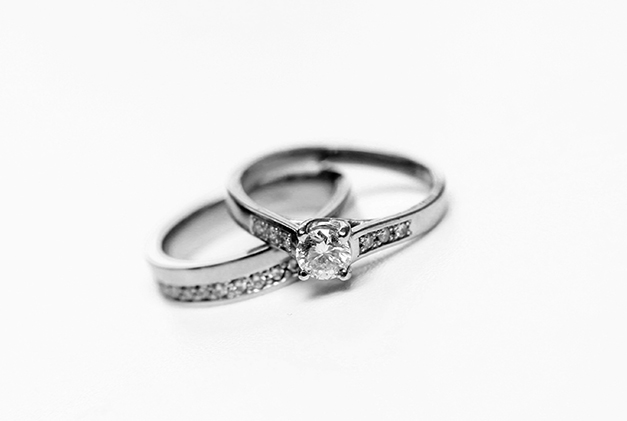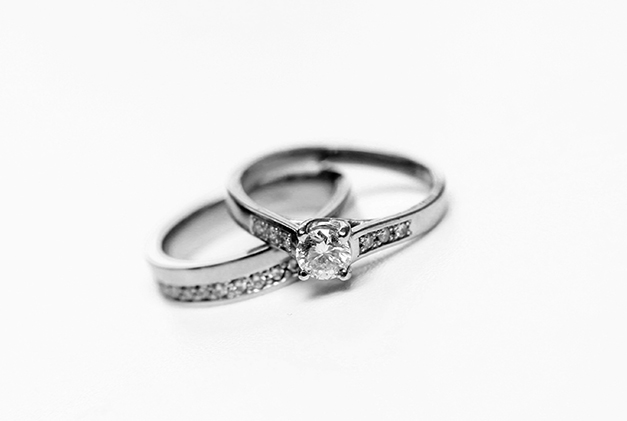 [PICTURED ABOVE] Kerry's rings Kerry Cairns married Greg in Florida on 25th June 2014
Sweet Rosie Jewellery created a one carat engagement ring in platinum with pave set shoulders and a matching pave set wedding ring also in platinum.
"It's often our emotional attachment to something that makes it so treasured. It's not necessarily that the item is our style, or that we'd even use or wear it on a daily basis; it's the people behind it that stir our emotions."
I sit down with Glasgow based jeweller Rosalind Morrison, owner at Sweet Rosie Jewellery, for a chat about her re-modelling service; Sweet Rosie's USP.
PASSED DOWN
Ros tells me that it's so common for people to inherit jewellery from relatives who've since passed away and although the person might never wear the item in its current form, they might like to have it transformed into something that they would wear every day.
It's a particularly popular service for those having engagement and wedding rings made.
"Re-modelling is a labour intensive process; taking something sentimental and precious requires real care and attention," says Ros.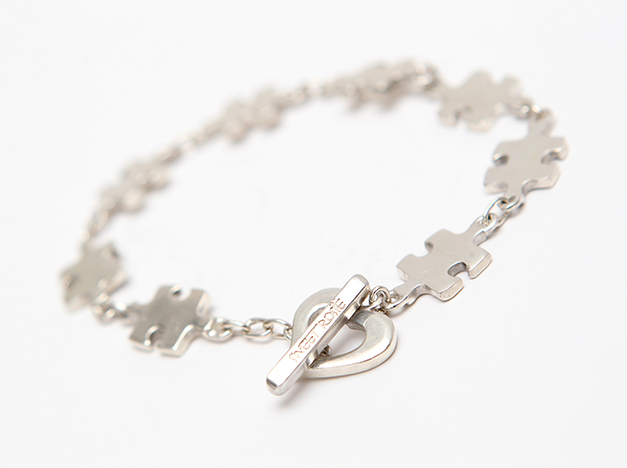 Jigsaw Bracelet Silver Jigsaw Bracelet " £175. 20% from the sale of each bracelent is donated to the Emma Cameron Foundation, helping children with cancer
"I can take old jewellery like rings and necklaces (as long as they're made from precious metal) and melt them down to create something completely new," she tells me.
"I can work with the precious stones from that piece and add them to a new creation. Lots of couples love the idea of having an heirloom piece added to their own wedding rings; it makes it even more special."
FROM THE BEGINNING
Ros's interest in making jewellery started at the age of 21, when she was having a ring made for her own 21st birthday.
"I realised that I would love to be able to create jewellery myself, so I phoned my local college and as luck would have it, they had a taster course in Jewellery Manufacture with Design and Business Management coming up in a couple of weeks," she says.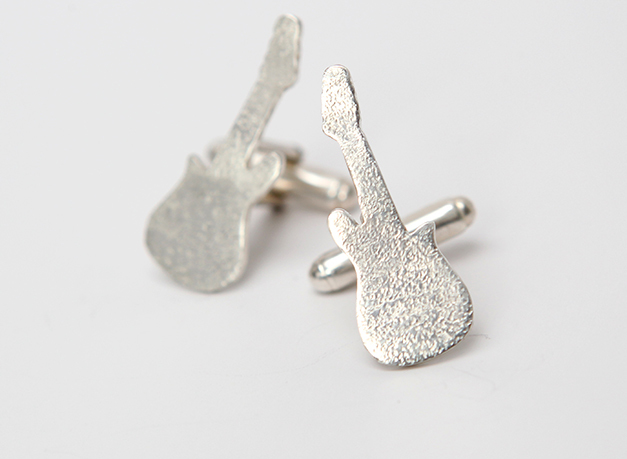 A GREAT GIFT FOR THE GROOM – Guitar Cufflinks " £60
"It was amazing and my tutor said I had a natural ability. So much so that I was accepted straight into second year at North Kelvin College."
IN VOGUE
After a few years of creating jewellery for friends and family, Ros took a step back from design to go travelling " Australia, France and most glamorously, Blackpool " but set up a website on her return in the hope of getting back into the business.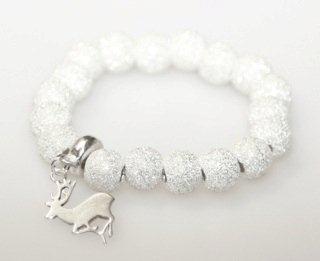 Dakini Ball Bracelet Dakini Ball Bracelet " £100
"You can imagine my excitement then, when Vogue asked to use my Dahkini Bracelet in their Christmas gift guide. It was such a boost and it got me excited again," smiles Ros.
CELEBRITY STYLE
"I take inspiration from everywhere, but Facebook has shown me that my clients really love celebrity culture so I always keep on top of the latest looks from the A-List," Ros says.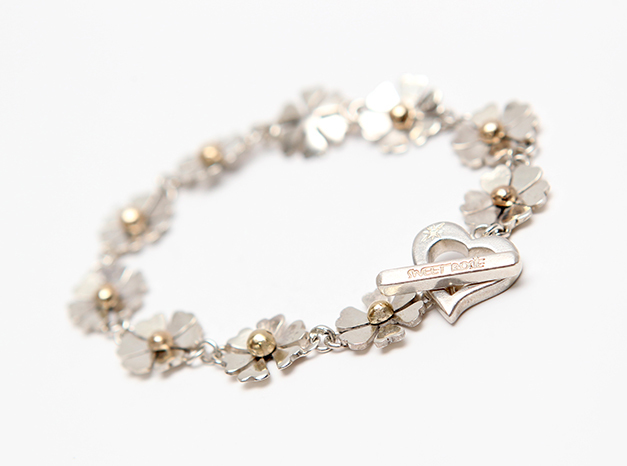 He Loves Me Bracelet ˜He Loves Me¦' bracelet in silver with 9ct gold balls " £200
"I love taking memories and making jewellery to represent them; the ˜He Loves Me' bracelet was inspired by my memory of making daisy chains with my mum Janice when I was little," remembers Ros.
WITHIN BUDGET
It's a common misconception that having jewellery made rather than just buying a ready-made piece is much more expensive; an idea that Ros wants to quash.
"I can work with any budget," she says, "if you're flexible and open to ideas. Whether it be making a ring in a lesser weight, or different sized stones, there's always something we can do to make your vision work."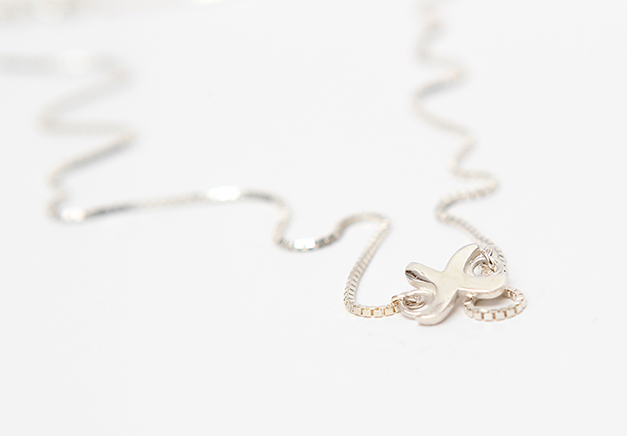 ˜It Started With a Kiss' silver pendant " £35.
SO SPECIAL
Ros is thrilled to receive lots of great feedback from customers and says it can often get really emotional when a bride is united with a piece of jewellery which has so much sentimental value.
"Being able to make something for someone that they're going to have on until the day they die, and probably pass onto another loved one, is the most rewarding feeling ever," smiles Ros.
You can book a consultation with Ros at Sweet Rosie by emailing sweetrosiejewellery@gmail.com.