Spotlight On… Luvverly Jubberly
Pure Dead Brilliant Invitation (£3.75 each) " A threefold style invitation, with tartan detail, clear overlay and tied with coloured ribbon and tag. "It all started with a Mother's Day card," laughs Aimie Sherriff, owner at stationery company Luvverly Jubberly. "Friends and family were my first customers and word quickly spread. Before I knew it, […]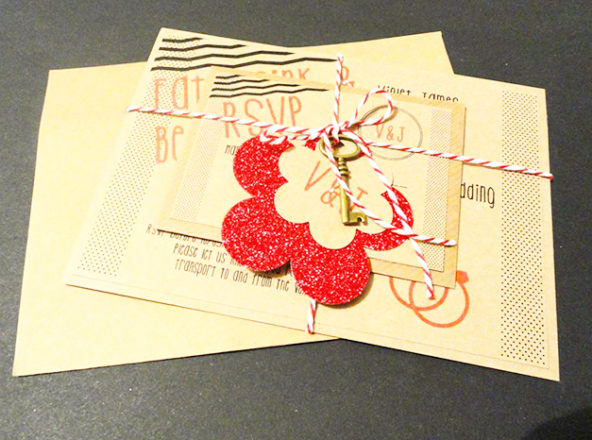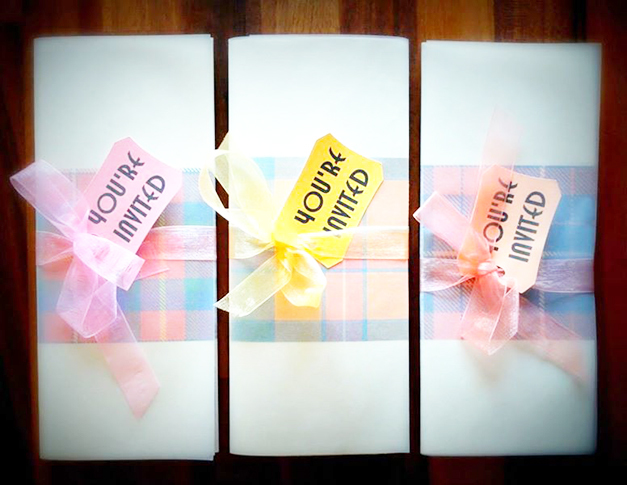 Pure Dead Brilliant Invitation (£3.75 each) " A threefold style invitation, with tartan detail, clear overlay and tied with coloured ribbon and tag.
"It all started with a Mother's Day card," laughs Aimie Sherriff, owner at stationery company Luvverly Jubberly. "Friends and family were my first customers and word quickly spread. Before I knew it, I was being asked to make wedding stationery, and I haven't stopped making it ever since!"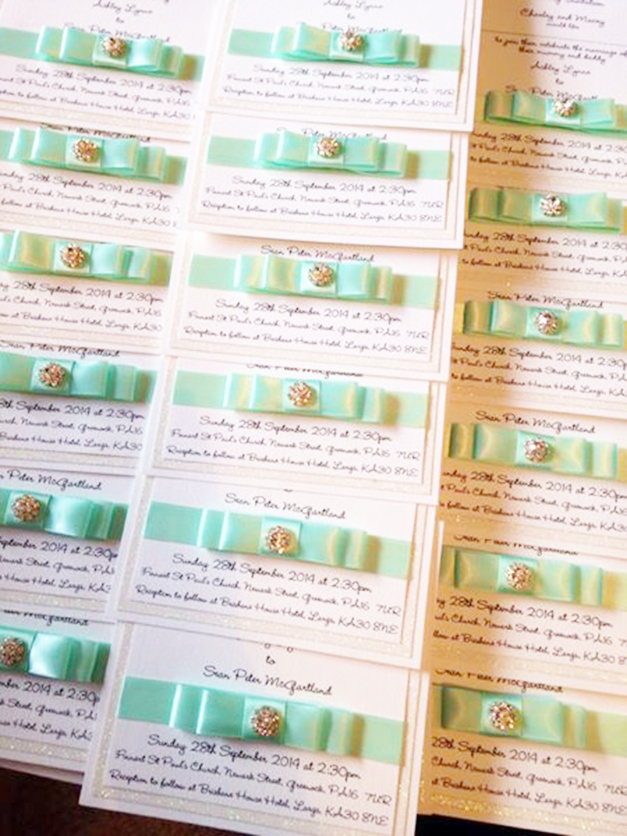 Loveheart Invitation (£6.00 each) " a 5—5 square invitation on textured card, mounted on glitter back ground and finished with handmade ribbon bow and diamante charm. Available in pearlised gift box.
29-year old Aimie lives in East Kilbride with fiance John. They're currently planning for their own wedding day in eight months time. Although Aimie is commited to her stationery venture, she still works full time in an accounting job, although she hopes to be able to give that up soon.
"Design has always been my forte, I just love making wedding stationery," she says. "My dream is to be able to expand the company and branch out one day in the future!"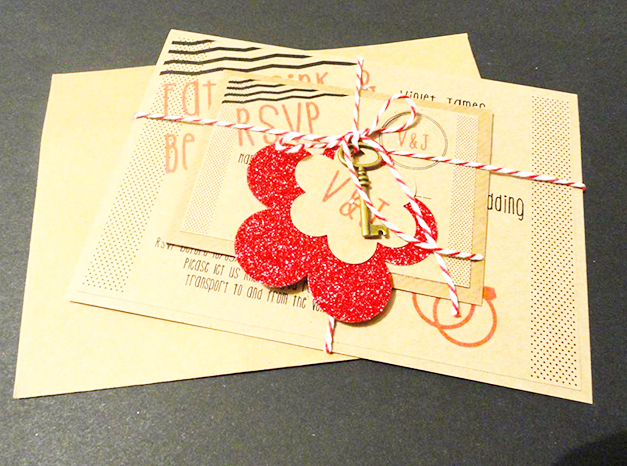 Moonbeam Invitation (£4.00 each) " A 5—7 vintage postcard style made from Kraft card, with polka dots, red detail and modern text. Finished with glittery flower and monogram tag and gold key.
Rather than following the common wedding themes of the last few years of soft vintage or pastel styles, Aimie decided to buck the trend and design bright, bold and eye-catching creations.
"I didn't want to make the same invitations that you see regularly," Aimie explains. "I think a couple should have stationery that expresses their style and who they are as individuals."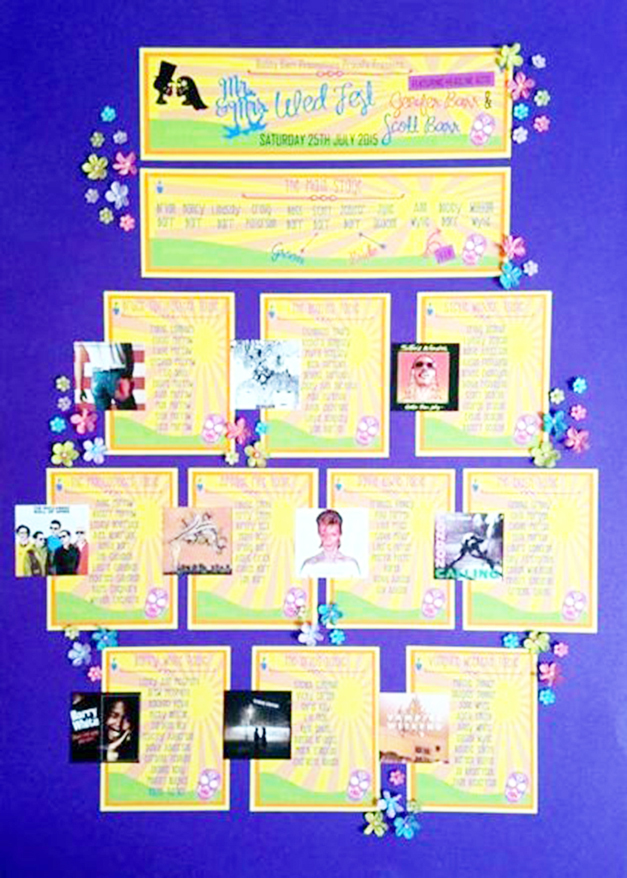 ˜Wedfest' Table Plan
With that misson statement in mind, Aimie went on to design some really unique commissions for weddings, including a recent festival theme for a friend.
"The theme was ˜Wedfest' and I designed festival style invites for the day and after party tickets for evening guests," she says.
"I also made the table plan [pictured above] which has been my favourite so far and even better, I was invited to the wedding so I could see my work in action! I received so many nice compliments about it."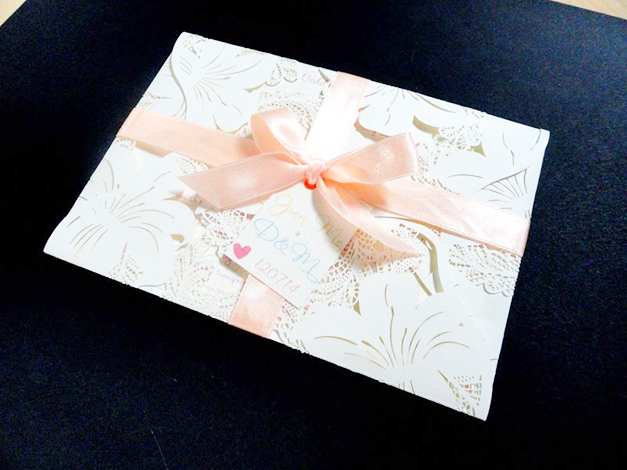 Letitia Invitation (£4.50 each) " a lace cut out fan fold invitation, with textured card insert, diamante detail and tied with coloured ribbon and tag with initials.
Aimie loves working in the Scottish wedding industry in particular, saying "everyone I have met has been so lovely", and that the industry is really a great support network for businesses who are breaking through.
"It's great to get advice from those more experienced, and of course, meet some lovely couples."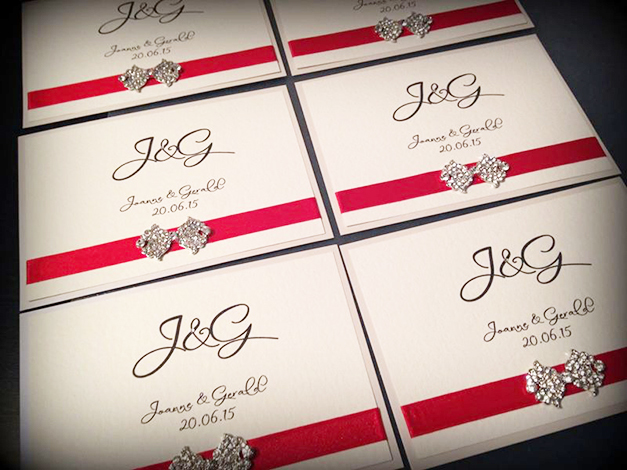 Roxanne' Invitation (£3.75 each) " a 5—7 postcard style invitation with textured card. Ribbon detail with large diamante bow, with text on reverse.
The designer gets her inspiration from everywhere, and themes her stationery after important people in her own life, or her favourite films. "My ˜Wouldn't It Be Lovely' invite is themed around the outfit Eliza wears in My Fair Lady," Aimie tells us.
"The best part is helping a couple realise their vision, and working alongside them to add something really special to that most special of days," smiles Aimie. "It's such a sense of achievement to know you've contributed to making that day perfect and even better when you spot your work in wedding photos!"
So what about her own big day? Will Aimie be creating her own invitations or passing that responsibility over to someone else? "Oh, I'll be designing our stationery definitely," says Aimie.
"Our colour scheme is black and white with duck egg blue and crimson red, and music plays a big part in our day but that's the only clues I am giving! The design will be secret until they go out." And we can't wait to see!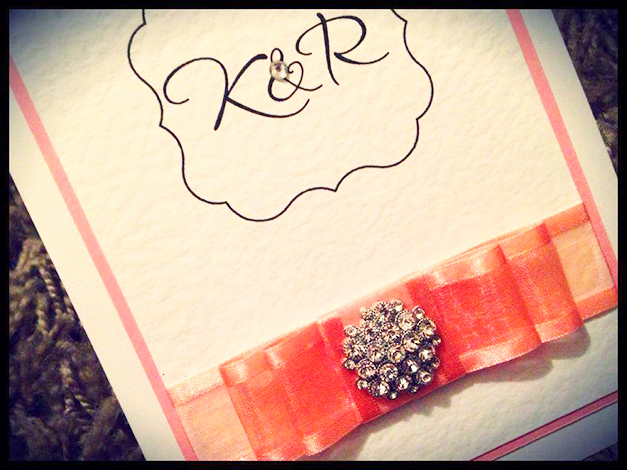 Everlong Invitation (£4.50 each) " A 5—7 card style invite made from textured white card and custom monogram. Decorated with bright ribbon and a large diamante buckle.