10 years of gorgeous gowns for bridal boutique Ivory Whites, Perth
The team at Ivory Whites Perth know that each dress shopping experience is as unique as their customers. We speak to owner Karyn McLeod about the success of the boutique.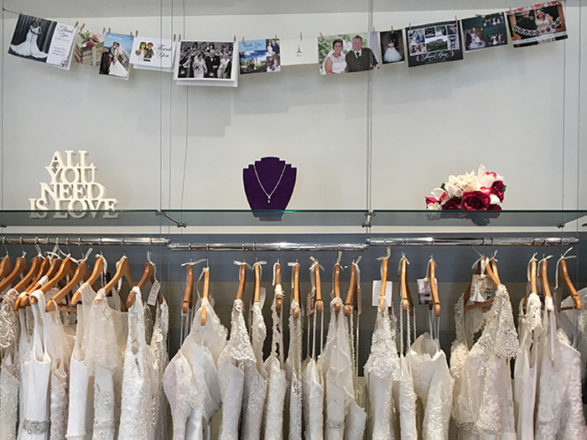 Ivory Whites has celebrated the 10th year of their popular bridal boutique in Perth so we catch up with owner, Karyn McLeod.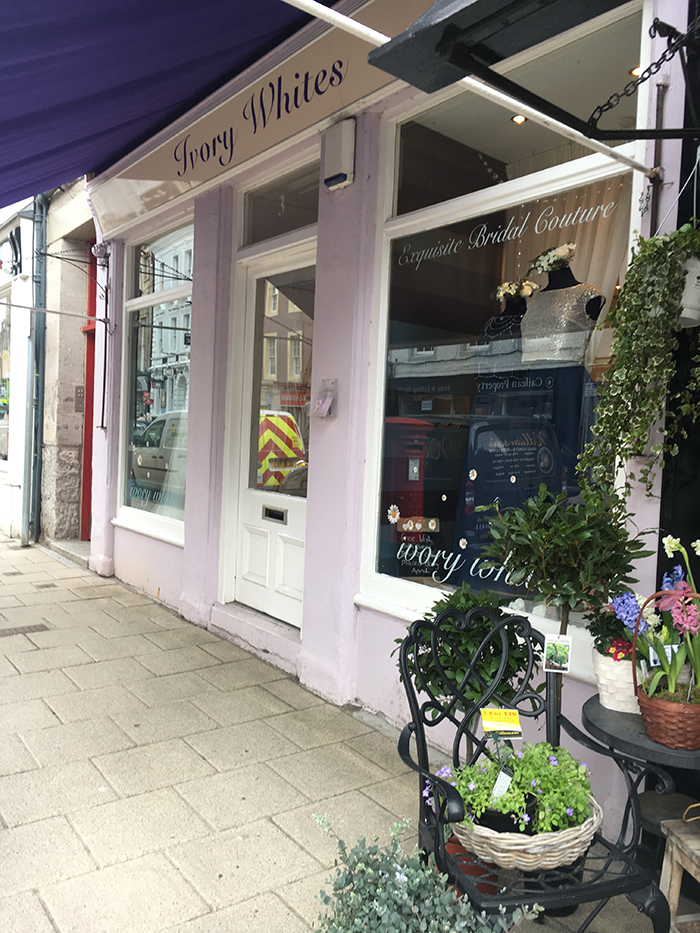 In November 2017, Ivory Whites celebrated the big 1-0 and owner, Karyn McLeod, could not be prouder.
"As funny as it sounds, we're not actually here to sell you a dress! Our mission is to help you find that dream gown – The One. We talk and listen to you and really get a feel for what you want to look like on your big day," she smiles.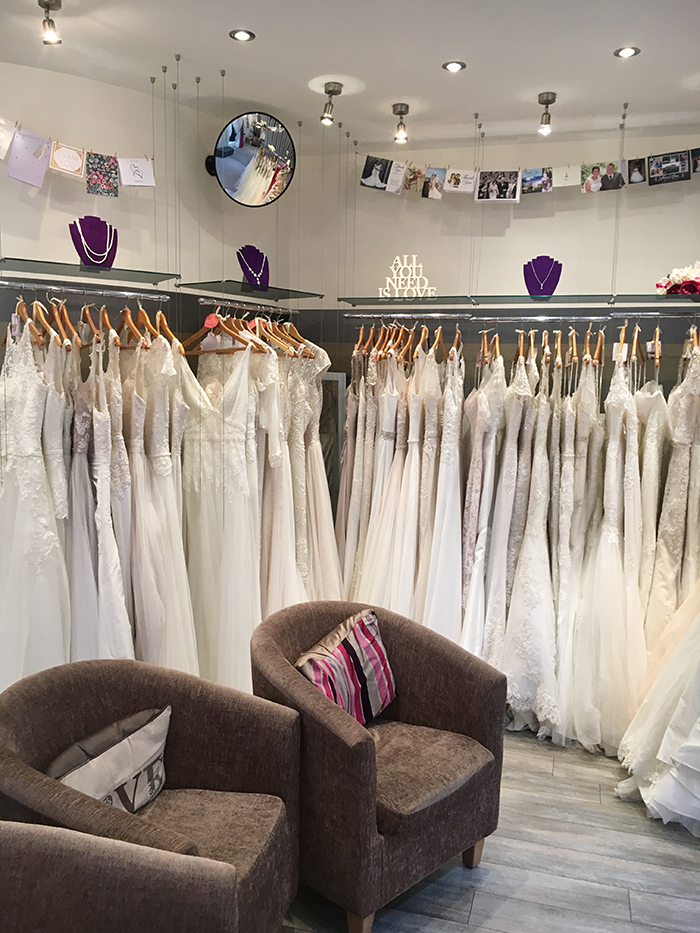 DREAM DRESS
The Perth boutique has a one-on-one appointment policy, meaning no other bride will be in the boutique at the same time, something that isn't always possible in larger shops.
"The boutique is closed for you and we focus on discussing what you like, or don't like, about each dress, until we find the one that suits you best," says Karyn.
"We are here with you right up to as close to your wedding day as you want. We attend your fitting appointments with the seamstress in the boutique and store your dress until your wedding. All these little extras are important to us; the bridal journey with us doesn't stop until after your wedding".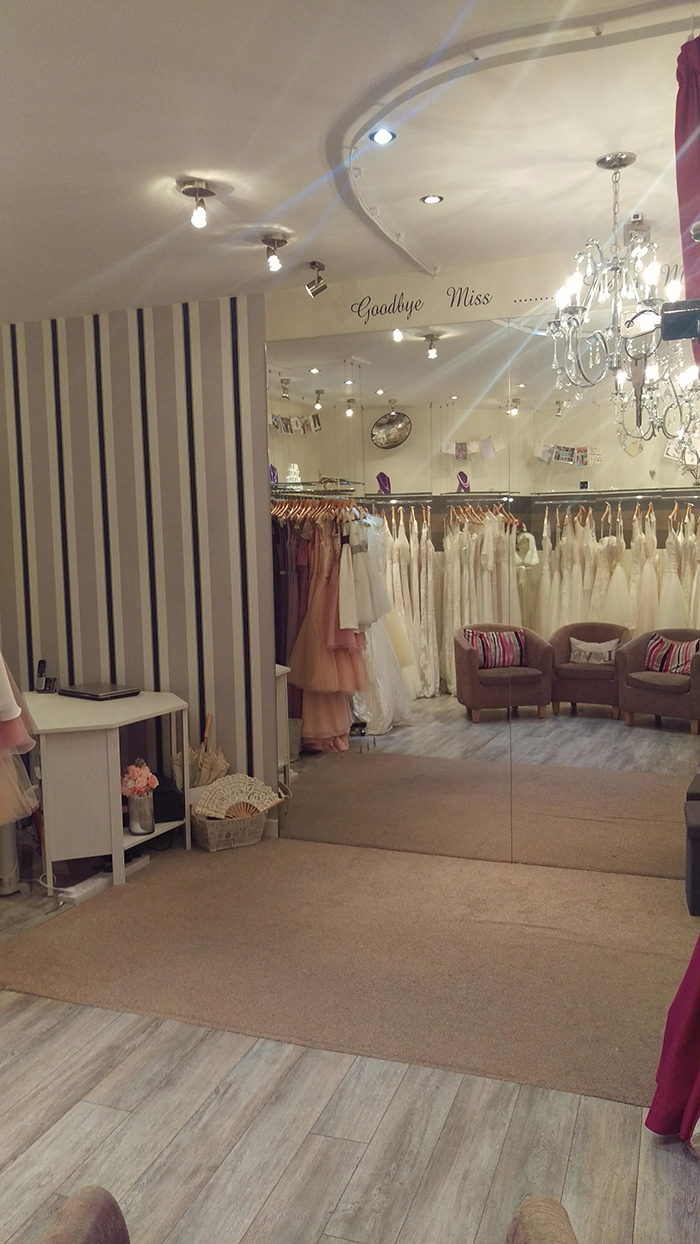 A LITTLE LUXURY
To celebrate a decade of helping brides find their dream dress, the boutique ran ten competitions last year to mark the milestone. "The most popular prize was for a luxury appointment, so we have now added this as a bookable option. This is a great for the bridal party to treat the bride, or just for everyone to celebrate even more while shopping with some added treats," explains Karyn.
The luxury appointment is for 2 hours and includes extras like a glass of fizz, a bridal cupcake and a goodie bag for everyone plus a 10% discount on any accessory or dress bought during the appointment.
"We also get enquiries for night appointment, especially for bridesmaids so we have added a new evening option just for the 'maids," says Karyn. For more information on both the luxury and bridesmaid appointments, you can visit the Ivory Whites website here.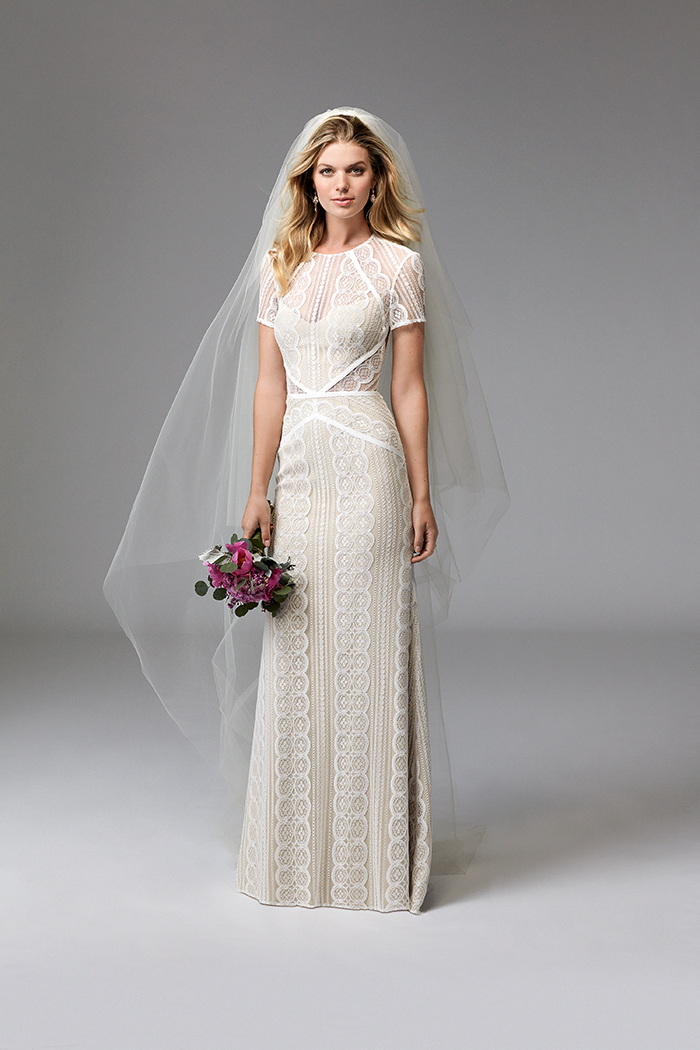 BRIDAL STYLE
When asked about their best-selling dress, Karyn tells us that they actually don't have just one.
"Styles of dresses are always changing and we are so fortunate to stock such a varied range of designers. Each offers us different styles and colour options, which means we can have a wide range of choices available in the boutique," Karyn says.
"This year has seen crepe dresses increase with the elegant, simplistic look working well for so many different venues. We had already started to introduce these dresses from last year, but expect to see even more styles in the new 2019 collections".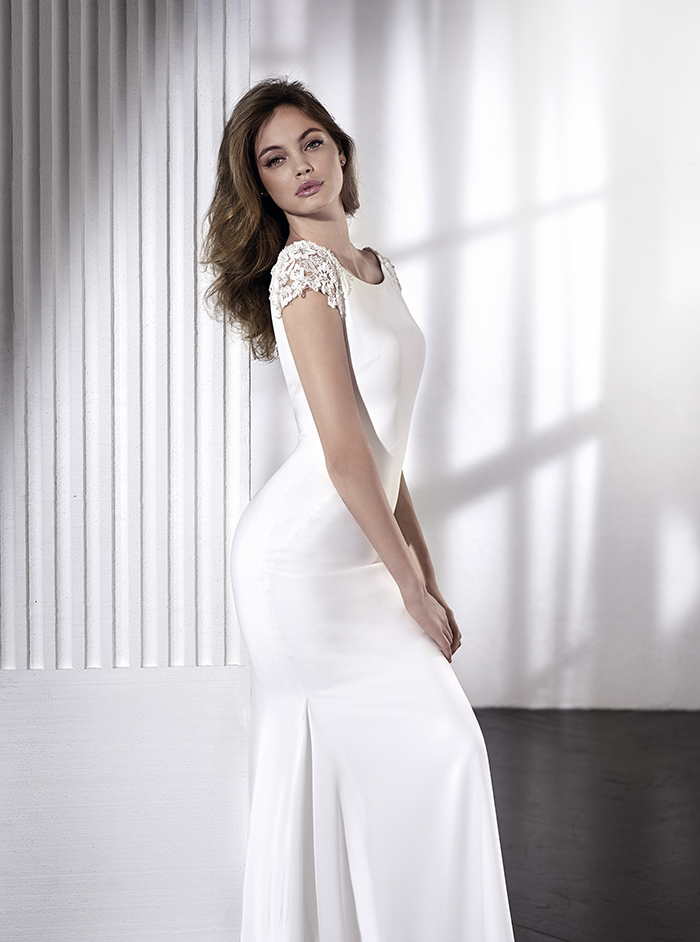 "One of my favourite dresses is Lara (pictured above), simple and elegant with that hint of sparkle. The open back is ideal for some back jewellery or back drop necklace," she adds.
For Ivory Whites, it's important each bride's dress is unique and personal to her. "No one wants to be in the same dress as everyone else; we don't like the idea of having just one or two dresses in the shop that sell out the rest," she says.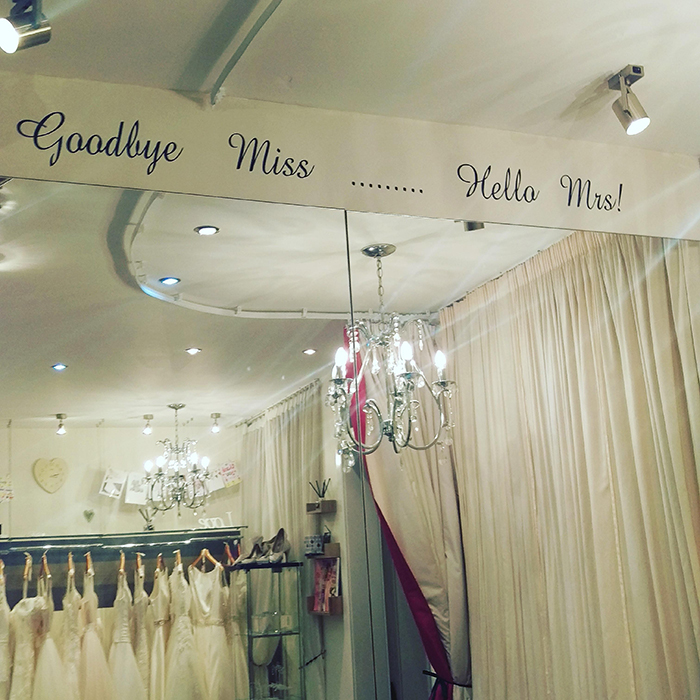 "Most of our dresses are only sold a couple of times and then we sell the sample. Any excuse to get new dresses in!"
"You can see the dresses on our website too, and we add new collection images as soon as they're released, so you can get an idea for styles you might want to try before you visit," adds Karyn.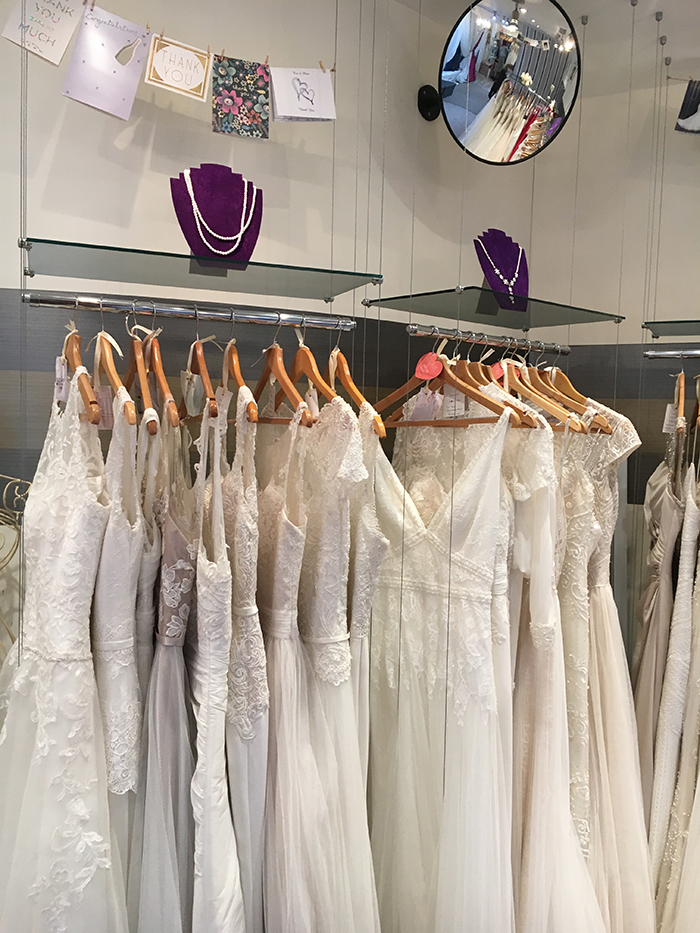 LOVE WHAT YOU DO
"I love opening the boutique each morning and not knowing exactly what the day will bring, who you'll meet and what they'll end up ordering," she smiles.
Karyn and the team at Ivory Whites also recognise that the experience of finding a dress is different for everyone and that sometimes, nerves can take over.
"Our job is to reassure the women that visit us. Some are very nervous and we feel proud when people leave saying they enjoyed the experience so much more than they thought they would," she says.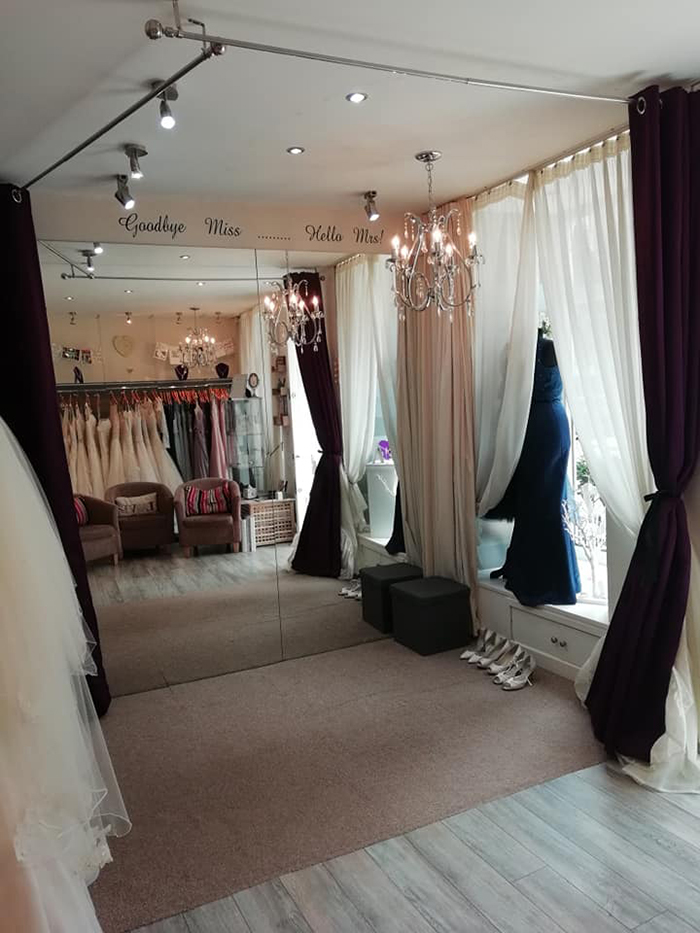 Your wedding dress is one of the most expensive items of clothing you'll ever buy and often, it's overwhelming when you're faced with sea of designs, nothing quite matching what you want.
"We work closely with our brides and explain every detail to them, to help them make informed choices that they are 100% confident with. Some brides travel from all over the UK to find their dress; it's really special when we have one of those brides who finds her dress with us," says Karyn.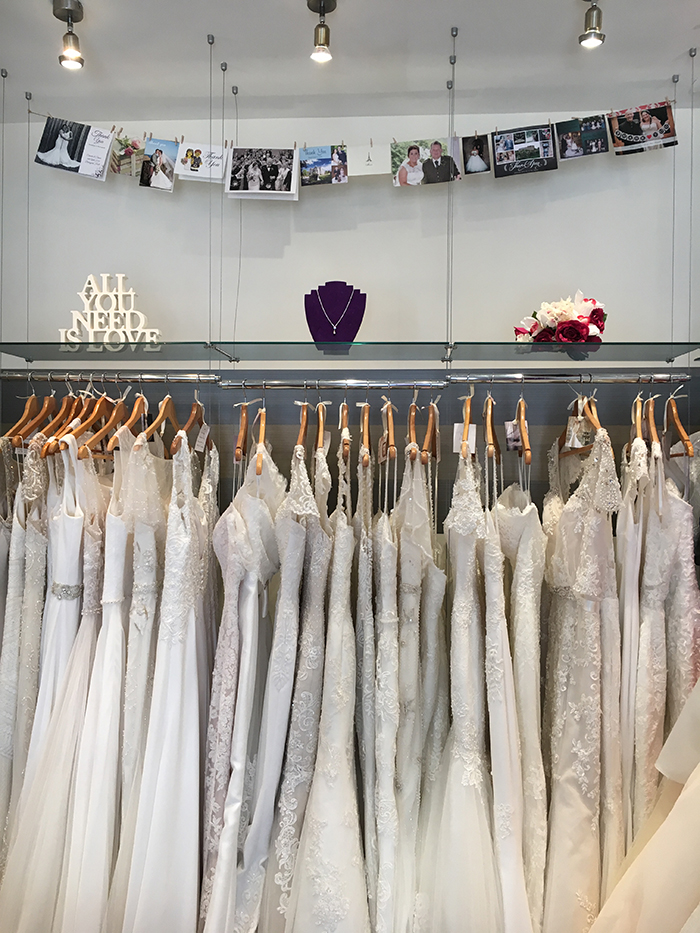 THE NEXT STEPS
Your experience with Ivory Whites doesn't just stop at buying the gown. Karyn and the team are happy to help you with alterations and aftercare.
"Once you've ordered your dress, we send you an email guide about everything that'll happen next. The time between ordering and receiving your dress can be months, or even years, so we like our brides to feel confident that they're always informed about what's happening and when, and know that they can contact us at any time," she explains.
Karyn is also happy to recommend dry cleaning and boxing companies, so you can preserve your beautiful dress for years to come.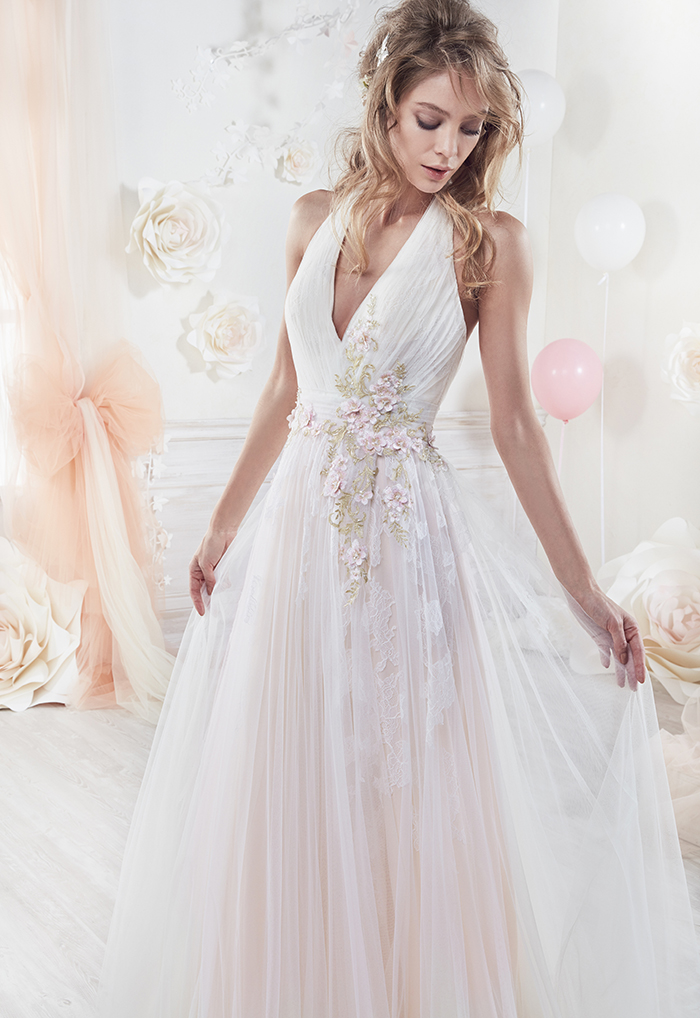 It's quite clear that working with brides at Ivory Whites is more than just a day job for Karyn and her team and they love seeing their brides' dreams come true on that most special of days.
"When we receive a card or email from our customers, we're delighted. We ask all our brides for a photo so we can add them to our album and we proudly display our cards on the wall for other brides to see. You can check out other bride's experiences on our website too," she says.
"It's so lovely when someone takes the time to thank you, it means so much just to have that recognition that you've helped someone make their wedding day even more special."
~ IN THE DIARY ~
These are the big summer bridal style events at Ivory Whites, Perth you will want to know about! Karyn shares the details…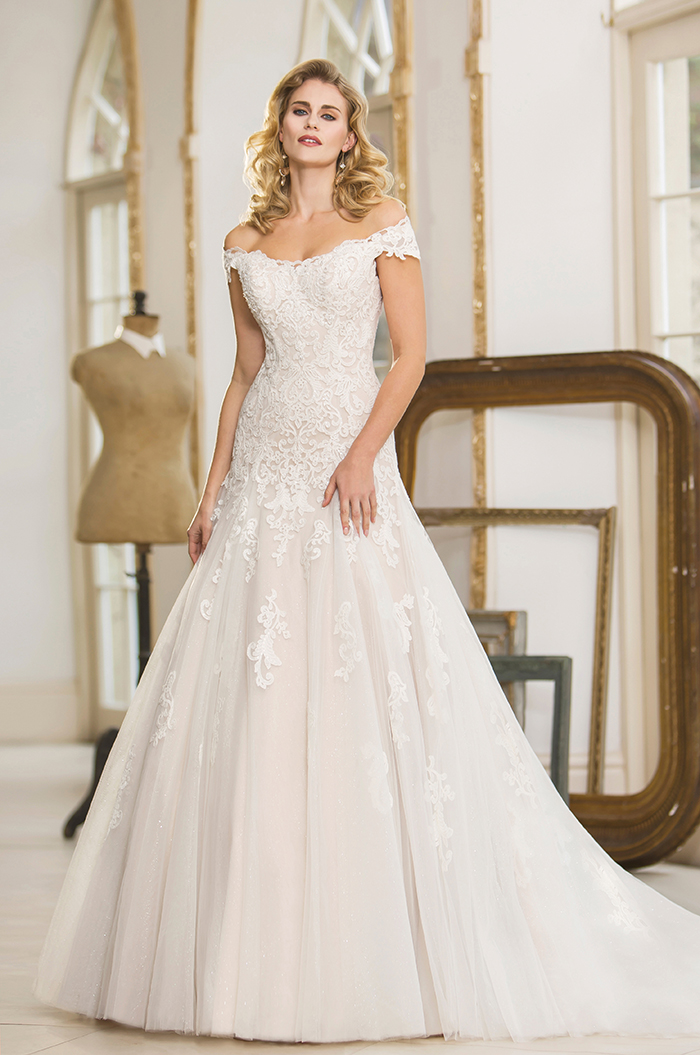 SAMPLE SALE
Friday 6th – Sunday 8th July
We are holding our sample sale on 6-8th July, this is where we sell most of the dresses we have in the boutique, to make space for new collections arriving from late July.
We offer sample dresses for sale in the boutique throughout the year. These are the dresses we use for brides to try on and we sell the sample for a fraction of what it would cost to order new.
These are great for brides with a shorter timescale or working within a budget. We find these dresses really popular throughout the year and we would encourage brides to discuss their budget with us as these dresses are perfect for being able to get your dream dress at a fraction of what you would normally be expecting to pay, starting from just £299
For more info, or to book an appointment, click here.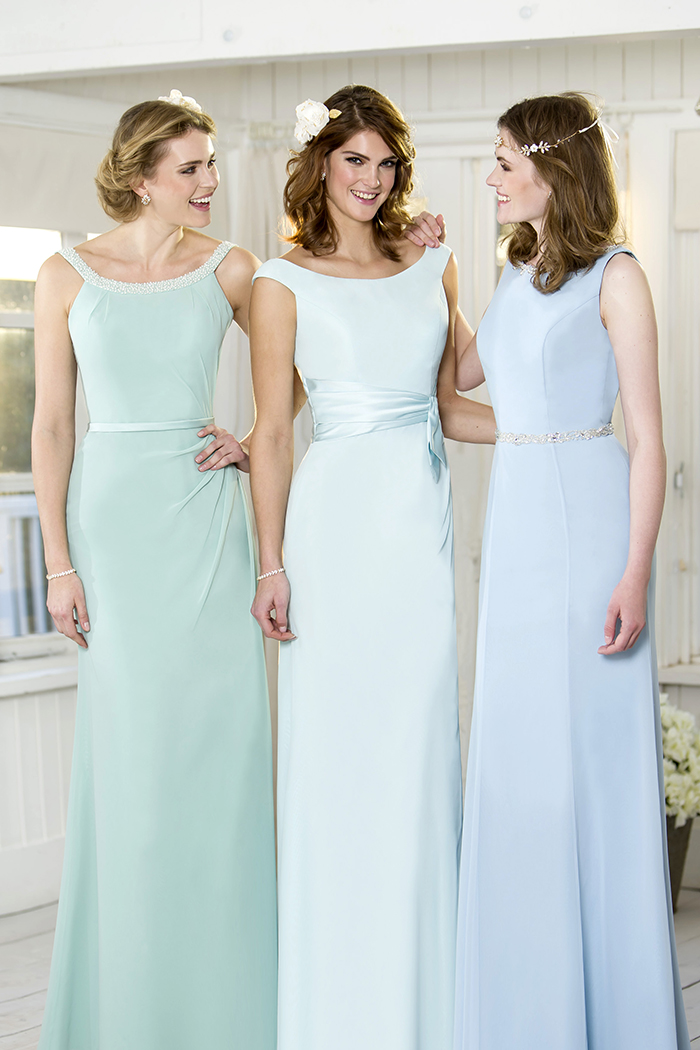 BRIDESMAID WEEKEND
Friday 29th June – Sunday 1st July
We can't forget our bridesmaids and our range is amazing. Our designer, True Bride, offer their dresses in over 70 different colours, and in sizes UK 6-36, meaning there is something for everyone.
They also have the True Match range of individual tops and skirts, so you can even create your own style. Once a year, we hold our Bridesmaid Weekend, where we take out the wedding dresses and fill the boutique with bridesmaid dresses for this one weekend only.
For more info, or to book an appointment, click here.
To make an appointment with Karyn and the team at Ivory Whites Perth, just call 01738 442 544.
CONNECT WITH IVORY WHITES PERTH¦
Website | Read reviews | Facebook | Instagram