Sharing your wedding on social media? Here's the rules…
From announcing your engagement to having an unplugged wedding day, we talk you through social media wedding etiquette.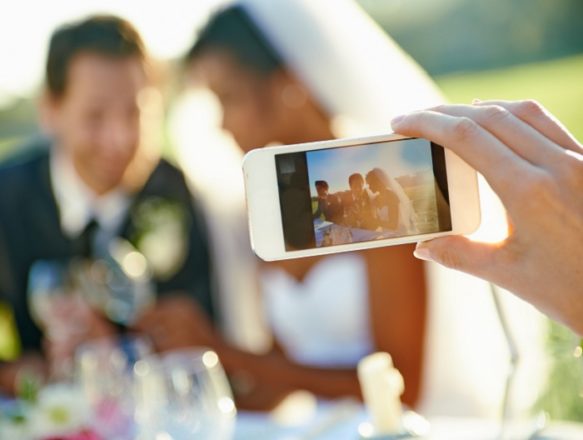 To #hashtag or not to hashtag? Here's the SWD guide to wedding social media etiquette…
DOS AND DON'TS
DON'T post your engagement news too soon
You don't want your favourite auntie finding out on Facebook that you've been engaged for a few days " oh, and around 300 people knew before she did. Not cool.
Share your happy news with a quick phone call or text before you get status-happy.
DO show off the ring
When we hear about a celeb engagement, the first thing we do is scour the internet for a picture of the ring.
It may be shallow but hey, it's the truth. Give your fans, er, followers what they want and post a picture of your sparkler (tag us in it too at @swdmagazine).
DON'T overshare
We know how exciting wedding planning is, but try not to fill your guests' feeds with a constant stream of w-day chat. If you need a place to vent or get advice, the SWD Forum is full of understanding brides-to-be who will totally get where you're at right now.
DO consider unplugging
Some couples like to have an unplugged wedding, whereby social media is banned.
This encourages everyone to fully engage in your day, and it means that your evening guests won't have seen every last detail online before they've even set foot in the venue (#nospoilers)!
DON'T get social media obsessed
We were shocked when we saw a YouTube clip showing a bride reaching into her bra to check her phone during her wedding ceremony.
Just, no.
DO use a hashtag
Create a hashtag for your wedding so that your guests can use Twitter and Instagram to upload videos, pictures and messages of love.
Make it something simple like #saraandcraigaregettinghitched and put signs around your venue to encourage guests to join in (you can always ask them to post after the wedding if you're unplugging for the day).
Will you be having an unplugged wedding, and how will you make sure it works?
Comment on Facebook!