We need to talk about the wedding industry's lack of racial diversity
The wedding industry is still overwhelmingly white – and we're not just talking about the dresses.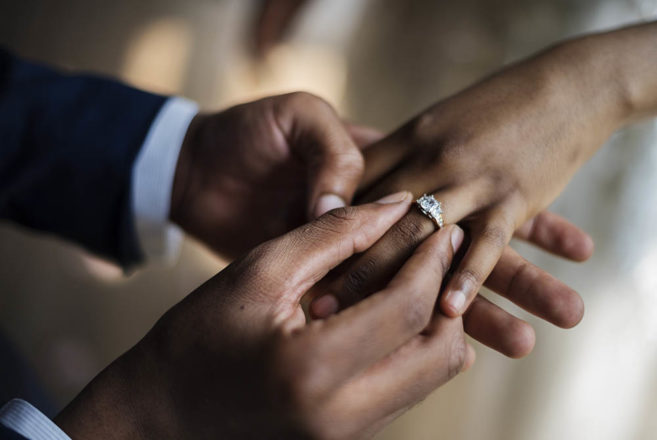 White is the colour most strongly associated with the wedding industry: the dress with clouds of ivory tulle, the frosted cake, the snowfall of confetti. The pillar candles, crisp linen and classic cars.
The people.
Our industry is not known for its racial diversity or inclusivity. It's rare to see a black couple on a wedding blog or in the glossy pages of a wedding magazine. For every 50 wedding dress designers shooting their latest collections, you'll perhaps find one or two every season that have chosen a dark-skinned black model to showcase their designs.
I wondered how reasonable that estimation was, so I visited the websites of 20 randomly selected wedding dress designers to see how many had a black or minority ethnic woman on their homepage. Only one did.
The illusion netting that has become so popular in bridalwear over the past few years is very often only available in a limited spectrum of colours that exclude many black women. White journalists have a tendency to use the word 'nude' to describe this fabric when it is a pale beige or peachy colour. No black woman would consider this to be 'nude'.
I've attended bridal fashion shows in places far more culturally diverse than my own home city of Glasgow, such as London, where not a single black model has graced the catwalk despite organisers having the luxury of choice.
A black bride-to-be has to spend longer searching for the right wedding suppliers: a make-up artist that has suitable products in their kit and understands how to make-up black skin; a hairstylist with experience styling black hair; a photographer that knows how to photograph dark skin tones.
White people (I'm looking at you, Blake Lively and Ryan Reynolds) still get married on plantations, and it took until 2019 for major wedding websites to stop promoting these former sites of slavery as idyllic wedding venues.
You get the picture.
I've edited Scottish Wedding magazine for six years, and despite being someone that genuinely cares about diversity, I've never once published anything about the above observations. We've chatted about it in the office over the years, but that's where it's remained. I didn't pause to consider that this is the kind of conversation that needs to be brought into the public sphere.
I could count on one hand the number of adverts we've run that feature a black bride or groom. Of the 23 issues I've edited – we're quarterly – just four have had a black or mixed-race woman on the front cover. It's not enough.
I'm writing this to apologise for my lack of affirmative action. I'm sorry. Scottish Wedding has a global audience across our print and online platforms and we have a responsibility to ensure that everyone feels included when they look at our content. We must try harder – and we will.
I promise to increase the representation of black and minority ethnic people in Scottish Wedding magazine; to seek out their stories rather than wait for them to come to me; to work with more black creatives and to support black-owned businesses. To listen, learn and help without waiting to be prompted.
It shouldn't have taken the brutal murder of George Floyd for me to examine and reflect on the role I – and my industry – play in reinforcing societal inequalities and upholding systemic racism. But it did, and now I'm here, hoping that other similarly privileged people will join me in making the wedding industry a better, more inclusive place for everyone.
I am committed to trying harder. Here are some links to resources that can help us all do the same.
Articles
How to avoid tokenism in the wedding industry
Welcome to the Anti-Racism Movement – Here's What You've Missed 
10 Steps To Non-optical Allyship
White Privilege: Unpacking the Invisible Knapsack
Books
Why I'm No Longer Talking To White People About Race, Reni Eddo-Lodge 
"I Will Not Be Erased": Our stories about growing up as people of colour, gal-dem 
Don't Touch My Hair, Emma Dabiri 
I Know Why The Caged Bird Sings, Maya Angelou
Donate
Split a donation between 70+ community bail funds, mutual aid funds, and racial justice organisers
If you'd like to discuss any of the contents of this post, please email me or DM Scottish Wedding on Instagram