Our Opinion: Would you go on a buddymoon?
A new trend sees couples inviting friends to honeymoon with them. But is your first hol as newlyweds really a time to share?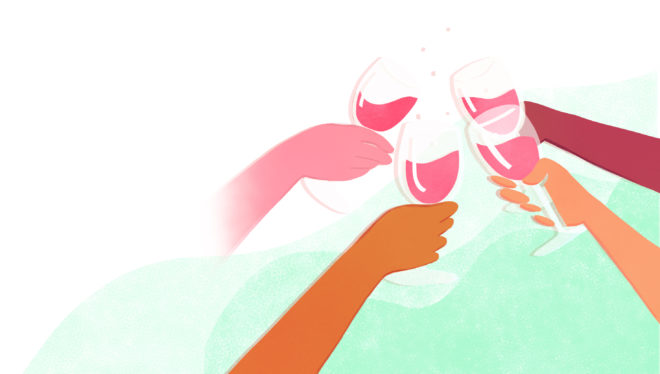 ILLUSTRATIONS | Sarah Holliday


Picture this: you're on an exotic beach. All the wedding planning stresses are long forgotten about as your new spouse arrives back at the luxury loungers and hands you a piña colada.
You clink your glasses together and smile, basking in your little slice of paradise. Suddenly, a voice cuts through the idyll.
It takes you a second to realise it's your mother-in-law, announcing she's bored of lying by the pool so she's booked you all on a group excursion to the old caves and the minibus leaves in half an hour.
As you process this news, your phone flashes with a WhatsApp message from your bestie to let you know she didn't fancy the look of the restaurant you booked for that night, so she's just changed the booking to a lovely sushi place, if that's ok? You wouldn't normally mind, but this is meant to be you and your partner's time–your literal
honeymoon period.

Instead you chose to share it with your nearest and dearest and now they're seeming too near and, frankly, not so dear. Because no matter how well you all get on usually, everyone's idea of fun on holiday is different, and that inevitably causes friction.
Now, I'm not saying I don't love my family and friends, or that group holidays can't be great.
But the thought of compromising and trying to please everyone on what should be the most romantic vacay you and your other half will ever go on? No, sorry.
If it's the worry you'll get bored of a beach holiday that's making you think inviting 15 of your loved ones along is a good idea, make your holiday more exciting.
Plan an American road trip, book a series of back-to-back city breaks, go on around-the-world cruise; whatever works for you both. Not an unwanted excursion or sushi surprise dinner in sight!

It might not be traditional, but I'd definitely go on a buddymoon if the stars aligned and me, my future husband and our couple friends were all free at the same time.
It'd be a different vibe to a normal romantic honeymoon for sure, but I also think in the right circumstances that it's the ideal way to have a once-in-a-lifetime trip with all the people you love.
When it comes to imaginary wedding planning (I'm not actually engaged at the mo), I've always focused more on what I'd do for a honeymoon, planning itineraries for dream trips that'd involve eating our way across Italy or whale-watching around the coast of Mexico.
At the same time, my friends and I (a group of four couples) have long talked about planning an amazing holiday abroad where we rent a gorgeous house somewhere exotic and spend a week exploring and drinking.
So why not combine the two? Spend some quality time with our friends and enjoy a holiday we'll remember forever. Like lots of other couples, my partner and I never have enough annual leave allowance or money to do all the trips we'd like to every year, so it makes practical sense.
It also has a practical benefit if you're thinking about doing a destination wedding; you could still head off to get married in France or Spain or wherever you've got in mind, but you'd be able to have your friends there to celebrate with you.
And I mean, really, most couples that get married today have already enjoyed a holiday together.
They've done the stay-in-bed-all-weekend city breaks and lazing-on-a-beach for a week vacays together, so sharing the honeymoon experience with others isn't an insanely big sacrifice.
I draw the line, a very firm line, at sharing a hostel though – it might be a buddymoon but I'd still want some element of luxury and style.
"WE HAD A BUDDYMOON!"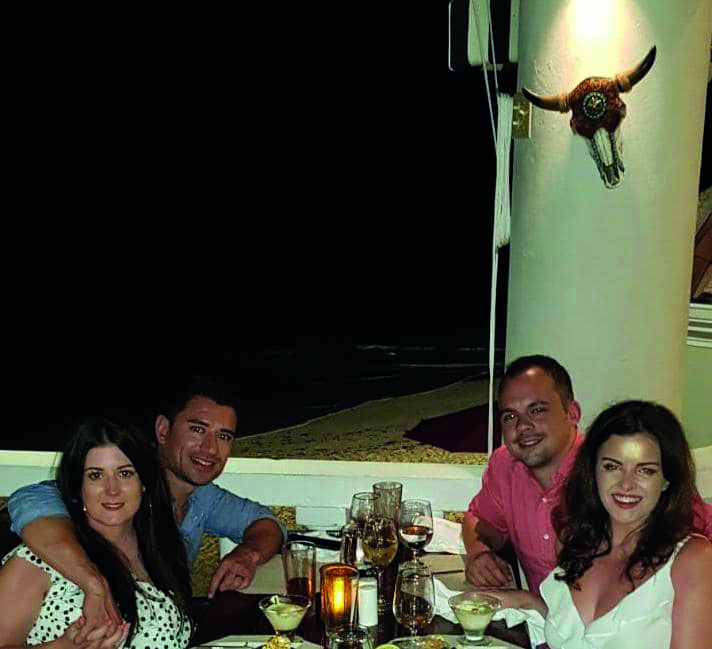 "When booking our honeymoon, we found out our friends were looking for a holiday too. Jamie was best man at our wedding, and I'm good friends with Catrina, so we decided we'd all go to Antigua. We still managed to have romantic moments as a couple,and we had the best fun together!" – LAURA GOODWIN
WOULD YOU GO ON A BUDDYMOON? LET US KNOW ON OUR FACEBOOK PAGE