Can we please talk about… how alternative weddings are not that alternative
Are you a traditional bride or an alternative bride? These two things are one and the same these days, contends Patricia-Ann Young.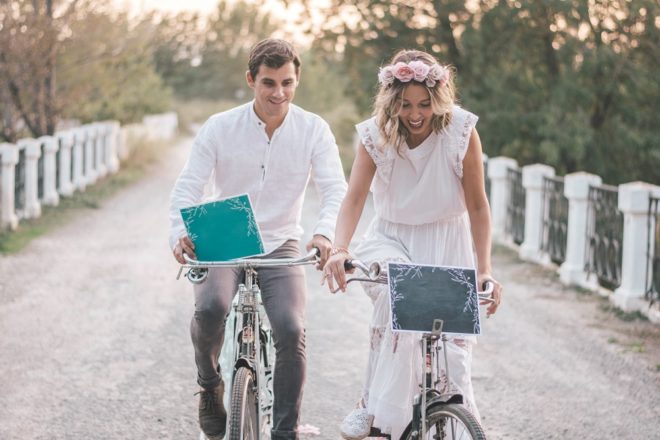 It was something that had been tugging at me for a while – a swirling sense of unease I couldn't quite put my finger on. But as I squinted at a poster promoting an 'alternative' wedding fair, it finally dawned on me: there's nothing that alternative about the 'alternative' wedding trend, is there?
The poster that brought on this epiphany had definitely been styled to appear subversive. The model gazed at me behind a wall of cool fonts and a logo so simple and chic that it was obvious whoever designed it spent years studying at some trendy art college. But take the text away and what was left was a pretty, slim, blonde model in a white dress. So far, so bog-standard when it comes to marketing in the bridal industry.
I'm not obtuse enough to not acknowledge that yes, of course, there are some fashion and décor options these 'alternative' wedding suppliers offer that other more conventional wedding suppliers don't.
A jumpsuit or skirt-and-top combo instead of a basic white dress. Leather jackets with hand painted backs that say 'Mrs [insert new name here as you participate in the most traditional of all traditions while looking like a T-Bird from Grease]'. Big wicker chairs, for some reason. You know, all the things that signify you're not a regular, boring bride, you're a cool bride.
These wedding suppliers promise couples that they won't give them a cookie-cutter wedding day, implying firstly that convention is something to be sneered at, and secondly that they're bucking wildly against the norm.
But the thing is, if you search the hashtag 'alternative wedding' on Instagram or Pinterest, you'll find literally hundreds of thousands of images that all kind of look the same.
Unstructured bouquets, DIY-style décor that was in all likelihood artfully arranged by a professional, and a bride in a denim jacket with her group of willowy friends in perfectly mismatched bridesmaid dresses, bouquets fist-punched to the sky. 'Yeeeeeaaah!' you can almost hear them screaming, 'We're soooooo bloody alternative!'
In truth, the concept of an 'alternative' wedding is pretty paint-by-calligraphic-numbers these days. It won't reflect who you truly are as a couple, because – I'm sorry baby – pampas grass can't do that.
'Alternative', 'authentic', 'un-wedding' – these are all just words being used to make you feel embarrassed for wanting to book a package wedding deal at your local hotel rather than a quirky blank canvas venue that charges three times as much.
And listen, if that's the type of wedding you want to have, then have at it. They're gorgeous, and I'm sure you'll make your big day just as beautiful.
But don't let anyone make you feel bad or 'less than' because you went for chair covers instead of Chiavari chairs or arrived in a Beauford instead of on a bike.
Your happiness is more important than how unique the outside world perceives you to be.
We'd love to hear what you think!