Meet our body confident real Scottish brides!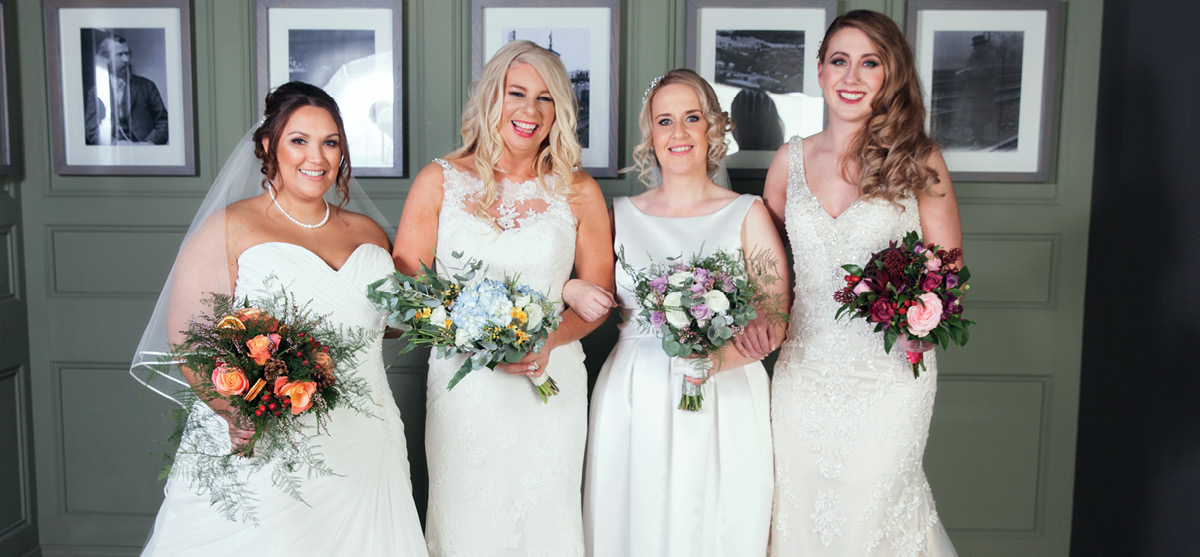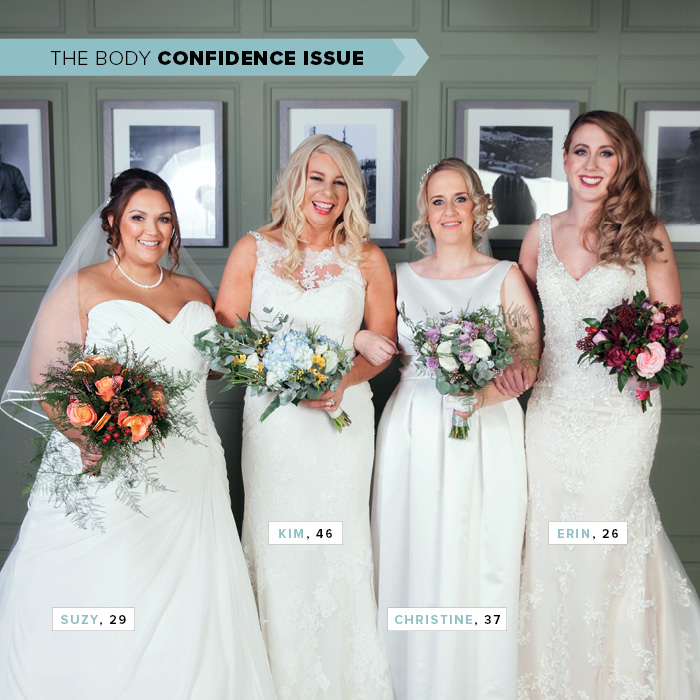 Photography: Laura Tiliman + Eve Conroy
Venue: The Corinthian Club, Glasgow
The idea behind the shoot was simple: most magazines generally only represent one body type and age bracket in their fashion shoots (and we're as guilty of it at SWD as any other publication), which means many women don't see models they can relate to in magazines. This isn't ideal when you're looking for one of the most important dresses you'll ever wear.
You want to get an idea of the styles that will potentially suit you, because as we all know, half the battle in finding the right wedding dress comes down to picking one that flatters your figure " and that can be tricky to suss out if you only ever see women who conform to one narrow beauty standard modelling the gowns.
MEET OUR REAL LIFE BRIDES!
SUZY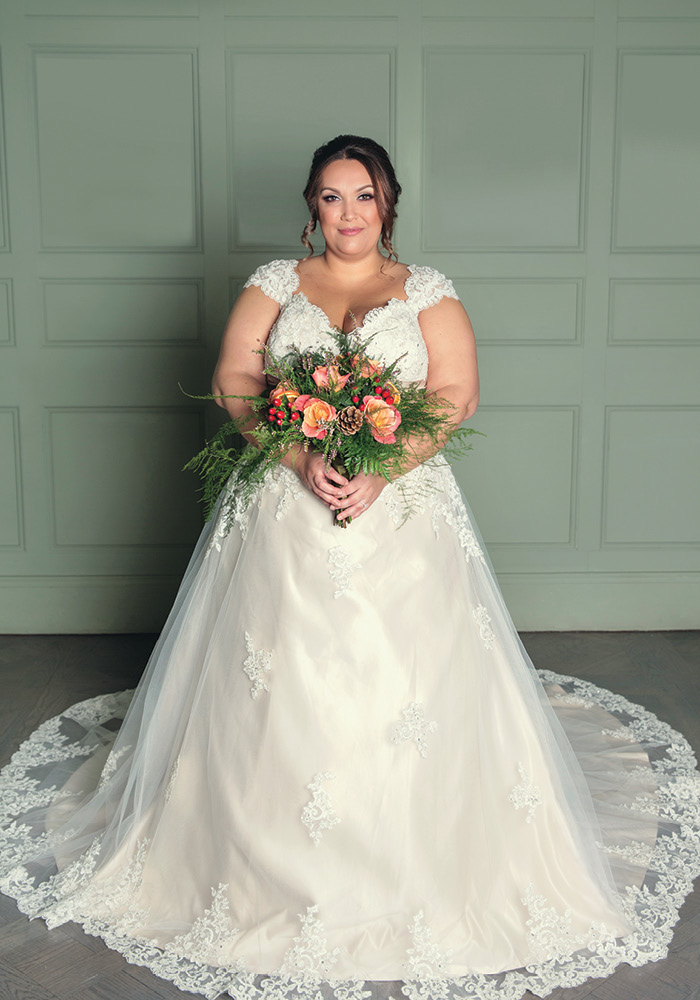 Sonsie satin A-line gown with V neck and cap sleeve, covered with embellished tulle and long train (POA), Love Your Curves Bridal
Hand-tied bouquet with asparagus fern, coral roses, heather, berry, pine cones and orange slices (£85), Lavender Blue Glasgow
Suzy is marrying other half Mark at Dalmeny Park Country House Hotel this September, and has already chosen her dress.
"I was quite open-minded when I went looking for it. Because of my size, I don't really like my arms or tummy, and I initially wanted something that covered these areas," says the bride, who is a size 22-24. "However, the dress I actually chose doesn't cover my arms " it just brings me in in all the right places, and makes me feel fantastic!"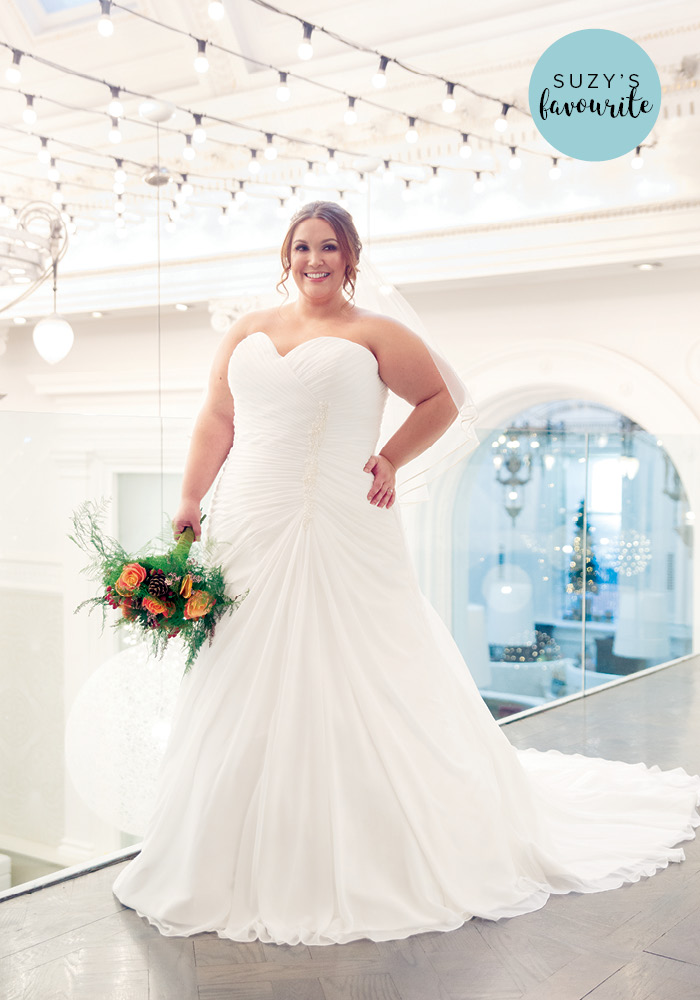 Callista soft ruched chiffon gown with A-line silhouette, embellished with freshwater pearls handbeaded down the bodice (POA), Love Your Curves Bridal
Suzy's beauty look was all about the romance. "Suzy wanted a soft, natural eye so I used pink and brown tones to keep it glam but still very soft," says MUA Nicola of Honey & Violet. "I also went for a nude pink lip and kept her skin very glowy."
To create her loose, romantic up-do, hairstylist Lisa of Honey & Violet curled Suzy's hair and backcombed at the top to create volume, then twisted her hair up. "I pulled and pinned to secure, and put her hair in a middle parting to give soft curls around her face."
KIM

White One by Pronovias ˜Sayde' dress in embroidered tulle with a V-neckline, lace and gemstone appliqués (£1,140) and crystal and pearl blossom hairpiece (£39.99), both Ivory Whites
Trailing hand-tied bouquet with blue hydrangea, eucalyptus, asparagus fern, cat tails, mimosa, and pops of narcissi and ranunculus (£85), Lavender Blue Glasgow
This October, Kim will marry partner Paul at West Brewery in Glasgow " but she's not found her dress yet.
"I'm a little bit nervous, and scared I'll pick one and then see something else I love," says Kim, who is a size 12. "I'm open to trying most styles, but I'm keeping clear of princess-style ball gowns. I've got quite a long back, so something to show this off would be nice. I'm keen to show SWD readers that age is no barrier to being a bride or to wearing a proper gorgeous wedding dress."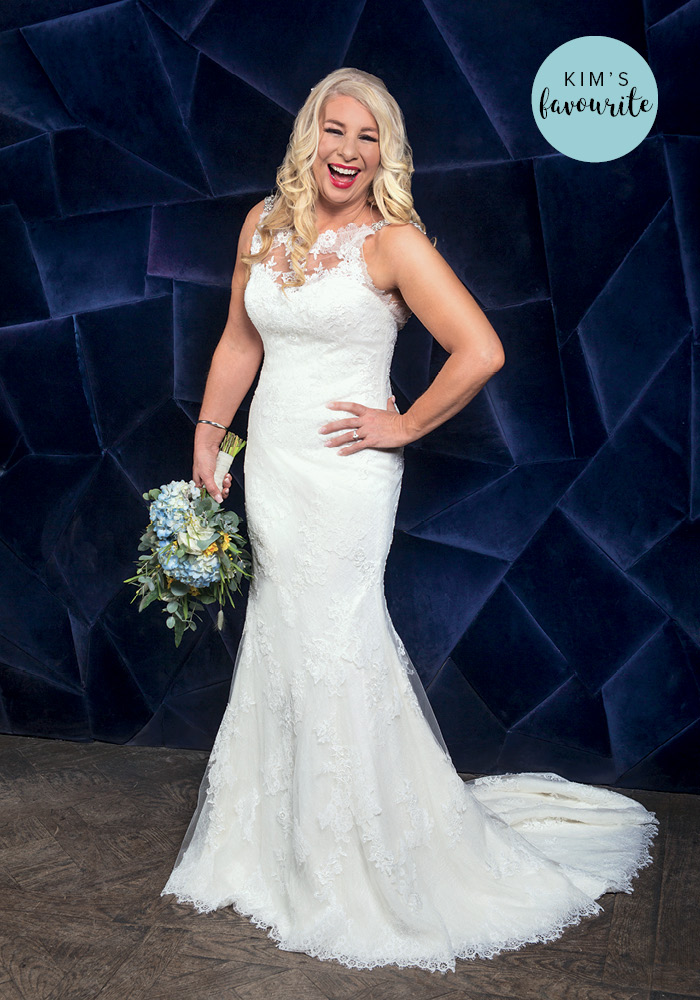 Kim came in with make-up on so, for me, that was great as I could see what she likes," says MUA Stevie McCormack of Make Up and Hair by Stevie, who used golden brown tones on Kim's eyes and went for a classic red lip to complement her blonde hair.
Kim plans to wear her hair down when she ties the knot, so hairstylist Aimi Clark of AMM Hair and Make Up Team created soft, glamorous curls. "I used the GHD Soft Curl Tong to give this fuller look, and styled with Silhouette and Wella products."
CHRISTINE

Halfpenny London ˜Laura' long-sleeved top (£1,250) and ˜Dita' silk tulle skirt (£1,500), worn with Watters bodice (£750) and Stephanie Browne Australia ˜Stars in my eyes' headpiece (£310), Anne Priscilla Bridal
Country-style hand-tied bouquet of vintage spray roses, asparagus fern, eucalyptus, waxflower and ranunculus (£85), Lavender Blue Glasgow
Shortly after getting engaged to partner Graham in December 2014, Christine picked her dress for their February 2017 wedding at Forrester Park Resort " a size eight Pronovias gown. Then, at the start of 2016, she was overjoyed to discover she was expecting a baby. After baby Beau was born, Christine (now a size 12) went to try the dress on.
"This was an anxious experience; the dress was now too small, and I had to leave the shop without it," says the bride, who fortunately found another dress elsewhere. "My style has definitely changed since becoming a mum," she says.
"My first dress was tight and slinky, but my new dress, as well as being beautiful, is comfortable. Something I won't have to go on a juice diet to wear!"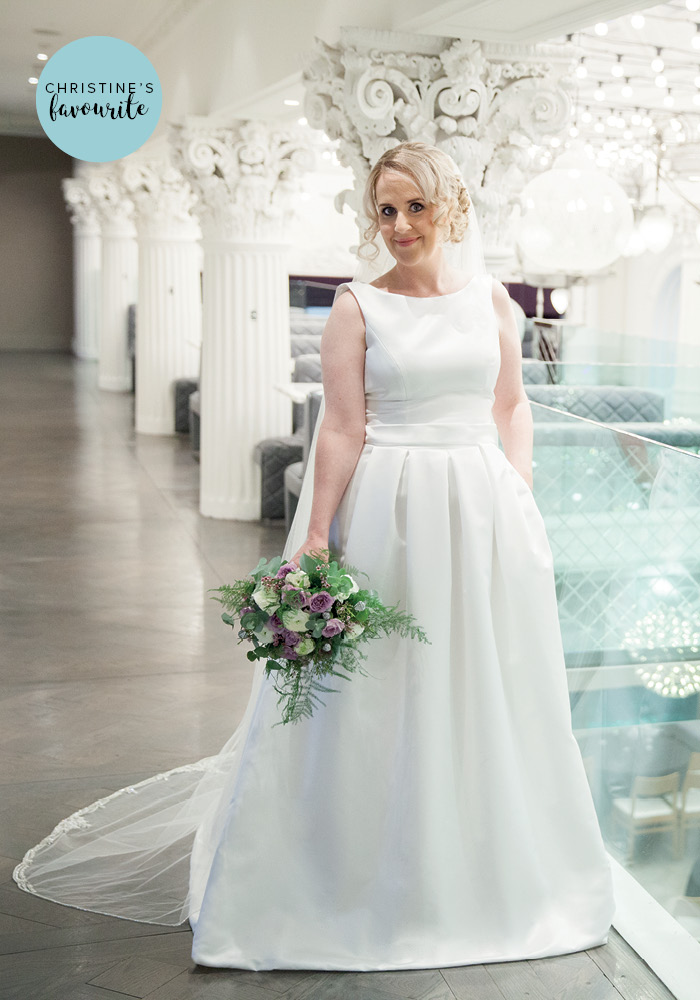 Atelier Emelia ˜Angelique' low-waist dress in silk mikado with pockets, boat neckline and deep back neckline (£1,470) and Alan Hannah veil (£374), both Anne Priscilla Bridal
"When Christine gets married she's going to have a lot of mauve colours, so we've stuck with that; it's a very vintage but natural look," says make-up artist Caroline of Caroline Stewart Makeup Artistry, who used the Urban Decay Naked Basics palette.
Hairstylist Karen of Divine Hair by Karen Rider worked with Christine's naturally curly hair to create a romantic up-do. "I used a little bit of hair padding and curled the hair in different directions to make it look very natural," she says.
ERIN
Nicole Spose ˜NIAB16022′ (POA), En Vogue hair accessory (both POA), Sophia Grace Couture
Hand-tied bouquet with Sweet Avalanche roses, blueberry roses, ranunculus, berry, skimming and lotus pods (£85), Lavender Blue Glasgow
"I represent the gals with the small boobs, ab-free tummies and lanky legs," joked Erin in her application for this shoot.
Erin is marrying other half Scott at Dalduff Farm in Maybole next year, and hasn't chosen her dress yet. "I think because I'm tall and quite slim I fancy something that will show off my figure. But obviously I want something comfortable too, so nothing that's too tight around my tummy – you want to be comfy during the day and to be able to dance," says the bride, who is a size 10.
"I want something less traditional, and more ˜fashion', and I'd love a detachable skirt or train."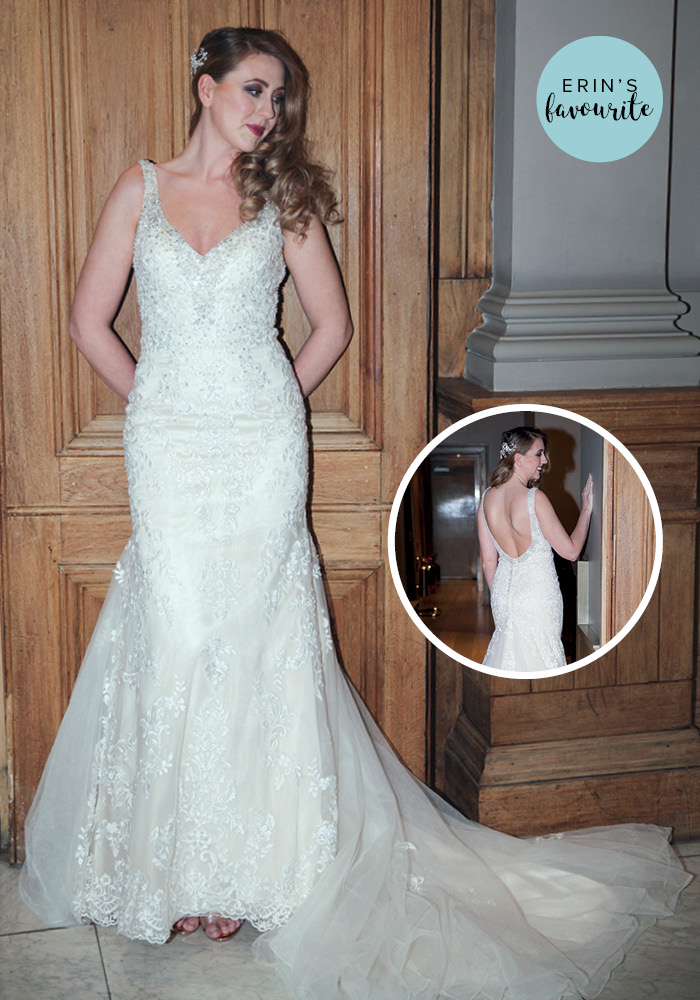 Kenneth Winston ˜1658′ (POA), Sophia Grace Couture
Erin's hair and make-up was done by Sabina Kwiatkowska of Make-up Artists Creative Agency Scotland. "Because Erin likes wintry colours we went for smoky eyes and plummy lips," she says. "My secret hero product is Bourjois Healthy Mix Foundation; it's great for photoshoots as it doesn't contain an SPF."
Sabina styled one side of Erin's hair in big bouncy curls, leaving the other half sleek for a contemporary, fashion-forward look.
With thanks to Naydene from Sophia Grace Couture, Jen at Anne Priscilla Bridal, Karyn at Ivory Whites and Karen from Love Your Curves Bridal for their assistance and styling on this shoot.
Read more on pages 96 – 109 in the winter issue of Scottish Wedding Directory magazine, out now!