Let's dance! How to master the dancefloor on your wedding day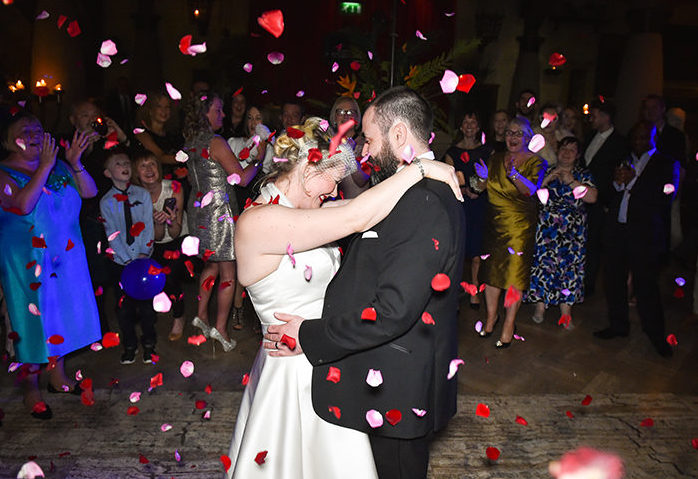 The lights are dimmed, the music's about to play and all eyes are on you. But what if you just can't dance? Here's how to avoid marital murder on the dancefloor.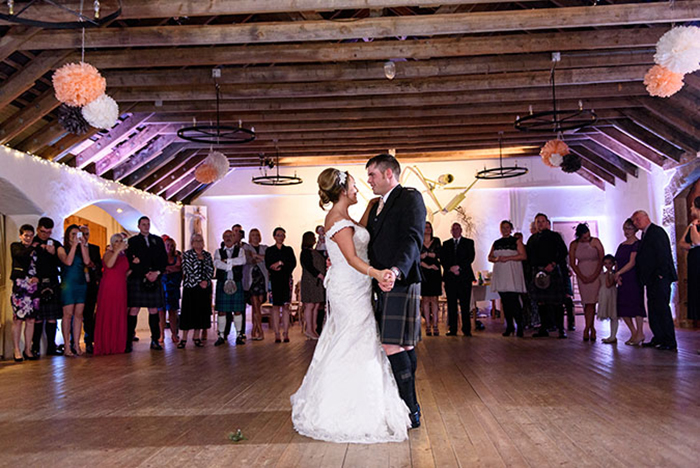 IMAGE | Susan Renee Photography
Strictly Come Dancing may be a distant memory now, but we've still got Strictly fever, practising our samba rolls around the kitchen. And we're sure we're not alone.
Go on, admit it " you'd love to emulate Debbie and Giovanni with an effortless waltz across your wedding dancefloor.
If, however, you're a bit more Ed Balls than Joe McFadden, now is the perfect time to get in the practice room. After all, your first dance is the first time you'll take to the floor as a married couple so you've got to put the work in to avoid a daaance disaaaster, darling.
FIRST POSITION
So you've decided that instead of just shuffling round the dancefloor you'd like to wow your guests with fancy footwork. But where do you start?
Whether you're a bit of a mover or a complete novice, it's a good idea to get some help from the pros.
"Spending all that money on a wedding and not doing a good first dance could make it a bit rough round the edges," says Alan Dee from Dees Dancing. "Going for professional lessons makes it complete."
Felicity Drever from Learn 2 Wedding Dance agrees. "Your first dance is a really important part of your big day and deserves as much effort in preparation as all your other wedding services," she says.
"For many couples, the fear of having no dance skills and looking silly in front of your friends puts many off, opting instead to just shuffle round the floor and get your guests up to join in as soon as possible. In reality though, most guests are hoping to see a little more than a ˜shuffle'!"
Lessons will give you the security of knowing you can deliver something with confidence.
"Taking private lessons will help you both look and feel great, knowing you've prepared and are actually looking forward to [the first dance], instead of it being something you want to get over as soon as possible," advises Felicity.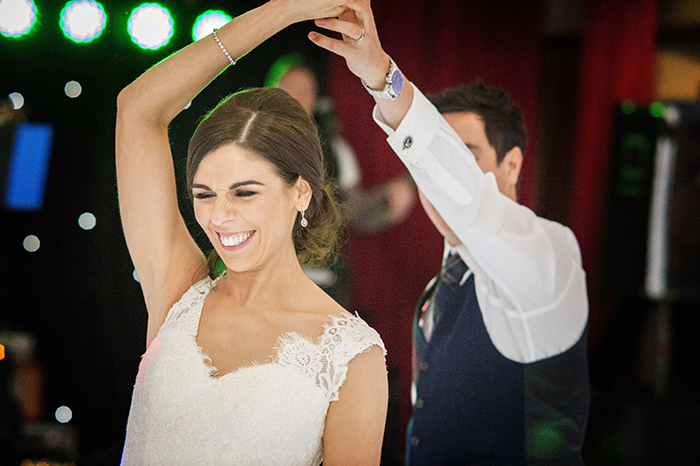 IMAGE | Jarvie and Jones Photography
CHOOSE A TUNE
Selecting the perfect song will give you a head start before you've even pulled on your dancing shoes. "We say bring your music on your phone and bring an alternative," says Alan.
"You get couples surprisingly bringing Frank Sinatra or Dean Martin." If you have a song that you consider to be ˜your' song, go for it. "Don't pick a tune just because it's trending or popular on other first dance floors," advises Felicity.
"Think of your perfect song first and your perfect dance is already half done."
Going for lessons means you have a wealth of expertise to tap into. You may fancy moving to Ed Sheeran but don't know what style best suits his music.
That's when the pros can step in. "The public don't necessarily have a knowledge of the music that suits the dance," he points out. "There are moves that don't fit some music."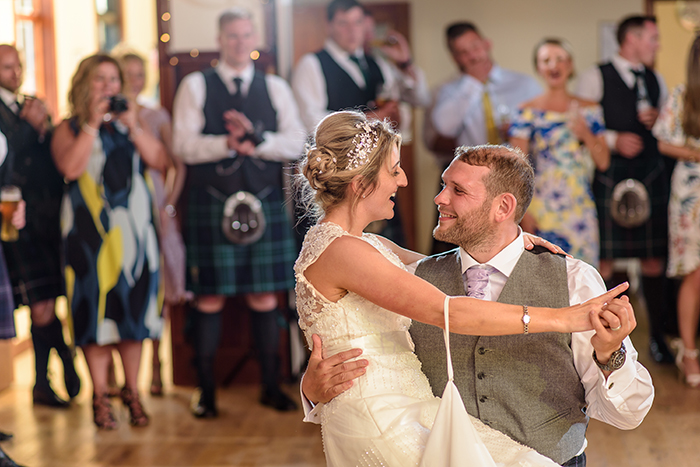 IMAGE | Andy Taylor Photography
EARLY BIRDS
As with everything, practice makes perfect and the more time you give yourself to learn the steps, the better chance you'll have of pulling off something awesome.
You should start lessons three to six months before and it's important to practise in between lessons. Learning the steps of certain dances will form a firm foundation for your routine.
"Most of them suit the social slow dance or a waltz, but we've taught people different things like the tango or the salsa," says Alan.
"It really is not our choice " it's the couple's. We will advise them if it's not suitable." Foxtrot is also a suitable dance style for a first dance, says Felicity. "Your dance will ultimately depend on the speed and tempo of your chosen song," she explains. "I love mixing up different styles if the song allows it and this is what gives a unique first dance to every couple."
Professional teachers will also know the potential pitfalls to avoid. "Lifts are out," says Alan. "We had a couple that wanted the lift from Dirty Dancing but lifting in a wedding dress will cover a guy's face. Too many spins can also be awkward."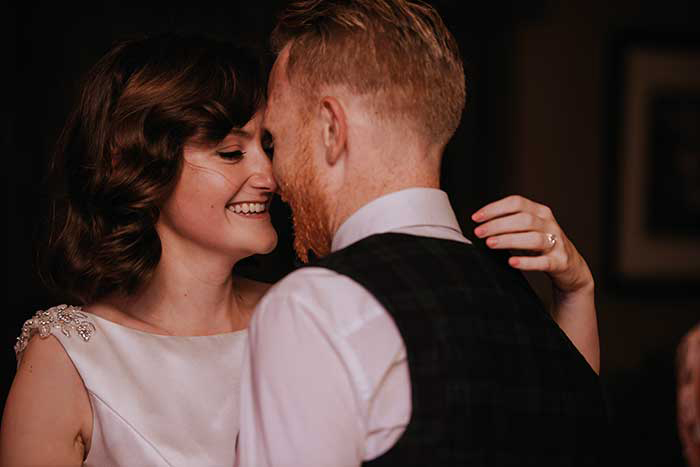 IMAGE | Hayley Fraser Photography
COMPLETE CHOREOGRAPHY
How much of a routine you want to deliver depends on your own personal wishes and just how much time you want to be alone on the floor.
"We can choreograph something that suits them, their ability and the music," says Alan. "We reckon about two minutes or at the most two-and-a-half minutes by themselves works. Then the band or DJ will invite others onto the floor when we advise the couple to go back to basic steps."
~ WE DID IT OUR WAY! ~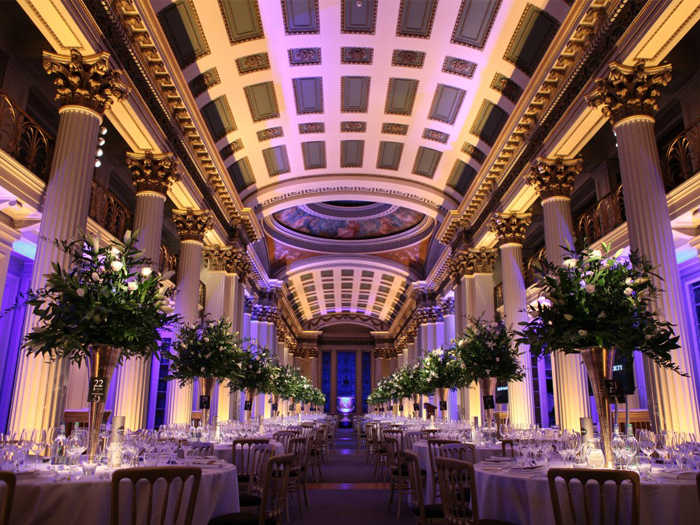 M A K I N G  M E M O R I E S
Inspired by her sister's first dance, Jennifer was determined to perfect some moves when it came to her own wedding to James at The Signet Library.
"I remember how my sister's husband held her hand and let her spin across the dancefloor at the chorus," smiles Jennifer. "Her dress sprayed out and she was so happy looking. I wanted to have a memory like that." Also conscious that there would be no hiding on their venue's circular dancefloor, Jennifer and James turned to Felicity at Learn 2 Wedding Dance for help.
"We thought we might just learn a few basics, but after Felicity listened to the song " No Light, No Light by Florence and the Machine " she instantly created a routine," remembers Jennifer.
"We went from standing on each other's toes to a ˜routine' quite quickly." The couple didn't tell anyone they had taken lessons and had fun practising their moves at home. When the big moment arrived they took to the floor and just went for it.
"It was so much fun!" Jennifer says. "Forever after, if we hear that song we have to get up and do it. It's a wee extra unexpected memory that lives on from the day."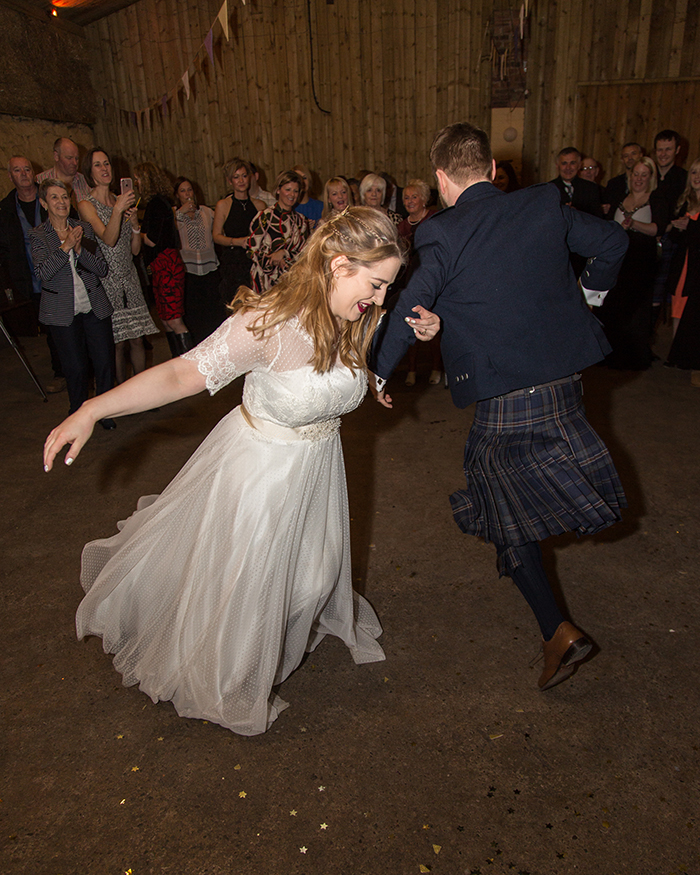 IMAGE | Crieff Photography
"WE CHOREOGRAPHED OUR FIRST DANCE!"
Lindsay and Ryan choreographed their own moves when they tied the knot at Comrie Croft.
Lindsay and Ryan were super-nervous about having to perform a first dance in front of all their loved ones but a quick search through YouTube threw up the perfect solution.
"We had seen videos of people dancing some choreographed steps to our first dance song Home by Edward Sharpe and the Magnetic Zeros and we thought we wouldn't be so nervous because people would be laughing with us if we did something similar," remembers Lindsay.
The couple skilfully choreographed some moves in the weeks running up to the big day, making sure to add in enough twirls and do-si-dos for a bit of wow factor.
When the big moment came they cracked out their routine to the delight of their guests. "Everyone was laughing because of the speed of it all," says Lindsay.
"Everyone was really excited to join in and people round the edges were starting to dance. I think being prepared made it more special and memorable."
IMAGE | Emma Gray Photography
~ F L O O R  F I L L E R S ~
Now you've nailed your first dance, get everyone else on the floor! DJs and bands from across Scotland share their fave tunes to keep the dancefloor busy.
SUPERSTITION | STEVIE WONDER
"This is one of my favourite tracks to play. It's the one track that seems to appeal to all ages at a wedding! This is always one of the first songs I play to get the dancefloor busy!"
Rikki, Silent Knights
9-5 | DOLLY PARTON
"This is a bit of an anthem " people (usually the women) seem to love belting this out! It's an excellent song to pull out when you just need something to get people hooked, so it's used pretty often. I think it's in most people's DNA!"
Kim, Cut the Cake
SHUT UP AND DANCE | WALK THE MOON
"I always play it at either the end of the first half or the start of the second half. It's guaranteed to get people up on the dancefloor."
Euan, DeVille Wedding Band
PROUD MARY | TINA TURNER
"At almost every wedding we've ever played, this song gets the most people on the dancefloor. I think it's probably in just about every wedding set list.
We usually play it at the same time, which is about the fourth song of our second set. When we played it the other week there was barely an inch left on the designated dancefloor. There's just something uplifting and energetic about it."
David, Too Many Vices
REET PETITE | JACKIE WILSON
"I always play it at the start of the night as it cuts across all generations, mainly because it was re-released in the 1980s. I follow it with more jive and motown. If I start with modern music, that alienates the more mature guests. But if I keep them happy at the start of the night then those are the ones who are raving at the end!"
CASTLE ON THE HILL | ED SHEERAN
This is a really popular choice at the moment. It seems to tell the story of so many groups of friends and both male and female groups get up to sing and dance to it.
Such a feel-good song that fills the floor every time. Great to be able to include such a new song that has that effect."
John, The Limit
MR BRIGHTSIDE | THE KILLERS
"It's just one of those songs that's guaranteed to get people up. I read recently that since it came out it's never left the top 100 charts. We usually open our second set after the break with it to get people on the floor."
Duncan, Splendid Gentlemen
WALK OF LIFE | DIRE STRAITS
"This is another one that always gets people up. It must be the tempo or the beat but people can't resist it. We normally play it in the first half."
Euan, DeVille Wedding Band
DIGNITY | DEACON BLUE
"We don't play it all the time but when we do it's a popular number! I think everyone feels a bit of a connection to Deacon Blue with them being a Scottish band. Another excellent sing-along track with an anthemic feel to it!"
Kim, Cut the Cake
A LITTLE RESPECT | ERASURE
"This song came out in that sweet spot at the end of the 80s and so was loved by that generation but it stuck around and 90s kids managed to grow up with it too.
They are the 25-35 age group who are getting married and that we're playing to. There can't be anyone out there who doesn't love giving that high note a try!"
David, Too Many Vices
STILL TO DECIDE ON YOUR DJ OR BAND?