Let them eat cake: what you need to know about wedding cakes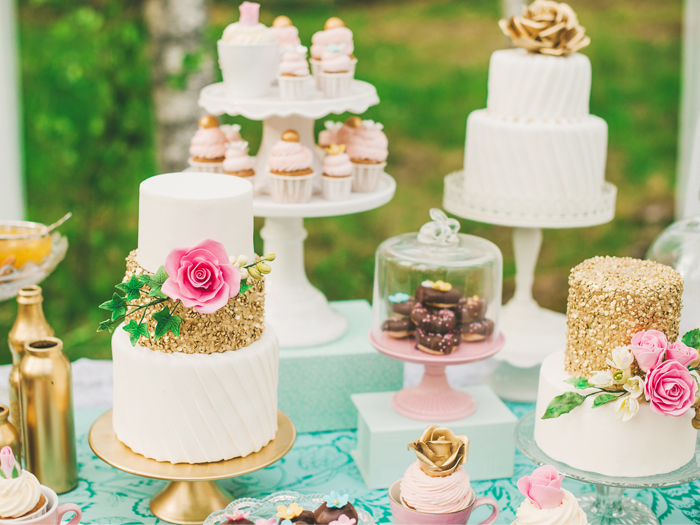 Far from being a piece of cake, there are a few vital things you have to consider when designing your wedding cake. Scotland's cake experts are here with the need-to-know deets…
YOU'RE (PROBABLY) NOT MARY
If baking's your bag, we salute you and urge you to enter Bake Off immediately. But if the thought of following sugarcraft tutorials on YouTube brings you out in a cold sweat or you simply can't trust your mum on baking duties, the scenario above is likely a far cry from what would happen in reality.
"Planning a wedding is a pretty stressful time," explains Sammy at Truly Scrumptious Designer Cakes. "It's nice to have a friend or relative make your cake, but it's a lot of pressure to put on someone."
LEAVE IT TO THE PROS
While relying on a family member may sound lovely, there's no guarantee they can deliver the three-tiered macaron-speckled extravaganza you're after. And even if your gran does manage to pull off the perfect shade of icing, will it be structurally sound?
Going with a professional will give you peace of mind. "You know what you're getting, and you're not going to end up with a cake that's going to sink," says Alison from A Bonnie Wee Cake.
Rosewood Cakes' Edwina agrees, "There's so much more to it than making a sponge. There are so many different things that go into it in terms of structure."
SIZE UP THE LOGISTICS
Once you've decided who's baking your cake, you'll have an appointment to discuss the vital, need-to-know basics. Your cake designer will want to know how many guests you have and how generous you want to be with the portions, plus any allergies too.
Even if you want to limit your main cake to a certain size due to budget constraints, your supplier can always serve up slab cake (also known as sheet cake) to offer more portions.
Finally, your cake designer will be keen to know what sort of aesthetic you're going for, so fill them in on the details of your venue, colours, dress and even stationery. "We like to know the colours of the bouquet if we're doing sugarcraft," adds Nancy from Sugar and Spice.
THE PERSONAL TOUCH
While there's always the M&S option, when you've planned every detail of the décor it would be a shame not to carry it through to your cake. Having your cake individually designed is a personal, bespoke process " and it's fun too!
"Our couples come and have a chat about what they would like and go through the options," says Nancy. "They then come back for a tasting session to try all the flavours and we can have as many chats as they want until about six weeks before the wedding."
And the best thing about putting your beloved tiers in the hands of a professional? Once you've settled on the design and flavour, you can rest easy, safe in the knowledge that your wedding cake isn't at the mercy of granny's oven not going on the blink¦
DON'T FORGET
You can find your dream cake designer on our online directory, complete with reviews from real brides and grooms.