"I said 'yes' to appearing on wedding reality TV!"
Rachel Lawler chats to Scottish bride Stephanie to find out what happened when she appeared on Say Yes to the Dress UK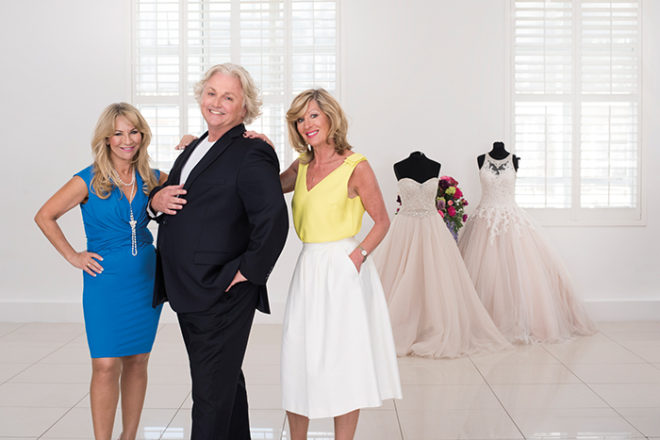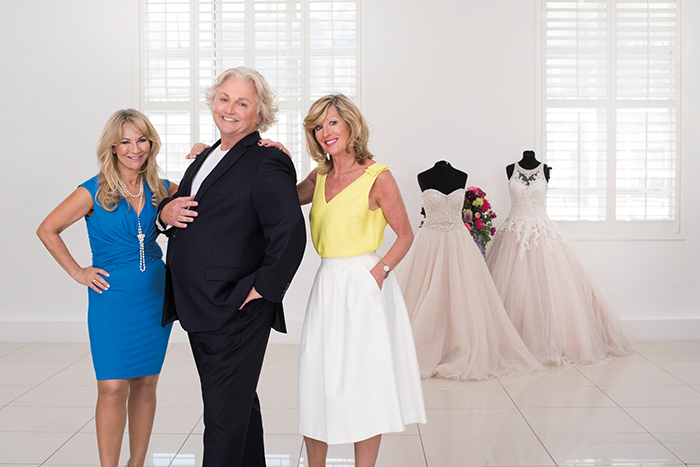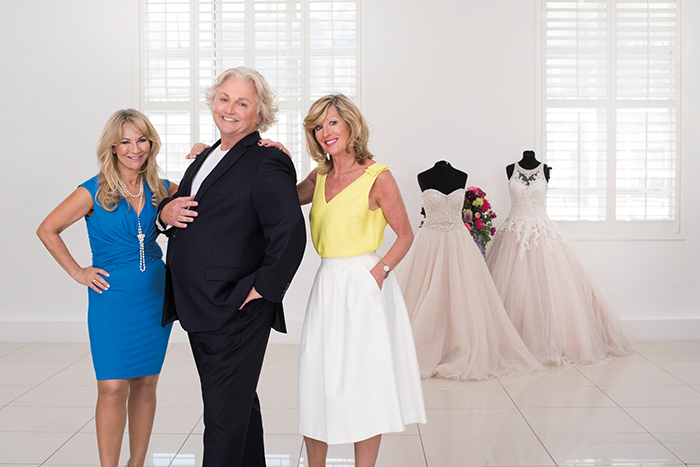 IMAGE: David Emmanuel and the SYTTDUK team
Say Yes to the Dress UK and TLC
Rachel Lawler chats to Scottish bride Stephanie to find out what happened when she appeared on Say Yes to the Dress UK…
"We've all seen the show. It starts with a bride arriving at the bridal boutique (in the original American version, it was Kleinfeld's) with her entourage in search of the dress of her dreams.
The charismatic staff listen to the bride as she lists the qualities of her dream dress " whilst the aforementioned entourage causes chaos with catty comments and general drama " before the bride tries on their suggestions. When they find one the bride likes best, they ask the hotly anticipated question: ˜Are you saying yes to the dress?'
Given the enormous success of the US show, it was no surprise when Say Yes to the Dress UK finally launched last year, giving brides on this side of the Atlantic the opportunity to bag their dream dress while enjoying their five minutes of reality fame.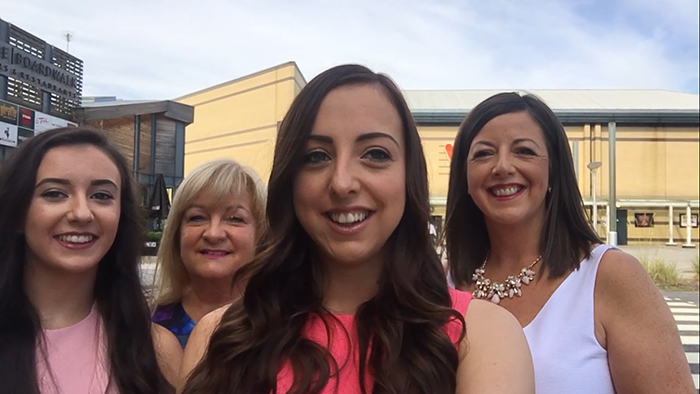 IMAGE: Stephanie and her entourage! 
F I T  F O R  A  P R I N C E S S
When a request went out looking for brides-to-be to appear alongside show host David Emmanuel (aka the man who designed Princess Diana's iconic wedding gown), Scottish bride Stephanie White decided to go for it.
"A friend had seen an advertisement on Facebook and sent my mum a message to tell me to apply," she recalls. "I went straight on and applied, not thinking for a minute we would actually hear anything back!"
N Y C  D R E A M I N G
A few months later, Stephanie, who comes from Falkirk, found out that she was through to the next stage: a Skype interview with the casting team in New York, no less! "It was very relaxed," she remembers. "We just had a chat about the wedding and what I was looking for in a wedding dress."
The bride-to-be impressed the team and was invited to another interview, this time with her mum, sister and future mother-in-law, who would be accompanying her on the shopping trip if she won.
"It all went well and, after a few weeks, we were informed we were to film the show in July 2016," says Stephanie.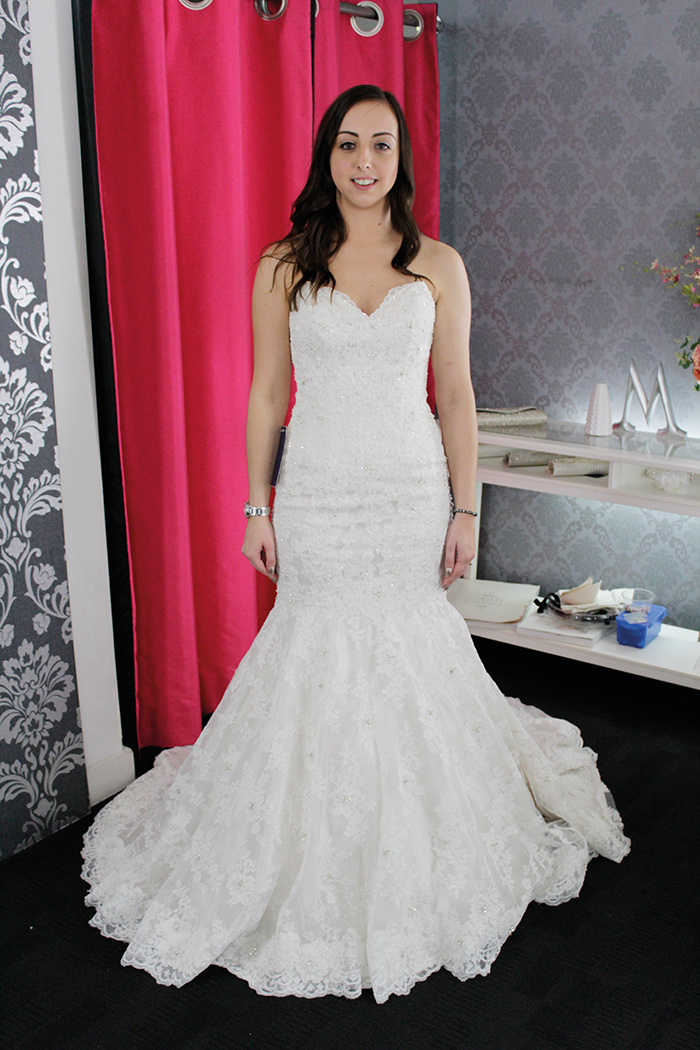 IMAGE: Stephanie searches for her dream dress
Say Yes to the Dress UK and TLC
F I L M  D E B U T
When the filming day finally arrived, Stephanie and her family had butterflies. "We were really excited but also very nervous," says the bride-to-be.
"We genuinely never thought we would get on the show, so when it actually happened we were all panicking!" But as soon as Stephanie and her leading ladies arrived at the store " Confetti and Lace in Essex " they immediately felt at ease.
"All the consultants were so lovely and helped me to find the perfect dress," beams Stephanie.
E X P E R T  A D V I C E
Of course, it wouldn't be an episode of SYTTD without a few differences in opinion being aired. Stephanie had done a fair amount of dress shopping before the show and knew what style she would go for " but her mum wasn't convinced.
"My mum really wanted me to try a ballgown, but I always knew that I would go for a mermaid style," she explains. Fortunately, with David Emanuel on side, the bride to- be got what she wanted. "David has so much experience in the business; I knew he would give the best advice. He really knew what suited me best and was just so lovely and down to earth," says Stephanie.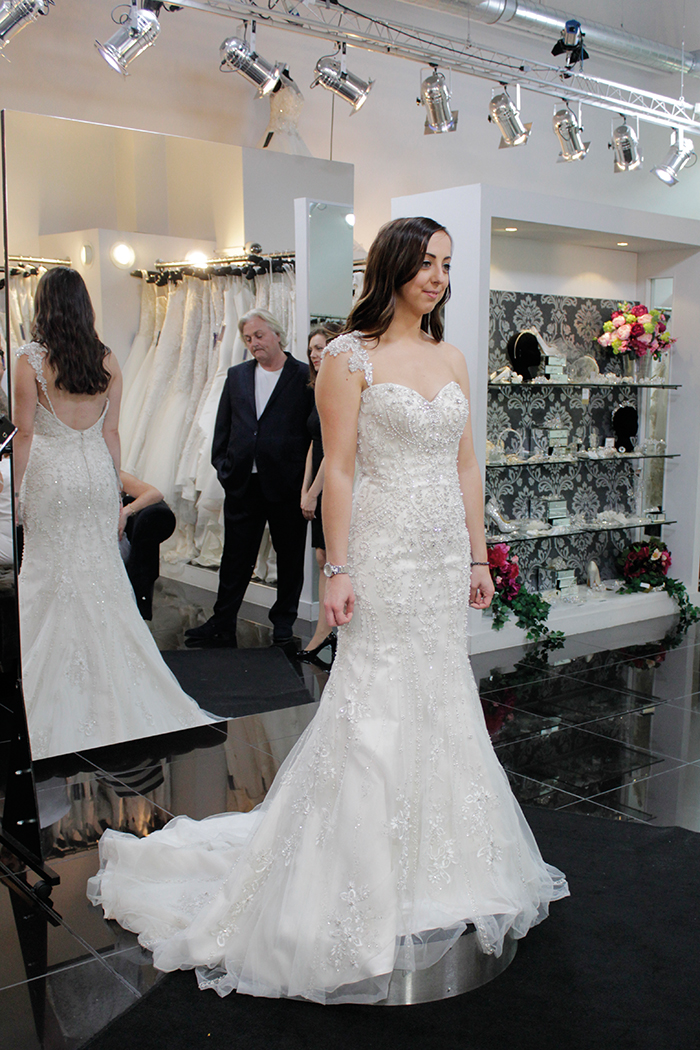 IMAGE: Stephanie said 'yes' to the dress!
Say Yes to the Dress UK and TLC
S A Y I N G  ' Y E S '  T O  T H E  D R E S S
But what about the all-important question: did Stephanie say yes to the dress? "I said yes to the dress!" she laughs.
The one-shoulder gown by Kenneth Winston, pictured above, ticked all the right boxes with its flattering fit-and-flare skirt and intricate embellishments.
A few months later, it was airtime for the episode. Marking their TV debut, Stephanie had a viewing party at her mum, Leigh's, house with her family, friends " and lots of Prosecco!
"It was girls-only as I don't want my fiancé Ross to see me in the dress before the wedding," she says.
W O R D S  O F  W I S D O M
After her reality TV experience, Stephanie has some advice for other brides-to-be on finding the right dress.
"I would say don't give up until you find the perfect dress. I tried on so many dresses and felt like I was never going to get the feeling that it was The One," she remembers. "But the minute I tried my dress on, I knew straight away and had no doubt. Keep persisting as it is so important and so worth it in the end!"
Still to find your dream dress? Check out our online directory of bridal fashion and start your bridal style search!