Get married in style in East Lothian with Sophia Grace Couture
Whether you're getting married in a Scottish castle, a cool barn or stylish hotel, you can find a gown to suit at Sophia Grace Couture in Haddington.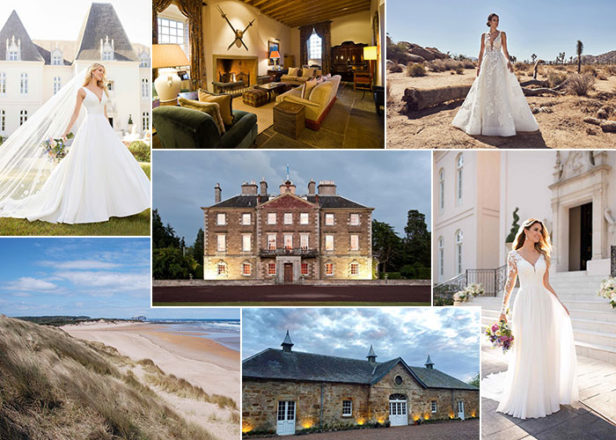 Will you consider your wedding venue style when choosing a wedding dress? Whether you're getting married in a Scottish castle, a cool barn or stylish hotel, you can find a gown to suit at Sophia Grace Couture in Haddington.
Managing director Naydene Commins gives us her expert suggestions of the perfect wedding gowns to wear in a few of East Lothian's most popular wedding venues.
"Your wedding dress is such a personal choice," says Naydene, "so although I have recommended some gowns that I think will match these venues, there's no hard and fast rule! Take a look at some of the real brides below, all of whom got married in the venues mentioned and picked different, but equally beautiful dresses from Sophia Grace Couture. We work with you to find the dress of your dreams."
Take a look at Naydene's recommendations, plus some real brides who got married at those venues in dresses they chose, below… 
COLSTOUN HOUSE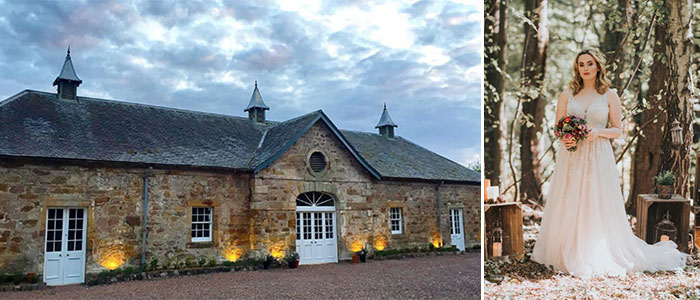 "At Colstoun House, there are so many fabulous spaces to have your wedding ceremony.
I chose this wedding dress as it fits so well with the rustic coach house and grounds.
Featuring a whimsical tulle skirt, a bodice with a plunging neckline and diamante encrusted ribbon belt, this gown is the perfect match!"
~ REAL BRIDE PICK ~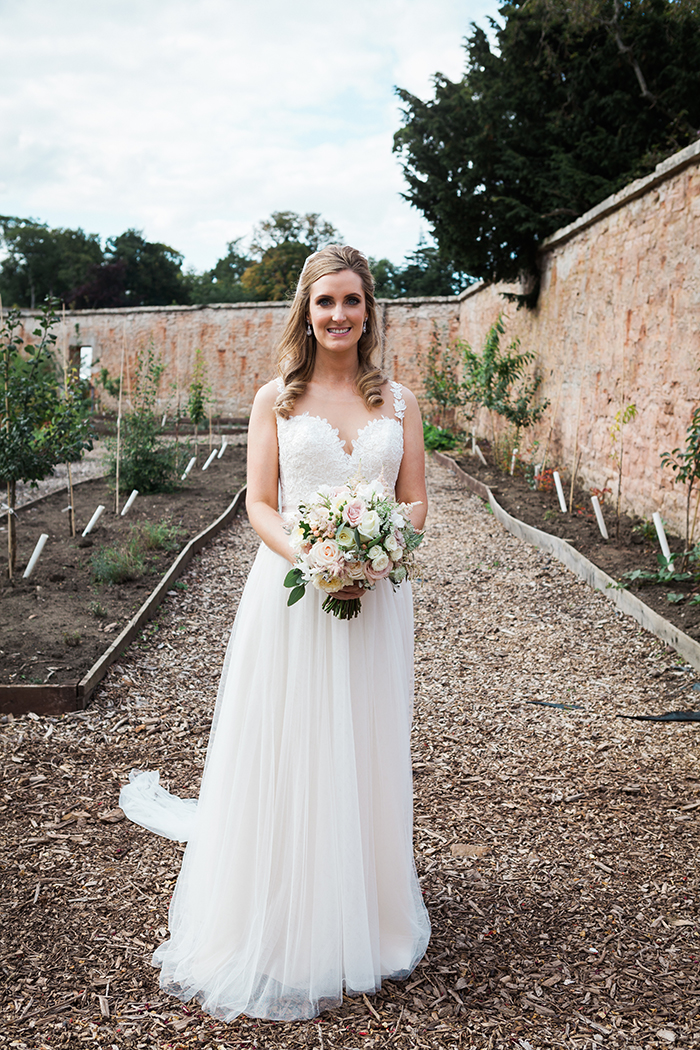 IMAGE | Solen Photography
DUNGLASS ESTATE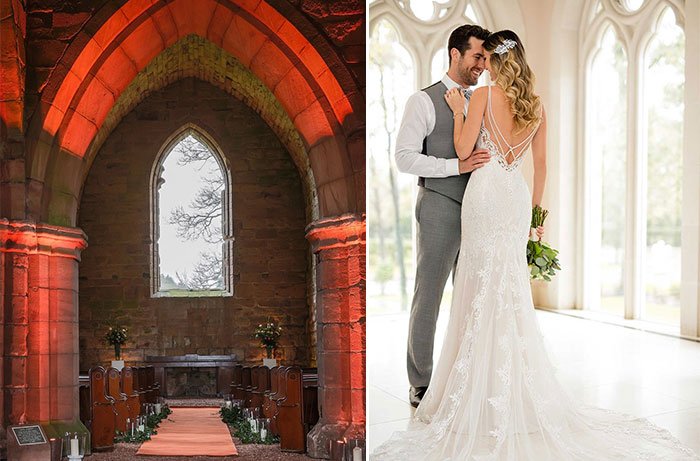 "I can just imagine a bride walking down the aisle of the romantic historic church at Dunglass Estate with the long train flowing behind her.
This fit and flare gown features lace and tulle to create a figure-flattering shape.
With a neckline adorned with subtle beads and water pearls, thin embellished shoestring straps and a long train, this is certainly a show-stopping gown."
~ REAL BRIDE PICK ~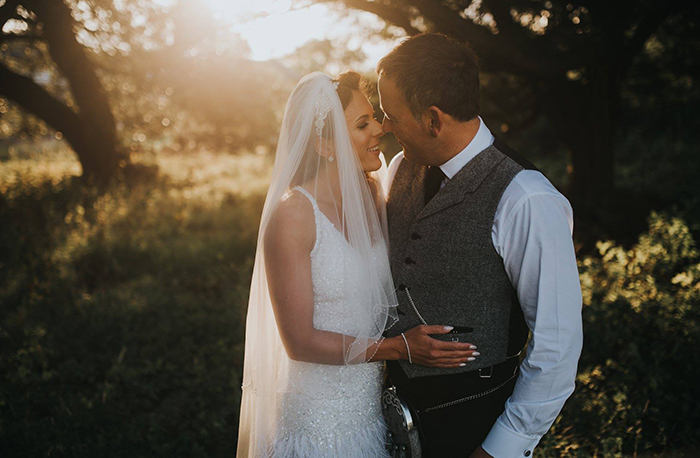 IMAGE | Derek Christie Photography
HARVEST MOON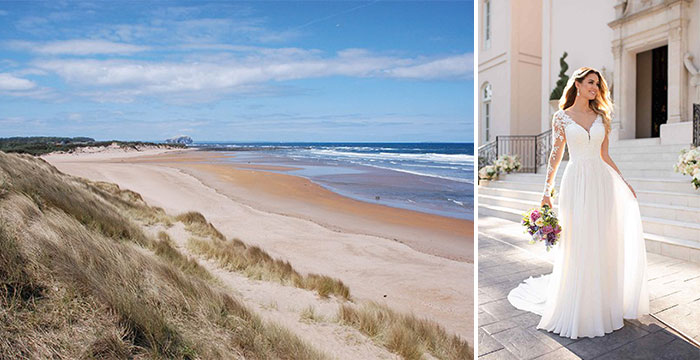 "I love the idea of a beach wedding in Scotland, and the stunning coastline at Harvest Moon means that Scottish couples can have that in an idyllic setting.
I've chosen this long sleeved wedding dress as it's so dreamy. I can imagine a bride walking along the beach, with the crepe chiffon fabric blowing gently in the breeze.
The sleeves give a little bit of comfort if there's a chill in the air – we are in Scotland after all!
This dress certainly fits with the laid-back vibe of Harvest Moon."
WINTON CASTLE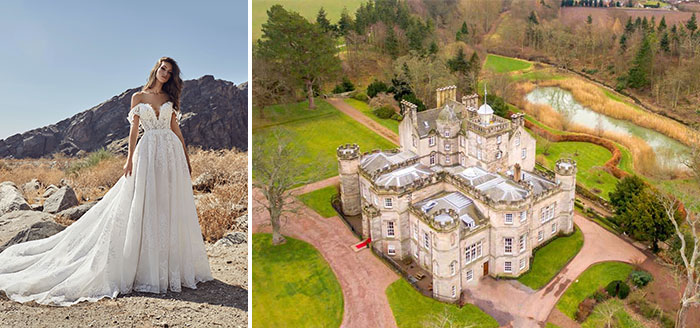 "Winton Castle is not only steeped in history, but it's also truly romantic. This gown from our Calla Blanche collection certainly is romantic and fit for a princess.
A full lace wedding dress which features a deep sweetheart neckline, off-the-shoulder straps and a gorgeous chapel train is super light to wear, and has that on-trend edge."
~ REAL BRIDE PICK ~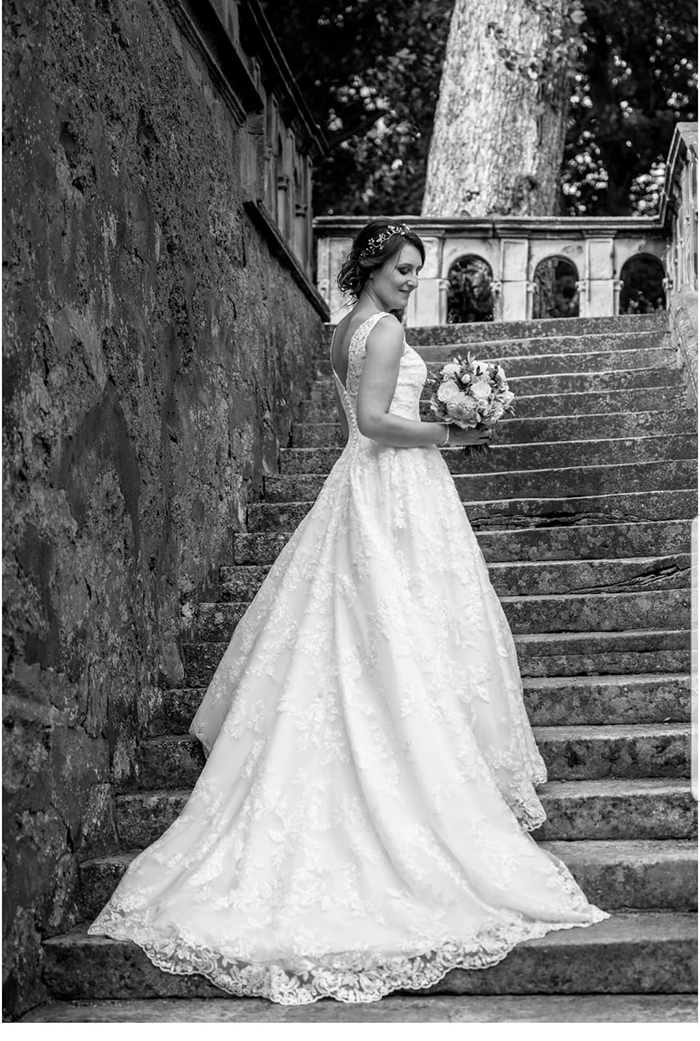 IMAGE | GWS Photography
FENTON TOWER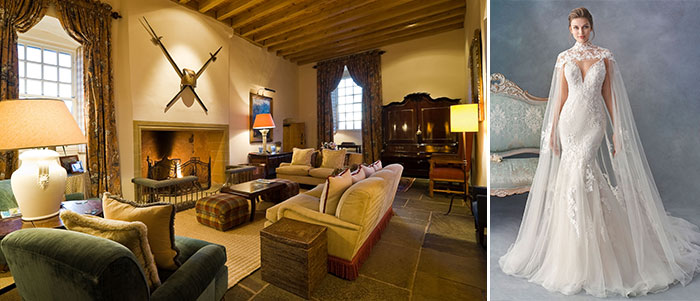 "Fenton Tower certainly is a venue that offers flexibility and caters for small and large weddings.
The dress I have chosen for this stunning venue is by Kenneth Winston.
This beautiful lace mermaid gown with a low open back features Chantilly and embroidered cotton lace to create a 3D effect.
This dress is also available with a matching cape therefore offering a flexible look."
ARCHERFIELD HOUSE

"Archerfield House is truly a breathtaking venue, with so many fantastic spaces for wedding photos. They've even had a celebrity wedding or two at the venue and it's easy to see why.
This gorgeous wedding dress by Calla Blanche features bold lace and while the plunge neckline and low back elongates the body the flattering silhouette and breathtaking train oozes glamour.
This wedding dress is the perfect fit for Archerfield House."
~ REAL BRIDE PICK ~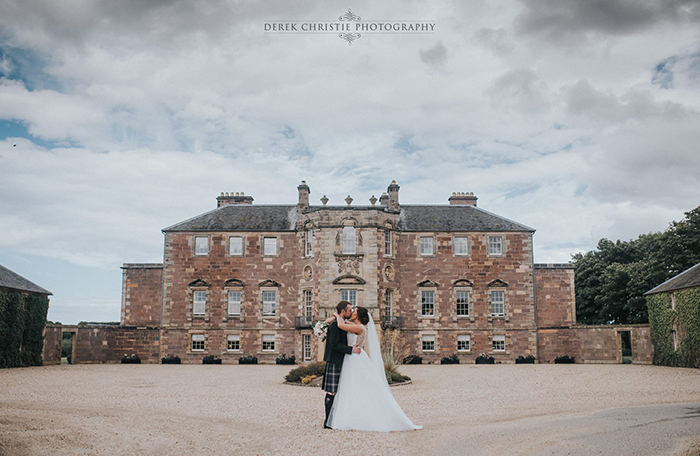 GILMERTON HOUSE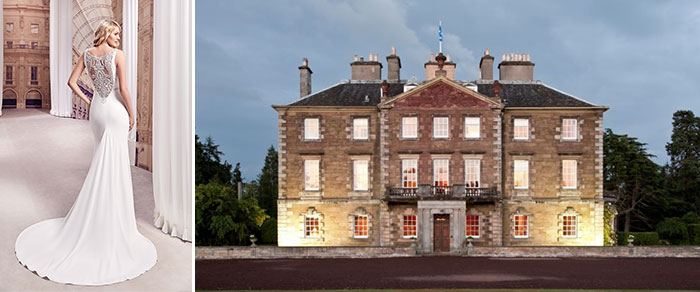 "I've chosen this particular dress for Gilmerton House as it's timeless and elegant, just like the beautiful venue itself.
With an exquisite beaded back and delicate belt which flows from the side seam to the front, this crepe fit and flare gown is captivating."
~ REAL BRIDE PICK ~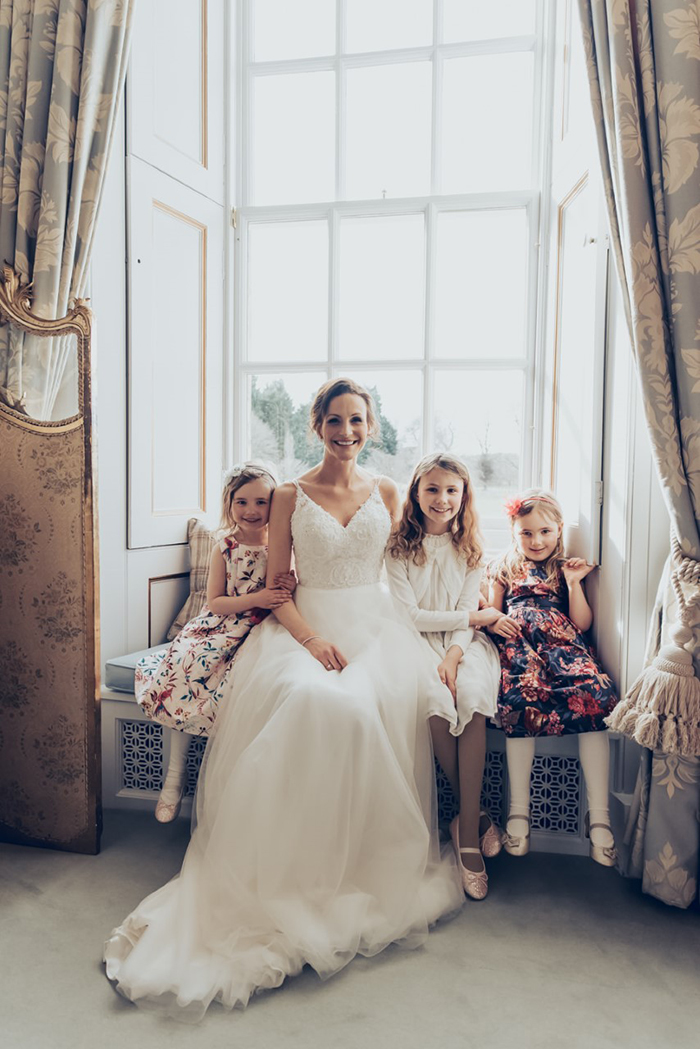 IMAGE | Karol Makula Photography
YESTER HOUSE

"Yester House is destined to be a sought after Scottish wedding venue, just like our beautiful Calla Blanche ball gown!
This gown is for the bride who embraces trends and knows how to integrate them into her own personal style.
A classic style, this dress features a plunging neckline and open back with a long flowing train; it would look stunning inside the house or out in the magnificent grounds."
~ REAL BRIDE PICK ~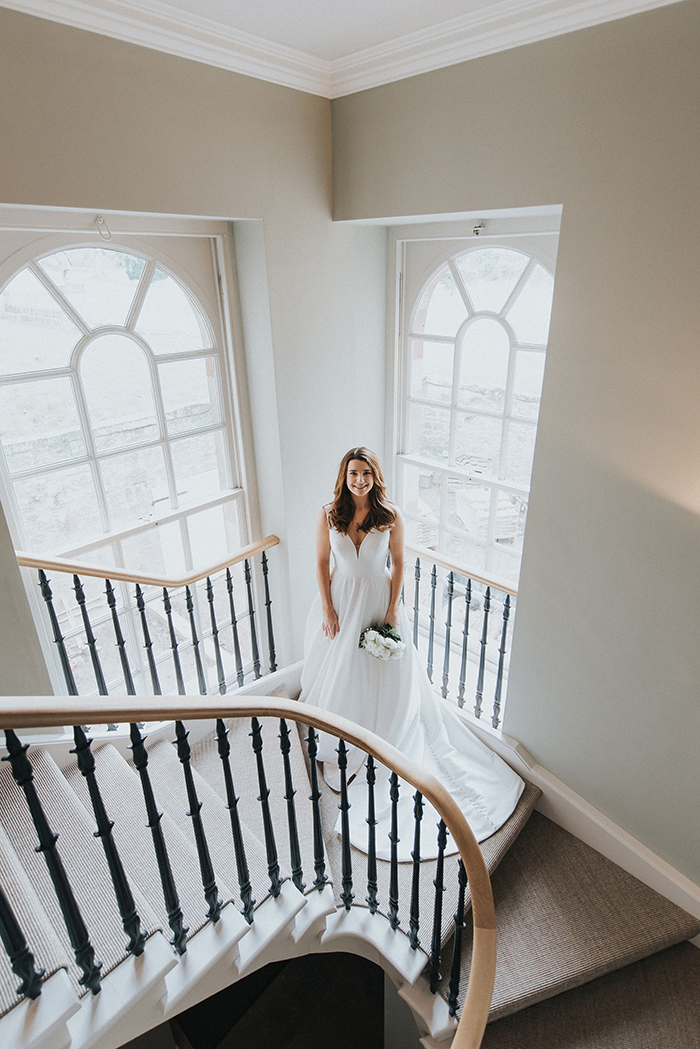 IMAGE | Karol Makula Photography
MACDONALD MARINE HOTEL & SPA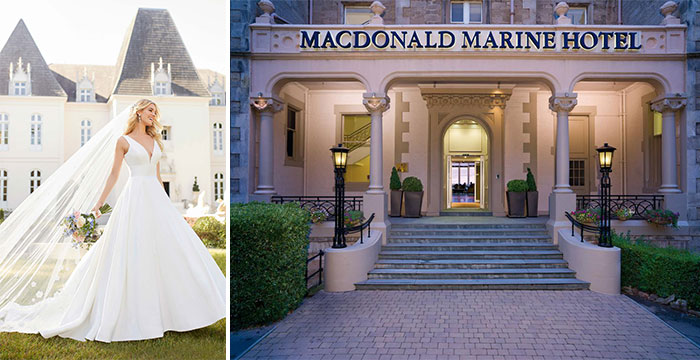 "This gorgeous Mikado ball gown with its empire waist and open back detail is almost royal-inspired, classic and timeless, much like the luxurious 19th century surroundings of Macdonald Marine Hotel & Spa.
The gown has fabric covered buttons running down the length of the train, ensuring it's red carpet worthy!
Oh, and did we mention that this dress has pockets? Winner!"
~ REAL BRIDE PICK ~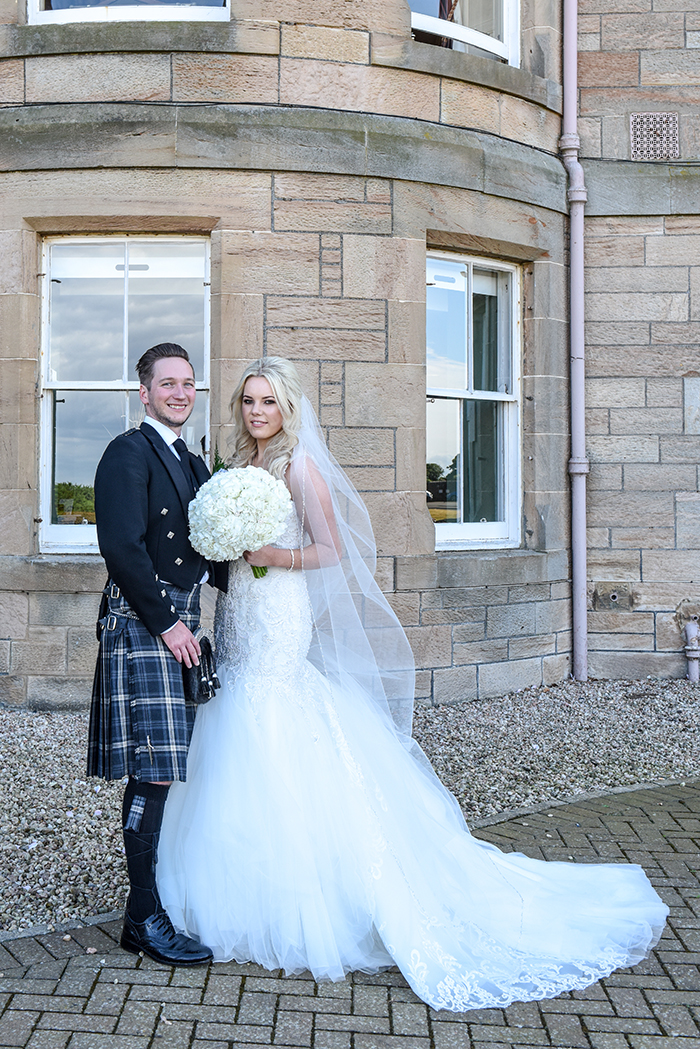 IMAGE | Adore Photography