From neon wedding signs to a statement lip: How to add elements of neon to your wedding
You don't have to go full 80s disco diva in order to add neon elements to your wedding day. Check out our guide...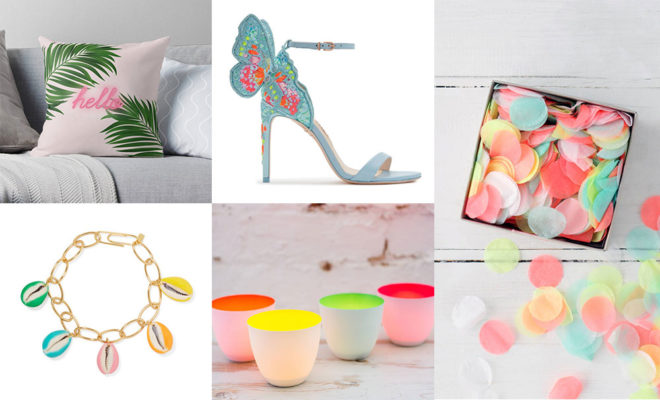 You might not immediately think of neon when you're putting together your wedding colour scheme, but adding some elements of it to your day can bring that pop of colour to lift the whole scheme.
NEON WEDDING SIGNS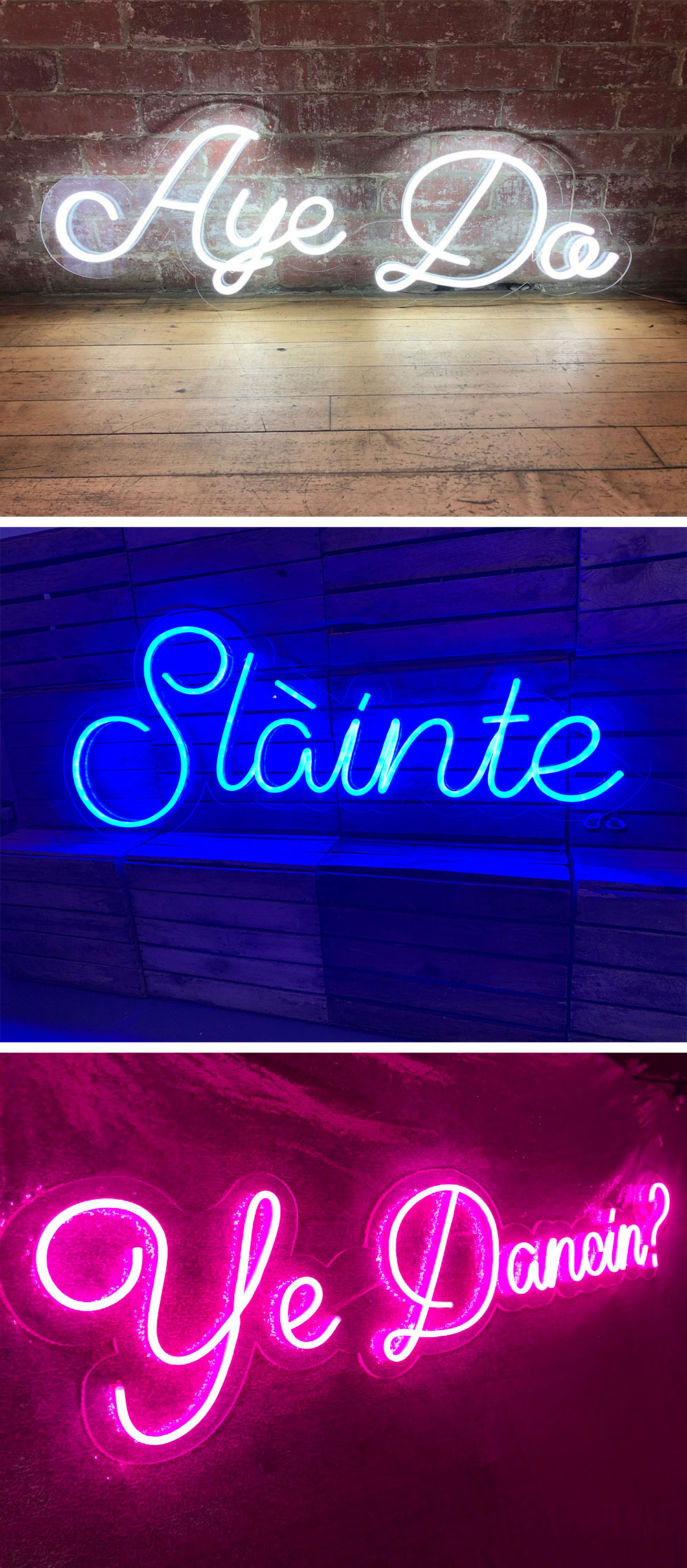 Neon wedding signs are a huge trend for 2019 weddings, and Make Believe Events have pulled it out of the bag with these fun Scottish sayings!
'Ye dancin'?', 'Slainte' and 'Aye Do' would work in different areas of your decor – at the ceremony, drinks reception and right above the dancefloor.
Take a look at other neon wedding signs on our Pinterest board. 
Contact the team by emailing info@makebelieveevents.co.uk for hire availability and prices. 
SUBTLE NEON WEDDING DECOR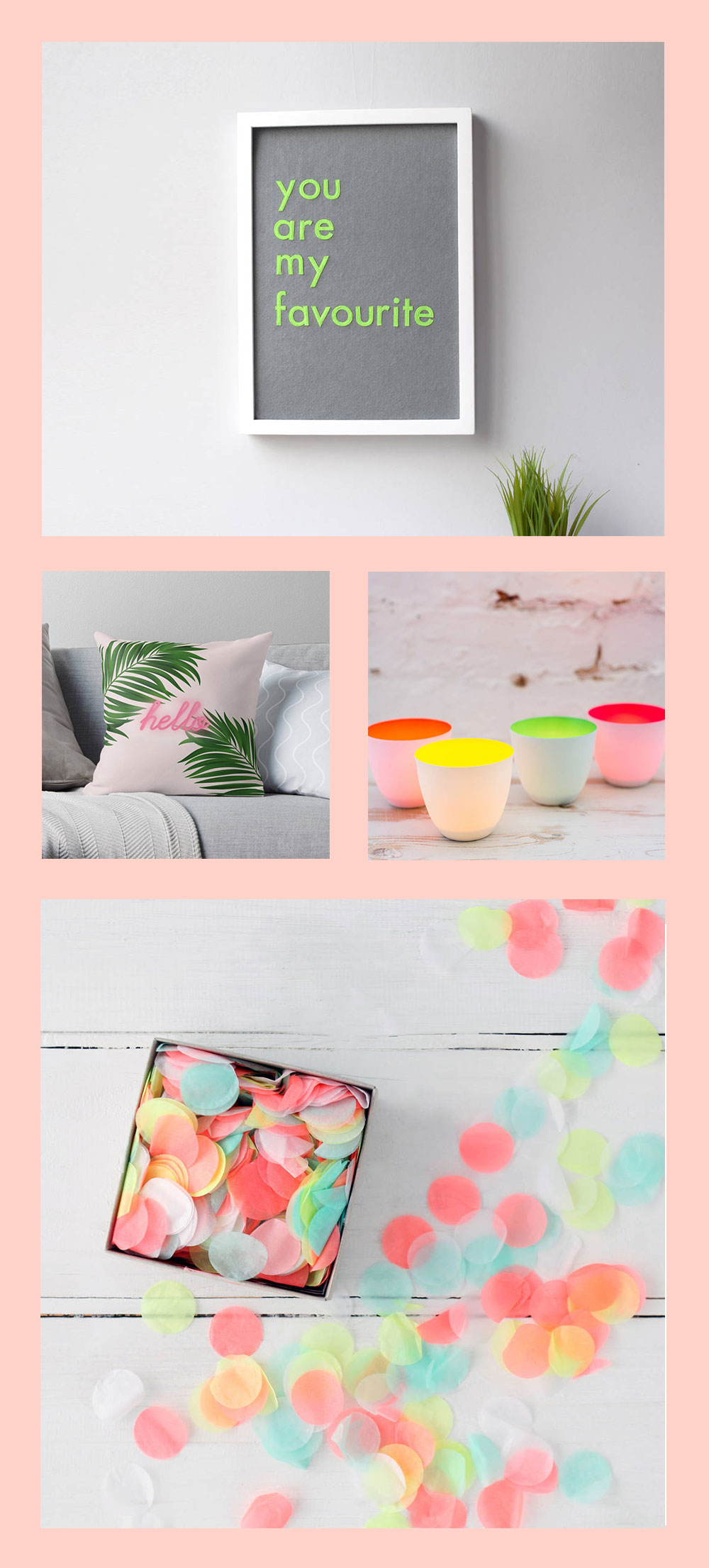 Top to bottom: Neon typographic felt artwork (£40) Not on the High Street | Personalised green palm print cushion (£39) Not on the High Street
Porcelain tea light holders in neon (£12) Not on the High Street | Neon party confetti (£5) Meri Meri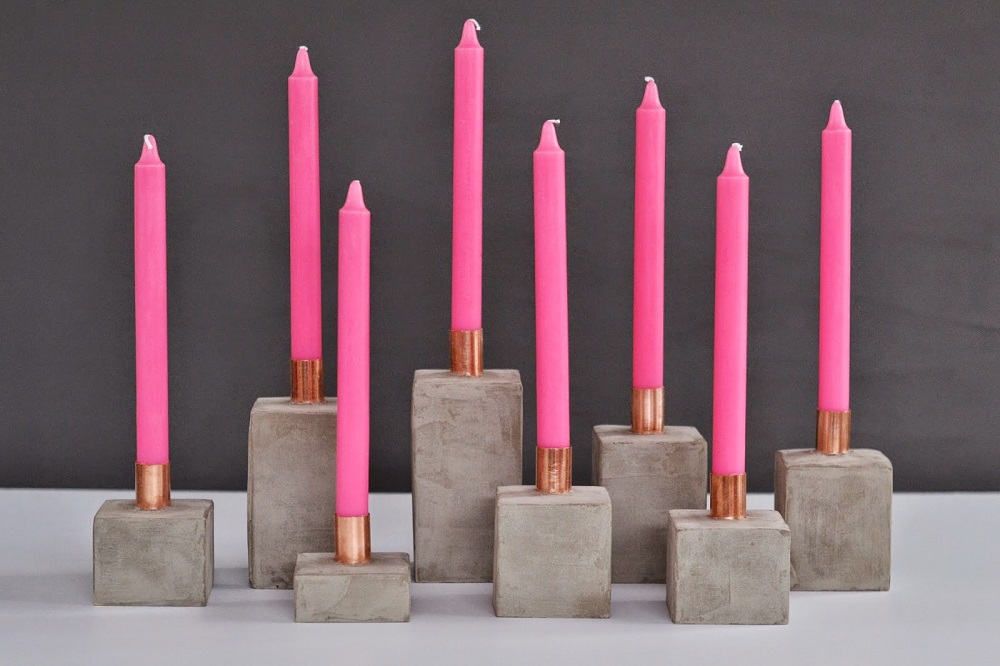 Concrete candle holders with pink neon candles from DIYScom on Pinterest 
There's no need to go big on neon in order for it to make an impact. Adding smaller elements can be more effective.
Subtle nods to neon in artwork and soft furnishings work well, and we'd love to see a confetti shot with that bright neon confetti! It would look so cool.
Have a peek at some of our other suggestions for neon wedding decor on our Pinterest board. 
NEON WEDDING STATIONERY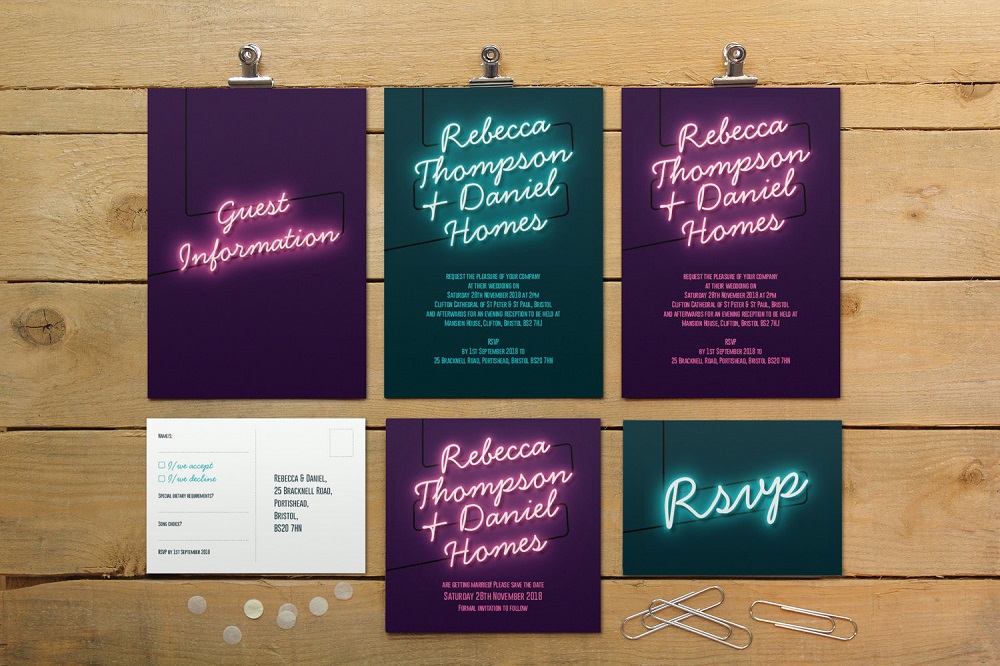 Neon stationery suite (POA) Lovestruck Stationery
These fun invitations will catch the recipient's eye for sure! Always wanted your name up in lights? Now's your chance.
Another cool way to use neon in your wedding invitations is to go for a crisp white card, edged with your chosen neon hue.
We've got some other suggestions for neon themed wedding stationery on our Pinterest board. 
NEON BRIDAL ACCESSORIES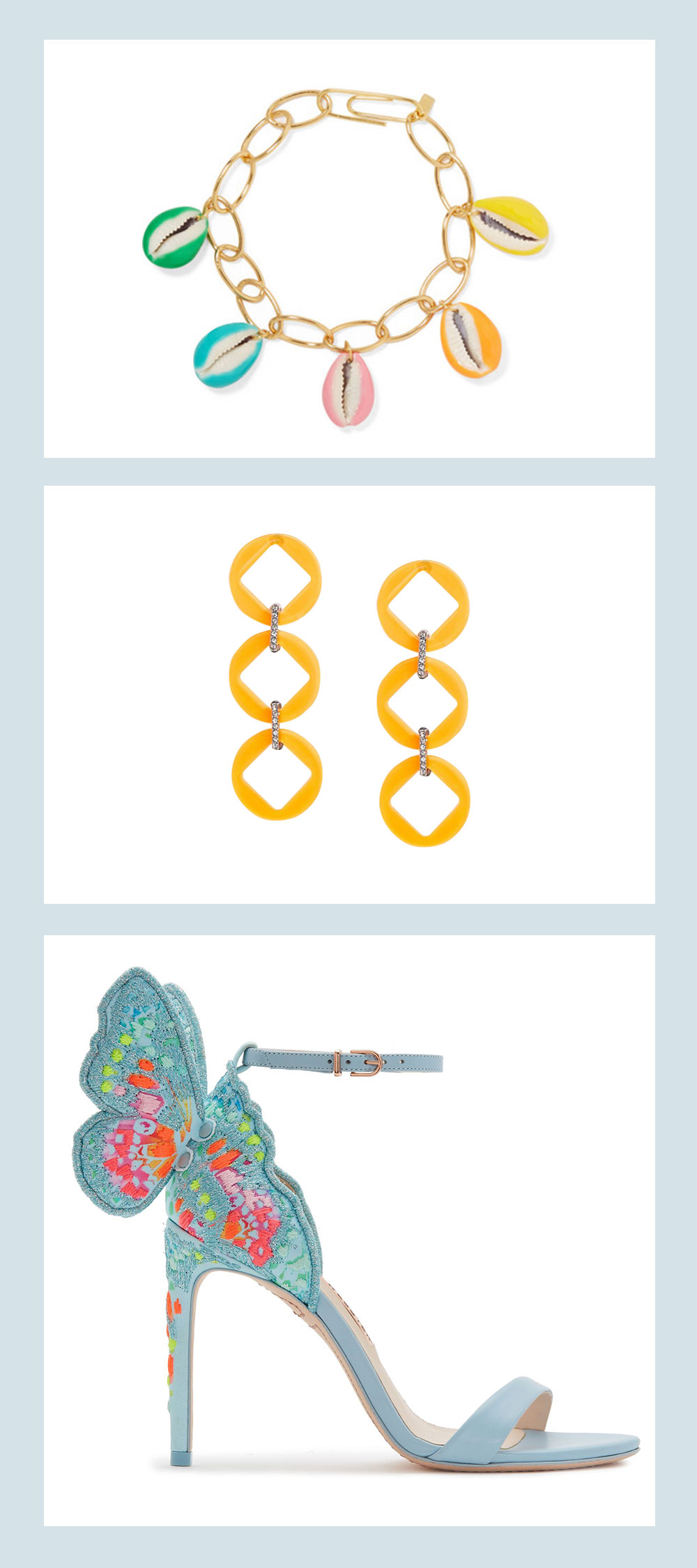 Top to bottom: Merco gold-plated, shell and enamel bracelet (£350) Net-A-Porter | Resin link drop earrings in neon orange (£12) ASOS
'Chiara' baby blue leather sandal with neon butterfly wing (£595) Sophia Webster 
How about those Sophia Webster shoes for a classy splash of neon? Not only that, but they could be your Something Blue too! Obsessed.
Earrings are a great choice for a neon hint. You could even change your earrings for the evening reception to something like the ASOS neon beauties above. Neon = disco after all!
NEON BRIDAL BEAUTY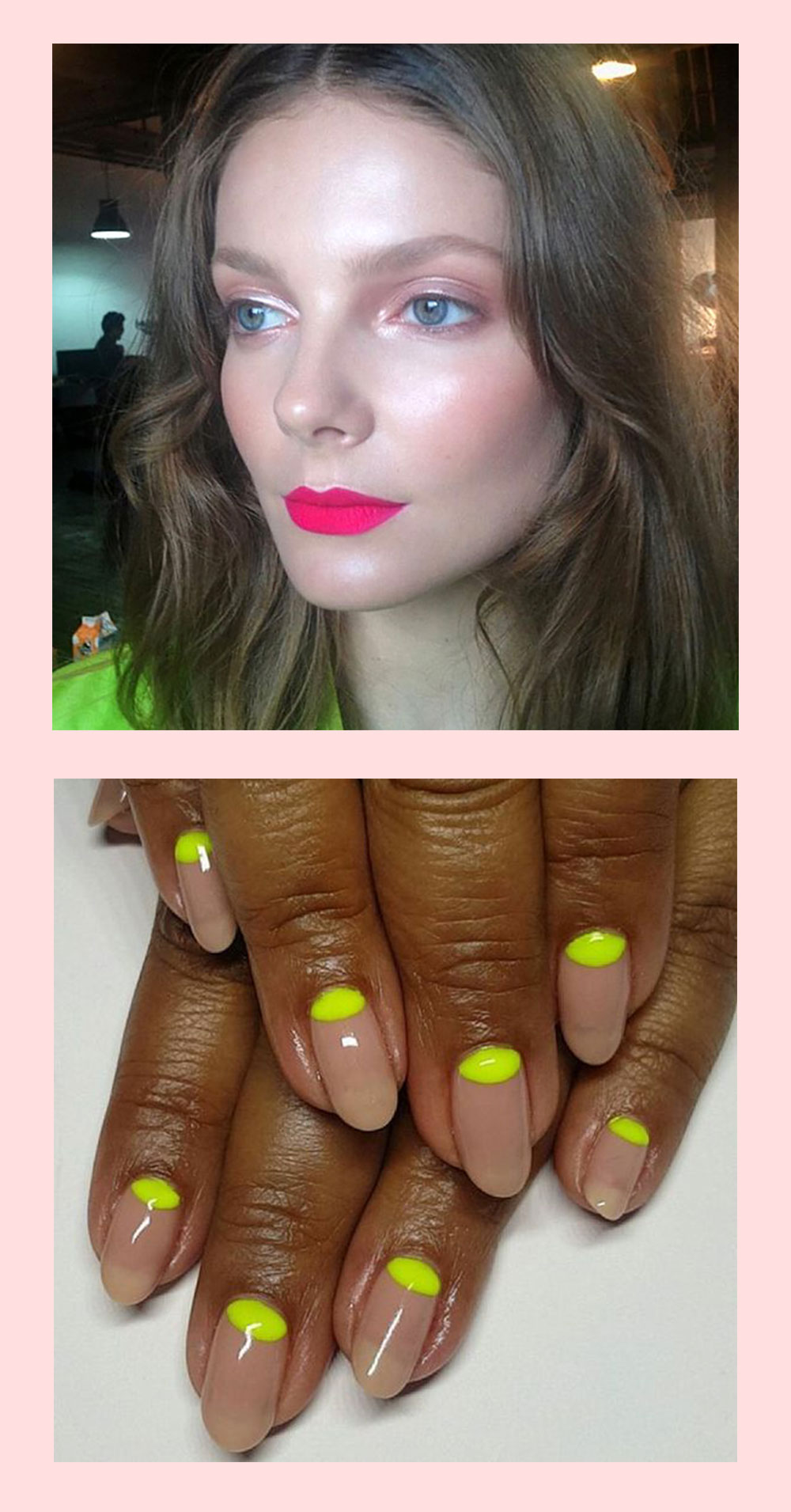 IMAGES | Pinterest
When it comes to bridal beauty, we're not talking a full face of 80's neon warpaint. Instead, subtle neon hints can be achieved on the nails (above, in a neon citrus) or if you're feeling a wee bit bolder, a statement neon lip.
Pare back the rest of your make-up and keep your hair sleek for a really gorgeous bridal look. When it comes to lippy, we love Neon Angel – Magenta by ILIA Beauty for a pop of pink.
Get inspired by other neon bridal make-up looks on our Pinterest board.
How do you feel about adding neon elements to your wedding day? We'd love to know! Comment on our Instagram post about neon at weddings.