How to make a DIY macramé backdrop for your wedding
Emma Gilvear of MOO+BOO talks us through how to make a gorgeous DIY macramé backdrop: the perfect addition to a bohemian wedding.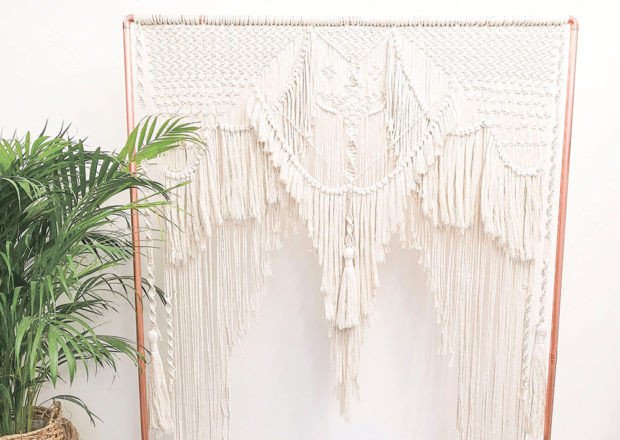 A DIY macramé backdrop will make the perfect addition to a bohemian wedding, and can serve multiple purposes throughout the day. Use yours as a ceremony backdrop then later it could sit behind your cake table or even be set up as part of a photobooth station!
We asked Emma Gilvear of MOO+BOO to talk us through how to make a gorgeous DIY macramé backdrop.
Read on for a step-by-step guide, a photo of the finished backdrop and to find out more about Emma's work!
Step 1: Buy your supplies
To make your backdrop, you'll need two sizes of cotton rope, a tape measure, scissors and a 1.3x2m copper frame (you can construct your own or buy ready made).
Step 2: Master the square knot
First, you need to know how to make a square knot.
Get four cords, take cord (A) and pass across cord (B+C) and under (D). Hold in place. Then take cord (D) and pass behind (C+B) and over cord (A).
Now gently tighten the knot by pulling on both (A) and (D) and slide up to tighten and place in desired position. This is known as a half square knot.
To create the other half of the knot: Take cord (A) which is now in position (D) over the two centre cords (C+B) and under (D), now at position (A), then tighten.
See the photos below for a walkthrough of making a square knot.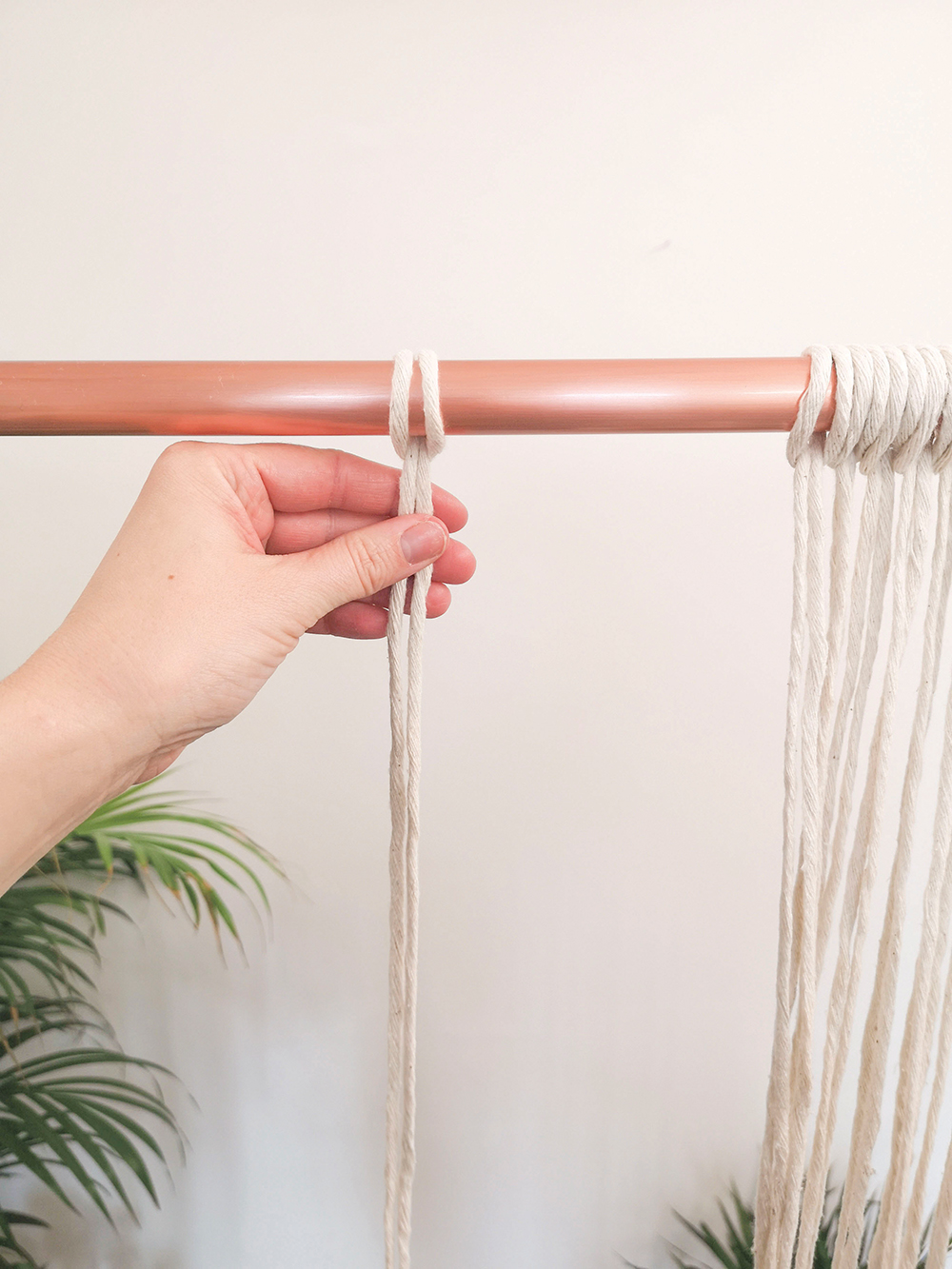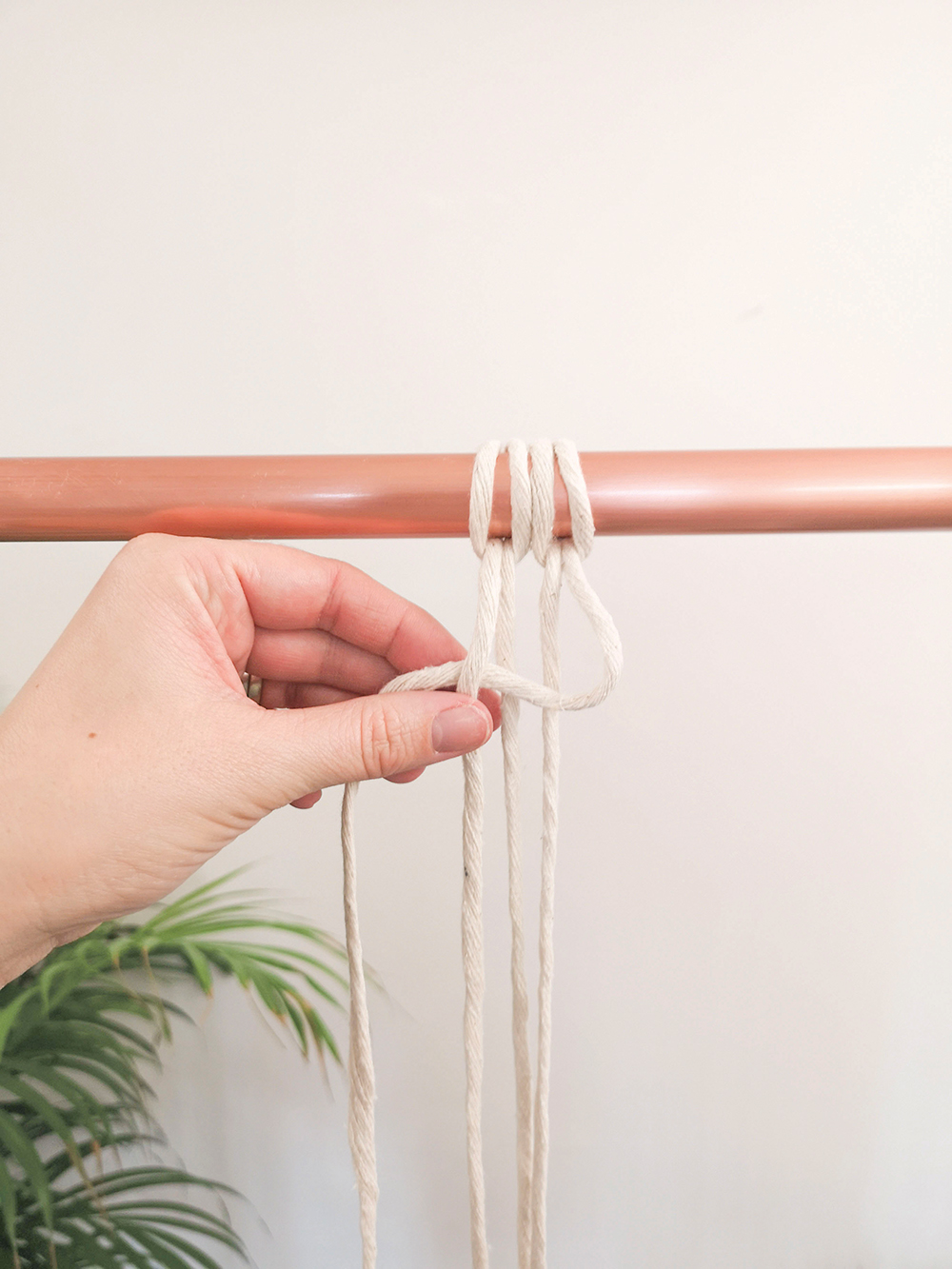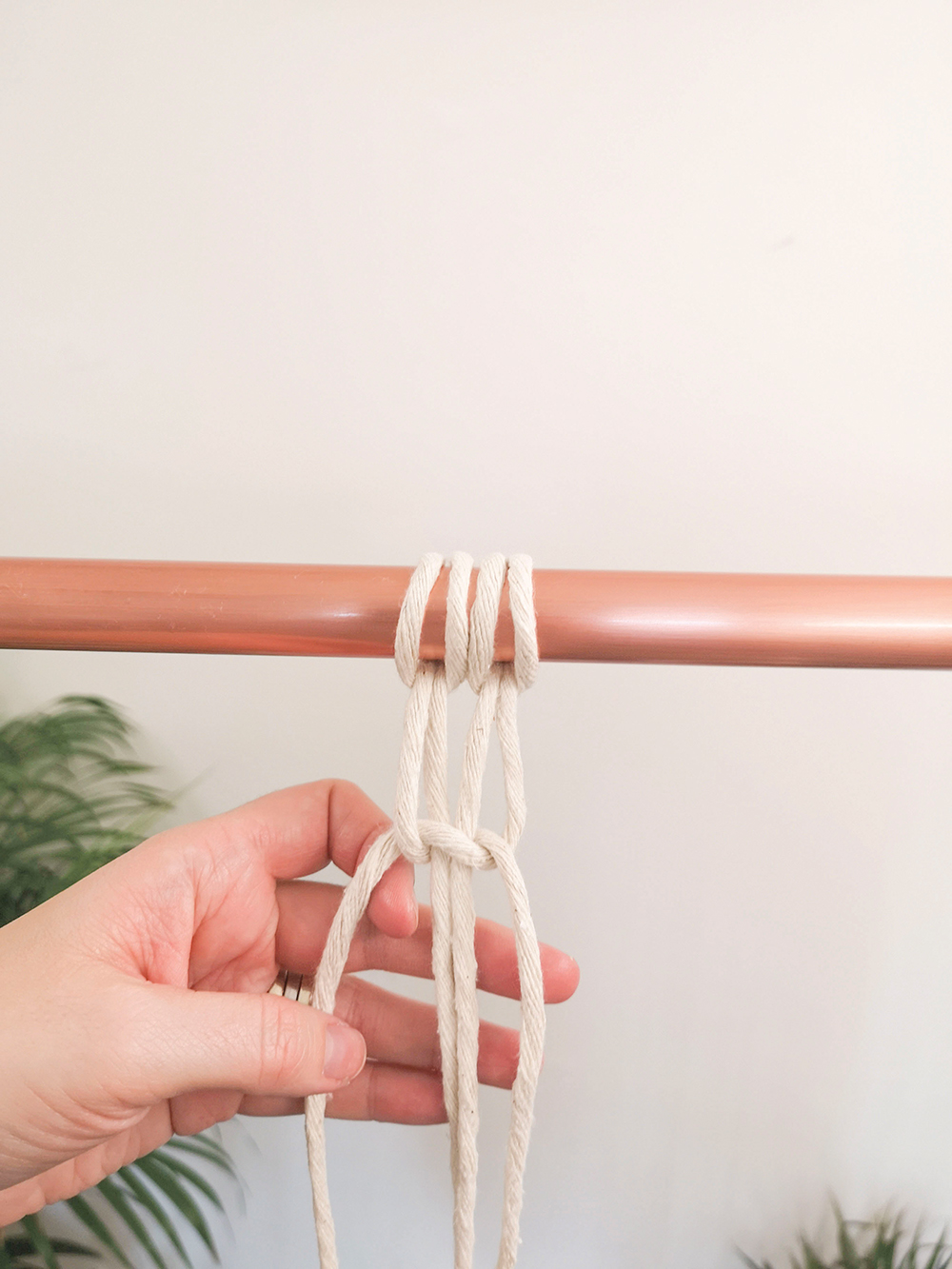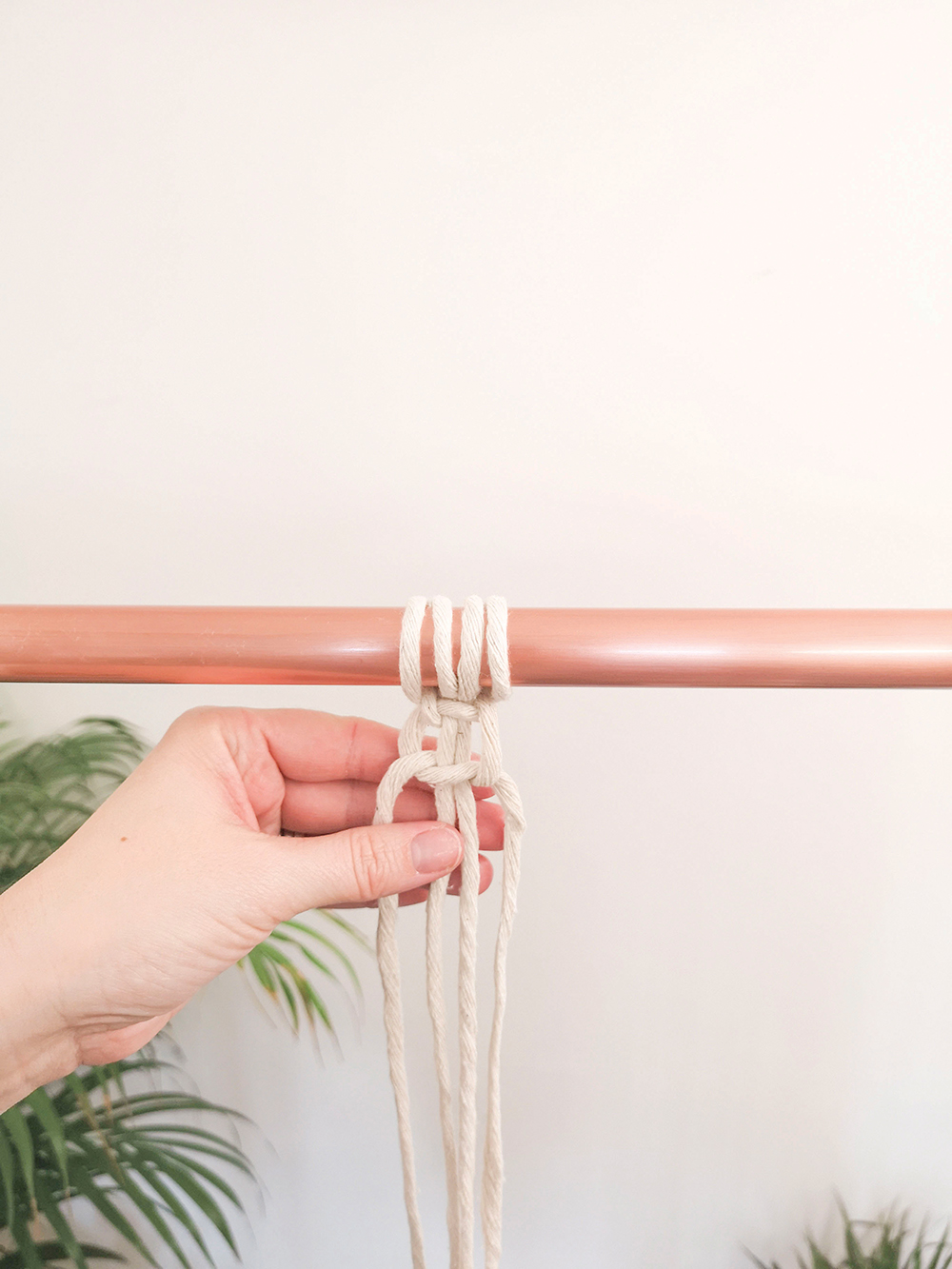 Step 3: Decide on a design
The first stage of creating your backdrop is to establish the style and design you want; be inspired by this design or look on Pinterest for other ideas. Your design doesn't have to be complicated to be eye-catching and impressive!
Your backdrop can be made up of simple square knots and some fresh or faux foliage surrounding your frame.
Step 4: Create a curtain of rope
Begin by cutting a length of rope at least double the drop you want, plus a bit extra to allow you to add knots.
Fold your lengths of rope in half and attach them all to the top bar of your frame, using the reverse larkshead knot. Now that you have a curtain of rope attached to your frame, you'll add knots to create your pattern and design.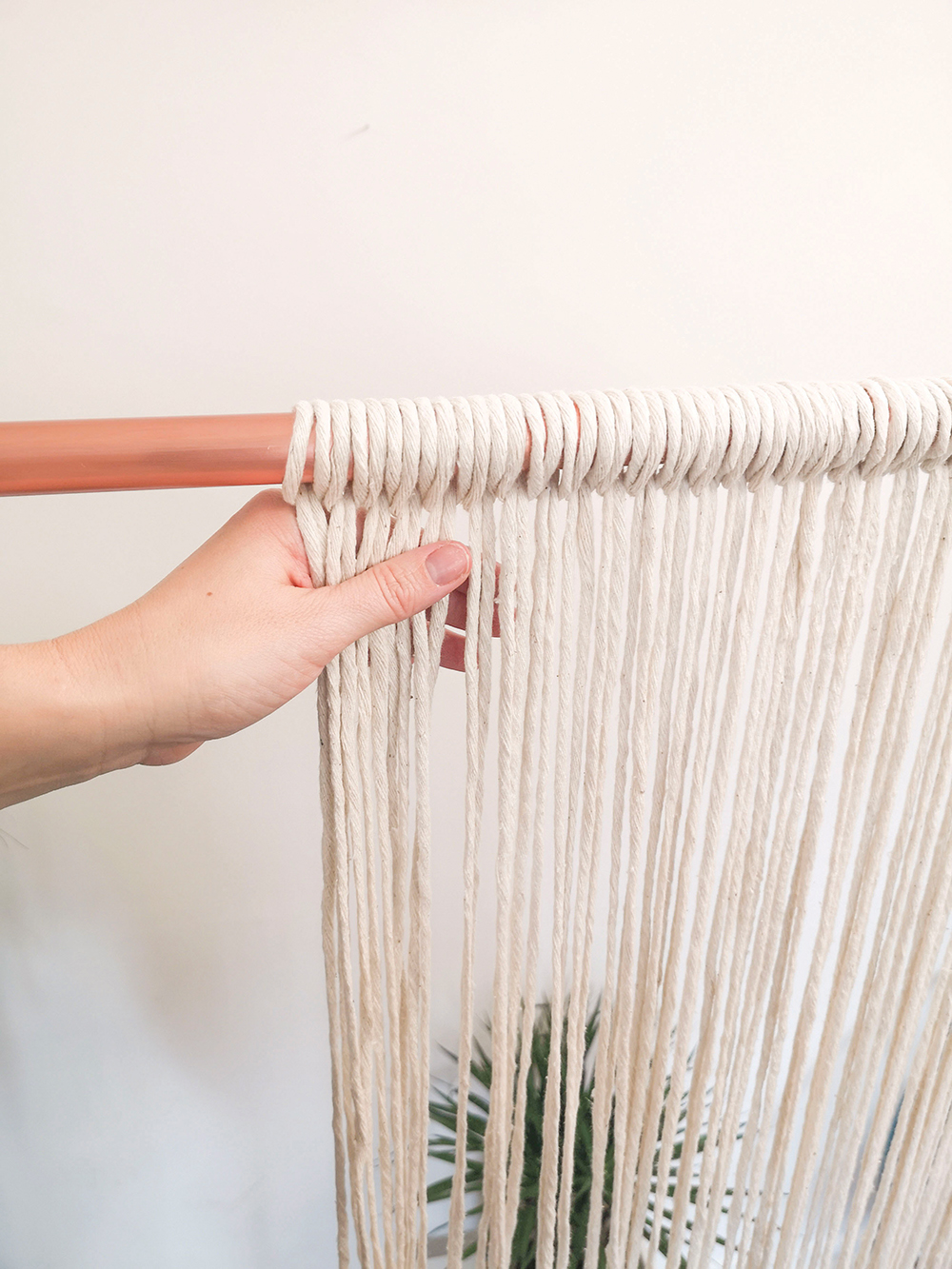 Step 5: Start creating square knots
I've gone for square knots (see step 1) mirroring the pattern on both sides.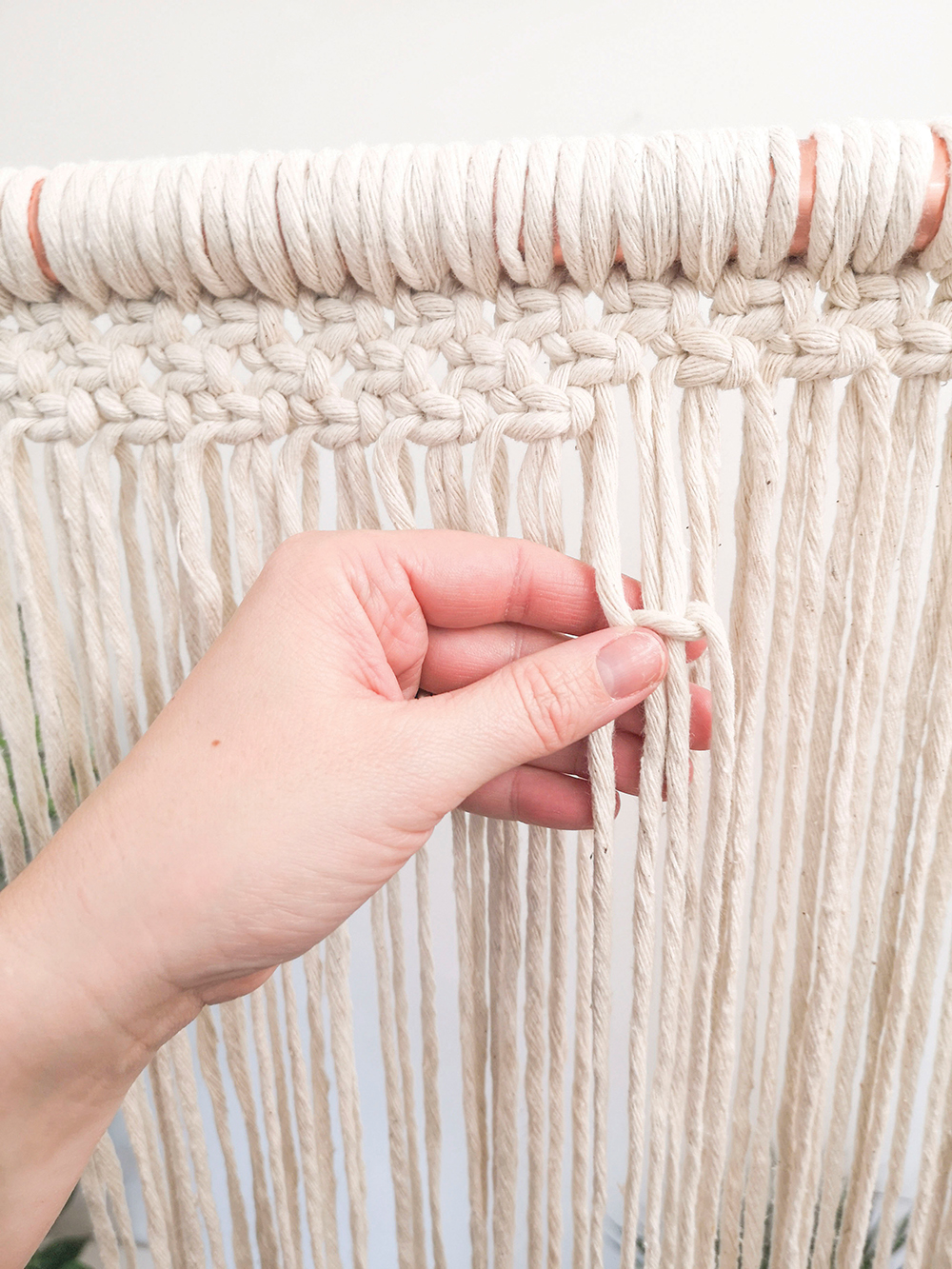 Step 6: Add a spiral effect
Throughout the design I've added a spiral effect, which is created by repeating a half square knot. The rope will start to twist and spiral the more you repeat.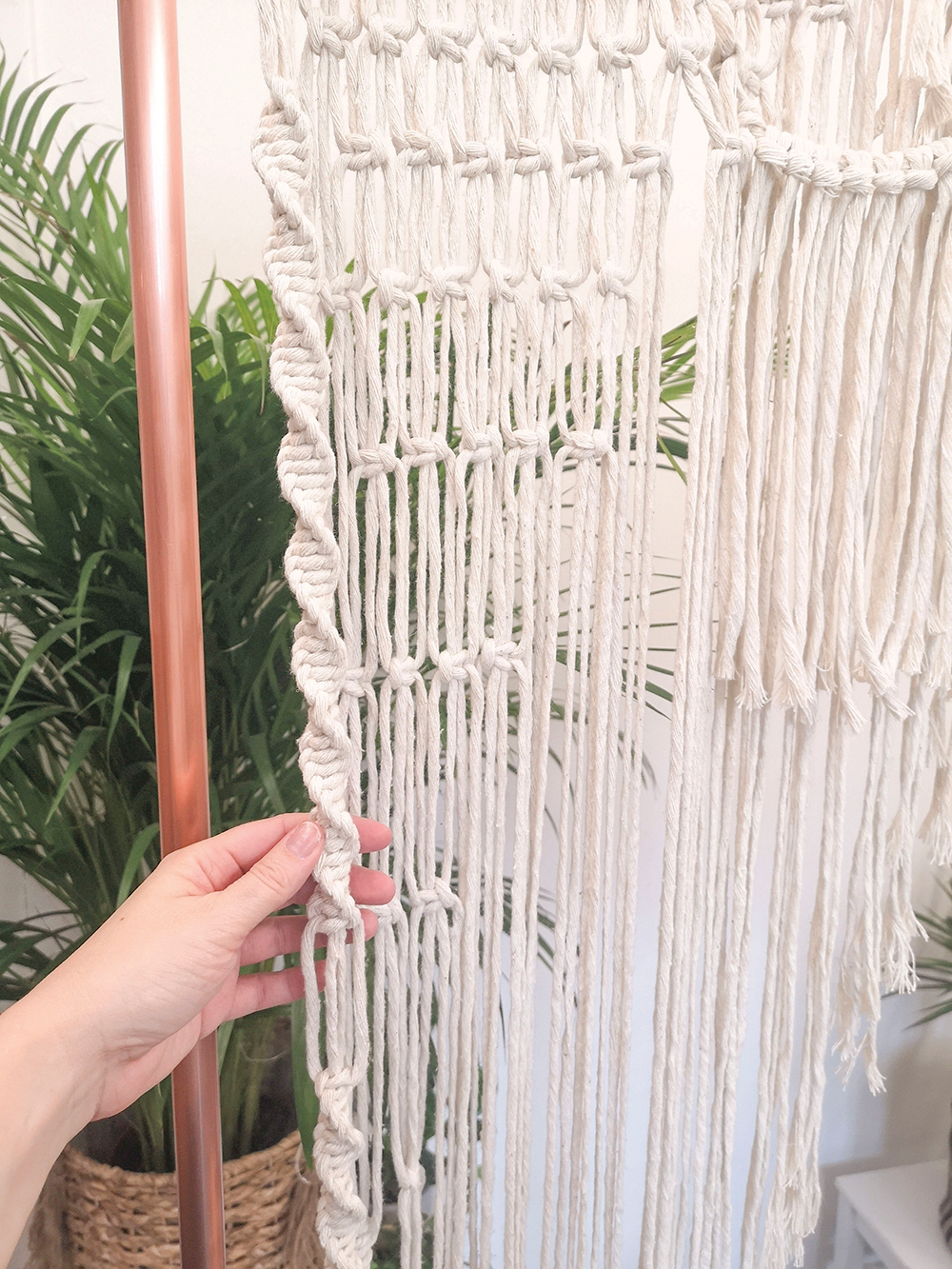 Step 7: Add layers
Adding layers can give you more detail and texture. Simply bring two cords from each side of your design and tie together in the centre using a square knot and you'll have draped cords to then add your thicker rope to to create a draped tassel layer.
Attach your thicker rope strands by using a larkshead knot. Repeat this along the draped cords.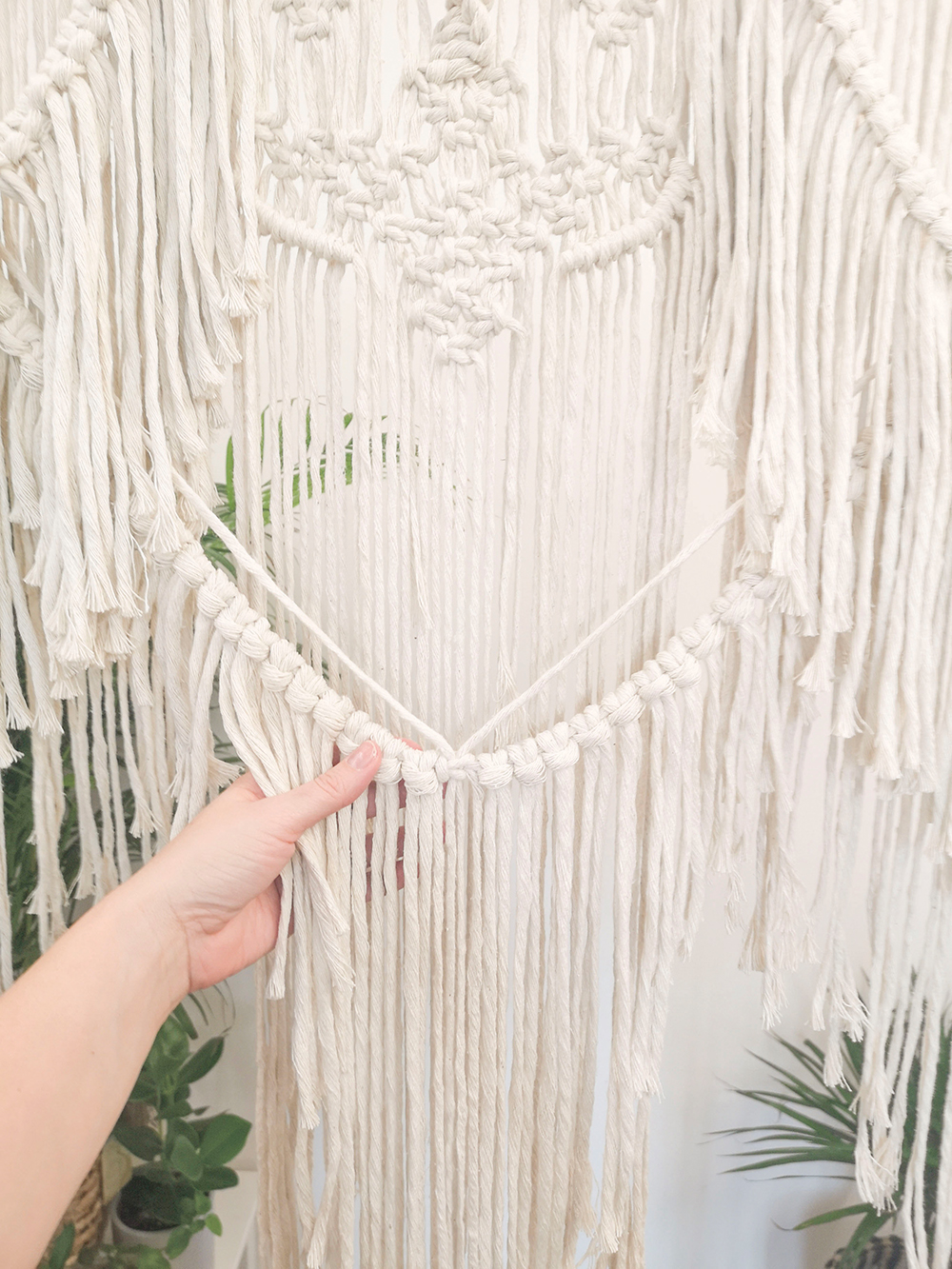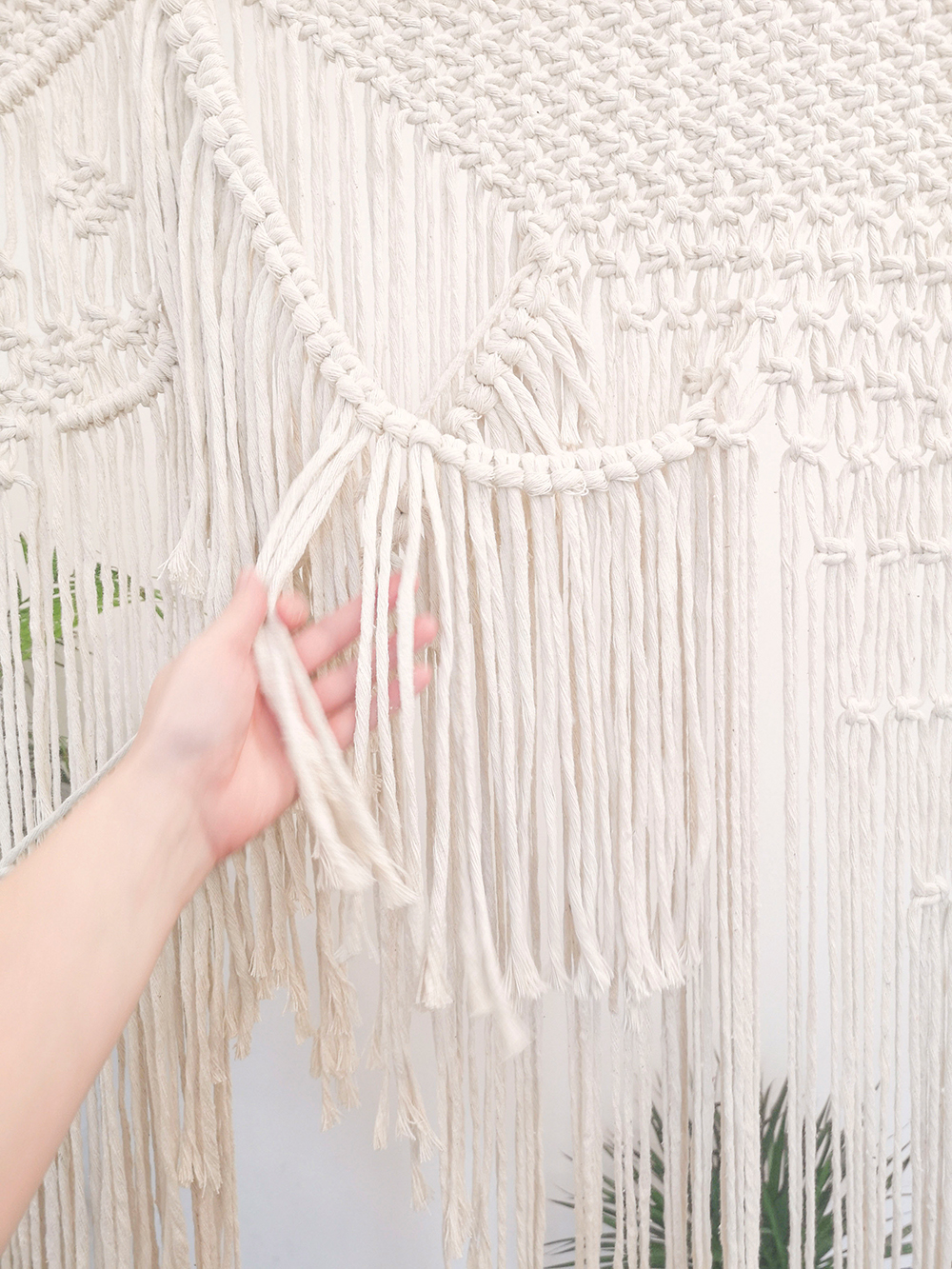 Step 8: Comb it out
You can then leave as is or comb out to give a softer look.
I use a wire dog brush for this but any comb will work. I've added tassels made using 7mm cotton rope to finish it off.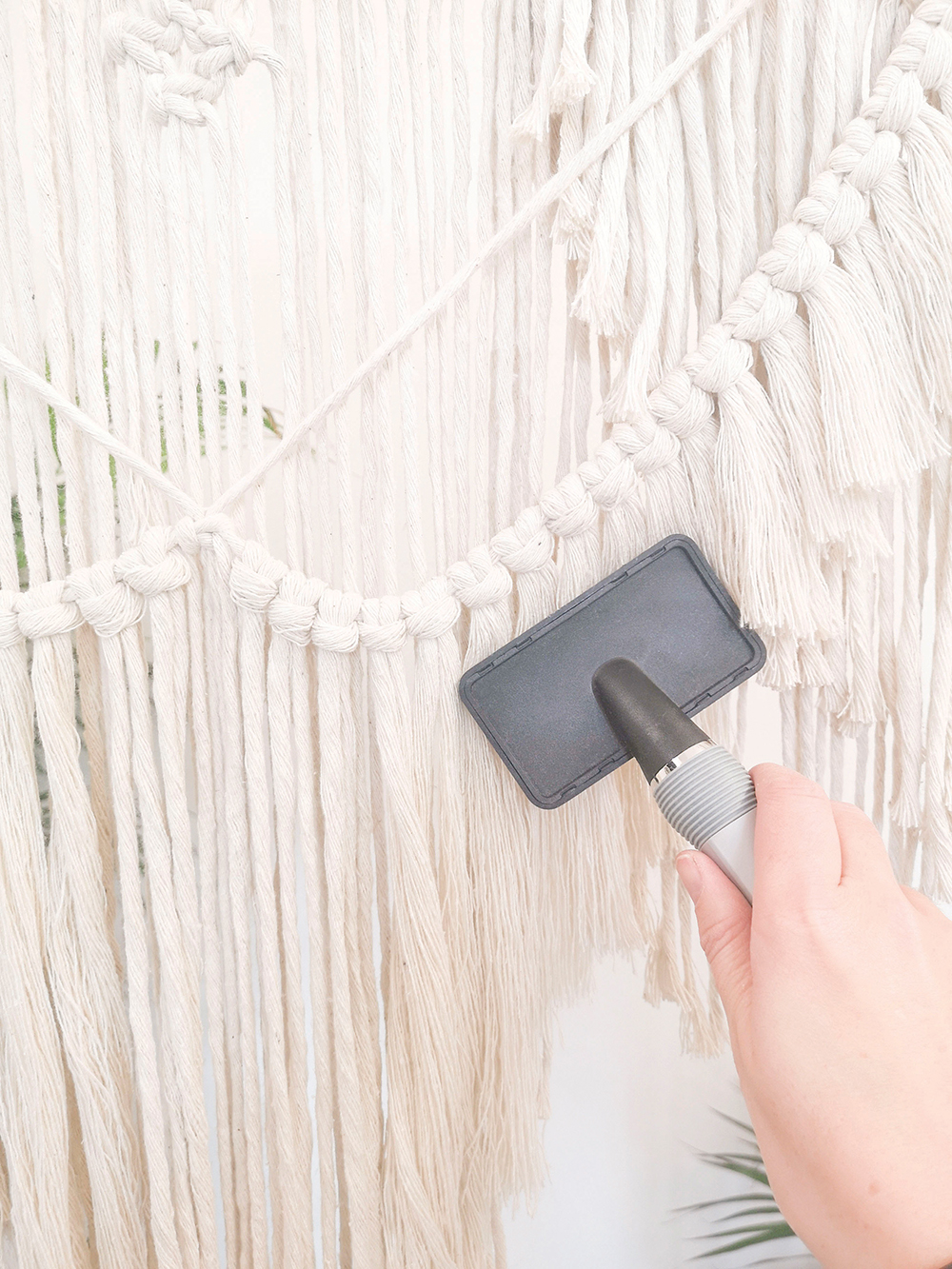 The finished product: A gorgeous DIY macramé backdrop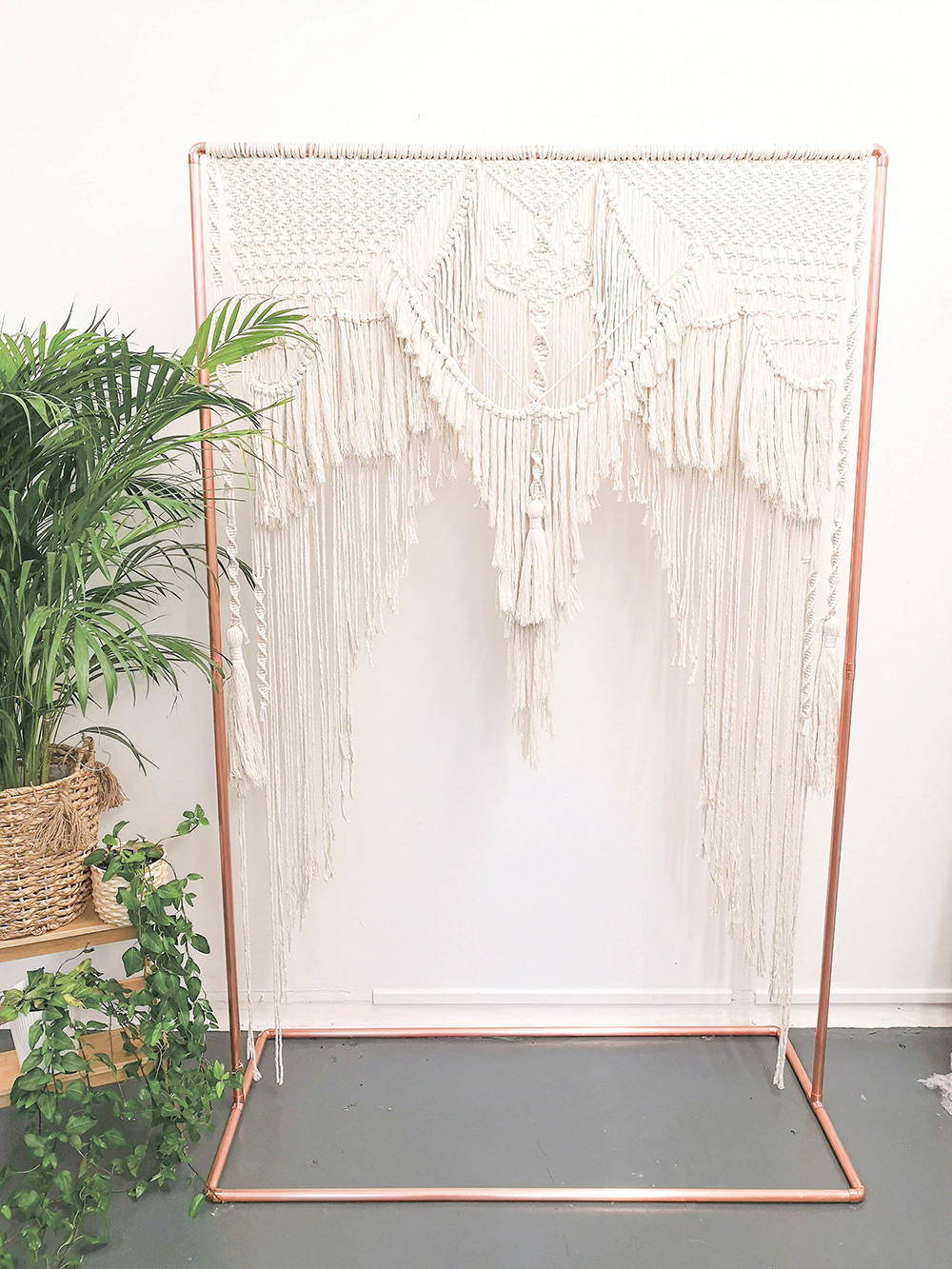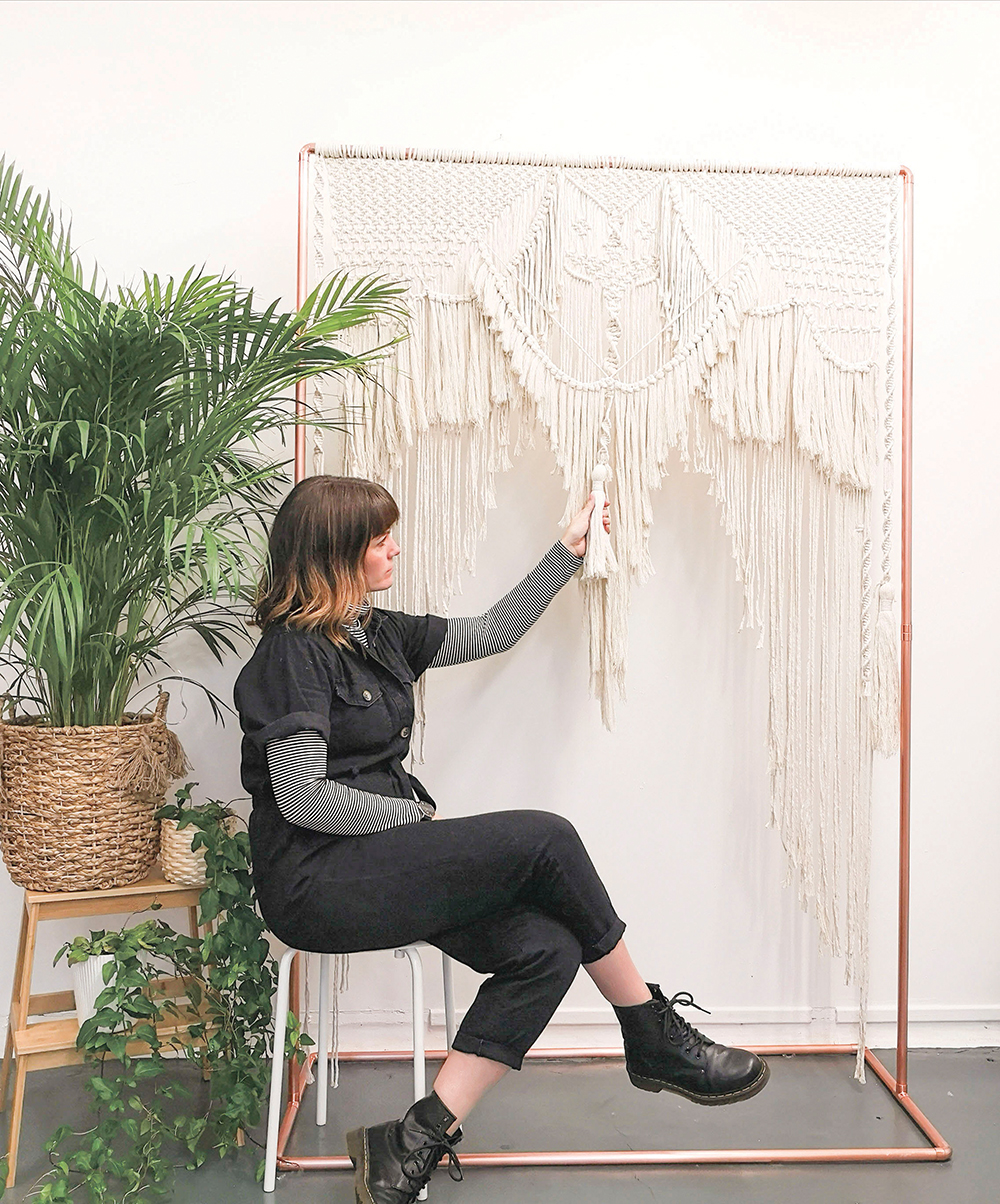 // About the maker //
Emma, the creator of MOO + BOO, has a background in interior design and began designing and making soft simple nursery décor from her home while on maternity leave.
She quickly branched out, hosting weaving, macramé and arm-knitting workshops around Scotland before recently opening her own studio, Skapa, in her home town of Falkirk.
As well as making beautiful woven and macramé hangings, Emma offers an alternative hen party class where you can get crafty and arm-knit your own chunky blanket or even make your very own décor for your big day!