Check out the newly renovated rooms at One Devonshire Gardens
The luxe new bedrooms at this Glasgow wedding venue are stunning!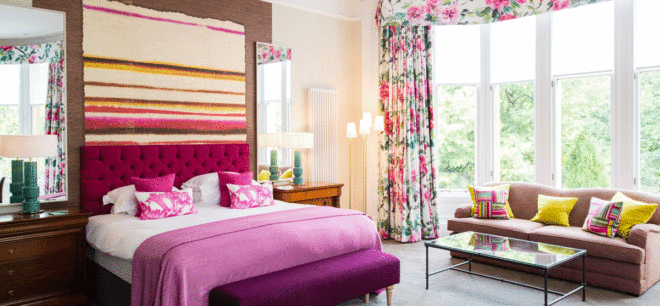 Boutique hotel and iconic Glasgow wedding venue One Devonshire Gardens by Hotel du Vin revealed the stunning results of recent renovations late last year.
Here's a wee sneak peek and more info about their gorgeous new rooms and suites…
IMAGES | Amy Murrell
The hotel's 49 guestrooms, including its six luxurious suites, have all been lovingly refurbished for 2019, and they're looking spectacular.
Hotel du Vin worked with Anita Rosato Interior Design for the project, with inspiration coming from the nearby Botanical Gardens and Hotel du Vin's close association with excellent wines and champagnes.
The result is a vibrant, bright colour scheme complemented by sculptural lighting and mid-century and re-invented antique furniture, creating an eclectic and distinctive overall style.
A taste of luxury
Following the refurbishment, the hotel now boasts two Luxury Townhouse Suites – Belle Epoque and Toques & Clochers.
The Belle Epoque Suite now features a dining area and a luxury bathroom with an Insta-worthy free standing roll top bath and large shower, while Toques & Clochers is a sumptuous one or two-bedroom Luxury Townhouse Suite.
Style and heritage
Guus Bakker, CEO EMEA Frasers Hospitality, said: "One Devonshire Gardens is a truly unique hotel which brings centuries of heritage together with today's modern life, and I'm delighted that the guestrooms reflect this.
The final result is 49 beautiful spaces which marry together the old and the new, creating a warm space which is not only steeped in history but is also functional for today's traveller. We're delighted with the result and can't wait for Hotel du Vin's guests to relax and enjoy these lovely spaces."
Located in Glasgow's West-end, One Devonshire Gardens by Hotel du Vin is a truly special and unique wedding venue. It consists of five stunning 19th century Grade B listed houses connected on the ground floor and first floors, with all newly renovated 49 bedrooms offering their own distinctive architectural character.
 t. 0141 378 0385 | e. groups.glasgow@hotelduvin.com