31 blank canvas wedding venues in Scotland that you can personalise 2018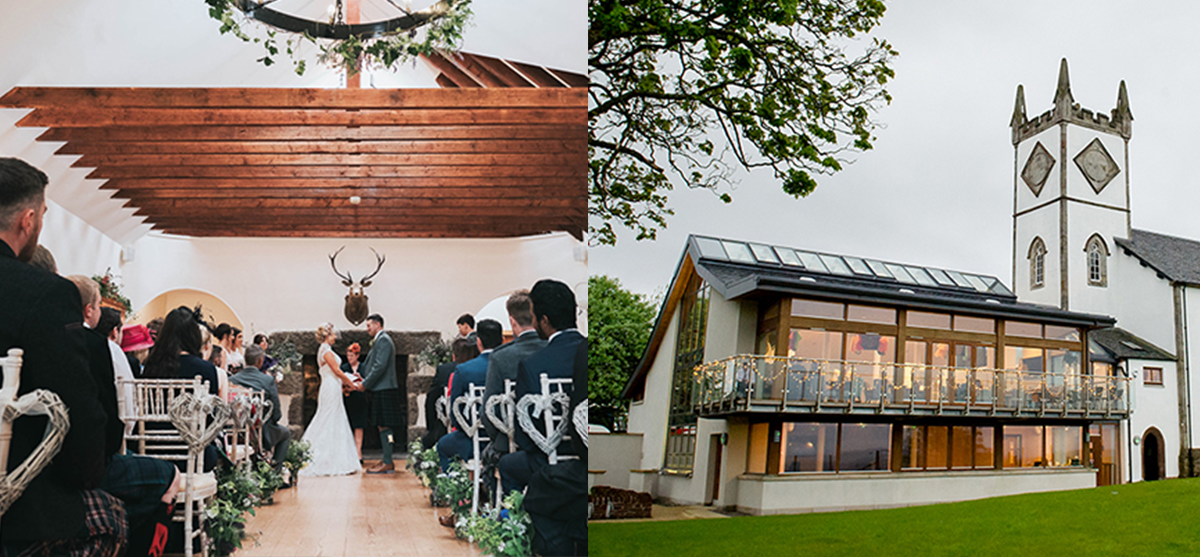 A blank canvas wedding venue that you can add your own personal touches to is top priority for creative couples getting married in Scotland. With a great choice of beautiful wedding venues in Scotland including converted barns, grand mansions, quaint village halls and versatile hotels, you'll struggle to decide which wedding venue to choose!
These stunning wedding venues all have one thing in common: you can use your imagination and creativity to make your dream day a reality!
This feature contains some paid for content.
3 Sisters Bake at Killearn Village Hall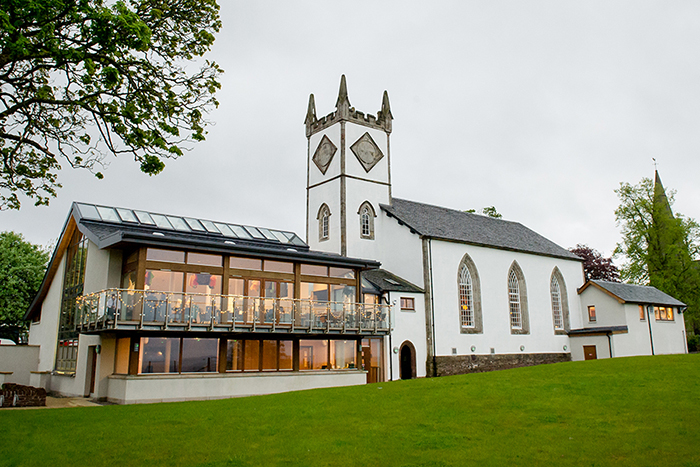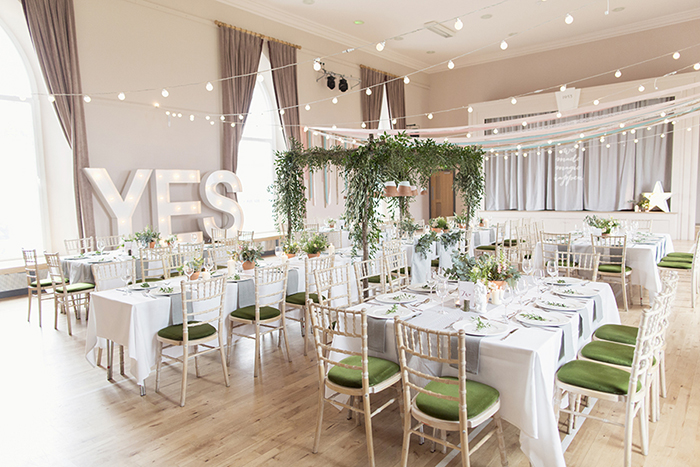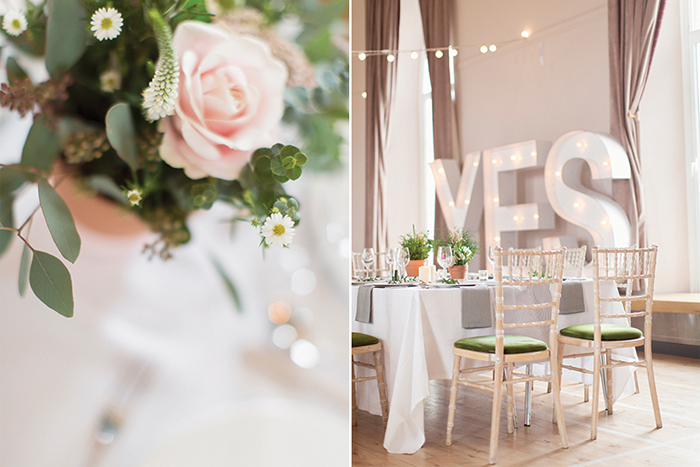 A charming venue nestled in the picturesque village of Killearn, this light and airy space can easily be moulded into the location for the wedding of your dreams.
This former village hall near Loch Lomond has undergone a multi-million-pound renovation and is now a superbly sweet blank canvas wedding venue, perfect for a personalised wedding day.
Killearn Village Hall is also home to 3 Sisters Bake, a wonderful catering and baking company who'll make sure your guests are well fed.
Visit Killearn Village Hall's website | t. 0333 344 7344 | e. weddings@threesistersbake.co.uk
Read reviews for 3 Sisters Bake at Killearn Village Hall
Aswanley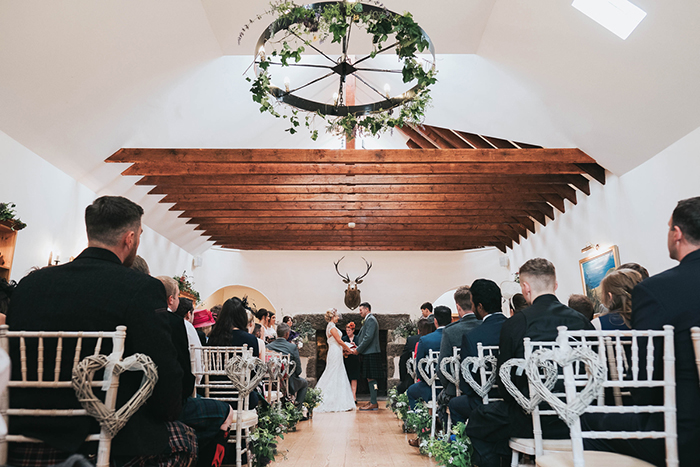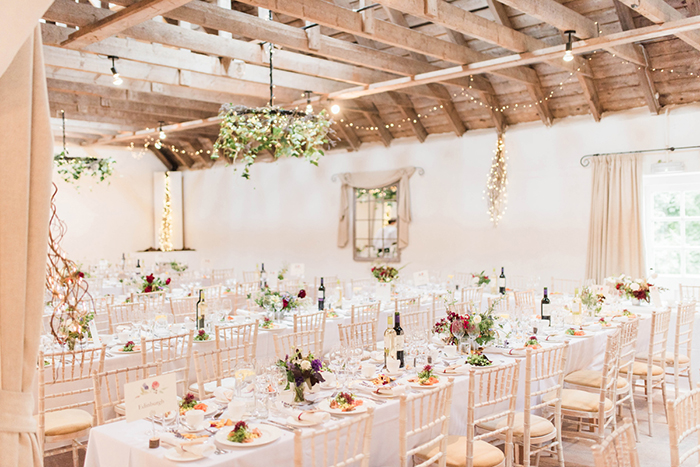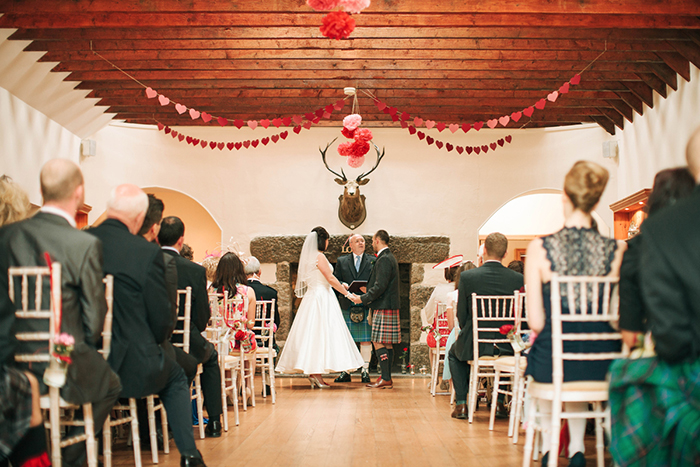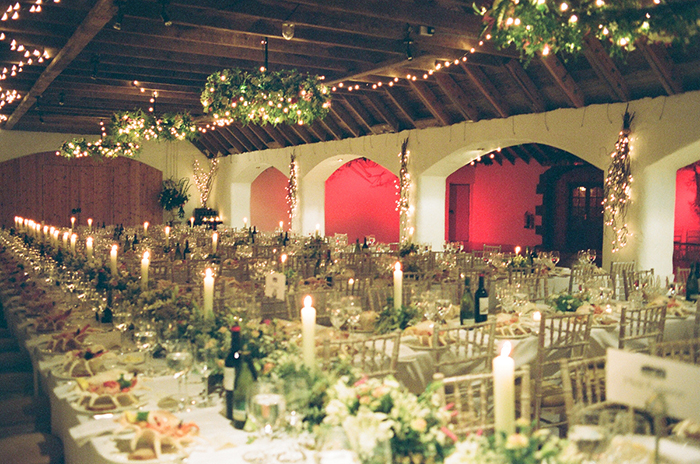 Aswanley's lovely Victorian barn has been beautifully renovated with natural, local materials, featuring a stunning stone fireplace, pine floors and cast iron chandeliers.
These distinct features and the neutral colour scheme provide the perfect foundation for you to have fun creating your own look. It can be as simple as creating a rustic flower arrangement on the iron chandeliers or hanging pom poms to the wooden beams to help instantly put your own distinctive wedding stamp on Aswanley.
Aswanley in Huntly, near Aberdeen, also has dedicated wedding coordinators to help you plan your day, and has everything you need onsite, including a catering kitchen, cutlery, crockery, glassware, chairs and tables, meaning you don't have to hire any equipment in from outside companies.
Aswanley gives you all the freedom of a blank canvas venue without any of the stress!
Visit Aswanley's website | t. 01466 700340 | e. lauren@aswanley.com
Bachilton Barn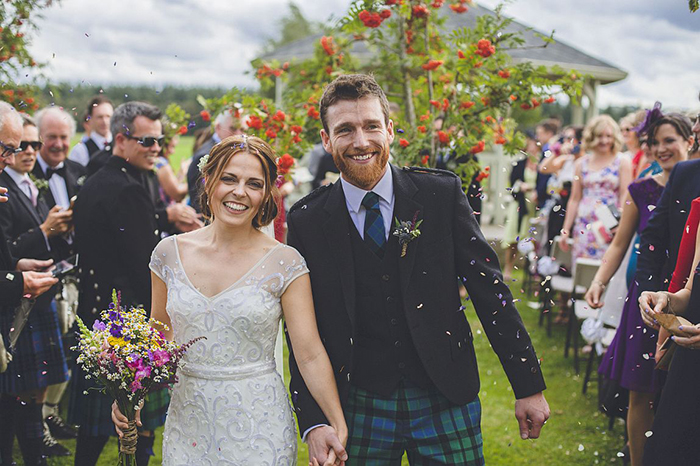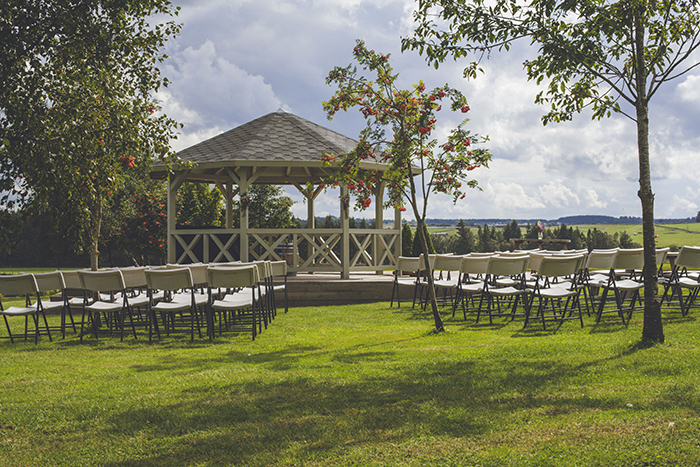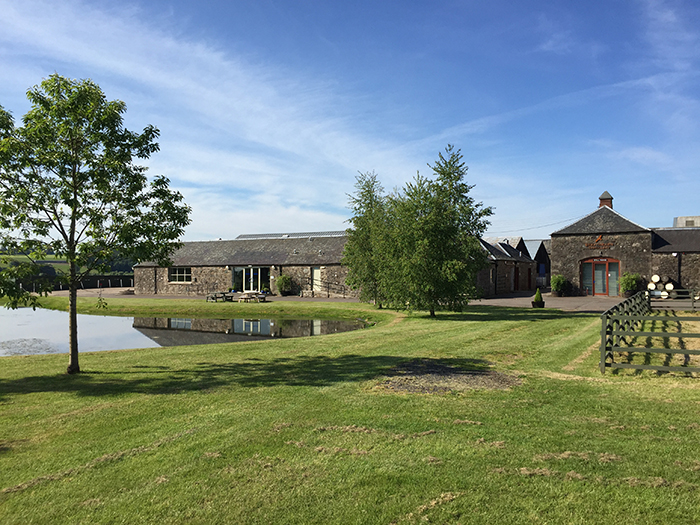 A gorgeously bright and airy wedding venue that is perfect for any modern couple to tie the knot in, Bachilton Barn has a lot to offer for those looking to follow their hearts when planning their wedding day.
With light, neutral colours and clean open spaces, Bachilton Barn looks chic and contemporary. Set within 700 acres of Perthshire countryside, in the village of Methven, you couldn't ask for a more scenic location.
Bachilton Barn also has on-site cottages that can sleep up to 28 guests, ensuring you can party the night away will knowing your bed is only a short walk away!
Visit Bachilton Barn's website | t. 01738 840 804  | e. info@bachiltonbarn.co.uk
Read reviews for Bachilton Barn
Ballogie House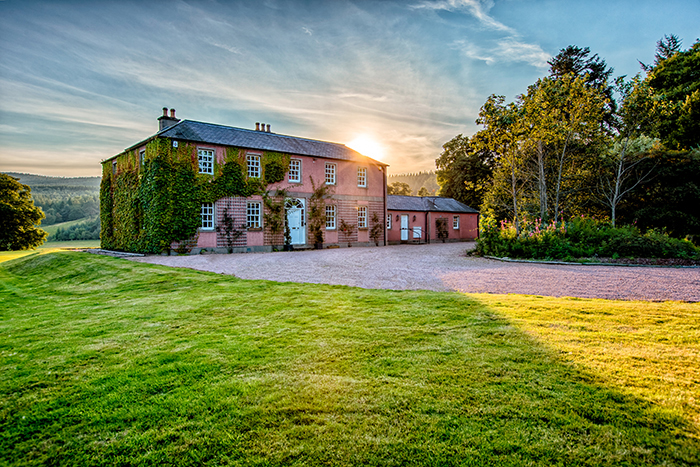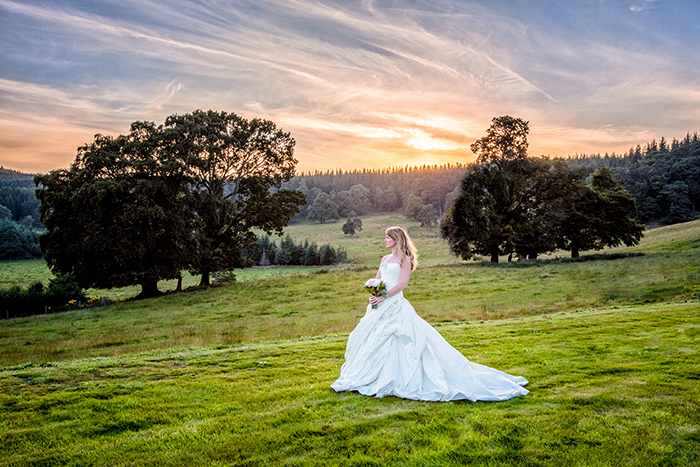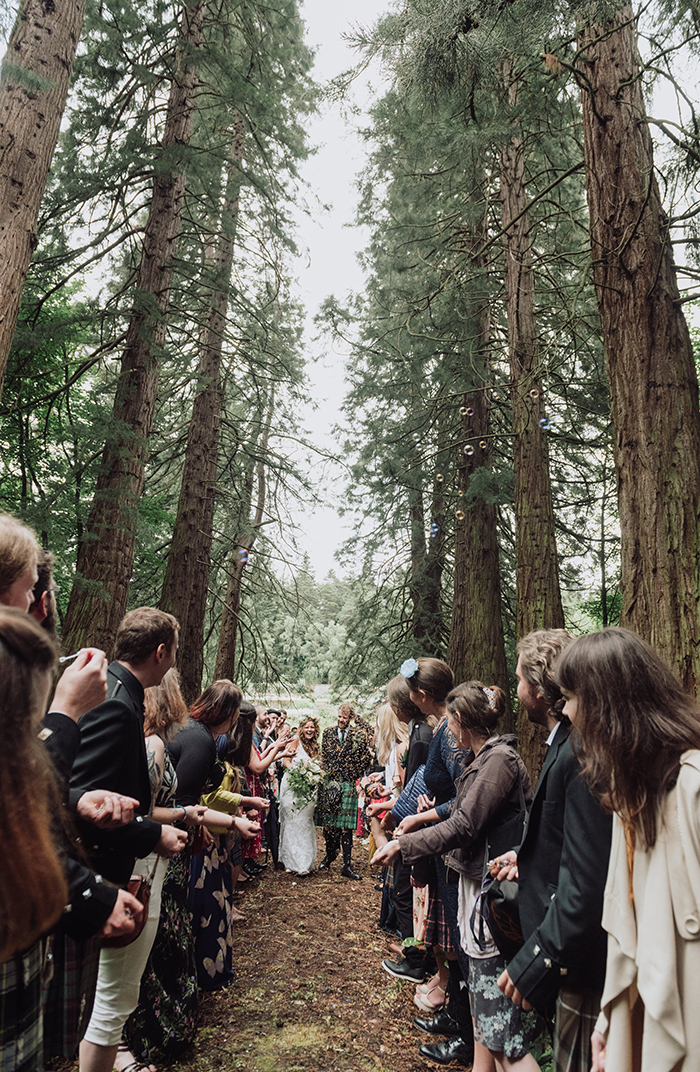 IMAGE | Donna Murray Photography
Ballogie House, in Aboyne, is a truly stunning country mansion with beautiful uninterrupted views; providing guests with total privacy to relax and enjoy time with family and friends before the big day!
The house has a contemporary interior and seven beautiful en-suite guest bedrooms, including a luxurious bridal suite, meaning there's plenty of room for everyone.
Whether you choose Ballogie's stunning orangery or luxurious glass sided marquee for your celebration, each can be personalised to reflect your individual theme and style, making each wedding at this beautiful venue truly unique!
Visit Ballogie House's website | t. 01339 886497 | e. info@ballogie-estate.co.uk
Read reviews for Ballogie House
The Barn at Harburn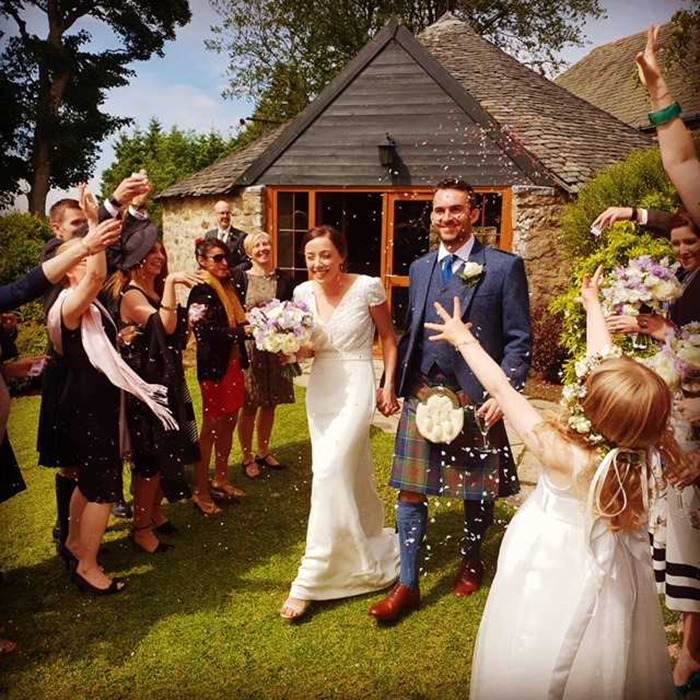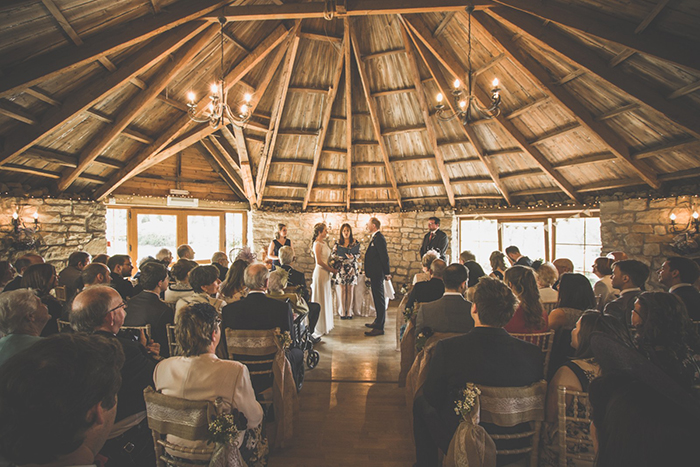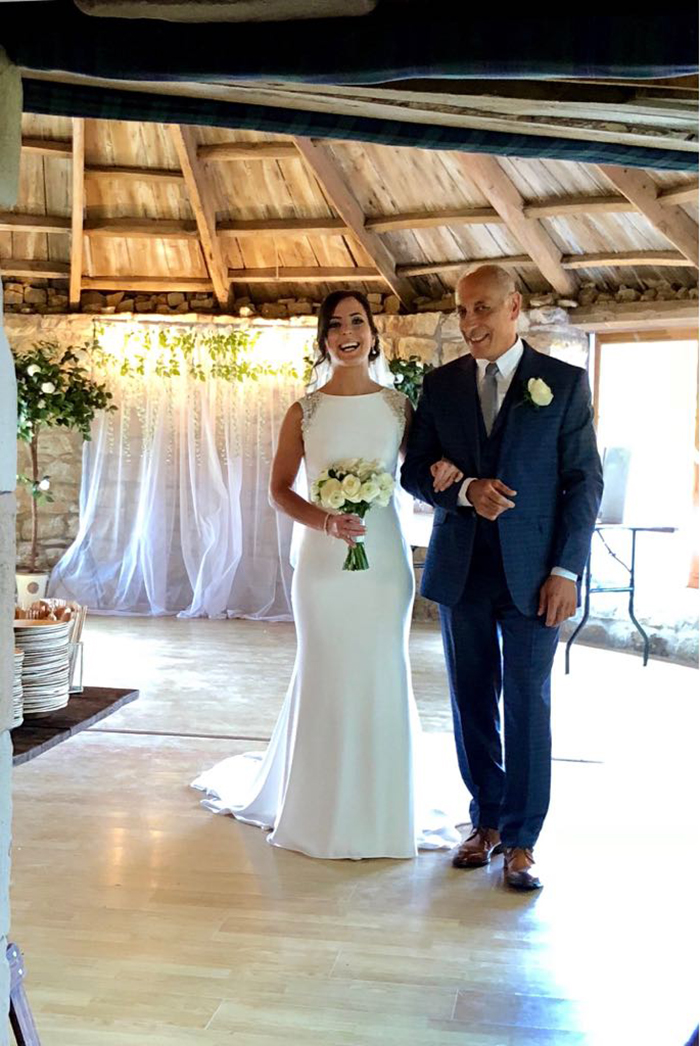 The Barn at Harburn is a unique blank canvas venue, having being converted into a stunning wedding venue from a roundhouse and granary.
Set in the beautiful grounds of the Harburn Estate in West Lothian, there will be plenty of opportunity for a gorgeous outdoor drinks reception, not to mention amazing photo opportunities.
As The Barn at Harburn is a blank canvas venue, you have the freedom to decorate the space as you wish for your wedding day.
Visit The Barn at Harburn's website | t. 07826 783003 | e. info@harburnbarn.com
Read reviews for The Barn at Harburn
The Byre at Inchyra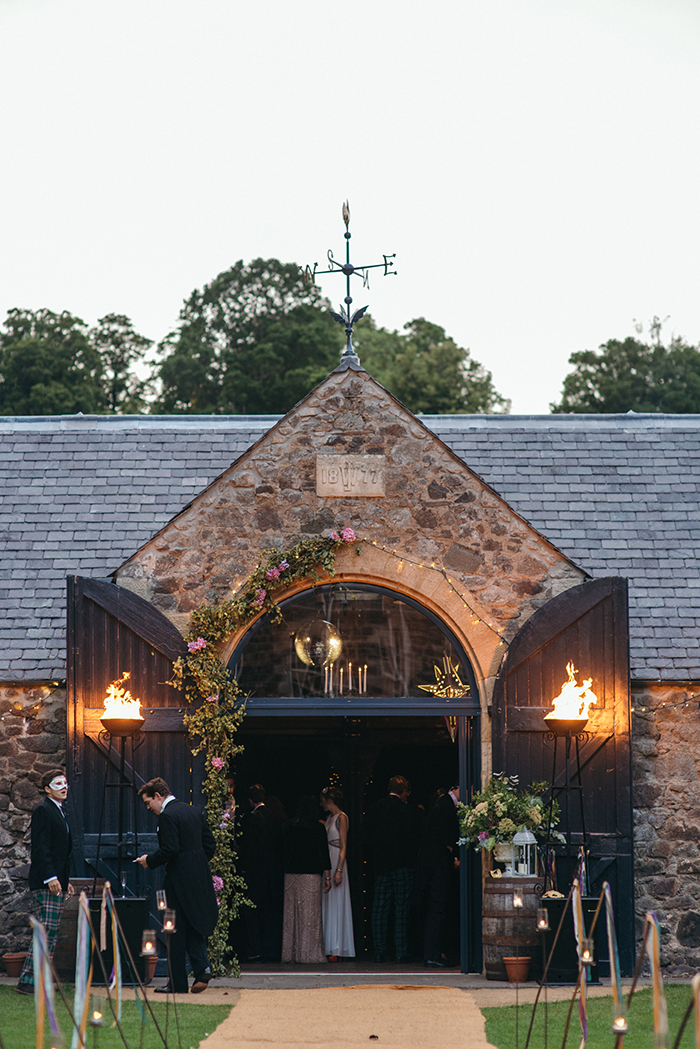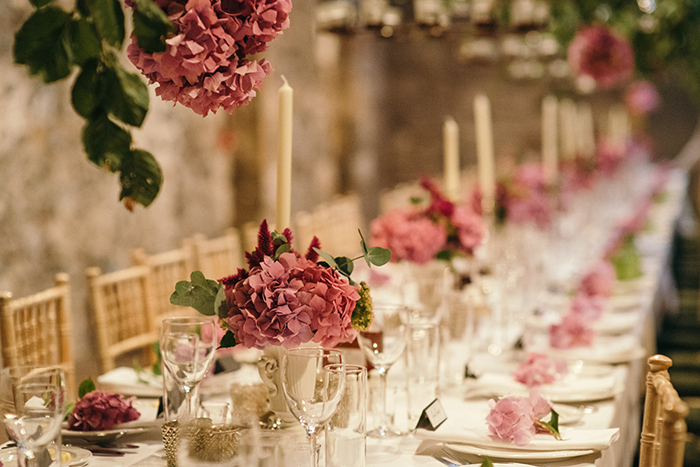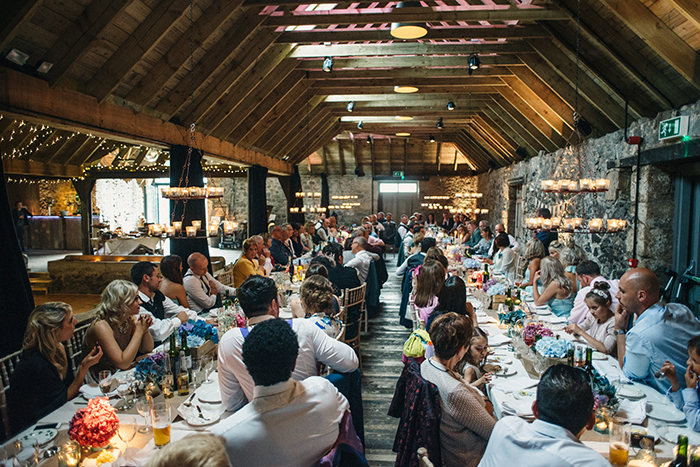 IMAGES | Photos by Zoe
The Byre at Inchyra is a truly remarkable wedding venue that sits on the incredibly scenic Inchyra Estate, Glencarse, Perthshire.
A converted blank canvas barn venue, you can truly build the wedding of your dreams from the ground up. This venue really is versatile; there's so much potential for creating something special here.
The venue can hold up to 180 guests for dinner and dancing, with a sprung maple wood dancefloor made from reclaimed wood from Kelvingrove Art Gallery… how cool is that!
After a magical day, you can lay your head down in the beautiful bridal suite and your guests can stay in the cottages on-site. If you're feeling a little more adventurous, there's glamping too.
Visit The Byre at Inchyra's website | t. 01738 860066 | e. enquiries@thebyreatinchyra.co.uk
Read reviews for The Byre at Inchyra
Carfraemill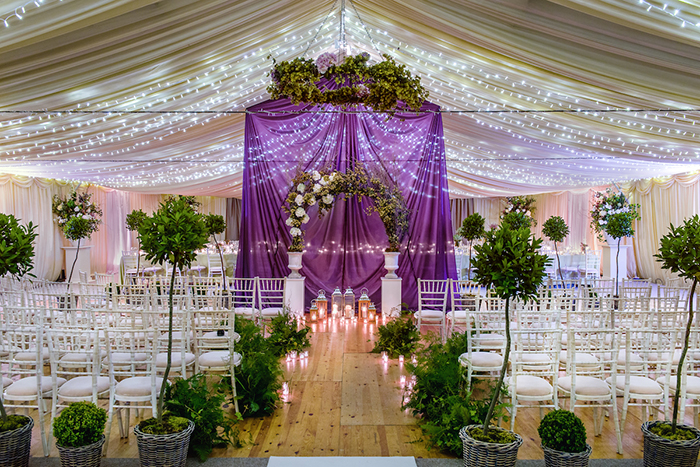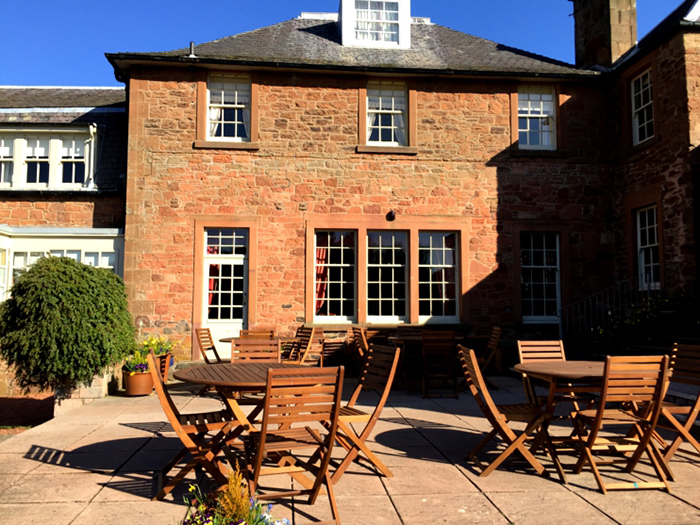 A lovely country hotel that offers couples true versatility when planning their wedding day, Carfraemill is a really unique wedding venue in Lauder, near Edinburgh.
Only 30 minutes from Edinburgh city centre in a stunning country location, this venue allows you to have your wedding day, your way, in a picturesque rural setting that's still accessible for guests travelling for your day.
Not only does Carfraemill have an amazing permanent marquee on-site with a neutral colour scheme, you can even set up your own tipi or tent up ˜On the Hill'.
This beautiful spot has stunning views, and as it's a mile away from the hotel, guarantees you and your guests complete privacy when celebrating your big day.
Visit Carfraemill's website | t. 01578 750750 | e. enquiries@carfraemill.co.uk
Eden Leisure Village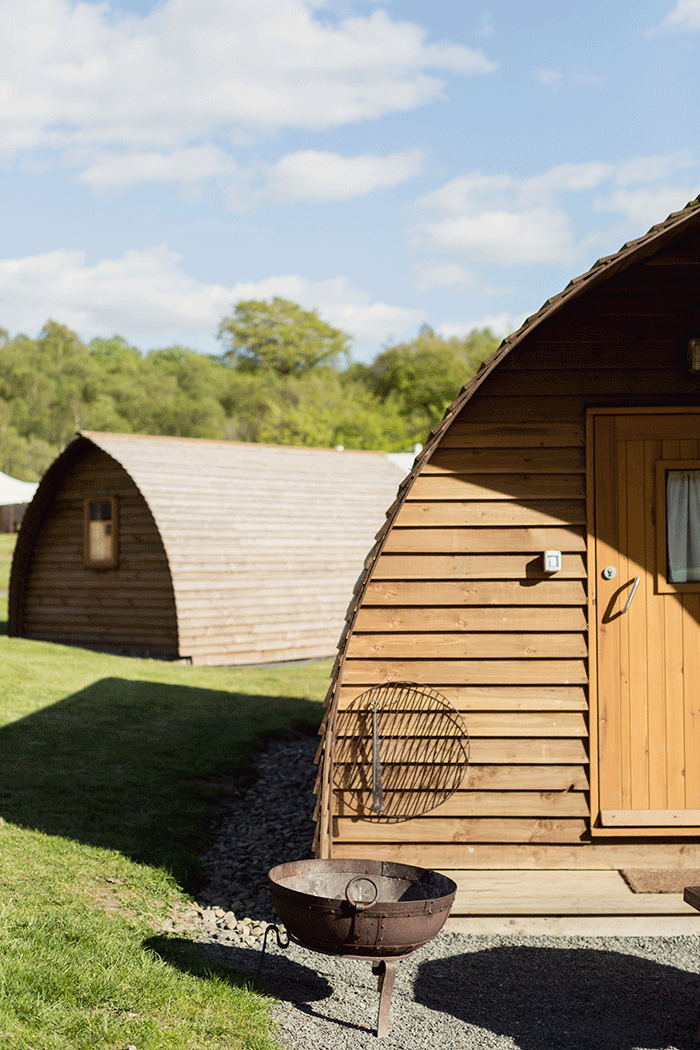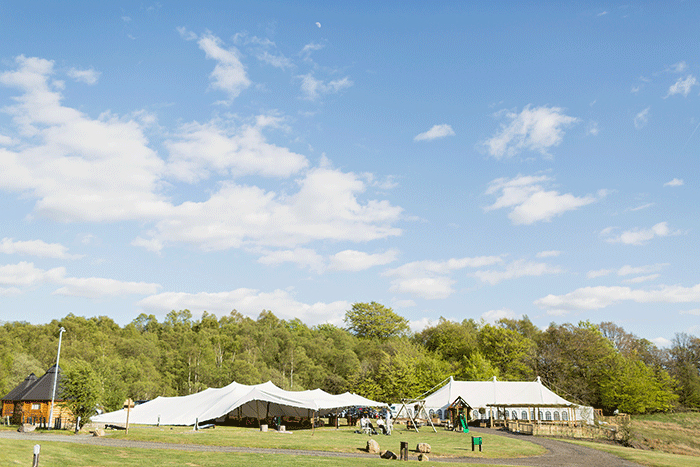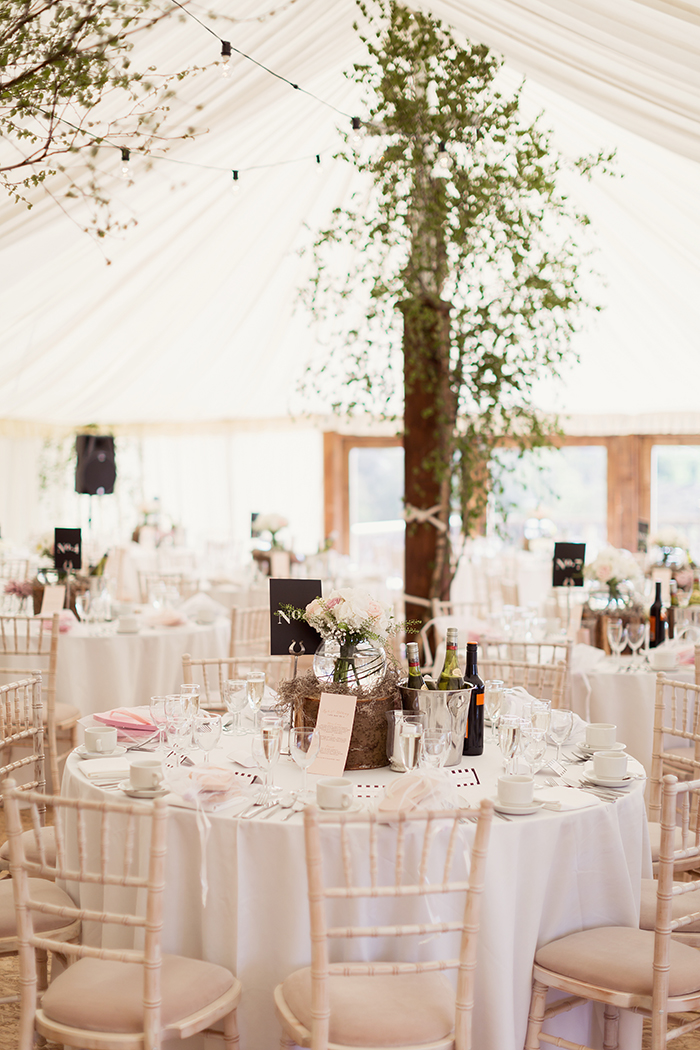 Couples searching for a laid back country wedding should look no further than Eden Leisure Village. Situated in a 25-acre estate, this beautiful space is only 30 minutes from Glasgow in Cumbernauld, and has fantastic views of the surrounding countryside.
Why not have an outdoor wedding in the vast grounds of the venue?
Complete with its own stretch tent, rustic barn and marquee, Eden Leisure Village is incredibly versatile allowing couples to stamp their very own distinct style on the venue for the duration of their wedding day.
Also, when you have your wedding at Eden, you get exclusive-use of the site, including all of its on-site accommodation.
Visit Eden Leisure Village's website | t. 01236 735464 | e. info@edenleisurevillage.co.uk
Read reviews for Eden Leisure Village
Dynamic Earth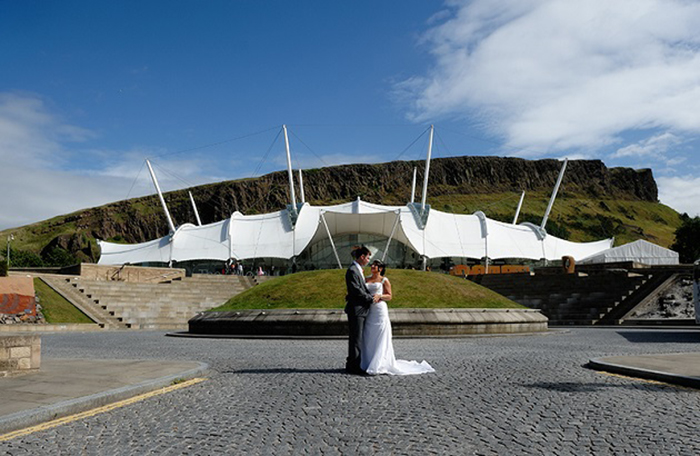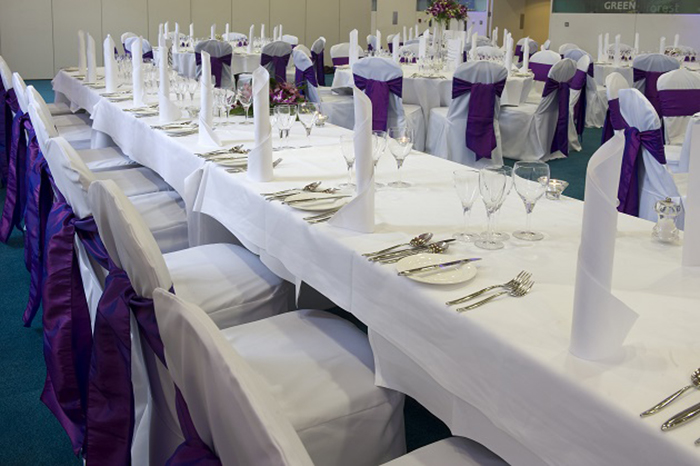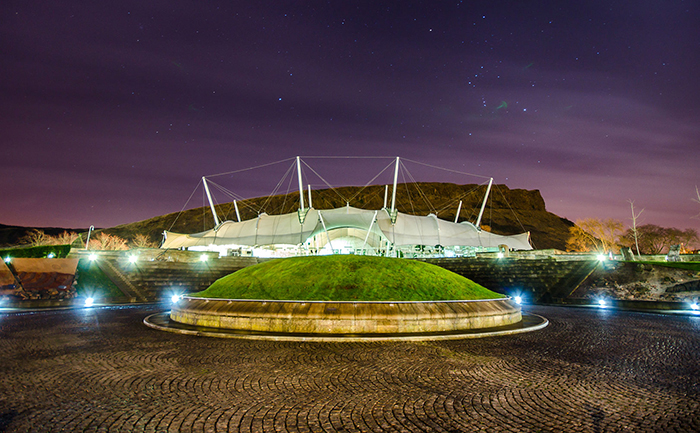 If you get married at Dynamic Earth in Edinburgh, you can hold your wedding in the Biosphere, an incredibly versatile space that features a stone-walled turret and high arched ceilings, stylishly mixing contemporary design with Edinburgh's history and heritage.
Or you can get married in the Ozone, with floor to ceiling windows that overlook the stunning Salisbury Crags.
No matter where you hold your celebration, rest assured that you can have a wedding expertly tailored to your tastes at Dynamic Earth.
Visit Dynamic Earth's website | t. 0131 523 1269 | e. event.sales@dynamicearth.co.uk
Read reviews for Dynamic Earth
Fruin Farm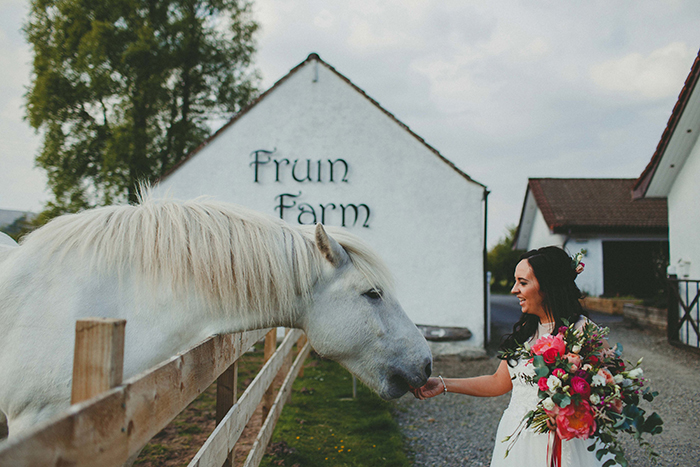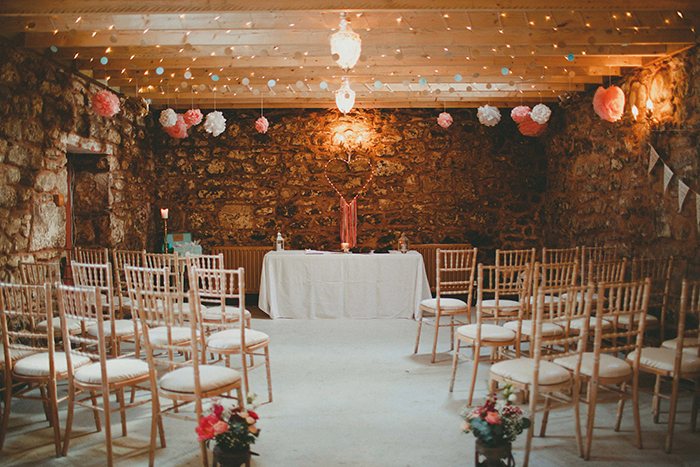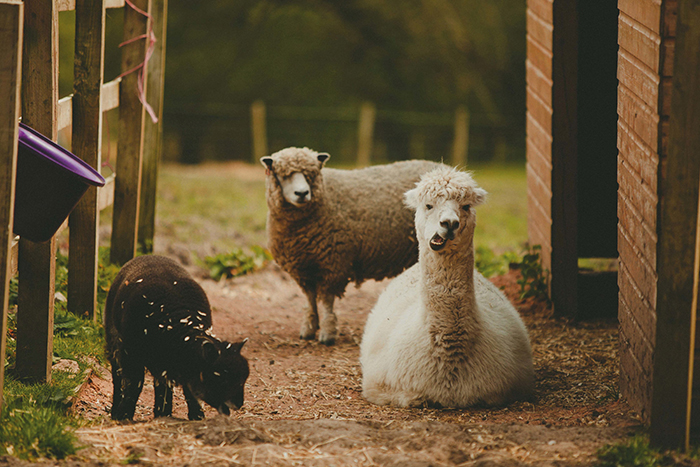 IMAGES: Rachel McNeil Photography
A cute venue in Loch Lomond that's perfect for couples looking for an intimate wedding, Fruin Farm is ideal for soon-to-be newlyweds looking for a day truly catered to their own wants and needs.
You can celebrate your wedding in Fruin Farm's restaurant area, or you can have your reception in the farm's on-site barn, a great space that will give your celebrations a rustic twist without overwhelming your chosen theme.
Just speak with the Fruin Farm team about your décor ideas and they will help to create the wedding of your dreams!
Fruin Farm is well known for its use of local produce and delicious food, so you can guarantee your guests will be well watered and fed. Also, remember to check in on the farm's llamas!
Visit Fruin Farm's website | t. 01389 850727 | e. info@fruinfarm.co.uk
Glentruim Castle + Cottages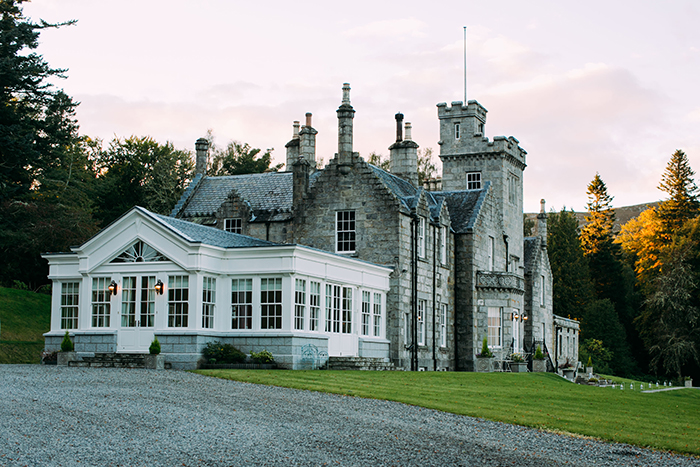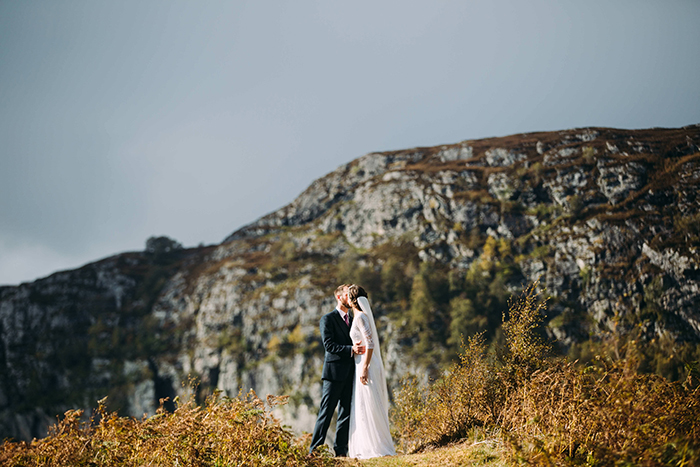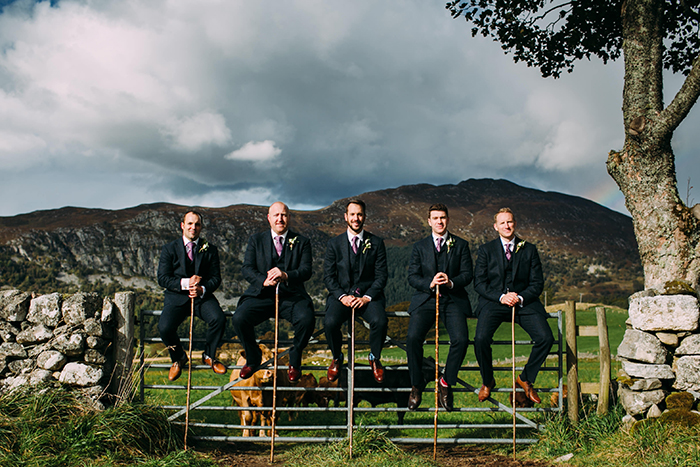 IMAGES | Ellie Robertson Photography
Glentruim Castle + Cottages is situated on a beautiful and rugged highland estate in the Cairngorm National Park, in Inverness-shire, and is a fabulous exclusive-use wedding venue that can help you create the wedding day you've always dreamed of.
Glentruim offers a variety of options that will allow you to choose what type of wedding day you're going to have.
You can have your ceremony in the spacious, light filled Orangery, which can be easily decorated in the style of your choice. You can have your drinks reception outside under Glentruim's beautiful trees or even throw a huge bash in a marquee out on the lawn " whatever you want, Glentruim will try to cater it for you!
Visit Glentruim Castle + Cottages website | t. 01540 673886 | e. info@glentruimestate.co.uk 
Read reviews for Glentruim Castle + Cottages
The Hub
A hidden gem situated in the heart of Edinburgh's famous Royal Mile, The Hub is an incredibly special and iconic Scottish wedding venue.
The spacious Main Hall easily lends itself to any style, and can go from a fabulous luxe wedding to a celebration with a laidback party theme with only a few choice décor objects.
Not only that, it's excellent location means that your wedding photos will be absolutely stunning, as The Hub is a fantastic backdrop for your big day inside and out.
Visit The Hub's website | t. 0131 473 2015 | e. thehub@eif.co.uk
Read reviews for The Hub Royal Mile
Kinkell Byre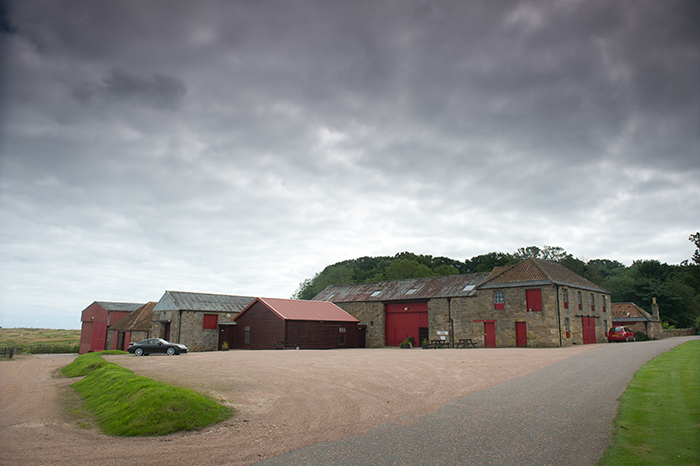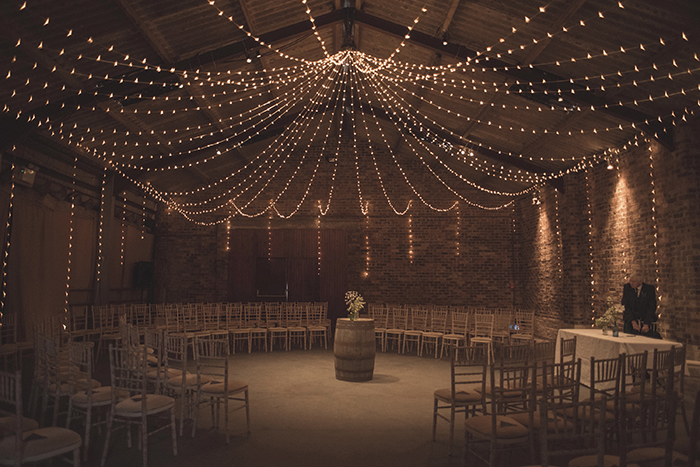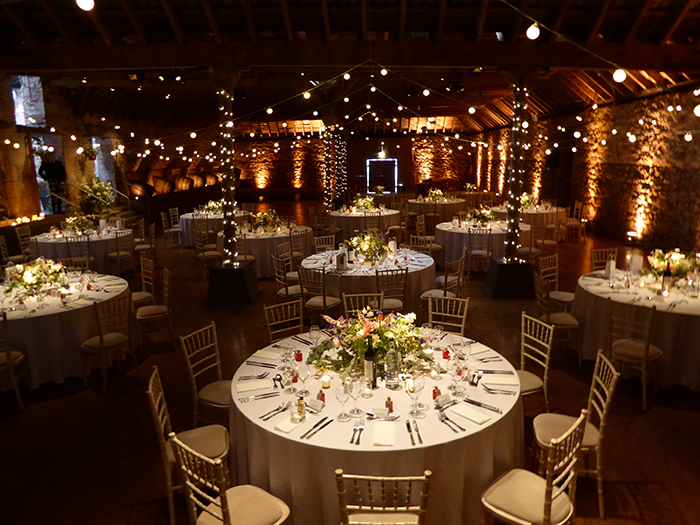 A truly fantastic blank canvas venue that will provide your wedding with plenty of natural character, Kinkell Byre in St Andrews is an exclusive use converted barn with a difference.
So matter your personal style, it will look fantastic against Kinkell Byre's rustic backdrop.
If you like, décor objects like hessian draping, whiskey barrels, and candles and candle sticks are included in the price.
Visit Kinkell Byre's website  | t. 01334 472003 | e. info@kinkell.com
Lindores Abbey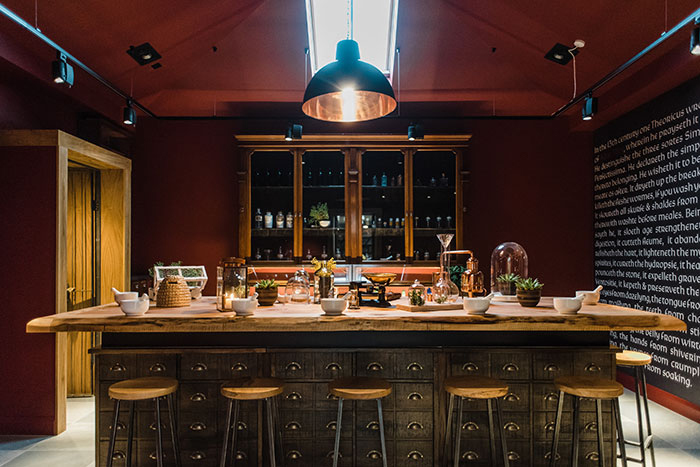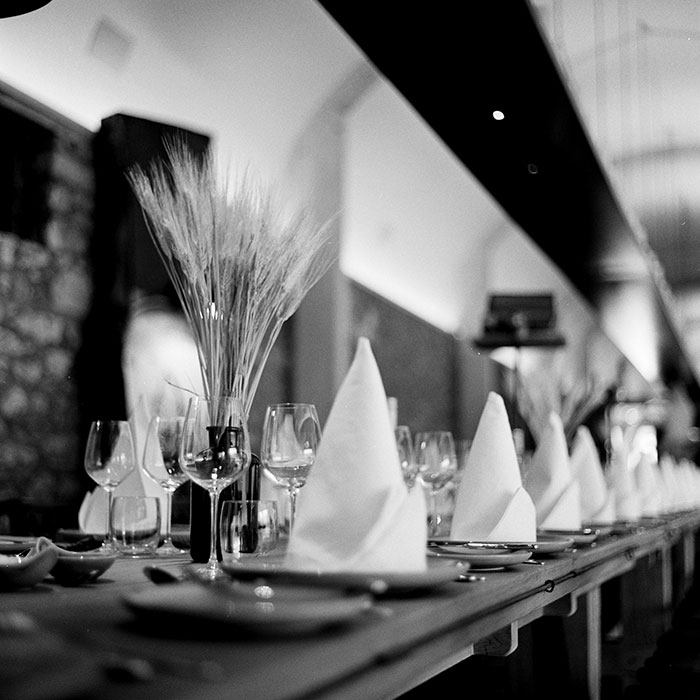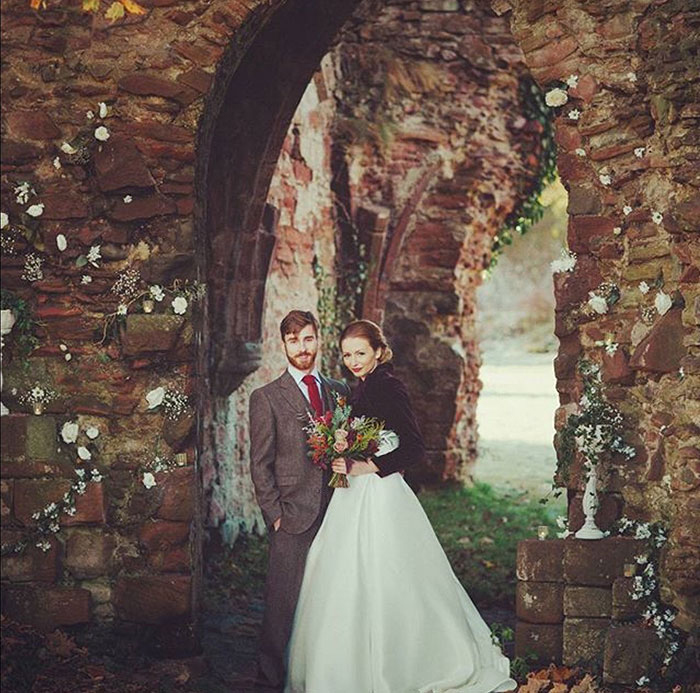 Lindores Abbey in Newburgh, Fife, is both a site of remarkable Scottish history and a working brewery, making it a very interesting and cool place to tie the knot.
But not only that, Lindores Abbey can easily be personalised to suit your wants and desires for your big day. You can celebrate your wedding inside the stunning distillery, or you can set up a marquee and tents in the Abbey's extensive grounds for a gorgeous outdoor themed wedding day.
Whatever style or theme you'd like for your big day, the team at Lindores Abbey can help make your vision happen.
Visit Lindores Abbey Distillery's website | t. 01337 842547 | e. info@lindoresabbeydistillery.com
Read reviews for Lindores Abbey Distillery
Logie Country House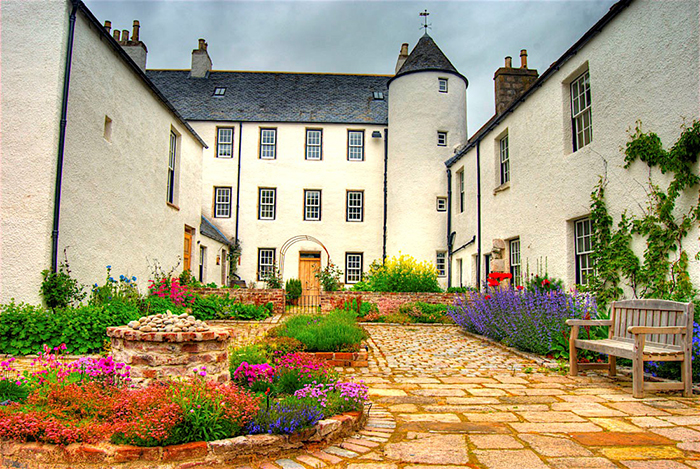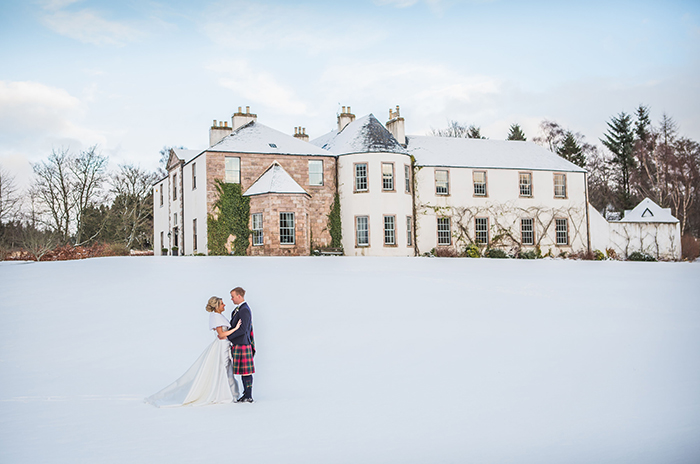 IMAGE | Nicholas Frost Photography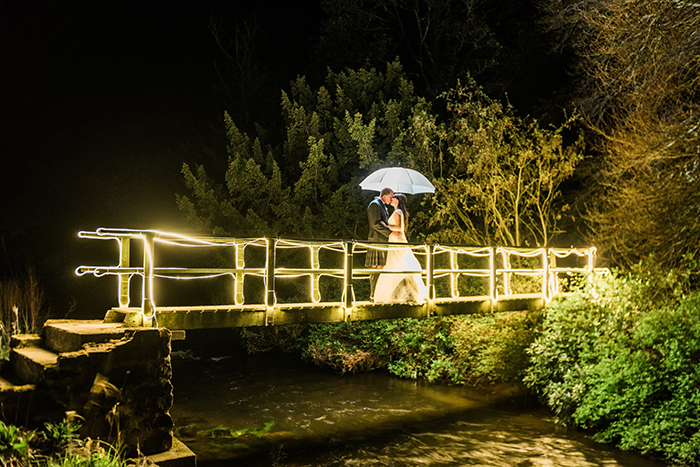 IMAGE | James Kelly Photography
A wonderfully luxurious castle tucked away in the Aberdeenshire countryside, Logie Country House can easily be the backdrop of the wedding day you've always wanted.
Not only is the house spacious enough to sleep 32 guests, it also has an infinity pool, two outside hot tubs and a cinema room available for you and your guests to enjoy.
When it comes to celebrating your big day, Logie Country House's purpose built Wedding Ballroom is a fabulous option which can be effortlessly personalised.
Once the house's stables, it has now been converted into a lush, bright space that's ideal for big or small celebrations.
Visit Logie Country House's website | t. 08450 942424 | e. weddings@logiecountryhouse.co.uk 
Read reviews for Logie Country House
Mar Hall Golf + Spa Resort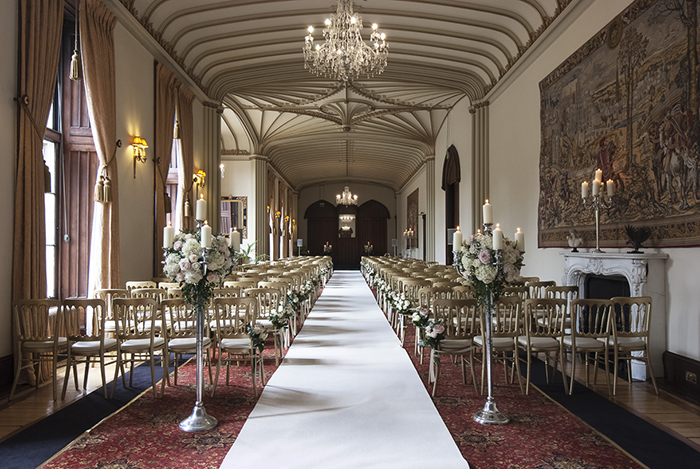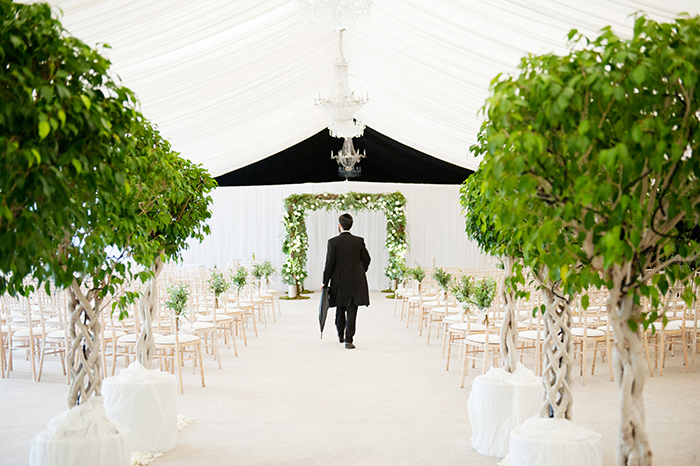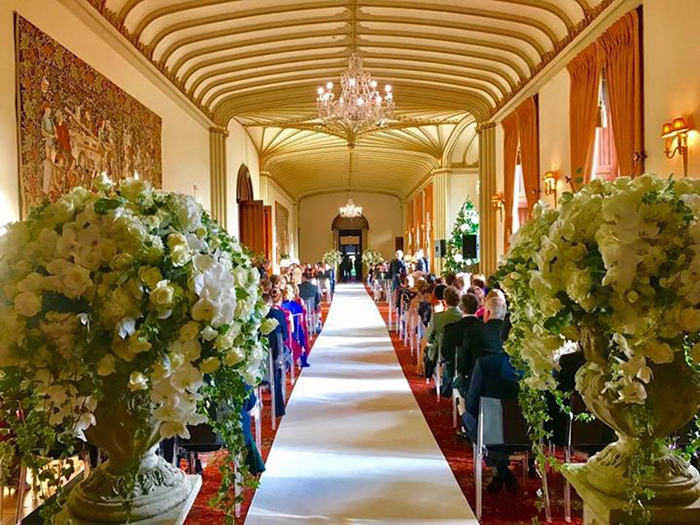 Mar Hall Golf + Spa Resort near Glasgow might be one of Scotland's most luxurious wedding venues, but that doesn't mean that you can't put your very own spin on your wedding décor!
The rooms, while ornate, have neutral colour tones, allowing you to imprint the space with the colours and themes of your choice.
The grounds are also absolutely beautiful, and you can tie the knot outside with the breathtaking Kilpatrick Hills in the background.
Visit Mar Hall Golf + Spa Resort's website | t. 0141 8129999 | e. events@marhall.com
Read reviews for Mar Hall Luxury Golf + Spa Resort
Murthly Castle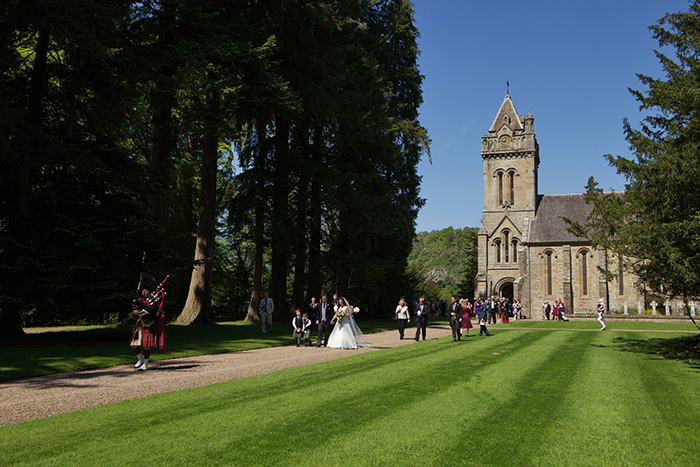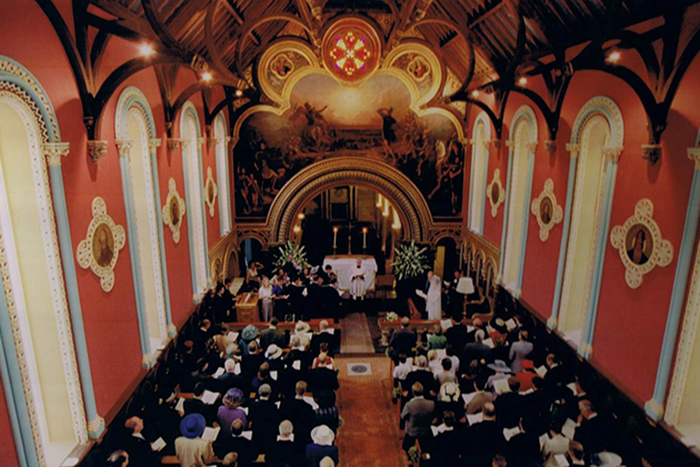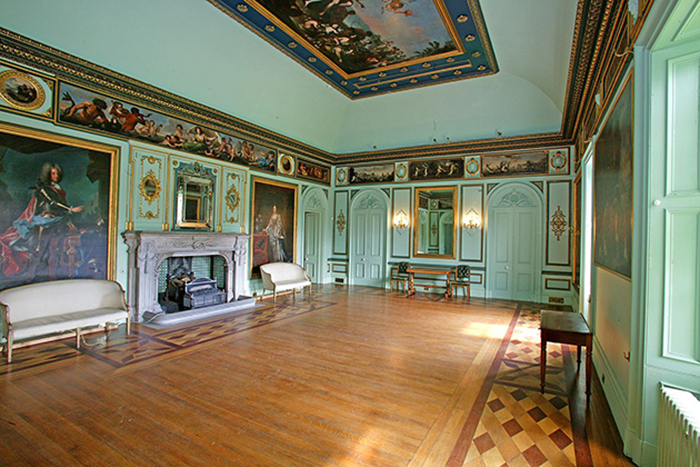 Murthly Castle is an exclusive use venue that only holds 12 weddings a year, meaning that the team have time to completely invest in your wedding, working with you to create a day tailored to the tastes of you and your soon-to-be spouse.
Murthly Castle will also give you access to the venue two days before your wedding, allowing you to decorate the space as you wish without feeling rushed.
The castle is also home to its very own private chapel and walled garden, giving you plenty of options and flexibility on where to hold your wedding ceremony and reception.
Visit Murthly Castle's website | t. 01738 630 666 | e. weddings@murthly-estate.com
Read reviews for Murthly Castle
Moness Resort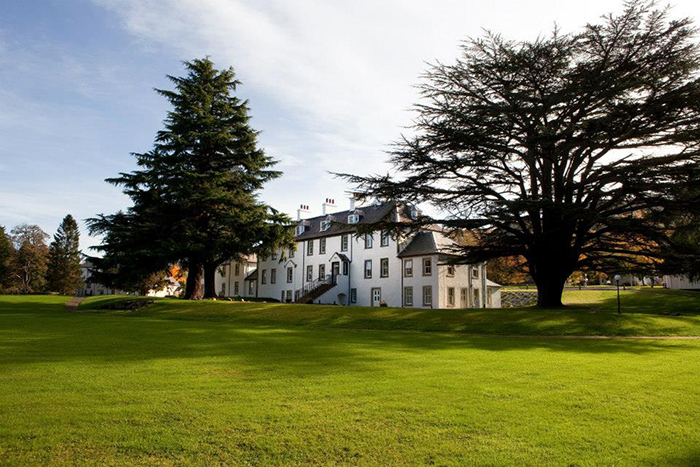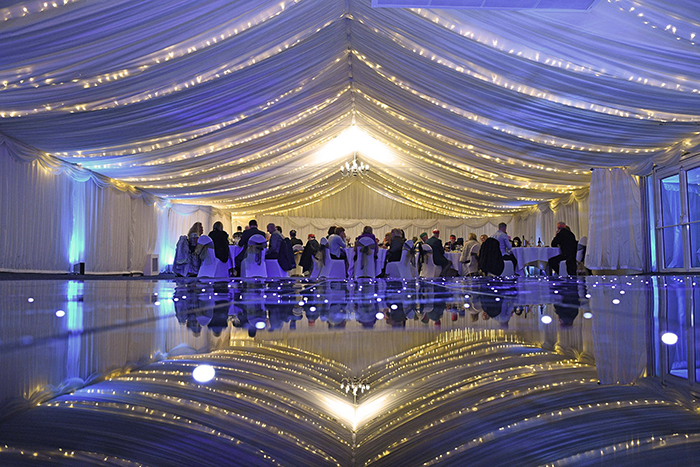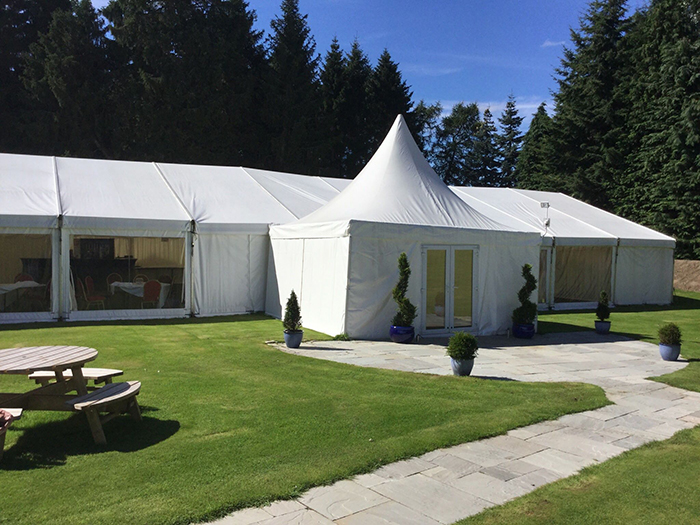 Moness Resort is a charming wedding venue close to the picturesque town of Pitlochry. With a hotel and 106 lodges, there will plenty of room for your guests to stay the night.
Moness Resort is home to a stylish marquee which can easy be styled in a way to reflect the tastes of you and your partner. The team at Moness will be with you every step of the way to help you create your ideal wedding day.
The marquee also features panoramic windows and is surrounded by amazing landscaped gardens, meaning you'll have the most beautiful views while celebrating your wedding day!
Visit Moness Resort's website | t. 01887 822108 | e. info@moness.com
Read reviews for Moness Resort
Myres Castle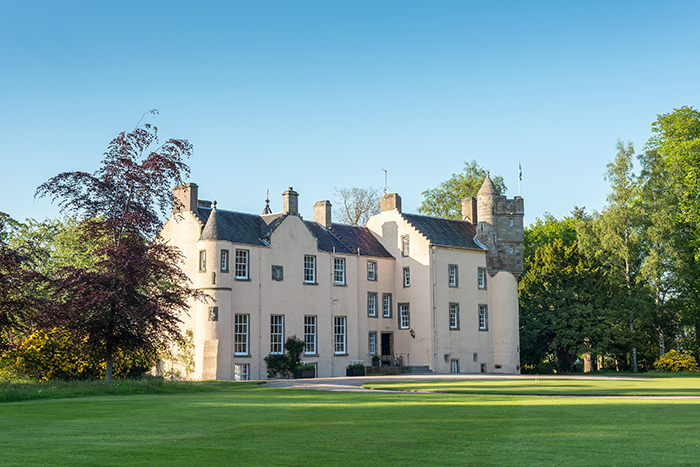 IMAGE | Julie Tinton Photography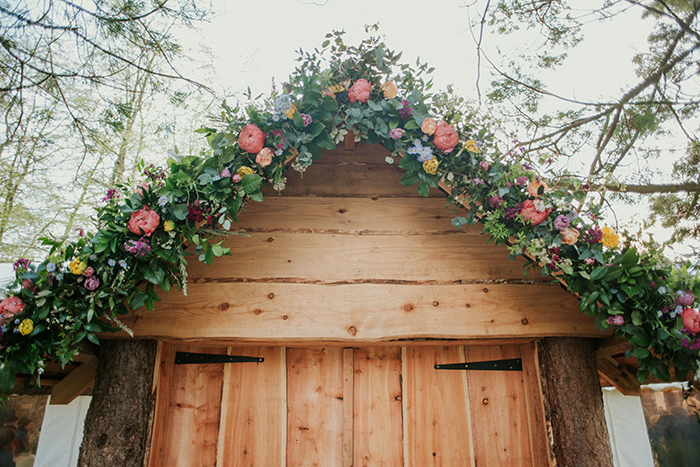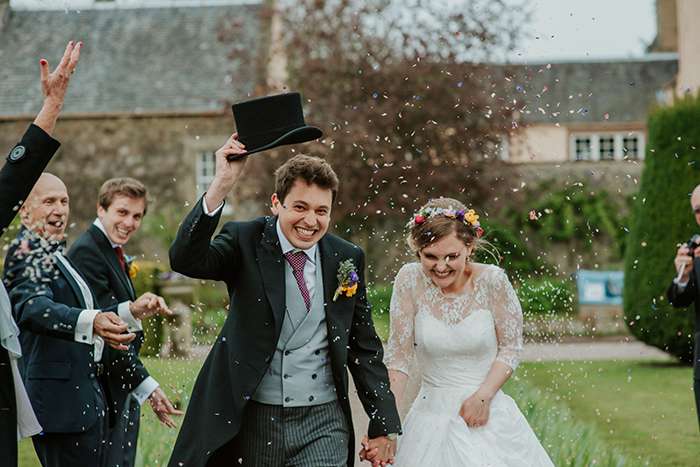 IMAGES | Photos by Zoe
Myres Castle is a whimsical and romantic wedding venue situated near the village of Auchtermuchty.
The best of both worlds, you can have the stunning castle for up to 20 guests throughout your stay, and celebrate your wedding in the rustically charming barnquee.
The barnquee is situated in a lovely woodland setting, with twinkling lights hanging from the trees and even fire pits outside to further add to the magical atmosphere.
Visit Myres Castle's website | t. 01337 828350 | e. enquiries@myrescastle.com
PapaKata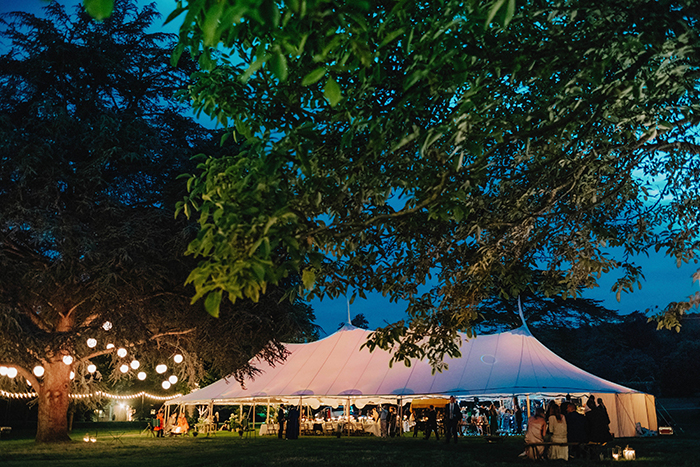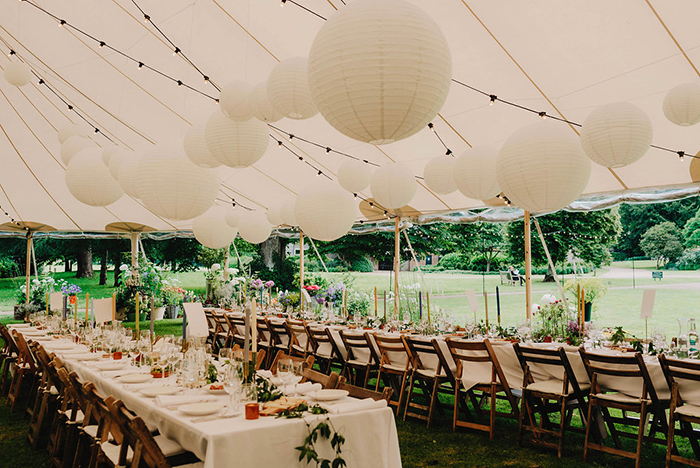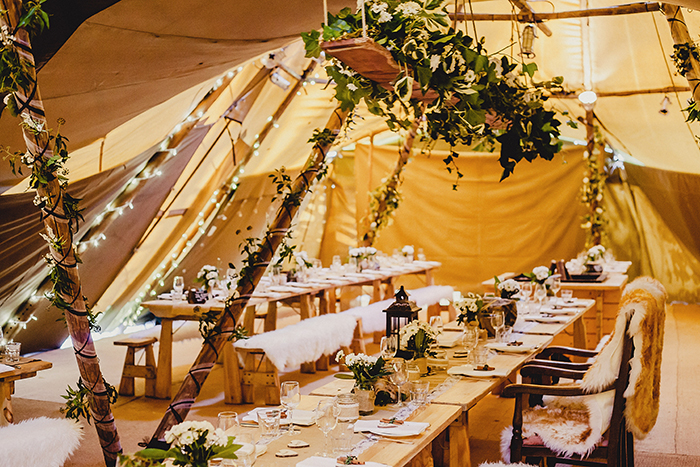 PapaK¥ta allow you to personalise your wedding day and even choose the exact spot for your celebration!
As the most established Teepee company and the exclusive provider of luxury US Sperry Tents in Scotland, PapaK¥ta can offer you a completely bespoke venue on your own grounds (excuse the pun).
PapaK¥ta's Sperry Tents come in various sizes and their Teepees can be joined together to give you a unique space for your guest numbers. In addition to their exclusive tents, PapaK¥ta offer a dedicated event planning service and a luxury portfolio of furnishings allowing you to further personalise your day.
Visit Papakata's website| t. 01491 714 002 | e. tellmemore@papakata.co.uk
Runningburn Marquee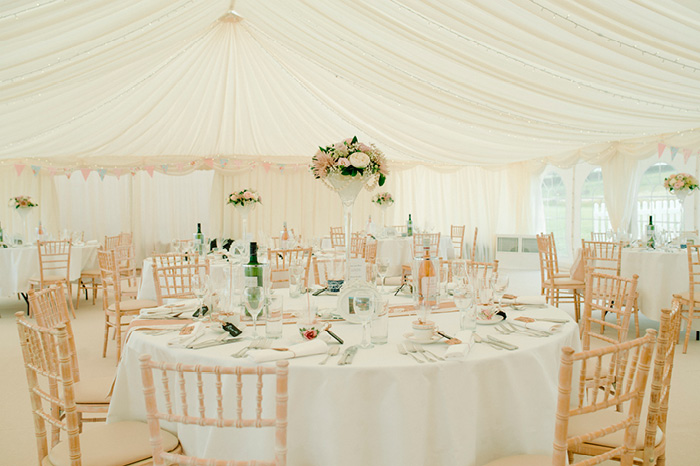 IMAGE | Claire Juliet Paton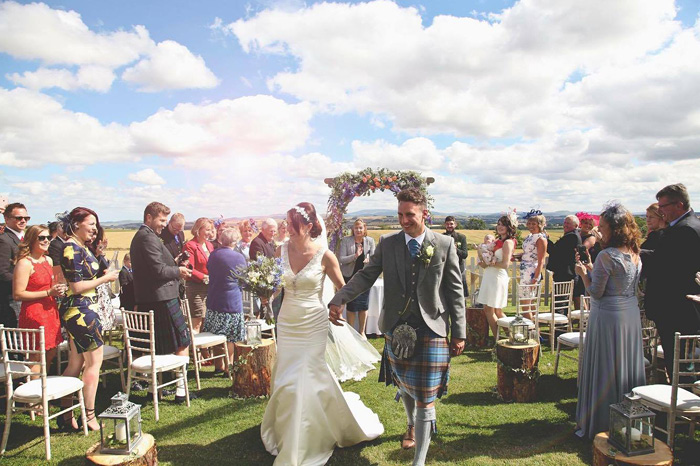 IMAGE | Abbie McCann Photography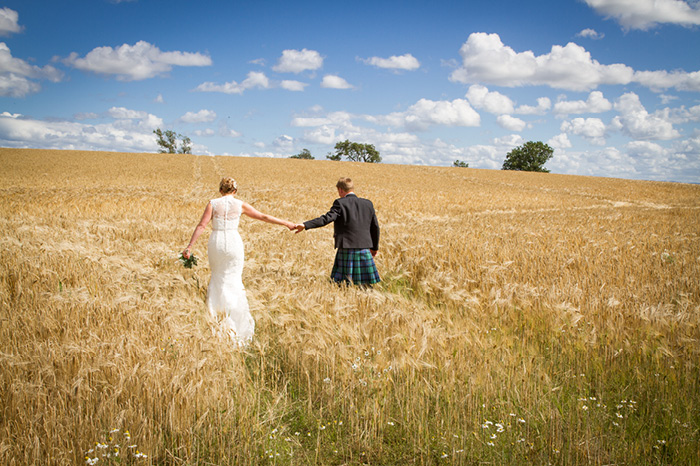 IMAGE | Stella Lathangie Photography
Runningburn Marquee is absolutely perfect if you are looking for a venue that can truly allow you to personalise your day.
Set on an idyllic farm in the Scottish Borders, this lovely spacious marquee is the ultimate blank canvas venue and a serene location for your wedding, allowing you to choose every single detail of your day.
In the summer months, Runningburn's fields are full of barley, wheat and oilseed, giving you and your partner fantastic photo opportunities.
Visit Runningburn's website | t. 01573 470392 | e. runningburn@yahoo.com
The Engine Works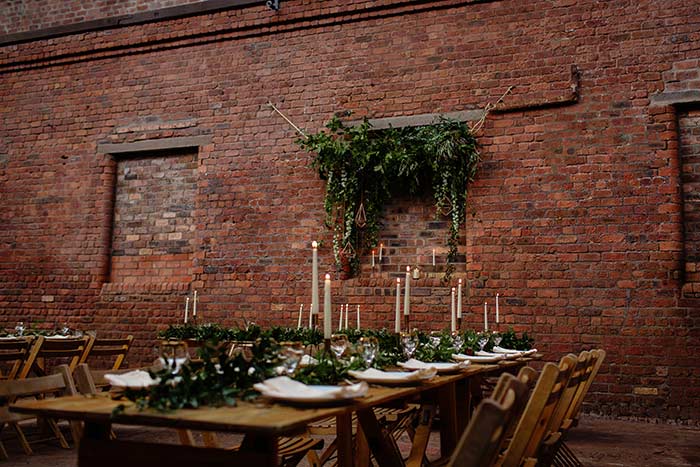 IMAGE | Fotomaki Photography
This post-industrial space is the ultimate unique wedding venue in Glasgow. The only limit to what you can do here is your imagination!
Visit The Engine Works website 
Read reviews for The Engine Works
St Andrews in the Square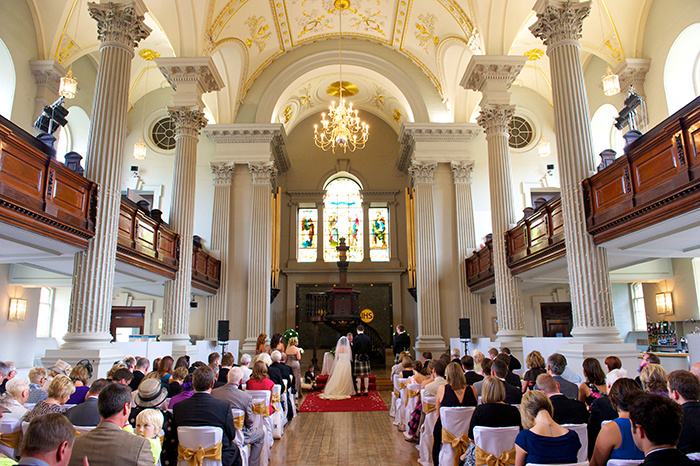 An 18th century converted church near Glasgow Green, this venue is such a big space to work with. You might not want to do much though; the powder blue and gold detailing on the ceiling is stunning.
Visit St Andrews in the Square's website
Read reviews for St Andrews in the Square
Airdrie Town Hall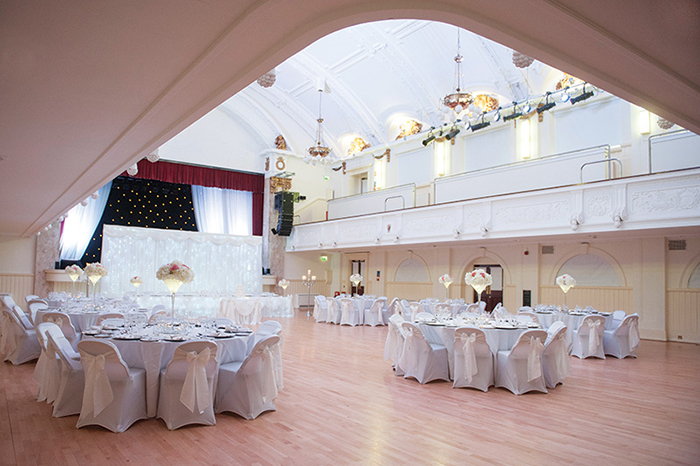 This lovely big Edwardian wedding venue in Lanarkshire has been refurbished to a high standard. Perfect for large weddings, the Main Hall holds up to 240 guests.
Visit Airdrie Town Hall's website
BAaD Glasgow: Barras Art + Design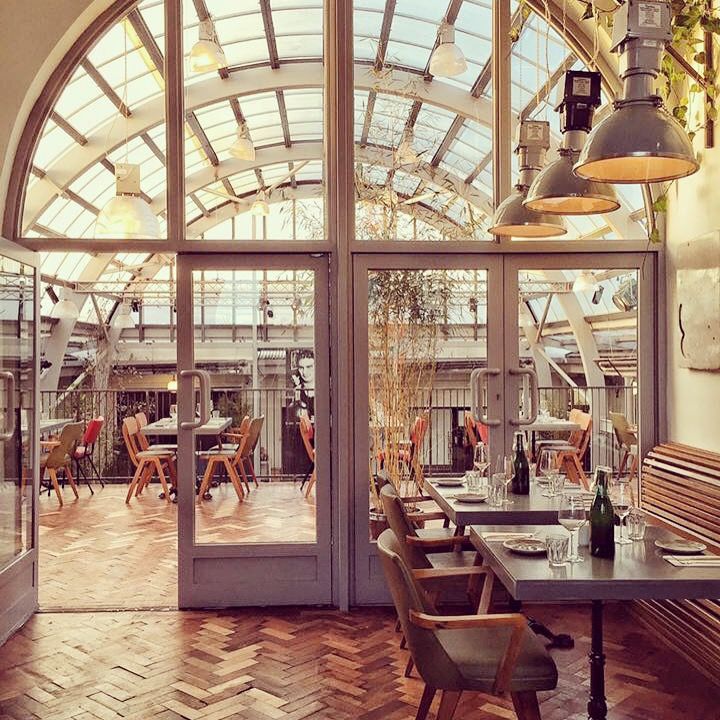 This space in the heart of Glasgow's iconic Barras is versatile and modern, with loads of great potential for your own styling.
Visit BAaD Glasgow's website
Bogbain Farm
An Inverness-shire wedding venue that suits weddings both small and massive (it has a capacity of up to 300). Bogbain Farm is one of the most adaptable places to get married in Scotland.
Visit Bogbain Farm's website 
GG's Yard
Tucked away in rural Dumfries and Galloway, GG's Yard is a converted steading that's perfect for larger celebrations. Have your day, your way, at this blank canvas wedding venue.
Visit GG's Yard's website 
Harelaw Farm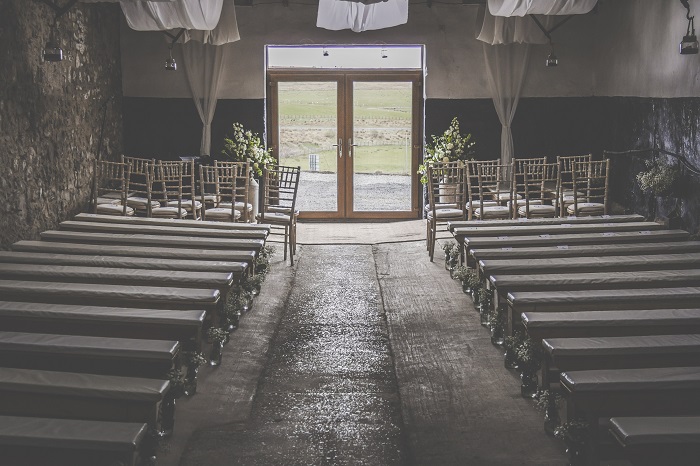 Milking byres and the original stable are incorporated to make large rooms with gorgeous beams and high ceilings. A blank canvas dream, just outside Glasgow.
Visit Harelaw Farm's website 
Pollokshields Burgh Hall 
IMAGE | Ross Alexander Photography
A unique venue next to leafy Maxwell Park in Glasgow, this hall first opened in 1890 and since then, has become one of the city's most-loved wedding venues.
Visit Pollokshields Burgh Hall's website
The Arches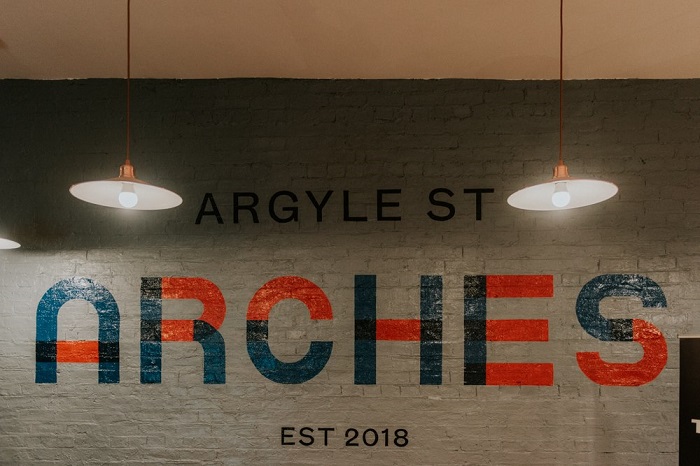 You might know this iconic venue best from going  to a gig there or partying the night away in years gone by, but now, you can have your wedding under these famous arches in Glasgow. The epitome of cool!
Visit The Arches Glasgow's Facebook page
Wedderburn Barns
IMAGE | Story of Love Photography
Duns in the Scottish Borders is home to Wedderburn Barns, a picturesque Georgian stable block with tons of potential.
Visit Wedderburn Barns website