19 New Year's Eve wedding theme ideas you'll love
Amp up the sparkle and throw the biggest party of your life with a Hogmanay wedding celebration to top all others! Rachel Lawler has some great ideas.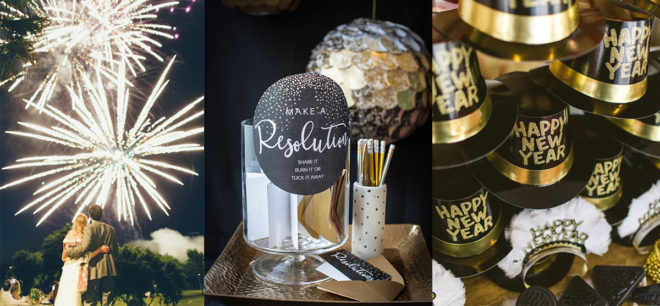 If there's one thing us Scots know, it's how to throw a good party, and Hogmanay gives us the opportunity to go all out!
SWD's Rachel shares 19 amazing ideas for a knockout New Years' wedding to make it a day no one will ever forget. Now, pass us that champagne…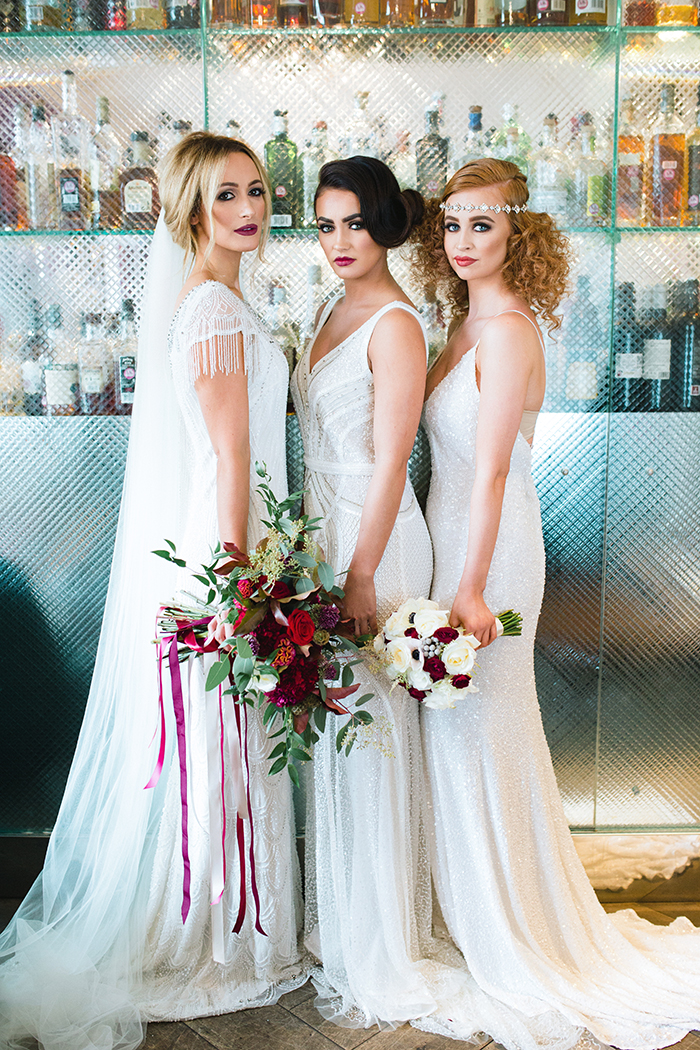 1. It's my wedding, I'll sparkle if I want to…
When I saw these images from a recent styled shoot that we blogged, I'll admit I let out a little squeal of excitement. Take a look if you haven't already – #bridalstylegoals doesn't quite cover it.
The sparkly, glam Gatsby vibes make the featured dresses from Anne Priscilla Bridal (from loads of SWD faves like Eliza Jane Howell, Stewart Parvin and Halfpenny London) are the perfect choice for a NYE celebration; so pretty that you'll want to keep wearing it for the rest of the year/your entire life. I wouldn't judge you!

[Image: ohsobeautifulpaper.com]
2. Be our guest!
It's true what they say; first impressions really do count for a lot, and your wedding invitation is that ultimate first impression. It can really set the tone for the event to come, and get your guests excited for the wedding of the year!
So get creative and start the party vibes in the weeks before your special day.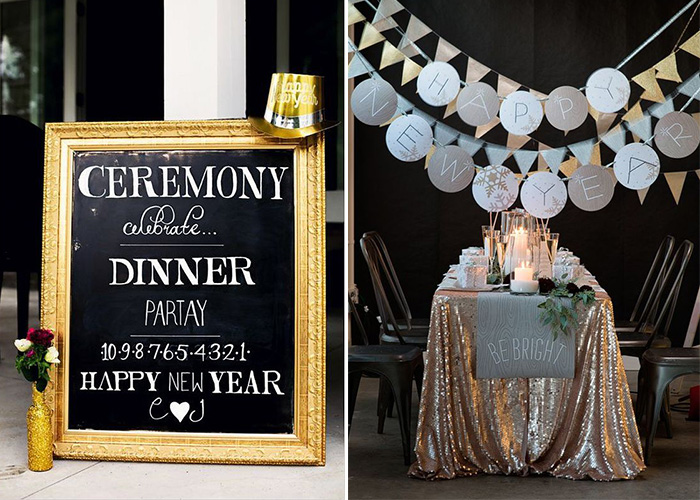 [Images: 1. Partay sign 2. Be Bright table]
3. Must be a sign!
Spell it out on your wedding day with glitzy signs and sayings!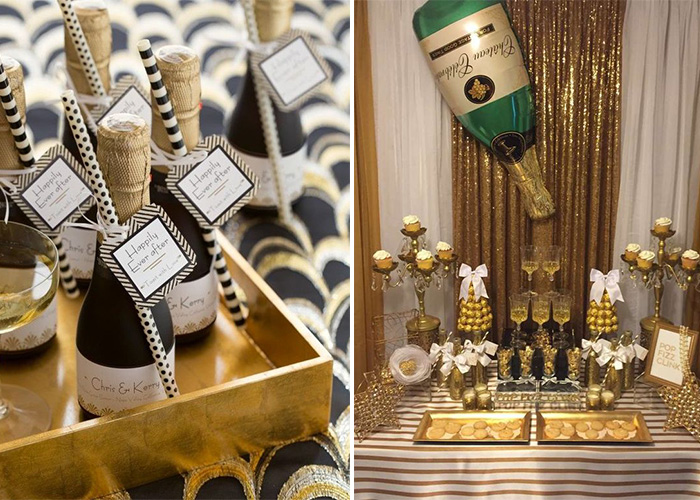 [Image: 1. Mini champagne bottle 2. Champagne table]
4. Cheers to New Year (and to you guys, obvs!)
Champagne is pretty much the law at New Year so make sure that bubbly is a big part of your celebrations. Yes, a mini bottle of champers isn't exactly a unique idea but, tie on some cute bows, personalised labels and a glitzy bow and you're good to go! We also love this champagne dessert table with lots of yummy goodies for your guests to nibble on as they sip.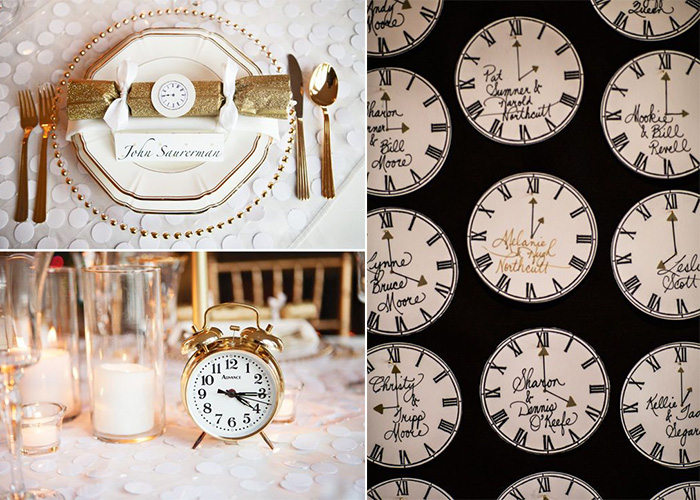 [Image: 1. Place setting  2. Table plan]
5. Tick, tock goes the clock…
Without wishing your wedding day away, give a nod to the countdown aspect of New Year's Eve with some quirky (and glam) clock themed decor. There are lots of lovely – and free – clock printables on sites like Pinterest to make it easy and budget-friendly.
Continue the theme right down to your seating plan with the genius idea of each table being a different time on the clock.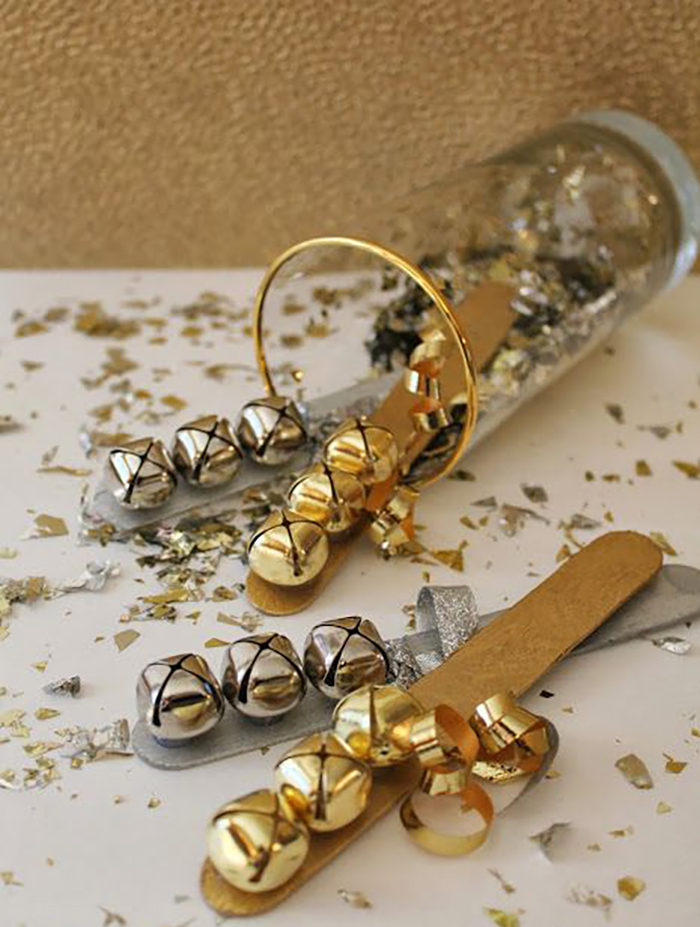 [Image: DIY bells]
6. Ring those bells!
Ideal for your younger guests, these DIY sticks will quite literally bring the bells in. I'll take the gentle sound of jingling bells over the abrupt tones of a party horn noisemaker any day, thank you.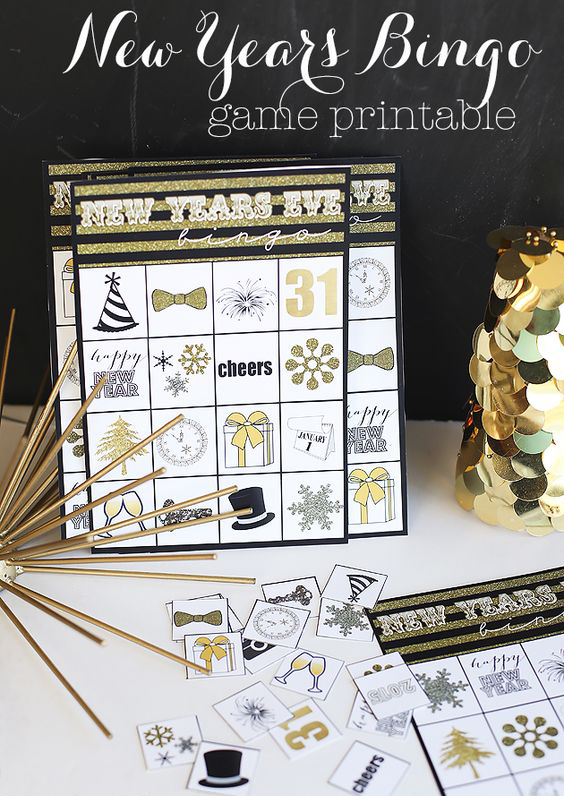 [Image: NYE Bingo]
7. Fun and games
Continuing the party vibes for children at your wedding, pick the bridesmaid you like least (I joke!) and get her to keep the kids entertained for half an hour with a round of New Year's Eve bingo.
I love this New Years Eve Bingo Game from Capturing Joy by Kristen Duke, complete with free download to print your own.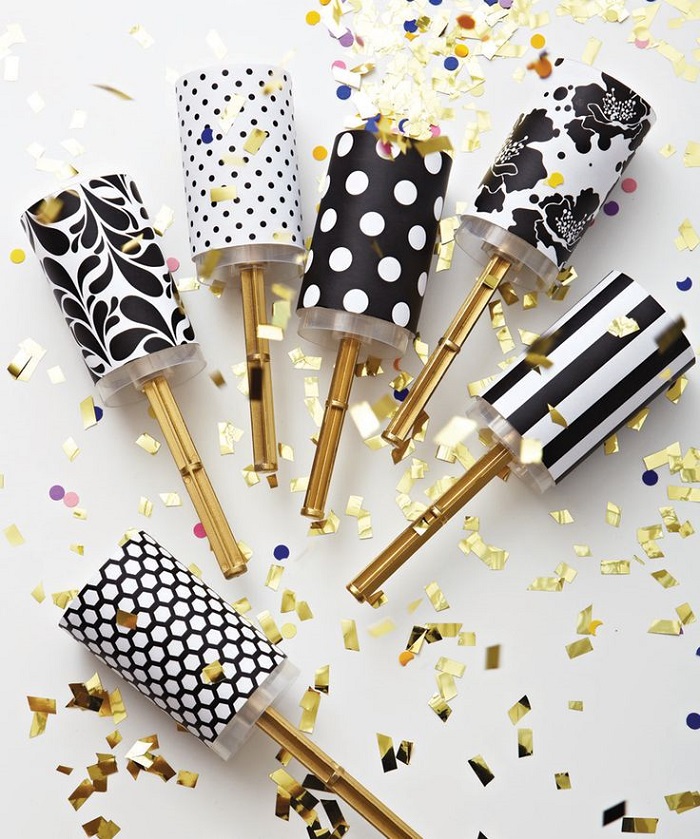 [Image: ]
8. When the clock strikes 12…
One of the best things about having a New Year's Eve wedding is all of your loved ones being together for the countdown to the new year. Make sure all your guests know if you're planning anything special as the clock strikes midnight though so it works out as you had planned.
I love this simple idea of having everyone throw confetti as you go into the new year – make sure someone captures the moment with a photo (the Instagram opportunities are strong).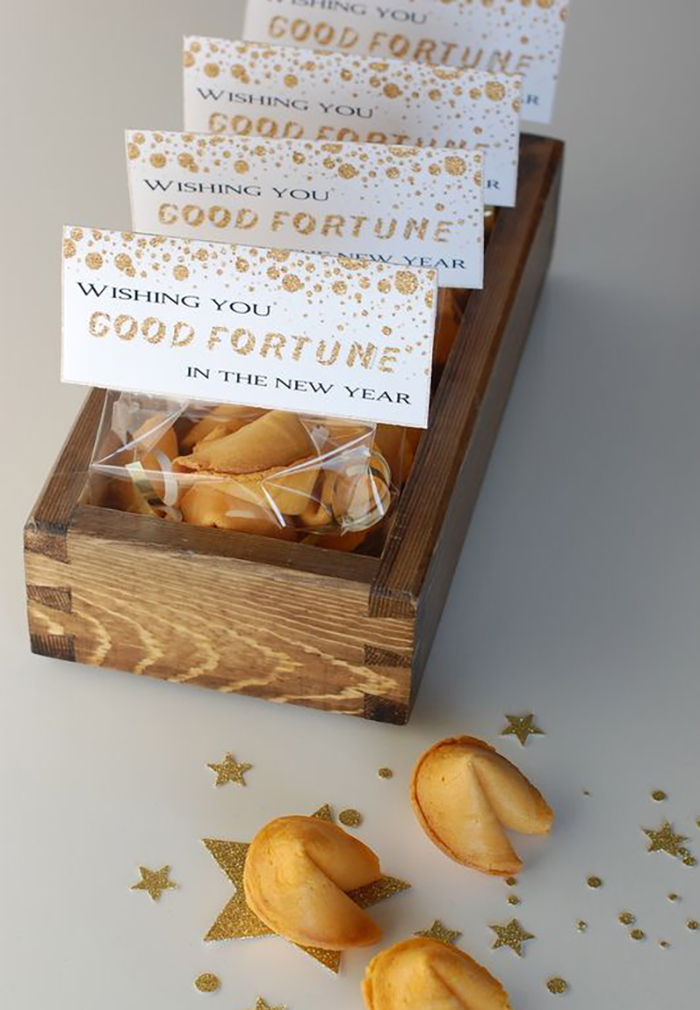 [Image: Good Fortune favour idea]
9. Good fortune
Treat your guests to the gift of accurate and profound advice as they embark on a year of resolutions. It's the favour idea that just keeps on giving; full of wisdom and edible, too.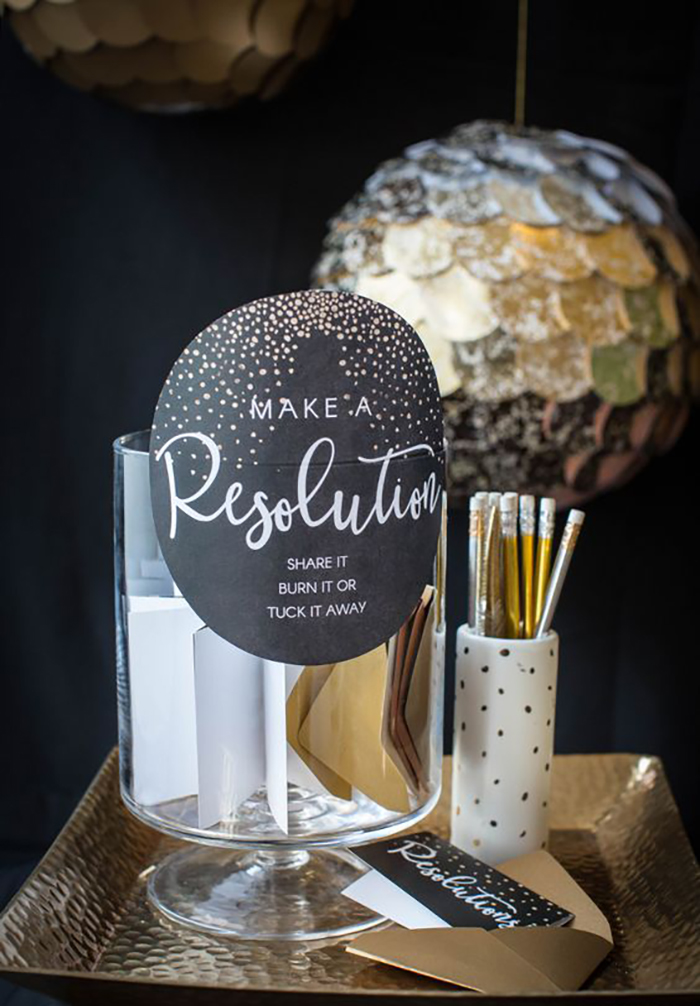 [Image: Write your resolution]
10. Make a resolution
So, we all know that new year resolutions are pretty much made to be broken by 3rd January, but I stand by this sweet idea.
It's simple, easy to put together and a nice little ice breaker on each table before the dinner and speeches.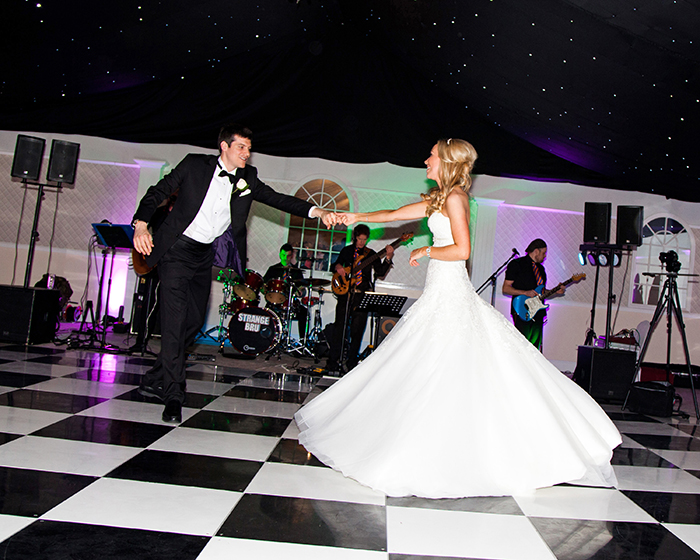 [Image: Julie Lamont Photography]
11. D-I-S-C-O
Weddings are about dancing the night away anyway, but even more so on NYE.
Hire an amazing band or DJ (there's plenty of music entertainment inspo on our directory), get a cracking dance floor set up (more on that here) and dance with the enthusiasm of your 5-year-old nephew.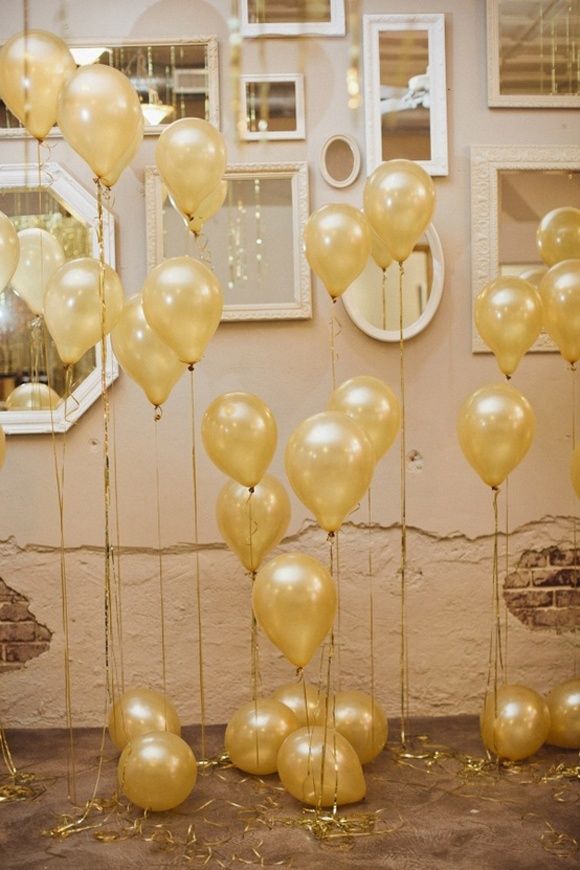 [Image: NYE balloons]
12. Celebrate!
Balloons don't need to be confined to a kid's birthday party. Go for gold with added streamers to create a fun yet stylish look for a night of partying.

[Image: 21cc Group Ltd]
13. Bring the new year in with a bang…
Spectacular fireworks are The One come midnight. Ask your fireworks provider about setting them to your favourite soundtrack, and make sure your guests have plenty of warning to grab their coats, hats and gloves to head out for the sparkling extravaganza!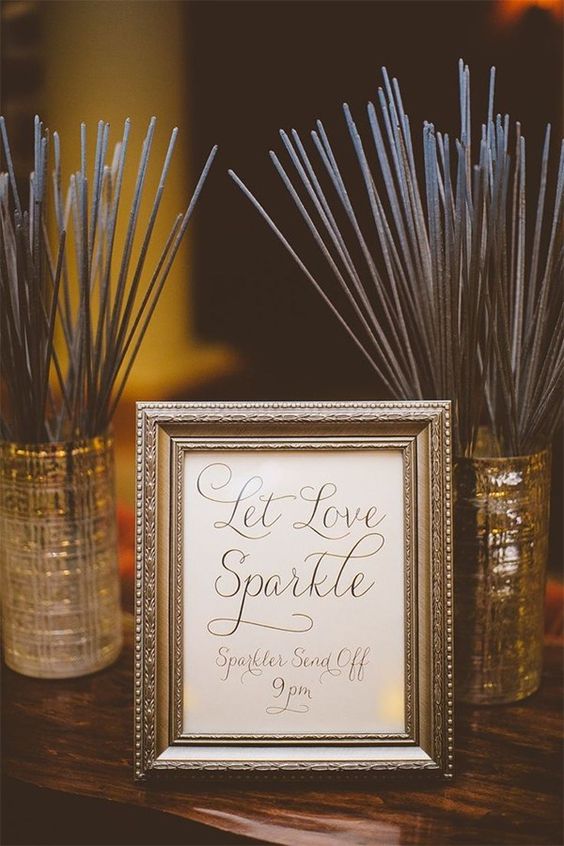 [Image: Sparklers]
14. Don't forget sparklers!
Is it just me who still gets as excited about getting a sparkler as I did on bonfire night when I was wee? While you and your guests are outside for the fireworks, I'm sure they will love a little sparkler, too! These look amazing in photos too.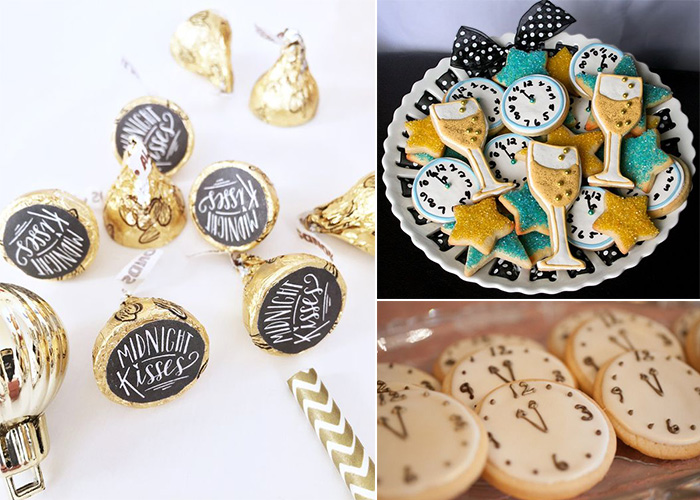 [Images: 1. Midnight Kisses 2. Fizz and sparkle biscuits 3. Clock biscuits]
15. Love is sweet
The festive period brings all the treats, from chocolate midnight kisses to NYE inspired biscuits.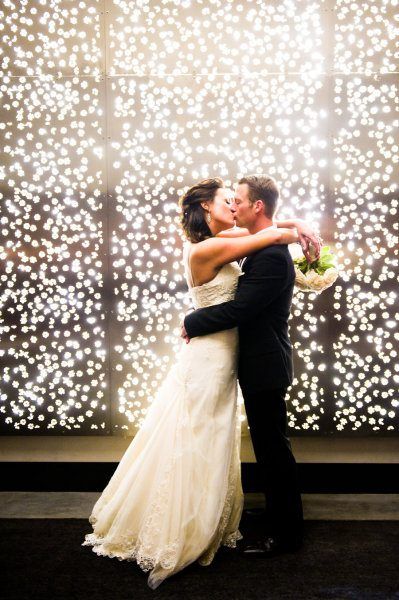 [Image: A NYE kiss]
16. A New Year's Kiss
Nothing says fairytale romance than a true love's kiss as the clock strikes midnight into the new year, a dreamy photo op for you and your new spouse on your special day together.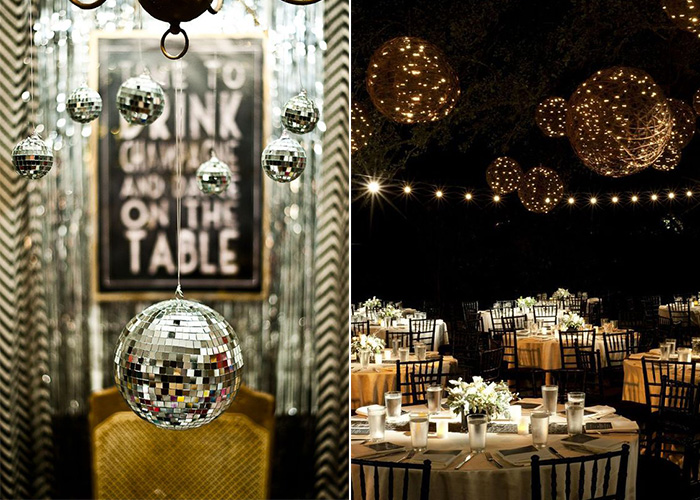 [Images: 1. Disco ball 2. Twinkling lights]
17. Sparkle all around
There's literally no such thing as too much when it comes to glitter and sparkle at New Year, so think disco balls, twinkling lights, sequins and embellishments everywhere!
Go all out and embrace it; there's no better time to do it!
[Image: NYE props]
18. Get silly!
Everyone loves a photobooth at a wedding, and Hogmanay gives you a good excuse to use loads of really fun props! There won't be one person at your wedding reception who doesn't enjoy donning a fun Happy New Year bowler hat or feathery showgirl headdress and if they say they don't, they're lying!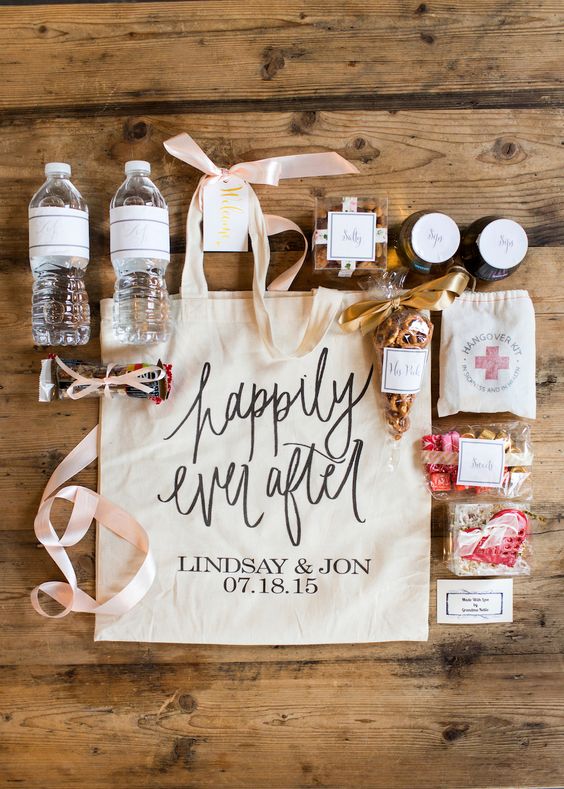 [Image: Hangover tote kit]
19. Hangover? What hangover?
Not that any of your guests would ever overindulge in alcoholic beverages on your New Years Eve wedding day, but just incase, this hangover kit idea is super sweet (and inexpensive too).
Bottles of monogrammed water, painkillers, mints and a fatty snack are all easy to put together. Personalised tote is not essential but advised (I just love the design!).
Which style of wedding will you go for? Whatever you decide, there's only one place you'll find the best Scottish wedding suppliers; our online directory!
Check out our directory of wedding suppliers in Scotland, from venues and photographers to bridal boutiques and entertainment ideas.