Can we please talk about… how alternative weddings are not that alternative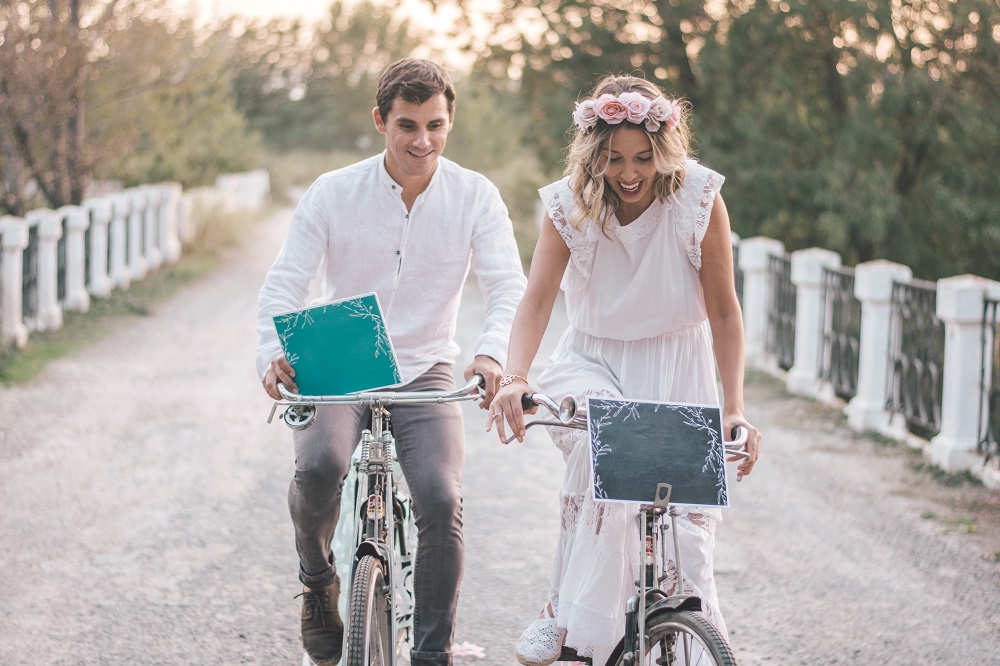 It was something that had been tugging at me for a while – a swirling sense of unease I couldn't quite put my finger on. But as I squinted at a poster promoting an 'alternative' wedding fair, it finally dawned on me: there's nothing that alternative about the 'alternative' wedding trend, is there?
The poster that brought on this epiphany had definitely been styled to appear subversive. The model gazed at me behind a wall of cool fonts and a logo so simple and chic that it was obvious whoever designed it spent years studying at some trendy art college. But take the text away and what was left was a pretty, slim, blonde model in a white dress. So far, so bog-standard when it comes to marketing in the bridal industry.
I'm not obtuse enough to not acknowledge that yes, of course, there are some fashion and décor options these 'alternative' wedding suppliers offer that other more conventional wedding suppliers don't.
A jumpsuit or skirt-and-top combo instead of a basic white dress. Leather jackets with hand painted backs that say 'Mrs [insert new name here as you participate in the most traditional of all traditions while looking like a T-Bird from Grease]'. Big wicker chairs, for some reason. You know, all the things that signify you're not a regular, boring bride, you're a cool bride.
These wedding suppliers promise couples that they won't give them a cookie-cutter wedding day, implying firstly that convention is something to be sneered at, and secondly that they're bucking wildly against the norm.
But the thing is, if you search the hashtag 'alternative wedding' on Instagram or Pinterest, you'll find literally hundreds of thousands of images that all kind of look the same.
Unstructured bouquets, DIY-style décor that was in all likelihood artfully arranged by a professional, and a bride in a denim jacket with her group of willowy friends in perfectly mismatched bridesmaid dresses, bouquets fist-punched to the sky. 'Yeeeeeaaah!' you can almost hear them screaming, 'We're soooooo bloody alternative!'
In truth, the concept of an 'alternative' wedding is pretty paint-by-calligraphic-numbers these days. It won't reflect who you truly are as a couple, because – I'm sorry baby – pampas grass can't do that.
'Alternative', 'authentic', 'un-wedding' – these are all just words being used to make you feel embarrassed for wanting to book a package wedding deal at your local hotel rather than a quirky blank canvas venue that charges three times as much.
And listen, if that's the type of wedding you want to have, then have at it. They're gorgeous, and I'm sure you'll make your big day just as beautiful.
But don't let anyone make you feel bad or 'less than' because you went for chair covers instead of Chiavari chairs or arrived in a Beauford instead of on a bike.
Your happiness is more important than how unique the outside world perceives you to be.
We'd love to hear what you think!
We need to talk about the wedding industry's lack of racial diversity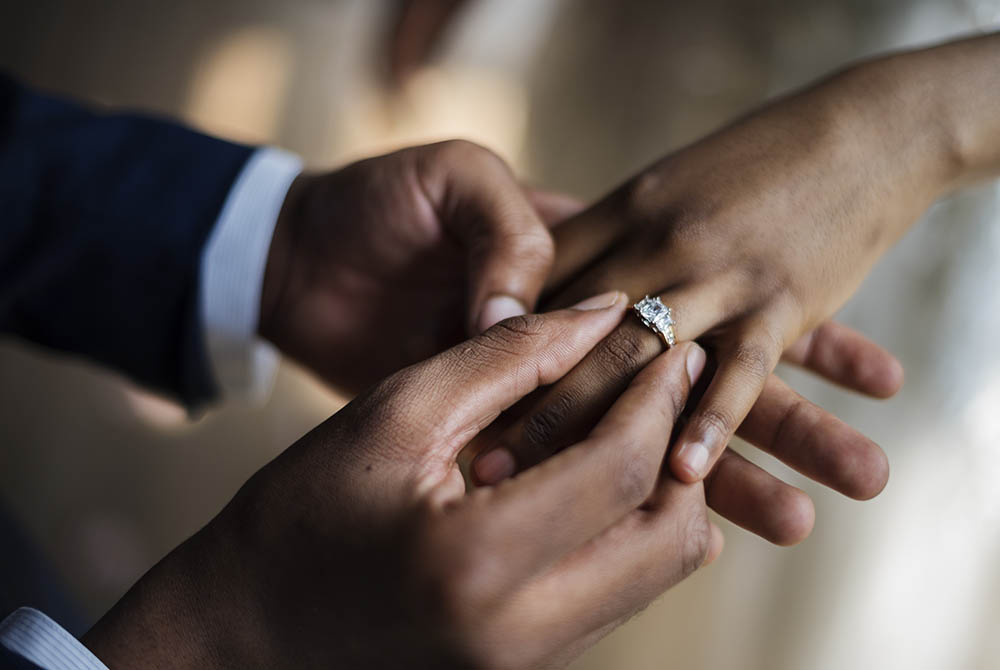 White is the colour most strongly associated with the wedding industry: the dress with clouds of ivory tulle, the frosted cake, the snowfall of confetti. The pillar candles, crisp linen and classic cars.
The people.
Our industry is not known for its racial diversity or inclusivity. It's rare to see a black couple on a wedding blog or in the glossy pages of a wedding magazine. For every 50 wedding dress designers shooting their latest collections, you'll perhaps find one or two every season that have chosen a dark-skinned black model to showcase their designs.
I wondered how reasonable that estimation was, so I visited the websites of 20 randomly selected wedding dress designers to see how many had a black or minority ethnic woman on their homepage. Only one did.
The illusion netting that has become so popular in bridalwear over the past few years is very often only available in a limited spectrum of colours that exclude many black women. White journalists have a tendency to use the word 'nude' to describe this fabric when it is a pale beige or peachy colour. No black woman would consider this to be 'nude'.
I've attended bridal fashion shows in places far more culturally diverse than my own home city of Glasgow, such as London, where not a single black model has graced the catwalk despite organisers having the luxury of choice.
A black bride-to-be has to spend longer searching for the right wedding suppliers: a make-up artist that has suitable products in their kit and understands how to make-up black skin; a hairstylist with experience styling black hair; a photographer that knows how to photograph dark skin tones.
White people (I'm looking at you, Blake Lively and Ryan Reynolds) still get married on plantations, and it took until 2019 for major wedding websites to stop promoting these former sites of slavery as idyllic wedding venues.
You get the picture.
I've edited Scottish Wedding magazine for six years, and despite being someone that genuinely cares about diversity, I've never once published anything about the above observations. We've chatted about it in the office over the years, but that's where it's remained. I didn't pause to consider that this is the kind of conversation that needs to be brought into the public sphere.
I could count on one hand the number of adverts we've run that feature a black bride or groom. Of the 23 issues I've edited – we're quarterly – just four have had a black or mixed-race woman on the front cover. It's not enough.
I'm writing this to apologise for my lack of affirmative action. I'm sorry. Scottish Wedding has a global audience across our print and online platforms and we have a responsibility to ensure that everyone feels included when they look at our content. We must try harder – and we will.
I promise to increase the representation of black and minority ethnic people in Scottish Wedding magazine; to seek out their stories rather than wait for them to come to me; to work with more black creatives and to support black-owned businesses. To listen, learn and help without waiting to be prompted.
It shouldn't have taken the brutal murder of George Floyd for me to examine and reflect on the role I – and my industry – play in reinforcing societal inequalities and upholding systemic racism. But it did, and now I'm here, hoping that other similarly privileged people will join me in making the wedding industry a better, more inclusive place for everyone.
I am committed to trying harder. Here are some links to resources that can help us all do the same.
Articles
How to avoid tokenism in the wedding industry
Welcome to the Anti-Racism Movement – Here's What You've Missed 
10 Steps To Non-optical Allyship
White Privilege: Unpacking the Invisible Knapsack
Books
Why I'm No Longer Talking To White People About Race, Reni Eddo-Lodge 
"I Will Not Be Erased": Our stories about growing up as people of colour, gal-dem 
Don't Touch My Hair, Emma Dabiri 
I Know Why The Caged Bird Sings, Maya Angelou
Donate
Split a donation between 70+ community bail funds, mutual aid funds, and racial justice organisers
If you'd like to discuss any of the contents of this post, please email me or DM Scottish Wedding on Instagram
16 cute ring trinket dishes for your wedding and engagement rings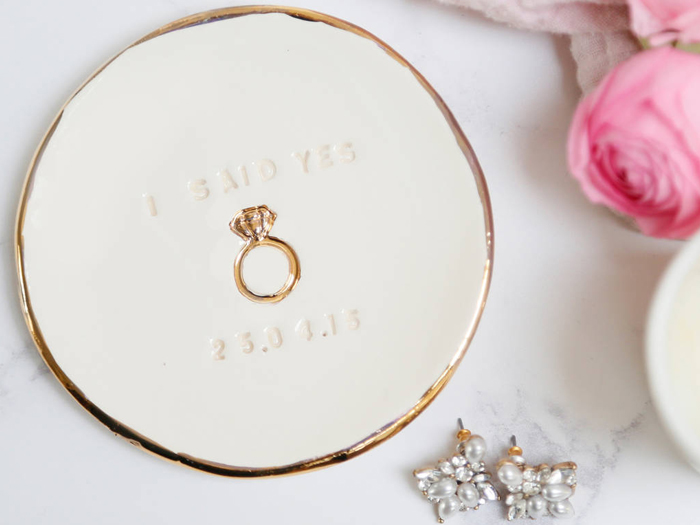 If you're recently engaged, you'll need a super cute ring trinket dish to display it on when it's not on your finger.
Pick a photogenic trinket dish and it'll come in handy on the wedding morning too, providing the perfect backdrop for your photographer to take up-close photos of your wedding and engagement rings.
Choose a classic dish that ties in with the metal and stone of your ring for ultimate co-ordination, go for a monogrammed trinket dish to make it personal or have fun with a more offbeat style. There's loads of choice!
Here are 16 of our favourite ring trinket dishes.
Gold monogrammed trinket dish
Gold personalised wedding ring dish (£20.50) notonthehighstreet.com
Sweet llama trinket dish
'Christine' trinket dish (£20) Anthropologie
Leaf ring dish
Meadow ceramics botanical trinket dish (£14) Anthropologie
Zodiac trinket dish
Zodiac trinket dish (£6) Urban Outfitters
Sun ceramic trinket dish
Sun terracotta orange ceramic trinket dish (£7) Oliver Bonas
Celestial ring dish
Moon celestial trinket dish (£10) John Lewis
Dinosaur trinket dish
Lilac dinosaur trinket dish (£4.99)  New Look
Eye trinket dish
Eye embossed trinket dish (£4.99)  New Look
Heart shaped Mr and Mrs trinket plate
Heart shaped trinket dish (£6.50) Amazon
Geometric jewellery dish
Metal and mirror hexagonal jewellery dish (£12.50) Maisons du Monde
Love trinket dish
Love trinket plate (£10) The White Company
Marble trinket dish
Marble trinket dish (£11) notonthehighstreet
Follow your heart
Metallic trinket dish (£25) notonthehighstreet
"I said yes" dish
Personalised engagement ring dish (£22) notonthehighstreet
Personalised engagement ring dish
Personalised engagement ring dish gift (£17.50) notonthehighstreet
Bee mine
Queen Bee trinket dish (£7.50) Sass & Belle
STILL TO FIND YOUR DREAM WEDDING RING?
17 of the best wedding venues around Loch Lomond 2020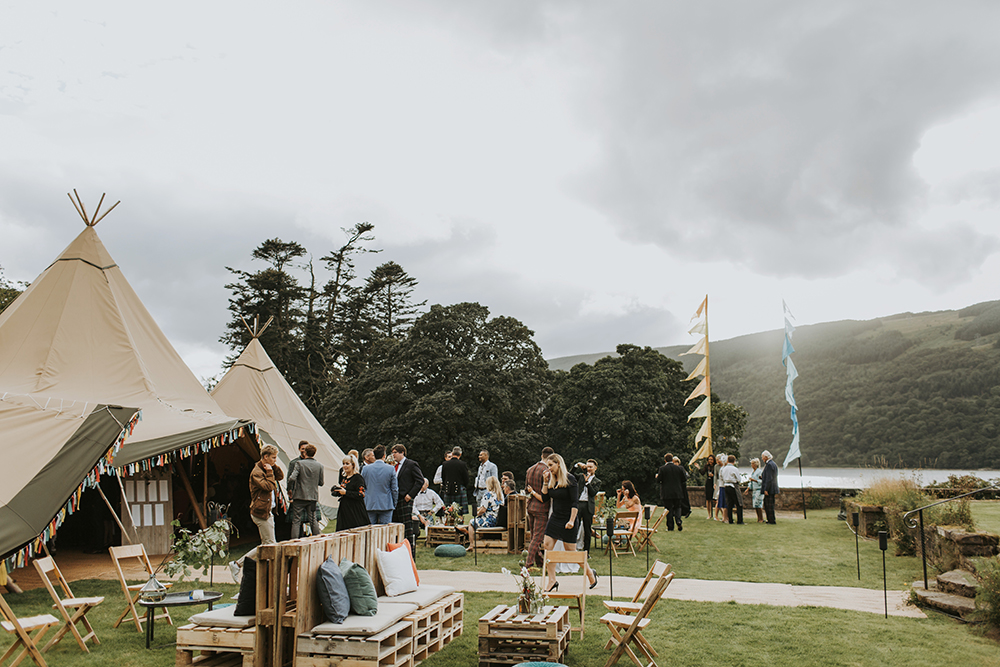 This post contains some paid-for content. 
ARDKINGLAS HOUSE
ABOVE IMAGES | The Curries
Situated in a sprawling 4,800-hectare estate surrounded by ancient woodland and sweeping terraced lawns, Ardkinglas House is one of Argyll's finest hidden gem wedding venues.
Not far from Loch Lomond, and right by the shores of Loch Fyne, you'll love having a tranquil waterside location for your big day.
Planning an intimate wedding with up to 70 guests? You can exchange vows in the house, making use of the grand piano and open fires for a cosy atmosphere.
If your wedding will be bigger, take full advantage of the stunning gardens by pitching a marquee, yurt or tipi. And if the weather's nice, you could have a dreamy alfresco ceremony on the terrace!
Visit Ardkinglas House's website | t: 01499 600261 | e: info@ardkinglas.com
Send an enquiry to Ardkinglas House 
FRUIN FARM
A mile from the shores of Loch Lomond , you can get married in the beautiful relaxed countryside setting of Fruin Farm.
Choose to say 'I do' in their rustic 200-year-old barn, farmhouse steading with panoramic views down to the loch or even outside, under the old oak tree.
There is an on-site wedding suite available for the day and your wedding night. Included with the venue is a dedicated wedding planning service to oversee the smooth running of the day. They can also provide your flowers, wedding cake and personalised venue dressing.
Visit Fruin Farm's website | t. 01389 850727 | e. info@fruinfarm.co.uk
LOCH LOMOND ARMS HOTEL
IMAGES | Simon's Studio
With a prime spot in the heart of picturesque Luss and breathtaking scenery on all sides, the Loch Lomond Arms Hotel is a seriously romantic wedding venue.
Take advantage of the gorgeous surroundings by getting married at Slate Quay, a private spot on the bank of the lochs with plenty of space for marquees and its own jetty so guests can arrive by boat!
There are also romantic islands for ceremonies, two lovely function spaces, and the nearby ancient Luss Church.
Isn't this elegant rose gold and blush pink wedding at The Loch Lomond Arms Hotel just dreamy?
Visit Loch Lomond Arms Hotel's website | t. 01436 860420 | e. enquiries@lochlomondarmshotel.com
Send an enquiry to Loch Lomond Arms Hotel
LOCH LOMOND WATERFRONT
ABOVE IMAGES | Maureen Du Preez Photography
Set within 18 acres of private grounds with its own exclusive beach, Loch Lomond Waterfront is located in a tranquil and wooded location on the banks of Loch Lomond, near the picturesque village of Balmaha.
With stunning panoramic views in every direction, you can opt for a marquee or tipi wedding, enabling you to celebrate the most memorable day of your life in the heart of the Scottish countryside.
Wedding receptions can also be hosted in the multi-room function suite which includes the Thistle Banquet Room, Rob Roy private lounge bar and the Garden Room conservatory.
Visit Loch Lomond Waterfront's website | t.  01360 870144 | e. info@llwf.co.uk
Send an enquiry to Loch Lomond Waterfront 
LODGE ON LOCH LOMOND HOTEL
Situated in the picturesque village of Luss, this venue has truly stunning views of Scotland's biggest loch.
The Lodge has a variety of rooms and spaces for your wedding day, and the beautiful function suites can be adjusted to cater to large or small weddings.
You can tie the knot in Luss Parish Church or on the hotel's private patio overlooking Luss Beach.
The food is also fabulous, made from the freshest locally sourced produce available by the Lodge's 2 Rosette Chef Brigade.
Visit Lodge on Loch Lomond's website | t. 01436 860201  | e. weddings@loch-lomond.co.uk
Send Lodge on Loch Lomond an enquiry
ALTSKEITH COUNTRY HOUSE
Hidden away in the Trossachs, Altskeith Country House is an exclusive use home from home that is perfect for couples who want to have a relaxed, intimate and informal wedding day.
Visit Altskeith Country House's website 
ARDLUI HOTEL
Catering to small wedding parties and working with the couple to their budget, this is the perfect location for an intimate Loch Lomond waterside wedding.
Visit Ardlui Hotel's website 
BOTURICH CASTLE
In breathtakingly beautiful surroundings sits Boturich Castle, an exclusive-use wedding venue with a myriad of possibilities. Have your reception party in the glass-sided pavilion!
Visit Boturich Castle's website 
BEAU JANGLES
You can get married aboard this privately-owned, professionally captained luxury yacht at the most perfect spot, perfect if you want a really small ceremony for up to 10 guests.
Visit Beau Jangles' website 
THE CRUIN
IMAGE | The Gibsons
The Cruin offers couples a space that they can truly call their own. The Lochside Terrace and ceremony suite both have panoramic views across the loch to Inchmurrin Island and Ben Lomond.
CRUISE LOCH LOMOND
Charter your very own boat to glide through the Loch with Ben Lomond in the background! You'll get exclusive use of the vessel and a bar on board with in-house catering.
Visit Cruise Loch Lomond's website 
DUCK BAY HOTEL
This waterside hotel offers a personalised and bespoke service for every couple, with plenty of on-site accomodation for your guests to stay in.
Visit Duck Bay Hotel's website
INCHMURRIN ISLAND
How do you like the sound of getting married on your very own private island? This is the largest inland island in the UK, and boasts accommodation and a restaurant.
Visit Inchmurrin Island's website 
ROSS PRIORY
Dating back to 1693, this stunning historic building was bought by the University of Strathclyde in the 70s; the setting is unrivalled.
Visit Ross Priory's website
ROSSLEA HALL HOTEL
Choose from two attractive function suites at this venue: the newly refurbished Argyll Suite and the Conservatory, with capacity for up to 128 guests.
Visit Rosslea Hall Hotel's website
THE INN ON LOCH LOMOND
This 200-year old inn steeped in Scottish tradition is the perfect wedding venue if you're looking for a rustic, relaxed place to celebrate your wedding.
Visit The Inn on Loch Lomond's website
THE SHORE LOCH LOMOND
The Shore is one of the newest and most luxurious Loch Lomond wedding venues. Great for larger weddings, the venue can hold up to 200 guests.
Visit The Shore's website
Looking elsewhere for the Scottish wedding venue of your dreams?
How to make a DIY macramé backdrop for your wedding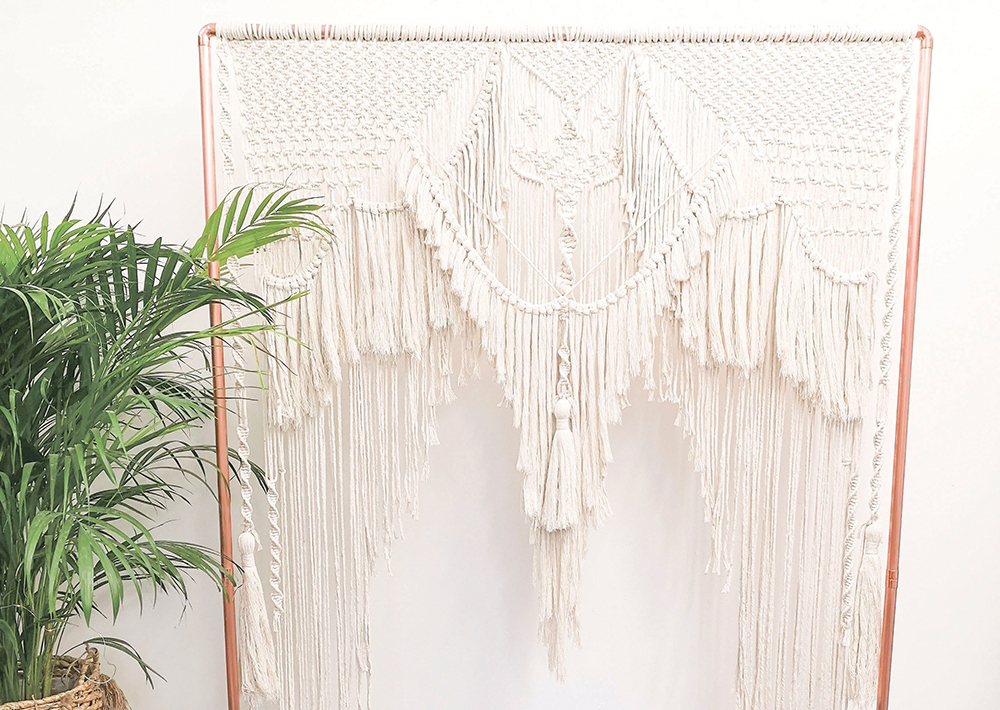 A DIY macramé backdrop will make the perfect addition to a bohemian wedding, and can serve multiple purposes throughout the day. Use yours as a ceremony backdrop then later it could sit behind your cake table or even be set up as part of a photobooth station!
We asked Emma Gilvear of MOO+BOO to talk us through how to make a gorgeous DIY macramé backdrop.
Read on for a step-by-step guide, a photo of the finished backdrop and to find out more about Emma's work!
Step 1: Buy your supplies
To make your backdrop, you'll need two sizes of cotton rope, a tape measure, scissors and a 1.3x2m copper frame (you can construct your own or buy ready made).
Step 2: Master the square knot
First, you need to know how to make a square knot.
Get four cords, take cord (A) and pass across cord (B+C) and under (D). Hold in place. Then take cord (D) and pass behind (C+B) and over cord (A).
Now gently tighten the knot by pulling on both (A) and (D) and slide up to tighten and place in desired position. This is known as a half square knot.
To create the other half of the knot: Take cord (A) which is now in position (D) over the two centre cords (C+B) and under (D), now at position (A), then tighten.
See the photos below for a walkthrough of making a square knot.
Step 3: Decide on a design
The first stage of creating your backdrop is to establish the style and design you want; be inspired by this design or look on Pinterest for other ideas. Your design doesn't have to be complicated to be eye-catching and impressive!
Your backdrop can be made up of simple square knots and some fresh or faux foliage surrounding your frame.
Step 4: Create a curtain of rope
Begin by cutting a length of rope at least double the drop you want, plus a bit extra to allow you to add knots.
Fold your lengths of rope in half and attach them all to the top bar of your frame, using the reverse larkshead knot. Now that you have a curtain of rope attached to your frame, you'll add knots to create your pattern and design.
Step 5: Start creating square knots
I've gone for square knots (see step 1) mirroring the pattern on both sides.
Step 6: Add a spiral effect
Throughout the design I've added a spiral effect, which is created by repeating a half square knot. The rope will start to twist and spiral the more you repeat.
Step 7: Add layers
Adding layers can give you more detail and texture. Simply bring two cords from each side of your design and tie together in the centre using a square knot and you'll have draped cords to then add your thicker rope to to create a draped tassel layer.
Attach your thicker rope strands by using a larkshead knot. Repeat this along the draped cords.
Step 8: Comb it out
You can then leave as is or comb out to give a softer look.
I use a wire dog brush for this but any comb will work. I've added tassels made using 7mm cotton rope to finish it off.
The finished product: A gorgeous DIY macramé backdrop
// About the maker //
Emma, the creator of MOO + BOO, has a background in interior design and began designing and making soft simple nursery décor from her home while on maternity leave.
She quickly branched out, hosting weaving, macramé and arm-knitting workshops around Scotland before recently opening her own studio, Skapa, in her home town of Falkirk.
As well as making beautiful woven and macramé hangings, Emma offers an alternative hen party class where you can get crafty and arm-knit your own chunky blanket or even make your very own décor for your big day!
Creative ideas for a classy Star Wars themed wedding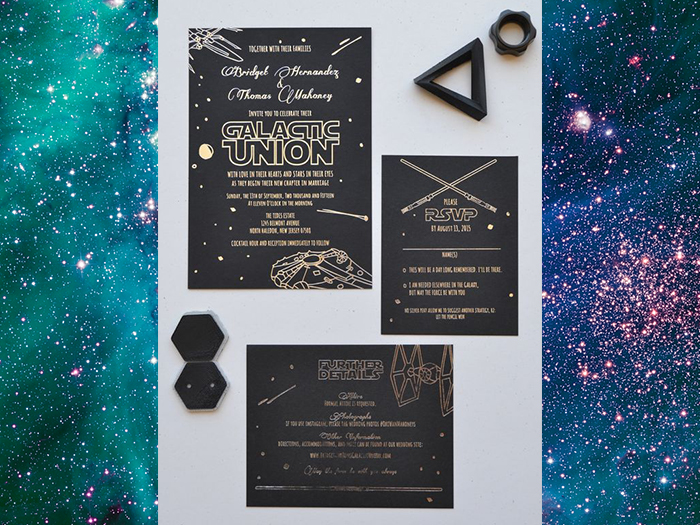 If you and your partner are massive Star Wars geeks, you're perhaps thinking about ways to incorporate your love of the sci-fi franchise into your big day.
However, you might also be worried that it could end up looking a bit, well, tacky.
So how do you plan a classy Star Wars themed wedding that nods tastefully to your intergalactic passion without guests feeling like they've inadvertently gatecrashed a Comic Con convention?
We've got a few ideas.
The wedding date
Let's start with an obvious one, shall we?
Plan your wedding to take place on 4th May, aka Star Wars Day, and many of your guests won't bat an eyelid.
But the real ones? They'll know. May the fourth be with them.
Star Wars save the date (£14.30 for a custom printable file)  | Etsy
Celestial wedding stationery
You can go a bit offbeat with your wedding stationery without it overwhelming the overall look of your wedding.
Ask your stationer to use the Star Wars font, and have fun with your table names by naming them after some of the Star Wars planets such as Tatooine, Endor and Jakku.
Want to take it up a notch? Scottish couple Erin and Chris dressed up as couples from films they love and had a photoshoot of them in the different costumes, which they then used as table names at their super-classy Dundas Castle wedding.
How cute do they look as Han and Leia?
IMAGE | Craig + Eva Sanders
If you fancy going for something more subtle, opt for celestial wedding stationery.
Sarah and Gavin, who married at Mount Stuart (a wedding venue which has lots of astronomical details, including a ceiling depicting constellations), had beautiful wedding stationery themed around the night sky.
IMAGE | Craig + Eva Sanders
You can see the rest of their gorgeous celestial details here.
In The Stars wedding table plan (from £150) | Origami Fox
A Star Wars wedding ceremony
Planning to hire a string quartet for your ceremony?
Ask if they can play an arrangement of the Star Wars theme for your walk down the aisle.
It's a fun alternative to the Wedding March and carries the same gravitas, if you ask us.
Post-ceremony, your guests could shower you in Star Wars confetti.
Scottish business ShhhSistersSecrets makes confetti cones from the pages of Star Wars books. Such a cool idea!
Star Wars confetti cones (from £5.50) | Etsy
Star Wars, but make it fashion
We're not suggesting for a second that you rock up to your ceremony in that gold bikini (don't rule it out for the honeymoon, though).
But you could definitely take some fashion inspo from Princess Leia for your wedding dress.
Sassi Holford's 'Mila' dress, with its chic high neck and dramatic cape sleeves, is giving us major Leia vibes.
Combine with star-themed accessories to complete the look.
Star silver chain bracelet (£12) | Oliver Bonas
Selene moon hair clip (£160) | Tilly Thomas Lux
Mary celestial wedding shoes (£112) | Dune
Grooms can get in on the Star Wars accessory action too.
A pair of Star Wars cufflinks will give a low-key nod to the theme.
Stormtrooper cufflinks (£34) | notonthehighstreet
Or eschew traditional flowers in favour of a quirky Star Wars buttonhole! You could ask for it to be made in colours that tie in with the colour of your kilt or suit.
Star Wars buttonhole (£30) | Etsy
Let them eat (a Star Wars) cake
There are so many ways to incorporate Star Wars into your wedding cake. Most wedding cake designers relish the opportunity to get creative with a theme, and there's really no end to what's possible.
But if you're looking for some ideas to get you started, here are some of the prettiest Star Wars wedding cakes we've spotted on Instagram.
Or keep it simple with a Star Wars cake topper.
Star Wars wedding cake topper (from £9.16) | Etsy
Serve Baby Yoda cocktails
If you're planning to welcome guests with a cocktail, make them smile with a Baby Yoda inspired concoction.
The Tipsy Bartender has a recipe that calls for white rum, spiced rum, melon liqueur and pineapple juice.
But the real joy of this drink is in the styling: think lime segment ears and hessian tied around the stem of the glass.
Have a Star Wars guestbook
Love the idea of creating a DIY Instax guestbook?
Well, you'll be excited to learn that Fujifilm have released a special Star Wars themed Instax camera with BB-8 on the front and R2-D2 on the back. O-M-G.
The good news is that it exists.
The bad news? It isn't stocked by any UK-based retailers, though if you click through to the link below, it'll take you to B&H which ships worldwide.
Fujifilm Instax Mini 9 Star Wars camera ($74.01) B&H
The unhealthy rise of wedding shaming sites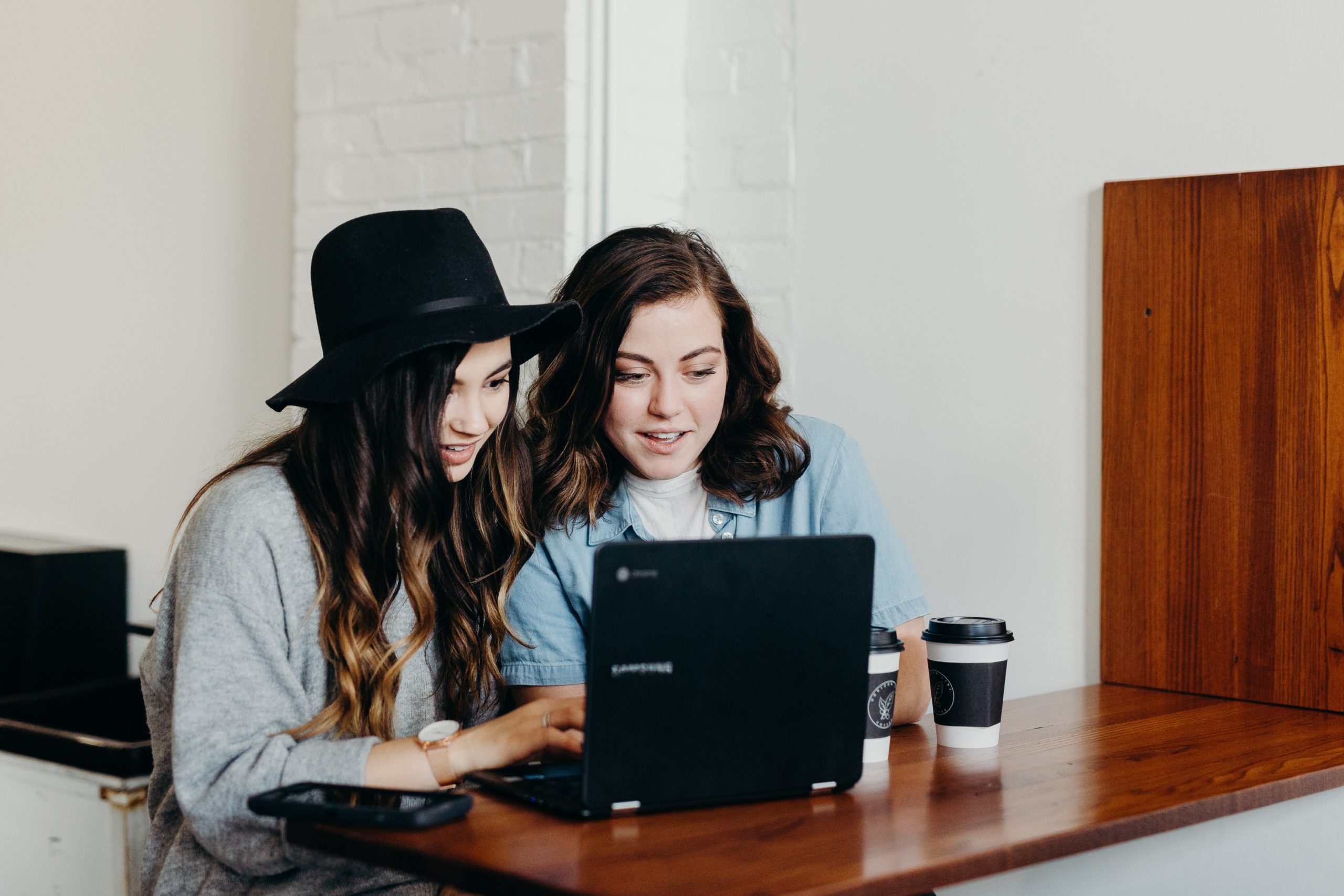 IMAGE | Brooke Cagle on Unsplash
Everybody loves snooping on someone else's wedding. What's not to love? It's the biggest celebration of someone's life, filled with jaw-dropping dresses, fancy-pants suits, big beautiful blooms, and food that looks too good to eat.
When I started working at Scottish Wedding magazine, I threw myself into online wedding culture; a decision fuelled in equal parts by the desire to immerse myself in this new industry and contracting wedding fever from a few friends getting engaged. Rustic venue Pinterest boards? Pinned. Playlist of iconic wedding songs? On repeat. Wedding photographer with more than one alpaca snap? Followed. There was something so wholesome about the happiest day of a couple's life constantly cropping up on my feed – it's the number one thing that makes this job so rewarding.
But the internet isn't best known for its wholesome reputation, is it? Enter wedding shaming sites: communities dedicated entirely to criticising other people's wedding days. The posts are often provided by suppliers, guests or the bride or groom themselves. But more often than not, the shaming-fodder comes from strangers lurking on social media. Shames can range from aesthetic choices such as camo print décor, to etiquette no-no's like a cousin showing up in a white dress.
And it turns out there are a lot of us who like ragging on other people's big days: wedding shaming social media groups have seen a steep rise in popularity in recent months. Currently, the most popular wedding shaming group on Facebook has over 151,000 members, while the r/weddingshaming thread on Reddit has over 109,000 members.
While these groups are peppered with funny wedding mishaps like a misshapen peacock cake or a gripping screenshot-fuelled horror story about the bride's cantankerous aunt Linda, the posts by and large tear apart weddings which are deemed to be 'tacky'. Translation? The ones that aren't a totally on-trend £25k affair.
Maybe it isn't the intention, but when Janice from Scunthorpe weighs in on a simple store-bought cake or budget Disney-themed décor with a critical "If you can't afford a wedding, don't have one!", it's hard not to think that this is less about shaming bad wedding etiquette, and more about humiliating people for making the best out of what they've got – or simply expressing a personal preference.
Planning a wedding is hard graft. It's filled with emotional, logistical and financial strains, and a lot of people don't have the resources to make it look like a picture-perfect Pinterest board. And that's fine! Weddings aren't about a seamless theme that appeals to the masses; they're about marrying the person you love. They're about celebrating with the people who are brimming with joy for you. They're about showcasing your personalities together and maybe kicking your shoes off for a Luther Vandross-heavy DJ set.
What they aren't about is making strangers on the internet happy. Because honestly? It's not likely that someone who is so consumed with negativity that they trawl through post after post to criticise people they don't know for their personal tastes or budget will ever be happy. Well, not until they get off their phone and spend some time finding out what makes them feel actually good about themselves and others, anyway.
Log off, Janice.
Fall in love with Sheila Fleet Jewellery's charity collection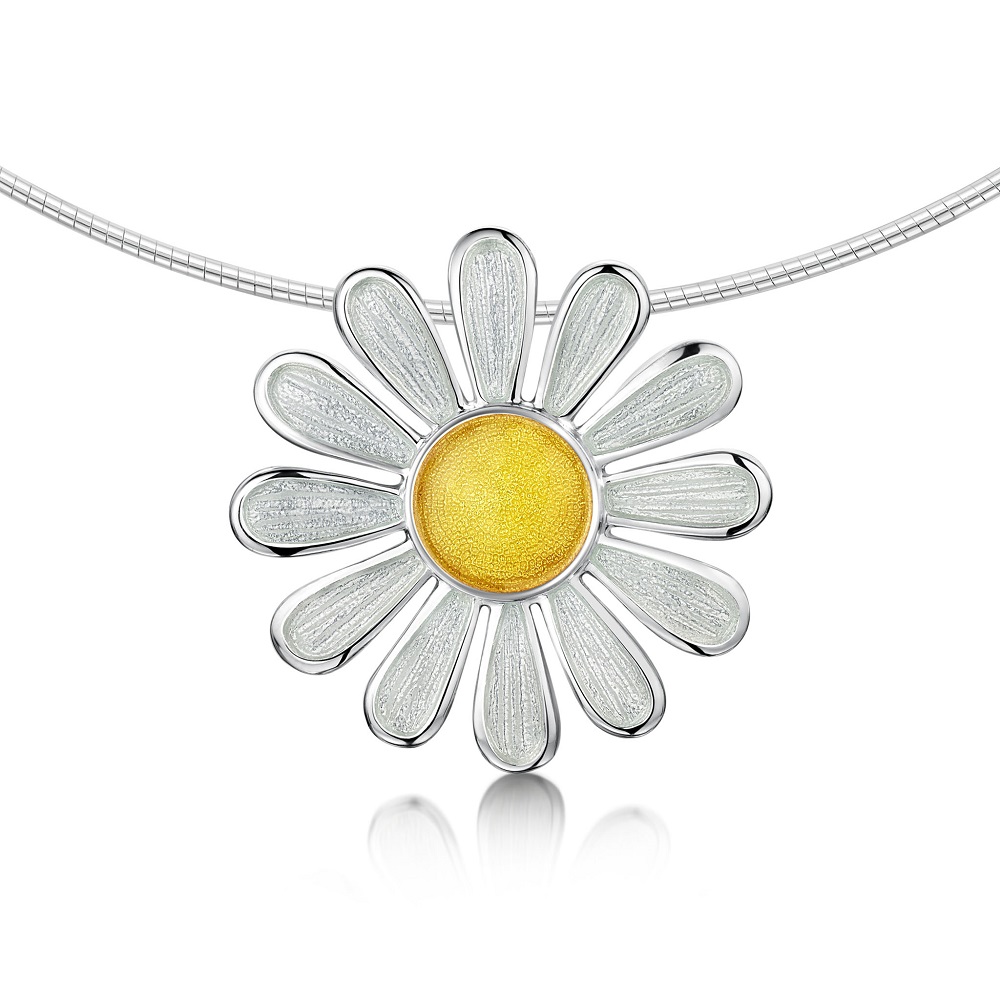 The best presents are the thoughtful ones – that's why we love Sheila Fleet Jewellery's daisy charity collection.
With every purchase from Sheila Fleet's Daisies at Dawn, Coloured Daisies or Diamond Daisies collections, 10% will be donated to Pancreatic Cancer Scotland.
Treat your bridesmaids to an item from the collection to say thanks and, as well as supporting the charity's amazing work, your 'maids will end up with a gorgeous piece of jewellery to treasure forever.
Read on to find out more about this lovely collection.
A special significance
The daisy has always had great meaning to Orkney-based jewellery designer Sheila Fleet OBE – when she married husband Rick in 1976, her long white dress was made of lace daisies and she carried a large bouquet of the flowers.
But daisies also have a special significance to Sheila's local community.
When at age 14 local girl Emily Findlay was diagnosed with neuroblastoma, a rare form of cancer, Sheila wanted to do something for her – she soon found out that Emily's favourite flower was the daisy.
This reminded Sheila of one of Rick's photographs (taken from their home and workshop in Orkney), which shows a sunrise with daisies highlighted in the forefront.
Using this as inspiration, she created and launched the Daisies at Dawn collection in 2014, turning the cheerful flower into a symbol of hope and joy.
Sheila explained: "When Emily was ill, we wanted to do something for her. We're delighted she's now doing so well, and I'm grateful we were able to help her at a very difficult time."
To date the Daisies have raised around £70,000 for good causes, which Emily and her family have benefitted from, as well as the Orkney Charitable Trust.
Now the collection will also show support for a charity close to Sheila's heart, Pancreatic Cancer Scotland, in memory of her late husband Rick who she sadly lost to the disease in 2013.
Sheila said: "I sadly lost Rick to this terrible disease. Locally I'm aware of other people in Orkney who have been affected by pancreatic cancer, but it affects people and their families all over the world. There is much we need to do to raise awareness."
The collection will benefit and support many people and their families, and raise much-needed awareness of one of the world's toughest cancers.
Shop the collection
While the classic daisy in the collection has white crystal petals with a sunshine yellow centre, there are also different coloured versions available.
The collection includes rings, stud earring, drops earrings, bracelets and necklaces featuring the delicate and pretty design – and we reckon any bridesmaid would be chuffed with receiving one as a prezzie!
It all works perfectly for a spring or summer wedding, and makes for a timeless, thoughtful gift that they can treasure for years to come.
Practising self care in stressful wedding-related situations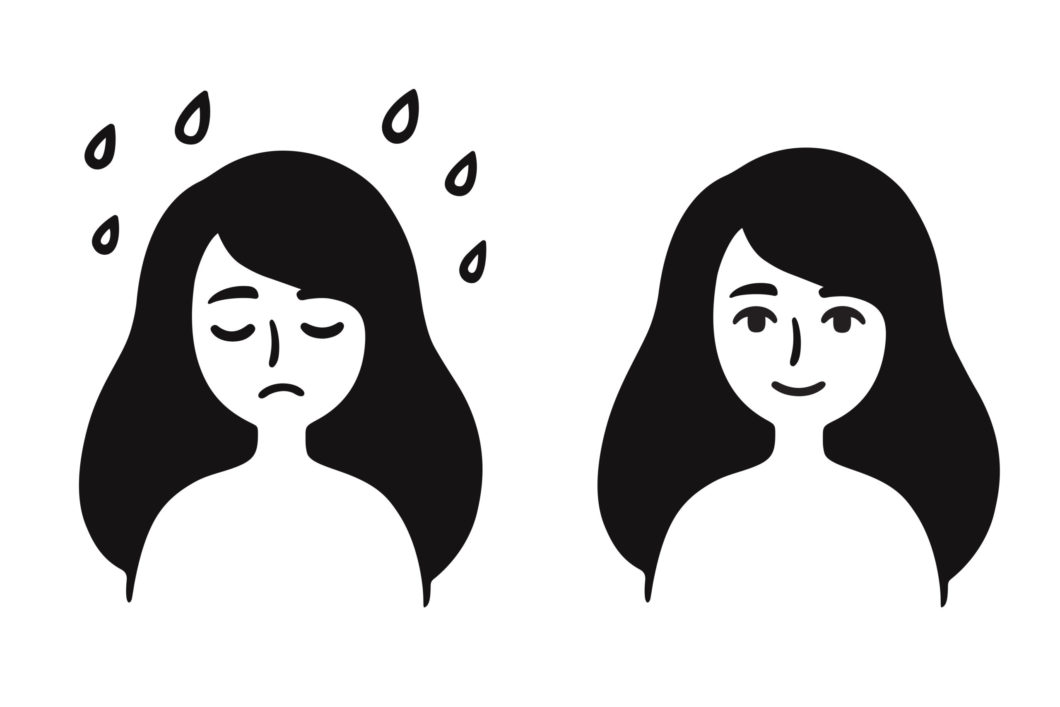 We know that as well as the general anxiety and worry about how the Coronavirus will affect everyday life, lots of couples are facing stress about postponing their weddings or changing their dates to next year.
I spoke to hypnotherapist  Amanda Trainer, to get her advice on how you can cope with negative feelings creeping in.
She's also recorded a very special self-hypnosis session just for brides/grooms who are finding this time super stressful, and you can download that below completely free of charge.
"I know it's easy to say this but stress is not going to help your situation. The only thing that will actually ruin your wedding experience is if you let stress and worry get the best of you, so managing your thoughts is key just now.
Also, positive self-talk is HUGE. It's so important not to torture yourself. Being kind to yourself is absolutely key here. This is not your fault and everyone will completely understand if you have to change plans.
Make a deal with yourself that you won't panic until you have something to actually panic about. Understand that almost everything is fixable.
Everyday, you have a choice to be in control of how you handle the situation you're in. It might feel outwith your control, but if you put a really good, solid morning routine into place then your day will be influenced by that. Go a walk. Listen to some empowering songs. Write down what you're thankful for in a journal.
Speak openly with your partner and share in each others concerns. Meditate together. Think of your thoughts as balloons – the nasty ones, the ones that are making you worry, need to be popped, so grab an imaginary pin and get good at catching them before they float by and replace them with good ones.
Make sure you catch them early too before they get too close.
LET IT GOOOO
Allow yourself to feel what you feel: angry, upset, confused, sorry for yourself, sad, but don't hold onto those feelings too long to the point where it becomes detrimental to your mental and physical health.
This is harsh, but hear me out. Try to understand that not everyone will be as concerned as you are about your wedding day, as hard as that is to comprehend right now.
This is a huge event in you and your partners' lives, and your close family and friends, but perhaps other people outwith your close circle will be worried about other things in their own lives.
Lean on your closest in these times.
SOCIAL DISTANCE FROM SOCIAL MEDIA
Be aware that spending too much time on social media talking about the same thing over and over again gets your mind into a negative place no matter how hard you try to ignore it, so when you catch yourself getting into a negative conversation or reading negative comments under a Facebook post, stop immediately.
If being in a wedding-related Facebook group is just too much right now, mute it for a couple of weeks.
Put your phone down or switch it off if you have to.
IT COULD BE BETTER
Here's a thought: What if your postponed wedding works out even better than your original date would have? What if the weather is going to be nicer, or drier? What if your band will have had more time to rehearse? What if an amazing new anthem has been released and you and your guests can dance to it at the reception? Maybe you wanted to grow your hair a bit longer – you can do that now!
Try to think of all the positives you could take from this, no matter how small or daft they might seem.
If you already have a new date then great. Spend some time creating a new vision board for the day. Get excited all over again! Make your day even better!
Is it in a different season? Think of ways you might want to incorporate that into your wedding now. Write a list of 10 reasons why this change of date could actually be a good thing.
You now have two dates to celebrate – do something nice on your original wedding date. Have breakfast in bed, watch a favourite film together with some nice wine, take an early morning walk and watch the sun come up.
LISTEN TO MY VOICE
I'd love to help each of you, so I have recorded a self-hypnosis track which focuses on self-care. I recommend that you try this in the morning during your new, improved routine. Allow yourself 30 minutes to really reset your brain and de-stress.
And don't worry, hypnosis doesn't 'put you to sleep'! You'll be fully aware of what's going on all through this recording."
How to listen to the self care routine hypnosis recording
Click the Dropbox link below.
Download, wait, plug in your earphones + listen! Make sure you have 30 minutes of time alone for this.
DOWNLOAD THIS SELF CARE ROUTINE FOR BRIDES/GROOMS TO DROPBOX
FOLLOW MRSBRAINTRAINER ON INSTAGRAM //
Problem Solved: I want to keep my surname, but my partner isn't pleased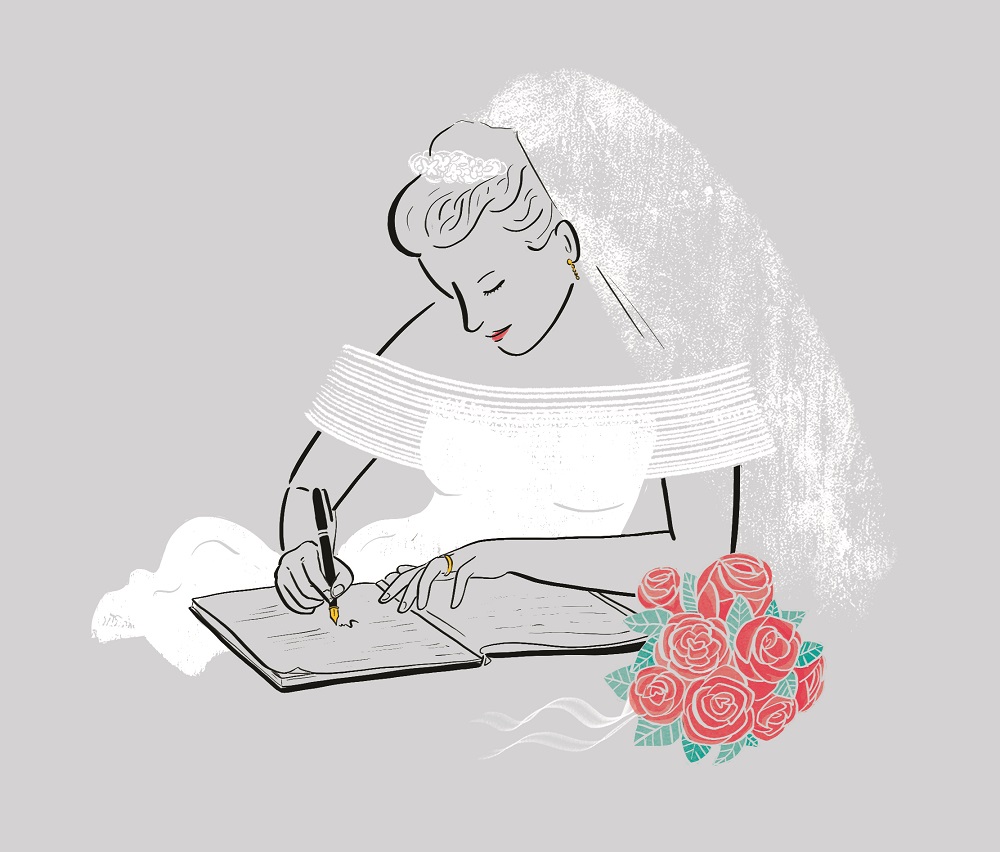 ILLUSTRATION BY MANON GANDIOLLE
Q. I don't want to change my surname when I get married, but my husband-to-be isn't pleased. His family look at me like I've grown horns when I tell them I intend to keep my own name. I'm feeling pressured into making the change just to shut everyone up, but I really don't want to. How do I navigate this sensitively?
Gail, Newhouse
A. Your question comes at a pertinent time, Gail, as this has been a hot topic at SW lately.
It all started when I asked the men in the office, out of curiosity, if they'd have taken their wife's surname had she asked. They all acted like it was the most alien and unreasonable request that could be made of them. So why, then, is it not considered just as nonsensical for a woman to make that same sacrifice?
The short answer is that it's entrenched in societal norms. When surnames first became a thing, a married woman was expected to surrender her identity and autonomy to her husband. Assuming her husband's name was just part of that process.
Fortunately, over time, feminism has propelled us to a place where we're on more equal footing with our male counterparts, and there's no legal obligation for a woman to take her husband's name (same-sex couples would be in a bit of a pickle were that the case). Yet the whole taking-his-name thing has stubbornly stuck and often goes unquestioned.
That doesn't mean you're wrong to question it, though – far from it. It's totally natural to have grown rather attached to the name you've had since you were born. The one you spelled out in fat, wobbly letters when you were learning to write; that you've hurriedly scribbled on the back of every bank card; that connects you to your family and heritage.
If you haven't already, sit down with your partner and have a proper chat about it, just the two of you. Forget about what his family think because, with all due respect, it's as much their business as the colour they paint their house is yours. Give yourselves space to listen to one another's perspective, and allow your partner to interrogate what makes him feel so uneasy. Is it simply the fact that it's not very common and he fears what others may say? He may view your decision as a form of rejection, without understanding that it's not a dislike of his name that's driving you, but a love for your own.
Perhaps he views having different surnames as being at odds with the unity that marriage brings – and if you intend to have children at some point, he may be anticipating further complications when it comes to deciding on their surname. In that case, would he consider taking your name? It sounds radical, but that's only because we aren't used to it. Plus, he could still keep his name for work. I've lost count of the number of times I've been told I could keep my name professionally but use my partner's name in my private life, and it's frustrating that this same advice is never doled out to men.
If that's not an option and you find yourselves at an impasse, it's time to compromise. Could double-barrelling work for you both? Or how about name-meshing, where you merge your surnames to create a brand new one?
Sometimes, meeting in the middle is what marriage is all about. And look on the bright side: people you went to school with won't be able to track you down on social anymore…
HAVE A PROBLEM?