Steph's Bride Diary: Why we've chosen to have an Interfaith wedding ceremony
After much searching, digital editor Steph and her partner have opted for a personal Interfaith ceremony.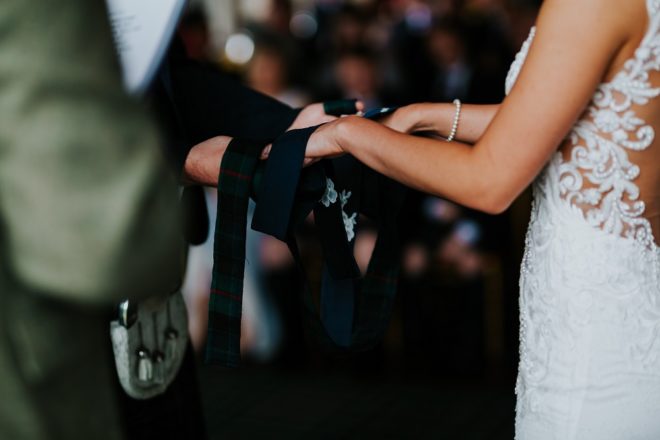 IMAGE | Ross Alexander Photography
When Rab and I first started talking about what kind of ceremony we were going to have at our wedding, we had a Humanist service in mind.
Rab isn't religious and wasn't brought up in a religious family, and I'm Christian, but I don't go to church or really practice the faith anymore.
The more I thought about exactly what marriage meant to me, the more I realised that Humanism didn't accurately reflect what I believed, and I started to think about having a different kind of ceremony.
Most people immediately think Humanism is the only non-religious option to go for, and don't take Interfaith ceremonies into account.
I've spoken to a lot of people who didn't even know that Interfaith was an option.
We were lucky to find our celebrant, Barbara Campbell, recently through Facebook, and I sat down to ask her a few questions about what an Interfaith ceremony actually entails.
WHAT IS AN INTERFAITH CEREMONY?
"I'd say that an Interfaith ceremony is the most flexible option available if you're getting married in Scotland.
The focus is on providing a ceremony that is completely personal, respecting whatever is important and meaningful to the couple, whether it is religious, non-religious, spiritual, Humanist or something in between.
You don't have to join any organisation, religion or belief body for an Interfaith celebrant to hold your ceremony," explains Barbara.
What we loved about an Interfaith ceremony is that it can be personalised completely to what we want.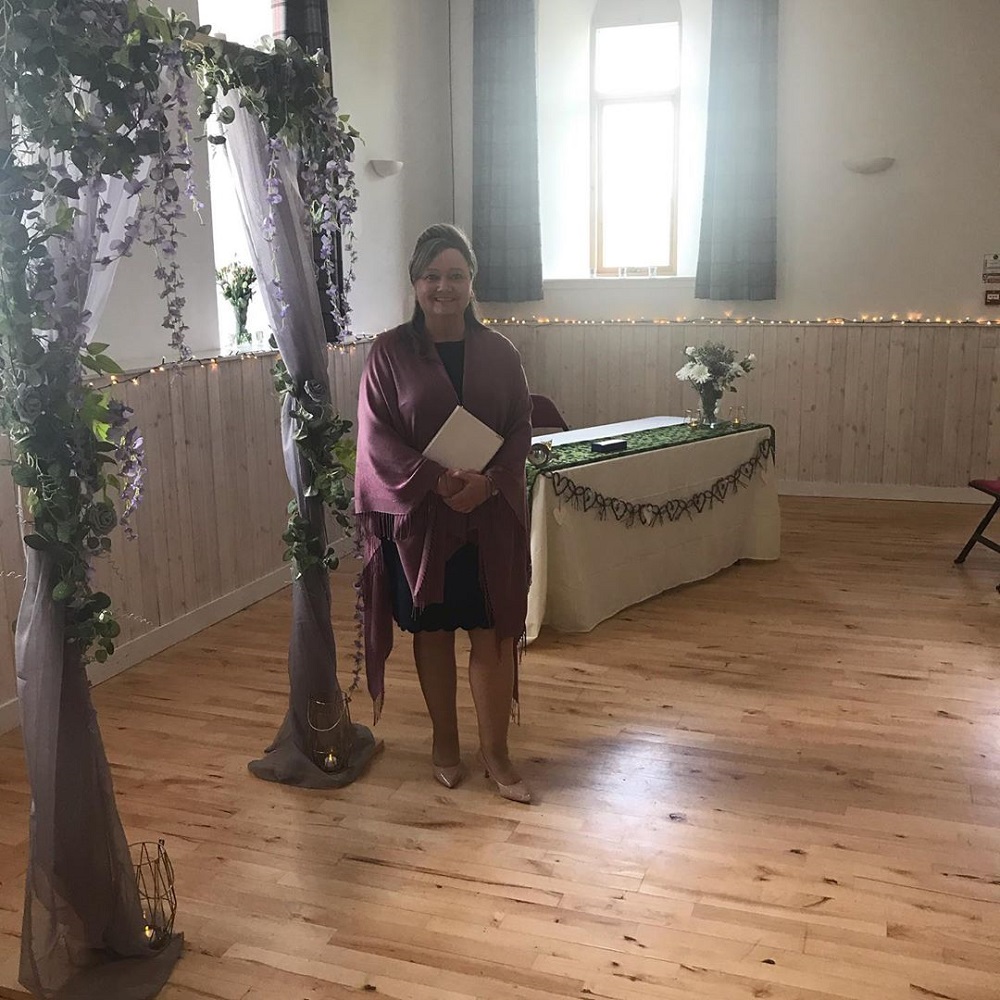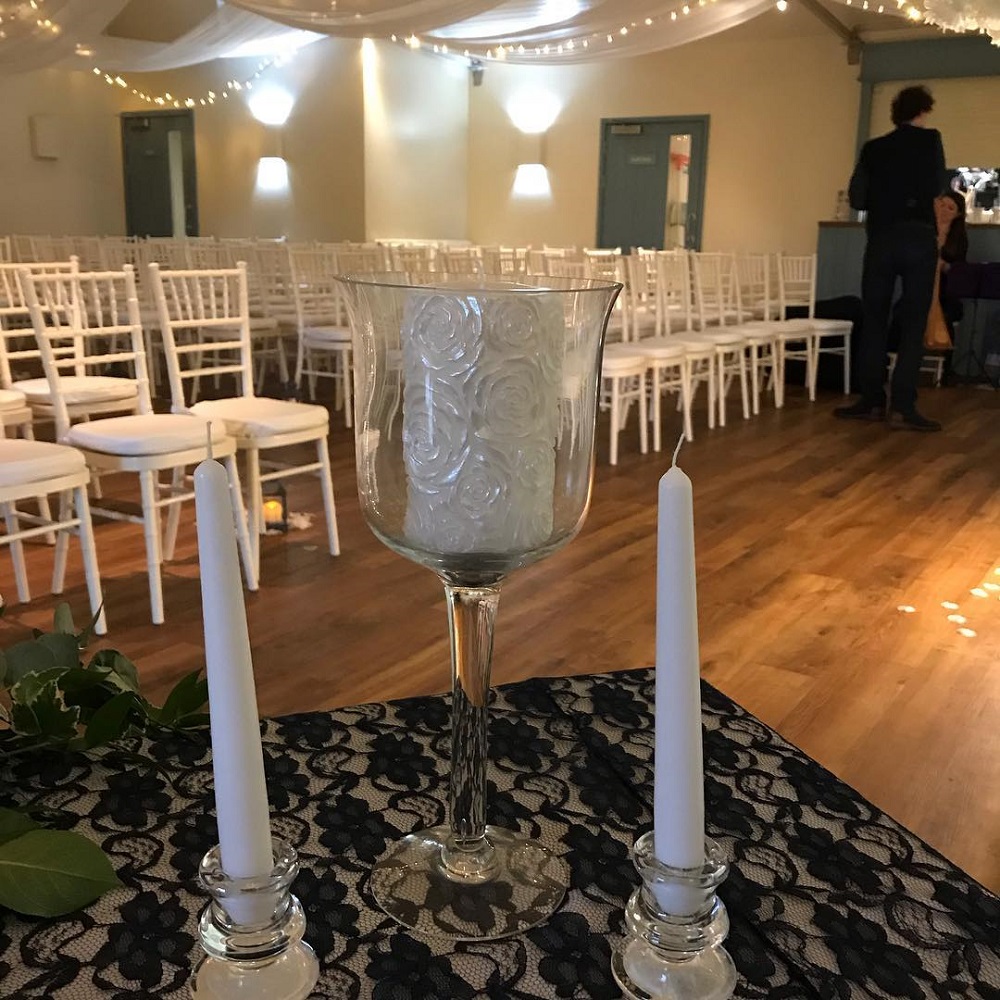 Top: Our celebrant Barbara | Bottom: Set-up for a unity candle ceremony
It means that we can express what we believe individually – for me, that means I get the chance to include elements of my Christian upbringing and my continued faith and spirituality, without making Rab feel like he's being hypocritical.
I'm not sure exactly how I want to include my faith in the ceremony, whether it's a blessing or a reading, or maybe even a song. That's one thing that you generally can't do within a Humanist ceremony.
WHAT'S THE DIFFERENCE BETWEEN INTERFAITH + HUMANIST?
"A Humanist celebrant will generally not include any elements of spiritual or religious belief into the ceremony. Similarly, a civil celebrant won't allow any religious content either, and they are sometimes restricted to where they can perform your ceremony," says Barbara.
"If you choose Interfaith, we can marry you anywhere (just like a Humanist celebrant can), and we can create a ceremony that reflects not just your faith or values but also respects the traditions and faiths of your wider family, which is so important to a lot of people."
I know that my own family will be delighted that we're adding in an element of Christianity to our celebration; it'll mean a lot to my parents that I have acknowledged my past like that, and that they know I'm continuing into marriage with a faith and a belief that I grew up with.
I have to say, I'm looking forward to working on our ceremony with Barbara.
We've decided to write our own vows, and I'll talk more about that in a later post, but the most important thing to us on the day is that our friends and family really feel like they're part of the ceremony.
We need their support in marriage as much as we need each other, and that is something that Barbara likes to make sure she does in her ceremonies.
INVOLVE YOUR FAMILY IN THE CEREMONY
"It's great to make everyone feel included, which they are, and I encourage my couples to think about incorporating a symbolic gesture into their ceremony," says Barbara.
A symbolic gesture or ritual can be something like a handfasting, unity candles, ring warming or drinking from the Quaich.
"Handfasting is such a lovely ritual and it can involve members of the family or friends outwith the wedding party. It's a Scottish tradition, and where the term 'tie the knot' comes from!"
We haven't decided what we want to do yet in terms of wording or rituals, but Barbara has sent us a questionnaire to fill in separately about our relationship, our lives together, what we love about each other, and our hopes for the future.
It really does make you sit down and remember why you're actually getting married in the first place.
It's easy to get caught up in fancy frocks and table settings, when all that really matters is standing together and saying your vows to each other.
That's what the day is really all about, and I can't wait for it!
FREQUENTLY ASKED QUESTIONS ABOUT INTERFAITH CEREMONIES
Is an Interfaith ceremony legal? YES! In Scotland, Interfaith ceremonies are perfectly legal, as long as your chosen celebrant has authorisation to solemnise the wedding.

How much does an Interfaith ceremony cost? It varies, but the ballpark figure is between £350 – £550. Travel expenses may apply if the celebrant has to travel to your venue.

"We are both religious, but our religions are completely different! Will this work?" – This is exactly the situation to consider an Interfaith ceremony. Both religions can be included in the ceremony.