Michelle's Bride Diary: We had to postpone our wedding, so we eloped!
Bride's Diary columnist Michelle was faced with the decision to postpone her wedding – but decided that she didn't want to postpone being a wife…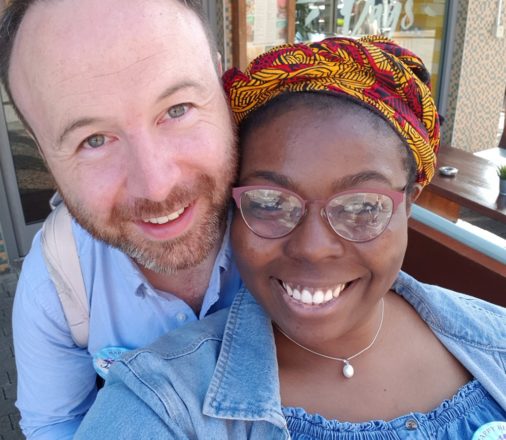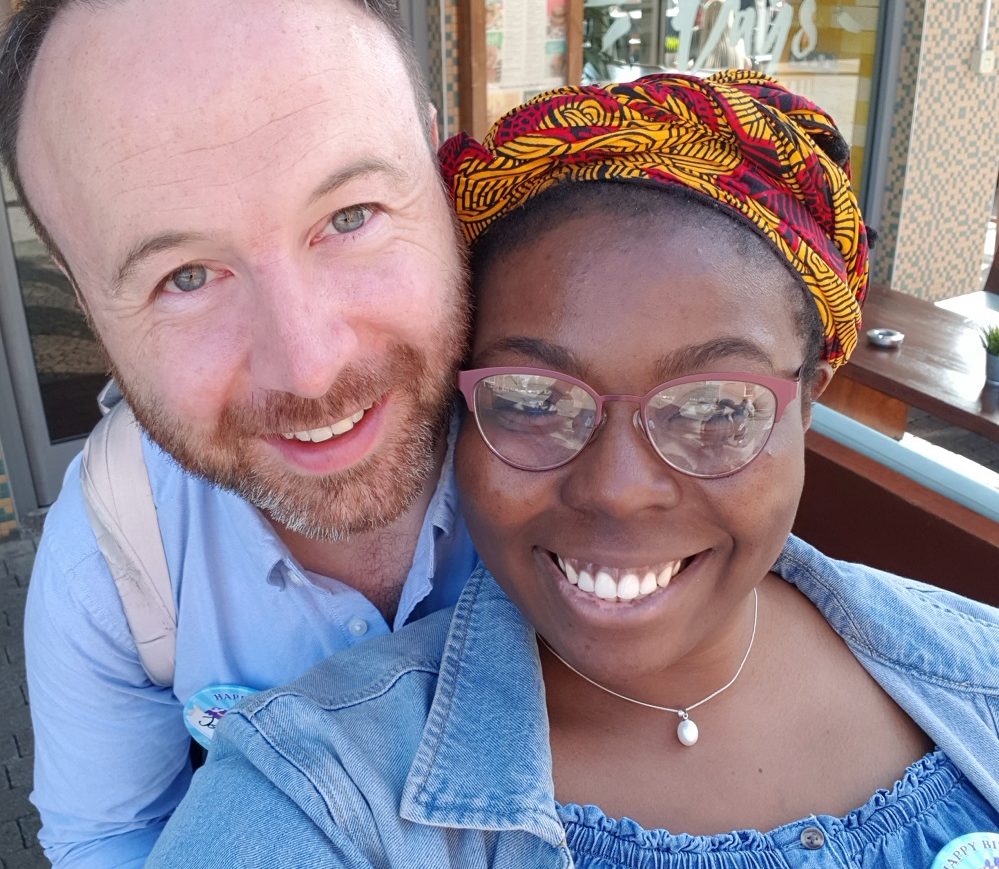 "We picked our original wedding date in Spring of 2019. We loved the idea of recapturing the beautiful Springtime we were experiencing at the time, and wanted the day to be a reflection of our love and of our personalities – fun and quirky. We'd settled on Three Sisters Bake at Killearn Village Hall.
But, by the evening of 15th March, we knew that things might not go ahead. The US shut their borders, and it became clear that my best friend wasn't going to be able to come to the wedding. We realised that the world was beginning to cycle to a halt.
I don't think either of us actually said the word 'elopement' out loud. We just instinctively knew that whatever was coming next, we wanted to navigate it as husband and wife.
We spoke to our families and to our minister, and everyone was so supportive of our idea. They too could feel there was a sense that things would be changing quickly in the UK, and if we weren't going to get the wedding we had planned, at least we could begin our married life now.
Reverend Catriona, our minister from Hillhead Baptist Church, was amazing. We originally thought that we would have the ceremony on 28th March, then 24th March, and right down to 20th when we realised that we'd be on lockdown soon.
We drove to Loch Lomond on 17th March to see if we could find somewhere to hold our ceremony. It was pouring with rain as we pulled into a carpark at Milarrochy Bay, and it was like we were able to exhale for the first time in about 48 hours.
We felt this incredible peace wash over us, and we knew right away that we'd get married there. A beautiful bridge would be my aisle to walk down with my dad, right up to the two trees which stood in perfect symmetry. I felt like it had been created just for us.
Arranging things from then on seemed to fall into place. We were able to pick up our marriage schedule on the same day as visiting Milarrochy; Lynne at Balfron Registrar's office came to the rescue and held the office open for us to change the details and pick it up.
The lead up was an anxious one for me, but mostly because of what was happening in the world, and also because I was worried that things could shut down any minute and we wouldn't get our ceremony.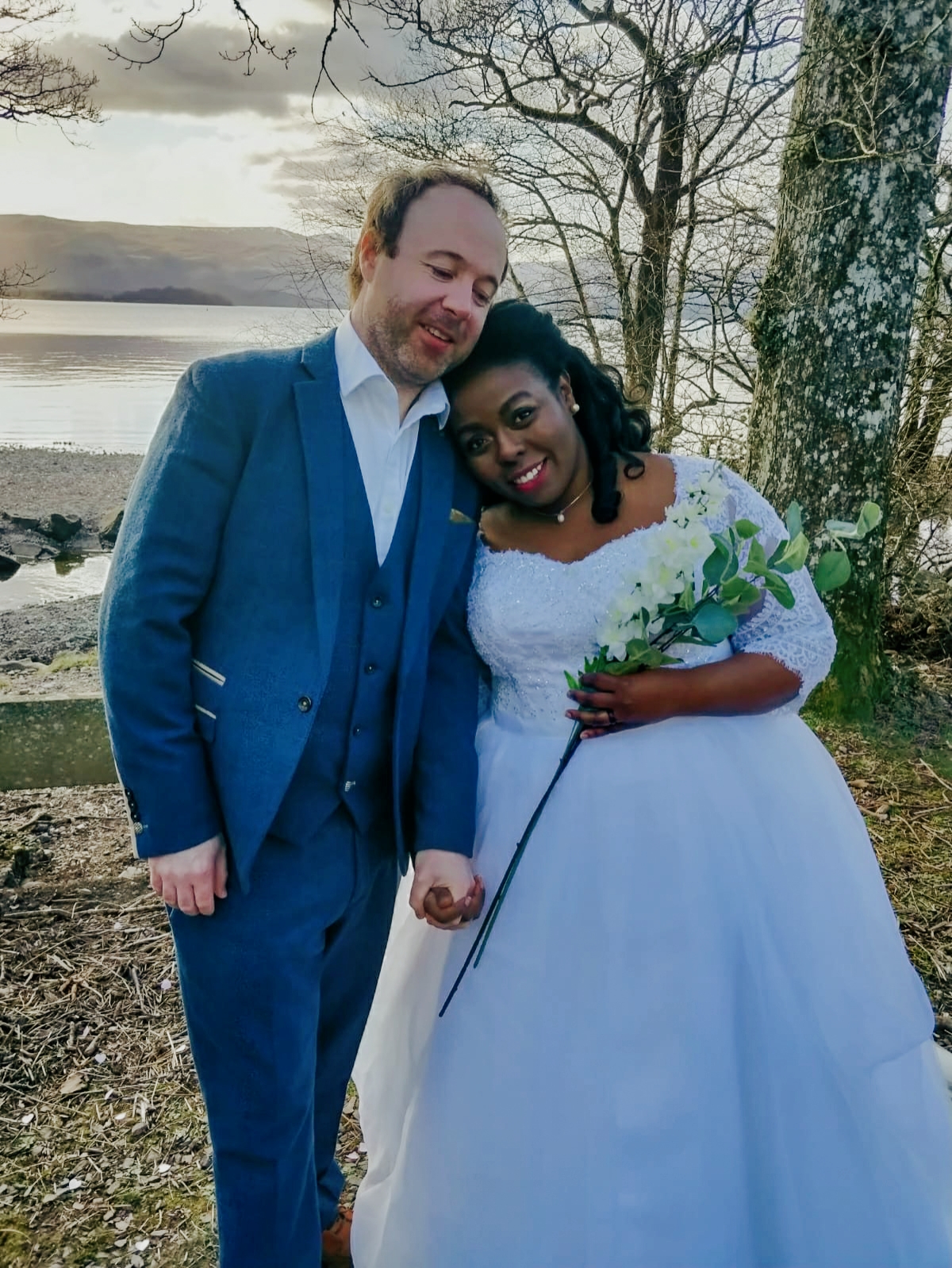 On the day, all of that melted away. It was such a sunny, clear day. There was a gentle breeze and bursts of warmth, and I felt so calm.
My mum and my sisters arrived at our flat to help me get ready, and we laughed and talked and everything just felt so right. It felt like this was how it was always meant to have been.
The ceremony was always the most important part of planning to us. We wanted to capture the sacredness of what it meant for us to be bound as two souls, and we suddenly had it in its purest and rawest form because it wasn't about anything other than us coming together. I didn't have any expectations or plans other than getting to Jonathan and saying that "I do, infinitely".
As I walked down that bridge linked arm in arm with my dad, before I could even gather my thoughts, the tears came. My sister had Loch Lomond playing on a small speaker, which was the song that we'd picked way before our desire to elope.
I looked into Jonathan's eyes and we both smiled, that knowing smile we always give each other when we know we've done the right thing, and as we closed our eyes to pray with our minister, the air felt the thickest with love it had ever felt in my life.
There were some people out taking walks, and they stood in silence as we went through a short version of our ceremony and kissed as husband and wife. The biggest and most beautiful cheer erupted which made us both laugh and cheer alongside them!
We packed everything up after taking a few photos, and got in the car to go home.
The days that followed have been so wonderful, with moments of complete surrealism. We now greet each other by saying, "Hello husband!" or "Hello wife!". I don't think the novelty will wear off any time soon.
We were always a team but now we feel like a united force and I think we all need that feeling of reinforced support during these times.
The entire process has been extremely positive, and we feel how we look at things have been put into perspective. Of course I shed a few tears over our cancelled day, but only because of the love and money we had poured into it. The reality is, it's not about those things.
A wedding pales into insignificance in comparison to what a privilege it is to marry your best friend. It truly shows that you don't need all of the frills and excesses to be able to have a happy wedding, and it certainly won't equate to a happy marriage.
Now that our wedding celebration is postponed, I'm actually excited about having some extra time to perfect little details that will make our day more intimate – that's not about spending more money or planning extra stuff, but we'll be able to translate more of us and our growth as a couple into the day for our family and friends. Our suppliers have also been brilliant – they're such amazing people.
So though everything has changed and very world around us is being reshaped, I am so grateful I get to do it holding the hand of my husband."

YOU CAN ALSO FOLLOW HER ON INSTAGRAM AT @MICHELLEHOPEWELL