SWD Visits… Meldrum House Hotel, Inverurie
A luxury country house in Aberdeen, this hotel wedding venue has bags of character.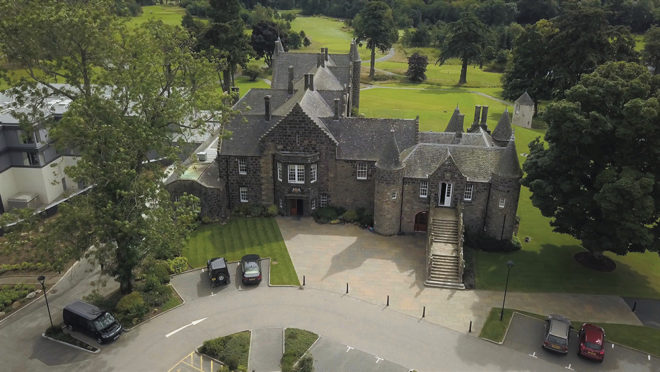 Reviewed by Rachel Lawler 
'Hidden gem' is a phrase used to describe a lot of venues, but Meldrum House Hotel in Inverurie takes the crown for truly being full of surprises.
With its 240 acres of sprawling grounds, complete with golf course and picturesque lakes, it feels like a different world.
On first impression, the 13th-century baronial mansion house is everything you would expect it to be.
A crackling fire sets the scene and the walls, adorned with portraits dating back hundreds of years, add to the traditional feel.
However, when I'm shown to the new wing (which opened in 2016), I realise that Meldrum has a lot more up its sleeve, marrying its impressive history with a contemporary feel.
Whilst the manor house and converted stables can cater for small and intimate weddings, it used to be that larger celebrations were held in a marquee on the grounds. But this is no longer the case.
Due to the venue's increasing popularity for weddings, it purpose-built a magnificent ballroom, perfect for up to 200 people.
Every detail has been considered, from the private kitchen to the floor-to-ceiling windows with awe-inspiring views.
This stylish addition to the original house also has a host of exquisite bedrooms, one of which is our room for the night. Its spacious marble bathroom and private balcony are idyllic.
BE OUR GUEST
As I'm shown around the rooms and suites, it's clear that each has its own identity.
The Laird's Suite is your go-to honeymoon suite, with a private entrance and jacuzzi bath.
Your guests are well looked after too; the converted stables and original manor house suites ensure plenty of unique accommodation options.
EAT, DRINK + BE MERRY
For dinner, we try the newly launched menu at on-site 1236 @ The Cave Bar, an 800-year-old space that provides a chilled-out, atmospheric dining experience.
Offering a range of small and big plates, we decide on a tasty selection of picks including mini baked Arran camembert and cast iron steak with parmesan and truffle fries.
It's an ideal place for a cosy family meal the night before the wedding.