23 of the best party-perfect wedding venues in Scotland 2020
From gorgeous reception rooms to well-stocked bars and jumping dancefloors, these Scottish wedding venues have all the ingredients you need for the party of a lifetime.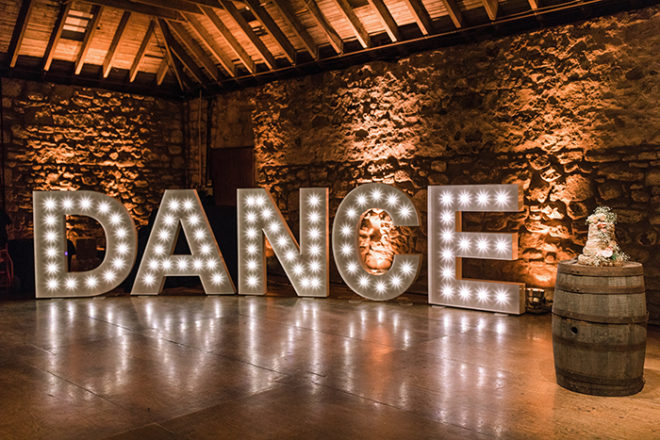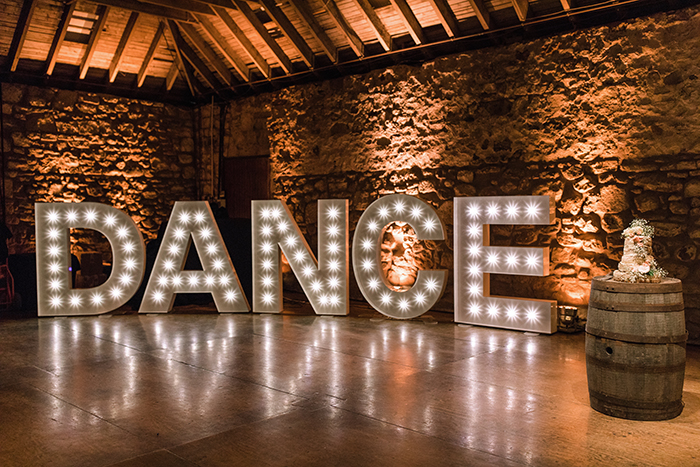 This post contains some paid-for content.
ASWANLEY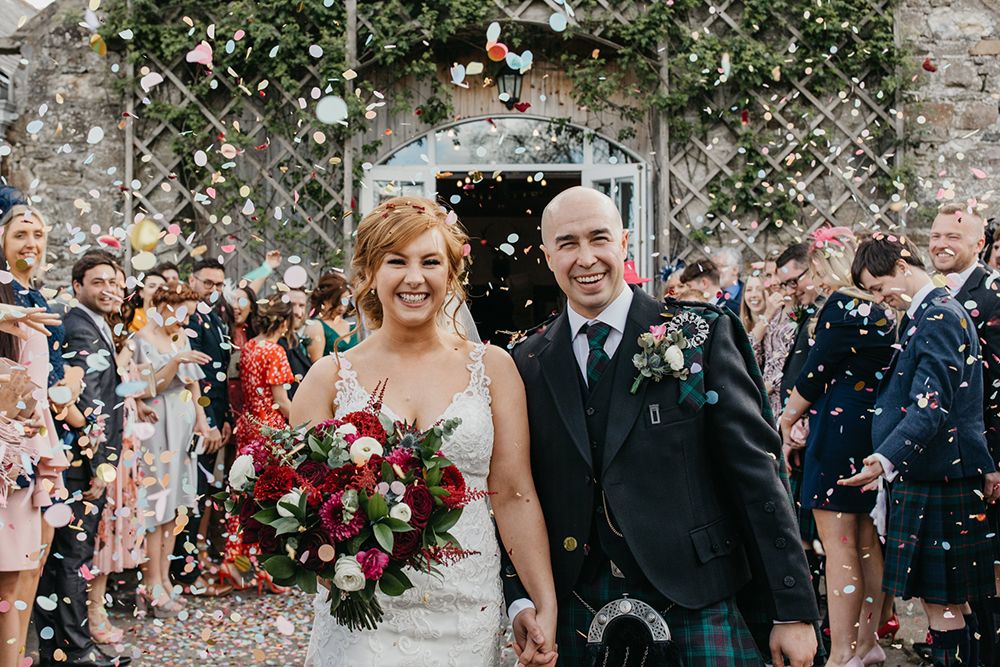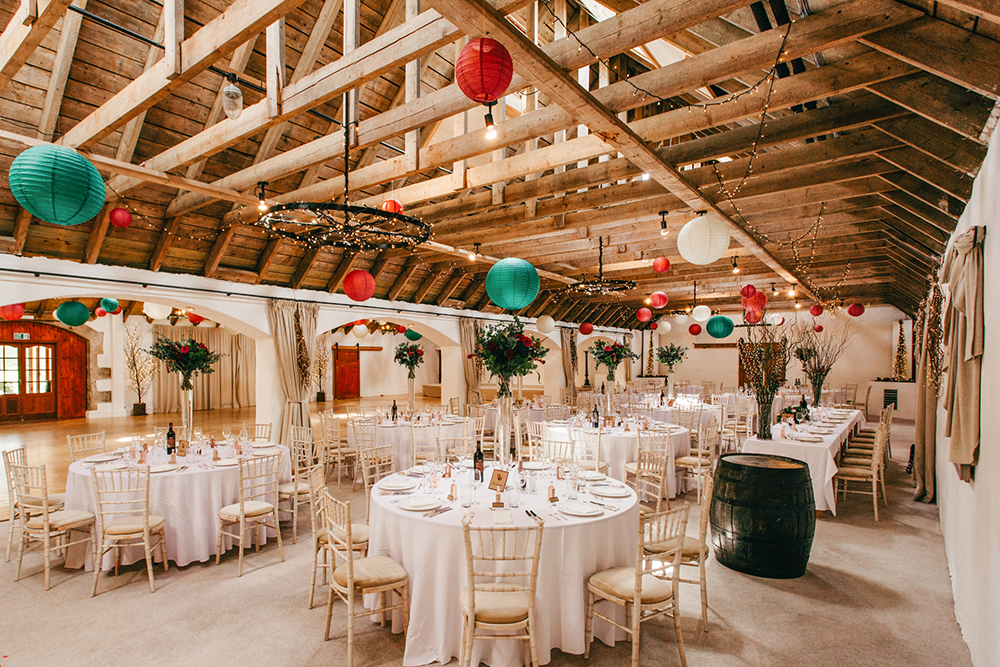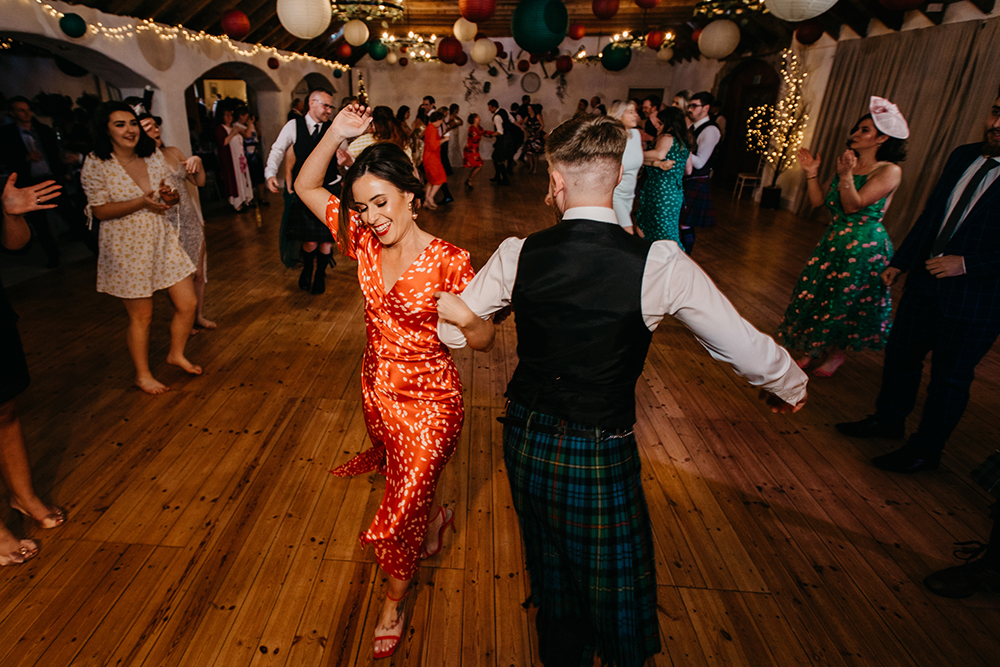 IMAGES | Emma Lawson Photography
With room for up to 250 guests, Aswanley has all the space you need to throw the biggest party of your lives. You can style the blank canvas venue however you want with the full support of the in-house wedding coordinator. The barn itself is versatile, consisting of interconnecting rooms with wooden doors leading into the dining room which can be left closed until you're ready to wow your guests. You'll also have a choice of beautiful spaces for your reception drinks – the river terrace, gardens, or in front of the baronial fireplace. Plus you'll love the reasonable bar prices!
When it comes to dancing, the ballroom is the ideal space for a ceilidh, only separated from the dining area by a series of arches which means guests can easily watch from their seats. Best of all, this exclusive-use venue is totally secluded so you can be as noisy as you want!
Visit Aswanley's website | t. 01466 700340 | e. lauren@aswanley.com
BALBIRNIE HOUSE HOTEL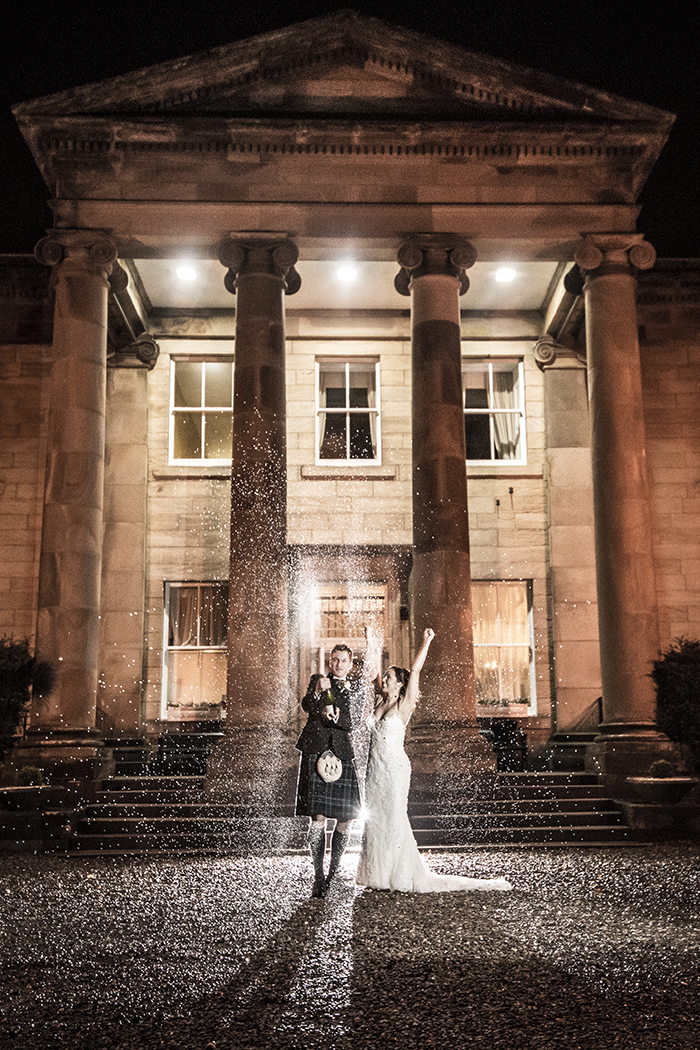 IMAGE | Lifetime Photography
Balbirnie House Hotel is a country house which is now defined by Haute Grandeur global hotel awards, as the 'World's Best Destination Wedding Hotel', an accolade that defines romance without an equivalent. The house is surrounded by 400 acres of picturesque parkland, simply beautiful at any time of the year.
Beautifully furnished, the interiors are incredibly plush and luxurious and you can rest assured that the staff at Balbirnie will help you create the wedding of your dreams, with plenty of space to really celebrate with your guests!
The hotel has 34 sumptuous bedrooms, giving your wedding guests the option to stay the night and make a weekend of it. There are also many options to create ability to socialise over multiple days.
Visit Balbirnie House Hotel's website | t. 01592 610066 | e. gaynor@balbirnie.co.uk
Read reviews for Balbirnie House Hotel
BALLATHIE COUNTRY HOUSE HOTEL & ESTATE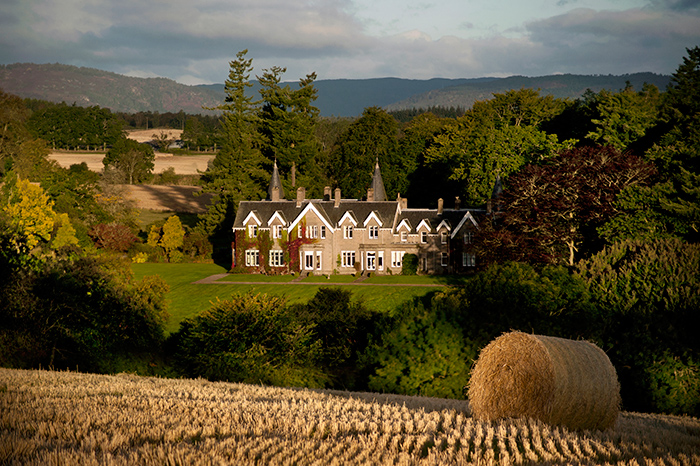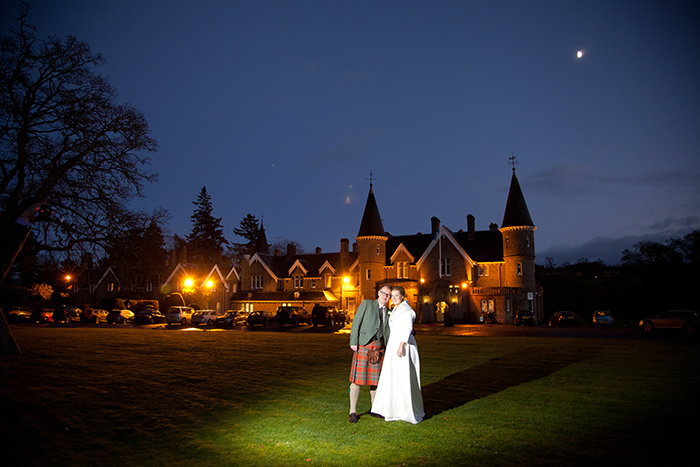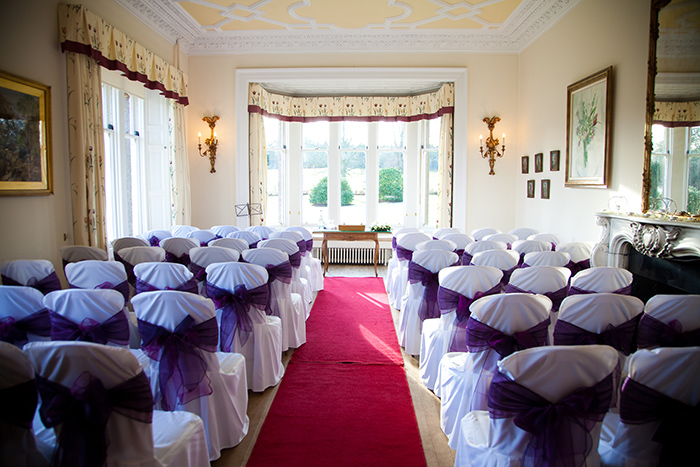 Ballathie Country House Hotel + Estate is a grand baronial mansion retreat that offers couples a truly romantic backdrop for their wedding celebrations. Available as an exclusive use venue, you will have sole access to the house's 500 acres of private land and its unrivalled views of the River Tay. If the weather plays ball you can get married outdoors in the stunning gardens before hosting your champagne reception on the lawn.
The house can accommodate up to 90 guests for a wedding breakfast, but a marquee can be erected on the house's lawn for larger numbers. There's plenty of on-site accommodation for overnight guests, with 25 bedrooms in the main house, 16 in the Riverside building and a further 12 Sportsman's Lodges on the grounds.
Visit Ballathie House Hotel's website | t. 01738 804804  | e. email@ballathiehousehotel.com
Send an enquiry to Ballathie House Hotel
BYRE AT INCHYRA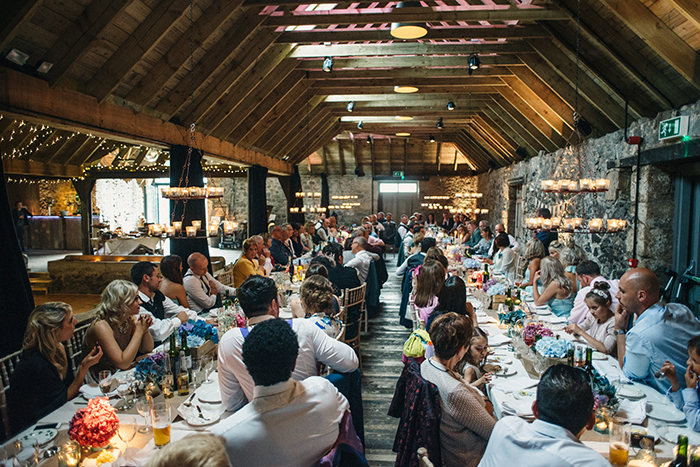 IMAGES | Photos by Zoe
Located in the grounds of a beautiful mansion house in Perthshire, this original cattle barn dates back to 1877, complete with restored original architectural details.
The beautiful and high quality interior decor and colours and fantastic state-of-the-art lighting and sound facilities are all part of this gorgeous blank canvas barn; all you have to do is let your imagination run wild.
Don't worry though, you're not alone in planning your big day party. The team at Inchyra are on-hand to help you every step of the way, should you need it.
Visit The Byre at Inchyra's website | t. 01738 860066 | e. enquiries@thebyreatinchyra.co.uk
Send an enquiry to The Byre of Inchyra
CARDNEY STEADING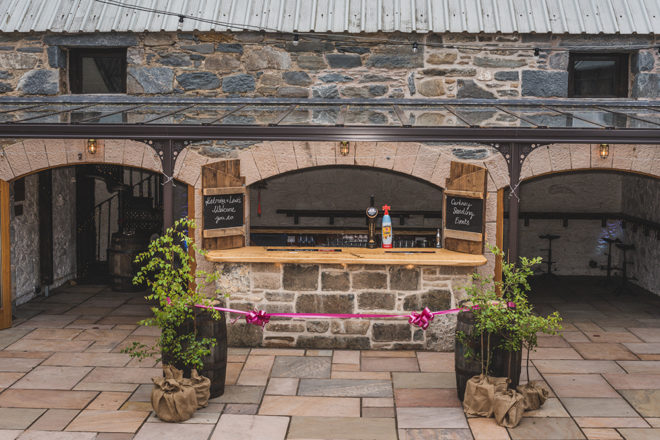 Cardney Steading is a stunning newly refurbished wedding and events venue, located just four miles from Dunkeld. Offering some of the most picturesque scenery in Perthshire, this venue is an idylic location for your big day.
Couples will fall for the charms of the rustic stone, pretty whitewashed walls and beautifully finished outdoor spaces and there is so much scope to decorate this blank canvas venue exactly how you want.
Outdoors you can entertain your guests around the fire pit, head into the woods for your wedding photos or tie the knot by the loch. And you can even bring your beloved dog or horse to be part of your day.
Visit Cardney Steading's website | t. 07764 168897 | e. info@cardneyestate.co.uk
Send an enquiry to Cardney Steading
CASTLE MENZIES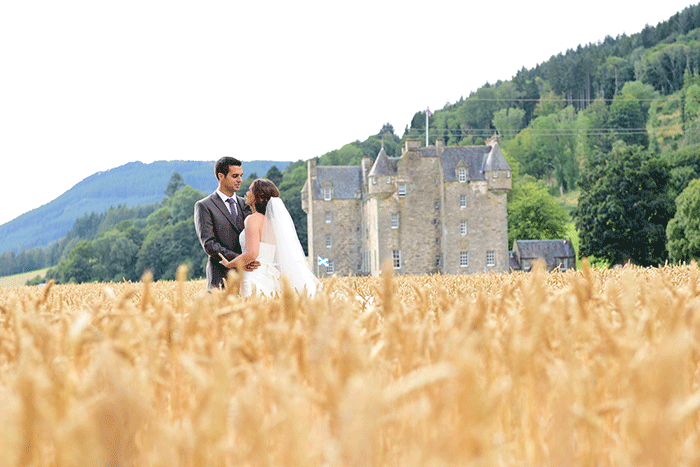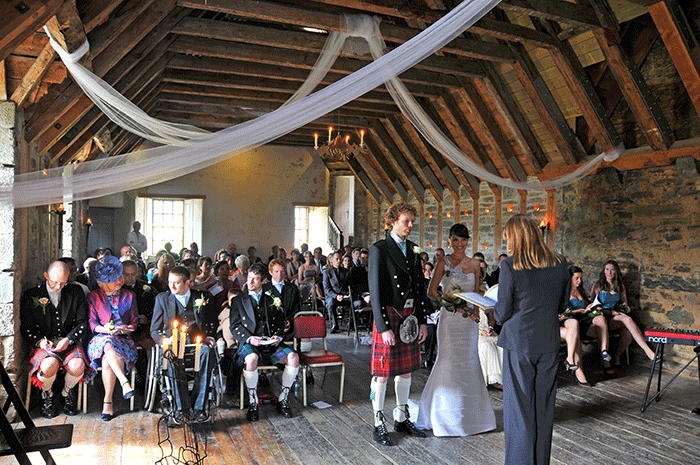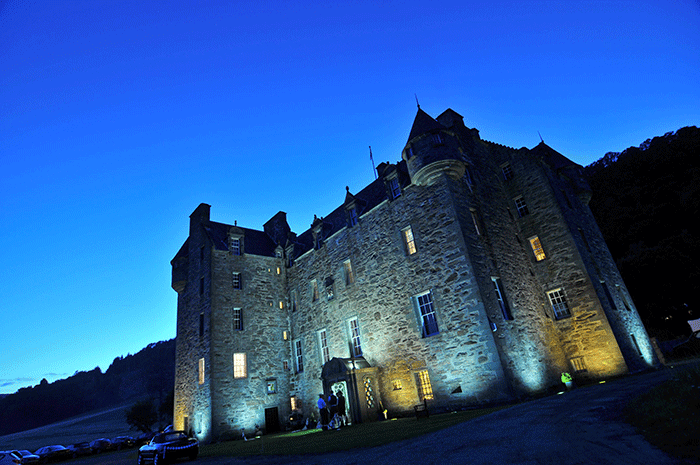 The seat of Clan Menzies for centuries, Castle Menzies is truly beautiful and authentic Scottish castle wedding venue.
Restored from a ruin in 1957, and now has a variety of elegant function spaces to choose from when planning where to hold your wedding ceremony and reception and party the night away.
The grand Dewer Room is a stunning and spacious ballroom that can accommodate up to 120 guests for your wedding breakfast and celebrations with spectacular views over the countryside through its large windows.
Visit Castle Menzie's website | t. 01887 820982 | e. castlemenziesmanager@gmail.com
Send an enquiry to Castle Menzies
ESKSMILLS VENUE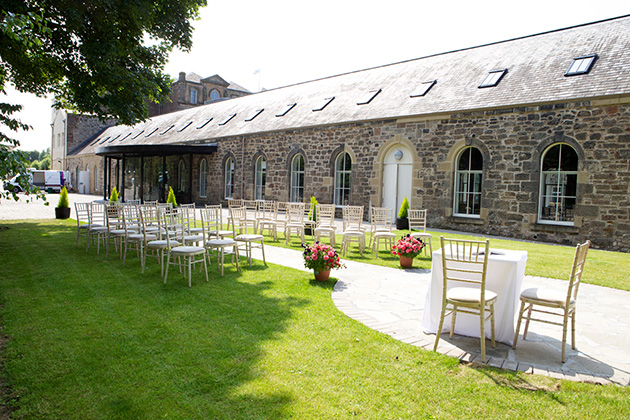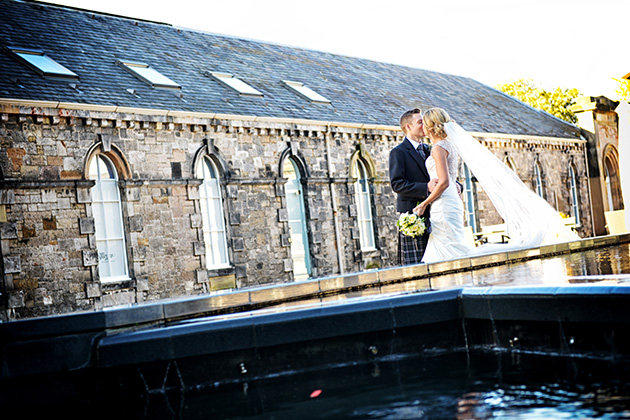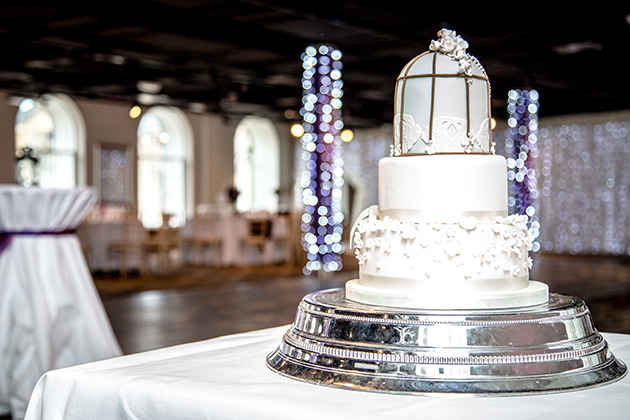 A beautiful and contemporary wedding venue only 20 minutes from Edinburgh city centre by car, Eskmills can provide a rustic luxe backdrop to the most special day of your life.
Eskmills is a gorgeously converted mill in Musselburgh, and is run by the award-winning caterers at Hickory, meaning any foodie couples who book their wedding here will be more than happy with the spread the team can put together for your wedding day.
Eskmills has plenty of natural character but is still something of a blank canvas, meaning you can dress it to fit any theme you like without being overwhelmed by the venue's own décor.
For a relaxed wedding day with great food and beautiful surroundings, Eskmills Venue has you covered.
Visit Eskmills Venue's website | t. 0131 287 0550 | e. info@eskmillsvenue.com
Send an enquiry to Eskmills Venue
FAIRMONT ST ANDREWS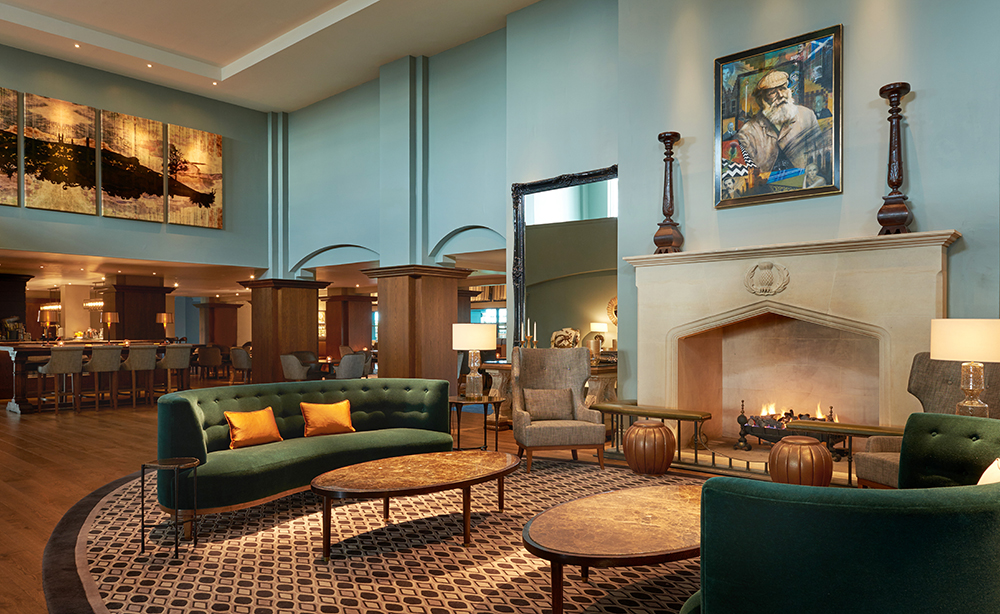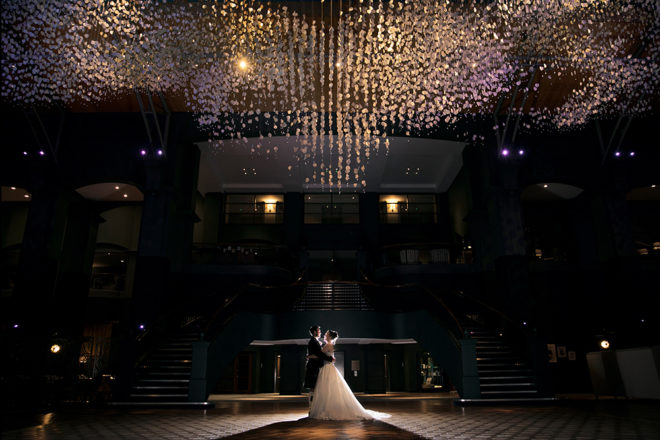 Set on a magnificent coastal landscape, the 520-acre Fairmont St Andrews resort boasts unrivalled panoramic views of St Andrews Bay.
Take full advantage of the beautiful outdoor setting to get some unforgettable photos on the grounds, with the option of having your ceremony outside.
Indoors you'll find an elegant sweeping staircase in the Atrium, a fabulous spa and a choice of 10 function rooms.
The hotel recently completed their £1m event space refurbishment and have introduced the Tulle, Satin and Lace wedding packages to help you plan your dream day and make the most of the sophisticated spaces and delicious menus on offer. Plus there's scope to upgrade with optional extras including champagne, luxury transport or fabulous florals.
Visit Fairmont St Andrews website | t. 01334 837000 | e. sab.weddings@fairmont.com
Send an enquiry to Fairmont St Andrews
FINGASK CASTLE
Ideally located between Dundee and Perth, Fingask Castle sits in a sprawling estate of over 200 acres with the most beautiful of gardens and lush woodland.
The castle's eye-catching iconic topiary, great facilities, and stunning gardens are a draw for many couples. The party starts from arrival as the clipped trees give an Alice in Wonderland background to the whole affair. The venue, now in its 21st year of weddings, can accommodate up to 70 guests on site.
The romantic castle is set in its own wooded valley and despite its grand features it is a family home.
Visit Fingask Castle's website | t. 01821 670777 ext 3 | e. events@fingaskcastle.com
Read reviews for Fingask Castle
FORBES OF KINGENNIE COUNTRY RESORT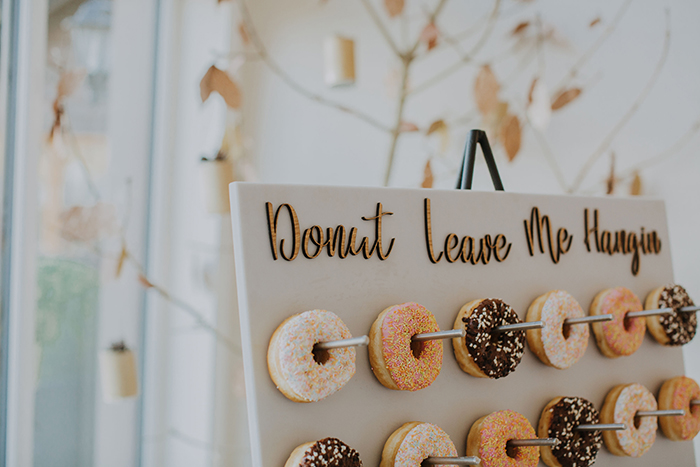 Set in the heart of Angus, just outside Dundee, Forbes of Kingennie Country Resort is home to breath-taking views of rolling countryside and its very own fishing lochans; perfect for wedding photographs.
Say your vows against the spectacular floor to ceiling windows in the beautiful Buddon Burn ceremony building before moving to the Inglesmaldie Suite for your reception. Both suites overlook the beautiful landscaped grounds and are the perfect party spot.
If you're hunting for something unique they have everything to make your Wedding one of a kind from popcorn tables, to rustic gin bars and donut walls.
What's more, there's plenty of room for your nearest and dearest to stay over in the resort's welcoming lodges, just a stone's throw away from the main building.
Visit Forbes of Kingennie Country Resort's website | t.  01382 350777 | e. reception@forbesofkingennie.com
Send an enquiry to Forbes of Kingennie Country Resort
GLEN CLOVA HOTEL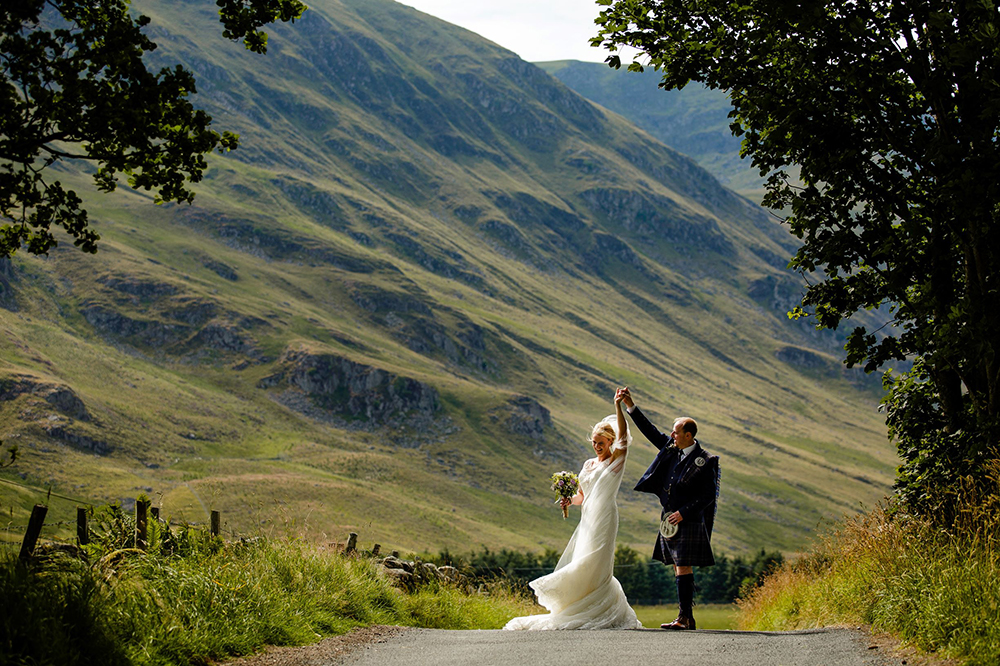 IMAGE | Barry Robb Photography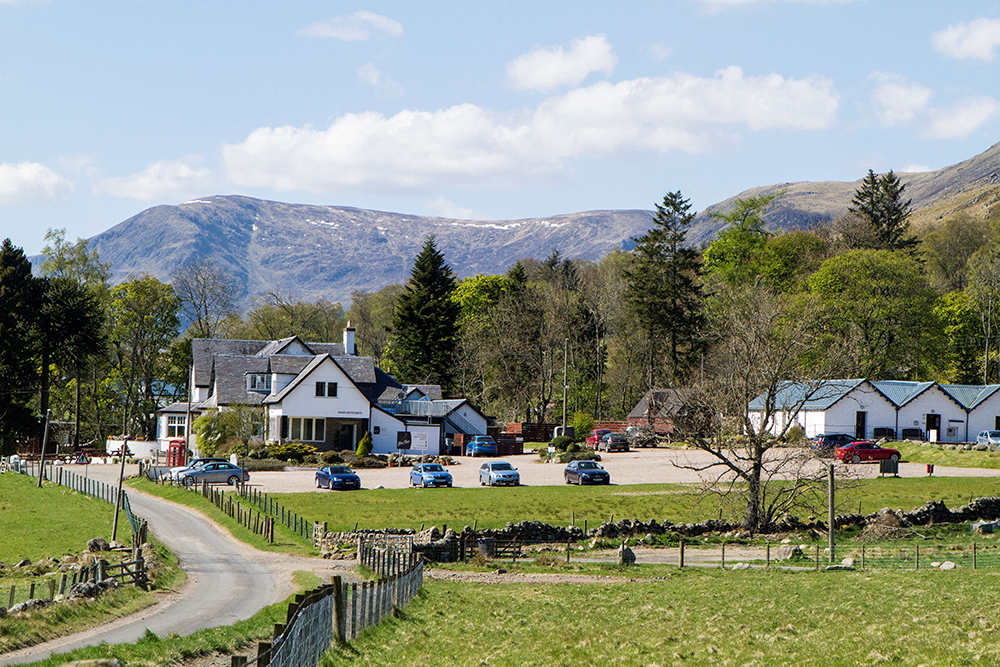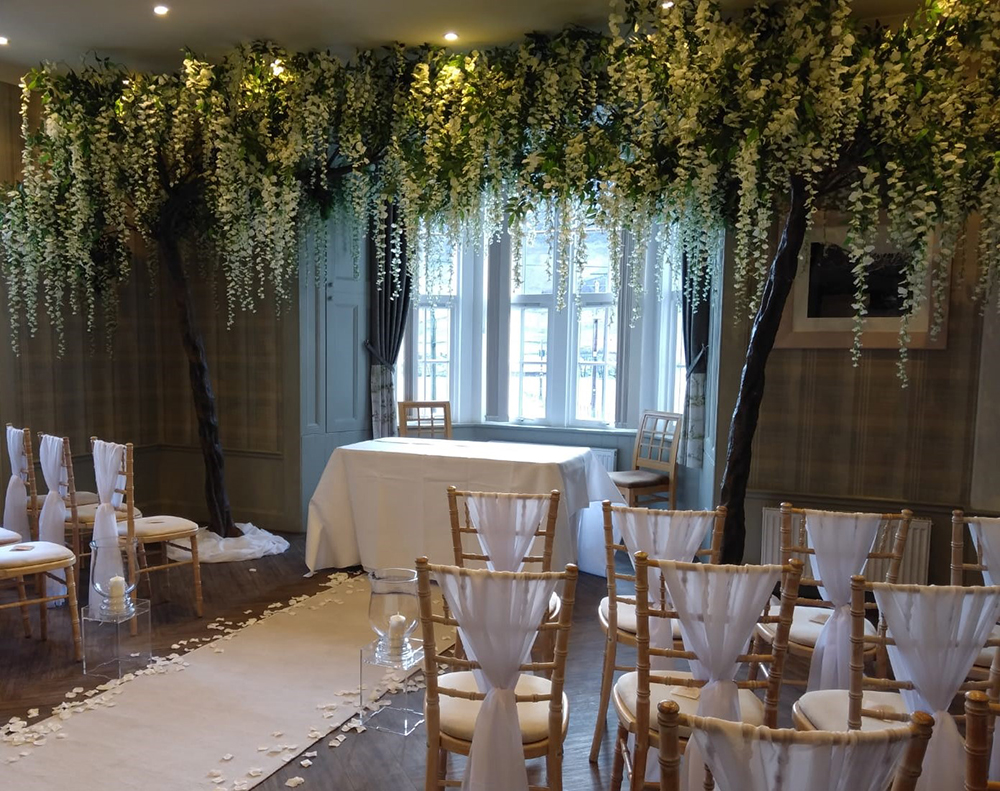 Between Aberdeen and Dundee, at the edge of the Cairngorms National Park, you'll find Glen Clova Hotel & Luxury Lodges, a beautiful 4* countryside retreat sleeping up to 84 guests.
We can cater for weddings large or small, anywhere from 12 to 120. You can choose to have your ceremony in the non-denominational Glen Clova Kirk which is 100m from the hotel, or if you're an outdoor fan you can get married at Corrie Fee or Loch Brandy. Smaller weddings (up to 50) can also choose to have their ceremony in the hotel.
Beautiful scenery, delicious food and attentive service will help to make your special day the magical day you've always dreamt of.
Visit Glen Clova Hotel's website | t. 01575 550350 | e. hotel@clova.com 
Send an enquiry to Glen Clova Hotel
INGLEWOOD HOUSE AND SPA
Inglewood House and Spa is set within 25 acres of land and sits on the edge of a truly beautiful and enchanting woodland near Alloa.
The grounds have been extensively landscaped and there's a lovely duck pond on-site, making the gardens an incredibly pretty spot for wedding photographs.
Inglewood has a full wing dedicated to weddings, equipped with a stylish ballroom, balcony and special bridal suite where you can prepare for your wedding in the morning. Big or small, you can have the wedding of your dreams at Inglewood House and Spa!
Visit Inglewood House Hotel + Spa's website | t. 01259 216156 | e. info@inglewoodhouseandspa.co.uk
Send an enquiry to Inglewood House Hotel and Spa
KINCAID HOUSE HOTEL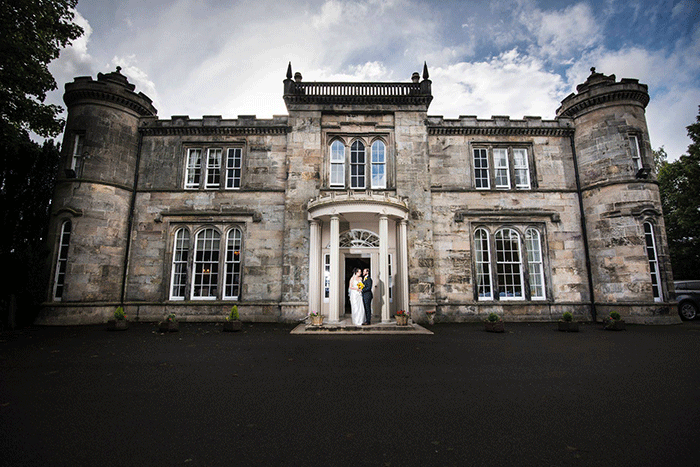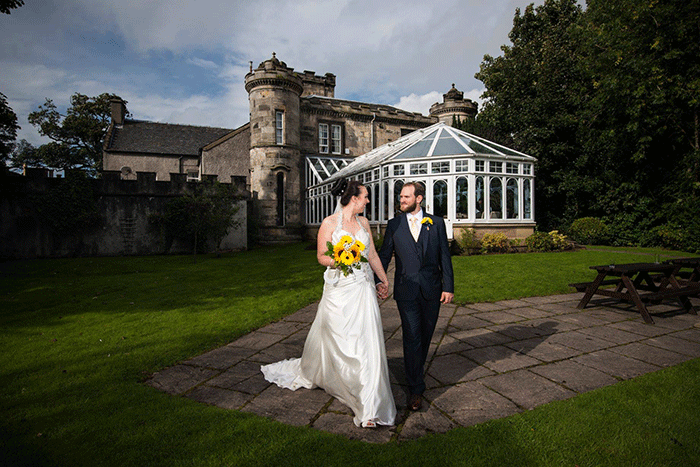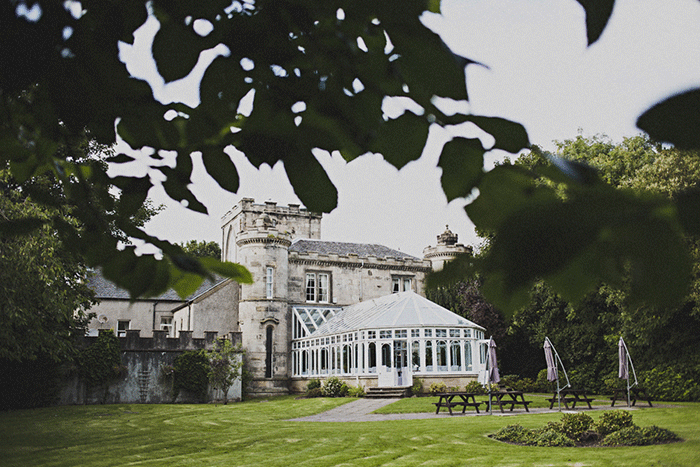 Secluded in its own grounds in the village of Milton of Campsie close to Glasgow city centre, Kincaid House Hotel is a Grade A Listed building which is bursting with picturesque charm.
The historic Tudor manor boasts warm traditional interiors, a light-filled conservatory and a walled garden which make an ideal backdrop for a memorable ceremony and photographs of your big day.
The nine spacious en-suite rooms are beautifully decorated and furnished and are all reserved for you ensuring you have exclusive use for the duration of your stay. Kincaid House Hotel is available for exclusive use, promising an intimate wedding day that is truly memorable.
Visit Kincaid House Hotel's website | t.  0141 776 2226 | e. info@kincaidhouse.com
Send an enquiry to Kincaid House Hotel
KINKELL BYRE
IMAGE | Photos by Zoe
A former farm steading that held cattle over the cold winter months, Kinkell Byre has been converted into a charmingly spacious wedding venue, creating dream big days for the past 15 years. A perfect party location for couples looking for a rustic place to hold their big day celebrations.
Situated on the coast near St Andrews, Kinkell Byre has really spectacular views over the North Sea and east coast of Scotland from the St Andrews bay, and get this – you can have your wedding ceremony outside facing out onto this breathtaking view!
You'll also love the glass door at the bar and reception area, giving you wonderful views for your ceremony or drinks reception inside the byre!
Visit Kinkell Byre's website | t.01334 472003 | e. info@kinkell.com
Send an enquiry to Kinkell Byre
LOCH LOMOND ARMS HOTEL
IMAGES ABOVE | Simon's Studio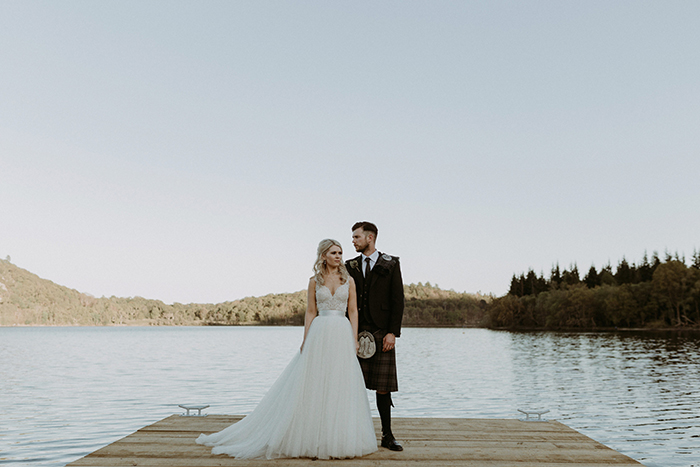 IMAGE | Wonderful and Strange
An award-winning countryside pub, this unique wedding venue is in the waterside village of Luss.
A picture-perfect location for your Scottish wedding, you can make use of either the Sutherland or Inchconnachan Suites, located in the grounds of the hotel and surrounded by stunning gardens.
The spaces have tons of natural light, offering views of the gorgeous countryside.
A short stroll from the main hotel is Slate Quays, a private location ideal for an outdoor ceremony by the loch. You could even pitch a marquee or yurt and have your whole day there, arriving by boat to the private jetty and dancing the night away.
Visit Loch Lomond Arms Hotel's website | t. 01436 86042 |events@lochlomondarmshotel.com
Send an enquiry to Loch Lomond Arms Hotel 
LOCH LOMOND WATERFRONT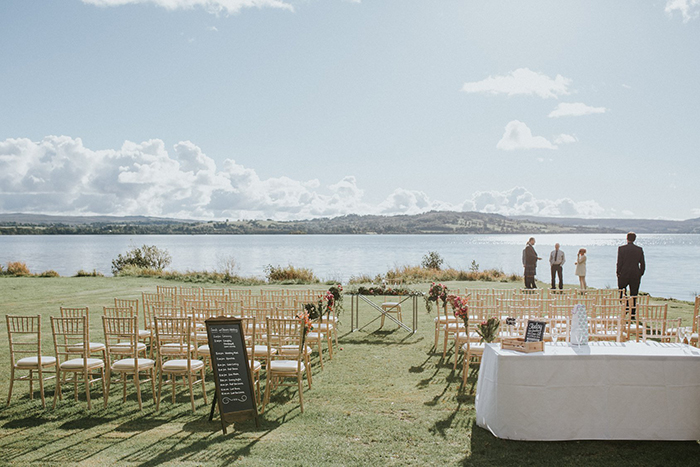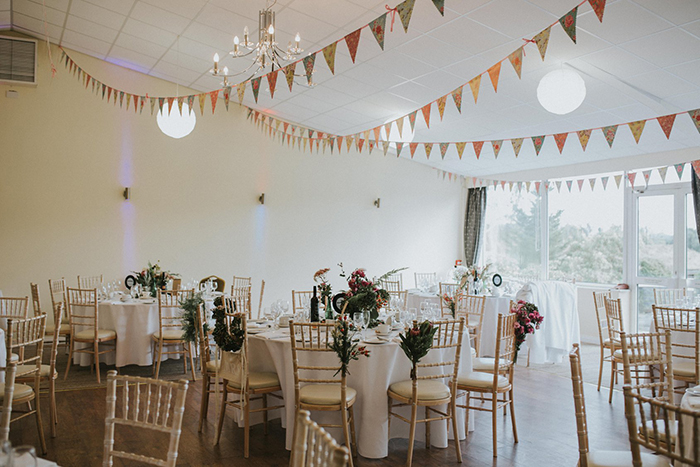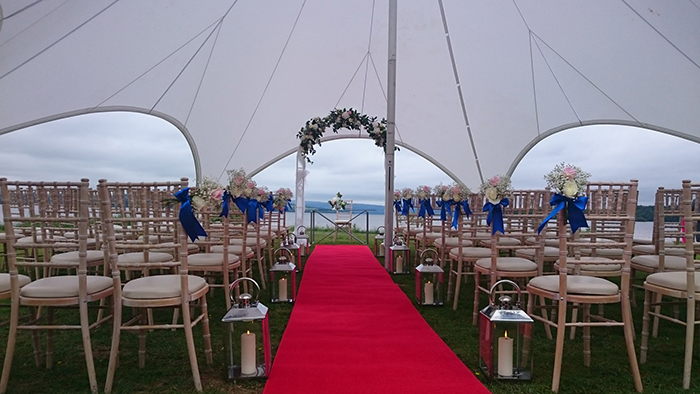 Set within 18 acres of private grounds with its own exclusive beach, Loch Lomond Waterfront is located in a tranquil and wooded location on the banks of Loch Lomond, near the picturesque village of Balmaha.
With stunning panoramic views in every direction, you can opt for a marquee or tipi wedding, enabling you to celebrate the most memorable day of your life in the heart of the Scottish countryside.
If you want to party the night away indoors, the venue's wedding receptions can be hosted in their multi-room function suite which includes the Thistle Banquet Room, Rob Roy private lounge bar and the Garden Room conservatory.
VisitLoch Lomond Waterfront's website | t.  01360 870144 | e. info@llwf.co.uk
Send an enquiry to Loch Lomond Waterfront
MYRES CASTLE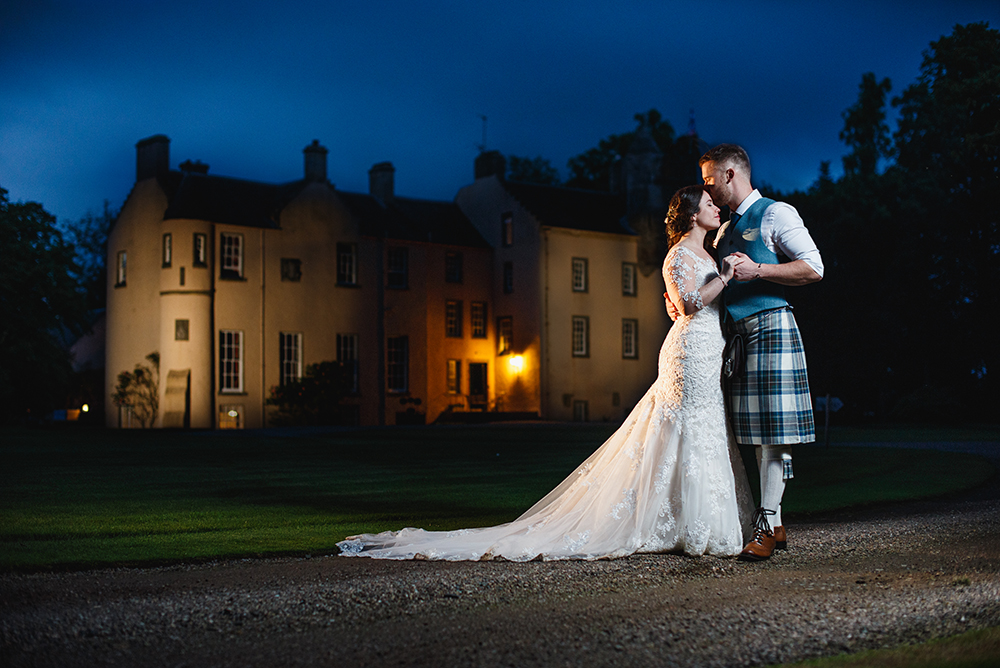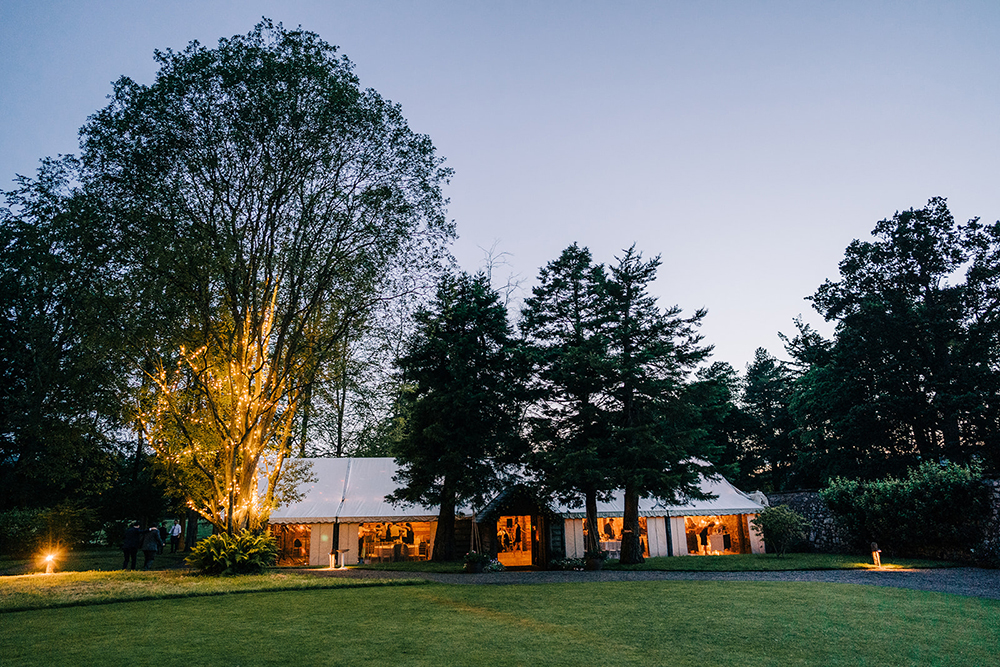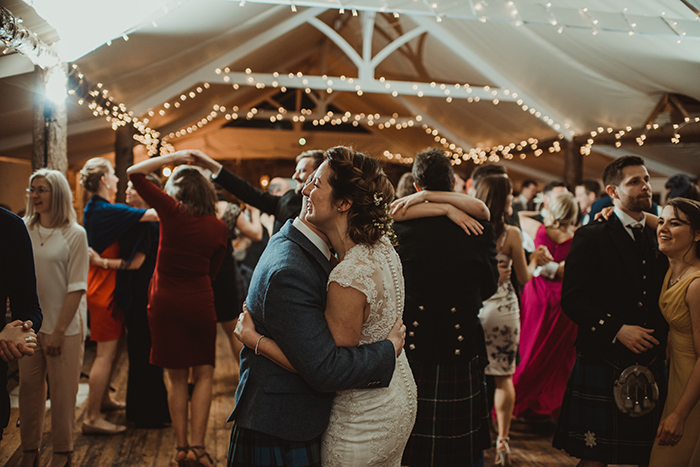 ABOVE IMAGE | Marc Millar Photography
Myres Castle, winner of Best UK Wedding Venue in the Hudson UK Heritage Awards 2018, is a whimsical and romantic wedding venue situated near the village of Auchtermuchty.
The best of both worlds, you can have the stunning castle for up to 24 guests throughout your stay, and celebrate your wedding in the rustically charming Barnquee.
The Barnquee is situated in a lovely woodland setting, with twinkling lights hanging from the trees and fire pits outside (as well as a wood fired pizza oven!) to further add to the magical atmosphere.
Visit Myres Castle's website | t. 01337 828350 | e. enquiries@myrescastle.com
Send an enquiry to Myres Castle
ONE DEVONSHIRE GARDENS BY HOTEL DU VIN
IMAGE | Andrew Rae Photographer
Heart set on an intimate city venue with an unparalleled touch of class? One Devonshire Gardens by Hotel du Vin might just be the perfect setting for you.
Set in a tree-lined Victorian terrace in the fashionable and vibrant West End, One Devonshire Gardens by Hotel du Vin is one of Glasgow's most luxurious boutique hotels. Comprising five connected townhouses which boast 12 bedrooms, one honeymoon suite, a private bar, and a secret garden, there's no shortage of choice for you on your big day. Exclusive use of Townhouse 5 with its own secret garden is available to make your wedding day truly memorable.
Visit One Devonshire Gardens by Hotel du Vin's website | t. 0141 576 2265
e. events.glasgow@hotelduvin.com 
Send an enquiry to One Devonshire Gardens by Hotel du Vin
ROSEBERY STEADING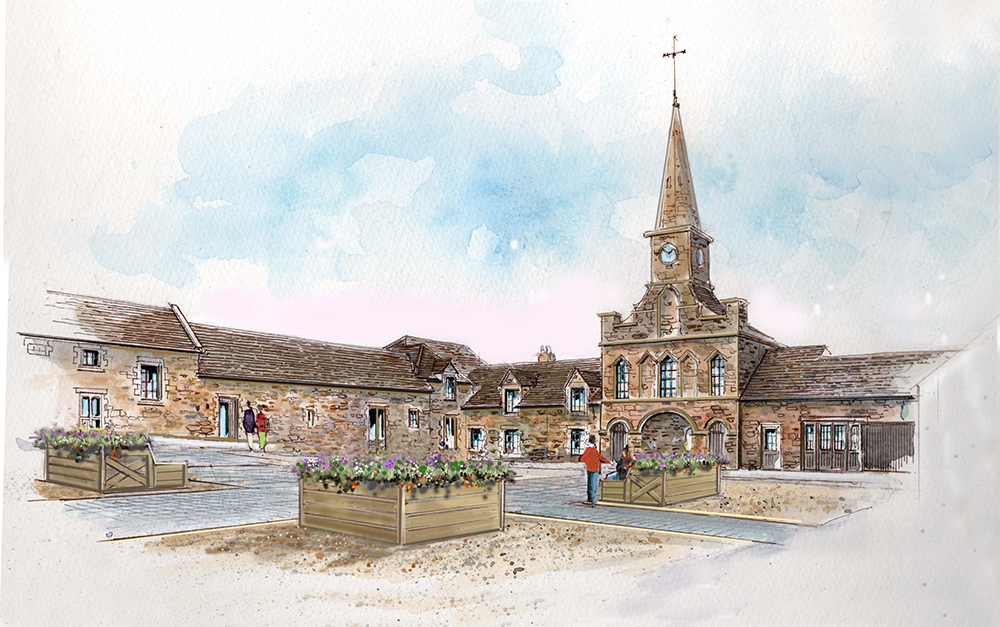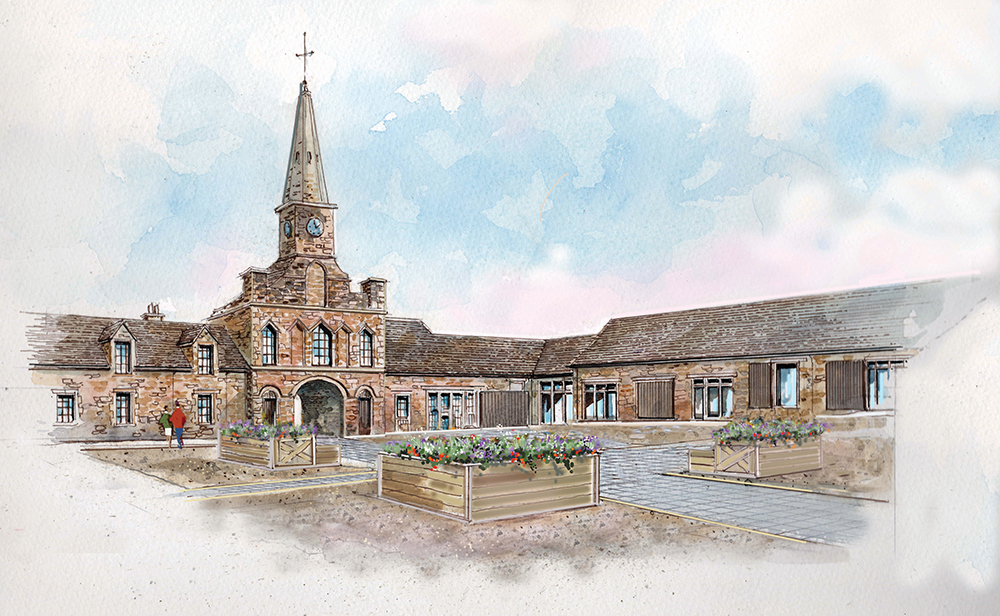 Opening this Spring, Rosebery Steading is an 18th-century barn conversion only 25 minutes from Edinburgh in Temple, Midlothian.
While the steading has been modernised into a fantastic state-of-the-art events venue with luxurious accommodation for up to 28 guests, two barn spaces each seating up to 100 people, and its own Pumphouse Bar House bar, it retains much of its original character with features such as exposed wooden beams, stone floors, steeple and doocot.
Very much a rustic-luxe wedding venue, couples can rest assured that while the steading will lend countryside charm to their wedding day, Rosebery will provide guests with a truly opulent environment and five-star treatment.
The venue will also have luxury on-site accommodation where you and your wedding party can relax and set up HQ for the duration of your big day celebrations.
Visit Rosebery Steading's website | t. 0131 331 1888 | e. events@roseberyestates.co.uk
Pre-bookings being taken now.
THE HUB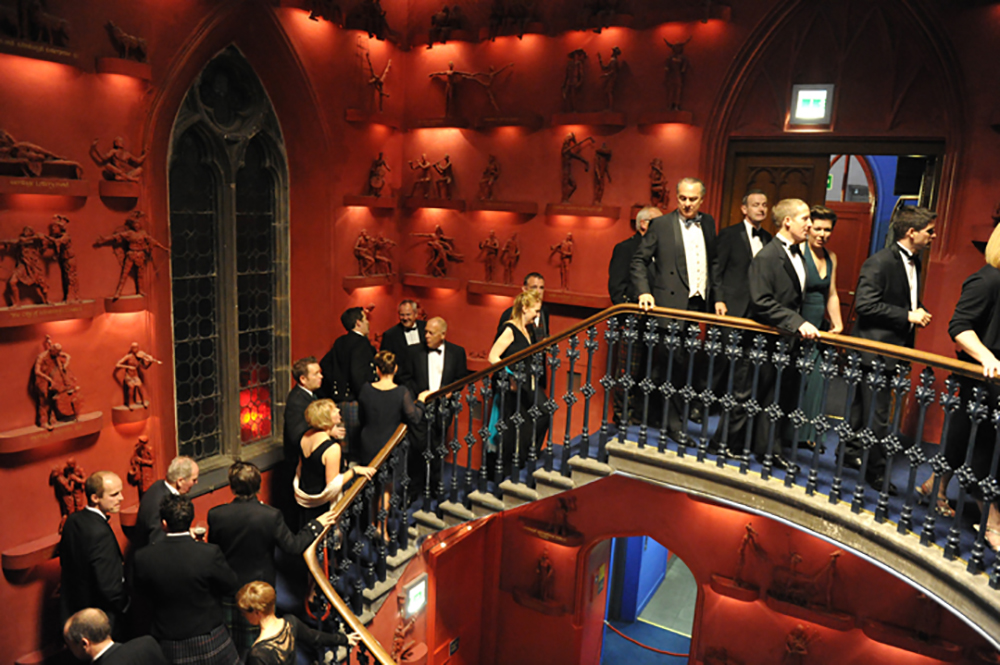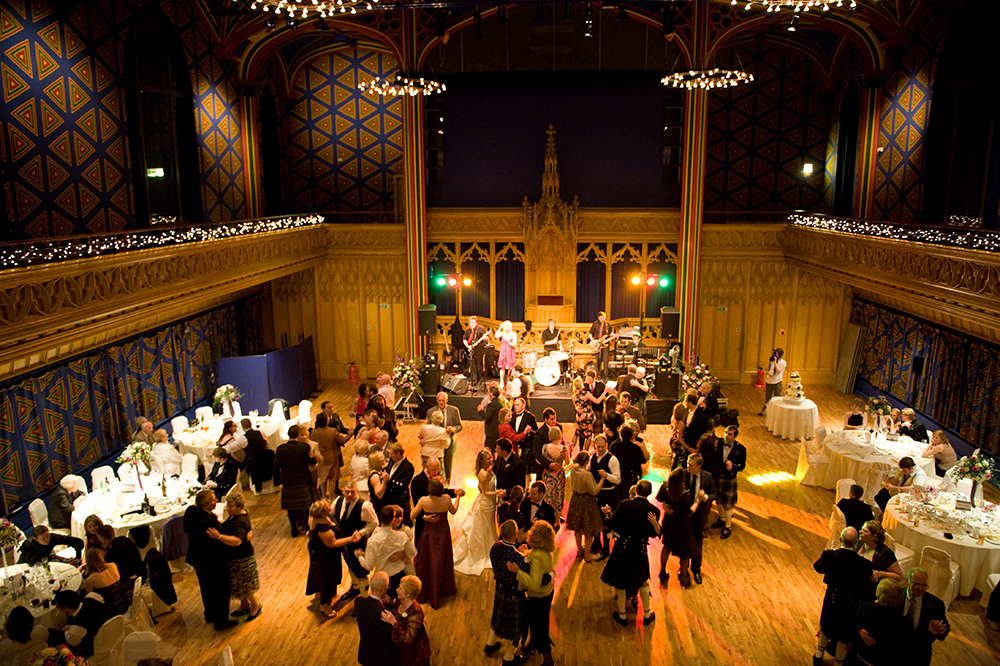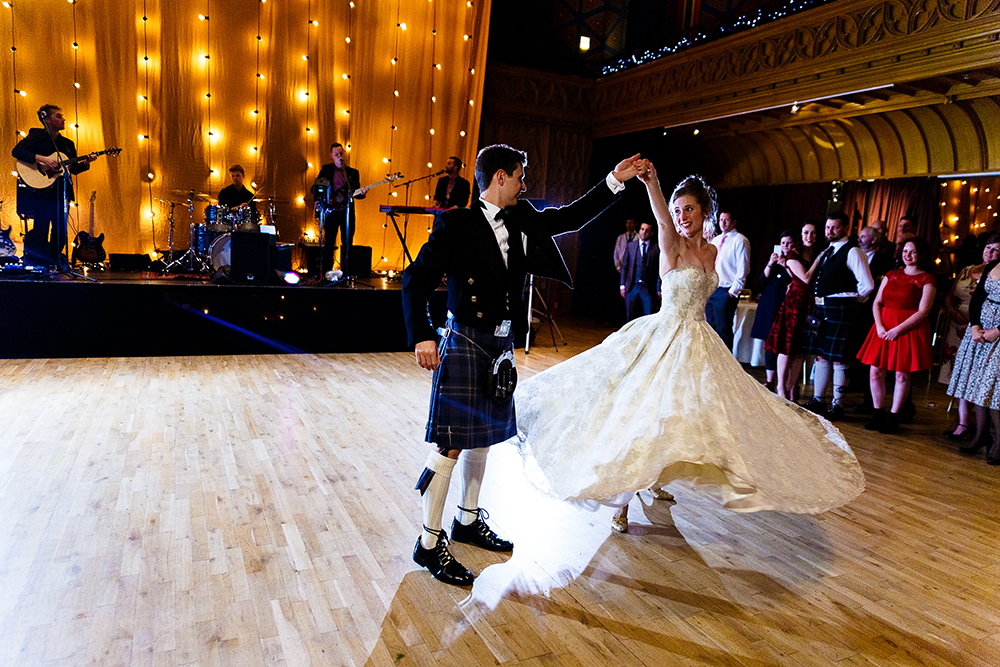 One of Edinburgh's most recognisable historic landmarks, and home to The Edinburgh International Festival, The Hub is a uniquely eye-catching and vibrant place for a  reception.
Our magnificent Main Hall comes with bar, stage, semi-sprung dancefloor and triple-glazing, making it the perfect place for a ceilidh. And with our talented team of in-house chefs you can rest assured that your guests will be well fed.
Contact us now to see how we can help your celebrations go with a swing!"
Visit The Hub's website | t.  0131 473 2015 | e. thehub@eif.co.uk
THE OLD COURSE HOTEL, GOLF RESORT & SPA

IMAGE | Claremont Photography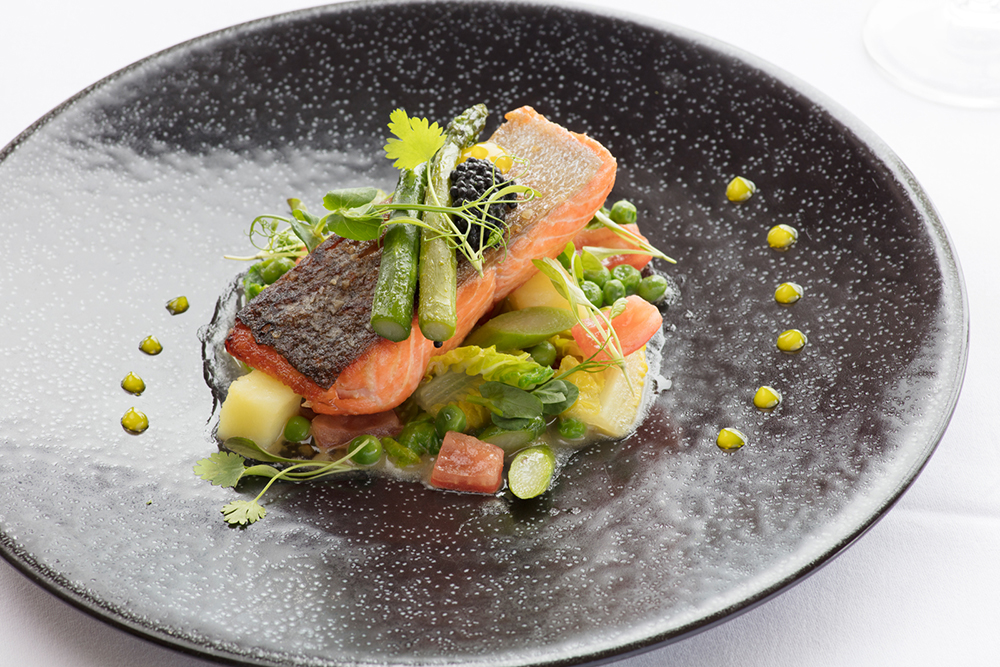 St Andrews is the ultimate romantic destination for your big day.  The AA Five Red Star Old Course Hotel, Golf Resort and Spa offers a truly iconic setting overlooking the world renowned Old Course, Swilcan Bridge and the beautiful West Sands Beach. A legendary background for the start of your greatest adventure of all.
Your dedicated wedding planner will help you put in place your perfect celebration, however you envisage your big day. The Hall of Champions is the perfect location for a dramatic entrance, while the classic Ballroom provides a sophisticated backdrop.
Visit The Old Course Hotel, Gold Resort and Spa's website | t. 01334 474371 | e. events@oldcoursehotel.co.uk
Send an enquiry to The Old Course Hotel, Golf Resort and Spa
THE RHYND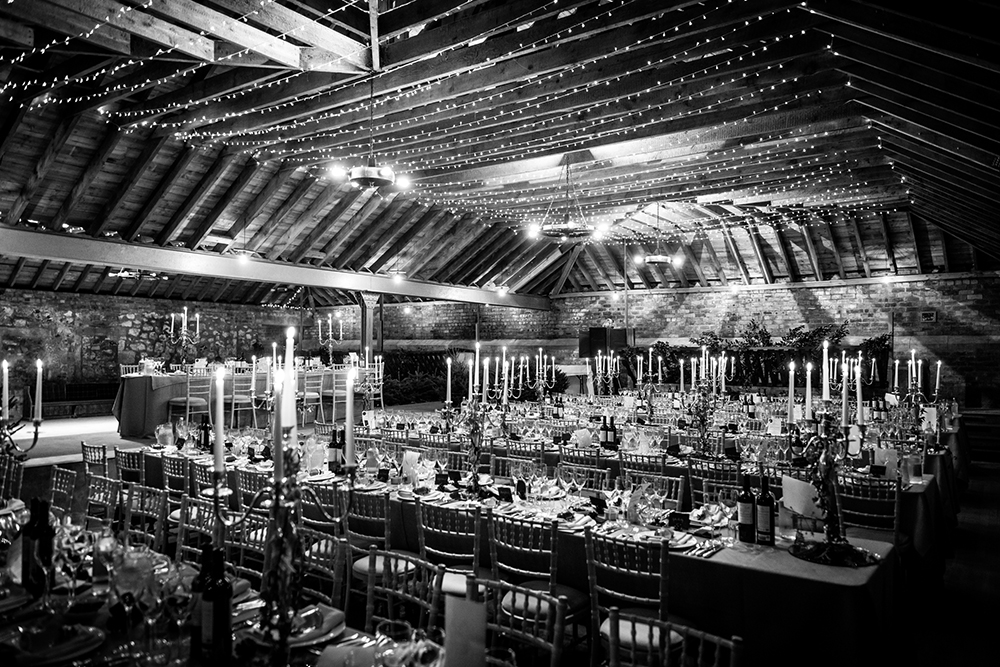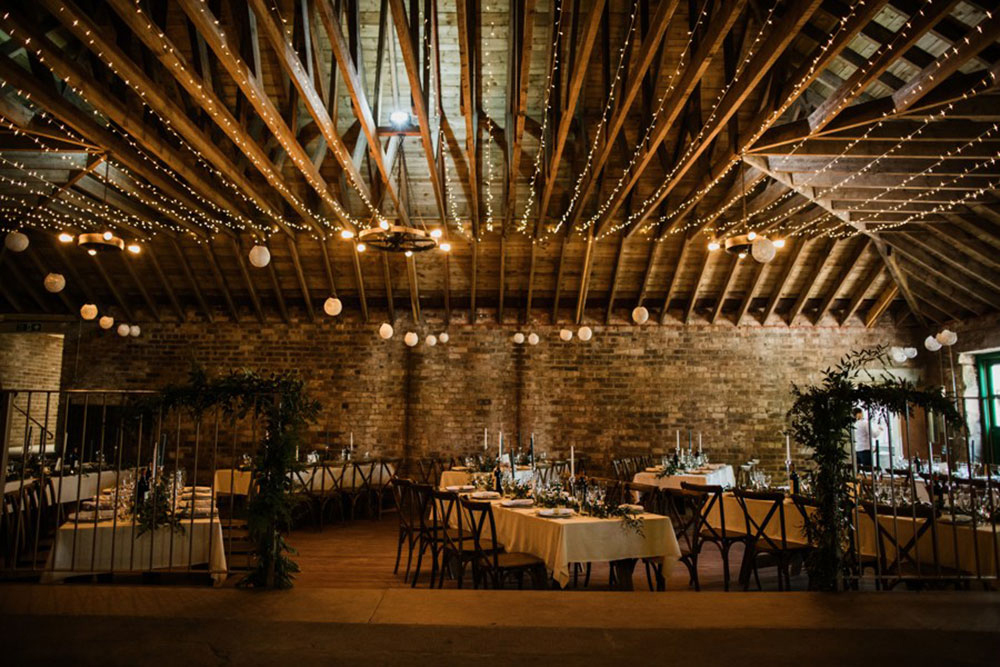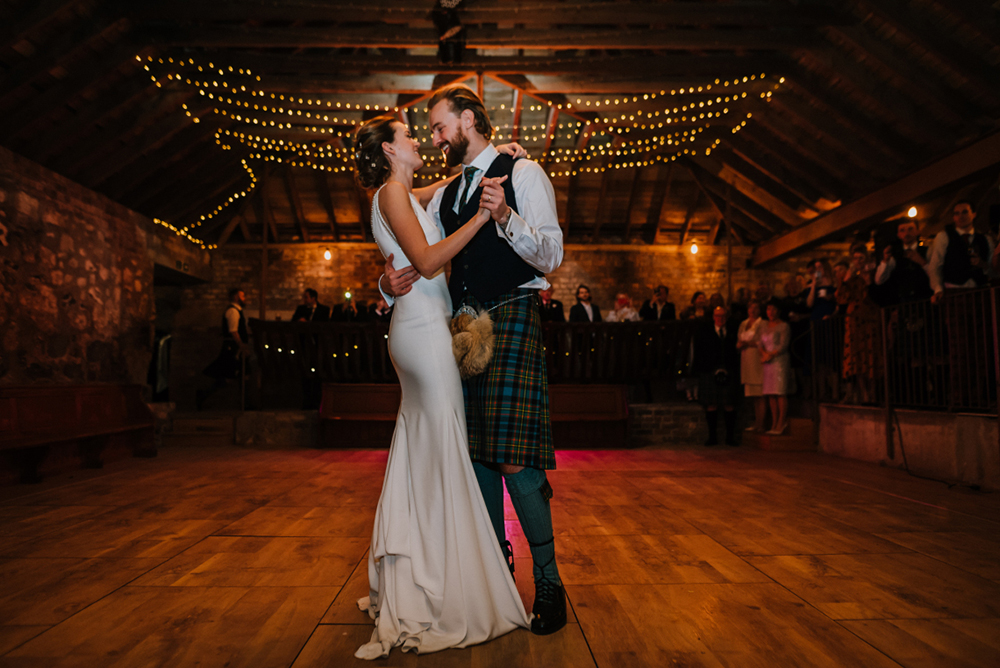 Looking for a venue where you can have the wedding you want, just how you want it? Owners of converted cattle shed The Rhynd, The Foster family, set out to create a venue with all the flexibility you need to bring your wedding dreams to life.
The blank canvas venue retains plenty of original features, while allowing you to use and decorate the space just as you like, whether you're hosting 20 guests or up to 200.And there's plenty of space to party away with all your loved ones.
What's more, you can choose whichever suppliers you like, and there's no corkage – everything you need to celebrate in style. The Rhynd team has also recently renovated the farmhouse next to the event space so there's beautiful accommodation a stone's throw away.
Visit The Rhynd's website | t. 01334 839218 | e. lisa@craigiefarm.co.uk
UNUSUAL VENUES OF EDINBURGH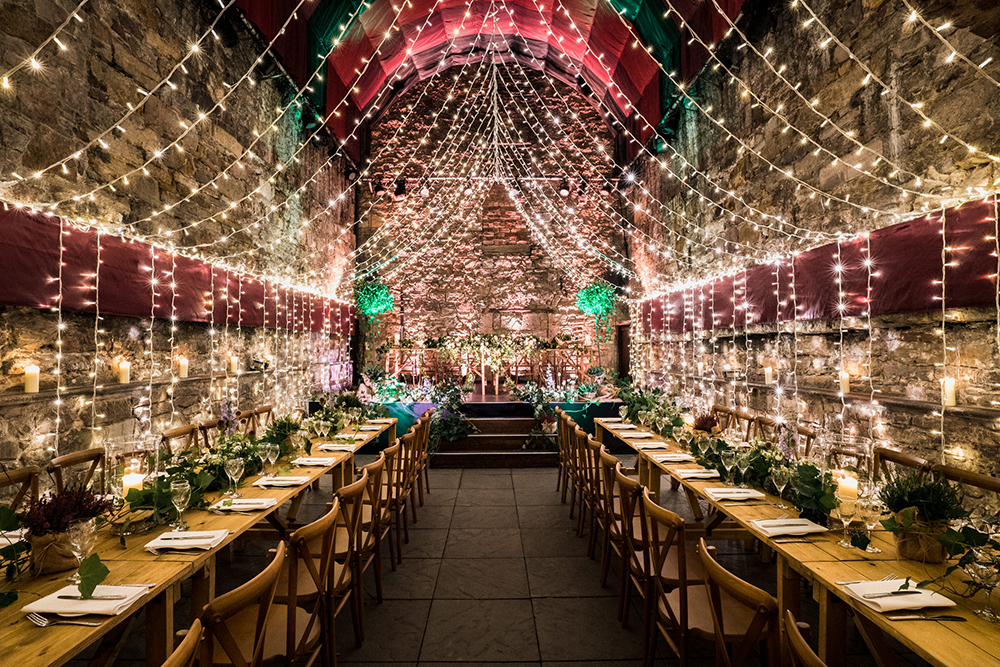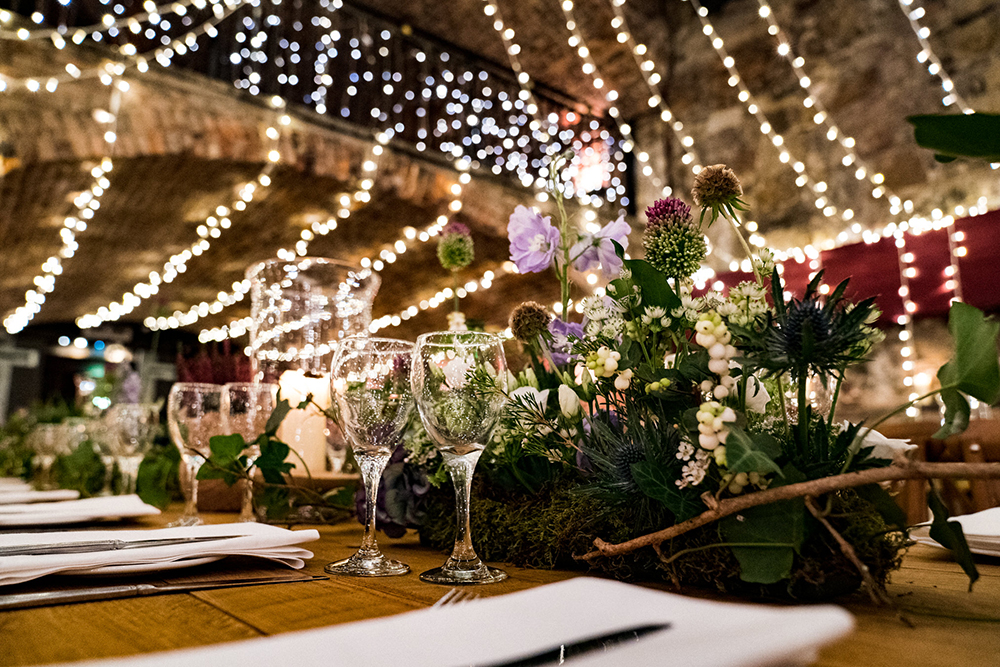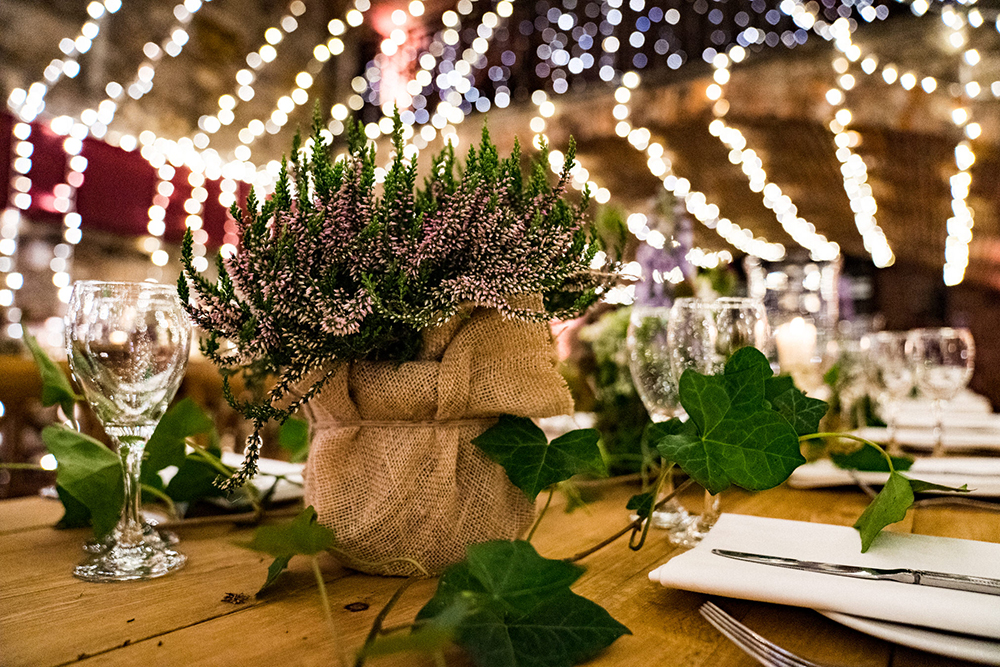 How many people can say they got married in a cave?
A collection of unique, exclusive use, multi-award-winning venues: The Caves, The Rowantree and Marlin's Wynd, situated in the heart of Edinburgh's Old Town.
Unusual Venues Edinburgh are just bursting with historical and romantic charm, sure to wow your guests and make your wedding day one to remember.
They can cater for weddings from 20 to 150 day guests and up to 450 guests in the evening.
Visit Unusual Venues Edinburgh's website | t. 0131 5106969
e. hello@unusualvenuesedinburgh.com
Send an enquiry to Unusual Venues of Edinburgh
IS YOUR PERFECT PARTY WEDDING VENUE ON THIS LIST?