39 of the most unusual wedding venues in Scotland 2019
From castles plucked right out of a fairytale to blank canvas venues with endless possibilities.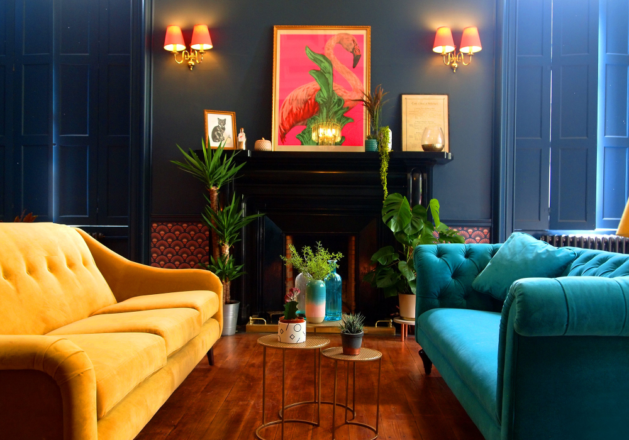 Looking for a stand out wedding venue in Scotland, but don't know where to begin?
Well, luckily for you Scotland is filled with unusual and unique spaces to host your celebrations, from castles plucked right out of a fairytale to blank canvas venues with endless possibilities.
This post contains some paid-for content.
BANCHORY LODGE

With 28 gorgeous refurbished rooms, Banchory Lodge in Royal Deeside sits in the most picturesque location on the banks of the River Dee, only 13 miles from Aberdeen.
This venue boasts a beautiful six-bedroom house called Cobbleheugh in the grounds, where couples can make a weekend of their celebrations and dine privately with family and friends.
Hold the ceremony overlooking the river before heading to the function suite with its panoramic views, the perfect size for up to 100 day guests.
Enjoy food that your guests will remember long after the day has ended.
Entertain guests with bubbles served from the new Fox Box bar on the lawn whilst you sneak off around the 12-acre estate for photos.
Visit Banchory Lodge's website | t. 01330 822625 | e. events@banchorylodge.com
BARNBOUGLE CASTLE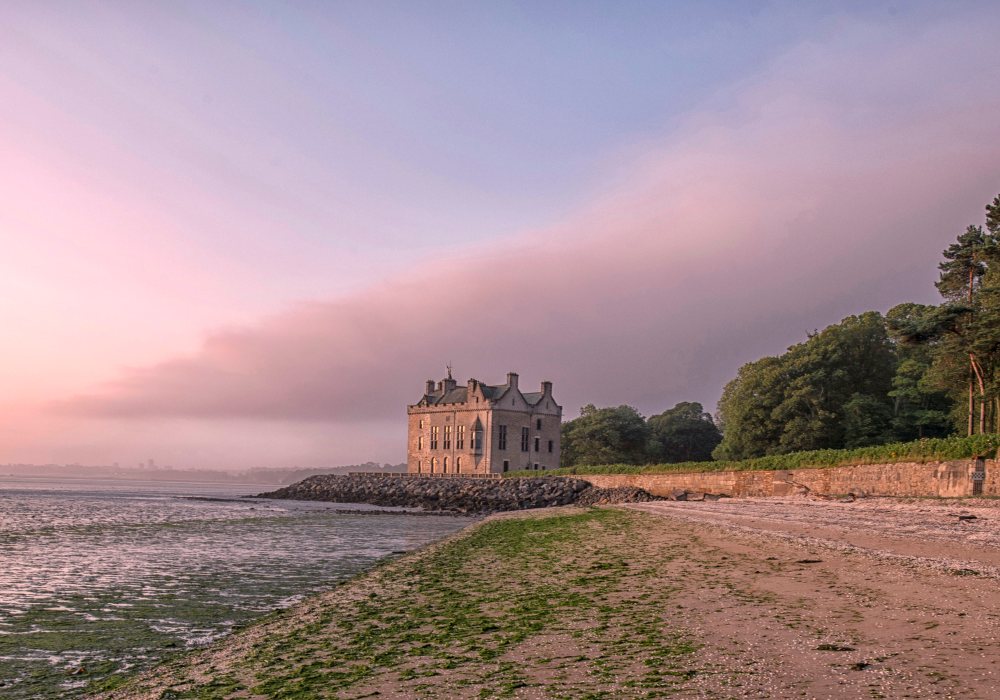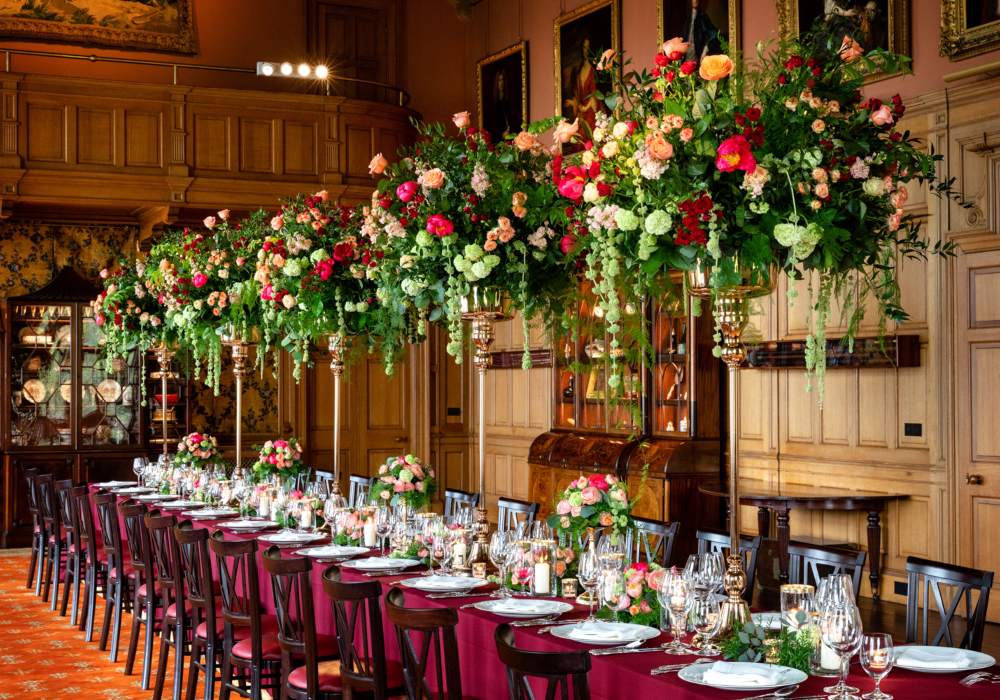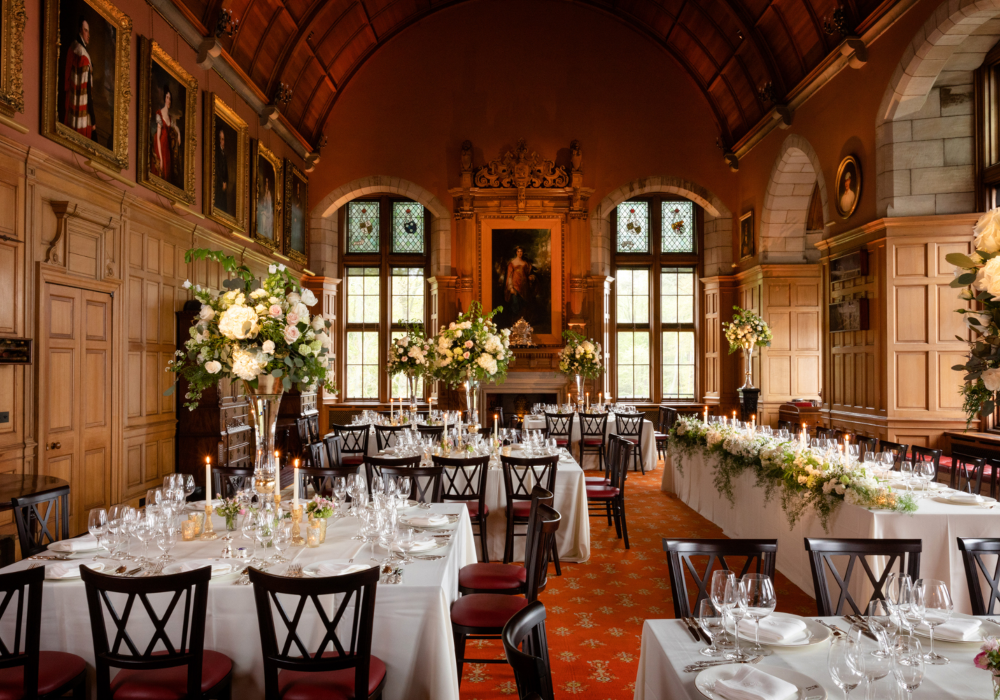 Barnbougle is a spectacular 13th-century castle, boasting sweeping coastal views over the Firth of Forth on the Dalmeny Estate just outside Edinburgh.
New to the wedding market, Barnbougle is one of Edinburgh's hidden treasures. The castle accommodates weddings of 140 guests or up to 450 in a marquee in the grounds.
Despite being surrounded in secluded countryside, the castle is located just 7 miles from Edinburgh city centre and 10 minutes from Edinburgh Airport –  perfect for those long haul guests.
Visit Barnbougle Castle's website | t. 0131 357 9870 | e. events@roseberyestates.co.uk
CAIRNS FARM ESTATE

Nestled in a beautiful, secluded location, at the foot of the Pentland Hills, Cairns Farm Estate is an exceptional new wedding venue built around a country barn. Plus, it offers breathtaking waterside views across Harperrig Reservoir, and who can resist a snap in front of that?
Wood-clad walls, floor to ceiling windows and a striking copper-domed entrance make this building a stylish backdrop to your wedding.
More contemporary than rustic, you can stamp your own tastes here and make Cairns Farm Estate your own and you could be among the first to host your dream day at this stunning new venue.
Bookings now being taken for 2020.
Visit Cairns Farm Estate's website | t. 01506 883506 | e. cairns@hickoryfood.co.uk
DYNAMIC EARTH

Wedding venues in Scotland don't come much more unique than this visitor attraction in the Holyrood area of Edinburgh.
The fun venue tells the story of planet earth, and what's a more important tale than a brilliant love story?
For a Scottish wedding party with a unique twist, The Biosphere features an original turret, arched ceilings, and statement windows.
For a contemporary celebration setting, The Ozone has stunning views from the floor to ceiling windows and is the ideal location for your wedding breakfast.
Your guests can even wander around the Earthscape Galleries; how many guests can say they've spotted an iceberg at a Scottish wedding?
Visit Dynamic Earth's website | t. 0131 523 1269 | e. events@dynamicearth.co.uk
ESKMILLS VENUE

Eskmills Venue is one of East Lothian's gems. The beautifully restored buildings, courtyard and pretty gardens provide the perfect backdrop for your wedding day.
The old stone frontage of the building oozes character, whilst inside you have all the flexibility of a bright, contemporary space of a modern venue.
The versatile and distinctive venue has 23 arched windows flooding the venue with natural light.
A clever specially made partition system including a stunning curtain of fairy lights, can be used to create a beautiful ceremony area keeping everything under one starlit roof.
Visit Eskmills Venue's website | t. 0131 287 0550 | e. info@eskmillsvenue.com
FRUIN FARM
Just a mile from the bonnie, bonnie banks of Loch Lomond sits the charming countryside setting of Fruin Farm.
The on-site barn could provide bags of rustic charm to your wedding day, or maybe you'd prefer an intimate dinner in the restaurant, with stunning views of the Loch.
You could even use both spaces; the choice is yours, and the team at Fruin Farm will work with you to come up with something perfect.
The venue specialises in small and personal weddings for a maximum of 60 guests, with a real foodie focus. Prices start from £3,000.
Visit Fruin Farm's website | t. 01389 850727 | e. info@fruinfarm.co.uk
THE GOLDEN JUBILEE CONFERENCE HOTEL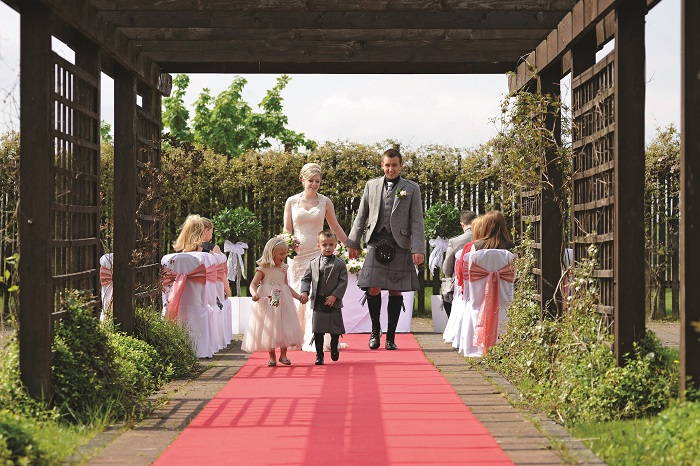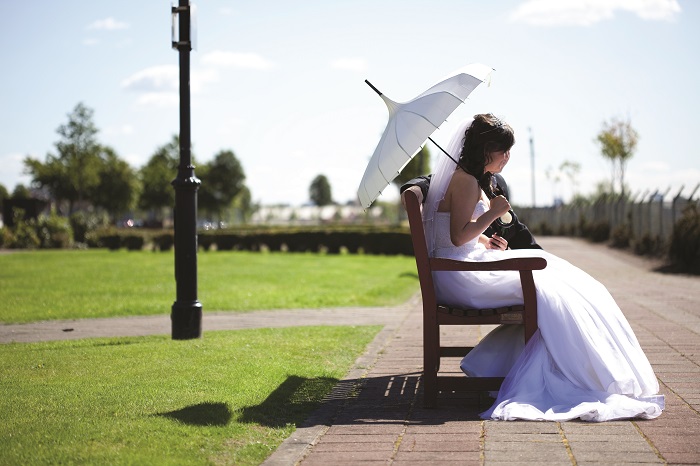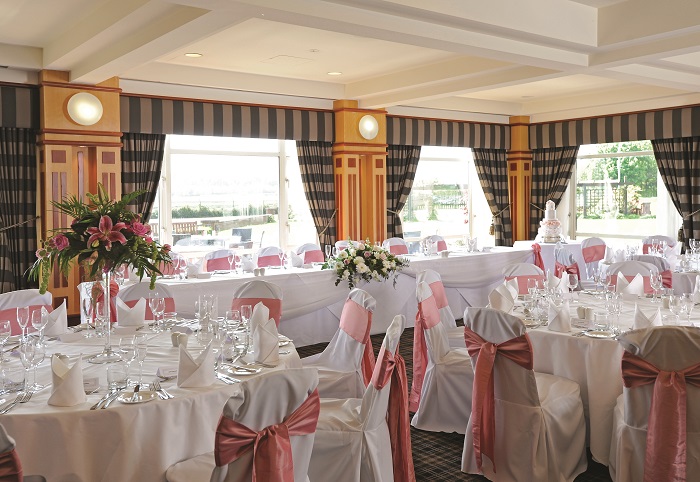 Fancy exchanging vows with a view? Boasting a unique riverside location, The Golden Jubilee Conference Hotel offers the perfect spot to take in the beauty of the River Clyde.
Expect warm and welcoming hospitality, delicious bespoke or pre-ordered food and luxurious accommodation when you opt for The Golden Jubilee, plus a range of packages on offer to give you the flexibility to help you create the wedding day of your dreams, dependent on your needs and budget.
A team of professional wedding planners are on hand to work with you to make sure your big day runs smoothly, and the venue can offer an on-site wedding ceremony or an outside ceremony in the stunning landscaped gardens.
Visit The Golden Jubilee Conference Hotel's website | t. 0141 951 6000 | e. weddings@goldenjubilee.scot.nhs.uk
HOTEL DU VIN AT ONE DEVONSHIRE GARDENS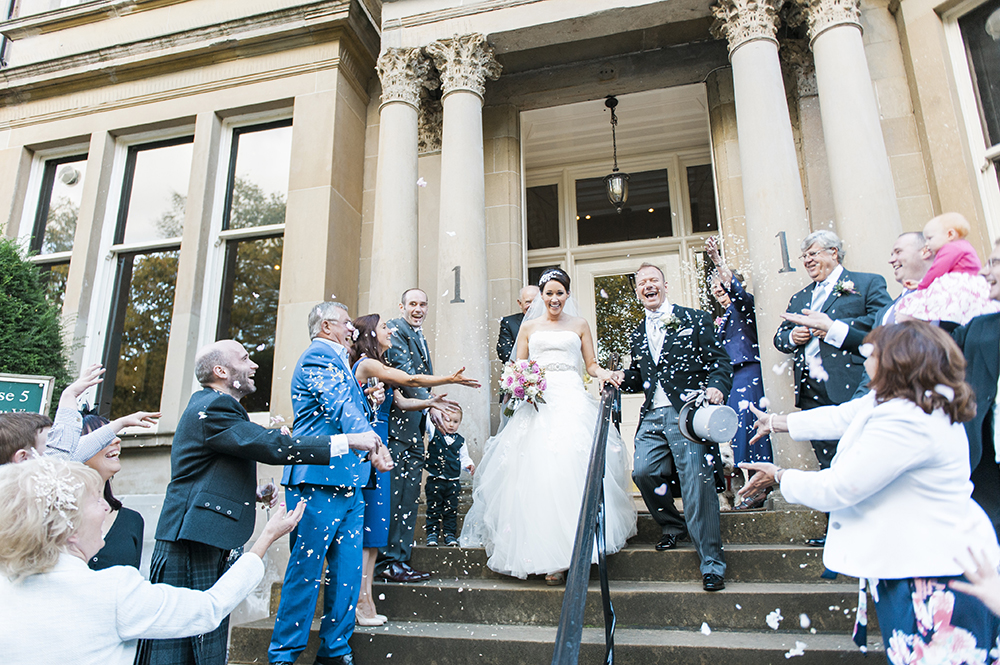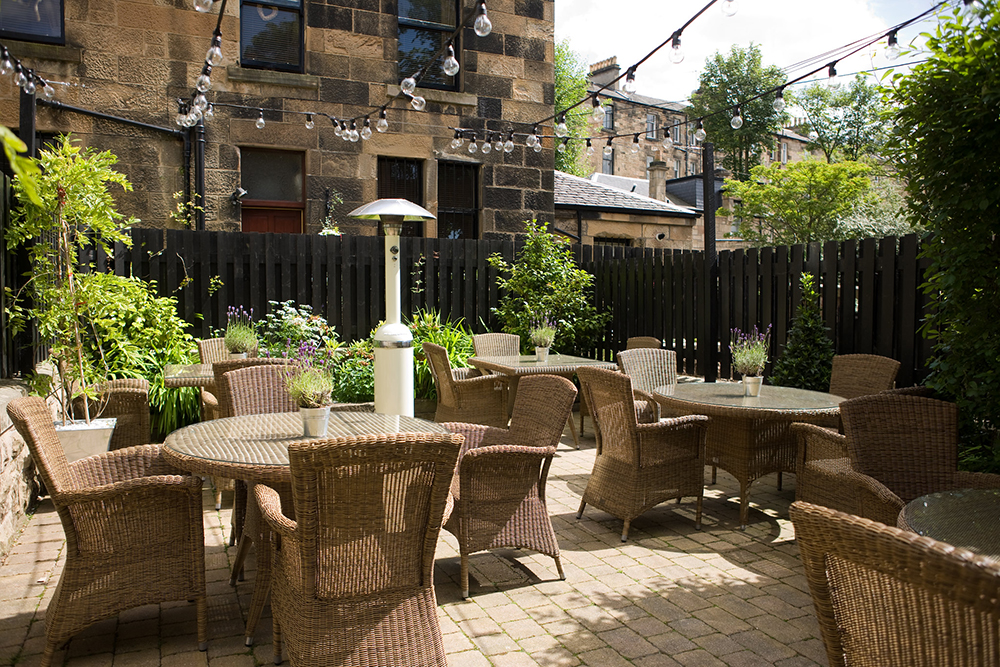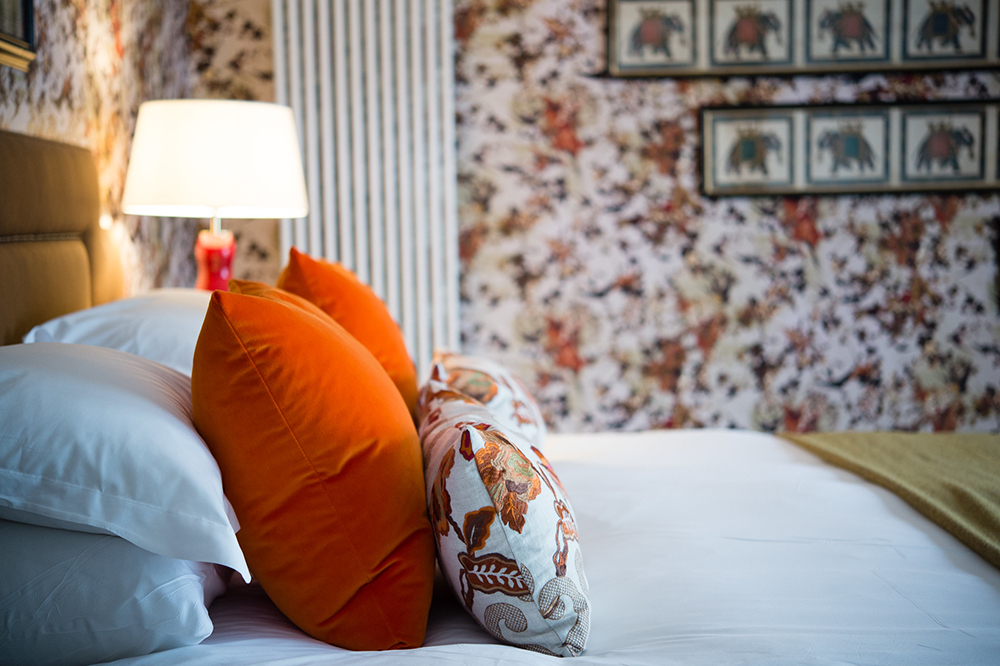 Heart set on an intimate city venue with an unparalleled touch of class?
Hotel Du Vin at One Devonshire Gardens might just be the perfect setting for you.
Set in a tree-lined Victorian terrace in the fashionable and vibrant West End, Hotel Du Vin at One Devonshire Gardens is one of Glasgow's most luxurious boutique hotels.
Comprising five connected townhouses that boast 12 bedrooms, one honeymoon suite, a private bar, and a secret garden, there's no shortage of choice for you on your big day.
Exclusive use of Townhouse 5 with its own secret garden is available to make your wedding day truly memorable.
Visit Hotel du Vin at One Devonshire Gardens | t. 0141 378 0385
e. groups.glasgow@hoteldulvin.com
KINKELL BYRE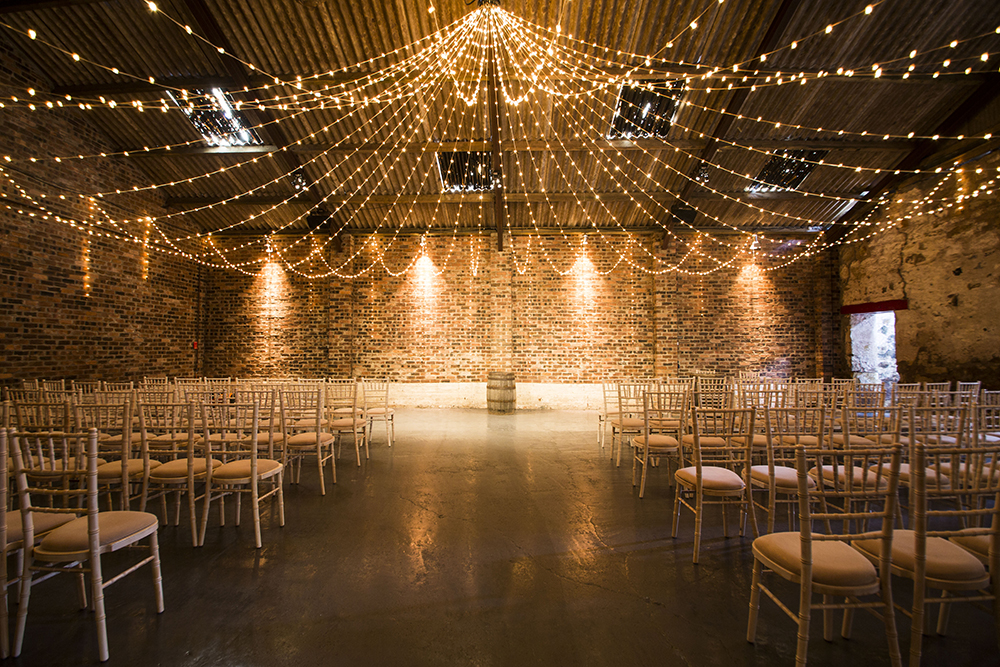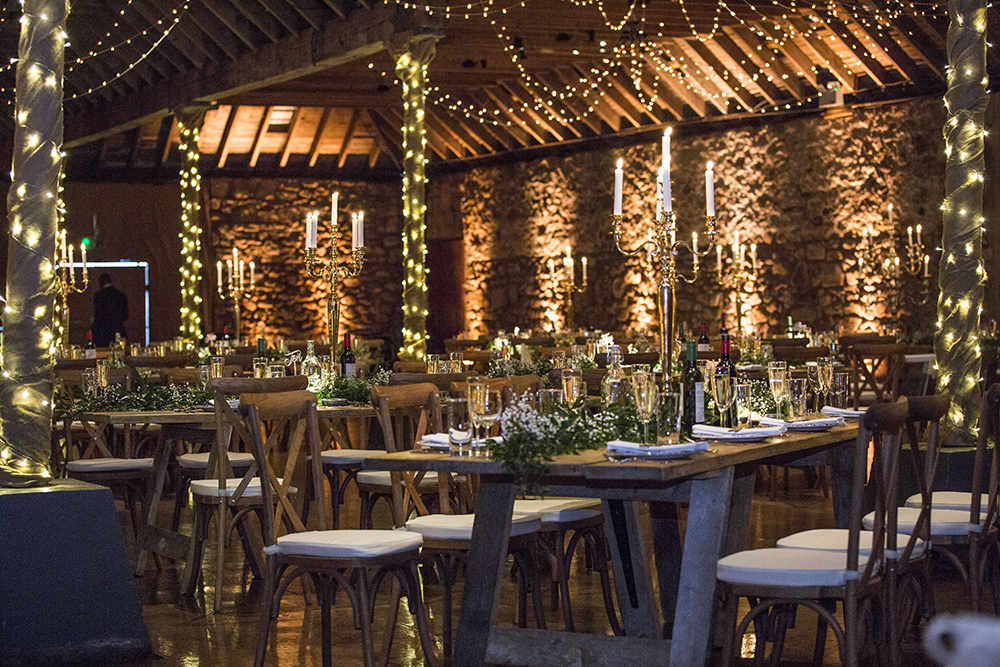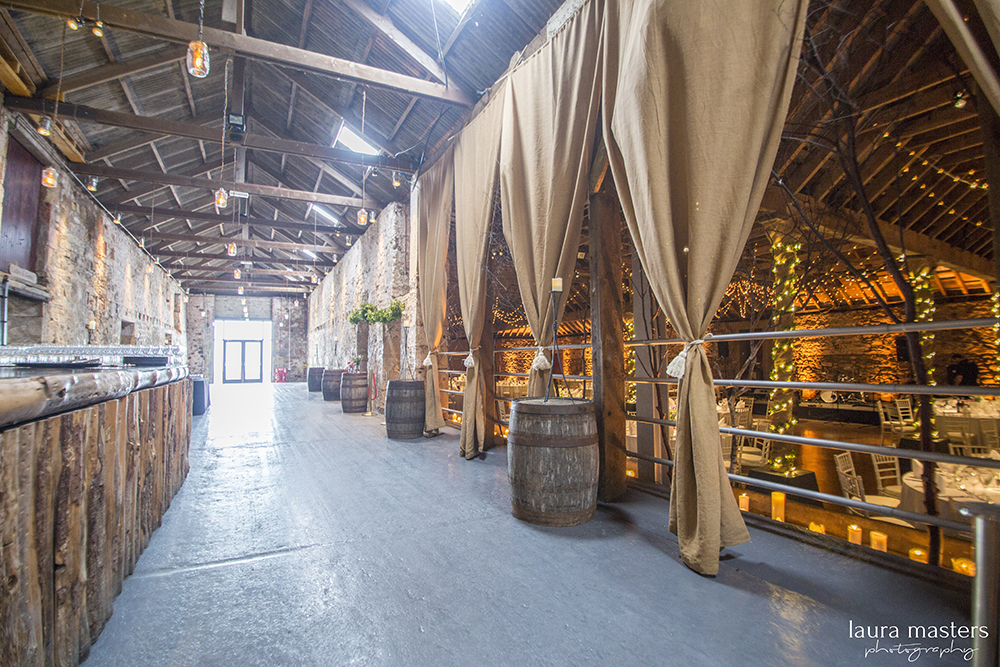 Kinkell Byre is a former farm steading that has been converted into a charmingly spacious wedding venue that is perfect for couples looking for a rustic place to hold their big day.
With Kinkell being a highly versatile venue, it allows couples to create and personalise the Byre to make it completely unique to them.
Situated on the coast of near St Andrews, Kinkell Byre has really spectacular views over the North sea and east coast of Scotland from the St Andrews bay, and get this – you can have your wedding ceremony outside facing onto this breathtaking view!
Visit Kinkell Byre's website  | t. 01334 472003 | e. info@kinkell.com
MYRES CASTLE
IMAGE | Karolina Kotkiewicz Photography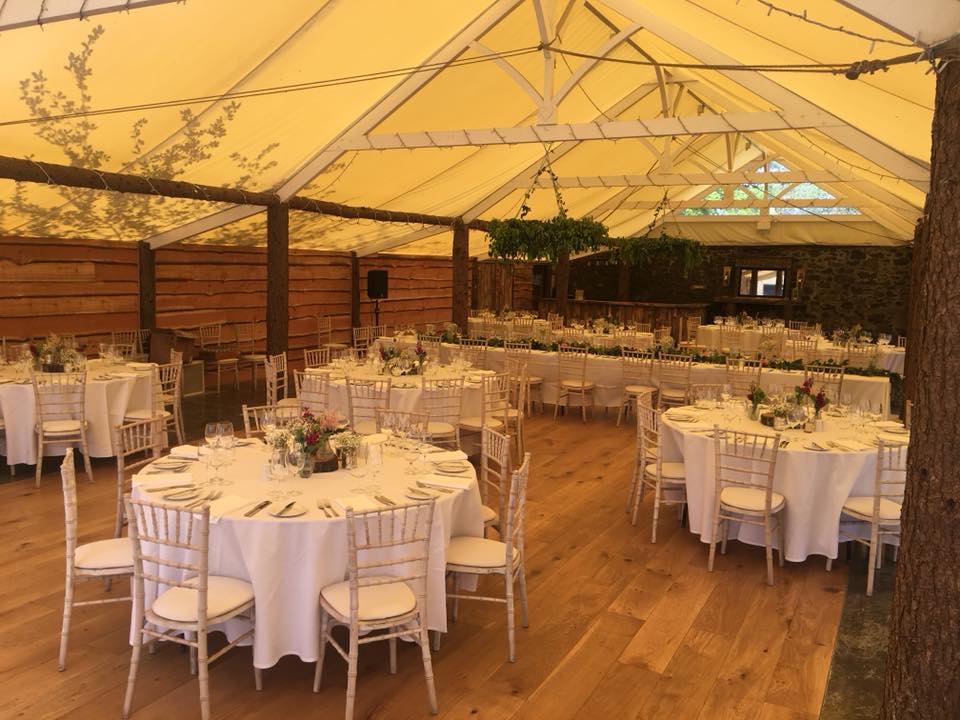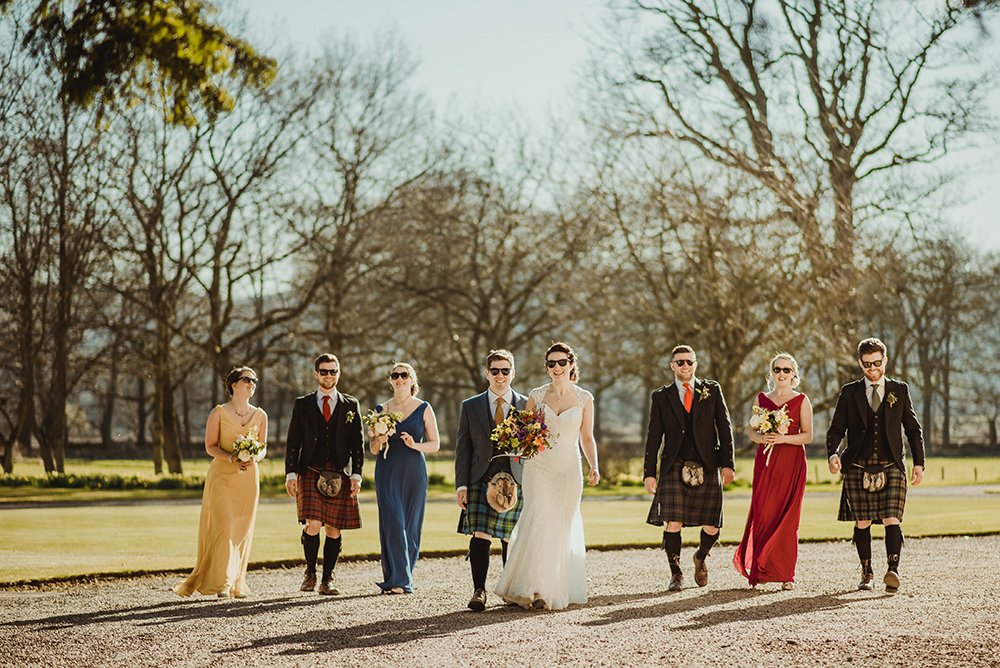 IMAGE | Marc Millar Photography
Myres Castle is a truly romantic wedding venue situated near the village of Auchtermuchty.
Can't choose between woodland charm and castle glamour? Get the best of both worlds when you stay in the stunning castle with up to 24 guests throughout, and celebrate your wedding in the rustically charming Barnquee.
The Barnquee is situated in a lovely woodland setting, oozing a magical atmosphere with twinkling lights hanging from the trees and fire pits outside – and a wood-fired pizza oven! What more can you ask for?
Visit Myres Castle's website | t. 01337 828350 | e. enquiries@myrescastle.com
NETHERBYRES HOUSE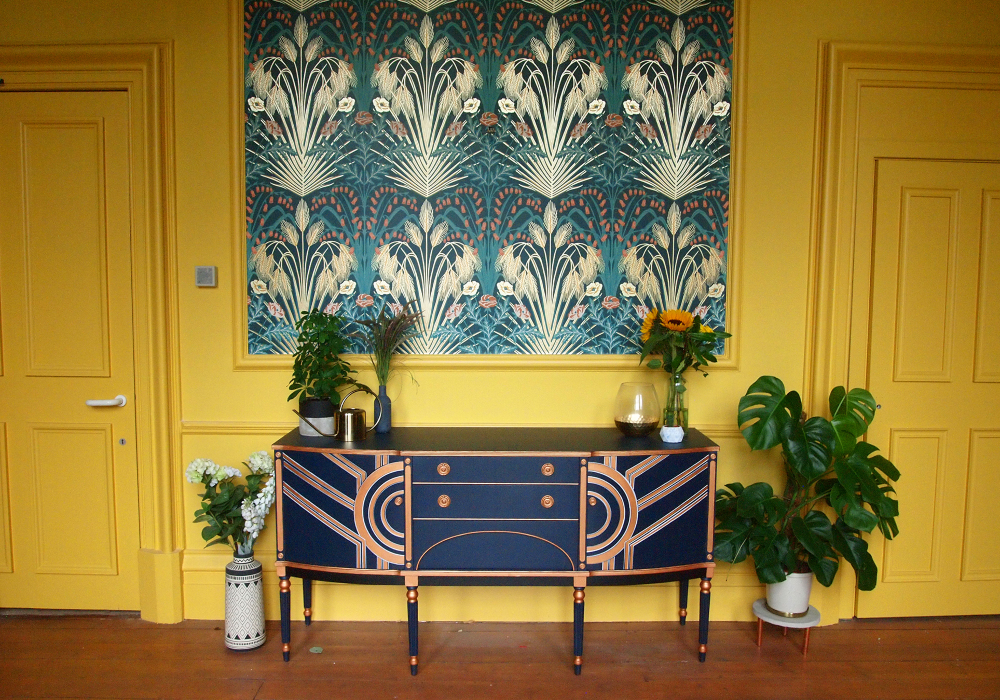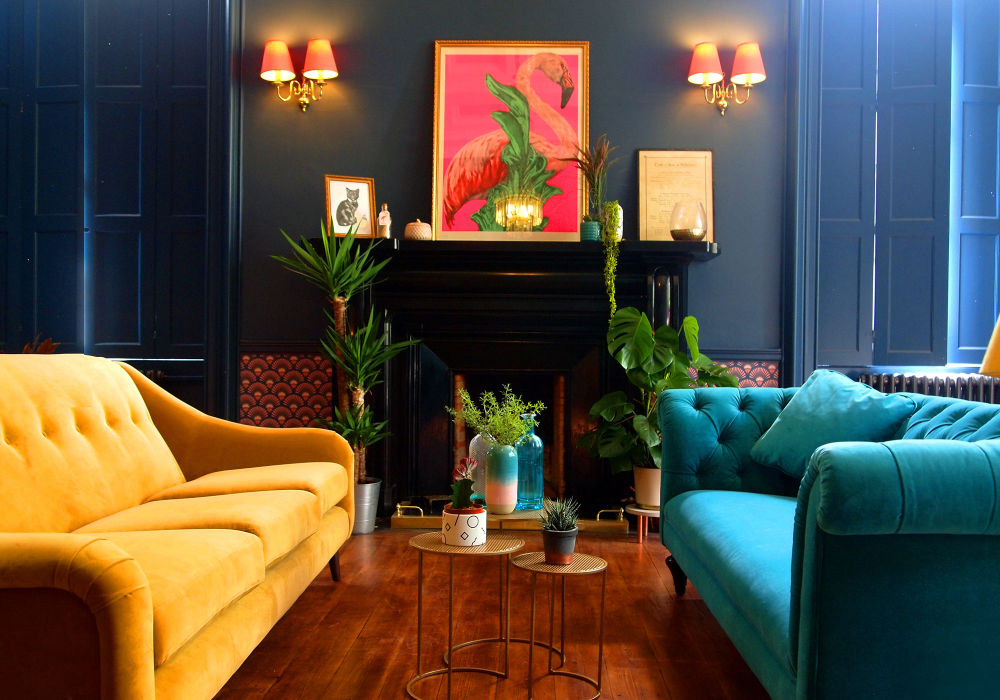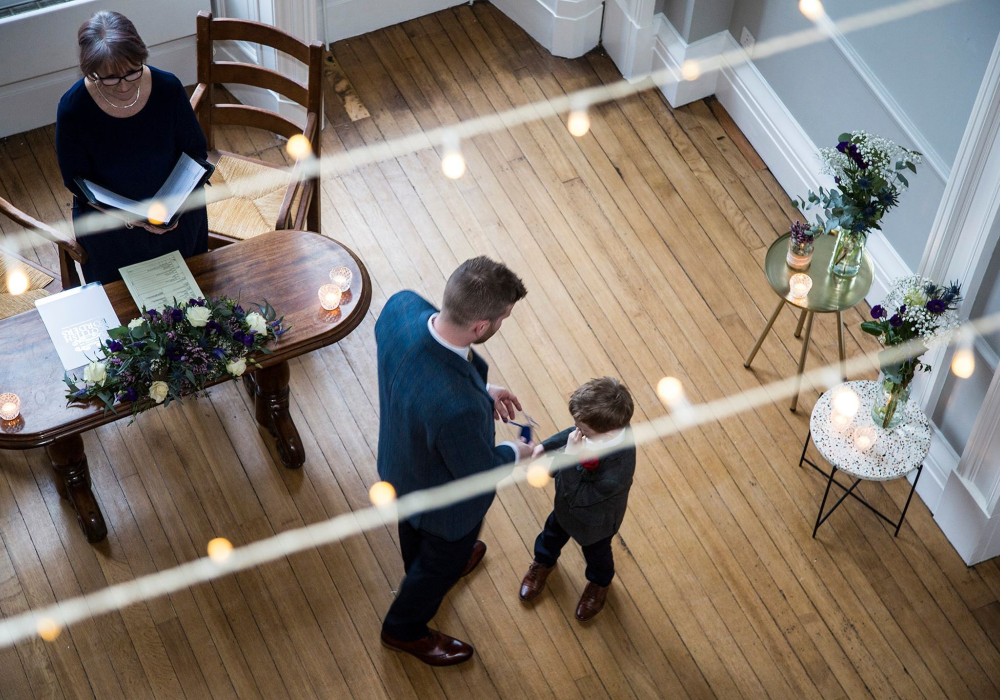 Opening in Spring 2020, Netherbyres House offers beautiful grounds and a relaxed atmosphere for your celebrations. Decorated in a modern style that blends old and new seamlessly, this traditional Victorian building has been lovingly refurbished with a twist that solidifies itself as a photographer's dream.
Situated on the outskirts of Eyemouth, a historic harbour town on the Berwickshire coast, Netherbyres is ideally located within an hour of Edinburgh and a stone's throw from the North of England.
Don't just have a wedding day; have a whole wedding weekend! You won't have to share the space with other guests either – it's all yours (if you don't mind sharing with the local deer and pheasants).
Visit Netherbyres House website | e. info@netherbyres.com
PAPAKATA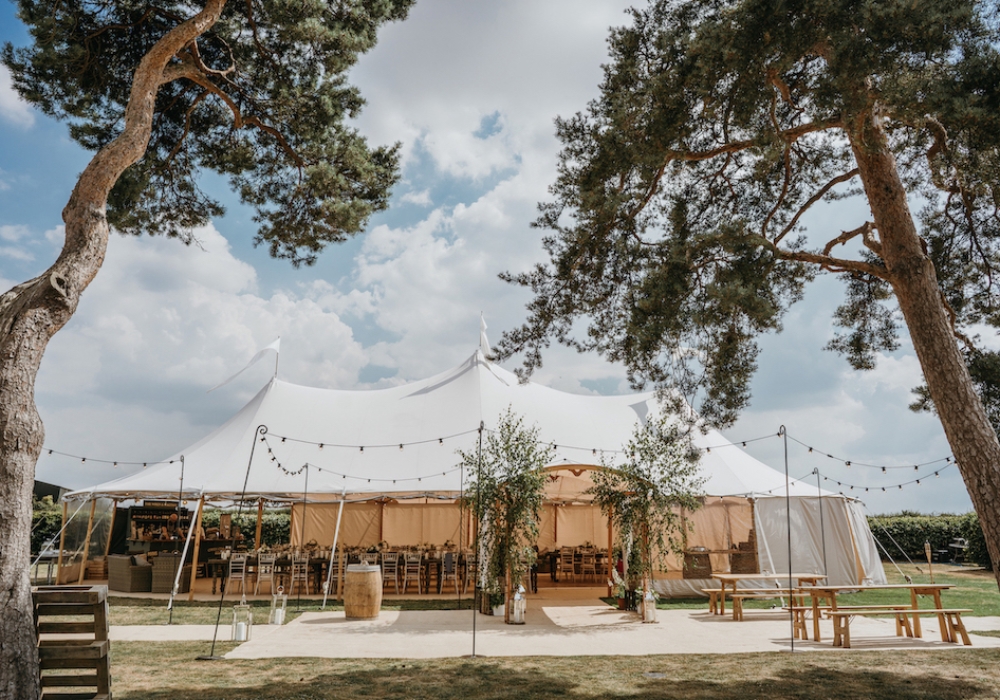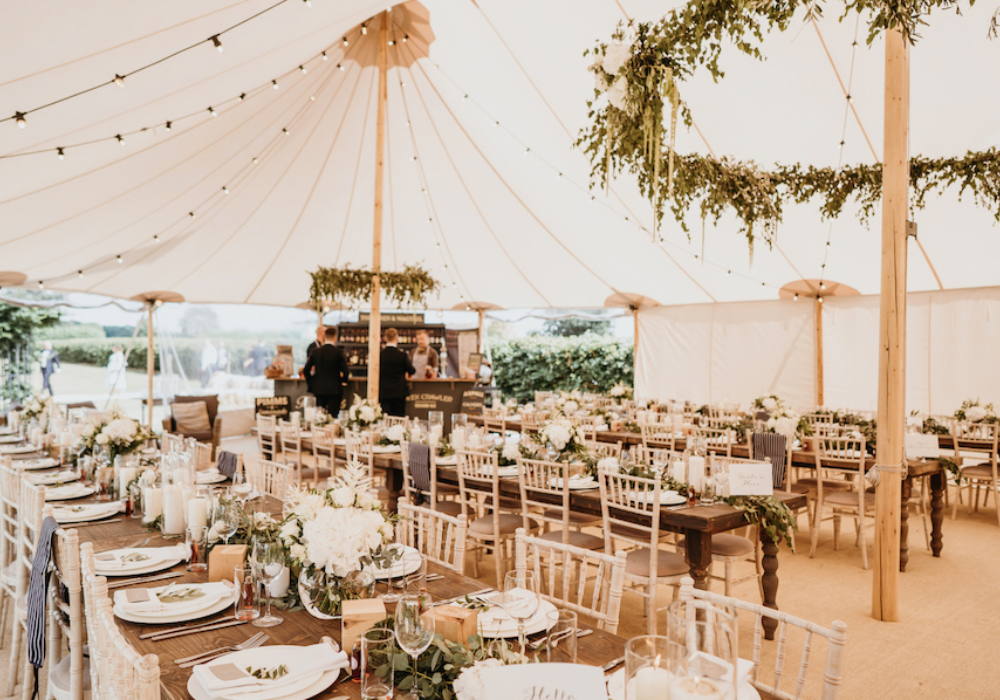 IMAGES | Matthew Wilkinson Photography
Found an unusual location that doesn't have a venue? Hiring a giant tipi or Sperry tent from PapaKata might be the answer to all your problems!
Spacious and flexible, PapaKåta's Tipis can be used individually or joined together to increase capacity. And don't fret about the Scottish weather – these trendy tents are based on traditional Scandinavian design, so are built to withstand even the harshest weather.
If you fancy something a bit more stylish, PapaKata's Sperry Tents might be the perfect fit. Lovingly handcrafted in Massachusetts, the Sperry Tents' oyster-coloured canvas and iconic canopy is the epitome of timeless elegance.
Visit Papakata's website | t. 01738 479803 | e. tellmemore@papakata.co.uk
ROTTAL ESTATES
If getting away from it all is your idea of heaven, you'll fall for the rural charms of Rottal Estates, a new venue in the heart of Glen Clova.
Surrounded by stunning scenery, the dramatic views are perfect if you're hoping to have an outdoor ceremony.
What's more, you can hire the entire estate exclusively with accommodation for up to 28 guests.
Visit Rottal Estates website | t. 01575 550281 | e. lianne.maclennan@rottalestates.com
UNUSUAL VENUES OF EDINBURGH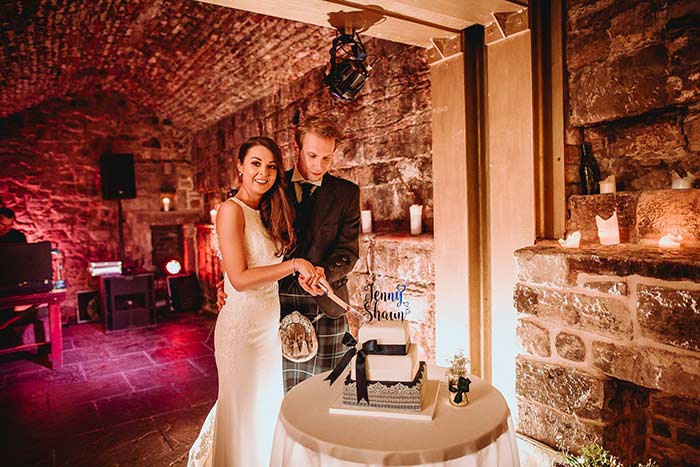 How many people can say they got married in a cave?
A collection of unique, exclusive use, multi-award-winning venues: The Caves, The Rowantree and Marlin's Wynd, situated in the heart of Edinburgh's Old Town.
Unusual Venues Edinburgh are just bursting with historical and romantic charm, sure to wow your guests and make your wedding day one to remember.
They can cater for weddings from 20 to 150 day guests and up to 450 guests in the evening.
Visit Unusual Venues Edinburgh's website | t. 0131 5106969
e. hello@unusualvenuesedinburgh.com
UPPER AND LOWER COLLEGE HALL AT UNIVERSITY OF ST ANDREWS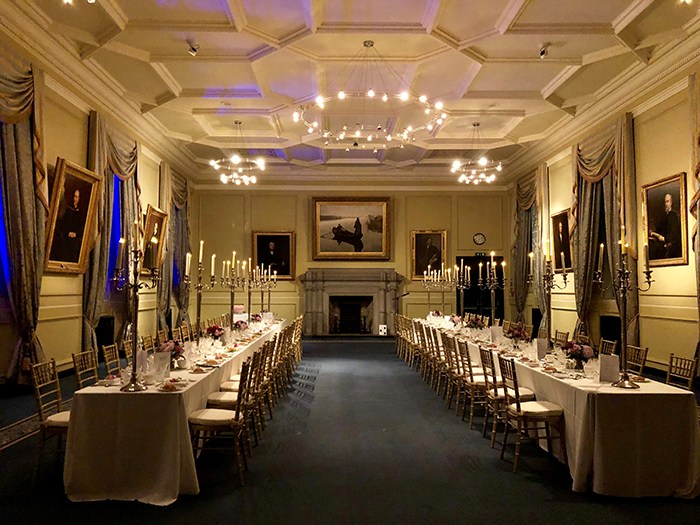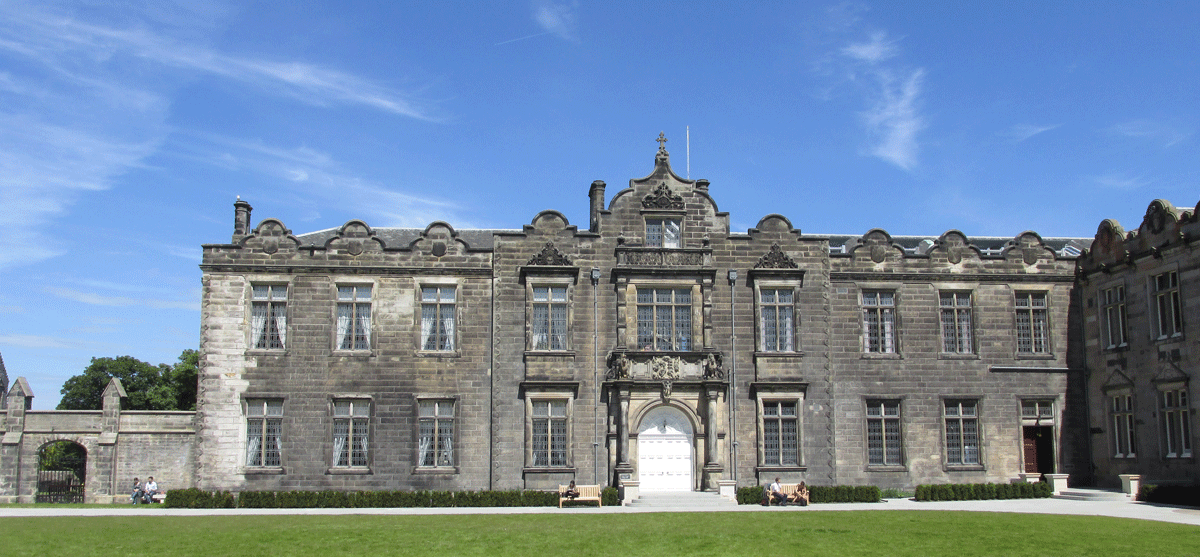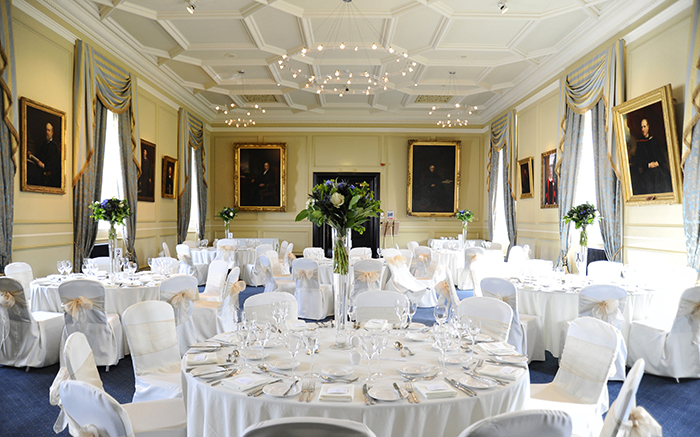 If you are looking for a romantic, unique venue set in beautiful surroundings in the town centre of St Andrews, Lower College Hall at the University of St Andrews is the perfect venue for your special day.
The team have been hosting spectacular wedding ceremonies and receptions for couples from all around the world for many years, and are always on hand to take you through every step of the way, ensuring that your day is everything you imagine it to be.
Their new wedding package for 2019 is the best offer Lower College Hall has seen so far, so go along for a visit, have a look around and chat with the team about how they can bring the wedding of your dreams to life.
Visit University of St Andrews website | t. 01334 462509 | e. AceEvents@st-andrews.ac.uk 
ARGYLE ST ARCHES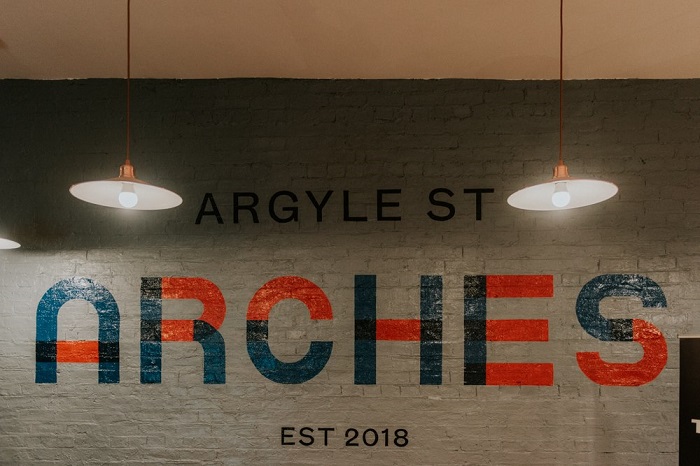 Smack bang in the heart of Glasgow city centre, this industrial-style wedding venue oozes cool.
Visit Argyle Street Arches website
THE BARN AT HARBURN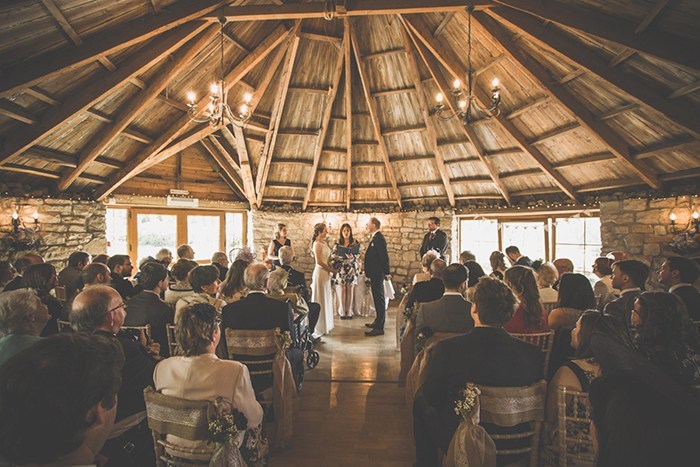 Exclusively yours if you hire it for a wedding, this rustic wedding venue in West Lothian marries the old with the new.
Visit The Barn at Harburn's website 
THE BOATHOUSE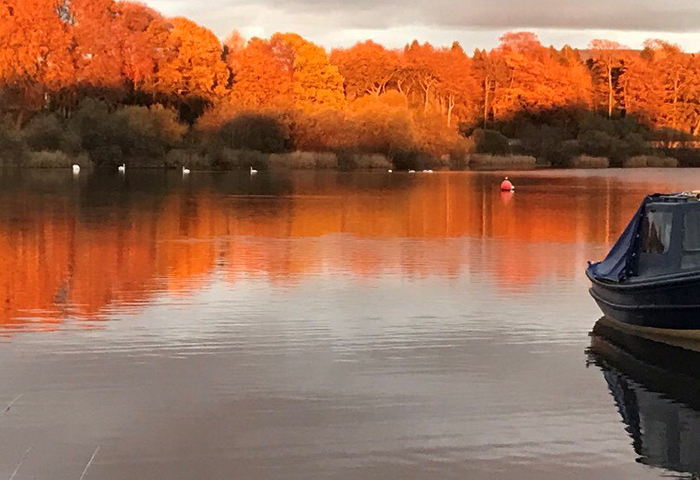 Situated right on the shore of Loch Leven, Kinross, with views that stretch as far as the eye can see, The Boathouse in Kinross is a quirky and unique wedding venue.
Visit The Boathouse's website 
CAMBO ESTATE
IMAGE | The Curries
Make sure you check out The Party Woodland at this venue in Fife; a clearing big enough to set up tipis, a bar and a dancefloor!
Visit Cambo Estate's website 
CARDNEY STEADING
Located near Dunkeld, this venue has some lovely spaces to choose from, whether that be The Cattle Shed or The Fire Pit.
Visit Cardney Steading's website 
COTTIERS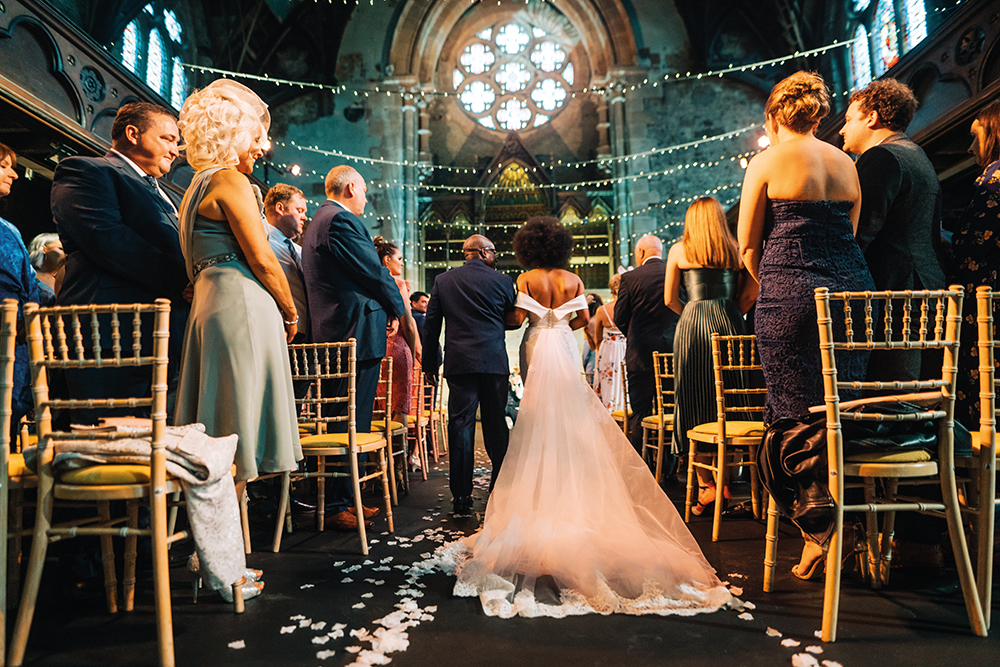 IMAGE | Dom Martin Photography
Used as a theatre and entertainment space, this Glasgow West End building has stunning exteriors and magical interiors, including an illuminated church steeple.
Visit Cottiers website
THE COW SHED CRAIL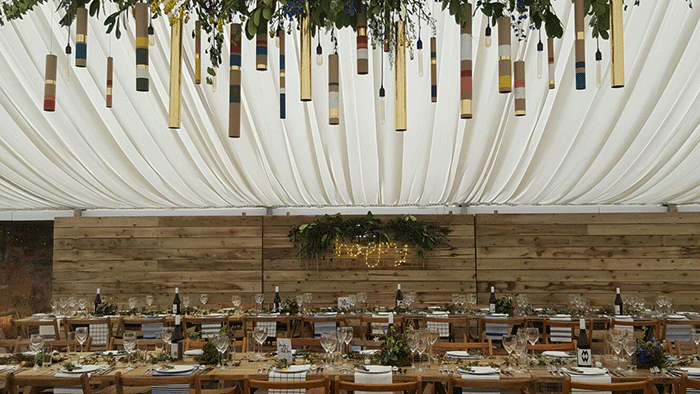 A picturesque blank canvas wedding venue on the outskirts of a beautiful fishing village, this a great venue for couples looking for countryside charm.
Visit The Cow Shed Crail's website
DUNNOTTAR CASTLE
IMAGE | Anna Wytrazek Photography
Magical wedding venue locations don't come much more breathtaking than this Scottish castle in Aberdeenshire. Your guests will be blown away by the views across the North Sea.
Visit Dunnottar Castle's website
THE ENGINE WORKS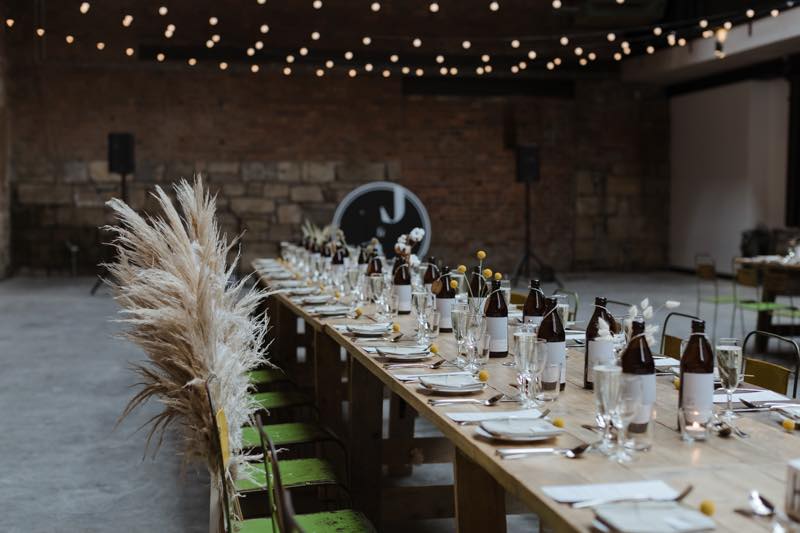 IMAGE | Caro Weiss Photography

Flooded with natural light and an abundance of open space: The Engine Works is a venue unlike any other.
Visit The Engine Works' website
ERROL PARK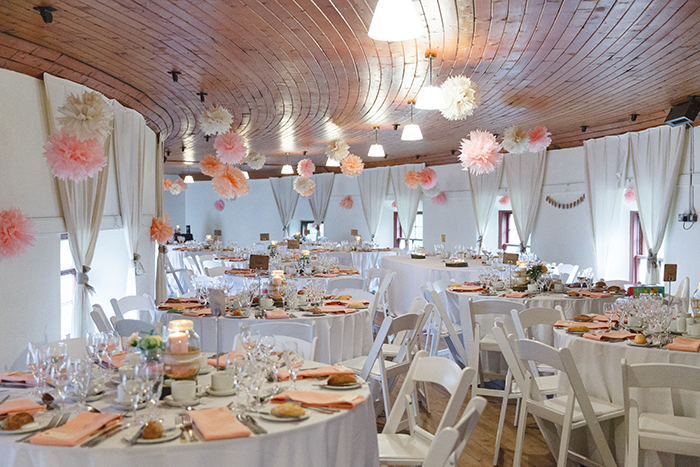 IMAGE | Feeling Groovy Photography
There are four main spots to hold the ceremony, each with their own charm, including outdoor ceremonies and the beautiful summerhouse beside the orchard.
Visit Errol Park's website 
FOLKERTON MILL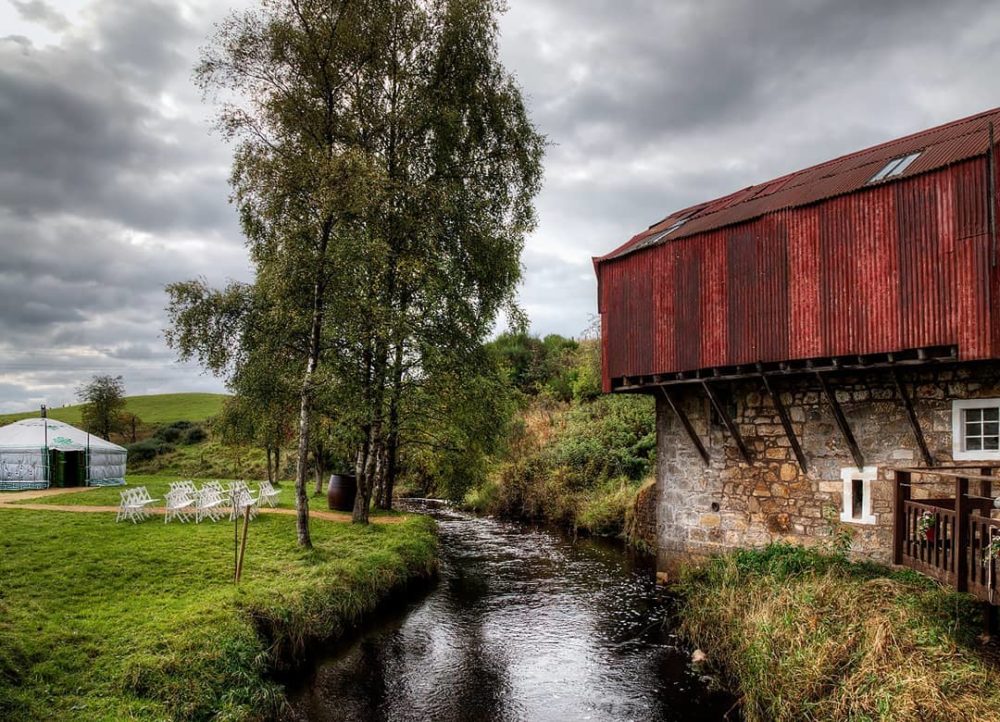 IMAGE | Ciorstain Photography
Nestled in the South Lanarkshire countryside, this former working mill is a unique and unusual new wedding venue, bursting with history as it plays host to lots of original features, plus a garden and courtyard.
Visit Folkerton Mill's website
FORGAN'S ST ANDREWS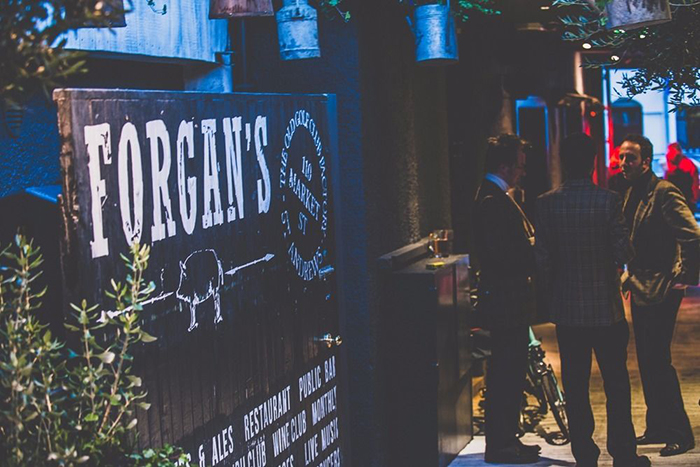 Situated in the heart of the town, this is the perfect intimate wedding venue in St Andrews. Based around the idea of a bothy, Forgan's is a great venue if you want a fuss-free day.
Visit Forgans St Andrews website
THE HERMITAGE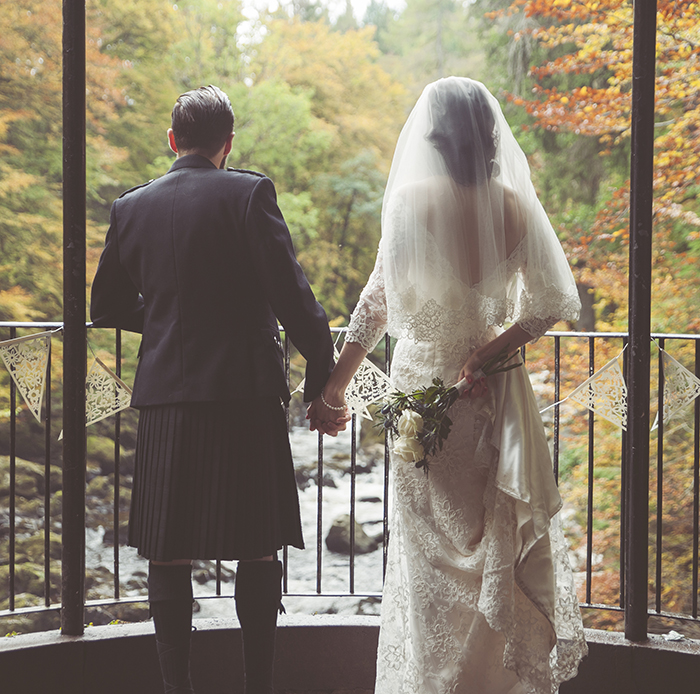 IMAGE | Ross Walker Photography
What could be more unique than a real fairytale wedding? Choose your favourite spot in this woodland idyll and exchange your vows within this magical Perthshire forest.
Visit The Hermitage's website
KELBURN CASTLE AND ESTATE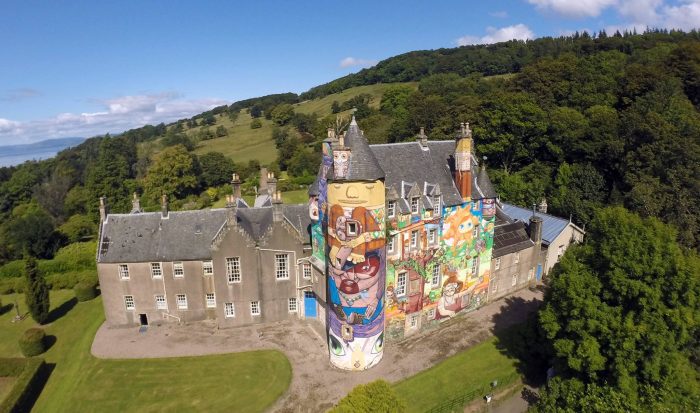 Think Scottish castle venues have to be traditional? Think again.
At Kelburn, you can tie the knot in the castle with its unique murals, in the blank canvas pavilion or the surrounding woodland.
Visit Kelburn Castle and Estate's website
LINDORES ABBEY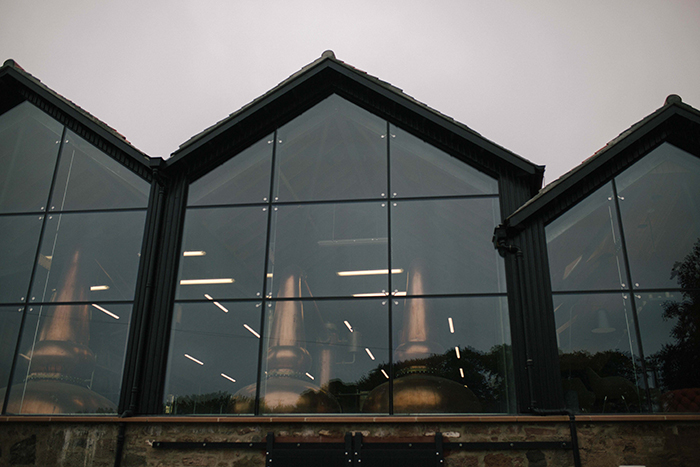 IMAGE | Ewa Labuda
This super trendy wedding venue boasts tons of charm, history (the distillery goes back over 500 years) and a stunning location near Newburgh, in Fife.
Visit Lindores Abbey Distillery's website 
THE MANSION HOUSE AT EDINBURGH ZOO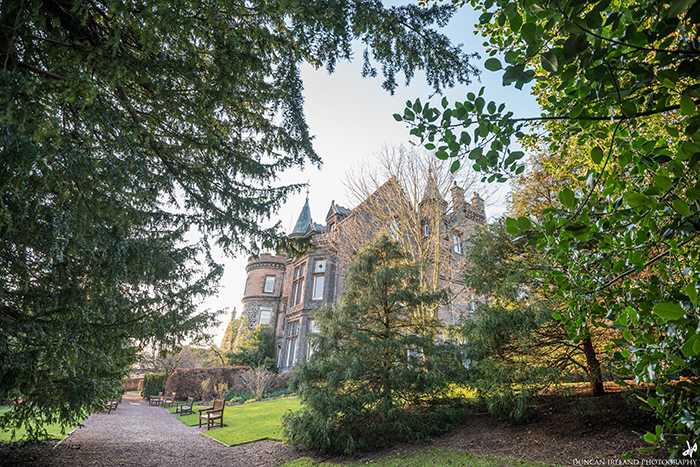 Lions and tigers and bears, oh my! What could be more unusual than getting married in Edinburgh Zoo? This gorgeous venue comes with the option of a zoo tour for your guests.
Visit Edinburgh Zoo's website
MANSFIELD TRAQUAIR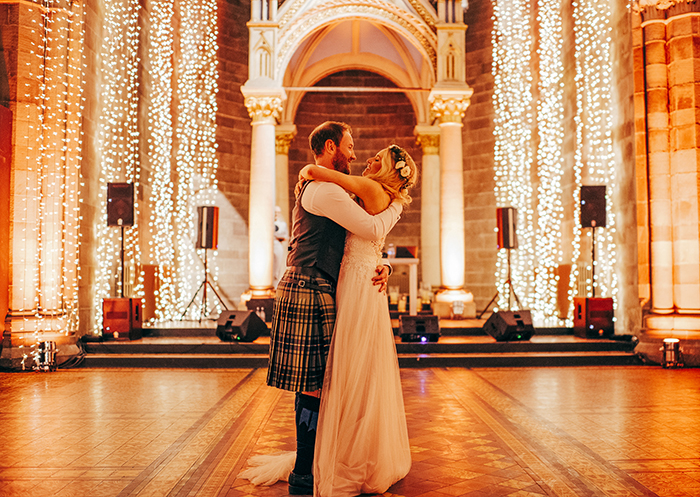 IMAGE | David Grant Simpson Photography
Earning itself the title of Edinburgh's Sistine Chapel, this unique wedding venue really does need to be seen to be believed.
Visit Mansfield Traquair's website
MAR LODGE ESTATE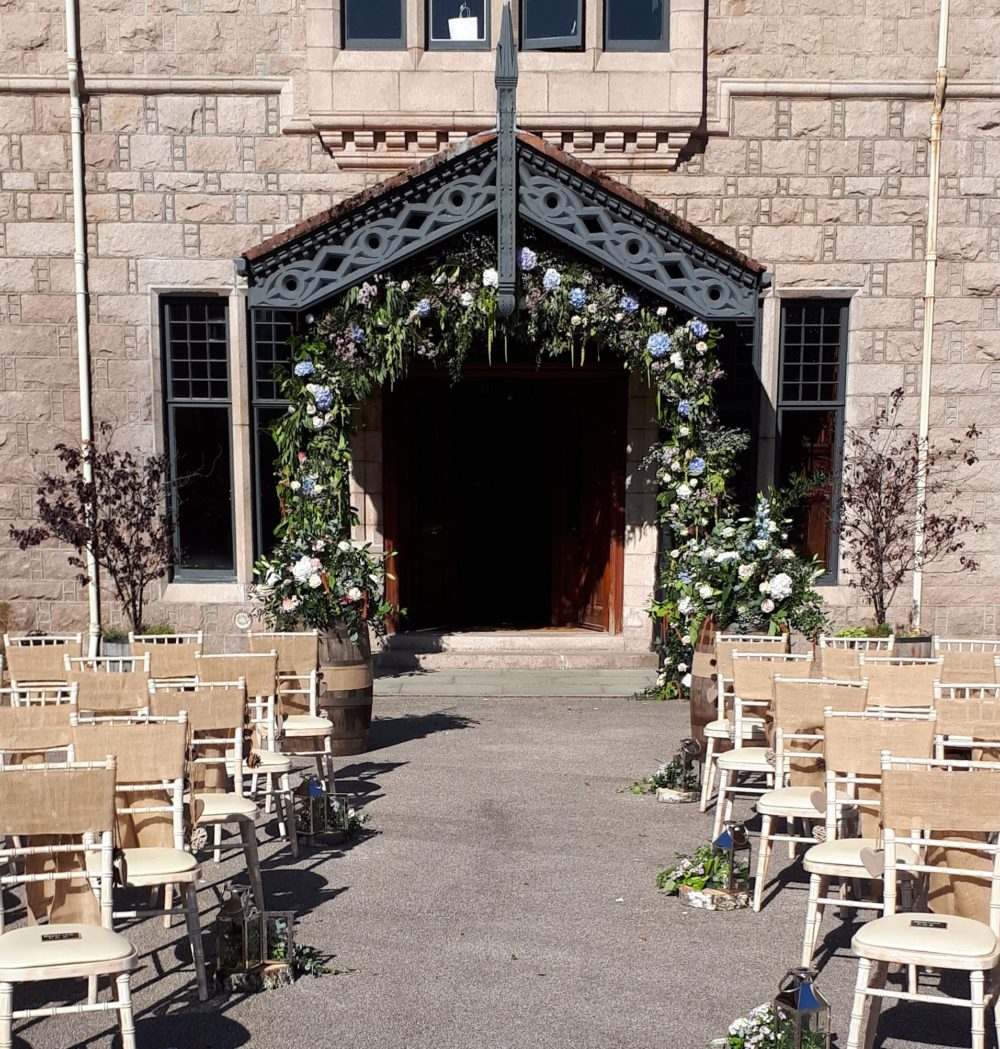 Set amidst 29,000 hectares in the heart of the Cairngorms National Park, Mar Lodge is a true taste of the Highlands surrounded by ancient forests and rolling glens.
Visit Mar Lodge's website
THE NATIONAL PIPING CENTRE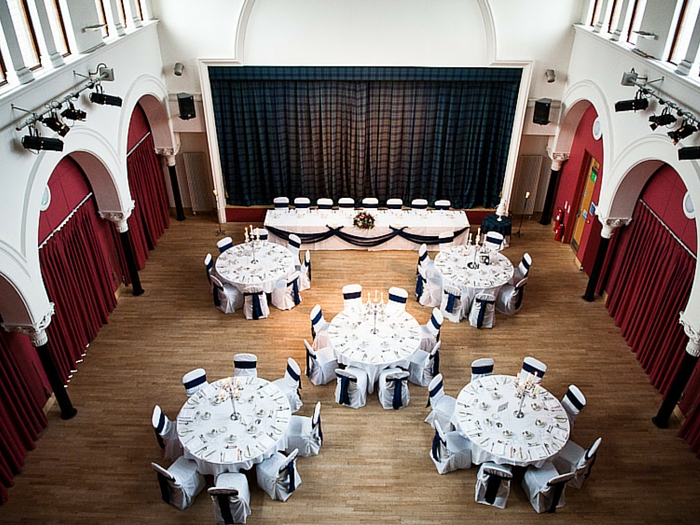 A hidden gem in Glasgow's city centre, The National Piping Centre is a beautiful, historic and quintessentially Scottish wedding venue.
Visit The National Piping Centre's website
ROULOTTE RETREAT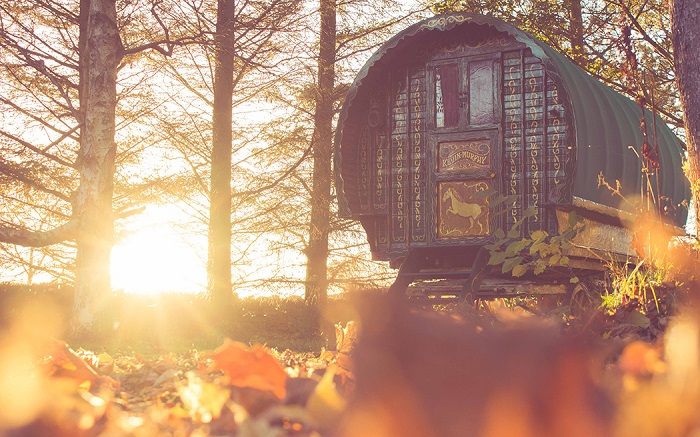 Situated in the heart of the Scottish Borders, this collection of hand-carved French roulottes is nestled between two small waterfalls – an elopement destination that is just as romantic as it is unique.
Visit Roulotte Retreat's website
RSS DISCOVERY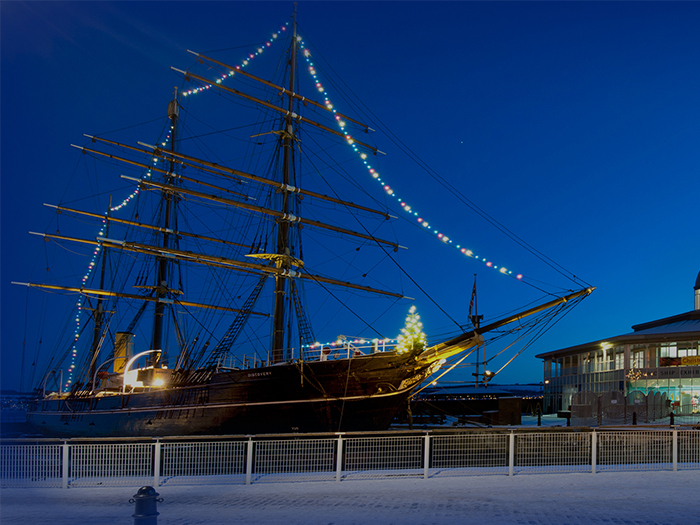 Hop onboard the RSS Discovery on the River Tay, which is licensed for both civil and religious ceremonies.
Visit RSS Discovery's website
SECRET HERB GARDEN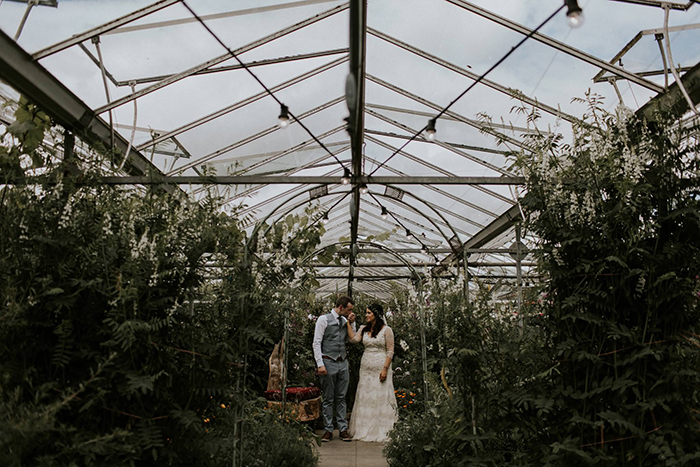 If you're dreaming of greenery galore and the great outdoors, this very special wedding venue at the foot of the Pentland Hills is bound to be perfect fit for you.
Visit Secret Herb Garden's website
WEST ON THE GREEN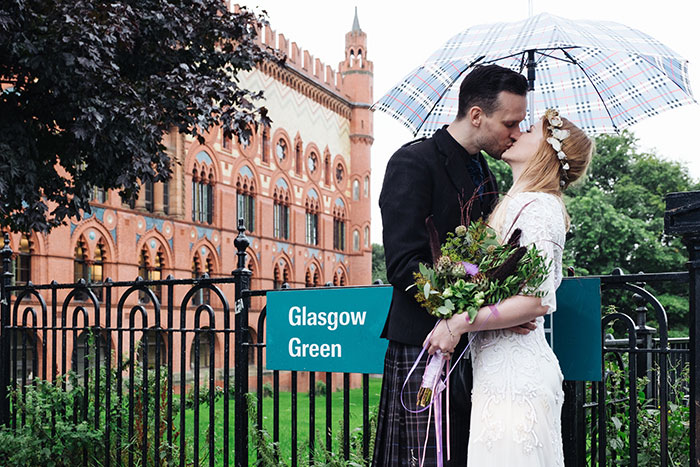 IMAGE | Chris Henderson Photography
The iconic Templeton Building is one of the most unique and unusual wedding venues in Glasgow, with two fantastic spaces to hire for your wedding.
Visit WEST on the Green's website
THE WINE HOUSE 1821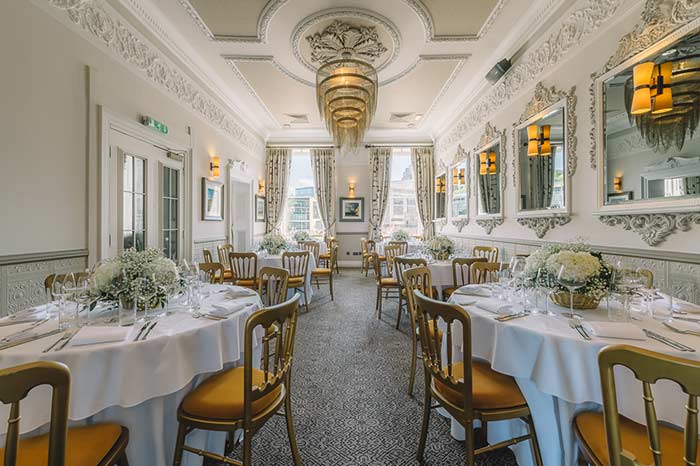 A gorgeous Georgian townhouse situated in Edinburgh's new St James Quarter, The Wine House is a unique and intimate wedding venue benefiting from a coveted city centre location.
Visit The Wine House 1821's website
Heart set on an city wedding?