32 of the most romantic Scottish wedding venues 2020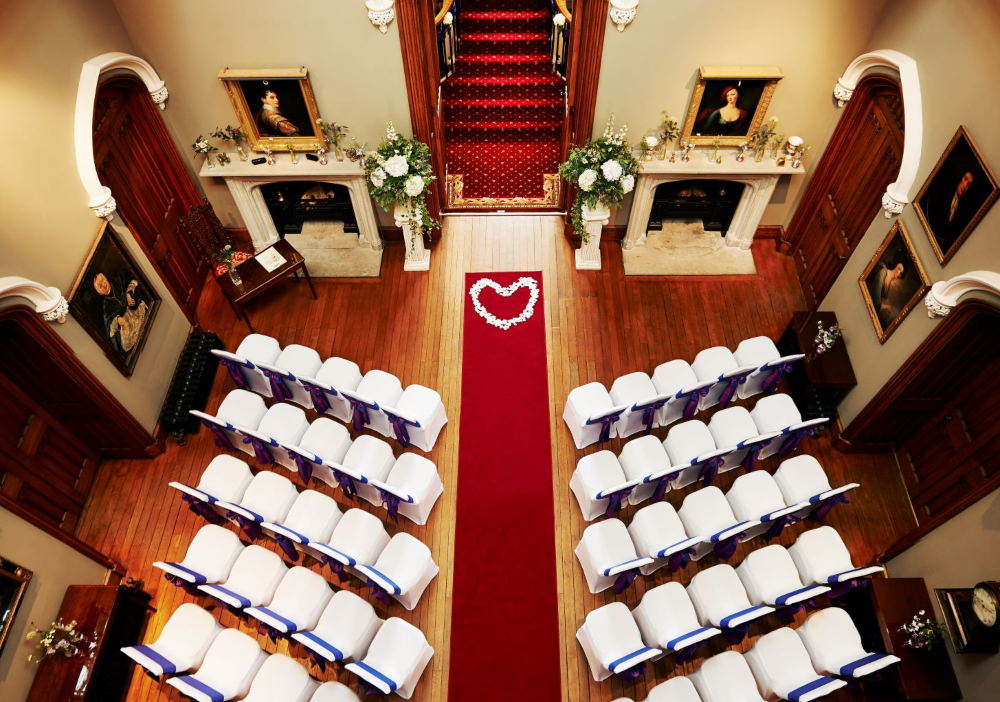 This post contains some paid-for content.
ABERCAIRNY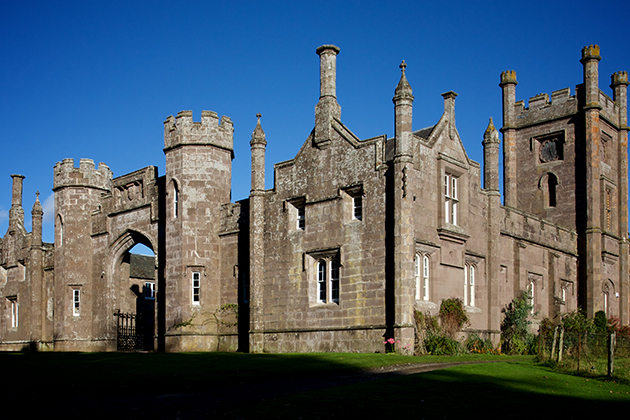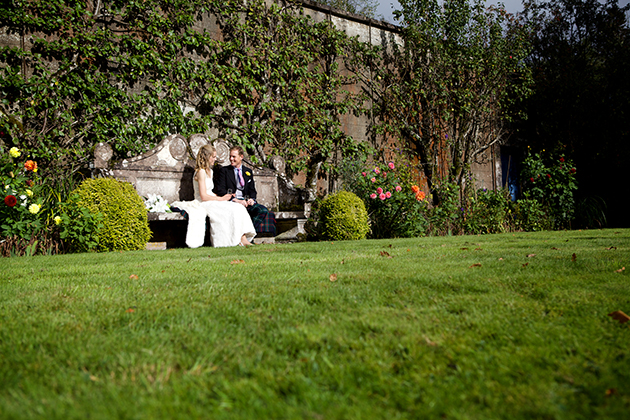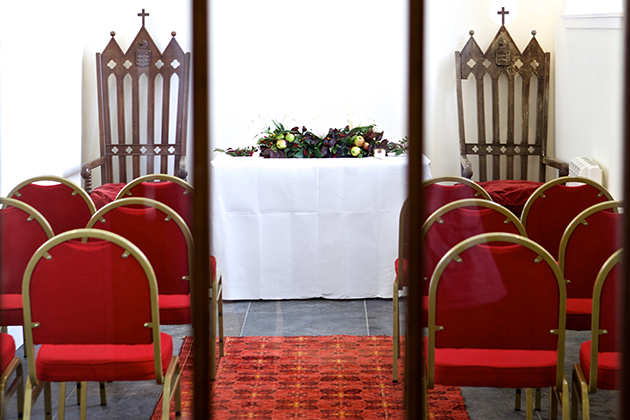 Discover the secrets of Abercairny, a secluded and exclusive venue in the Strathearn valley looking out across from surrounding woods across spacious parklands to the loch. At its heart stands the resplendent Gothic Stables that will be the backdrop to your celebration. A sheltered Courtyard lends itself to gathering friends and family outside, while the Thistle Hall is ideal for an indoor ceremony and ceilidh, and the new Dining Hall is a long light room suited to any part of the wedding day. The adjacent terraced garden is a romantic outdoor alternative for a ceremony and a wonderful place to explore for wedding photographs.
Visit Abercairny's website | t. 01764 652706  | e. info@abercairny.com
BALBIRNIE HOUSE HOTEL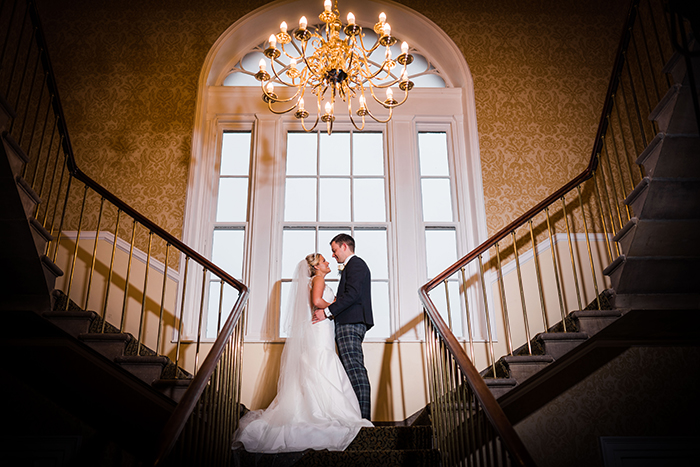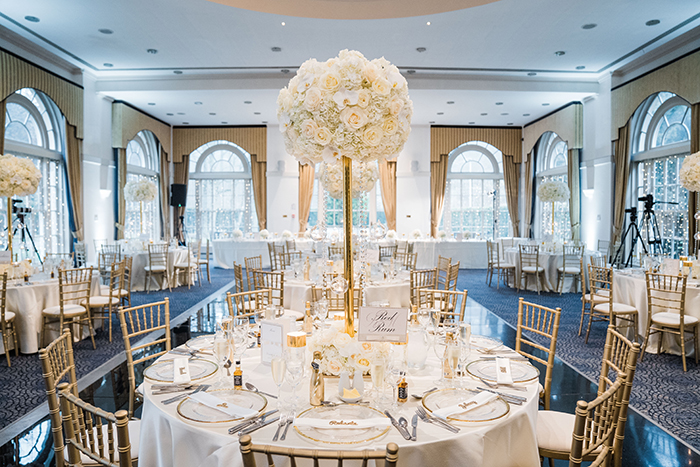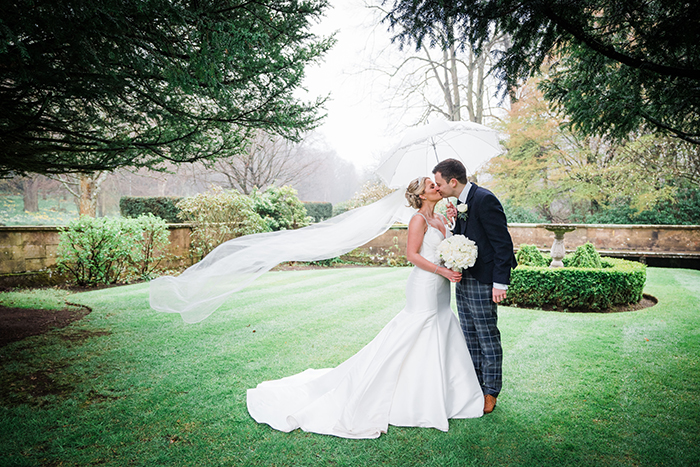 IMAGES | Lifetime Photography
Balbirnie House Hotel is a country house which is now defined by Haute Grandeur global hotel awards, as the 'World's Best Destination Wedding Hotel', an accolade that defines romance without an equivalent. The house is surrounded by 400 acres of picturesque parkland, simply beautiful at any time of the year.
Beautifully furnished, the interiors are incredibly plush and luxurious and you can rest assured that the staff at Balbirnie will help you create the wedding of your dreams, with plenty of space to really celebrate with your guests!
The hotel has 32 sumptuous bedrooms, giving your wedding guests the option to stay the night and make a weekend of it. There are also many options to create ability to socialise over multiple days.
Visit Balbirnie House Hotel's website | t. 01592 610066 | e. gaynor@balbirnie.co.uk
Send an enquiry to Balbirnie House Hotel 
BALLATHIE COUNTRY HOUSE HOTEL & ESTATE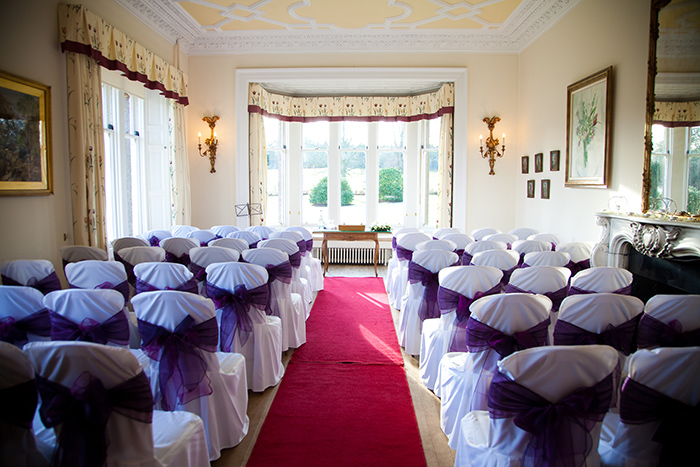 Ballathie Country House Hotel and Estate is a grand baronial mansion retreat that offers couples a truly romantic backdrop for their wedding celebrations. Available as an exclusive-use venue, you will have sole access to the house's 900 acres of private land and its unrivalled views of the River Tay. If the weather plays ball you can get married outdoors in the stunning gardens before hosting your champagne reception on the lawn.
There's plenty of on-site accommodation for overnight guests, with 25 bedrooms in the main house, 16 in the Riverside building and a further 12 Sportsman's Lodges on the grounds.
Visit Ballathie House Hotel's website | t. 01738 804804  | e. email@ballathiehousehotel.com
Send an enquiry to Ballathie House Hotel
BARNBOUGLE CASTLE
Fancy eloping to a venue with a romantic backstory? Barnbougle Castle, a hidden gem just seven miles west of Edinburgh, is an ancient knightley fortress that was restored by the newlywed 5th Earl of Rosebery and his wife Hannah as a private retreat.
Never opened to the public, it remains as if they had just stepped out.
Surrounded by 2,000 acres of parkland, private beaches and enchanting woods, with its banqueting hall, minstrels' gallery and grand spiral staircase, this beautiful venue can play host both to grand and intimate celebrations.
Say 'I do' in the gilded Scottish Library, take a stroll on the seaside Terrace, then sip on bespoke cocktails to begin married life in style.
Visit Barnbougle Castle's website | t. 0131 357 9870 | e. events@roseberyestates.co.uk
Send an enquiry to Barnbougle Castle
BLAIR CASTLE
IMAGES | Jenni Browne Photography
Blair Castle is a beautiful and historic wedding venue close to the picturesque town of Pitlochry.
It's home to acres of grounds, beautifully kept gardens and sweepingly dramatic forests. You can hold your wedding ceremony on the venue's lawn with the grand façade of the castle serving as a breathtaking backdrop.
Once you have taken full advantage of all the amazing photo opportunities that Blair Castle's grounds have to offer, head inside and celebrate your wedding in the hunting- lodge-chic Ballroom which can hold up to 220 guests.
Feeling hungry? Blair Castle have just moved from a single caterer to a panel – so there's lots of mouthwatering choices for your big day.
Visit Blair Castle's website | t. 01796 481207 | e. JackieS@blair-castle.co.uk 
Send an enquiry to Blair Castle
BLAIRQUHAN CASTLE 
An exquisitely romantic Ayrshire wedding venue, Blairquhan Castle is beautiful inside and out. From stately exteriors to elegant yet modern interiors, a wedding day at Blairquhan promises to feel sophisticated and luxurious.
You can hold your ceremony outside in the flower garden, or inside in the castle's beautifully decorated saloon which can seat up to 90 guests.
There are four stunning function suites within the Castle accommodating up to 100 for your wedding breakfast and 120 for evening reception. The castle also offers 15 individually styled bedrooms for those who wish to stay overnight, as well as eight cosy cottages onsite.
Take a closer look at the space Blairquhan Castle offers here.
Visit Blairquhan Castle's website | t. 01655 770239  | e. enquiries@blairquhan.co.uk
Send an enquiry to Blairquhan Castle
BRANXHOLM PARK HOUSE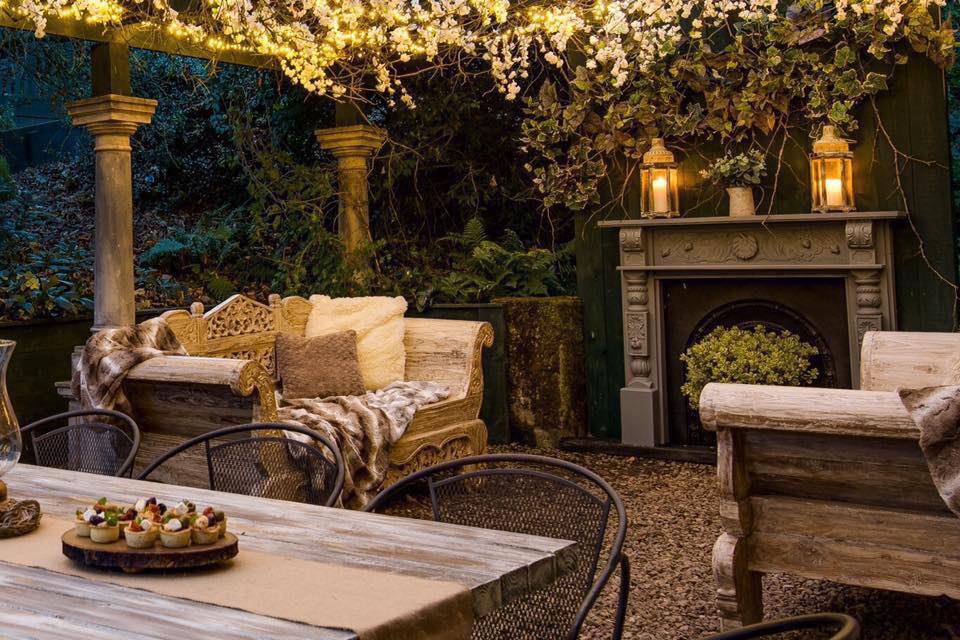 Branxholm Park House is a gorgeous exclusive-use, three-day, a virtually all-inclusive venue tucked away in the Scottish Borders countryside. This beautiful haven is all about bringing the outdoors in, and has so many amazing amenities that allow you to enjoy the outdoors whilst being protected from the unpredictable Scottish elements.
Its romantic Wedding Pavilion sits in the midst of mature woodland, and is surrounded by reams of beautiful wildflowers. After exchanging vows, enjoy drinks around the woodland fire pit under a canopy of twinkling fairy lights or in the elegant blossom-topped loggia.
Foodie friends will not be disappointed in the delicious meal served in the stunning French Orangerie.
Then dance the night away (and don't forget to make the most of the Karaoke suite!).
Visit Branxholm Park's website | t. 07585 281479 | e. info@branxholmpark.co.uk
Send an enquiry to Branxholm Park
CASTLE MENZIES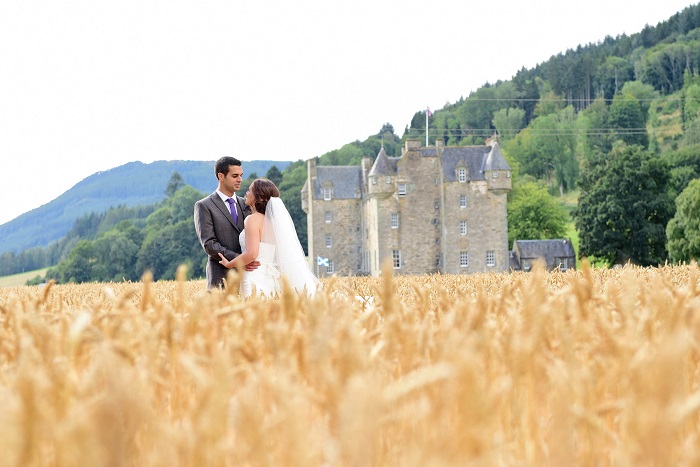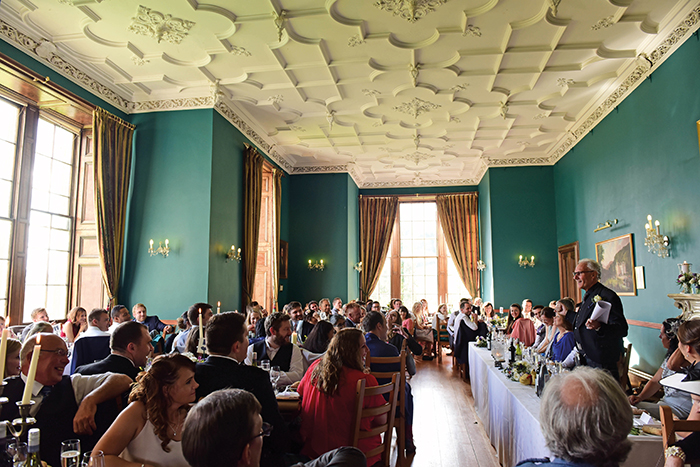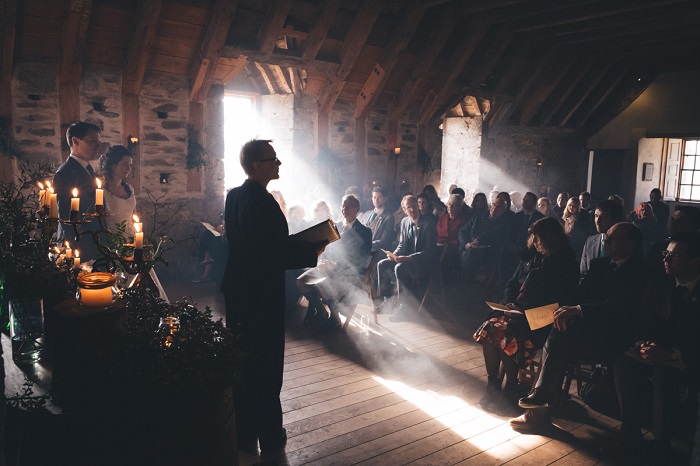 IMAGE (last) | Mike Plunkett Photography
Standing proudly against the rolling hills of Aberfeldy, Castle Menzies is the perfect venue for couples who love the romantic Scotland of Braveheart and Outlander.
Celebrating Scotland's rich history by taking advantage of the spectacular views by heading out into the small garden and well area or the walled garden for part of your big day.
Each of the castle's function spaces can serve as a lovely background to your wedding ceremonies, like the charming pink Main Hall that can hold up to 54 guests for a meal, or the stunning Dewer Room, a grand ballroom which can hold up to 120 guests for your wedding breakfast.
Visit Castle Menzie's website | t. 01887 820982 | e. castlemenziesmanager@gmail.com
Send an enquiry to Castle Menzies
CROSSBASKET CASTLE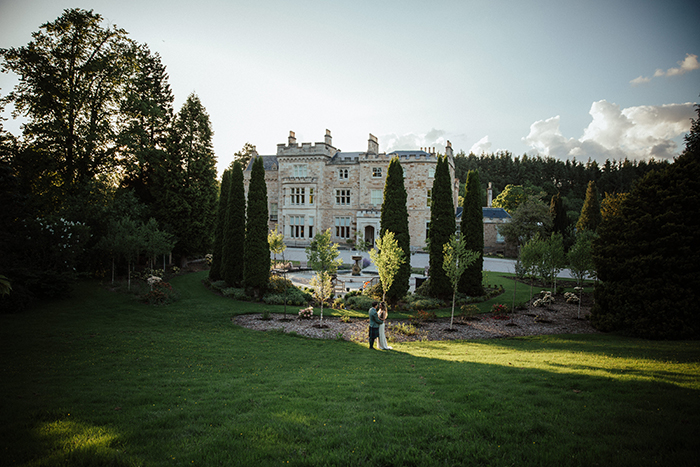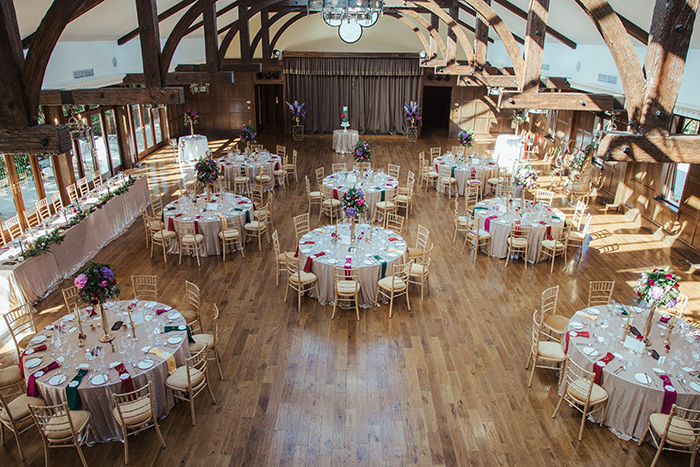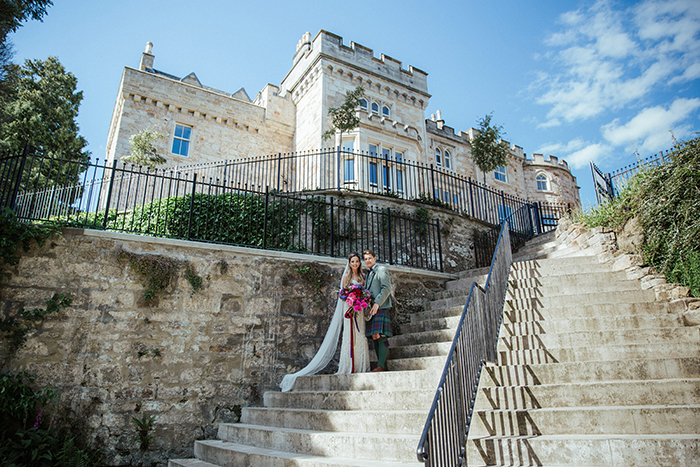 IMAGE | Tandem Photo
This 17th-century castle, located in Blantyre, has been transformed into one of Lanarkshire's most prestigious and luxurious wedding venues.
What really hammers home the romance-level here is the bridal tower, a honeymoon suite stretching up four floors, boasting a bridal dressing area, four-poster bed, bathroom with walk-in shower and roll-top bath, and lounge area. Swoon.
You can hire the castle on an exclusive-use basis and there are nine bedrooms for your nearest and dearest to stay over. If your wedding is on the small side, though, you don't have to hire the whole castle exclusively; parties of up to 12 can celebrate in the Lindsay Tower Suite.
Visit Crossbasket Castle's website | t. 01698 829461 | e. info@crossbasketcastle.com
DUNDAS CASTLE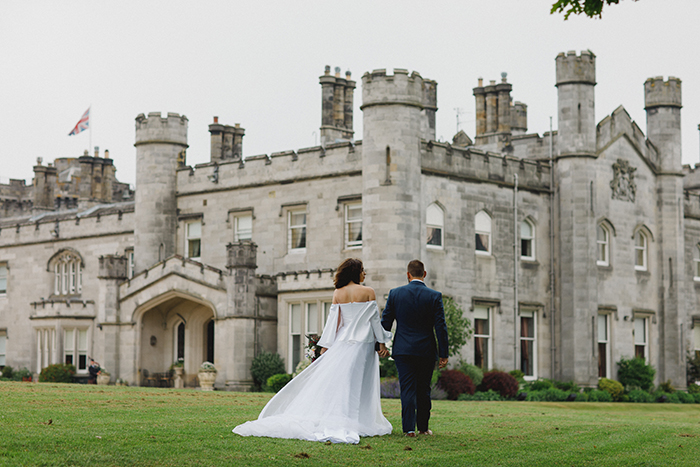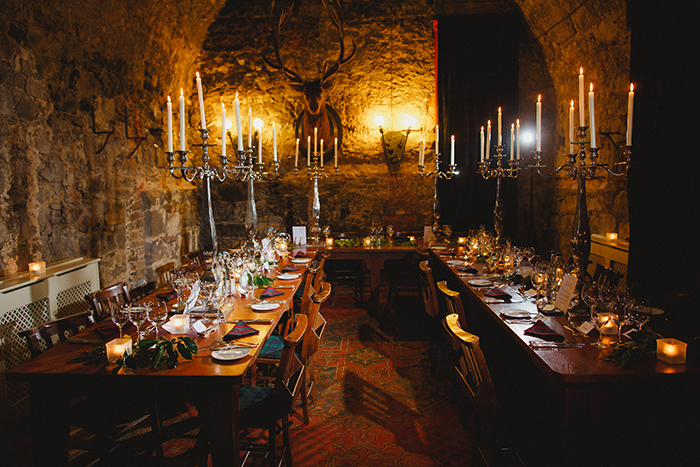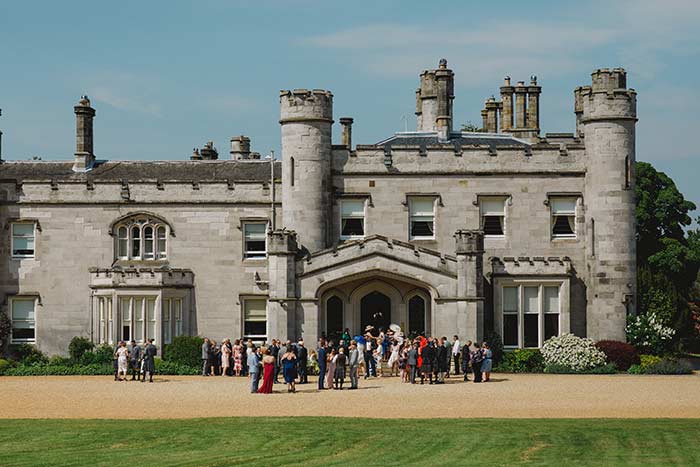 IMAGES | Duke Wedding Photography
Edinburgh's five-star Dundas Castle is the ultimate exclusive-use venue for fairytale weddings. It has recently seen double success at the Scottish VOWS Awards, winning 'Wedding Venue Edinburgh, Lothian & Borders' and the coveted 'Scottish Wedding Venue of the Year'.
Whether the ceremony takes place in the magnificent 600-year-old Auld Keep, or outdoors in the Courtyard or gardens, Dundas Castle is one of the most unique places to say "I do" in Scotland.
Along with the outstanding location and service, a superb team of catering professionals is on hand to carefully design creative and delicious wedding menus. Your perfect day can end in style too; spend your wedding night in the romantic Boathouse, a unique hideaway on the shores of Dundas' private loch.
Visit Dundas Castle's website | t. 0131 319 2039 | e. weddings@dundascastle.co.uk
Send an enquiry to Dundas Castle
EDEN LEISURE VILLAGE
IMAGES | The Gibsons
Eden Leisure Village is a picturesque countryside wedding venue situated in a great location between Glasgow and Stirling. The North Lanarkshire landscape is peaceful and idyllic, and provides a wonderful backdrop for a romantic outdoor wedding ceremony.
You can then hold your wedding breakfast and drinks reception in the marquee and continue the day with your evening reception in the brand new converted barn, a blank canvas space that will instantly inspire your wedding with effortless rural charm. There are also hobbit huts, glamping pods, and a unique glampervan, meaning you can stay with your family overnight too. Call them to book a viewing.
Visit Eden Leisure Village's website | t. 01236 735464 | e. info@edenleisurevillage.co.uk
Send an enquiry to Eden Leisure Village
FINGASK CASTLE
IMAGES | Neil Thomas Douglas Photography
Ideally located between Dundee and Perth, Fingask Castle sits in a sprawling estate of over 200 acres with the most beautiful of gardens and lush woodland.
The castle's eye-catching iconic topiary, great facilities, and stunning gardens are a draw for many couples. The party starts from arrival as the clipped trees give an Alice in Wonderland background to the whole affair. The venue, now in its 21st year of weddings, can accommodate up to 70 guests on site.
The romantic castle is set in its own wooded valley and despite its grand features it is a family home.
Visit Fingask Castle's website | t. 01821 670777 ext 3 | e. events@fingaskcastle.com
Send an enquiry to Fingask Castle
FORBES OF KINGENNIE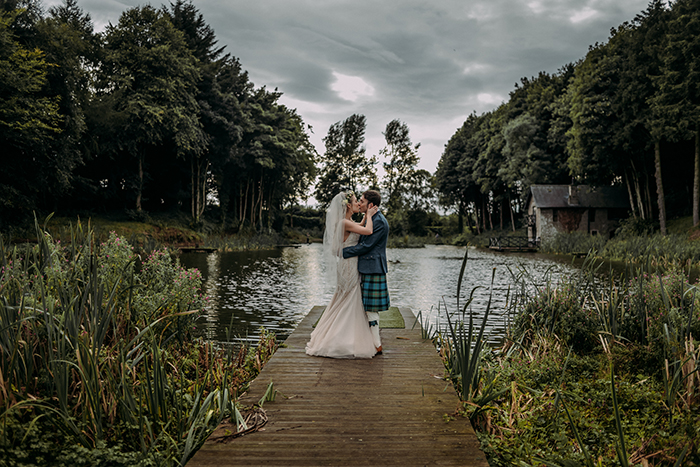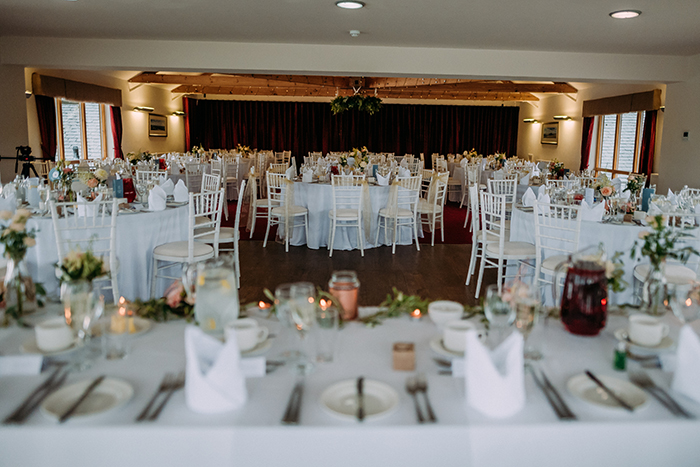 IMAGES | Burfly Photography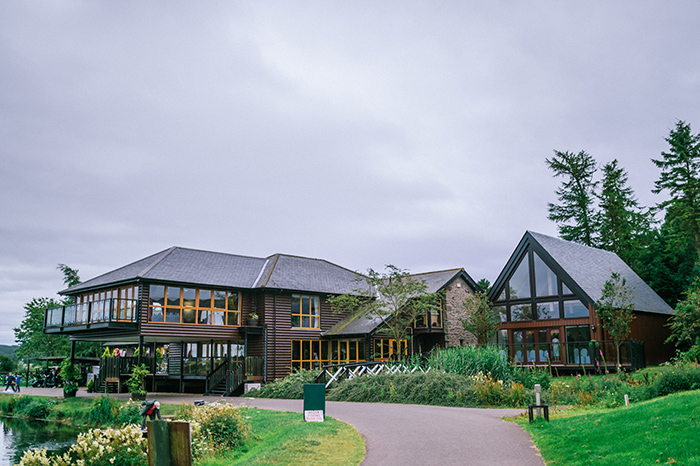 Set in the heart of Angus, just outside Dundee, Forbes of Kingennie Country Resort boasts views of rolling countryside and its very own fishing lochans.
Say your vows against the spectacular floor to ceiling windows in the beautiful Buddon Burn ceremony building before moving to the Inglesmaldie Suite for your reception. Both suites overlook the beautifully landscaped grounds which look gorgeous in any season.
What's more, there's plenty of room for your nearest and dearest to stay over in the resort's welcoming lodges, just a stone's throw away from the main building.
Visit Forbes of Kingennie's website | t. 01382 350777 | e. reception@forbesofkingennie.com
Send an enquiry to Forbes of Kingennie Country Resort
GLEN CLOVA HOTEL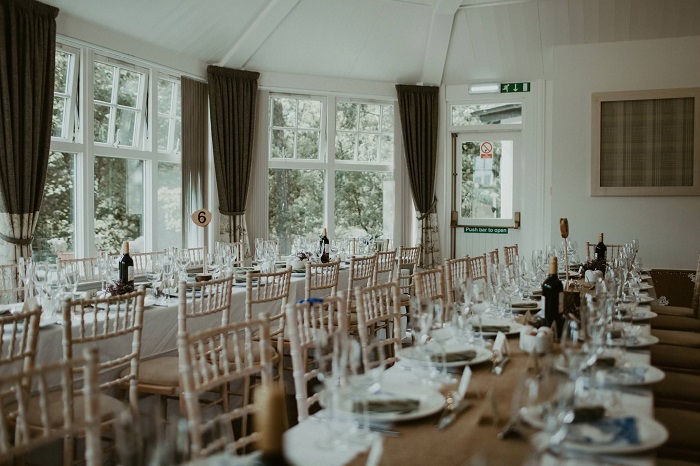 IMAGE | The Hendrys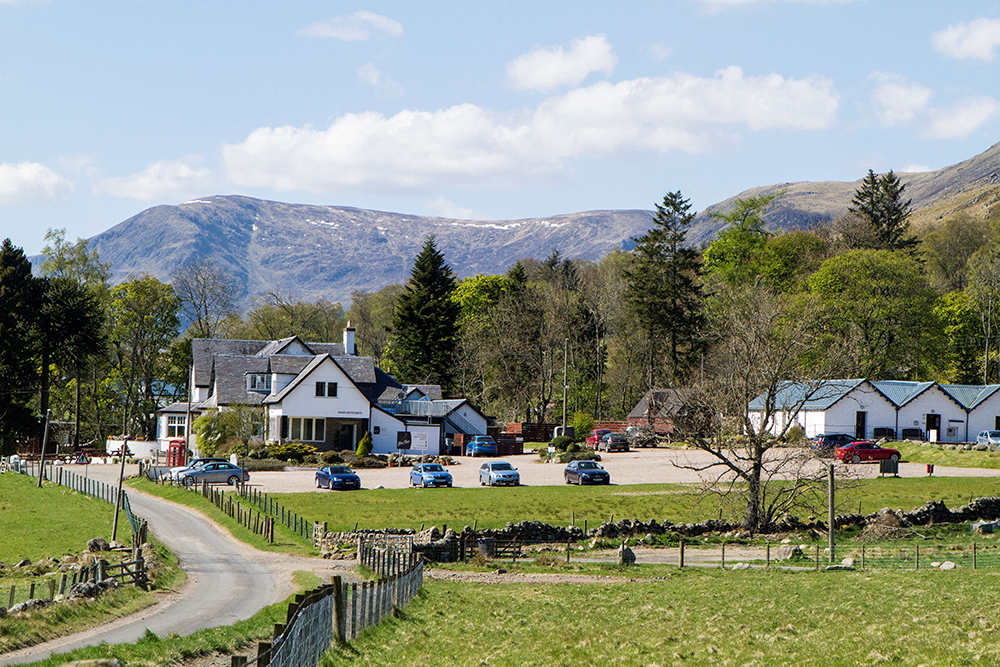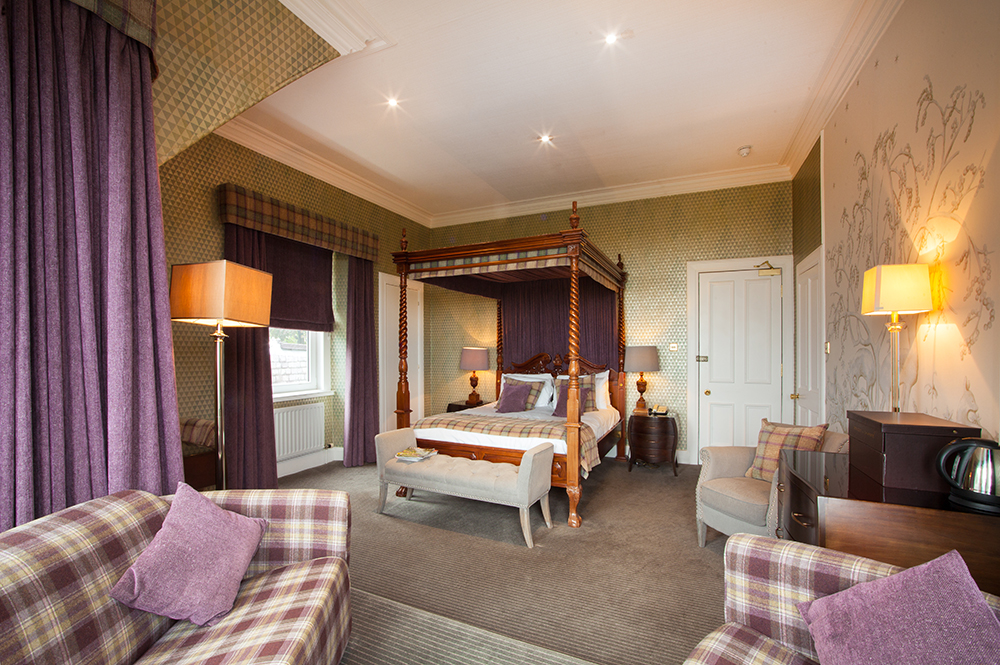 Between Aberdeen and Dundee, at the edge of the Cairngorms National Park, you'll find Glen Clova Hotel & Luxury Lodges, a beautiful 4* countryside retreat sleeping up to 84 guests.
We can cater for weddings large or small, anywhere from 12 to 120. You can choose to have your ceremony in the non-denominational Glen Clova Kirk which is 100m from the hotel, or if you're an outdoor fan you can get married at Corrie Fee or Loch Brandy. Smaller weddings (up to 50) can also choose to have their ceremony in the hotel.
Beautiful scenery, delicious food and attentive service will help to make your special day the magical day you've always dreamt of.
Visit Glen Clova Hotel's website | t. 01575 550350 | e. hotel@clova.com
Send an enquiry to Glen Clova Hotel
THE HUB
One of Edinburgh's most recognisable historic landmarks, and home to The Edinburgh International Festival, The Hub is a uniquely eye-catching and vibrant place for a reception, not to mention located in one of Scotland's most romantic cities.
Did you know that the romantic drama One Day was filmed in Edinburgh back in 2011, with scenes featuring recognisable spots like Calton Hill and Arthur's Seat?
You'll love the picturesque spots inside The Hub too; the Dunard Library is a beautiful space with lots of lovely light shining through.
The magnificent Main Hall has its own bar, stage and a semi-sprung dancefloor which makes it perfect for an energetic ceilidh.
Visit The Hub's website | t. 0131 473 2015 | e. thehub@eif.co.uk
INGLEWOOD HOUSE & SPA
Inglewood House and Spa is set within 25 acres of land and sits on the edge of a truly beautiful and enchanting woodland near Alloa.
The grounds have been extensively landscaped and there's a lovely duck pond on-site, making the gardens an incredibly pretty spot for wedding photographs.
Inglewood has a full wing dedicated to weddings, equipped with a stylish ballroom, balcony and special bridal suite where you can prepare for your wedding in the morning.
Big or small, you can have the wedding of your dreams at Inglewood House and Spa!
Visit Inglewood House & Spa's website | t. 01259 216156 | e. reservations@inglewoodhouseandspa.co.uk
Send an enquiry to Inglewood House & Spa
KINCAID HOUSE HOTEL 
Secluded in its own grounds in the village of Milton of Campsie close to the city centre, Kincaid House Hotel is a Grade A Listed building which is bursting with picturesque charm.
The historic Tudor manor boasts warm traditional interiors, a light-filled conservatory and a walled garden which make an ideal backdrop for a memorable ceremony and photographs of your big day.
The nine spacious en-suite rooms are beautifully decorated and furnished and are all reserved for you ensuring you have exclusive use for the duration of your stay.
Kincaid House Hotel is available for exclusive use, promising an intimate wedding day that is truly memorable.
Visit Kincaid House Hotel's website | t.  0141 776 2226 | e. info@kincaidhouse.com
Send an enquiry to Kincaid House Hotel
KINKELL BYRE
IMAGES | Photos by Zoe
A former farm steading, Kinkell Byre has been converted into a charmingly spacious wedding venue, creating dream big days for the past 15 years. A charmingly romantic location for couples looking for a rustic place to hold their big day celebrations.
Situated on the coast near St Andrews, Kinkell Byre has really spectacular views over the North Sea and east coast of Scotland from the St Andrews bay, and get this – you can have your wedding ceremony outside facing out onto this breathtaking view.
You'll also love the glass door at the bar and reception area, giving you wonderful views for your ceremony or drinks reception inside the byre.
Visit Kinkell Byre's website | t.01334 472003 | e. info@kinkell.com
Send an enquiry to Kinkell Byre
LOCH LOMOND ARMS HOTEL
With a prime spot in the heart of picturesque Luss and breathtaking scenery on all sides, the Loch Lomond Arms Hotel is a seriously romantic wedding venue.
Take advantage of the gorgeous surroundings by getting married at Slate Quay, a private spot on the bank of the lochs with plenty of space for marquees and its own jetty so guests can arrive by boat!
There are also romantic islands for ceremonies, two lovely function spaces, and the nearby ancient Luss Church.
Is there a more gorgeous setting for your wedding photos than against the rippling waters of Loch Lomond?
Visit Loch Lomond Arms Hotel's website | t. 01436 86042 | e. events@lochlomondarmshotel.com
Send an enquiry to Loch Lomond Arms Hotel 
LOCH LOMOND WATERFRONT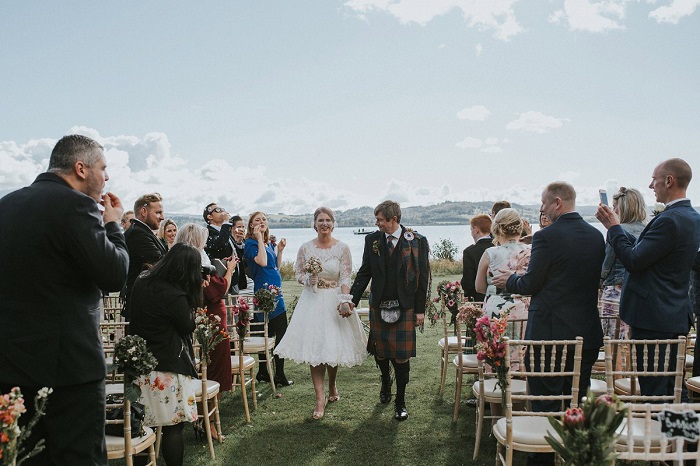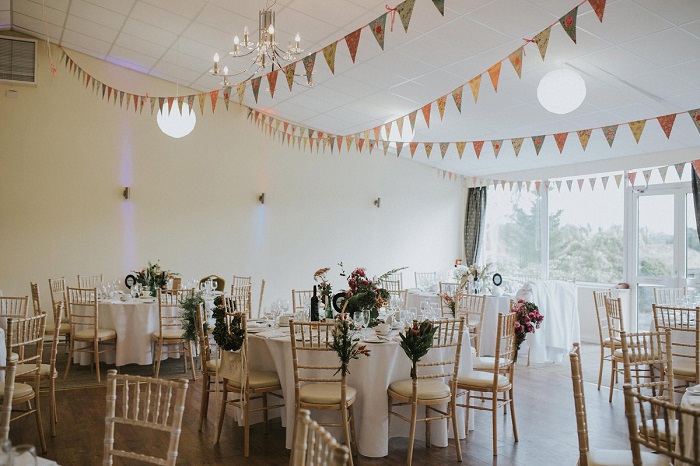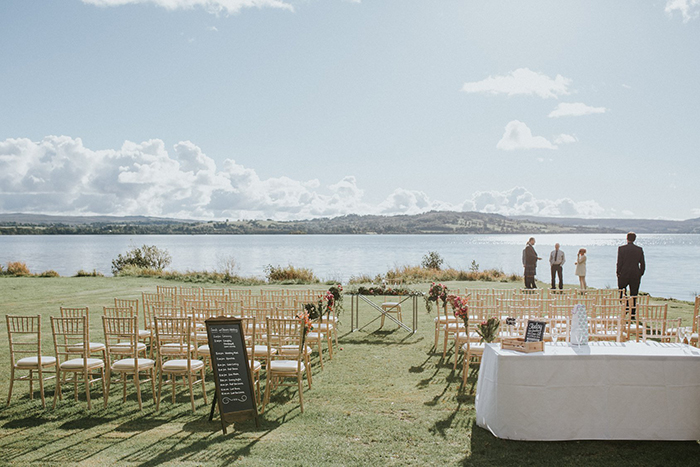 IMAGES | Maureen Du Preez Photography
Set within 18 acres of private grounds with its own exclusive beach, Loch Lomond Waterfront is located in a tranquil and wooded location on the banks of Loch Lomond, near the picturesque village of Balmaha.
With stunning panoramic views in every direction, you can opt for a marquee or tipi wedding, enabling you to celebrate the most memorable day of your life in the heart of the Scottish countryside.
Wedding receptions can also be hosted in the multi-room function suite, which includes the Thistle Banquet Room, Rob Roy private lounge bar and the Garden Room conservatory.
Visit Loch Lomond Waterfront's website | t.  01360 870144 | e. info@llwf.co.uk
Send an enquiry to Loch Lomond Waterfront 
LODGE ON LOCH LOMOND
This wedding venue is situated with the best view of Loch Lomond from Luss; you can even say your vows with the most breathtaking scenery stretching behind you as far as the eye can see.
The hotel has a variety of different rooms and spaces for your wedding day, and the beautiful function suites can be adjusted to cater for large or small weddings.
You could tie the knot in romantic Luss Church, or on the hotel's private patio overlooking the beach.
Why not hire a boat to pick you up directly from the hotel's jetty on your special day?
Visit Lodge on Loch Lomond's website | t. 01436 860201 | e. weddings@loch-lomond.co.uk
Send an enquiry to Lodge on Loch Lomond
MYRES CASTLE
Myres Castle, winner of Best UK Wedding Venue in the Hudson UK Heritage Awards 2018, is a whimsical and romantic wedding venue situated near the village of Auchtermuchty.
The best of both worlds, you can have the stunning castle for up to 24 guests throughout your stay, and celebrate your wedding in the rustically charming Barnquee.
The Barnquee is situated in a lovely woodland setting, with twinkling lights hanging from the trees and fire pits outside (as well as a wood fired pizza oven!) to further add to the magical atmosphere.
Visit Myres Castle's website | t. 01337 828350 | e. enquiries@myrescastle.com
Send an enquiry to Myres Castle
NEIDPATH CASTLE
IMAGES | Dearly Photography
Neidpath Castle is a beautiful building boasting a history that stretches over almost a thousand years.  West of Peebles, the majestic building towers over the beautiful River Tweed and great care has been taken to preserve the castle's authenticity.
Wedding breakfasts and receptions are held in the stunning Great Hall which can also sit up to 80 guests. An impressive space with paneled walls, a huge functional fireplace, and batiks that depict the life of Mary Queen of Scots (who stayed at the castle in August 1563!), it'll definitely impress any history buffs amongst your wedding guests!
Visit Neidpath Castle's website | t. 01721 720333 | e. enquiries@neidpathcastle.com
Send an enquiry to Neidpath Castle
OXENFOORD CASTLE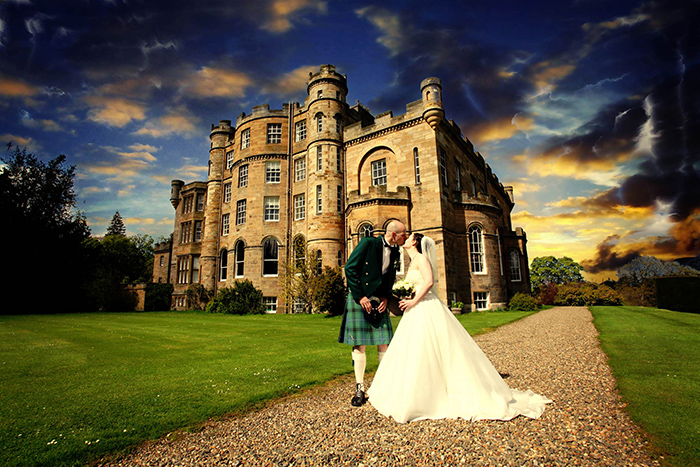 IMAGE | Philip Hawkins Photography
What could be more romantic than exchanging vows in a traditional Scottish castle? With Edinburgh only a 30-minute drive away, Oxenfoord Castle boasts both an enchanting country location and close proximity to a major city.
An exclusive-use wedding venue, you can expect to spend a day surrounded by your nearest and dearest while you enjoy the estate's romantic parkland and historic interior, brimming with carved woodwork and lavish plaster ceilings.
Visit Oxenfoord Castle's website | t. 0131 287 0535 | e. oxenfoord@hickoryfood.co.uk
Send an enquiry to Oxenfoord Castle
OLD COURSE HOTEL

IMAGE | Claremont Photography
Whether it's a storybook formal event for hundreds or an intimate, casual exchange of vows for just your closest friends – whatever your wedding dreams, the Old Course Hotel, Golf Resort & Spa can make them happen.
The five red star resort sits in one of the most legendary locations in Scotland, overlooking the beautiful West Sands beach, within walking distance of the historic town of St Andrews. It has a variety of spaces for your ceremony and wedding breakfast and a team of wedding planners to take all the stress away.
Take some time out for yourself pre-wedding and indulge in a Bridal Luxury package at the Kohler Waters Spa, including a massage and facial.
Visit Old Course Hotel's website | t. 01334 474371 | e. events@oldcoursehotel.co.uk
Send an enquiry to Old Course Hotel
RIDDLE'S COURT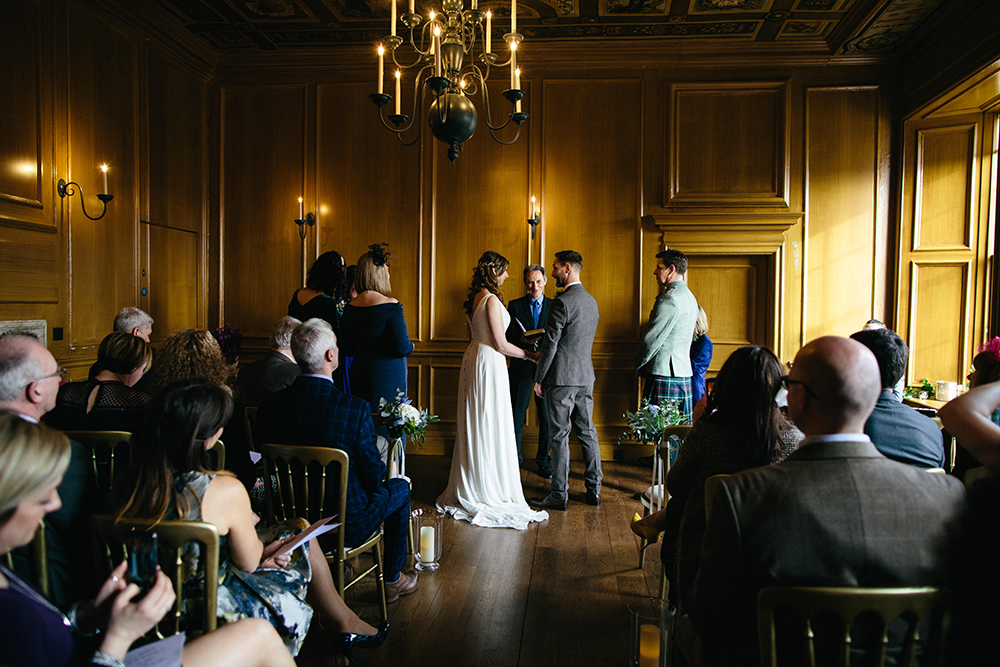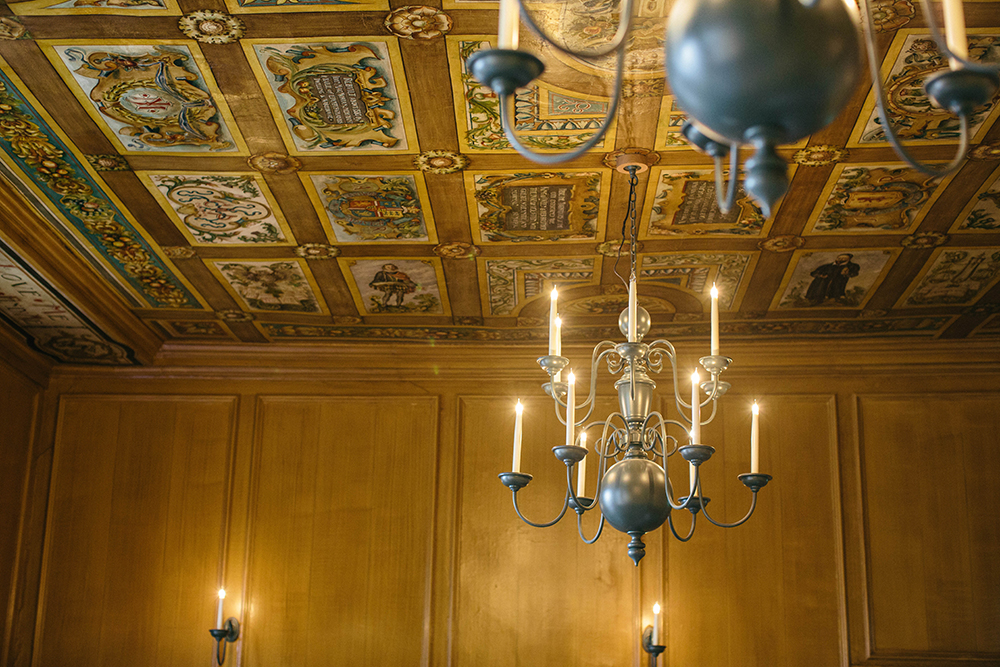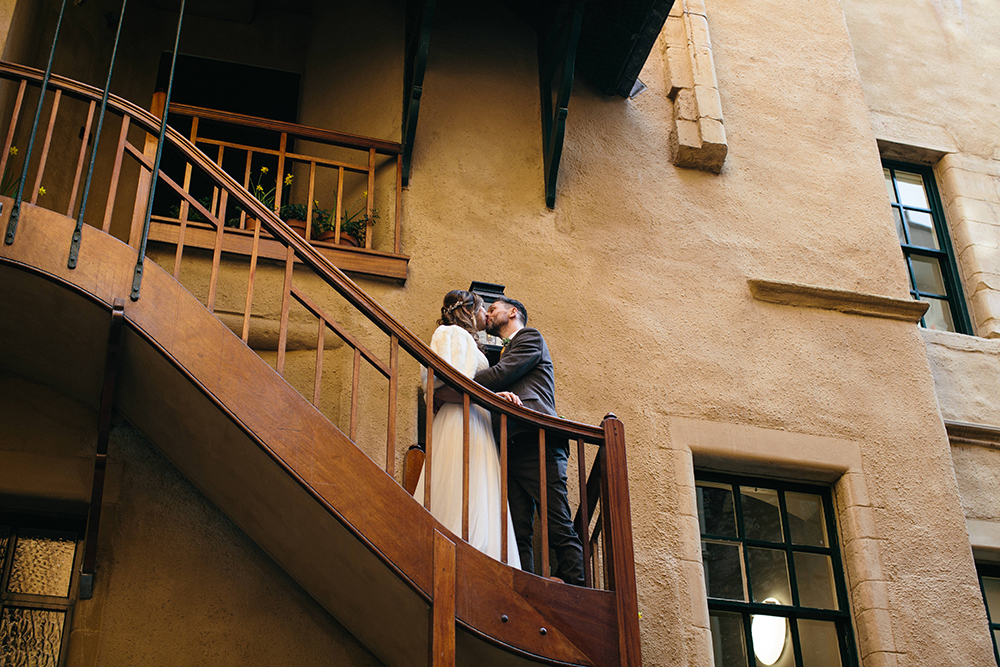 IMAGES | Mirrorbox Photography
Riddle's Court provides a romantic and historic setting with captivating painted ceilings, elegant rooms, and intimate courtyards, all conveniently located in the heart of Edinburgh's Old Town.
From the moment you walk in from the Royal Mile, the venue exudes character and charm with a peaceful and relaxing atmosphere away from the bustle of city life. The historic rooms are an enchanting choice for ceremonies, receptions, wedding breakfasts and even ceilidhs.
Personal and intimate, colourful and historic, beautiful and stylish: Riddle's Court is the ideal venue for a wedding exuding romance.
Visit Riddle's Court's website | t. 0131 510 8789 | e. events@riddlescourt.org.uk
Send an enquiry to Riddle's Court
UNUSUAL VENUES OF EDINBURGH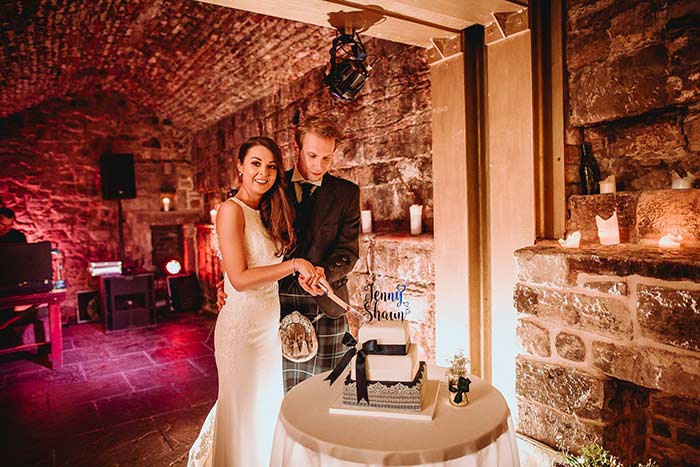 How many people can say they got married in a cave?
A collection of unique, exclusive use, multi-award-winning venues: The Caves, The Rowantree and Marlin's Wynd, situated in the heart of Edinburgh's Old Town.
Unusual Venues of Edinburgh are just bursting with historical and romantic charm, sure to wow your guests and make your wedding day one to remember.
They can cater for weddings from 20 to 150-day guests and up to 450 guests in the evening.
Visit Unusual Venues of Edinburgh's website | t. 0131 5106969
e. hello@unusualvenuesedinburgh.com
Send an enquiry to Unusual Venues of Edinburgh
UPPER AND LOWER COLLEGE HALL AT UNIVERSITY OF ST ANDREWS
If you are looking for a romantic, unique venue set in beautiful surroundings in the town centre of St Andrews, Lower College Hall at the University of St Andrews is the perfect venue for your special day.
The team have been hosting spectacular wedding ceremonies and receptions for couples from all around the world for many years, and are always on hand to take you through every step of the way, ensuring that your day is everything you imagine it to be.
Their new wedding package for 2019 is the best offer Lower College Hall has seen so far, so go along for a visit, have a look around and chat with the team about how they can bring the wedding of your dreams to life.
Visit University of St Andrews website | t. 01334 462509 | e. AceEvents@st-andrews.ac.uk 
Send an enquiry to University of St Andrews
WESTERN HOUSE HOTEL
IMAGE |Paul Walker Images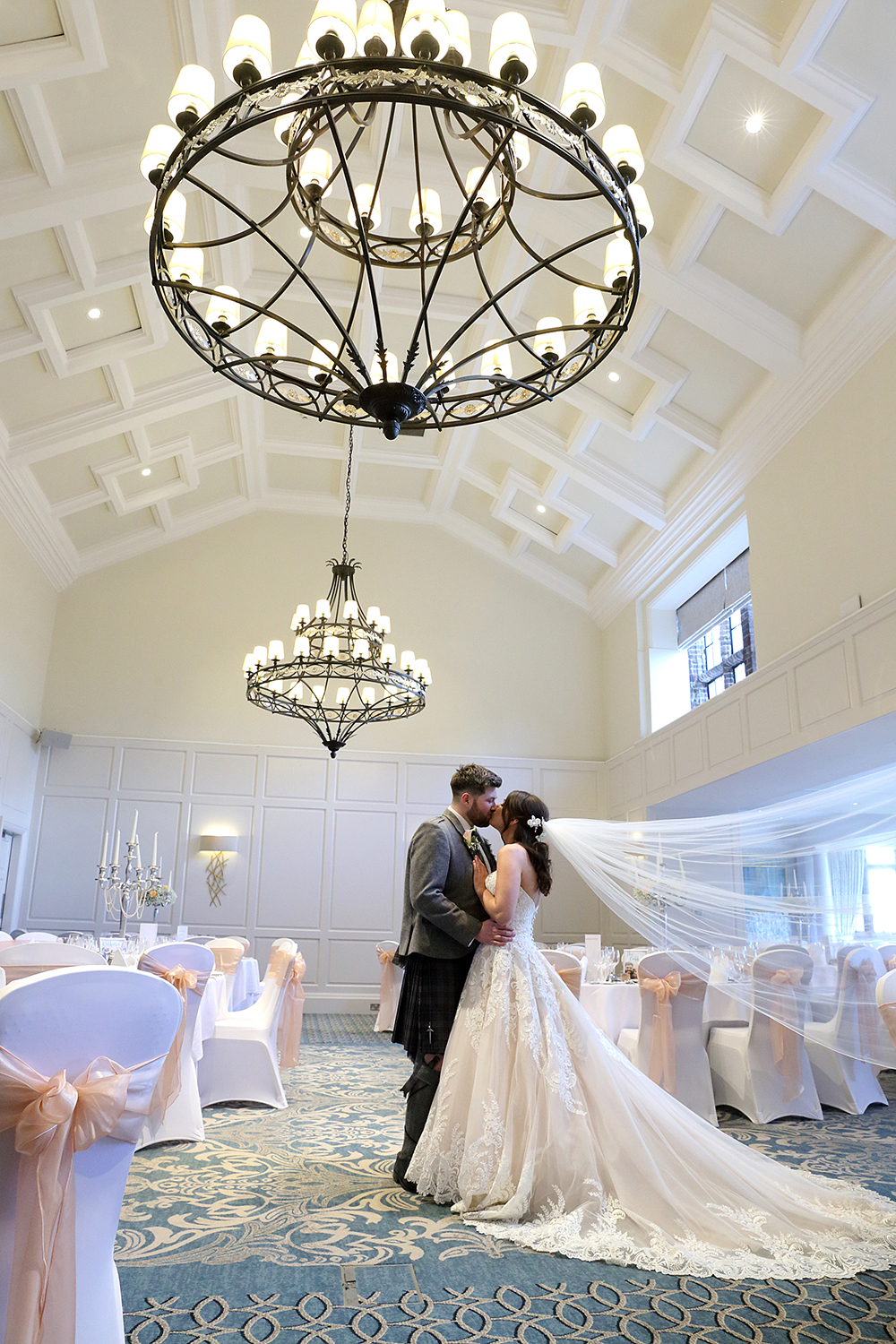 IMAGE |AMD Photography
An Ayrshire country house with bags of style and charm, the Western House Hotel is a romantic, idyllic setting for your special day.
The hotel itself is steeped in history; a 150-year-old baronial mansion with a sweeping tree-lined driveway, you'll be driven up to the door of the house in front of the gorgeous gardens and spectacular fountain.
Have your photos taken under the traditional bandstand in the grounds. This place truly feels like a fairytale setting.
Spend the wedding night in the bridal suite courtesy of the hotel, with views overlooking the gardens and Ayr Racecourse.
Visit Western House Hotel's website | t. 01292 294990 | e.weddings@westernhousehotel.co.uk
Send an enquiry to Western House Hotel 
ACHNAGAIRN CASTLE
IMAGE |Chen Sands Photography
Romantically atmospheric, this Aberdeenshire castle venue is perfect for couples looking for a wedding venue with tons of natural character.
Visit Achnagairn Castle's website
Send an enquiry to Achnagairn Castle
ASWANLEY
IMAGE | Emma Lawson Photography
Aswanley is a charming converted barn venue with lovely grounds and beautiful, blank canvas interiors.
CAMBO COUNTRY HOUSE AND ESTATE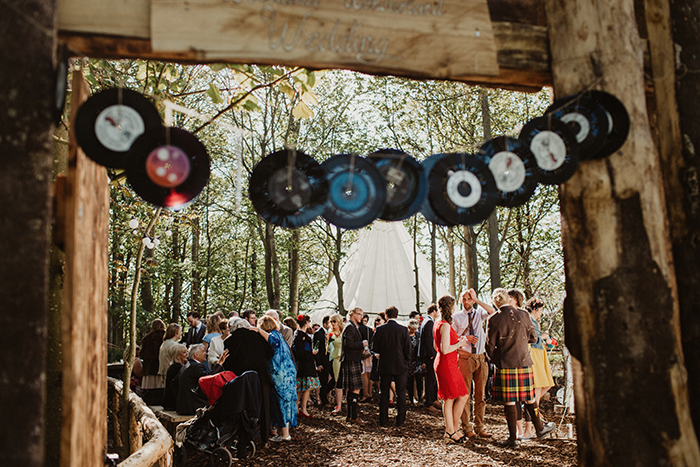 IMAGE | The Curries
A wonderfully versatile wedding venue, couples looking for a romantic outdoor space to tie the knot in will fall in with Cambo's stunning Party Woodland space situated amongst the willows.
WHAT IS A WEDDING IF IT'S NOT THE BEST PARTY EVER?!