Cornhill Castle unveils Honeymoon Suite with a hidden secret
The doors have just opened on the Balmoral Suite at Cornhill Castle near Biggar in Lanarkshire – and it is seriously gorgeous!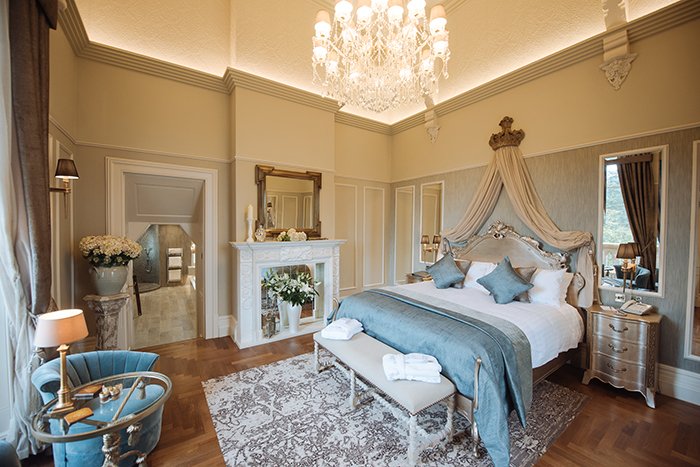 The newly completed suite is located in one of the original turrets of the castle and it occupies three floors. It's where couples can enjoy perfect seclusion – and there's an added surprise. This hidden gem of a feature is like walking into the wardrobe and finding Narnia. A magical secret doorway will leave couples wondering " what lies behind the door?
The first level is a large sitting room complete with separate bathroom. The fireplace incorporates a discreetly hidden flat screen television fronted by comfy sofas. Windows let in lots of natural light, with armchairs by the windows to enjoy the views.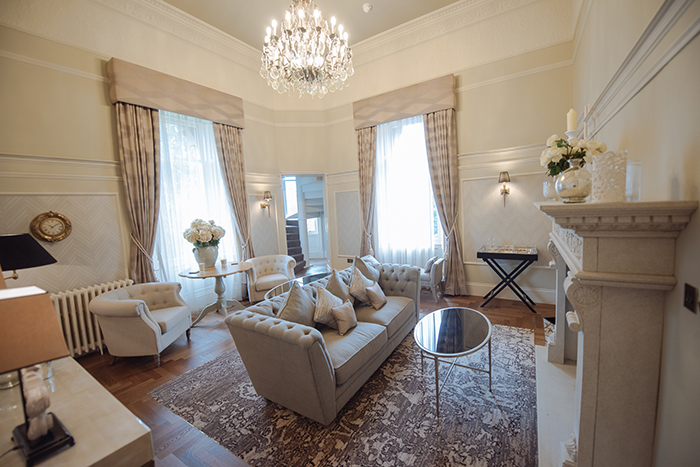 All in the detail
Walk up the swirling turret staircase, to the next level and you're met with a stunning bedroom. The space is a secluded and magical bolthole. The room includes a wonderfully high ceiling, part of which was only discovered once renovation work started. A huge sparkling chandelier hangs above the bed, which FYI, was shipped from Italy and was so large it had to be taken into the room via a window!
Lots of natural light floods into the room and there's comfortable armchairs to enjoy the stunning Lanarkshire countryside and views of the River Clyde.
Step down into the bathroom and you'll be met with a large hot tub bath plus there's a two-person sauna and a rainfall shower which has been built into one of the original castle turrets. A discreetly hidden fridge will keep the champagne chilled.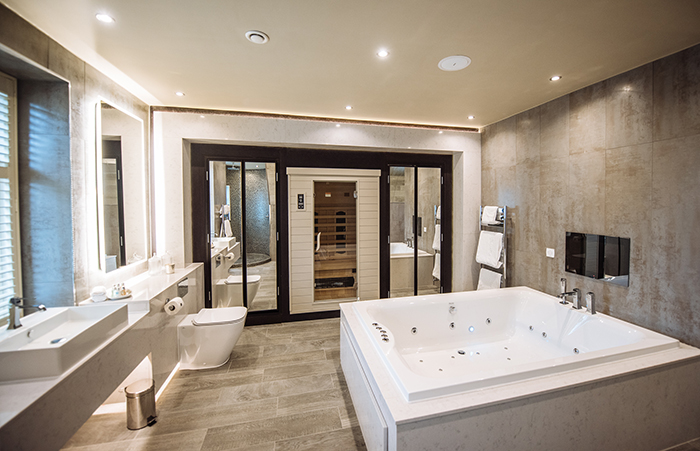 The magic of Cornhill Castle
The journey isn't finished there. There's more stairs to climb up into the castle turret where you'll be met with another doorway which leads to a hidden surprise. Open the door and walk into a secret room which captures the magic of Cornhill Castle.
All throughout the Balmoral Suite the furniture and fittings completes the tasteful yet elegant feel, which is in keeping with the entire ambience of the castle. It oozes an understated and timeless glamour.
The Cornhill Castle redevelopment programme totals £850,000, with £200,000 of this being spent on the Balmoral Suite alone, so you're in for a seriously luxurious stay. Want to find out what SWD thought of the castle? Digital Editor Steph headed to the Biggar venue earlier this year – read about her experience in our Winter 17 issue.
CONNECT WITH CORNHILL CASTLE