37 of the best winter wedding venues in Scotland 2018
From grand castles to cosy barns and everything in between; check out our 2018 list of the best winter wedding venues in Scotland.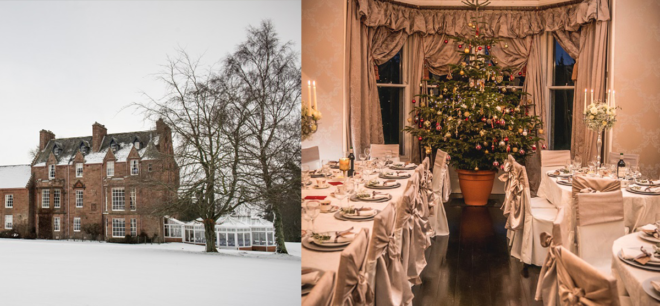 We've hit the jackpot in Scotland; we really do see all of the seasons and, fortunately, each one brings its own beauty. Scottish wedding venues across the country look especially spectacular in winter, grounds covered in dewy frost and, if you're lucky, you might even get a flutter of snow.
Here's some of the best winter wedding venues in Scotland in 2018, including grand castles, cosy stately homes and beautiful barns.
This post contains some paid-for content. 
Aikwood Tower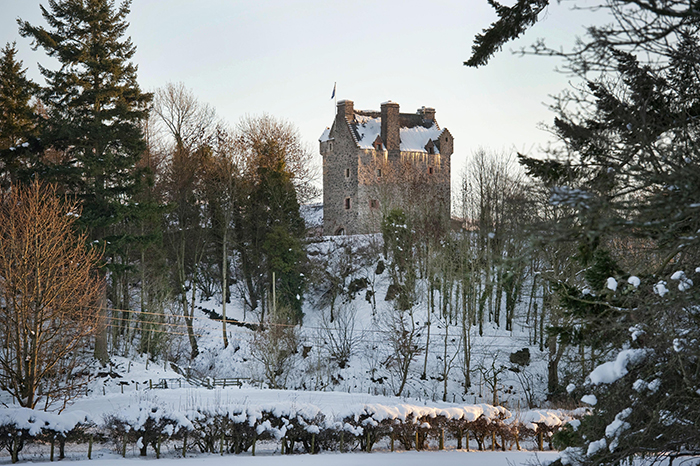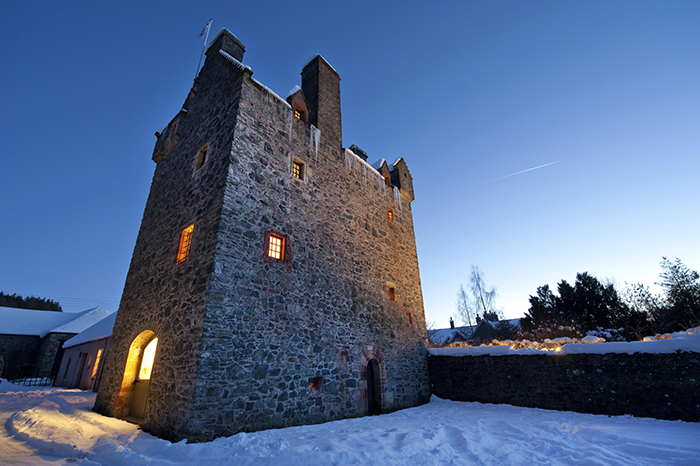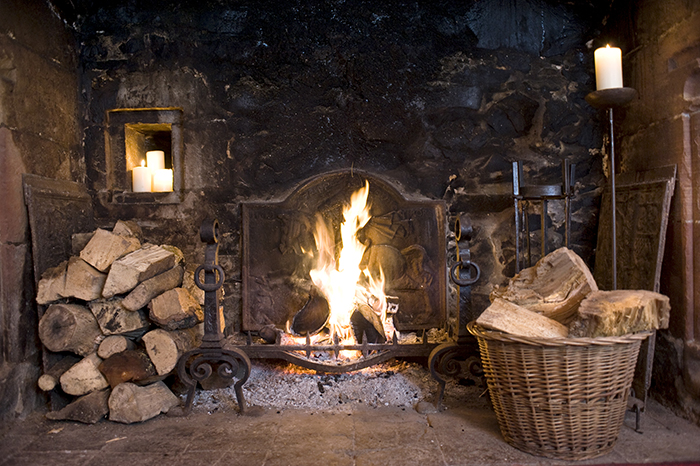 During Winter this 500-year-old Reiver Tower really comes to life, making it the ideal setting for an incredibly special and memorable wedding.
Nestled within the castle walls you can forget the elements outside and immerse yourself in romance with the roaring fire, twinkly candlelight and rustic decorations. The castle has been renovated in a sumptuous 21st century style to create a cosy, welcoming atmosphere. All you need is a sprinkling of snow outside to add the finishing touch!
Visit Aikwood Tower's website | t. 01750 700 500 | e. manager@aikwoodtower.com
Read reviews for Aikwood Tower
Balbirnie House Hotel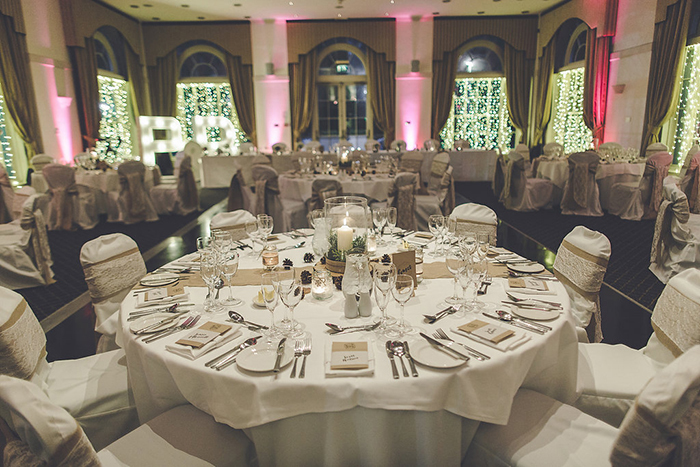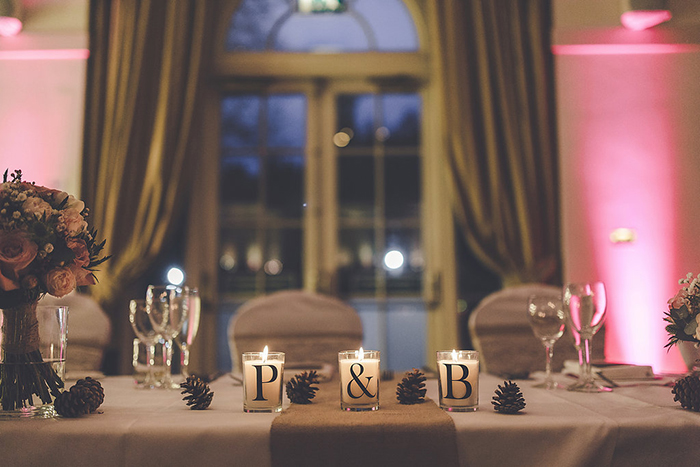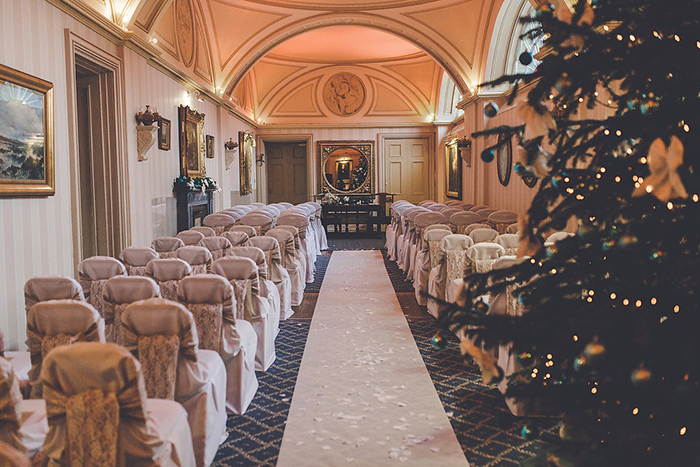 IMAGES | Emma Lawson Photography
Nestled within 400 acres of parkland between Edinburgh and St. Andrews, Balbirnie House Hotel is an award-winning luxury Scottish wedding venue and a gorgeous option for an autumnal or winter big day.
The hotel has adopted the concept of hygge; a Norwegian and Danish word for a mood of cosiness and comfort with feelings of wellness and contentment – ideal for weddings during the colder months!
Their winter package is available from October to February, with open log fires, candlelight and the soft twinkling of fairy lights adorning the floor-to-ceiling windows in the beautiful ballroom, instantly giving your wedding an irresistibly cosy atmosphere.
Visit Balbirnie House Hotel's website | t. 01592 610066 | e. gaynor@balbirnie.co.uk
Read reviews for Balbirnie House Hotel
The Barn @ Barra Castle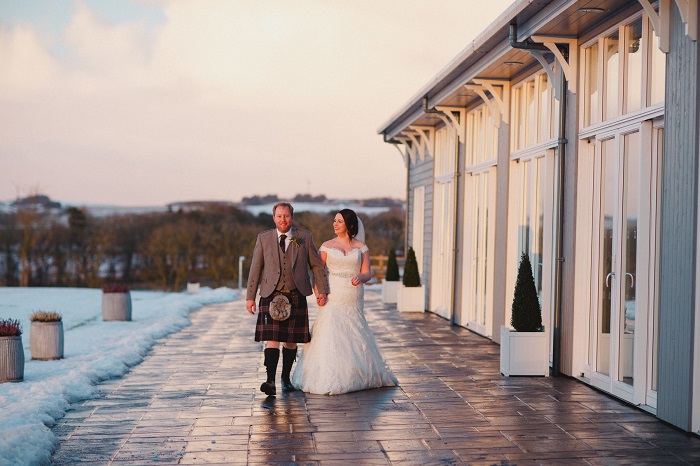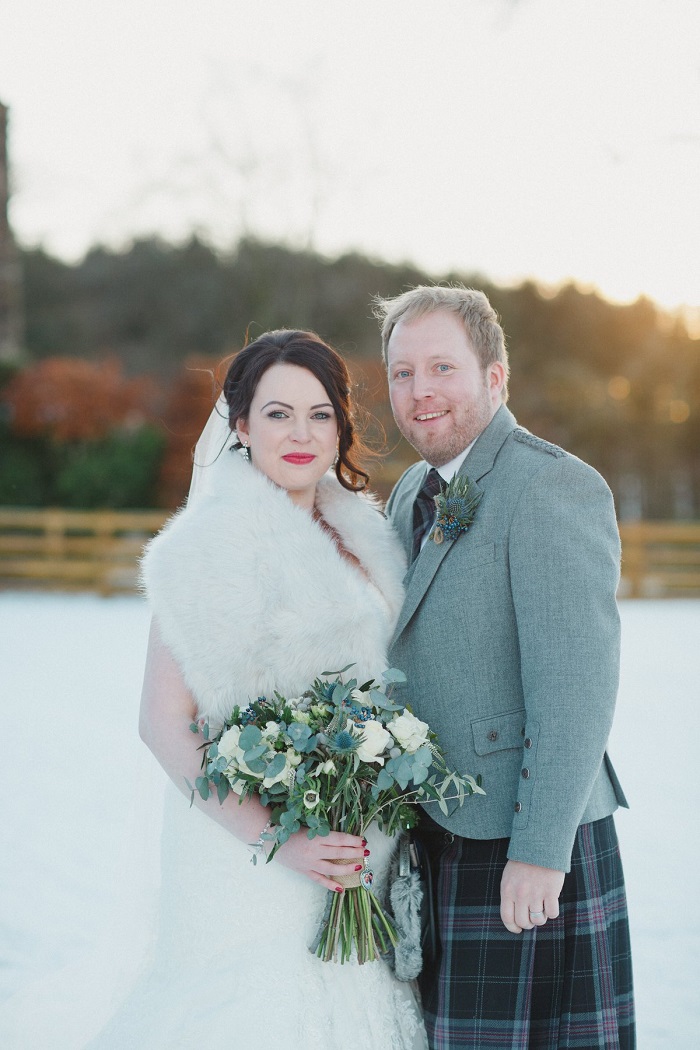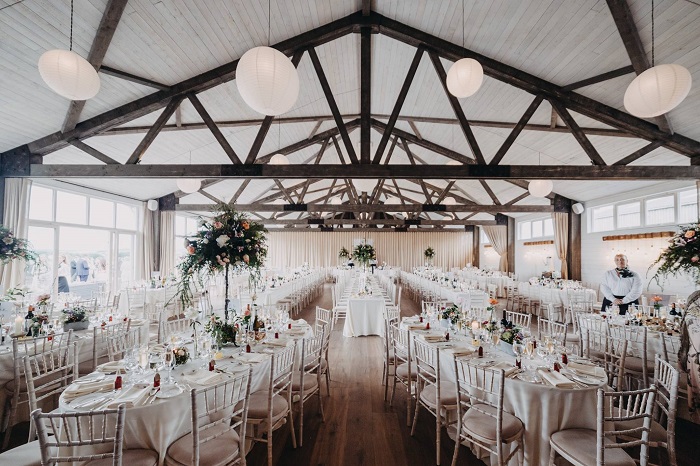 IMAGES (top two) | Duke Wedding Photography
The brand new and exclusive-use The Barn @ Barra Castle, located in Oldmeldrum, is perfect for a rustic and stylish countryside wedding.
This contemporary barn features underfloor heating and a wood burning stove, and can be found in the grounds of 16th-century tower house, Barra Castle. One elevation also boasts a stunning floor-to-ceiling glass wall that allows panoramic views out over the gorgeous Aberdeenshire scenery.
It's a bit of a blank canvas venue with lots of flexibility and first-class recommended suppliers, so you're sure to have lots of fun planning your wedding here.
Visit The Barn @ Barra Castle's website | t. 07866491508 | e. info@barracastle.co.uk
Blair Castle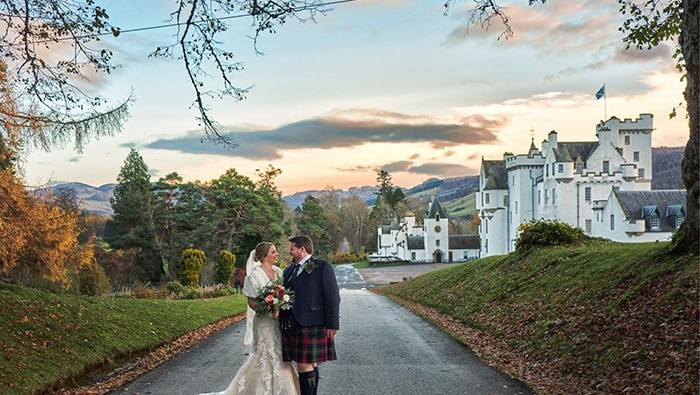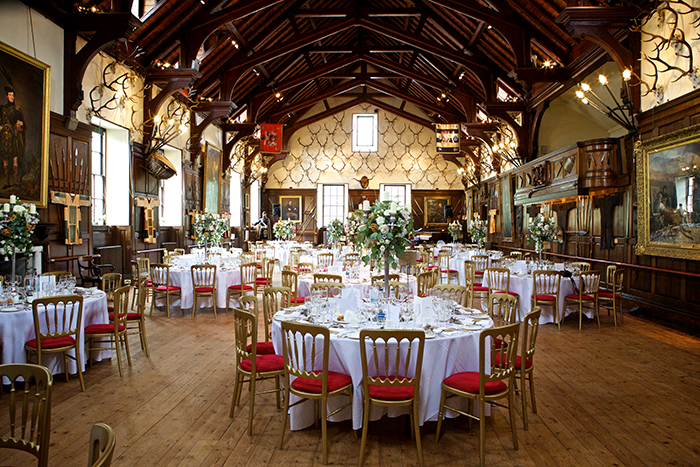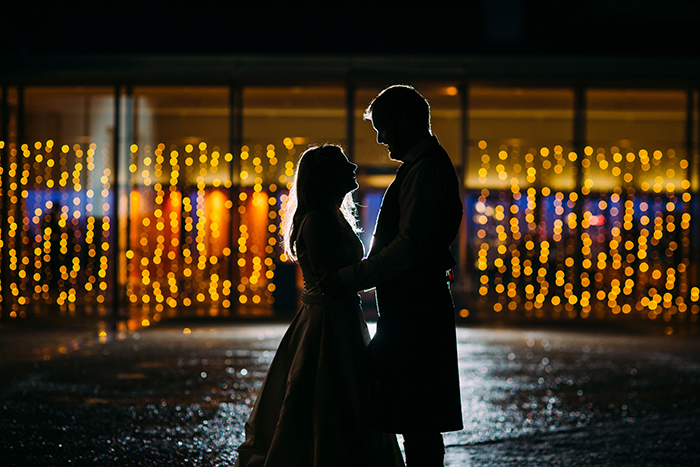 A truly quintessential Scottish castle, this iconic building has passed through 19 generations of the Stewart and Murray families. It is steeped in centuries of Scottish history, which you can see throughout in its décor and architecture.
The Ballroom is grand and spacious – perfect for a big wedding celebration of up to 220 guests. But if you're looking for a more intimate celebration, the Ballroom's cosy and warm hunting lodge aesthetic means that you can sit as little as 60 guests and the room will still feel lively and full.
If you want to tie the knot outside, Blair Castle's gardens are lovely and extensive, with lots of gorgeous spots to hold your wedding ceremony.
Visit Blair Castle's website | t. 01796 481207 | e. jackieS@blair-castle.co.uk
Branxholm Park House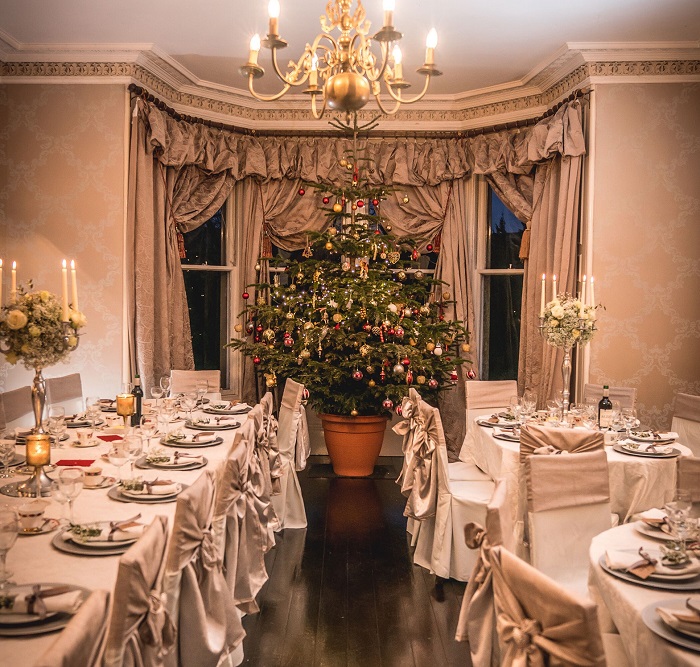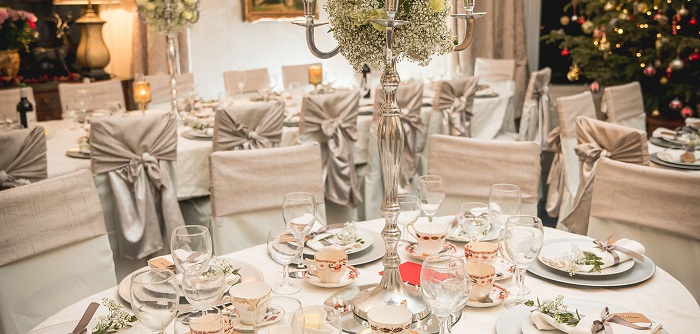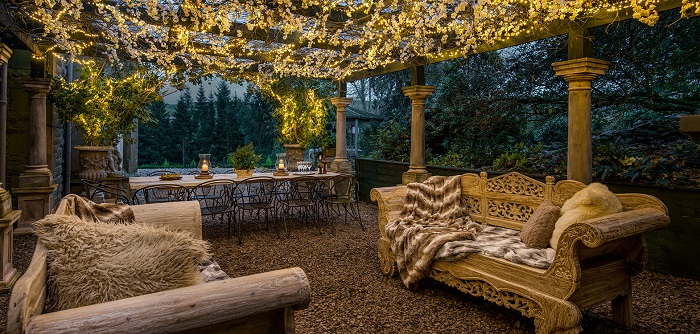 What could be more romantic than a Christmas wedding? During the festive season, Branxholm Park House in Hawick is decorated in an elegant Victorian theme, with a huge Christmas tree – the perfect backdrop to a truly magical winter wedding day.
Your guests can enjoy a drink around the Drawing Room log fire, an alfresco chat around the terrace fire pit roasting chestnuts at the reception and even a glass of champagne in the Loggia, a unique garden room with an impressive fire surround and twinkling lights. Sounds absolutely perfect!
Ask about Branxholm's excellent value package prices, which include three days and nights hire of the venue, a free bar service and all suppliers included for up to 40 guests (extra guests can be added).
Visit Branxholm Park House's website | t. 07585281479 | e. info@branxholmpark.co.uk
Read reviews for Branxholm Park House
The Bruntsfield Hotel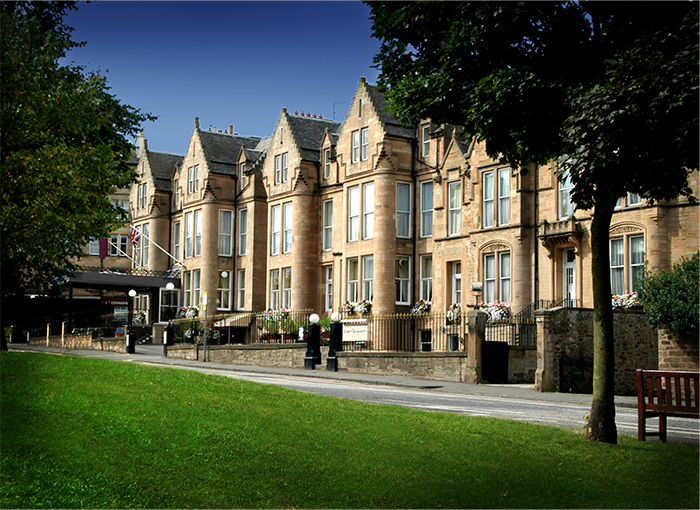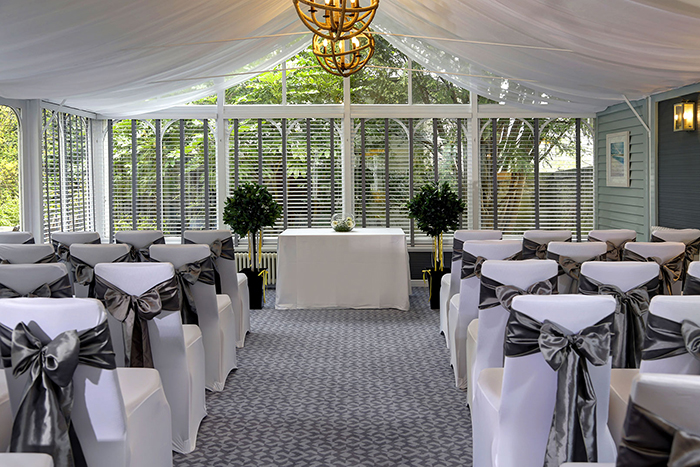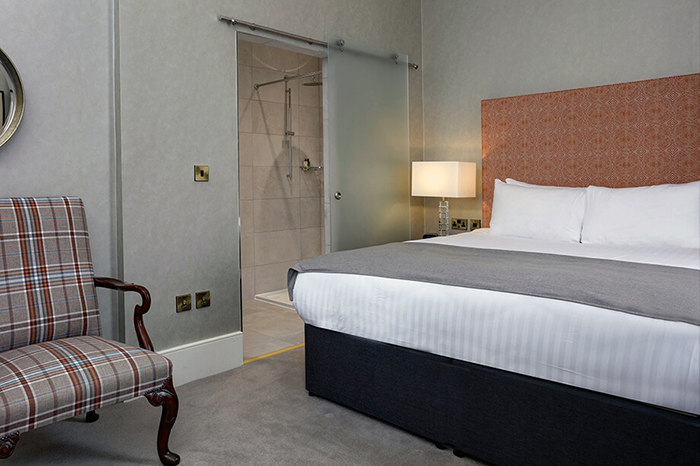 This four-star townhouse hotel is in a very charming part of Edinburgh, just a stones' throw from the hustle and bustle of the city centre.
Hold your ceremony in the Conservatory which leads out onto the garden terrace at the rear of the hotel and celebrate with dinner and dancing in the newly refurbished Cardoon Suite, with a fresh, contemporary grey and white look.
The menu is one of the most important things about your day, and you can be sure that you're in safe hands with the chefs at the Bruntsfield; why not chat to them about adding something a little bit more personal to your menu or drinks?
The hotel has plenty of on-site accommodation for your guests too, with a four-poster bedroom for the newlyweds!
Visit The Bruntsfield Hotel's website | t. 0131 229 1393 | e. sales@thebruntsfield.co.uk
Read reviews for The Bruntsfield Hotel
Byre at Inchyra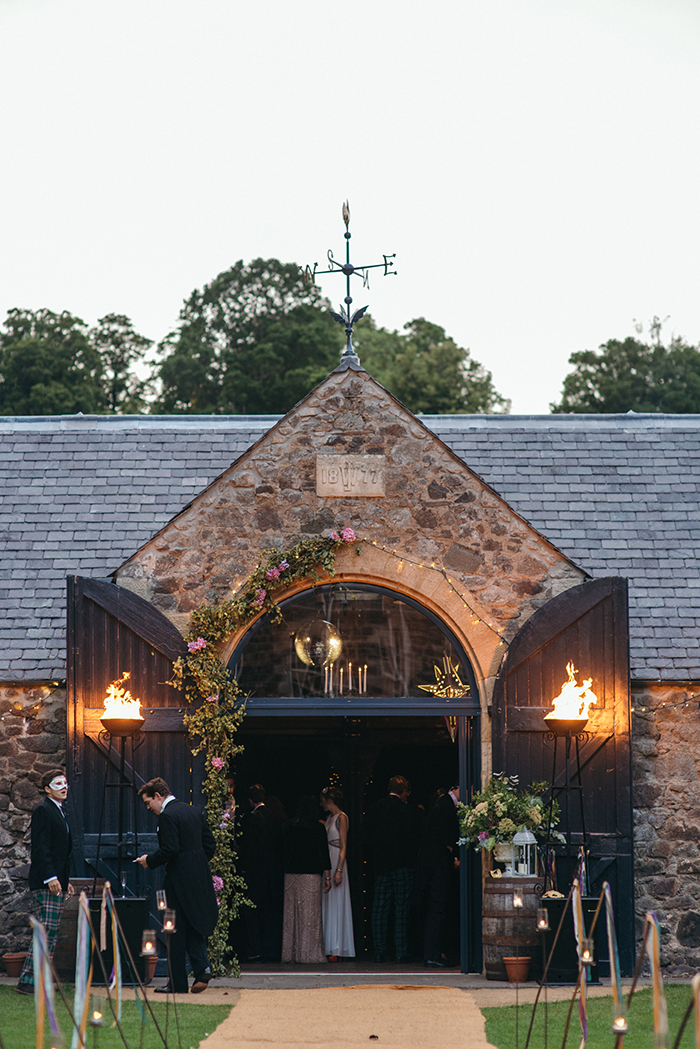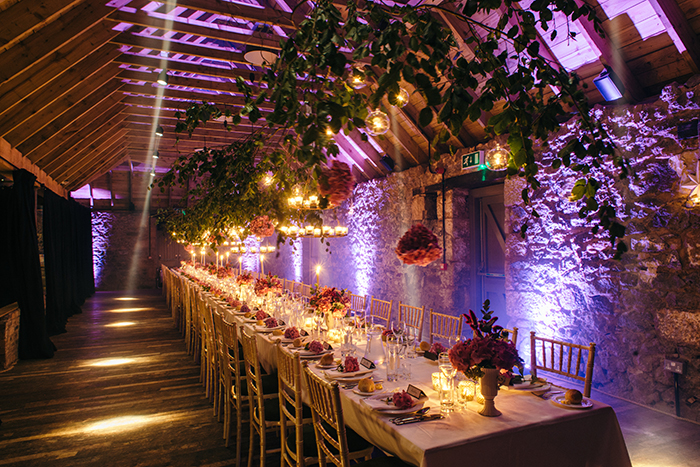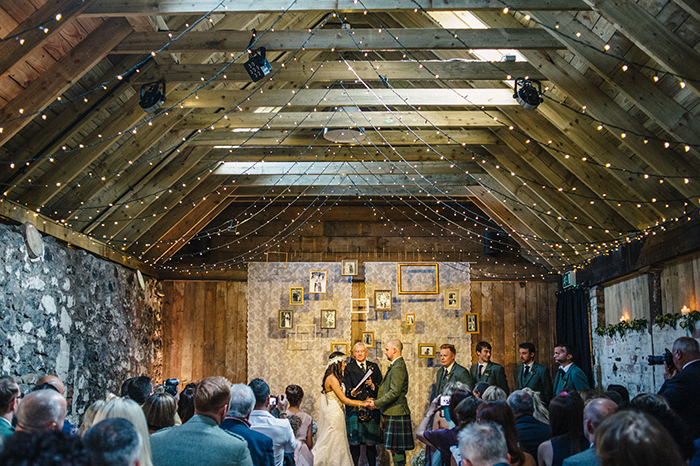 IMAGES | Photos by Zoe 
Dating back to 1877, the Byre at Inchyra is an award winning rustic converted barn venue in Perth.
The visible history in its stone walls and wooden beams gives it a whimsical, charming beauty. The team have kept the building as close to the original as possible, recycling the wood from the old roof to create the benches in the chapel-esque Stable Room, which can sit up to 106 for a wedding ceremony.
They've even repurposed the old cattle troughs, which you can fill with water and floating candles, or simply decorate with your favourite flowers. You can light up the ancient parkland as an enchanted forest if you wish, which would look great in autumn or winter months. No matter what your idea of romance is, you can create it at The Byre at Inchyra.
Visit The Byre at Inchyra's website | t. 01738 860066 | e. enquiries@thebyreatinchyra.co.uk
Read reviews for The Byre of Inchyra
Carfraemill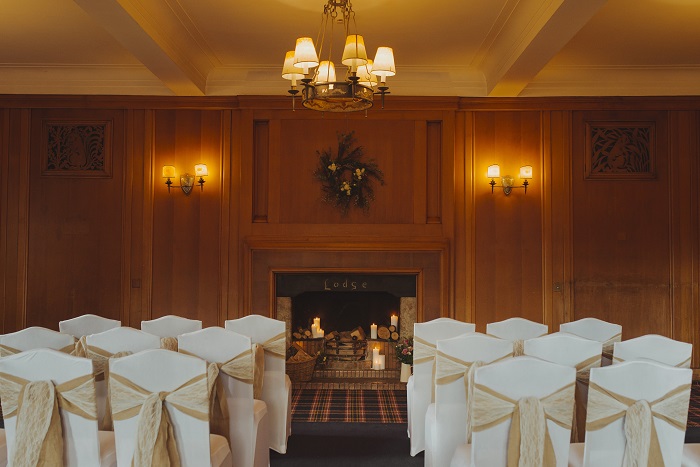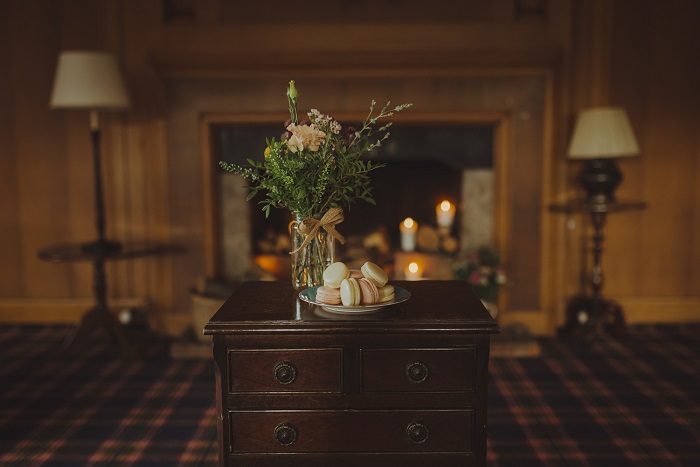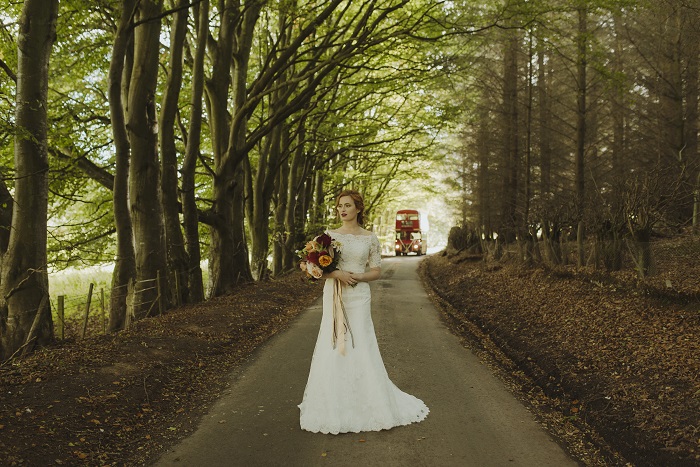 IMAGES | Claire Juliet Paton Photography
A lovely country hotel that offers couples true versatility when planning their wedding day, Carfraemill is a really unique wedding venue in Lauder, near Edinburgh.
This picturesque venue, which looks particularly gorgeous in the autumn and winter months, caters to wedding parties of anywhere between three and 300 people, with a variety of different-sized spaces to suit the scale and style of your wedding.
This wedding venue in the Scottish countryside has log fires, an oak paneled reception room and an amazing semi-permanent marquee on-site, a real blank canvas for you to personalise.
Visit Carfraemill's website | t. 01578 750750 | e. enquiries@carfraemill.co.uk
Castle Menzies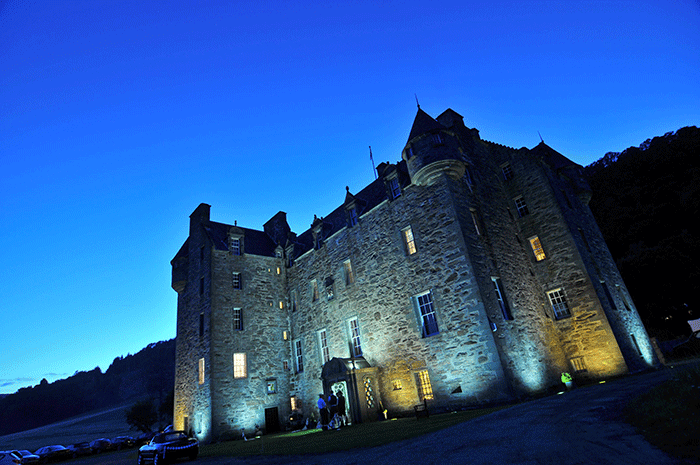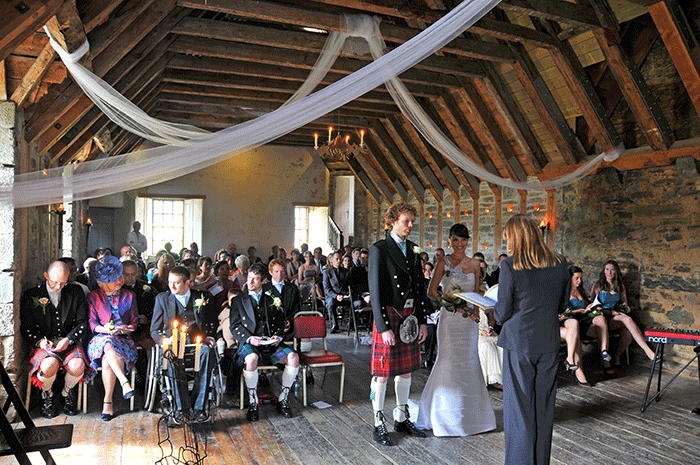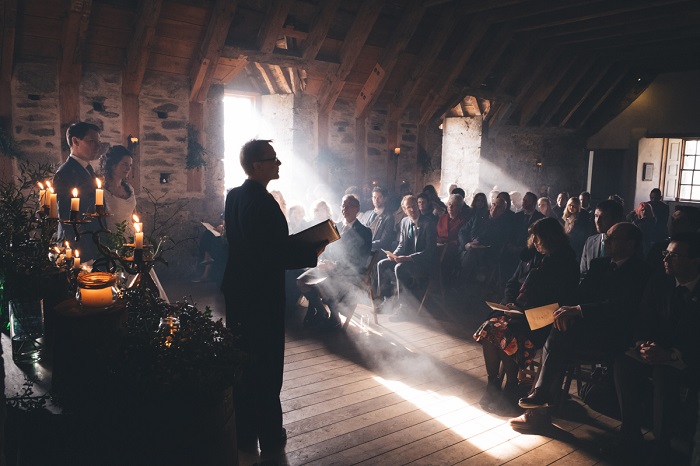 IMAGE (last) | Mike Plunkett Photography
The seat of Clan Menzies for centuries, Castle Menzies is truly beautiful and authentic Scottish castle wedding venue.
Restored from a ruin in 1957, and now has a variety of elegant function spaces to choose from when planning where to hold your wedding ceremony and reception. The grand Dewer Room is a stunning and spacious ballroom that can accommodate up to 120 guests for your wedding breakfast.
For a more intimate celebration the Main Hall can hold 54 guests for a meal, and is incredibly pretty, with tons of natural light and a charming pink colour scheme.
Visit Castle Menzie's website | t. 01887 820982 | e. castlemenziesmanager@gmail.com
Read reviews for Castle Menzies
Cluny Castle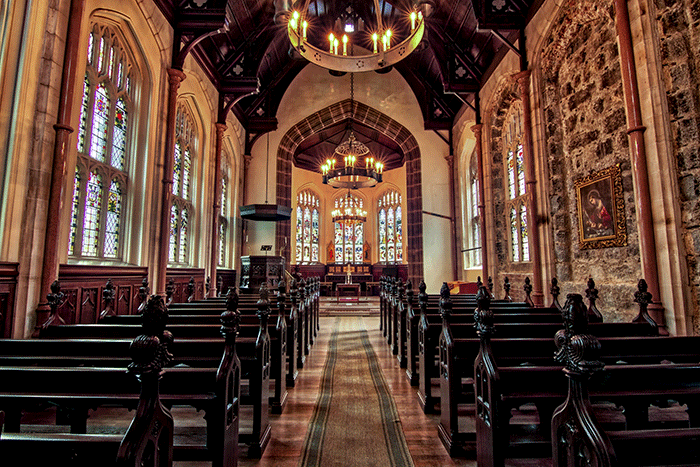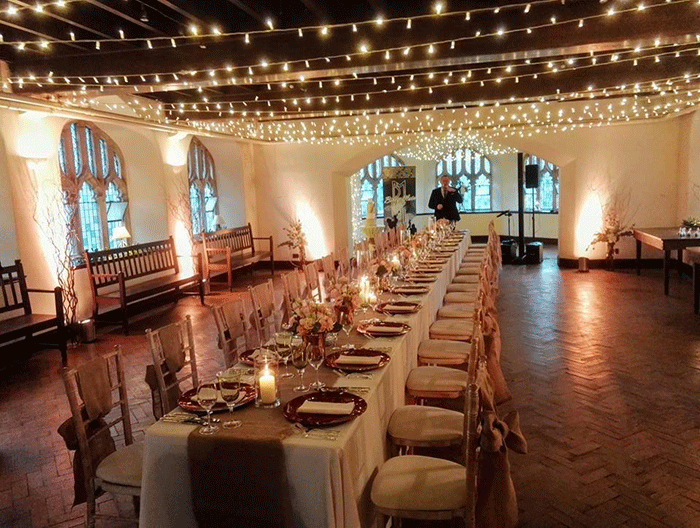 Located in the lush Aberdeenshire countryside, stunning and historic Cluny Castle is straight out of your fairytale dreams – especially if the snow falls!
As soon as you set eyes on it, the deal will be sealed; there's no denying that this wedding venue is beautiful, with sprawling parklands and lawns, and that's before you even step inside.
When you do, you'll find a cosy atmosphere that'll be your very own for the weekend. Say your vows in the gorgeous on-site chapel, which would look amazing by candlelight.
Larger evening parties can be accomodated in the Tenants Hall, for up to 94 guests.
Visit Cluny Castle's website | t. 01330 833302 | e. info@clunycastle.com
Cringletie House Hotel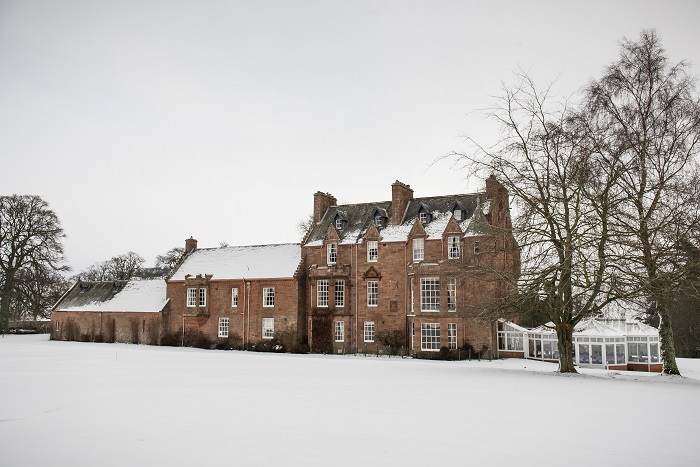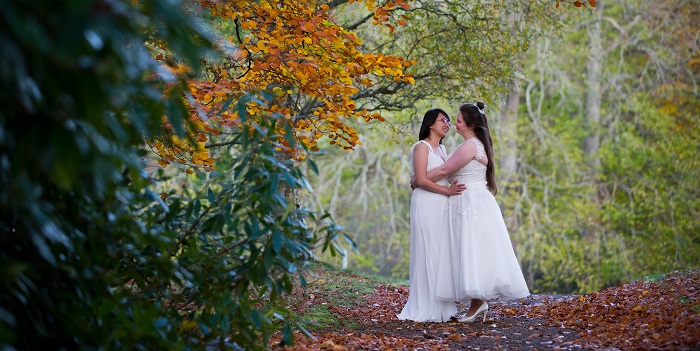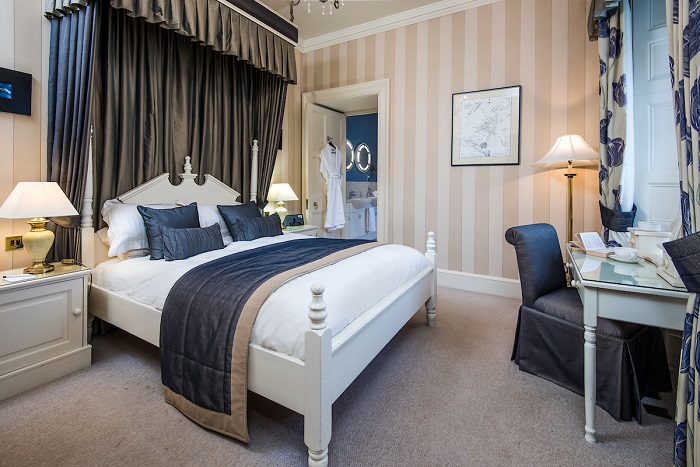 Cringletie House dates back to 1861 and is the ultimate romantic wedding venue.
There are 13 bedrooms in the main house; plus a cottage in the grounds with its own outdoor hot-tub. Cringletie can accommodate 26 resident guests in the main house; with a further six in the cottage and up to 100 guests in total for a ceremony and reception.
Popular requests include barn owls flying in with the rings, to horse-drawn carriages and fireworks over the lawns.
Magnificent grounds provide a stunning frosty backdrop for your photos, whether the walled garden, peaceful woodland or the romantic bridge over the river.
Visit Cringletie House Hotel's website | t. 01721 725750 | e. enquiries@cringletie.com
Read reviews for Cringletie House Hotel
Crowne Plaza Edinburgh – Royal Terrace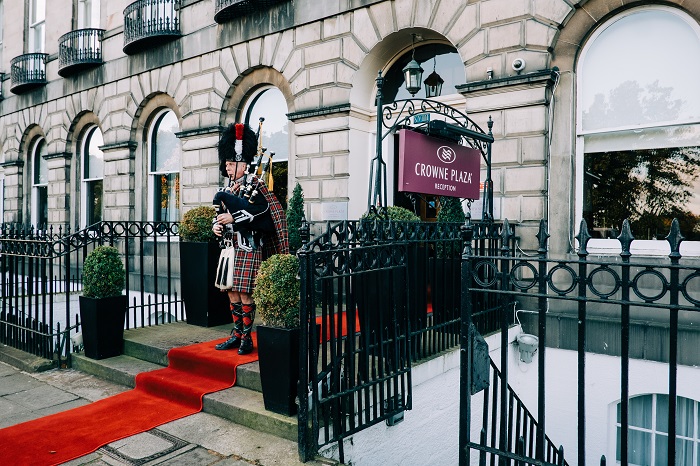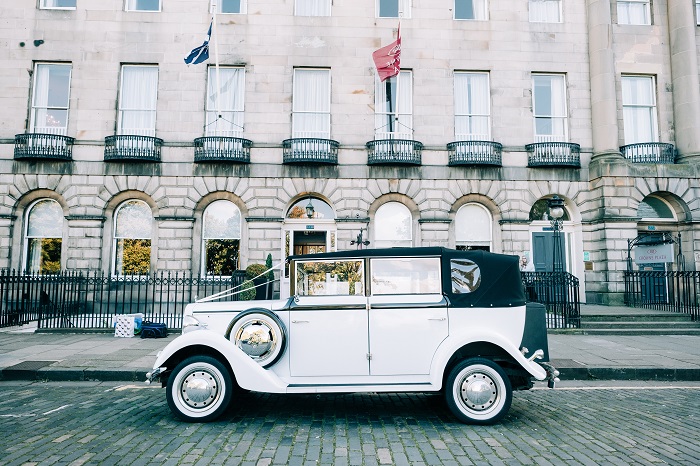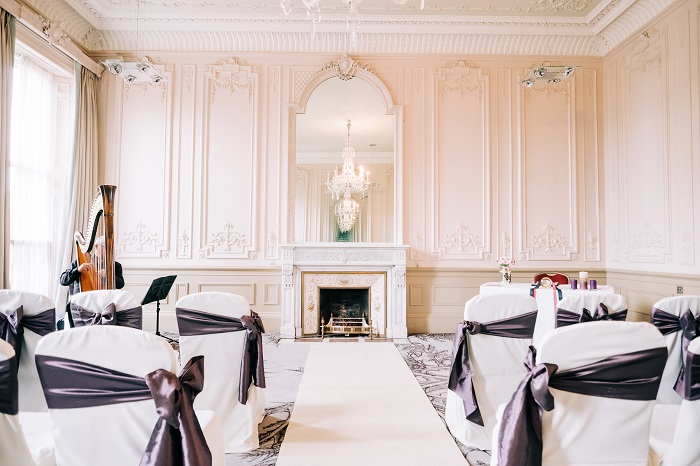 Edinburgh is so beautiful in the festive months, isn't it? The city is packed with gorgeous displays of twinkling lights; what better place for a Scottish winter wedding!
Create your very own fairytale day at Crowne Plaza Edinburgh – Royal Terrace, a collection of stunning Georgian townhouses in a peaceful location in the city centre, with a private garden and views across to the Firth of Forth.
With function rooms in a variety of sizes, you can have a small wedding or a big party here, with the help of the fantastic wedding team.
Visit Crowne Plaza Edinburgh – Royal Terrace's website | t. 0131 5245106 | e. info@royalterracehotel.co.uk
Dalmeny Park Country House Hotel + Gardens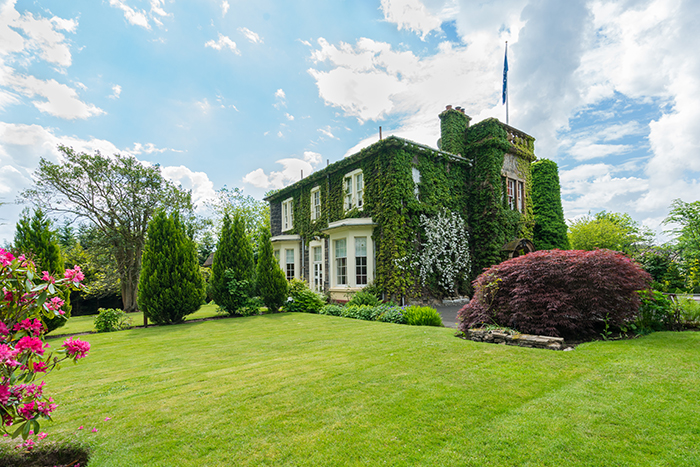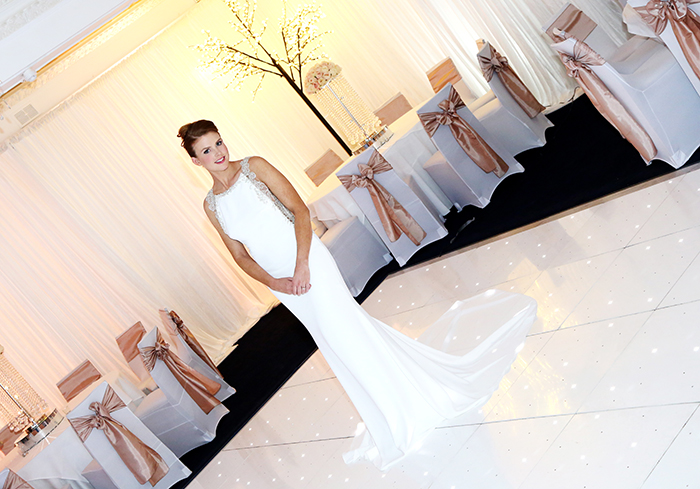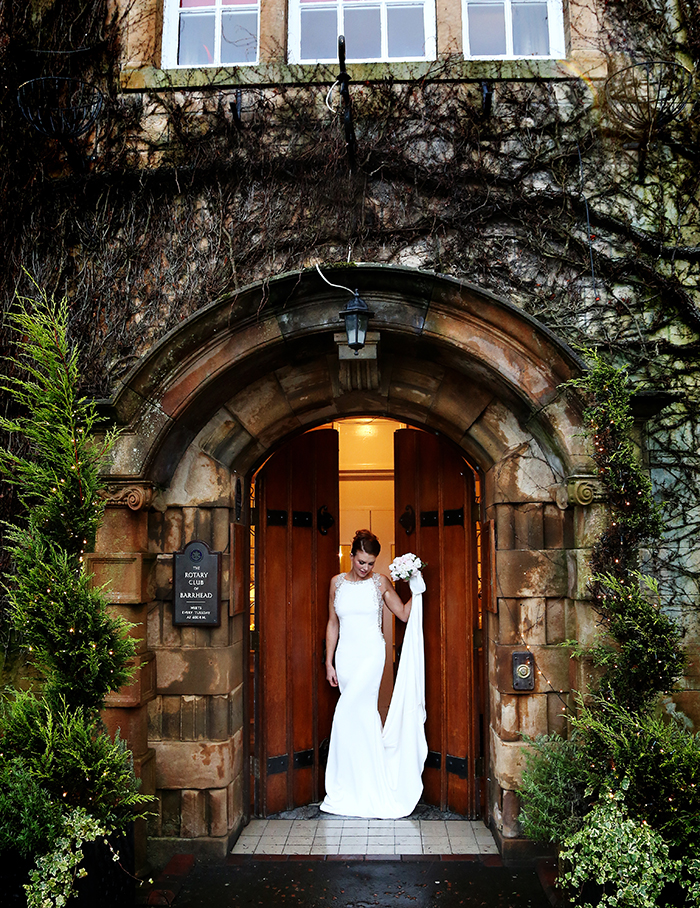 This romantic country mansion house hotel near Glasgow, which comes with two acres of manicured gardens and grounds, will definitely give you those fairytale vibes.
It boasts three bars, heated outdoor patio areas, a gorgeous ballroom and lavish honeymoon suites, plus it's all available for exclusive-use hire.
Perfect for enjoying a luxurious, unique wedding, this venue looks gorgeous in the autumn and winter months, and spectacular when the snow falls. A real picture-perfect setting.
Visit Dalmeny Park Country House Hotel + Gardens website | t. 0141 8819211 | e. luxury@dalmenypark.com
Read reviews for Dalmeny Park House Hotel + Gardens 
Dynamic Earth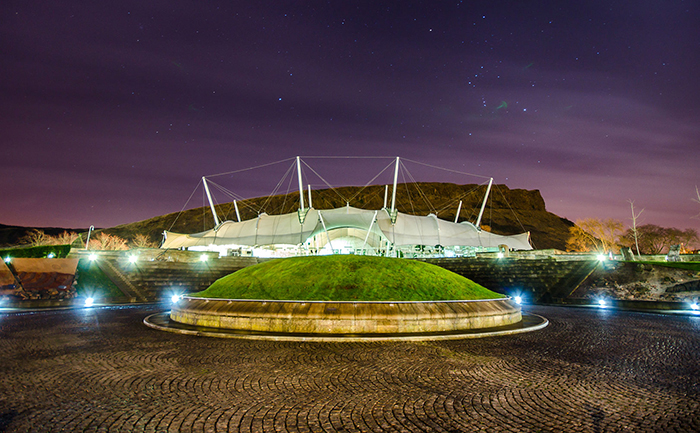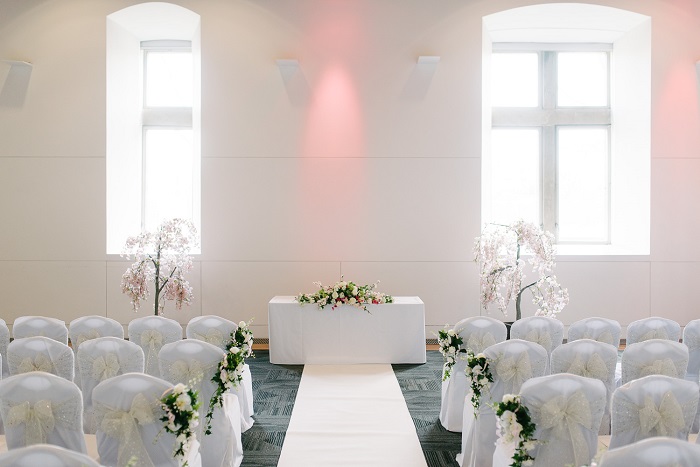 Dynamic Earth in Edinburgh is a truly unique venue guaranteed to wow your guests. The iconic Salisbury Crags make for an undeniably Scottish and impressive photo backdrop, while the distinctive canopy structure will add an extra edge to your big day snaps.
If you're looking for some romantic fairytale vibes for your big day celebrations then you'll love the Biosphere's original stone-walled turret and high arched ceilings, whilst The Ozone venue's glass walls and uninterrupted views offer a more contemporary style.
You can even combine your day with use of the Earthscape Galleries where your guests can marvel at a glacier without needing their hats and gloves!
Visit Dynamic Earth's website | t. 0131 523 1269 | e. events@dynamicearth.co.uk
Read reviews for Dynamic Earth
Fenton Tower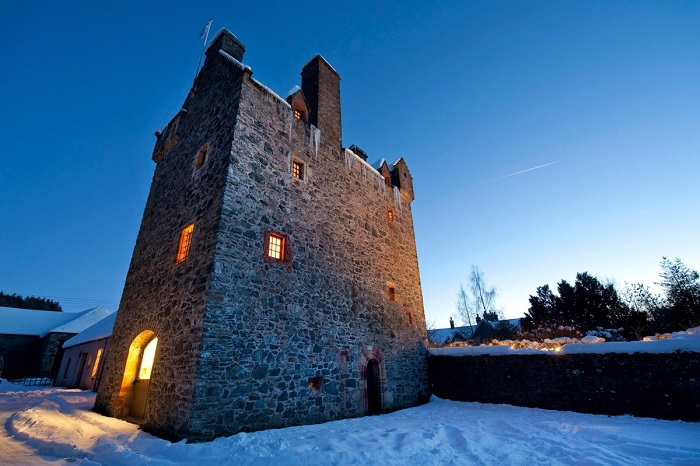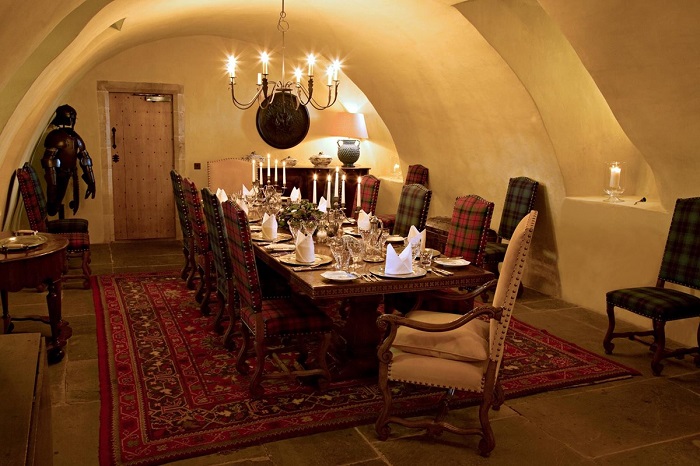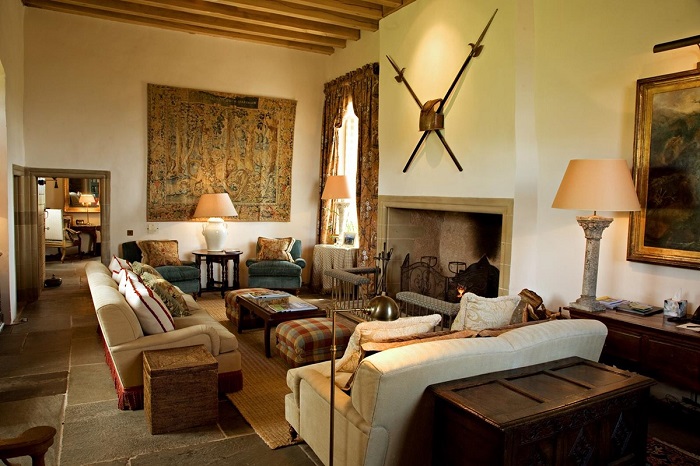 A truly stunning wedding venue that stands high on a hill in Kingston, North Berwick, Fenton Tower will blow you away with its uniquely Scottish charm.
The tower's décor pays tribute to its rich Scottish history while still being freshly contemporary, with many items being handpicked and carefully shipped over from French chateaus.
You can exchange your wedding vows in the Great Hall beneath a beautifully woven and historic tapestry while a log fire gently burns and crackles in the background. Sounds heavenly doesn't it?
Visit Fenton Tower's website | t. 01620 890089 | e. manager@fentontower.com
Forbes of Kingennie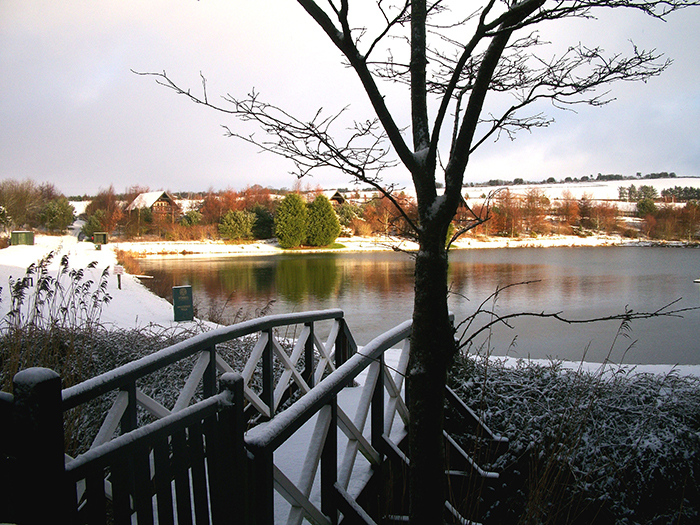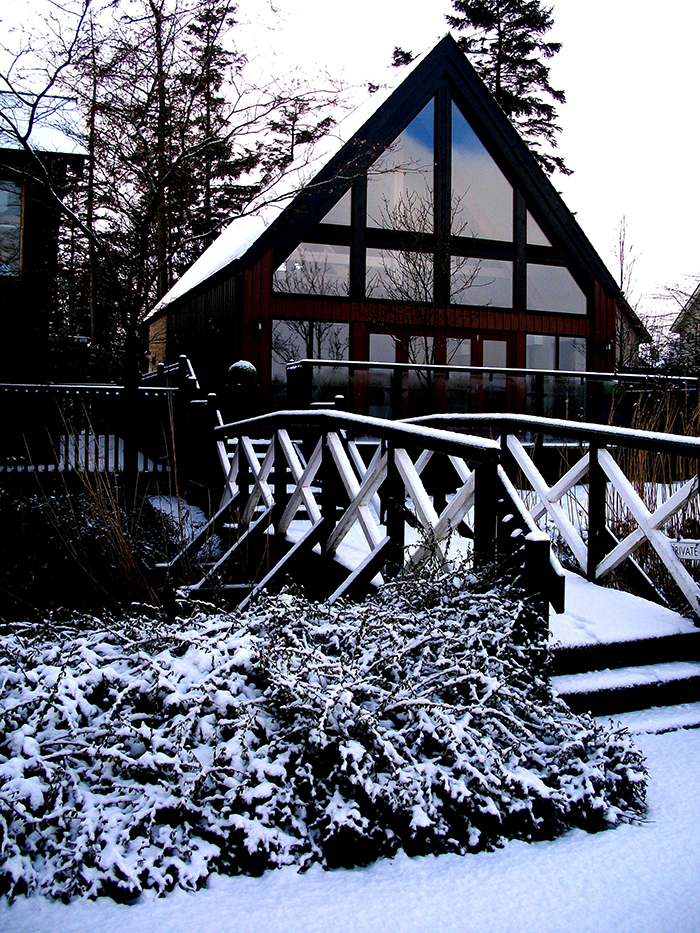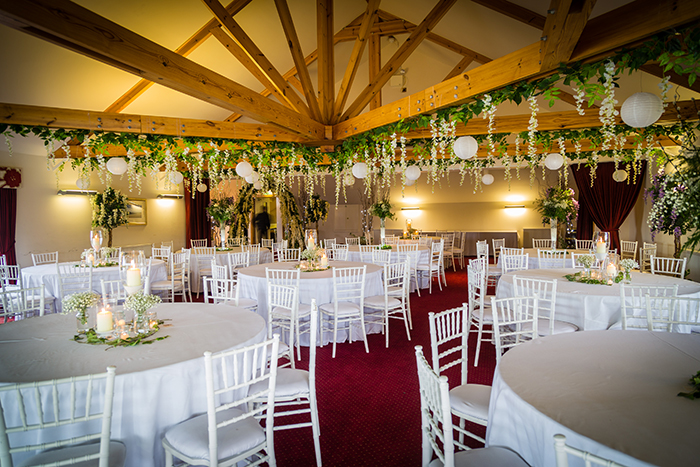 Image | Angus Forbes Photography
Set in the heart of Angus, just outside Dundee, Forbes of Kingennie Country Resort boasts views of rolling countryside and its very own fishing lochans " the perfect view to look out on from the comfort of the cosy wedding suites.
Say your vows against the spectacular floor to ceiling windows in the beautiful Buddon Burn ceremony building before moving to the Inglesmaldie Suite for your reception. Both suites overlook the beautiful landscaped grounds which are particularly charming in the winter creating a frosted backdrop to your Wedding day.
What's more, there's plenty of room for your nearest and dearest to stay over in the resort's welcoming lodges, just a stone's throw away from the main building. Perfect for when the winter nights draw in.
Visit Forbes of Kingennie Country Resort's website | t.  01382 350777 | e. reception@forbesofkingennie.com
Read reviews for Forbes of Kingennie Country Resort
Glenskirlie House + Castle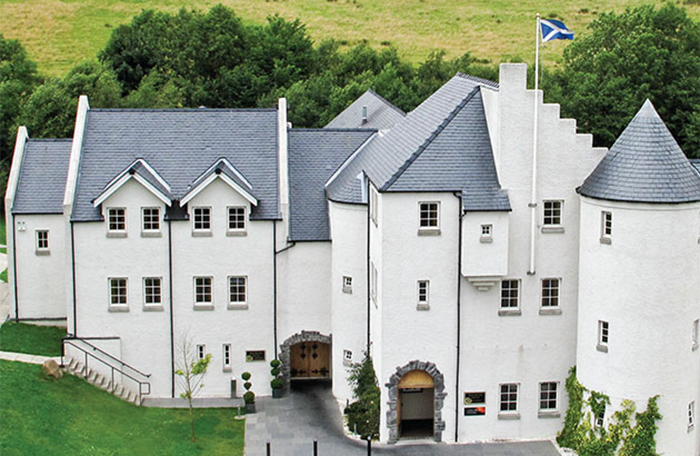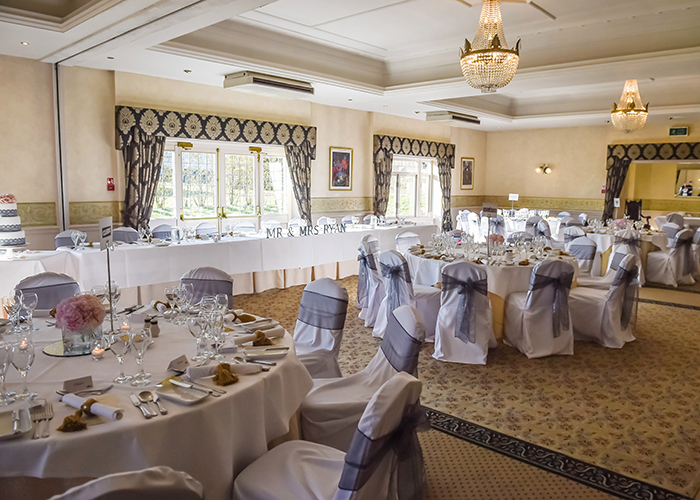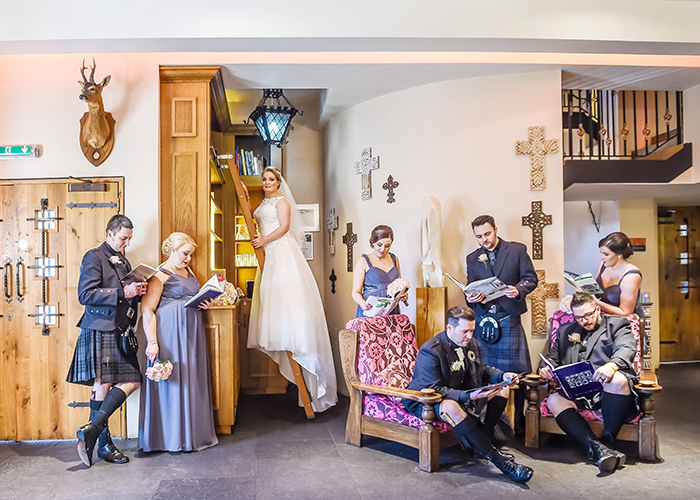 A lush, boutique castle situated in the heart of central Scotland, Edinburgh, Glasgow and Stirling are all less than an hour away from Glenskirlie Castle.
Each of the castle's 15 bedrooms have been individually styled and have their own distinct charm and personalities " and don't forget you have two honeymoon suites to choose from!
Glenskirlie have two properties on site, Glenskirlie Castle and Glenskirlie House, and you can celebrate your big day in whichever one you prefer.
Whether you're having a big bash or a small, intimate celebration, Glenskirlie Castle will provide the fairytale wedding of your dreams.
Visit Glenskirlie Castle and House's website | t. 01324 840201 | e. weddings@glenskirliehouse.com
Read reviews of Glenskirlie Castle and House
Hetland Hall Hotel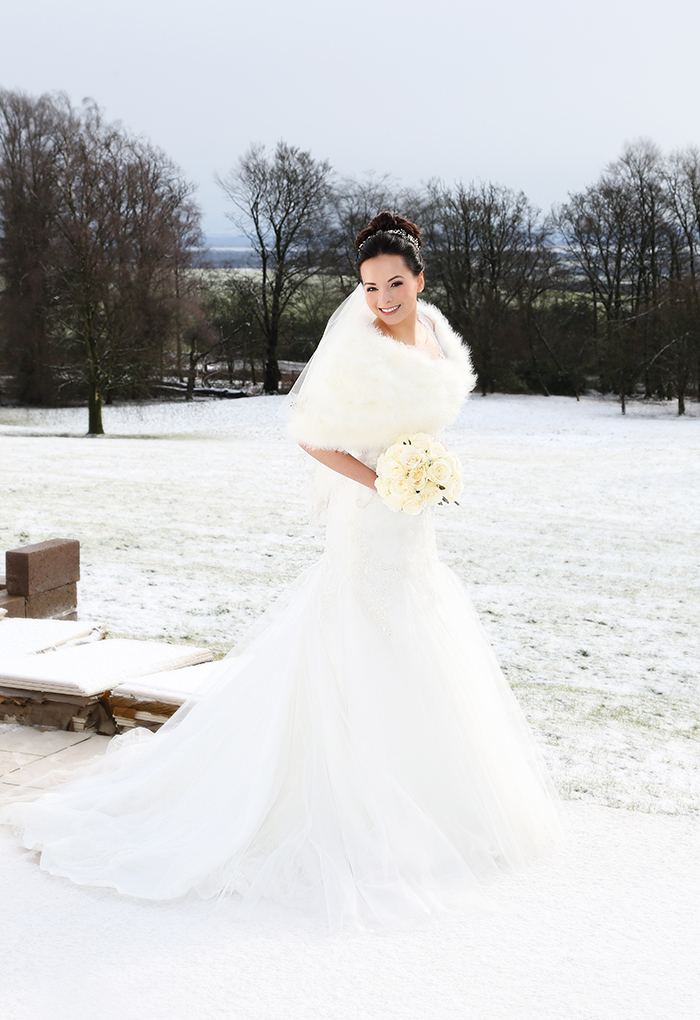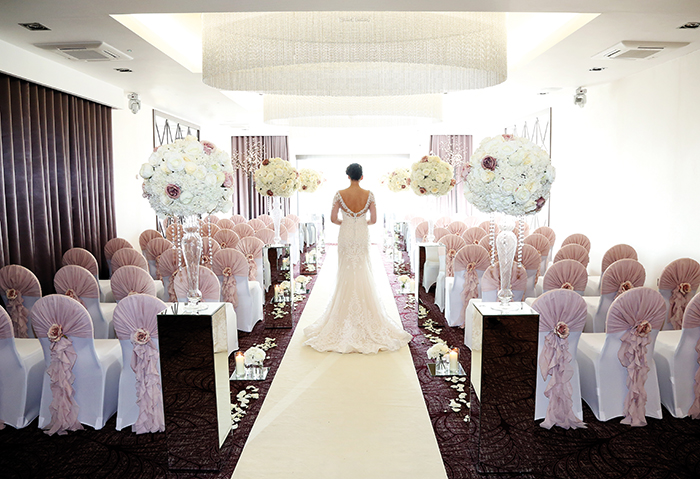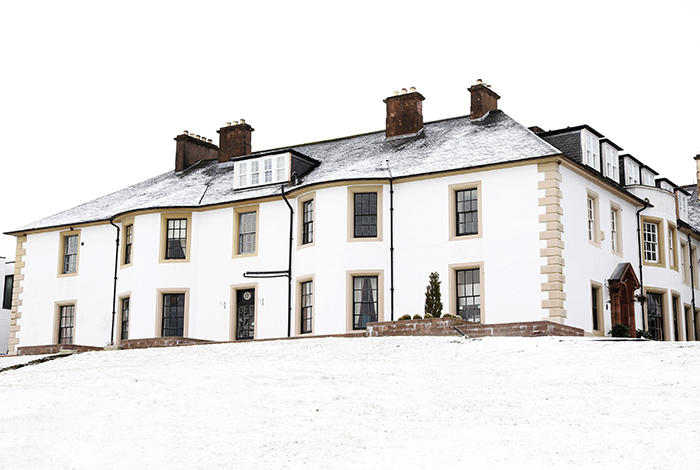 Jane Austen fans will love the beautiful private parkland and views that surround this lovely country house in Dumfries and Galloway. Just minutes from romantic Gretna Green, this countryside venue has sweeping views of the Solway Firth.
Recent refurbishments were treated sensitively, so although the interiors have been modernised, the house has retained its original charm and character.
The newly transformed penthouse honeymoon suite and function suites are the perfect settings for a traditional but stylish wedding.
Visit Hetland Hall Hotel's website | t. 01387 840201 | e. events@hetlandhallhotel.co.uk
Read reviews of Hetland Hall Hotel 
Keavil House Hotel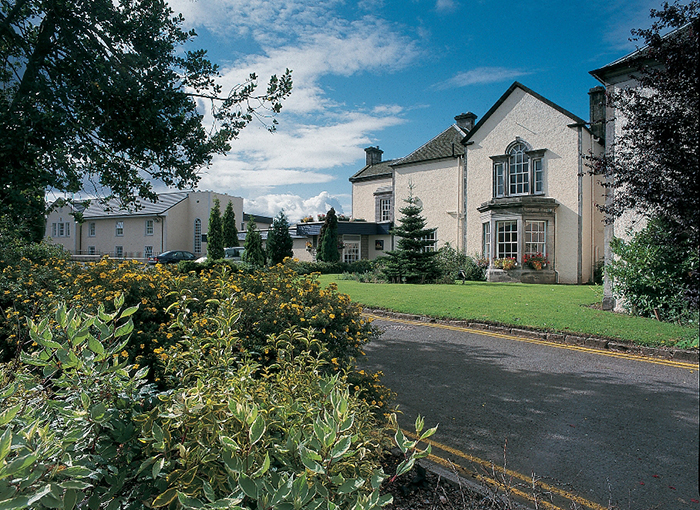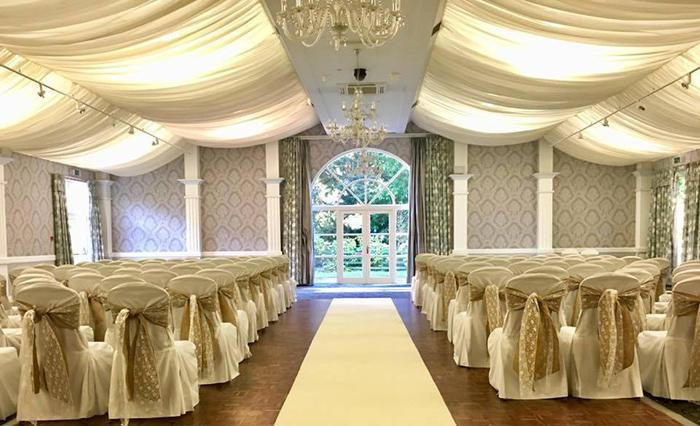 Keavil House Hotel is a beautiful 18th century country house, making it a very popular wedding venue for couples looking for the perfect place to tie the knot.
A glamorous and modern venue in the heart of Fife, it has landscaped gardens and elegant interiors, blending classical with contemporary styles.
Able to be incredibly versatile when it comes to ceremony types, you could get married in the Wedgewood Room, with sumptuous wood panelling and an ornate fireplace – so cosy for up to 30 guests.
Visit Keavil House Hotel's website | t. 01383 736258 | e. events@keavilhouse.co.uk
Read reviews of Keavil House Hotel 
Kinkell Byre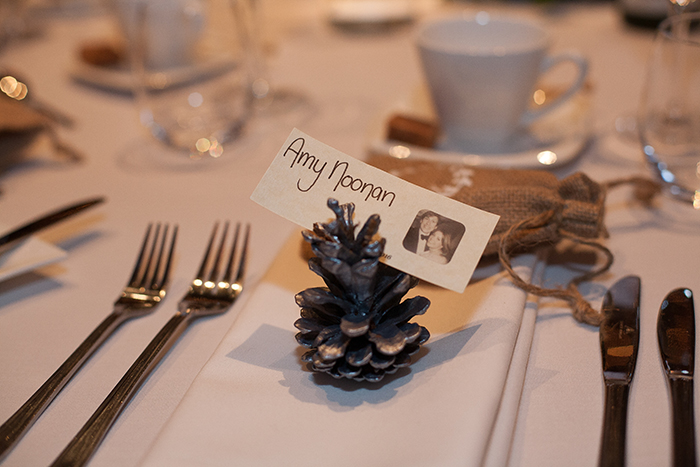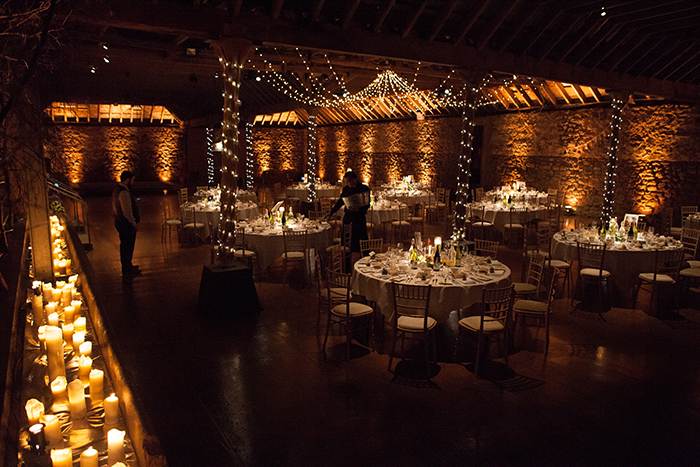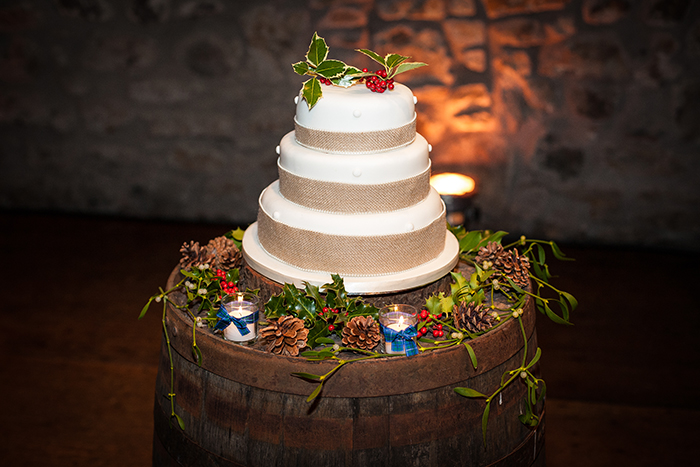 Images | Kris Soul Photography
Warm lighting, lots of candles and views of snow-covered hills make Kinkell Byre the perfect setting for a winter wedding.
Kinkell offers separate areas within the venue meaning each part of your day can take part inside the venue without being stuck in the same room all day. You can host all your loved ones for your wedding reception in the main wooden floor area, and hold your wedding ceremony and drinks reception in the adjacent spaces.
With beautiful sandstone walls for photographs there isn't even a need to go outside for photographs – perfect if the weather isn't on your side.
Visit Kinkell Byre's website | t.01334 472003 | e. info@kinkell.com
Loch Lomond Waterfront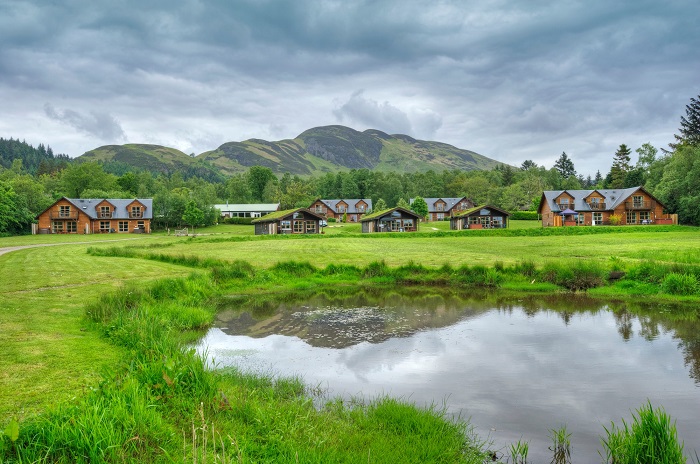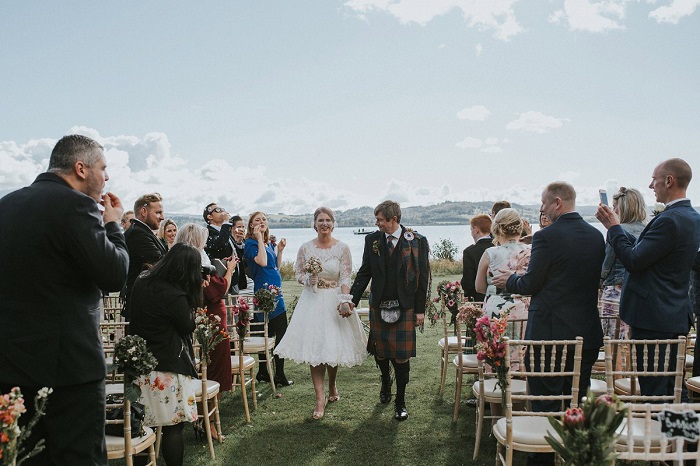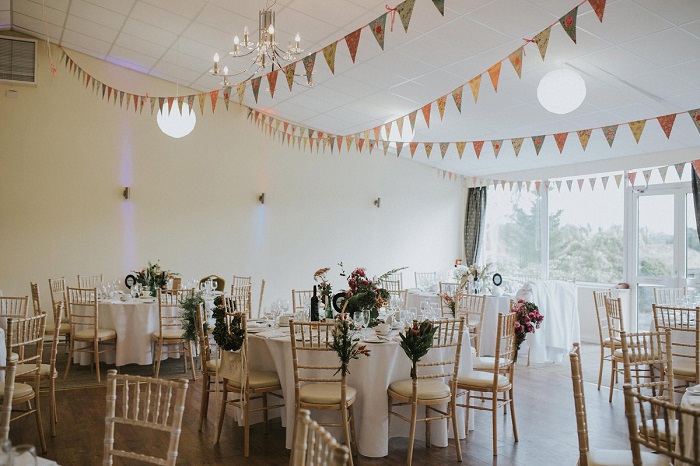 IMAGES (2 + 3) | Maureen Du Preez
Get married at the luxury resort of Loch Lomond Waterfront and you'll have your own private sandy beach and uninterrupted views out over the lochs, hills misty with frost, to play with for your wedding photos.
Enjoy an outdoor ceremony on the beach, your guests wrapped up in cosy blankets, or move the celebrations inside – there are contemporary function spaces or options to set up a charming marquee or tipi.
However you choose to celebrate at this lovely venue, the spectacular views and peaceful location will help set a relaxed tone for your wedding.
Visit Loch Lomond Waterfront's website | t. 01360 870 144 | e. info@llwf.co.uk
Read reviews for Loch Lomond Waterfront
Lochside House Hotel + Spa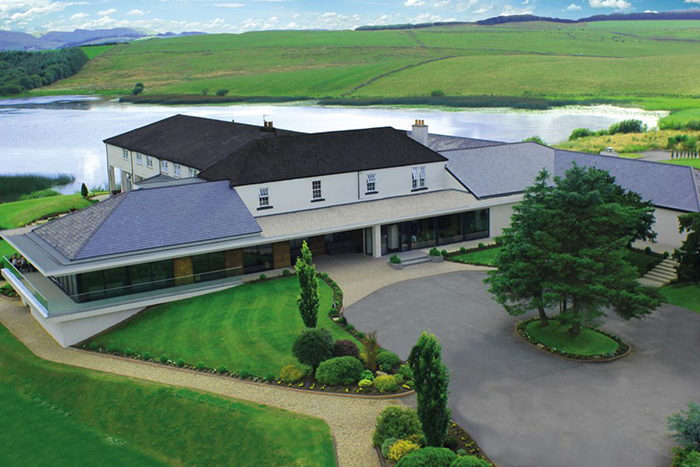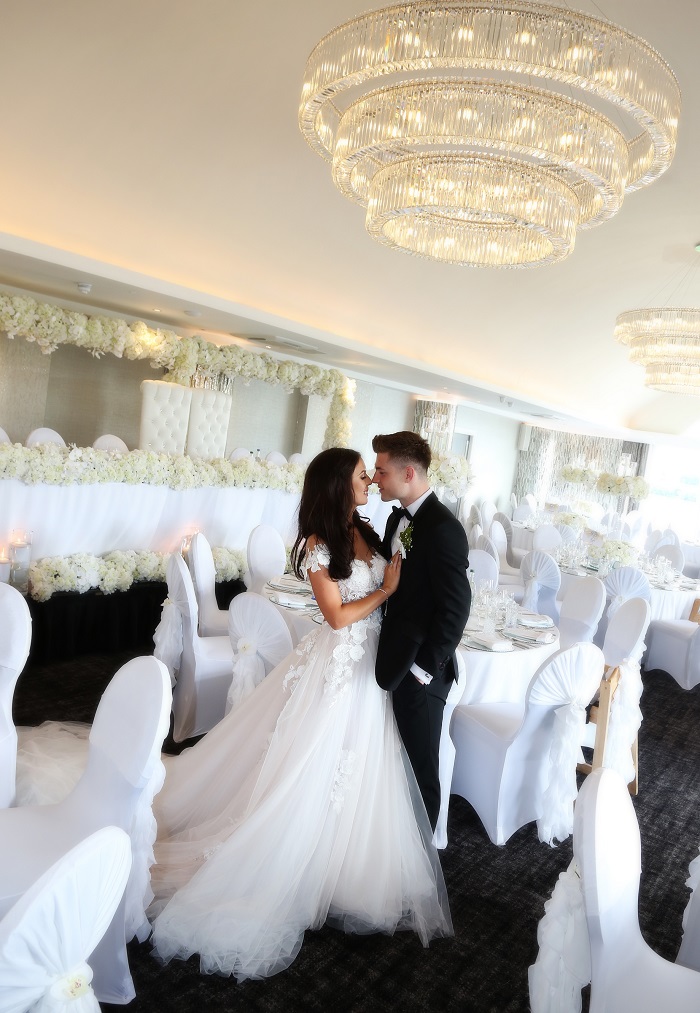 IMAGE | Ryan Mimiec Photography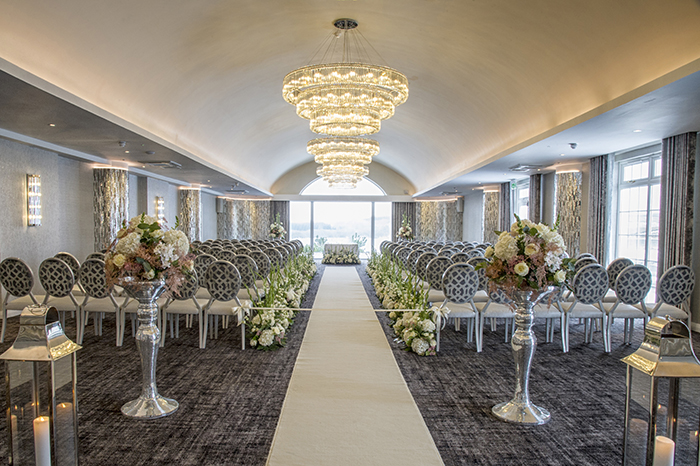 Located in New Cumnock, this venue is secluded enough to boast stunning views of the Afton Hills, and beautiful Loch of Lowes.
From your first visit to the hotel, to the moment you leave, you'll feel looked after, and confident that your wedding day will go off without a hitch.
The Glen Caol Suite is the perfect place for a ceremony, with sweeping views of the Loch, and floor-to-ceiling French doors that can open up after the I Do's, to reveal the gardens where your guests can look out into the gorgeous gardens – let's hope you get a flutter of snow.
Visit Lochside House Hotel's website | t. 01290 333000 | e. wedding@lochside-hotel.com
Read reviews for Lochside House Hotel and Spa
Logie Country House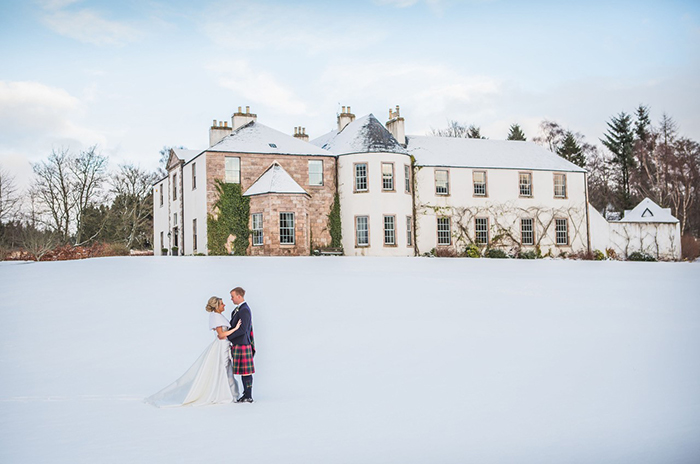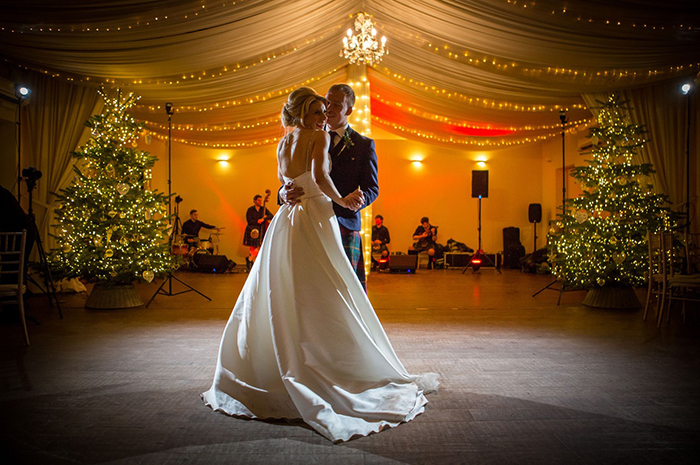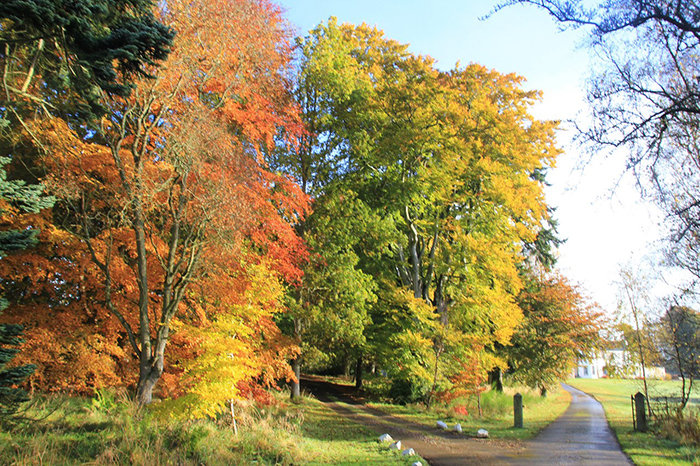 IMAGES (1 + 2) | Nicholas Frost Photography
Logie Country House is a beautiful 1680s exclusive use wedding venue set in its own country estate and can be yours for three days over a weekend.
The house was completely refurbished in 2009 and is warm and cosy.
Imagine floating in the indoor infinity pool, watching the snow fall outside or sitting around one of the log fires with all of your friends and family – Logie is a beautiful place for a winter wedding!
The new purpose built ballroom can host weddings up to 180 guests and the house itself is perfect for smaller more intimate weddings.
Visit Logie Country House's website | t. 08450 942424  | e. reservations@logiecountryhouse.co.uk 
Read reviews for Logie Country House
Lynnhurst Hotel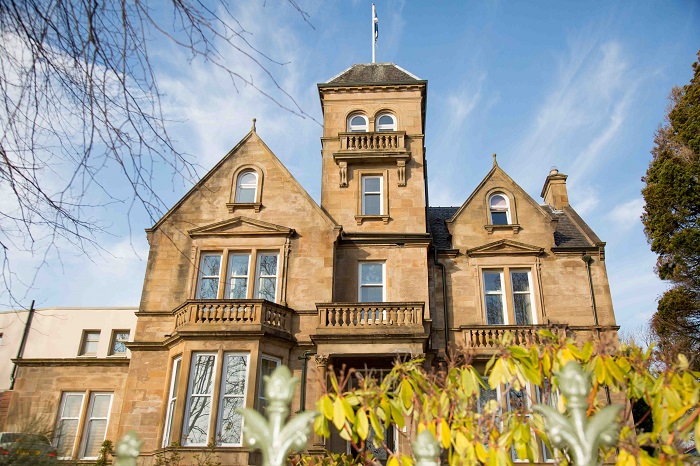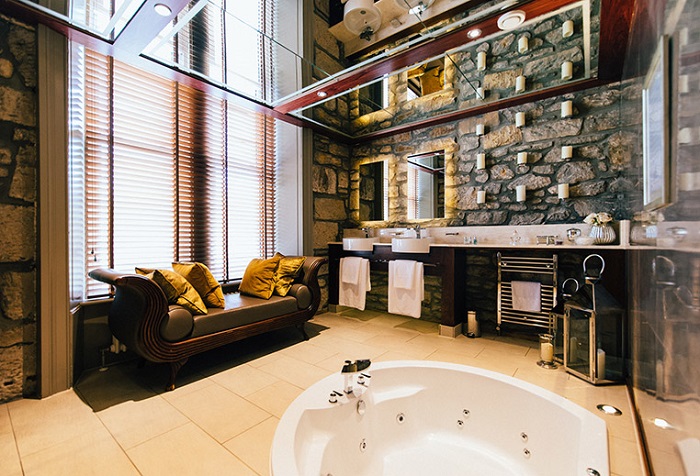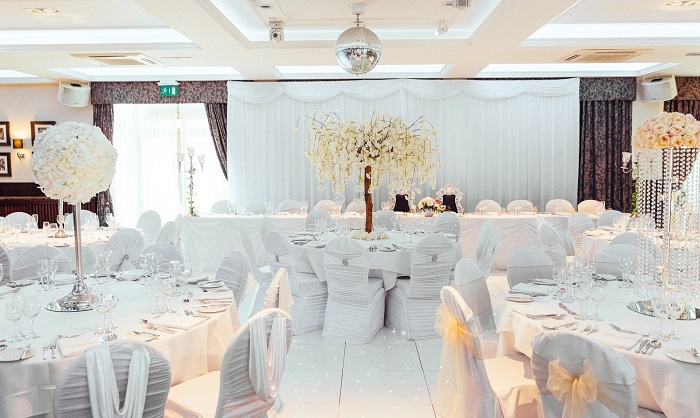 IMAGE (top) | Natural Weddings
Winter is a magical time of year at this Glasgow-based hotel. There's extra reason to celebrate this year too – the team have just scooped the 2018 VOWS Award for best venue in Glasgow and the south west!
With a stunning Grand Ballroom which seats up to 170 for dinner and 200 for the reception, you could have a Christmas-themed wedding to top all parties!
Choose the Winter Bespoke package, which includes a four-course meal for 50 guests, a wedding DJ, luxury throne chairs and an overnight stay in the plush honeymoon suite there. Weddings of any size can be catered for here, so whether you're planning a big bash or an intimate wedding, the Lynnhurst team can accommodate you.
Visit Lynnhurst Hotel's website | t. 01505 324331 | e. weddings@lynnhurst.co.uk 
Read reviews for Lynnhurst Hotel 
The Merchants House of Glasgow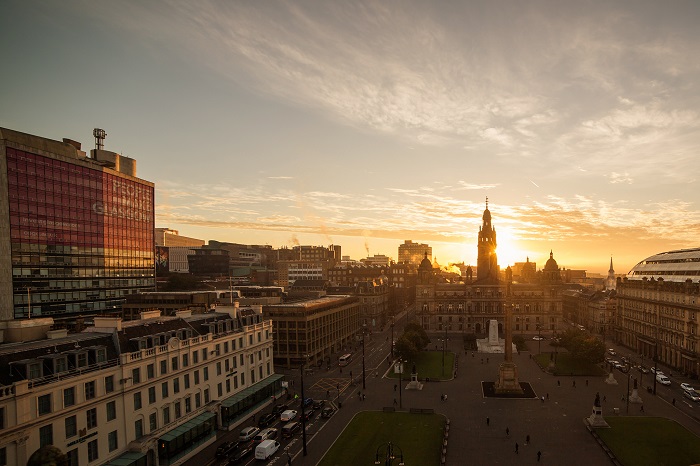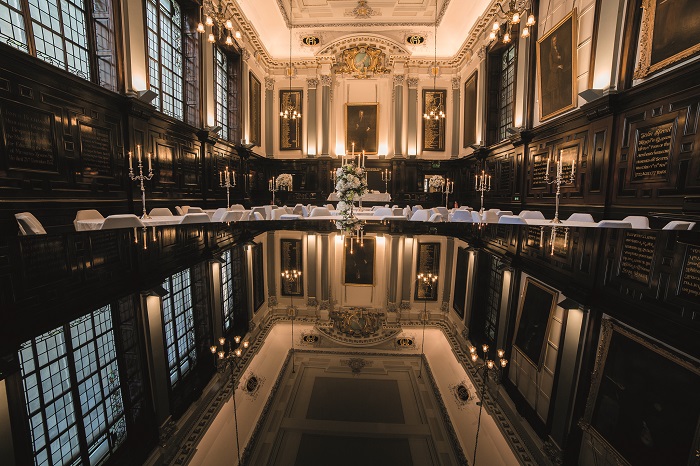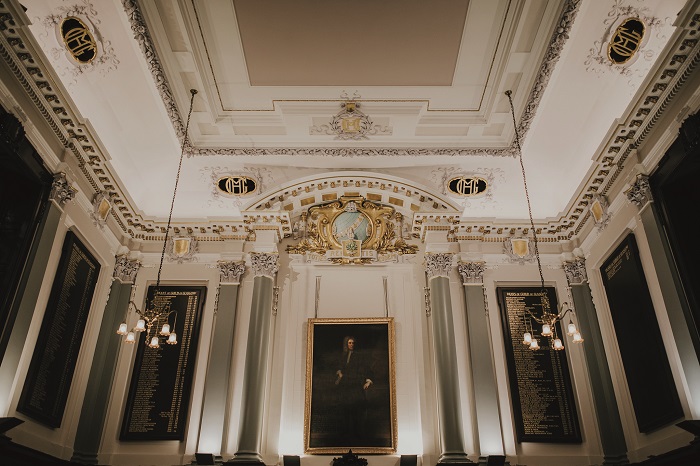 IMAGES | John Johnston Photography 
If you're keen to celebrate your wedding right in the heart of the city of Glasgow, Merchant's House might just be the venue for you. This grand mansion, which dates back to the 19th century, overlooks George Square.
This venue is ideal no matter what the size of your guest list; the Grand Hall, complete with show-stopping Steinway Grand Piano, can hold 130 for a sit down wedding breakfast, while the cosy Lord Dean's Room seats 10 for an intimate wedding day dinner.
Take advantage of the fantastic location and have your wedding photos taken among the hustle and bustle of the city, with Glasgow's fabulous Christmas lights as a backdrop.
Visit the Merchants House of Glasgow website | t. 0141 221 8272 | e. events@merchantshouse.org.uk
Read reviews for the Merchants House of Glasgow
Mercure Aberdeen Ardoe House Hotel + Spa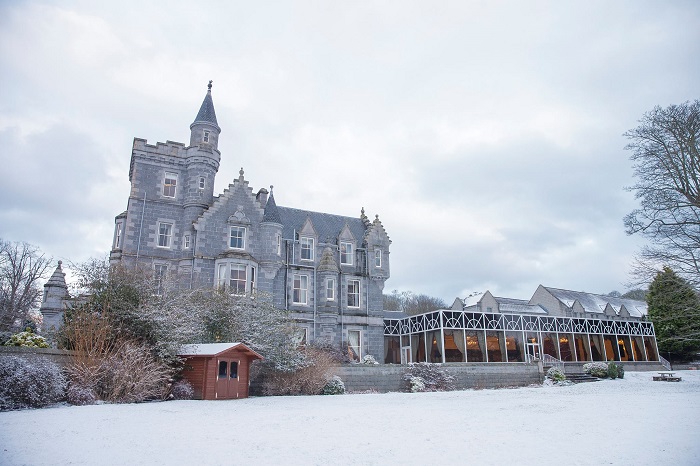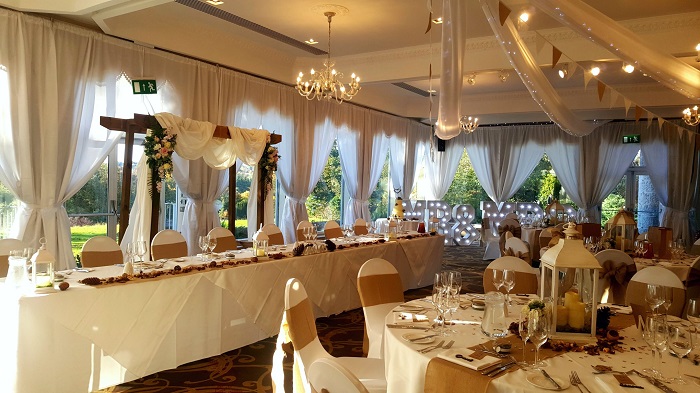 Set in the tranquil Aberdeenshire countryside, this four-star beauty is the perfect rustic backdrop for your autumn or winter wedding.
Get married in the cosy, intimate drawing room, with modern décor, like the bespoke wallpaper commissioned from Glasgow designers Timorous Beasties.
The original beauty of the mansion has been retained, with the contemporary décor complementing the ancient stained glass and heirlooms.
Choose from a variety of function rooms, each with their own character, depending on whether you're having a huge party or a more intimate celebration.
Visit Mercure Aberdeen Ardoe House Hotel + Spa's website | t. 01224 860644 | e.  h6626-sb@accor.com
Read reviews for Mercure Aberdeen Ardoe House Hotel + Spa
Millearne Gardens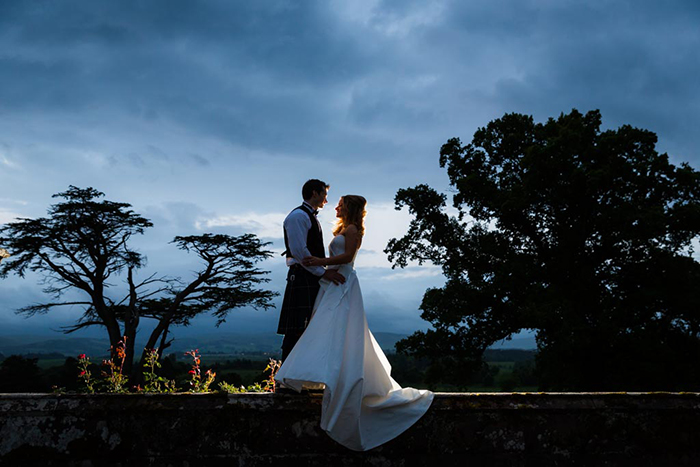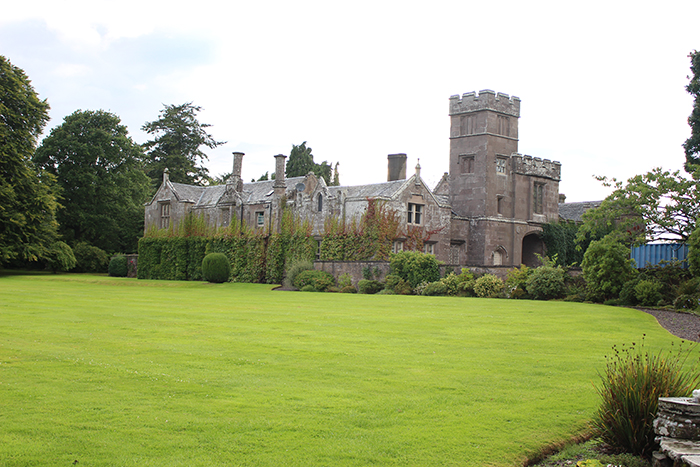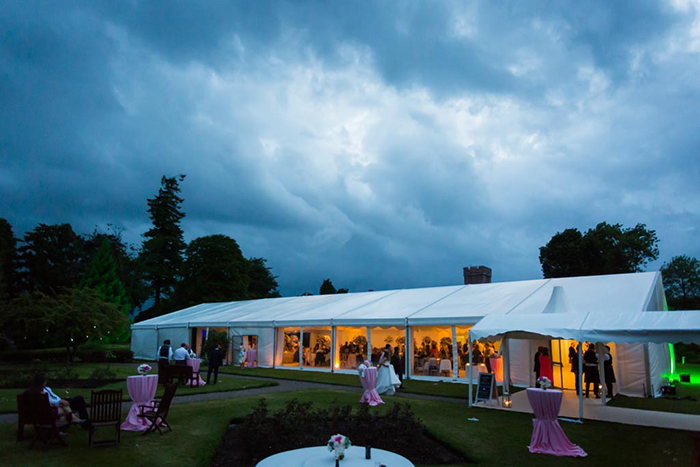 IMAGE | First Light Photography
Millearne Gardens occupies a special location in rural Perthshire, and can be exclusively yours to create the wedding of your dreams in beautifully manicured gardens with uninterrupted views.
If you're looking for peace and tranquillity, it's perfect for your garden wedding – no matter what size!
It's a photographers dream to film in such surroundings, with walled gardens, lily water ponds, woodland pathways, Kinkell Bridge and many more hidden corners. Millearne house, with the architecture of the original stables, is the perfect backdrop for your marquee.
Visit Millearne Garden's website | t. 01592 753001 | e. hospitality@litu.com
Read reviews for Millearne Gardens 
Moness Resort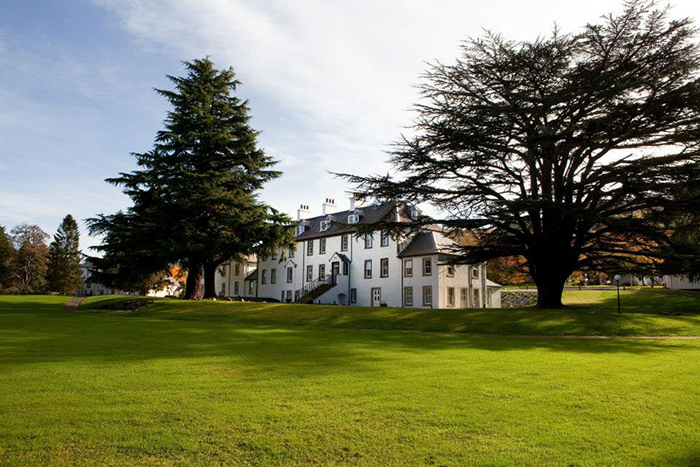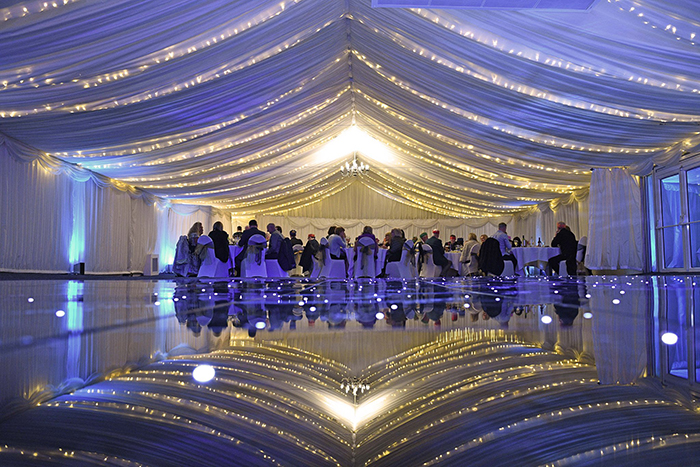 Moness Resort is a charming wedding venue close to the picturesque town of Pitlochry. With a hotel and 106 lodges, there will plenty of room for your guests to stay the night.
Moness Resort is home to a stylish marquee which can easy be styled in a way to reflect the tastes of you and your partner. The team at Moness will be with you every step of the way to help you create your ideal wedding day.
The marquee also features panoramic windows and is surrounded by amazing landscaped gardens, meaning you'll have the most beautiful views while celebrating your wedding day!
Visit Moness Resort's website | t. 01887 822108 | e. info@moness.com
Read reviews for Moness Resort
Myres Castle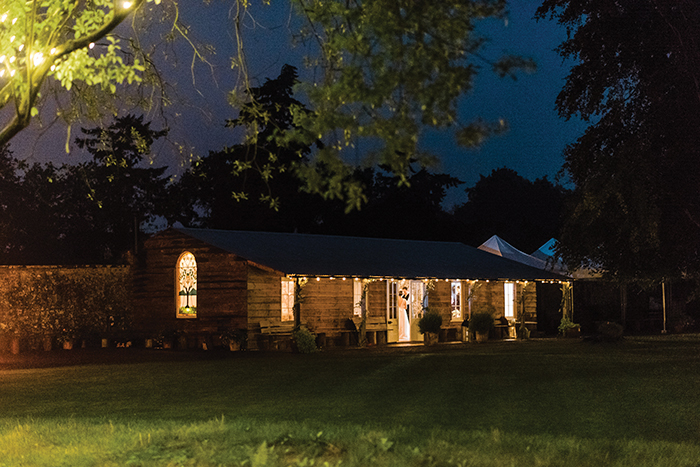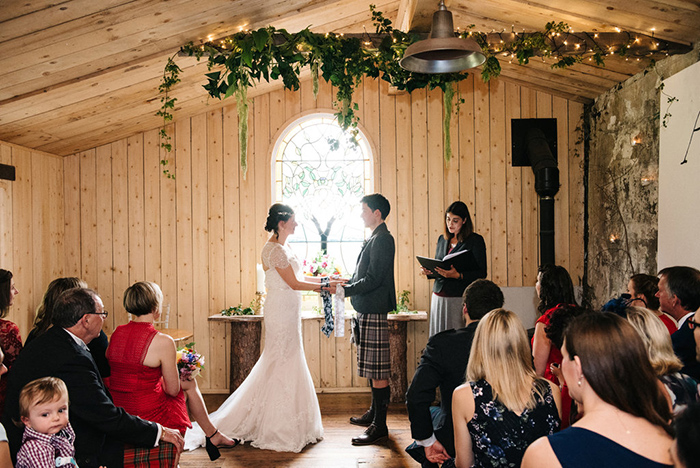 IMAGES | top to bottom: Photos by Zoe, Catching the Moments Photography, Ashley Coombes Photography
Myres Castle is a whimsical and romantic wedding venue situated near the village of Auchtermuchty.
The best of both worlds, you can have the stunning castle for up to 20 guests throughout your stay, and celebrate your wedding in the rustically charming barnquee.
The barnquee is situated in a lovely woodland setting, with twinkling lights hanging from the trees and even fire pits outside to further add to the magical atmosphere.
Visit Myres Castle's website | t. 01337 828350 | e. enquiries@myrescastle.com
The Royal Scots Club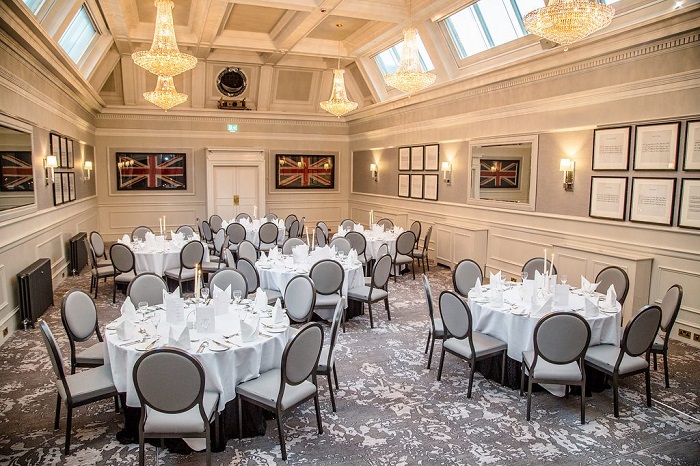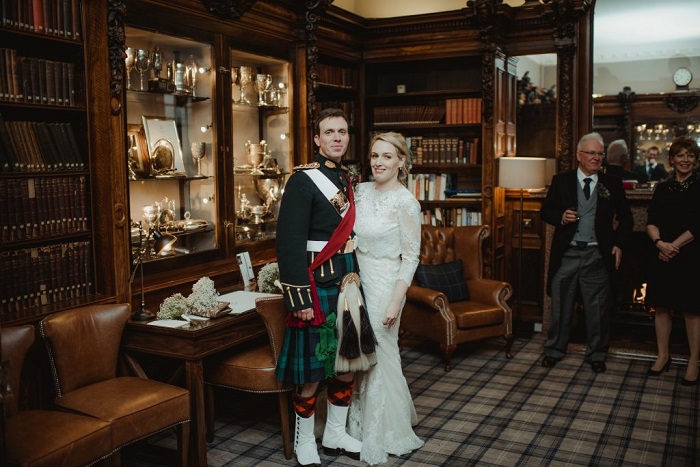 Time for gathering! With country-house charm in the heart of Edinburgh's Georgian New Town, The Royal Scots Club is a beautiful venue with elegant rooms. Ideal for small exclusive weddings and larger receptions for up to 200 guests.
The Hepburn Suite has real wow factor and is the original function suite dating back to 1929. Many of the lovely Georgian features have been preserved, but the room has been renovated to a high, modern standard.
They offer a range of packages to suit all tastes and budgets; just call their experienced organisers for more information.
Visit The Royal Scots Club's website | 0131 5564270 | e. events@royalscotsclub.com
Read reviews for The Royal Scots Club
Strathaven Hotel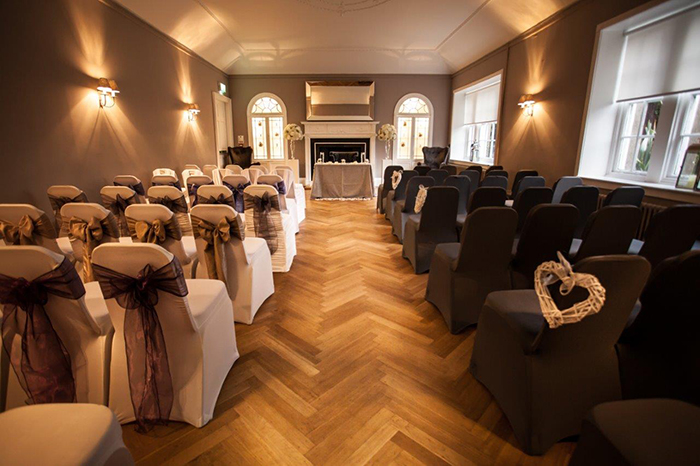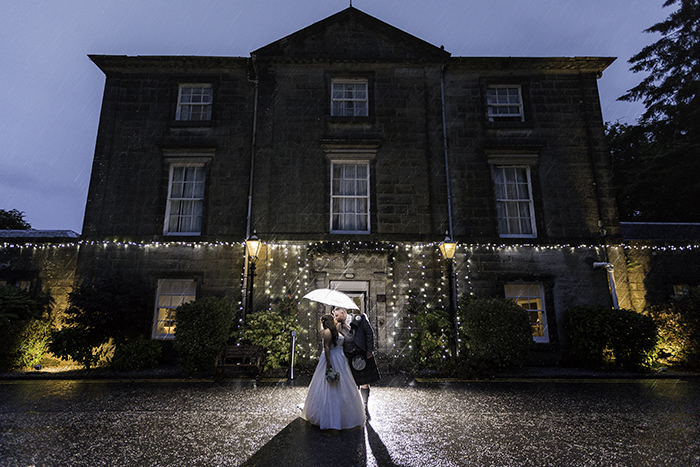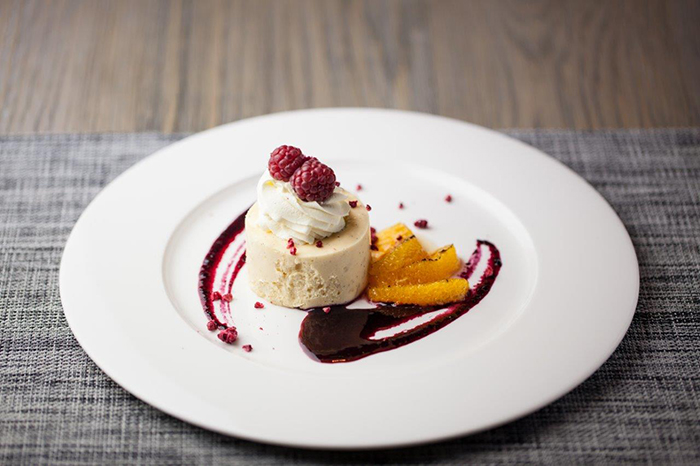 If you're looking for the perfect venue for a laid-back but impeccably stylish wedding, your hunt can stop now – the newly renovated Strathaven Hotel is exactly what you've been searching for.
The family-run hotel and wedding venue has recently unveiled a brand new look following a £1m makeover, so believe us when we say that its style credentials are seriously impressive.
Located on the edge of the historic market town of Strathaven, this family-run hotel offers a peaceful and picturesque setting in South Lanarkshire while only being a short drive from Glasgow.
Visit Strathaven Hotel's website | t. 01357 521778 | e. reception@strathavenhotel.com
Read reviews for Strathaven Hotel 
Unusual Venues of Edinburgh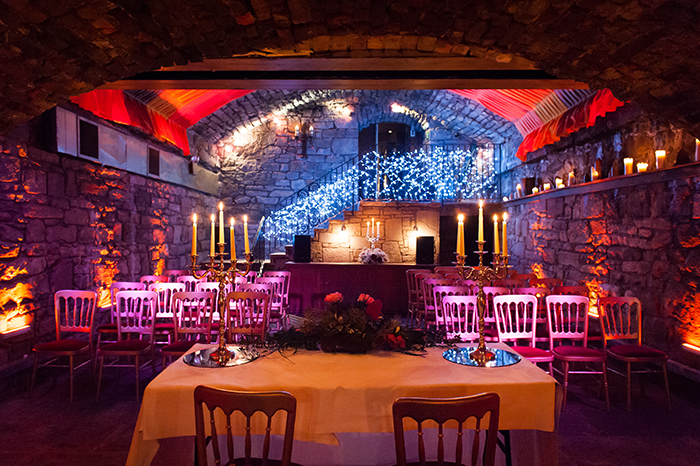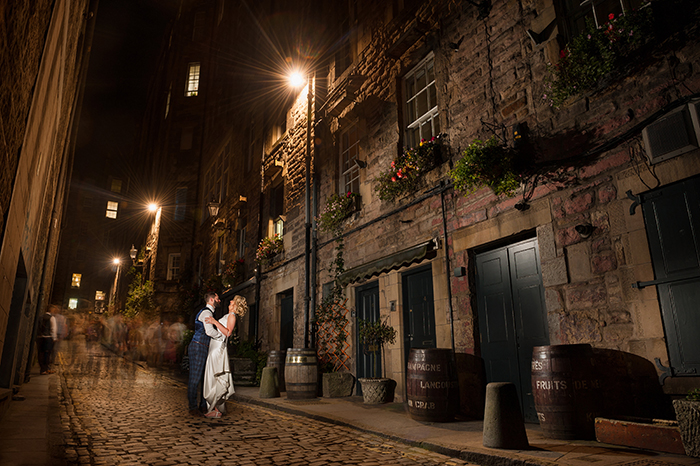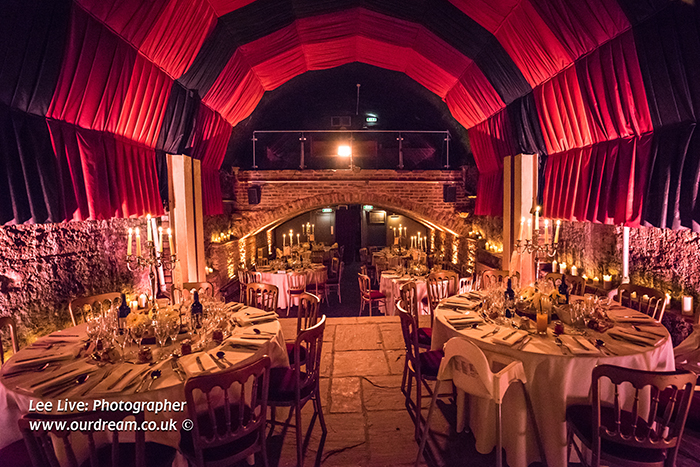 Unusual Venues Edinburgh is an award winning collection of three of the most spectacular, exclusive-use wedding venues that you will find anywhere in the UK.
The Caves, The Rowantree and Marlin's Wynd are situated right in the Heart of Edinburgh's Old Town and can accommodate weddings of all sizes. The venues are entirely unique and unlike no other; modern facilities are blended perfectly into the old features of the venues. The darker decor lends itself perfectly to colder months. Think tons of candlelight and fairylights strung up.
All three venues have a special place in Scottish history from the rumoured hunting ground of the notorious Burke and Hare, to the home of the Oyster Club of the Scottish Enlightenment.
Visit Unusual Venues Edinburgh's website | t. 0131 5106969 | e. hello@unusualvenuesedinburgh.com
Read reviews for Unusual Venues Edinburgh
The Vu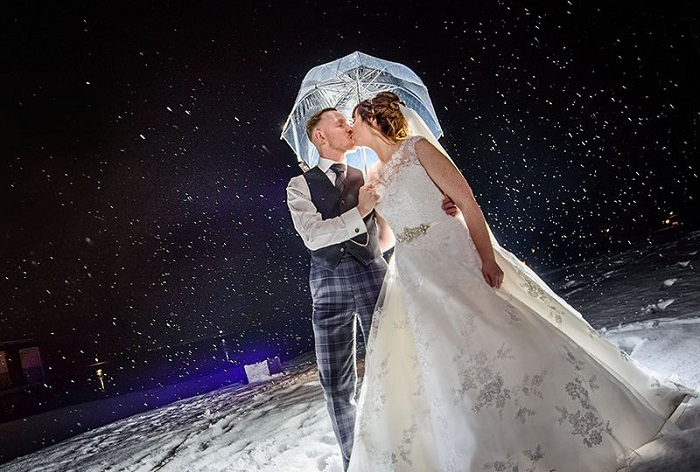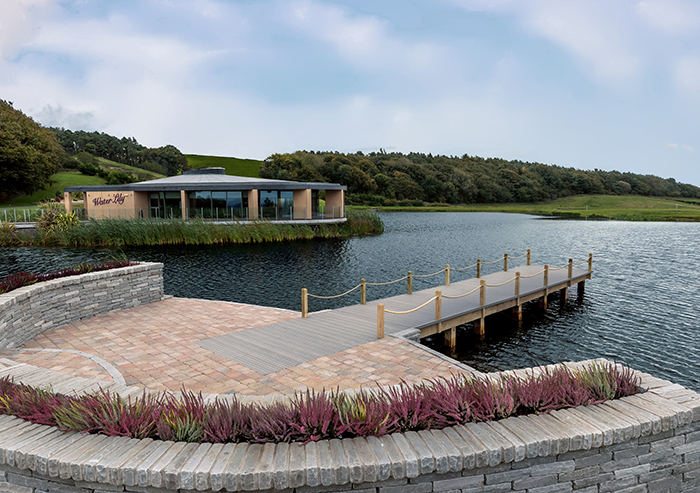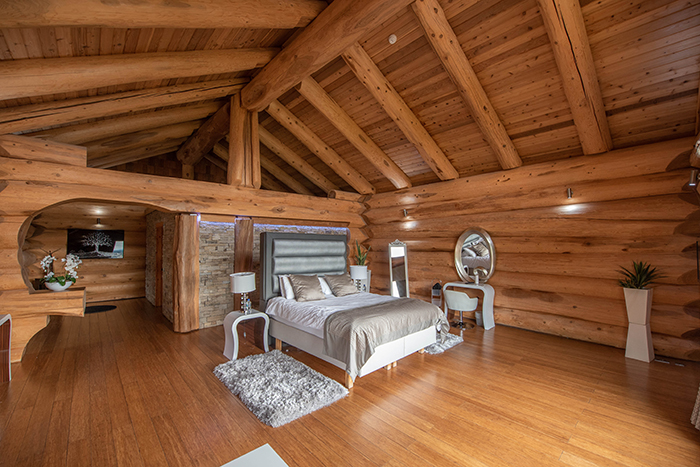 IMAGE (top) | Orange Lemur Photography
Nestled in the Bathgate Hills, West Lothian and set on the waterfront with stunning panoramic views over Ballencrieff Reservoir, The Vu is the perfect setting for your wedding day.
The unique Waterlily, set in the middle of Ballencrieff Reservoir, offers something truly magical for you and up to 150 guests. With full height windows providing 270 degree views over the reservoir you really do feel as if you're on the Water.
With the warm contemporary interior design and feature lighting, our Oasis suite provides the perfect atmosphere for your wedding reception.
130 guests can be accommodated for your wedding breakfast with a further 80 guests for the evening.
Visit The Vu's website | t. 01506 630808 | e. admin@thevu.co.uk
Achnagairn Castle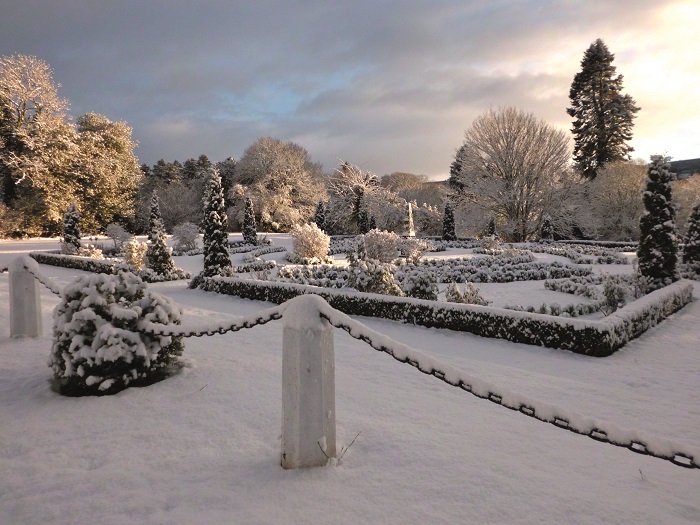 Think cosy log fires in this Invernesshire castle's reception rooms, deep sofas with velvet cushions, romantic candlelight and, if you're especially lucky, you may even see the Northern Lights!
Visit Achnagairn Castle's website 
Read reviews for Achangairn Castle
Glen Tanar Ballroom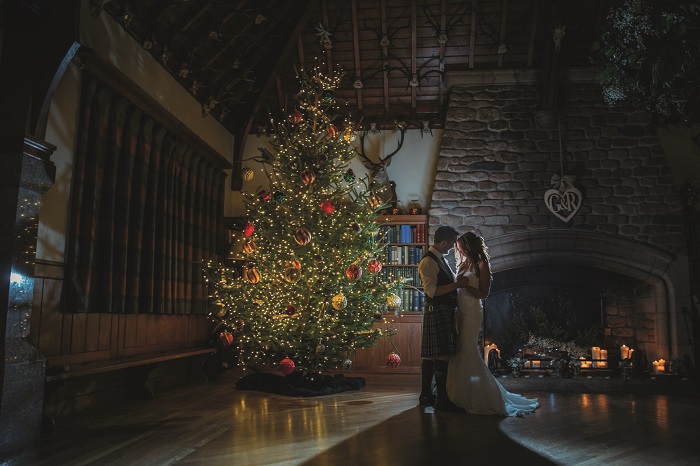 Situated in Royal Deeside in Aberdeenshire, this unique wedding venue is perfect for a Scottish winter wedding, with log fires, twinkling candles and an unbelievable ballroom.
Visit Glen Tanar Ballroom's website
Read reviews for Glen Tanar Ballroom
Hotel Du Vin Glasgow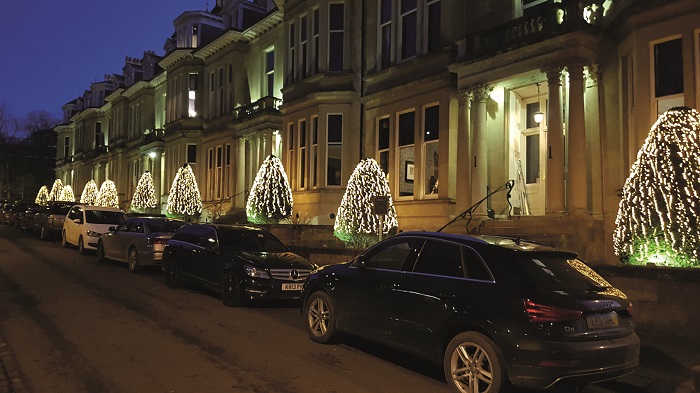 If you get wed over the festive season, you'll love the grand Christmas tree in the hall, the garlands decorating the stunning staircase, and the 10 festive trees lining the street outside the venue lit up with glittering fairy lights!
Visit Hotel Du Vin Glasgow's website 
Read reviews for Hotel Du Vin Glasgow
Lodge on Loch Lomond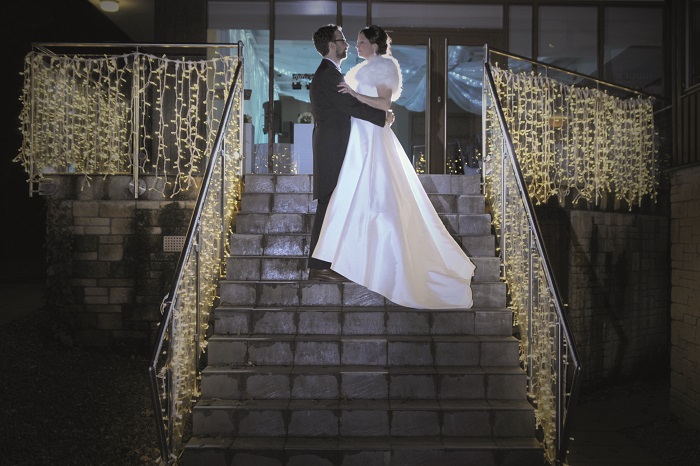 IMAGE | CIA Photography
This venue in Luss is perfect in winter, with a Winter Wonderland package tailor-made for the season. End the night with a warming fire pit on the beach complete with hot chocolate and marshmallows!
Visit Lodge on Loch Lomond's website 
Read reviews for Lodge on Loch Lomond