35 of the best wedding venues in Edinburgh 2018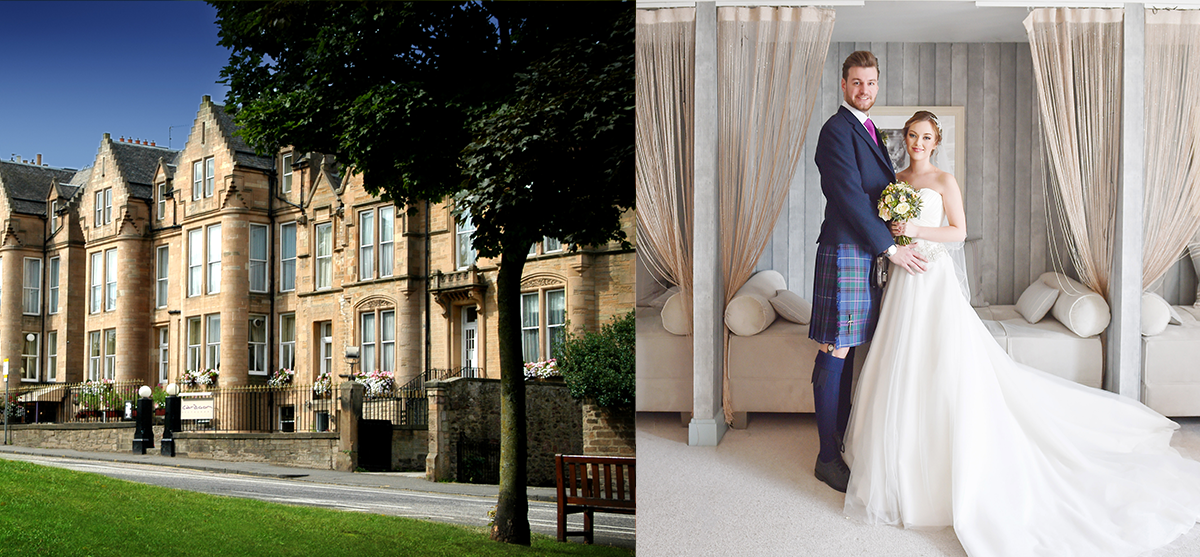 There's such a great selection of wedding venues in Edinburgh; you really are completely spoiled for choice.
From city centre boltholes to countryside retreats, all within easy commuting distance of our gorgeous capital, it really is one of the most perfect Scottish locations to tie the knot.
Take a look at the best Edinburgh wedding venues for 2018 – is your dream venue on our list?
This post contains some paid-for content. 
Borthwick Castle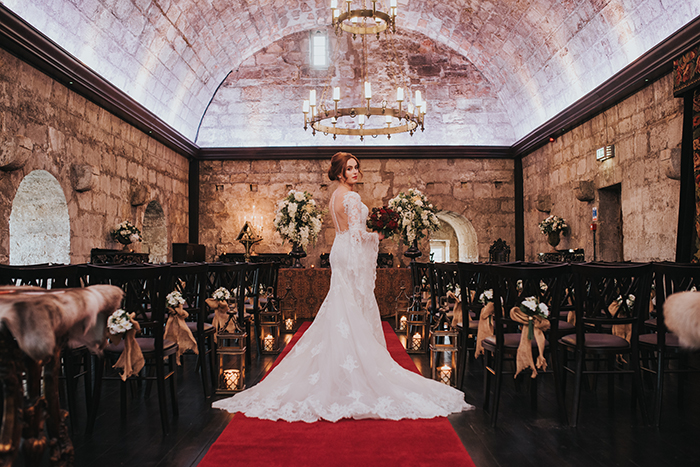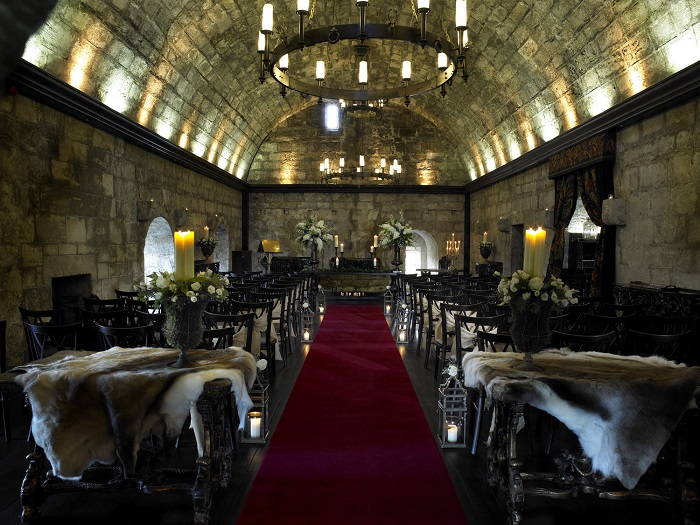 Located 30 minutes from Edinburgh Airport, this castle is an incomparable 15th century Scottish keep – the only one of its ilk in private hands across all of Europe. It is now the most stunning of venues, complete with 12 bed chambers and room for 85 guests, available for exclusive private hire.
At the centre of Scottish life for 600 years, Borthwick Castle has encountered many of the key personalities in British history and culture, from Mary Queen of Scots to Sir Walter Scott. During its recent restoration, great care has been taken to honour the authenticity of Borthwick's heritage whilst assuring that the castle delivers 21st century luxury.
With a capacity for 80 guests to celebrate at this breath-taking venue and, with 10 beautiful bedchambers, a two-bedroom cottage and luxurious Gatehouse on-site, you could stay for two nights or more for your intimate celebrations.
Visit Borthwick Castle's website | t. 01875 820 514 | e. weddings@borthwickcastle.com
Read reviews for Borthwick Castle
The Bruntsfield Hotel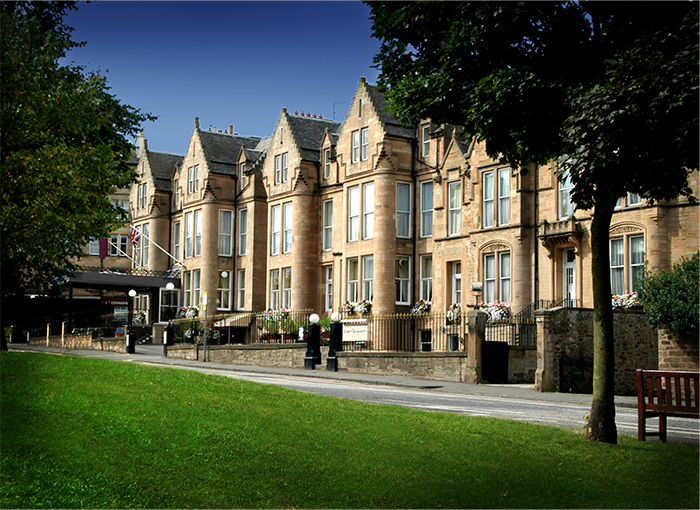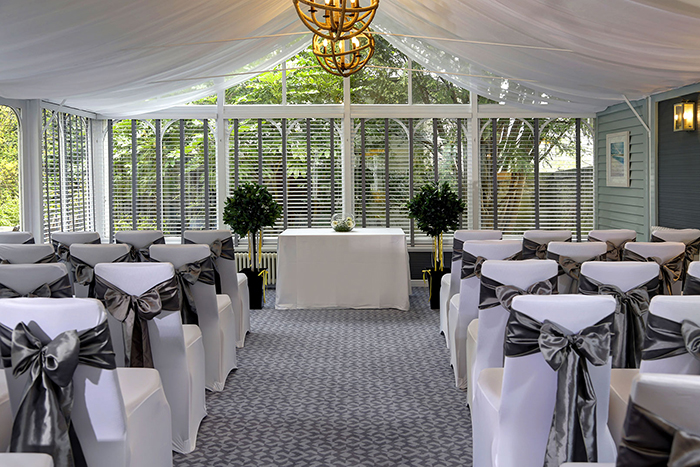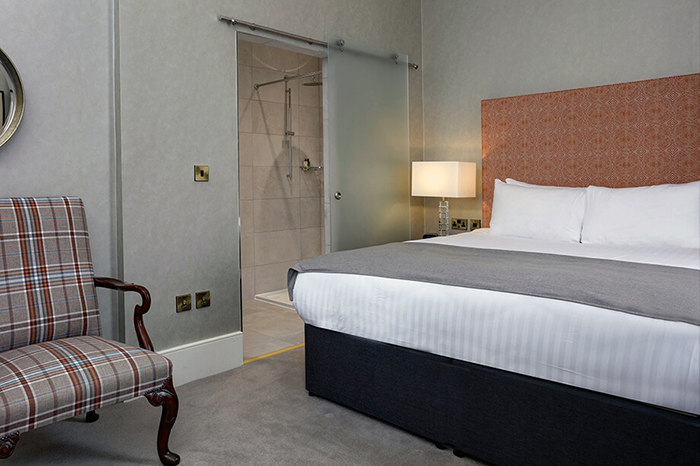 This four-star townhouse hotel is in a very charming part of Edinburgh, just a stones' throw from the hustle and bustle of the city centre.
Hold your ceremony in the Conservatory which leads out onto the garden terrace at the rear of the hotel and celebrate with dinner and dancing in the newly refurbished Cardoon Suite, with a fresh, contemporary grey and white look.
The menu is one of the most important things about your day, and you can be sure that you're in safe hands with the chefs at the Bruntsfield; why not chat to them about adding something a little bit more personal to your menu or drinks?
The hotel has plenty of on-site accommodation for your guests too, with a four-poster bedroom for the newlyweds!
Visit The Bruntsfield Hotel's website | t. 0131 229 1393 | e. sales@thebruntsfield.co.uk
Read reviews for The Bruntsfield Hotel
Principal Charlotte Square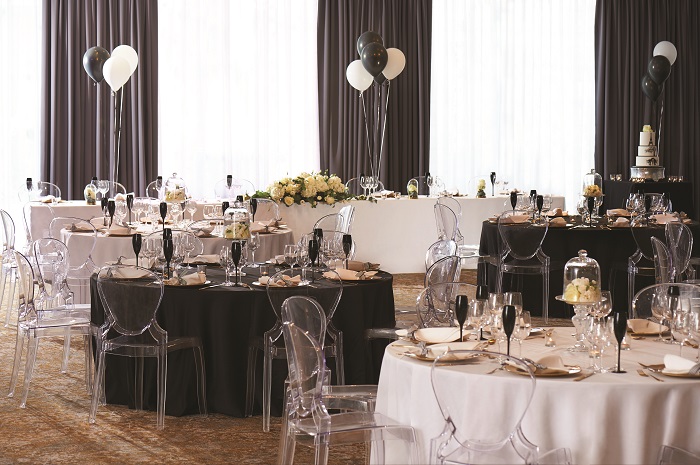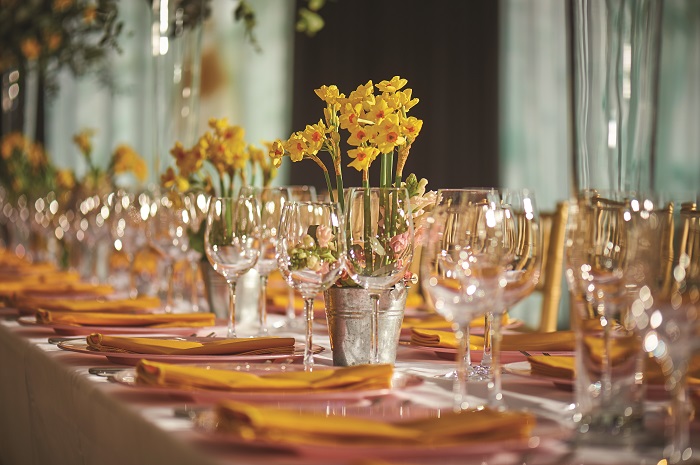 Charlotte Square Hotel (formerly The Roxburghe) is one of Edinburgh's iconic wedding venues.
Licensed for civil ceremonies, this 18th century location offers The Gallery in which to celebrate your special day, accommodating anywhere between 80-240 guests seated for dinner.
In the heart of the city, the hotel and the square's picturesque private gardens also make a stunning backdrop for wedding photographs.
The Spa at Charlotte Square hotel is also the perfect place to take some time out for a spot of pre-wedding pampering before your big day.
Previous winners of Wedding Co-ordinators of the Year at the Scottish Vows Awards, your Charlotte Square hotel wedding co-ordinators will be with you every step of the way to ensure a beautiful wedding.
Visit Principal Charlotte Square's website | t. 0131 240 5500 | e. edinburghweddingsgs@theprincipalhotel.com
Read reviews for Principal Charlotte Square
Dynamic Earth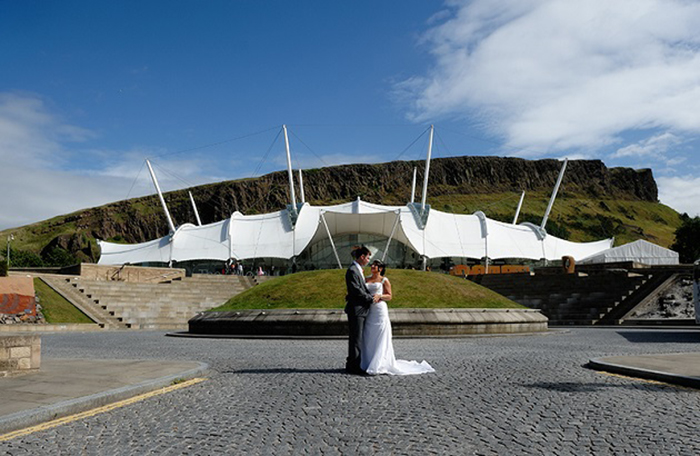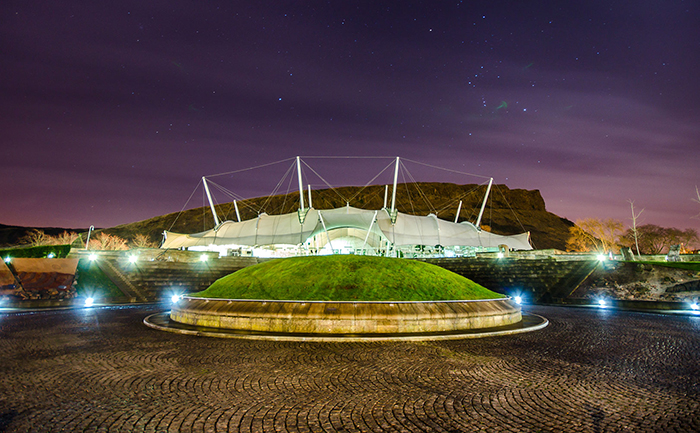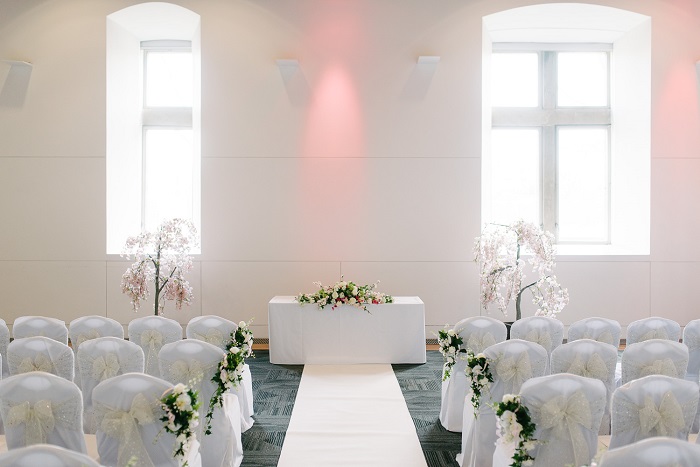 Wedding venues in Edinburgh don't come much more unique than this visitor attraction in the Holyrood area.
Right beside the Parliament building and at the foot of the Salisbury Crags, this fun venue tells the story of planet earth, and what's a more important tale than a brilliant love story?
The Biosphere features an original turret, arched ceilings and statement windows, and is the perfect place to have your ceremony! The Ozone has a contemporary feel, with stunning views from the floor to ceiling windows and is the ideal location for your wedding breakfast. Your guests can also wander around the Earthscape Galleries; how many guests can say they've spotted an iceberg at a Scottish wedding?
Visit Dynamic Earth's website | t. 0131 523 1269 | e. events@dynamicearth.co.uk
Read reviews for Dynamic Earth
Principal George Street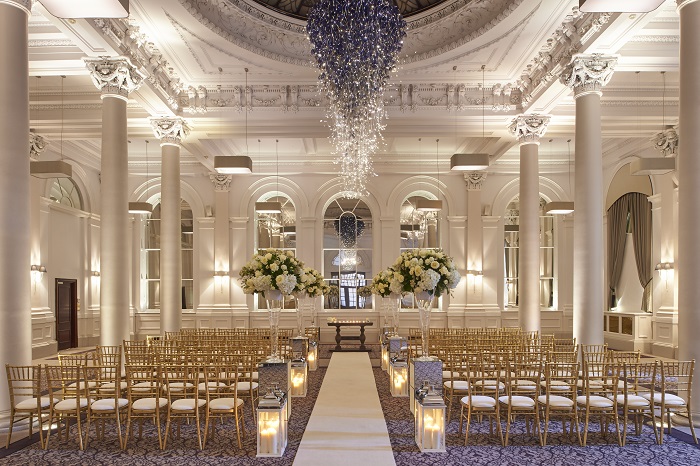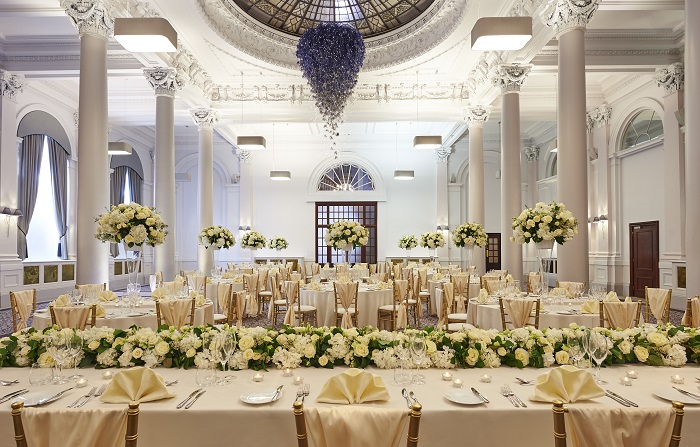 The George Street Hotel is one of Edinburgh's most loved heritage hotels and a recent regional winner for Wedding Hotel of the Year in the 2018 Scottish Hotel Awards for the Edinburgh and Lothians region. You're in the best hands if you make this the venue of your choice.
The spectacular 18th century architecture combined with the hotel's excellence of reputation and service combine to set the stage for the most beautiful wedding day to remember.
From elaborate gatherings with plenty of tradition in the grand King's Hall to smaller celebrations with a beautiful 360-degree view over Edinburgh in the Forth View Suite, the on-call wedding team will be available to assist you every step of the way.
Visit Principal George Street's website | t. 0131 225 1251| e. edinburghweddingsgs@theprincipalhotel.com
Read reviews for Principal George Street
Gilmerton House
IMAGES | Ashley Coombes Photography
An elegant, timeless Georgian house in a secluded countryside setting, this exclusive-use venue is just half an hour away from Edinburgh's city centre.
It's a beautifully romantic setting for your Scottish wedding, with plenty of opportunity to have your ceremony or drinks reception outdoors in the sprawling gardens. If the weather is a little colder, don't worry; you can use one of the beautiful spaces in the mansion house.
The Music Room can hold up to 60 guests, the Reception Room can hold up to 150 guests and the Rose Garden marquee can host a big celebration of up to 200.
Up to 26 guests can stay in the 10 double bedrooms in the house and three bedrooms in the lodge.
Visit Gilmerton House's website | t. 01620 880 342 | e. enquiries@gilmertonhouse.com
Read reviews for Gilmerton House
Glencorse House and Old Kirk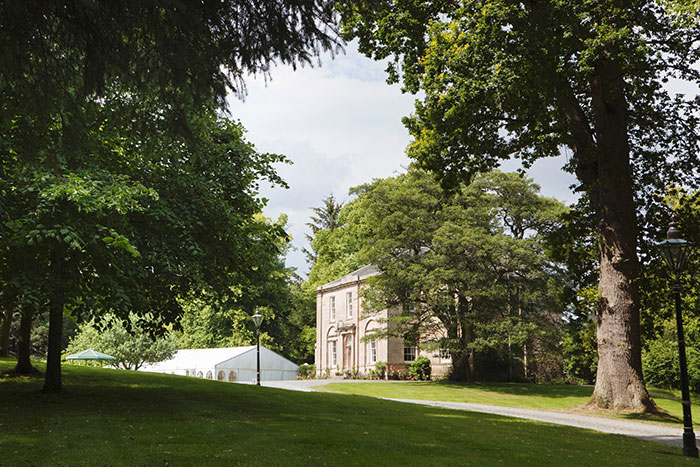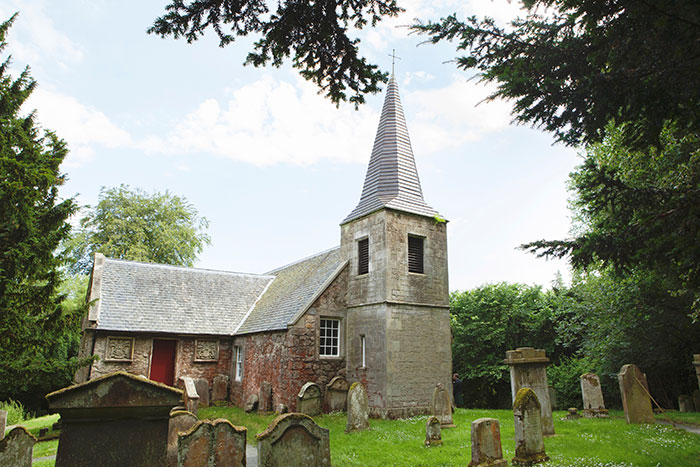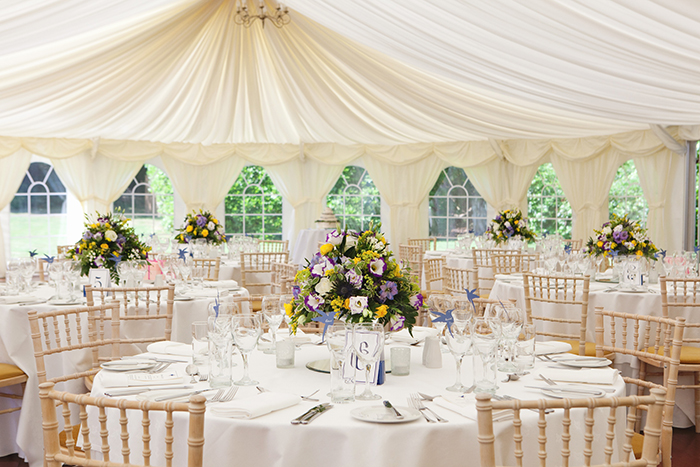 At the foothills of the Pentlands, near Edinburgh, this exclusive countryside venue would play the perfect host to your Scottish wedding.
The venue is offered on a completely exclusive-use basis, so your wedding party and guests will be the only ones in the house – meaning you can carry the celebrations right through the weekend, if you like!
Your evening reception will be held in a gorgeous marquee set in the lawns adjoining the grand manor. Glencorse Old Kirk stands proudly in the grounds of the house; did you know that Scottish writer Robert Louis Stevenson used to worship here, and wrote about the Kirk in a number of his works?
It's the perfect place for a private celebration, just get in touch with the team and start your wedding journey!
Visit Glencorse House and Old Kirk's website | t. 01968 676 406 | e. info@glencorse.com
Read reviews for Glencorse House and Old Kirk
The Hub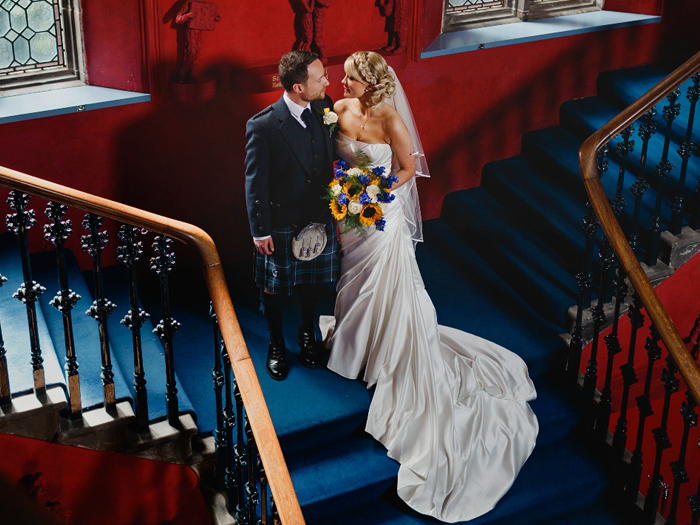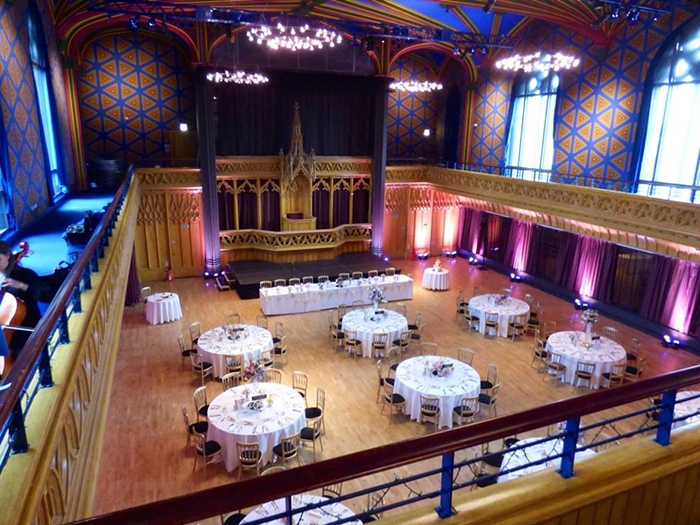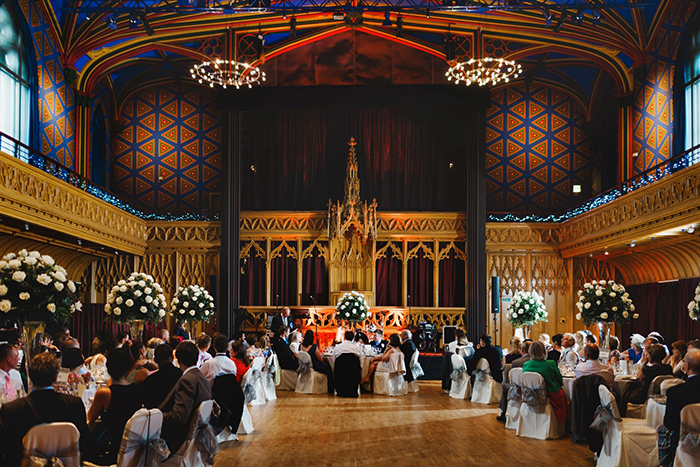 The Hub on Edinburgh's Royal Mile is probably a place you've noticed before.
After all, it's hard not to notice the iconic church-like building, just before you ascend the steep hill to Edinburgh Castle.  Its red door is as recognisable as any other Edinburgh landmark.
What you may not realise is that as well as being a fabulous cafe and an events space, well used during the Edinburgh Fringe Festival, The Hub is also a wedding venue.
For larger weddings of up to 300 guests, the Main Hall offers a versatile space for your ceremony, wedding breakfast and evening reception.
Visit The Hub's website | t. 0131 473 2015 | e. thehub@eif.co.uk
The Royal Scots Club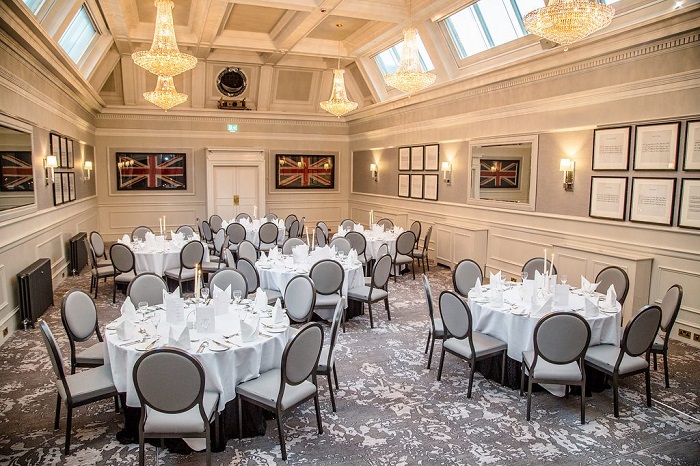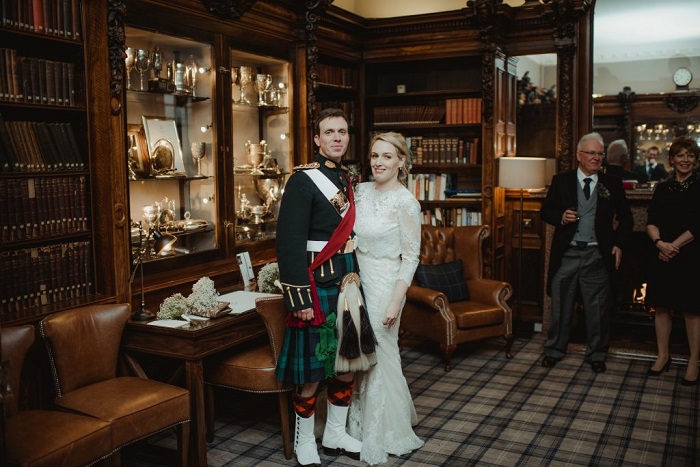 Time for gathering! With country-house charm in the heart of Edinburgh's Georgian New Town, The Royal Scots Club is a beautiful venue with elegant rooms. Ideal for small exclusive weddings and larger receptions for up to 200 guests.
The Hepburn Suite has real wow factor and is the original function suite dating back to 1929. Many of the lovely Georgian features have been preserved, but the room has been renovated to a high, modern standard.
They offer a range of packages to suit all tastes and budgets; just call their experienced organisers for more information.
Visit The Royal Scots Club's website | 0131 5564270 | e. events@royalscotsclub.com
Read reviews for The Royal Scots Club
Village Hotel Club, Edinburgh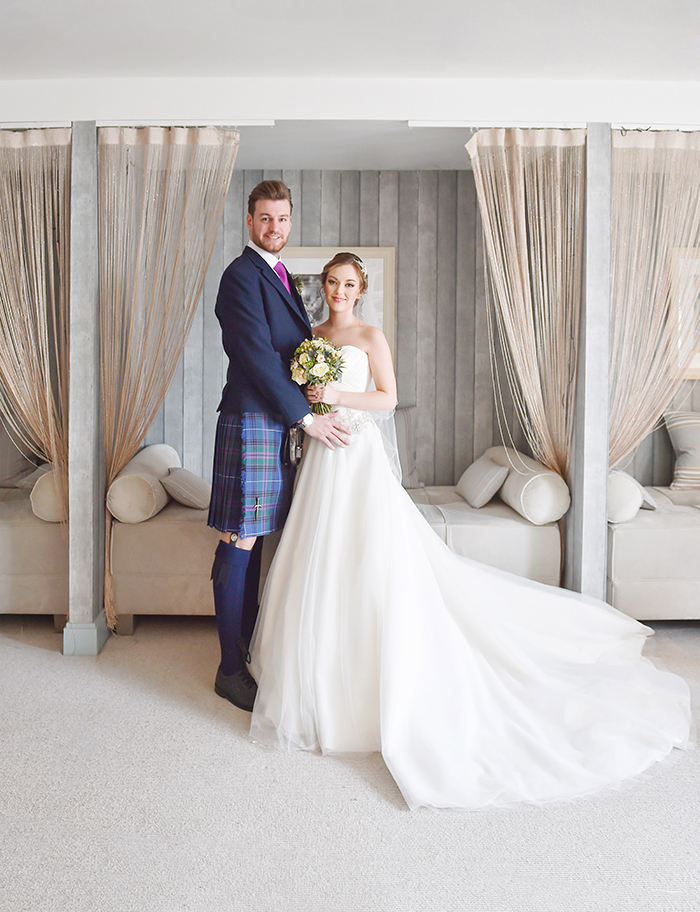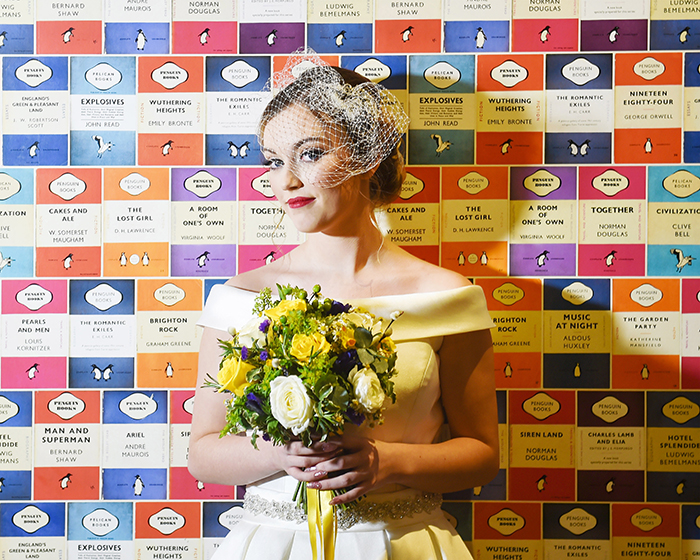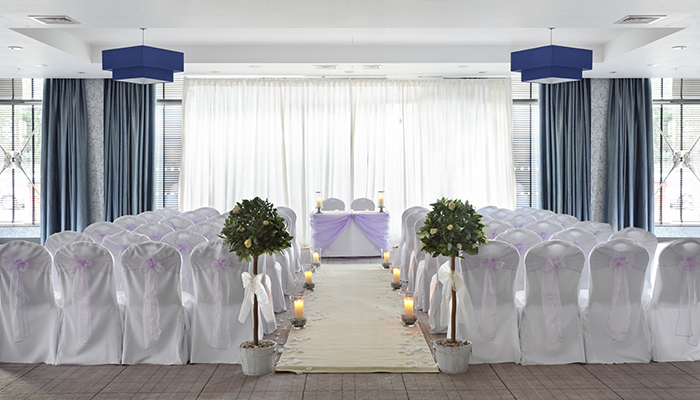 Tucked away in the historic and romantic city of Edinburgh is Village Hotel Club, with easy access from airport, rail and bus links.
You will receive a very warm welcome to this chic and vibrant hotel that offers everything under one roof. Enjoy a moment of pure escapism with a top-to-toe Wedding Spa treatment complete with relaxation by our heated pool. You could also host a wedding rehearsal dinner in the tasty grill restaurant followed by a relaxing night sleep in one of the 120 bedrooms.
Choose from a range of amazing packages to suit your needs and budget, then enjoy your ceremony and wedding breakfast in the exclusive Inspiration Suite where you can dance the night away until 1am.
A dedicated wedding planner will help talk you through everything from bespoke wedding decoration, delicious menu sections and those important finishing touches.
Visit Village Hotel Edinburgh's website | t. 0131 297 7185 | e. edinburghhub@village-hotels.com
Read reviews for Village Hotel Edinburgh
Unusual Venues of Edinburgh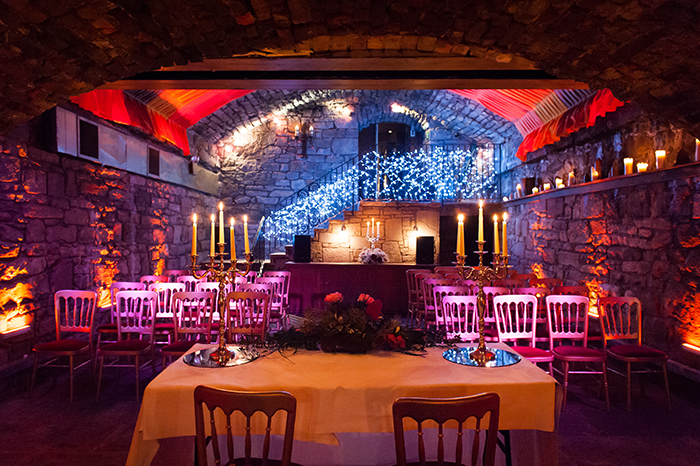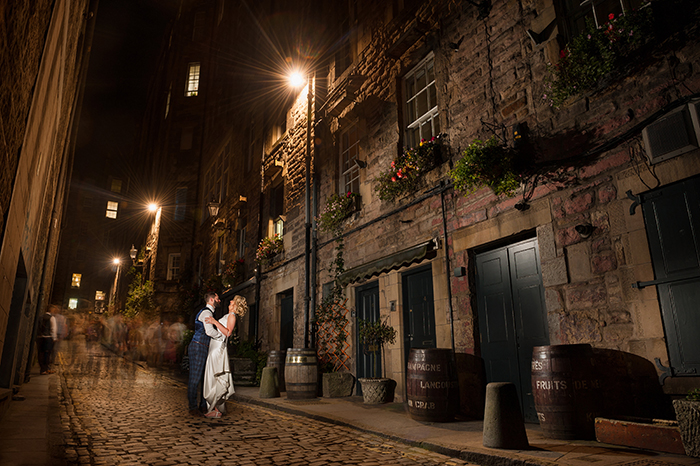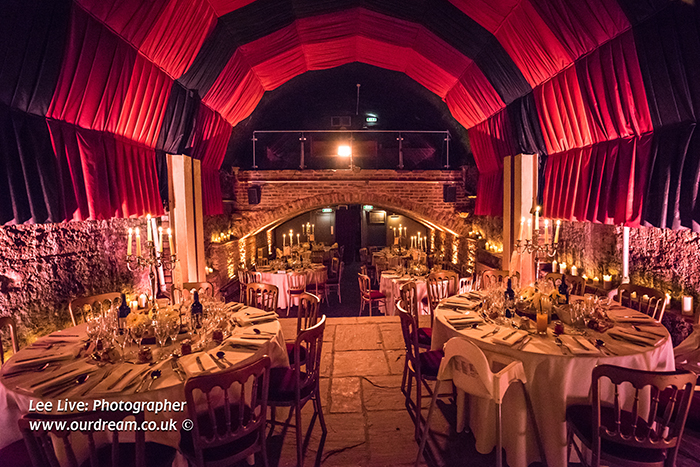 Unusual Venues Edinburgh is an award winning collection of three of the most spectacular, exclusive-use wedding venues that you will find anywhere in the UK.
The Caves, The Rowantree and Marlin's Wynd are situated right in the Heart of Edinburgh's Old Town and can accommodate weddings of all sizes. The venues are entirely unique and unlike no other; modern facilities are blended perfectly into the old features of the venues.
All three venues have a special place in Scottish history from the rumoured hunting ground of the notorious Burke and Hare, to the home of the Oyster Club of the Scottish Enlightenment.
Visit Unusual Venues Edinburgh's website | t. 0131 5106969 | e. hello@unusualvenuesedinburgh.com
Read reviews for Unusual Venues Edinburgh
The Wine House 1821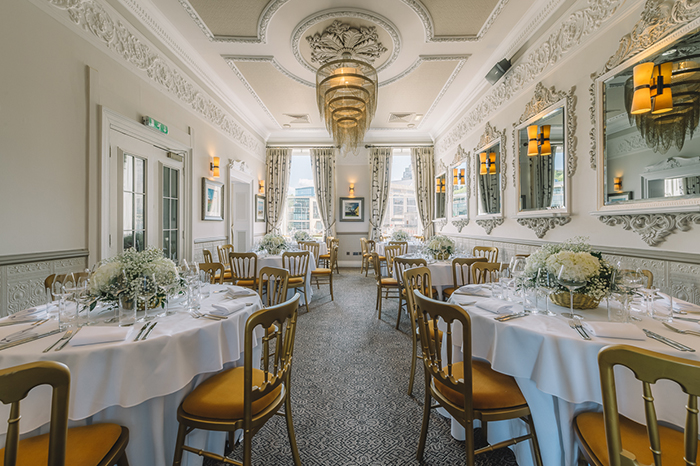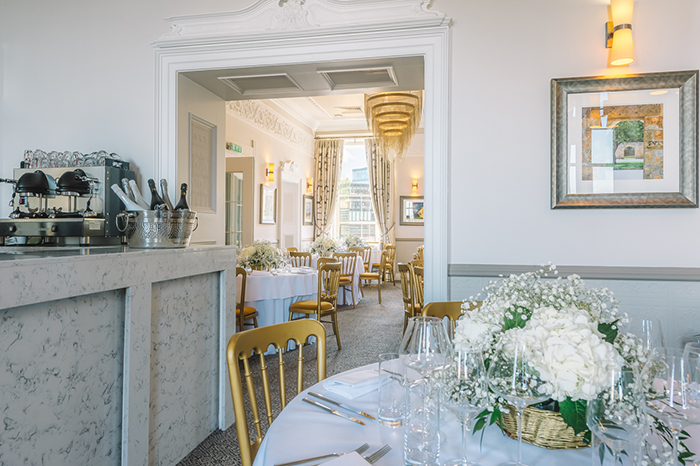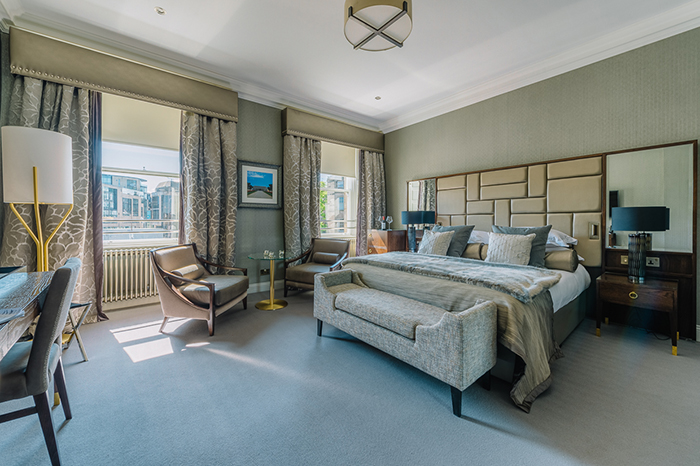 A fabulous Georgian townhouse situated in Edinburgh's new St James Quarter, The Wine House is the perfect small, city centre wedding venue!
Contemporary Italian design blends effortlessly with beautiful, Georgian period features in the elegant wedding suite, flooded with natural light from huge picture windows offering wonderful views over Calton Hill and the Firth of Forth.  Wedding packages start from just £55 per person and include all the essentials for your special day.
Also home to a stylish Italian wine bar, funky cocktail bar and four ultra-glam guest rooms, it's the ultimate venue for couples looking to wow their guests with a fabulous and unique celebration!
Visit The Wine House 1821's website | t. 0131 557 1821 | e. elizabeth@winehouse1821.co.uk
Read reviews for The Wine House 1821
Apex Grassmarket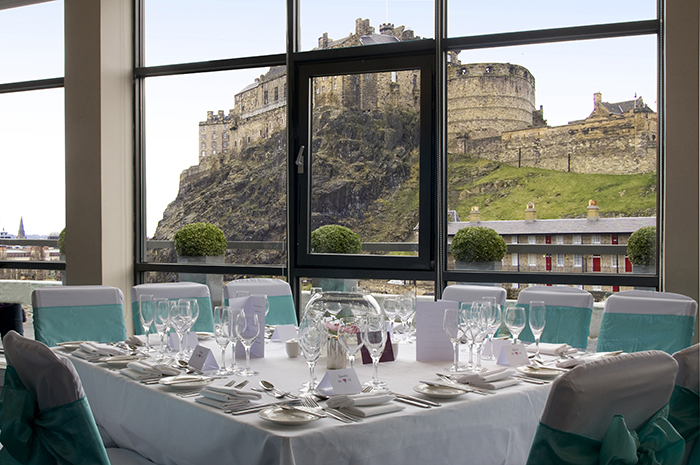 Have your wedding day in the amazing Heights room, with panoramic views of Edinburgh castle through the large windows and from the balcony. Picture perfect!
Visit Apex Grassmarket's website
Read reviews for Apex Grassmarket
The Balmoral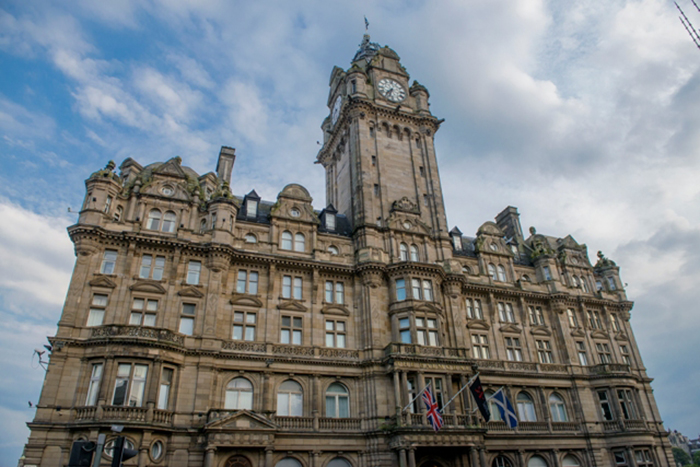 This hotel has stood proudly on Princes Street for over a century. The location is perfect, and you can rest assured that the service lives up to this hotel's five-star reputation.
Visit The Balmoral's website 
Dundas Castle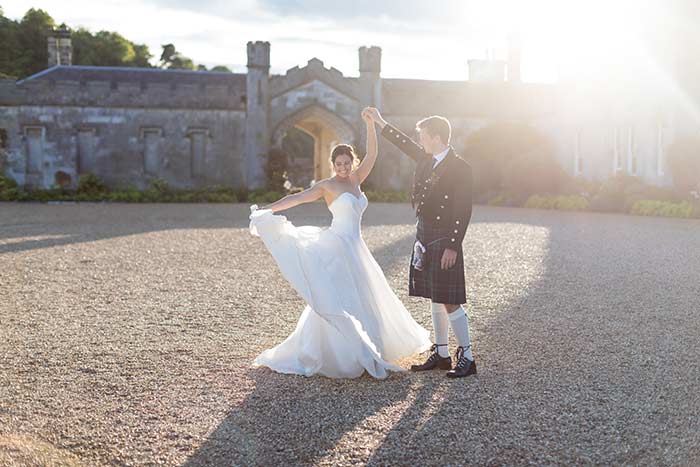 IMAGE | Ryan White Photography
With luxury accomodation for you and your guests on-site and five-star food to choose from for your wedding breakfast, this is one of Edinburgh's best castle wedding venues.
Visit Dundas Castle's website
Read reviews for Dundas Castle
Edinburgh Castle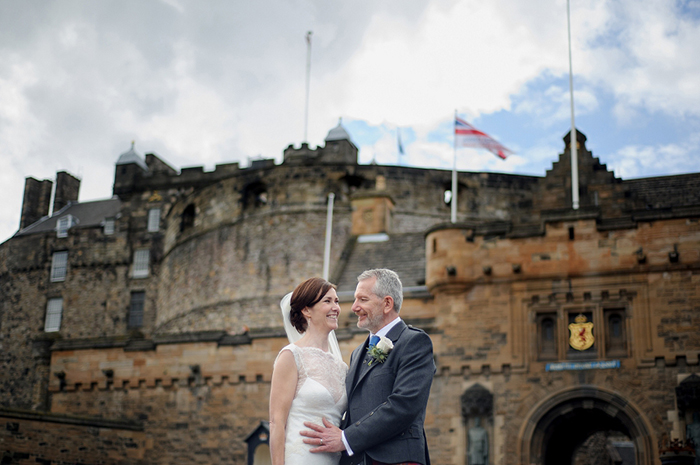 IMAGE | Elemental Photography
It doesn't get much more iconic than this Edinburgh landmark. Have an intimate ceremony for only 30 people in St Margaret's Chapel, originally built for the sole use of the royal family.
Visit Edinburgh Castle's website
Read reviews for Edinburgh Castle
Edinburgh First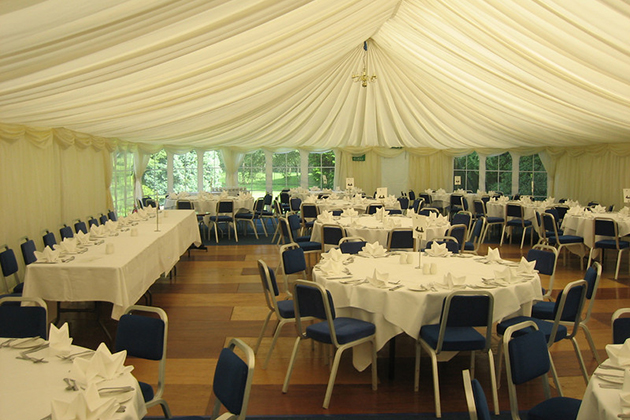 PICTURED: Abden House marquee
Select one of many fabulous properties for your Edinburgh wedding celebrations including Abden House, John McIntyre Conference Centre, Old College, Salisbury Green Hotel, South Hall Complex and St Leonard's Hall.
Visit Edinburgh First's website
Read reviews for Edinburgh First
G&V Royal Mile Hotel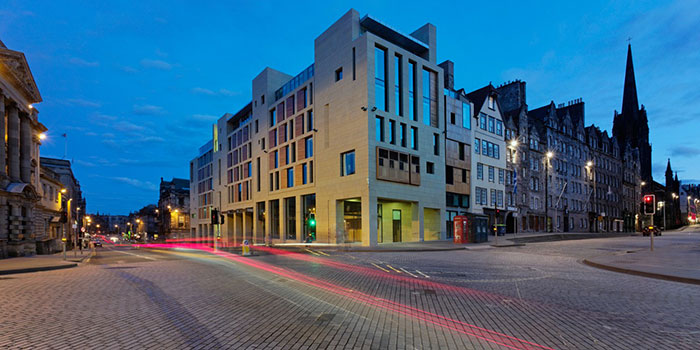 A secluded outdoor ceremony in the heart of Edinburgh? It's possible at G&V, with their secluded courtyard garden where you can say your vows in a private setting, surrounded by candlelight.
Visit G&V Royal Mile Hotel's website 
Read reviews for G&V Royal Mile Hotel
The Georgian House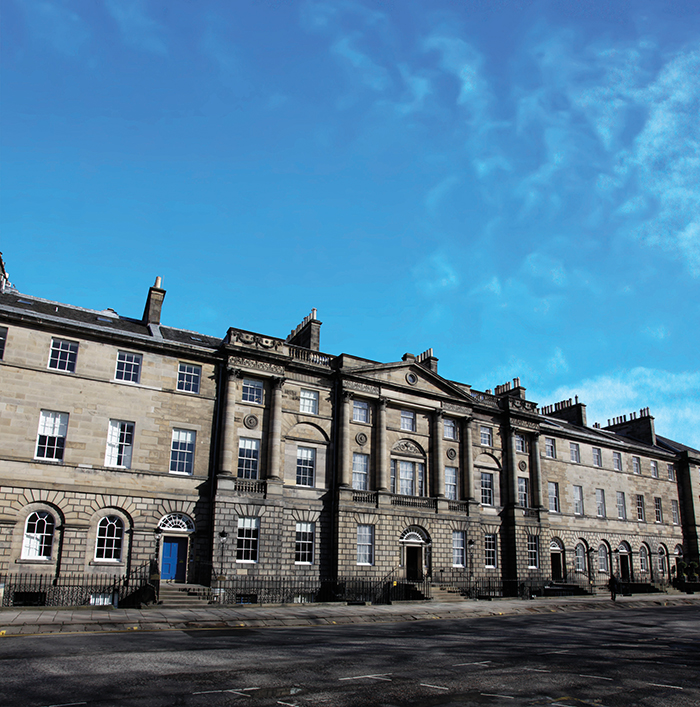 This magnificently restored Edinburgh New Town house is decorated with priceless paintings and period furniture, perfect for the couple who're looking for a historic venue with bags of charm.
Visit The Georgian House's website
Read reviews for The Georgian House
Ghillie Dhu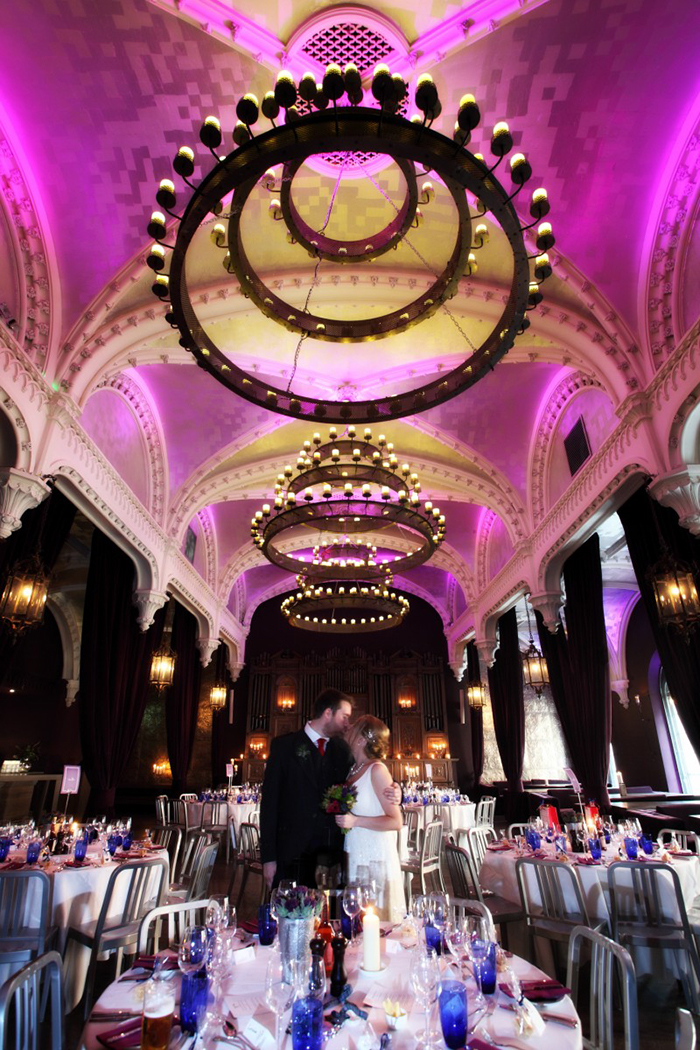 Grade A listed former church Ghillie Dhu has a fantastic Auditorium wedding space, with high vaulted ceilings and chandeliers making for a completely unique wedding venue.
Visit Ghillie Dhu's website 
Macdonald Holyrood Hotel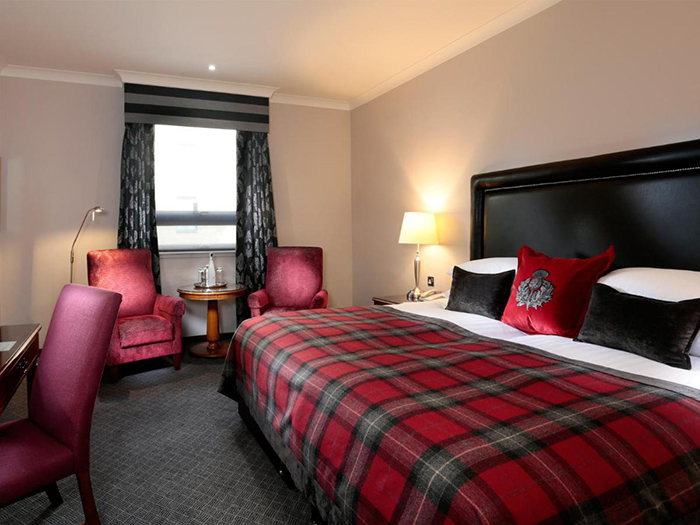 Whether you want a big or small wedding in Edinburgh, this Old Town hotel can accomodate you and your guests in traditionally decorated rooms. There's even an on-site spa for pre-wedding relaxation.
Visit Macdonald Holyrood Hotel's website
Read reviews for Macdonald Holyrood Hotel
The Merchants' Hall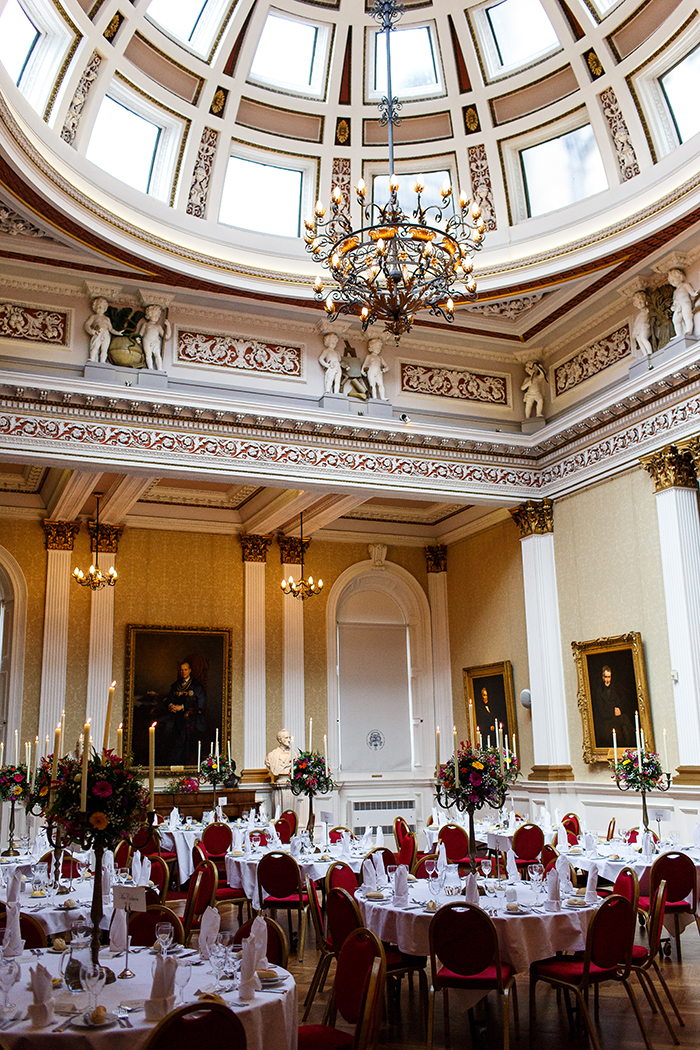 You'll fall for the charms of this venue's main function hall, with a capacity of up to 200 guests for evening reception. The hall has been beautifully restored and has many original features.
Visit The Merchants' Hall website
Read reviews for The Merchants' Hall
Norton House Hotel and Spa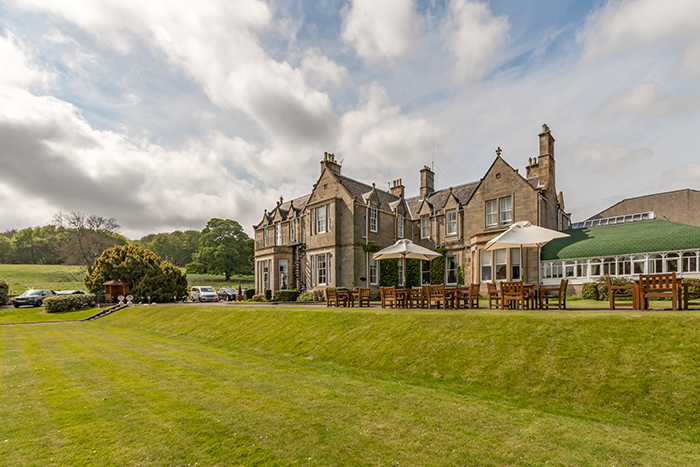 Located in Ingliston, this venue allows complete freedom for couples to create a wedding day that they've always dreamed of, with great transport links for guests.
Visit Norton House Hotel and Spa's website
Read reviews for Norton House Hotel and Spa 
Prestonfield House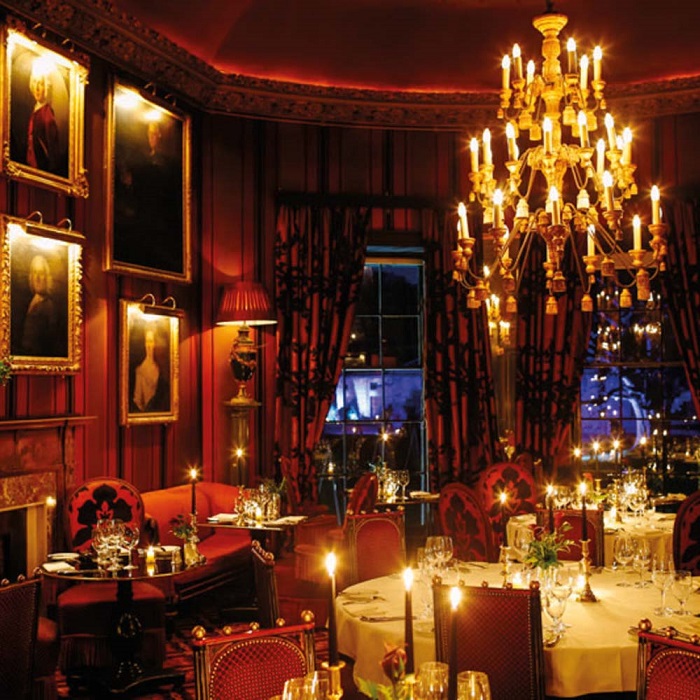 Opulence, theatre and luxury; if you're on the hunt for a really unusual and unique venue in Edinburgh that won't blend into the background, then five-star Prestonfield House could be The One.
Visit Prestonfield House's website
Read reviews for Prestonfield House
Riddle's Court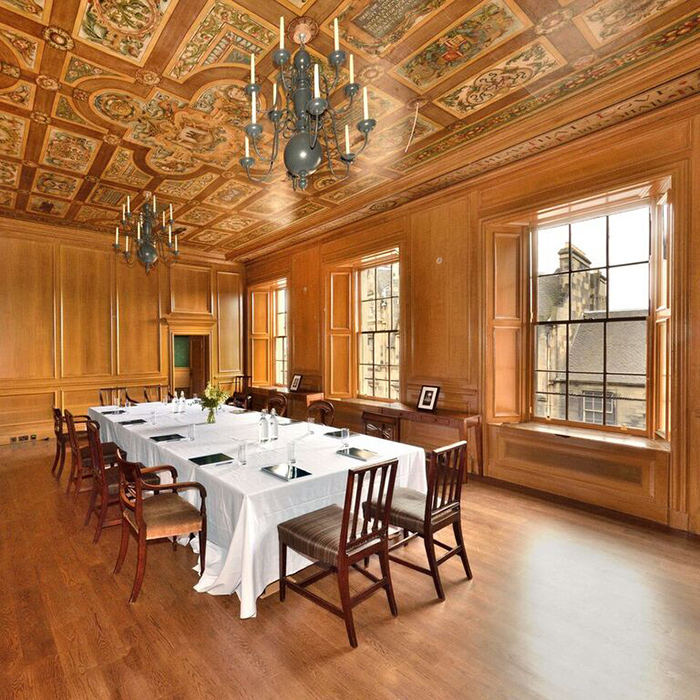 Hidden away on Edinburgh's Royal Mile, this historic wedding venue has lots of plus points, like the courtyard, where you can say your vows if you wish. There's also a unique honeymoon suite.
Visit Riddle's Court website 
Read reviews for Riddle's Court
Surgeons Quarter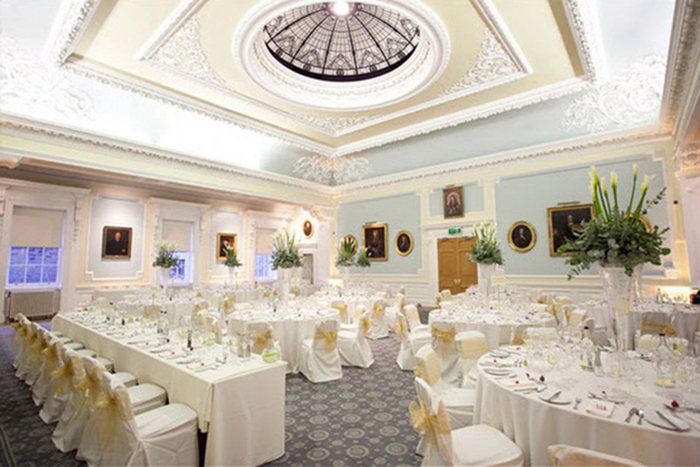 The Royal College of Surgeons of Edinburgh is a really different venue for your wedding, with packages available to make planning easier for you whether you plan on a big celebration or a smaller affair.
Visit Surgeons Quarter's website
Read reviews for Surgeons Quarter
Royal Botanic Garden Edinburgh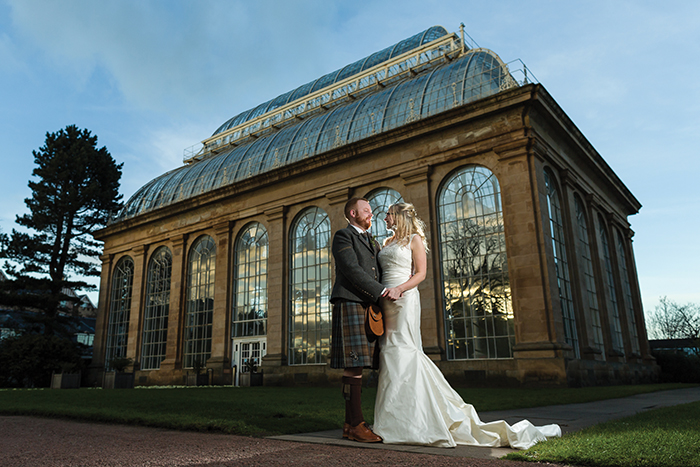 IMAGE | Jonathan Fowler Photography
With several event spaces available for your wedding, from the Victorian Caledonian Hall to the more contemporary John Hope Gateway, there's something to suit everyone at this botanical wedding venue.
Visit Royal Botanic Garden Edinburgh's website
Read reviews for Royal Botanic Garden Edinburgh
The Caledonian, A Waldorf Astoria Hotel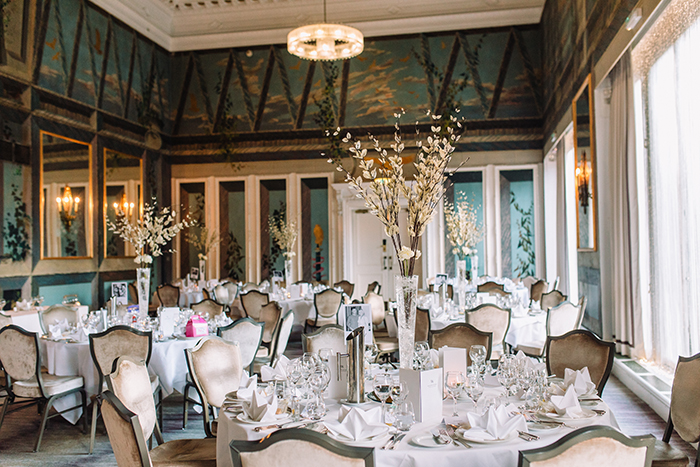 IMAGE | The Gibsons
Standing proudly on Princes Street, this city landmark is a beautiful wedding venue, with a grand staircase that's the perfect backdrop for glamorous photographs.
Visit The Caledonian's website
Carlowrie Castle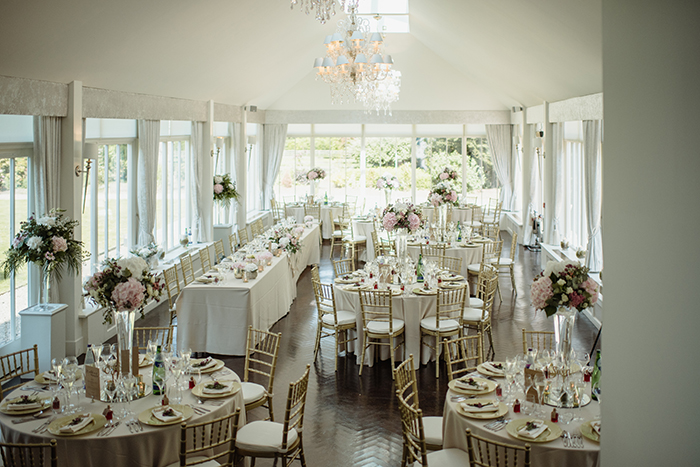 IMAGE | Marc Millar Photography
With a castle, walled garden and acres of lush grounds, this venue has everything you'd want for an Edinburgh countryside wedding.
Visit Carlowrie Castle's website 
Dalhousie Castle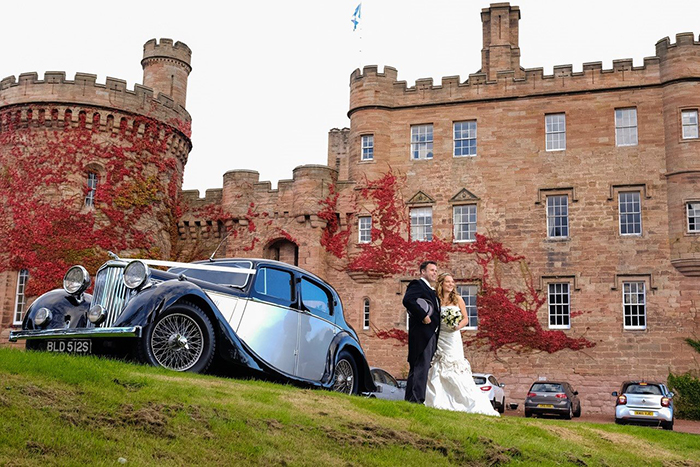 IMAGE | Tony Marsh Photography
A 13th century fortress set within acres of woodland, on the banks of the River Esk. Charming and rural, this venue has it's very own chapel on the grounds.
Visit Dalhousie Castle's website
Greyfriars Kirk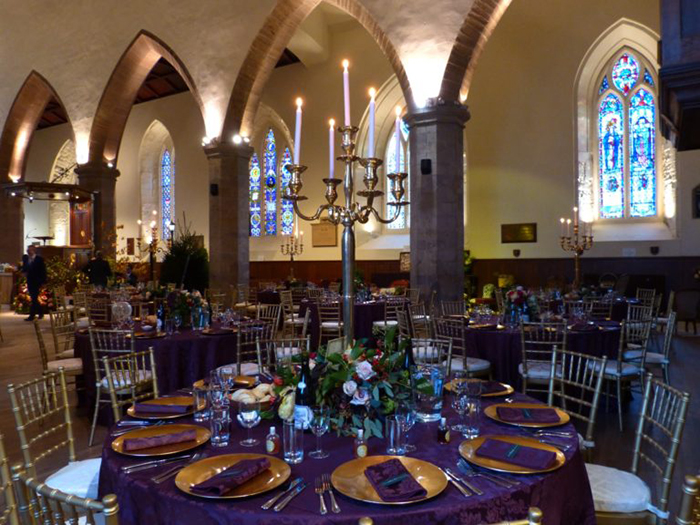 Stunning when decorated for a wedding reception, this iconic active church is available for hire for a very different wedding party experience.
Visit Greyfriar's Kirk website
Kirknewton House Stables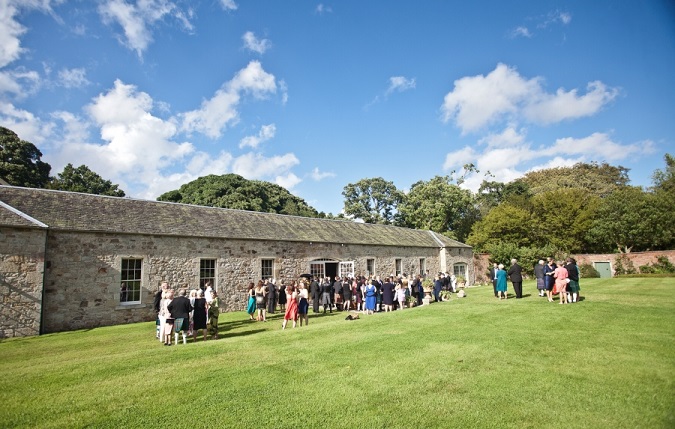 IMAGE | Love Skye Photography
Just 25-minutes from the centre of Edinburgh, this beautiful blank canvas wedding venue lets you create your own version of the perfect day.
Visit Kirknewton House Stables website 
Mansfield Traquair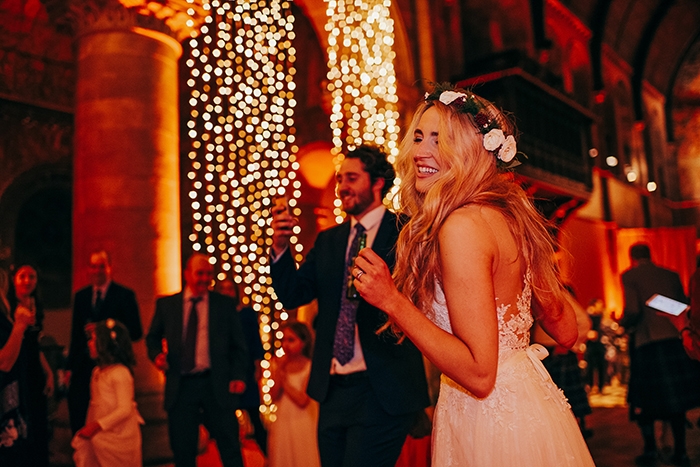 IMAGE | David Grant Simpson Photography
Called Edinburgh's Sistine Chapel, this romantic venue is a fairytale come true for couples who want to marry in the heart of the city.
Visit Mansfield Traquair's website 
Signet Library
Close to St Giles Cathedral, this is one of Edinburgh's most breathtaking wedding venues, with a great wedding team to help make your day perfect.
Visit Signet Library's website 
The Scotch Whisky Experience Edinburgh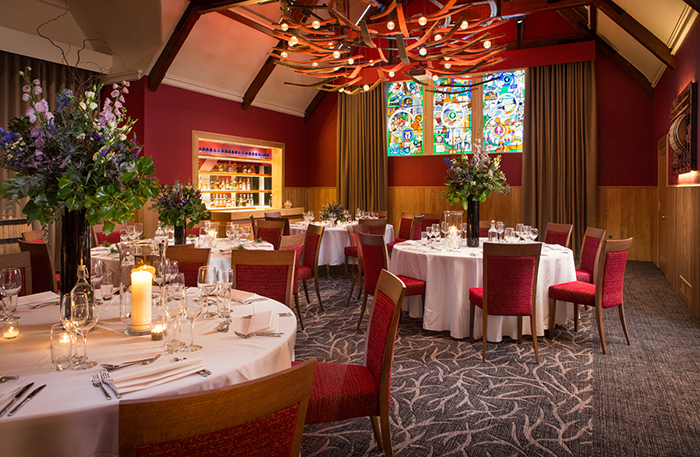 You probably didn't even realise you could get married at this unique venue, right next to Edinburgh Castle, but what better place for two whisky lovers to unite?
Visit The Scotch Whisky Experience's website