24 of the best wedding venues in and around Edinburgh 2019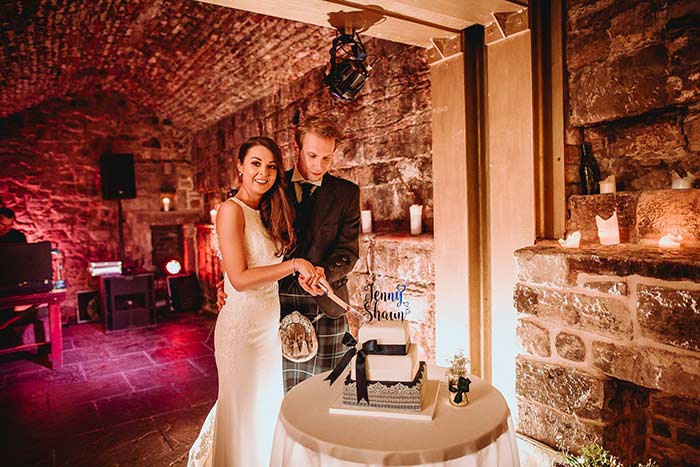 Edinburgh isn't just the most beautiful city in Scotland – it's one of Europe's most beautiful cities too!
We're lucky to have such a gorgeous capital, and the city and it's surrounding areas provide so many lovely locations for an authentically Scottish wedding day.
Here's a round-up of some of our favourite wedding venues in and around Edinburgh.
This post contains some paid-for content.
BARNBOUGLE CASTLE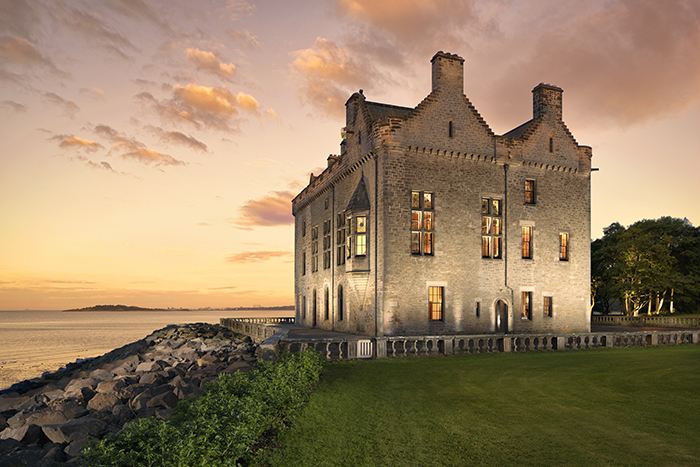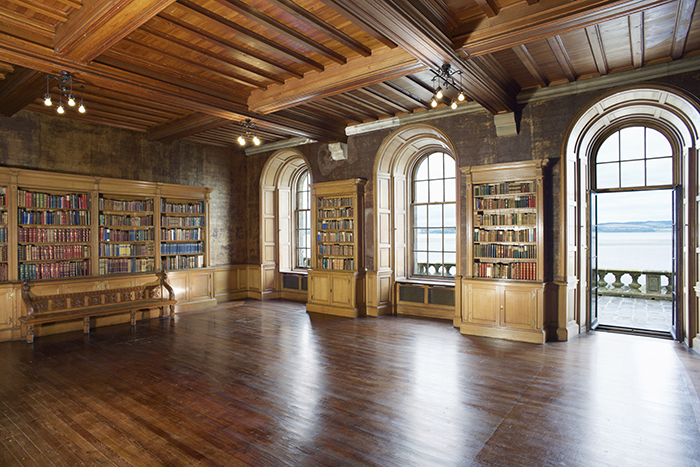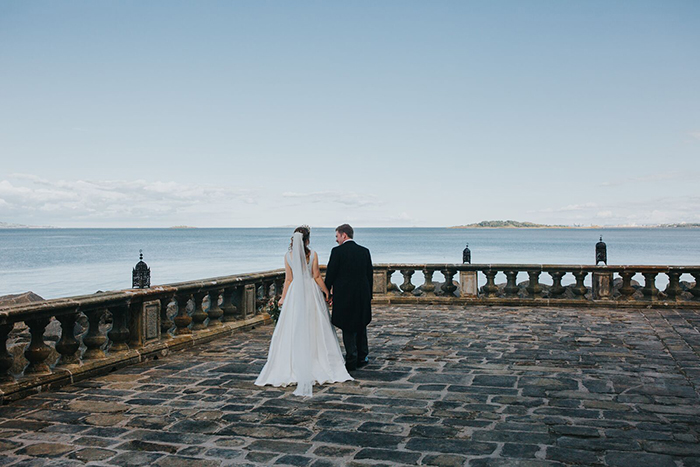 This beautiful Scottish castle near Edinburgh offers a truly unique backdrop for unforgettable weddings and special events.
Owned by the Earls of Rosebery for nearly 400 years, Barnbougle Castle is one of Scotland's most outstanding heritage venues, blending location, tradition and historical significance.
The castle has a variety of stunning original period features, including crowstep gables, crenellated parapets, a dramatic stone spiral staircase and marble sea-water bath, ensuring history lovers will instantly fall in love with this historic wedding venue.
Boasting a magnificent location with private beaches framed by woodland and landscaped grounds, the castle can cater for up to 140 guests with larger wedding parties of up to 450 accommodated in marquees in the grounds.
Visit Barnbougle Castle's website | t: 0131 357 9870 | events@roseberyestates.co.uk
BEST WESTERN BRUNTSFIELD HOTEL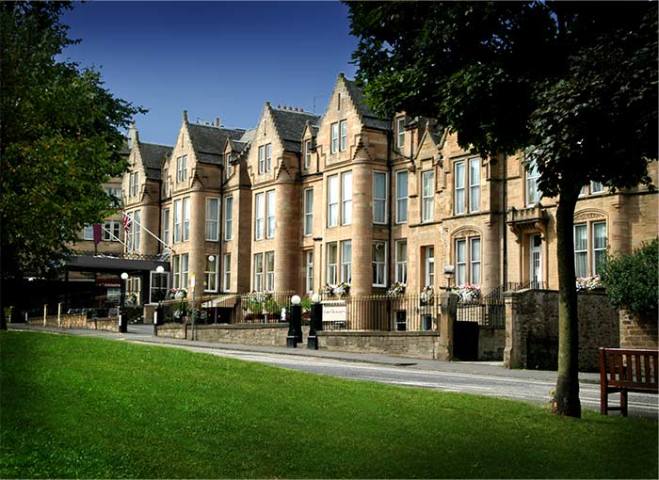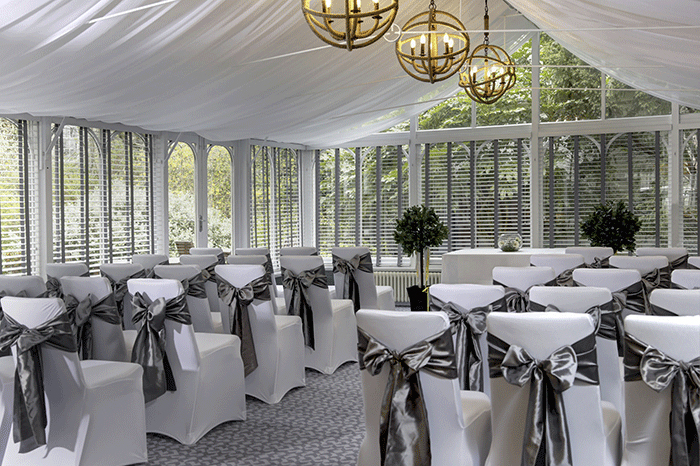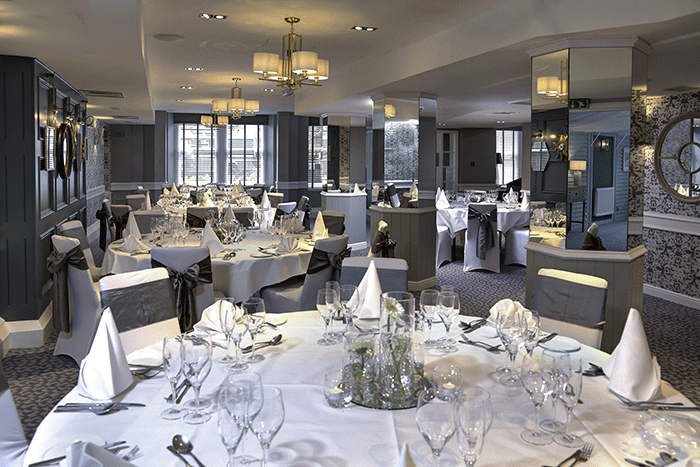 This four-star townhouse hotel is in a very charming part of Edinburgh, just a stones' throw from the hustle and bustle of the city centre.
Hold your ceremony in the Conservatory which leads out onto the garden terrace at the rear of the hotel and celebrate with dinner and dancing in the newly refurbished Cardoon Suite, with a fresh, contemporary grey and white look.
The menu is one of the most important things about your day, and you can be sure that you're in safe hands with the chefs at the Bruntsfield; why not chat to them about adding something a little bit more personal to your menu or drinks?
The hotel has plenty of on-site accommodation for your guests too, with a four-poster bedroom for the newlyweds!
Visit Best Western Plus Bruntsfield Hotel's website | t. 0131 2291393 | e. Fiona.brown@thebruntsfield.co.uk
CAIRNS FARM ESTATE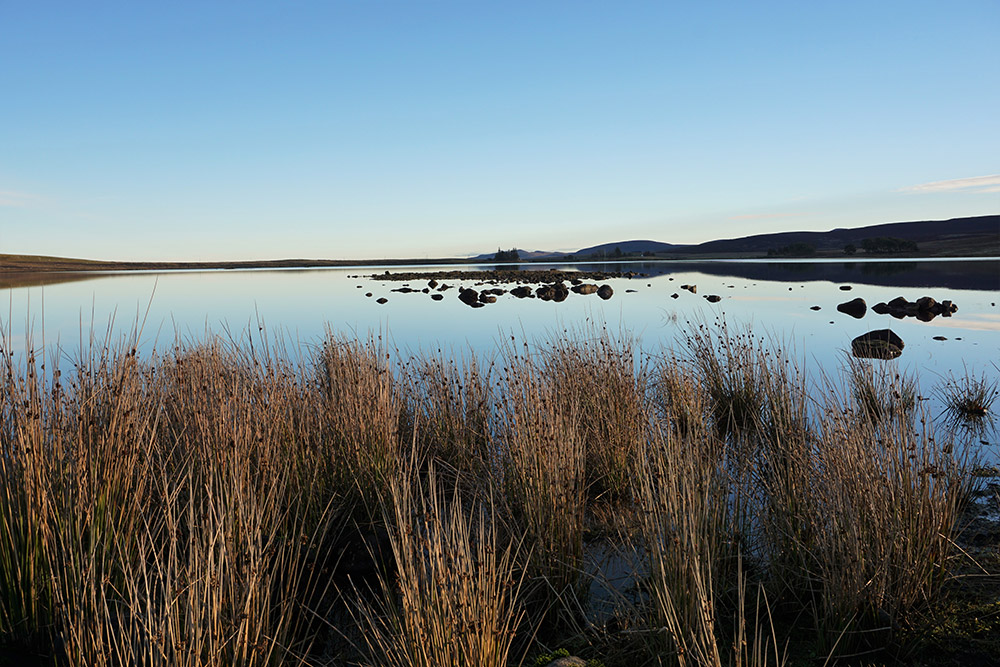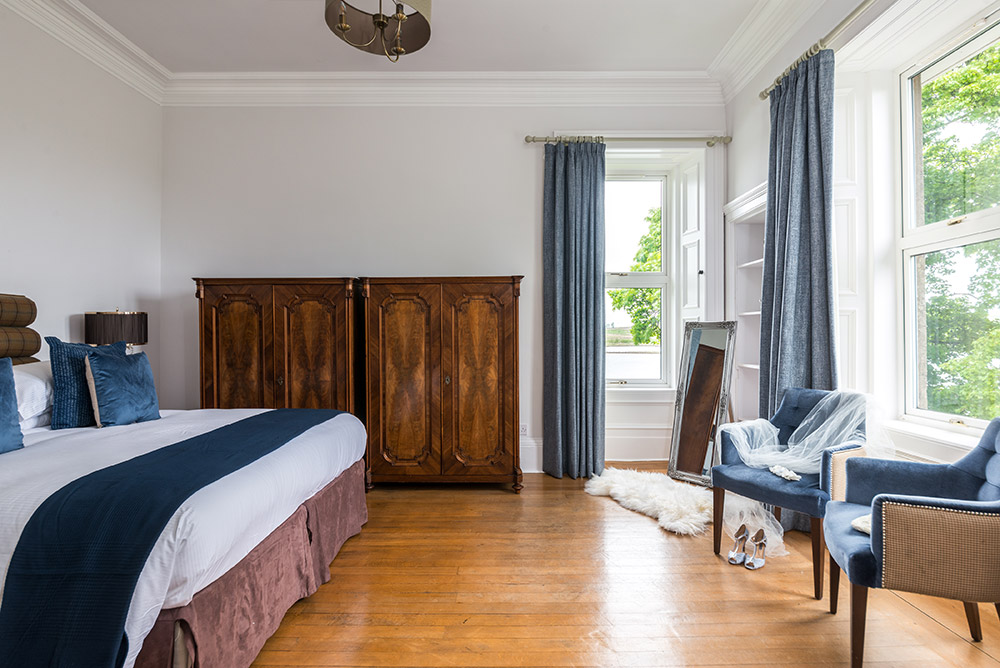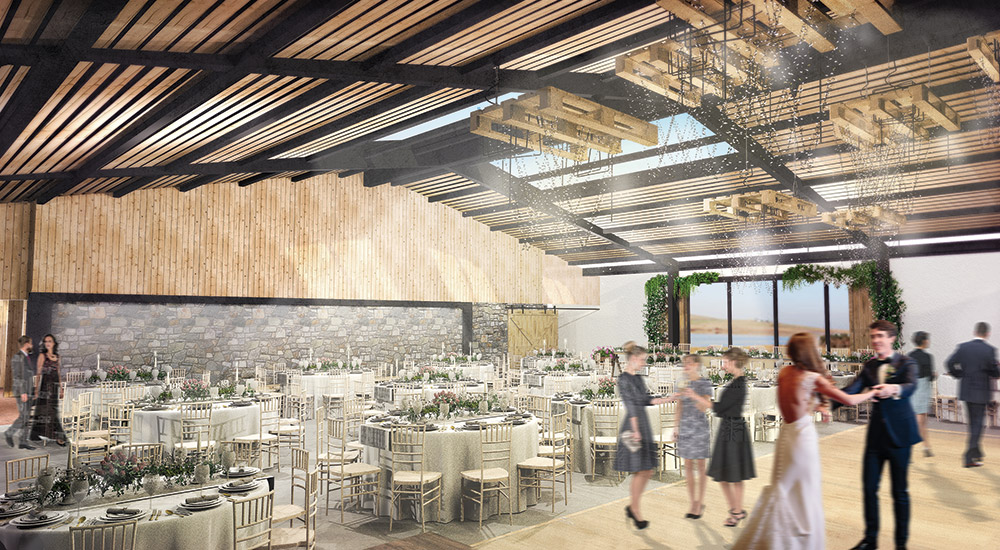 Set in a beautiful spot amongst the rolling hills of West Lothian, Cairns Farm Estate enjoys gorgeous waterside views and all the comforts you'd expect of a new contemporary venue.
You could be one of the first couples to say 'I do' at Cairns Farm, which is built around a country barn, offering you the chance to style your wedding exactly how you wish.
The venue boasts a beautiful ceremony area and separate reception space with floor-to-ceiling glass allowing you to take full advantage of the views, a fantastic bar, barbecue spot, terrace for drinks receptions and a stunning events space – perfect for dancing the night away.
What's more, there's on-site accommodation in the renovated farmhouse and a honeymoon hideaway.
Visit Cairns Farm Estate's website | t.01506 883506 | e. cairns@hickoryfood.co.uk
DYNAMIC EARTH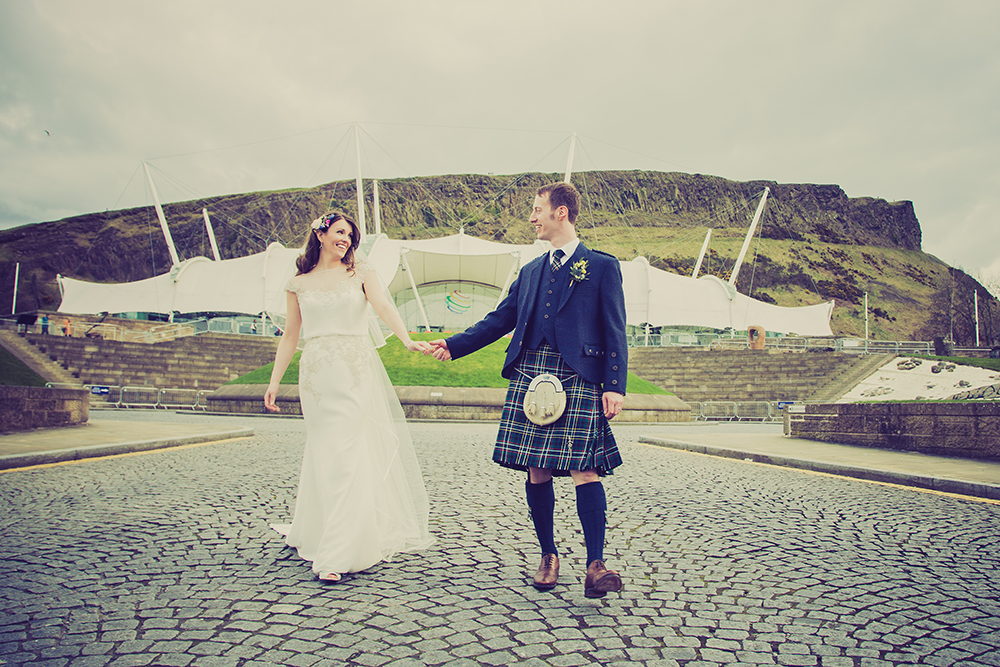 IMAGE: PSD Photography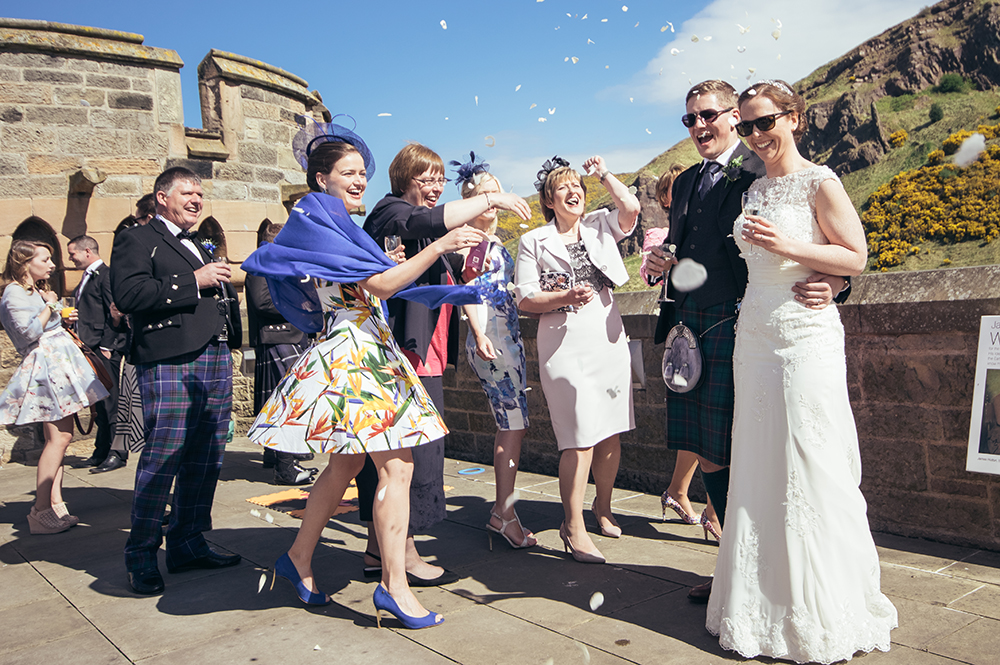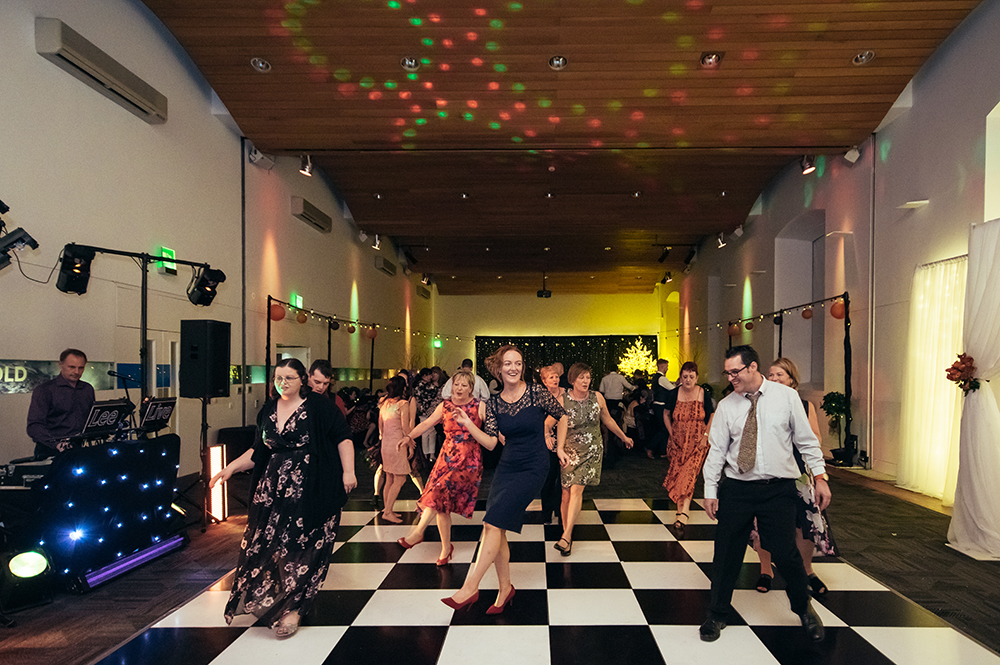 Wedding venues in Scotland don't come much more unique than this visitor attraction in the Holyrood area of Edinburgh.
The fun venue tells the story of planet earth, and what's a more important tale than a brilliant love story?
For a Scottish wedding party with a unique twist, The Biosphere features an original turret, arched ceilings and statement windows. For a contemporary celebration setting, The Ozone has stunning views from the floor to ceiling windows and is the ideal location for your wedding breakfast.
Your guests can even wander around the Earthscape Galleries; how many guests can say they've spotted an iceberg at a Scottish wedding?
Visit Dynamic Earth's website | t. 0131 523 1269 | e. events@dynamicearth.co.uk
ESKSMILL VENUE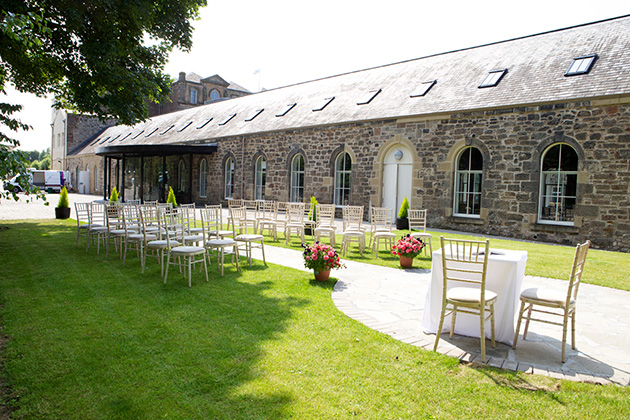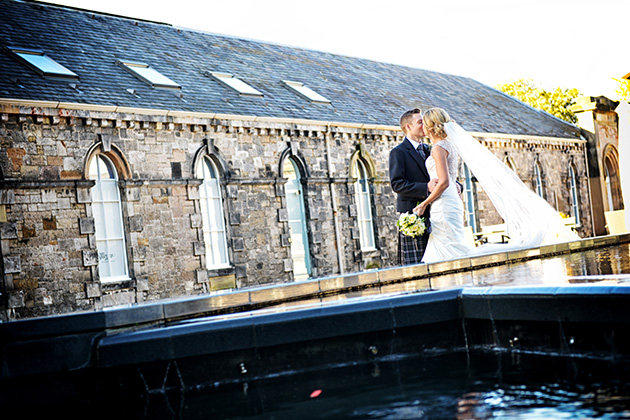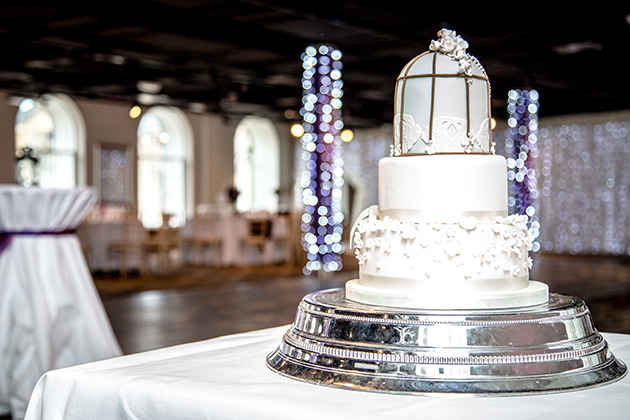 A beautiful and contemporary wedding venue only 20 minutes from Edinburgh city centre by car, Eskmills can provide a rustic luxe backdrop to the most special day of your life.
Eskmills is a gorgeously converted mill in Musselburgh, and is run by the award-winning caterers at Hickory, meaning any foodie couples who book their wedding here will be more than happy with the spread the team can put together for your wedding day.
Eskmills has plenty of natural character but is still something of a blank canvas, meaning you can dress it to fit any theme you like without being overwhelmed by the venue's own décor.
For a relaxed wedding day with great food and beautiful surroundings, Eskmills Venue has you covered.
Visit Eskmills Venue's website | t. 0131 287 0550 | e. info@eskmillsvenue.com
GLENCORSE HOUSE AND OLD KIRK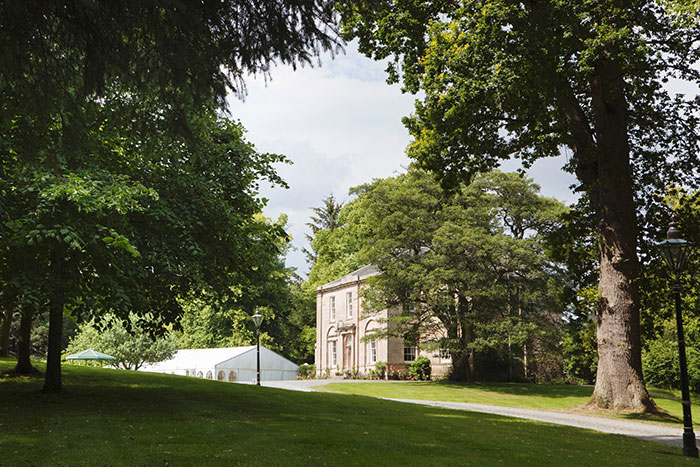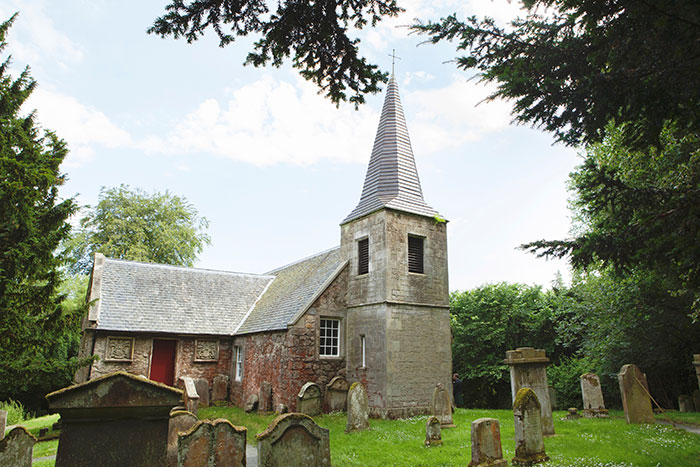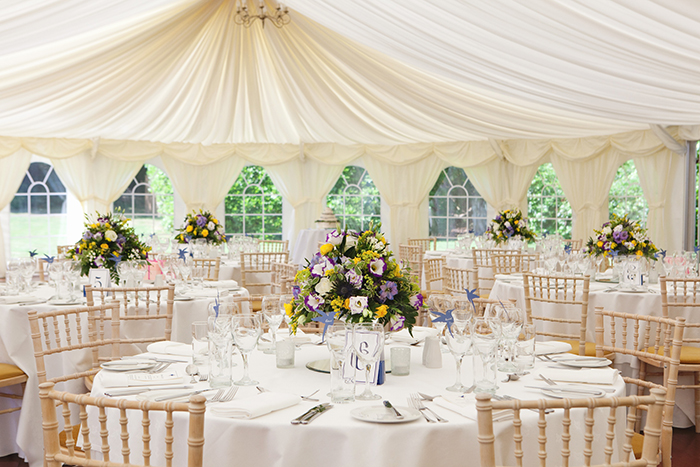 At the foothills of the Pentlands, near Edinburgh, this exclusive countryside venue would play the perfect host to your Scottish wedding.
The venue is offered on a completely exclusive-use basis, so your wedding party and guests will be the only ones in the house – meaning you can carry the celebrations right through the weekend, if you like!
Your evening reception will be held in a gorgeous marquee set in the lawns adjoining the grand manor. Glencorse Old Kirk stands proudly in the grounds of the house; did you know that Scottish writer Robert Louis Stevenson used to worship here, and wrote about the Kirk in a number of his works?
It's the perfect place for a private celebration, just get in touch with the team and start your wedding journey!
Visit Glencorse House and Old Kirk's website | t. 01968 676 406
HOTEL DU VIN EDINBURGH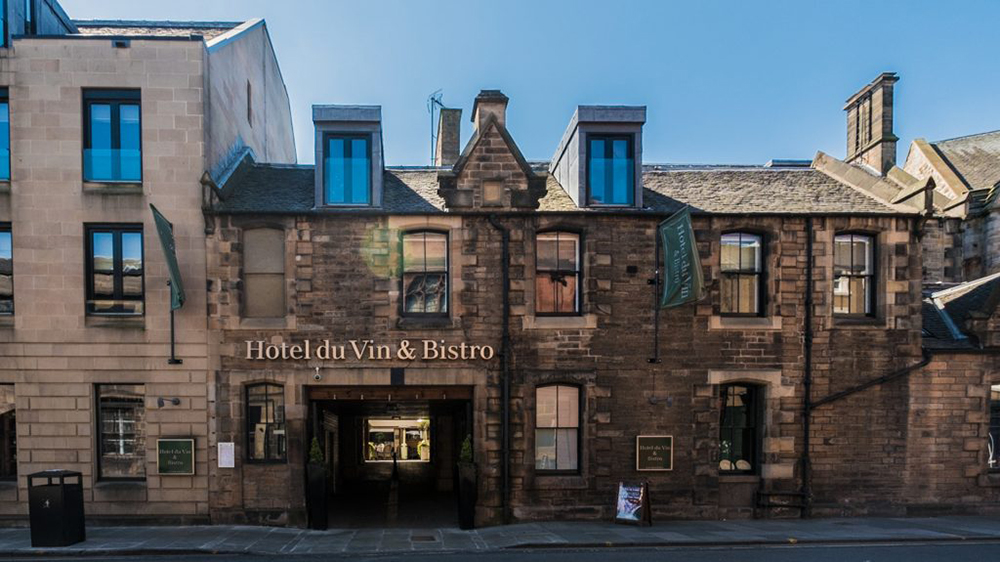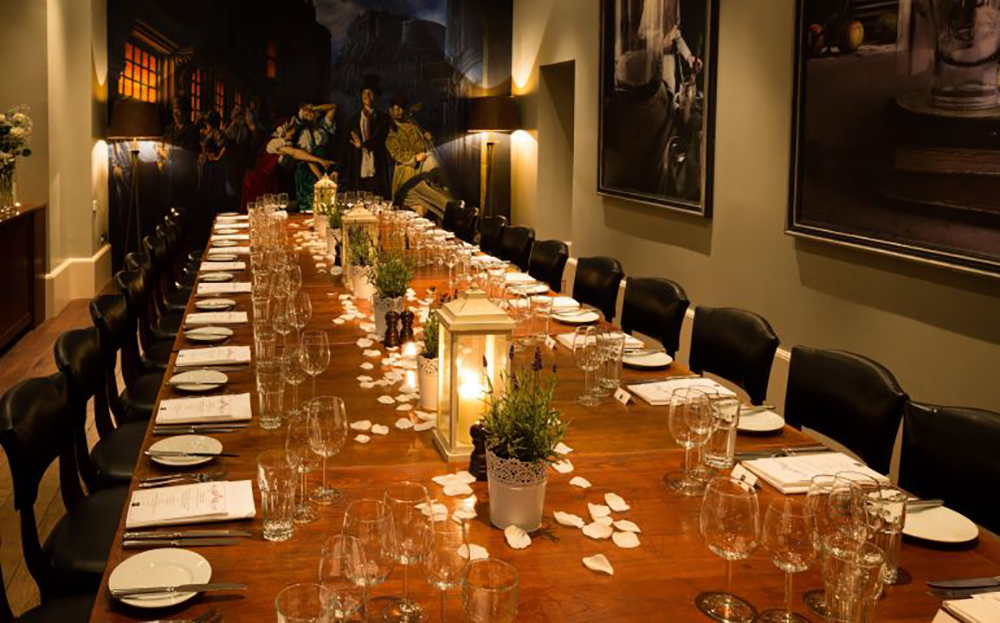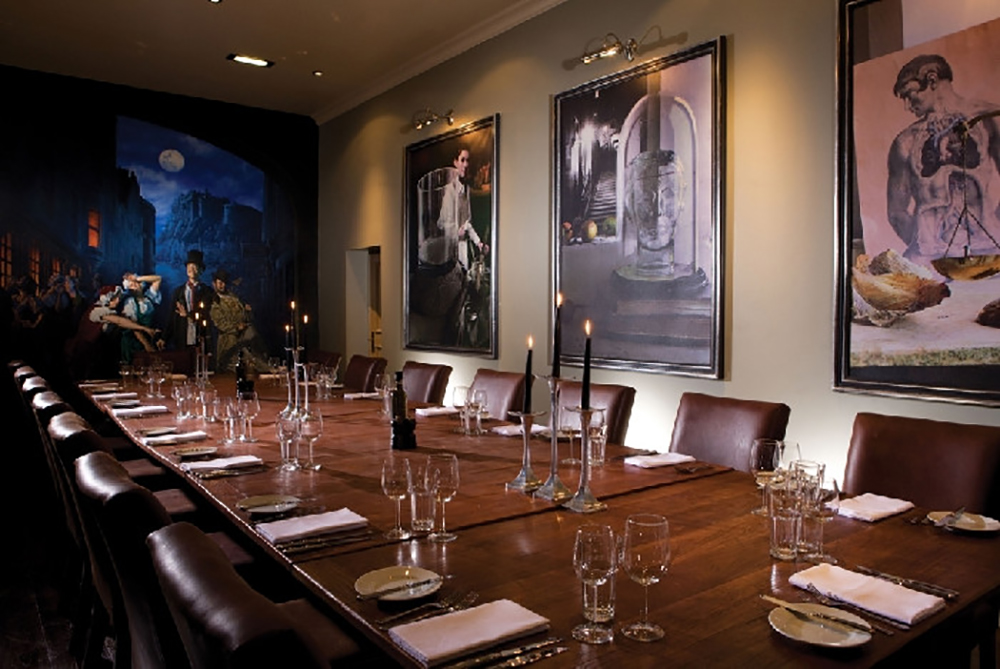 Situated in the heart of Edinburgh's Old Town, Hotel Du Vin is a fashionable boutique wedding venue ideal for couples looking to have a small and intimate wedding day.
You can celebrate your wedding in the stunning Bedlam room with a remarkable original domed ceiling and access to a lovely courtyard that can accommodate a table for up to 10 people.
If you're looking to have a slightly larger celebration, the hotel's Burke and Hare room, which is home to stunning artworks and murals, can accommodate up to 36 for a wedding breakfast and 40 for a wedding reception.
Visit Hotel Du Vin Edinburgh's website | t. 0131 285 1479 
THE HUB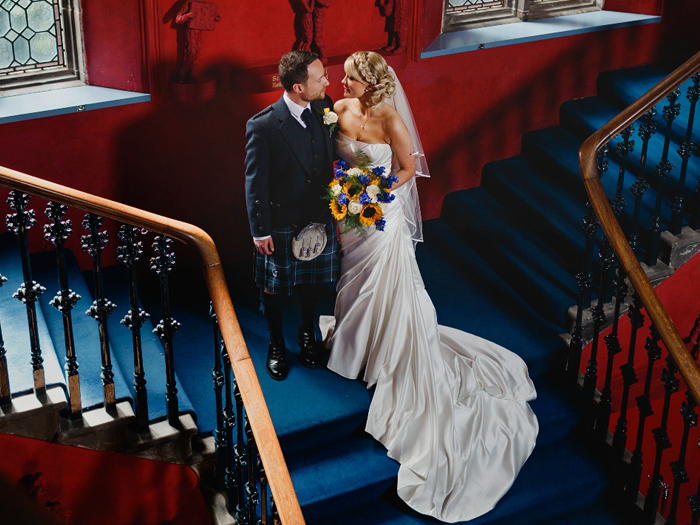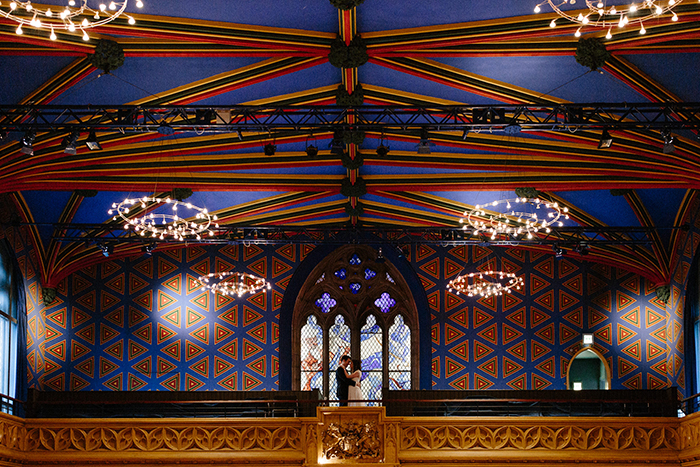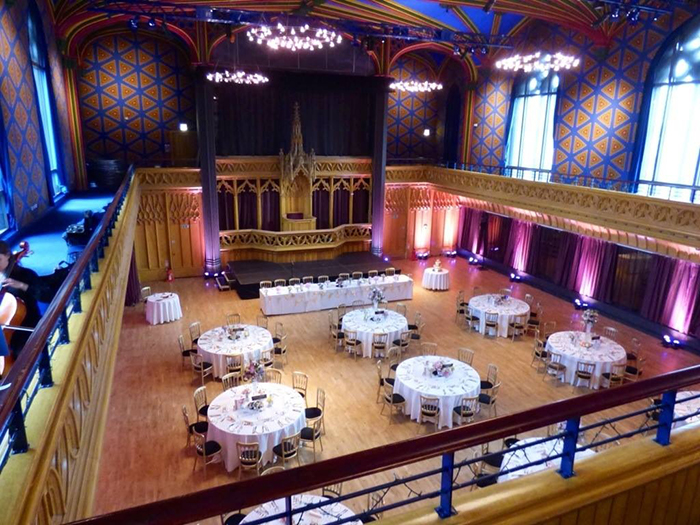 The Hub on Edinburgh's Royal Mile is probably a place you've noticed before.
After all, it's hard not to notice the iconic church-like building, just before you ascend the steep hill to Edinburgh Castle.  Its red door is as recognisable as any other Edinburgh landmark.
What you may not realise is that as well as being a fabulous cafe and an events space, well used during the Edinburgh Fringe Festival, The Hub is also a wedding venue.
For larger weddings of up to 300 guests, the Main Hall offers a versatile space for your ceremony, wedding breakfast and evening reception.
Visit The Hub's website | t. 0131 473 2015 | e. thehub@eif.co.uk
NEWHALL ESTATE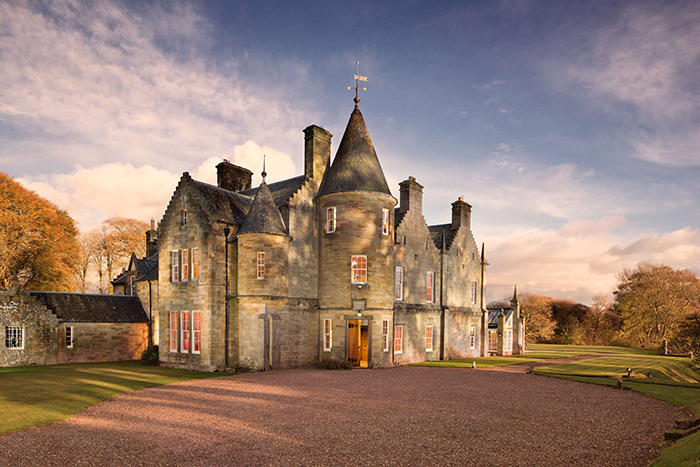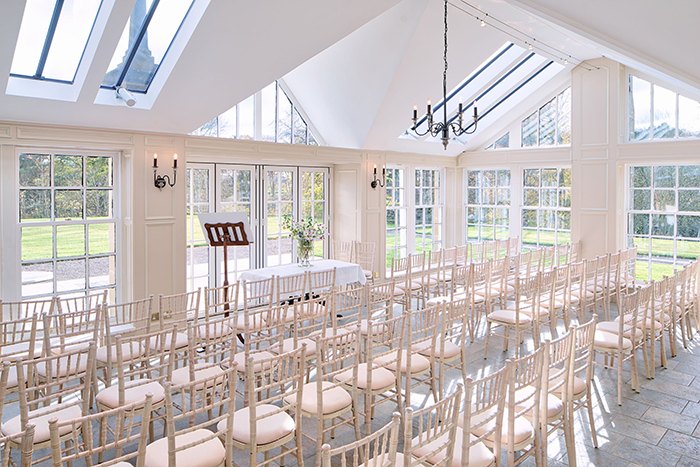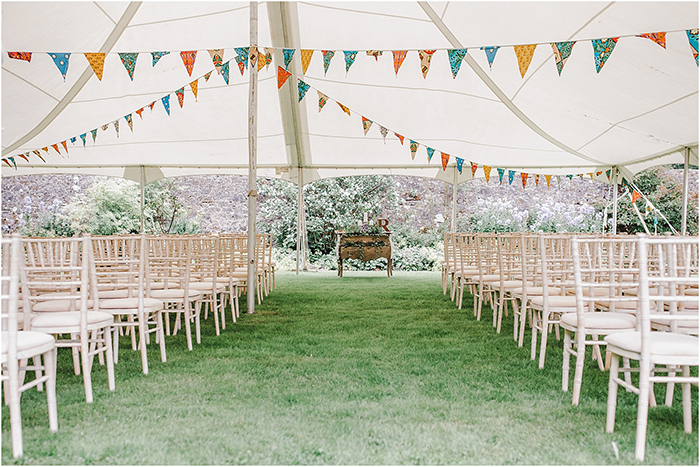 Although just on the outskirts of Edinburgh, Newhall Estate – with its spectacular grounds – feels a world away from city life. The idyllic setting looks picture-perfect year round, so guarantees a stunning collection of wedding photographs.
Steeped in history, this hidden gem is an exclusive-use venue that's known for its enchanting atmosphere and poetic elegance. The estate boasts waterfalls, caves, woodlands and exquisite gardens which were originally laid out in 1796.
There's room for up to 160 seated guests in the Coach House and there's also on-site accommodation for up to 38 of your closest friends and family.
Visit Newhall Estate's website | t. 01968 661 611 | e. info@newhallestate.co.uk
NORTON HOUSE HOTEL + SPA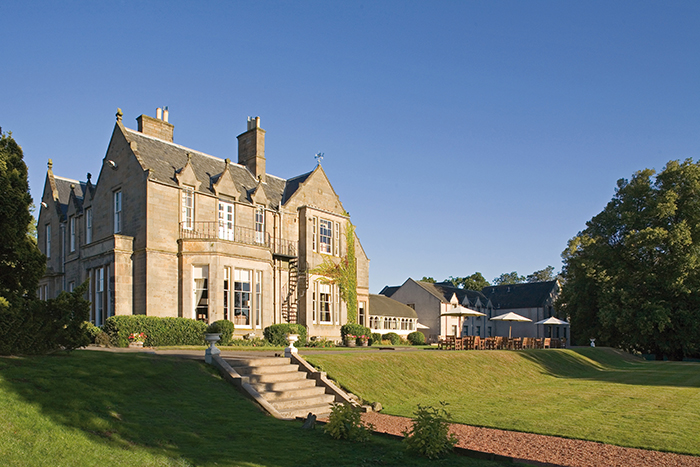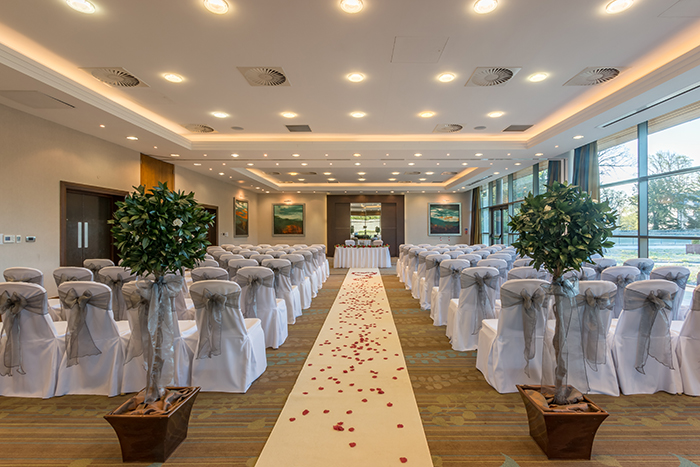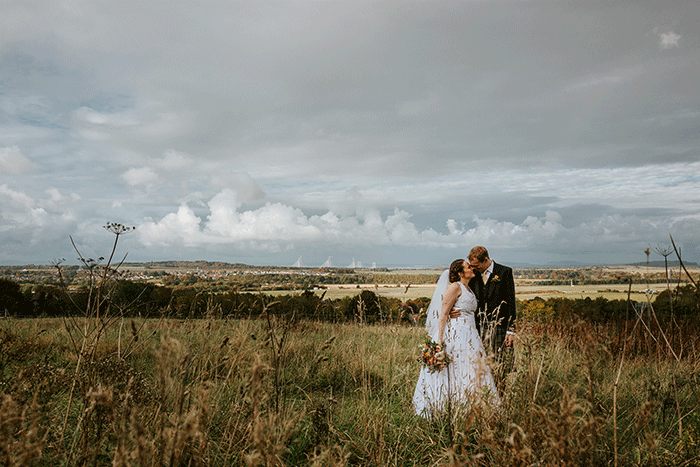 IMAGE: Struve Photography
A lovely converted country mansion, Norton House Hotel and Spa is can offer a beautiful backdrop to your wedding day. It's also right next to Edinburgh airport – perfect for guests coming from far and wide!
Norton House also has its own self-contained function suite, meaning you can celebrate your wedding in private. It also has a fantastic onsite spa, perfect for some R+R with your 'maids in the days before your big day!
Visit Norton House Hotel + Spa's website  | t. 0131 333 1275  nortonhouse@handpicked.co.uk
OXENFOORD CASTLE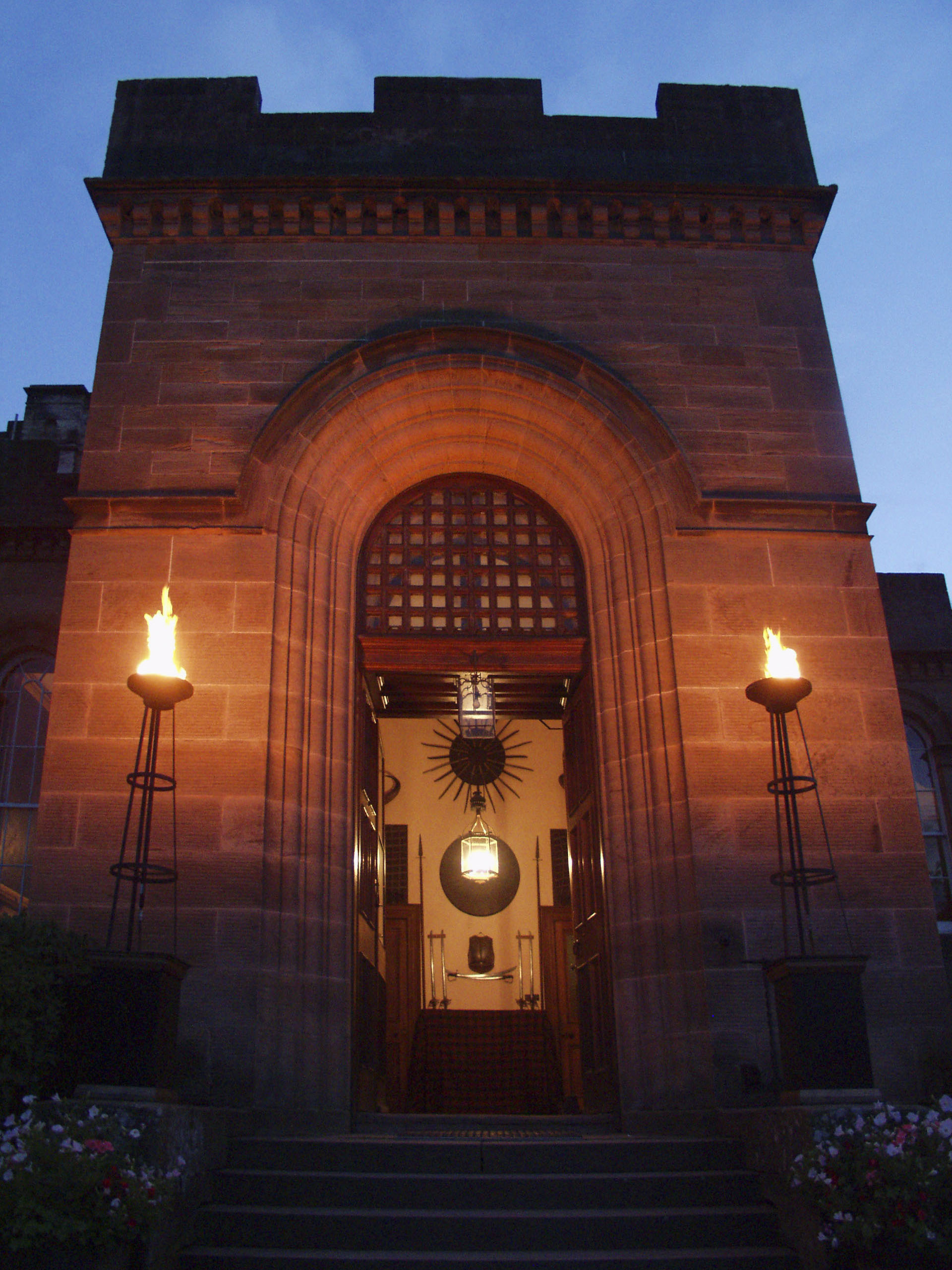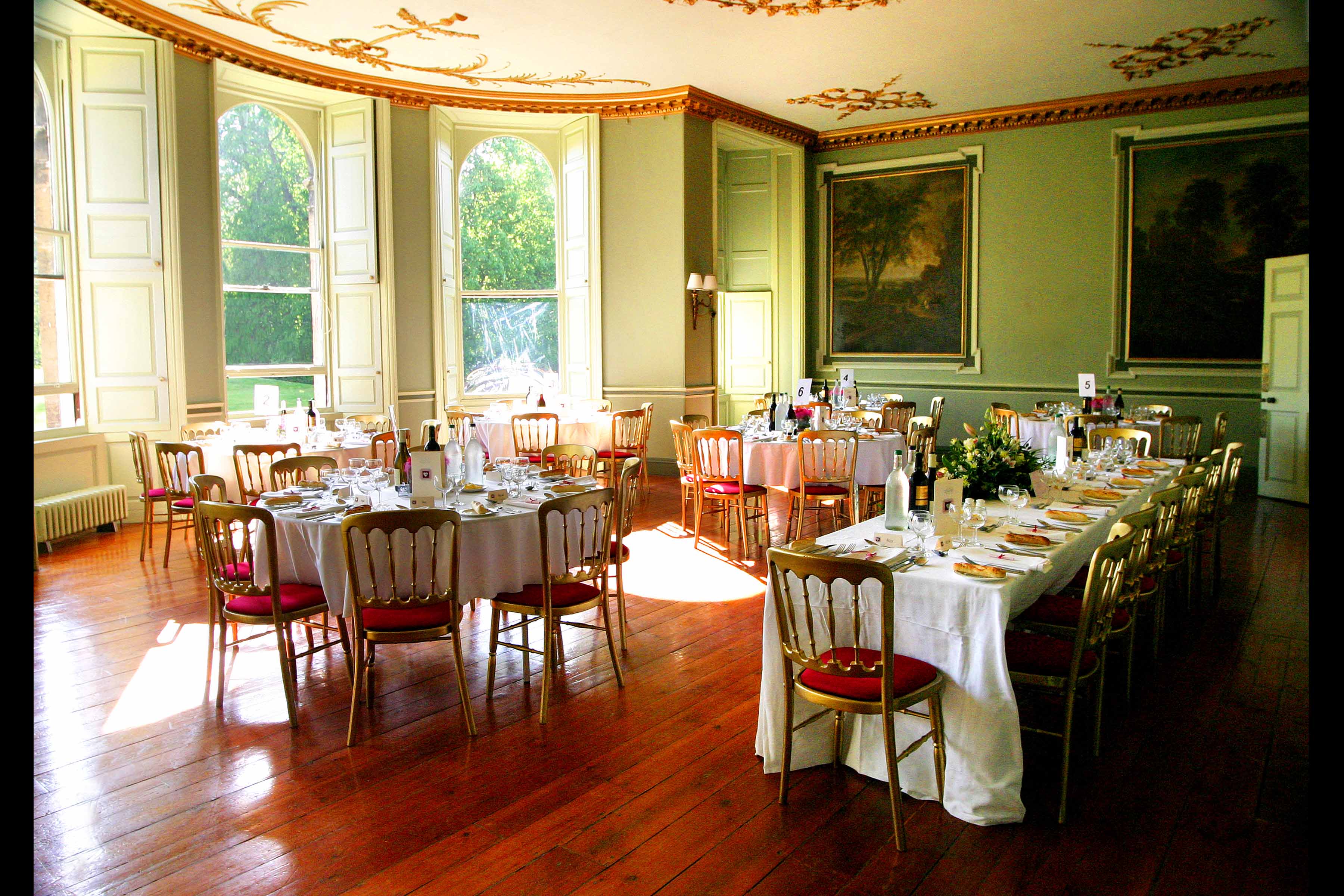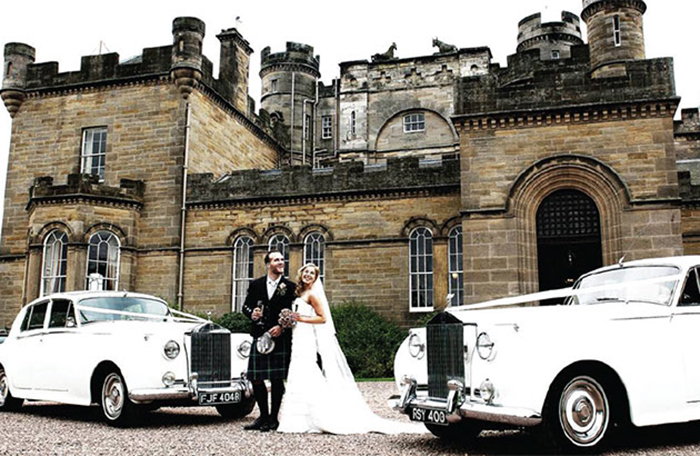 If you're dreaming of exchanging vows in the enchanting atmosphere of a traditional Scottish castle, look no further than Oxenfoord Castle. With Edinburgh only a 30-minute drive away, this grand venue boasts both a serene country location and close proximity to a major city.
An exclusive-use wedding venue, you can expect to spend a day surrounded by your nearest and dearest while you enjoy the estate's romantic parkland and historic interior, brimming with carved woodwork and lavish plaster ceilings.
Weather permitting, you can enjoy a bright reception on the castle's striking grounds, or choose an indoor party within the Drawing Room or Library (alternatively, both spaces can be interconnected for an increased capacity of 150 guests).
Visit Oxenfoord Castle | t. 0131 287 0535 | e. oxenfoord@hickoryfood.co.uk
RADISSON COLLECTION ROYAL MILE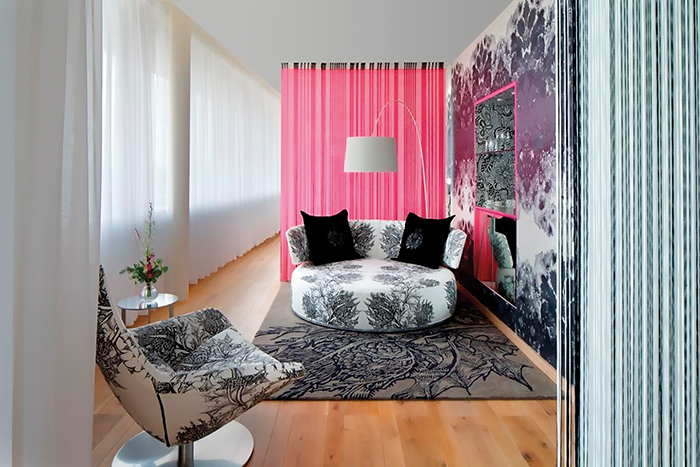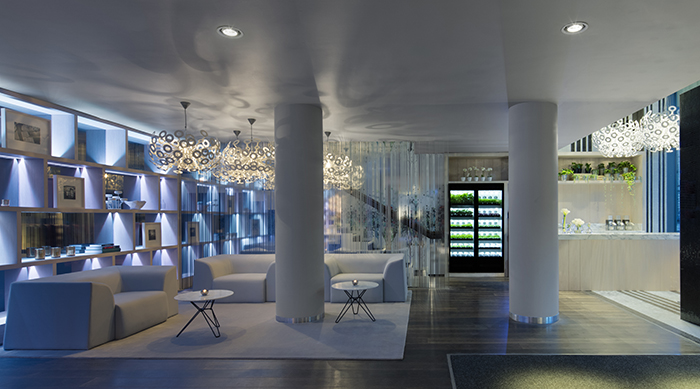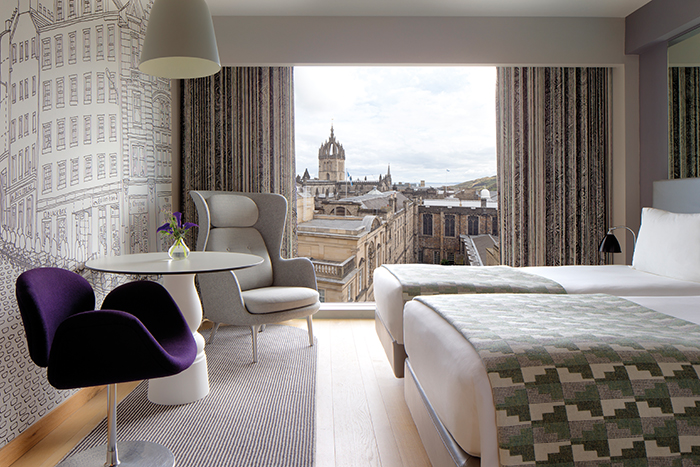 For those looking for a luxurious wedding venue in the heart of Edinburgh's Old Town you'll love the Radisson Collection Royal Mile. Sitting a stone's throw from Edinburgh Castle and St Giles' Cathedral means each room in the central hotel boasts a striking view of the city. You'll love the sumptuous interiors but if you prefer an al fresco wedding the secluded courtyard is the perfect space. This candlelit garden would be amazing for saying your vows in front of all your loved ones.
Visit Radisson Collection Royal Mile's website | t. 0131 2206666
e. info.edinburgh@radissoncollection.com
THE MERCHANTS' HALL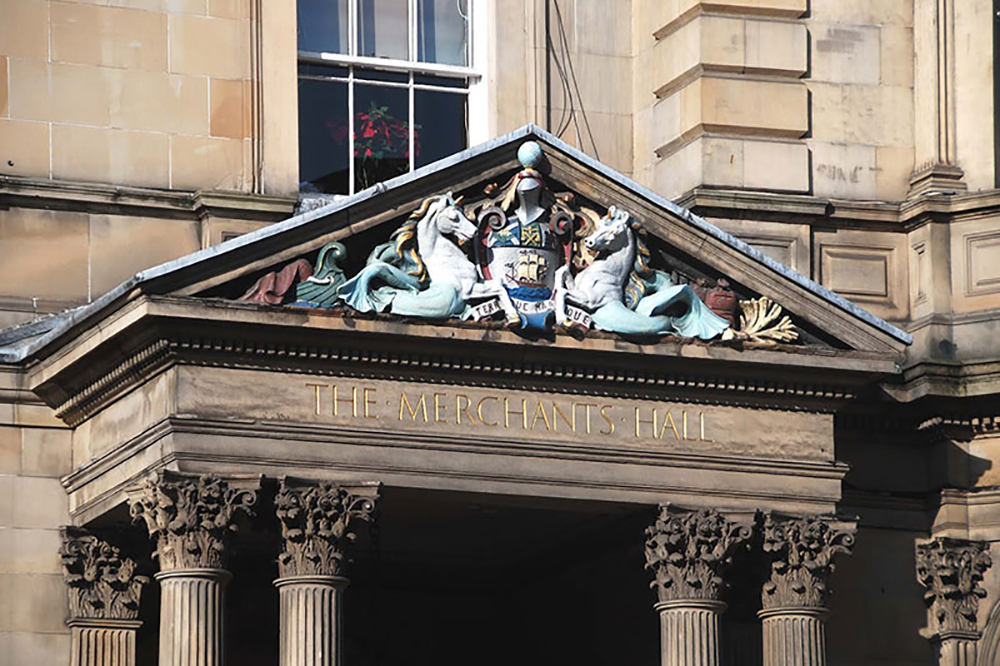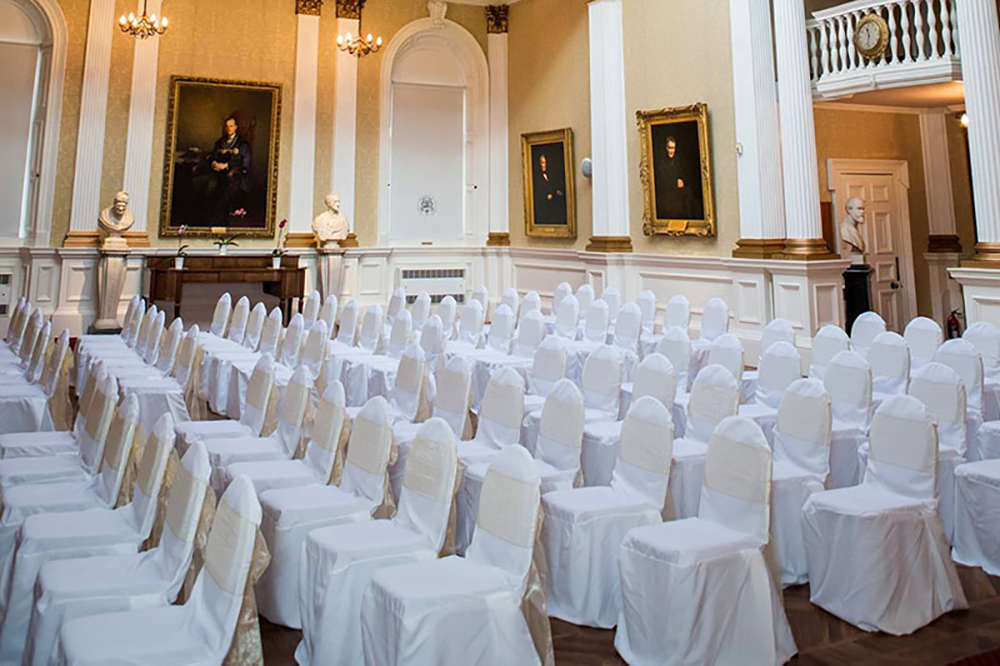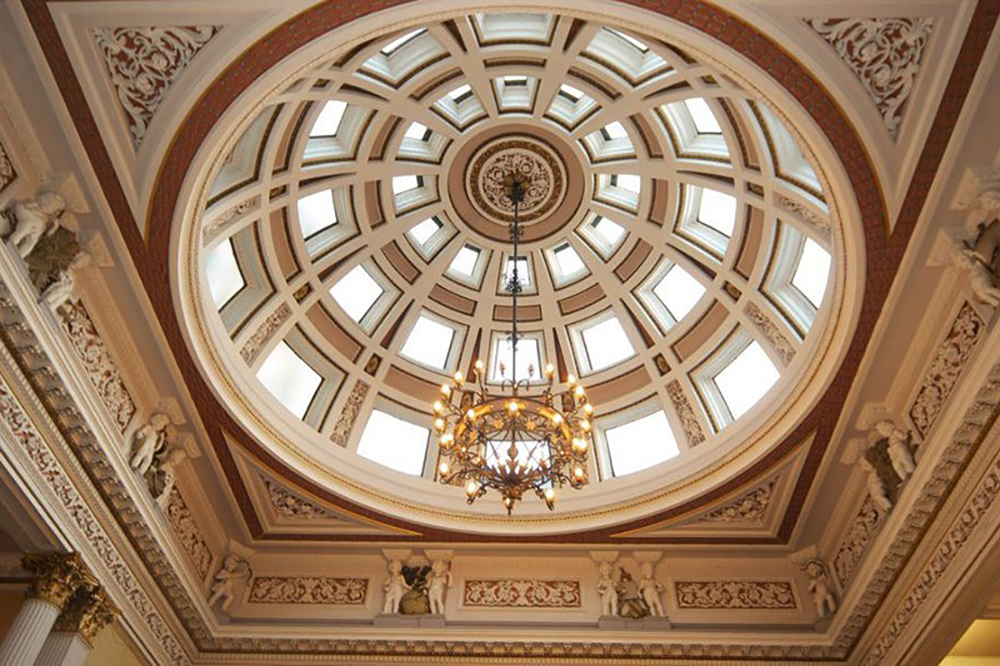 A stunning building that sits within the heart of Edinburgh's New Town, The Merchants' Hall is a wonderfully elegant place to hold your wedding day.
At The Merchants' Hall, you have a few options for where to hold your wedding day celebrations. For large affairs, you can make use of The Hall, which can sit up to 150 for a wedding breakfast and is framed by beautiful pillars with plasterwork friezes, has a lovely domed ceiling and is decorated with magnificent artworks and sculptures.
As The Merchants' Hall is in the city centre of Edinburgh, you also have plenty of gorgeous photo opportunities for those wedding portraits right on your doorstep!
Visit The Merchants' Hall's website | t. 0131 225 7202 | e. enquiries@mcoe.org.uk
UNUSUAL VENUES EDINBURGH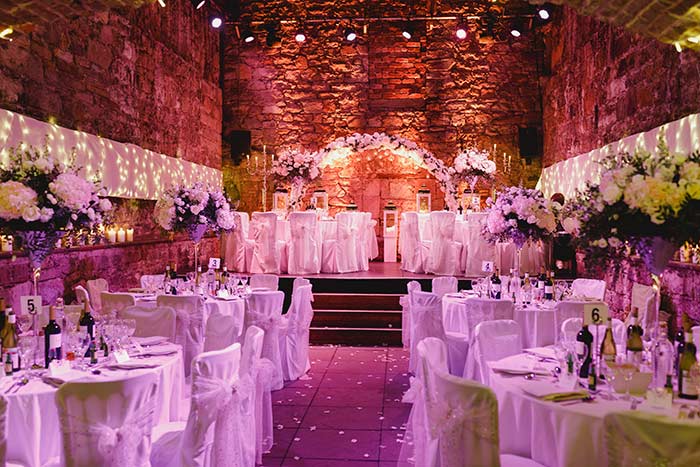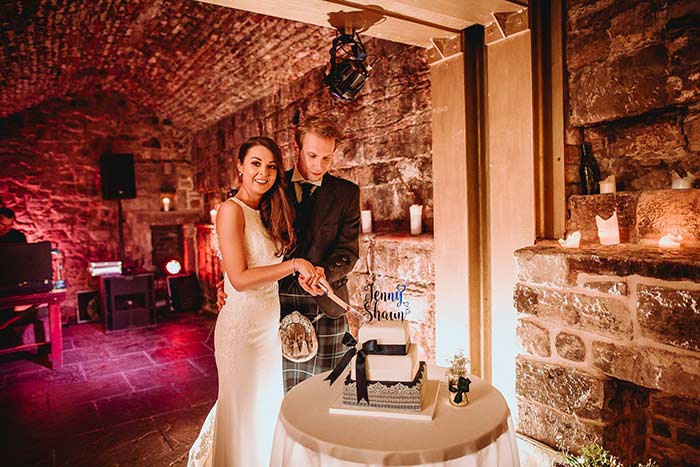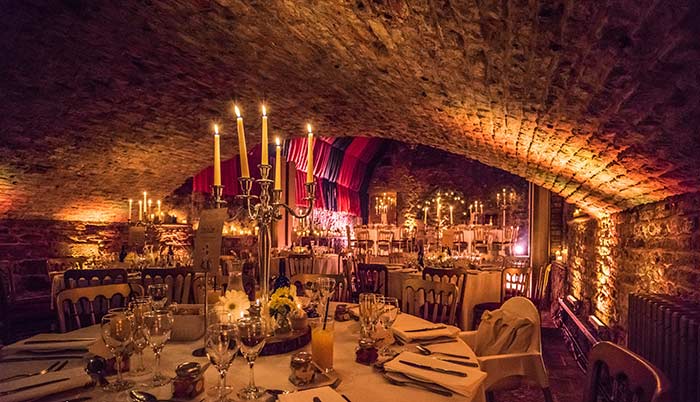 Unusual Venues Edinburgh is an award winning collection of three of the most spectacular, exclusive-use wedding venues that you will find anywhere in the UK.
The Caves, The Rowantree and Marlin's Wynd are all situated in Edinburgh's beautiful Old Town and can accommodate weddings of all sizes. The venues are entirely unique and unlike no other; modern facilities are blended perfectly into the old features of the venues.
All three venues have a special place in Scottish history from the rumoured hunting ground of the notorious Burke and Hare, to the home of the Oyster Club of the Scottish Enlightenment.
Visit Unusual Venues Edinburgh's website | t. 0131 5106969
e. hello@unusualvenuesedinburgh.com
VILLAGE HOTEL CLUB EDINBURGH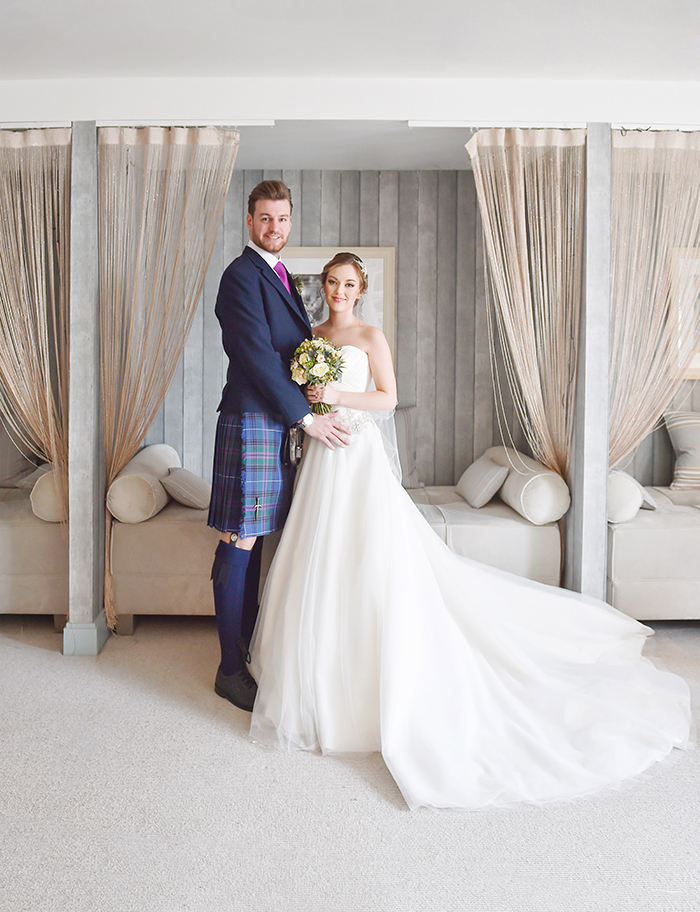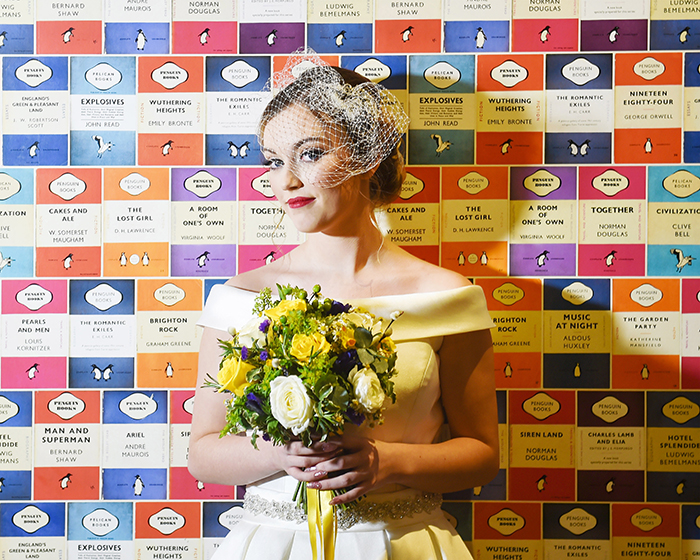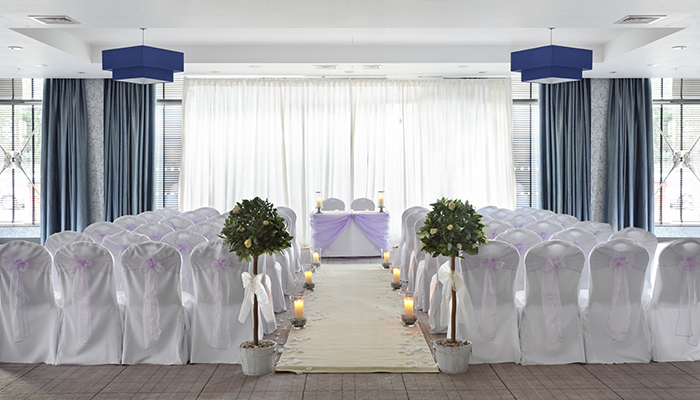 Tucked away in the historic and romantic city of Edinburgh is Village Hotel Club, with easy access from airport, rail and bus links.
You will receive a very warm welcome to this chic and vibrant hotel that offers everything under one roof. Enjoy a moment of pure escapism with a top-to-toe Wedding Spa treatment complete with relaxation by our heated pool. You could also host a wedding rehearsal dinner in the tasty grill restaurant followed by a relaxing night sleep in one of the 120 bedrooms.
Choose from a range of amazing packages to suit your needs and budget, then enjoy your ceremony and wedding breakfast in the exclusive Inspiration Suite where you can dance the night away until 1am.
A dedicated wedding planner will help talk you through everything from bespoke wedding decoration, delicious menu sections and those important finishing touches.
Visit Village Hotel Edinburgh's website | t. 0131 297 7185 | e. edinburghhub@village-hotels.com
APEX GRASSMARKET HOTEL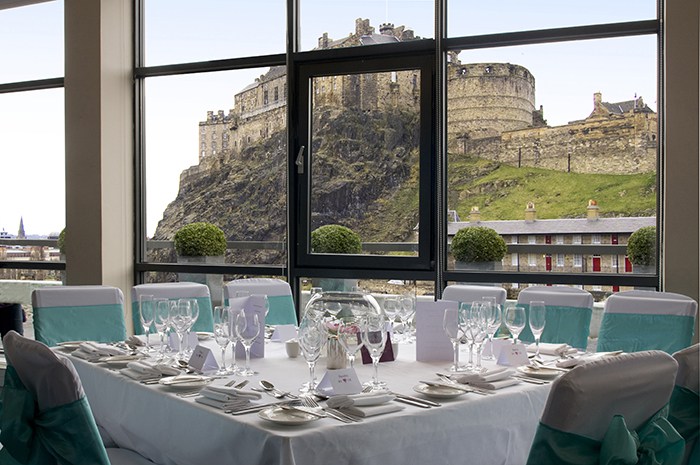 Set in the atmospheric Old Town of Edinburgh, the event space on the fifth floor of this hotel is the perfect place for your contemporary wedding reception.
Visit Apex Grassmarket Hotel's website
EDINBURGH CASTLE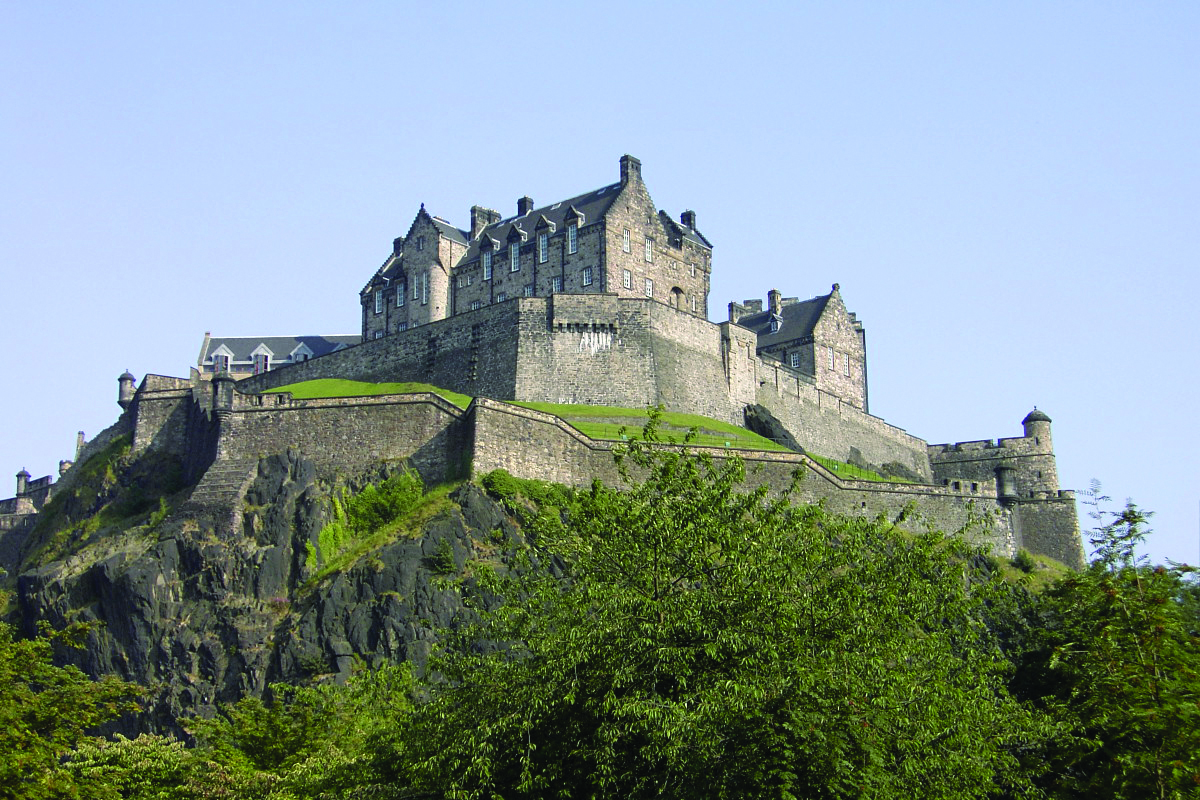 It doesn't get more iconic than an Edinburgh Castle wedding, and the good news is that you can have your whole day here! Say I Do in St Margaret's Chapel, the oldest building in Edinburgh.
Visit Edinburgh Castle's website
GHILLIE DHU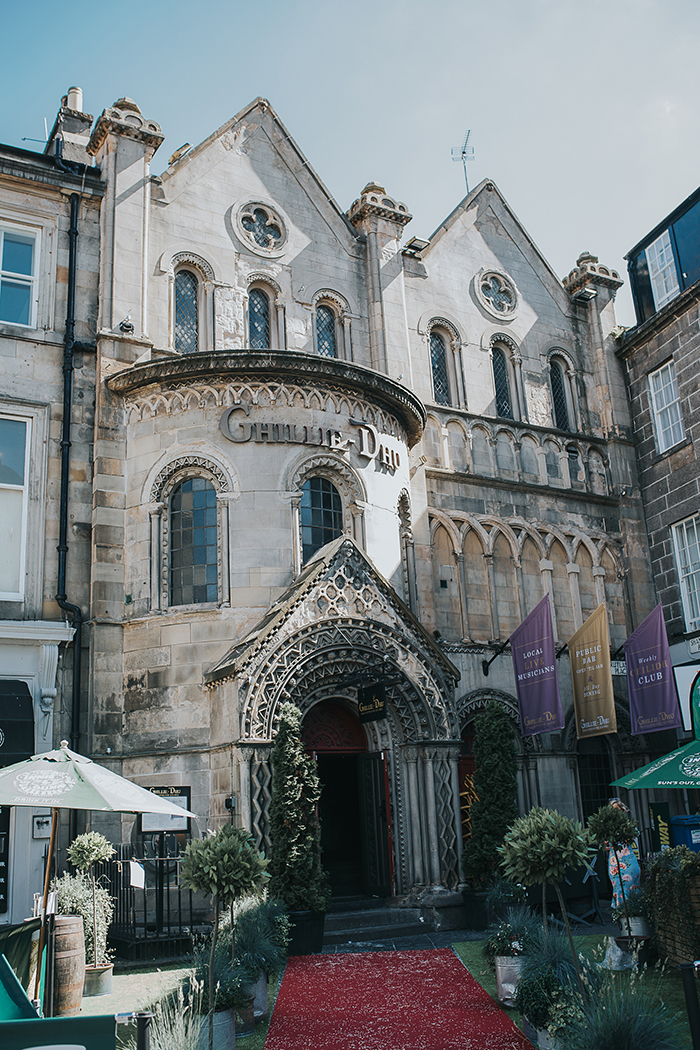 Your Edinburgh wedding will be in good hands with the team at Ghillie Dhu, a historic former church. The auditorium is a spectacular and romantic space for your celebration.
Visit Ghillie Dhu's website
THE HUB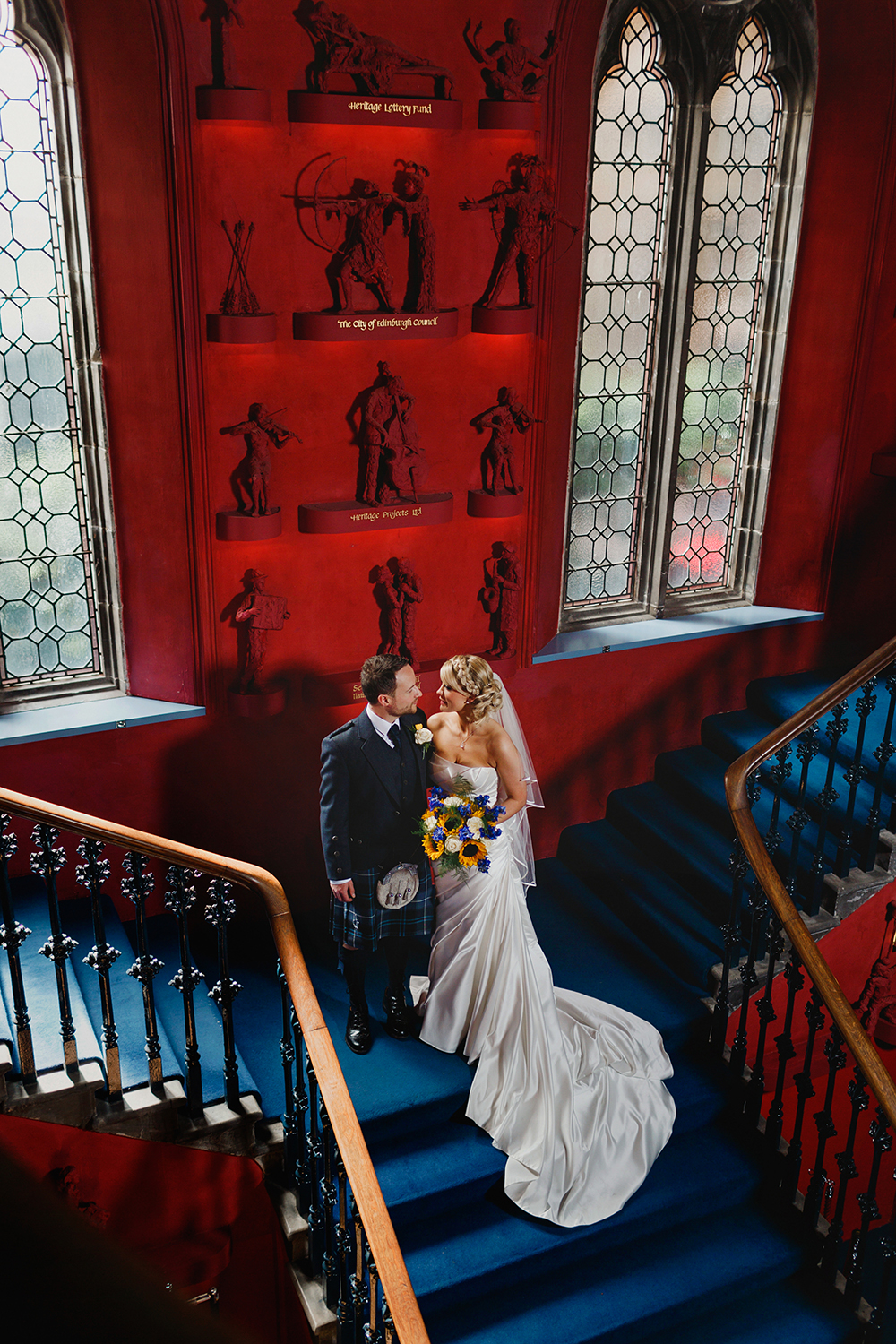 Just before the ascent to Edinburgh Castle on the Royal Mile sits this versatile events space, ideal for large celebrations! With bags of space and an innovative wedding team to boot, your day really will be unique.
Visit The Hub's website
MANSFIELD TRAQUAIR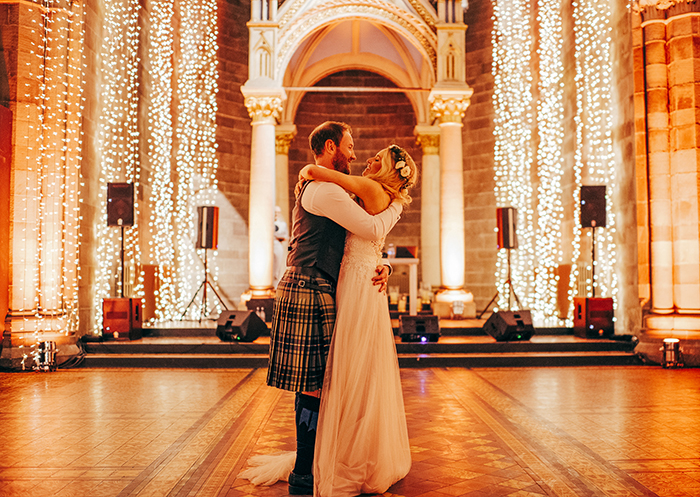 IMAGE: David Grant Simpson Photography
Dubbed Edinburgh's Sistine Chapel, this wedding venue needs to be seen to be believed. Watch as the space is transformed into the wedding you've always dreamed of by the experienced wedding planners there.
Visit Mansfield Traquair's website
THE MANSION HOUSE AT EDINBURGH ZOO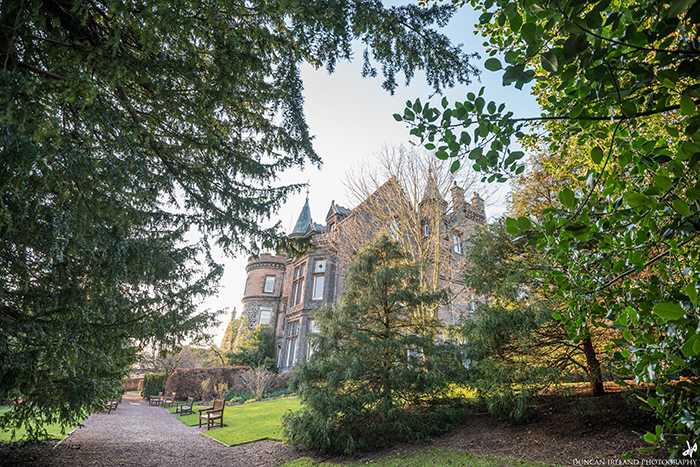 You can actually get married in Edinburgh Zoo! Unusual Scottish wedding venues don't come much better than this superb venue, with the option of a zoo tour for your guests!
Visit Edinburgh Zoo's website
PRESTONFIELD HOUSE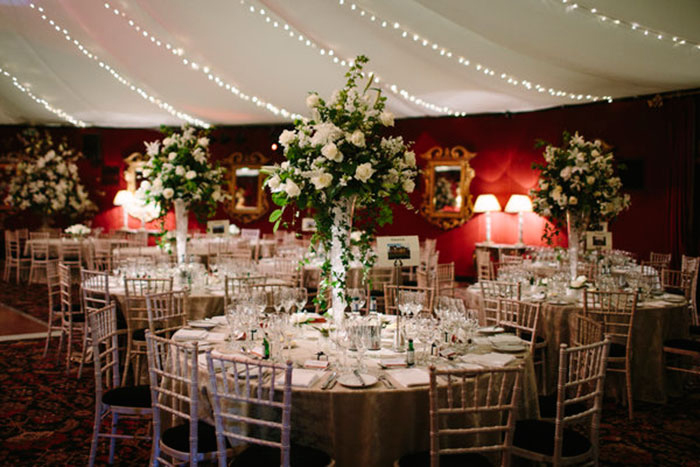 Whether you're looking for small intimate wedding venues in Edinburgh or room for a big party, Prestonfield House can accommodate you in five-star surroundings. A real touch of luxury.
Visit Prestonfield House's website
THE ROYAL SCOTS CLUB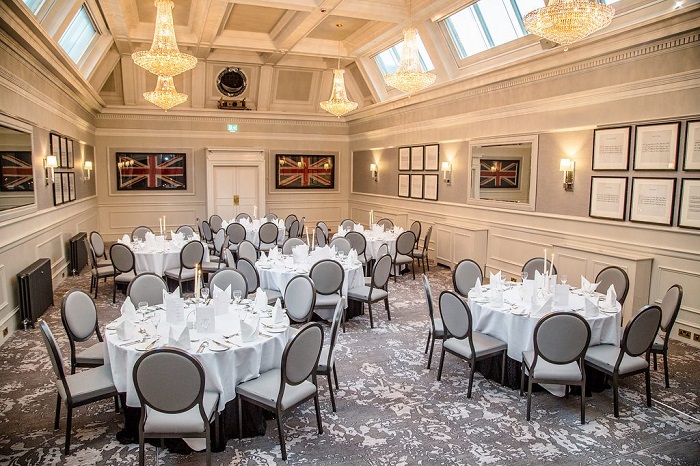 With country-house charm in the heart of Edinburgh's Georgian New Town, The Royal Scots Club is a beautiful venue with elegant rooms. Ideal for small exclusive weddings and larger receptions for up to 200 guests.
Visit Royal Scots Club's website
SECRET HERB GARDEN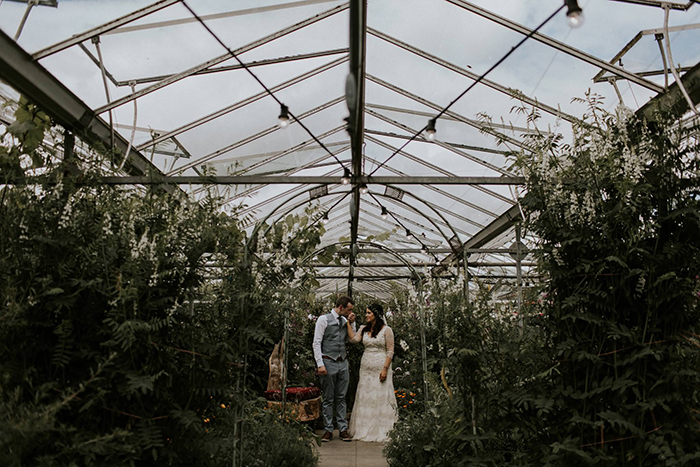 If you're a lover of nature then you'll love the surroundings of this very special wedding venue at the foot of the Pentland Hills. Have your ceremony in the greenhouse surrounded by fragrant greenery.
Visit Secret Herb Garden's website
SIGNET LIBRARY
Very close to St Giles Cathedral, this iconic space is one of Edinburgh's most beautiful, and versatile, wedding venues. Look out for fabulous all-inclusive wedding packages.
Visit Signet Library's website
THE WINE HOUSE 1821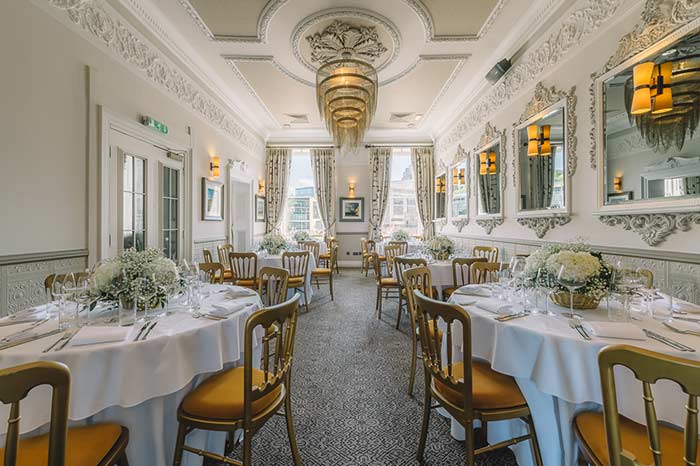 A fabulous Georgian townhouse situated in Edinburgh's new St James Quarter, The Wine House is the perfect small, city centre wedding venue.
Visit The Wine House 1821's website
26 of the best city centre venues in Scotland in 2019!