19 of the best Scottish venues for small weddings 2020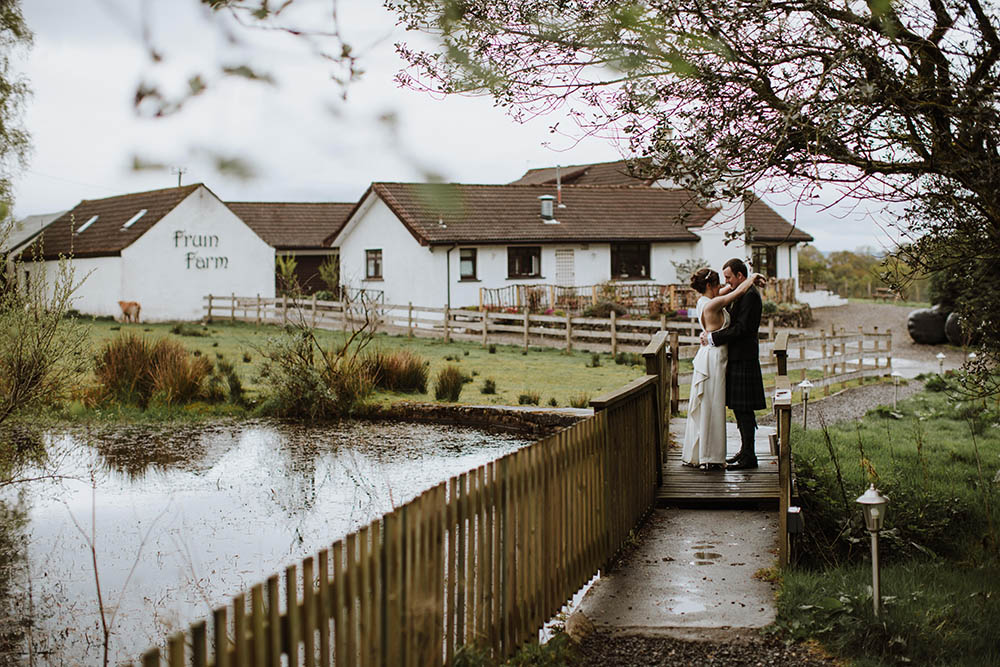 LEAD IMAGE |  Fruin Farm
This post contains some paid-for content.
BLAIRQUHAN CASTLE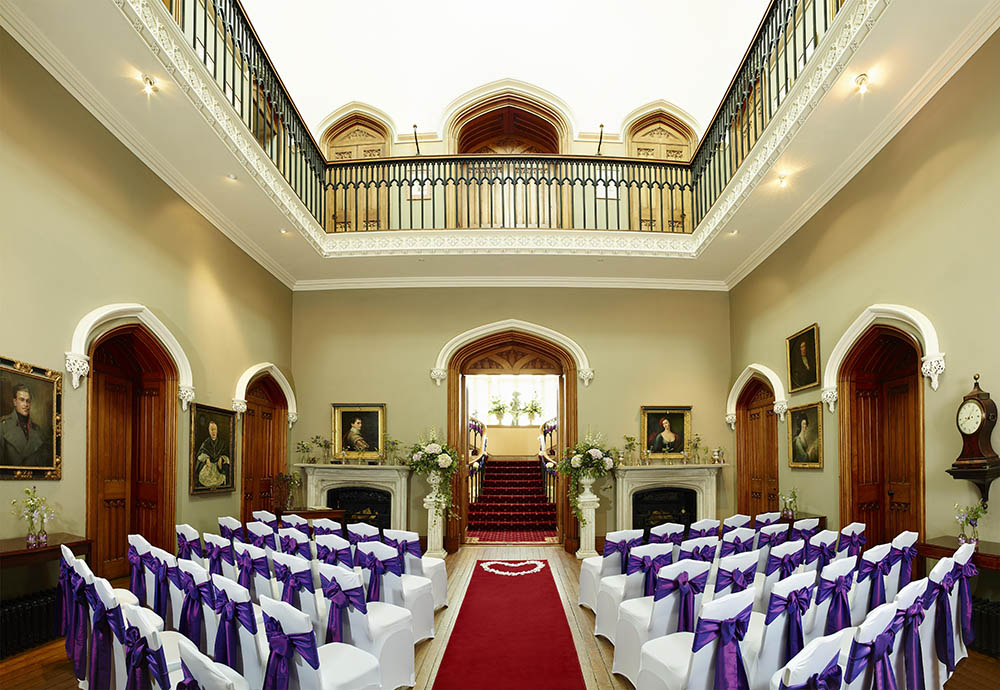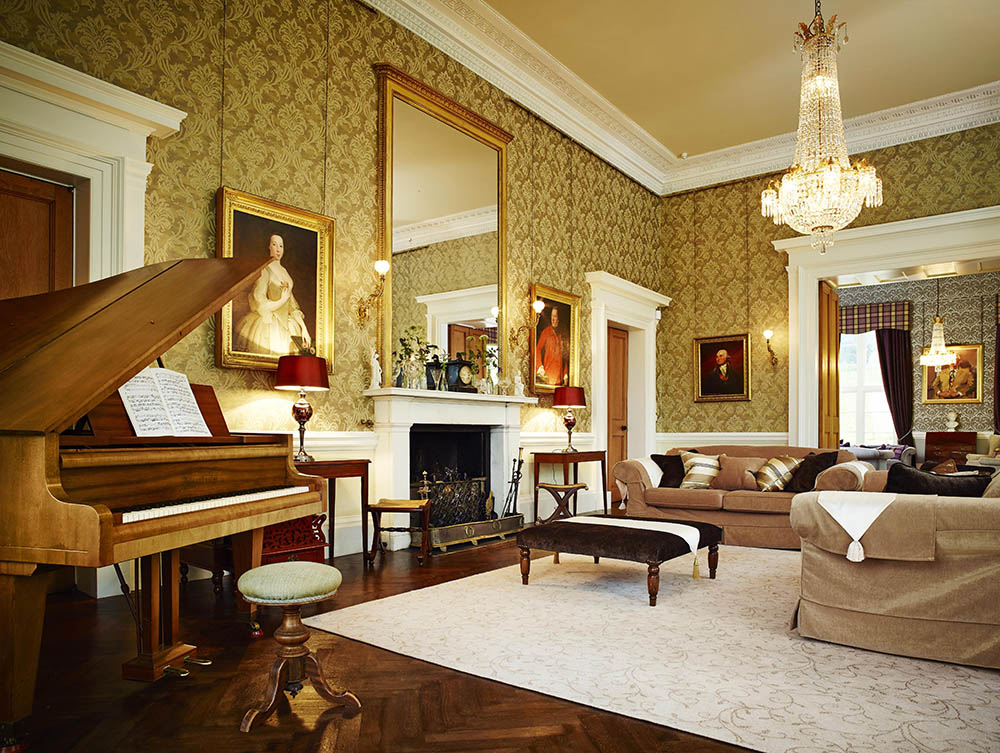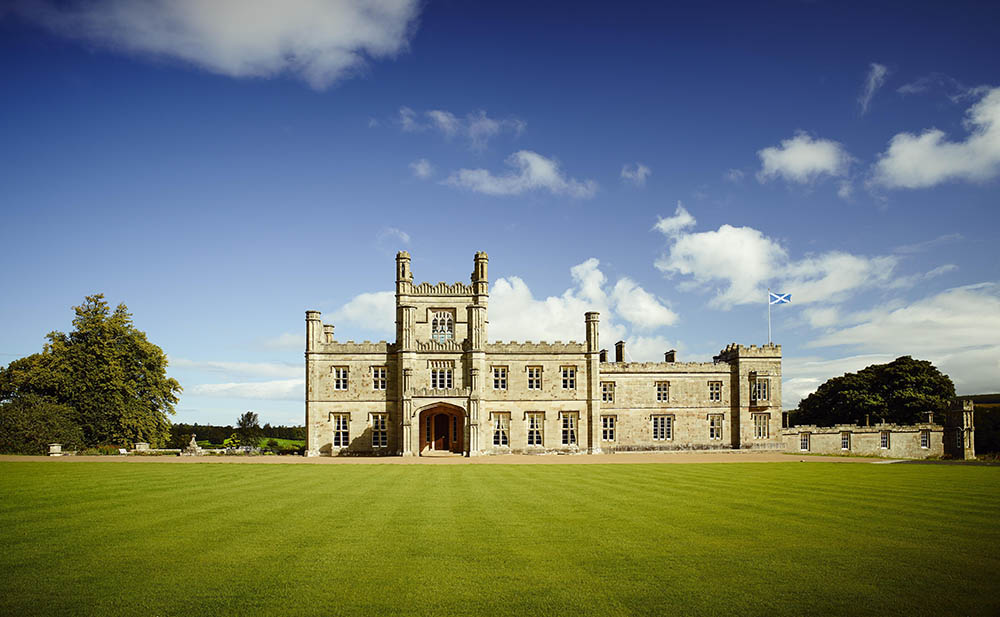 This Regency castle is one of Scotland's most characterful wedding venues, boasting charming interiors and a gorgeous location in over 200 acres of private parkland within the Ayrshire countryside.
A variety of spaces are available both in and outside the castle for your wedding. The spectacular saloon holds up to 90 guests, while the drawing rooms combined can seat up to 100 people for dinner. But, of course, if it's an intimate celebration you're after, you can simply make use of the smaller areas – the team will happily arrange a day that suits your needs and numbers.
Regardless of where you choose, you'll have the visual pleasure of immaculate décor and period features, and the head chef will create a bespoke meal to match the beauty of your surroundings.
Visit Blairquhan Castle's website | t. 01655 770 239 | e. enquiries@blairquhan.co.uk 
Send an enquiry to Blairquhan Castle
BRANXHOLM PARK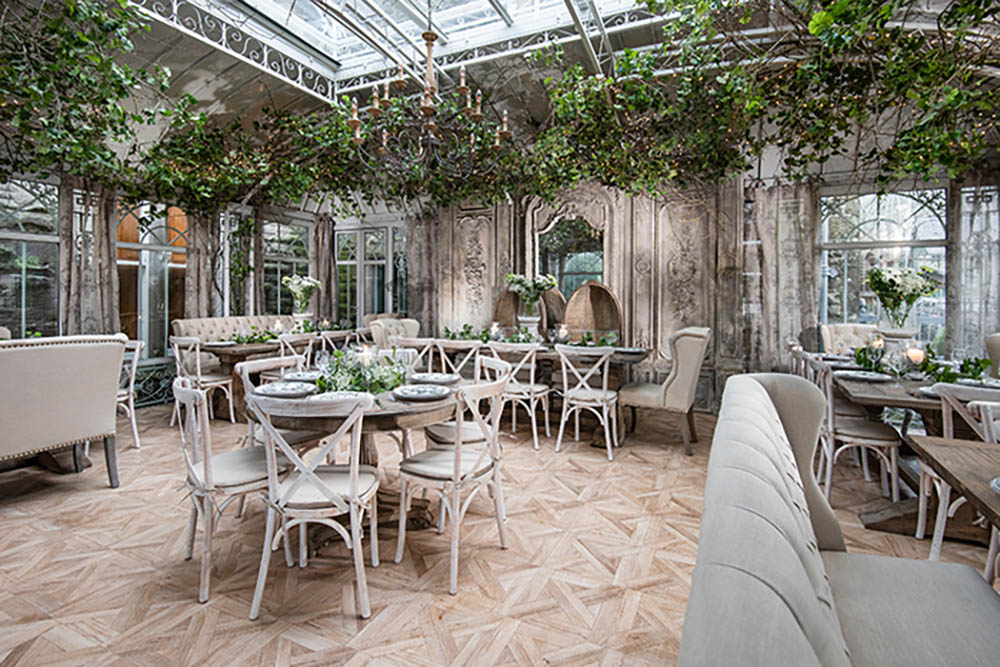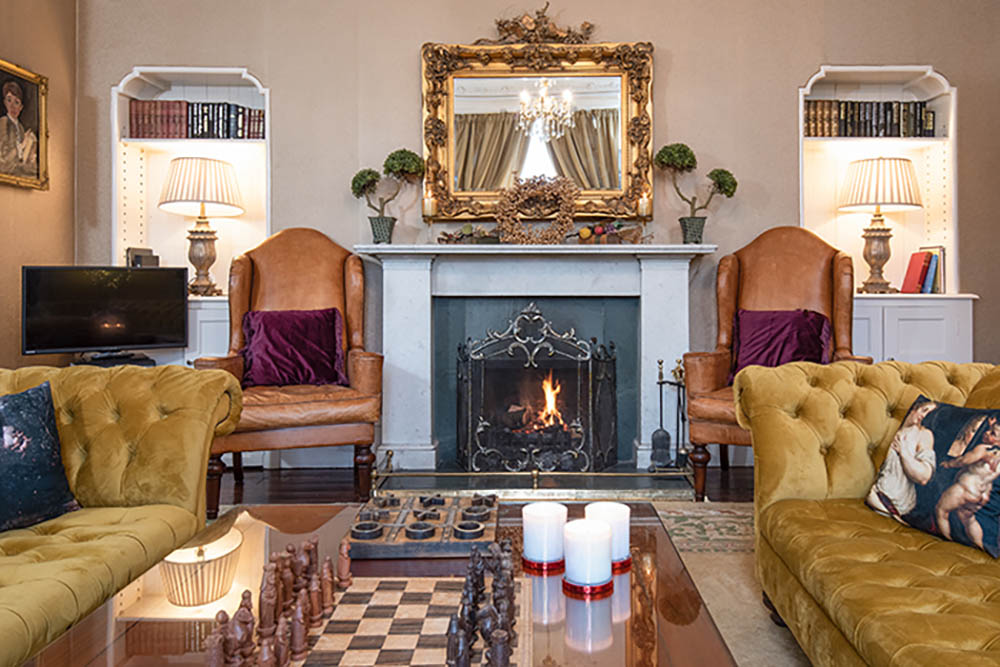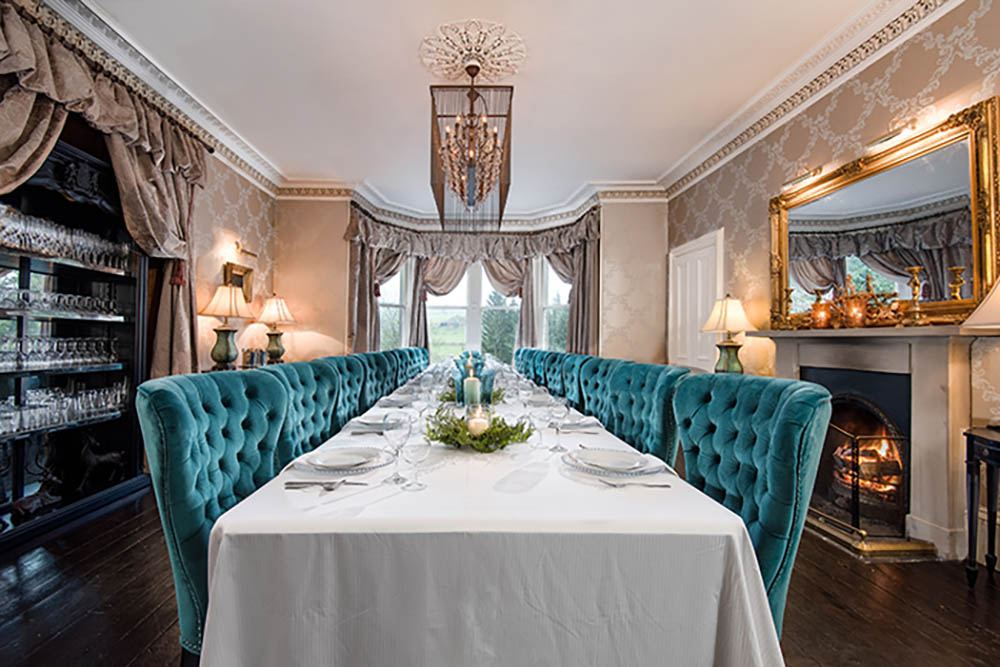 This stunning luxury mansion sits in its own ancient woodland, famed in Victorian fairytales, in the heart of the picturesque Scottish Borders just an hour's drive from Edinburgh.
The fairylight-lit grounds are enchanting, the views of the Teviot Valley are breathtaking, and the plush boutique interiors of the mansion are second to none.
Branxholm Park offers three-night exclusive wedding packages that are almost all inclusive and at a surprisingly affordable price, so you can celebrate with a luxe wedding weekend. The venue specialises in small, intimate weddings, and is happy to work to the government guidelines to ensure your day is both safe and special.
Visit Branxholm Park's website | t. 07585 281479 | e. info@branxholmpark.co.uk
Send an enquiry to Branxholm Park
CASTLE MENZIES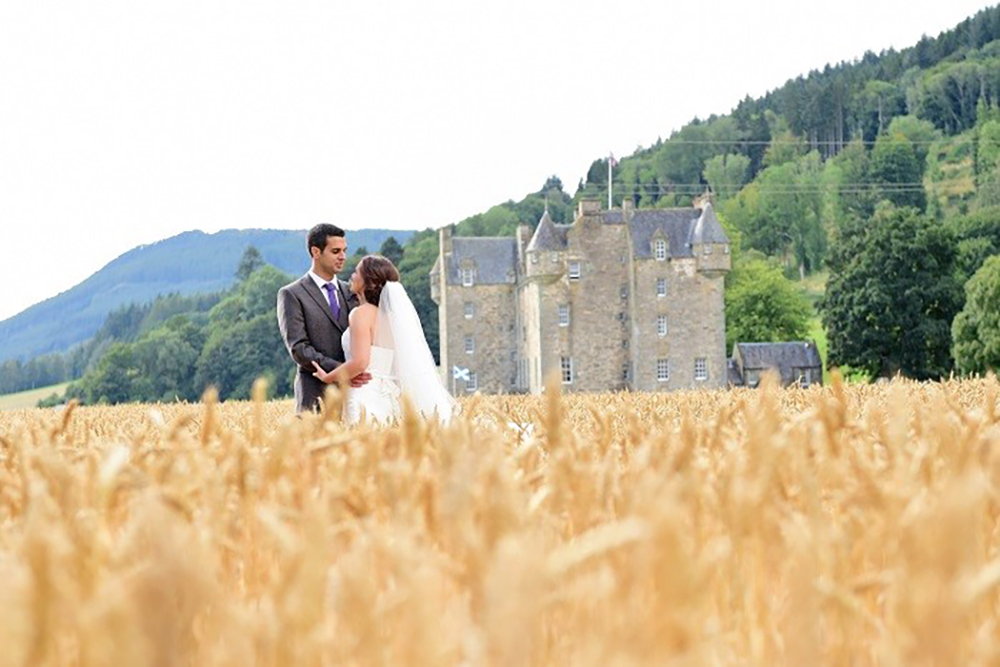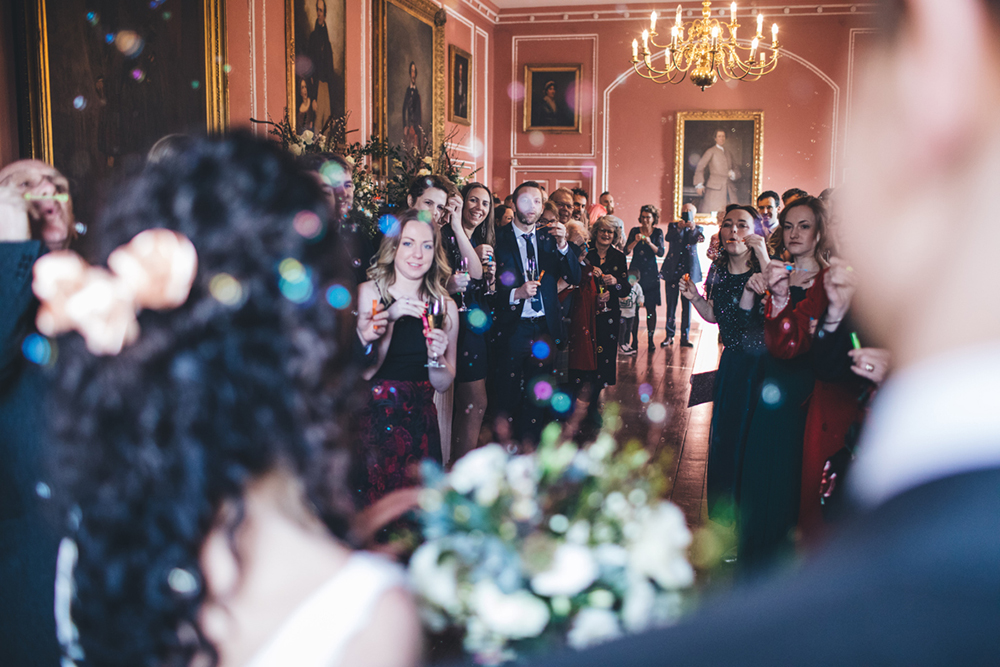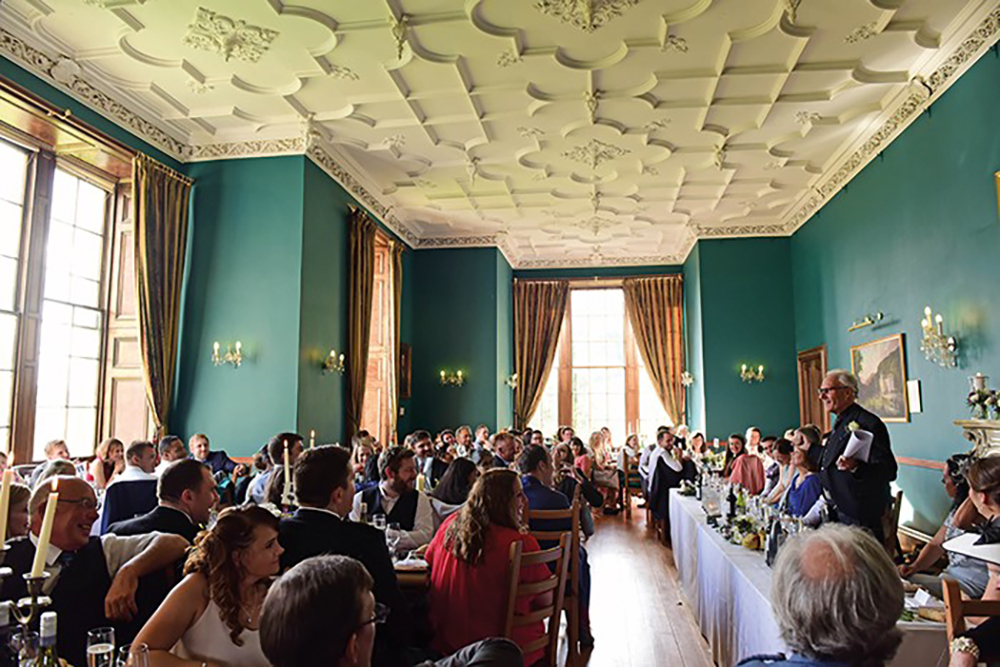 Situated in Weem, Aberfeldy, Castle Menzies is a romantic Renaissance castle with plenty of options for a beautifully small and intimate wedding.
Its most iconic room for wedding ceremonies is The Lang Garret, a rustic space with exposed beams and stone walls, which has been playing host to weddings for just shy of 500 years.
Alternatively, you could marry outside in the walled garden; in the atmospheric Wine Store (which can hold up to 12 people); or in the 16th-century Old Kitchen, which has ancient flagstones, a magnificent fireplace and a large dining table where up to 18 people can sit down to a sumptuous banquet from one of the castle's hand-selected caterers. The choice is yours!
Visit Castle Menzies' website | t. 01887 820982 | e. castlemenziesmanager@gmail.com
Read reviews for Castle Menzies
DUN ALUINN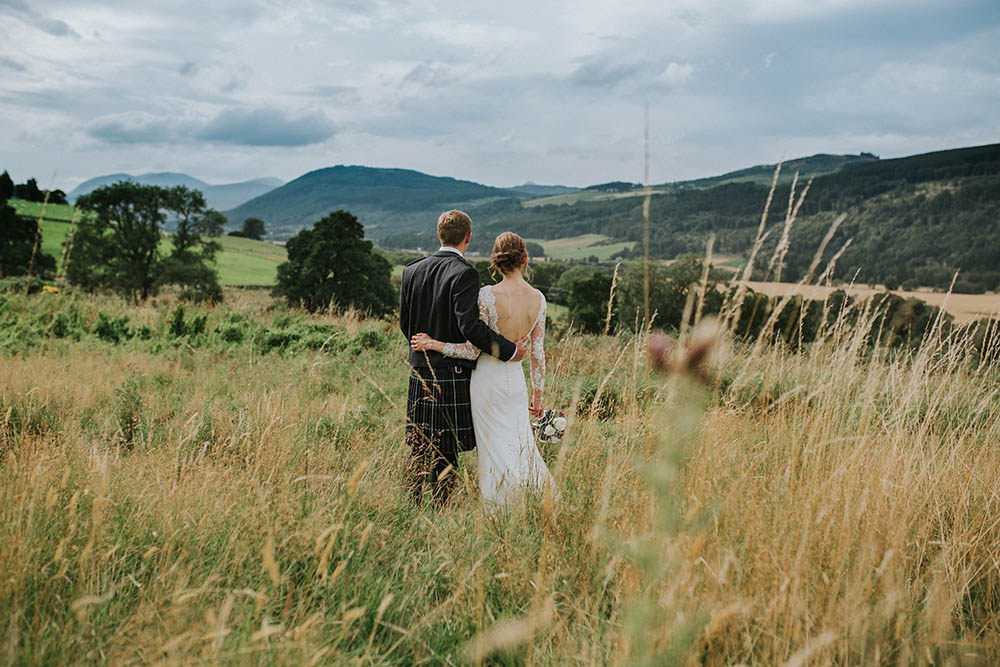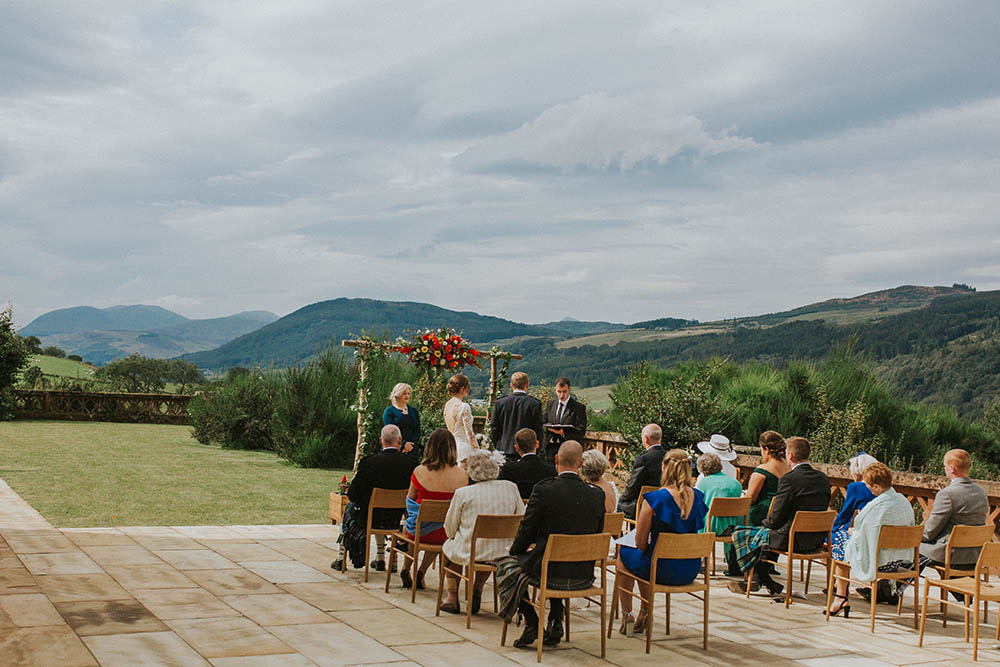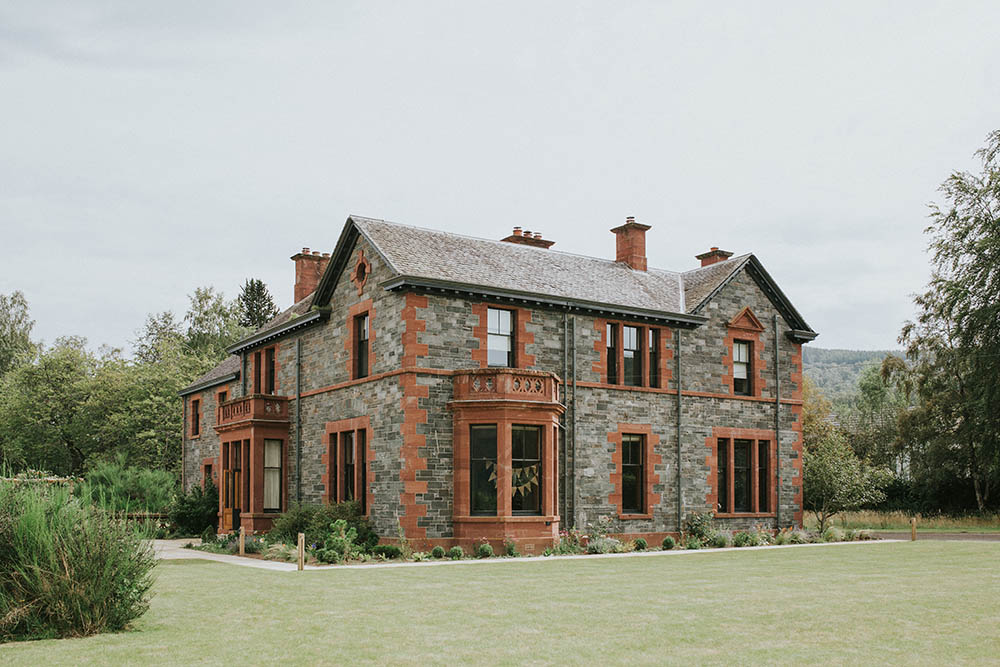 IMAGES | Luke Bennett Photography
Stretch your wedding celebrations out over a weekend by hiring Dun Aluinn, a luxury design-led venue in Perthshire which can be hired for three nights.
Specialising in small and intimate weddings for up to 50 guests (with room for 18 people to stay over), you'll feel completely at home thanks to its cosy, Scandi-inspired interiors. If the weather's nice, hold your ceremony in the gorgeous grounds and make use of the outdoor terrace which has a fire pit, seating and throws – not to mention incredible countryside views.
First-class catering is provided by Ballintaggart Farm and you've got the option of choosing from a specially curated wine list or bringing your own booze. There's no corkage fee, so you can let the good times flow.
Visit Dun Aluinn's website | t. 0131 556 4020 | e. enquiries@dunaluinn.com
See a small, intimate wedding at Dun Aluinn
ERRICHEL HOUSE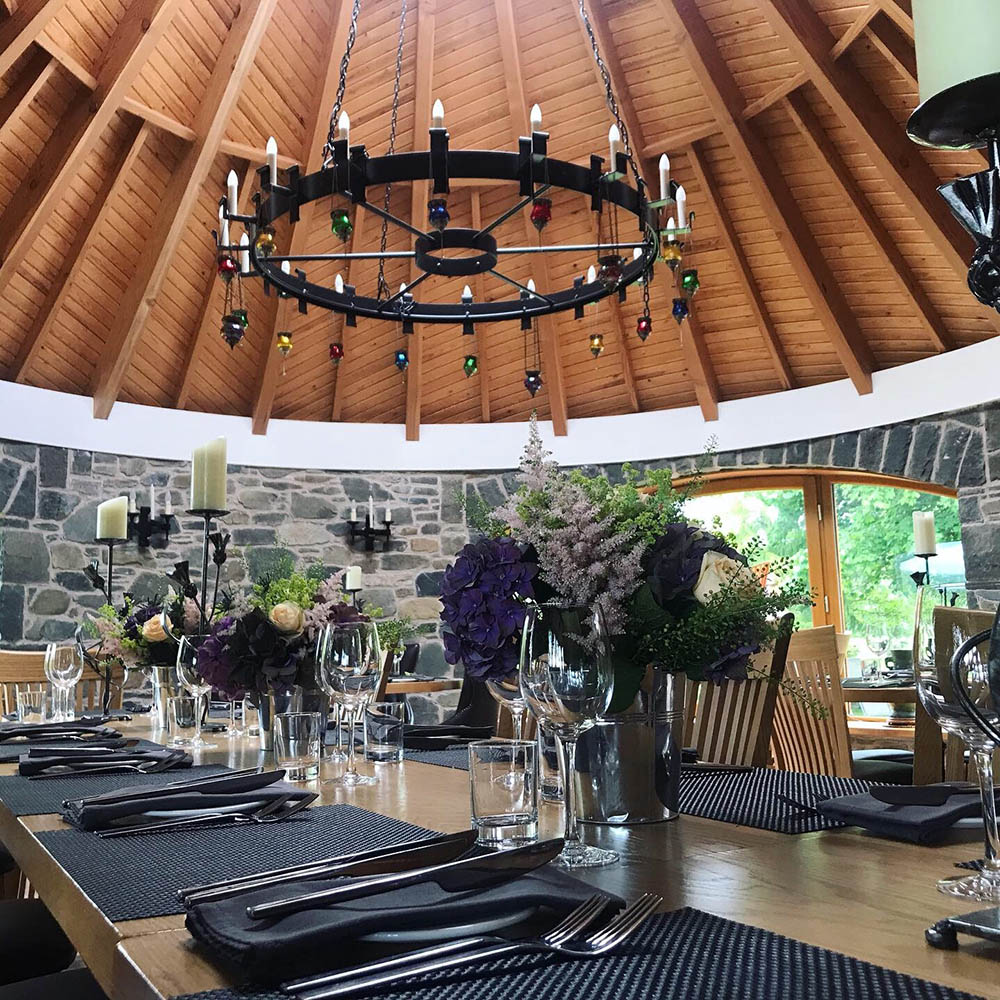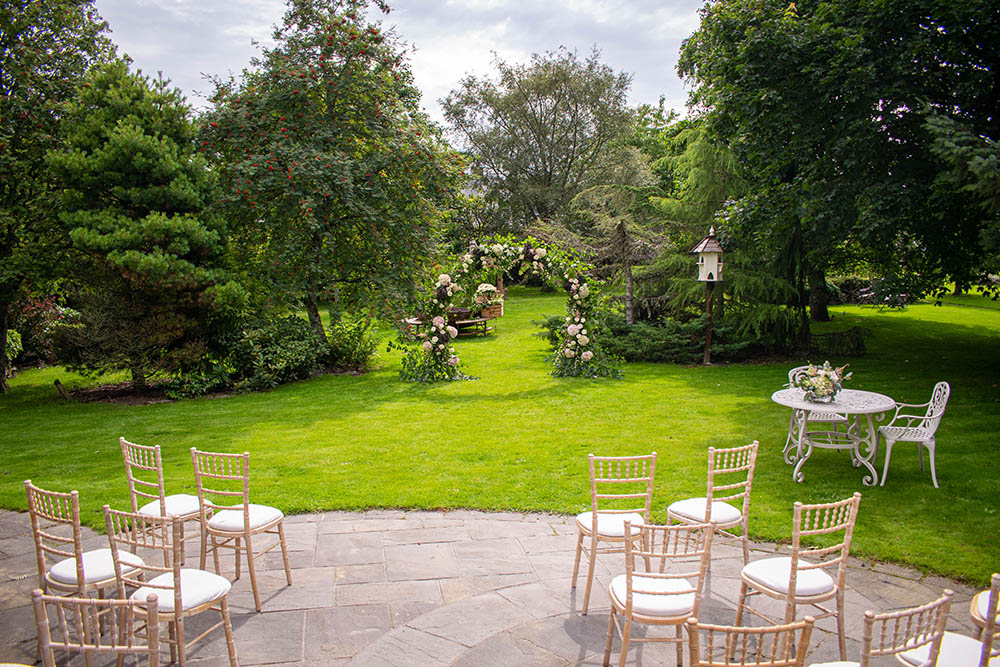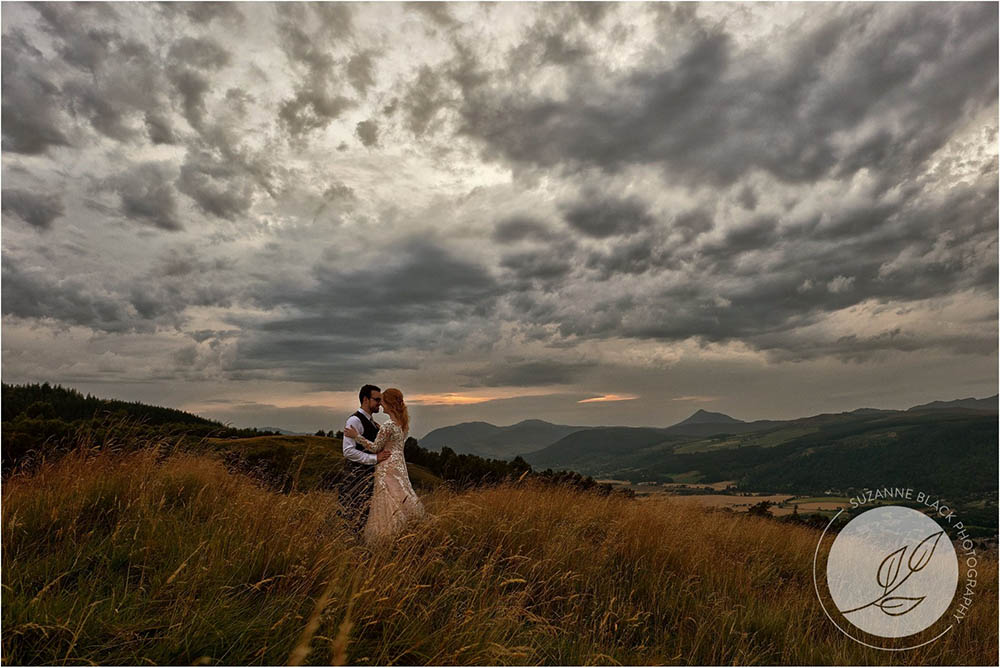 IMAGE | Suzanne Black Photography
A magical venue in the hills of Highland Perthshire, Errichel House's Thyme Roundhouse Restaurant offers an intimate, rustic space for wee weddings of up to 40 guests.
With its traditional stone walls, circular wooden roof, Tay Valley views and picturesque gardens, this is the venue for you if you're seeking somewhere with a cosy, farmhouse vibe to suit the relaxed feel of your celebration.
Errichel is family-run and prides itself on creating bespoke weddings to suit each individual couple's requirements. That personal vibe carries right through to your wedding menu, which will be devised based on your tastes and will even feature produce from Errichel's own farm.
When it comes to staying over, the house itself has four guest rooms and there are three unique holiday cottages on the farm sleeping up to 26 guests, so you could make a weekend of it.
Visit Errichel House's website | t: 01887 820850 | e. events@errichel.co.uk
Send an enquiry to Errichel House
FENTON TOWER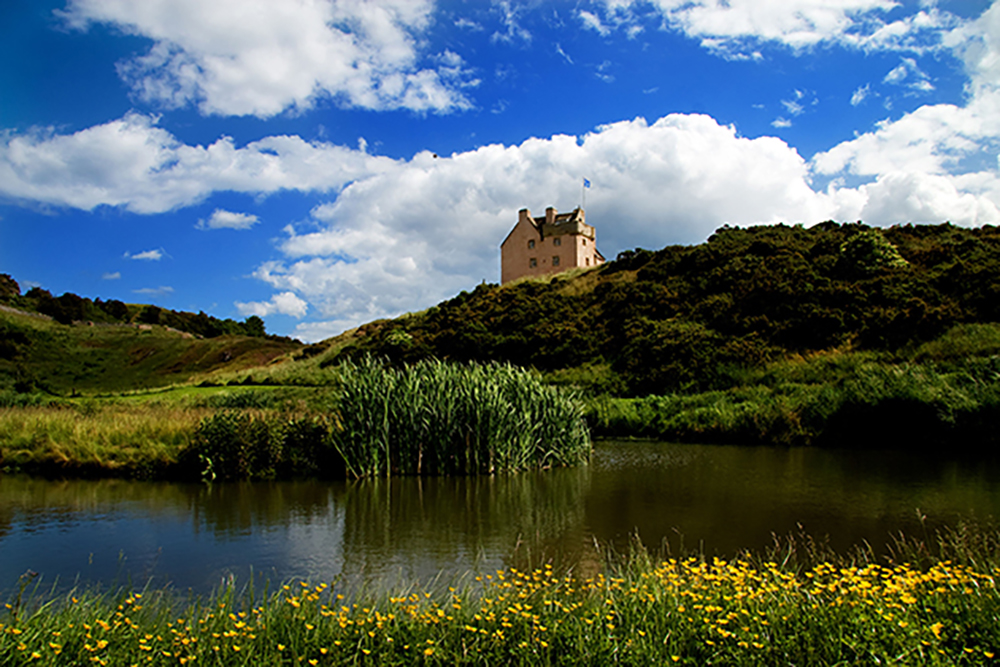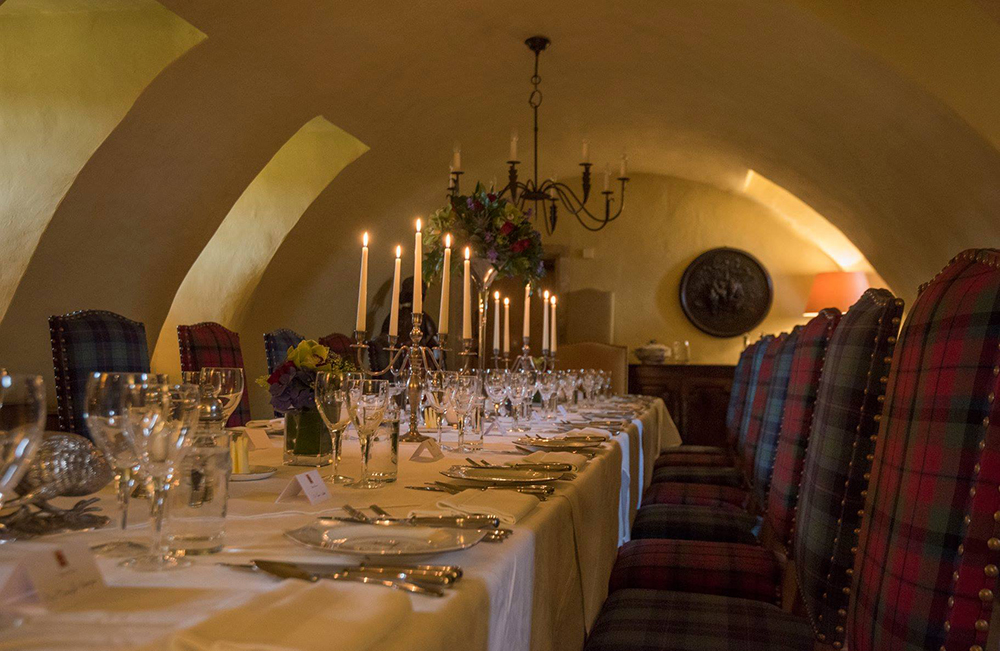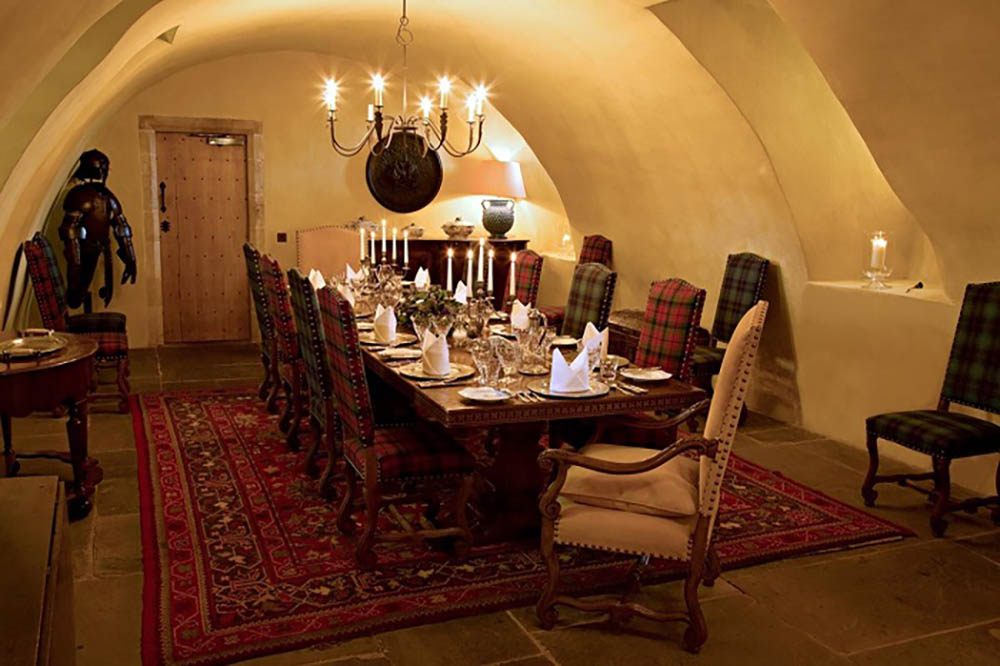 A truly stunning exclusive-use wedding venue that stands high on a hill in Kingston, North Berwick, Fenton Tower will blow you away with its uniquely Scottish charm.
The tower's décor pays tribute to its rich Scottish history while still being freshly contemporary, with many items being handpicked and carefully shipped over from French chateaus.
You can exchange your wedding vows in the Great Hall beneath a beautifully woven c tapestry while a log fire gently burns and crackles in the background.
Fenton Tower can accommodate weddings for up to 32 with the ceremony and drinks reception in the Great Hall and the wedding breakfast  in the vaulted dining room.
Visit Fenton Tower's website | t. 01620 890089 | e. manager@fentontower.com
Send an enquiry to Fenton Tower
FRUIN FARM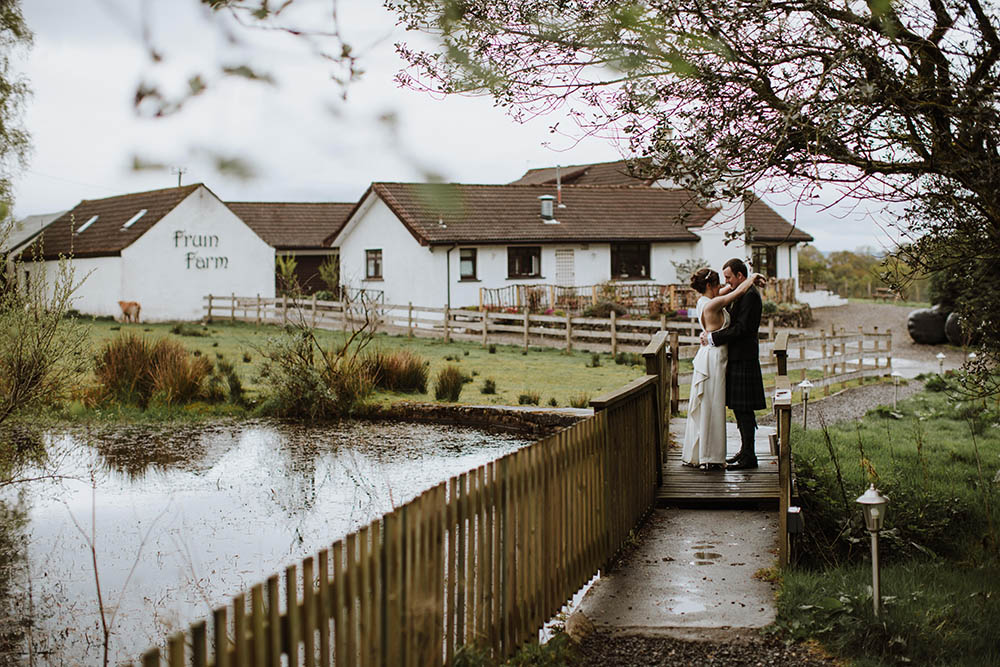 IMAGE | Photography 78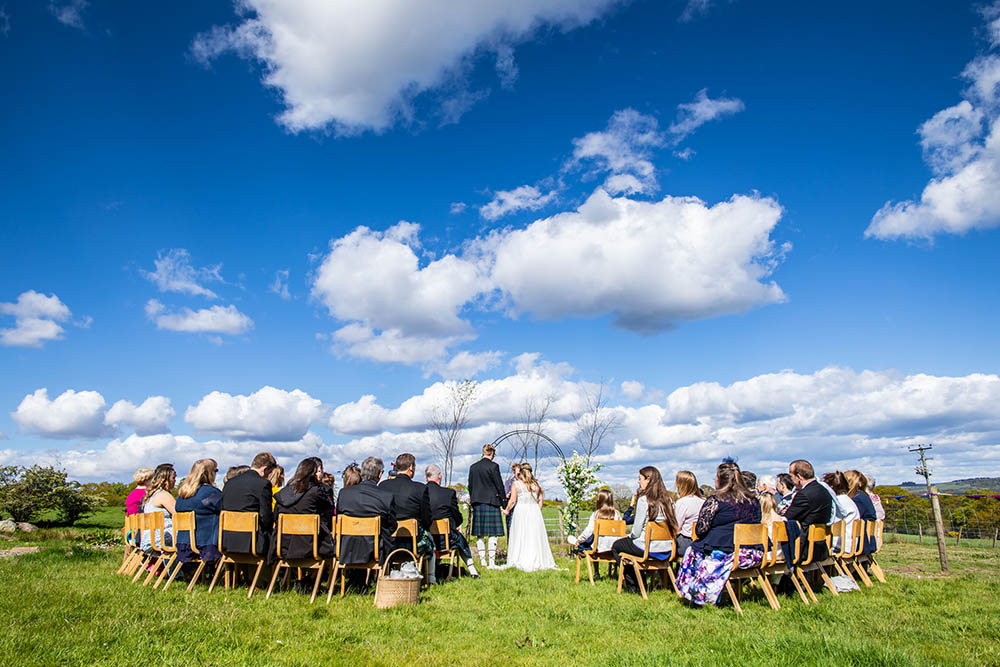 IMAGE | Chloe Jane Photo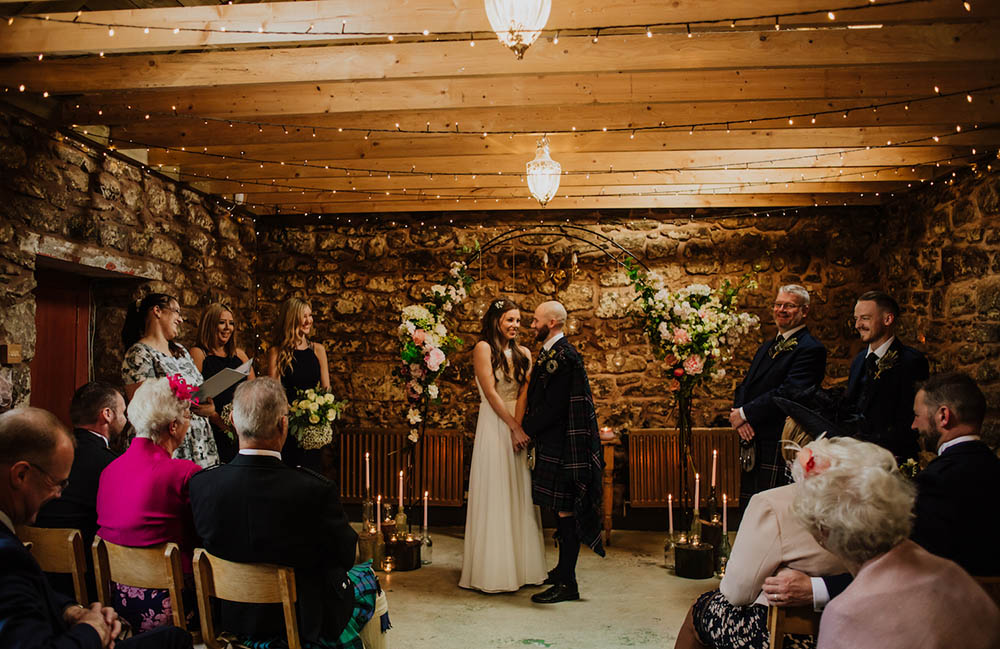 IMAGE | Natalie Holt Photography
A bright, warm wedding venue that is both quaint and cool, Fruin Farm is a truly charming place to have and to hold your big day celebrations.
Fruin Farm is ideal for small, intimate weddings and is able to accommodate up to 60 guests in any one of it's three  unique and stylish spaces, including a 200 year old barn and farm steading, with panoramic views down to Loch Lomond.
The farm has beautiful grounds that are perfect for an outdoor ceremony or your post-nuptial photographs. Plus, animal-lovers will be glad to know the farm is home to plenty of furry friends, with a wee herd of llama and alpaca who will happily be a ring bearer for the day!
Also, don't forget that Fruin Farm is famous for its delicious food, ensuring that your guests will leave your wedding well-fed and very merry!
Visit Fruin Farm's website | t. 01389 850727 | e. info@fruinfarm.co.uk
NETHERBYRES HOUSE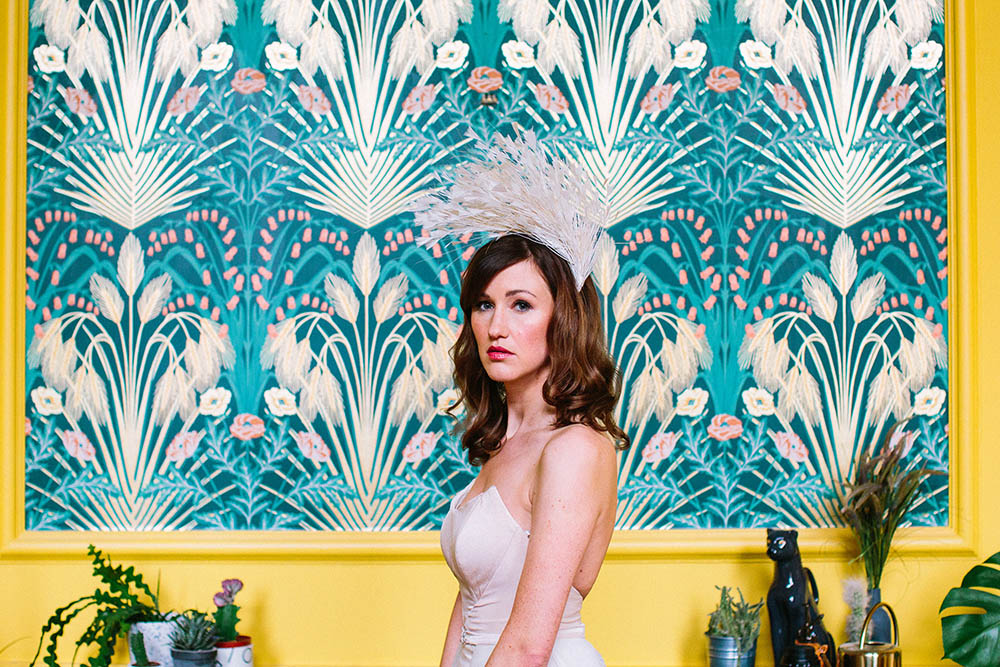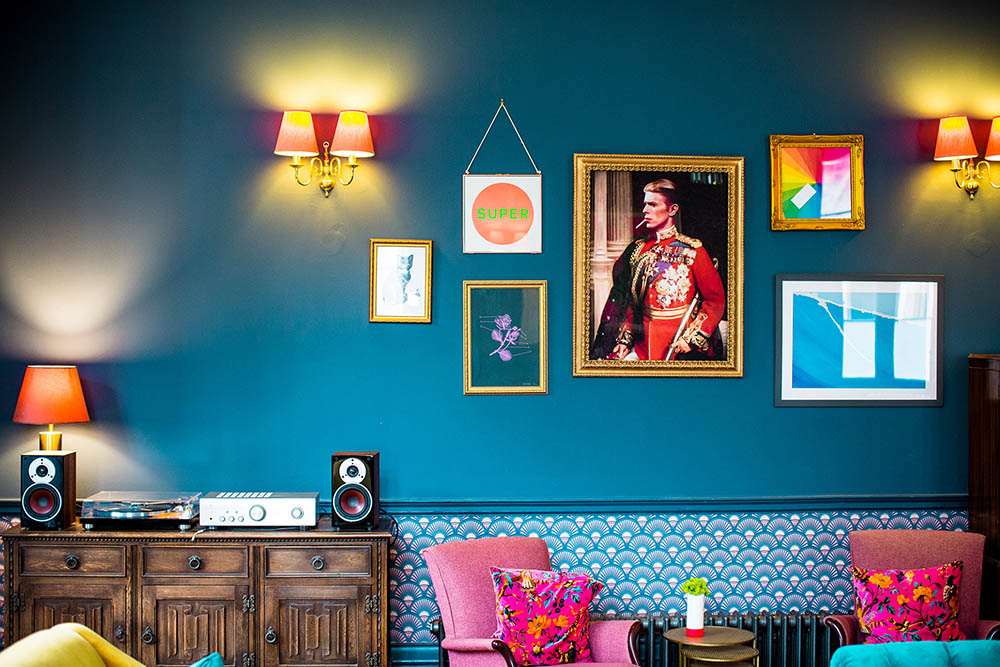 IMAGES | Laura Elizabeth Patrick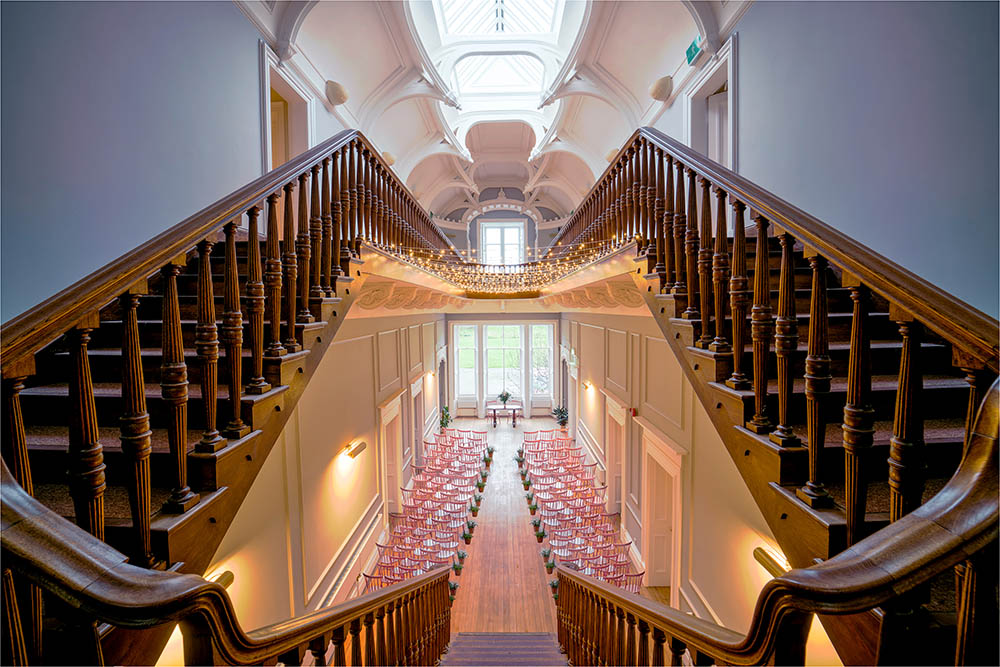 A stylish blend of old and new, Netherbyres House combines a stunning Victorian building with vibrant, eclectic interiors to provide couples with the ultimate Instagrammable wedding venue. Think punchy colours, velvet textiles and eye-catching furnishings.
Get married amid the wildflowers in the grounds or make use of any of the house's stylish spaces – small weddings for up to 70 guests can take place inside and it'll be yours exclusively for the duration of the stay, so you can do as you please.
Whether you want a sit-down meal in the dining room or fancy hiring some street food vans, the flexible team can make your culinary dreams come true.
And with nine individually designed bedrooms, each with an en-suite, there's the option to stay for a weekend and eke the festivities out. Cheers to that!
Visit Netherbyres House's website | e: info@netherbyres.com
Send an enquiry to Netherbyres House
TURIN CASTLE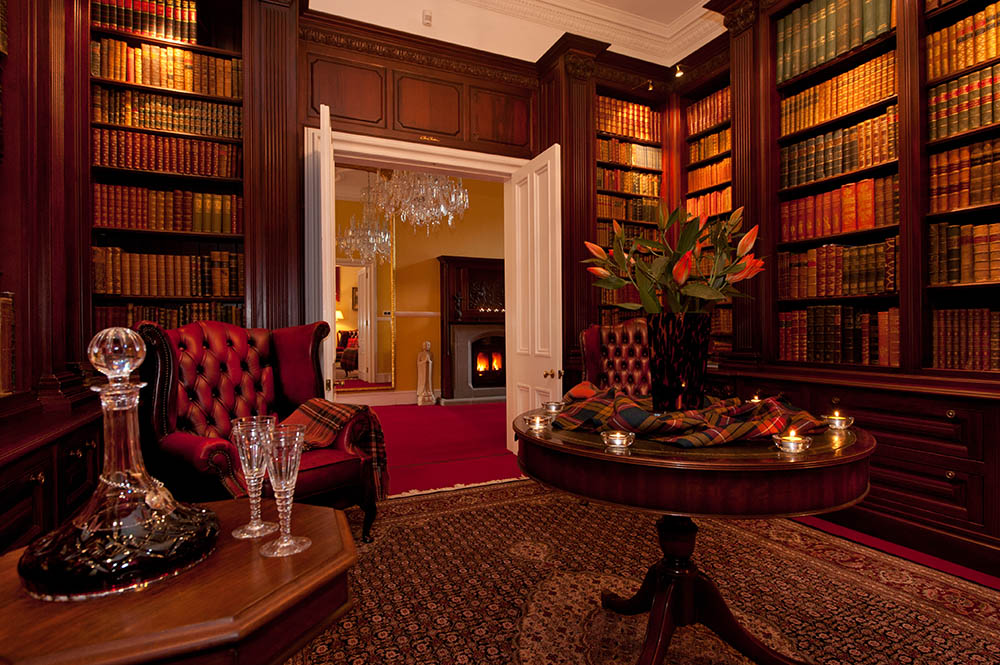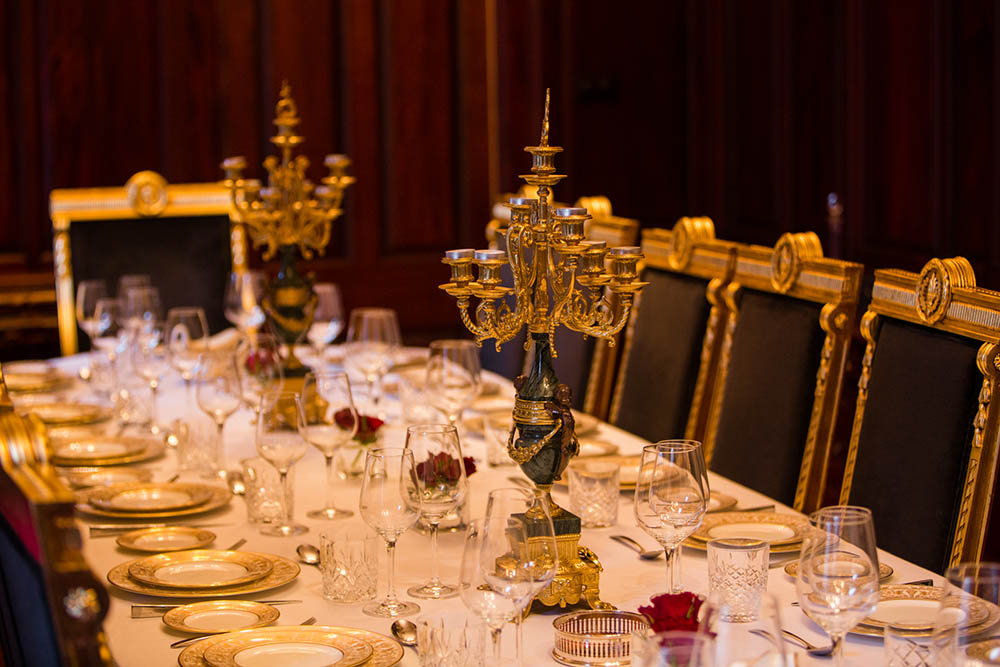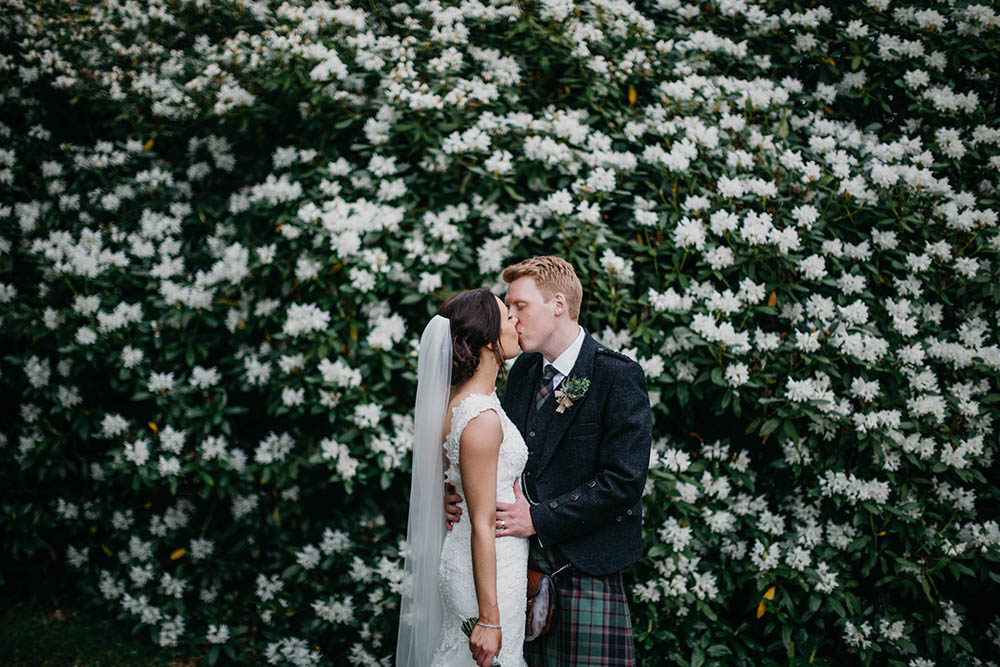 Turin Castle is a five-star, exclusive-use castle located in the heart of Scotland, surrounded by the scenic Angus Glens.
It's the perfect place to retreat from the rush of everyday life and surrender to the lush, unspoilt Scottish countryside.
An authentic Scottish hideaway, Turin Castle is luxuriously spacious, sleeping up to 20 guests in 10 beautifully appointed en-suite rooms which retain an intimate and boutique feel.
The castle is nestled in 20 acres of private grounds that could be yours to explore. It is the perfect venue for a luxury, intimate wedding celebration.
Visit Turin Castle's website | t. 01307 830463 | e. love@turincastlescotland.com
Send an enquiry to Turin Castle
ALEXANDER HOUSE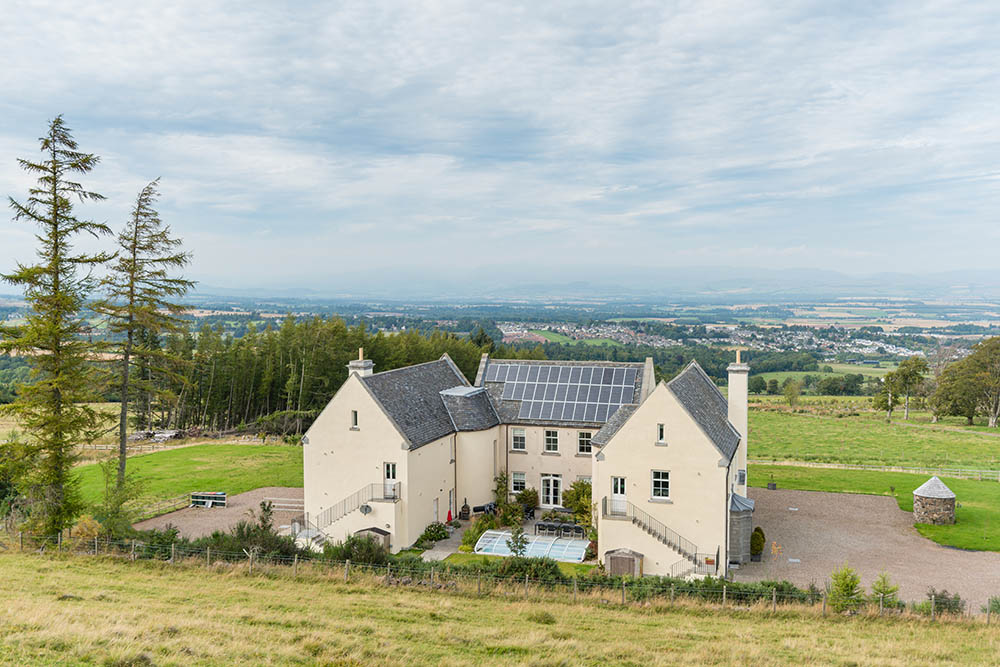 Perched high in the Perthshire Hills, Alexander House is the perfect exclusive-use small wedding venue.
Get married on the terrace with a simply stunning backdrop before celebrating with your guests in  the Dining Hall (seats 21 around an impressive circular table), or enjoy a more informal buffet for up to 30 guests in the open-plan kitchen.
Visit Alexander House's website | t.01764 910320 | e. info@alexanderhousescotland.com
Send an enquiry to Alexander House
ASSYNT HOUSE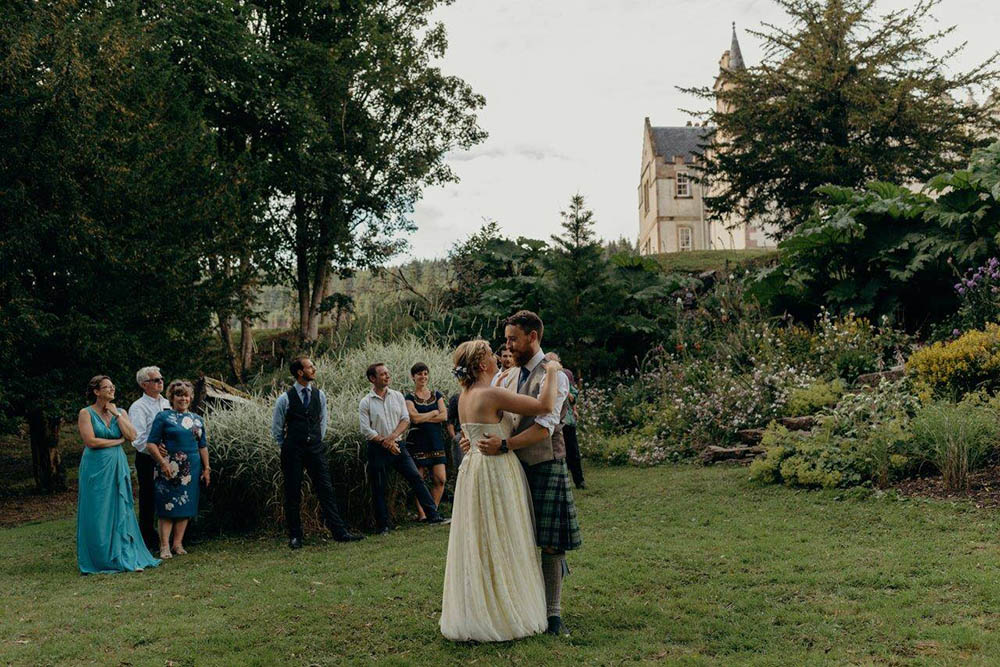 An award-winning wedding venue, Assynt House in Evanton, Dingwall, only hosts a limited number of weddings each year.
Specialising in weddings of up to 50 people but with space for a marquee if you wish, this five-star exclusive use venue in the beautiful Scottish Highlands is a hidden gem sure to make your wedding day truly memorable.
Visit Assynt House's website | t: 01349 832923 | e: contactus@assynthouse.com
BACKHOUSE ROSSIE ESTATE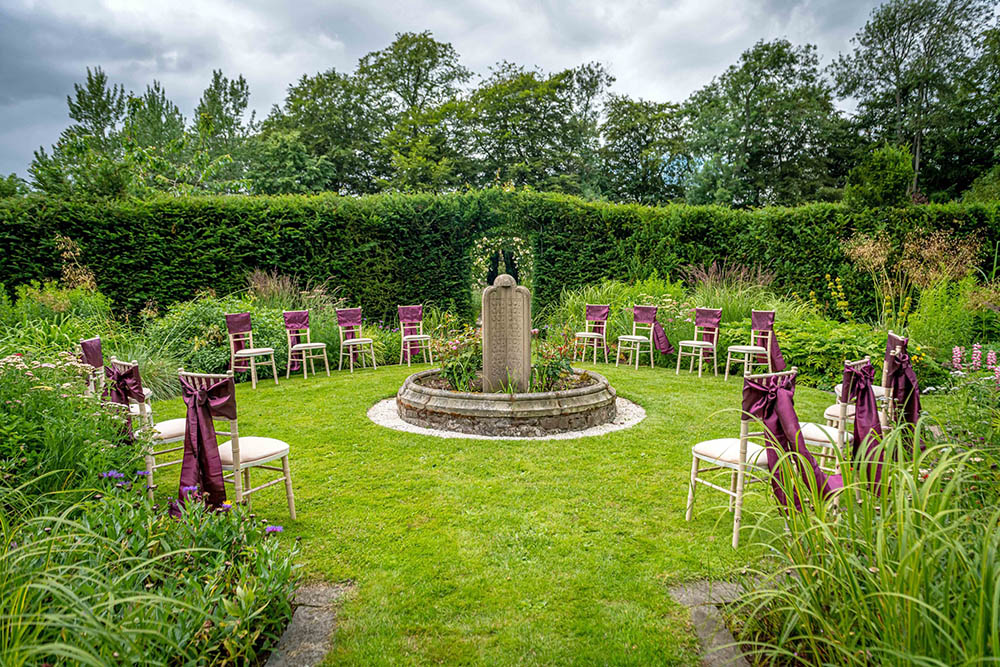 This Fife venue is home to breathtaking grounds with a romantic walled garden and sweeping lawns overlooking the Lomond Hills.
Smaller weddings and elopements can take place in its Flower Room (seating up to 80) or the Old Stables (up to 20 guests).
Visit Backhouse Rossie Estate's website | t.0844 414 5891 | e. weddings@backhouserossie.co.uk
BALLATHIE COUNTRY HOUSE HOTEL & ESTATE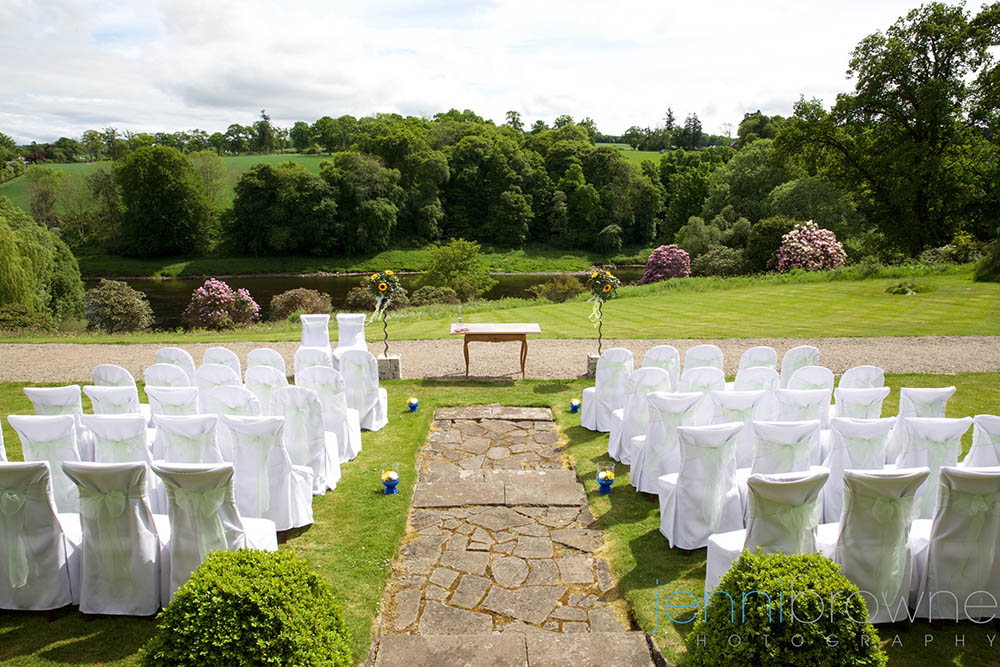 IMAGE | Jenni Browne Photography
Ballathie House Hotel in Perthshire has two smaller private rooms  which are ideal for the smaller, intimate wedding breakfast.
The Morning Room is a charming traditional room with a large bay window overlooking the Victorian Gardens, which can seat 16 guests, whilst the Terrace Room which overlooks the River Tay can seat up to 36 guests.
Visit Ballathie House Hotel's website | t. 01738 804804  | e. email@ballathiehousehotel.com
Send an enquiry to Ballathie House Hotel
CREAR WEDDINGS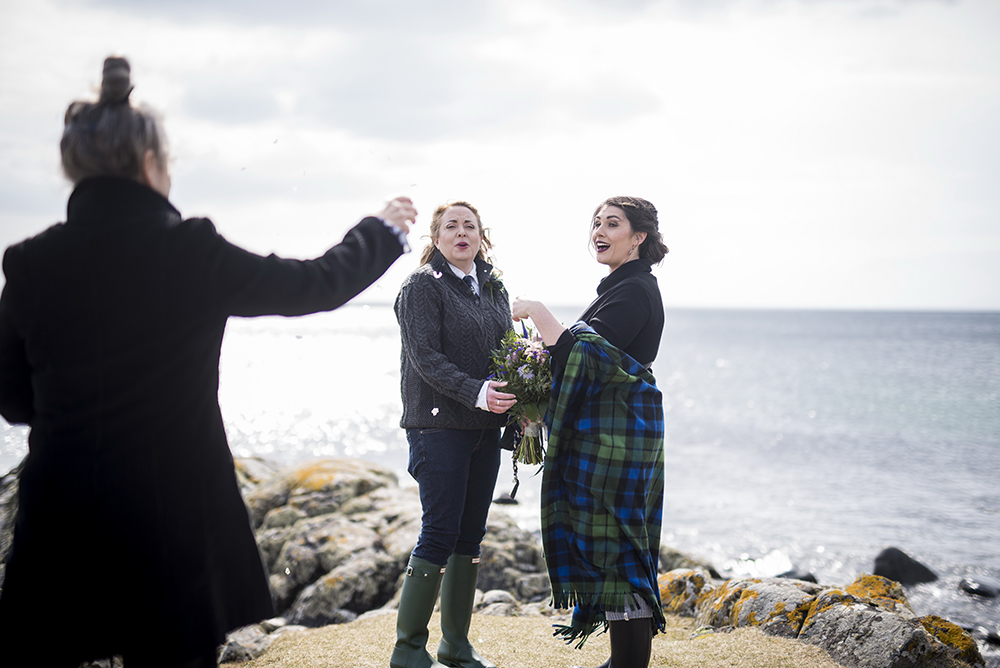 Love the idea of escaping with your nearest and dearest to a dreamy beachside wedding venue? Crear, on the west coast of Scotland, is for you.
The house sleeps up to 12 people and there's a Gourmet Small Wedding package for those who want an intimate wedding with plenty of great food.
Visit Crear Weddings' website | t. 01880 770369 | e. hello@crear.co.uk
HOTEL DU VIN AT ONE DEVONSHIRE GARDENS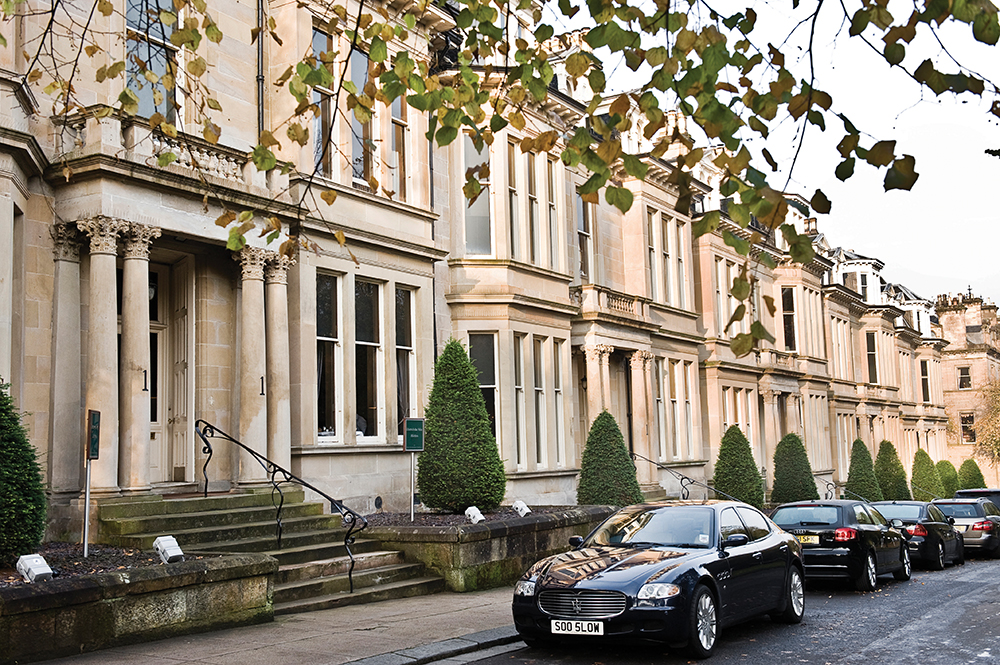 Located in Glasgow's leafy west end, this hidden gem venue is perfect for small weddings from as few as two to as many as 80 guests.
A stylish boutique hotel, it boasts serious design credentials and is well regarded amongst foodies for its mouth-watering menus.
Visit Hotel du Vin at One Devonshire Gardens' website | t. 0141 378 0385 | e. events.glasgow@hotelduvin.com
Send an enquiry to Hotel du Vin at One Devonshire Gardens
LINDORES ABBEY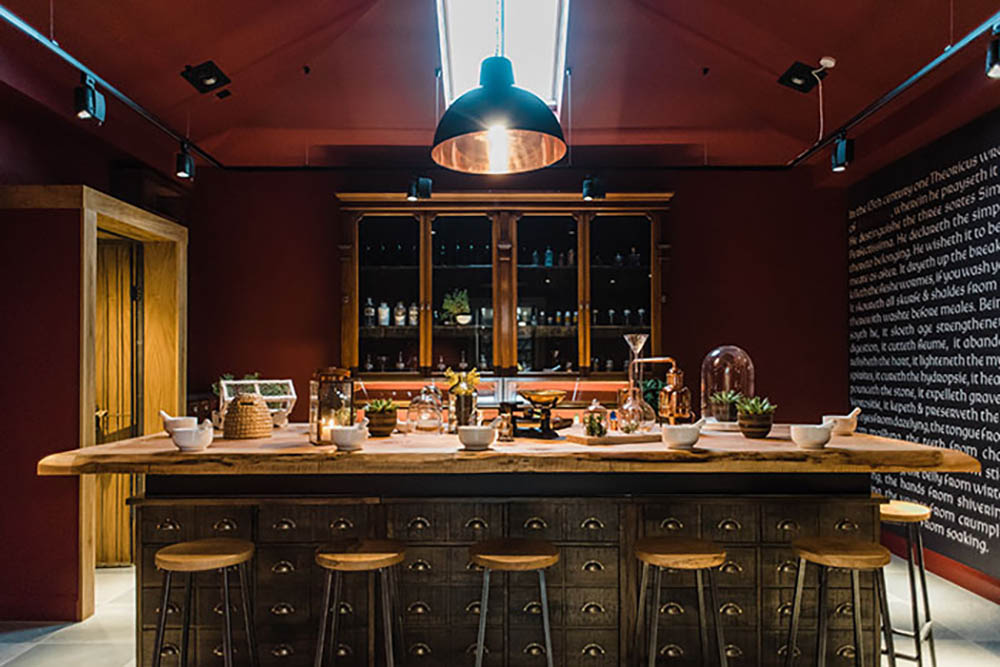 IMAGE | Photos by Zoe
A quirky wedding venue, Lindores Abbey in Fife is a whisky distillery with bags of charm and plenty of options for micro weddings.
Celebrate in the abbey grounds on a nice day or hold your wedding indoors at the Apothecary at the cloister table, hewn from a magnificent oak tree.
Visit Lindores Abbey's website | t. 01337 842547 | e. info@lindoresabbeydistillery.com
Send an enquiry to Lindores Abbey
THE OLD CHURCH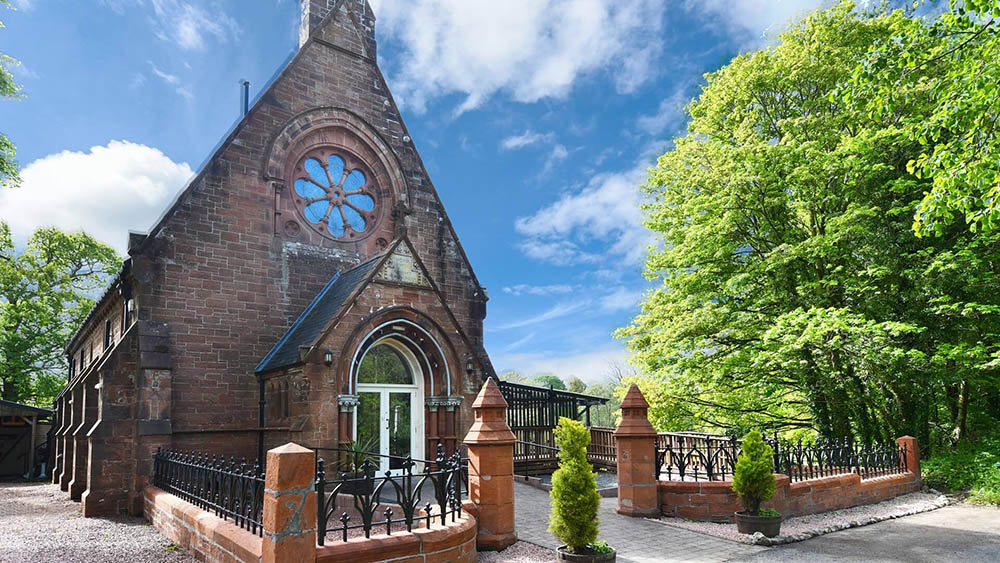 Specialising in relaxed and intimate weddings for up to 36 guests, The Old Church is situated in South Ayrshire in a converted church building.
With its stained glass window, log burning stove and seating area incorporating an original church pew, it's full of character and warmth.
Visit The Old Church website | t. 07710 075422 | e. theoldchurchayrshire@gmail.com
Send an enquiry to The Old Church
ST MARY'S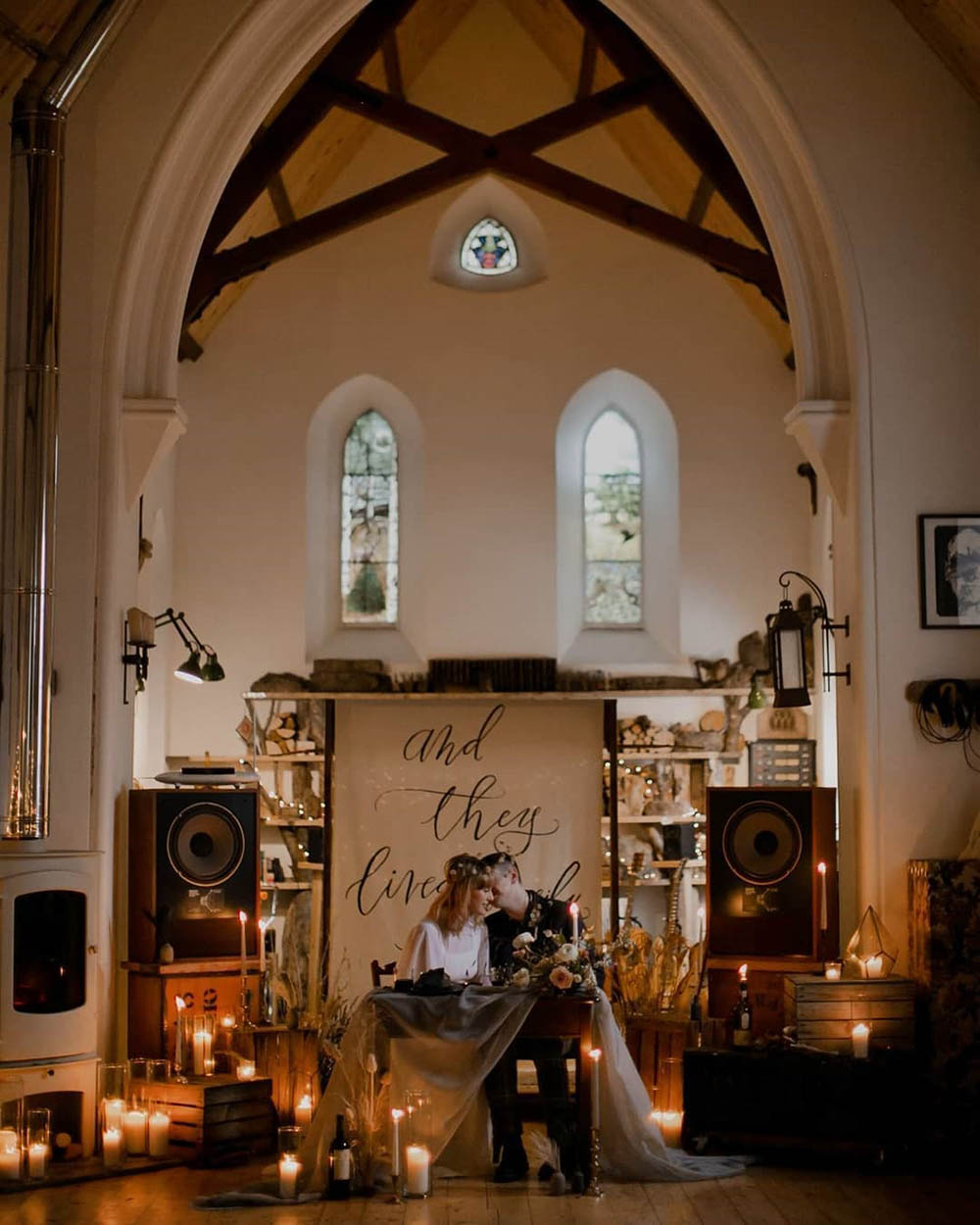 IMAGE | Melody Joy Co
A gorgeous converted church nestled in the Scottish Highlands, St Mary's is one of Scotland's newest elopement venues for very small weddings with up to 20 guests.
Surrounded by magical mountains and enchanted woods, you'll love having your own little slice of Scottish paradise.
Visit St Mary's website | t. 01631 730 449 
VENACHAR LOCHSIDE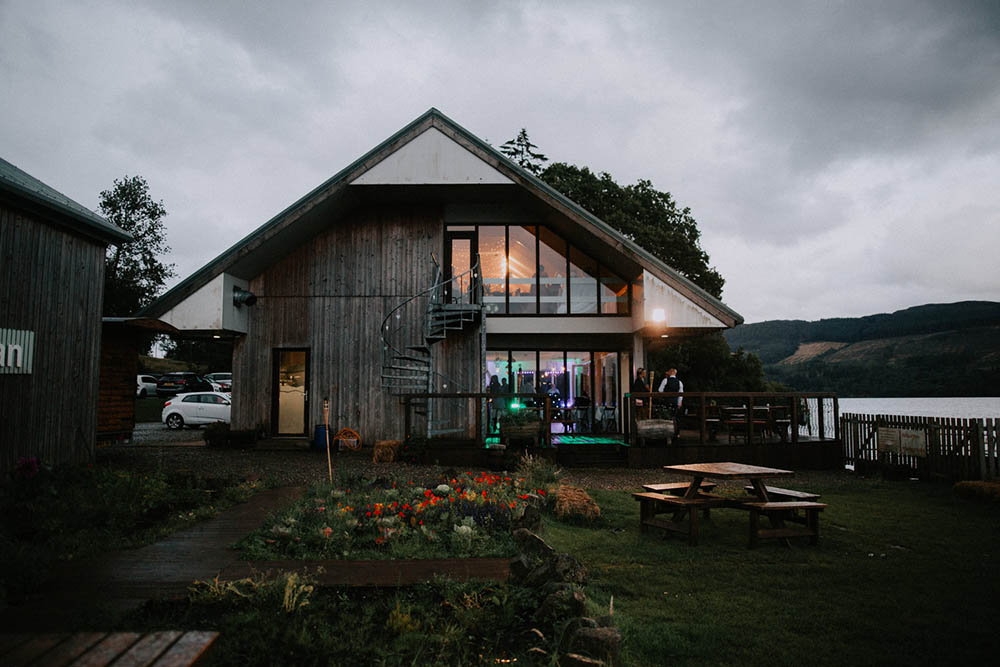 If you'd love to get married by the water, Venachar Lochside is a stunning option.
Located between Callander and the Brig o' Turk, it has a variety of spaces and packages to suit different styles of wedding, including a package for celebrations of up to 30 people.
Still searching for your dream Scottish wedding venue?