22 of the best Scottish venues for small weddings 2019
From far away castles to hidden gem venues, there's something to suit your style.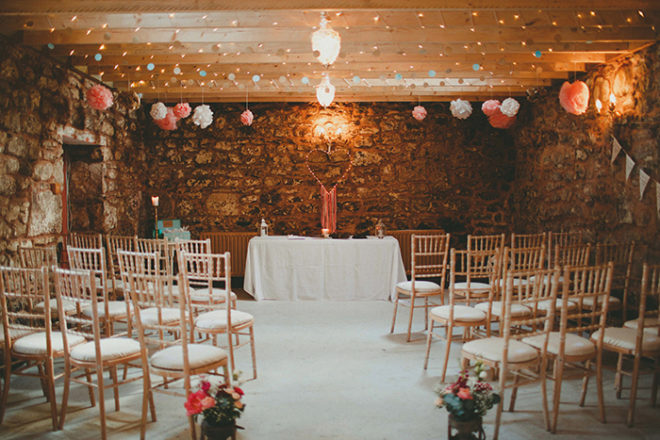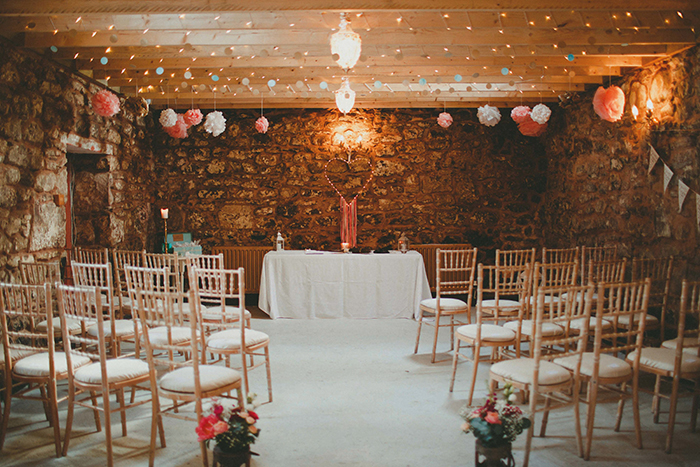 Exchanging your vows might be a moment you'd prefer to keep low key with only a few of your nearest and dearest.
If a small wedding is your perfect match, you're in luck; Scotland is filled with beautiful venues that provide the perfect setting for you to create the intimate wedding day that you have been dreaming of.
From far away castles to hidden gem venues, there's something to suit your style.
Here are the best Scottish venues for small weddings!
This post contains some paid-for content.
Alexander House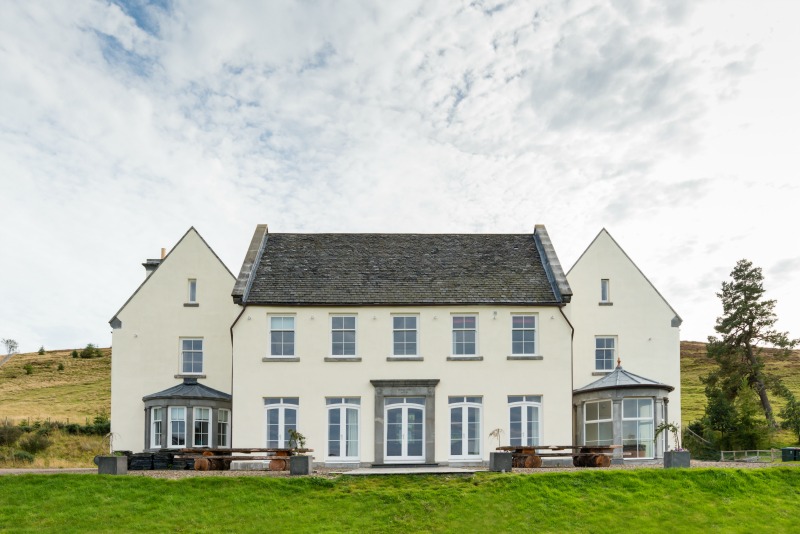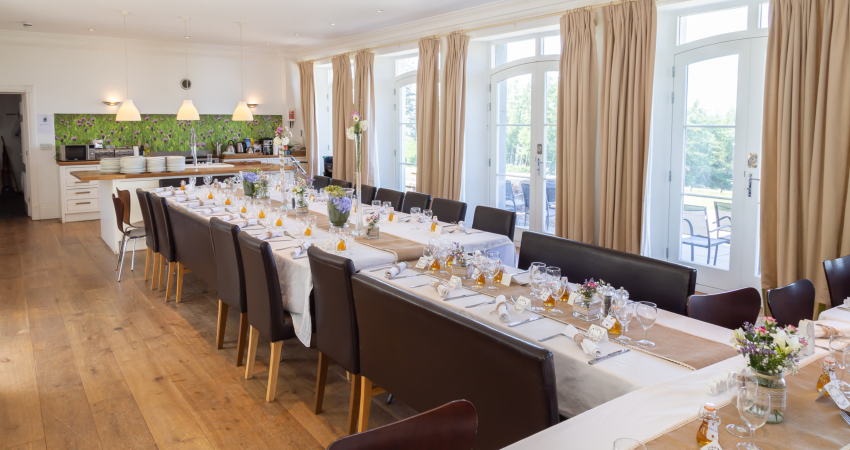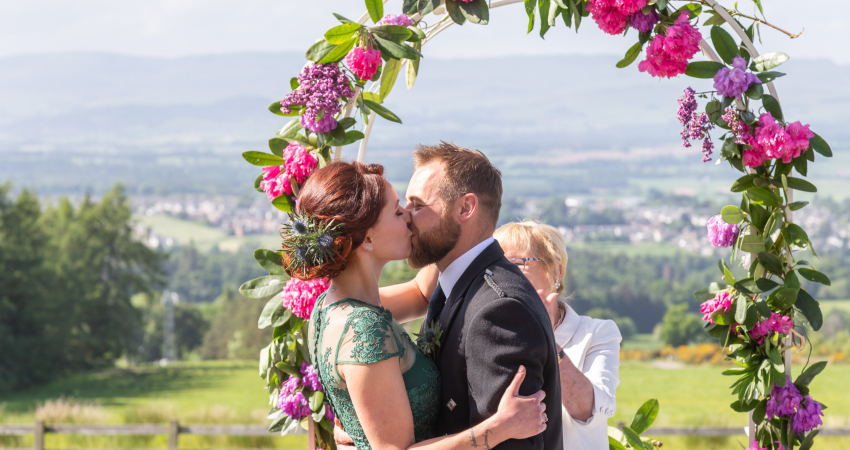 Perched high in the Perthshire Hills, with breathtaking views in every direction,Alexander House is the perfect exclusive use small wedding venue.
Just 2.5 miles from Gleneagles train station and less than an hour from Edinburgh and Glasgow.
Perfect for small and intimate weddings. Get married on the terrace with a simply stunning backdrop before celebrating with your guests in either the Dining Hall (seats 21 around an impressive circular table), or enjoy a more informal buffet for up to 30 guests in the open-plan kitchen/diner, which has plenty of space and comfortable seating for a relaxed celebration.
Visit Alexander House's website | t.01764 910320 | e. info@alexanderhousescotland.com
1599 at the Royal College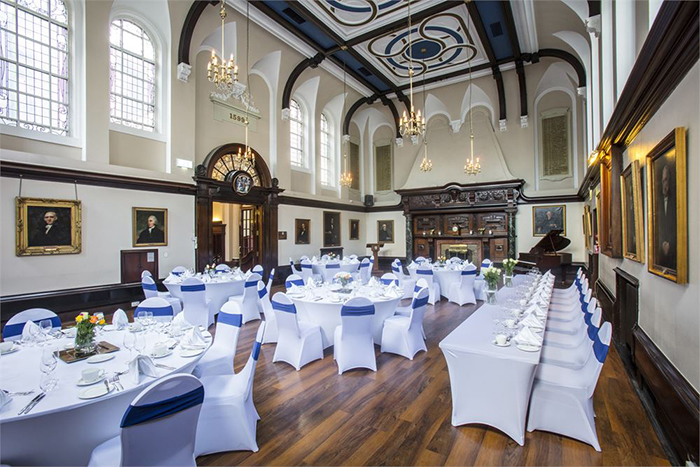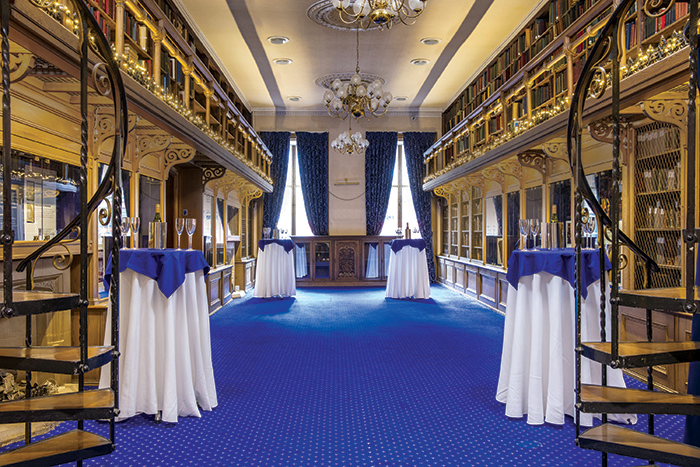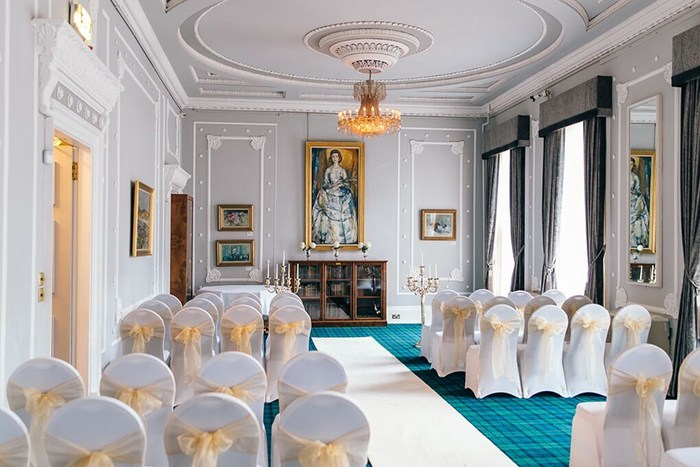 If you're on the hunt for an exclusive-use wedding venue in the city centre of Glasgow, then this hidden gem could be the venue of your dreams!
Located within the historic Royal College of Physicians and Surgeons of Glasgow building, it's an unusual venue with real character, spectacular for a small and intimate wedding in a super convenient location.
The Lower Library is a striking room full of history – the perfect setting for a wedding of up to 60 guests.
Visit 1599 at the Royal College's website | t. 0845 388 1599 | e. bookings@1599.co.uk
Read reviews for 1599 at the Royal College
Aberdeen Ardoe House Hotel & Spa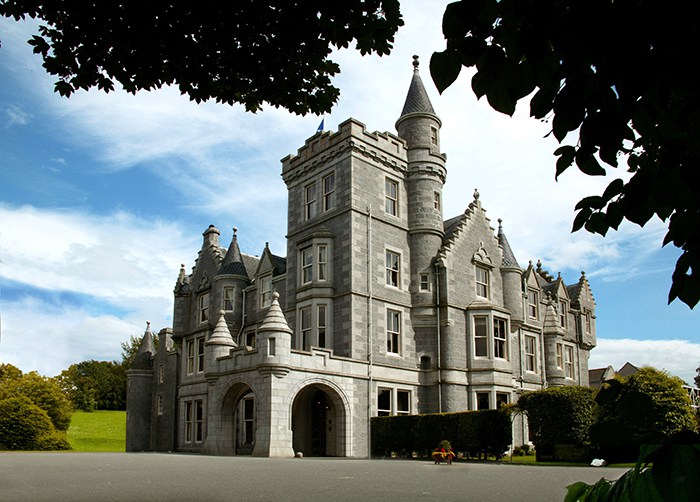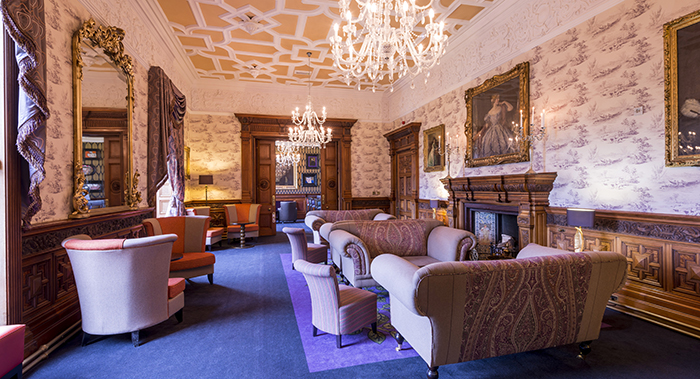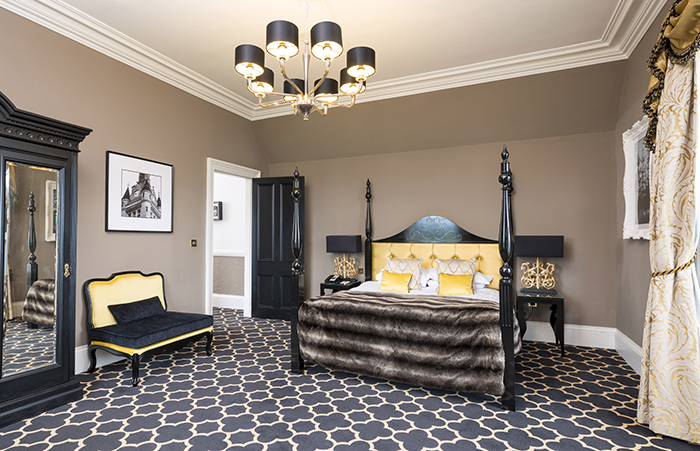 A 19th-century mansion set in 30 acres of private land and boasting stunning views over the River Dee and Aberdeenshire countryside, Aberdeen Ardoe House Hotel and Spa is perfect for couples looking for a beautifully intimate wedding day.
The grounds are as beautiful as they are extensive, and you will easily be able to capture stunning wedding portraits on the manicured lawns.
The interior of the house is equally gorgeous, with wonderfully sumptuous décor and furnishings. The hotel is also home to the scrumptious Blair's Restaurant and a fantastic on-site spa.
Visit Aberdeen Ardoe House Hotel + Spa's website | t: 01224 860643 | e: nicki.titley@accor.com
Read reviews for Aberdeen Ardoe House Hotel + Spa
Assynt House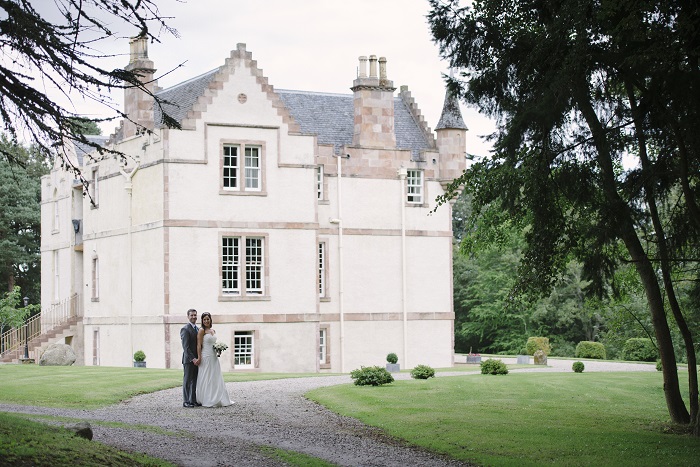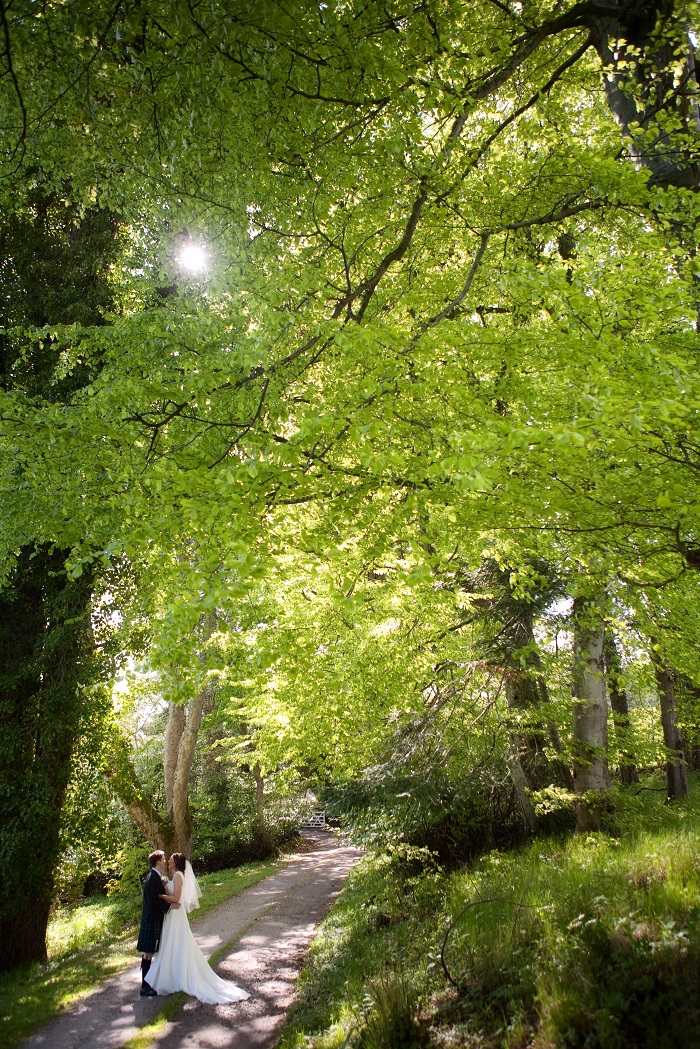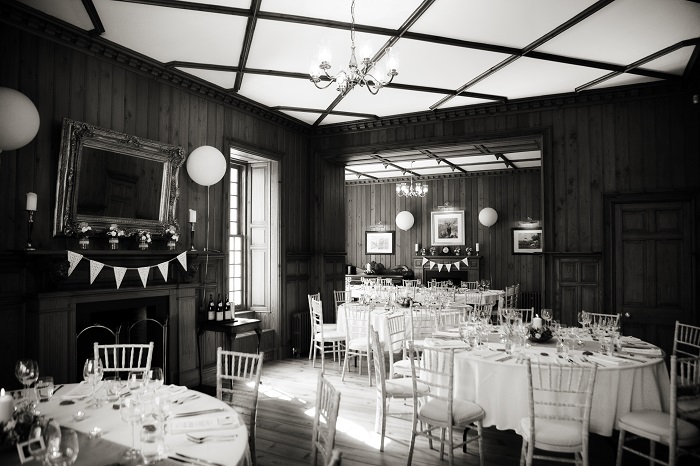 An award-winning wedding venue, Assynt House only hosts a limited number of weddings each year.
Couples are guided through the planning experience with the team on hand to assist with the arrangements for your special day and with its owner, chef creating a menu to suit you using fresh local ingredients.
Marry outside in the gardens with all the natural beauty and peaceful surroundings or marry inside the historic manor house in the wood lined drawing room with windows overlooking the gardens.
Specialising in weddings of up to 50 people but with space for a marquee if you wish, this five-star exclusive use venue in the beautiful Scottish Highlands is a hidden gem sure to make your wedding day truly memorable.
Visit Assynt House's website | t: 01349 832923 | e: contactus@assynthouse.com
Ballathie Country House Hotel & Estate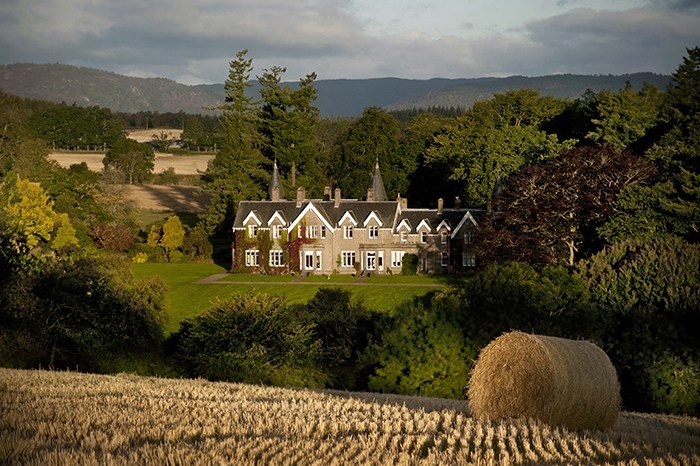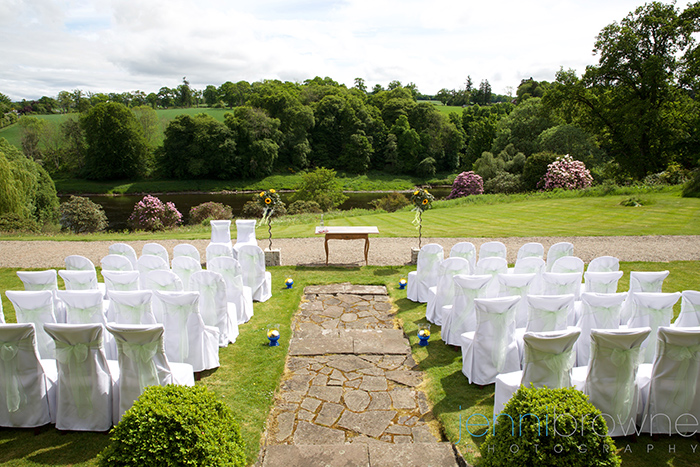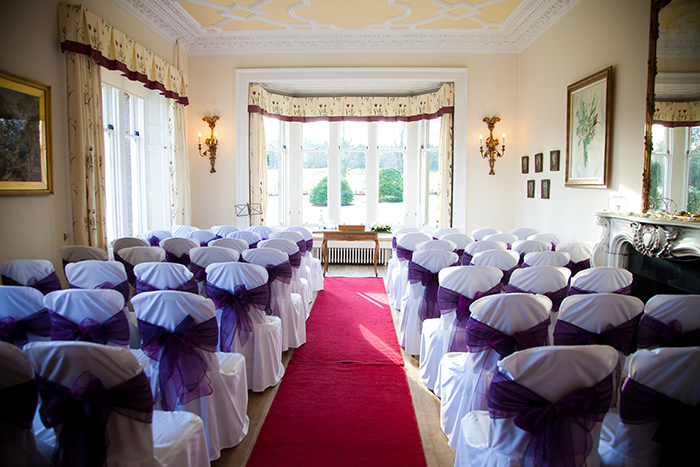 Nestled on the banks of the River Tay, surrounded by 500 acres of private Perthshire countryside estate, Ballathie House Hotel is a baronial country house offering gorgeous settings for a small and intimate wedding day.
Exchange your vows in the elegant Drawing Room, and after the ceremony , stroll around the grounds, sipping Champagne, or enjoy laughter and fine conversation with your guests around a roaring log fire.
A choice of two smaller private rooms are ideal for the smaller, intimate wedding breakfast; the Morning Room is a charming traditional room with a large bay window overlooking the Victorian Gardens, which can seat 16 guests comfortably, whilst the Terrace Room is a bright, light room, with opening patio doors that lead to the front lawns, overlooking the River Tay. It can seat up to 36 guests.
Visit Ballathie House Hotel's website | t. 01738 804804  | e. email@ballathiehousehotel.com
Read reviews for Ballathie House Hotel
Best Western Brunstfield Hotel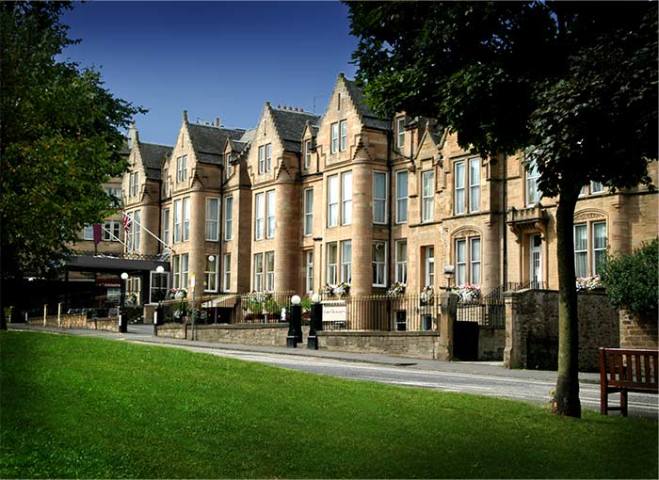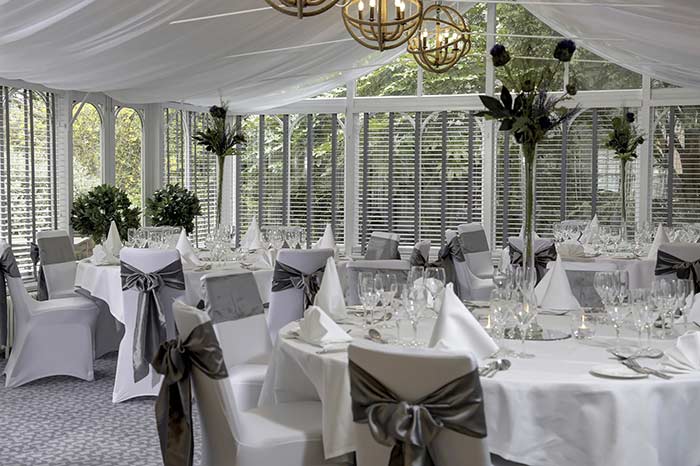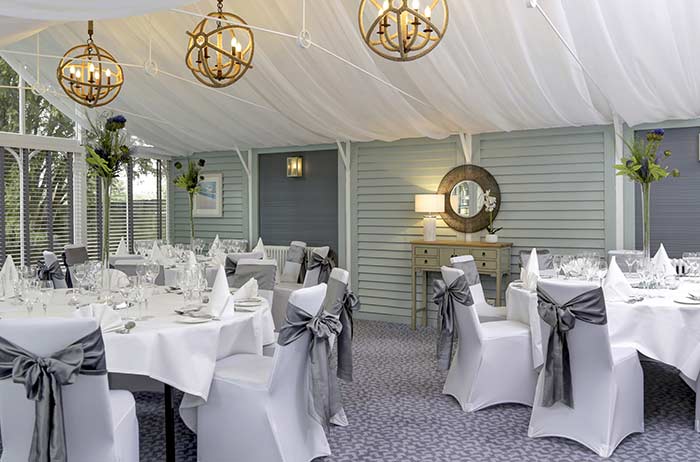 This four-star townhouse hotel is in a very charming part of Edinburgh, just a stones' throw from the hustle and bustle of the city centre.
Hold your ceremony in the Conservatory which leads out onto the garden terrace at the rear of the hotel and celebrate with dinner and dancing in the newly refurbished Cardoon Suite, with a fresh, contemporary grey and white look.
The menu is one of the most important things about your day, and you can be sure that you're in safe hands with the chefs at the Bruntsfield; why not chat to them about adding something a little bit more personal to your menu or drinks?
Visit The Bruntsfield Hotel's website | t. 0131 229 1393 | e. sales@thebruntsfield.co.uk
Read reviews for The Bruntsfield Hotel
Branxholm Park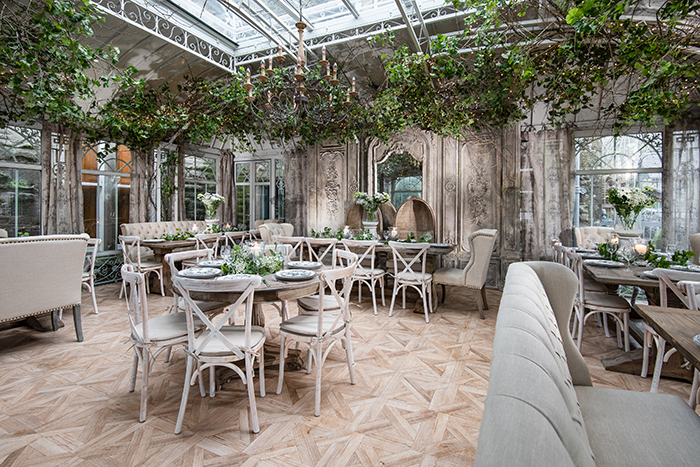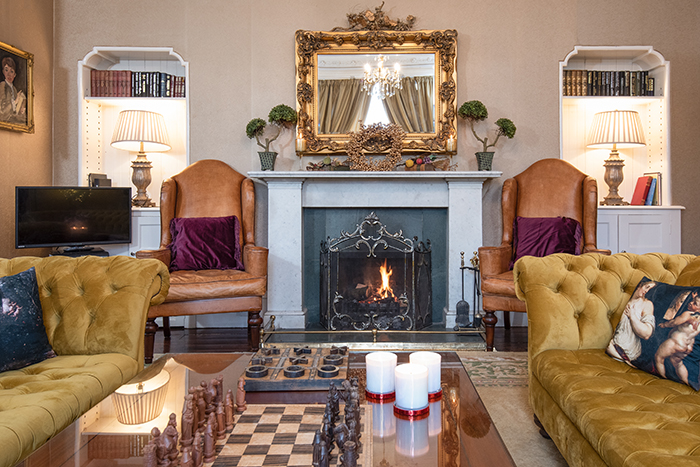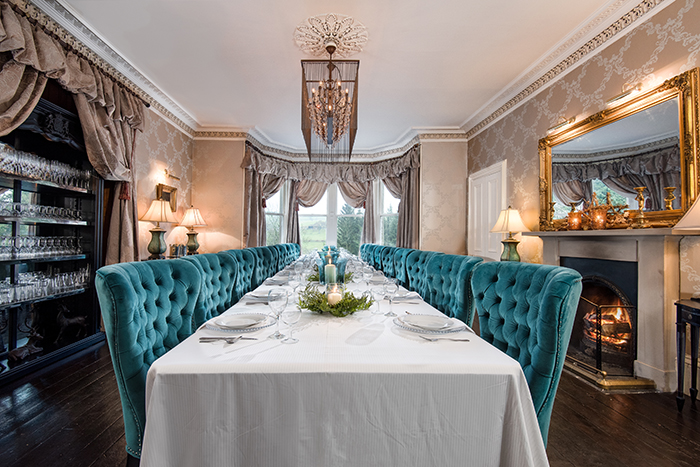 This stunning luxury mansion sits in its own ancient woodland, famed in Victorian fairytales, in the heart of the picturesque Scottish Borders just an hour's drive from Edinburgh.
The fairylight-lit grounds are enchanting, the views of the Teviot Valley are breathtaking, and the plush boutique interiors of the mansion are second to none.
Branxholm Park offers three-night exclusive wedding packages that are almost all inclusive and at a surprisingly affordable price, so you can celebrate with a luxe wedding weekend.
Visit Branxholm Park's website | t. 07585 281479 | e. info@branxholmpark.co.uk
Read reviews for Branxholm Park
Castle Menzies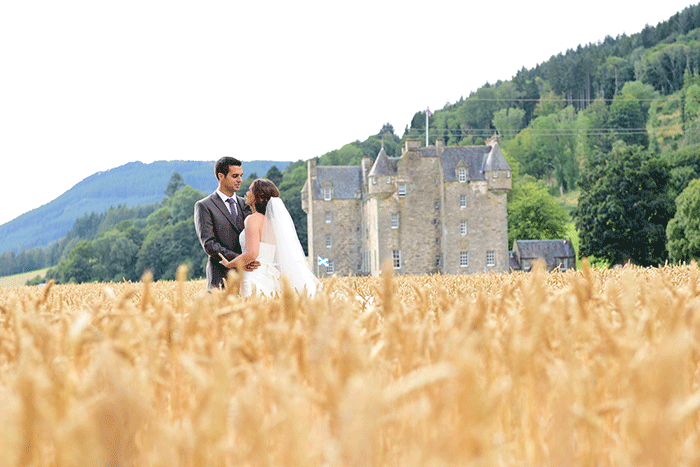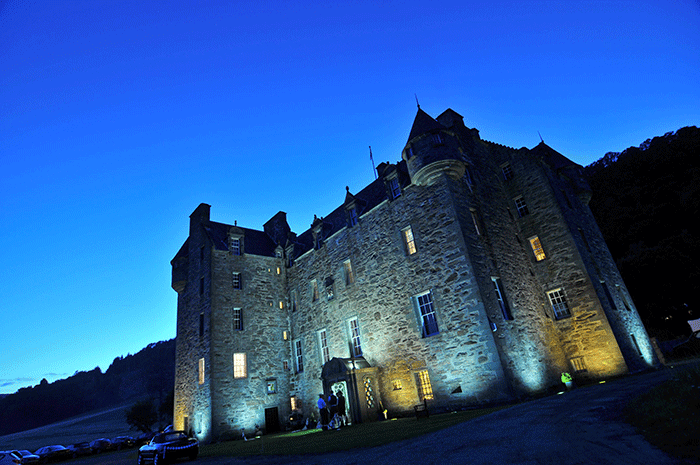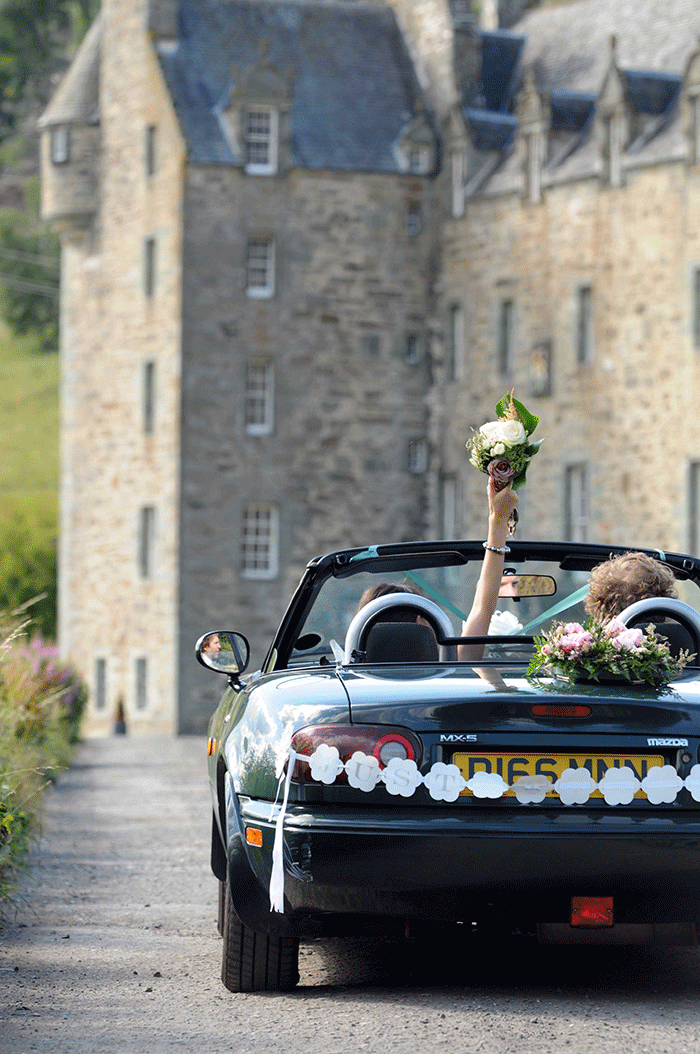 Situated in Weem, Aberfeldy, Castle Menzies is a romantic Renaissance castle with plenty of options for a beautifully small and intimate wedding.
Its most iconic room for wedding ceremonies is The Lang Garret, a rustic space with exposed beams and stone walls, which has been playing host to weddings for just shy of 500 years.
Alternatively, you could marry outside in the walled garden; in the atmospheric Wine Store (which can hold up to 12 people); or in the 16th-century Old Kitchen, which has ancient flagstones, a magnificent fireplace and a large dining table where up to 18 people can sit down to a sumptuous banquet from one of the castle's hand-selected caterers. The choice is yours!
Visit Castle Menzie's website | t. 01887 820982 | e. castlemenziesmanager@gmail.com
Read reviews for Castle Menzies
Cluny Castle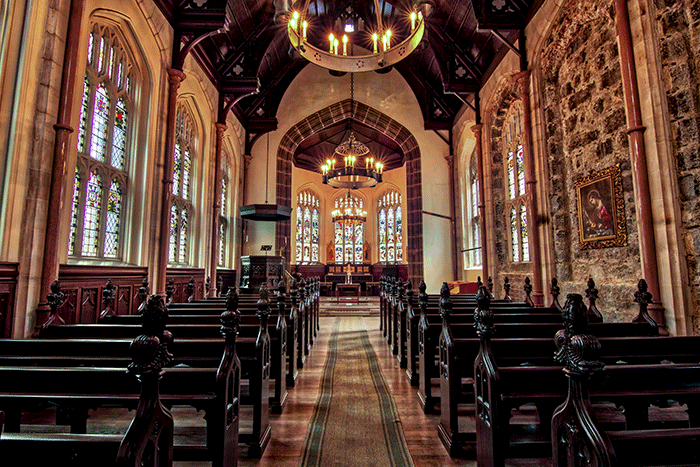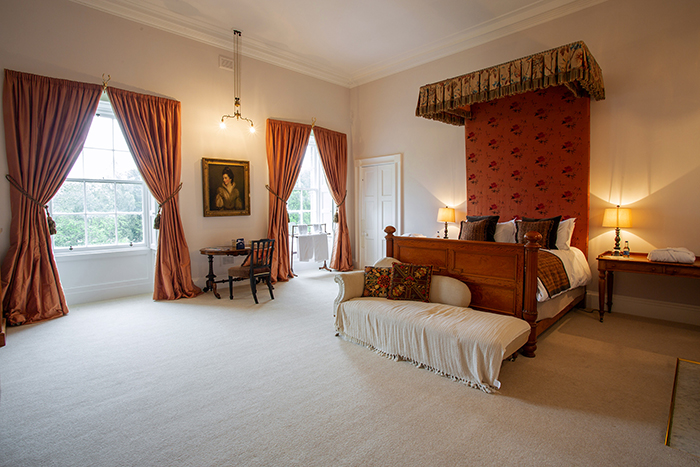 Secreted away in the lush Aberdeenshire countryside, stunning and historic Cluny Castle is a straight out of a fairytale. With sprawling parklands and lawns, and a winding driveway leading up to the impressive castle, there's no denying that this venue is beautiful – and that's before you even step inside.
Hire the castle on an exclusive-use basis and enjoy complete privacy. The team at the castle are there for you to lean on if you need to, and help you to create a day that's as unique as you are.
As well as it's own onsite chapel, the beautiful Dining Room & Drawing Room make a stunning and memorable setting to celebrate your special day for the smaller more intimate weddings up to 24.
Accommodation is also available at the castle, including newly refurbished luxury bedrooms, which means you can extend the celebrations with your nearest and dearest.
Visit Cluny Castle's website | t. 01330 833302 | e. info@clunycastle.com
Duns Castle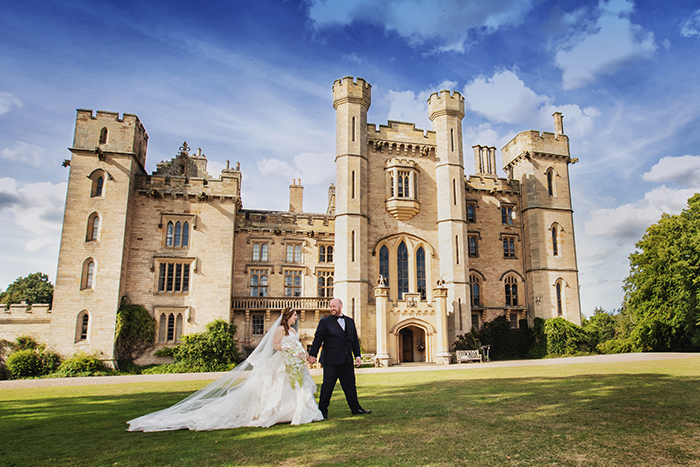 IMAGE | Parris Photography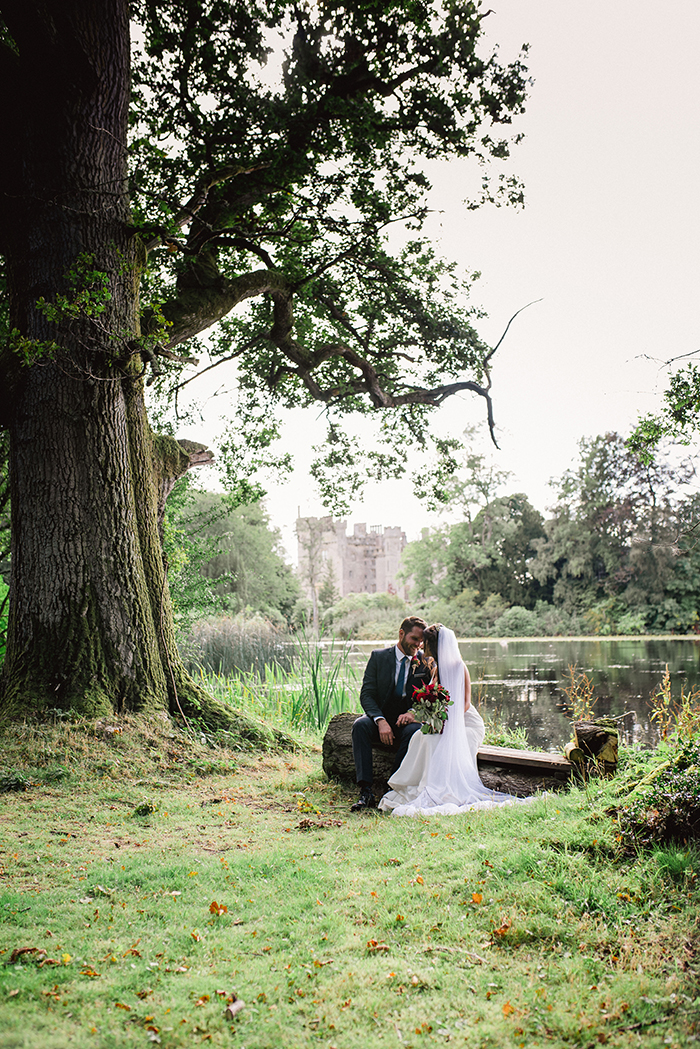 IMAGE | Morgan & Rose Photography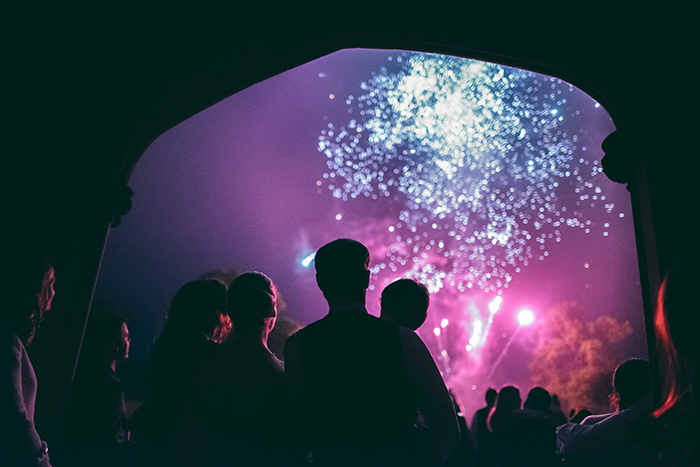 IMAGE | Duncan Ireland Photography
A stunning and historic property in the Scottish Borders surrounded by 1200 acres of beautiful parkland, forest trails, rolling hills and a loch, Duns Castle is the epitome of tranquil countryside romance where starry nights are in abundance and guests are in wonderful proximity to nature.
Perfect for a small and intimate wedding day, Duns Castle Estate can accommodate up to 56 guests onsite and on an exclusive use basis, whether catered or self-catered.
Weddings for up to 60 guests can take place in the Castle, the 14th Century Dining Room and Great Hall providing a breathtaking setting. Alternatively, you may prefer an open-air ceremony on the front lawn or perhaps by the lakeside and delight your guests with bespoke activities, such as falconry or archery.
Visit Duns Castle's website | t. 01361 883211 | e. info@dunscastle.co.uk
Fenton Tower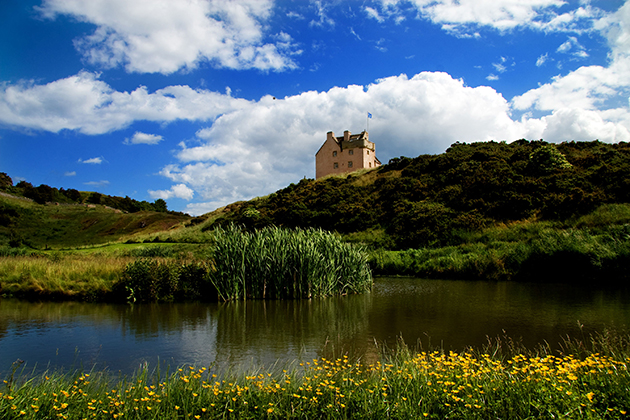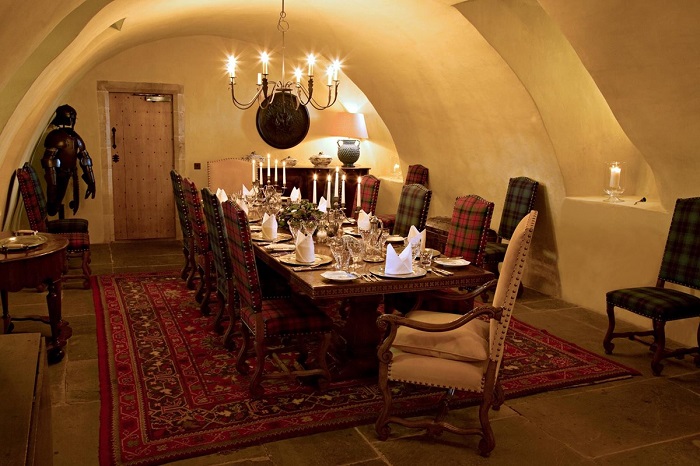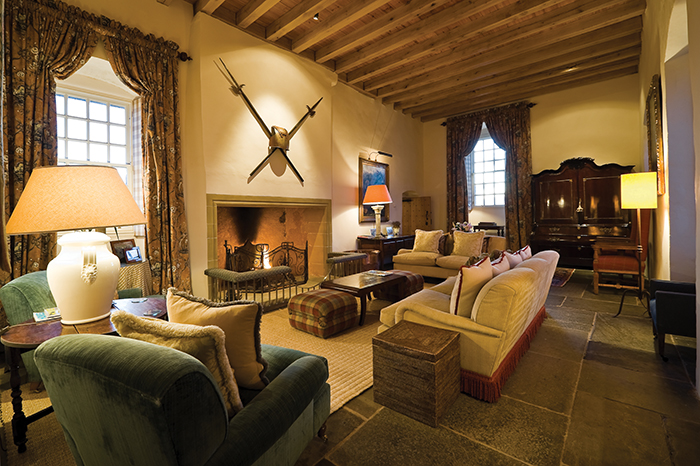 IMAGE | Simon Grosset
A truly stunning exclusive use wedding venue that stands high on a hill in Kingston, North Berwick, Fenton Tower will blow you away with its uniquely Scottish charm.
The tower's décor pays tribute to its rich Scottish history while still being freshly contemporary, with many items being handpicked and carefully shipped over from French chateaus.
You can exchange your wedding vows in the Great Hall beneath a beautifully woven c tapestry while a log fire gently burns and crackles in the background.
Fenton Tower can accommodate weddings for up to 32 with the ceremony and drinks reception in the Great Hall and the wedding breakfast  in the vaulted dining room.
Visit Fenton Tower's website | t. 01620 890089 | e. manager@fentontower.com
Fruin Farm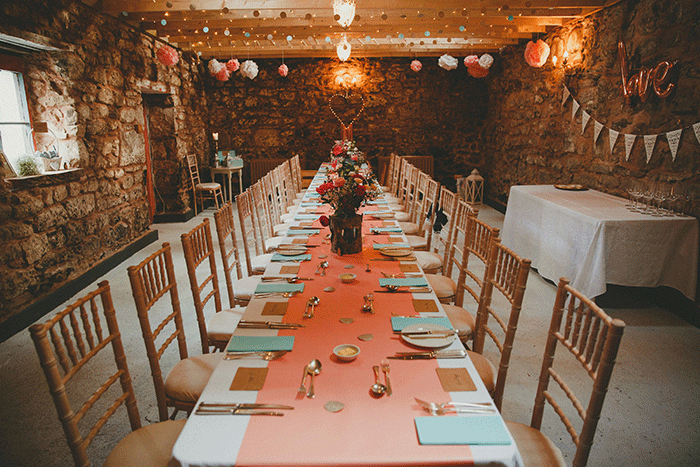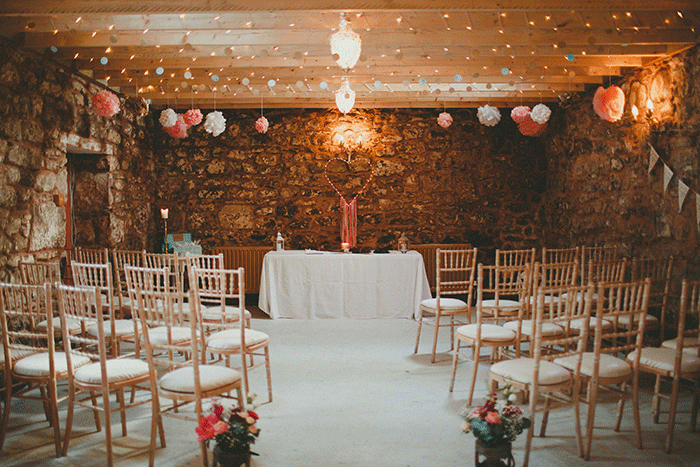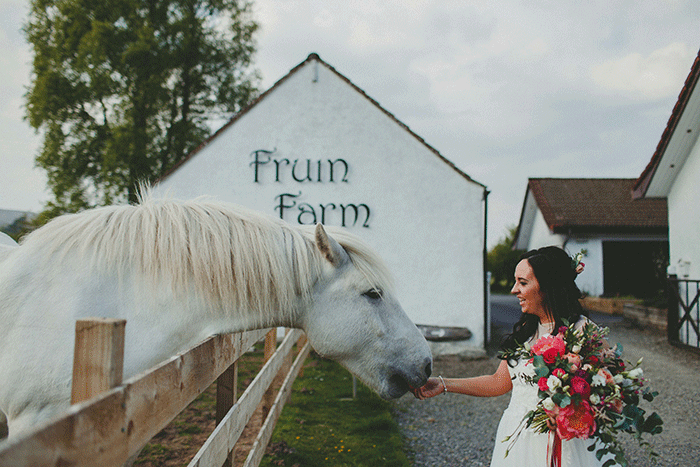 A bright, warm wedding venue that is both quaint and cool, Fruin Farm is a truly charming place to hold your big day celebrations.
Fruin Farm is ideal for small, intimate weddings, and is able to accommodate up to 60 guests either in the stylish restaurant or the 200 year old rustic blank canvas barn.
The farm has beautiful grounds that are perfect for an outdoor ceremony or your post-nuptial photographs. Plus, animal-lovers will be glad to know the farm is home to plenty of furry friends, from alpacas to goats!
Also, don't forget that Fruin Farm is famous for its delicious food, ensuring that your guests will leave your wedding well-fed and very merry!
Visit Fruin Farm's website | t. 01389 850727 | e. info@fruinfarm.co.uk
Gilmerton House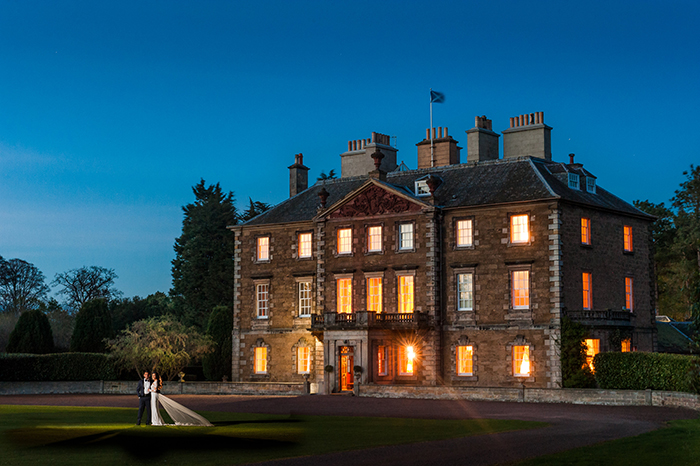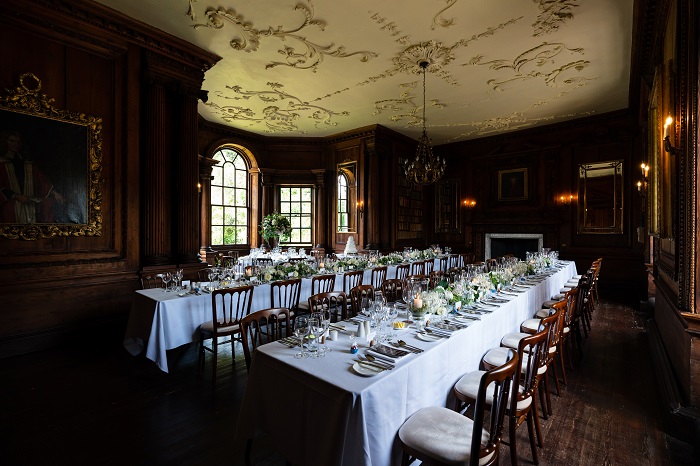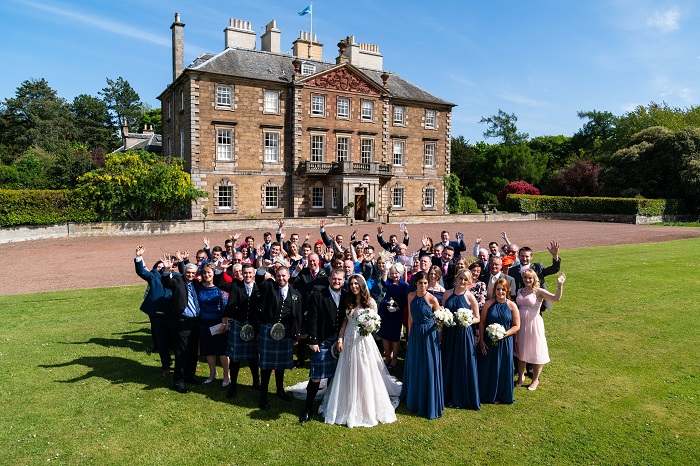 Gilmerton House is a stunning stately home tucked away in the heart of East Lothian.
This beautiful mansion is the last word in elegance, with plush, modern and comfortable interiors. The venue is exclusive use, and can be completely yours for the duration of your wedding celebrations. With up to 10 bedrooms, you and your wedding party will have the utmost privacy to celebrate your wedding day.
Gilmerton House has plenty of options for a small wedding celebration, with couples being able to say their vows in the house or even in Gilmerton's charming grounds. And for that extra luxurious experience, there's a full butler service for overnight guests!
  Visit Gilmerton House's website| t. 01620 880342 | e. enquiries@gilmertonhouse.com
Read reviews for Gilmerton House
Glenskirlie House and Castle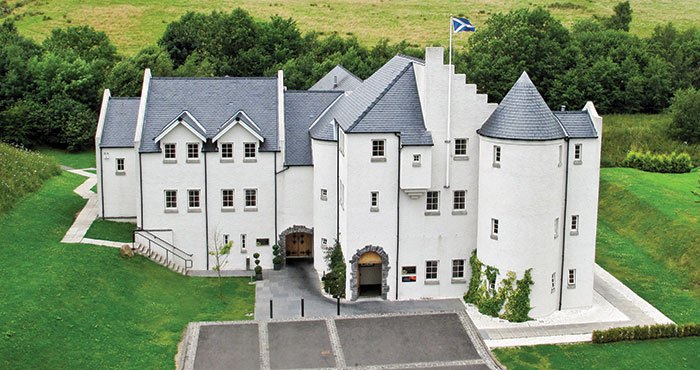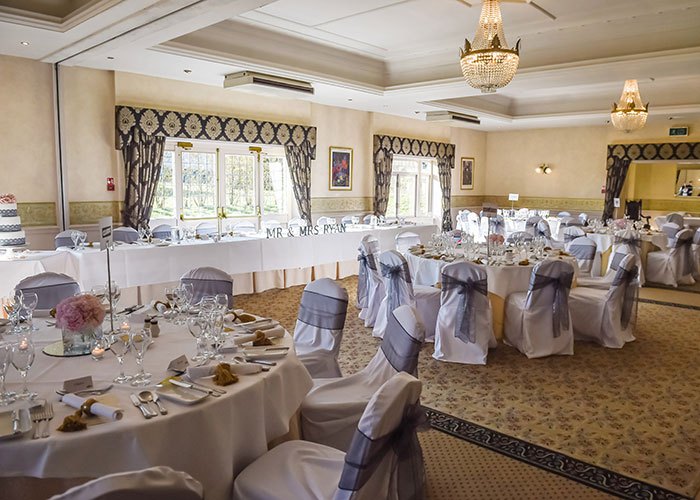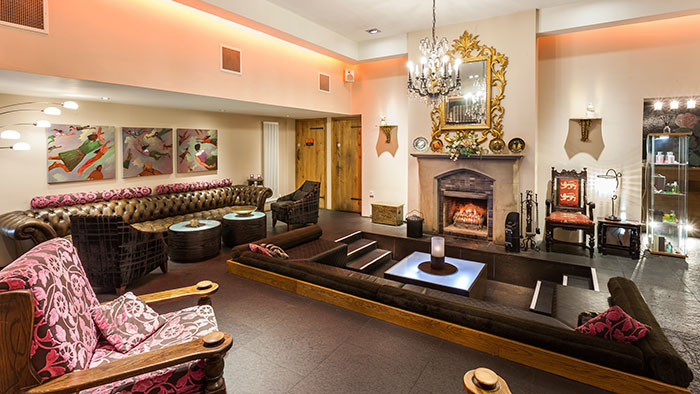 Glenskirlie House and Castle is a plush, luxurious wedding venue that would be perfect for a small, intimate wedding celebration.
Situated perfectly between Glasgow and Stirling, Glenskirlie is a handsome white turreted building that will be sure to wow your guests. The interiors are equally beautiful, filled with rich, sumptuous furnishings that will make you feel like a modern day princess.
You can hold your wedding in either the castle or the house, but both are excellent choices for small weddings. Each offer packages for 50 day guests, with the possibility to add an additional 25 evening guests " an ideal number for a small party exclusive to your nearest and dearest!
Visit Glenskirlie House and Castle's website | t. 01324 840201 | e. weddings@glenskirliehouse.com
Read reviews for Glenskirlie House and Castle
Kimpton Blythswood Square Hotel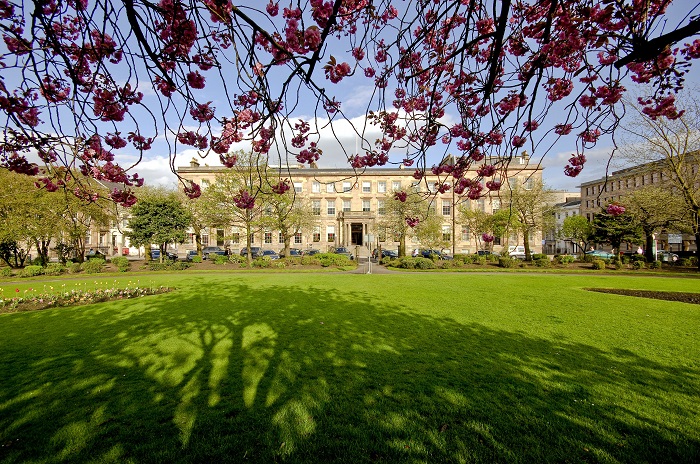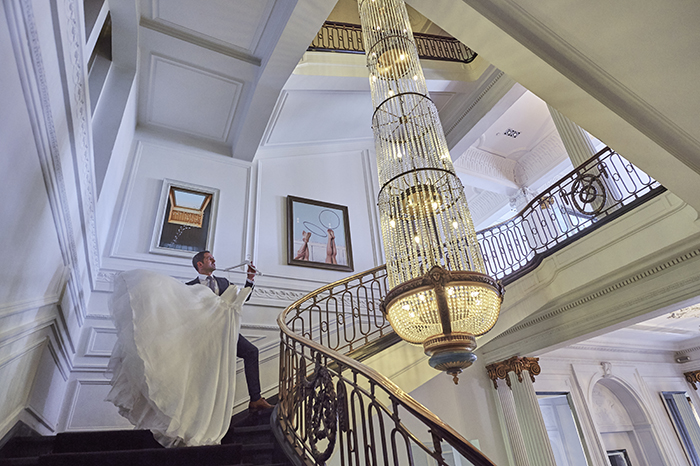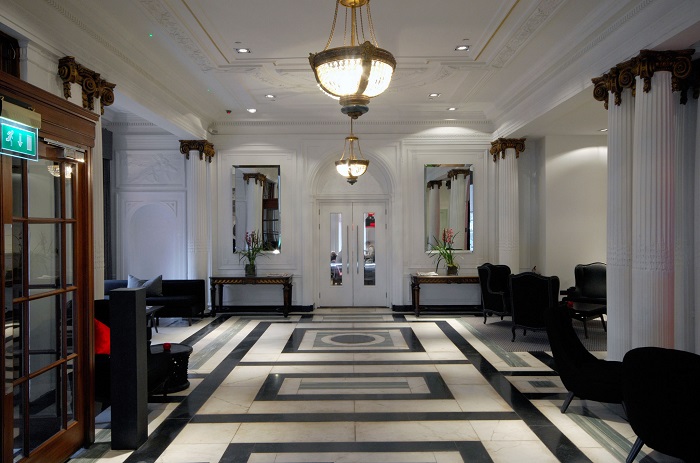 The only five-star hotel in the centre of Glasgow, Kimpton Blythswood Square Hotel is a unique venue offering contemporary, stylish charm and historic influences that'll give your intimate wedding a seriously luxury vibe.
Get married here and as well the hotel's stylish indoor reception spaces, you'll also enjoy private access to Blythswood Square Gardens for photographs, or even an outdoor drinks reception.
After your wedding celebrations, start married life off right with a night (or even a minimoon!) in the exclusive new penthouse suite…the first choice of many celebrities visiting Glasgow.
The Spa at Blythswood Square is also the perfect place to celebrate with your bridal party or take some time out for a spot of pre-wedding pampering before your big day.
Visit Blythswood Square Hotel's website | t. 0141 2488888 | e. Laura.McCranor@kimptonblythswoodsquare.com
Read reviews for Blythswood Square Hotel
Logie Country House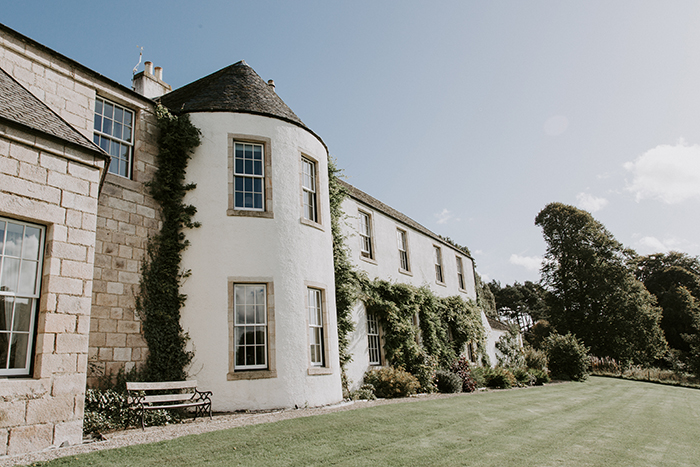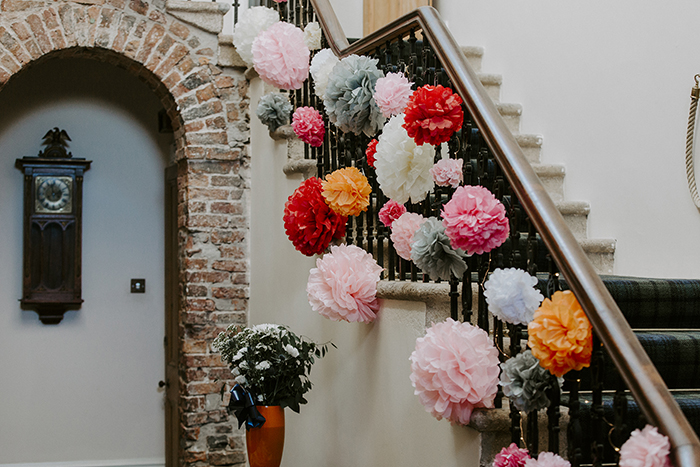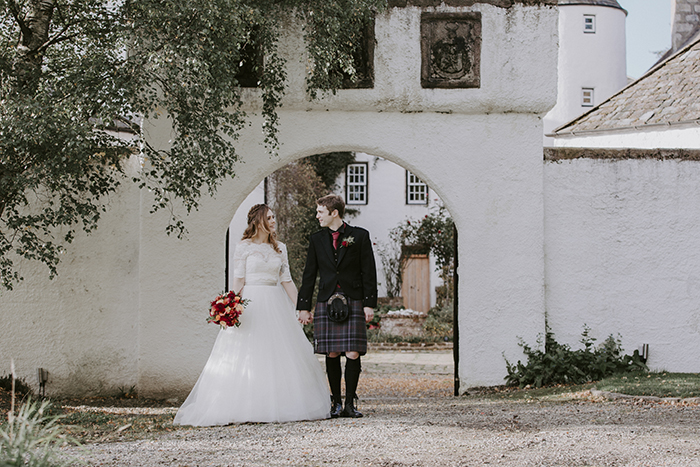 IMAGES | Anna Wytrazek Photography
Logie Country House is a beautiful castle built in 1680 on estate lands dating back to 1472.
The house is set in lovely grounds overlooking Bennachie, and the river Urie runs along the front lawn.
Ideal for small and intimate weddings, the plush Dining Room is able to hold up to 50 guests, whilst the Drawing Room can sit 60 guests. If weather permits, you can tie the knot in the beautiful enclosed courtyard, or even on the lawn by the river.
Visit Logie Country House's website | t. 08450 942424 | e. weddings@logiecountryhouse.co.uk 
Read reviews for Logie Country House
Norton House Hotel & Spa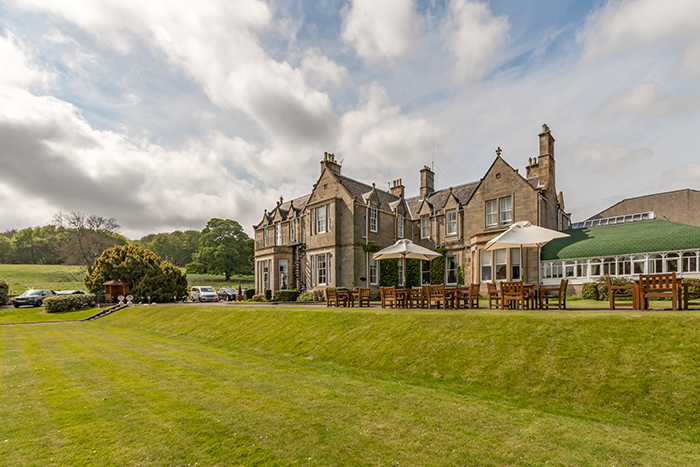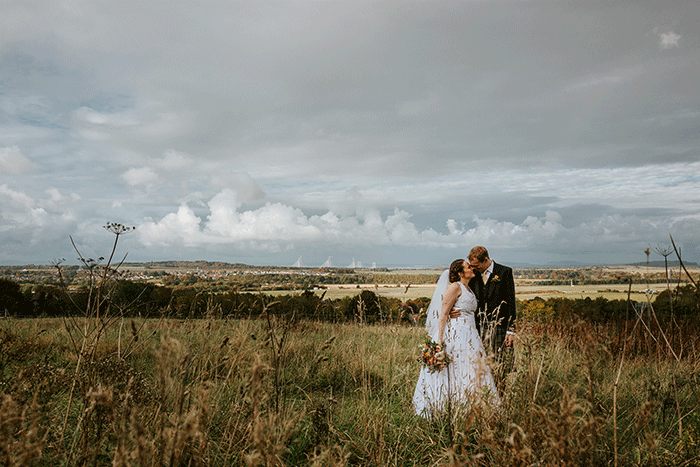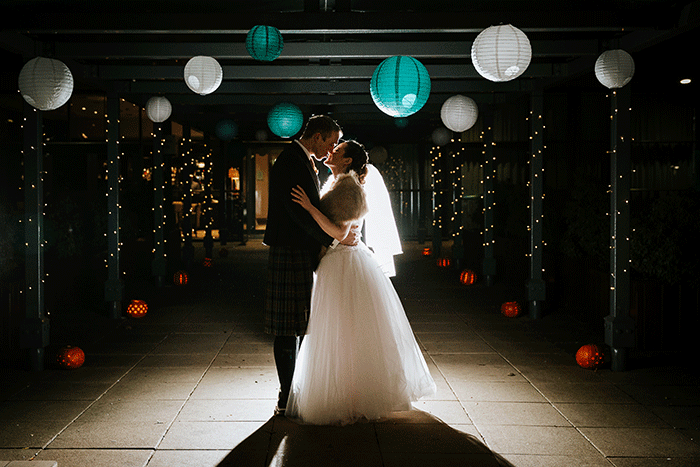 IMAGES | Struve Photography
Norton House Hotel and Spa is a magnificent country house close to Edinburgh surrounded by beautiful acres of rolling green parkland.
The hotel has several beautiful spaces that you can use throughout your wedding day, but our favourite has to be The Garden Suite that sits within Norton's Victorian walled garden, has floor-to-ceiling windows and offers fantastic views of Norton House's bright and colourful grounds.
Also, don't forget to check out the wonderful on-site spa – perfect for a quick beauty treatment the day before your wedding day (or a chilled hen do)!
Visit Norton House Hotel and Spa's website | t. 0131 333 1275 | e. nortonhouse@handpicked.co.uk
Read reviews for Norton House Hotel and Spa 
Principal Edinburgh George Street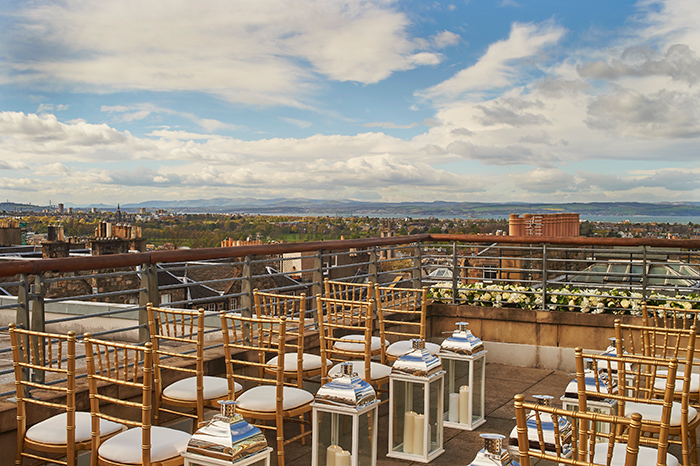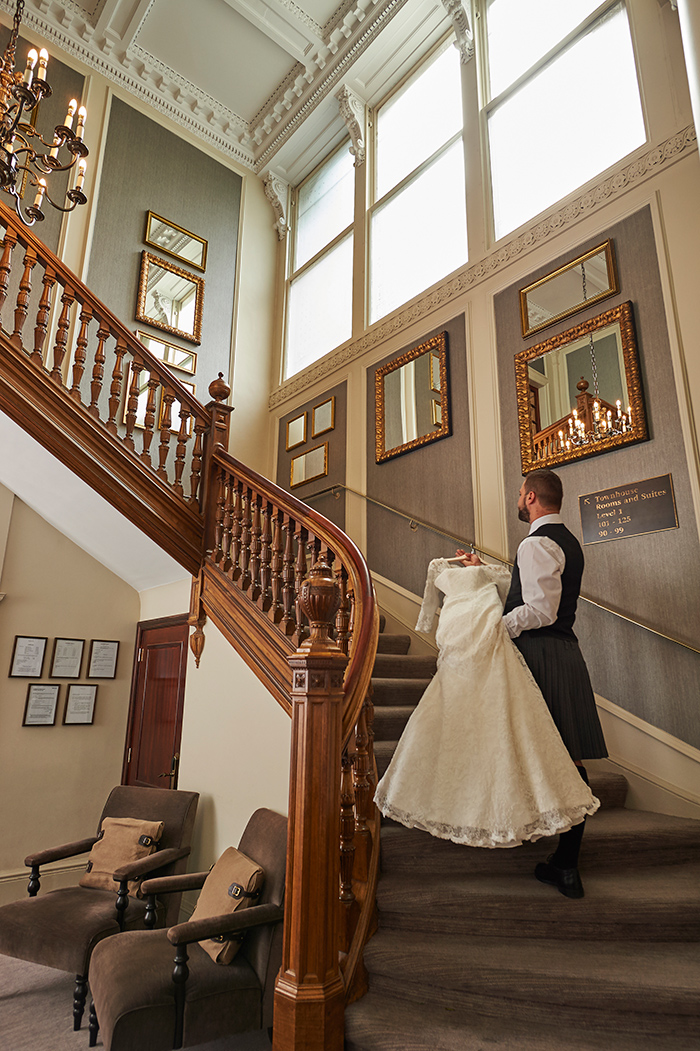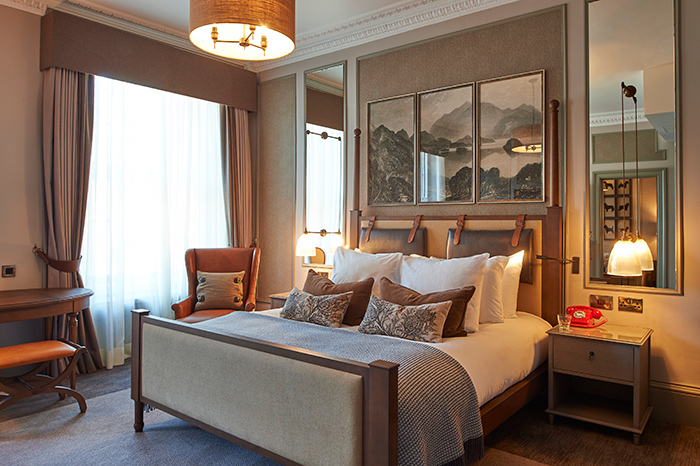 The Principal Hotel on George Street is one of Edinburgh's most loved heritage hotels, complete with private manicured gardens.
The spectacular 18th century architecture combined with the hotel's excellence of reputation and service combine to set the stage for the most beautiful wedding day to remember.
For the dreamiest of smaller wedding celebrations, you'll love the Forth View Suite. With a beautiful 360-degree view over Edinburgh its a spectacular setting. Plus, the on-call wedding team will be available to assist you every step of the way.
Visit Principal George Street's website | t. 0131 225 1251| e. edinburghweddingsgs@theprincipalhotel.com
Read reviews for Principal George Street
The Barn at Harburn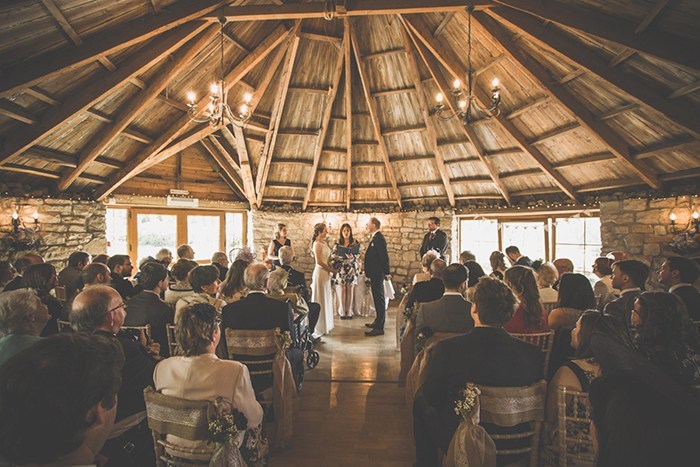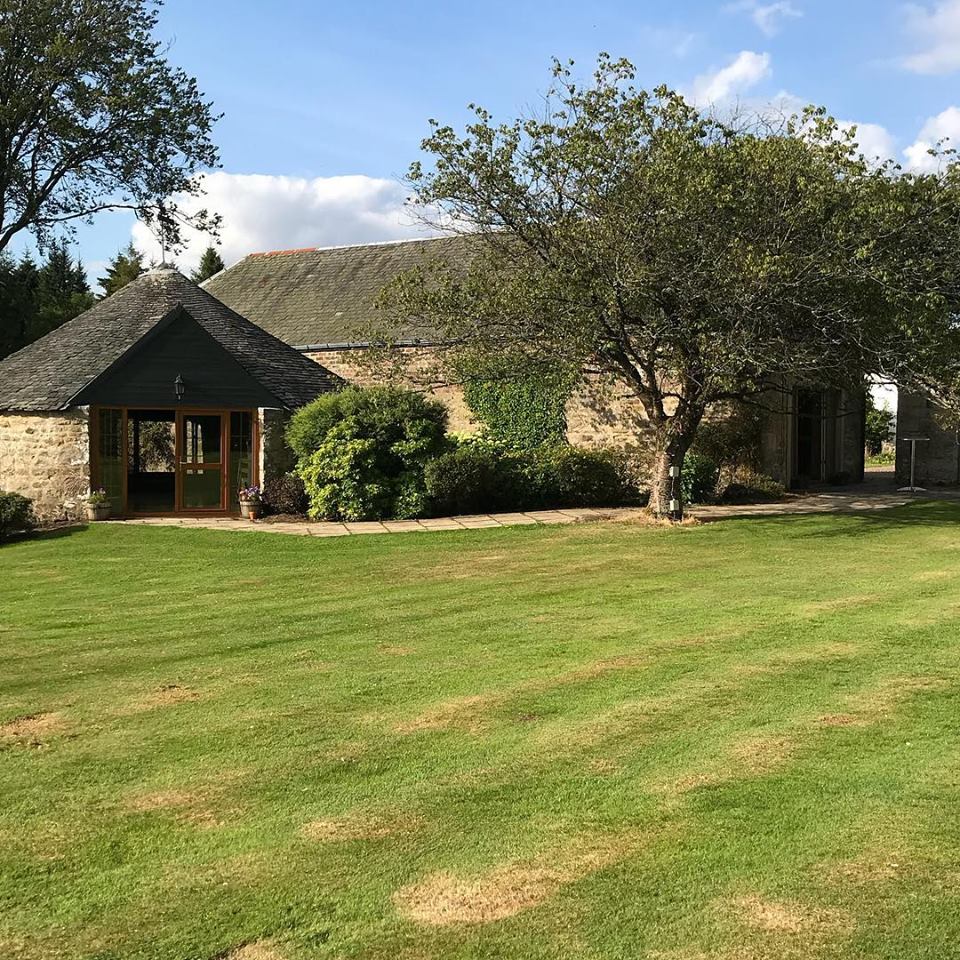 The Barn at Harburn has been tastefully renovated from a roundhouse and granary to a unique, rustic wedding venue that is surrounded by picturesque grounds with fantastic views of the Pentland Hills.
Styled to resemble ancient Scottish Broch style, the barn marries old and new elements to create a wonderfully fresh look throughout the venue.
The beautiful Roundhouse is perfect for a small and intimate ceremony before the celebration continues in the main barn for dinner and dancing.
The Barn at Harburn is a venue-only hire and has some wonderful caterers and suppliers who along with Vanessa, the venue and events manager, can help you create the day of your dreams.
Visit The Barn at Harburn's website | t. 07826 783003 | e. info@harburnbarn.com
Read reviews for The Barn at Harburn
The Chartroom Restaurant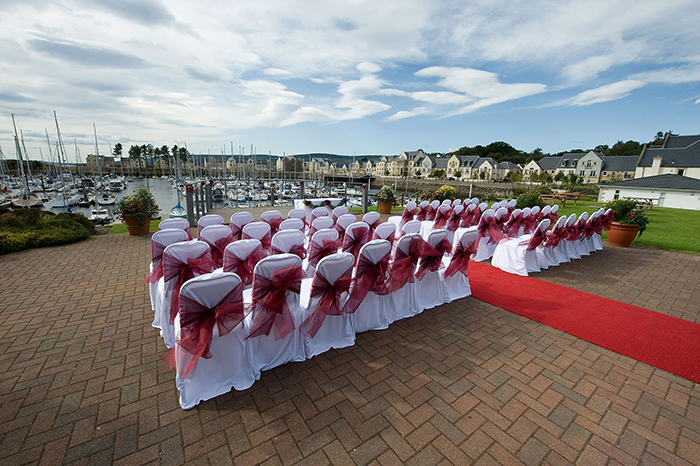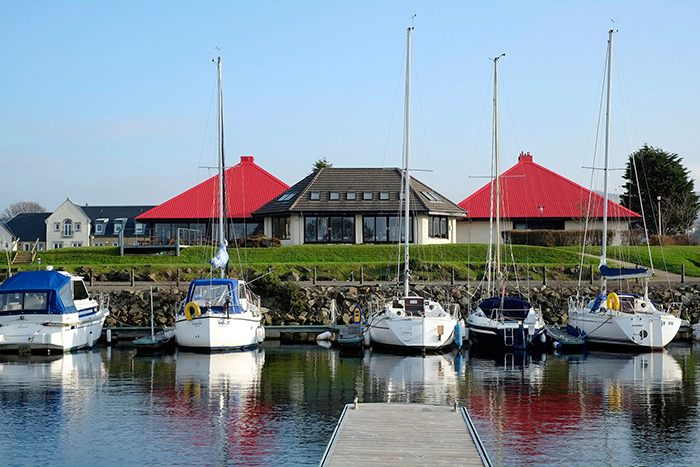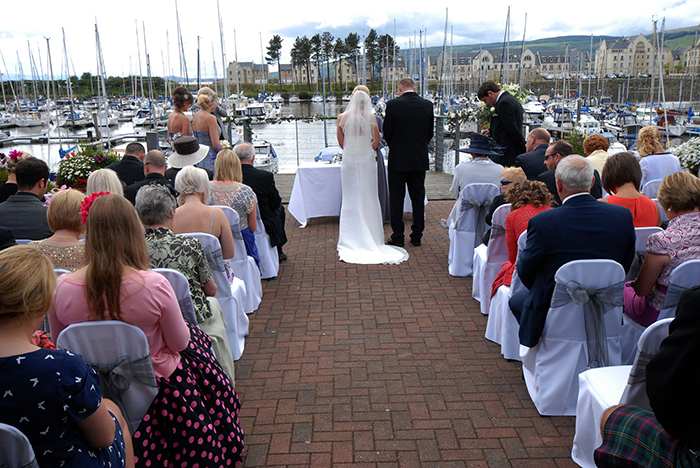 A unique venue for a small and intimate wedding, The Chartroom Restaurant overlooks Kip Marina and the Firth of Clyde in Inverkip.
For a truly memorable wedding day, there's the option of having your private function either in the kip room, or on the waterside patio, taking advantage of the stunning views over the yachts and powerboats towards the Firth of Clyde.
You and your guests will also be treated to culinary delights with whichever dining option you opt for.
Visit The Chartroom Restaurant's website | t. 01475 520 919 | e. info@thechartroom.co.uk
Read reviews for The Chartroom Restaurant 
Turin Castle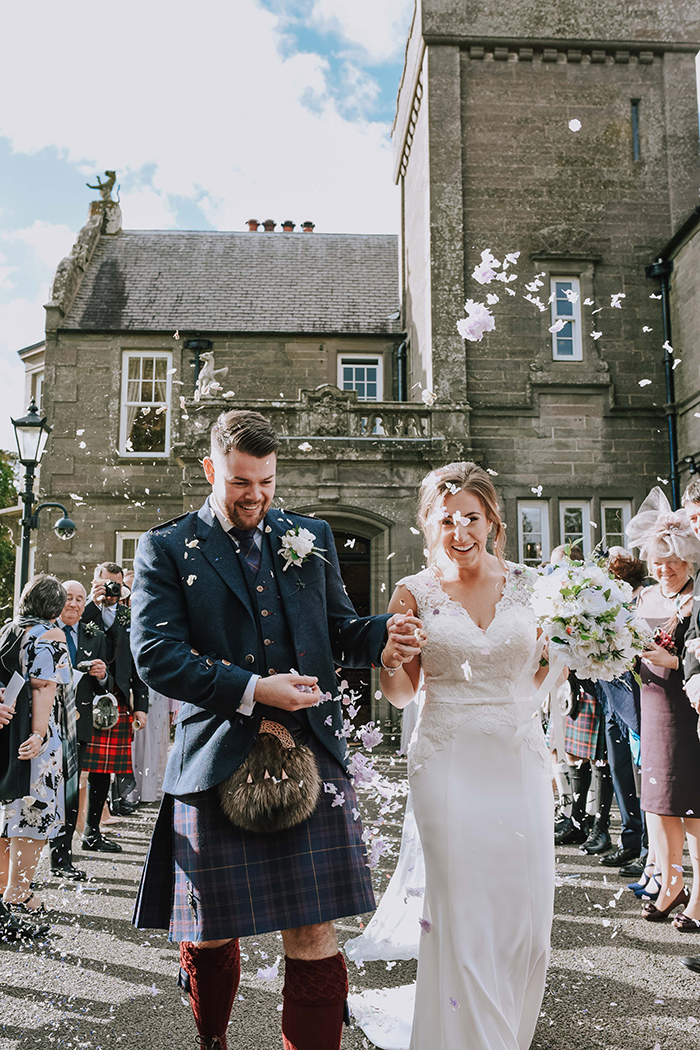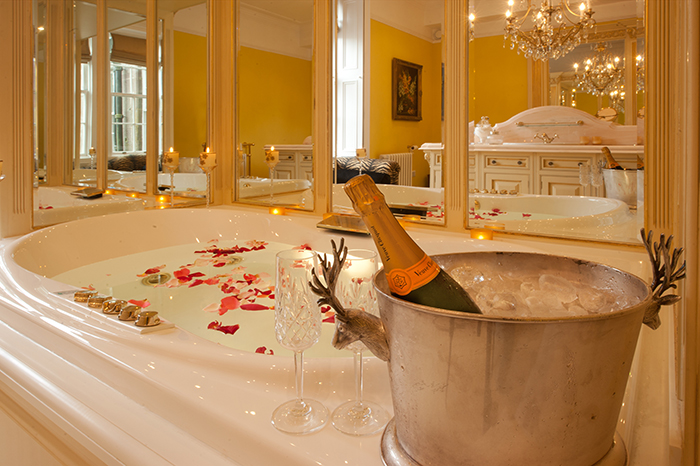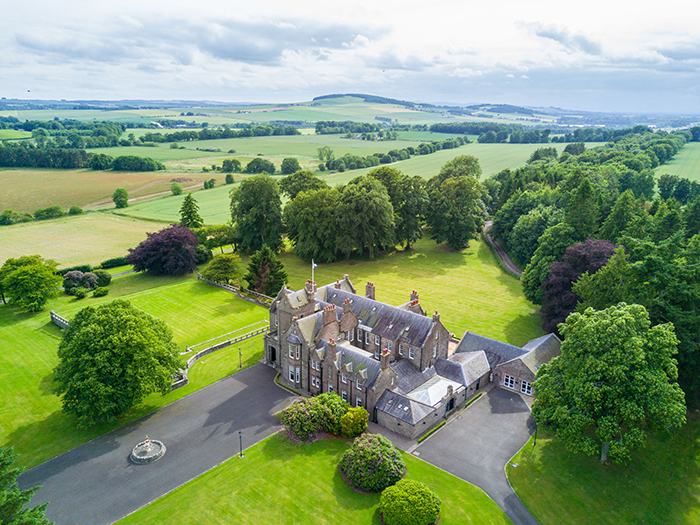 Turin Castle is a five-star, exclusive-use castle located in the heart of Scotland, surrounded by the scenic Angus Glens.
It's the perfect place to retreat from the rush of everyday life and surrender to the lush, unspoilt Scottish countryside.
An authentic Scottish hideaway, Turin Castle is luxuriously spacious, sleeping up to 20 guests in 10 beautifully appointed en-suite rooms which retain an intimate and boutique feel.
The castle is nestled in 20 acres of private grounds that could be yours to explore. It is the perfect venue for a luxury, intimate wedding celebration.
Visit Turin Castle's website | t. 01307 830463 | e. love@turincastlescotland.com
IS YOUR DREAM SCOTTISH SMALL WEDDING VENUE ON THIS LIST?