31 of the best Scottish castle wedding venues 2019
Here are the best Scottish castle wedding venues for your big day celebrations!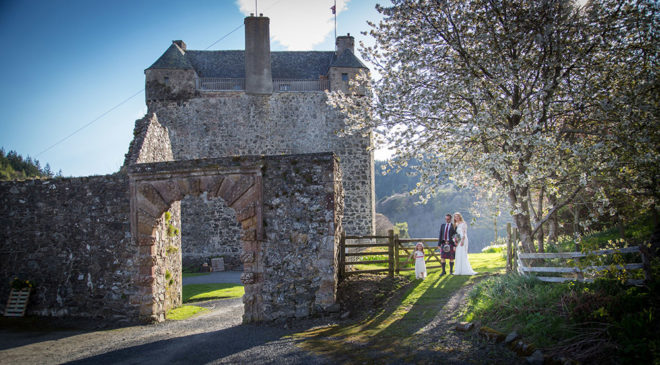 It's widely accepted that Scotland is one of the most romantic countries in the world, and a big reason for that is our regal and majestic castles.
We've rounded up our favourite Scottish castle wedding venues that we think best provide couples with a romantic, historic and atmospheric location for their wedding day celebrations!
This post contains some paid-for content.
BARNBOUGLE CASTLE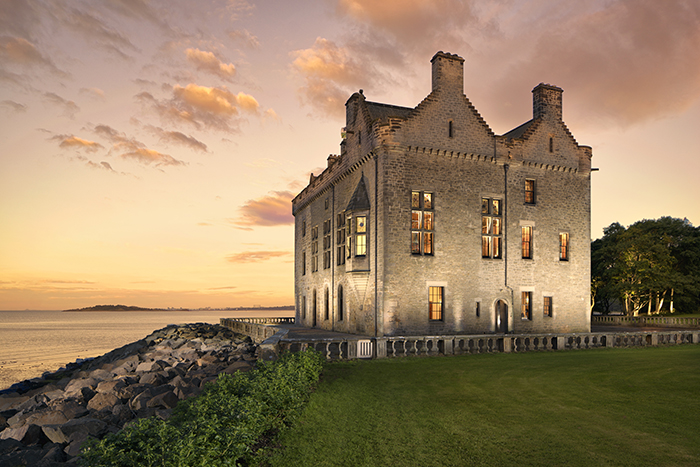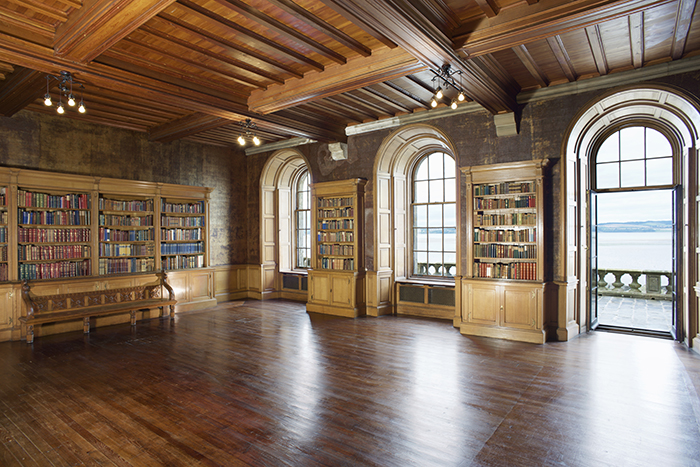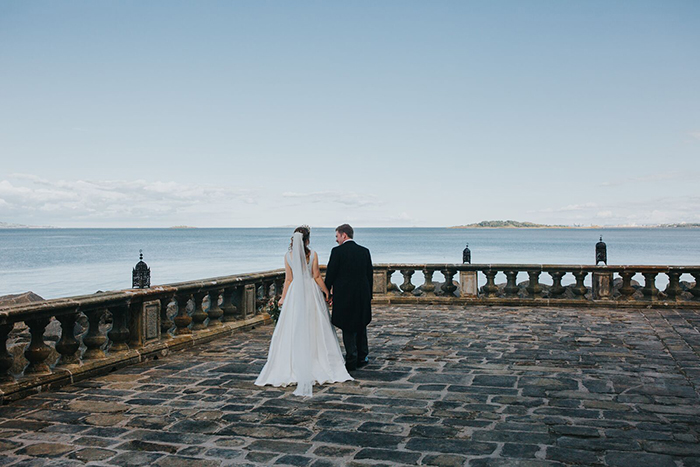 Fancy getting hitched in a venue with a romantic backstory? Barnbougle Castle, a hidden gem just seven miles west of Edinburgh, is an ancient knightly fortress that was restored by the newlywed 5th Earl of Rosebery and his wife Hannah as a private retreat. Never opened to the public, it remains as if they had just stepped out.
Surrounded by 2,000 acres of parkland, private beaches and enchanting woods, with its banqueting hall, minstrels' gallery and grand spiral staircase, this beautiful venue can play host both to grand and intimate celebrations.
Say 'I do' in the gilded Scottish Library, take a stroll on the seaside Terrace, then sip on bespoke cocktails to begin married life in style.
Visit Barnbougle Castle's website | t: 0131 357 9870 | events@roseberyestates.co.uk
BLAIR CASTLE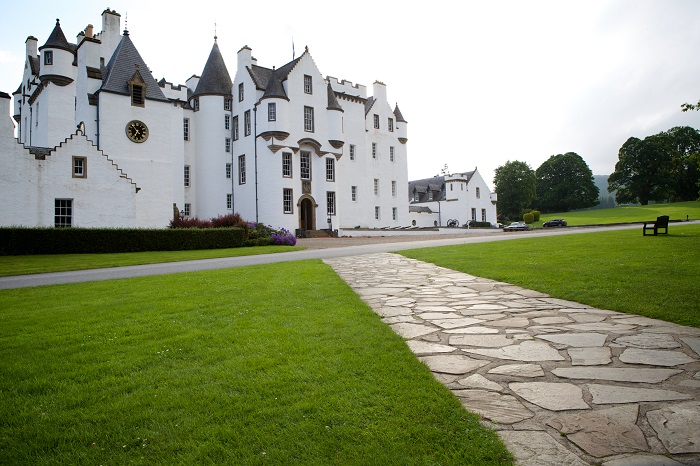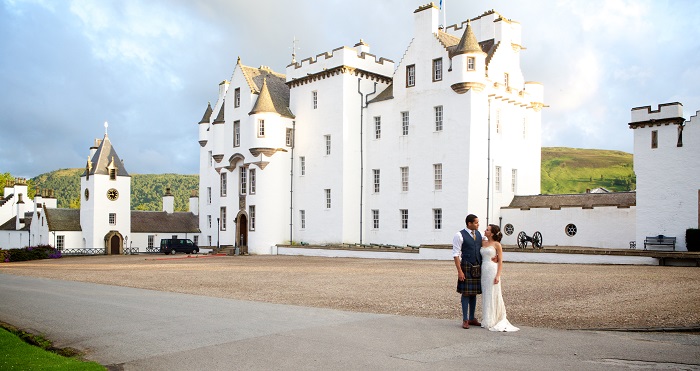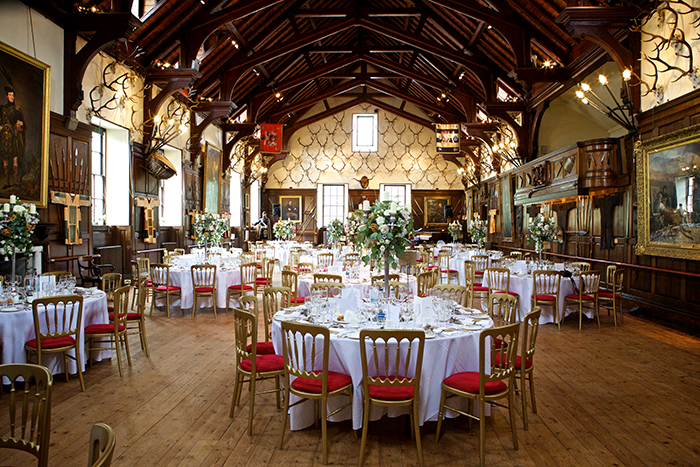 IMAGES: Jenni Browne Photography
A truly quintessential Scottish castle, this iconic building has passed through 19 generations of the Stewart and Murray families. It is steeped in centuries of Scottish history, which you can see throughout in its décor and architecture.
The Ballroom is warm and cosy and perfect for weddings of 60 guests but has the capacity to fit up to 220 guests, it provides the perfect space for an intimate ceremony and grand wedding breakfast with plenty of room to celebrate late into the evening.
For smaller weddings the opulent State Dining Room can hold 50 guests for ceremony and a wedding breakfast, or why not look at the Banvie hall a modern glass room with views of the gardens which can hold up to 40 guests.
Visit Blair Castle's website | t. 01796 481207 | e. jackieS@blair-castle.co.uk
BLAIRQUHAN CASTLE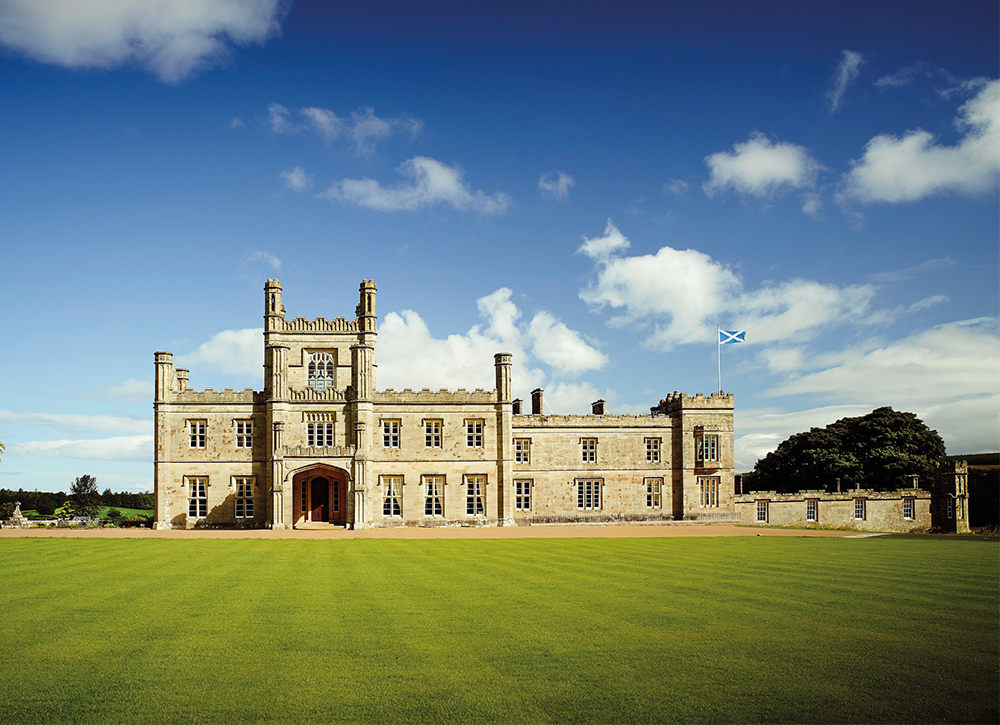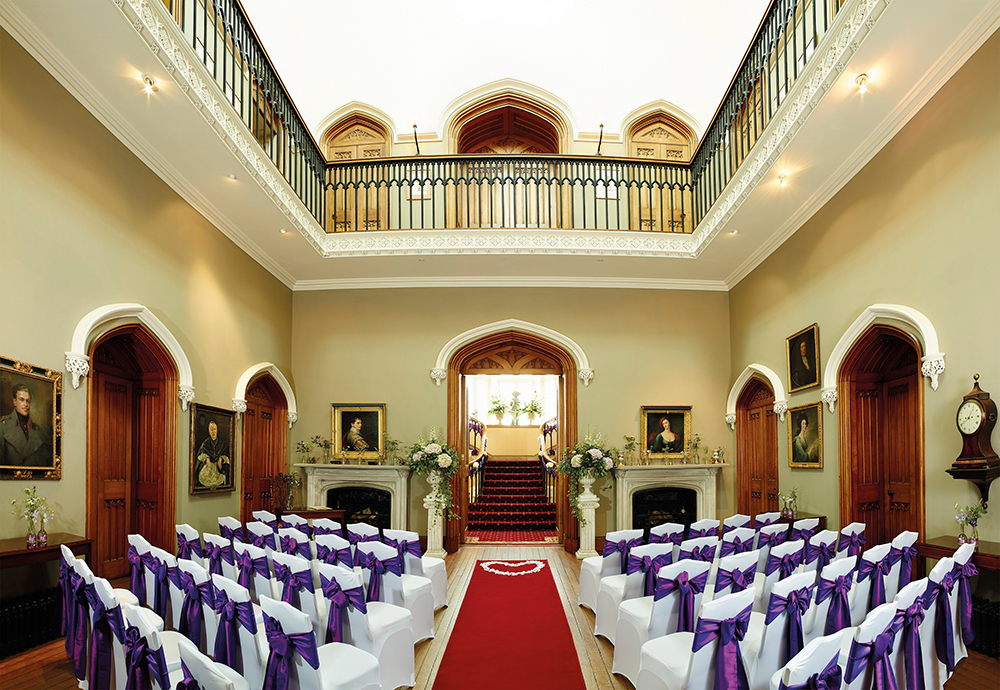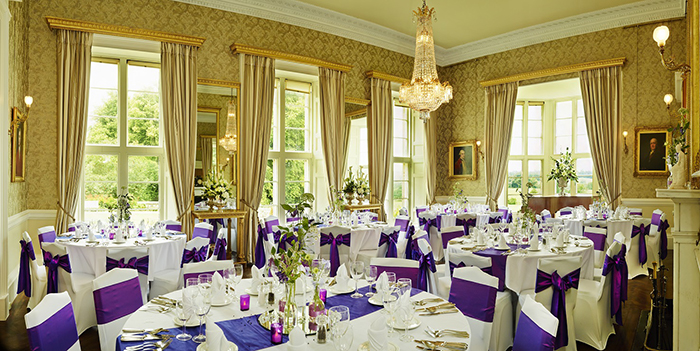 Stunning and regal, Blairquhan Castle is beautiful inside and out. Its stately façade will wow your guests, and its elegant and modern interiors and furnishings will make your wedding day feel sophisticated and luxurious.
You can hold your ceremony outside in the flower garden, or inside in the castle's beautifully decorated saloon which can seat up to 90 guests.
Cluny Castle also has a beautiful chapel attached to the main building, meaning you can have a lovely religious service on-site without having to worry about transporting your guests from your ceremony to your reception.
There are four stunning function suites within the Castle accommodating up to 100 for wedding breakfast and 120 for evening reception.
Visit Blairquhan Castle's website | t. 01655 770239  | e. enquiries@blairquhan.co.uk
CASTLE MENZIES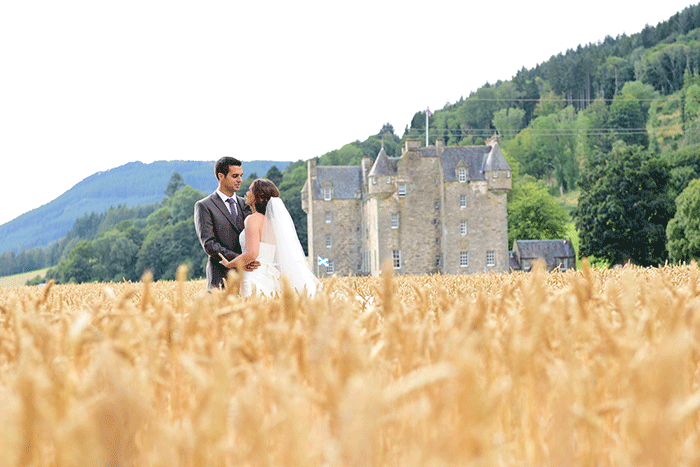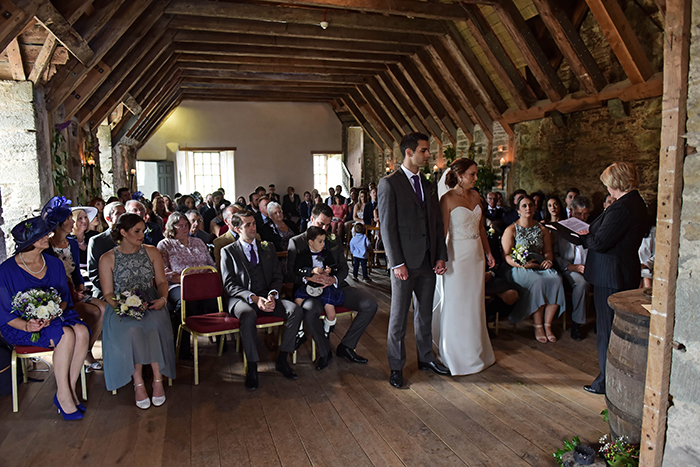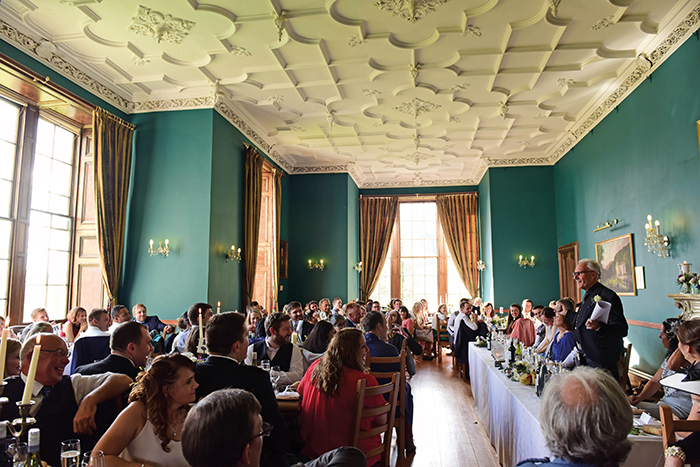 The seat of Clan Menzies for centuries, Castle Menzies is truly beautiful and authentic Scottish castle wedding venue.
Restored from a ruin in 1957, and now has a variety of elegant function spaces to choose from when planning where to hold your wedding ceremony and reception. The grand Dewer Room is a stunning and spacious ballroom that can accommodate up to 120 guests for your wedding breakfast.
For a more intimate celebration the Main Hall can hold 54 guests for a meal, and is incredibly pretty, with tons of natural light and a charming pink colour scheme.
Visit Castle Menzie's website | t. 01887 820982 | e. castlemenziesmanager@gmail.com
CLUNY CASTLE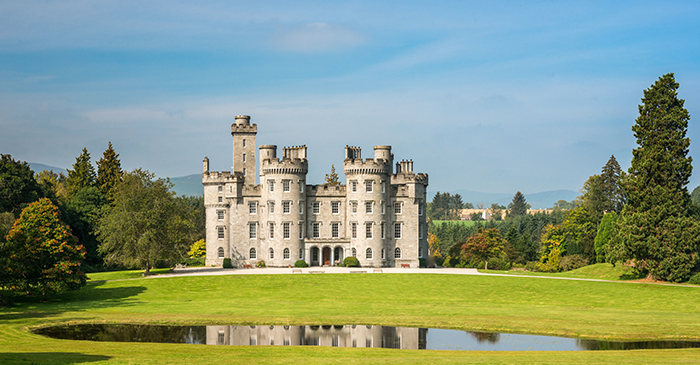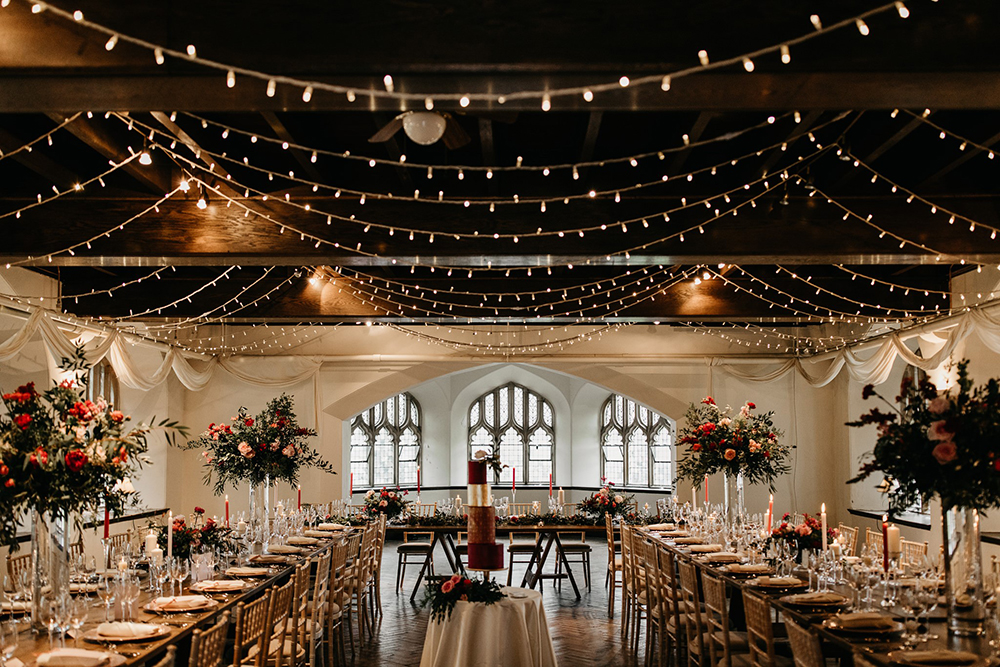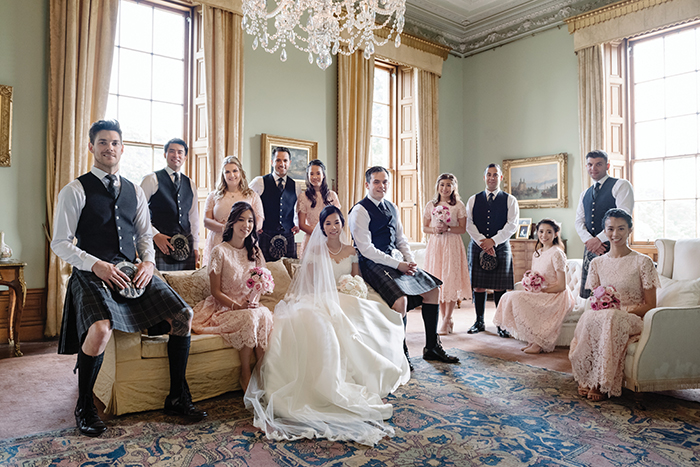 IMAGE: Chris Henderson 
A majestic and enchanting wedding venue tucked away in the Aberdeenshire countryside, Cluny Castle is ideal for couples looking for a beautiful and secluded place to hold their wedding day.
The castle has a rich cultural heritage which you can see throughout Cluny in its décor and architecture. You and your spouse can spend your first night as a married couple in the sumptuous refurbished en-suite bedrooms on the top floor of the castle. There's also room for an additional 24 guests to stay the night.
For food and drink, Cluny Castle has a list of trusted local caterers, ensuring that you have the flexibility to create your dream wedding breakfast.
Visit Cluny Castle's website | t. 01330 833302 | e. info@clunycastle.com
CORNHILL CASTLE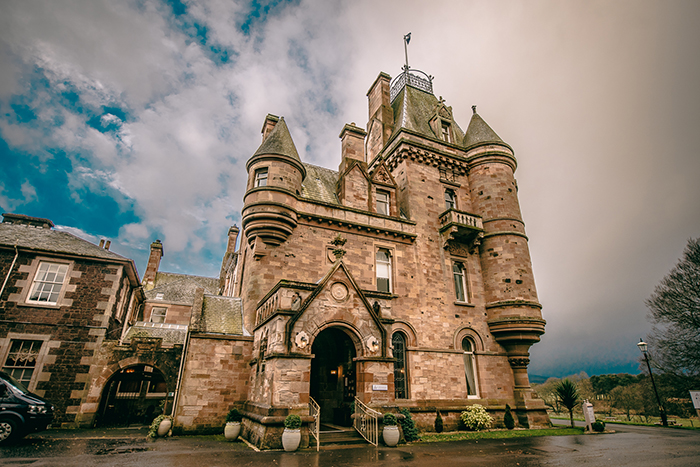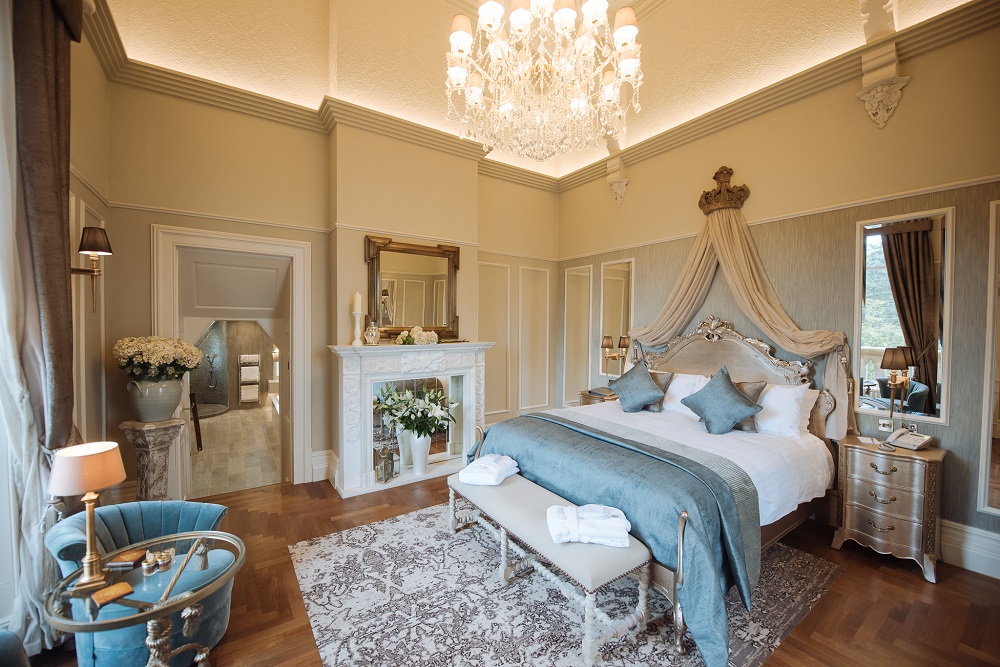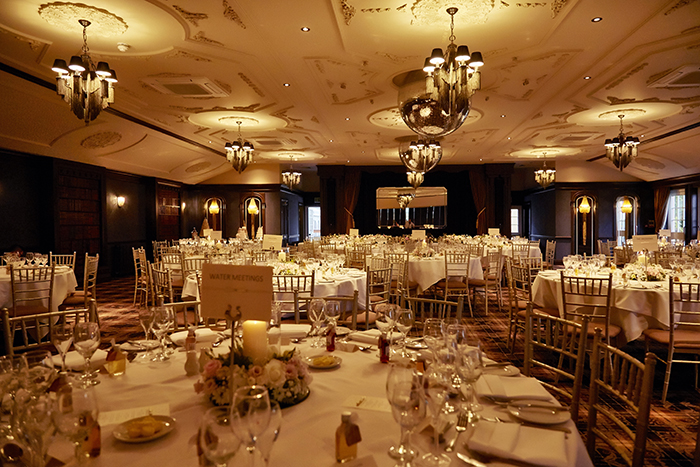 IMAGE | Story of Love
Elegant and sumptuous, Cornhill Castle can offer you a truly luxurious wedding day.
Beautifully decorated in the style of a French chateau, Cornhill Castle isn't your run-of-the-mill Scottish wedding venue. Complete with a wedding pavilion and a purpose-built honeymoon suite, weddings are at the heart of everything they do, and you can rest assured your special day is in good hands.
Able to hold 120 guests for your wedding breakfast and up to 200 for your reception, you can have a big party blow out that will have your guests talking about your wedding for years to come!
Visit Cornhill Castle's website | t. 01899 220001 | e. events@cornhillcastle.co.uk
CRINGLETIE HOUSE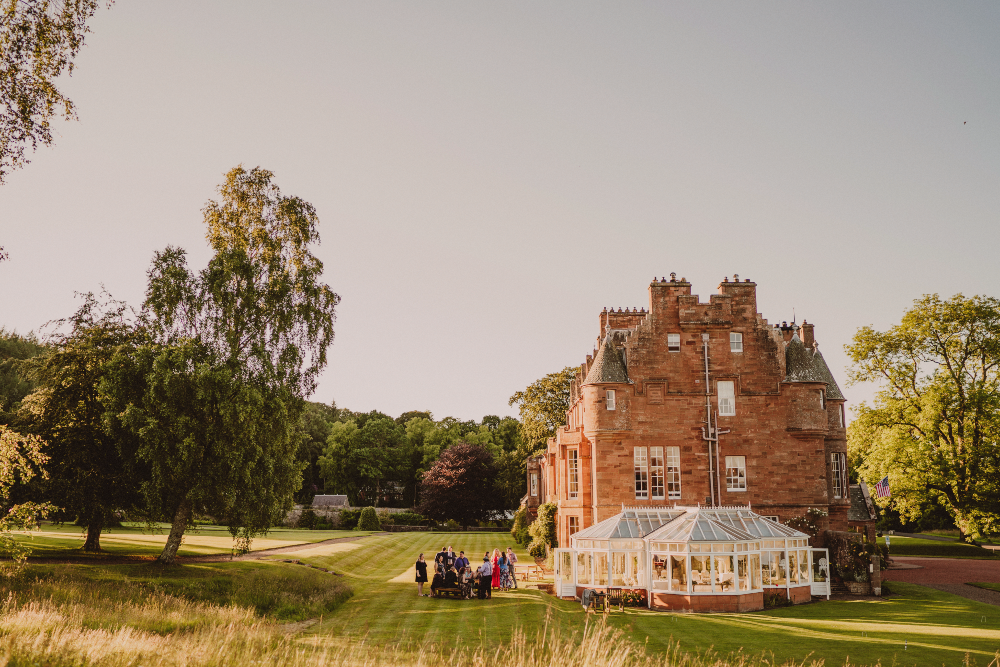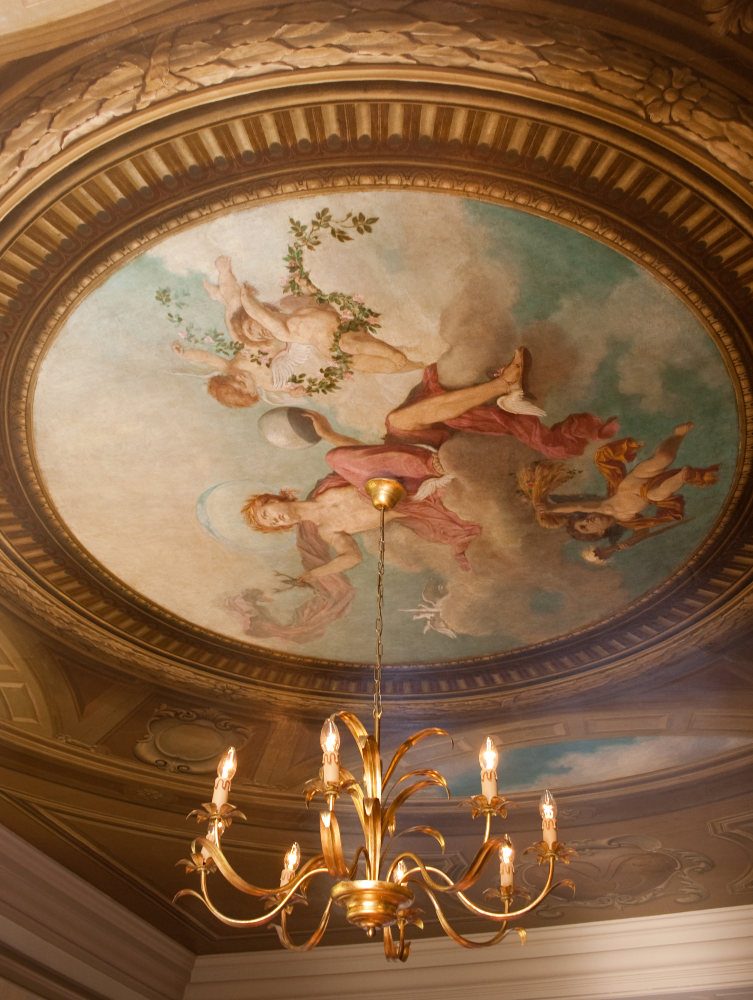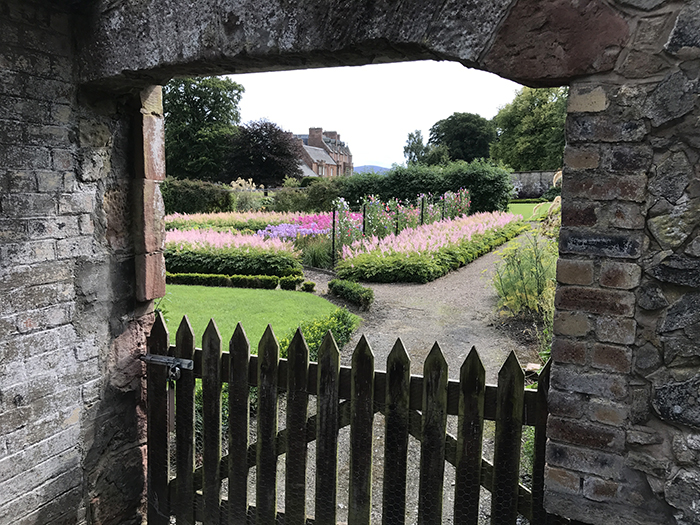 Cringletie House dates back to 1861 and is the ultimate romantic wedding venue.
There are 13 bedrooms in the main house; plus a cottage in the grounds with its own outdoor hot-tub. Cringletie can accommodate 26 resident guests in the main house, with a further six in the cottage and up to 70 guests in total for a ceremony and reception.
The award-winning food will create a wow for your wedding breakfast and there are stunning views of the estate from all the rooms in the hotel.
Magnificent grounds and the castle exterior provide a stunning backdrop for your photos.
Visit Cringletie House's website | t. 01721 725750 | e. enquiries@cringletie.com
FENTON TOWER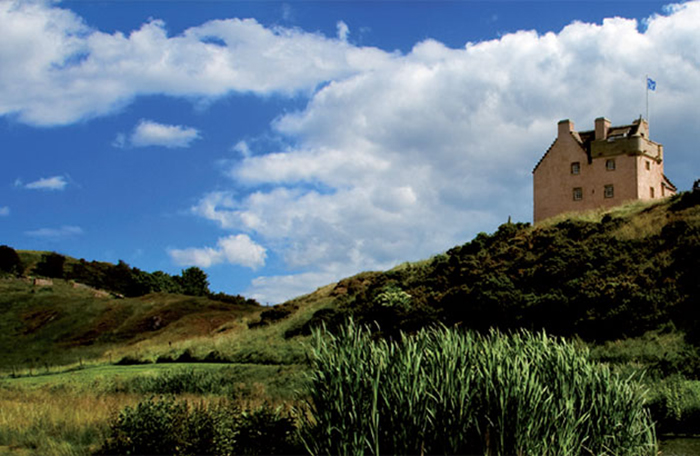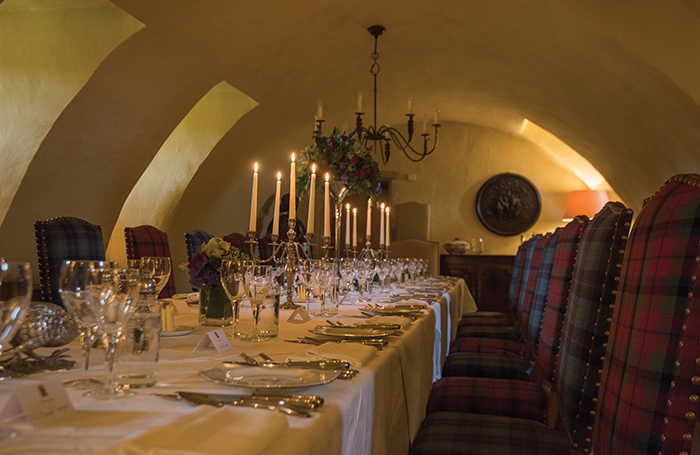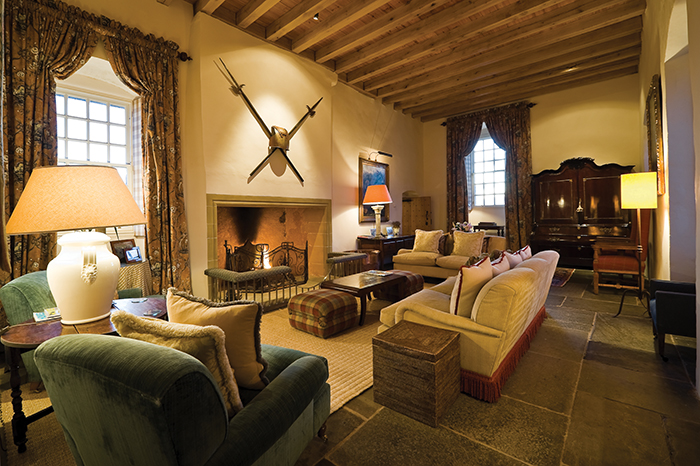 A truly stunning wedding venue that stands high on a hill in Kingston, North Berwick, Fenton Tower will blow you away with its uniquely Scottish charm.
The tower's décor pays tribute to its rich Scottish history while still being freshly contemporary, with many items being handpicked and carefully shipped over from French chateaus.
Wedding breakfasts and receptions for smaller weddings can be hosted in the vaulted Dining Room, while larger celebrations can spill outside into a spacious marquee on Fenton Tower's beautiful grounds.
Visit Fenton Tower's website | t. 01620 890089 | e. manager@fentontower.com
MAR HALL GOLF AND SPA RESORT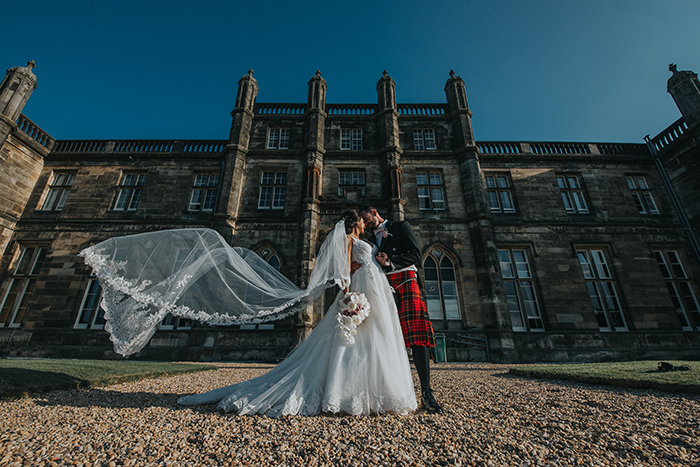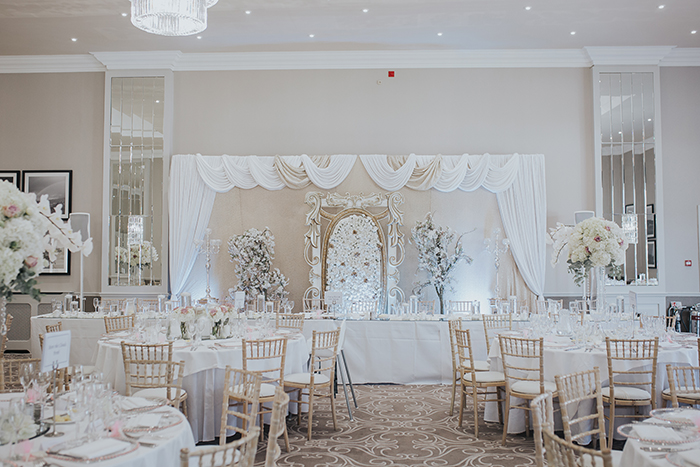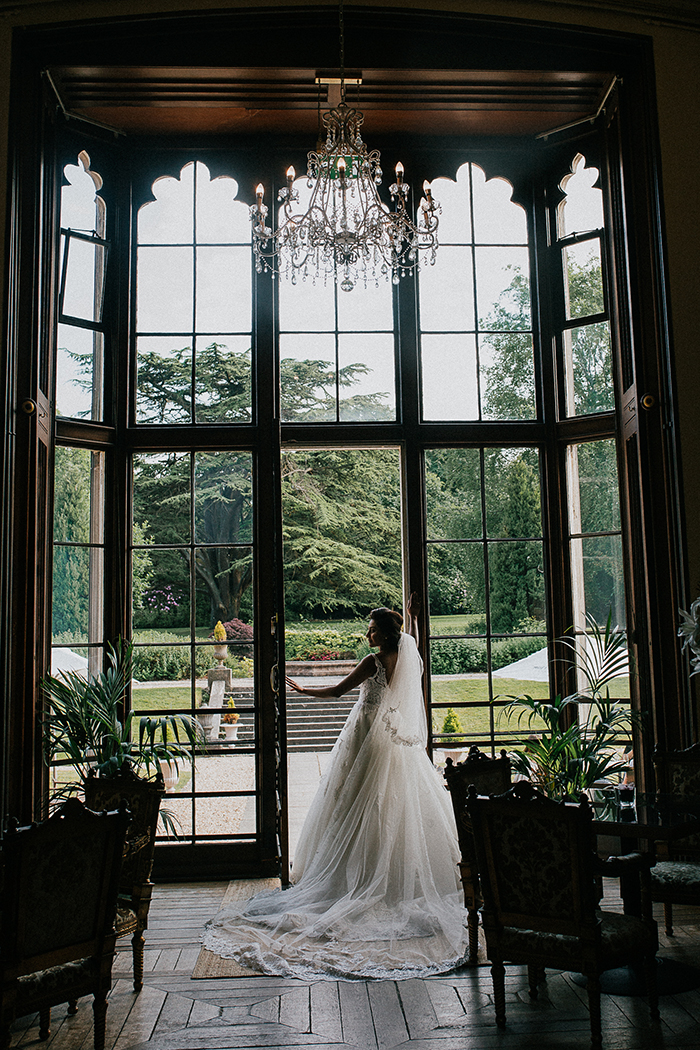 IMAGE:  Iris Art Photography
Mar Hall Golf and Spa is home to a sweeping estate that is filled with romantic scenery and vistas. Not only is the building absolutely gorgeous, it's Edwardian architecture grandly standing out against the Kilpatrick Hills, but the stunning interiors will instantly win you over too.
You can make the most of the fabulous surroundings and get married on the balcony which overlooks the grounds and the River Clyde.
Also, you can have your reception in the refurbished Morton House Ballroom and feel just like Cinderella – you shall go to the ball!
Visit Mar Hall Golf and Spa Resort's website | t. 0141 812 9999 | e. events@marhall.com
MELVILLE CASTLE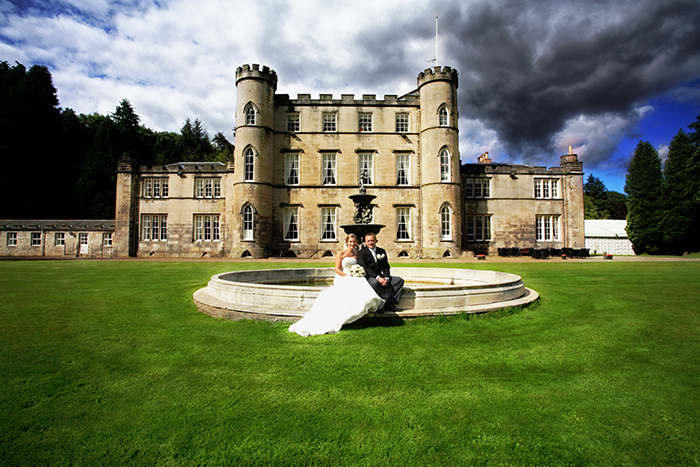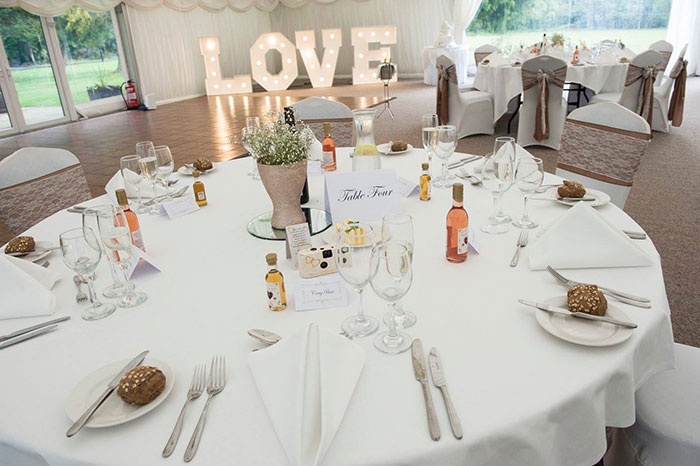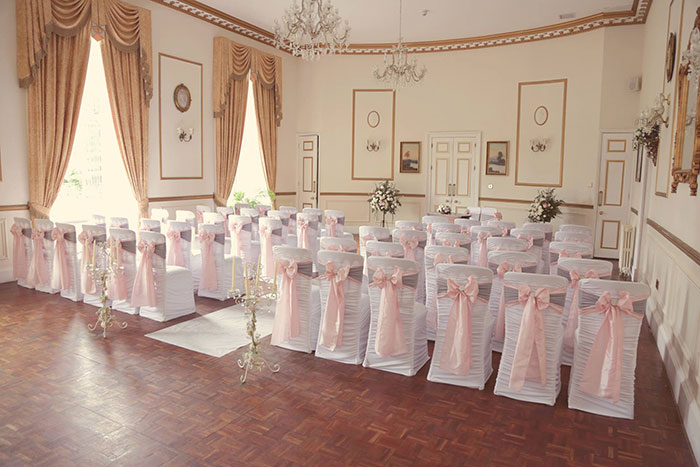 Melville Castle in an idyllic and enchanting wedding venue and estate which sits on the outskirts of Edinburgh.
There's plenty of splendid rooms within the castle to celebrate your wedding day, so no matter what type of wedding you're hosting, be it a small intimate affair or a large lavish celebration, Melville Castle will be able to effortlessly meet your needs. There's even a beautifully decorated marquee on the castle's extensive grounds if you need more space!
The castle can be hired exclusively, allowing for complete privacy for your wedding celebrations, and use of the castle's 33 bedrooms for any guests who wishes to stay the night.
Visit Melville Castle's website | t. 0131 654 0088 | e. events@melvillecastle.com
MYRES CASTLE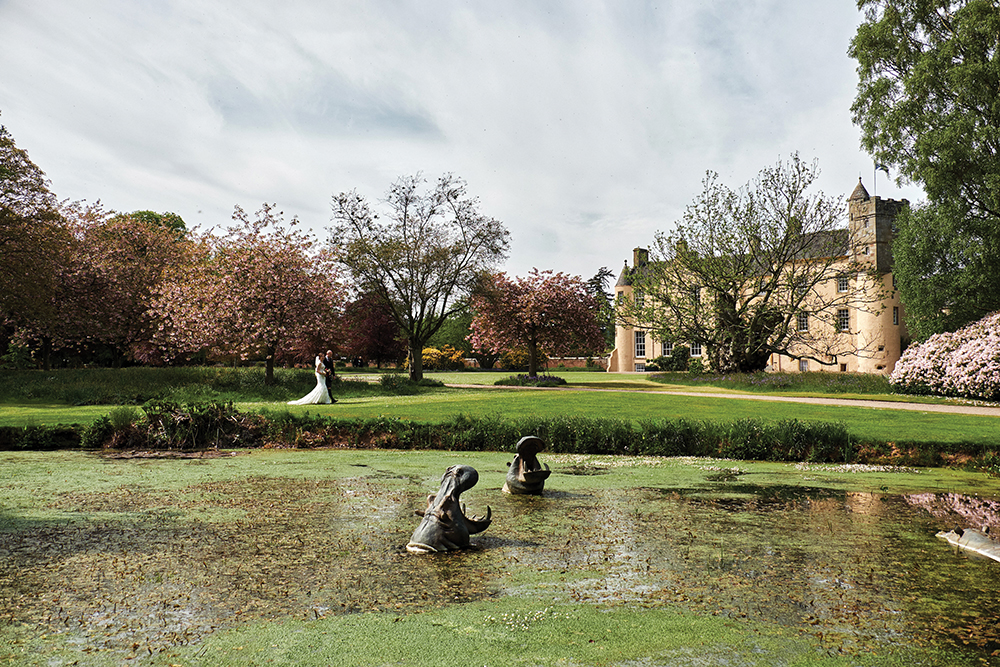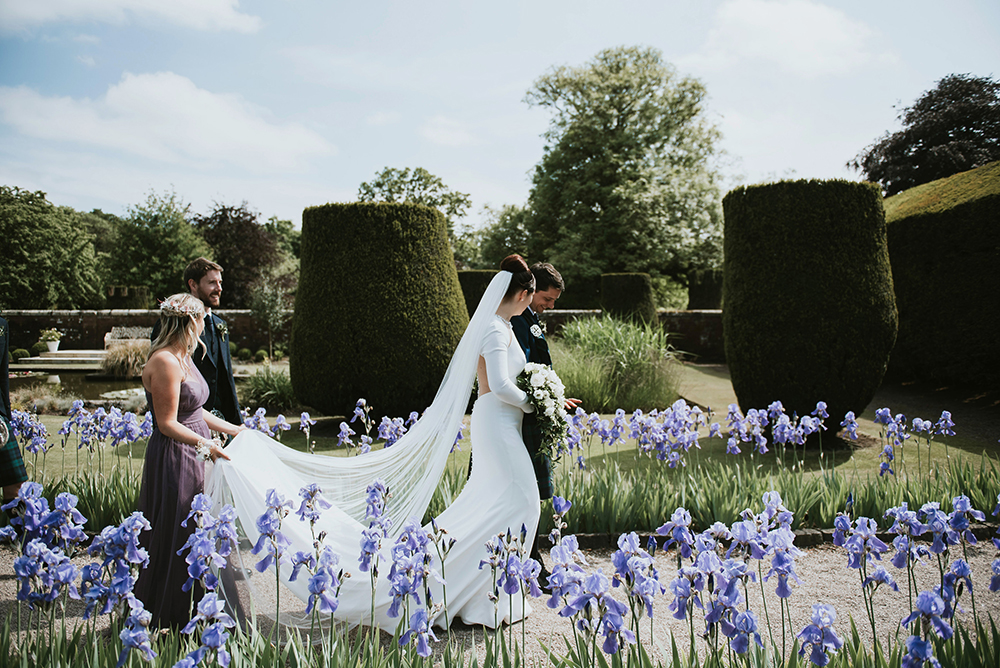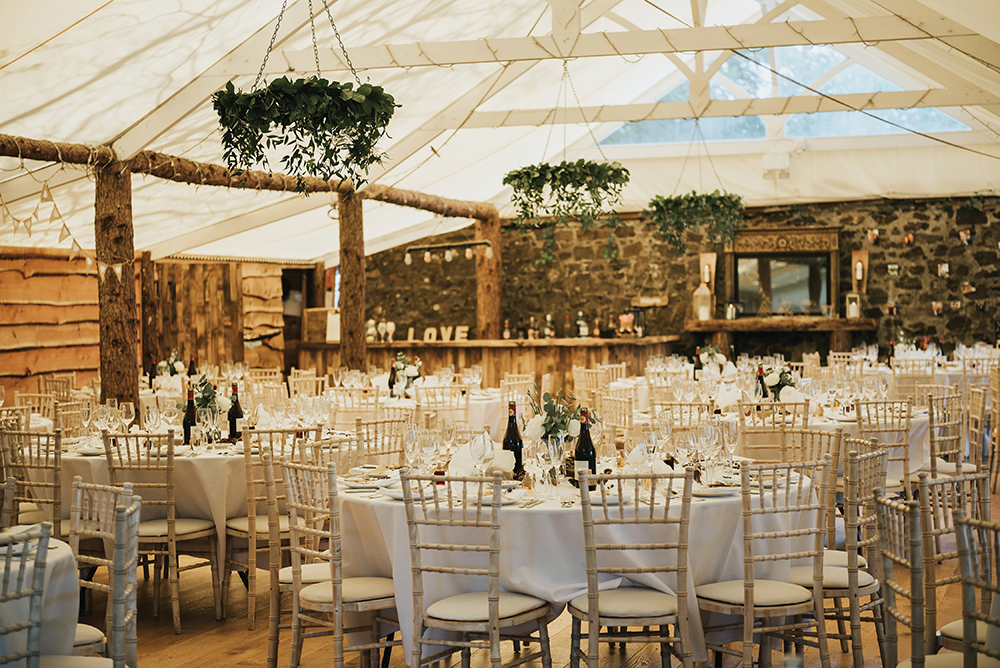 Myres Castle, winner of Best UK Wedding Venue in the Hudson UK Heritage Awards 2018, is a whimsical and romantic wedding venue situated near the village of Auchtermuchty.
The best of both worlds, you can have the stunning castle for up to 24 guests throughout your stay, and celebrate your wedding in the rustically charming Barnquee.
The Barnquee is situated in a lovely woodland setting, with twinkling lights hanging from the trees and fire pits outside (as well as a wood fired pizza oven!) to further add to the magical atmosphere.
Visit Myres Castle's website | t. 01337 828350 | e. enquiries@myrescastle.com
NEIDPATH CASTLE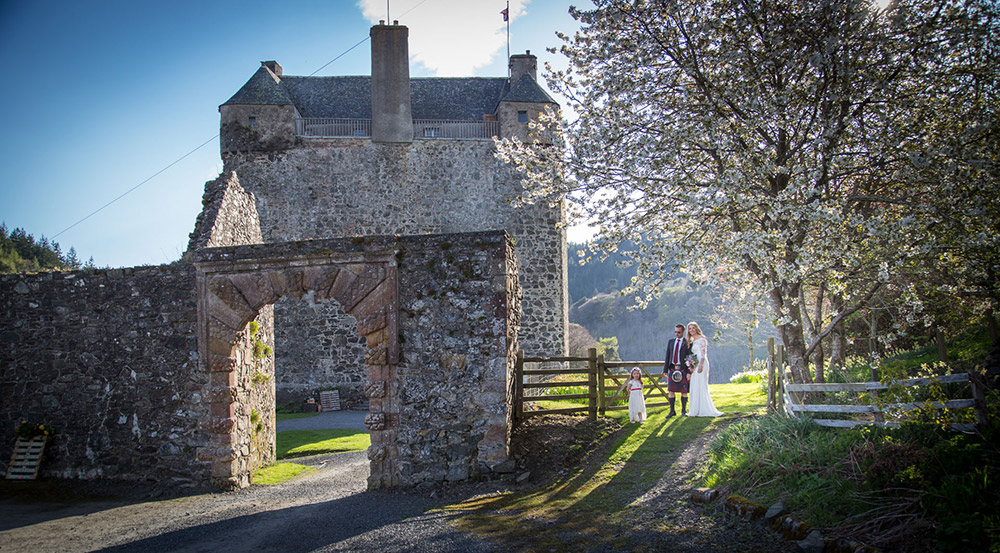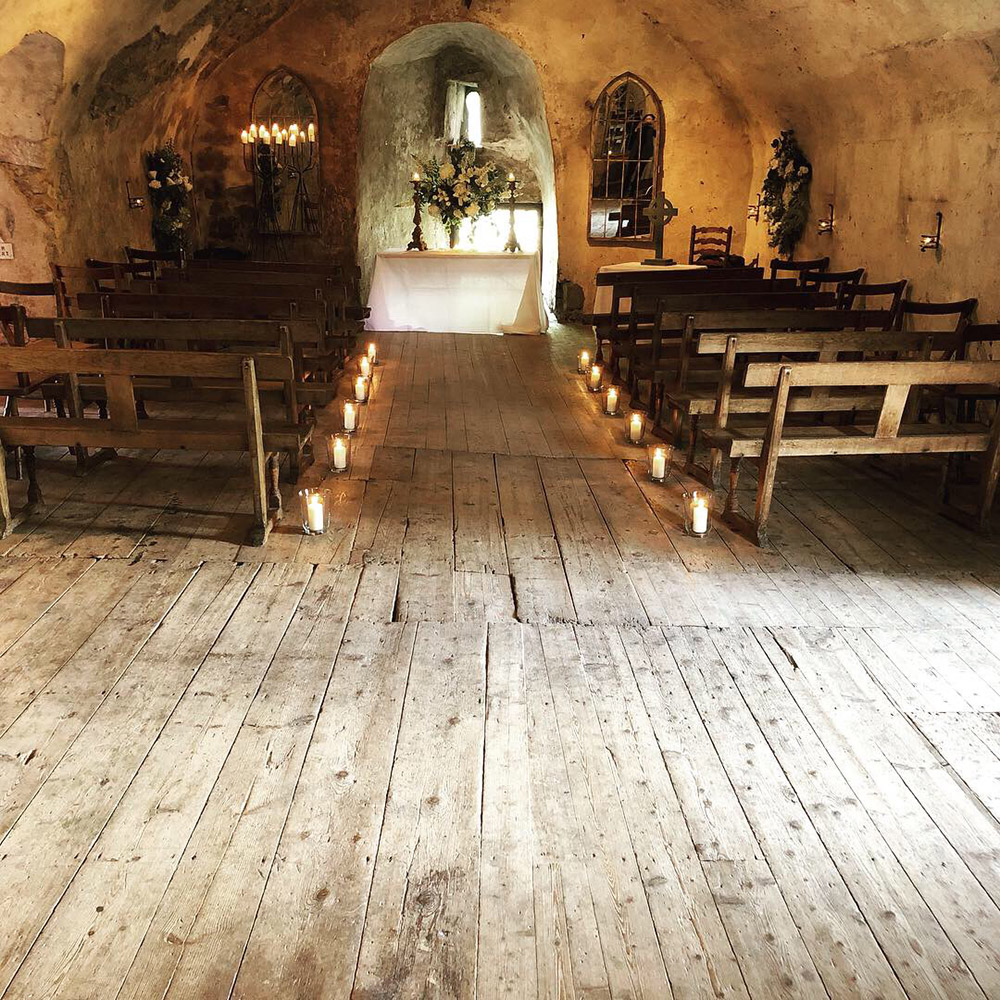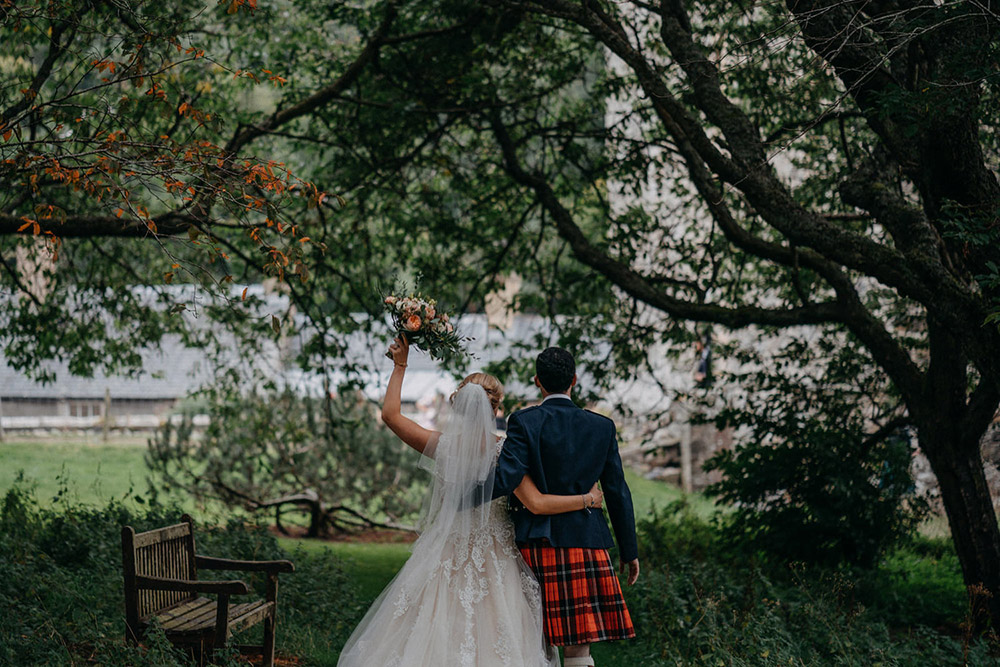 Neidpath Castle is a beautiful building which has a history that stretches over almost a thousand years.  West of Peebles, the majestic building towers over the beautiful River Tweed and great care has been taken to preserve the castle's authenticity.
Wedding breakfasts and receptions are held in the stunning Great Hall which can also sit up to 80 guests. An impressive space with panelled walls, a huge functional fireplace and batiks that depict the life of Mary Queen of Scots (who stayed at the castle in August 1563!), it'll definitely impress any history buffs amongst your wedding guests!
Visit Neidpath Castle's website | t. 01721 720333 | e.  enquiries@neidpathcastle.com
OXENFOORD CASTLE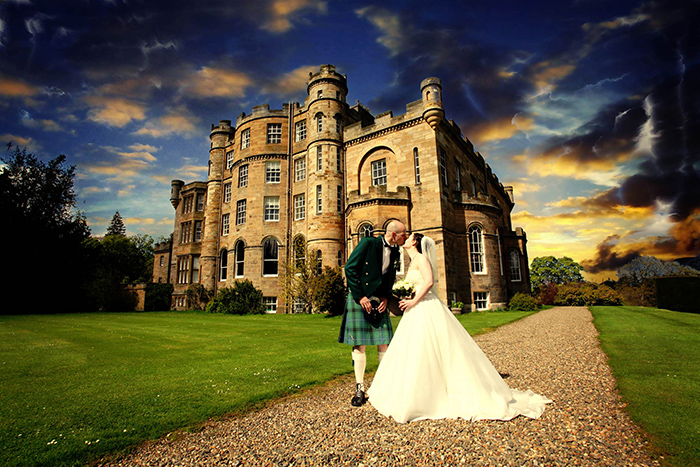 IMAGE: Philip Hawkins Photography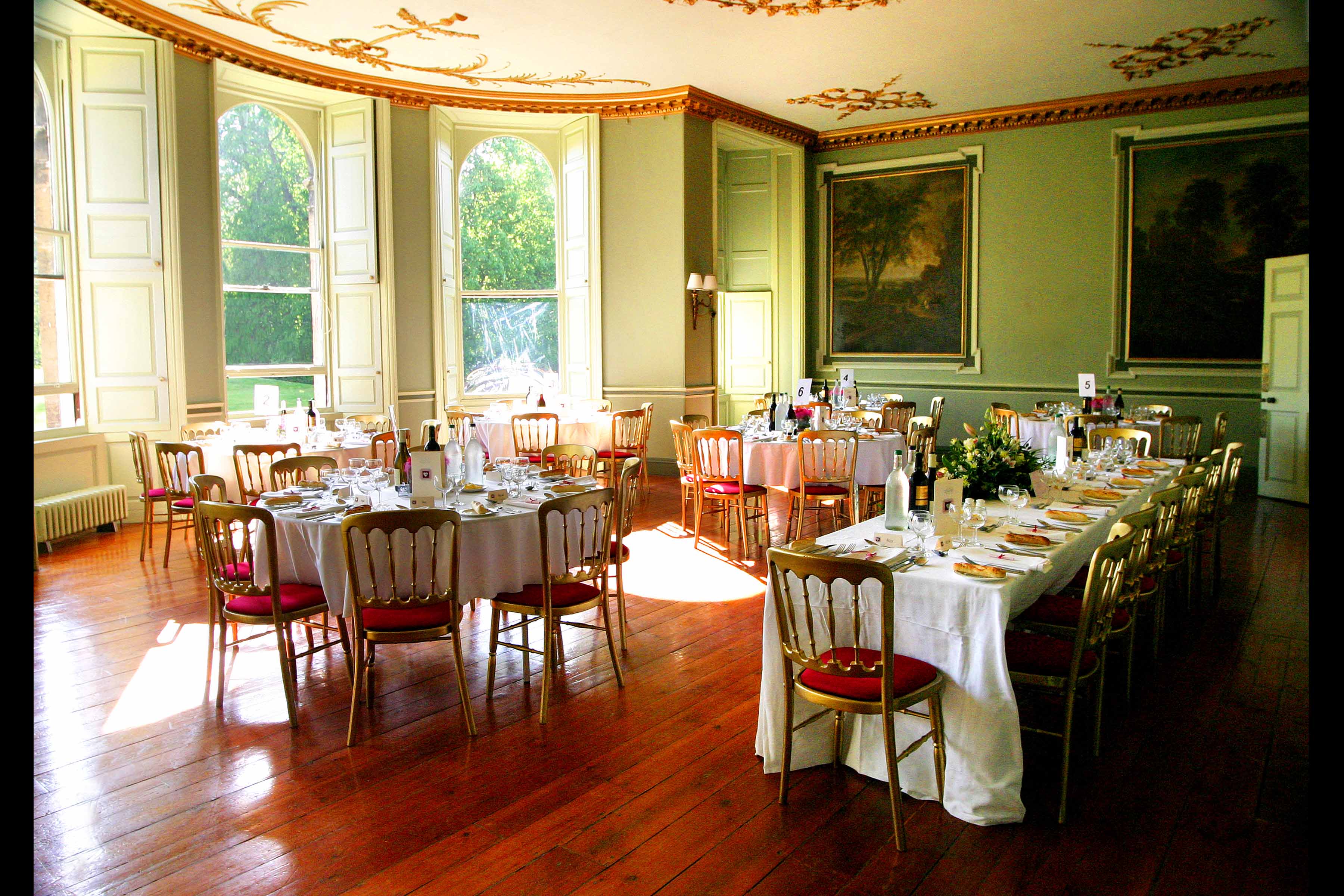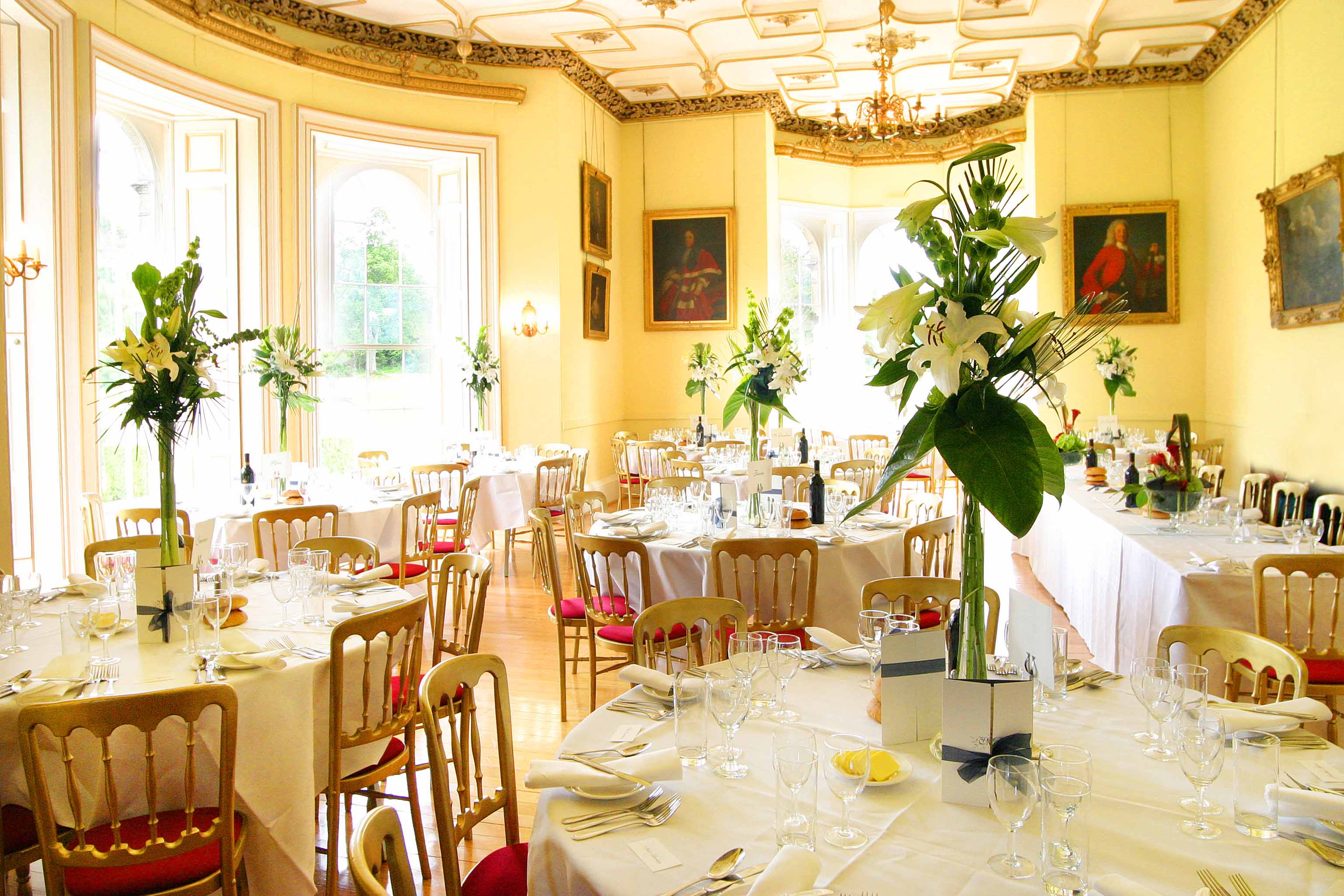 If you're dreaming of exchanging vows in the enchanting atmosphere of a traditional Scottish castle, look no further than Oxenfoord Castle. With Edinburgh only a 30-minute drive away, this grand venue boasts both a serene country location and close proximity to a major city.
An exclusive-use wedding venue, you can expect to spend a day surrounded by your nearest and dearest while you enjoy the estate's romantic parkland and historic interior, brimming with carved woodwork and lavish plaster ceilings.
Visit Oxenfoord Castle's website | t. 0131 287 0535 | e. oxenfoord@hickoryfood.co.uk
STRATHALLAN CASTLE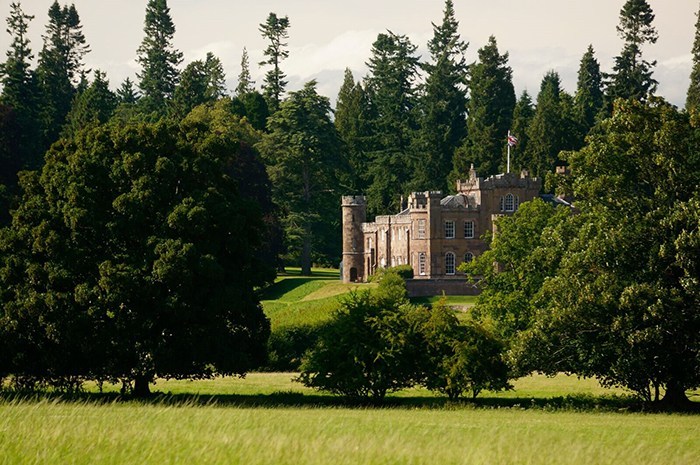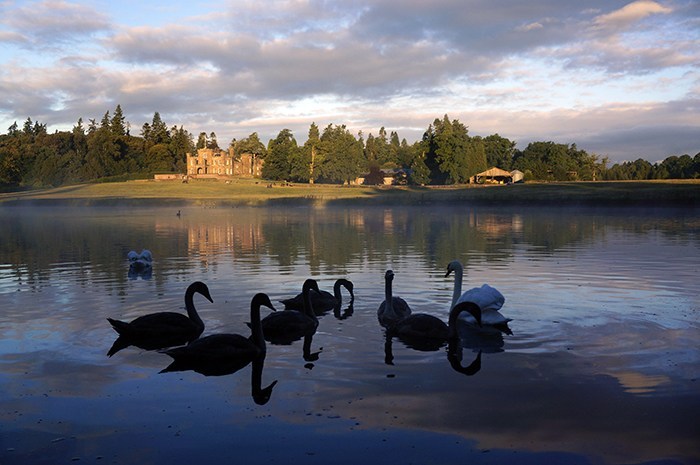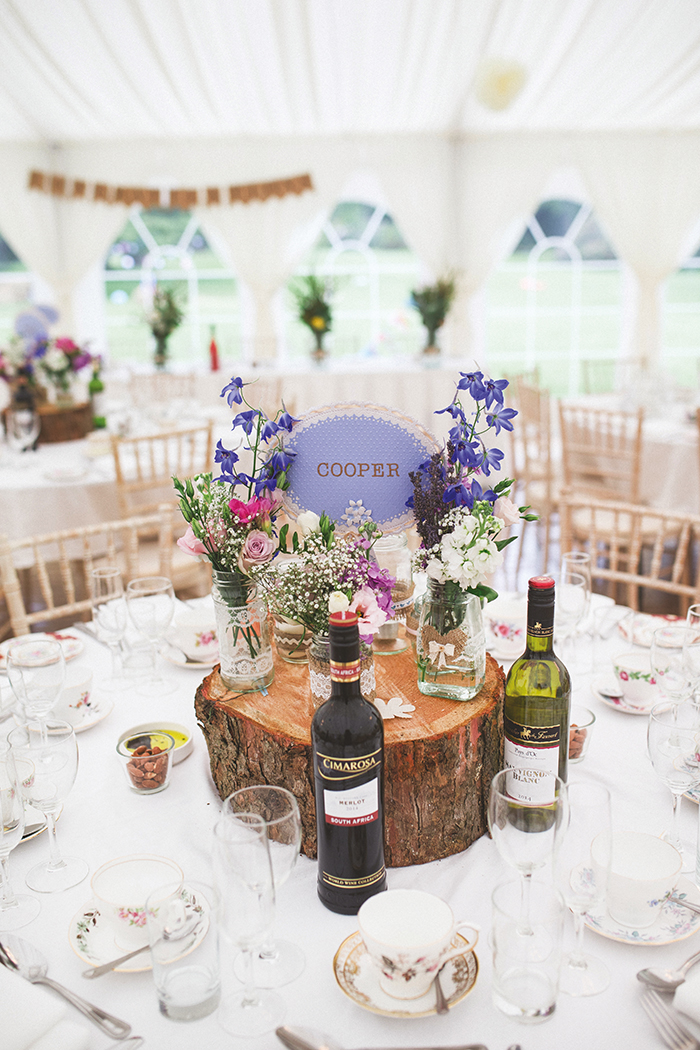 IMAGE: The Gibsons
Set in 1,000 acres of secluded grounds and woodlands, Strathallan offers the utmost privacy whether planning a large and lavish event or something smaller and more intimate.
As you emerge from the the mile-long, secluded drive, the castle rises elegantly and impressively behind the sparkling waters of a private loch.
With Strathallan Castle, you'll have exclusive use of the castle for the day – with the attention of the first-class team. They want your wedding day to be as unique and special as you are, and will be on hand to ensure all your wedding dreams come true.
Visit Strathallan Castle's website | t. 01764 662131 | e. info@strathallancastle.co.uk
TULLIBOLE CASTLE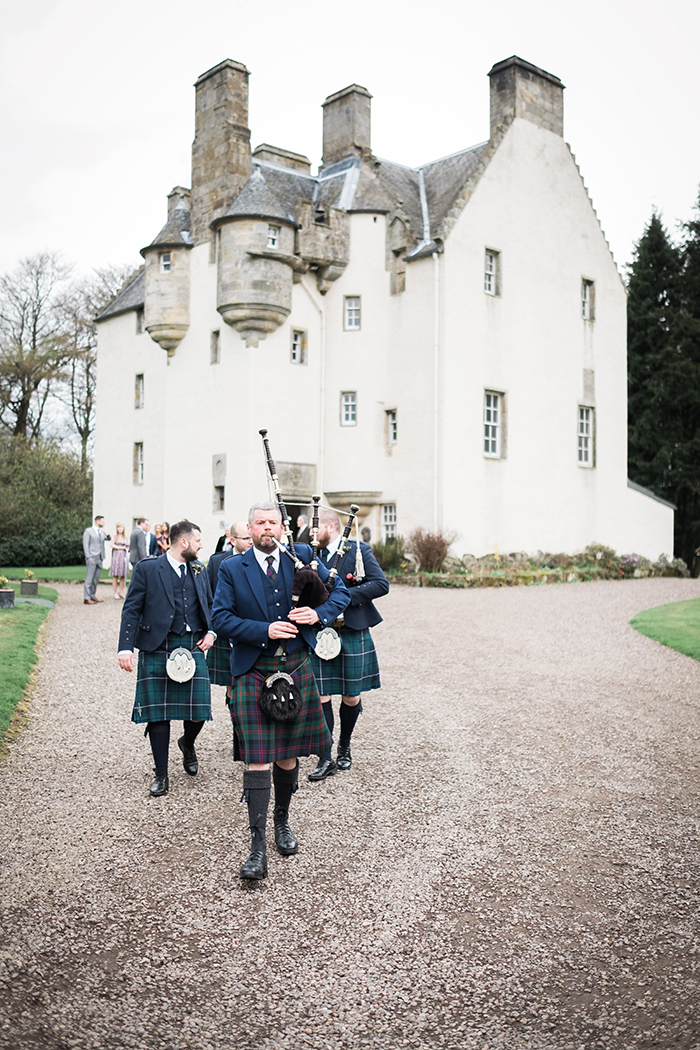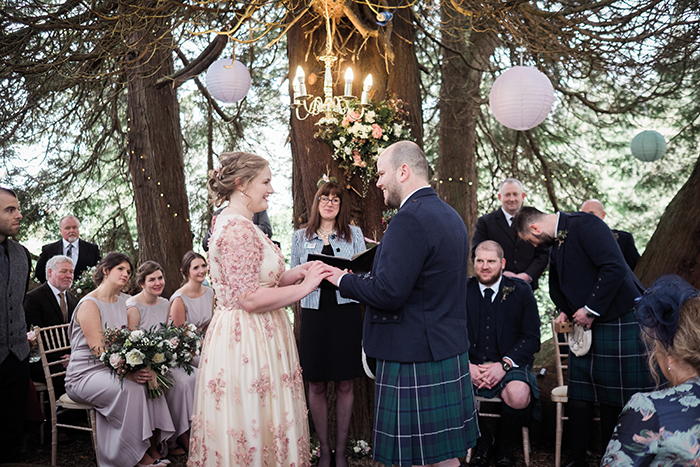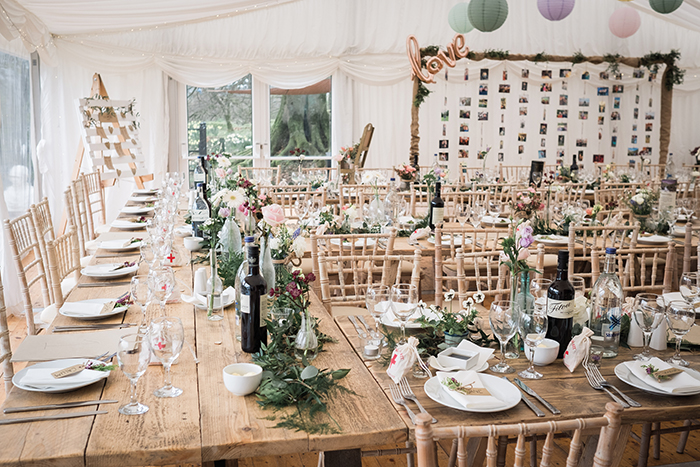 IMAGES: Fern Photography
Even though Tullibole Castle is a beautiful and stately Scottish wedding venue nestled in the Perthshire countryside, it has a relaxed, easy going atmosphere that will make you never want to leave.
And for the weekend of your wedding, you won't have to. Exclusively yours over three days, you can prepare for your wedding on the Friday, have your special day on the Saturday, and chill out on the Sunday with a BBQ or even a round of lawn games!
You are also spoiled for choice when it comes to choosing a spot for your wedding ceremony. You can exchange vows in the castle itself, or have a more laid back ceremony in the rustic-luxe Carriage House. If you fancy an outdoor ceremony, you can say your 'I dos' beneath the achingly romantic Cathedral Tree, or tie the knot down by the moat side!
Visit Tullibole Castle's website | t. 01577 840236 | e. hitched@tullibolecastle.com
TURIN CASTLE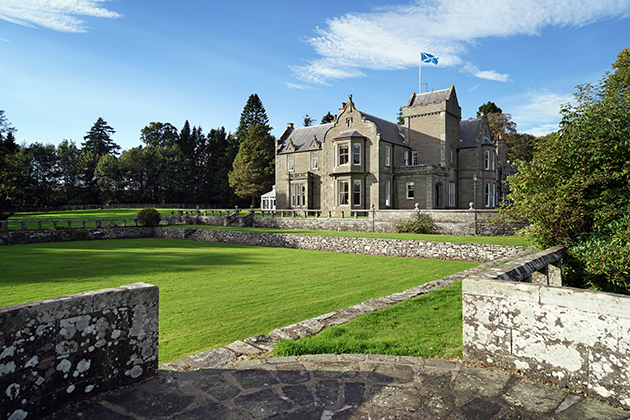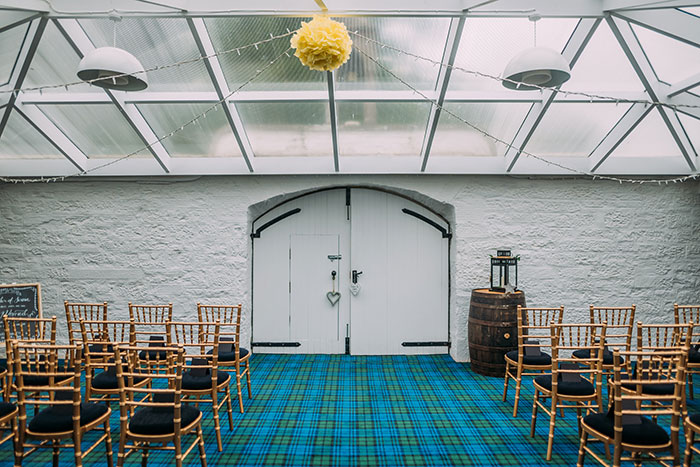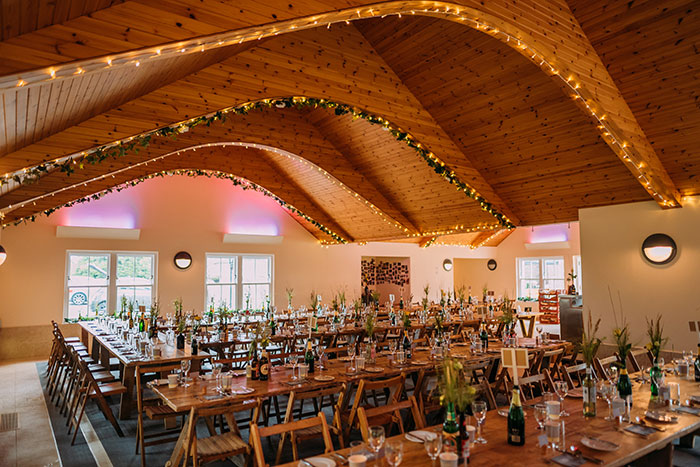 Turin Castle is a five-star, exclusive-use castle located in the heart of Scotland, surrounded by the scenic Angus Glens.
It's the perfect place to retreat from the rush of everyday life and surrender to the lush, unspoilt Scottish countryside.
An authentic Scottish hideaway, Turin Castle is luxuriously spacious, sleeping up to 20 guests in 10 beautifully appointed en-suite rooms which retain an intimate and boutique feel.
The castle is nestled in 20 acres of private grounds that could be yours to explore. It is the perfect venue for a luxury, intimate wedding celebration.
Visit Turin Castle's website | t. 01307 830463 | e. love@turincastlescotland.com
WARDHILL CASTLE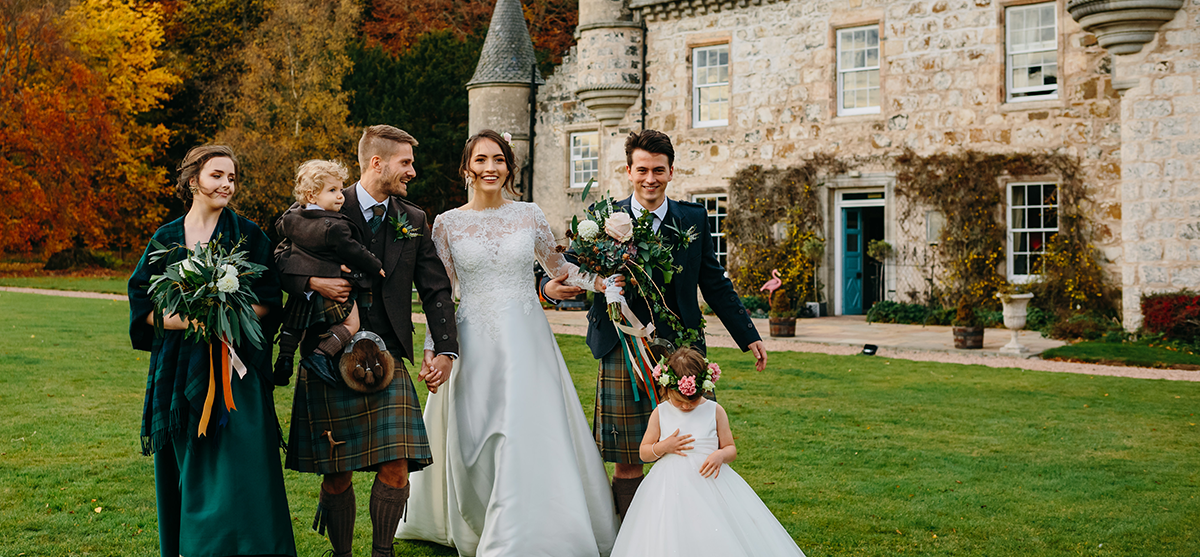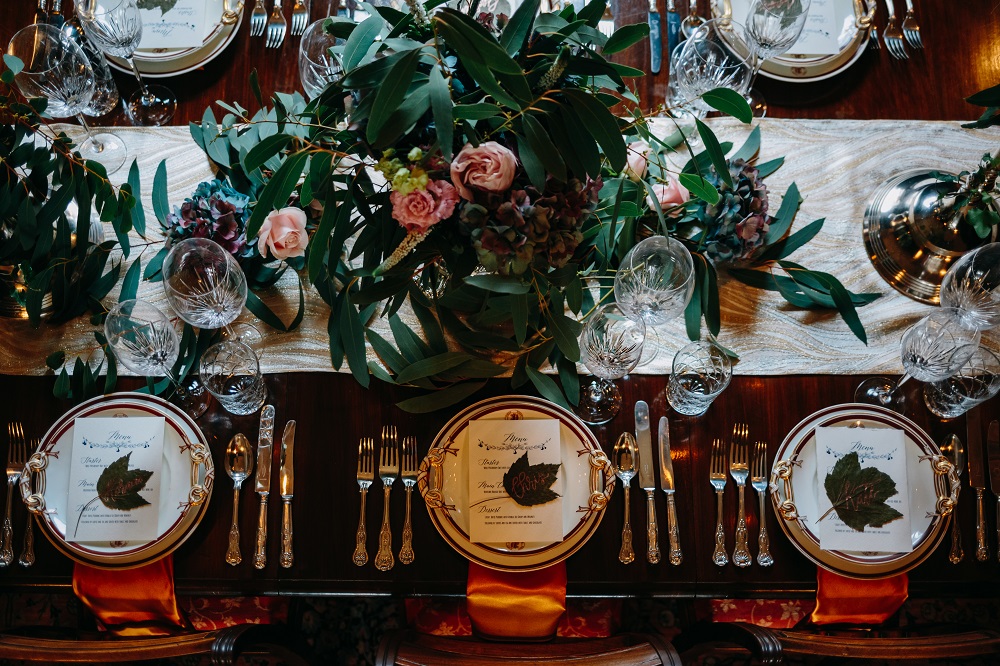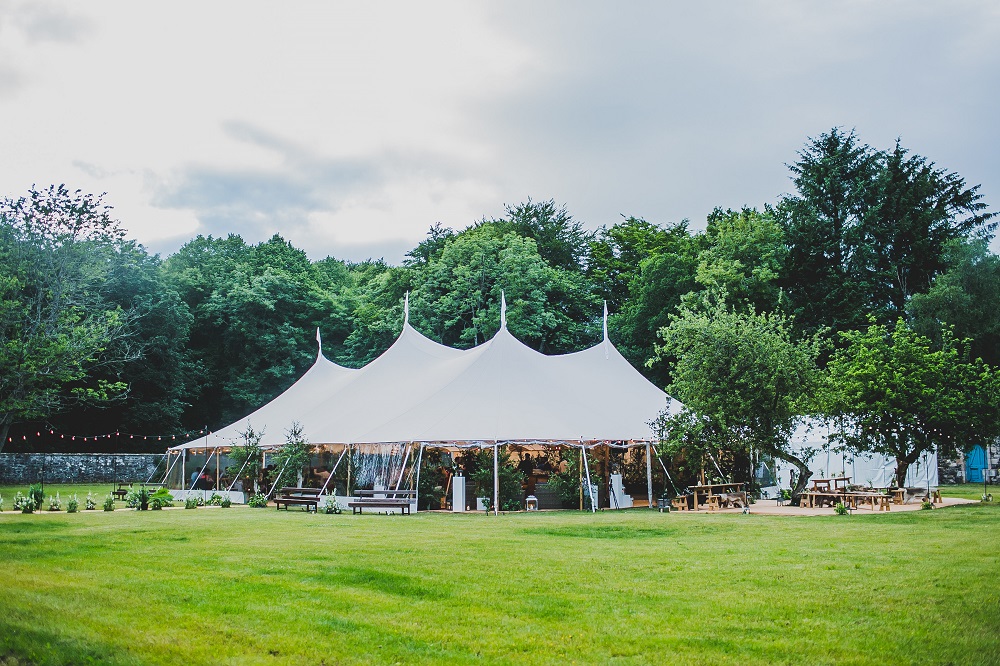 Home to the Leslie family for over 800 years, Wardhill Castle is a wonderfully historic wedding venue that is privately tucked away in North-East Scotland. The castle is beautiful inside and out, and you and your close friends and family can stay in the castle whilst hosting the wedding in the castle's extensive grounds and set up a marquee or sperry tent in the venue's walled garden tucked away in the woods.
The Castle can be exclusively yours for the weekend of your wedding, and is able to accommodate up to 16 guests, with an extra two being able to stay over in the nearby Bothie. Recently refurbished, the bedrooms are fresh, contemporary and luxurious – and the perfect HQ for your wedding day!
Visit Wardhill Castle's website | t. 07734425282 | e. sarahaleslie@icloud.com 
AIKWOOD TOWER
This special venue in the Ettrick Valley is a Grade A-listed 16th century tower house.
Send an enquiry to Aikwood Tower
AIRTH CASTLE HOTEL + SPA
Nestled in acres of wooded parkland with landscaped gardens and sweeping driveways, this castle venue is an idyllic setting for your wedding.
Send an enquiry to Airth Castle Hotel + Spa
ARDGOWAN HOUSE, CASTLE + GARDENS
Each booking at this Renfrewshire castle on the coast has guaranteed exclusive use of the venue.
Send an enquiry to Ardgowan House, Castle + Gardens 
BORTHWICK CASTLE
Midlothian's Borthwick Castle is one of Scotland's most majestic and historic wedding venues, built in 1430.
Send an enquiry to Borthwick Castle
CARBERRY TOWER
You'd be hard pushed to find a more luxurious, exclusive place to get married than Carberry Tower Mansion House + Estate, East Lothian.
Send an enquiry to Carberry Tower
CASTLE FRASER GARDENS + ESTATE
Venture to the top of the round tower of this Aberdeenshire castle wedding venue for spectacular views of the estate!
Send an enquiry to Castle Fraser Gardens + Estate
CROSSBASKET CASTLE
Providing the perfect setting, Crossbasket Castle is situated just outside Glasgow and is a real fairytale venue.
Send an enquiry to Crossbasket Castle
CULZEAN CASTLE
Perched on the Ayrshire cliffs, this stunning wedding venue is surrounded by breathtaking grounds and views.
Send an enquiry to Culzean Castle
DRUMTOCHTY CASTLE
Hidden away in a wild woodland glen this neo-Gothic castle has stood on the edge of Drumtochty Forest, Auchenblae since 1812.
Send an enquiry to Drumtochty Castle
DUNDAS CASTLE
IMAGE | Craig & Eva Sanders Photography
With its 600-year-old Keep and 17 sumptuous bedrooms, this five-star, VOWS Award-winning castle near Edinburgh is the ultimate setting for fairytale weddings.
Send an enquiry to Dundas Castle
EILEAN DONAN CASTLE
Eilean Donan in the Scottish Highlands dates to the 13th century and is one of Scotland's most iconic castles.
Send an enquiry to Eilean Donan Castle
FASQUE CASTLE
IMAGE | Sam Brill Photography
Once the home of Prime Minister William Gladstone, the castle is a properly grand setting for your nuptials in Fettercairn.
Send an enquiry to Fasque Castle
KNOCK CASTLE HOTEL + SPA
Set in Perthshire against the stunning backdrop of the Strathearn Valley, Knock Castle Hotel is a luxury castle wedding venue.
Send an enquiry to Knock Castle Hotel + Spa
TAYMOUTH CASTLE
Taymouth Castle Estate is a breathtaking venue situated on the shores of Loch Tay; the gateway to the Scottish Highlands.
Send an enquiry to Taymouth Castle