22 of the best castle wedding venues in Scotland 2018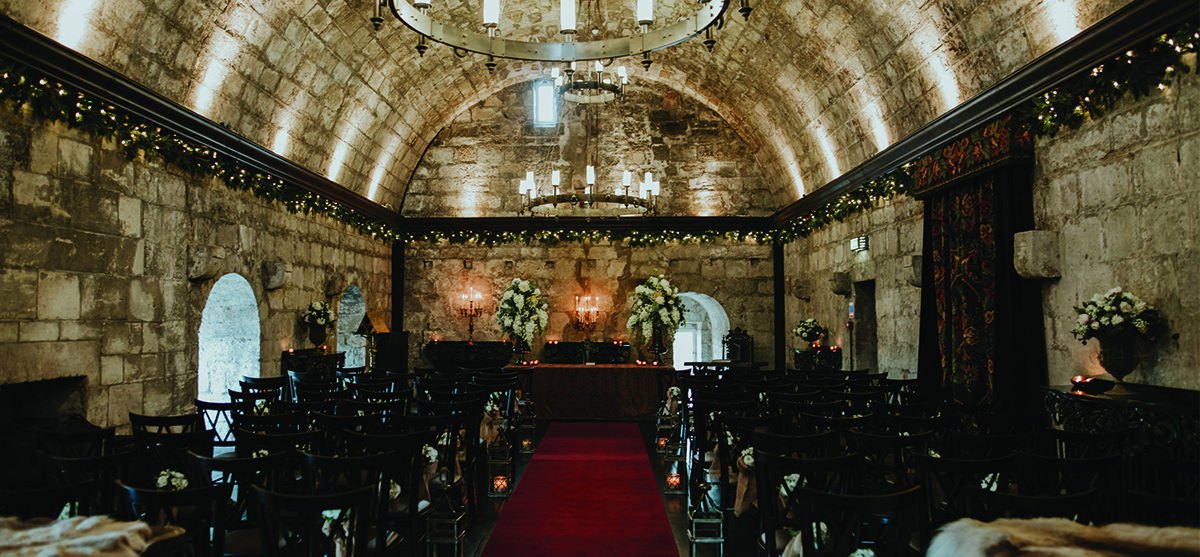 There's nothing more quintessentially Scottish than a castle, and for couples looking for a wedding venue that can effortlessly create an atmosphere of romance and drama, castles are king!
We've rounded up our favourite castle wedding venues from across the country, with each being able to provide a unique and wonderful experience for you special day.
Check out our top castle venue picks…
This post contains some paid-for content.
Airth Castle Hotel and Spa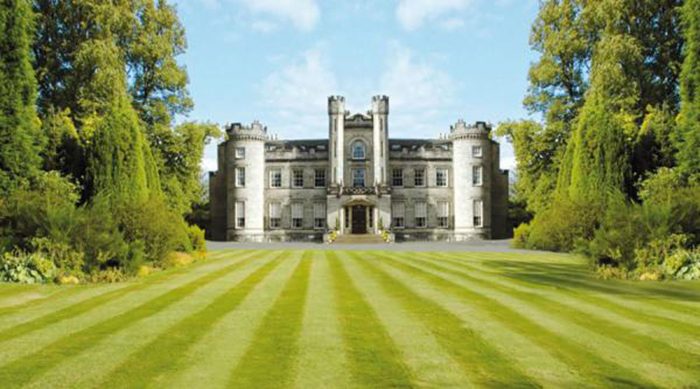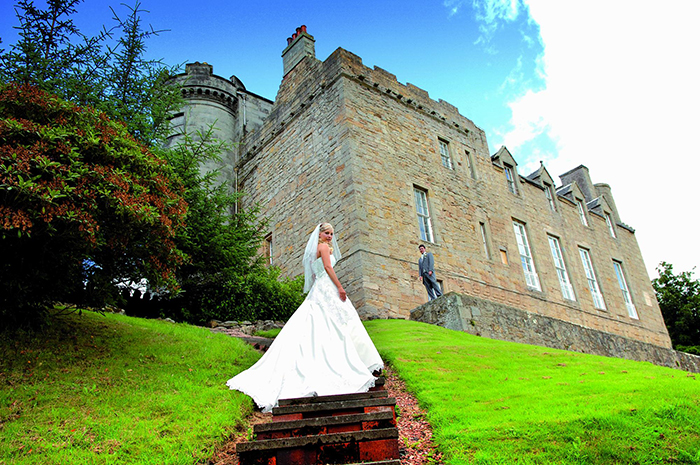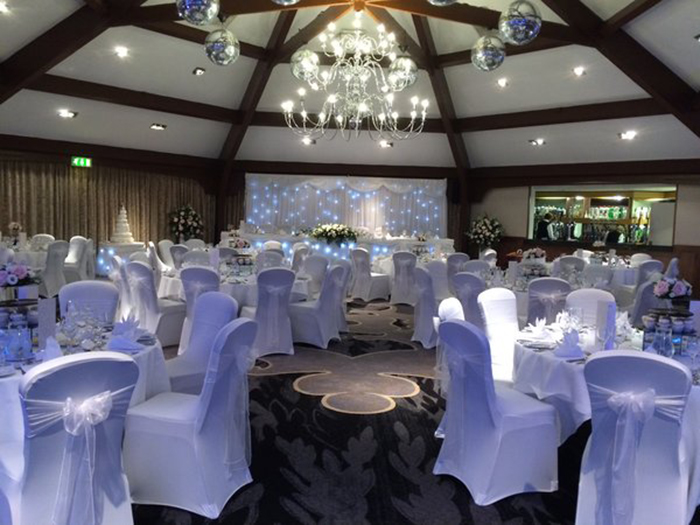 Nestled in acres of wooded parkland with landscaped gardens and sweeping driveways, the award-winning Airth Castle Hotel & Spa, near Stirling, is an idyllic setting for your wedding.
Airth Castle offers a variety of opulent wedding suites each with its own character and charm.  The principal wedding suite is the fabulous Dunmore Ballroom, located in the main hotel, a majestic room with a unique octagonal shape featuring a vaulted ceiling, contemporary furnishings and walnut panelling.   The elegant Wallace Suite and Stateroom Lounge in the Castle offer an equally impressive backdrop with floor to ceiling windows, ornate cornicing and magnificent Adam fireplaces, while the stunning Castle Suite features traditional period features and sweeping countryside views.
Whether you dream of an intimate occasion or a grand celebration, Airth Castle is a truly magical setting with the unparalleled backdrop of a magnificent castle, creative banqueting options and an experienced team to assist you.  There's also 125 bedrooms & suites, The Grill Room & bar and a fabulous Spa.
Pop into one of their Open Days or arrange a show-round at a time that suits you and see for yourself how Airth Castle could be perfect for your special day!
Visit Airth Castle Hotel & Spa's website | t. 01324 831411 | e. sales@airthcastlehotel.com
Read reviews for Airth Castle Hotel & Spa
Blair Castle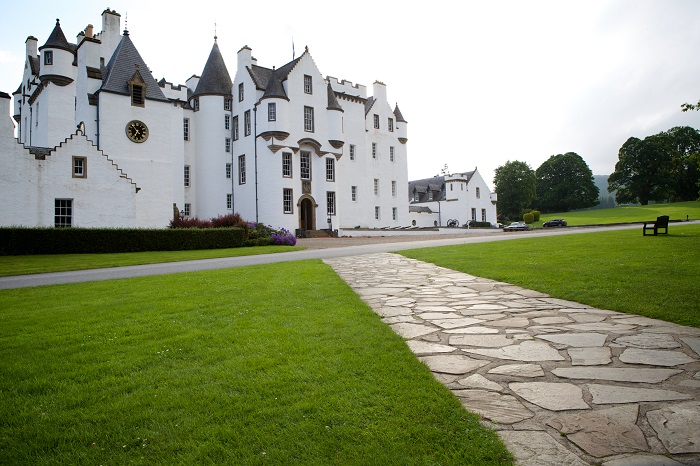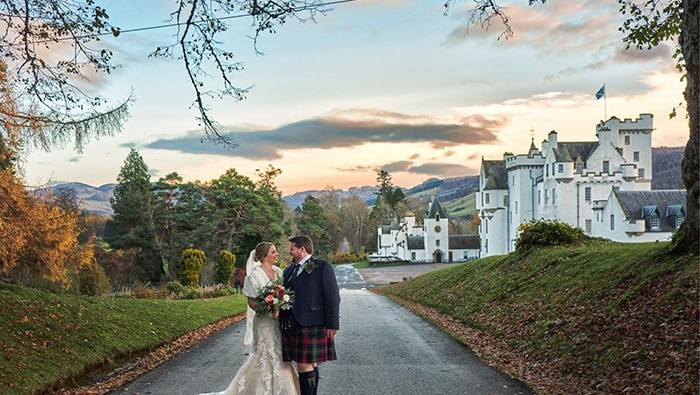 IMAGE | Suzanne Black Photography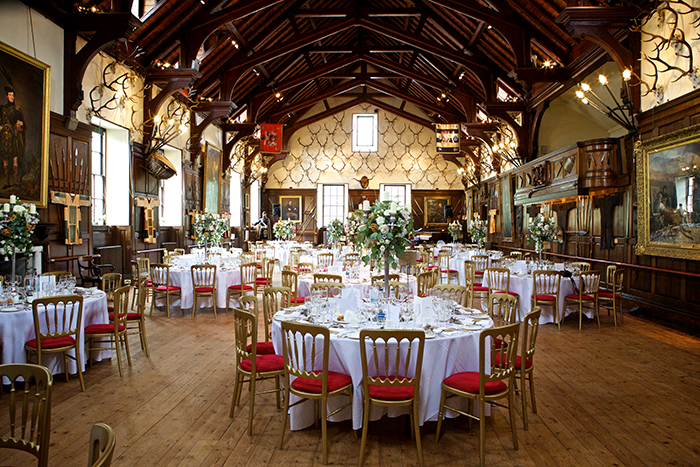 IMAGE | Jenni Browne Photography
A truly quintessential Scottish castle, this iconic building has passed through 19 generations of the Stewart and Murray families. It is steeped in centuries of Scottish history, which you can see throughout in its décor and architecture.
The Ballroom is grand and spacious – perfect for a big wedding celebration of up to 220 guests. But if you're looking for a more intimate celebration, the Ballroom's cosy and warm hunting lodge aesthetic means that you can sit as little as 60 guests and the room will still feel lively and full.
If you want to tie the knot outside, Blair Castle's gardens are lovely and extensive, with lots of gorgeous spots to hold your wedding ceremony.
Visit Blair Castle's website | t. 01796 481207 | e. jackieS@blair-castle.co.uk
Blairquhan Castle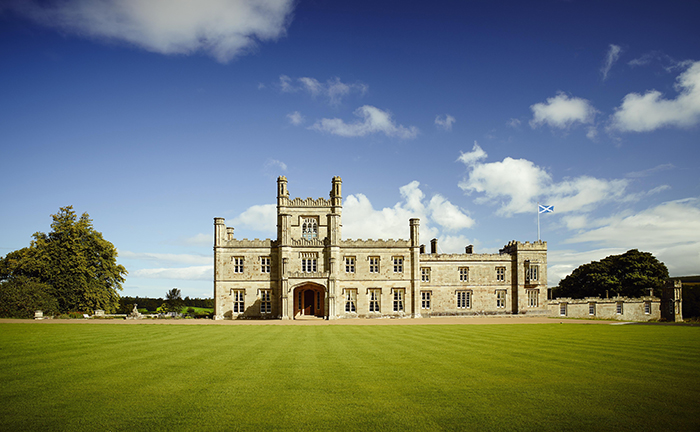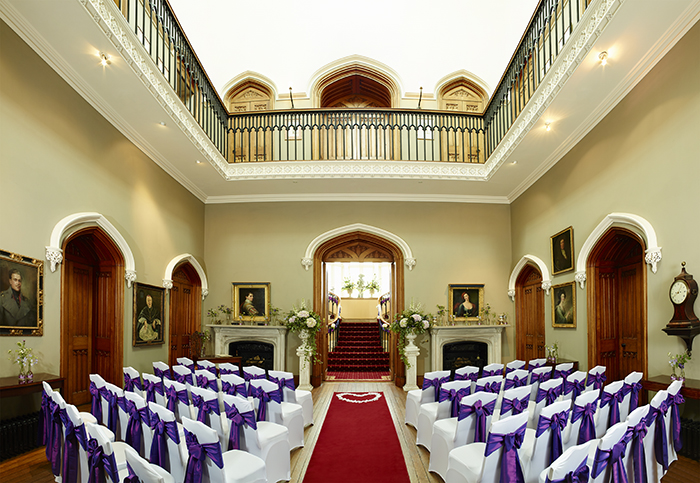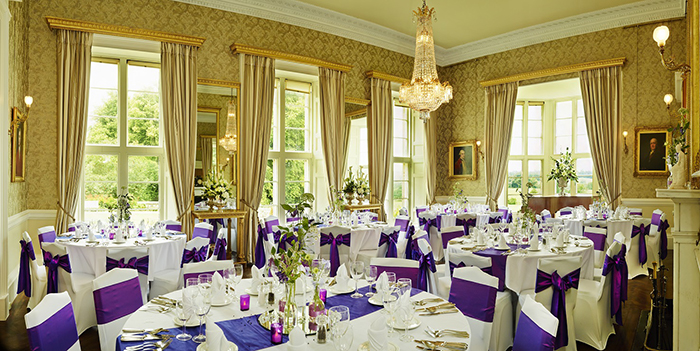 Stunning and regal, Blairquhan Castle is beautiful inside and out. Its stately façade with wow your guests, and it elegant and modern interiors and furnishings with make your wedding day feel sophisticated and luxurious.
You can hold your ceremony outside in the lovingly landscaped gardens, or inside in the castle's beautifully decorated saloon which can seat up to 90 guests.
You have up to four function suites within the castle to choose from when planning where to hold your wedding breakfast and reception. The castle also offers 15 bedrooms for you, your wedding party and guests who wish to stay overnight.
If you still need more room, there are an additional four cosy cottages onsite too.
Visit Blairquhan Castle's website | t. 01655 770239  | e. enquiries@blairquhan.co.uk
Read reviews for Blairquhan Castle
Borthwick Castle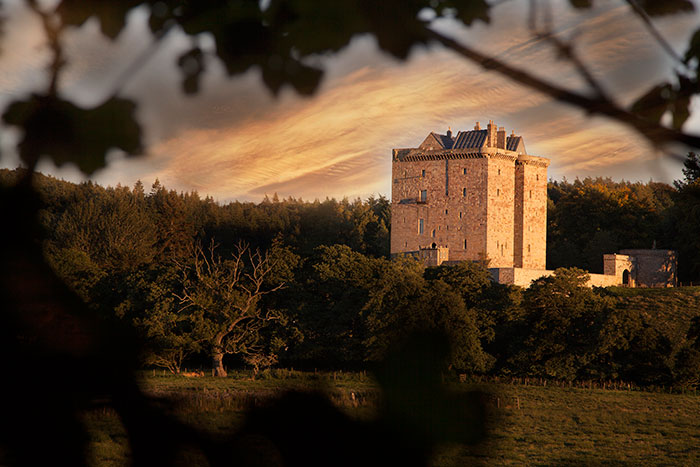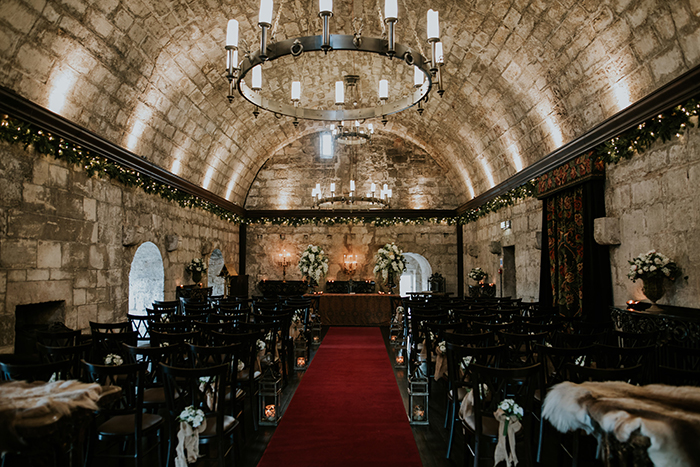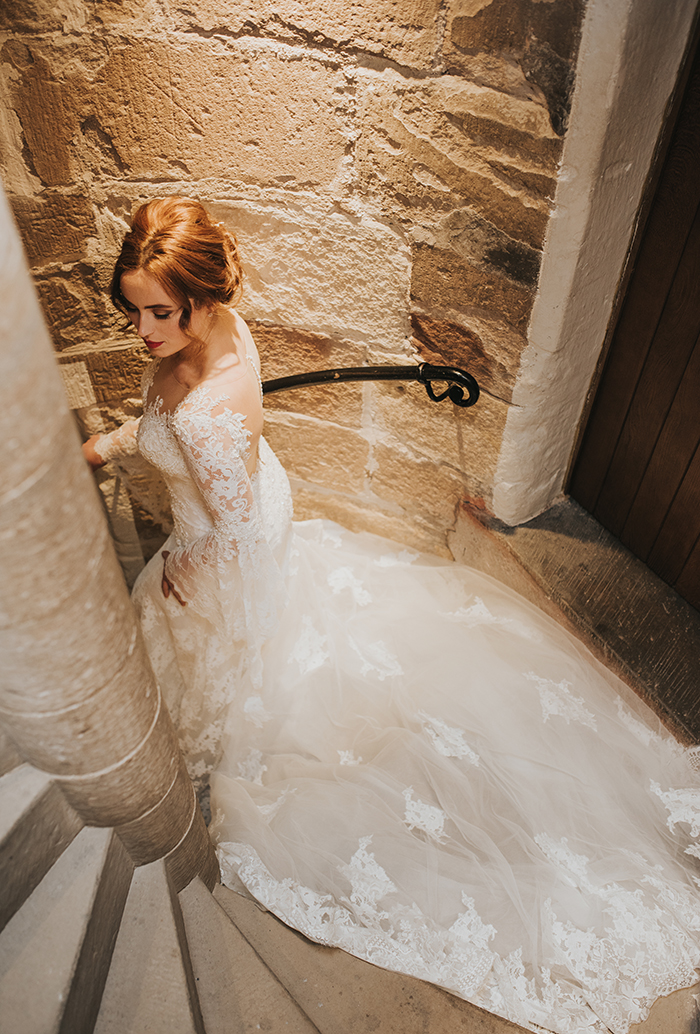 IMAGE | Derek Christie Photography
Borthwick Castle is an exquisitely renovated building that dates back to the 15th century. Situated in North Middleton and only 30 minutes from Edinburgh city centre, it's a great venue for couples looking for an escape from the city.
The renovation has kept its authentic castle atmosphere while updating the décor and furnishing in what can only be described as 21st-century-castle-chic. A beautiful mix of modernity and history, you'll be completely swept up in the romance of the building and its gardens.
For a truly authentic Scottish wedding ceremony, why not exchange vows in the beautiful stone walled Garrison? Able to sit 80 guests, it's an incredibly romantic backdrop for your wedding ceremony.
Visit Borwick Castle's website | t. 01875 820514 | e. weddings@borthwickcastle.com
Read reviews for Borwick Castle
Broomhall Castle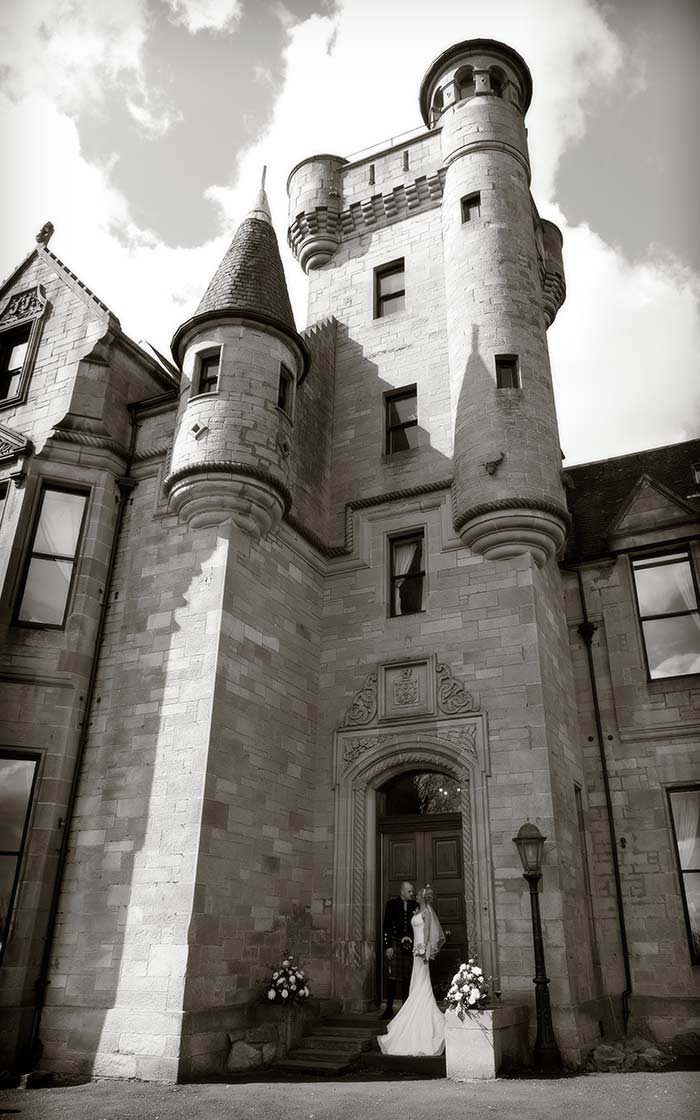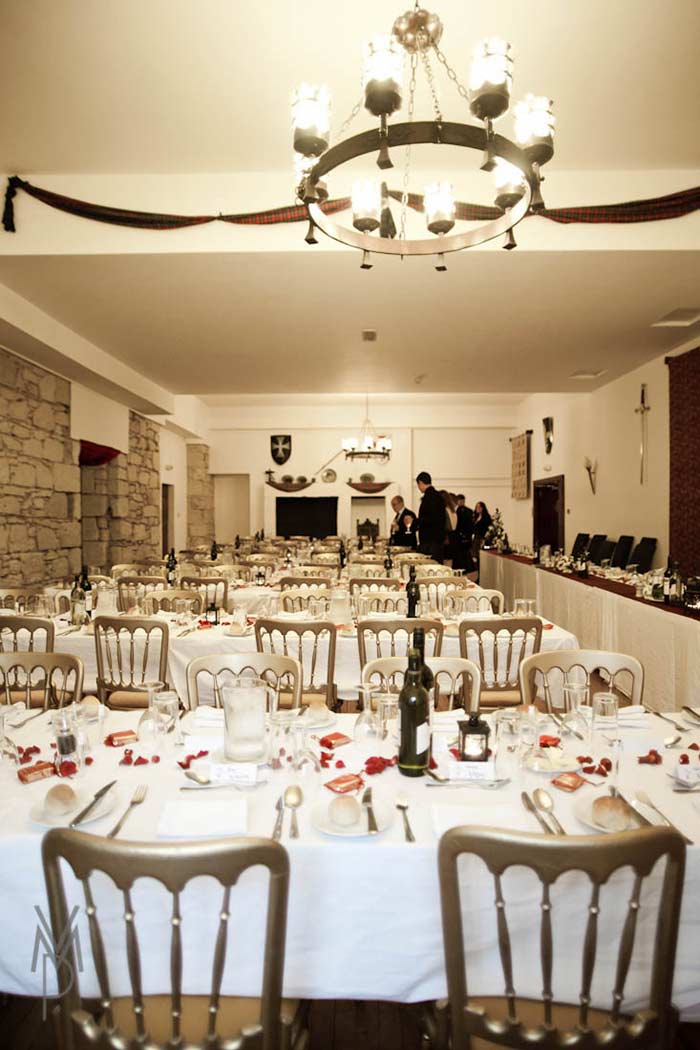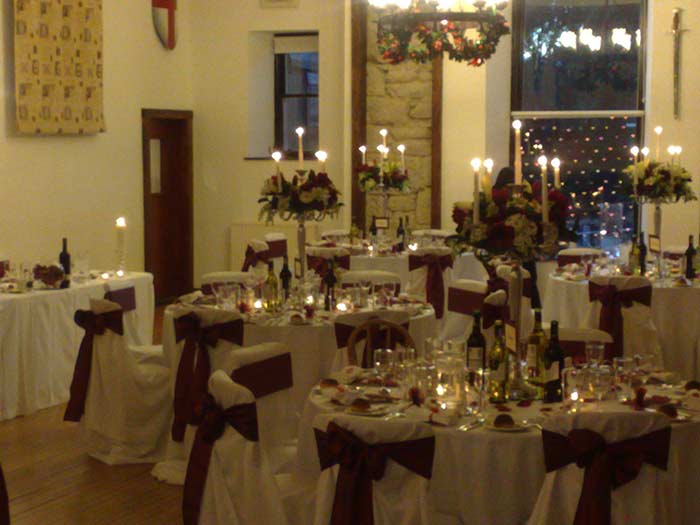 This beautifully turreted castle wedding venue will make you feel like a Disney princess when you tie the knot here.
Near Stirling and originally built in 1874, this handsome castle can be exclusively yours for the entirety of your wedding celebrations. They have 16-ensuite bedrooms in the castle, so you and your wedding party don't have to worry about organising accommodation offsite.
You can celebrate in the gorgeous Great Hall which can hold up to 100 for a wedding breakfast and 150 for a wedding reception.
Visit Broomhall Castle's website | t. 01259 763360
Read reviews for Broomhall Castle
Castle Menzies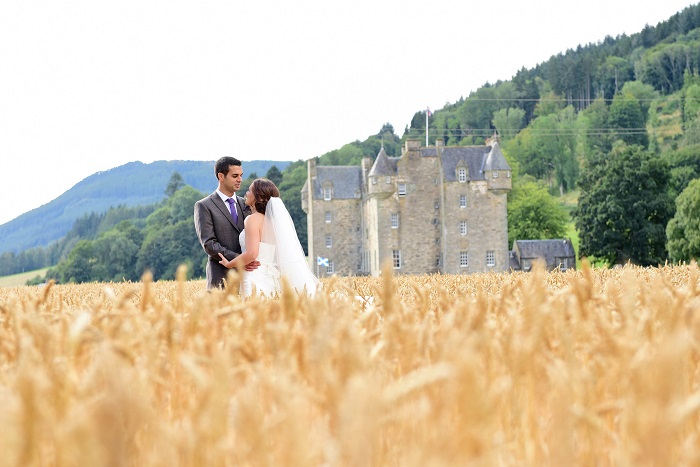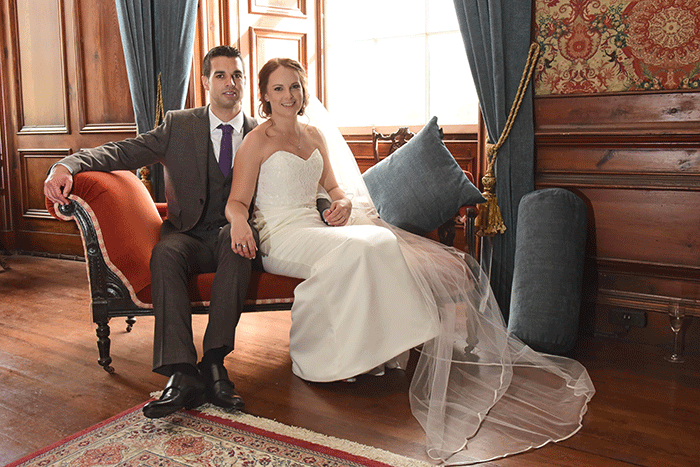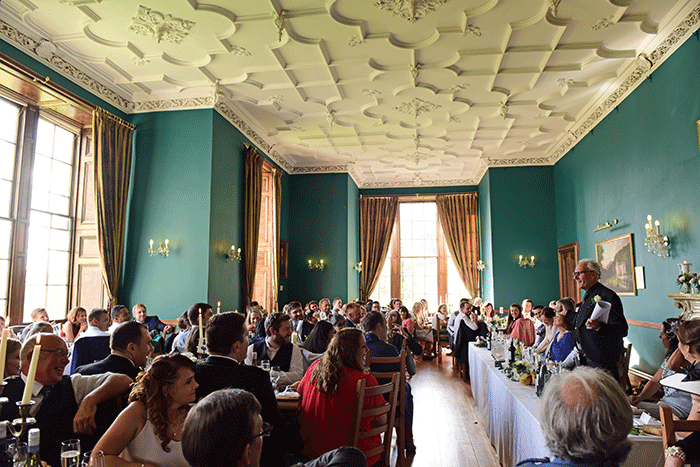 The seat of Clan Menzies for centuries, Castle Menzies is truly beautiful and authentic Scottish castle wedding venue.
Restored from a ruin in 1957, and now has a variety of elegant function spaces to choose from when planning where to hold your wedding ceremony and reception. The grand Dewer Room is a stunning and spacious ballroom that can accommodate up to 120 guests for your wedding breakfast.
For a more intimate celebration the Main Hall can hold 54 guests for a meal, and is incredibly pretty, with tons of natural light and a charming pink colour scheme.
Visit Castle Menzie's website | t. 01887 820982 | e. castlemenziesmanager@gmail.com
Read reviews for Castle Menzies
Cluny Castle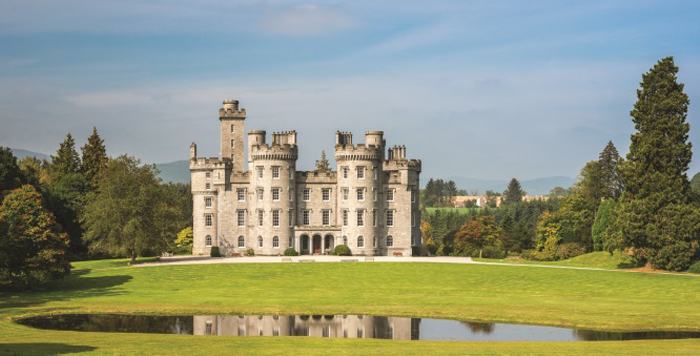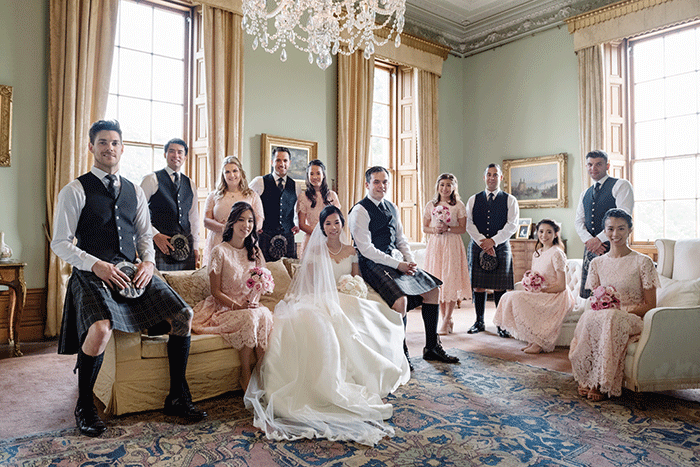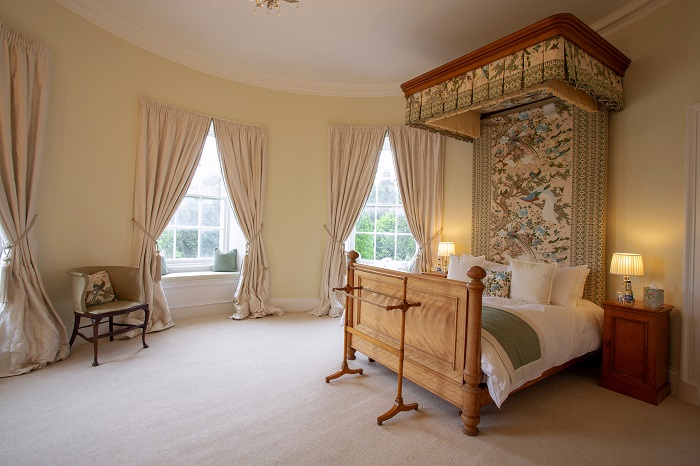 A majestic and enchanting wedding venue tucked away in the Aberdeenshire countryside, Cluny Castle is ideal for couples looking for a beautiful and secluded place to hold their wedding day.
The castle has a rich cultural heritage which you can see throughout Cluny in its décor and architecture. You and your spouse can spend your first night as a married couple in the sumptuous refurbished en-suite bedrooms on the top floor of the castle. There's also room for an additional 24 guests to stay the night.
For food and drink, Cluny Castle has a list of trusted local caterers, ensuring that you have the flexibility to create your dream wedding breakfast.
Visit Cluny Castle's website | t. 01330 833302 | e. info@clunycastle.com
Cornhill Castle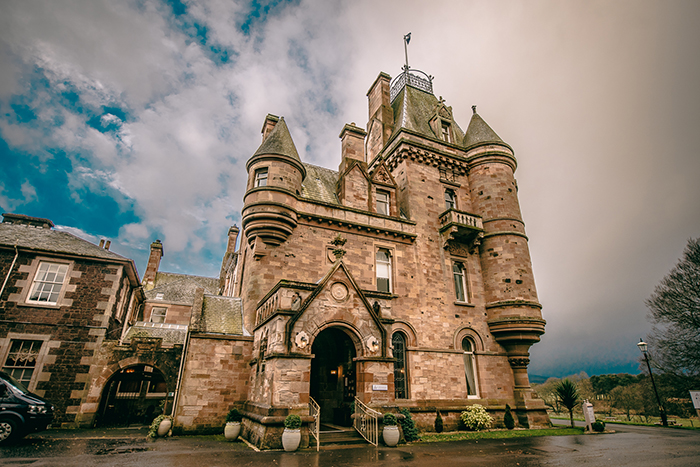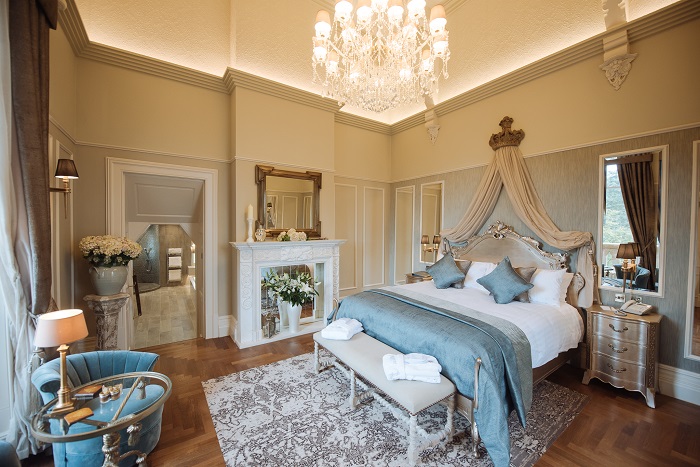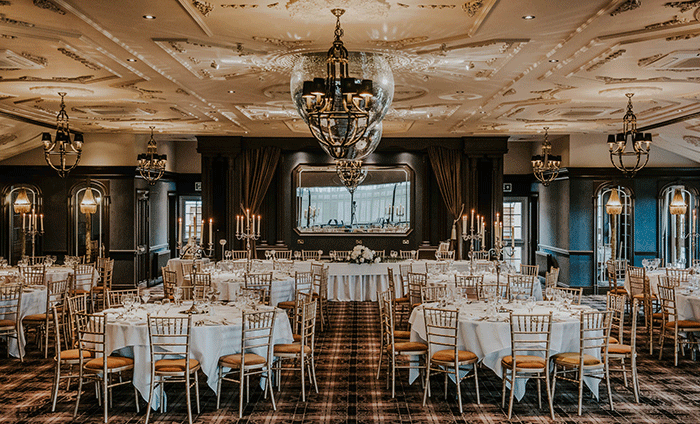 Elegant and sumptuous, Cornhill Castle can offer you a truly luxurious wedding day.
Beautifully decorated in the style of a French chateau, Cornhill Castle isn't your run-of-the-mill Scottish wedding venue. Complete with a wedding pavilion and a purpose-built honeymoon suite, weddings are at the heart of everything they do, and you can rest assured your special day is in good hands.
Able to hold 120 guests for your wedding breakfast and up to 200 for your reception, you can have a big party blow out that will have your guests talking about your wedding for years to come!
Visit Cornhill Castle's website | t. 01899 220001 | e. events@cornhillcastle.co.uk
Read reviews of Cornhill Castle
---
This weekend long wedding celebration at Culcreuch Castle, near Fintry is stunning!
---
Cringletie House Hotel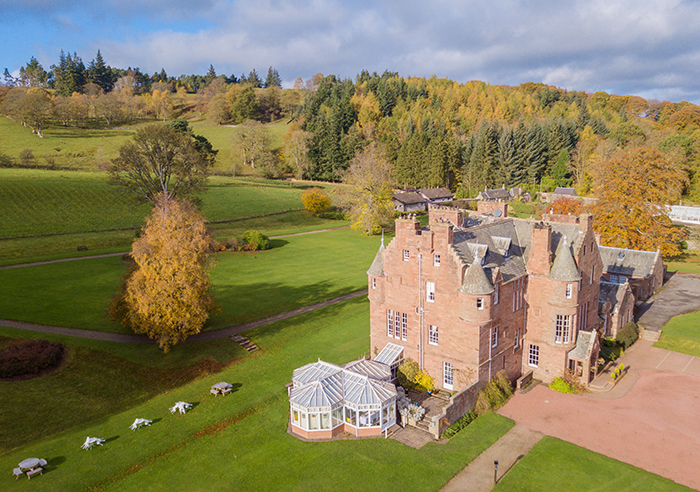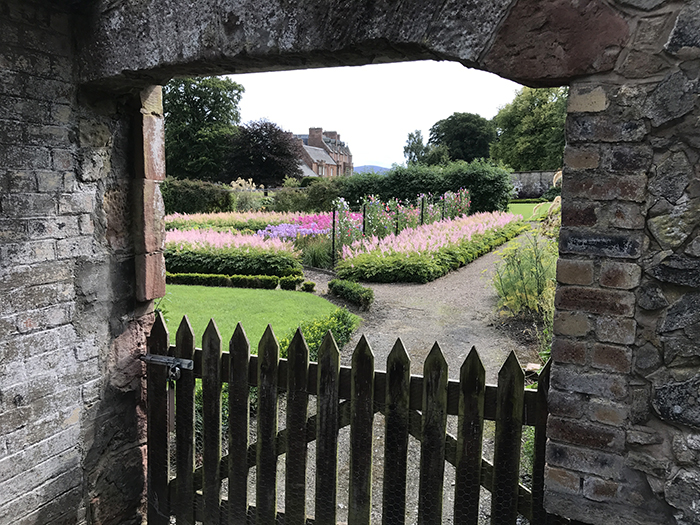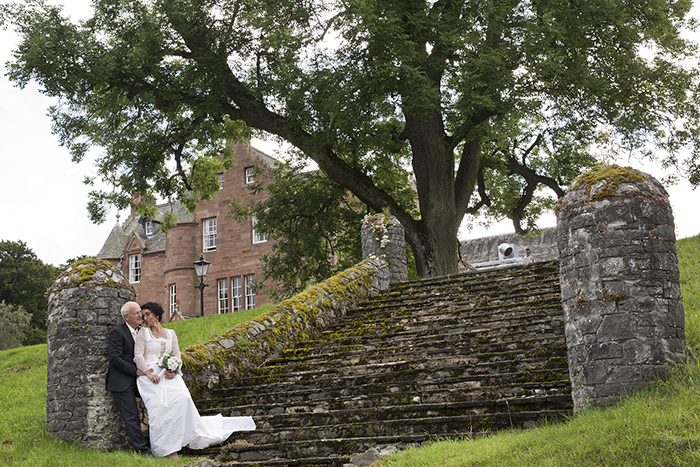 Cringletie House dates back to 1861 and is the ultimate romantic wedding venue.
There are 13 bedrooms in the main house; plus a cottage in the grounds with its own outdoor hot-tub. Cringletie can accommodate 26 resident guests in the main house; with a further six in the cottage and up to 100 guests in total for a ceremony and reception.
Popular requests include barn owls flying in with the rings, to horse-drawn carriages and fireworks over the lawns.
Magnificent grounds provide a stunning backdrop for your photos, whether the walled garden, manicured lawns, peaceful woodland or the romantic bridge over the river.
Visit Cringletie House Hotel's website | t. 01721 725750 | e. enquiries@cringletie.com
Read reviews for Cringletie House Hotel
Culcreuch Castle Hotel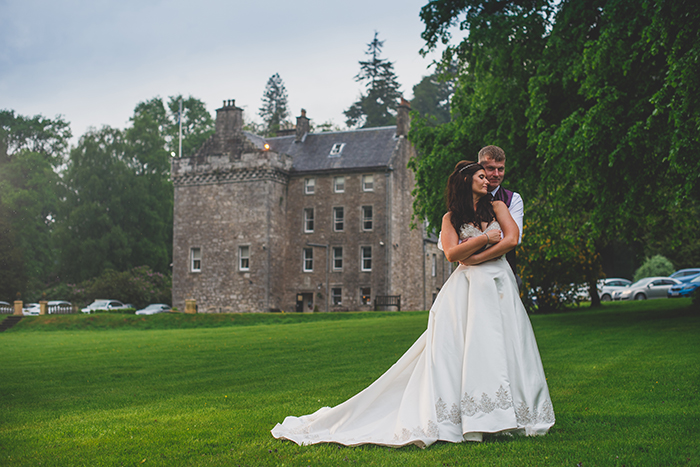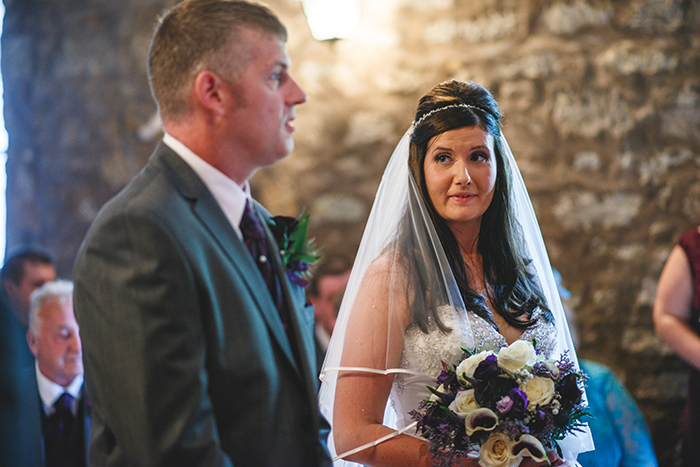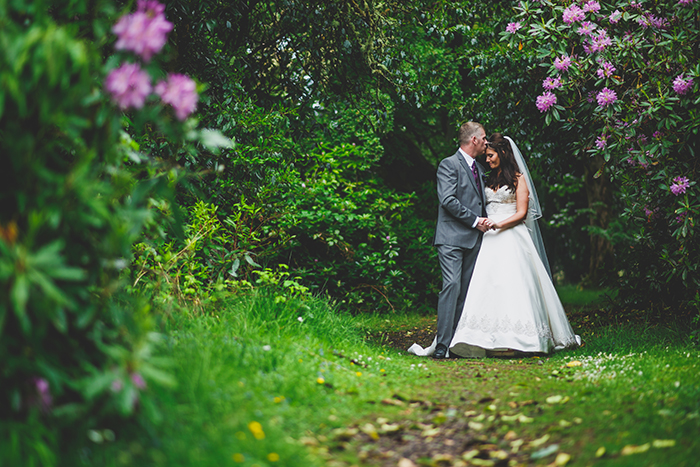 IMAGES | Top Table Photography
Originating in 1296 and steeped in hundreds of years of Scottish history, couples looking for an authentically Scottish wedding venue should look no further than Culcreuch Castle Hotel.
Hidden in the countryside but only a short drive from Stirling, Culcreuch Castle has stretches of ruggedly charming countryside on its doorstep, with many beautiful spots for couples who wish to have an outdoor wedding ceremony.
If you would like to say your 'I dos' inside however, the stone walled Galbraith Hall is perfect. Dressed for a wedding and lit with candles, it has the sweeping romantic ambiance that only Scottish weddings can pull off!
Visit Culcreuch Castle Hotel's website | t. 01360 860555 | e. weddings@culcreuch.com
Read reviews for Culcreuch Castle Hotel
 Fenton Tower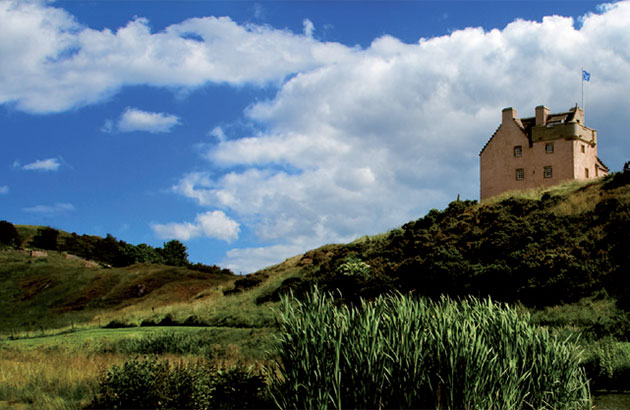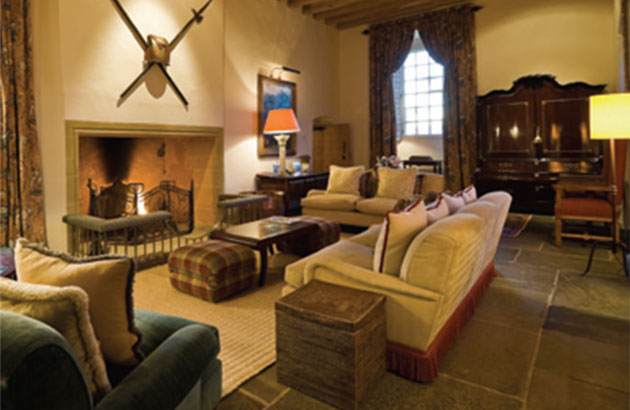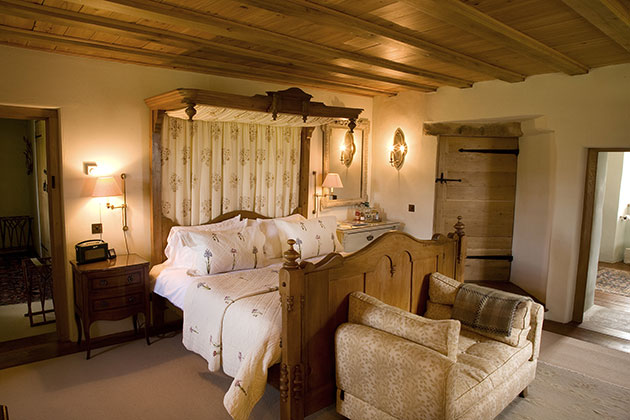 A truly stunning wedding venue that stands high on a hill in Kingston, North Berwick, Fenton Tower will blow you away with its uniquely Scottish charm.
The tower's décor pays tribute to its rich Scottish history while still being freshly contemporary, with many items being handpicked and carefully shipped over from French chateaus.
You can exchange your wedding vows in the Great Hall beneath a beautifully woven and historic tapestry while a log fire gently burns and crackles in the background.
Wedding breakfasts and receptions for smaller weddings can be hosted in the vaulted Dining Room, while larger celebrations can spill outside into a spacious marquee on Fenton Tower's beautiful grounds.
Visit Fenton Tower's website | t. 01620 890089 | e. manager@fentontower.com
Fernie Castle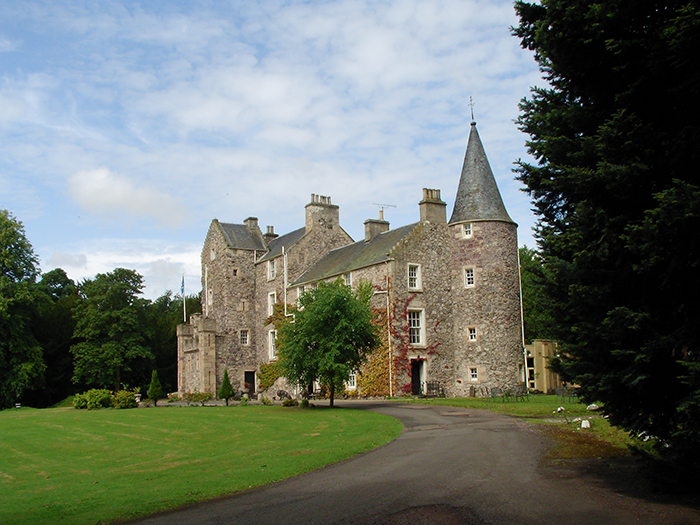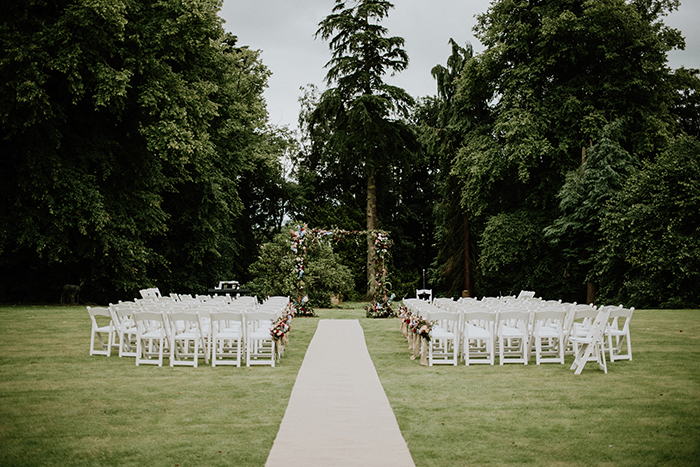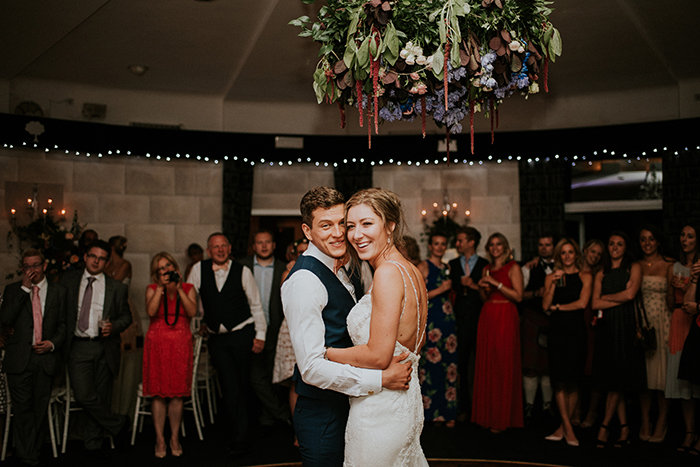 IMAGES | Anna Urban Photography
A privately owned castle that first began life the 14th century and situated in Cupar, Fernie Castle is a romantically dramatic wedding venue, with red ivy climbing its stone walls and turrets.
You can tie the knot outside underneath the bridal arch, and the castle's circular ballroom is a fantastic space to celebrate your wedding breakfast and reception.
The castle has 20 en-suite bedrooms which means there's plenty of space for your wedding party and VIP guests to stay the night.
You will also be completely enchanted by Fernie Castle's very own turreted treehouse. Hopelessly dreamy, the treehouse is beautiful inside and out, with intricately painted walls, elm-king-sized bed, slipper bath and balconies that have amazing views over the surrounding countryside.
Visit Fernie Castle's website | t. 01337 810381 | e. mail@ferniecastle.co.uk
Read reviews for Fernie Castle
Glenskirlie House + Castle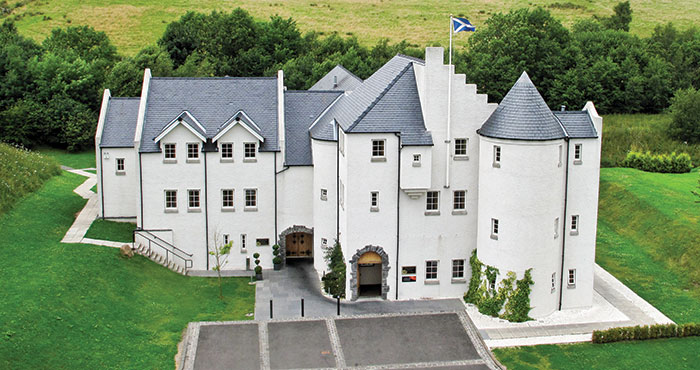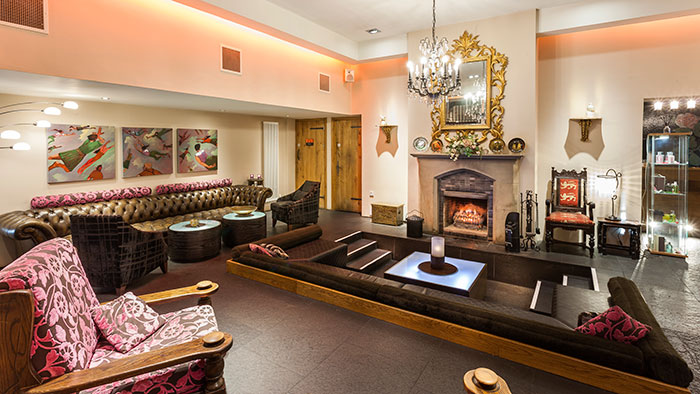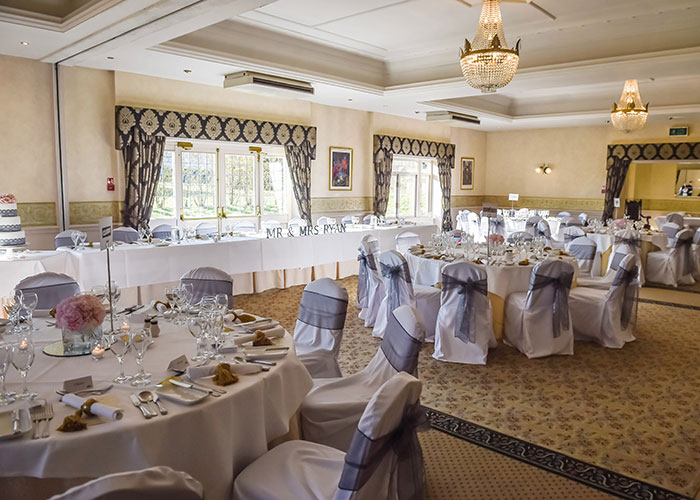 A wonderfully unique wedding venue, Glenskirlie House and Castle offers its couples plenty of variety and flexibility when planning their wedding day.
With 15 individually designed bedrooms onsite, your guests will have plenty of options for overnight accommodation. And Glenskirlie sports not one, but two honeymoon suites – so you and your soon-to-be spouse have plenty of options for accommodation too!
Whether you're having a big bash or a small, intimate celebration, Glenskirlie Castle will provide the fairytale wedding of your dreams.
Visit Glenskirlie House + Castle's website | t. 01324 840201 | e. weddings@glenskirliehouse.com
Read reviews for Glenskirlie House + Castle
Gordon Castle


COUPLE IMAGES | Martin Leckie Photography
Completely unique, Gordon Castle sits amongst ancient woodland on the banks of the River Spey in the Scottish Highlands. It has an eight-acre walled garden, and the castle itself is bright, airy and modern.
The castle's beautiful Orangery is a wonderful place to hold your wedding ceremony, and there's plenty of space in the venue's extensive grounds for a marquee if you want to have a large wedding celebration.
The castle has a fantastic gourmet chef who will create fantastic locally sourced dishes for you and up to 40 of your guests. If you are having a larger wedding, you are free to hire in the caterer of your choice.
Visit Gordon Castle's website | t. 01343 820244 | e. admin@gleco.co.uk
---
We love this navy + blush themed romantic wedding day at Glenskirlie House + Castle
---
Logie Country House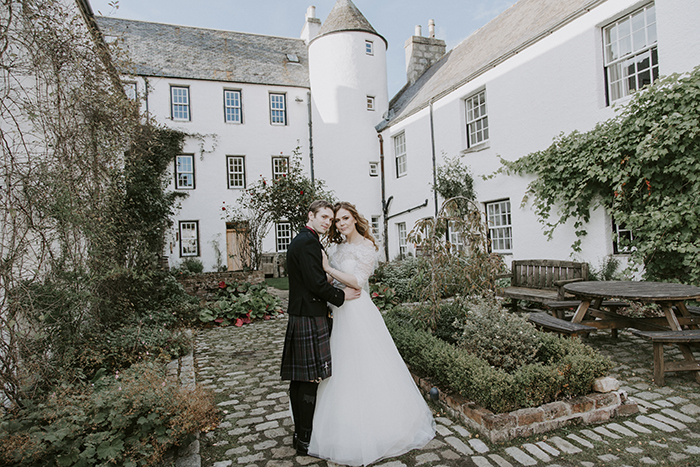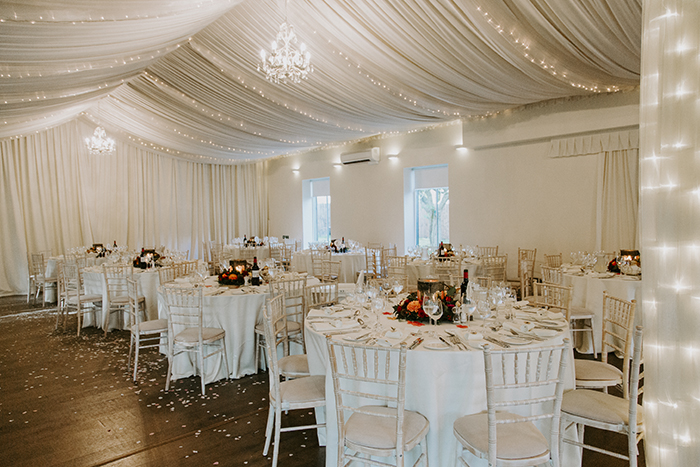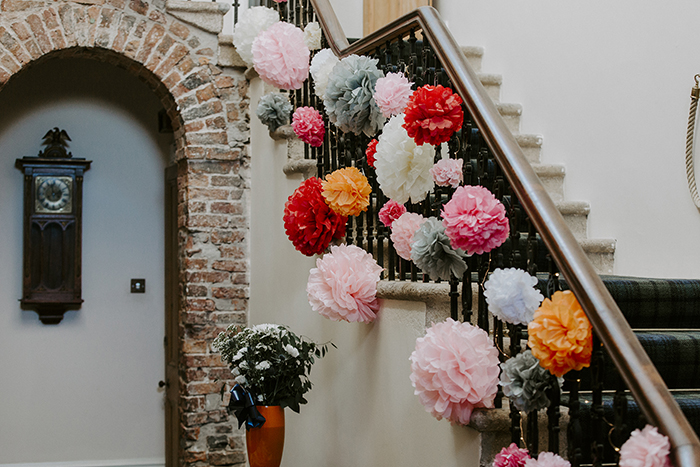 IMAGES | Anna Wytrazek Photography 
Logie Country House is a spectacular exclusive use wedding venue built on estate lands that date back to 1472.
The 1680s castle was extensively mortified in the 18th Century and now has 15 bedrooms, an indoor pool and a new purpose built ballroom. The house and estate can be yours for a long wedding weekend or mid-week stay.
Imagine a relaxed celebration, surrounded by all your friends and family. Host a dinner the day before your wedding or a BBQ the day after too. The courtyard and grounds are a beautiful place to tie the knot. The Drawing room is great for a small intimate wedding and the new ballroom can accommodate up to 180 guests.
Visit Logie Country House's website | t. 08450 942424 | e. reservations@logiecountryhouse.co.uk
Read reviews for Logie Country House
Myres Castle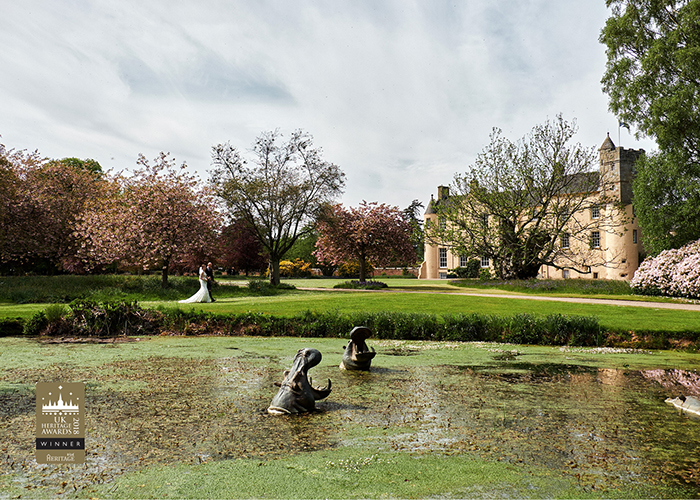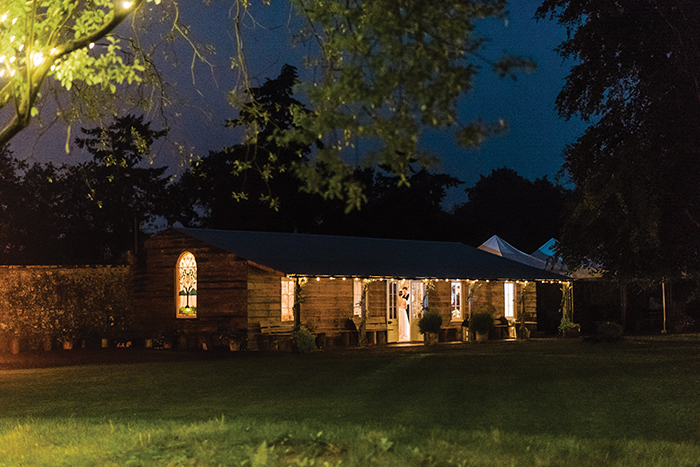 IMAGE | Photos by Zoe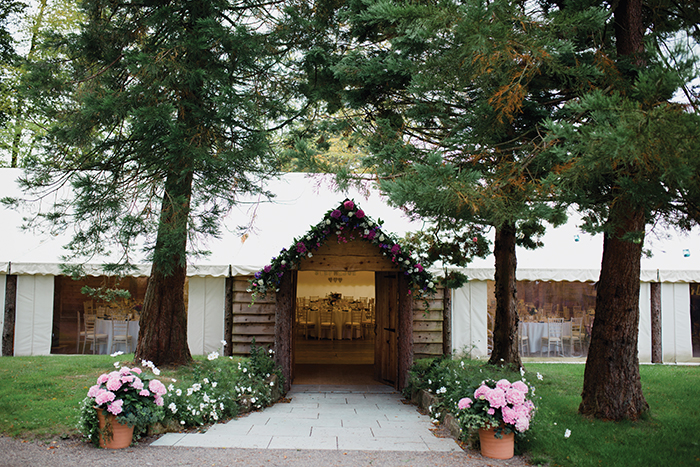 Myres Castle, winner of Best UK Wedding Venue in the Hudson UK Heritage Awards 2018, is a whimsical and romantic wedding venue situated near the village of Auchtermuchty.
The best of both worlds, you can have the stunning castle for up to 24 guests throughout your stay, and celebrate your wedding in the rustically charming Barnquee.
The Barnquee is situated in a lovely woodland setting, with twinkling lights hanging from the trees and fire pits outside (as well as a wood fired pizza oven!) to further add to the magical atmosphere.
Visit Myres Castle's website | t. 01337 828350 | e. enquiries@myrescastle.com
---
Take a look at the best Scottish castle wedding venues list from 2017
---
Tullibole Castle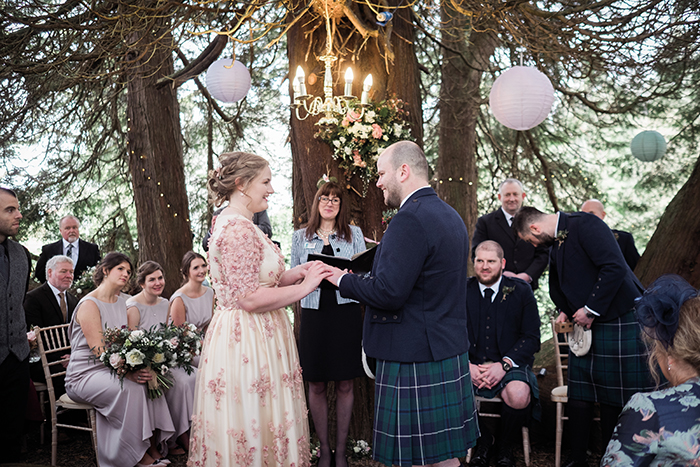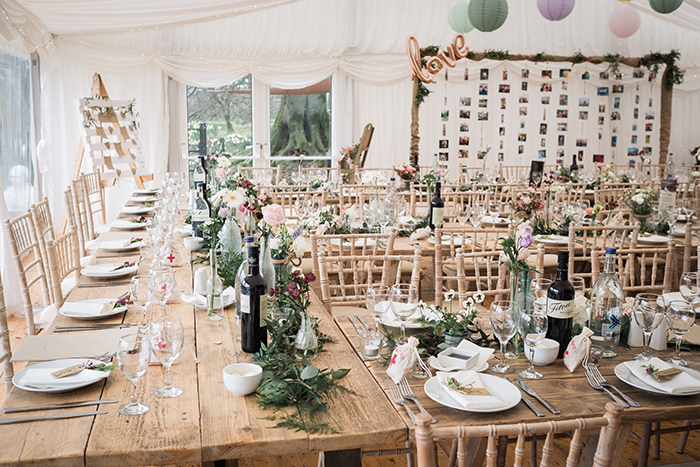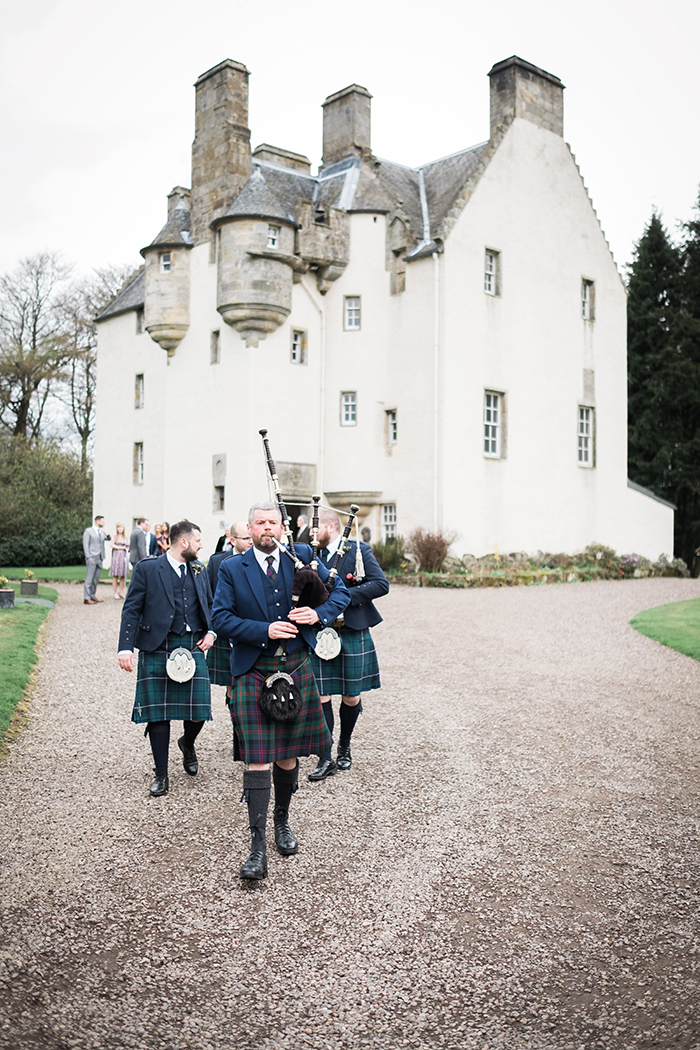 IMAGES | Fern Photography
Even though Tullibole Castle is a beautiful and stately Scottish mansion nestled in the Perthshire countryside, it has a relaxed, easy going atmosphere that will make you never want to leave.
And for the weekend of your wedding, you won't have to. Exclusively yours over three days, you can prepare for your wedding on the Friday, have your special day on the Saturday, and chill out on the Sunday with a BBQ or even a round of lawn games!
You are also spoiled for choice when it comes to choosing a spot for your wedding ceremony. You can exchange vows in the castle itself, or have a more laid back ceremony in the recently refurbished rustic-luxe Carriage House. If you fancy an outdoor ceremony, you can say your 'I dos' beneath the achingly romantic Cathedral Tree, or tie the knot down by the water!
Visit Tullibole Castle's website | t. 01577 840236 | e. hitched@tullibolecastle.com
Read reviews for Tullibole Castle 
Achnagairn Castle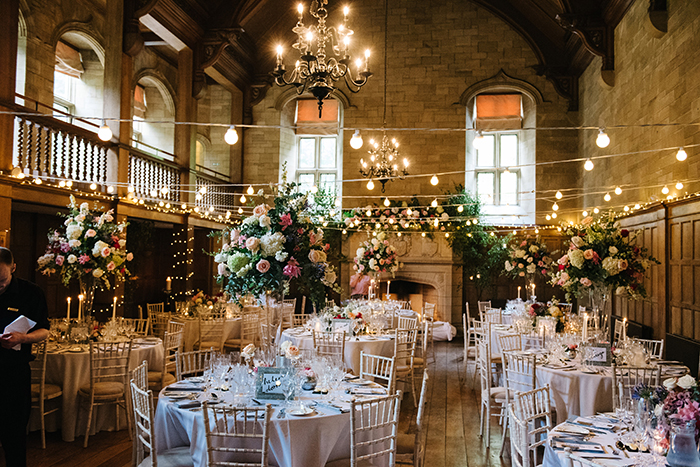 IMAGE | Catching the Moments Photography
Achnagairn Castle is a sweepingly romantic wedding venue only seven miles away from Inverness.
Visit Achnagairn Castle's website
Ackergill Tower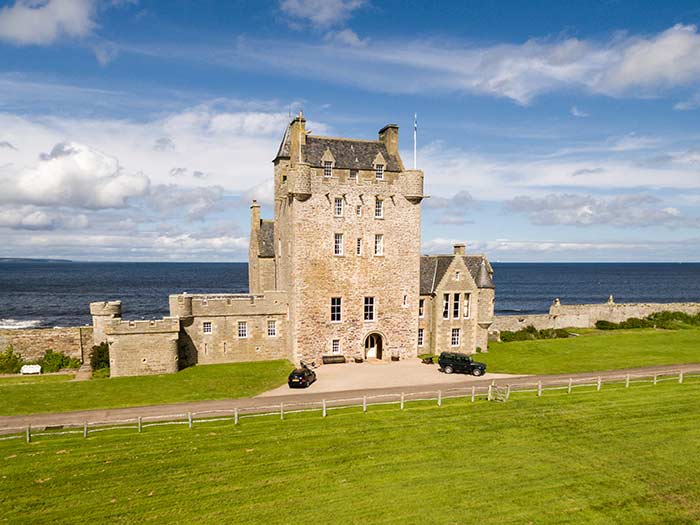 Ackergill Tower is an opulent highland castle which boasts dramatic views over the Caithness coastline.
Visit Achergill Tower's website
Eilean Donan Castle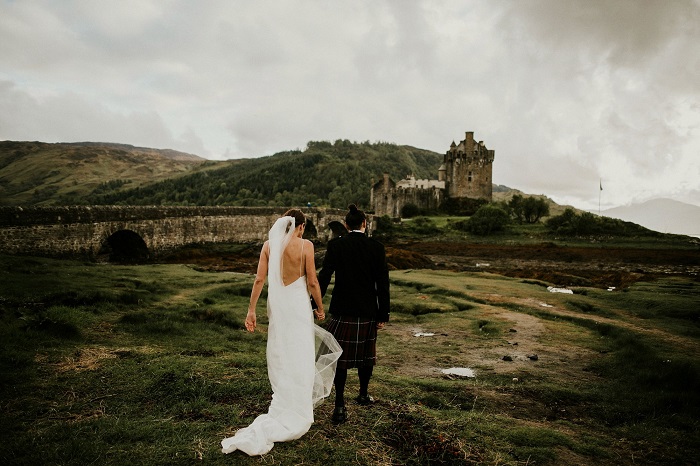 IMAGE | John Johnston Photography
One of Scotland's most iconic buildings, tying the knot here is a must 'I do' for Scottish history buffs.
Visit Eilean Donan Castle's website
Glentruim Castle and Cottages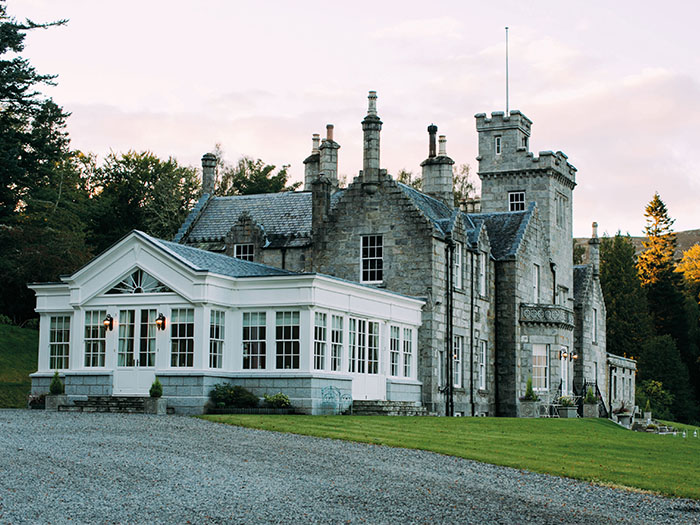 Glentruim Castle and Cottages is a stunning wedding venue in the Scottish Highlands which you can have all to yourselves for the weekend of your wedding.
Visit Glentruim Castle and Cottages website 
Turin Castle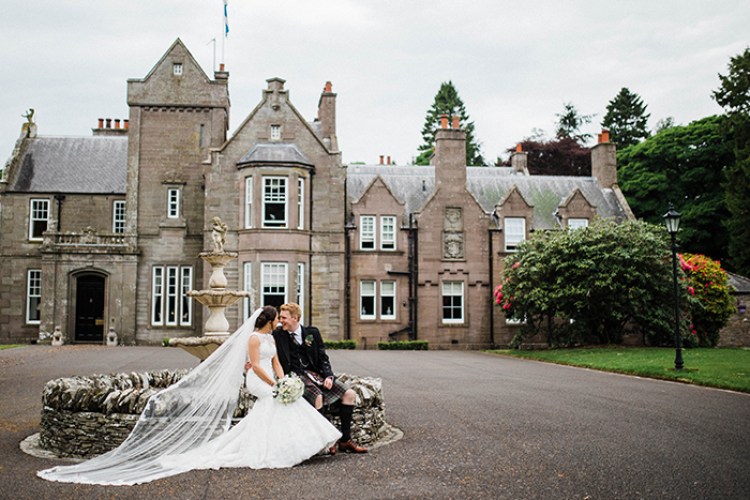 IMAGE | Fairytale Asylum Photography
A privately owned exclusive use venue that is easily accessible from both Edinburgh, Dundee and Aberdeen, Turin Castle is an elegant and beautiful place to celebrate your wedding day.