40 of the best blank canvas + barn wedding venues in Scotland 2019
These beautiful venues are great for couples who have a creative streak!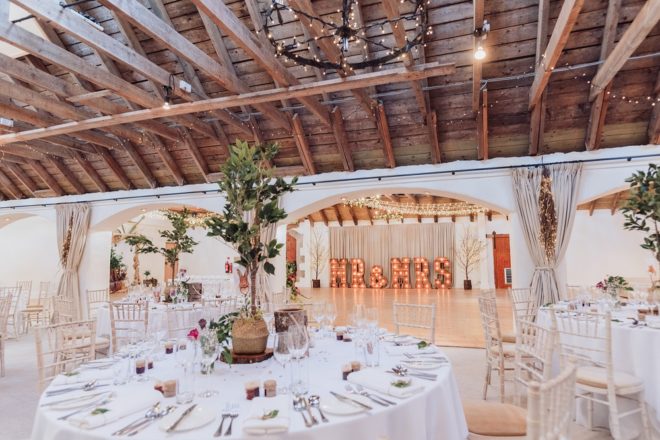 We're definitely seeing an increase in the level of personalisation couples want to inject into their weddings. More and more couples are choosing blank canvas wedding venues, or beautiful spacious barn wedding venues in Scotland, and we love it!
We've collated some of the best blank canvas and barn wedding spaces in Scotland for this year.
Take a look; you could find your perfect wedding venue on this year's list!
This post contains some paid-for content.
ASWANLEY
IMAGE | Liana Mitrea Photography

IMAGE | Donna Murray Photography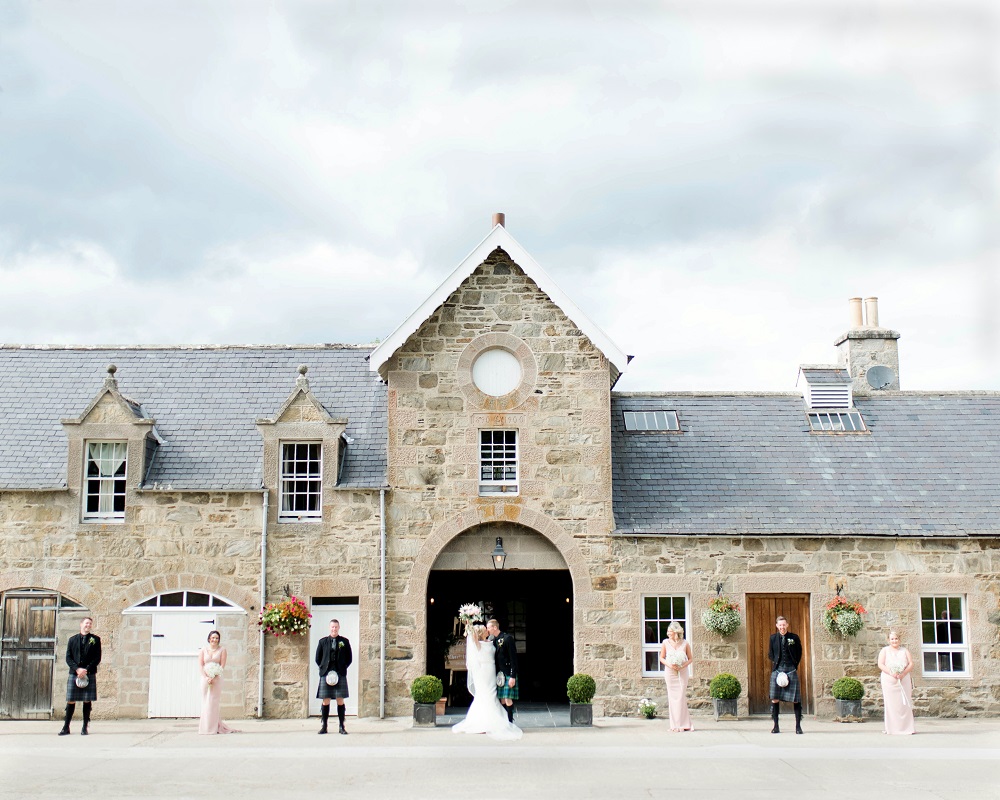 IMAGE | Jill Cherry Porter Photography
Aswanley's Victorian barn has been beautifully renovated with natural, local materials, featuring a stunning stone fireplace, pine floors and cast iron chandeliers.
These distinct features and the neutral colour scheme provide the perfect backdrop for you to have fun creating your own look. It can be styled as much or as little as you would like. It can be as simple as adding flowers around the cast iron chandeliers to instantly put your own distinctive stamp on Aswanley.
You don't have to hire tables, chairs, cutlery or glassware in yourself – we have it covered – and on top of that you have the help of an in-house wedding coordinator.  They can recommend
suppliers, give guidance on timings and suggest dining layouts. They will be there on the day to coordinate your wedding and ensure everything runs smoothly.
Visit Aswanley's website | t. 01466 700340 | e. lauren@aswanley.com
BALLOGIE HOUSE
IMAGES | Zoe Rae Photography
Ballogie House, in Aboyne, is a truly stunning country mansion with beautiful uninterrupted views; providing guests with total privacy to relax and enjoy time with family and friends before the big day!
The house has a contemporary interior and seven beautiful en-suite guest bedrooms, including a luxurious bridal suite, meaning there's plenty of room for everyone.
Whether you choose Ballogie's stunning orangery or luxurious glass sided marquee for your celebration, each can be personalised to reflect your individual theme and style, making each wedding at this beautiful venue truly unique!
Visit Ballogie House's website | t. 01339 886497 | e. info@ballogie-estate.co.uk
THE BARN AT HARBURN
IMAGE | McLaurin Weddings 
The Barn at Harburn is a unique blank canvas venue; a roundhouse and granary which has been lovingly converted into a stylish, versatile wedding venue.
Set in the beautiful grounds of the Harburn Estate in West Lothian, there are plenty of opportunities to use the vast grounds: a gorgeous outdoor ceremony or an alfresco drinks reception are definitely on the cards if the weather plays ball.
This venue is just waiting to have your personalities stamped all over it. You have the freedom to decorate the space as you wish for your wedding day, and the team at Harburn are more than happy to give you help and guidance, with a list of preferred suppliers to choose from.
Visit The Barn at Harburn's website | t. 07826 783003 | e. info@harburnbarn.com
THE BYRE AT INCHYRA
IMAGE | The Kitcheners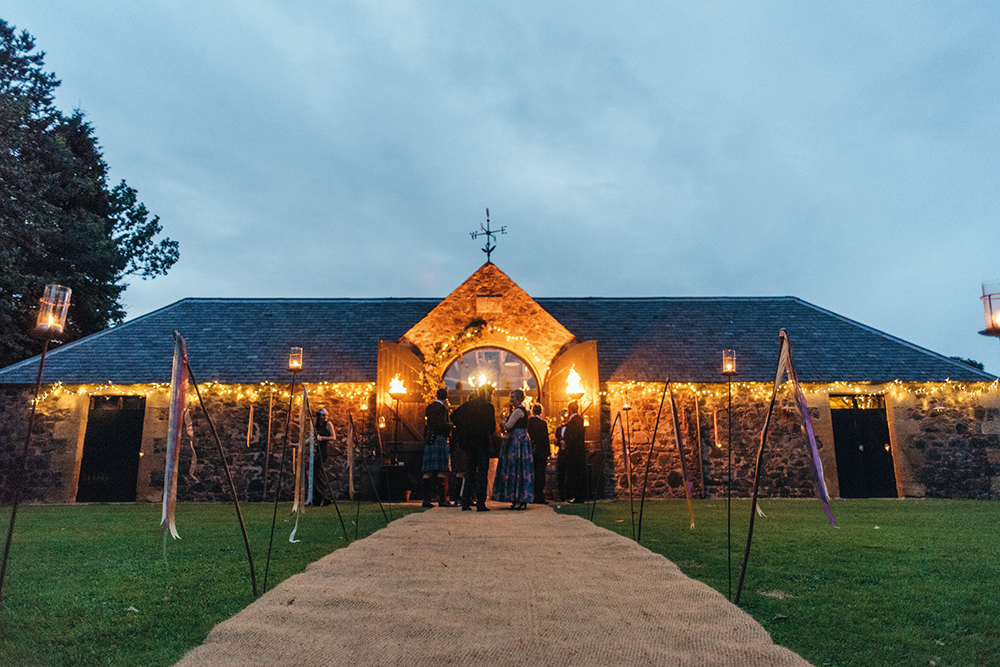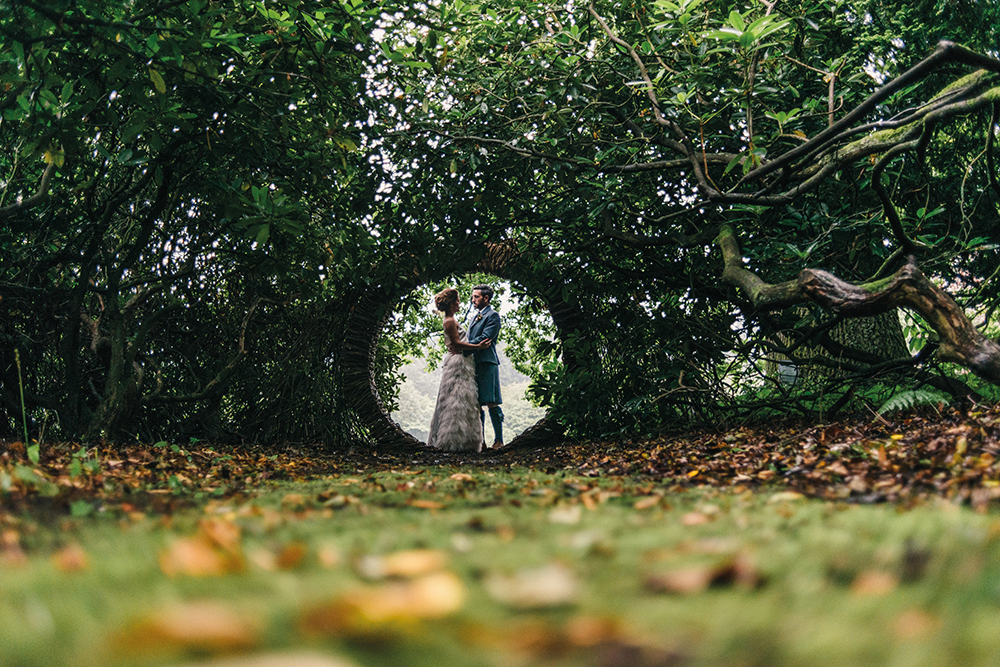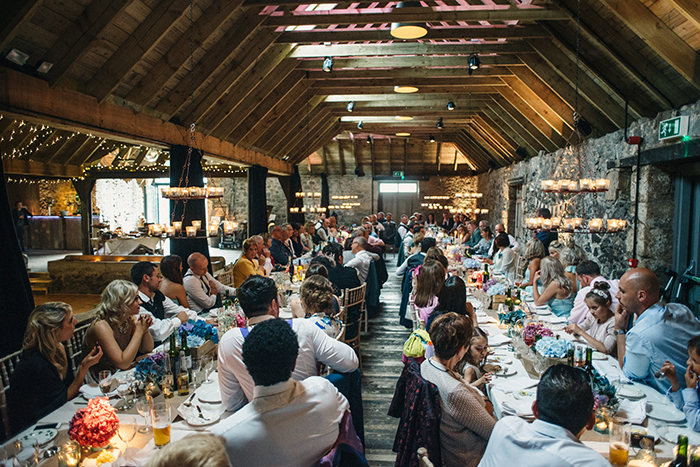 The Byre at Inchyra is a truly remarkable wedding venue that sits on the incredibly scenic Inchyra Estate, Glencarse, Perthshire.
A converted blank canvas barn venue, you can truly build the wedding of your dreams from the ground up. This venue really is versatile; there's so much potential for creating something special here.
The venue can hold up to 180 guests for dinner and dancing, with a sprung maple wood dancefloor made from reclaimed wood from Kelvingrove Art Gallery… how cool is that!
After a magical day, you can lay your head down in the beautiful bridal suite and your guests can stay in the cottages on-site. If you're feeling a little more adventurous, there's glamping too.
Visit The Byre at Inchyra's website | t. 01738 860066 | e. enquiries@thebyreatinchyra.co.uk
CARDNEY STEADING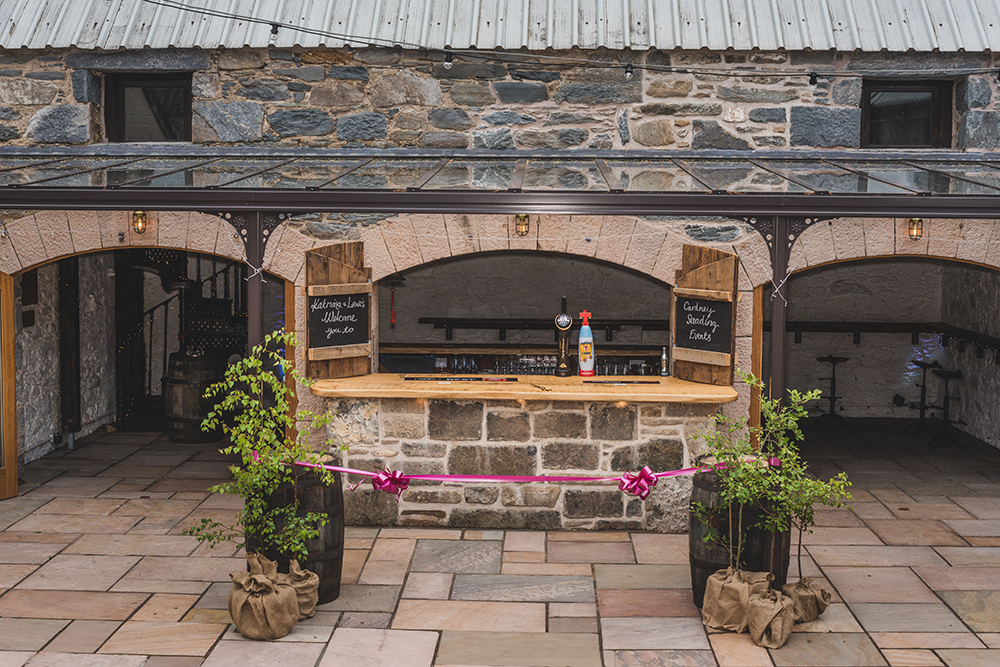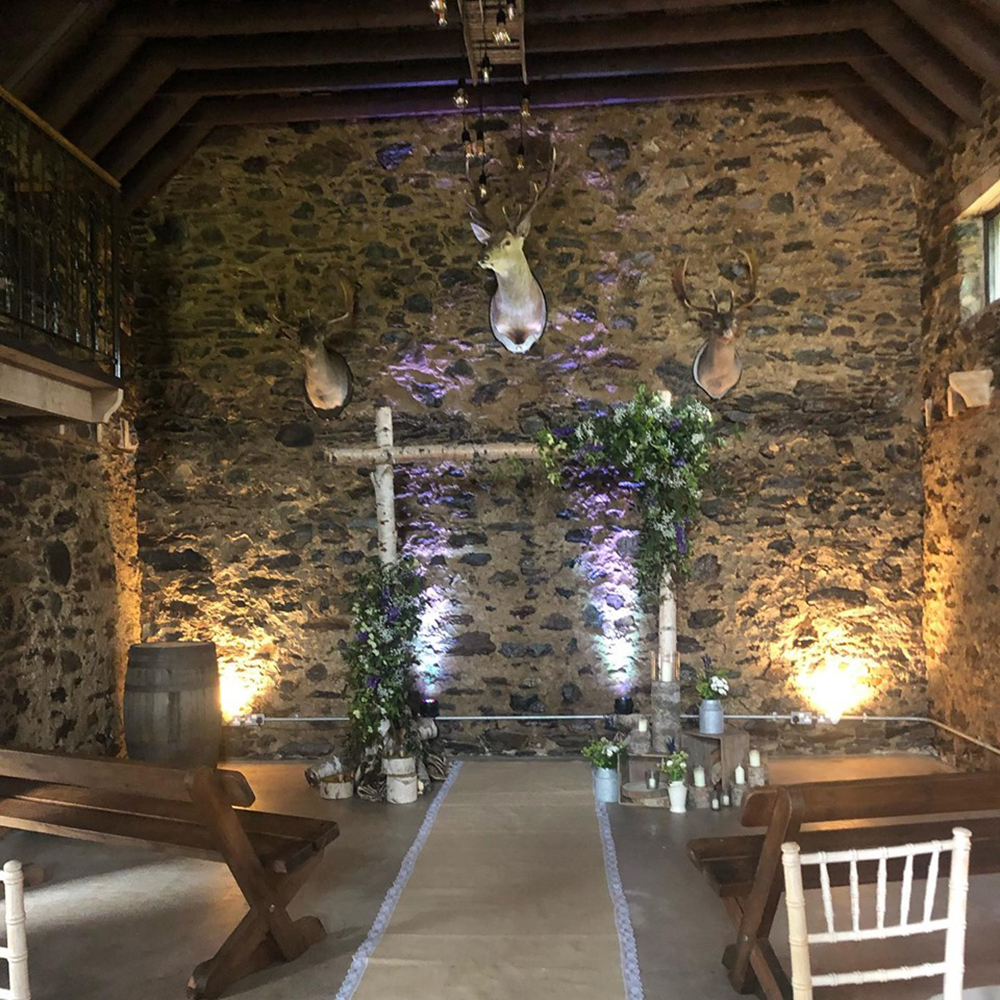 Cardney Steading is a stunning newly refurbished wedding and events venue, located just four miles from Dunkeld. Offering some of the most picturesque scenery in Perthshire, this venue is an idylic location for your big day.
Couples will fall for the charms of the rustic stone, pretty whitewashed walls and beautifully finished outdoor spaces and there is so much scope to decorate this blank canvas venue exactly how you want.
Outdoors you can entertain your guests around the fire pit, head into the woods for your wedding photos or tie the knot by the loch. And you can even bring your beloved dog or horse to be part of your day.
Visit Cardney Steading's website | t. 07764 168897 | e. info@cardneyestate.co.uk
CARFRAEMILL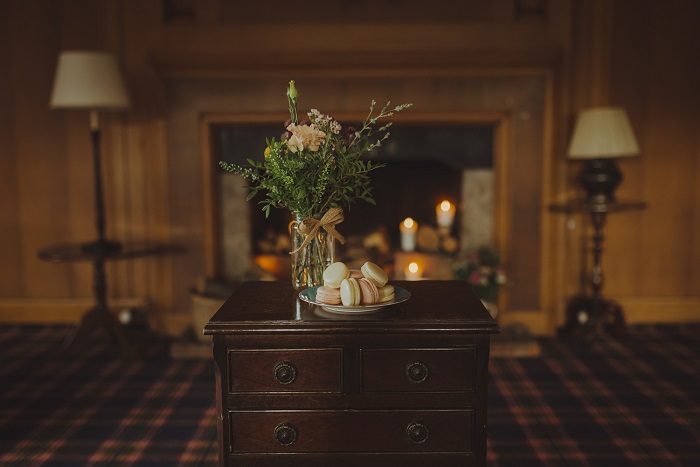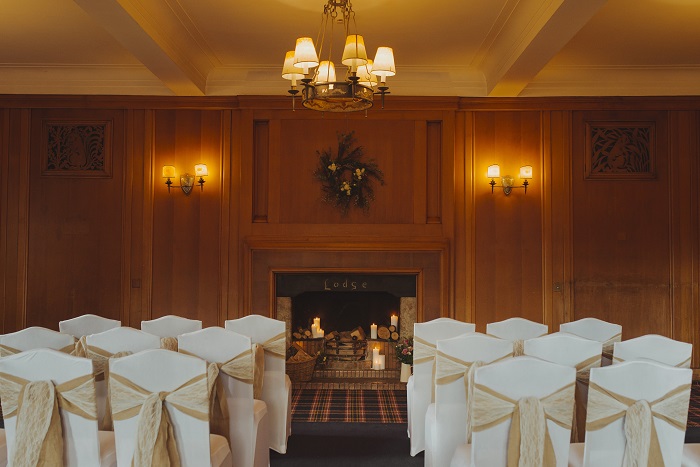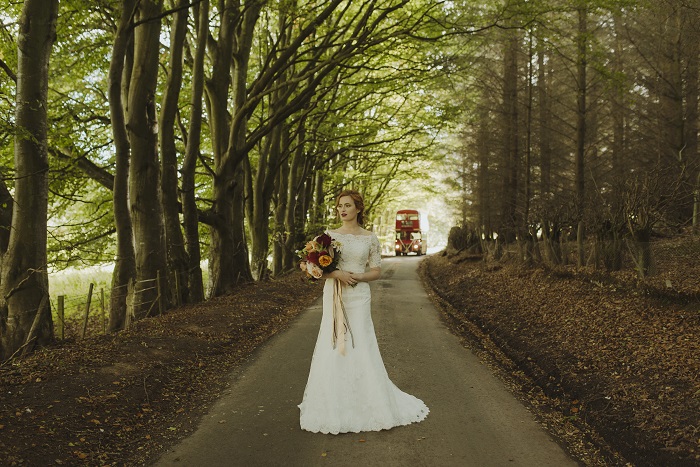 A lovely country hotel that offers couples true versatility when planning their wedding day, Carfraemill is a really unique wedding venue in Lauder, near Edinburgh.
Only 30 minutes from Edinburgh city centre in a stunning country location, this venue allows you to have your wedding day, your way, in a picturesque rural setting that's still accessible for guests travelling for your day.
Not only does Carfraemill have an amazing permanent marquee on-site with a neutral colour scheme, you can even set up your own tipi or tent up 'On the Hill'.
This beautiful spot has stunning views, and as it's a mile away from the hotel, guarantees you and your guests complete privacy when celebrating your big day.
Visit Carfraemill's website | t. 01578 750750 | e. enquiries@carfraemill.co.uk
CLUNY CASTLE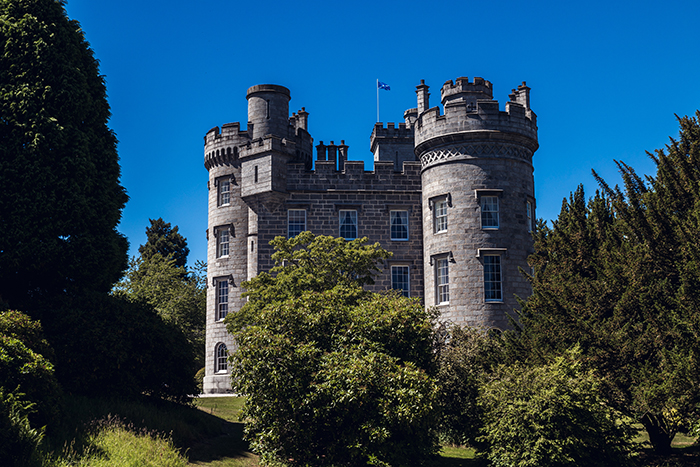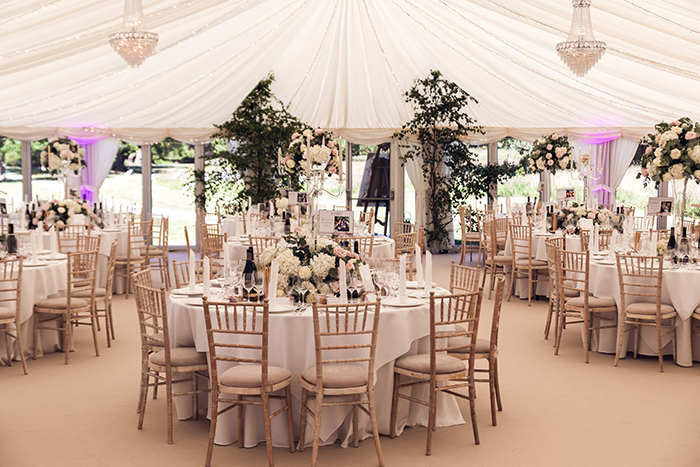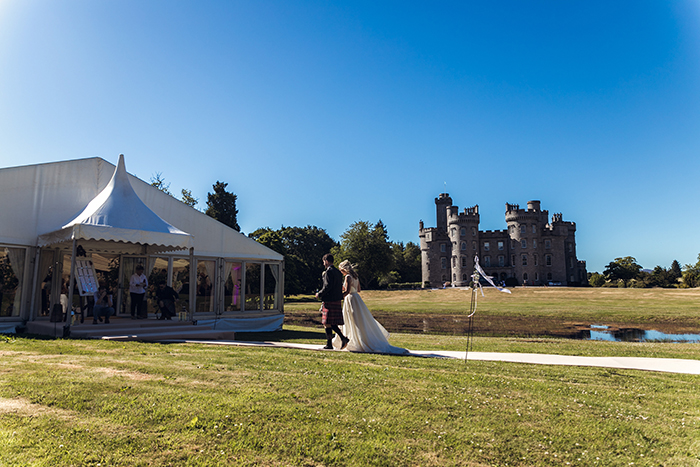 IMAGES | Sam Brill 
Dating all the way back to the 15th century, Cluny Castle is an enchanting crenellated mansion and wedding venue hidden in the tranquil Aberdeenshire countryside.
A much loved family home, the castle even has its very own picturesque chapel where you can hold your wedding ceremony, complete with a private courtyard that is fantastic for group photographs.
For your couple portraits, there's plenty of beautiful and secluded spots throughout the castle's grounds that are perfect to sneak off to while your guests are enjoying the drinks reception.
As well as the Tenants Hall which seats 94 guests, there's plenty of room in the gorgeous grounds to erect a marquee – you choose the theme, layout and style, making it completely your own.
Visit Cluny Castle's website | t. 01330 833302 | e. info@clunycastle.com
THE CRUIN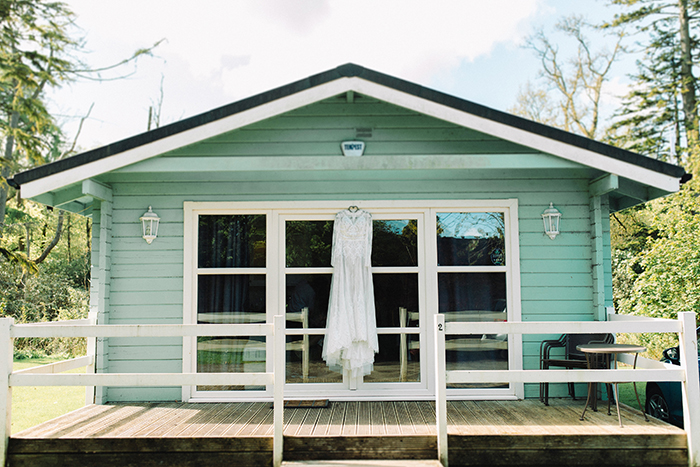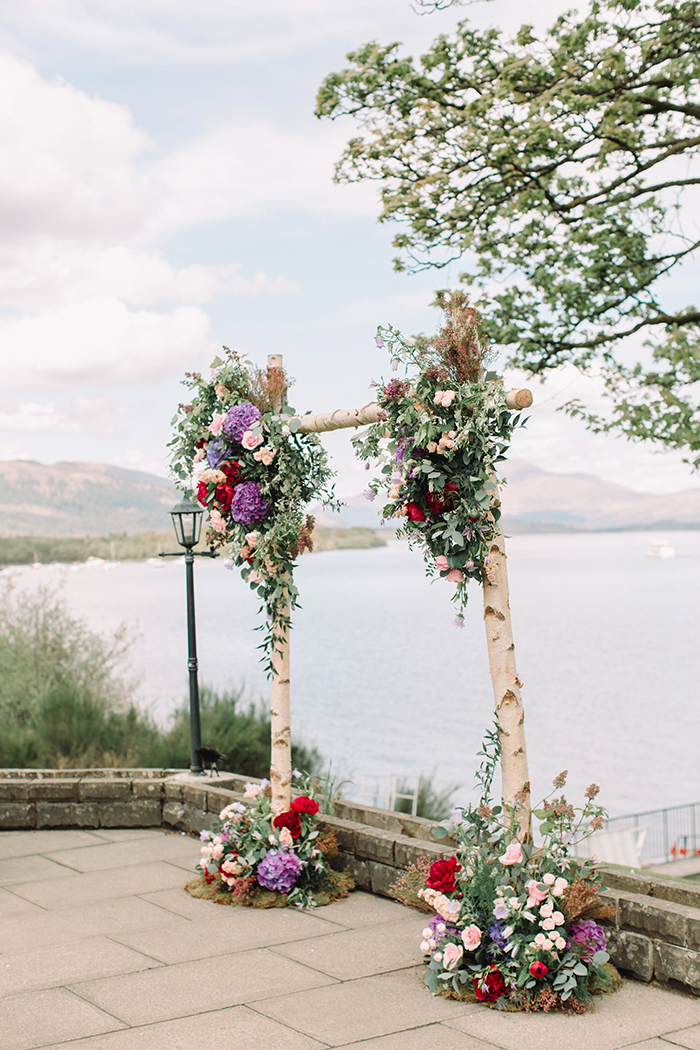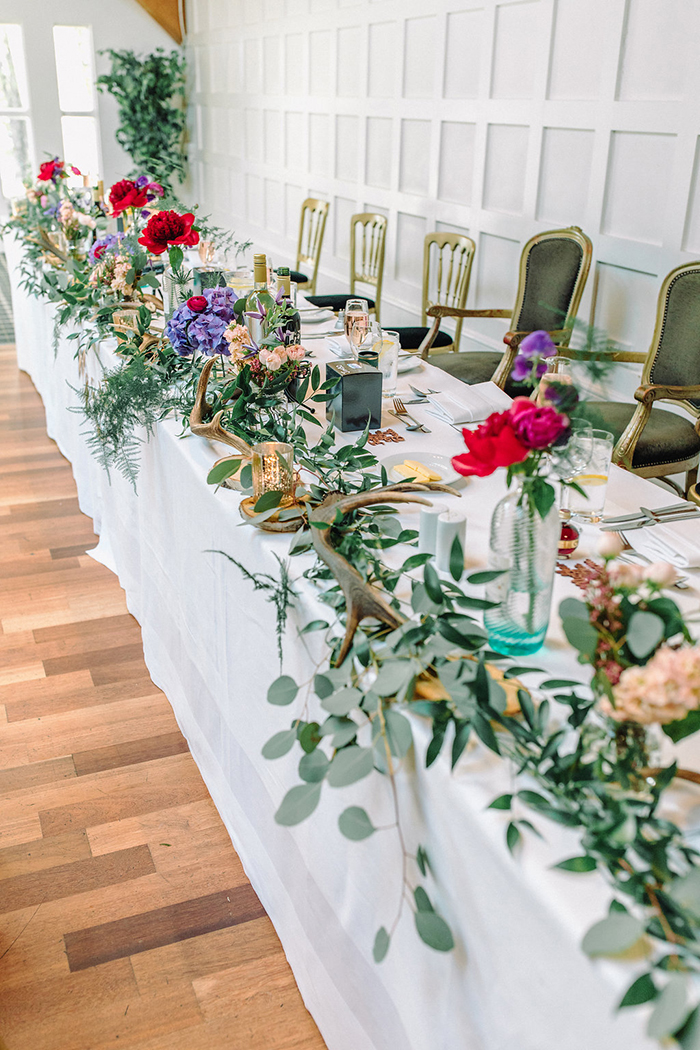 IMAGES | The Gibsons
One of the most popular venues on Loch Lomond, The Cruin offers couples a space that they can truly call their own.
The Lochside Terrace and ceremony suite both have panoramic views across the loch to Inchmurrin Island and Ben Lomond the perfect space to hold your wedding ceremony.
With a roaring log burner, it also transforms to become a cosy and relaxed area for your guests to enjoy bubbly and canapés as you are whisked away by your photographer to take advantage of the stunning grounds to create the perfect of memories.
Take a look at this cool waterside wedding with amazing flowers at The Cruin.
Visit The Cruin's website | t. 01389 850263 | e. info@thecruin.com
DYNAMIC EARTH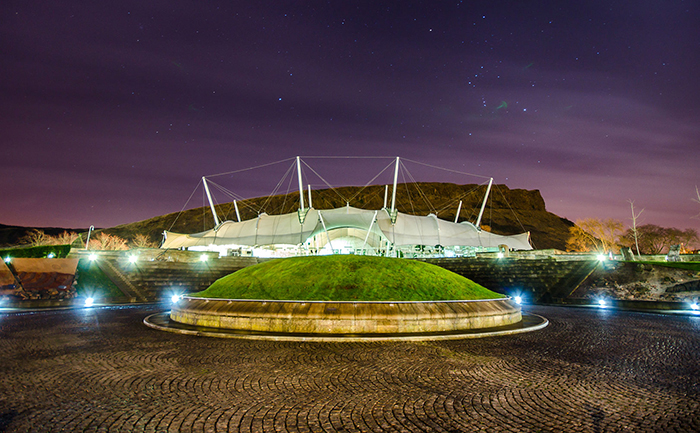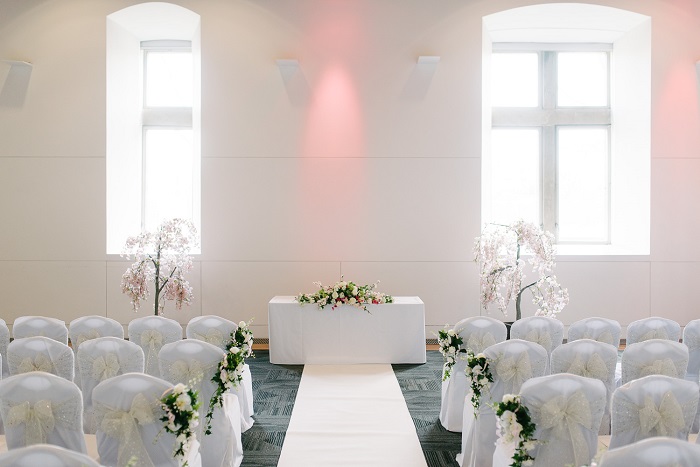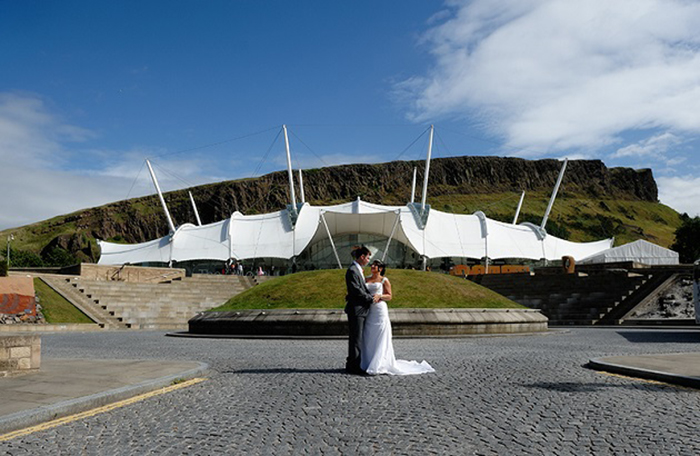 Wedding venues in Scotland don't come much more unique than this visitor attraction in the Holyrood area of Edinburgh.
The fun venue tells the story of planet earth, and what's a more important tale than a brilliant love story?
For a Scottish wedding party with a unique twist, The Biosphere features an original turret, arched ceilings and statement windows. For a contemporary celebration setting, The Ozone has stunning views from the floor to ceiling windows and is the ideal location for your wedding breakfast.
Your guests can even wander around the Earthscape Galleries; how many guests can say they've spotted an iceberg at a Scottish wedding?
Visit Dynamic Earth's website | t. 0131 523 1269 | e. events@dynamicearth.co.uk
EDEN LEISURE VILLAGE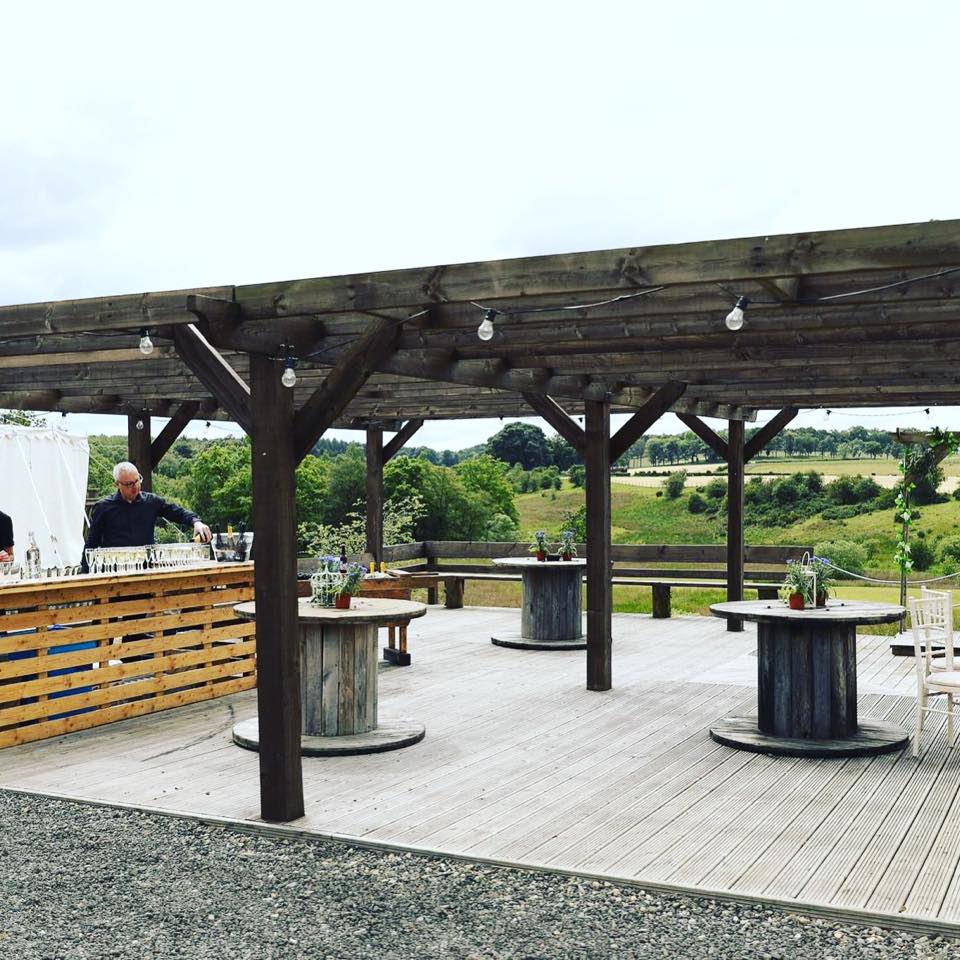 IMAGE 3 | The Gibsons
Eden Leisure Village is a picturesque countryside wedding venue situated in a great location between Glasgow and Stirling. The North Lanarkshire landscape is peaceful and idyllic, and provides a wonderful backdrop for a romantic outdoor wedding ceremony.
You can then hold your wedding breakfast and drinks reception in the marquee and continue the day with your evening reception in the brand new converted barn, a blank canvas space that will instantly inspire your wedding with effortless rural charm.
There are also hobbit huts, glamping pods and a unique glampervan, meaning you can stay with your family overnight too. Call them to book a viewing.
Visit Eden Leisure Village's website | t. 01236 735464 | e. info@edenleisurevillage.co.uk
FINGASK CASTLE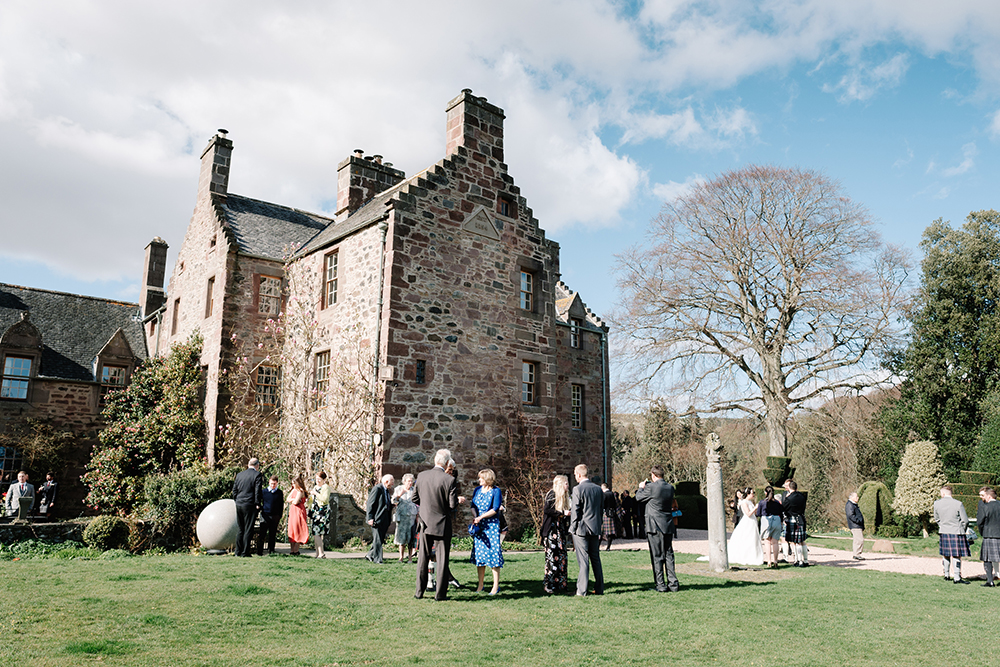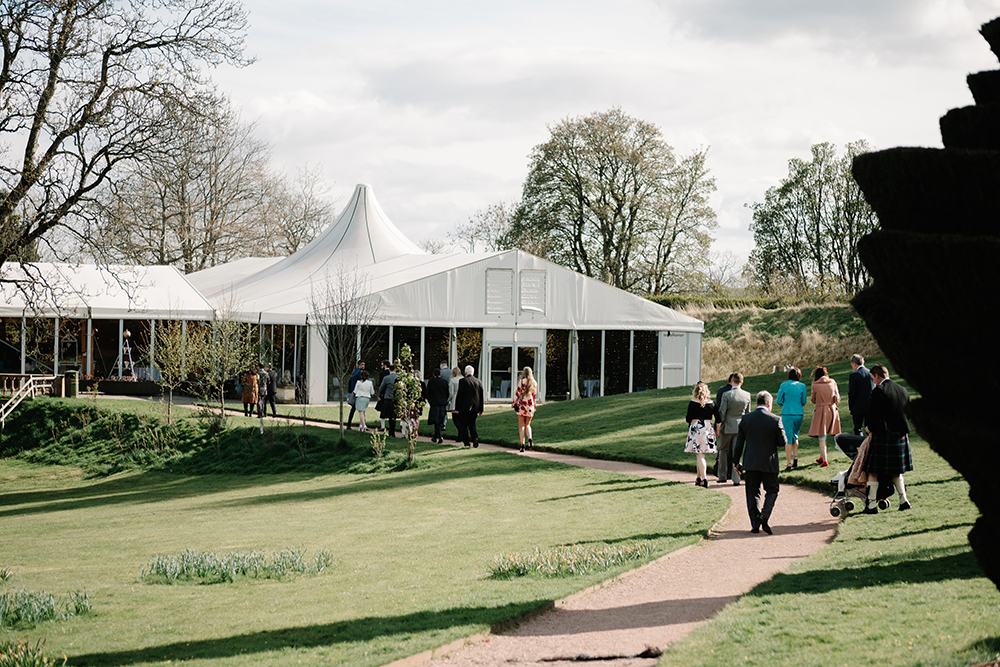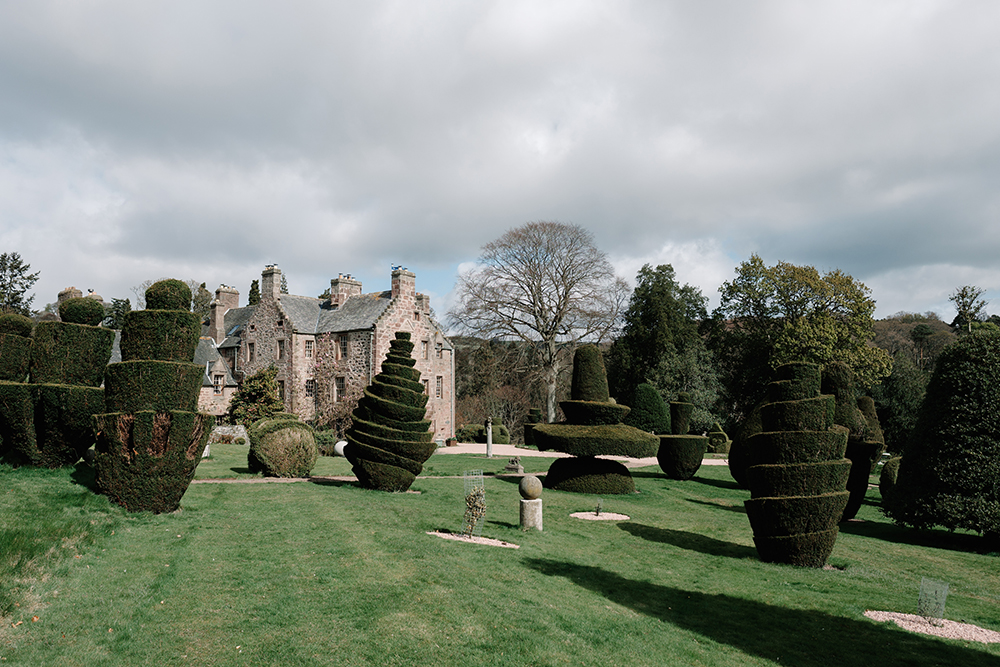 IMAGES | Chris Henderson
Sitting at the head of its own private glen, just five minutes off the A90 between Perth and Dundee, Fingask Castle is famous for its Alice in Wonderland-esque eccentric gardens.
The modern Pavilion is situated in the stunning grounds with views out to the castle. It's flexible enough for 80 people to fill, but expands to fit 200 for dinner, dancing and reeling the night away.
Smaller parties can use the castle itself, with its famous collection of pictures, chapel and the Long Gallery – home to the well-established Fingask Follies.
Up to 70 of your guests can stay within easy walking distance of the castle and pavilion in the fully equipped cottages and 'Potting Shed' pods, not to mention the magical Boathouse on the Fingask Loch.
Visit Fingask Castle's website | t. 01821 670777 ext 3 | e. events@fingaskcastle.com
FRUIN FARM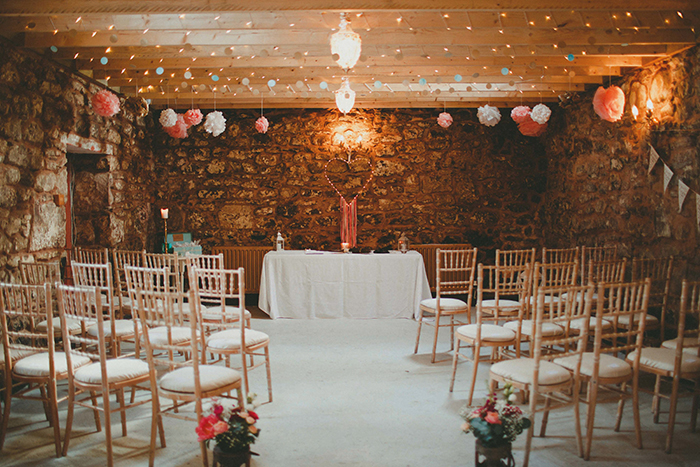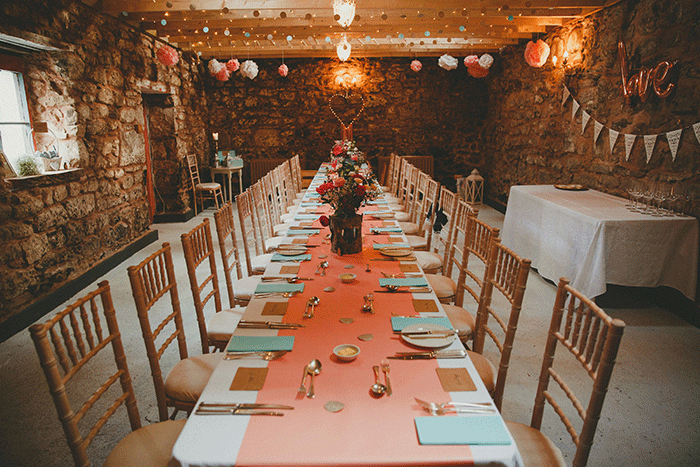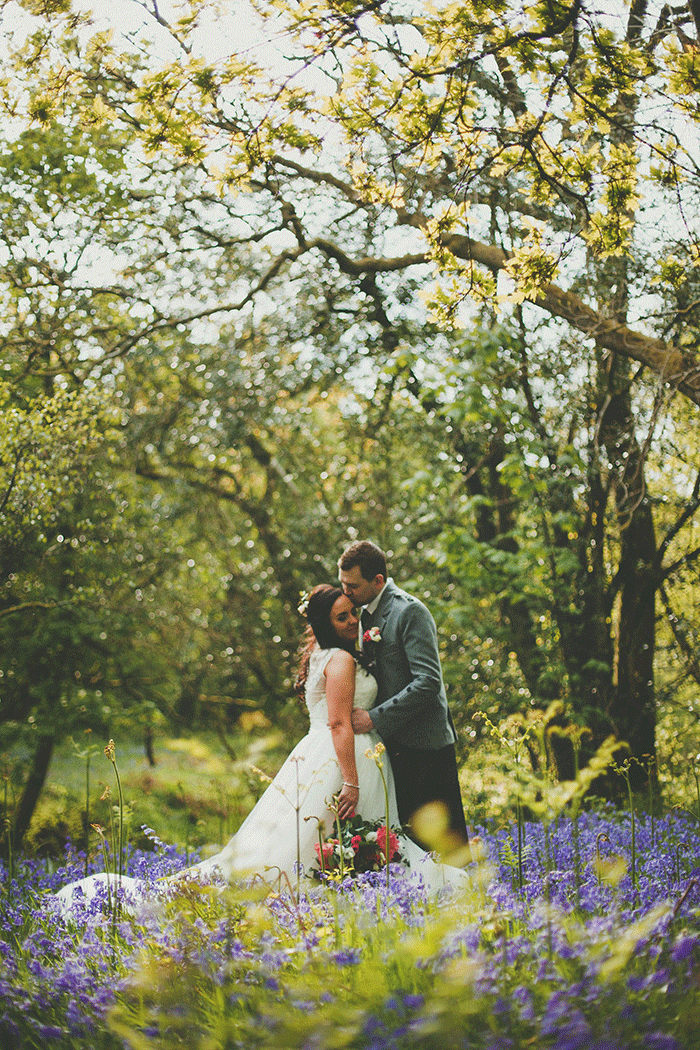 Just a mile from the shore of Loch Lomond , you can get married in the beautiful countryside setting of Fruin Farm.
The on-site barn has bags of rustic charm, or maybe you'd prefer an intimate dinner in the restaurant, with stunning views of the Loch.
You could even use both spaces; the choice is yours, and the team at Fruin Farm will work with you to come up with something perfect.
The venue specialises in small and personal weddings for a maximum of 60 guests, with a real foodie focus. Prices start from £3,000.
Visit Fruin Farm's website | t. 01389 850727 | e. info@fruinfarm.co.uk
GILMERTON HOUSE
IMAGES | Ashley Coombes Photography
An elegant, timeless Georgian house in a secluded countryside setting, this exclusive-use venue is just half an hour away from Edinburgh's city centre.
It's a beautifully romantic setting for your Scottish wedding, with plenty of opportunity to have your ceremony or drinks reception outdoors in the sprawling gardens. If the weather is a little colder, don't worry; you can use one of the beautiful spaces in the mansion house.
The Music Room can hold up to 60 guests, the Reception Room can hold up to 150 guests and the Rose Garden marquee can host a big celebration of up to 200. Up to 26 guests can stay in the 10 double bedrooms in the house and three bedrooms in the lodge.
Visit Gilmerton House's website | t. 01620 880 342 | e. enquiries@gilmertonhouse.com
KINKELL BYRE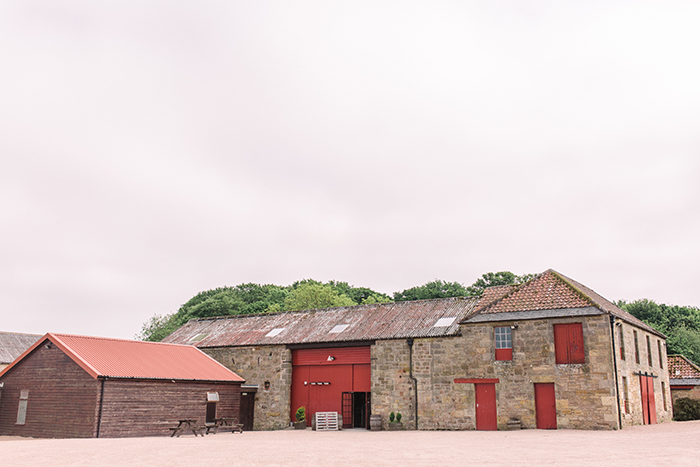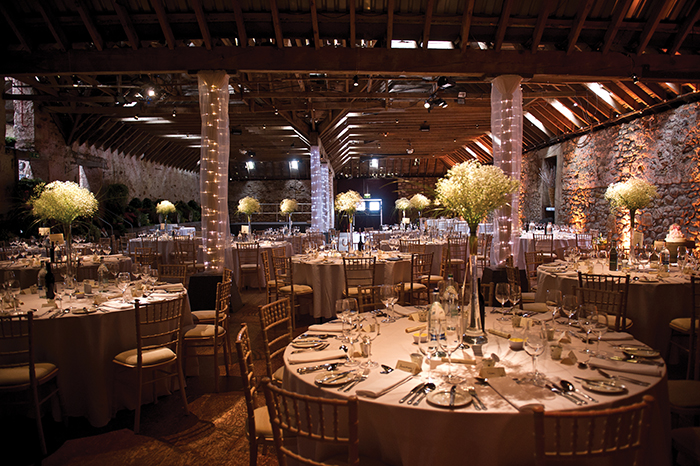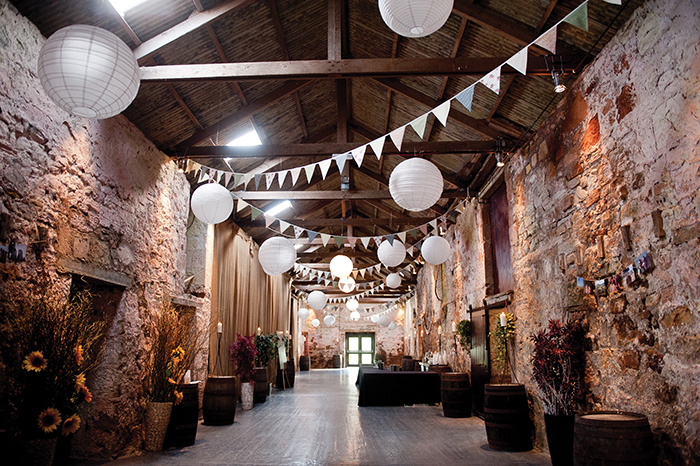 This warm, cosy venue draped in sparkling fairy lights and lit with flickering candles will sweep you off your feet with its romantic ambience.
Situated in St Andrews, you can exchange vows outside overlooking the town's gorgeous coastline or inside the atmospheric stonewalled byre surrounded by your nearest and dearest.
The Byre is an exclusive-use blank canvas venue, allowing you to create a completely bespoke wedding day that you can enjoy with up to 200 guests.
Visit Kinkell Byre's website | t.01334 472003 | e. info@kinkell.com
LOGIE COUNTRY HOUSE
IMAGES | Anna Wytrazek Photography
Logie Country House is a spectacular exclusive use wedding venue that sits in its own private 130-acre estate only 16 miles away from Aberdeen.
Withstanding centuries of romantic Scottish history, the house now has 15 bedrooms, an indoor pool and a purpose-built ballroom that is perfect for dancing the night away with up to 180 members of your friends and family.
The inner courtyard is filled with aromatic plants while the outer courtyard is the perfect setting for your outdoor ceremony or entertainment.
This is a fantastic venue for couples looking to inject their own unique personalities into their wedding day.
Visit Logie Country House's website | t. 08450 942424 | e. weddings@logiecountryhouse.co.uk 
MELVILLE CASTLE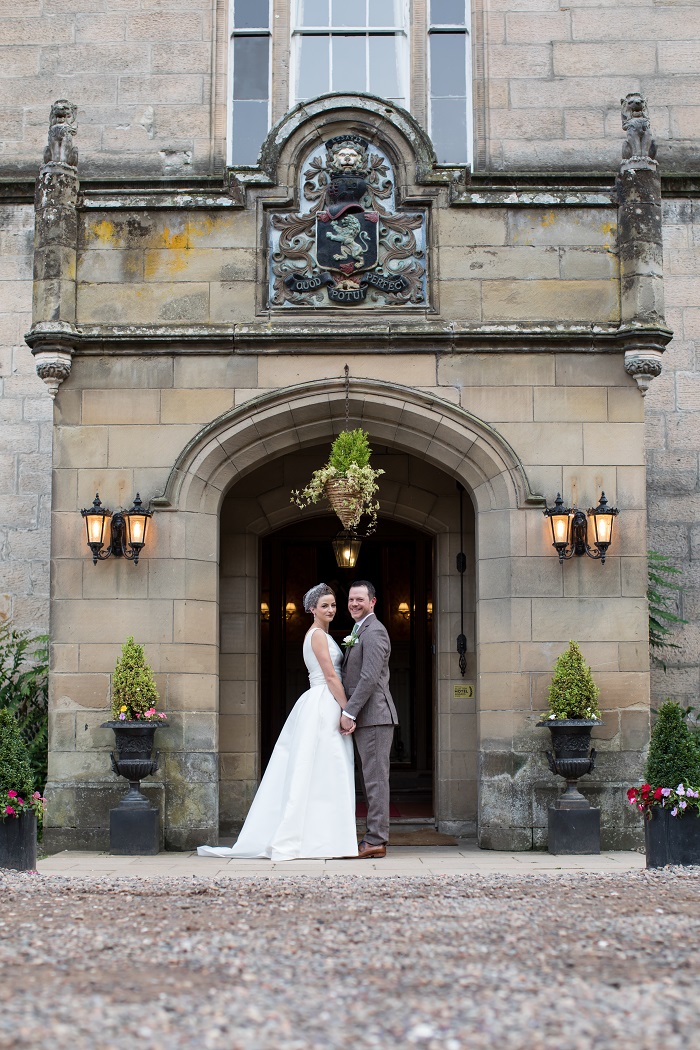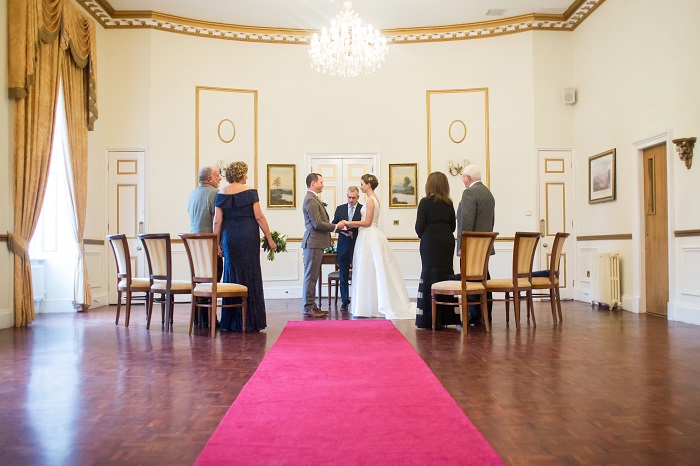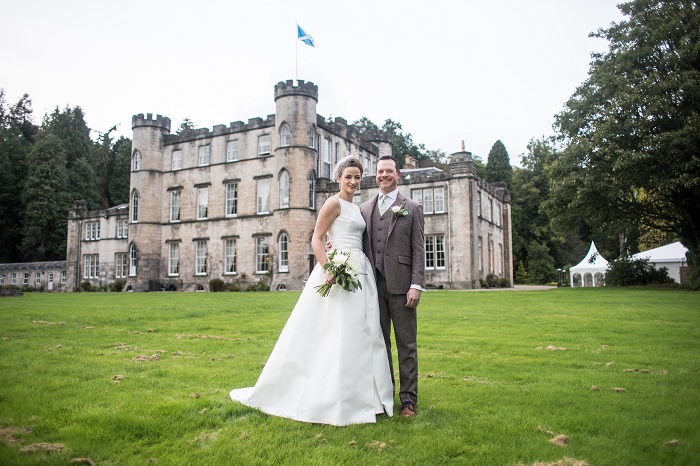 IMAGES | Ryan White Photography
Melville Castle in an idyllic and enchanting wedding venue and estate which sits on the outskirts of Edinburgh.
Nestled within 54 acres of beautifully landscaped gardens and woodland on the banks of the River Esk, this castle wedding venue can work for your small or large celebrations.
To fully personalise your day, use the gorgeous castle as a backdrop to your marquee in the extensive grounds, and decorate as you wish.
The castle can be hired exclusively too, so make a weekend of it with your nearest and dearest.
Visit Melville Castle's website | t. 0131 654 0088 | e. events@melvillecastle.com
MILLEARNE GARDENS
IMAGES | First Light Photography
Millearne Gardens occupies a special location in rural Perthshire, and can be exclusively yours to create the wedding of your dreams in beautifully manicured gardens with uninterrupted views.
It's perfect for your garden wedding – no matter what size – and offers peace, tranquillity and plenty of photo opportunities.
In fact, it's a photographers dream to film in such surroundings, with walled gardens, lily water ponds, woodland pathways, Kinkell Bridge and many more hidden corners. Millearne house, with the architecture of the original stables, is the perfect backdrop for your marquee.
Visit Millearne Garden's website | t. 01592 753001 | e. hospitality@litu.com
MYRES CASTLE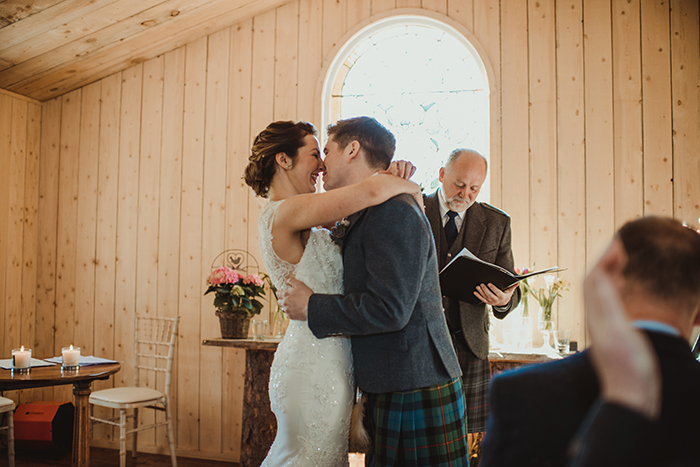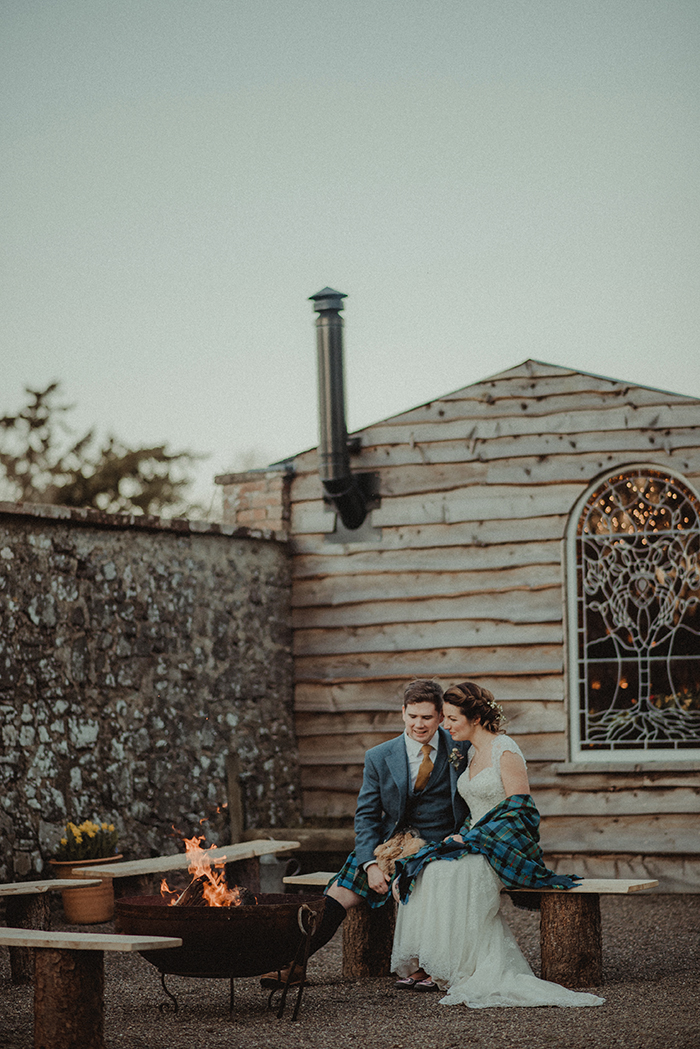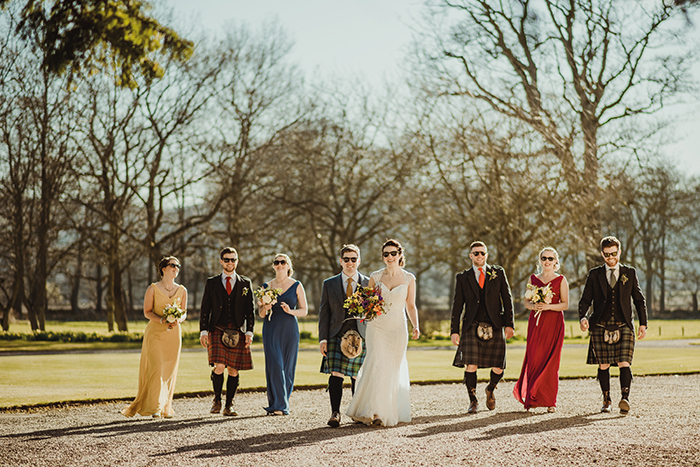 IMAGES | Marc Millar Photography
Myres Castle is a whimsical and romantic wedding venue situated near the village of Auchtermuchty.
The best of both worlds, you can have the stunning castle for up to 24 guests throughout your stay, and celebrate your wedding in the rustic and charming Barnquee.
The Barnquee is situated in a lovely woodland setting, with twinkling lights hanging from the trees and fire pits outside (as well as a wood fired pizza oven!) to further enhance the magical atmosphere.
Visit Myres Castle's website | t. 01337 828350 | e. enquiries@myrescastle.com
PAPAKATA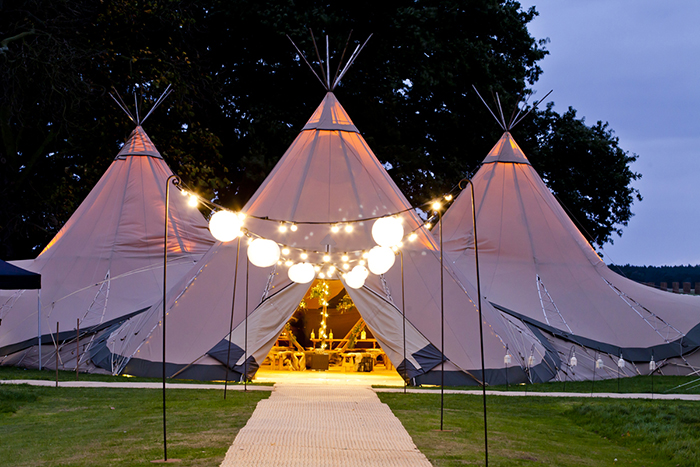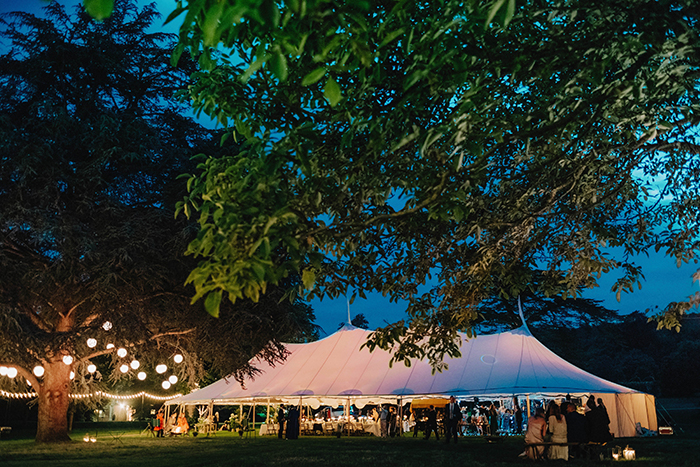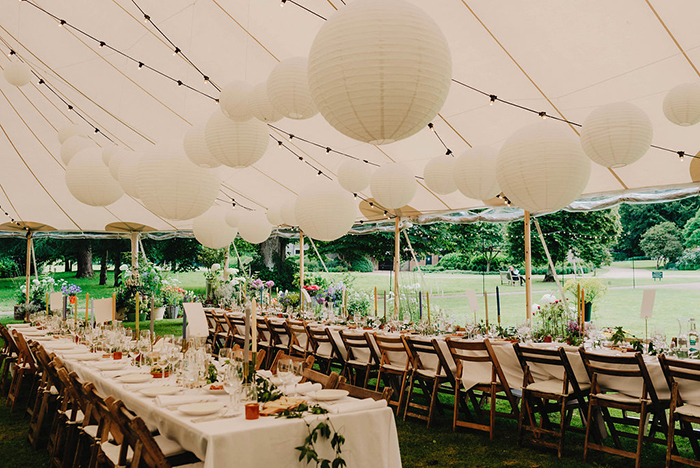 PapaKåta allow you to personalise your wedding, creating a venue that's truly unique to you, in the location of your choice!
As the most established Teepee company and the exclusive provider of luxury US Sperry Tents in Scotland, PapaKåta offer a completely bespoke venue on your own grounds (excuse the pun).
PapaKåta's Sperry Tents come in various sizes and their Teepees can be joined together to give you a unique space for your guest numbers.
In addition to their exclusive tents, PapaKåta has a dedicated event planning service and a luxury portfolio of furnishings, allowing you to further personalise your day.
Visit Papakata's website | t. 01738 479803 | e. tellmemore@papakata.co.uk
ROTTAL ESTATES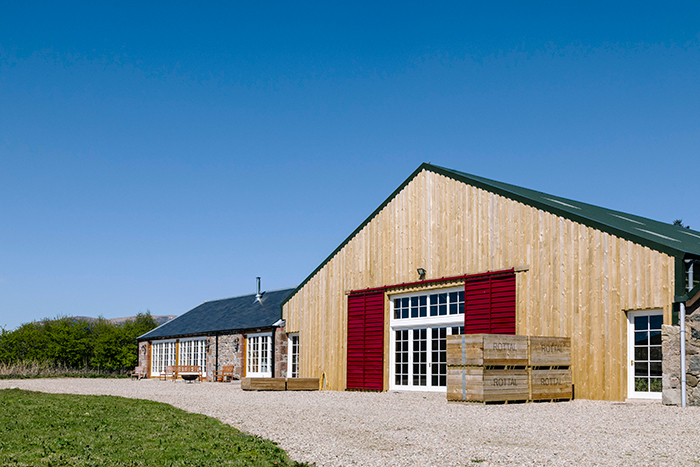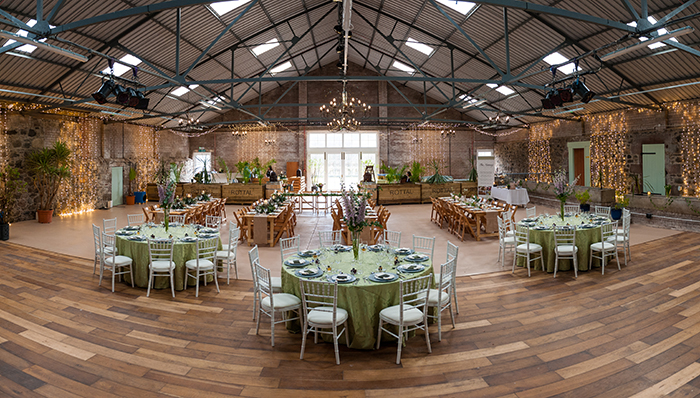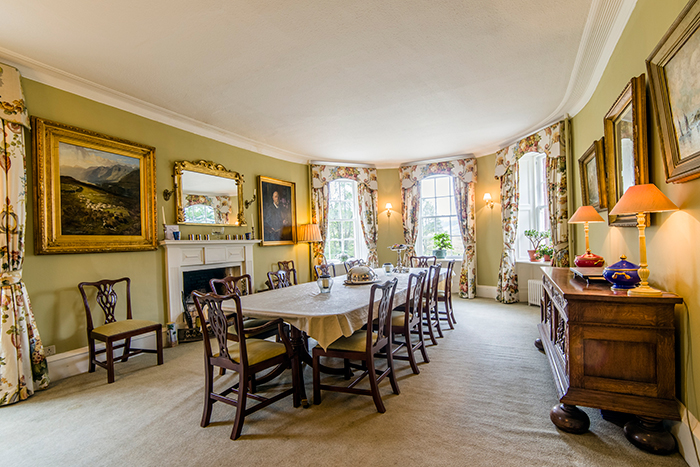 If getting away from it all is your idea of heaven, you'll fall for the rural charms of Rottal Estates, a new venue in the heart of Glen Clova.
Surrounded by stunning scenery, the dramatic views are perfect if you're hoping to have an outdoor ceremony.
And, if you love the idea of getting creative with your wedding theme, the steading also provides a blank canvas to style however you wish with the help of the estate's on-site wedding planner.
What's more, you can hire the entire estate exclusively with accommodation for up to 28 guests.
Visit Rottal Estates website | t. 01575 550281 | e. lianne.maclennan@rottalestates.com
RUNNINGBURN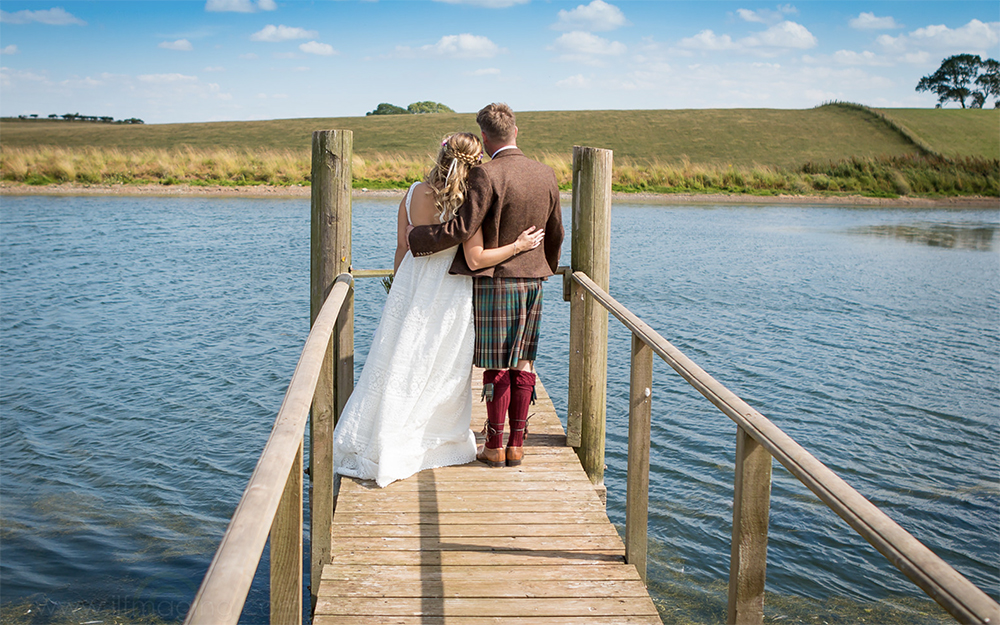 IMAGE | ILF Imaging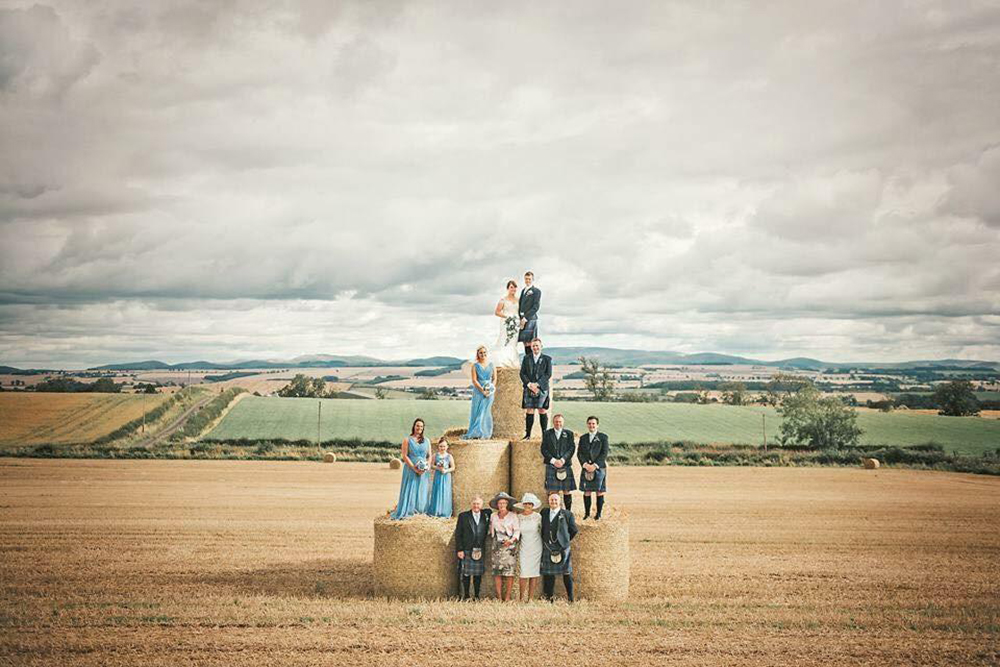 IMAGE | Alex Martin Photography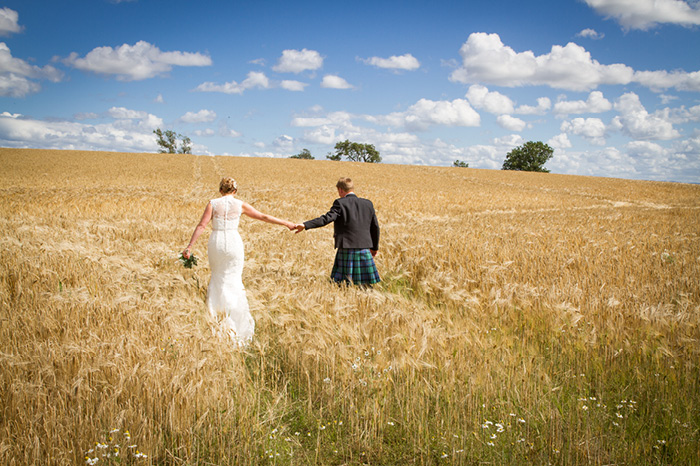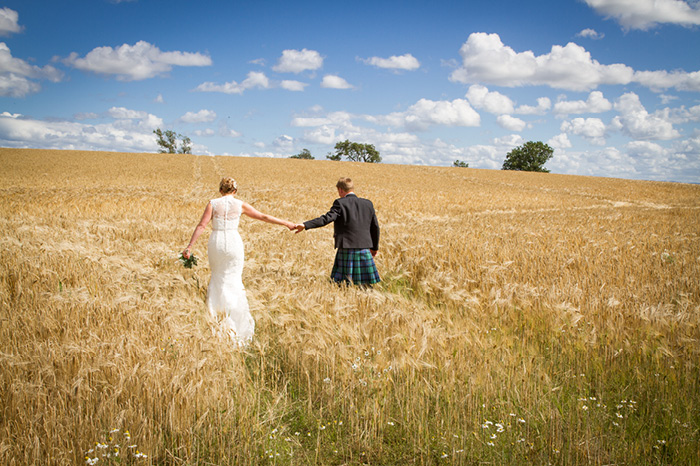 IMAGE | Stella Lathangie Photography
Runningburn is absolutely perfect if you are looking for a venue that can truly allow you to personalise your day.
Set on an idyllic farm in the Scottish Borders, it's due to unveil a brand new, state of the art venue this summer which will include all the wow factor of a marquee, but as it's a solid structure you and your guests can enjoy the breath-taking views without fear of the weather disrupting your plans.
Visit Runningburn's website | t. 07895564386 | e. runningburn@yahoo.com
WEDDERBURN BARNS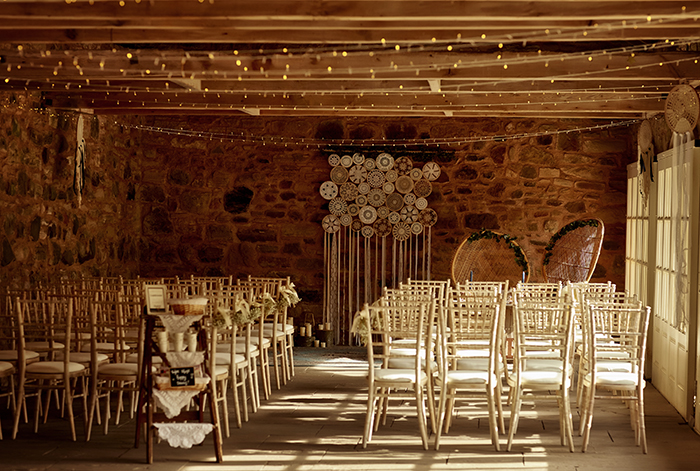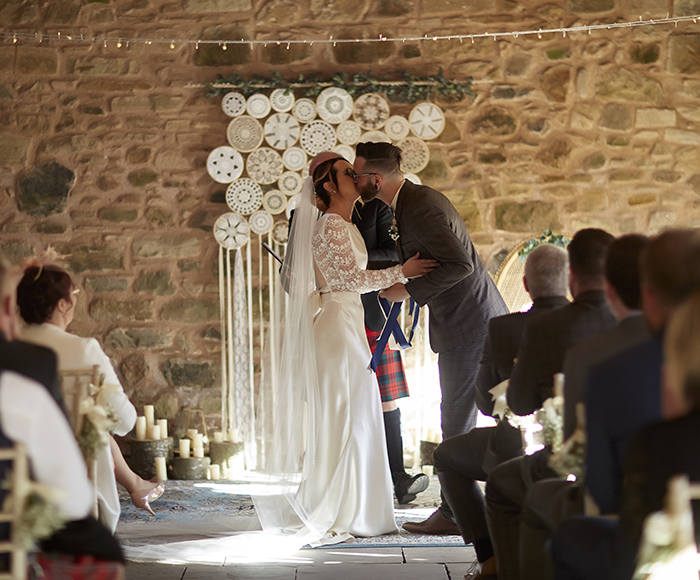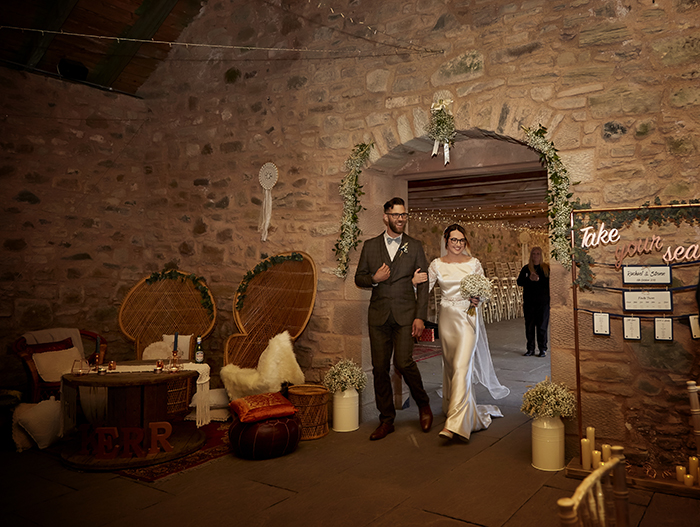 IMAGES | Story of Love 
Duns in the Scottish Borders is home to Wedderburn Barns, a picturesque Georgian stable block with tons of potential.
Situated on Wedderburn Castle's beautifully maintained estate, this stylish converted barn venue can hold up to 150 guests and is versatile enough to be able to provide a variety of different wedding styles for couples depending on their tastes, from country luxe to rustic chic.
Take a look at this couple's gorgeous boho celebration at Wedderburn Barns.
Visit Wedderburn Barns website | t. 01361 882190 | e. enquiries@wedderburncastle.com
ARDOCH
This versatile venue in Gartochan, near Loch Lomond, really is a blank slate for you to shape into whatever you want your day to be.
Visit Ardoch's website
ARGYLE STREET ARCHES
Located in the heart of Glasgow, just outside of Central Station, this venue is perfect if you want an atmospheric reception.
Visit Argyle St Arches website 
BACHILTON BARN
The town of Crieff, near Perth, is home to this gorgeous barn, ready for you to personalise as you please! All inclusive and catering packages also available.
Visit Bachilton Barn's website
THE BARN @ BARRA CASTLE
This exclusive-use barn venue in Aberdeenshire allows you to style as you wish. Best of all, they don't charge corkage!
Visit The Barn @ Barra Castle's website
COLSTOUN ESTATE
The Coach House on this East Lothian estate can accommodate weddings of up to 150 guests. Have your ceremony in the unique Polytunnel (pictured) at the venue too.
Visit Colstoun Estate's website
COMRIE CROFT
IMAGE | Wonderful and Strange
A 200-year-old farmstead, house and barn set in acres of woodland and fields, this is the perfect Perthshire venue if you want an outdoorsy day complete with glamping.
Visit Comrie Croft's website 
CORMISTON FARM
The barn at this farm in South Lanarkshire has just been renovated, or you can pitch tents, a tipi or marquee on their lawns with views of the Southern Uplands.
Visit Cormiston Farm's website 
COW SHED CRAIL
IMAGE | PJ Phillips Photography
A unique and special wedding venue in Fife, you can create a bespoke day to remember at this atmospheric steading.
Visit Cow Shed Crail's website
THE ENGINE WORKS
IMAGE | Caro Weiss Photography
This could be the coolest Glasgow wedding venue there is! Think exposed brickwork, and bags of potential to create a stylish backdrop to your wedding day.
Visit The Engine Works website 
ERROL PARK
IMAGE | Jen Owens Images
End your night around the firepit after a ceilidh in this Perthshire wedding venue, which can seat up to 200 people.
Visit Errol Park's website
FALSIDE MILL
A lovingly restored exclusive-use events space near St Andrews, this venue is brand new! Contact for availability.
Visit Falside Mill's website
GG'S YARD
Various exciting spaces are available for you to use at this blank canvas wedding venue in Dumfries and Galloway, situated on a private estate.
Visit GG's Yard's website 
HARELAW FARM
The barns at Harelaw Farm are perfect if you have a creative vision in mind for your wedding day. The venue is located just 15 minutes from Glasgow city centre too, so it's easy for your guests.
Visit Harelaw Farm's website 
HARVEST MOON
Looking for a unique wedding experience just 45 minutes' outside of Edinburgh?
Choose from two venues, get married on the beach and spend your wedding night in a luxury tent!
Visit Harvest Moon Weddings website 
KIRKNEWTON HOUSE STABLES
IMAGE | Loraine Ross Photography
If you love that rustic vibe – stripped wooden floors and exposed stone walls – then you'll adore these refurbished stables near Edinburgh.
Visit Kirknewton House Stables website
PRATIS BARNS
One of Fife's finest examples of a traditional covered cattle court, the six bay barns form the heart of the venue with endless options of spaces.
Visit Pratis Barn's Facebook page 
THE RHYND
In the rolling countryside near St Andrews, this cosy barn is perfect if you love a relaxed, rustic style. You can stock the bar with your own booze selection too!
Visit The Rhynd's website
THREE SISTERS BAKE AT KILLEARN VILLAGE HALL
IMAGE | Fotomaki Photography
A village hall that's bursting with charm, not to mention amazing cakes and treats from Three Sisters Bake, this venue can be personalised as you wish.
Visit Three Sisters Bake at Killearn Village Hall's website