25 beautiful wedding venues in the Scottish countryside 2020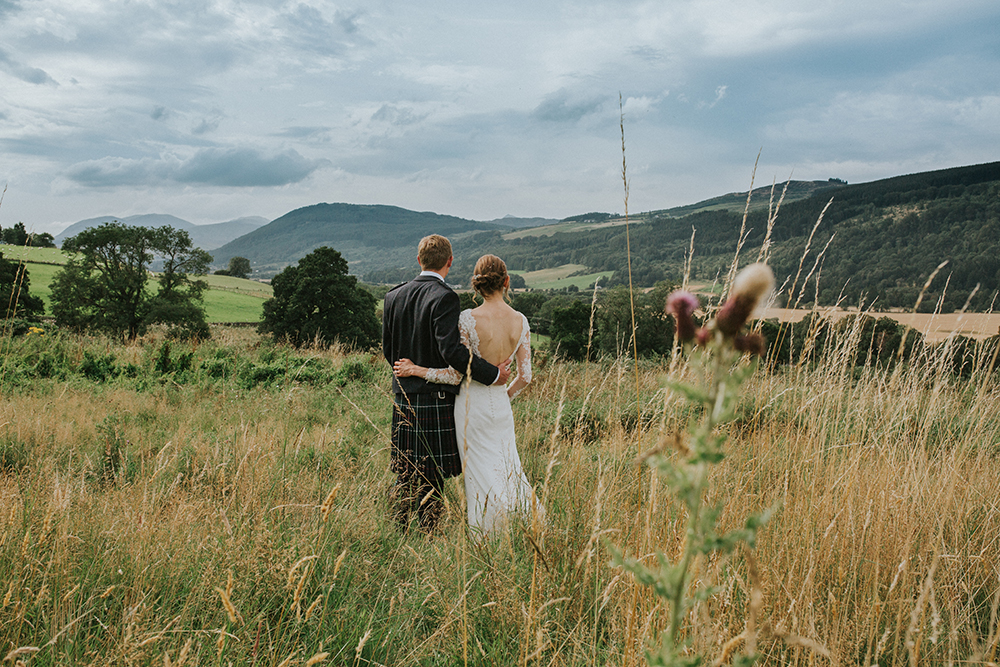 Scotland is home to some of the most beautiful scenery the world has to offer, so it's no wonder that many couples escape to the countryside to celebrate their wedding day amongst all of Scotland's natural beauty.
If you want the backdrop of your wedding to be rolling green hills, sprawling gardens and gorgeous landscapes, keep reading to find out about some of the most beautiful countryside wedding venues that Scotland has to offer.
Here's our pick of the best Scottish countryside wedding venues in 2020.
This post contains paid-for content.
ASWANLEY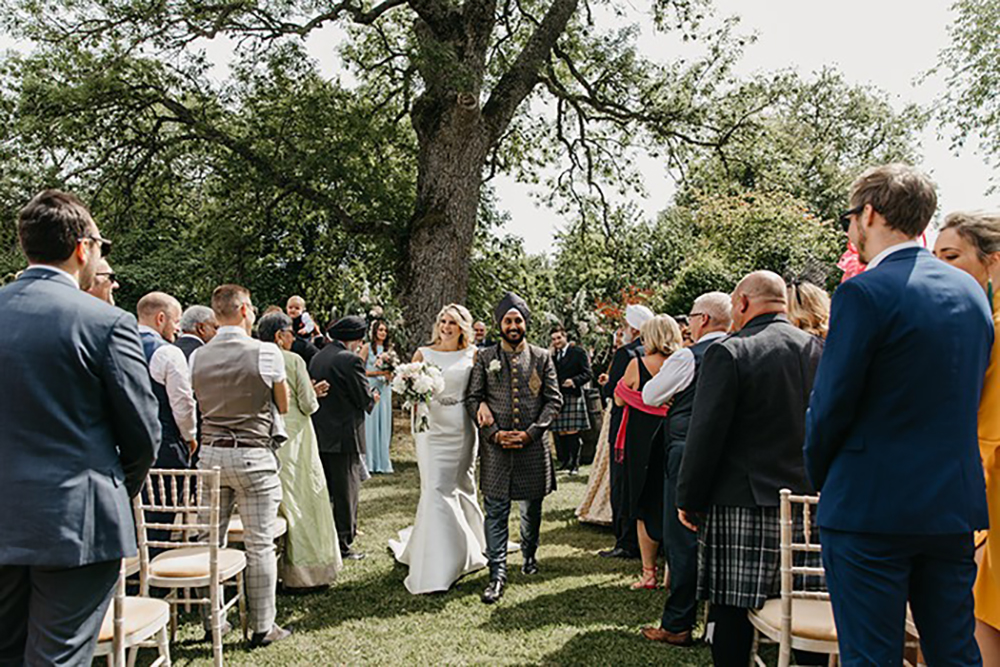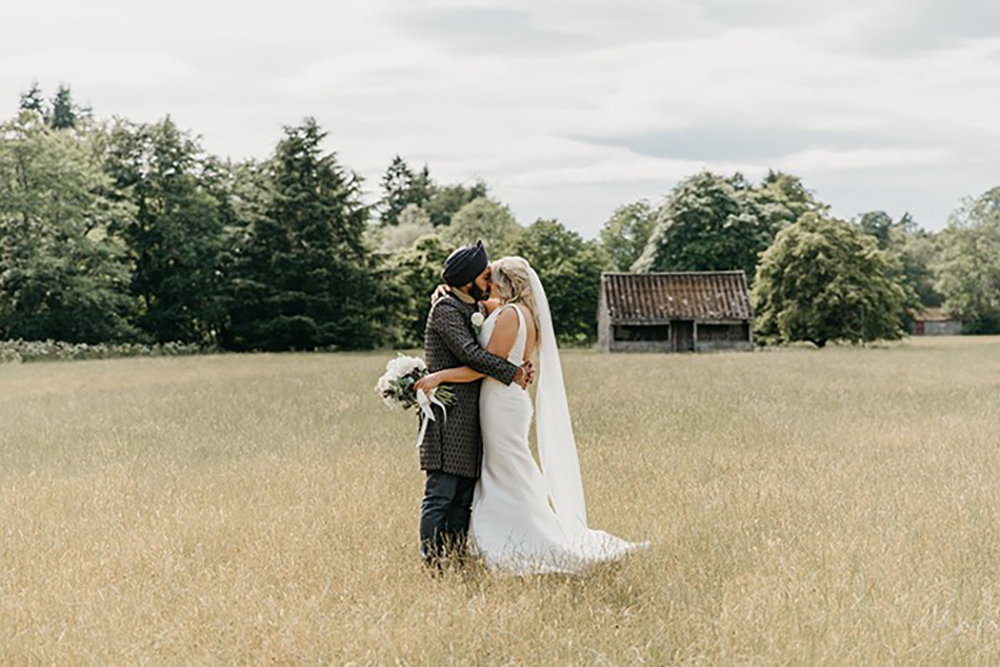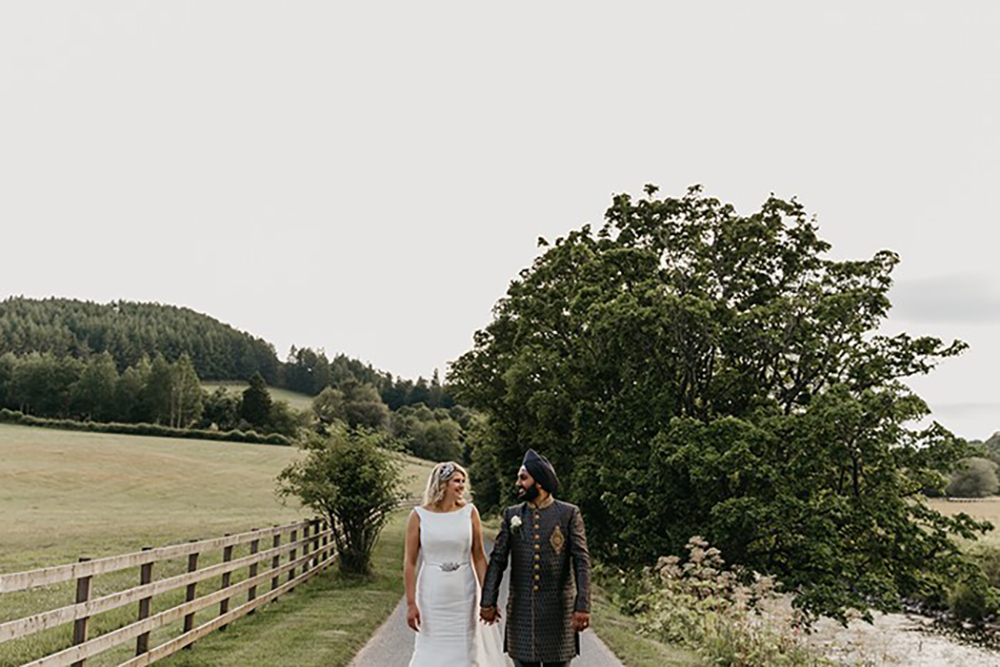 IMAGES | Emma Lawson Photography
Like something out of a storybook, Aswanley is the epitome of countryside romance. Tucked away in a private corner of rural Aberdeenshire, it's surrounded by pretty green hills and lovely forests.
There are lots of special hidden areas, fantastic for outdoor photos, including a bright red abandoned train carriage on the banks of the River Deveron. The main event space is a Victorian barn, which has been gorgeously renovated, while also retaining its original farmstead charm.
Aswanley even has a purpose-built elopement hut that sits perched on a hillside surrounded by beautiful wildflowers – perfect for outdoorsy couples!
Visit Aswanley's website | t: 01466 700 340 | e: lauren@aswanley.com
BLAIR CASTLE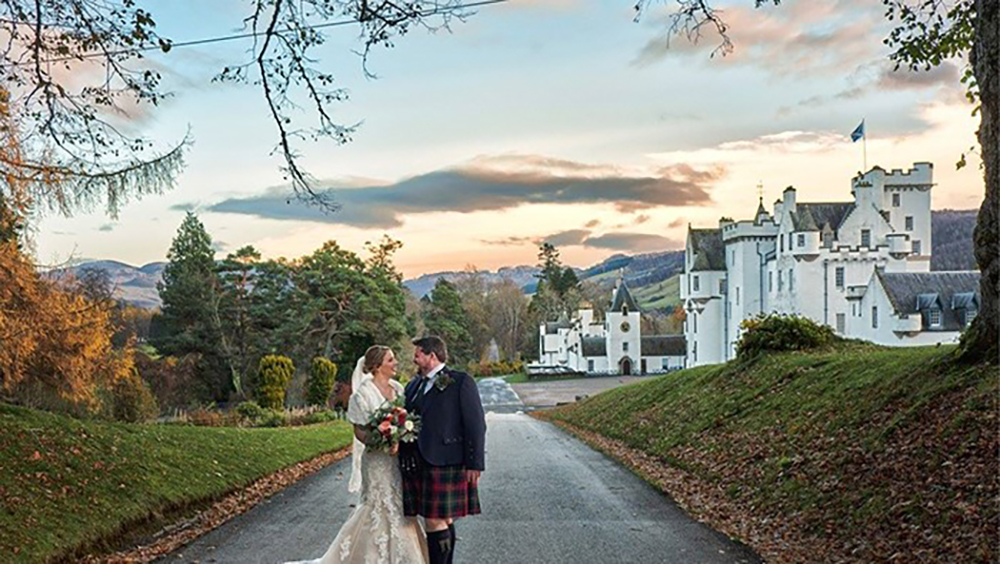 IMAGE | Suzanne Black Photography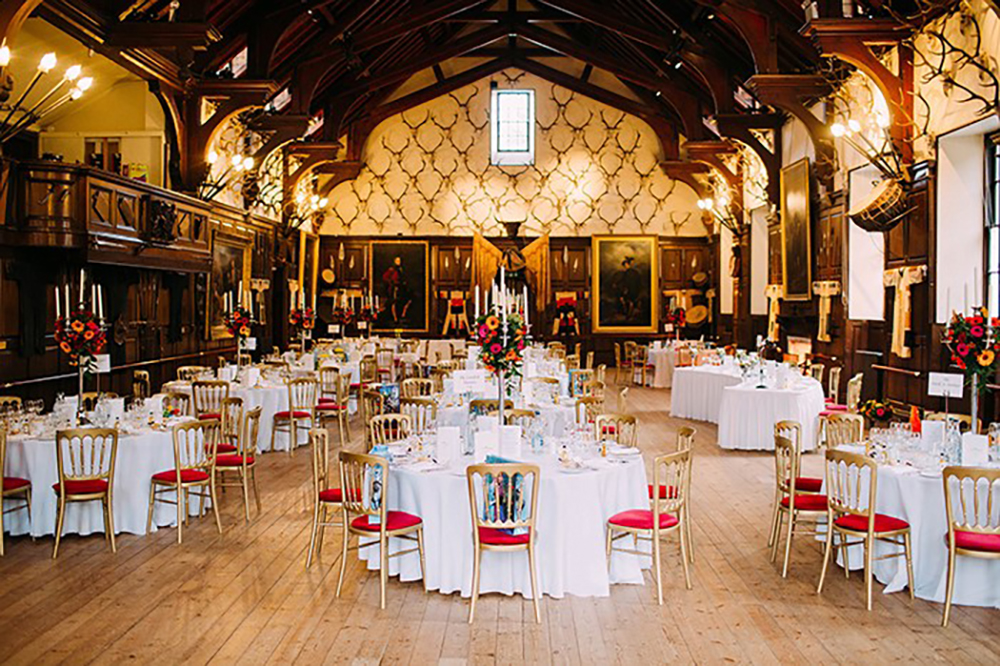 IMAGE | Eilidh Robertson Photography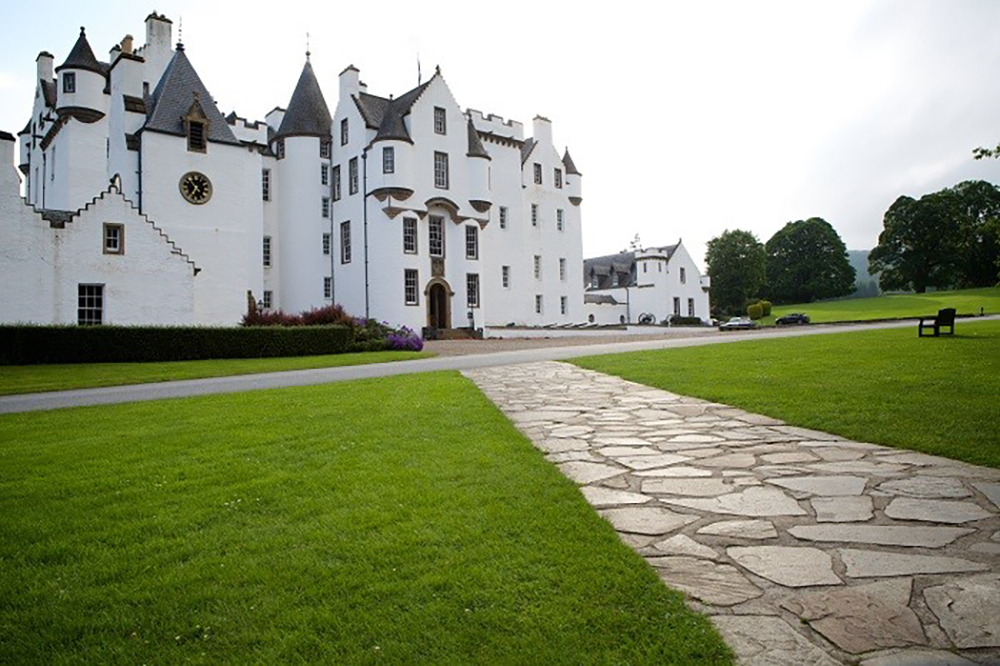 IMAGE | Jenni Browne Photography
Blair Castle is a beautiful and historic wedding venue close to the picturesque town of Pitlochry. It's home to acres and acres of grounds comprising beautifully kept gardens and sweepingly dramatic forests.
You can hold your wedding ceremony on the venue's lawn with the grand façade of the castle and the rolling hills of the Cairngorms serving as a breathtaking backdrop.
Once you have taken full advantage of all the amazing photo opportunities that Blair Castle's grounds have to offer, head inside and celebrate your wedding in the hunting-lodge-chic Ballroom which can hold up to 220 guests. Plus, the castle has a new panel of four caterers to choose from, giving you plenty of options.
Visit Blair Castle's website | t. 01796 481207 | e. jackieS@blair-castle.co.uk
Send an enquiry to Blair Castle
BLAIRQUHAN CASTLE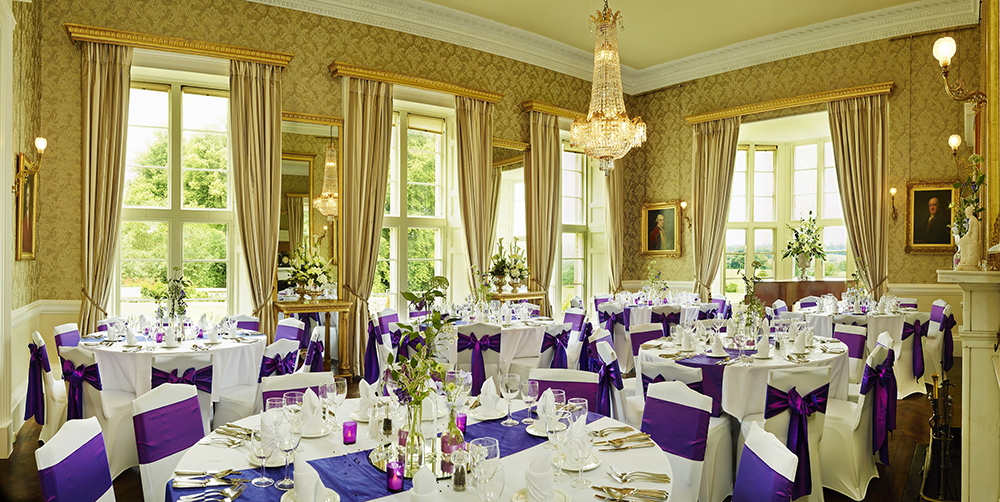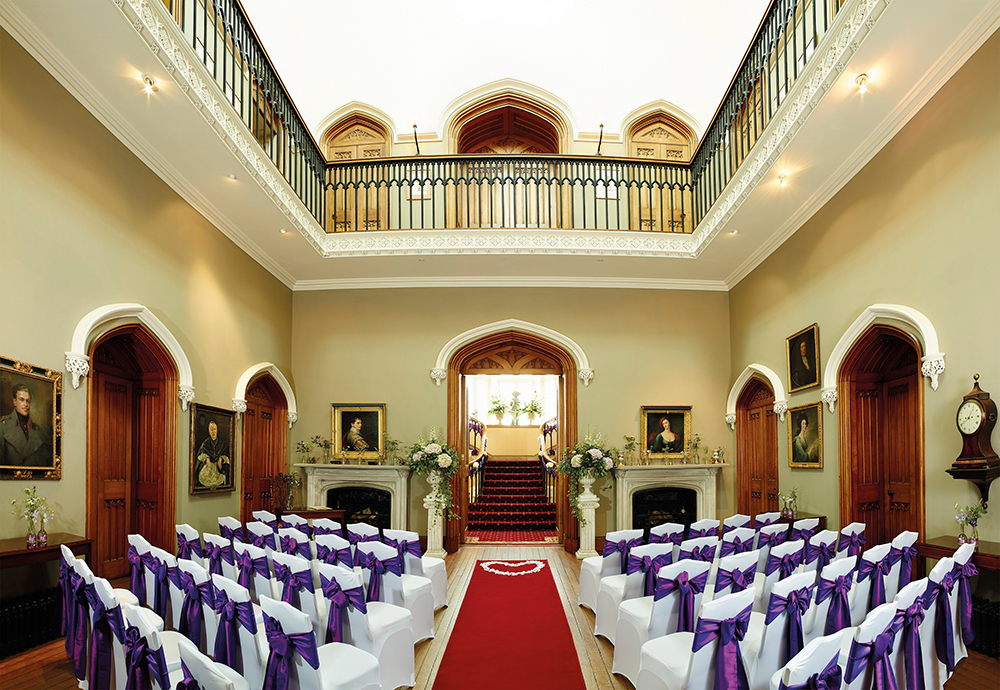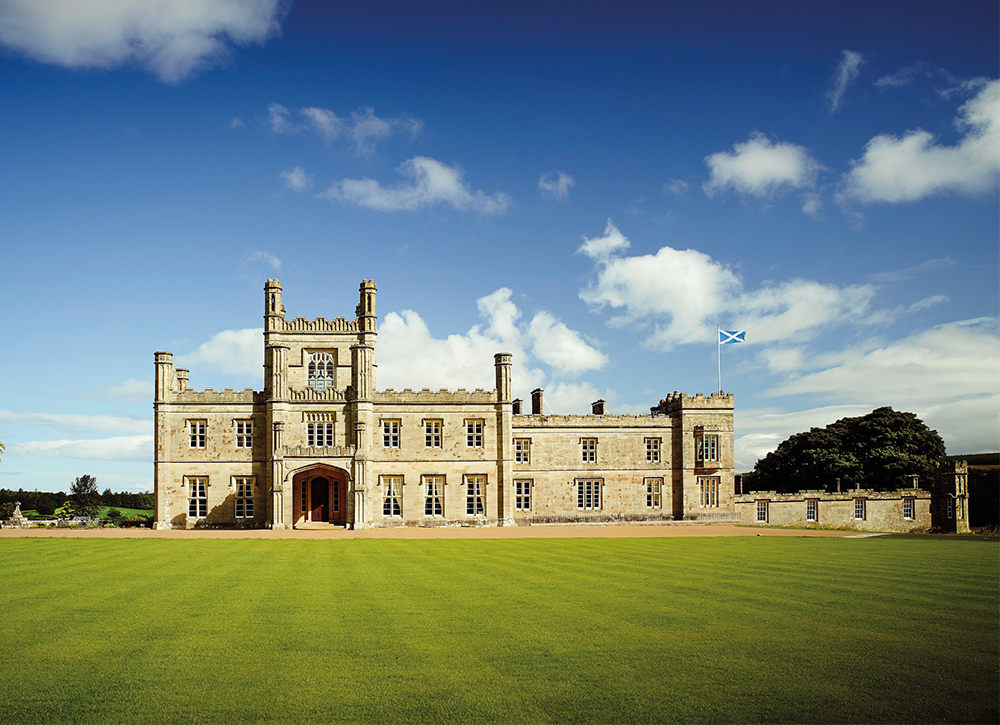 Set in over 200 acres of beautiful private land and gardens, Blairquhan Castle is an exquisitely romantic wedding venue.
From stately exteriors to elegant yet modern interiors, a wedding day at Blairquhan promises to feel sophisticated and luxurious.
You can hold your ceremony outside in the flower garden, or in the castle's beautifully decorated saloon which can seat up to 90 guests.
There are four stunning function suites within the Castle accommodating up to 100 for your wedding breakfast and 120 for evening reception. The castle also offers 15 individually styled bedrooms for those who wish to stay overnight, as well as eight cosy cottages onsite.
Visit Blairquhan Castle's website | t. 01655 770 239 | e. enquiries@blairquhan.co.uk
Send an enquiry to Blairquhan Castle
BRANXHOLM PARK HOUSE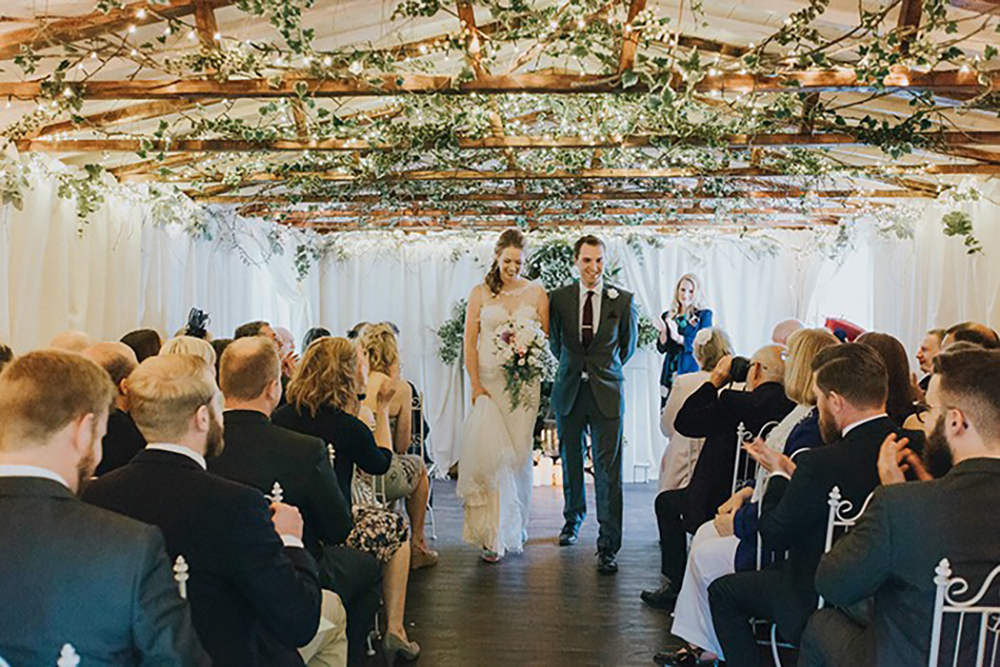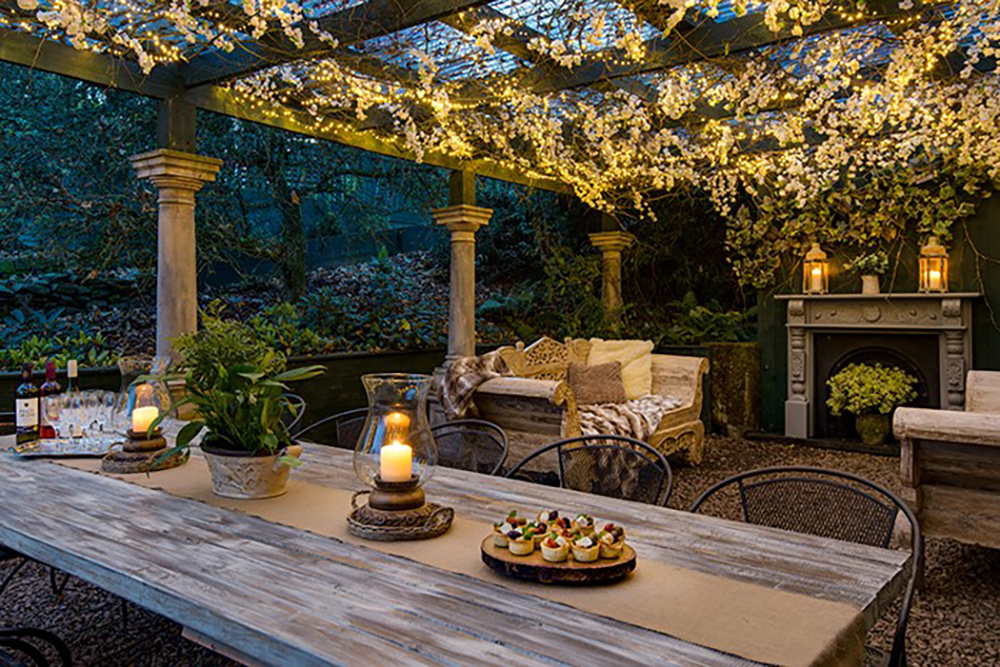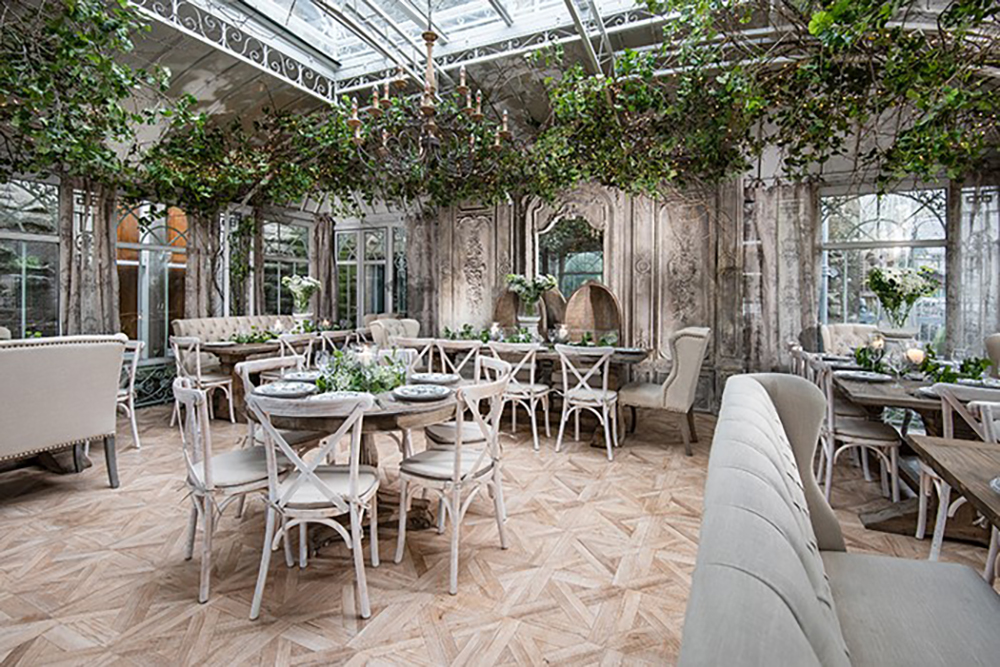 Branxholm Park House is a gorgeous exclusive-use, three-day venue tucked away in the Scottish Borders countryside. This beautiful haven is all about bringing the outdoors inside, and has so many amazing amenities that allow you to enjoy the outdoors whilst being protected from the unpredictable Scottish elements.
Its romantic Wedding Pavilion sits in the midst of a mature woodland and is surrounded by reams of beautiful wildflowers. After exchanging vows, enjoy drinks around the woodland fire pit under a canopy of twinkling fairy lights or in the elegant blossom-topped loggia.
Foodie friends will not be disappointed in the delicious meal served in the stunning French Orangerie.
Visit Branxholm Park's website | t. 07585 281479 | e. info@branxholmpark.co.uk
Send an enquiry to Branxholm Park
CAIRNS FARM ESTATE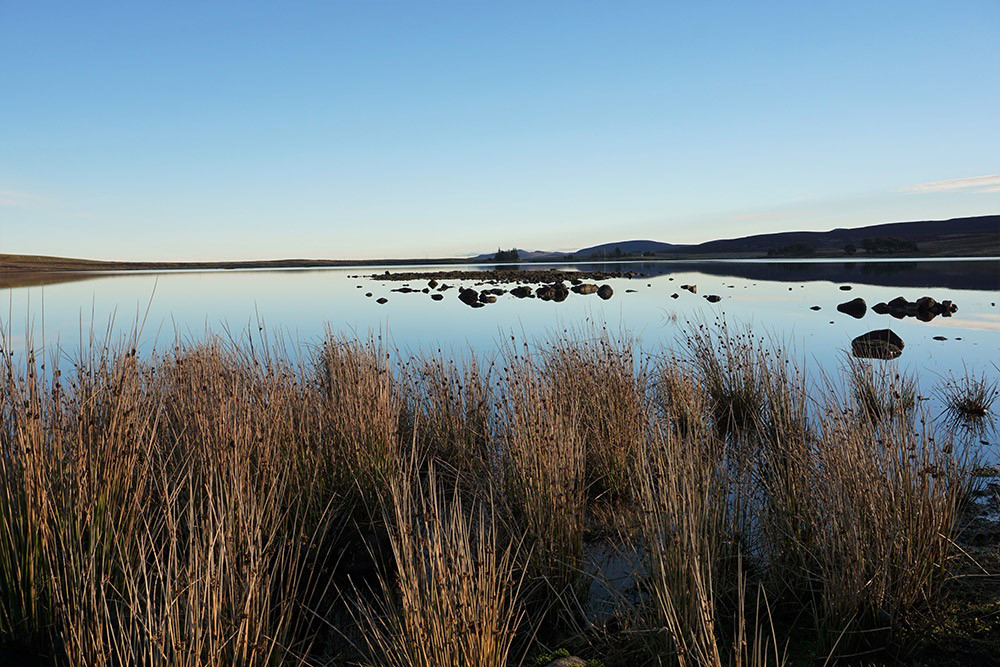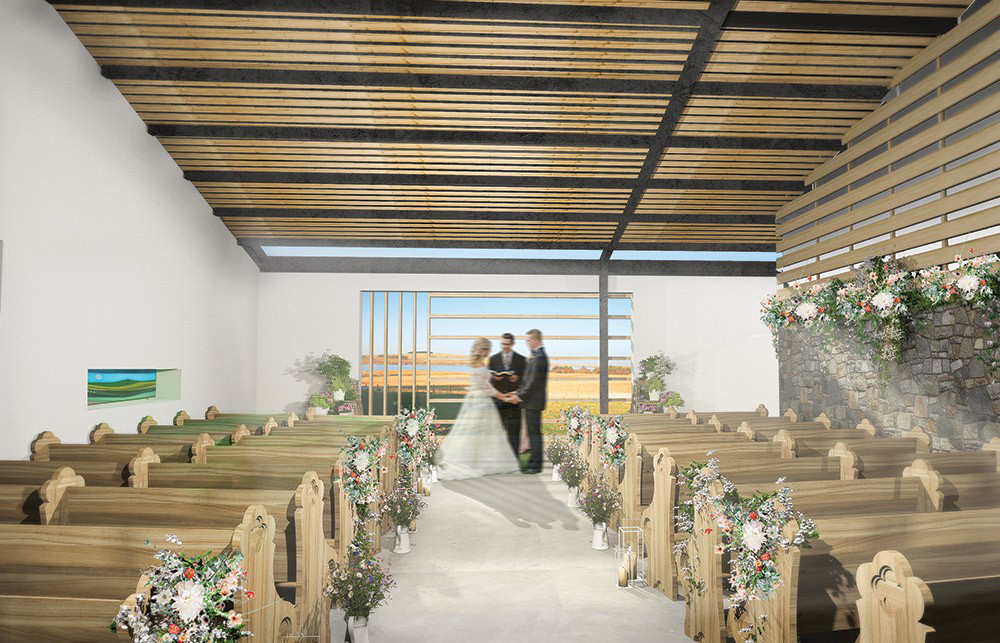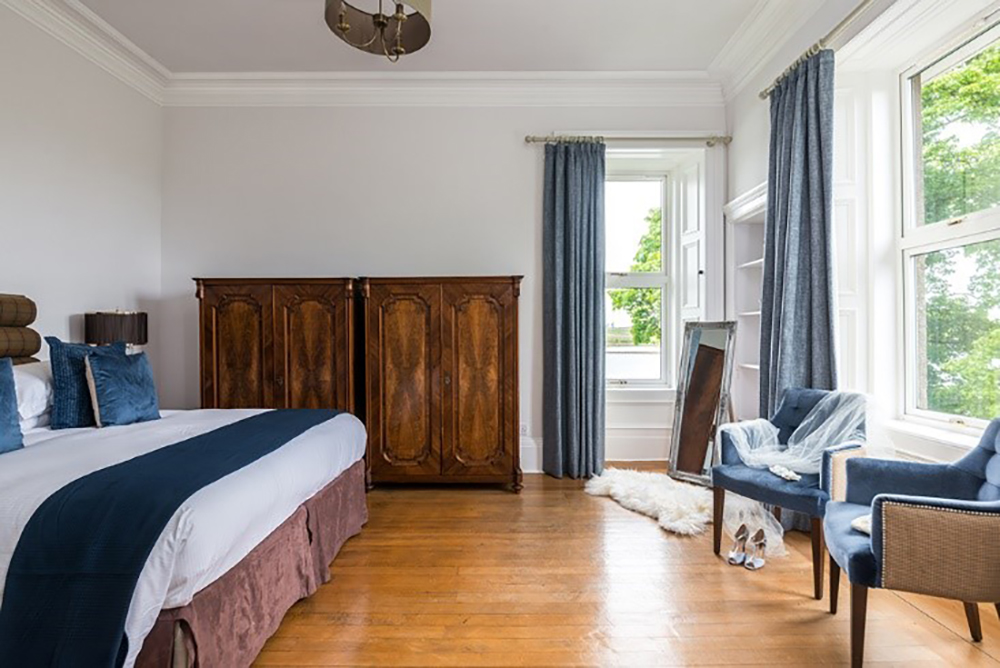 Set in a beautiful spot amongst the rolling hills of the West Lothian countryside, Cairns Farm Estate enjoys gorgeous views and all the comforts you'd expect of a new contemporary venue.
Cairns Farm is built around a country barn, offering you the chance to style your wedding exactly how you wish.
The venue boasts a beautiful ceremony area and separate reception space with floor-to-ceiling glass allowing you to take full advantage of the views, a fantastic bar, terrace for drinks receptions and a stunning events space.
What's more, there's on-site accommodation in the farmhouse and a honeymoon hideaway.
Visit Cairns Farm Estate's website | t.01506 883506 | e. cairns@hickoryfood.co.uk
Send an enquiry to Cairns Farm Estate
CASTLE MENZIES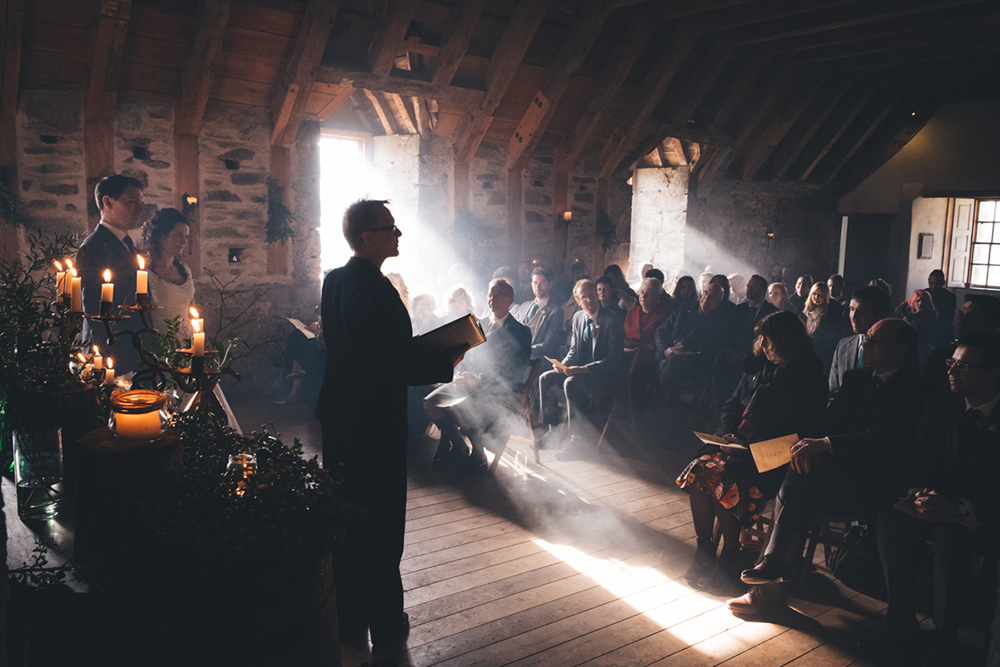 IMAGE | Mike Plunkett Photography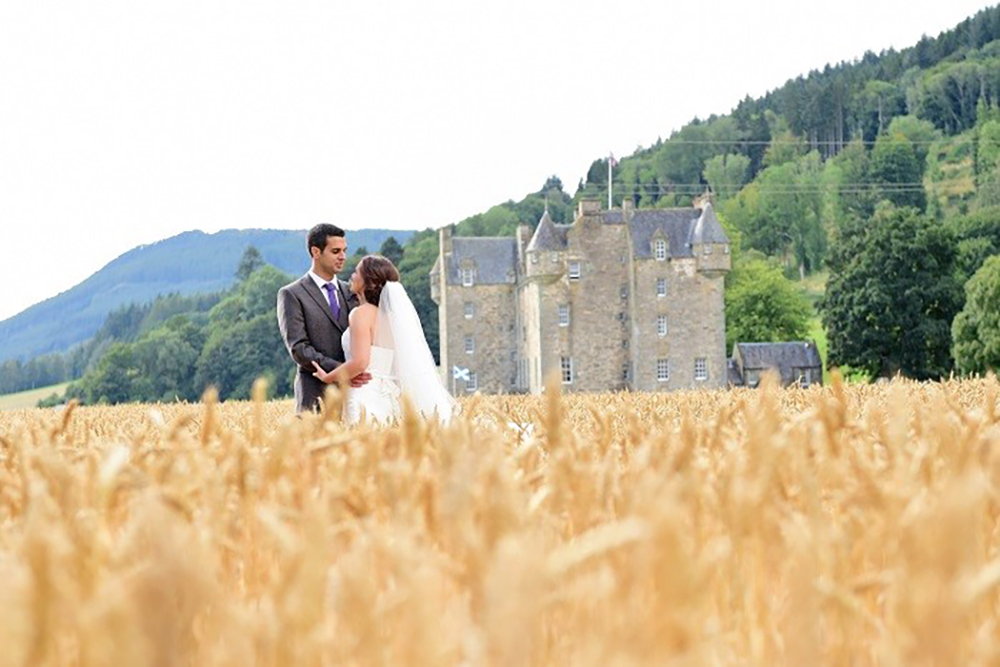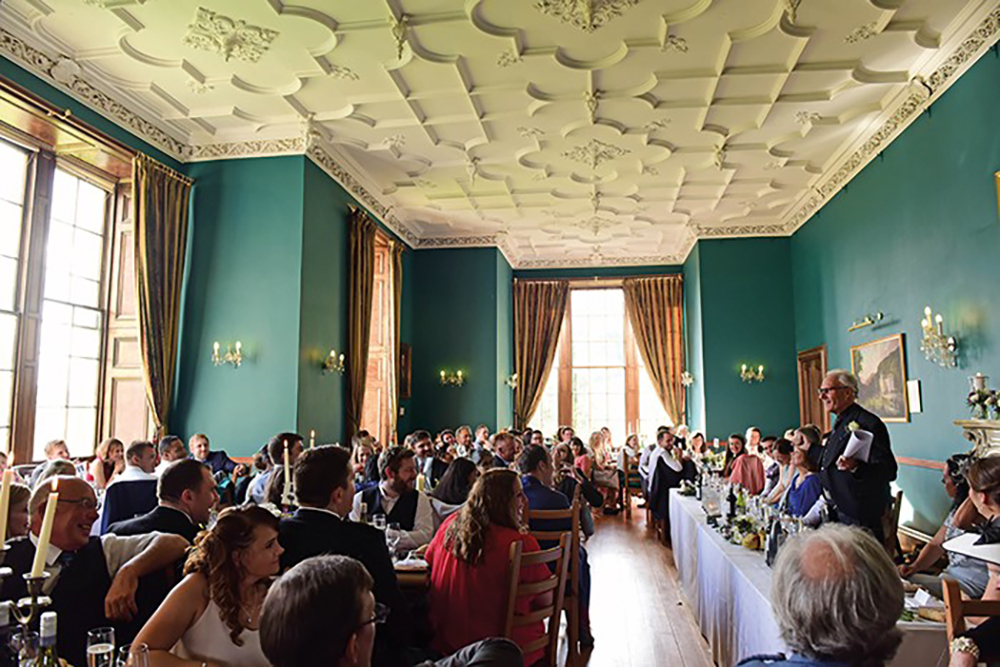 Castle Menzies is a stunning building inside and out, standing proudly against the rolling hills of Aberfeldy. A perfect venue for couples who love the romantic Scotland of Braveheart and Outlander, the castle celebrates Scotland's rich history.
Each of the castle's function spaces can serve as a lovely background to your wedding ceremony, like the charming pink Main Hall that can hold up to 54 guests for a meal, or the beautiful Dewer Room, a grand ballroom that can hold up to 120 guests for your wedding breakfast.
Visit Castle Menzie's website | t. 01887 820982 | e. castlemenziesmanager@gmail.com
Send an enquiry to Castle Menzies
CRIEFF HYDRO HOTEL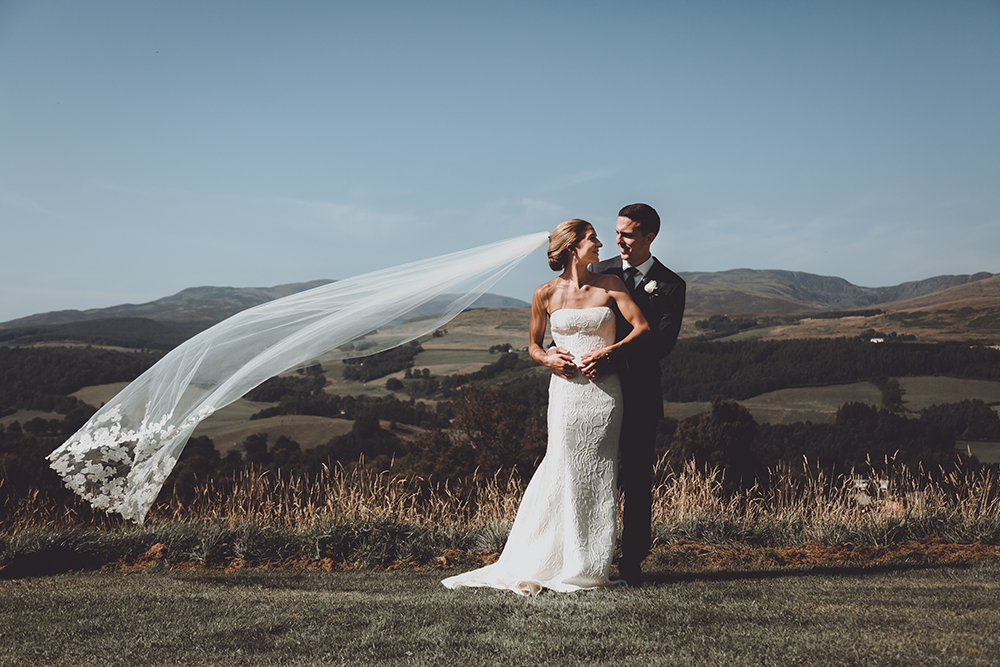 IMAGE | Crieff Photography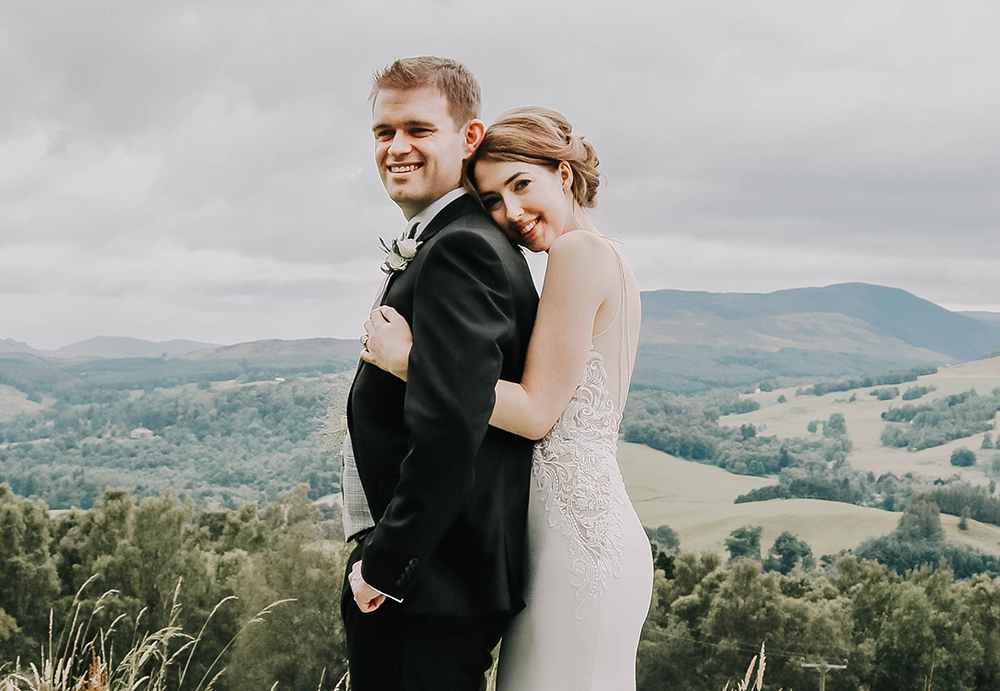 IMAGE | Ellis Gibson Photography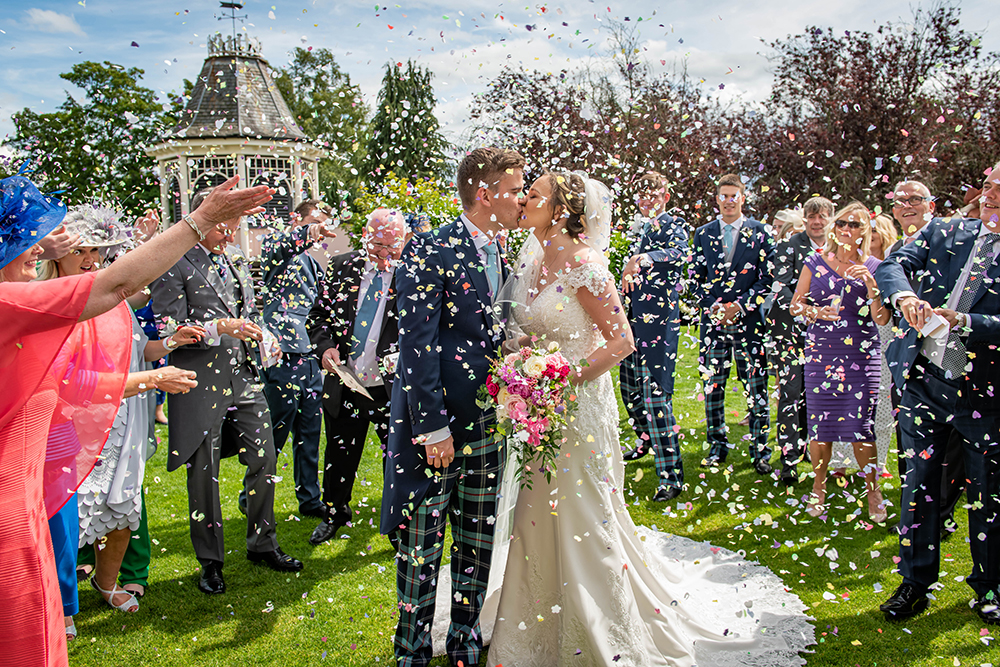 IMAGE | Iain Struthers Photography
For glamour and grandeur; Crieff Hydro meets all expectations. But it's the things you might not expect that really set Crieff Hydro apart… Like bedrooms big enough for all the girls to get ready in, 900 acres of seriously breathtaking photograph spots and its own spa where you can spend a relaxing hour or two.
Prefer to extend the weekend? There are lodges of all shapes and sizes, fuss-free takeaway food that's perfect for sharing and Action Glen for some seriously good pre-wedding fun!  Your day, your way.
Visit Crieff Hydro Hotel's website | t.  01764 651680 | e. weddings@crieffhydro.com
Send an enquiry to Crieff Hydro Hotel
DUN ALUINN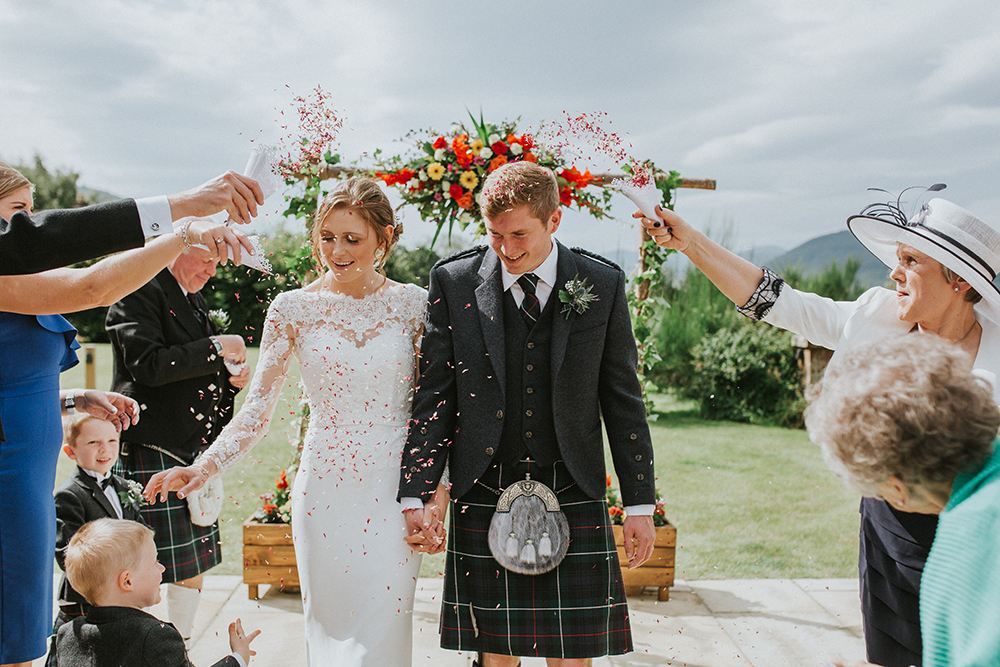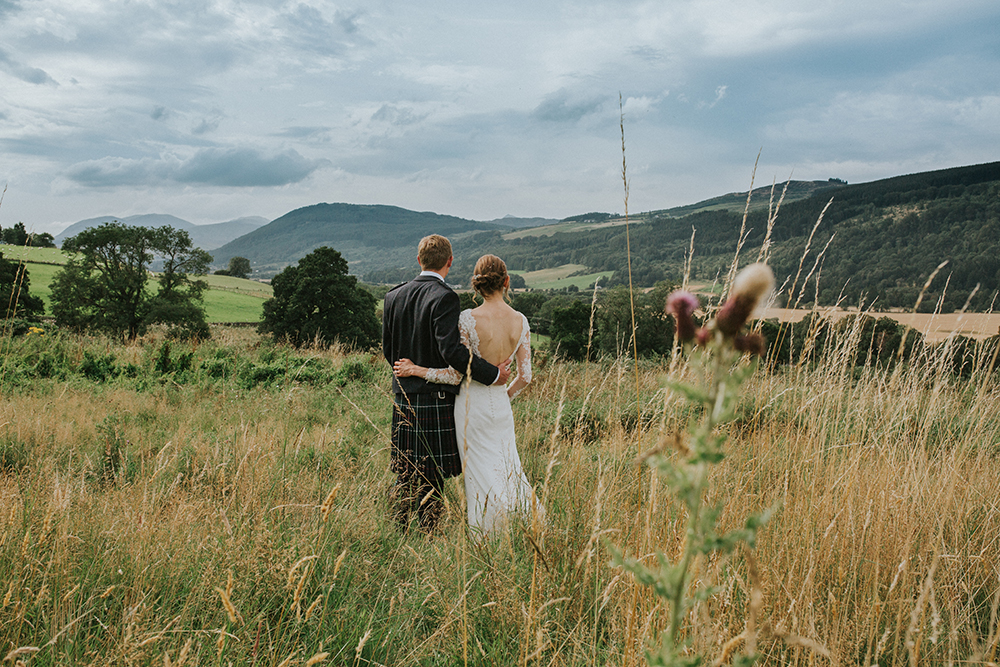 IMAGES | Luke Bennett Photography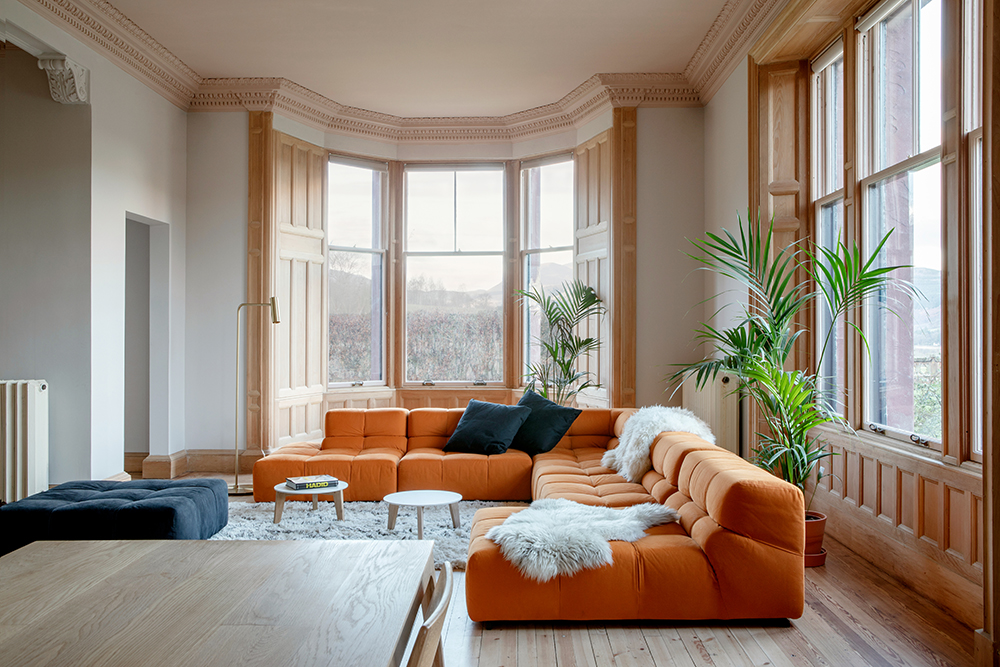 Dun Aluinn is Scotland's first design-led, exclusive-use venue which has featured in leading UK and EU design magazines.
Situated on an elevated site overlooking the town of Aberfeldy, Perthshire and the sweeping River Tay, Dun Aluinn enjoys 5.5 acres of private grounds with an extensive terrace with stunning views down the Tay Valley to Schiehallion.
Enjoy a wedding ceremony on the Terrace followed by drinks, canapes and your wedding reception all fully catered by Ballintaggart Farm using locally sourced produce. Then stay for the weekend (there's accommodation for up to 18 guests) and make use of the wood-fired natural cedar hot tub nestled in the woods outside the house. What bliss.
Visit Dun Aluinn's website | t. 07766 885270 | e. enquiries@dunaluinn.com 
EDEN LEISURE VILLAGE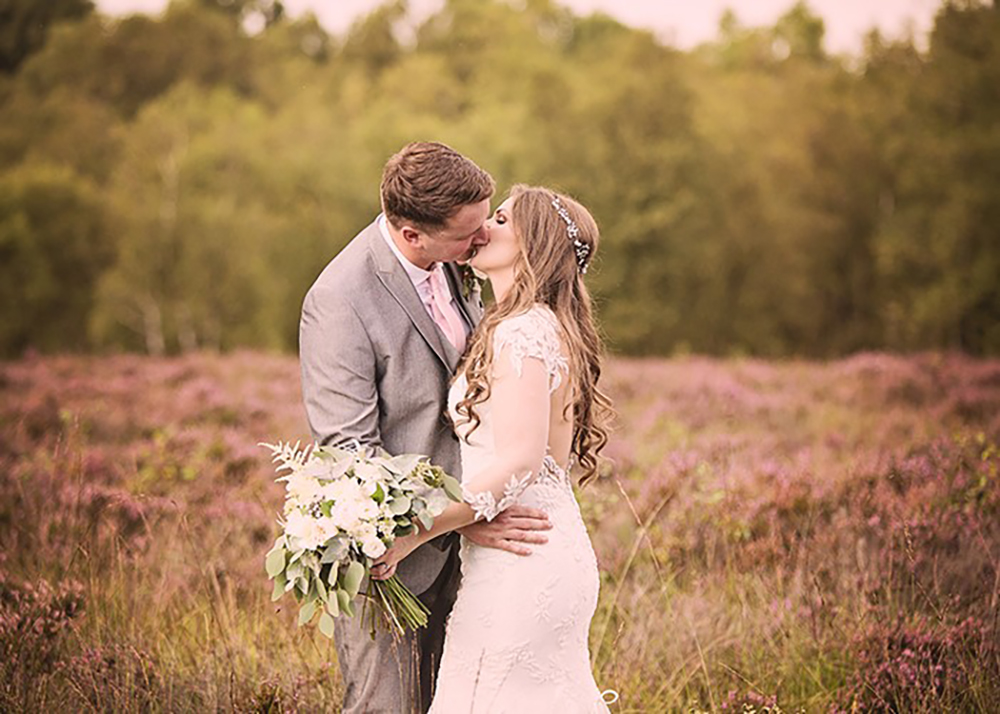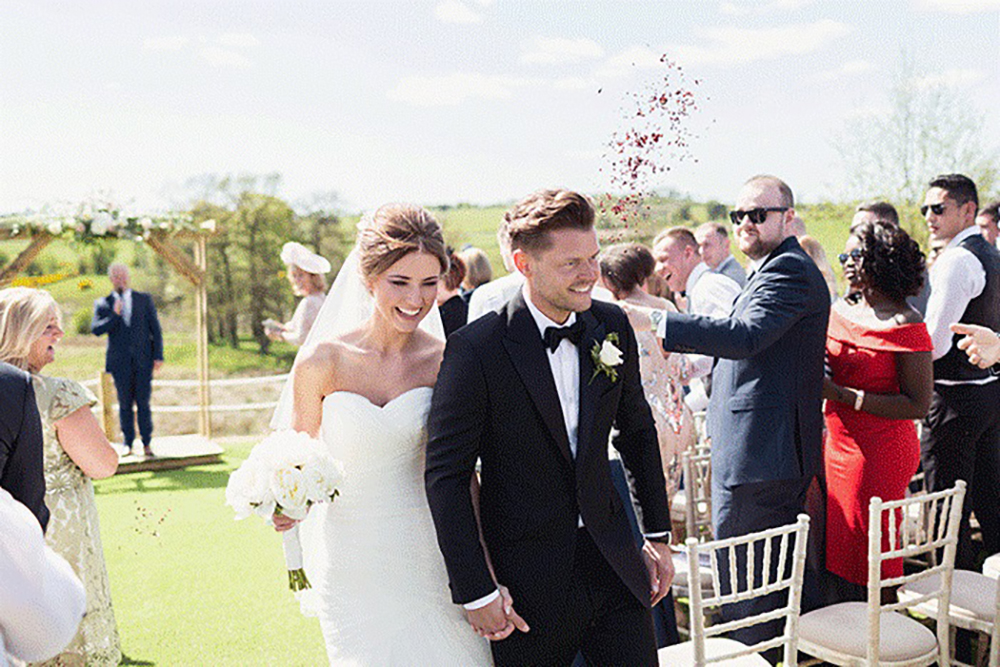 IMAGE | Craig & Eva Sanders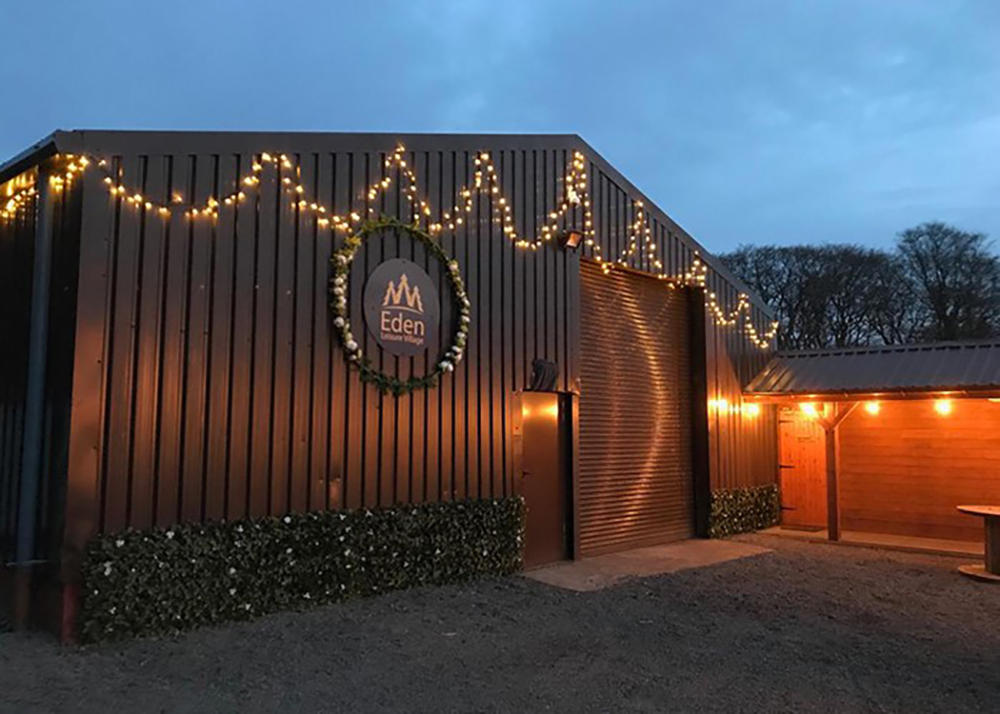 Eden Leisure Village is a picturesque countryside wedding venue situated in a great location between Glasgow and Stirling. The North Lanarkshire landscape is peaceful and idyllic, and provides a wonderful backdrop for a romantic outdoor wedding ceremony.
You can then hold your wedding breakfast and drinks reception in the marquee and continue the day with your evening reception in the brand new converted barn, a blank canvas space that will instantly inspire your wedding with effortless rural charm.
There are also hobbit huts, glamping pods and a unique glampervan, meaning you can stay with your family overnight too. Call them to book a viewing.
Visit Eden Leisure Village's website | t. 01236 735464 | e. info@edenleisurevillage.co.uk
Send an enquiry to Eden Leisure Village
FINGASK CASTLE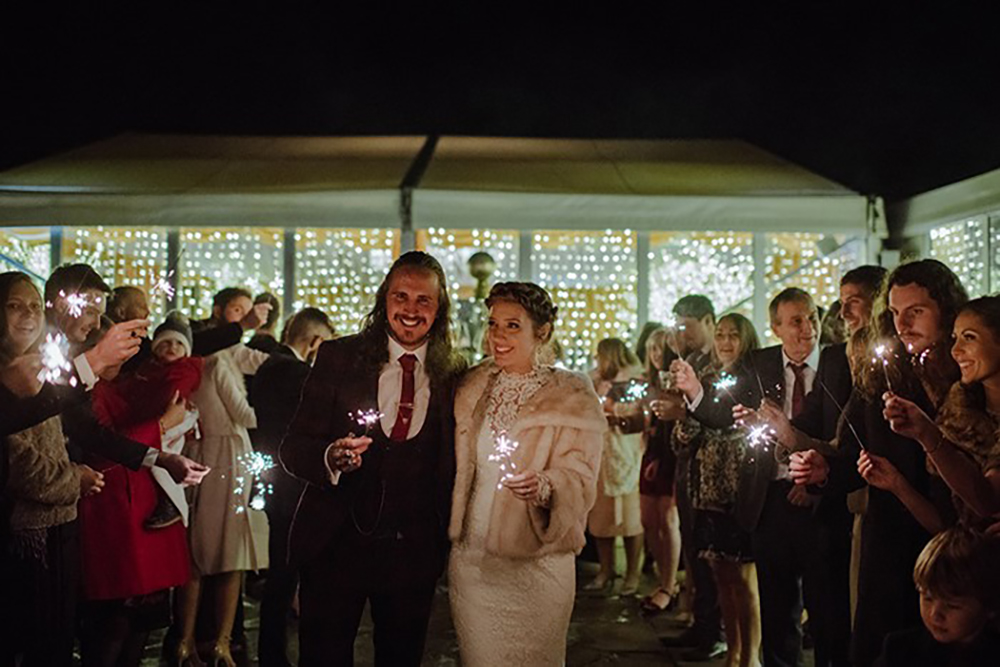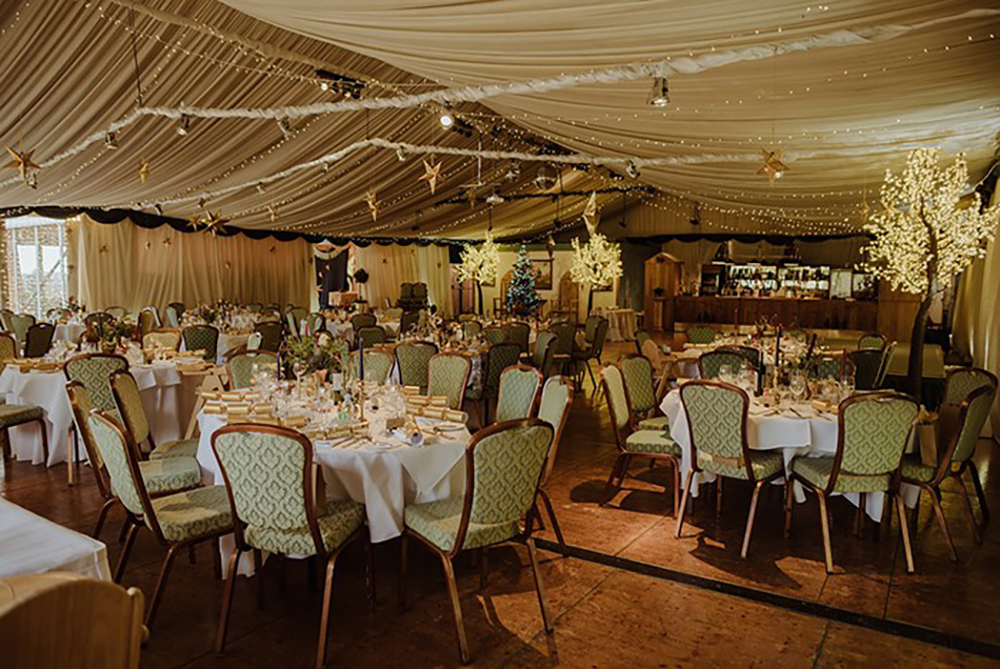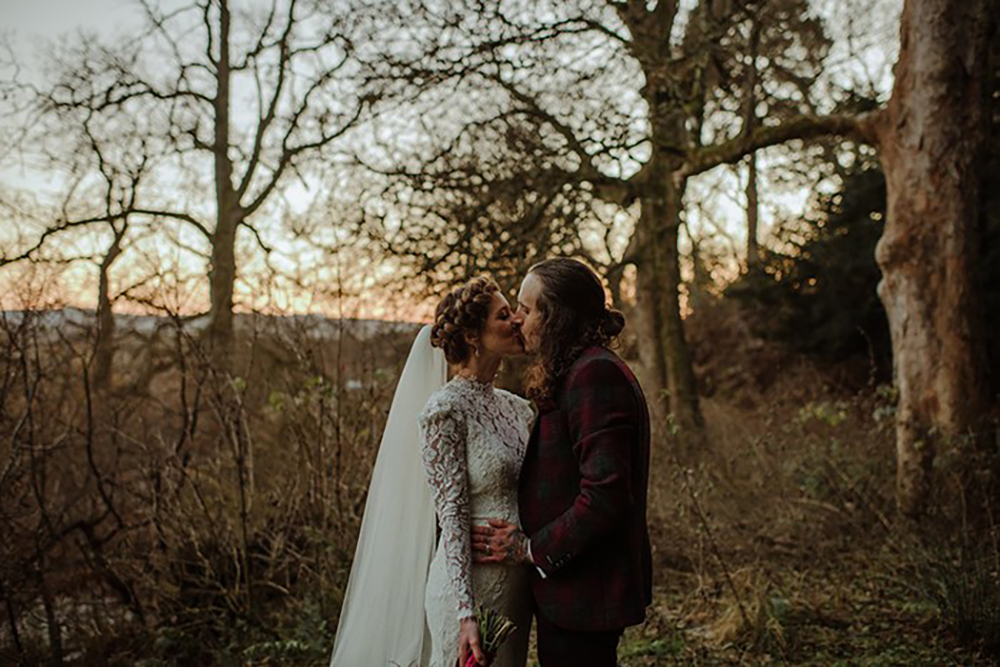 IMAGES | Neil Thomas Douglas
This much-loved family castle sits in a glen between Perth and Dundee, 20 minutes from either, about an hour from Glasgow and Edinburgh and slightly more from Aberdeen. Fingask boasts one of Scotland's great gardens, with one of the world's largest collections of topiary trees, and certainly the most eccentric.
Small weddings can be held in the castle, while the pavilion is a flexible modern structure where gatherings of between 50 and 300 can be entertained.
There are various sorts of accommodation for up to 70 guests scattered through the estate, from fully-equipped houses and cottages, to convenient modern 'pods' with just a bedroom, excellent showers and a kettle.
Visit Fingask Castle's website | t. 01821 670777 ext 3 | e. events@fingaskcastle.com
Send an enquiry to Fingask Castle
FORBES OF KINGENNIE COUNTRY RESORT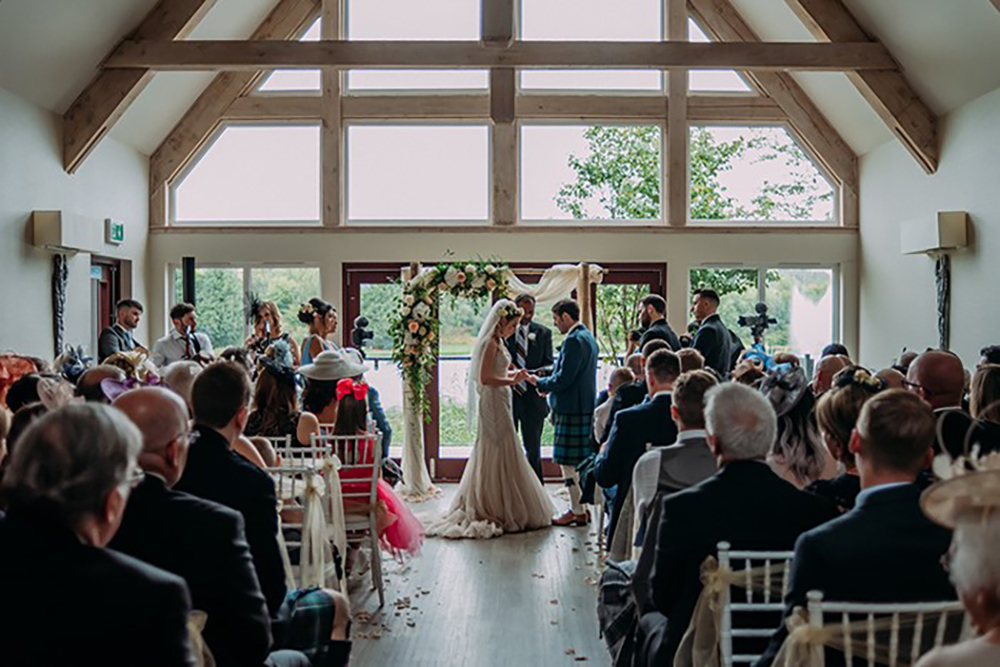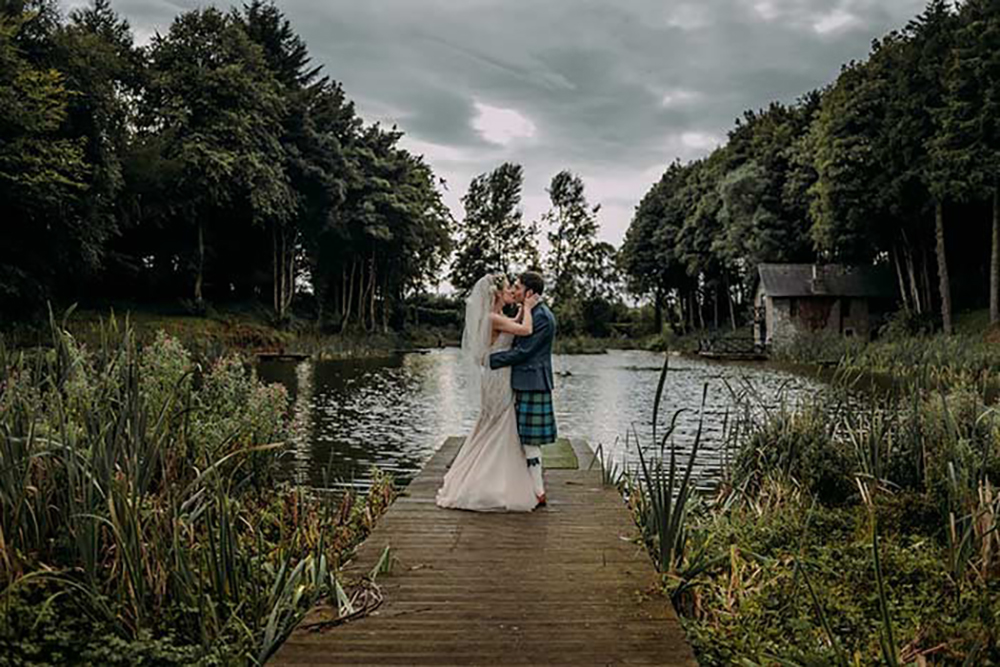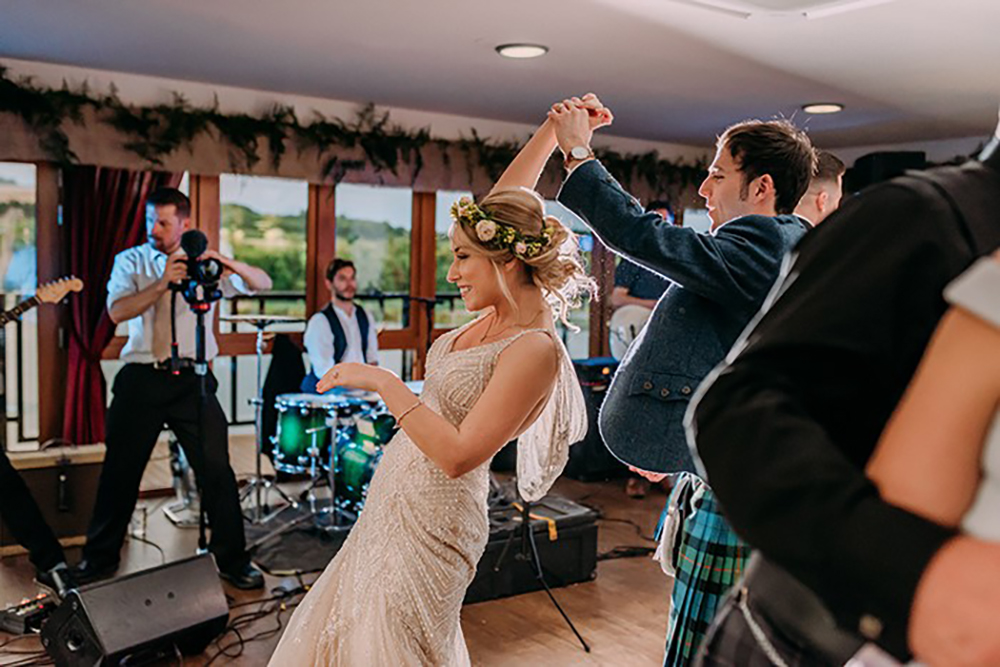 IMAGES | Burfly Photography
A magical venue surrounded by beautiful greenery and woodlands, you'd be surprised to learn that Forbes of Kingennie Country Resort is only a short drive from the city of Dundee.
You can continue to enjoy the waterside views during your ceremony inside the Buddon Burn suite, which has floor-to-ceiling windows that look out over the resort's amazing rustic grounds and lochans.
Then spend your first night as a married couple in the dreamy Leannan Boathouse, a lavishly furnished hideaway for two that sits on the edge of the water.
Visit Forbes of Kingennie Country Resort's website | t.  01382 350777 | e. reception@forbesofkingennie.com
Send an enquiry to Forbes of Kingennie Country Resort
FRUIN FARM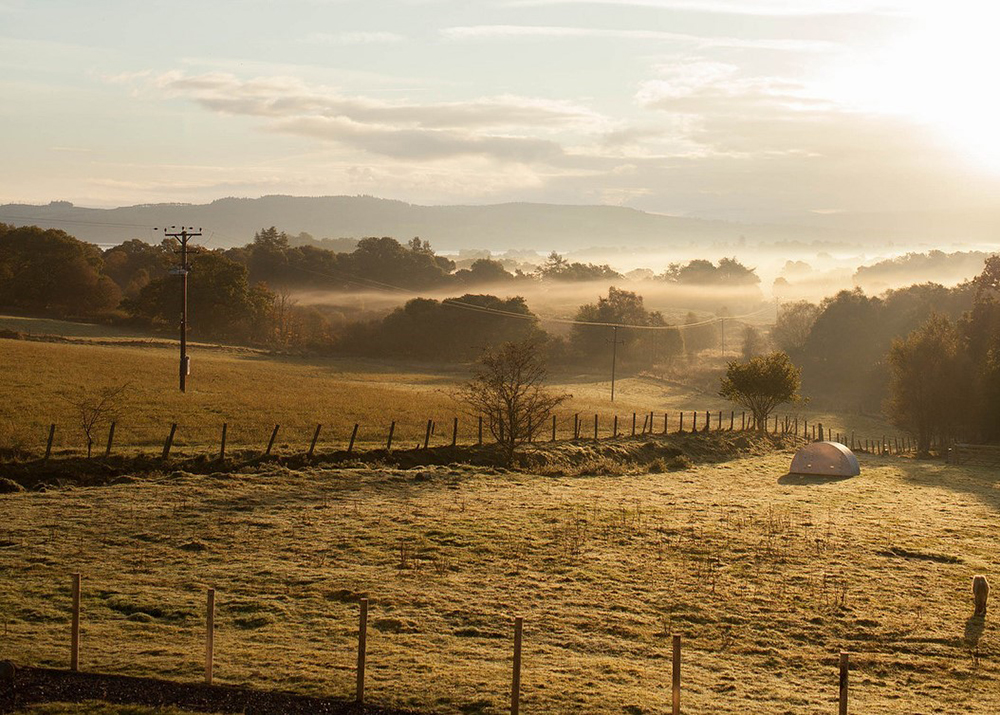 IMAGE | Celeste Noche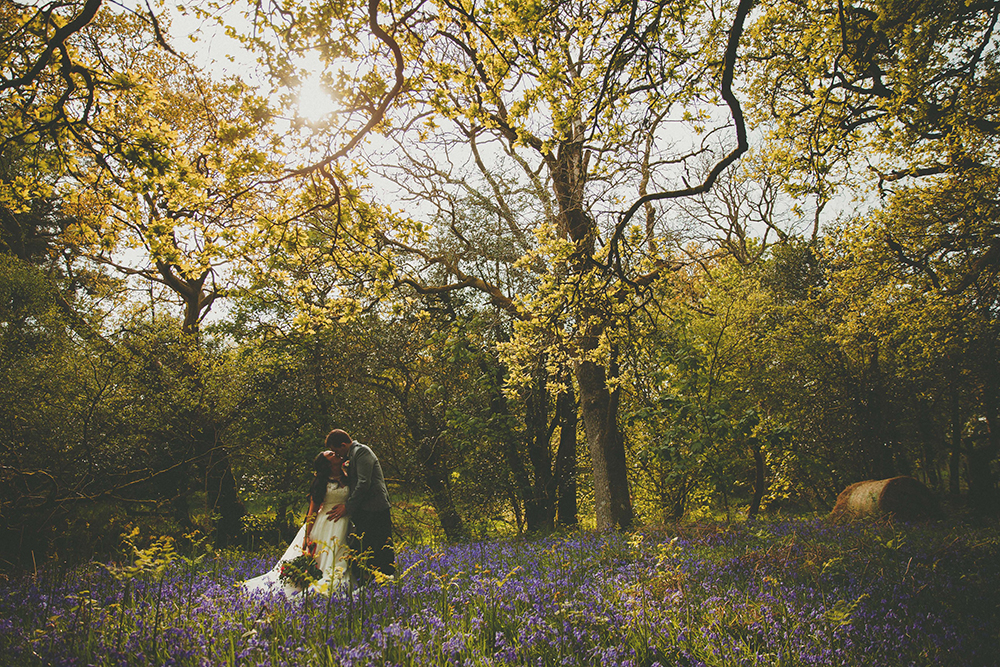 IMAGE | Rachel and Tonie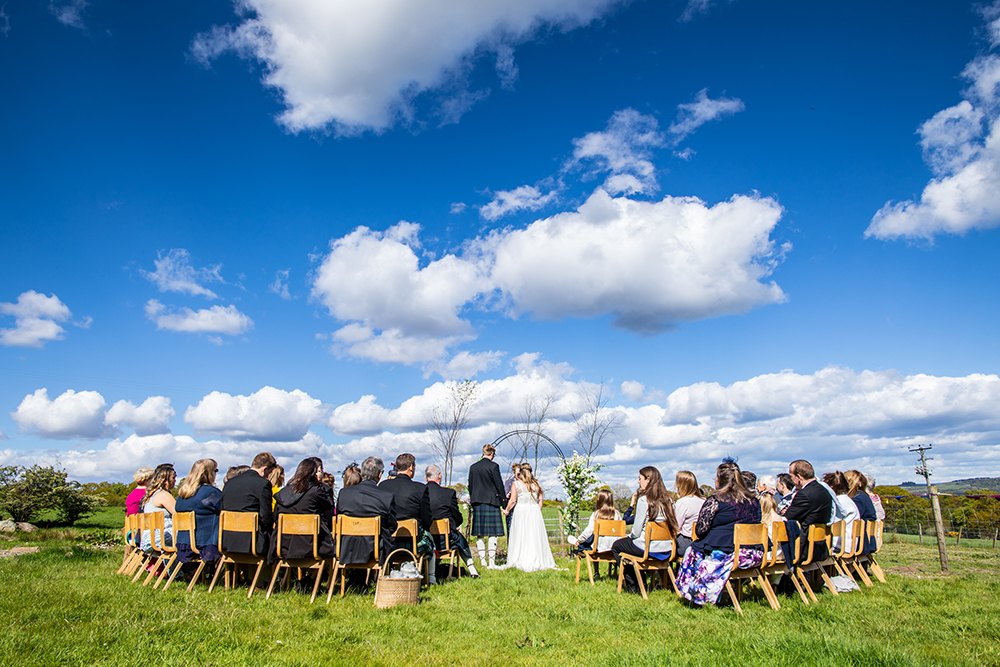 IMAGE | Chloe Jane Wedding Photography
Tucked away in beautiful countryside, a mile from the shores of Loch Lomond, Fruin Farm provides the perfect backdrop for laid back, intimate weddings, with an emphasis on bespoke.
You and your guests will fall for the rustic charm of this lovely venue, with stunning scenery and a true Scottish welcome.
The whole farm is exclusively yours, with no set rules as to how you use the space. Say "I do" in the charming 200-year-old barn or perhaps you'd prefer the steading with panoramic views down to the loch. The dedicated wedding team will oversee the smooth running on the day, and can also provide your flowers, cake and personalised venue dressing.
Visit Fruin Farm's website | t. 01389 850727 | e. info@fruinfarm.co.uk
KEAVIL HOUSE HOTEL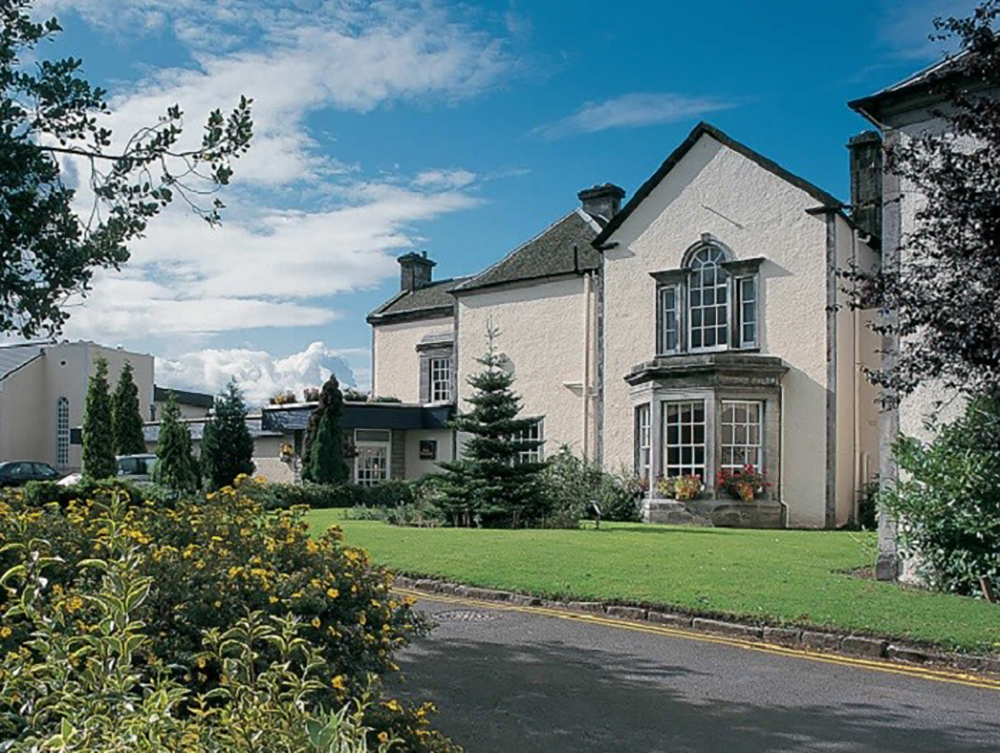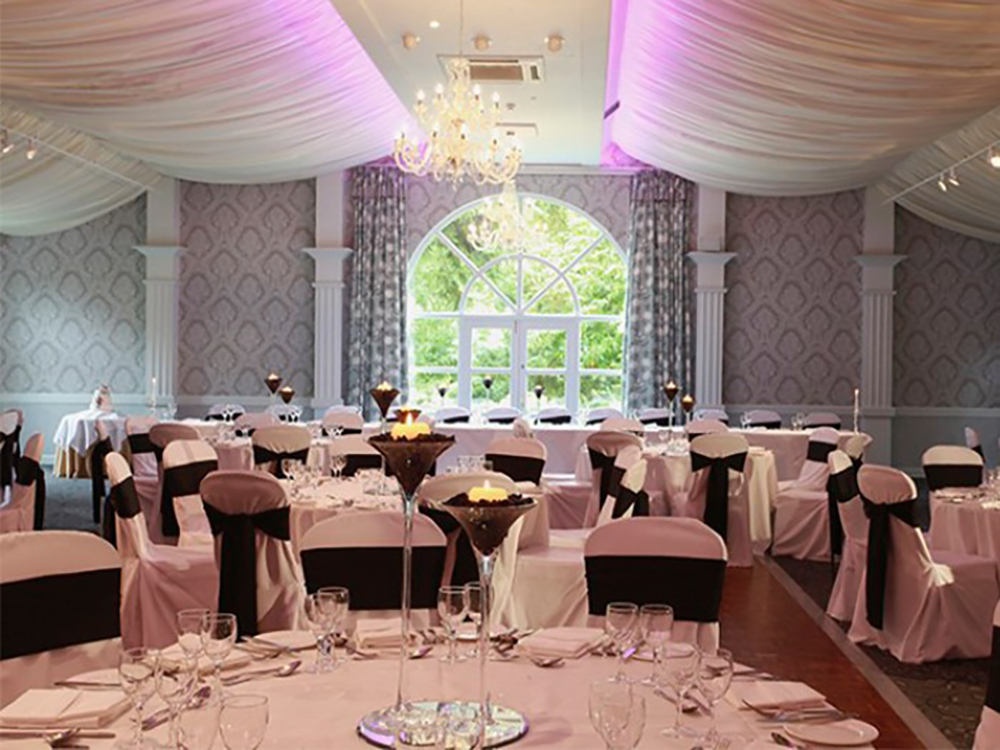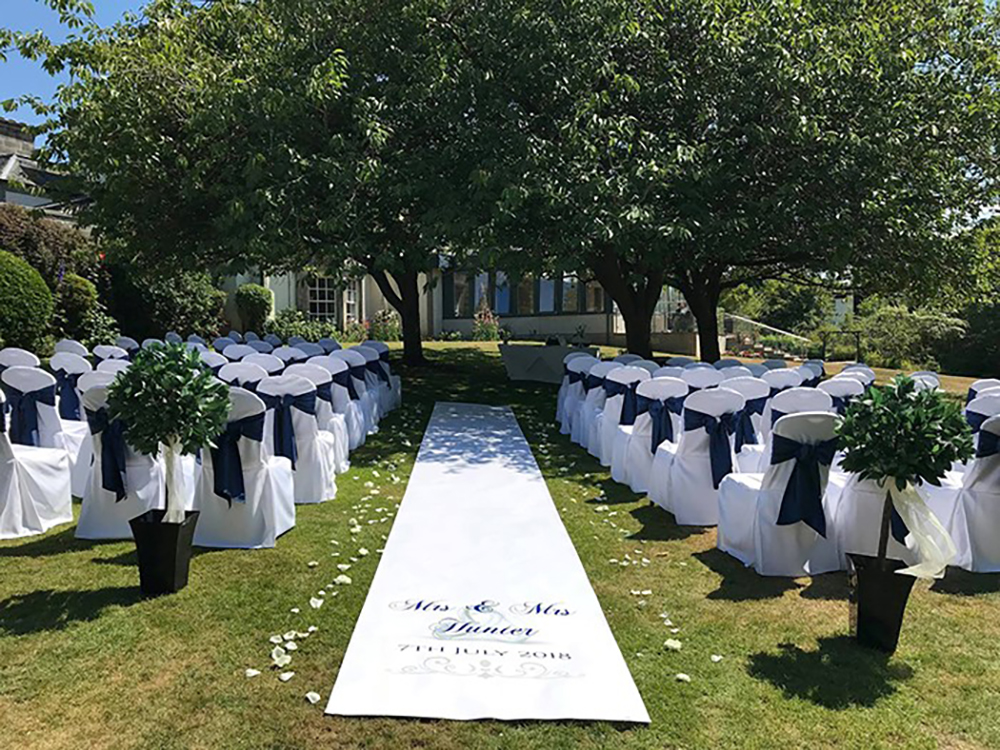 Keavil House Hotel is situated in the Fife countryside and is surrounded by 12 acres of private gardens. You can hold your ceremony on the hotel's beautiful and extensive grounds, and take advantage of local greenery for some amazing outdoor wedding portraits.
The interiors of the hotel are beautifully elegant, paying tribute to the grand history of the 18th-century mansion while maintaining a contemporary boutique twist.
Keavil House Hotel also offers guests a great deal of versatility for its couples, and even has three different event suites that can cater for weddings large and small.
Visit Keavil House Hotel's website | t. 01383 736258 | e. events@keavilhouse.co.uk
Send an enquiry to Keavil House Hotel 
KINKELL BYRE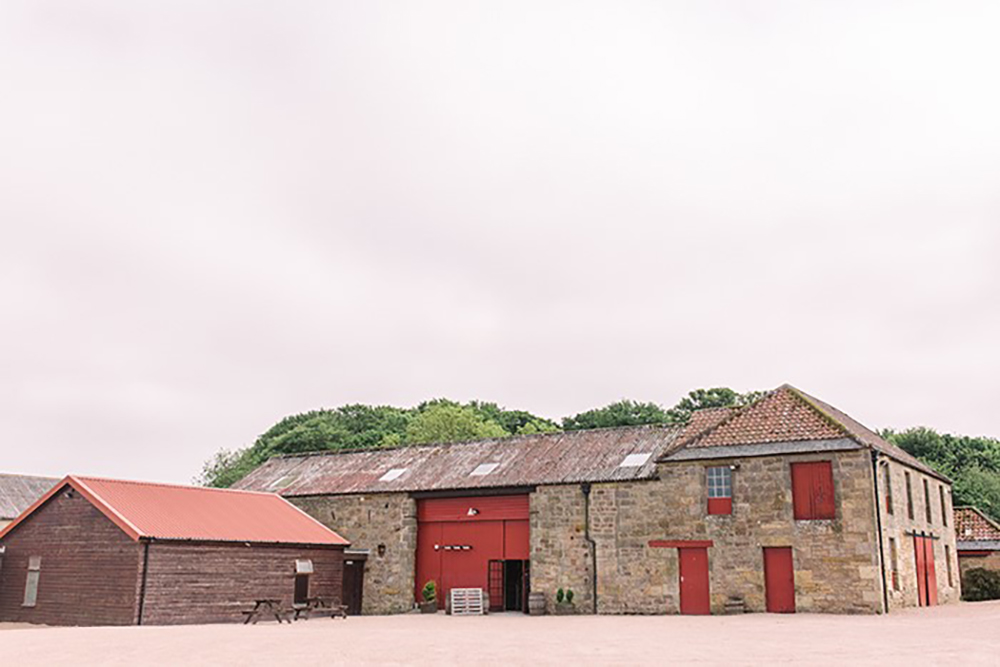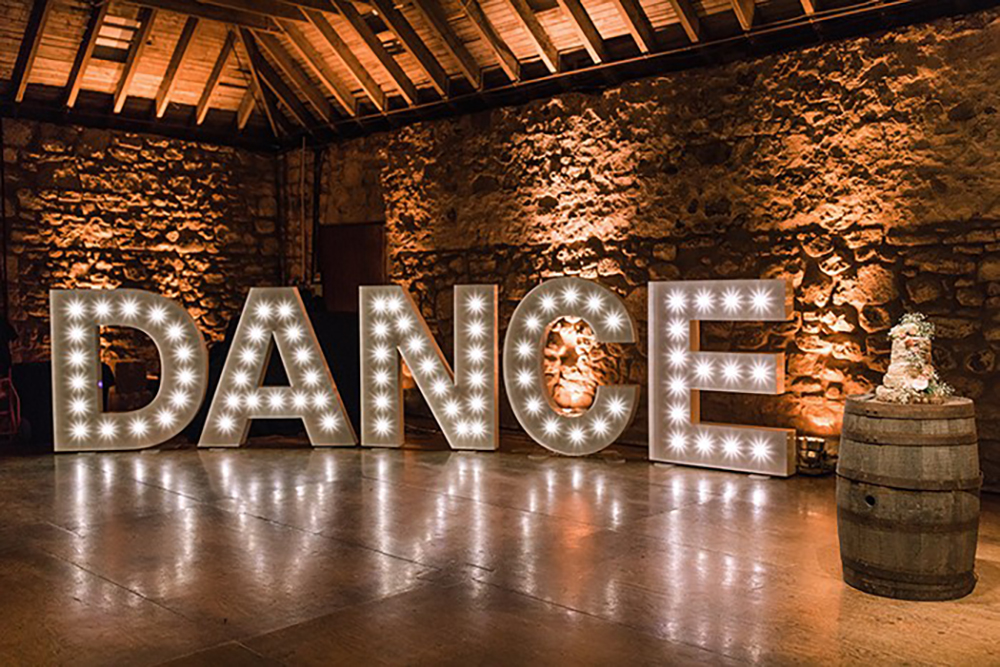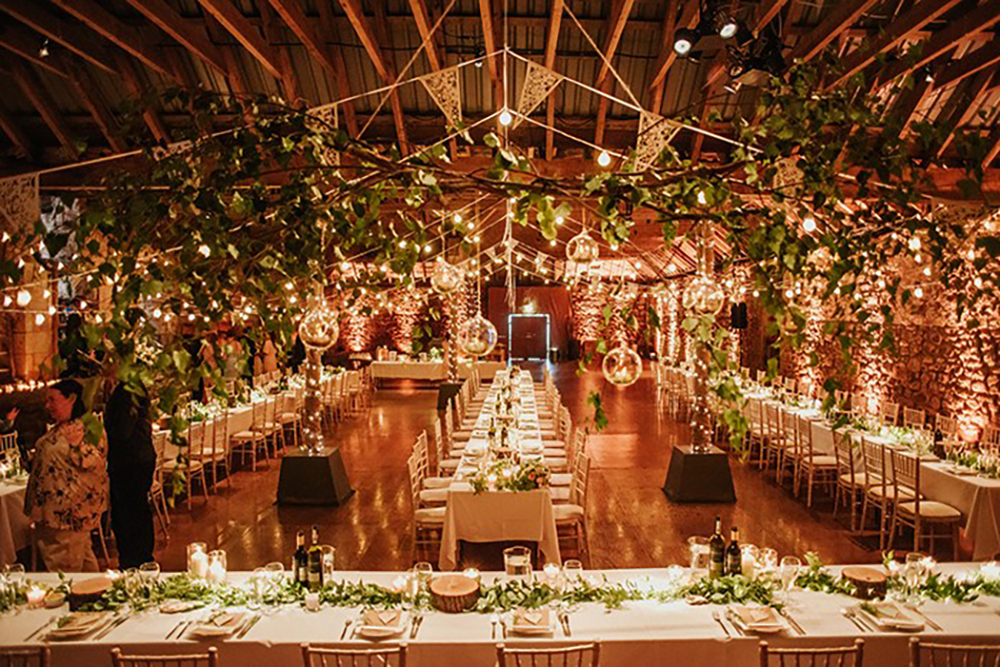 IMAGE | Photos by Zoe
This warm, cosy venue draped in sparkling fairy lights and lit with flickering candles will sweep you off your feet with its romantic ambience and beautiful countryside location.
Situated just outside St Andrews, you can exchange vows outdoors overlooking the town's gorgeous coastline or inside the atmospheric stonewalled byre surrounded by your nearest and dearest.
The Byre is an exclusive use blank canvas venue, allowing you to create a completely bespoke wedding day tailored to who you both are as a couple.
Visit Kinkell Byre's website | t. 01334 472003 | e. info@kinkell.com
Send an enquiry to Kinkell Byre
LOCH LOMOND WATERFRONT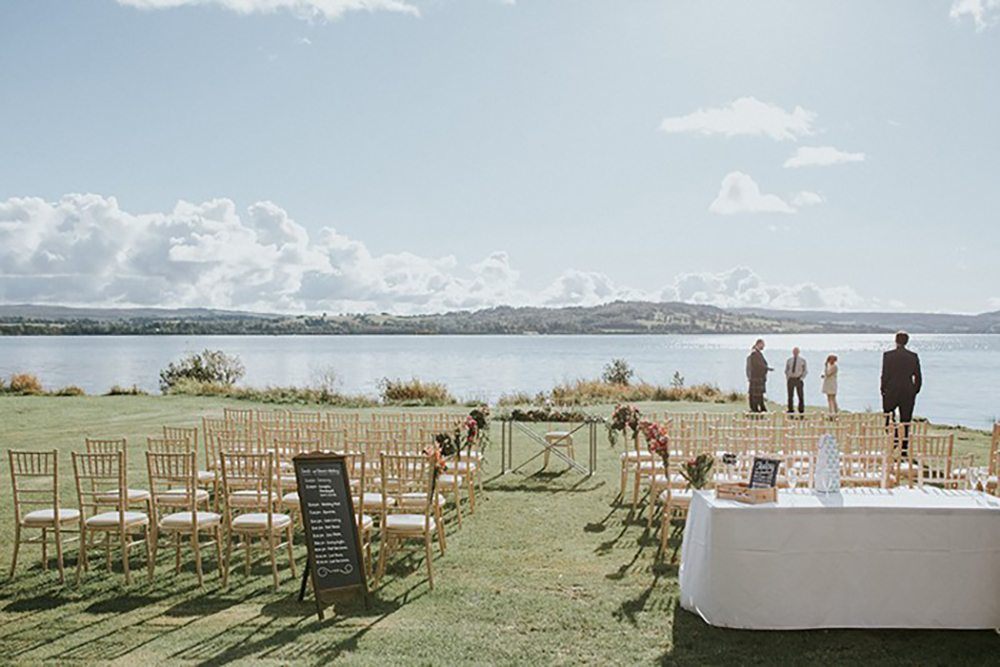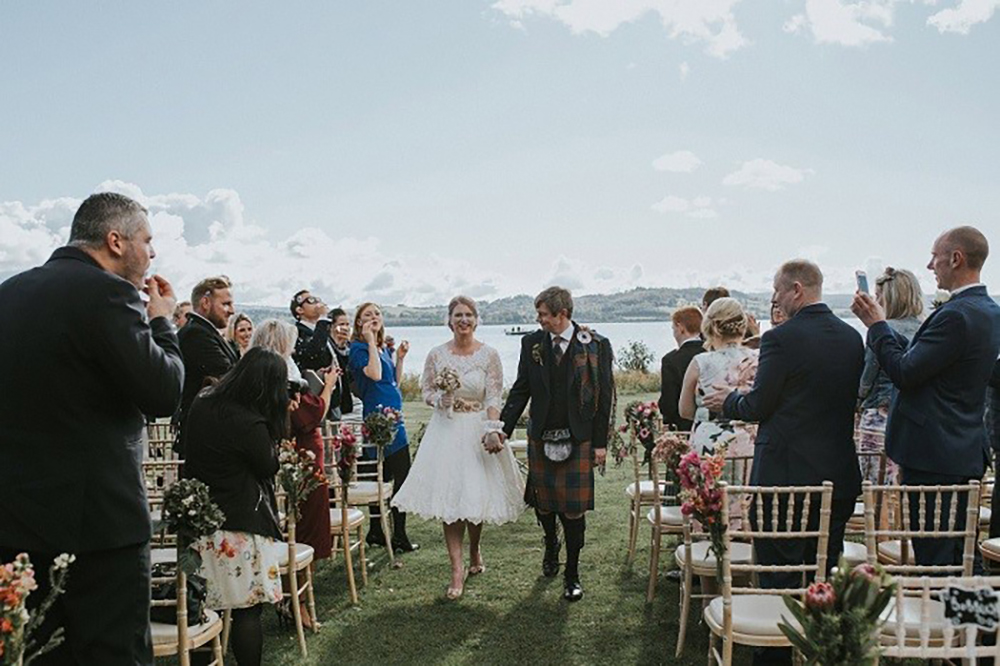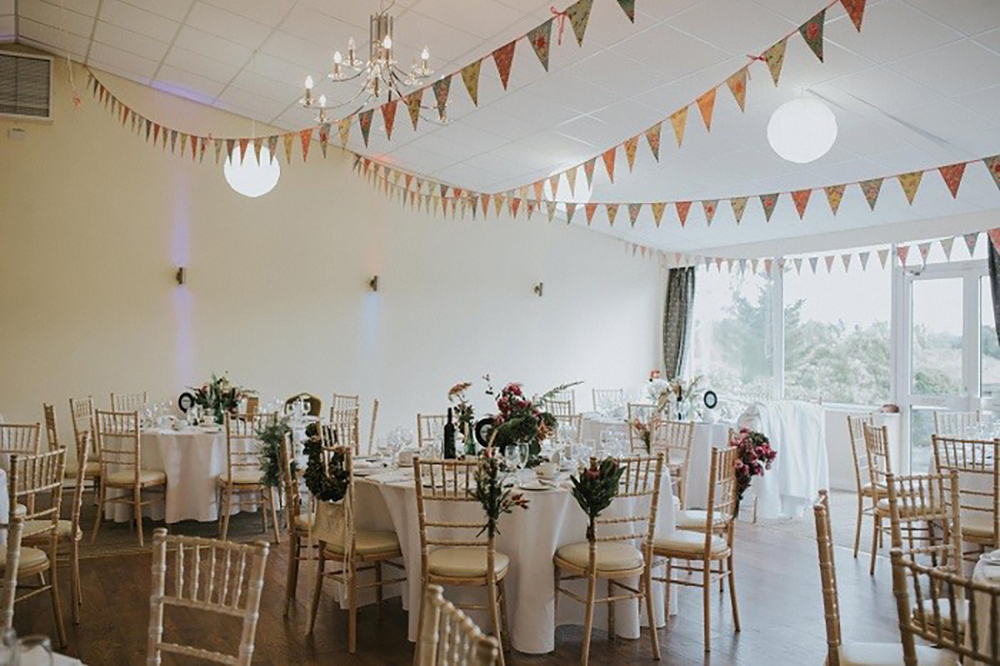 IMAGES | Maureen du Preez
With panoramic views of the bonnie banks of Loch Lomond, this waterside wedding venue is perfect for a traditional and romantic Scottish wedding day – it even has its own exclusive beach!
If you really want to embrace your scenic surroundings and the 18 acres of stunning private grounds, you can hold your reception in a marquee on the grounds.
You can also book the entire place – all 18 acres, the function suite and 11 lodges – on an exclusive-use basis.
Visit Loch Lomond Waterfront's website | t. 01360 870144 | e. info@llwf.co.uk
Send an enquiry to Loch Lomond Waterfront 
MYRES CASTLE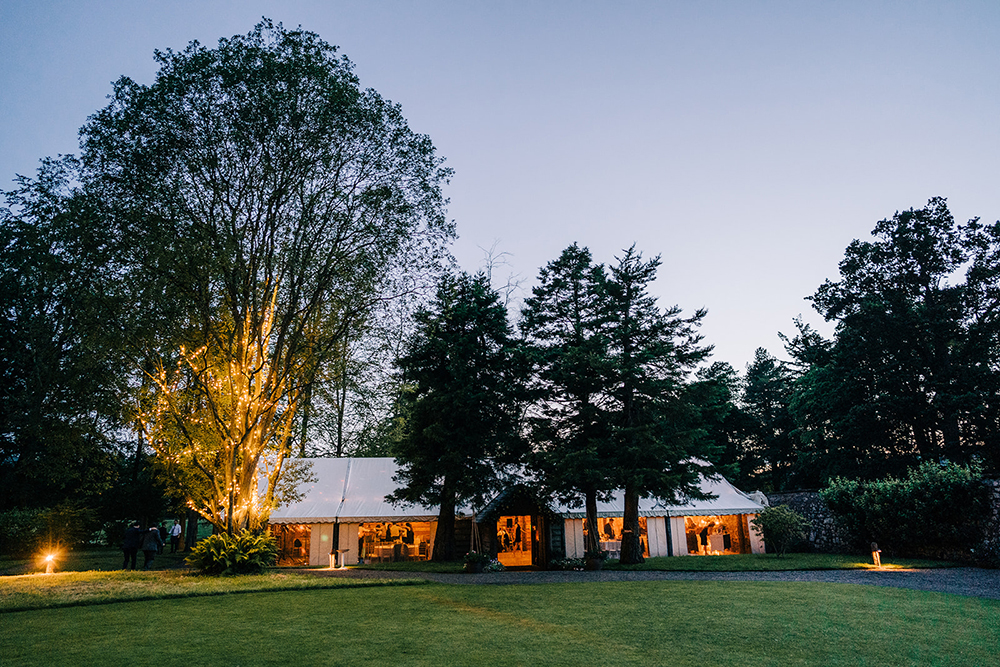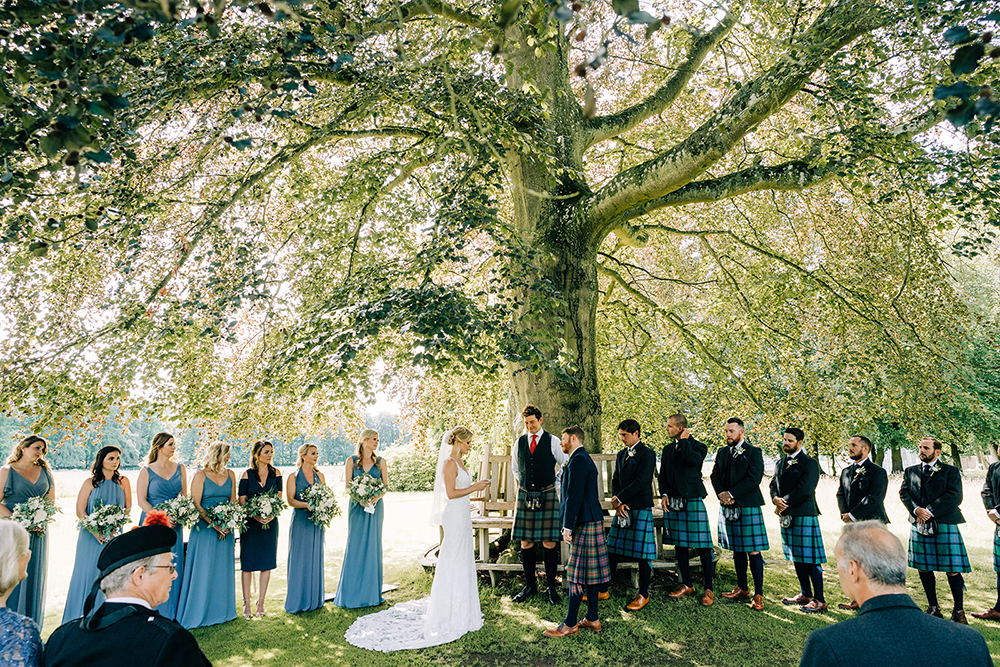 IMAGES | Photos by Zoe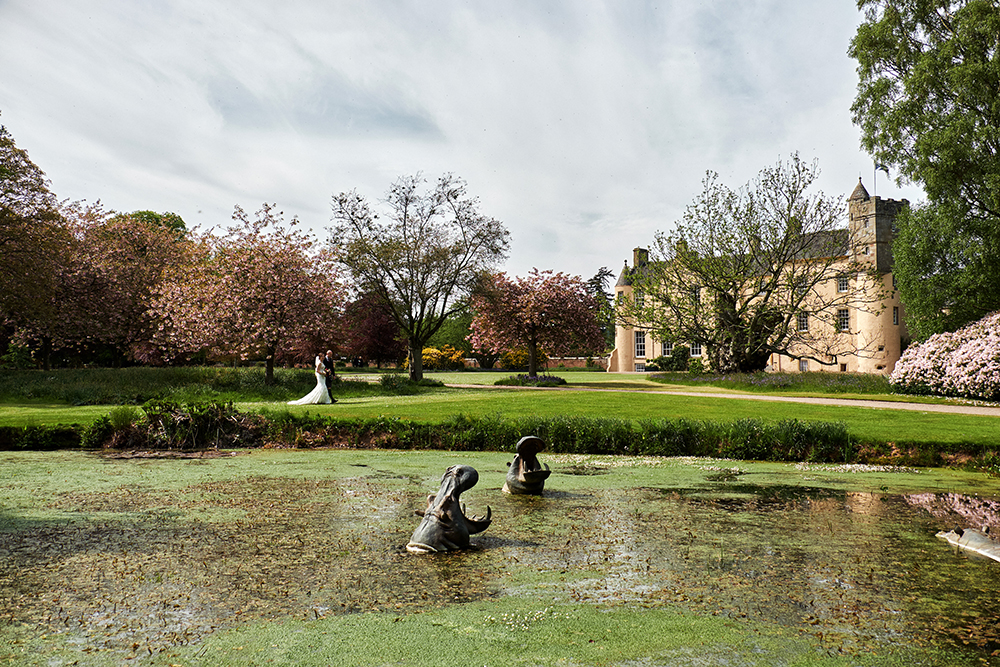 IMAGE | Suzanne Black Photography
Myres Castle, winner of Best UK Wedding Venue in the Hudson UK Heritage Awards 2018, is a whimsical and romantic wedding venue situated just outside the village of Auchtermuchty.
The best of both worlds, you can have the stunning castle for up to 24 guests throughout your stay, hold an outdoor ceremony under the copper beech tree and celebrate your wedding in the rustic and charming Barnquee.
The Barnquee is situated in a lovely woodland setting, with twinkling lights hanging from the trees and fire pits outside (as well as a wood fired pizza oven!) to further enhance the magical atmosphere.
Visit Myres Castle's website | t. 01337 828350 | e. enquiries@myrescastle.com
Send enquiries to Myres Castle
OXENFOORD CASTLE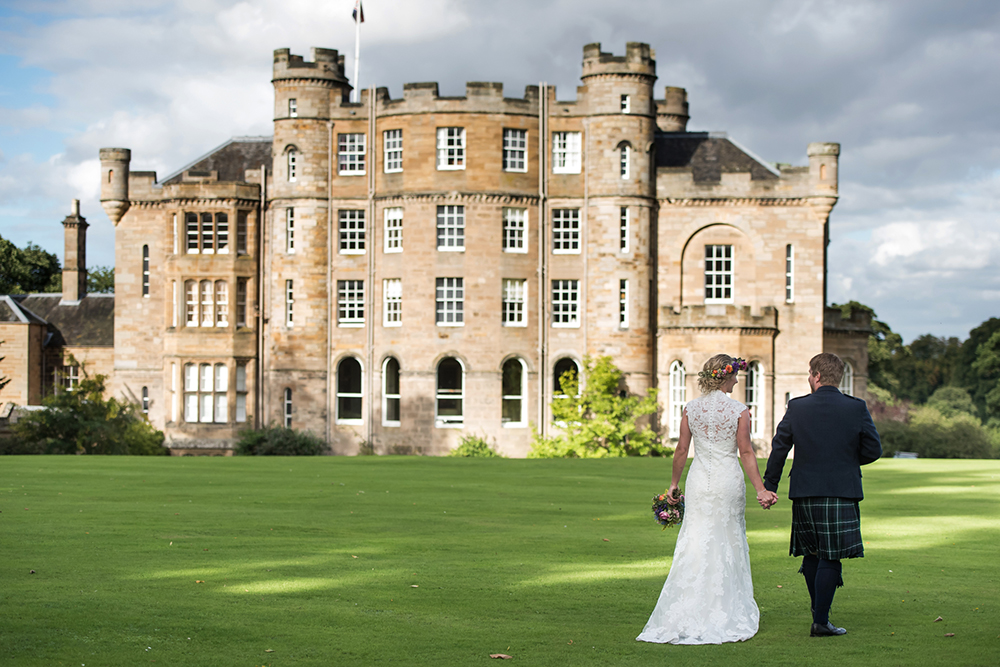 IMAGE | Claire Tennant Photography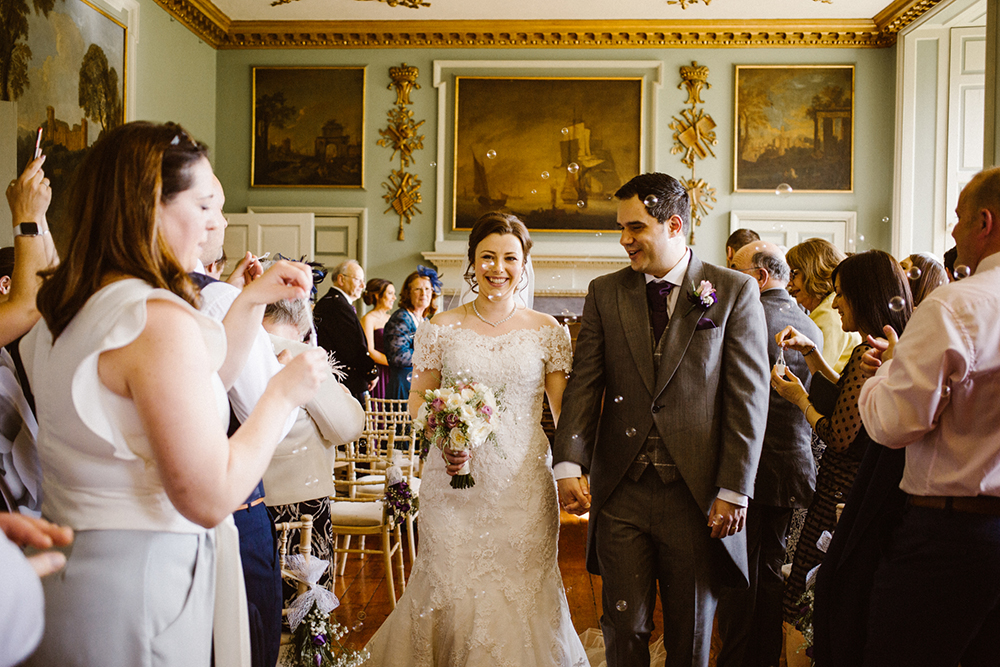 IMAGE | Eilidh Sutherland Photography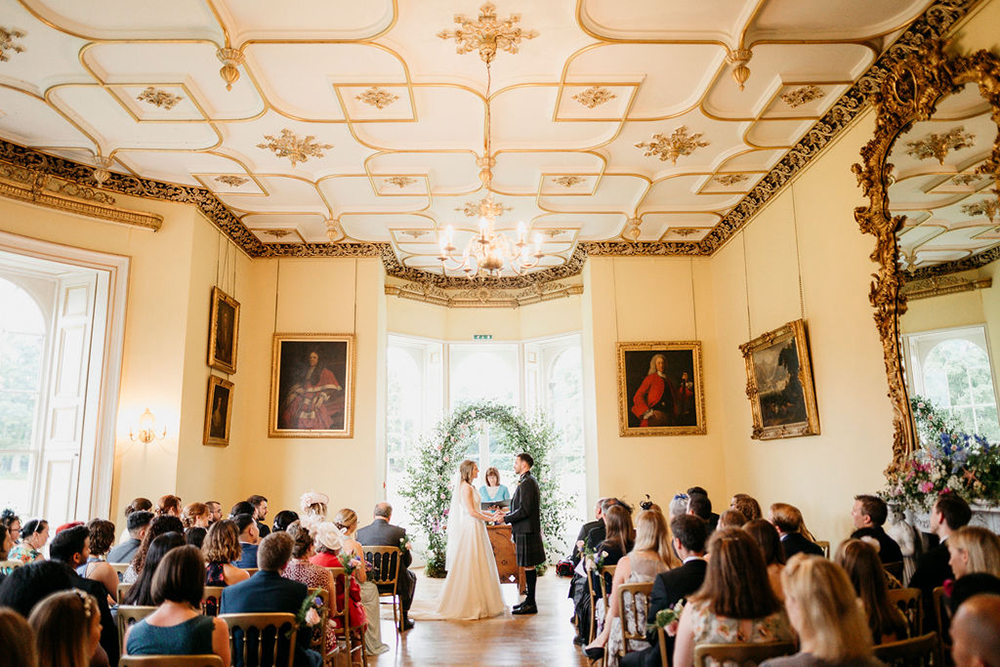 IMAGE | Will Stedman Photography
If you're dreaming of exchanging vows in the enchanting atmosphere of a traditional Scottish castle, look no further than Oxenfoord Castle. With Edinburgh only a 30-minute drive away, this grand venue boasts both a serene country location and close proximity to a major city.
An exclusive-use wedding venue, you can expect to spend a day surrounded by your nearest and dearest while you enjoy the estate's romantic parkland and historic interior, brimming with carved woodwork and lavish plaster ceilings.
Visit Oxenfoord Castle's website | t. 0131 287 0535 | e. oxenfoord@hickoryfood.co.uk
Send an enquiry to Oxenfoord Castle
PAPAKATA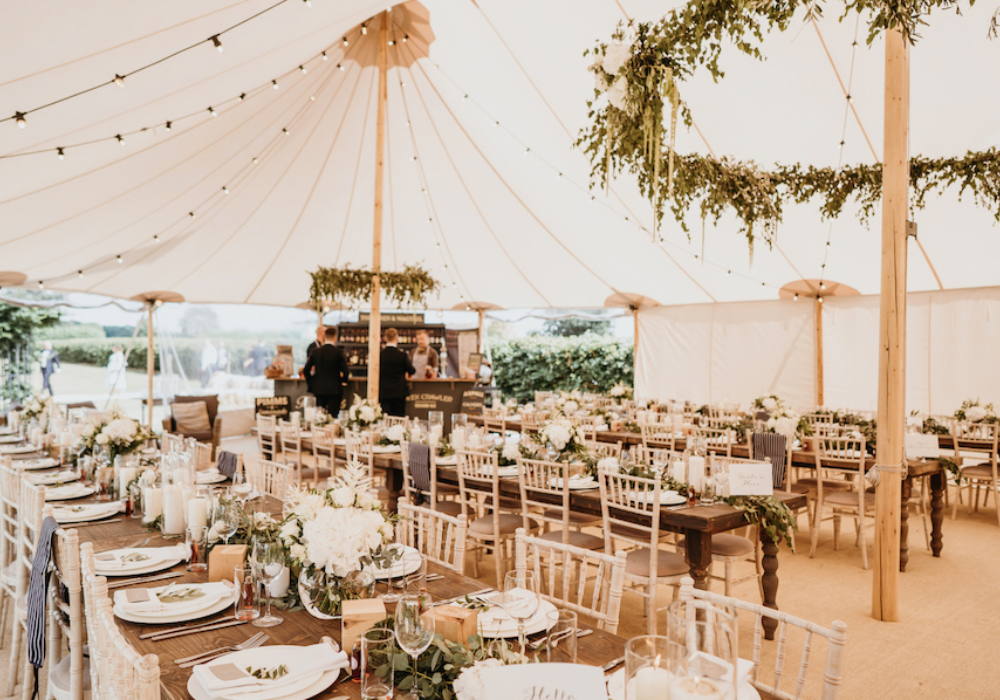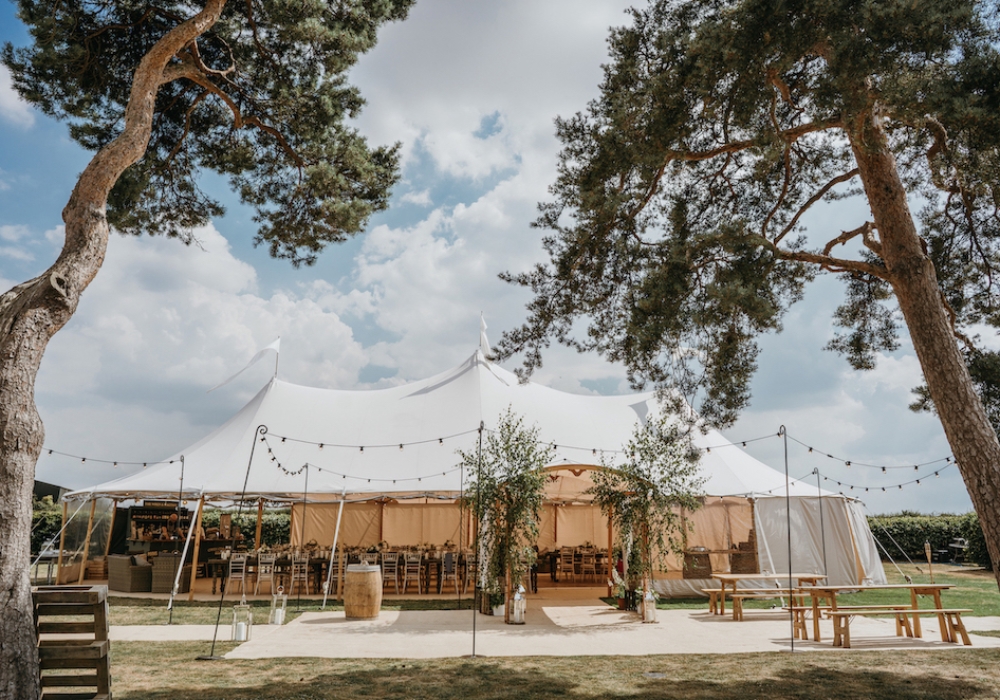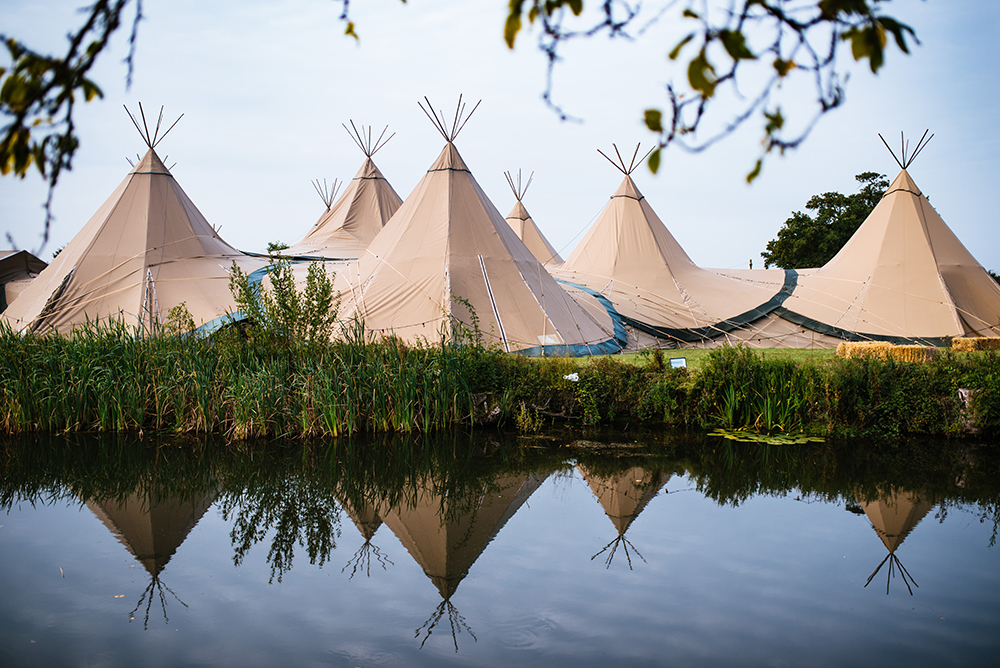 IMAGE | Johnny Dent Photography
PapaKåta allow you to personalise your wedding, creating a venue that's truly unique to you, in the location of your choice!
As the most established Tipi company and the exclusive provider of luxury US Sperry Tents in Scotland, PapaKåta offer a completely bespoke venue on your own grounds (excuse the pun).
PapaKåta's Sperry Tents come in various sizes and their Tipis can be joined together to give you a unique space for your guest numbers. In addition to their exclusive tents, PapaKåta has a dedicated event planning service and a luxury portfolio of furnishings, allowing you to further personalise your day.
Visit Papakata's website | t. 01738 479803 | e. tellmemore@papakata.co.uk
PEEBLES HYDRO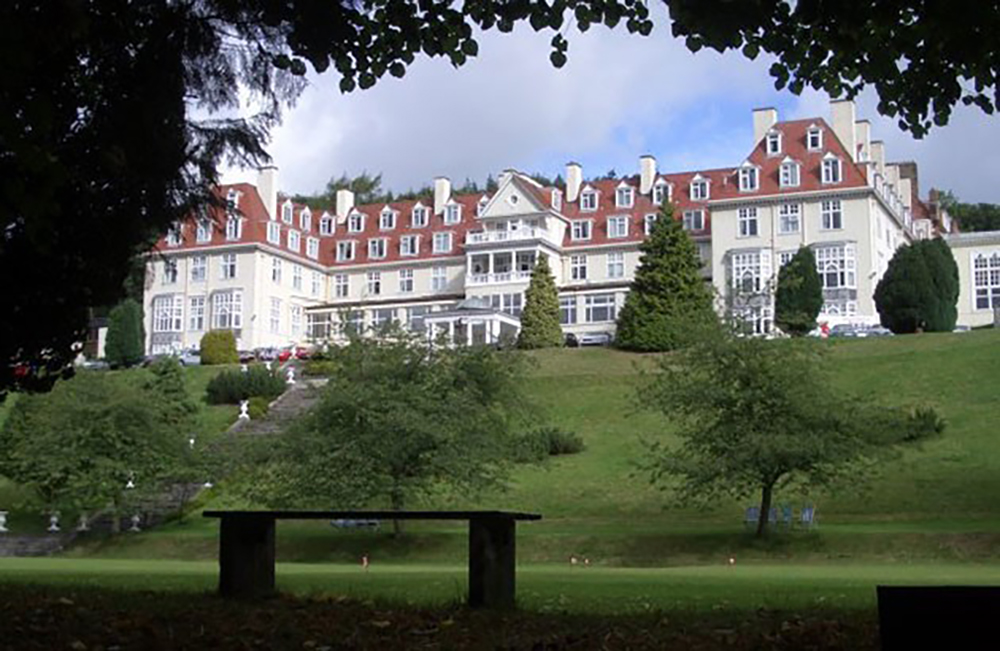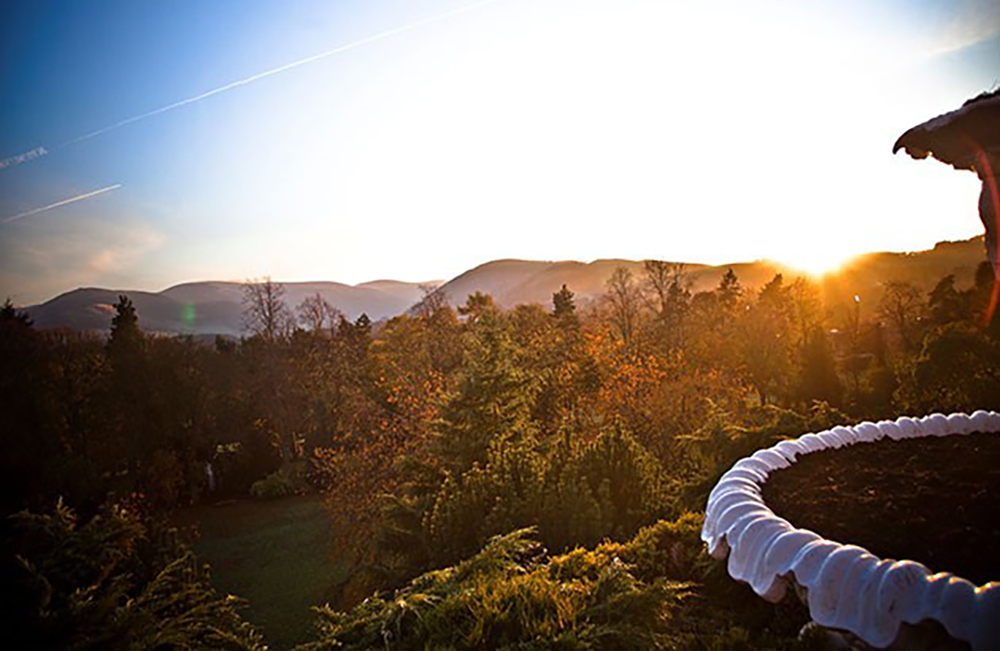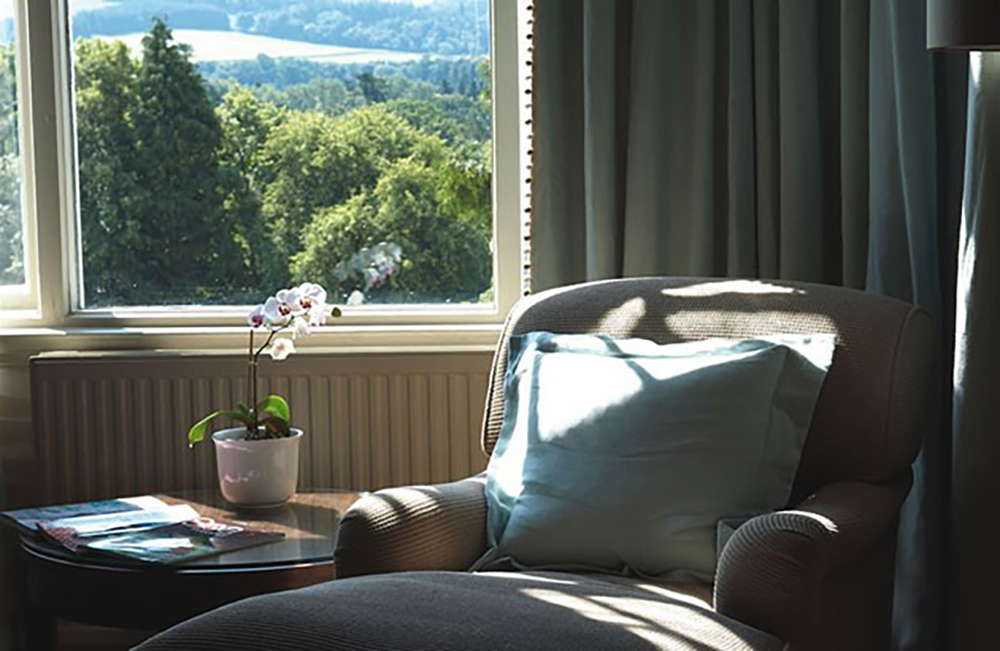 You'll feel like you're on top of the world in every way possible (and so you should, it's your wedding, after all!) at this venue. Choose from five very different, very special, rooms.
And wait till you see the grounds: a 30-acre estate filled with lawns, Victorian gardens and woodland. The team at Peebles will help you make it your own – with the help of their trusty suppliers and knowledgeable folks they've worked with for years.
So that dream wedding wish-list of yours will practically tick itself off. And if you think all that sounds good? Well, just wait until you see their beautiful countryside location…
Visit Peebles Hydro's website | t. 01721 720602 | e. weddings@peebleshydro.co.uk
Send an enquiry to Peebles Hydro
ROTTAL STEADING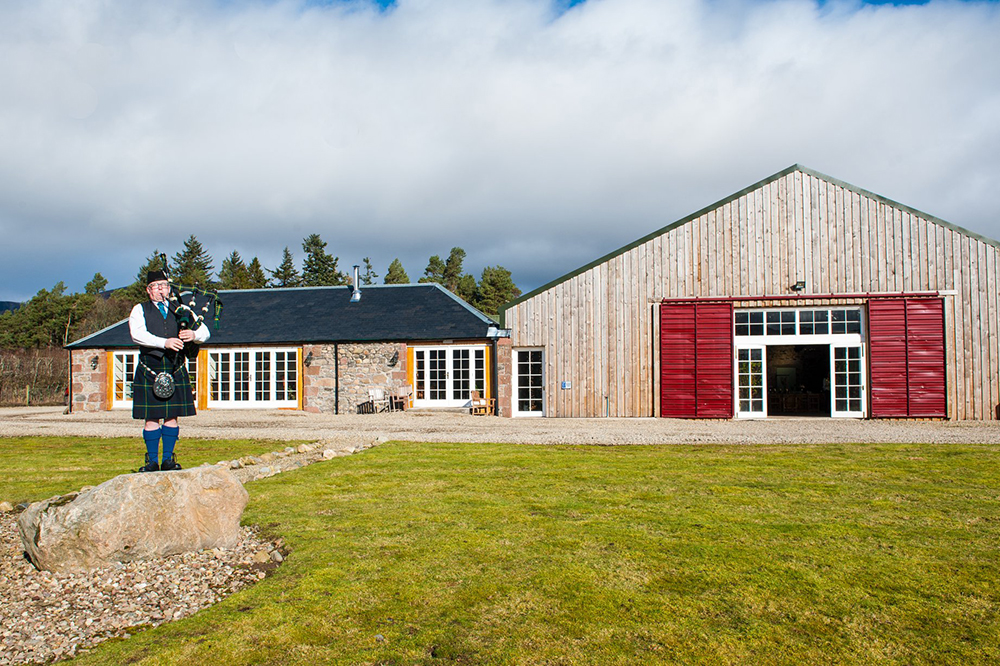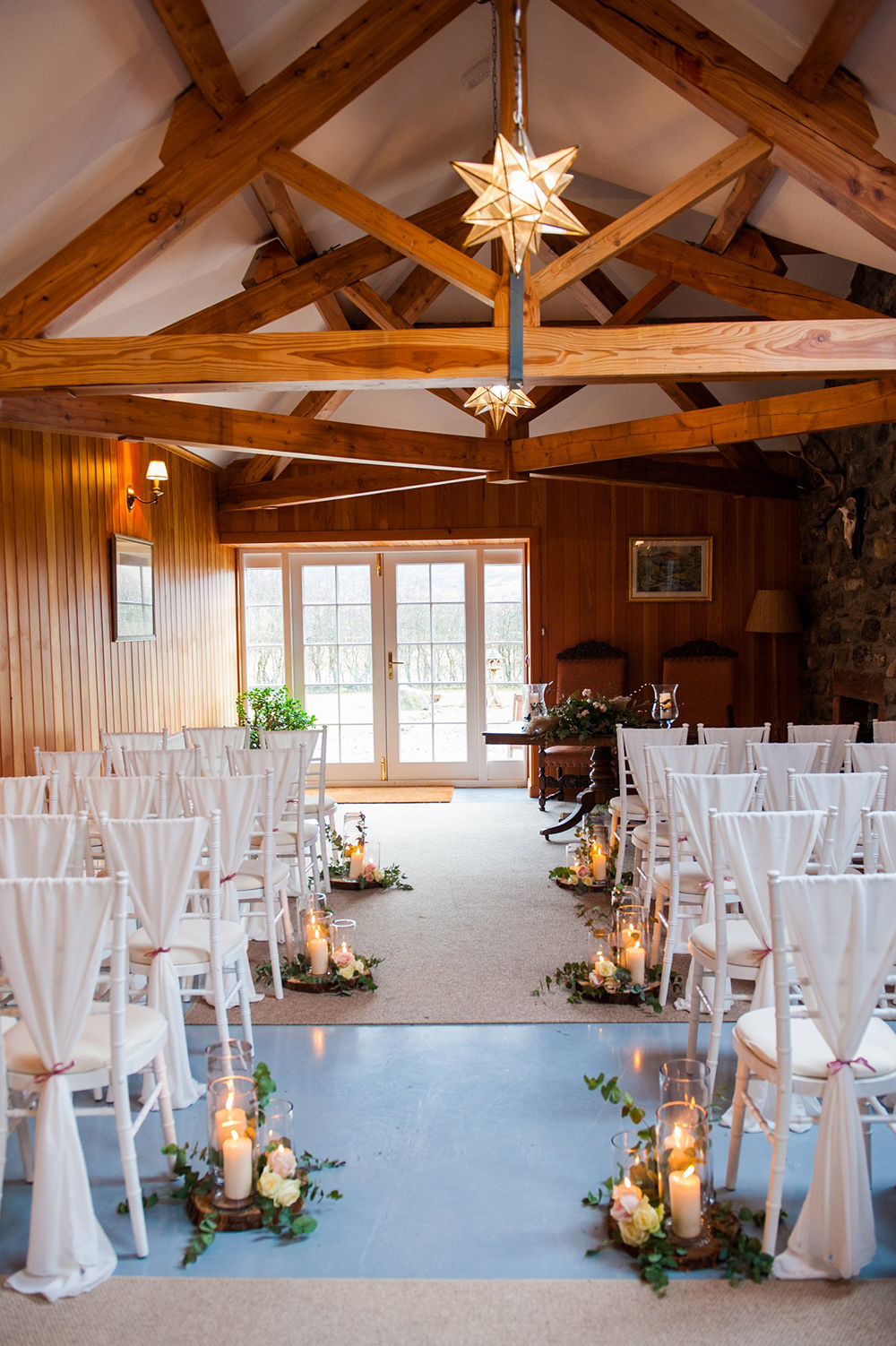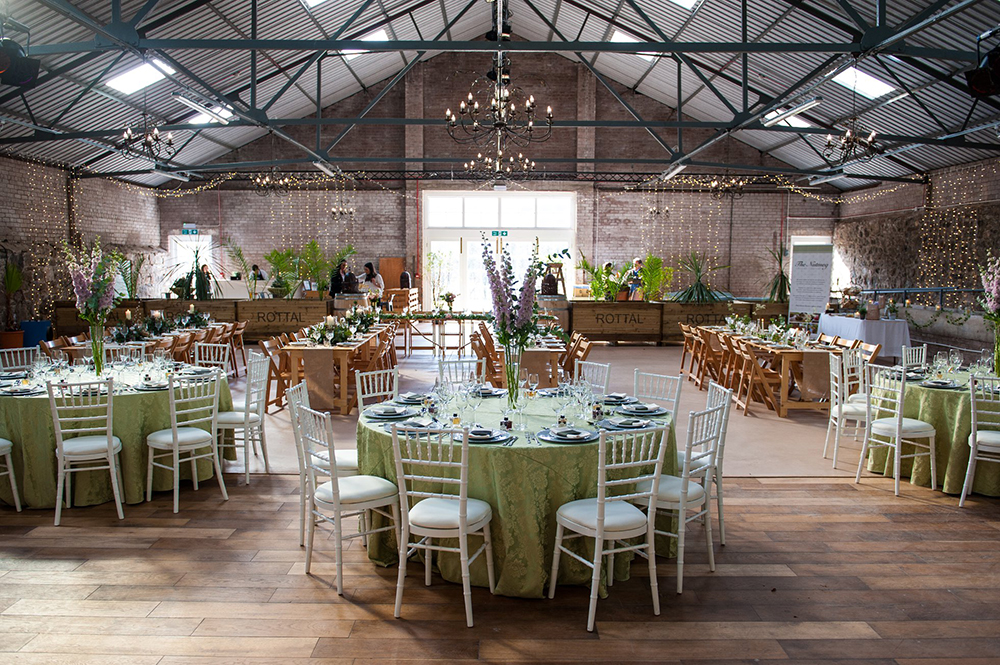 If getting away from it all is your idea of heaven, you'll fall for the rural charms of Rottal Steading in the heart of Glen Clova.
Surrounded by stunning scenery, the dramatic views are perfect if you're hoping to have an outdoor ceremony and provides you with plenty of opportunity for great couple photos in the stunning surrounding glens.
Rottal Steading is a rustic barn, ideal for couples who would like their wedding day to have a rugged countryside charm.
Visit Rottal Steading's website | t. 01575 550281 | e. info@rottalestates.com
Send an enquiry to Rottal Steading
THE BYRE AT INCHYRA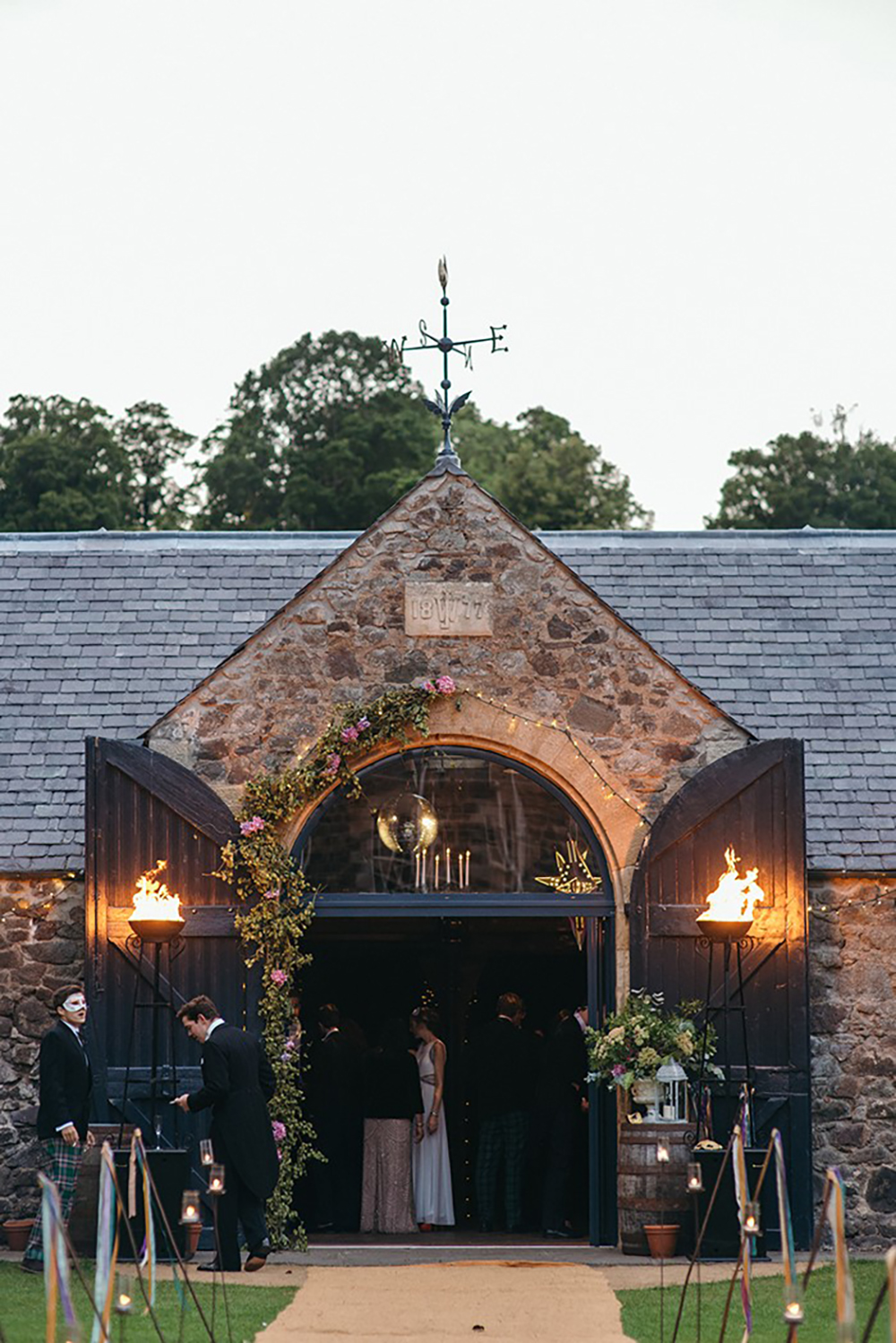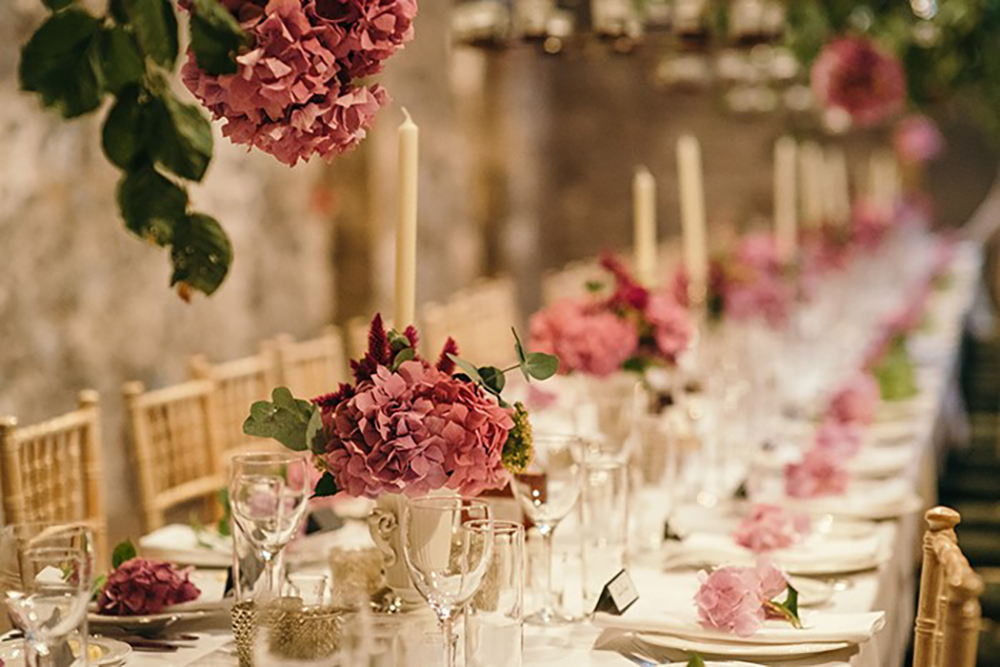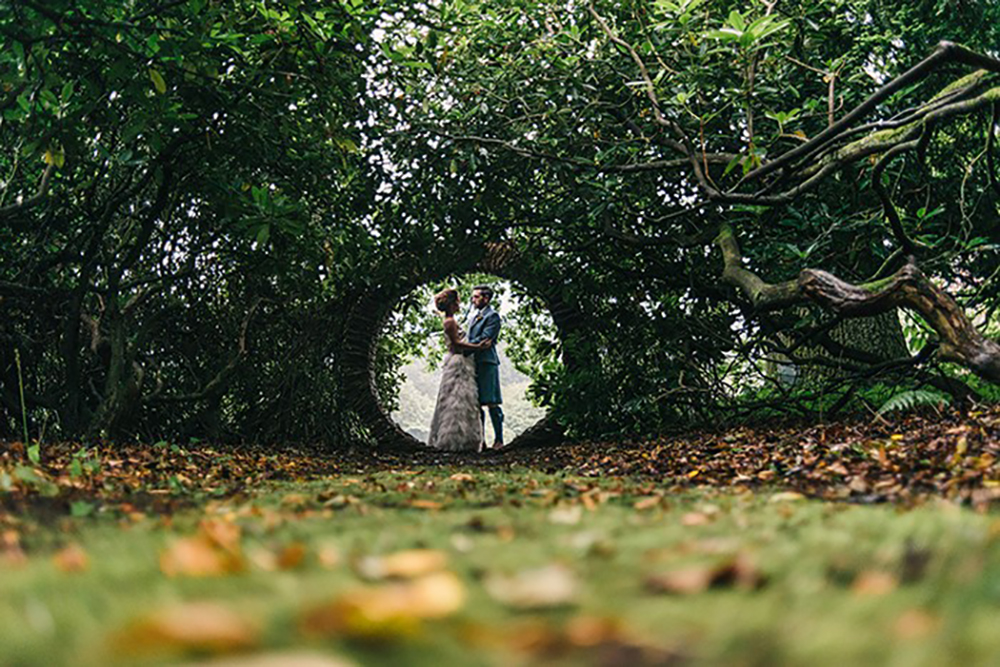 IMAGES | Photos by Zoe
The Byre at Inchyra is a gorgeous, versatile restored barn situated on 150 acres of private Perthshire parkland. While The Byre is a blank canvas venue, it has plenty of natural character that will absolutely charm you and your wedding guests.
You can have an outdoor ceremony in Inchyra's magical walled garden, but if the weather is a washout, the rustic interior of the barn will give your wedding the relaxed countryside atmosphere you were hoping for.
This venue also allows you to choose from a selection of approved caterers, meaning you can curate your dream wedding breakfast menu.
Visit The Byre at Inchyra's website | t. 01738 860066 | e. enquiries@thebyreatinchyra.co.uk
Send an enquiry to The Byre at Inchyra
THE LOCH LOMOND ARMS HOTEL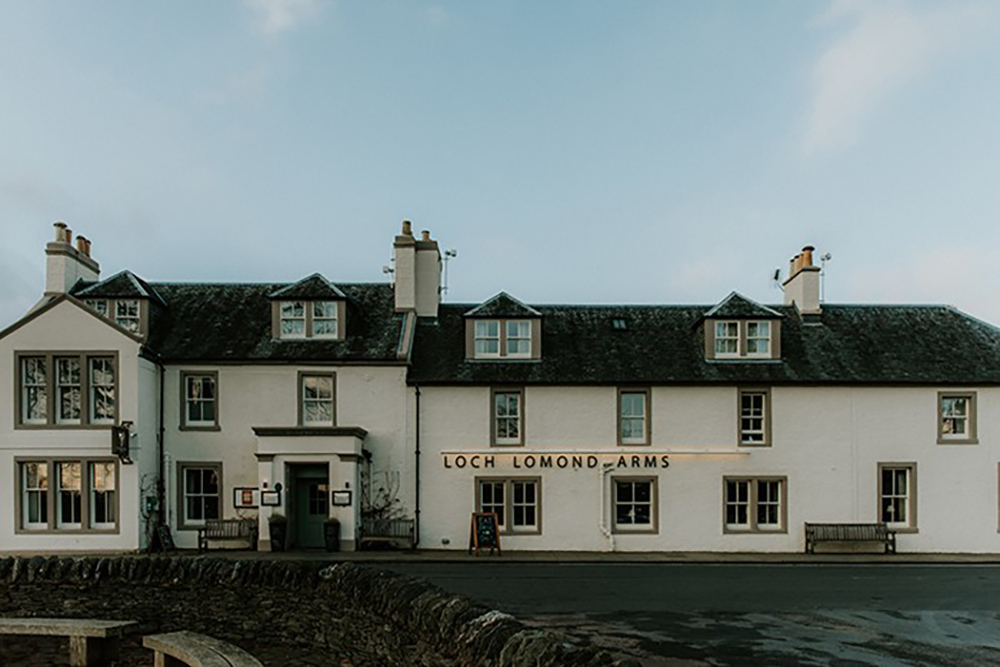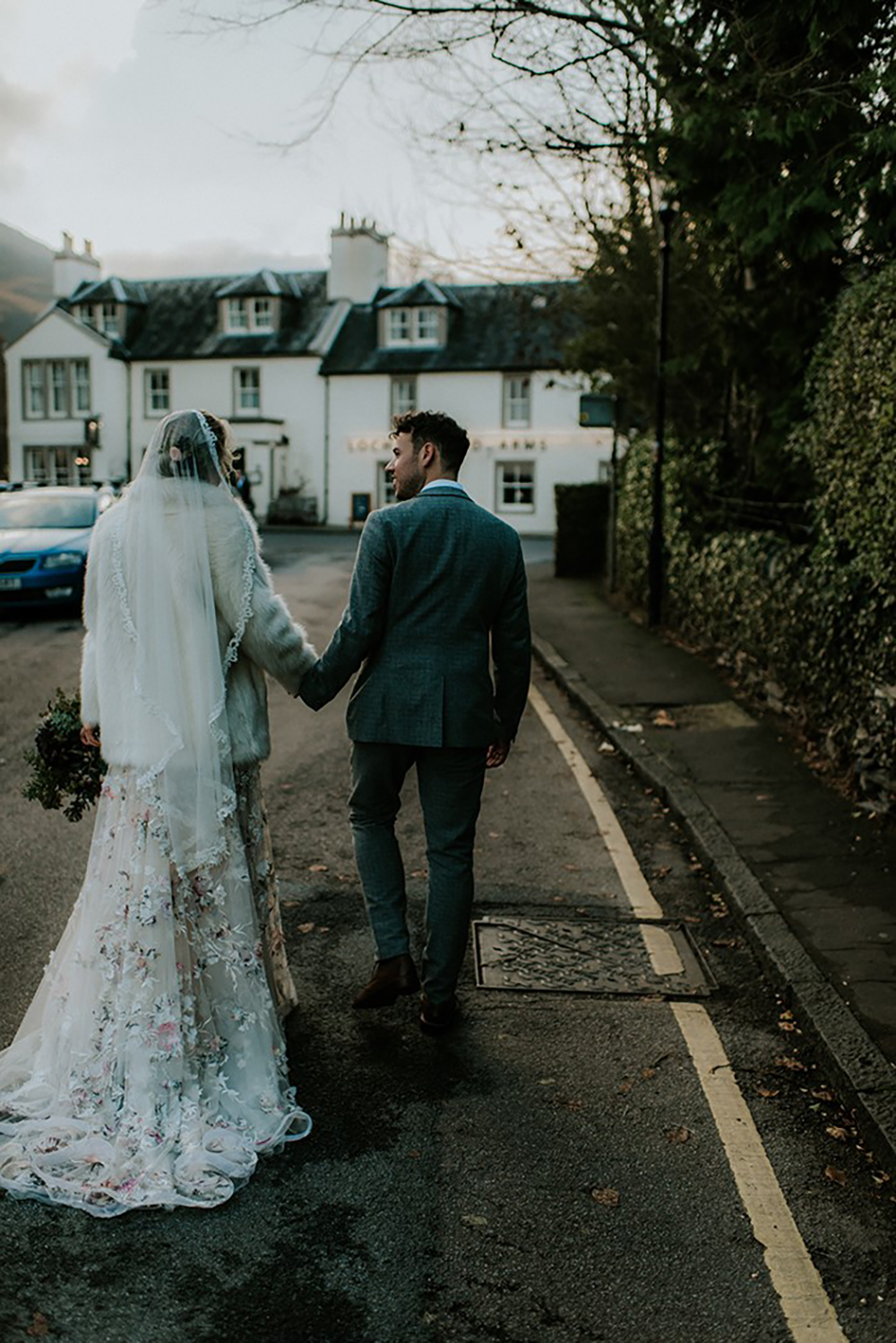 IMAGES ABOVE | Simon's Studio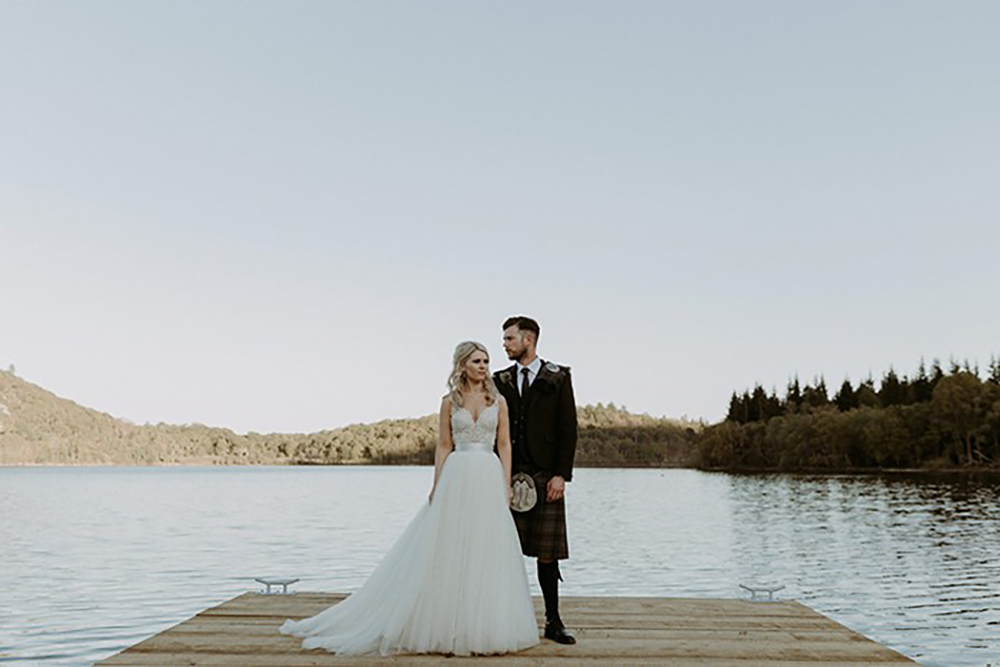 IMAGES | Wonderful and Strange
An award-winning countryside retreat, this unique wedding venue is in the picturesque village of Luss, and just a stone's throw from the bonnie banks of Loch Lomond.
The perfect location for your Scottish wedding, you can make use of either the Sutherland or Inchconnachan Suites, located in the grounds of the hotel and surrounded by stunning gardens.
The spaces have lots of natural light, offering views of the gorgeous countryside.
A short stroll from the main hotel is Slate Quay, a private location ideal for an outdoor ceremony by the loch. You could even pitch a marquee or yurt on this perfect highland location.
Visit Loch Lomond Arms Hotel's website | t. 01436 860420 | e. events@lochlomondarmshotel.com
Send an enquiry to The Loch Lomond Arms Hotel 
THE VU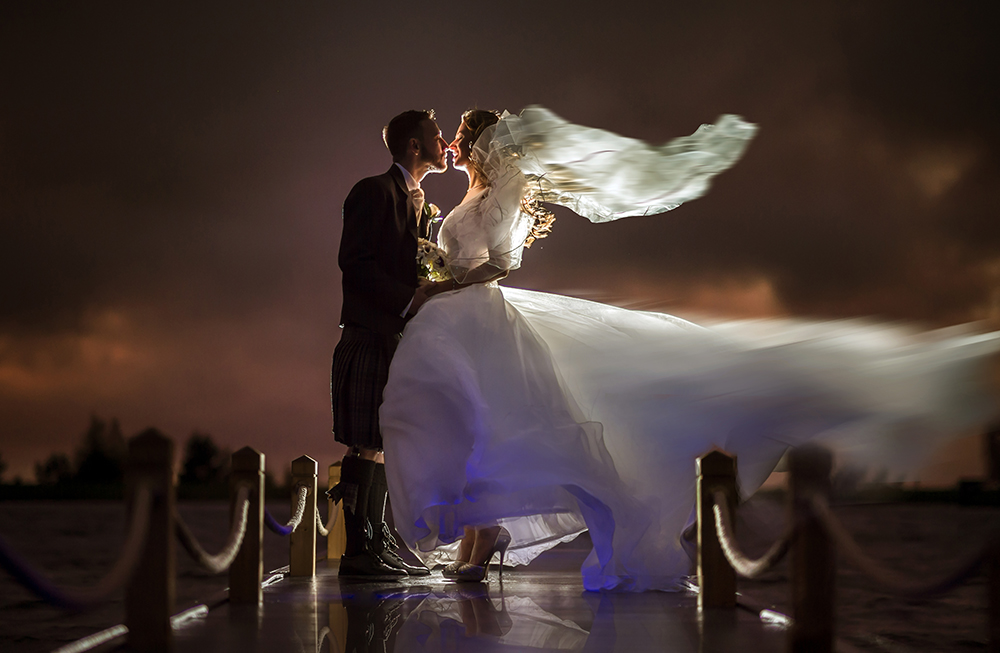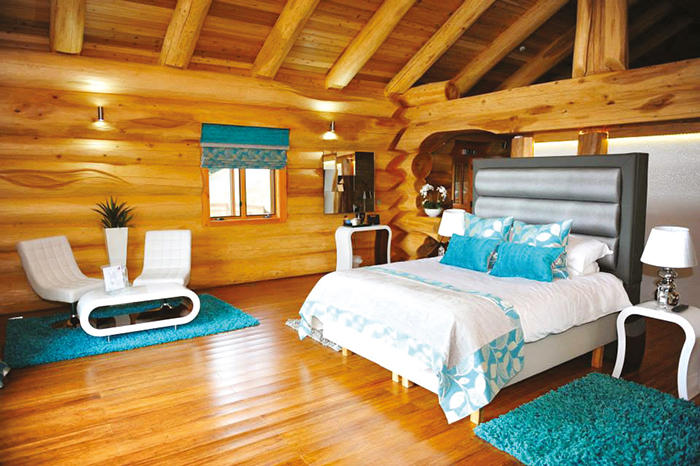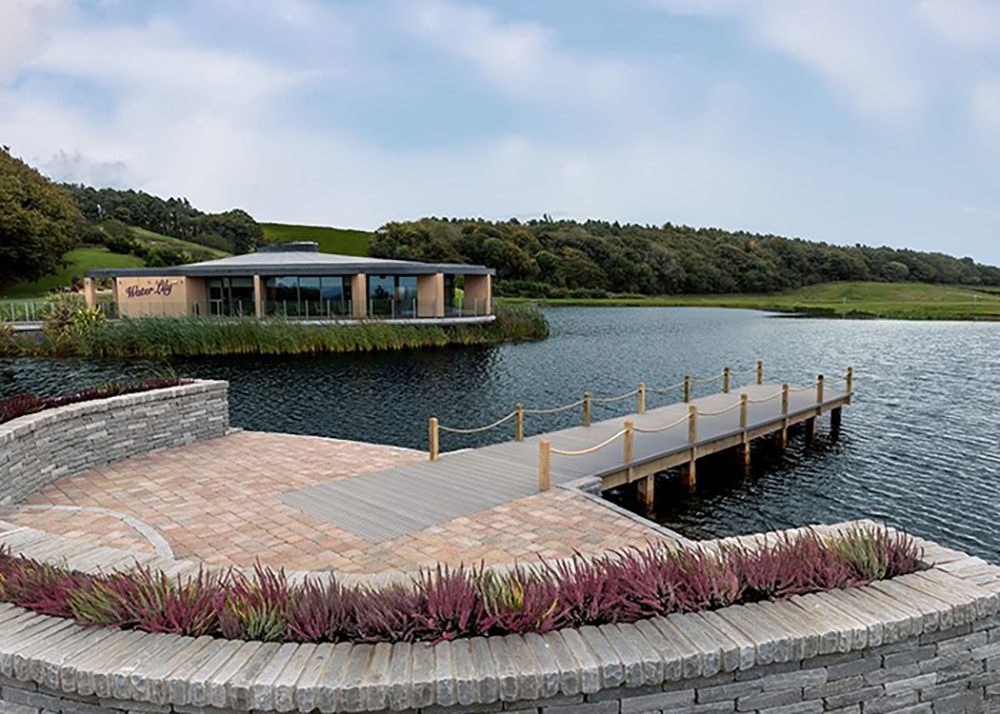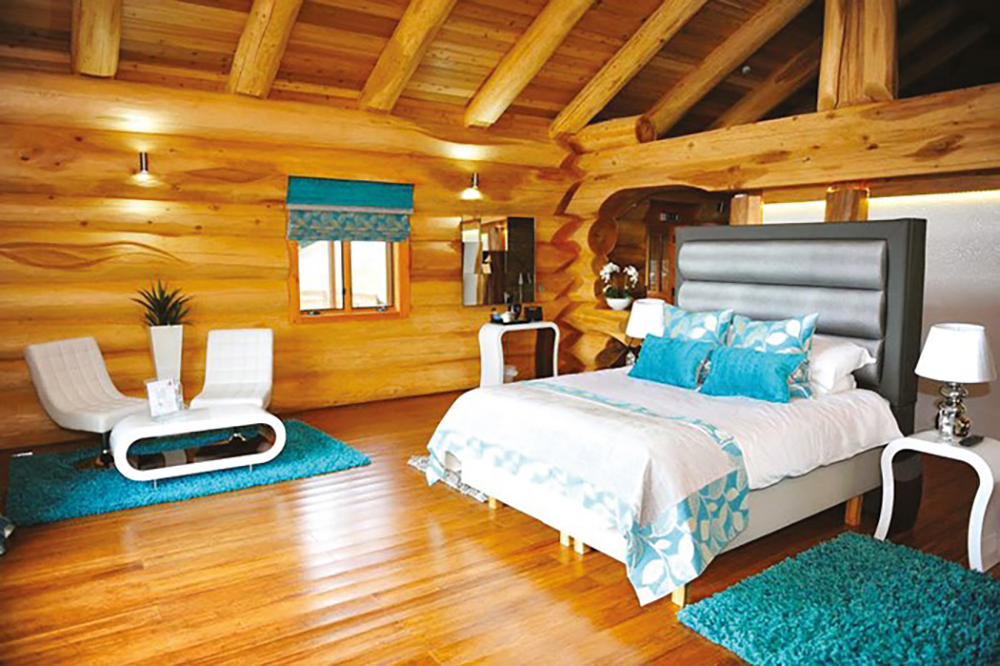 Situated between Edinburgh and Glasgow, The Vu has two stunning venues for your wedding day and is renowned for its incredible countryside location overlooking the Ballencrieff Reservoir.
It's set on the waterfront where you can have your very own island for your ceremony whilst enjoying panoramic views over the Lothians.
And if you're seeking a honeymoon suite with a difference, The Vu also has stylish, rustic Canadian lodges for the perfect way to enjoy your first night as a married couple.
Visit The Vu's website | t. 01506 630808 | e. admin@thevu.co.uk
TULLIBOLE CASTLE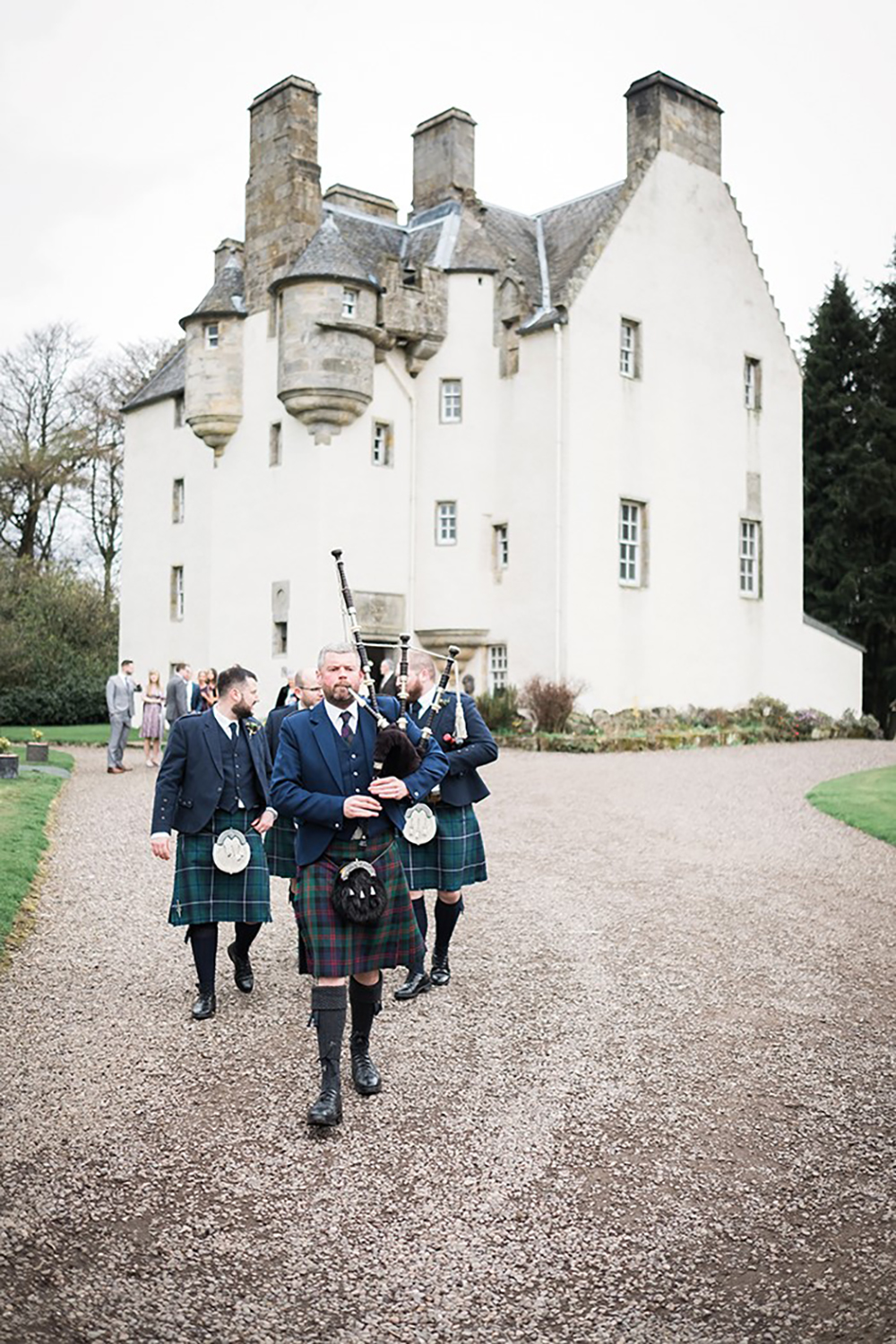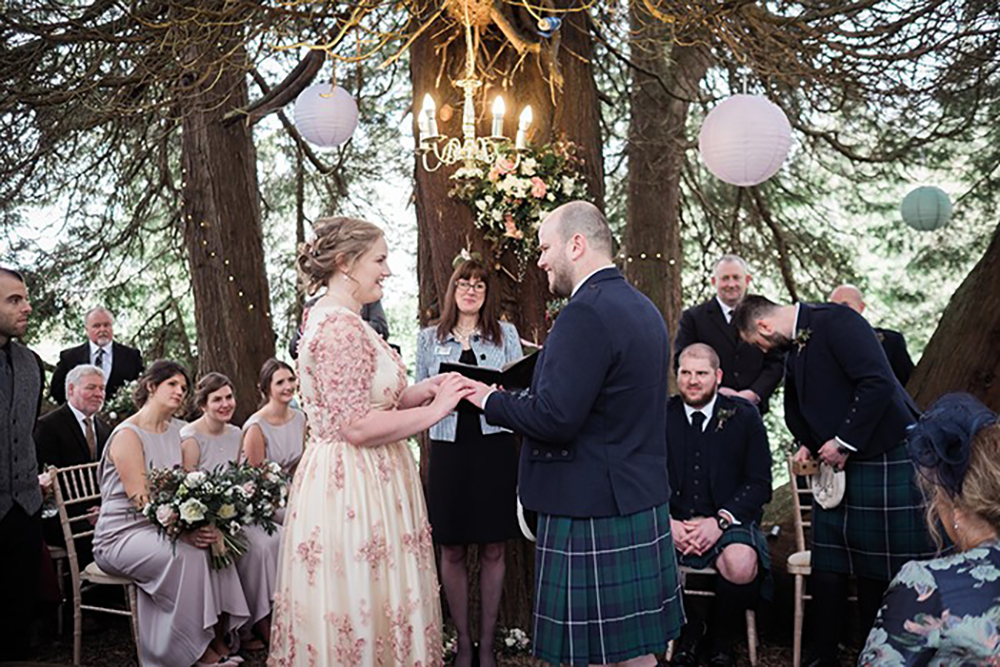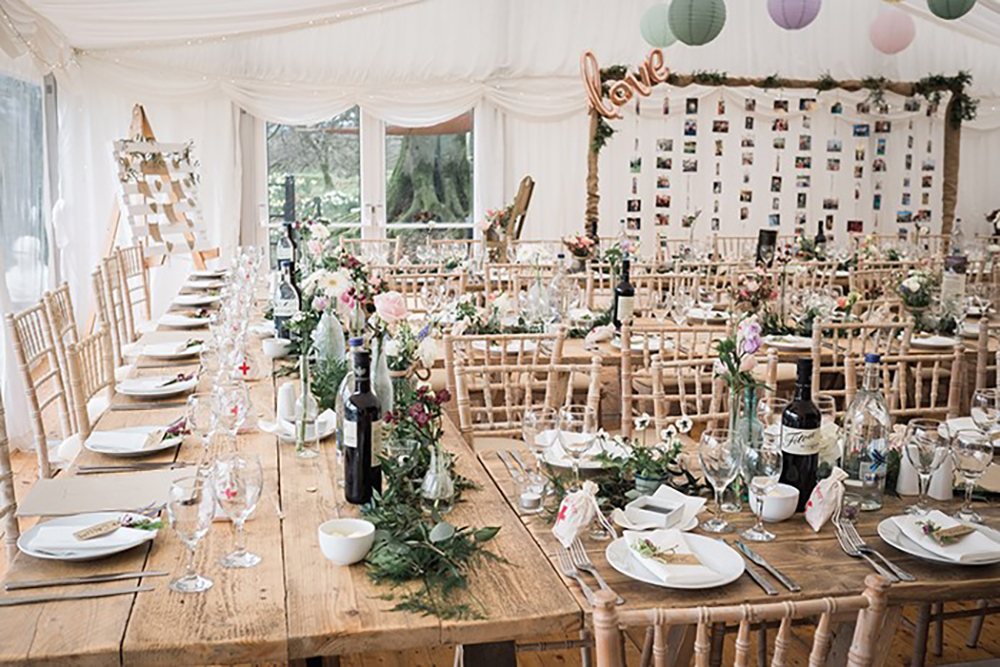 IMAGES | Fern Photography
Even though Tullibole Castle is a stately Scottish mansion nestled in the Perthshire countryside, its relaxed atmosphere will make you never want to leave.
And for the weekend of your wedding, you won't have to. Exclusively yours over three days, you can prep on the Friday, have your special day on the Saturday, and chill out on the Sunday with a BBQ or round of lawn games!
When it comes to a spot for your ceremony you're spoilt for choice. Exchange vows in the castle itself, or have a more laid-back ceremony in the rustic-luxe Carriage House. For outdoor ceremonies say 'I do' beneath the Cathedral Tree, or by the moat!
Visit Tullibole Castle's website | t. 01577 840236 | e. hitched@tullibolecastle.com
Read reviews for Tullibole Castle 
WINTON CASTLE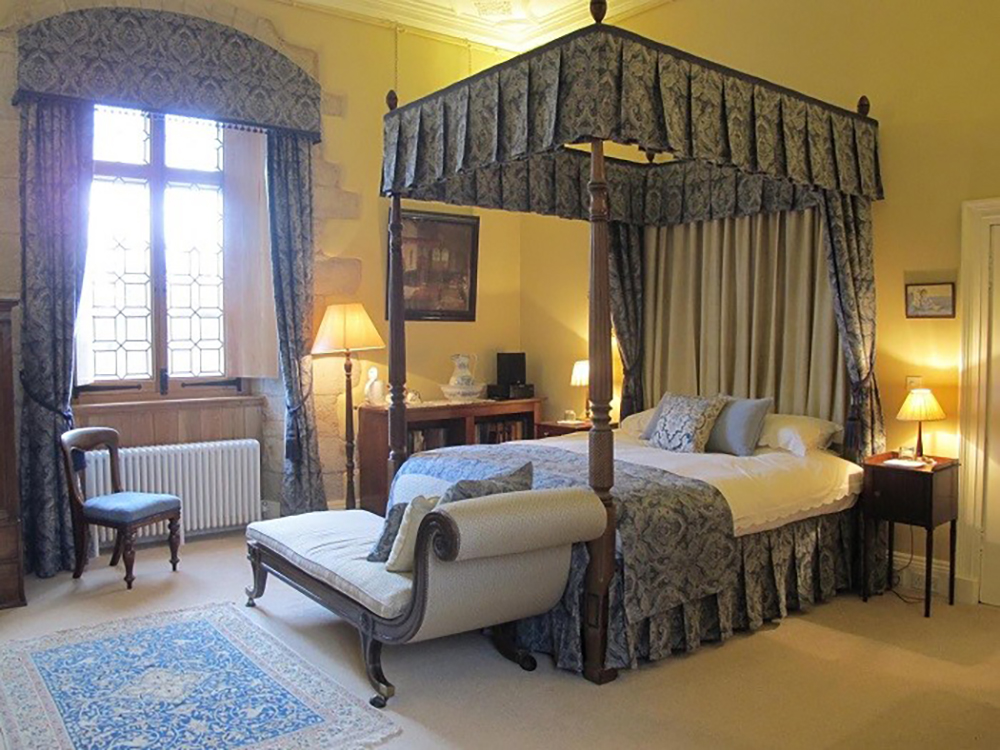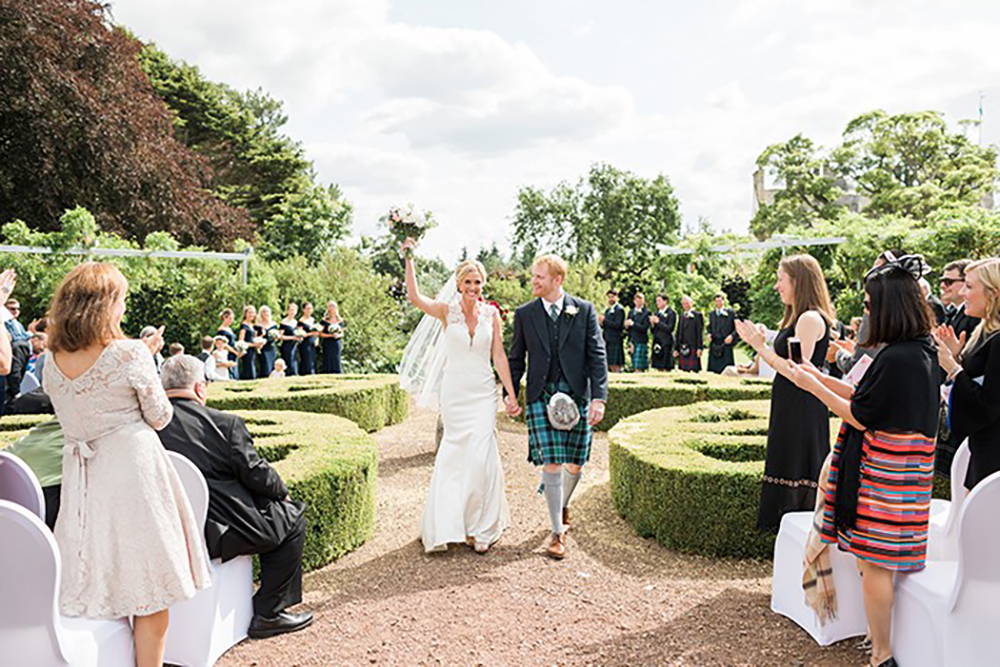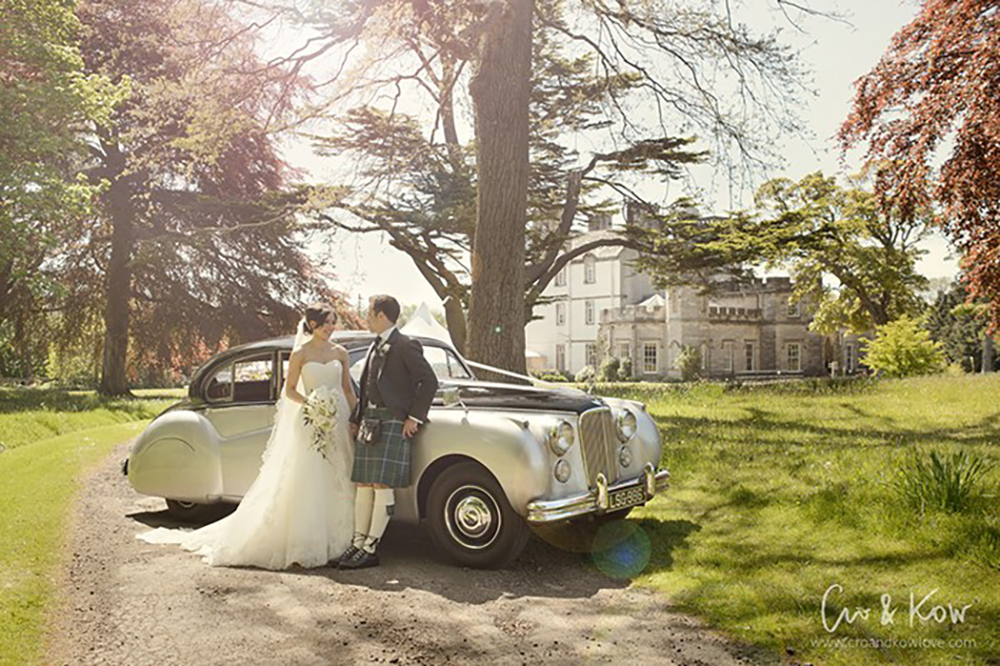 Winton Castle near Edinburgh blends castle, palace and family home. A Scottish Renaissance castle and an exclusive-use venue, it's all yours for the duration of your wedding.
Their wedding planner will help you choose the format and style of your big day, which really is up to you – whether you fancy a garden party, a firework display finale or otherwise!
Your wedding guests will love Winton's warm welcome and relaxed ambience. The castle hosts weddings for 50 to 130 guests inside and can accommodate 100 to 400 guests in a marquee.
Visit Winton Castle's website | t. 01875 340222 | e. enquiries@wintoncastle.co.uk
Read reviews for Winton Castle