21 of the best Scottish venues for small weddings 2018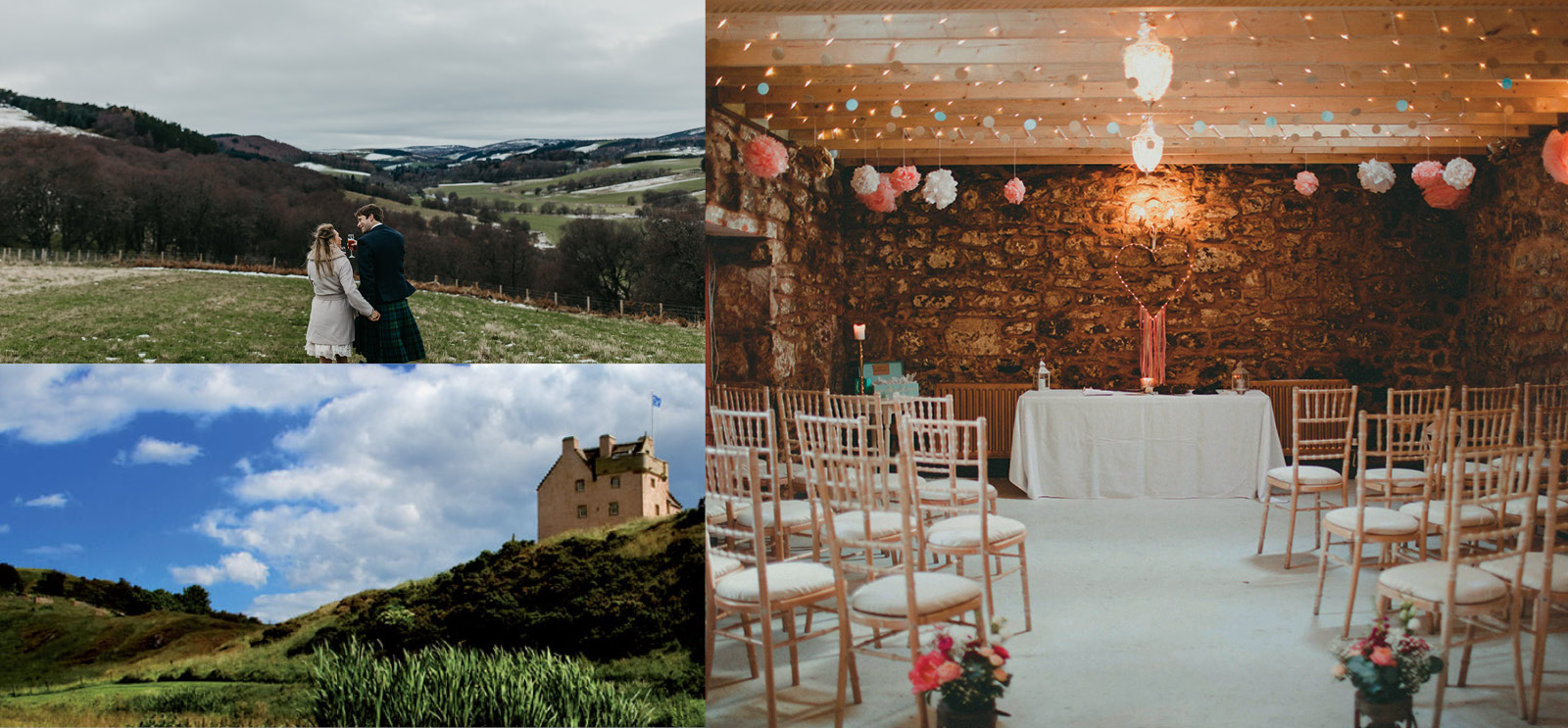 Not everyone wants to throw a huge party for their wedding, in fact, some would rather keep it totally low key and invite only their nearest and dearest.
If that sounds just like you and your other half, you're in luck. Scotland is filled with beautiful wedding venues that provide the perfect setting for you to create the small, intimate wedding day that you have been dreaming of.
Here are 21 of the best Scottish venues for small weddings!
This post contains some paid-for content.
ASWANLEY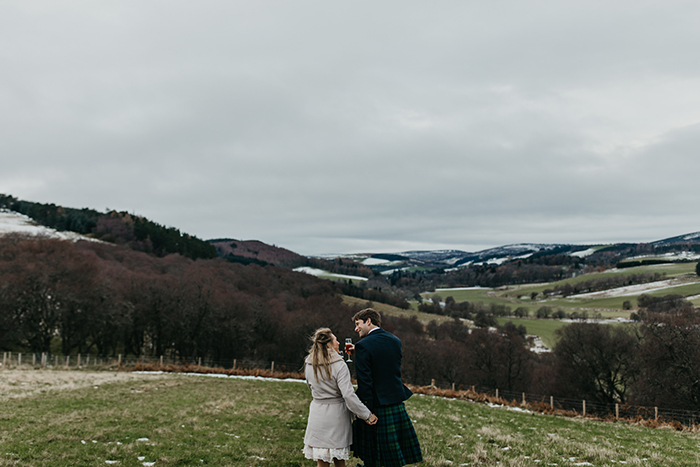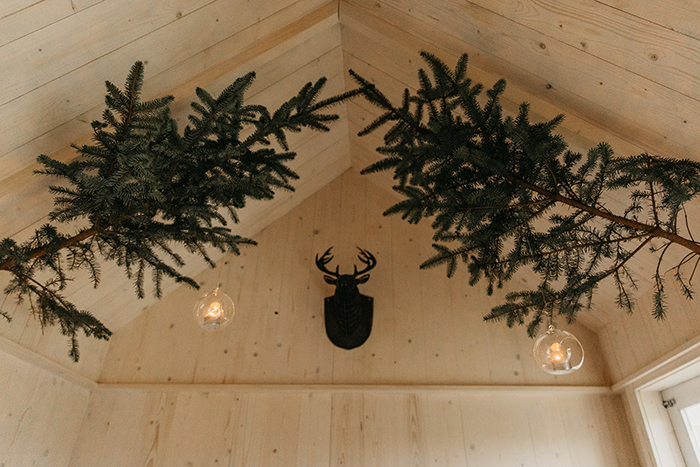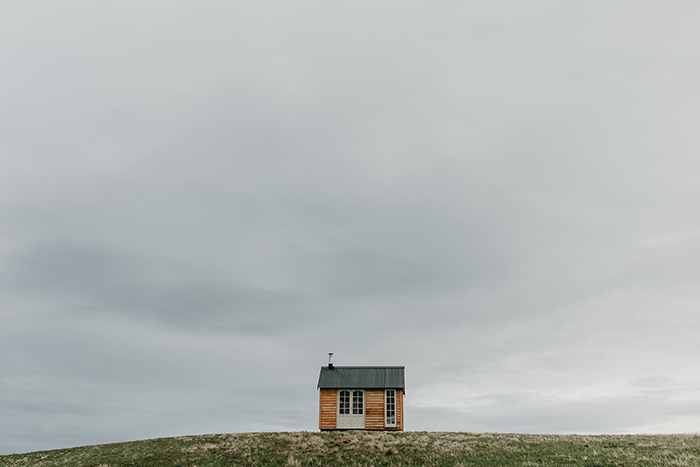 Aswanley is a truly beautiful venue situated on the border of Aberdeenshire and Morayshire. The venue consists of a variety of spaces suitable for weddings of many different sizes and styles.
The fireplace room in the Victorian barn is ideal for smaller gatherings " this adaptable space can hold both the ceremony and reception. The stylish interior, with bespoke oak bar, natural tones and tweeds set the scene for a refined dinner in front of the fire.
For the smallest of weddings, escape into the hills to their Shepherd's Hut. Newly built for the most intimate of weddings – with a natural pine interior and wood burning stove – you'll have to limit your guests to eight. With the wild backdrop of the Grampian Highlands and Ben Rinnes beyond, it's an incredible location for romantic elopements.
Visit Aswanley's website | t. 01466 700340 | e. lauren@aswanley.com
THE BARN AT HARBURN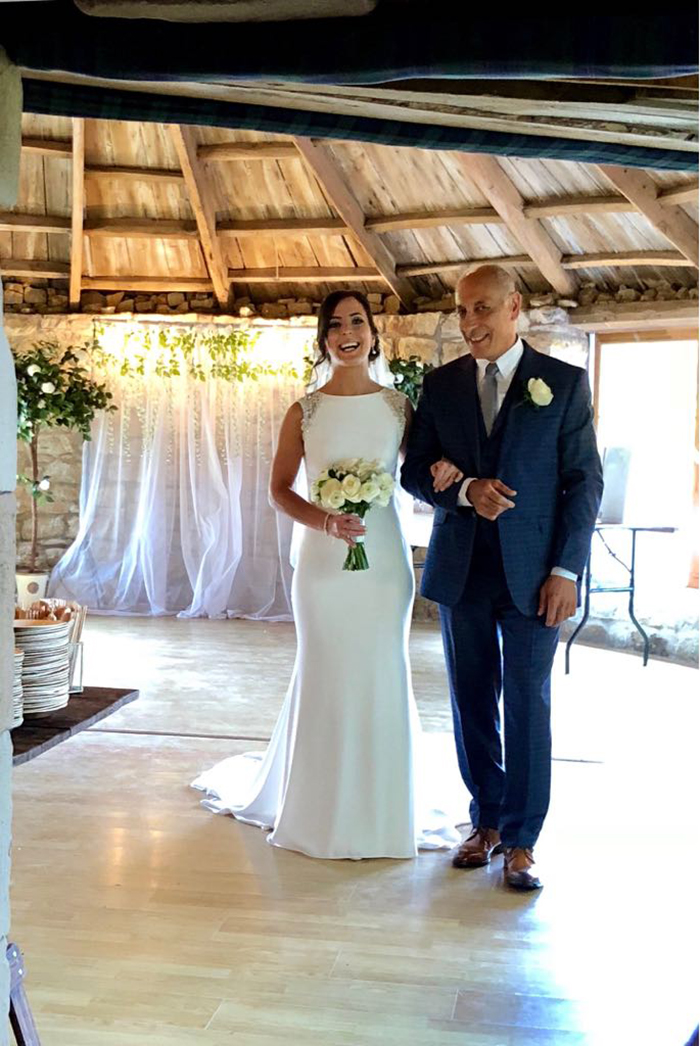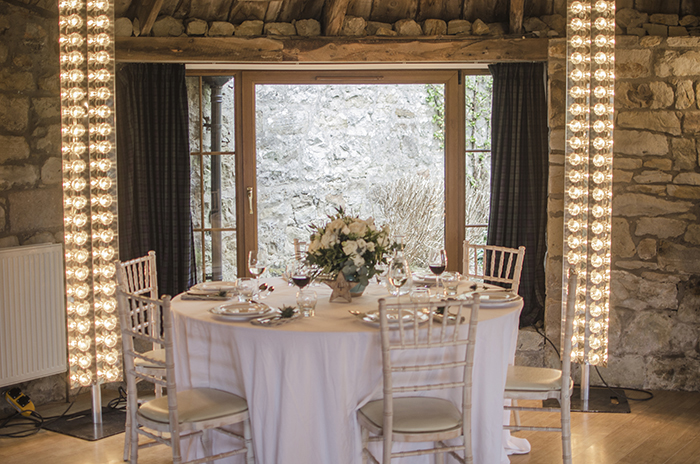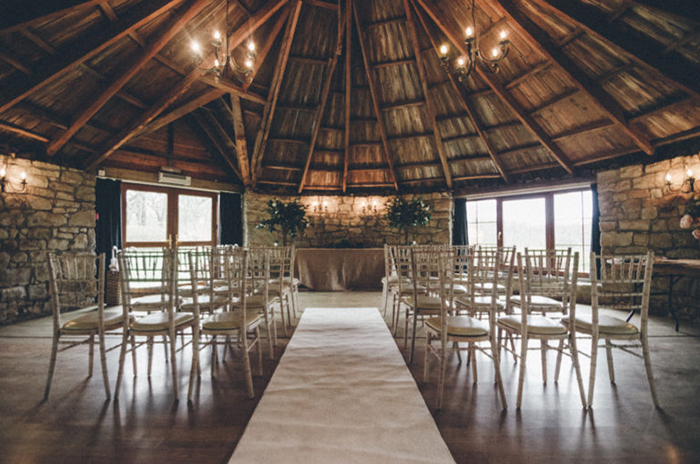 The Barn at Harburn has been tastefully renovated from a roundhouse and granary to a unique, rustic wedding venue that is surrounded by picturesque grounds with fantastic views of the Pentland Hills. Styled to resemble ancient Scottish Broch style, the barn marries old and new elements to create a wonderfully fresh look throughout the venue.
The beautiful Roundhouse seats up to 90 for a ceremony before the celebration continues in the main barn for dinner and dancing. The space can hold up to 130 in total for an evening reception.
The Barn at Harburn is a venue-only hire and has some wonderful caterers and suppliers who along with Vanessa, the venue and events manager, can help you create the day of your dreams.
Visit The Barn at Harburn's website | t. 07826 783003 | e. info@harburnbarn.com
Read reviews for The Barn at Harburn
CARRICK CASTLE ESTATE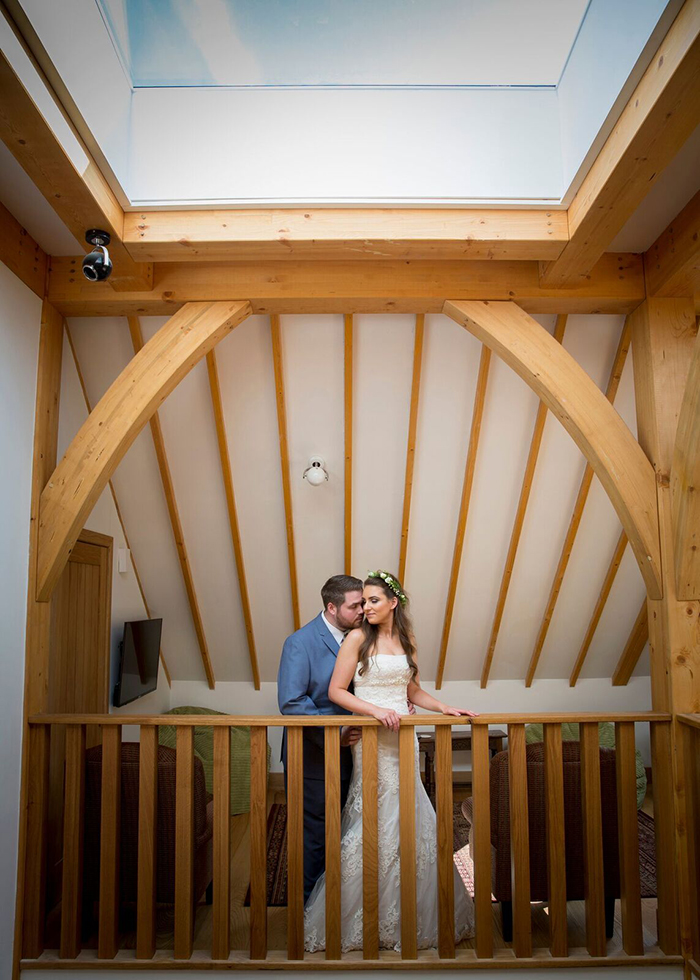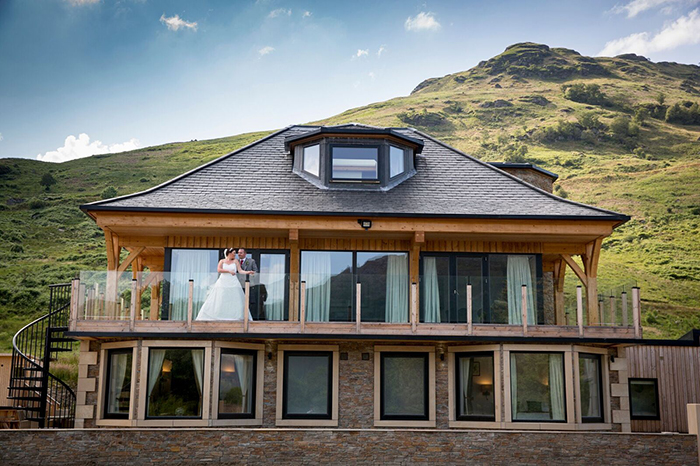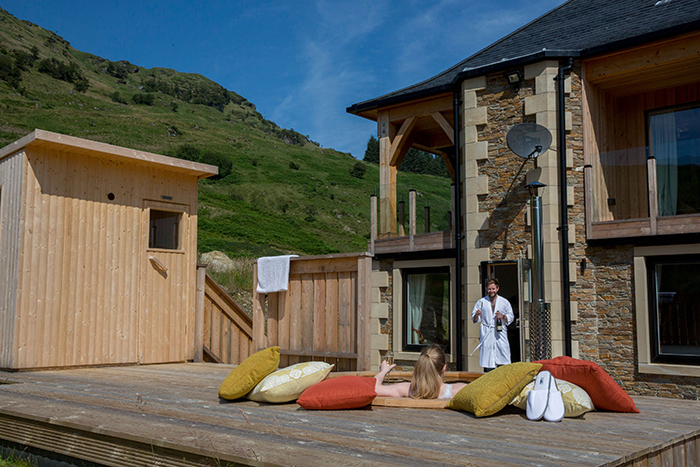 Carrick Castle Estate is a beautifully secluded wedding venue hidden in Loch Lomond and the Trossachs National Park, complete with breathtaking views over Loch Goil. The estate has a lovely rustic charm, and is a great option for couples looking for an alternative wedding venue.
The Carrick Castle Lodge is a stunning eco-friendly building that can sleep up to 14, and which you can take over with your wedding party for a weekend-long wedding celebration to completely relax and enjoy the on-site spa facilities.
You can also tie the knot in the beautiful lodge, surrounded by only a small number of guests. Beautiful inside and out, Carrick Castle Estate is a fantastic wedding venue to disappear to.
Visit Carrick Castle Estate's website |  t. 01301 703458 | e. hannah@carrickcastleestate.co.uk
Read reviews for Carrick Castle Estate
DUCHALLY COUNTRY ESTATE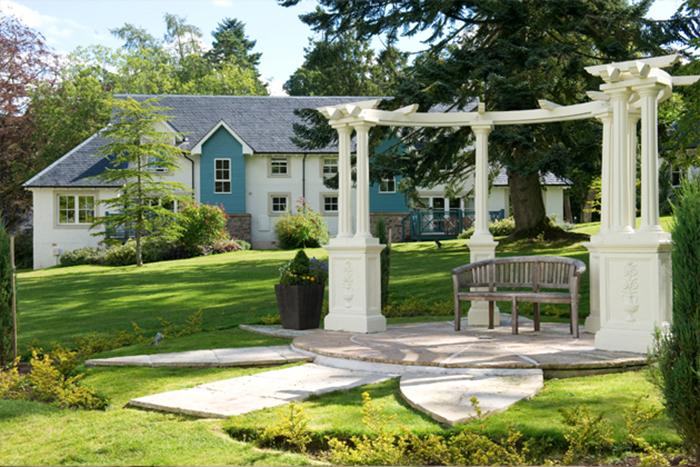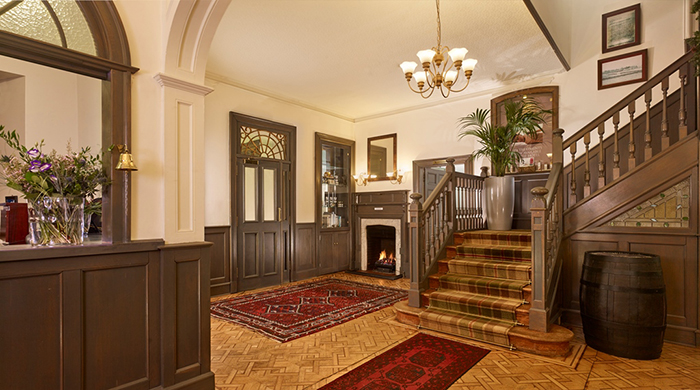 IMAGE | Matthew Shaw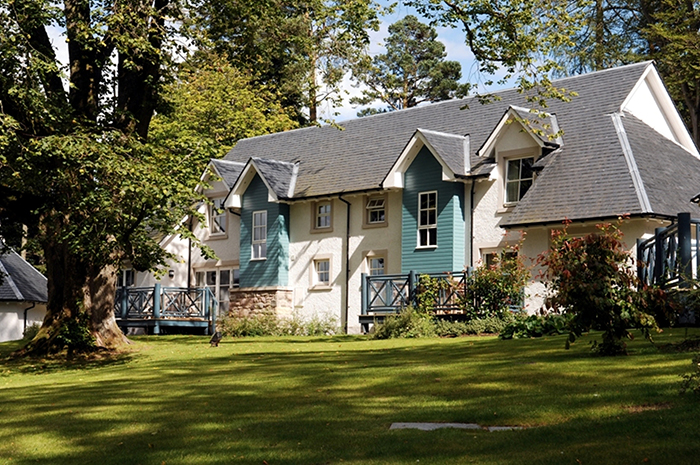 IMAGE | Ferguson Imaging
Secluded, scenic and private, Duchally Country Estate is perfect for couples looking to hold a small, intimate wedding ceremony.
Situated in beautiful Perthshire and within easy distance from Edinburgh, Glasgow and Dundee, Duchally has a homely country charm that will make you feel instantly at ease as you prepare for your nuptials.
You can take over one of Duchally's luxury on-site lodges with your bridal party the night before and the morning of your wedding. Beautiful and spacious, the lodges allow you and your ˜maids plenty of room to get ready!
Duchally Country Estate is able to accommodate weddings for up to 40 guests, and you can have your wedding breakfast in the newly refurbished Glendevon Lounge, a lovely space that will be the perfect backdrop for your wedding day.
Visit Duchally's website | t. 01764 663071 | e. events@duchally.com
Read reviews for Duchally Country Estate
FENTON TOWER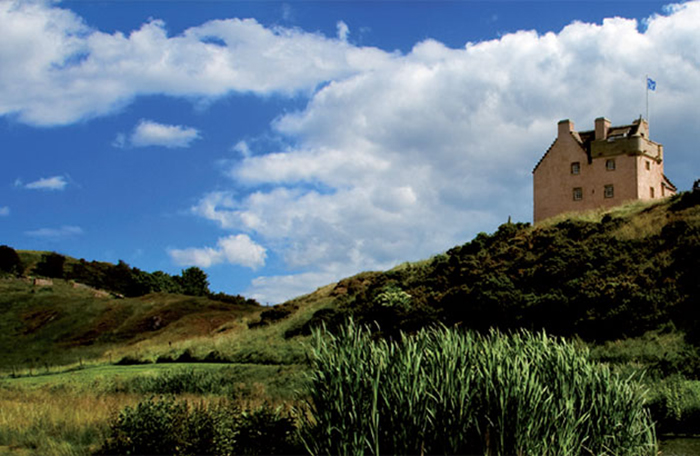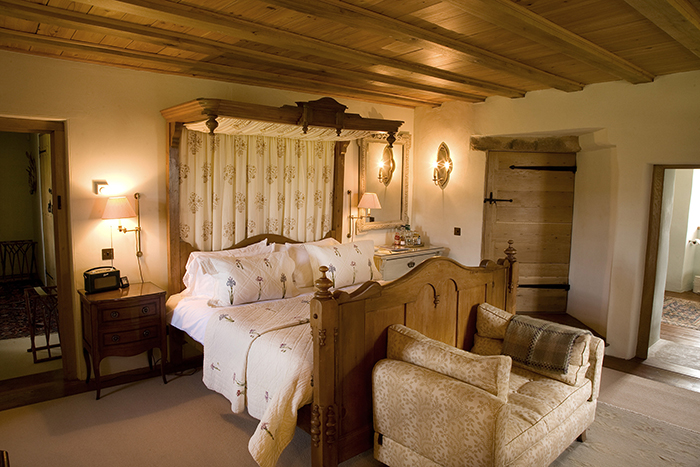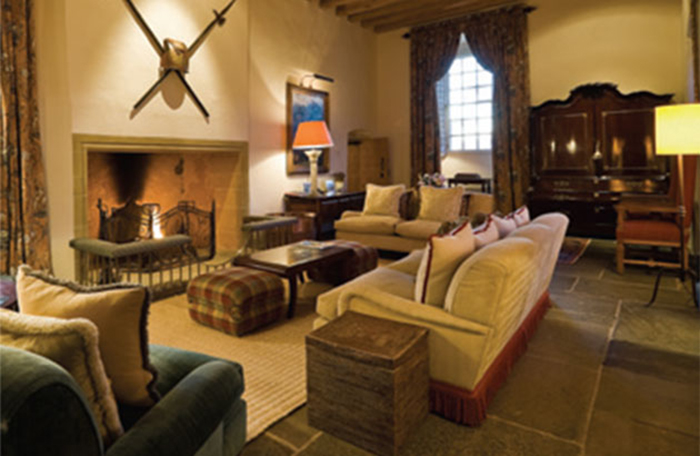 A beautifully unique building in North Berwick, Fenton Tower is a quintessentially Scottish wedding venue that can offer you the intimate wedding celebration of your dreams.
Wonderfully decorated to create a sense of warmth and comfort, the cosy tower can sleep up to 13 guests and can be exclusively yours for the weekend of your wedding.
For your wedding ceremony and reception, Fenton Tower effortlessly creates a sense of intimacy and atmosphere, and has room for up to 32 guests to celebrate your big day with you. The surrounding grounds are absolutely stunning, and will be a wonderful backdrop to your wedding photos.
Visit Fenton Tower's website  | t. 01620 890089  | e. manager@fentontower.com
FRUIN FARM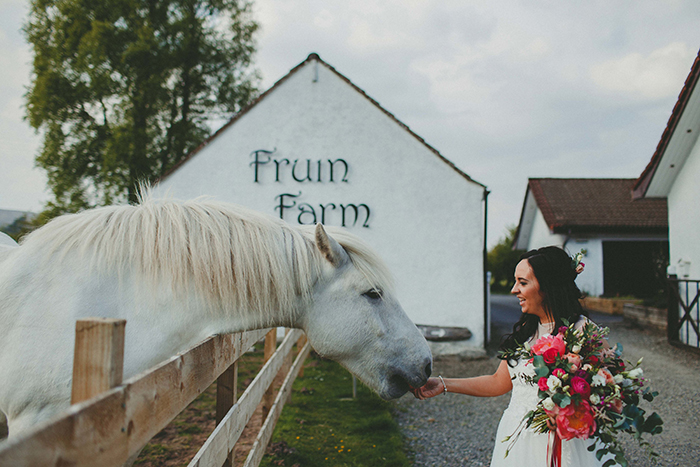 IMAGES: Rachel McNeil Photography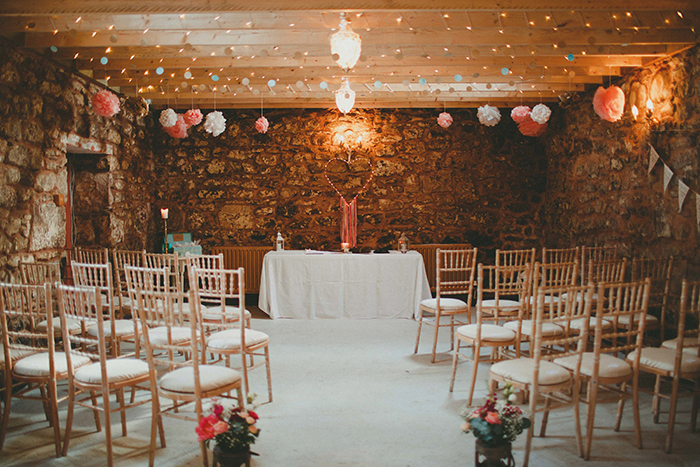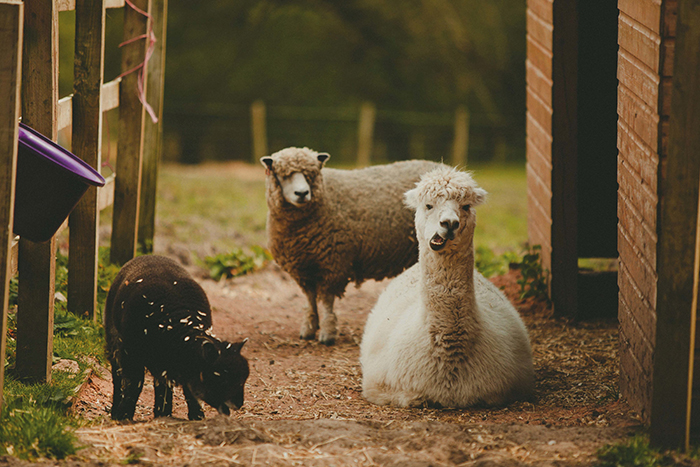 A bright, warm wedding venue that is both quaint and cool, Fruin Farm is a truly charming place to hold your big day celebrations.
Fruin Farm is ideal for small, intimate weddings, and is able to accommodate up to 60 guests either in the stylish restaurant or the rustic blank canvas barn.
The farm has beautiful grounds that are perfect for an outdoor ceremony or your post-nuptial photographs. Also, don't forget that Fruin Farm is famous for its delicious food, ensuring that your guests will leave your wedding well-fed and very merry!
Visit Fruin Farm's website | t. 01389 850727 | e. info@fruinfarm.co.uk
GILMERTON HOUSE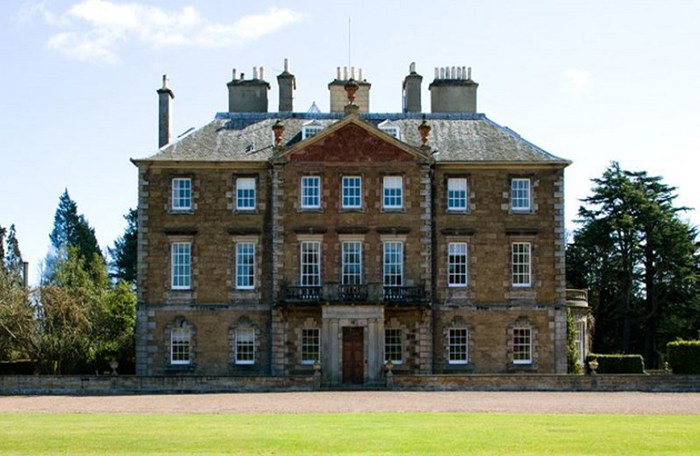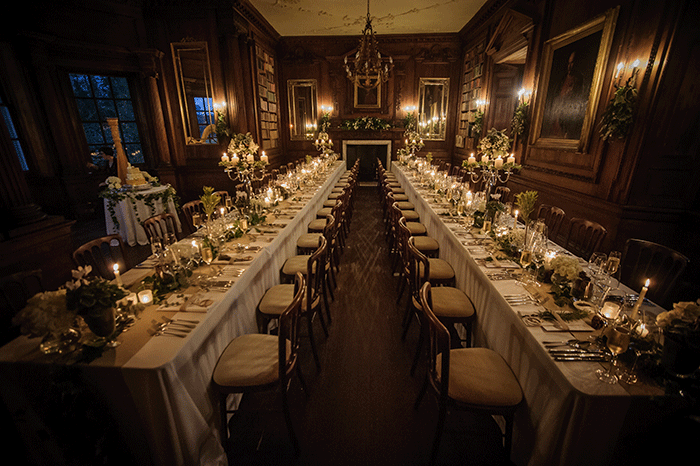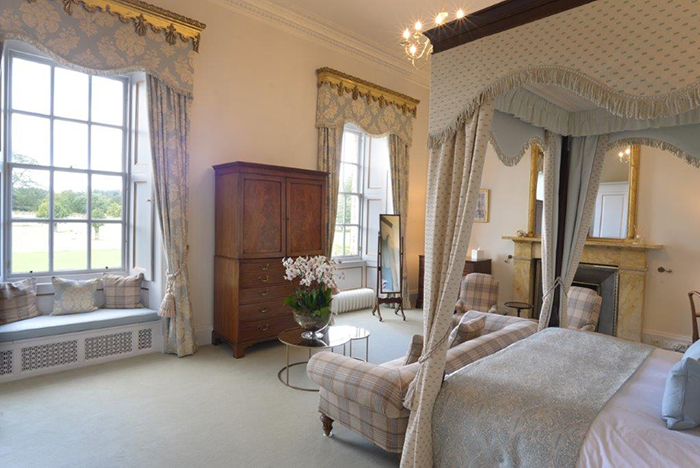 Gilmerton House is a stunning stately home tucked away in the heart of East Lothian.
This beautiful mansion is the last word in elegance, with plush, modern and comfortable interiors. The venue is exclusive use, and can be completely yours for the duration of your wedding celebrations. With up to 10 bedrooms, you and your wedding party will have the utmost privacy to celebrate your wedding day.
Gilmerton House has plenty of options for a small wedding celebration, with couples being able to say their vows in the house or even in Gilmerton's charming grounds. And for that extra luxurious experience, there's a full butler service for overnight guests!
  Visit Gilmerton House's website| t. 01620 880342 | e. enquiries@gilmertonhouse.com
Read reviews for Gilmerton House
GLENSKIRLIE HOUSE AND CASTLE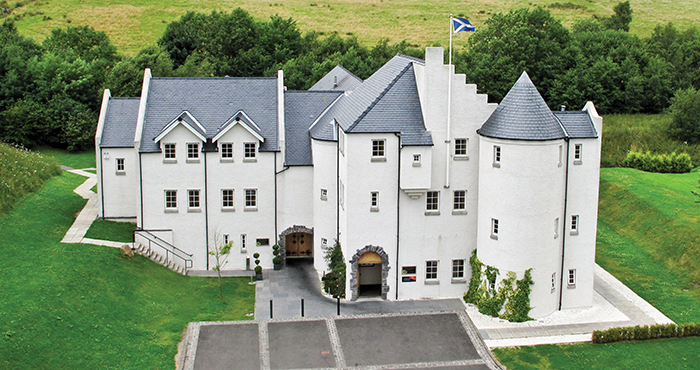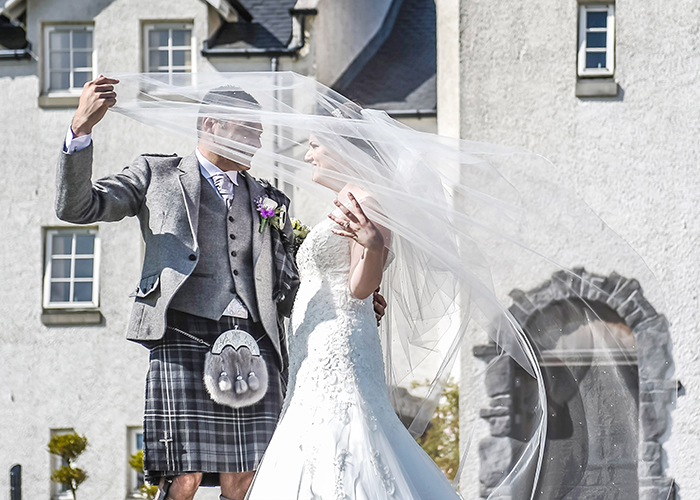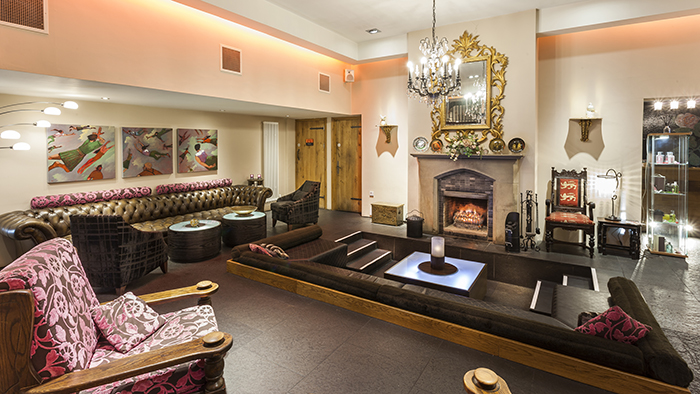 Glenskirlie House and Castle is a plush, luxurious wedding venue that would be perfect for a small, intimate wedding celebration.
Situated perfectly between Glasgow and Stirling, Glenskirlie is a handsome white turreted building that will be sure to wow your guests. The interiors are equally beautiful, filled with rich, sumptuous furnishings that will make you feel like a modern day princess.
You can hold your wedding in either the castle or the house, but both are excellent choices for small weddings. Each offer packages for 50 day guests, with the possibility to add an additional 25 evening guests " an ideal number for a small party exclusive to your nearest and dearest!
Visit Glenskirlie House and Castle's website | t. 01324 840201 | e. weddings@glenskirliehouse.com
Read reviews for Glenskirlie House and Castle
THE HUB
IMAGE | All Seeing Eye Photography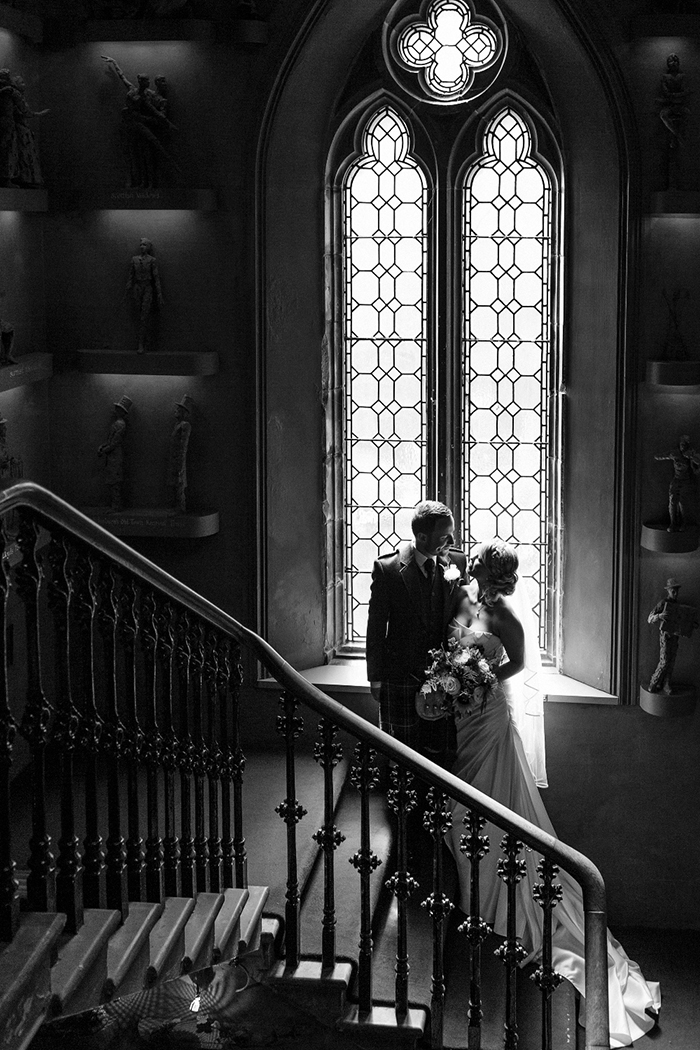 IMAGES: Duke Wedding Photography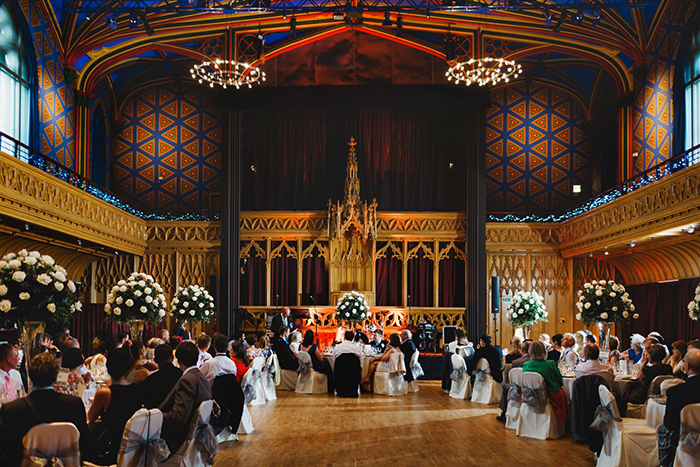 A strikingly beautiful venue situated on Edinburgh's iconic Royal Mile, The Hub is an incredibly special wedding venue to tie the knot in. The Hub's Victorian architecture gives the venue a stunning dramatic feel; perfect for couples looking for a place with plenty of natural personality and atmosphere.
You can hold a small wedding reception in The Hub's lovely Dunard Library, which is able to hold a maximum of 60 guests for the wedding breakfast and an additional 40 guests in the evening, if you wish!
And don't forget that their fabulous staircase, which is overlooked by magnificent stained glass windows, will look absolutely amazing in your wedding photos!
Visit The Hub's website | t: 0131 473 2015 | e. thehub@eif.co.uk
LOGIE COUNTRY HOUSE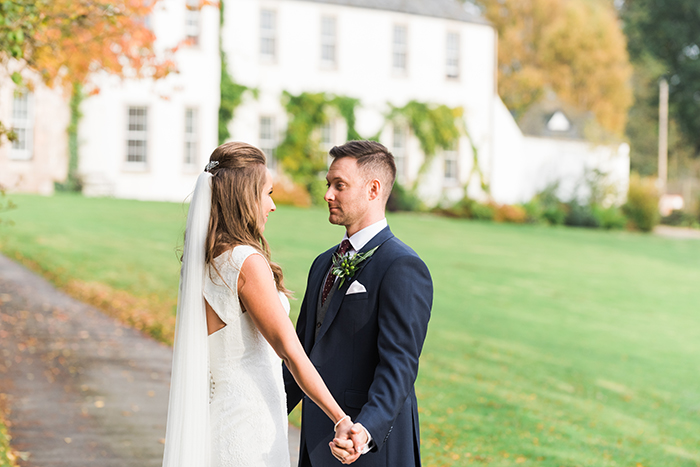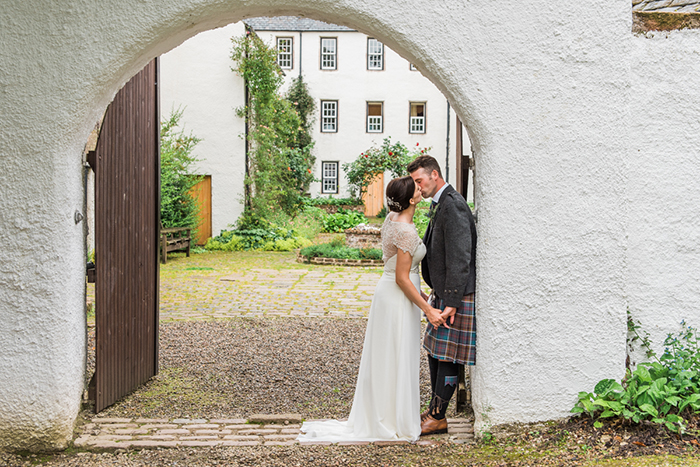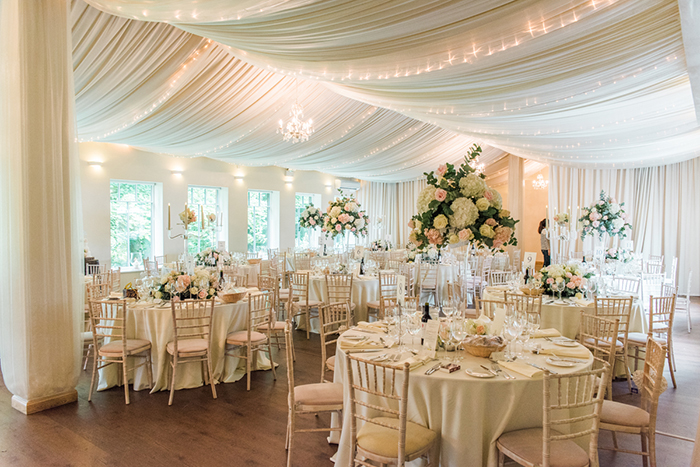 Logie Country House is a beautiful castle built in 1680 on estate lands dating back to 1472.
The house is set in lovely grounds overlooking Bennachie, and the river Urie runs along the front lawn.
The house is ideal for small, intimate weddings, and celebrations can be held in the plush Dining Room, able to hold up to 50 guests, or the Drawing Room, which can sit 60 guests. If weather permits, you can tie the knot in the beautiful enclosed courtyard, or even on the lawn by the river.
Award-winning Hudsons catering will tailor a menu to suit your exact requirements and the in-house events manager, Gillian, will always be there to answer your questions, helping you stay stress-free!
Visit Logie Country House's website | t. 08450 942424 | e. weddings@logiecountryhouse.co.uk 
Read reviews for Logie Country House
RAEMOIR HOUSE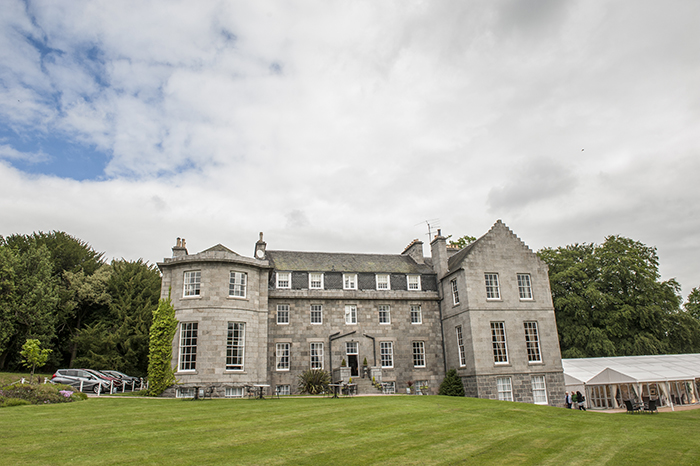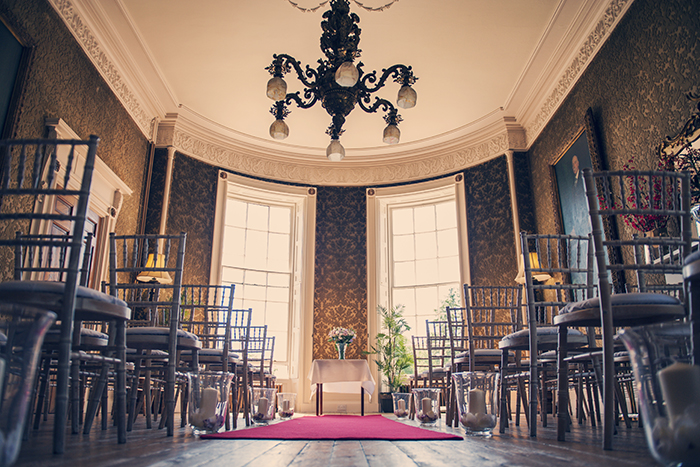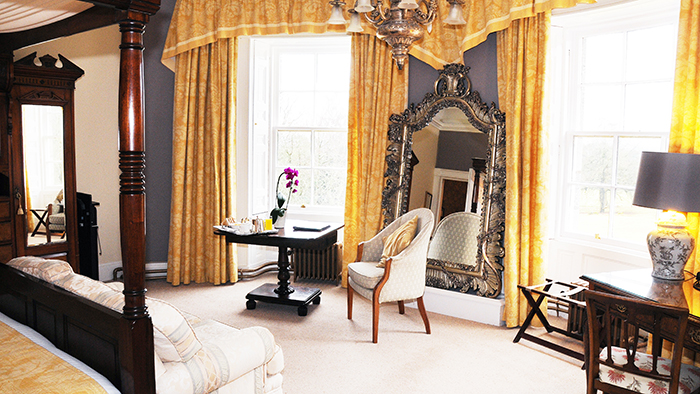 Raemoir is an exclusive-use venue available only for both private and corporate guests. It sits in a completely rural location of 14 acres of lawns and parkland yet is only a mile from Banchory and 20 minutes from Aberdeen.
It is a grand Scottish country house where you have the freedom to create your own day whilst being able to stay with family, friends or colleagues and enjoy the privacy of the secluded surroundings.
The house can accommodate 120 people, split between 70 day guests and 50 more evening guests. It is provided fully staffed for all requirements so there are no additional costs for caterers, bar providers or for accommodation, as all 18 en-suite rooms (which sleep 34 guests) are included as part of the package, leaving you to decide how you would like your event to run!
Visit Raemoir House's website | t. 01330 824884 | e. house@raemoir.com
TAYPARK HOUSE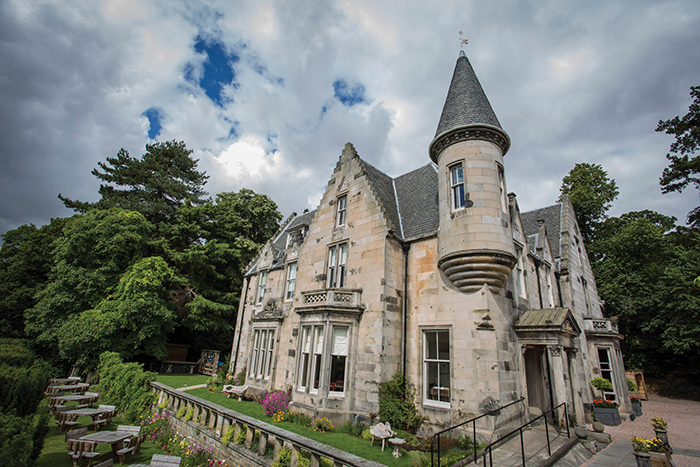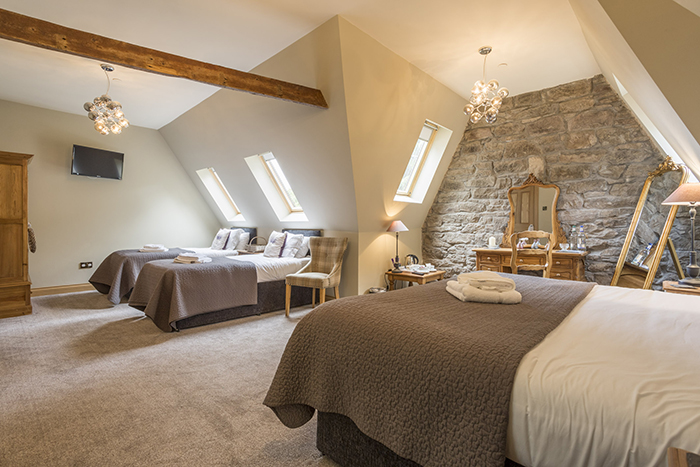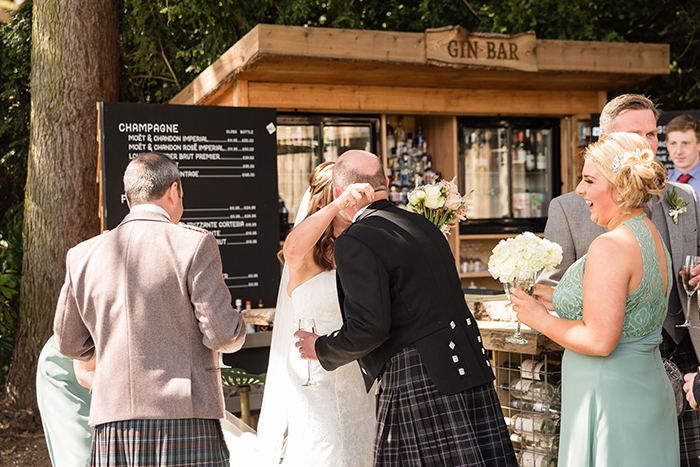 Situated in Dundee's trendy West End, Taypark House is an atmospheric Baronial mansion with spades of personality.
Taypark House is perfect if you're looking for a venue that can offer you a lovely relaxed atmosphere surrounded by only those who are most important to you. The charming Billiard Room is ideal for a small wedding breakfast, with its vaulted ceiling and open fireplace, and is able to sit up to 52 guests with the choice of going up to 120 for your wedding reception.
The house also has ample room for your guests to stay over, being able to sleep up to 30 guests in its beautifully decorated bedrooms. The best room, however, is saved for the new bride and groom: Taypark House's honeymoon suite is situated in the hotel's turret, with 180 degree views of Dundee and the River Tay!
Visit Taypark House's website | t.  01382 643777 ex.2 | e. events@tayparkhouse.co.uk
Read reviews for Taypark House
TURIN CASTLE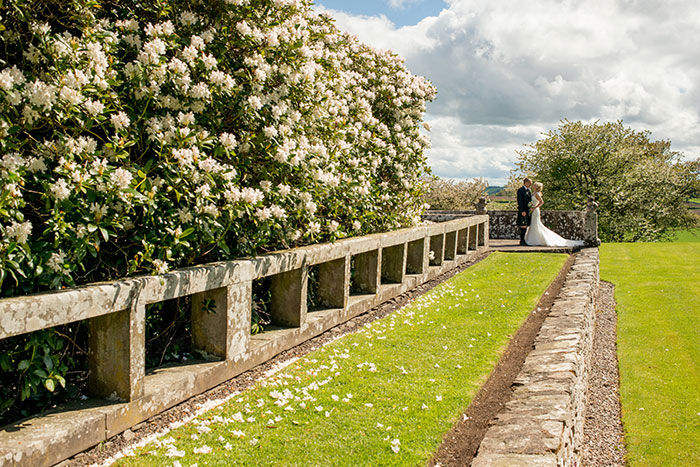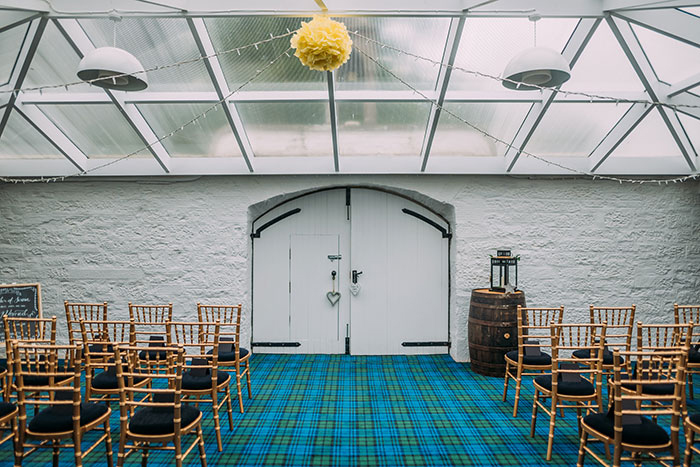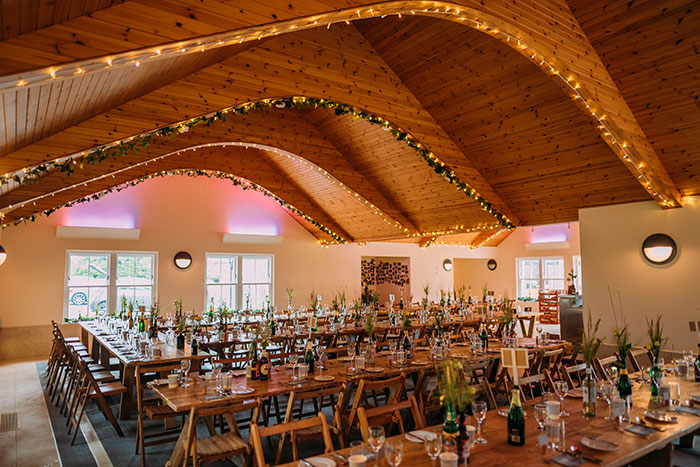 Turin Castle is a lovely country wedding venue surrounded by extensive grounds filled with beautiful Scottish beauty spots.
Very luxurious with wonderfully sumptuous interiors and décor, Turin Castle can be all yours for the duration of your wedding ceremony. You can take advantage of the castle's facilities and create your own meals for the duration of your stay, or even hire in a professional chef if you really want to be lady of the manor!
If you're looking to have a small wedding service, the venue's gorgeous glass conservatory is perfectly intimate, and is able to sit up to 40 guests. For your reception, you can celebrate in the Wedding Room with a total of 120 people, and there's space in the garden for a marquee that can hold up 200 guests. The castle has ten bedrooms, so there is plenty of room for your wedding party to stay overnight.
Visit Turin Castle's website | t. 01307 830463 | e. love@turincastlescotland.com
BORTHWICK CASTLE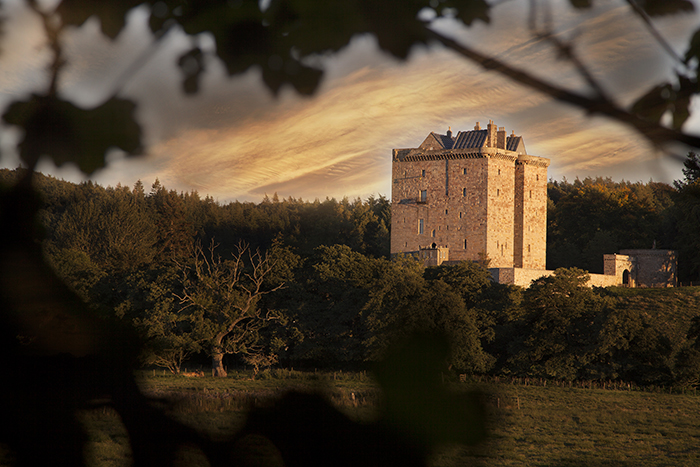 This beautiful and historical castle will make you feel like royalty on your wedding day.
Exclusive use, you can celebrate your wedding with up to 85 guests, 26 of whom can stay the night in the castle.
Visit Borthwick Castle's website
Read reviews for Borthwick Castle
CHATELHERAULT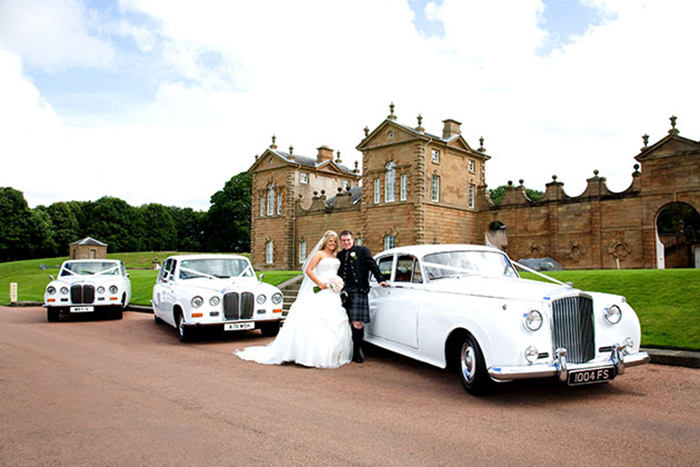 Chatelherault is a handsome 18th-century Georgian mansion sure to appeal to your romantic side.
The interiors are light, airy and classic, while the grounds are extensive and oh so beautiful.
Visit Chatelherault's website
Read reviews for Chatelherault
CRAIGELLACHIE HOTEL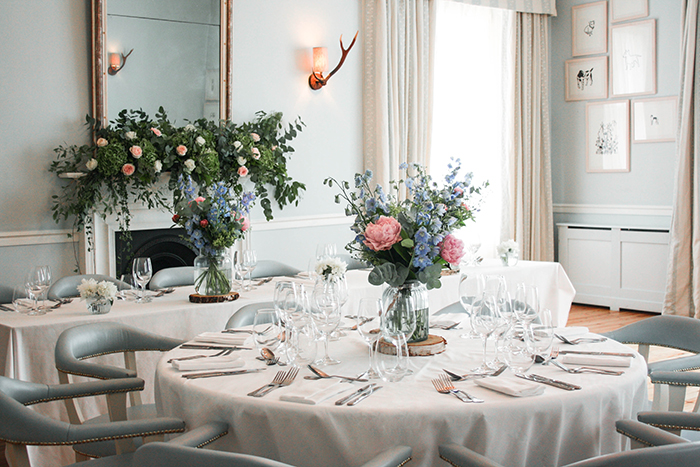 This stylish hotel tucked away in Scotland's whisky country, Speyside, is a must-see if you are looking for a venue brimming with character.
Able to seat 53 guests for your ceremony and 120 guests for your evening reception, you have plenty of options to help you achieve the wedding of your dreams.
Visit Craigellachie Hotel's website 
Read reviews for Craigellachie Hotel
EILEAN DOLAN CASTLE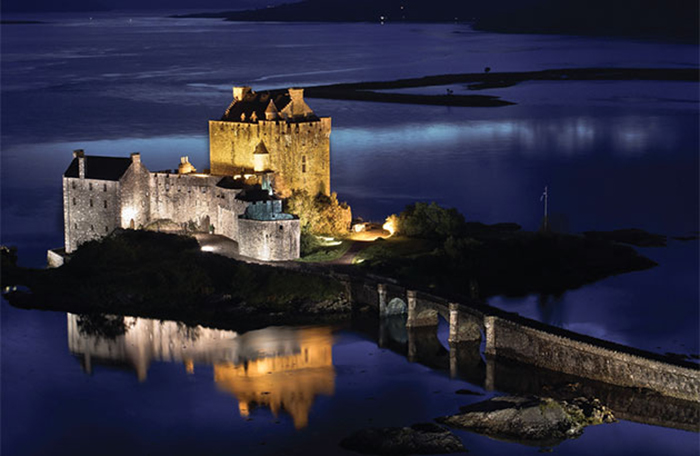 Eilean Donan Castle is one of the most iconic castles in Scotland, and reputedly the most photographed landmark in the country.
While you can't have your wedding reception here, it's an incredibly special place to hold your wedding ceremony in.
Visit Eilean Donan Castle's website
Read reviews for Eilean Donan Castle
HOTEL DU VIN AND BISTRO ST ANDREWS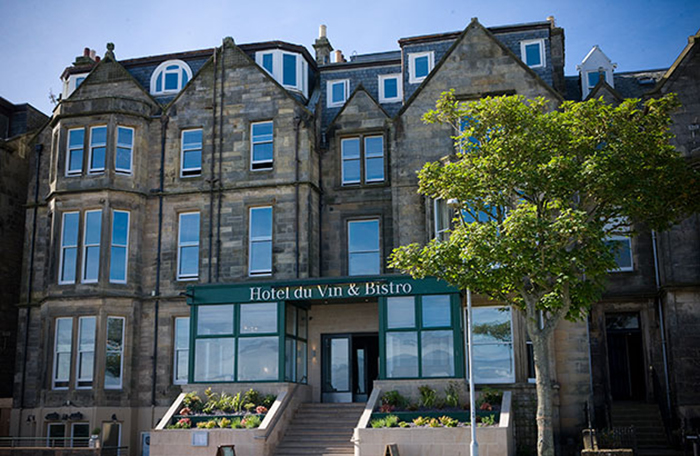 This gorgeous boutique hotel is perfect for couples looking for a wedding venue that exudes luxury.
Excellently set in the beautiful town of St Andrews, you and up to 100 of your guests can celebrate your wedding in style.
Visit Hotel Du Vin and Bistro St Andrews' website 
Read reviews for Hotel Du Vin and Bistro St Andrews
LINDORES ABBEY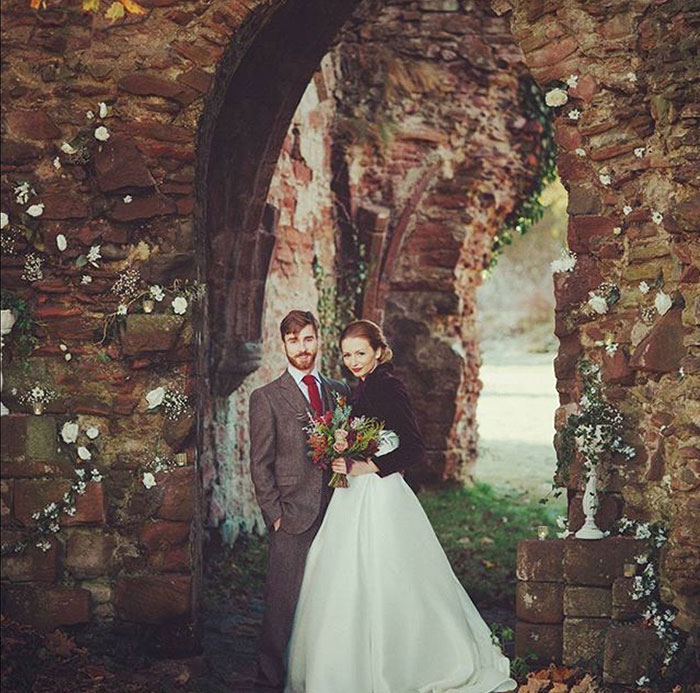 A wonderfully dramatic wedding venue steeped in Scottish history (the first known reference to Scottish whisky was made by a Lindores Abbey monk), you can celebrate your wedding day in the Abbey's working distillery with up to 60 guests.
Visit Lindores Abbey's website
Read reviews for Lindores Abbey
MALMAISON GLASGOW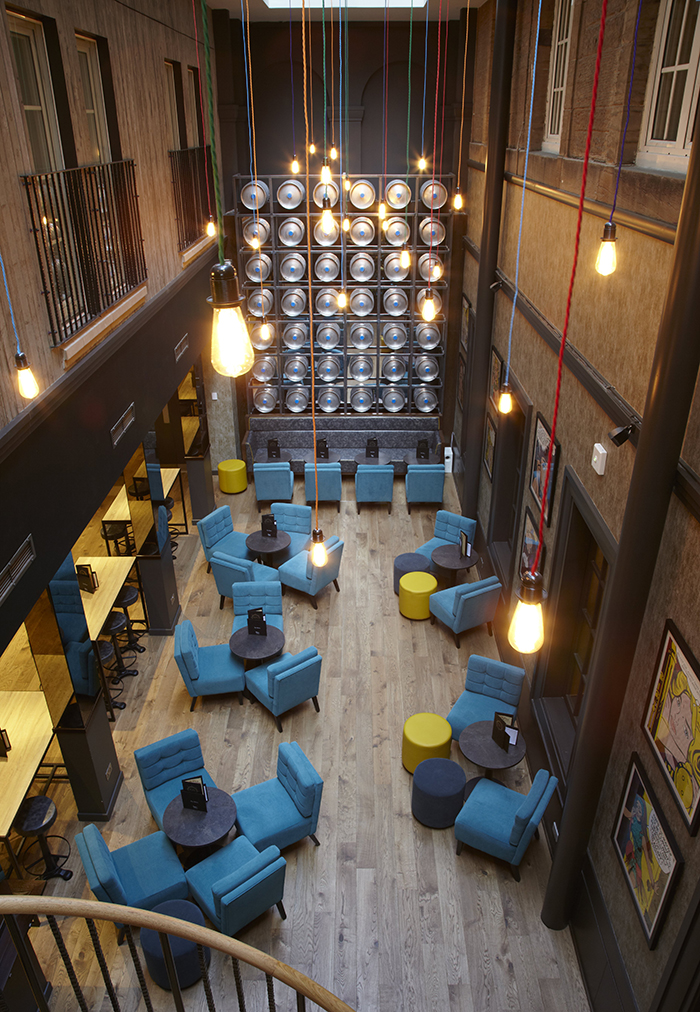 An effortlessly elegant wedding venue in Glasgow, Malmaison Glasgow is ideal for a stylish city celebration.
For small weddings, hire Mal One, a cosy wedding room that can seat up to 12 guests for dinner and 15 for a reception.
Visit Malmaison Glasgow's website
Read reviews for Malmaison Glasgow
WEST ON THE GREEN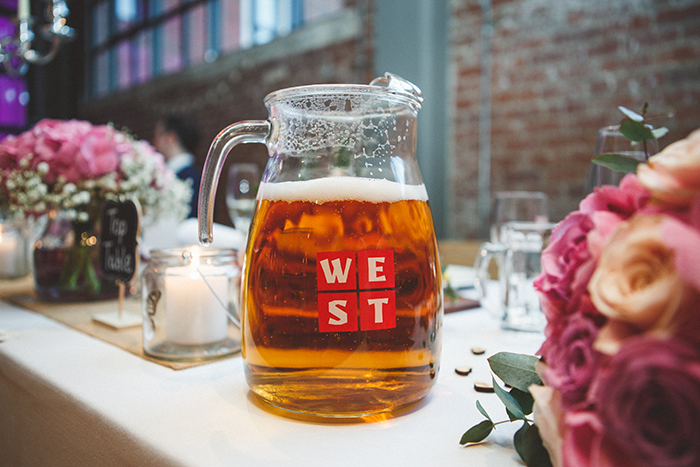 WEST on the Green is super trendy wedding venue situated in a working brewery in the heart of Glasgow.
Their hop room is ideal for small weddings, holding 64 for a sit down meal and 90 for an event reception.
Visit WEST on the Green's website
Read reviews for WEST on the Green
IS YOUR DREAM SCOTTISH COUNTRYSIDE WEDDING VENUE ON THIS LIST?