DIY autumnal + celestial inspired wedding day at Coos Cathedral, Aberdeenshire
Victoria and Cameron's beautiful autumnal wedding day was pulled off by lots of planning, hard work – and a ton of crafting…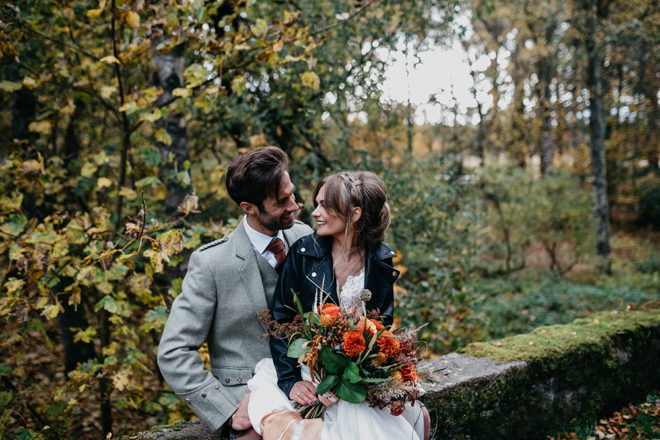 A truly DIY wedding isn't easy to pull off. It requires planning, patience, a clear vision, and buckets of creativity.
But luckily, couple Victoria and Cameron had all of that in spades. They transformed blank canvas wedding venue Coos Cathedral into an autumnal wonderland, with lovely celestial touches throughout their wedding decor.
But their wedding wasn't all style over substance, and was packed with beautiful vows, tear-jerker speeches and riotous 'selfie' games that had the bride and groom – and their guests! – roaring with laughter.
Read all about Victoria + Cameron's wedding day in the bride's own words below…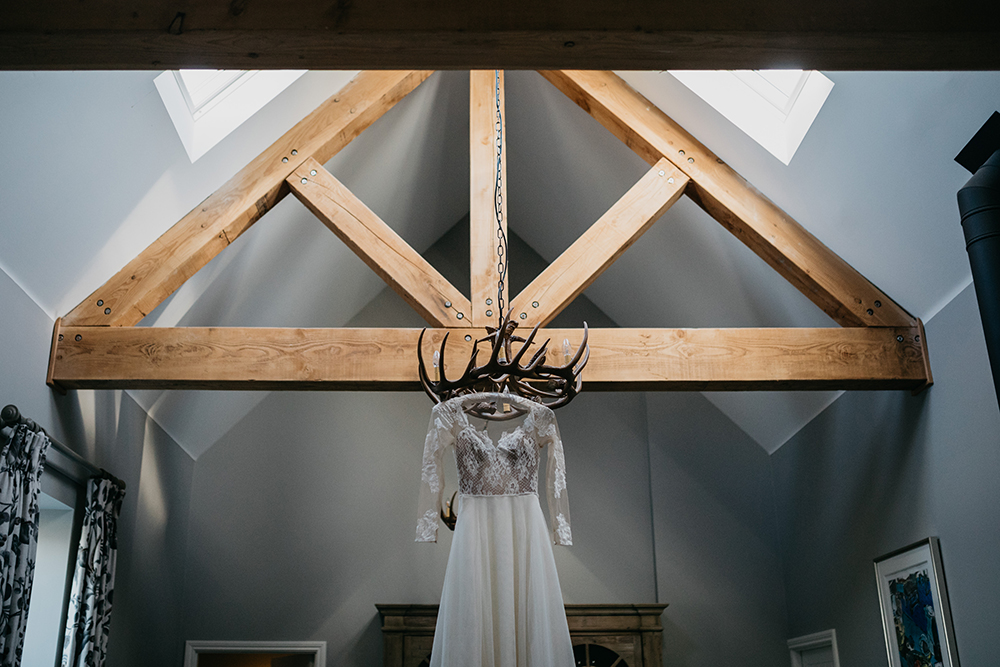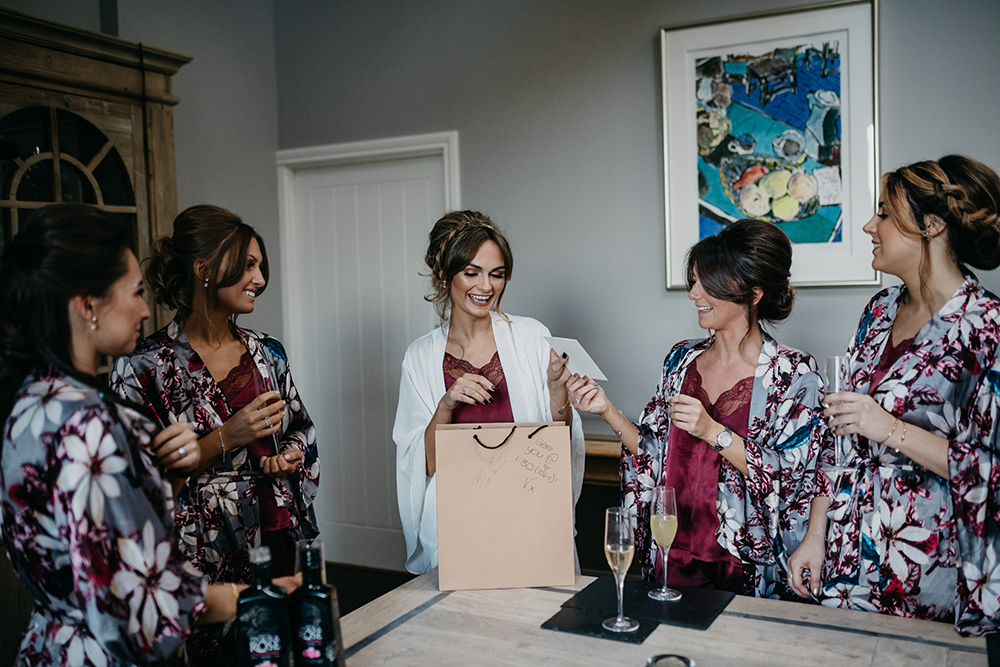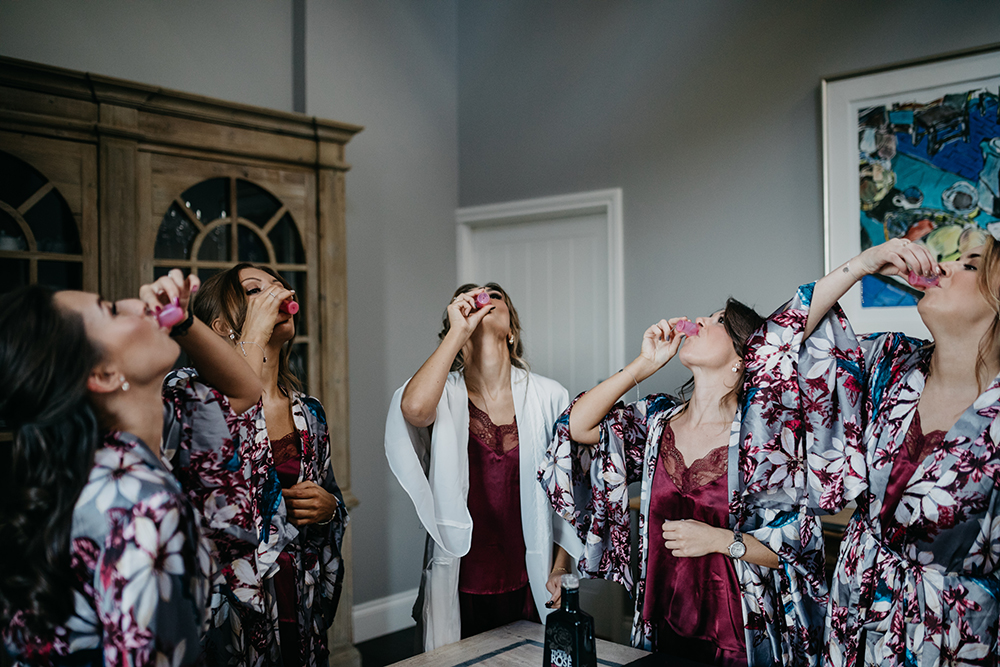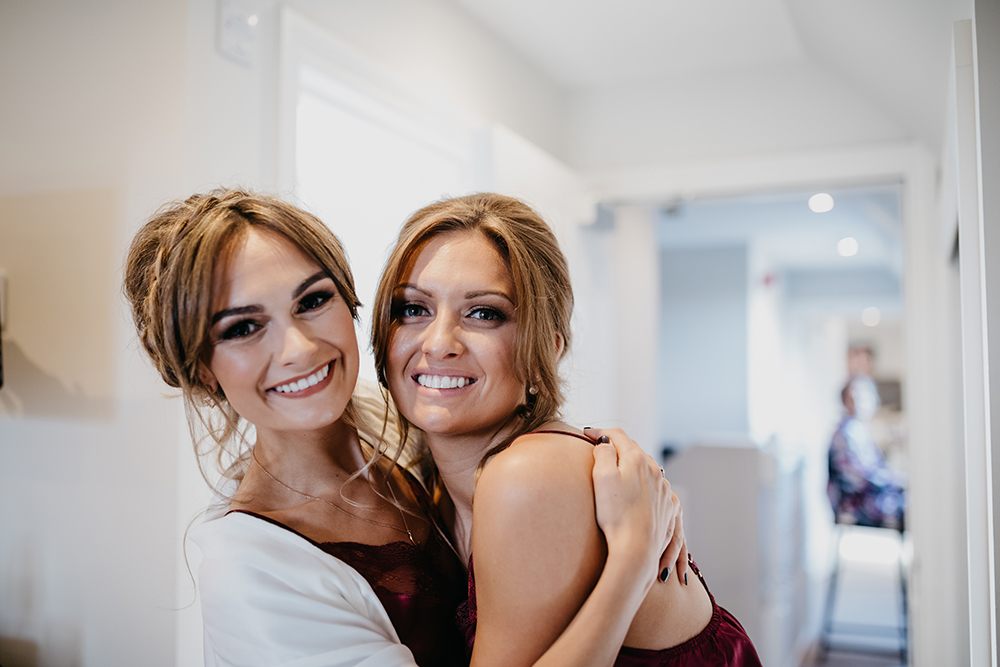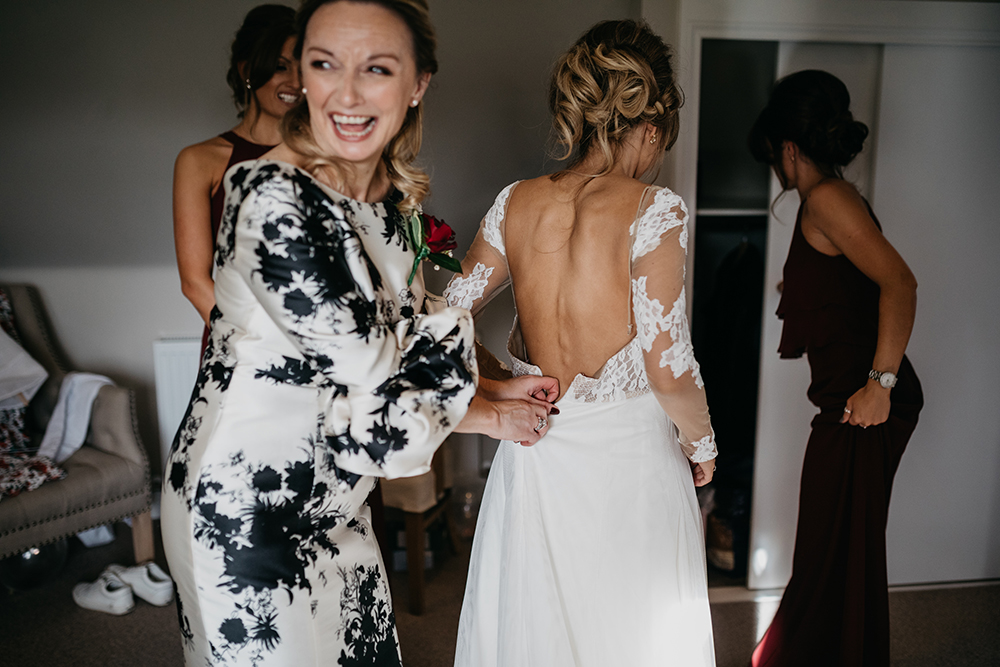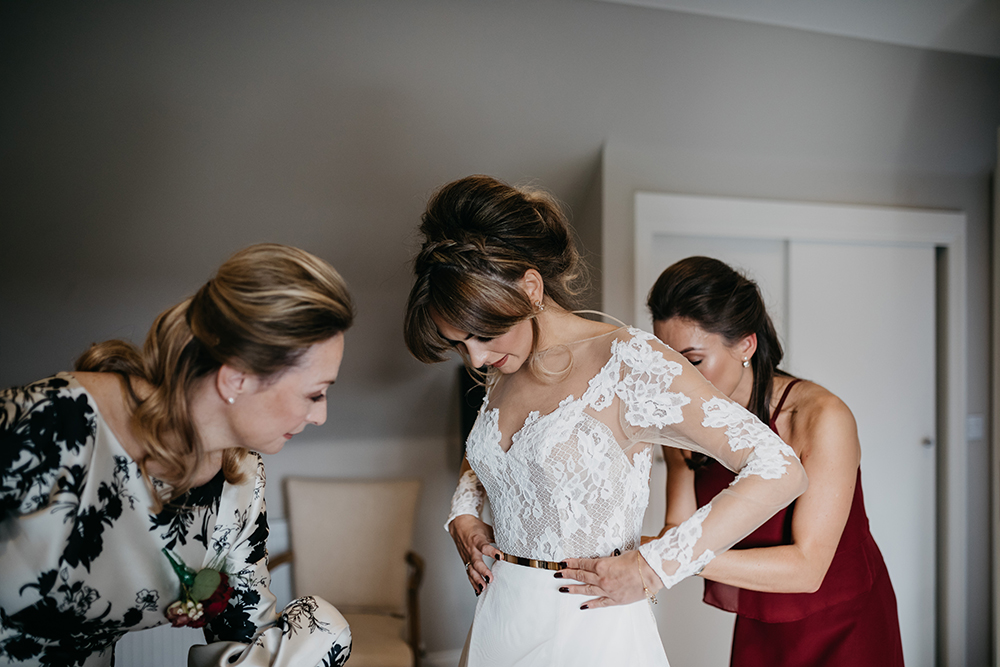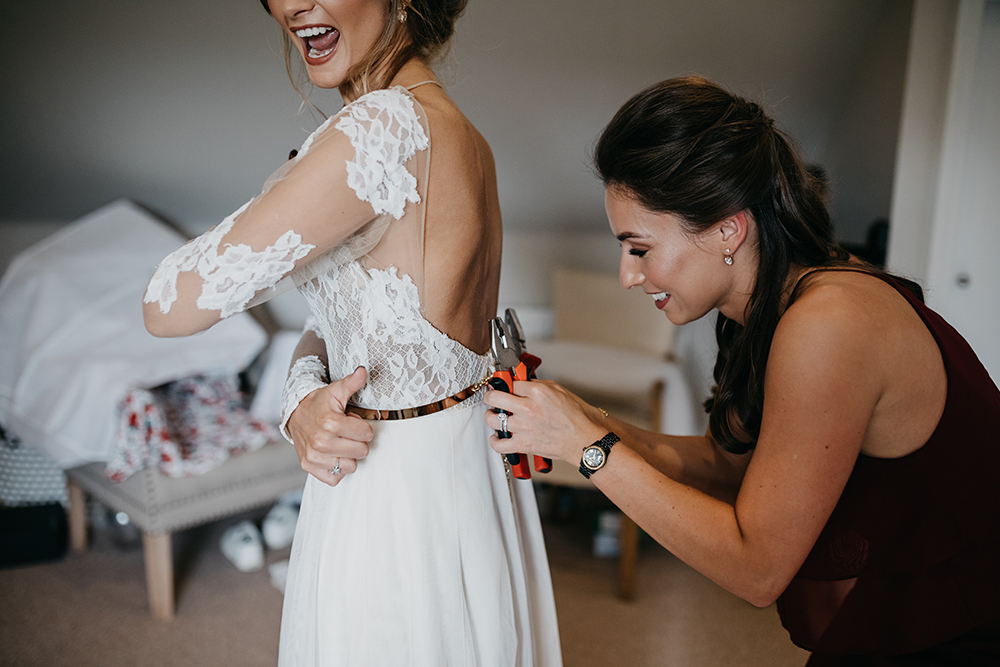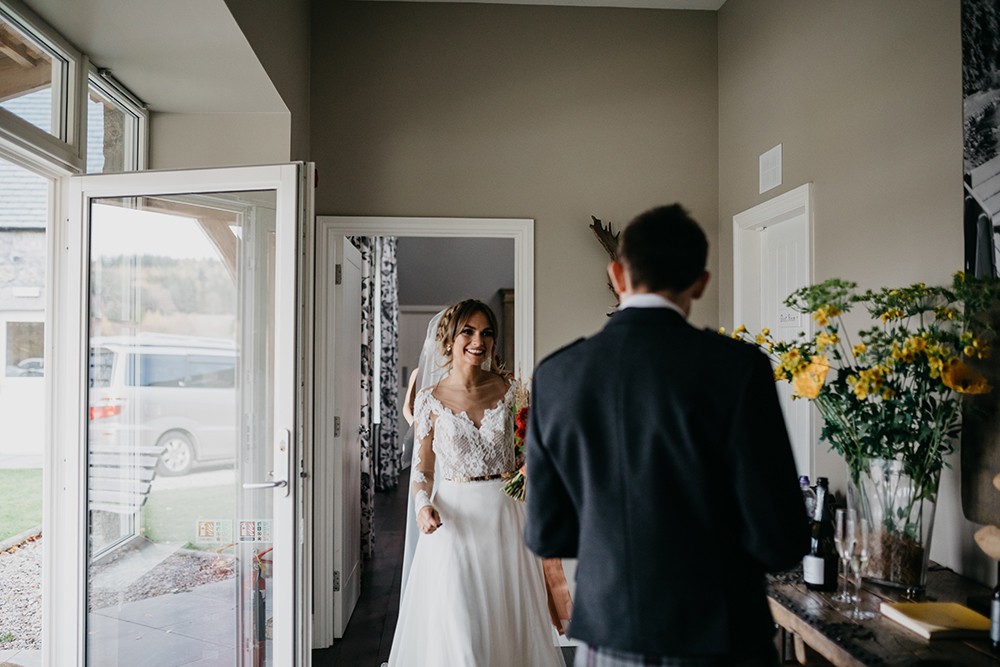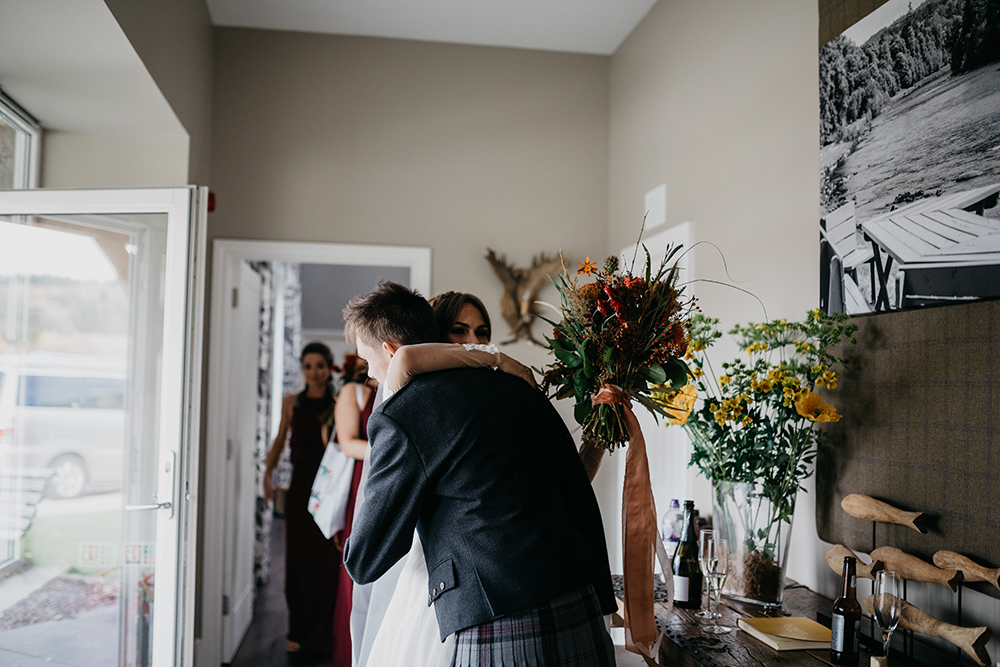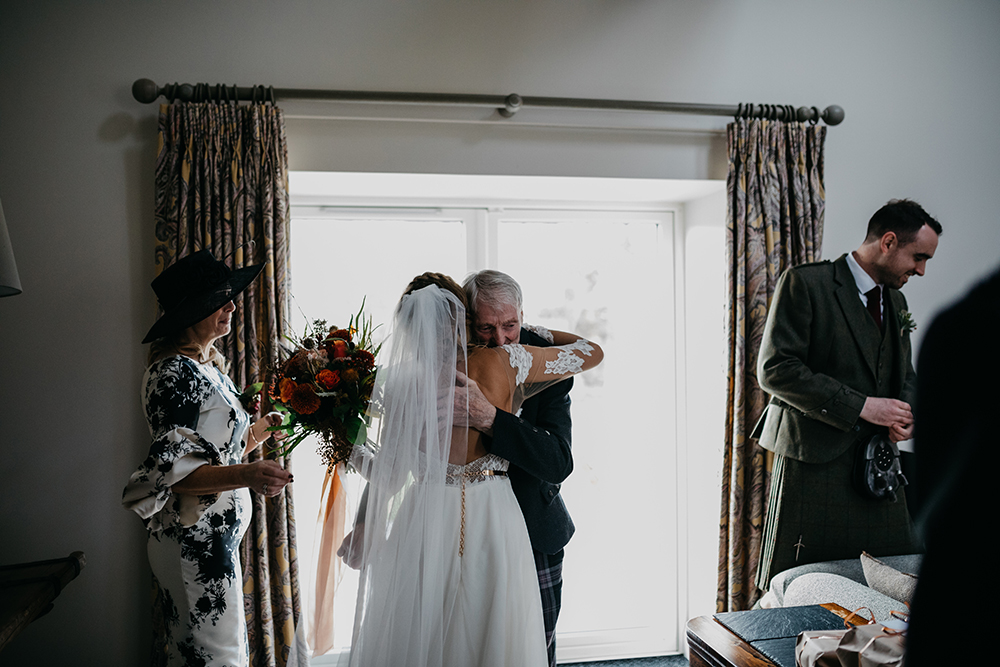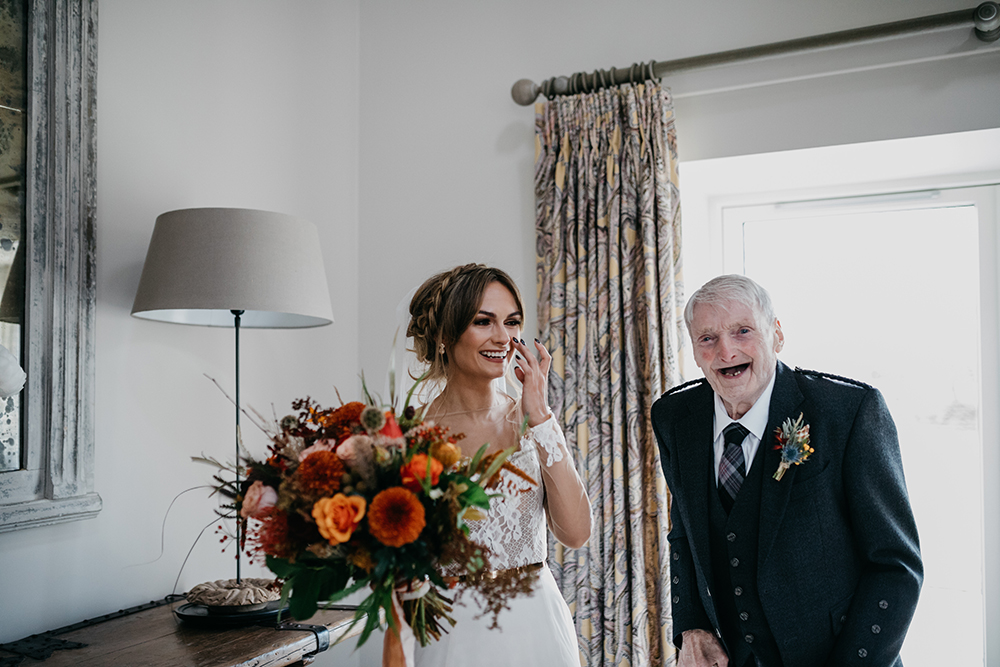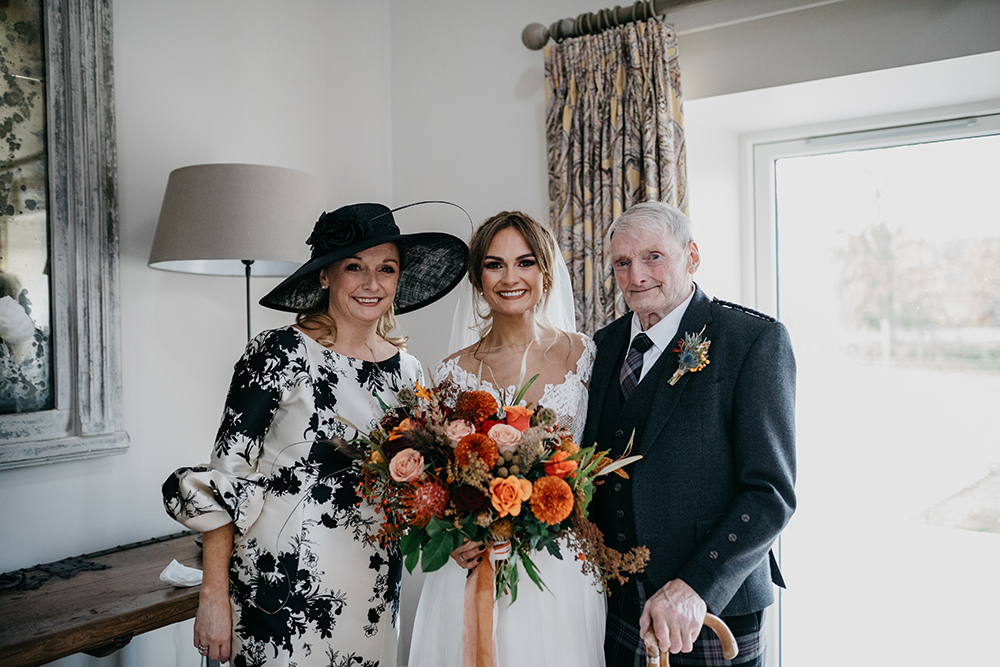 We met in 2006 at the Holiday Inn in our hometown, Westhill. We both worked there part-time (I was a waitress and Cam was a barman). By the time we got married, we had been together 11 and a half years.
Cam proposed on a trip to Copenhagen in December 2016, which I had planned for his birthday. He managed to get the ring made in secret, get my best friend to distract me before picking it up in Edinburgh just before our flight, sneak it through security and then proposed to me on our last night in Copenhagen in a Christmassy street lit up by fairy lights.
In preparation to propose, he asked me to turn around with my back to him to capture a photograph of me looking at the view (he quite often puts me in arty pictures so this wasn't an unusual request – the graphic designer in him!) and when I turned back around he was on one knee. Funnily enough, my sister had bought Cam a head strap for his GoPro for his birthday and needless to say he used this to capture the proposal and my reaction, which is pretty special (and energetic/emotional!).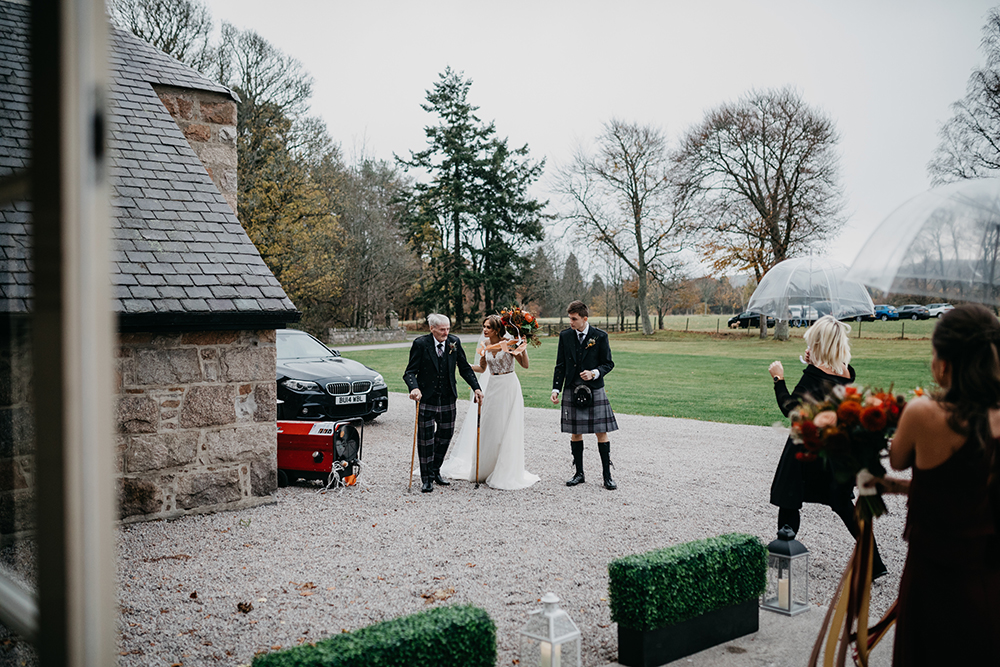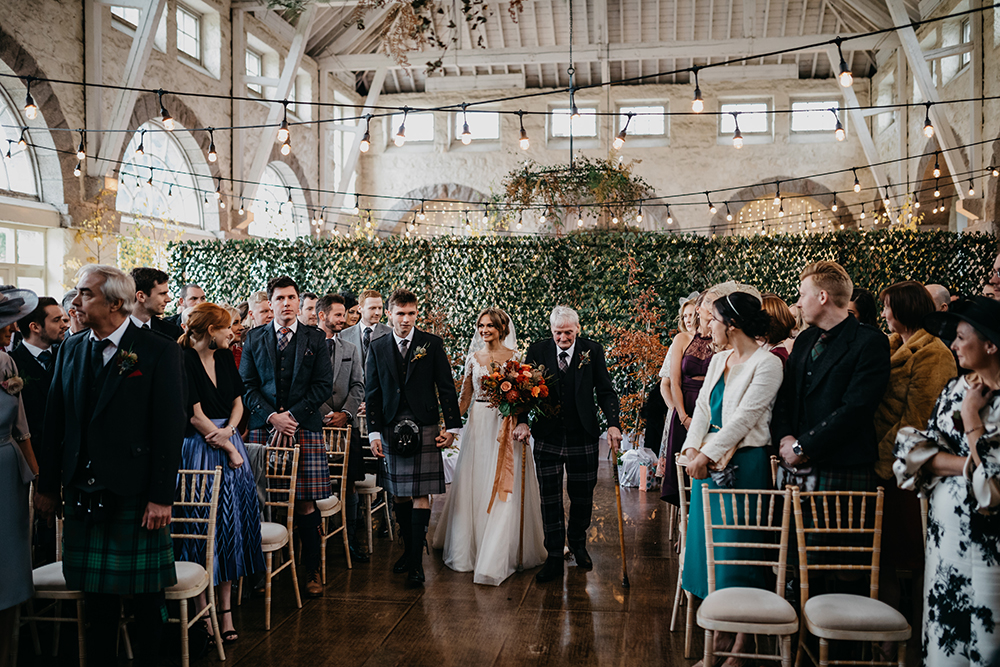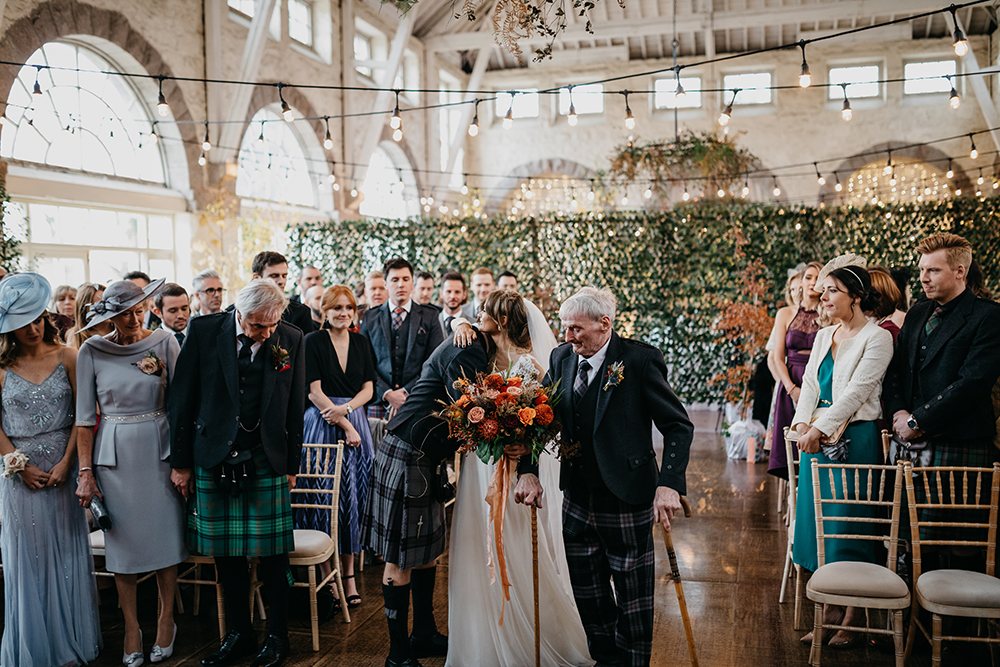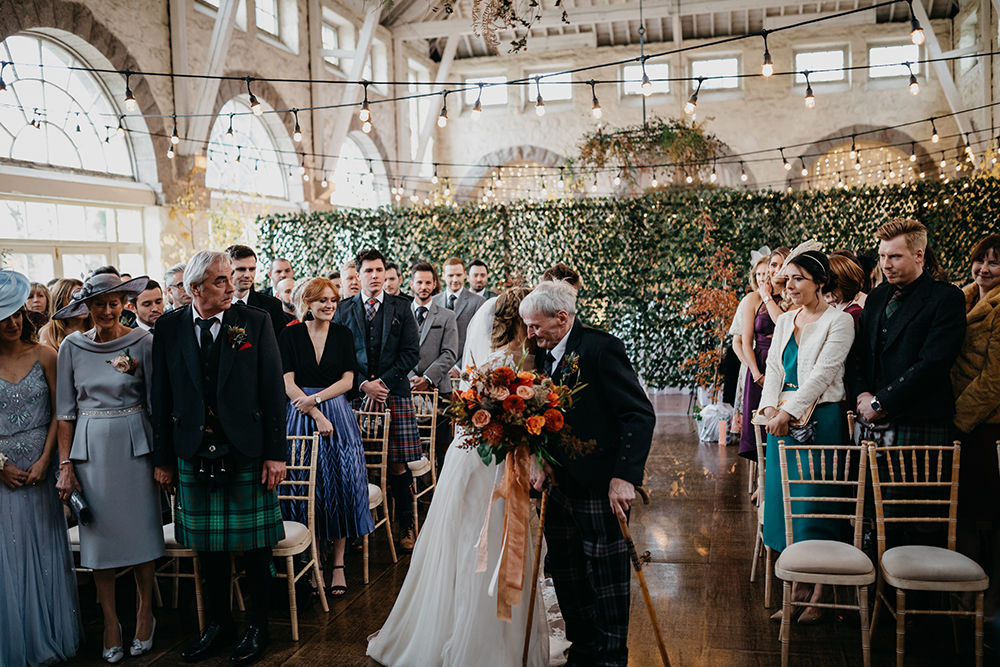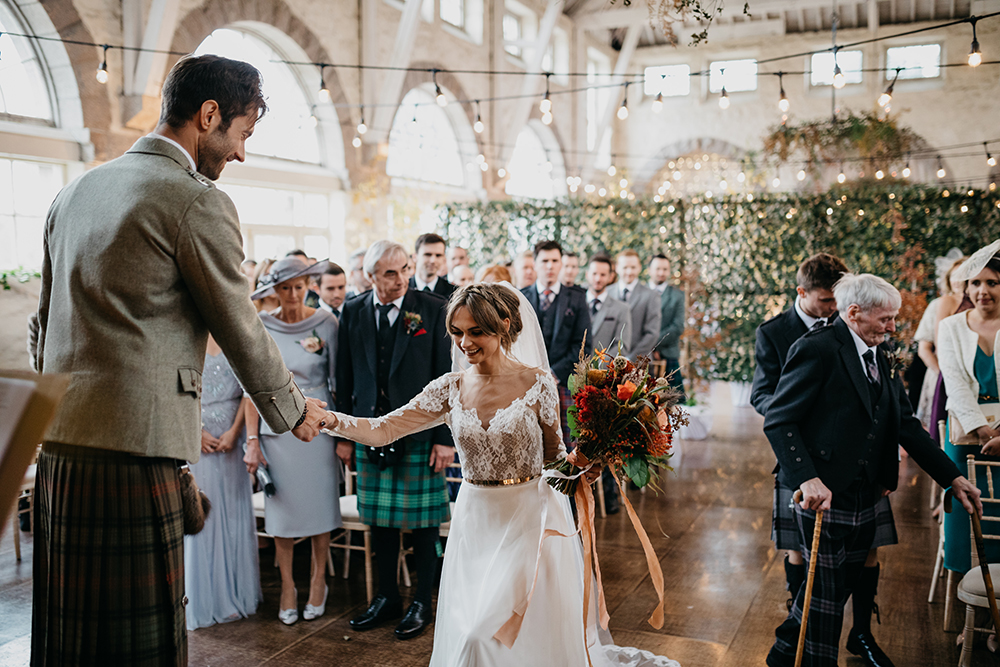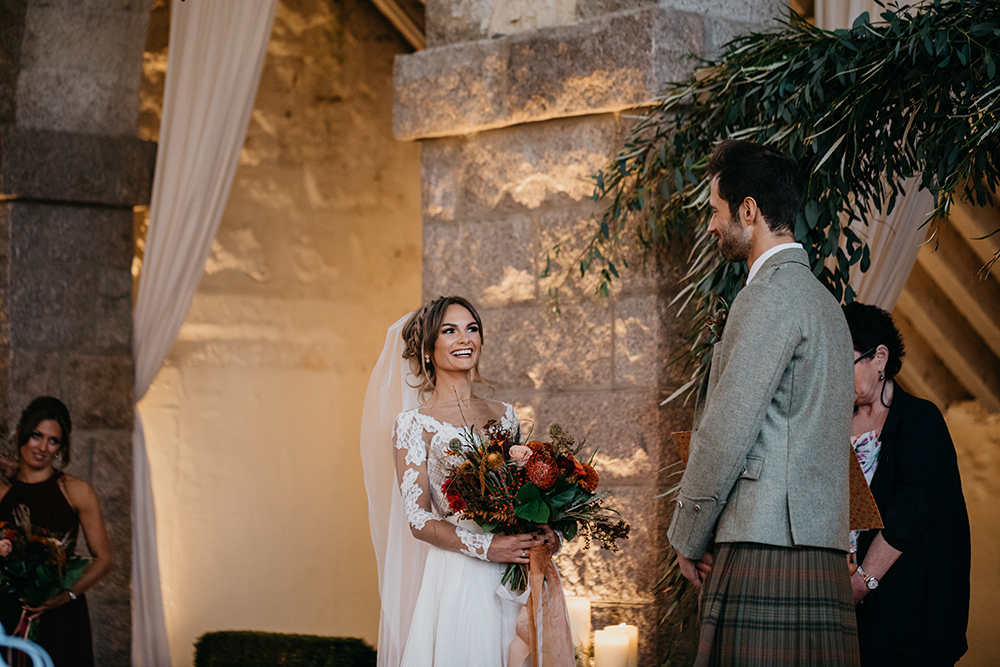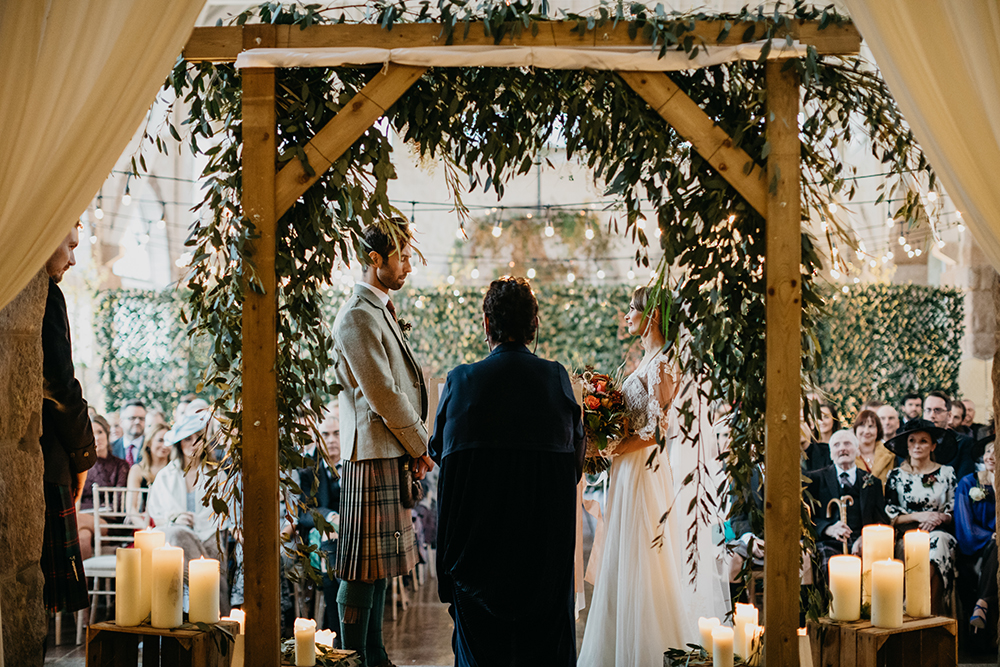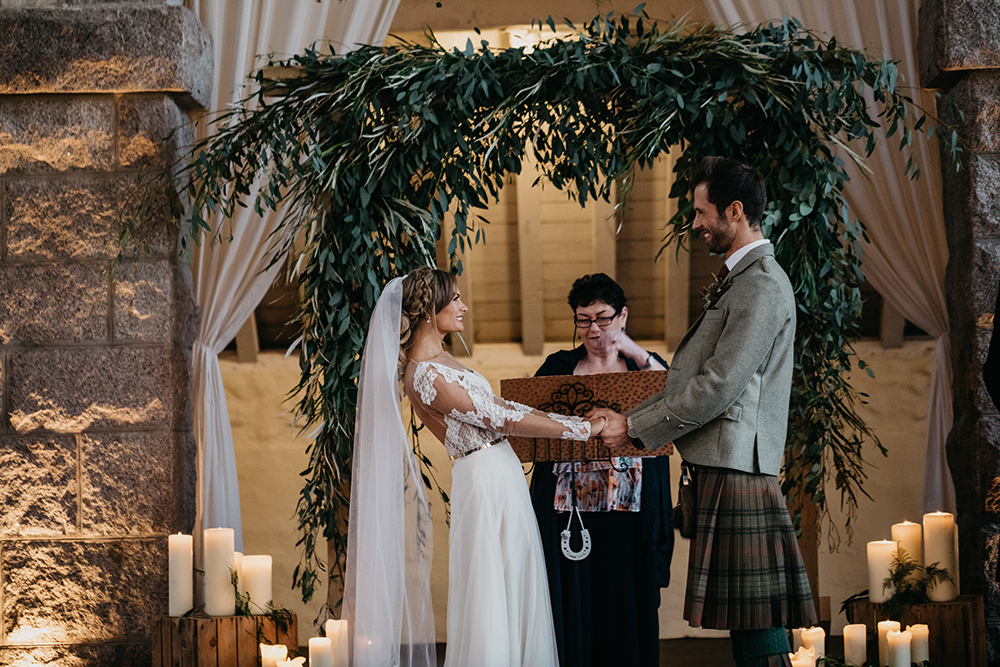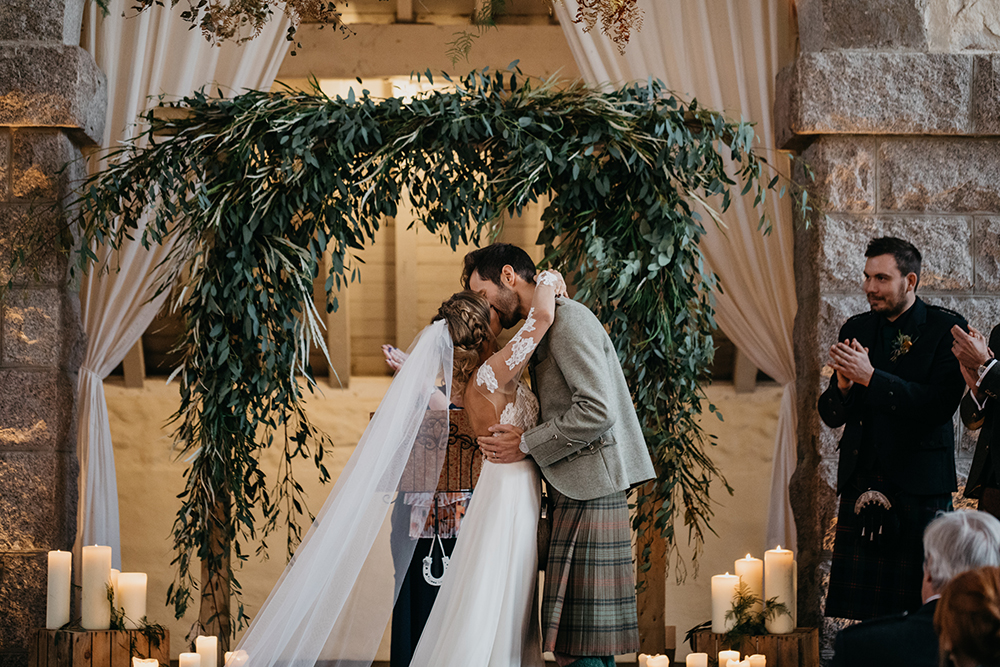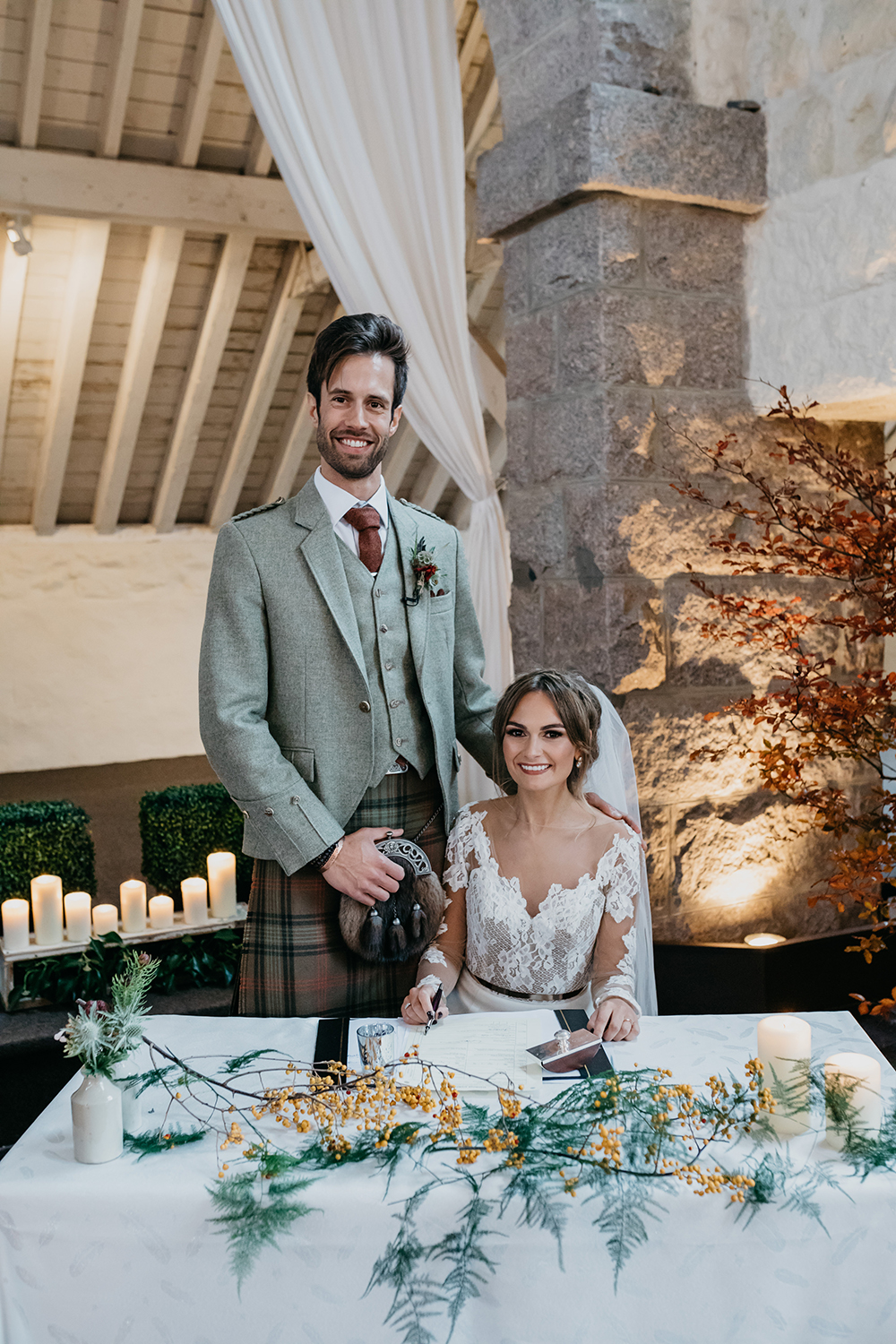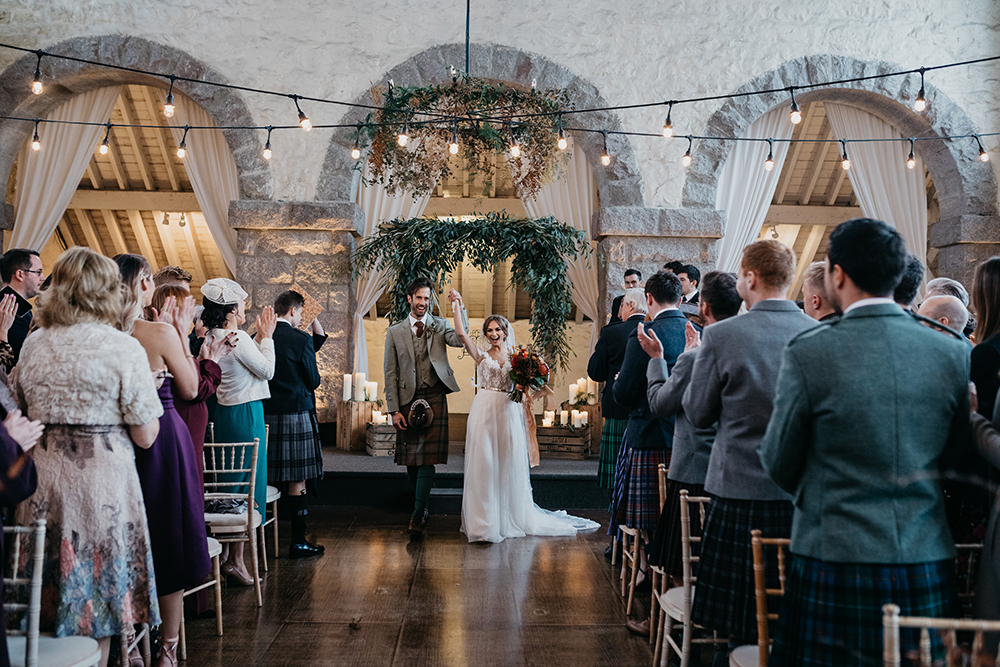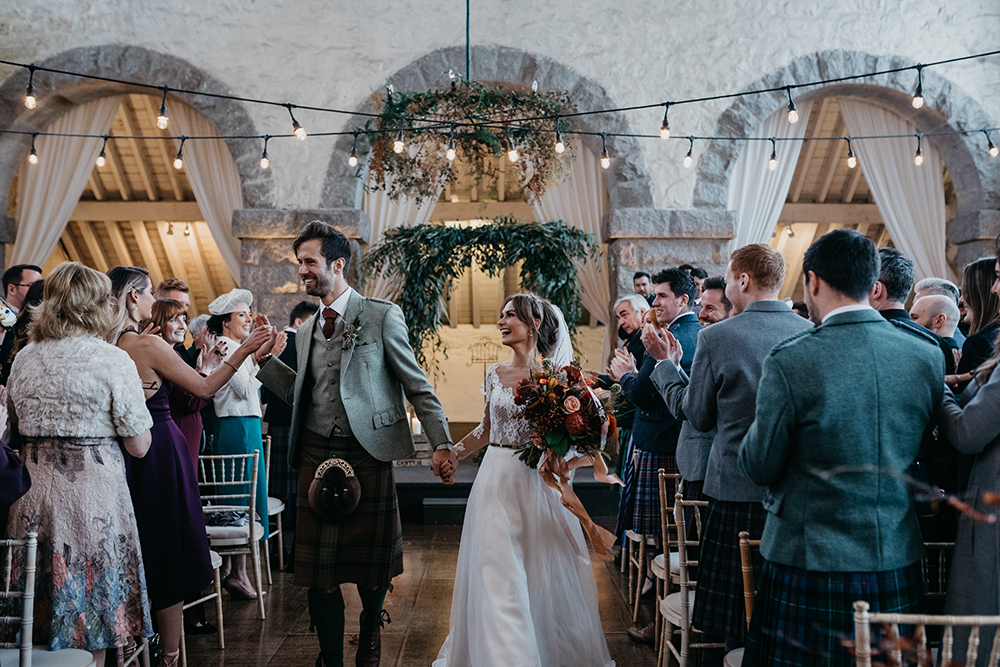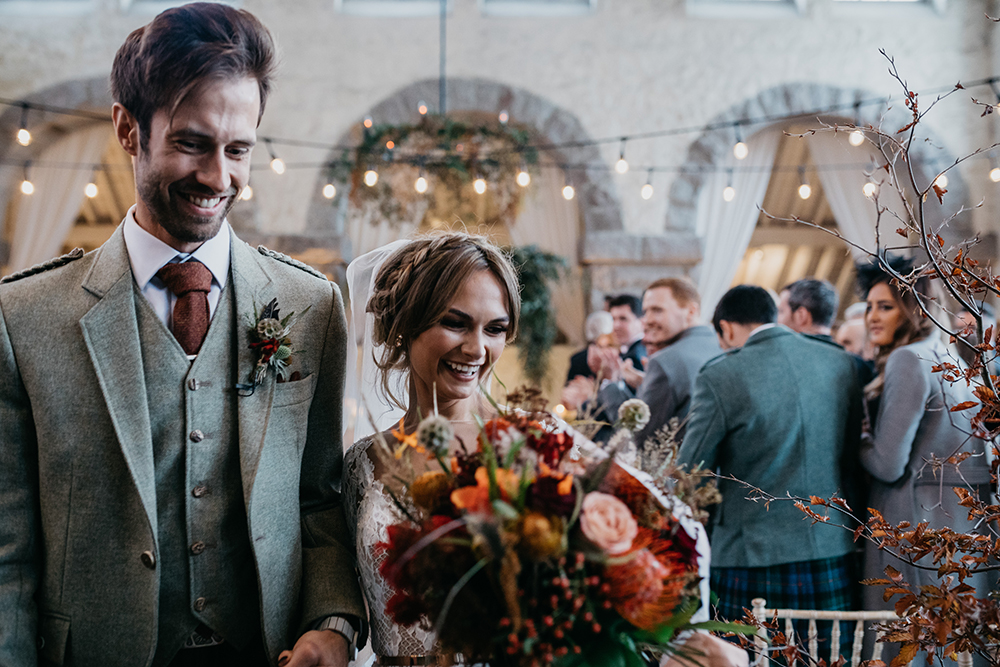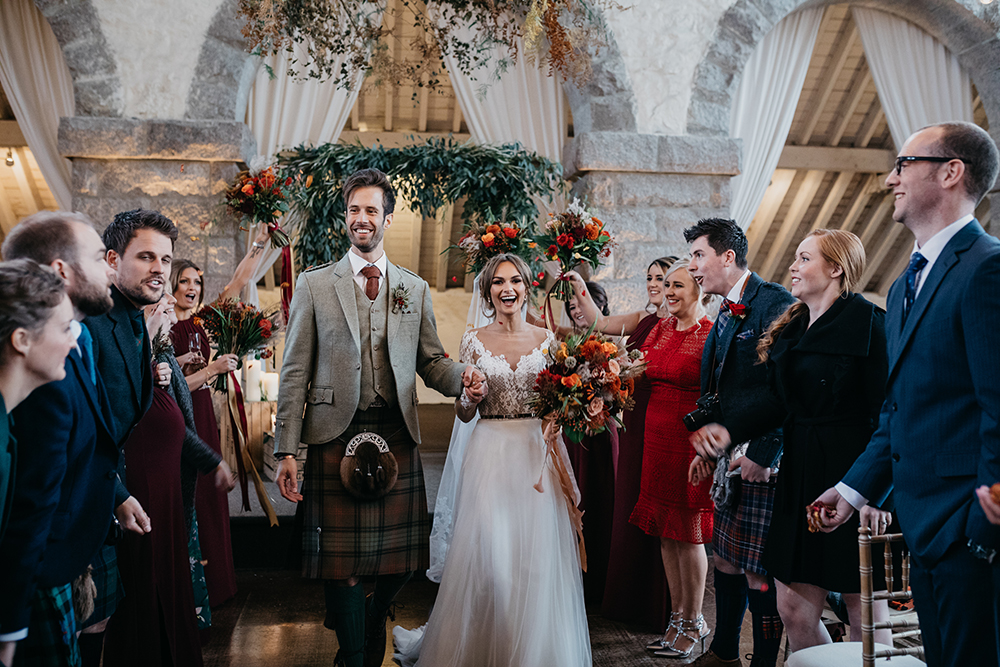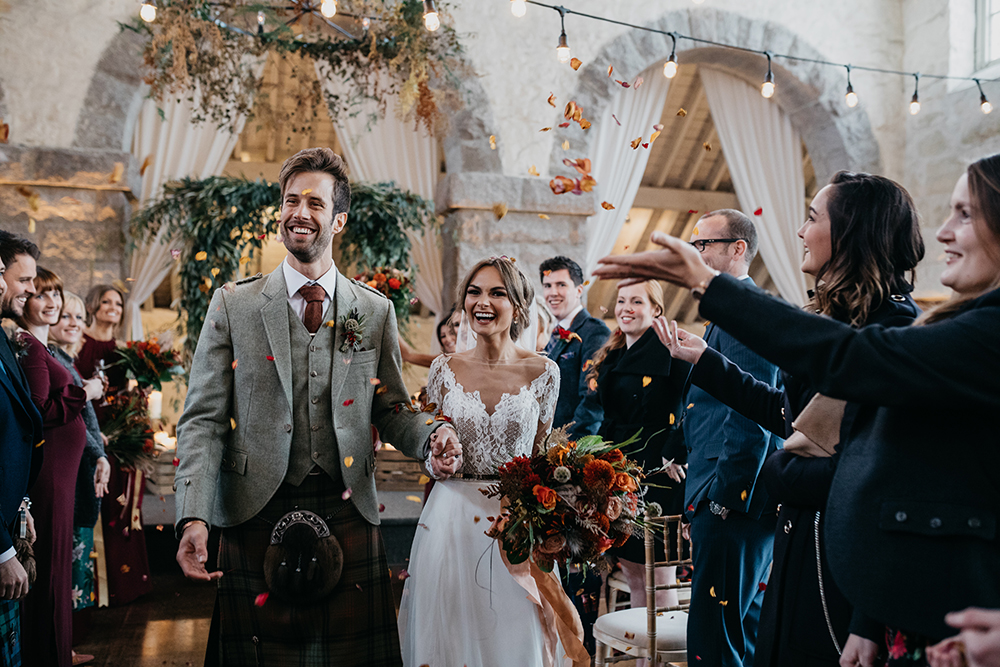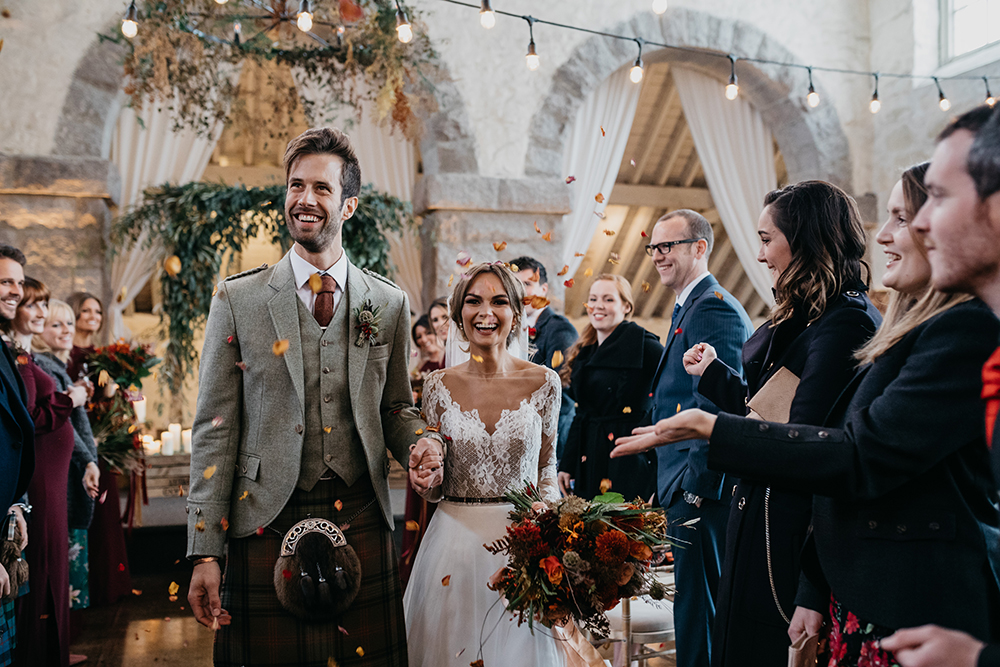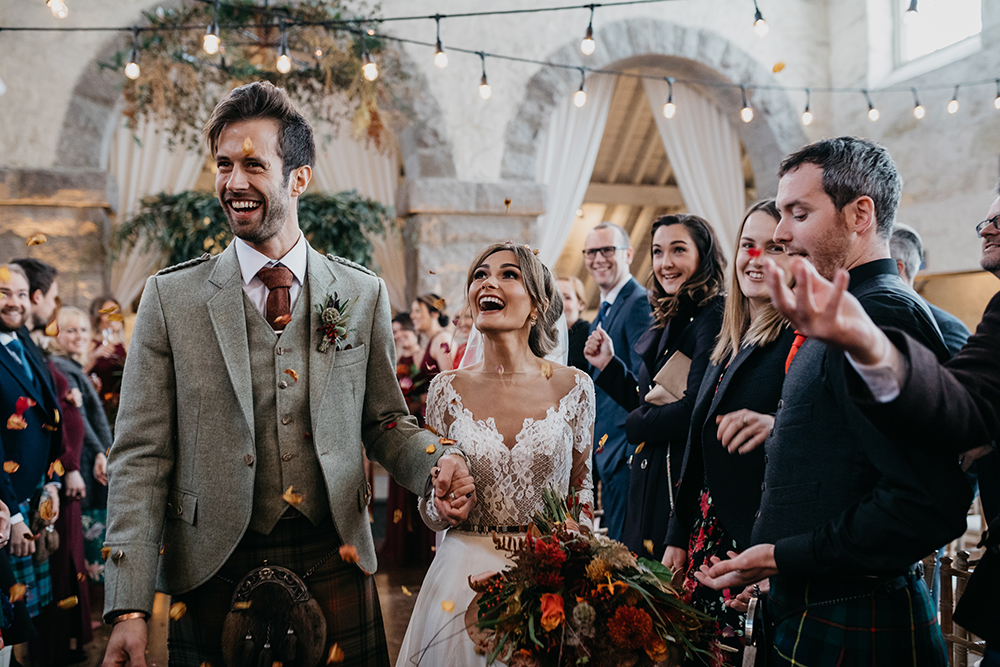 We wanted a humanist ceremony as we knew we wanted to write our own vows. We also wanted to incorporate some Scottish traditions and therefore held an oathing stone (or crystal in our case) as we said our vows to each other. This was done in Scotland in ancient times is said to have prompted the phrase 'love is set in stone'.
Hearing each other's vows and saying what we love most about each other was so special and definitely one of the highlights of our wedding day. We both like to think we are funny so our vows were a combination of mushy love and humour!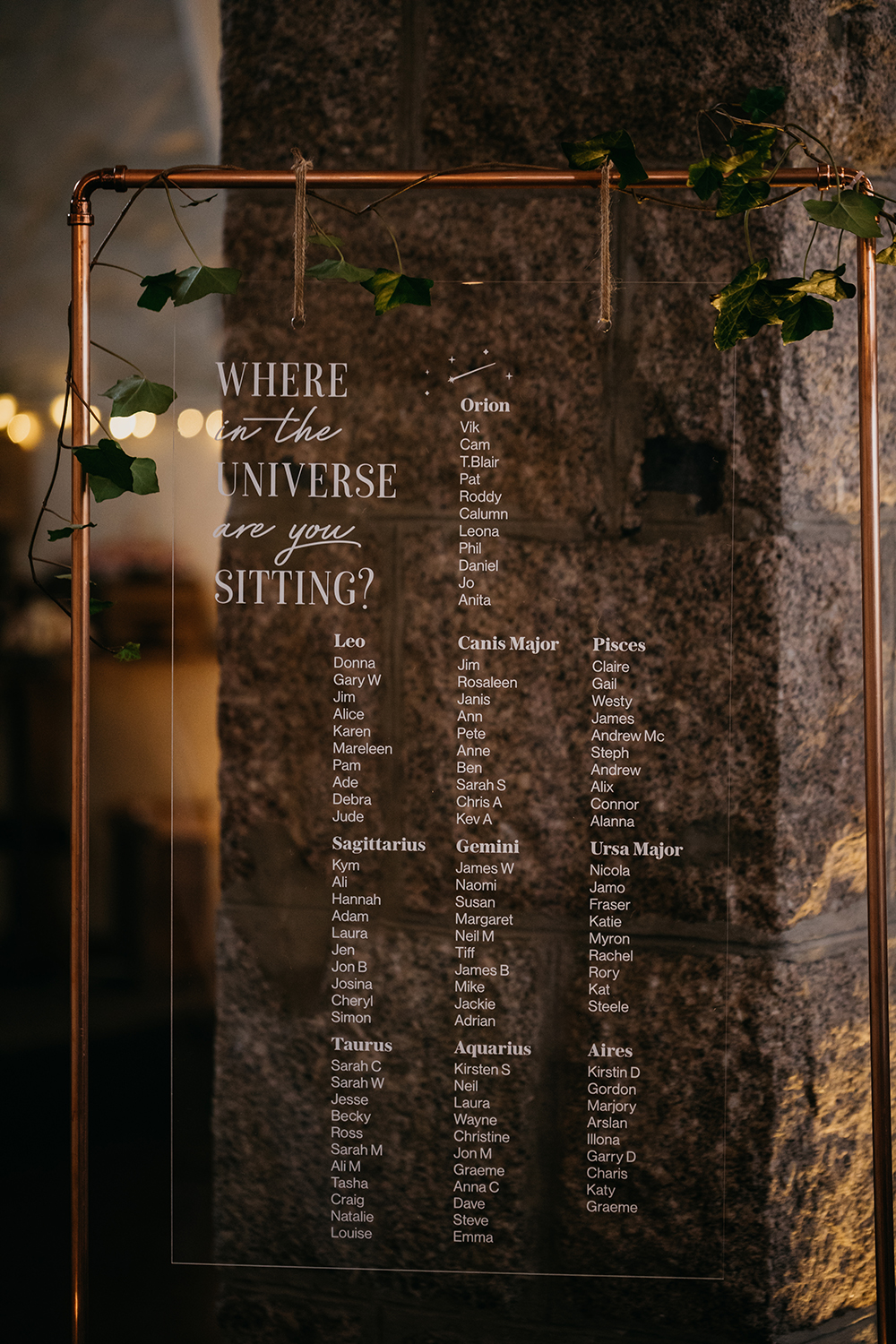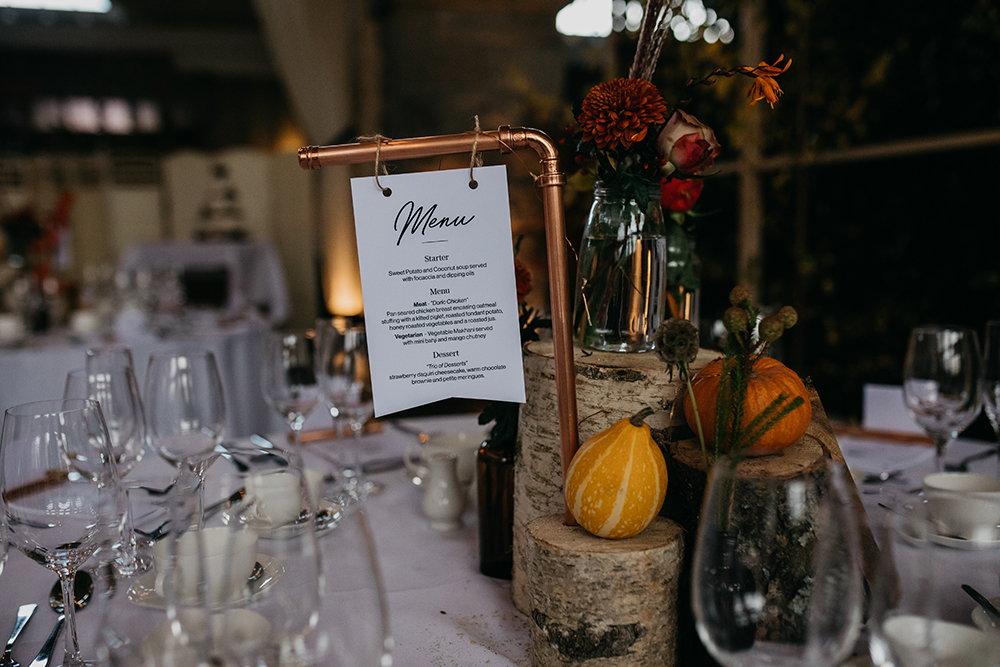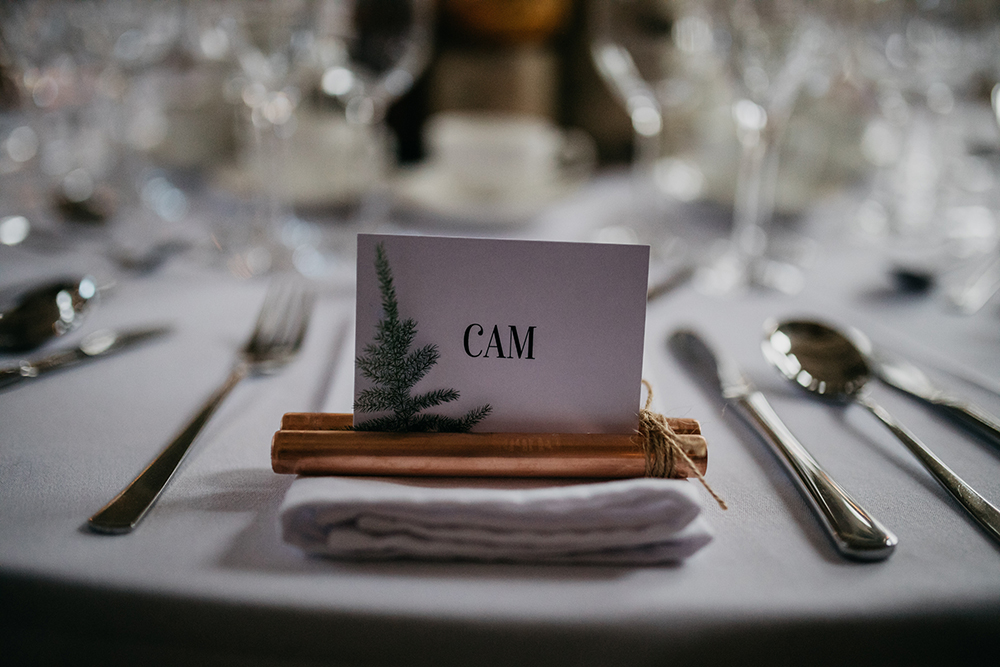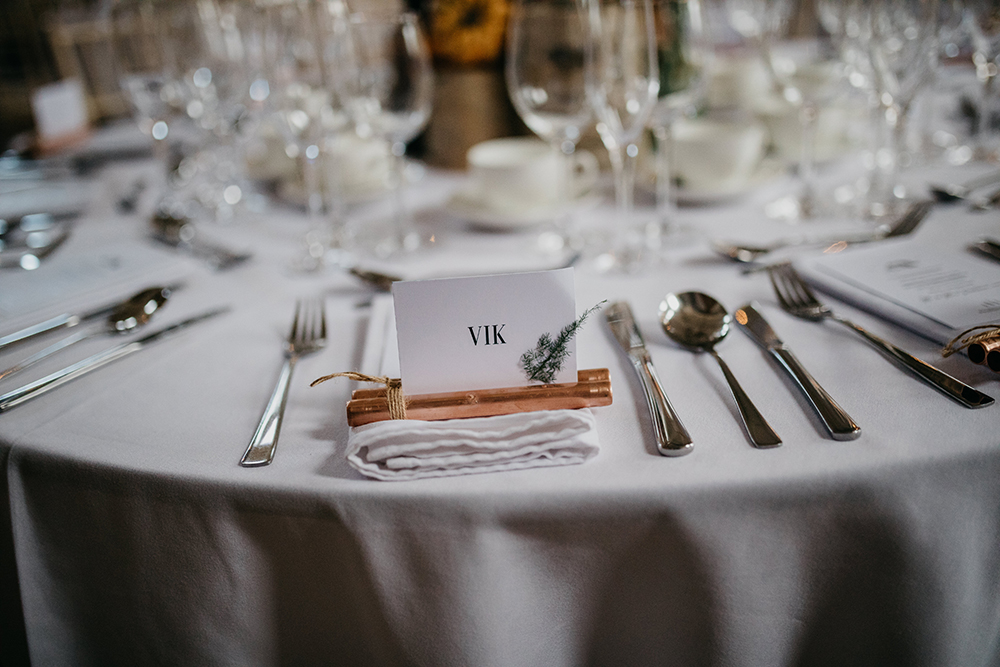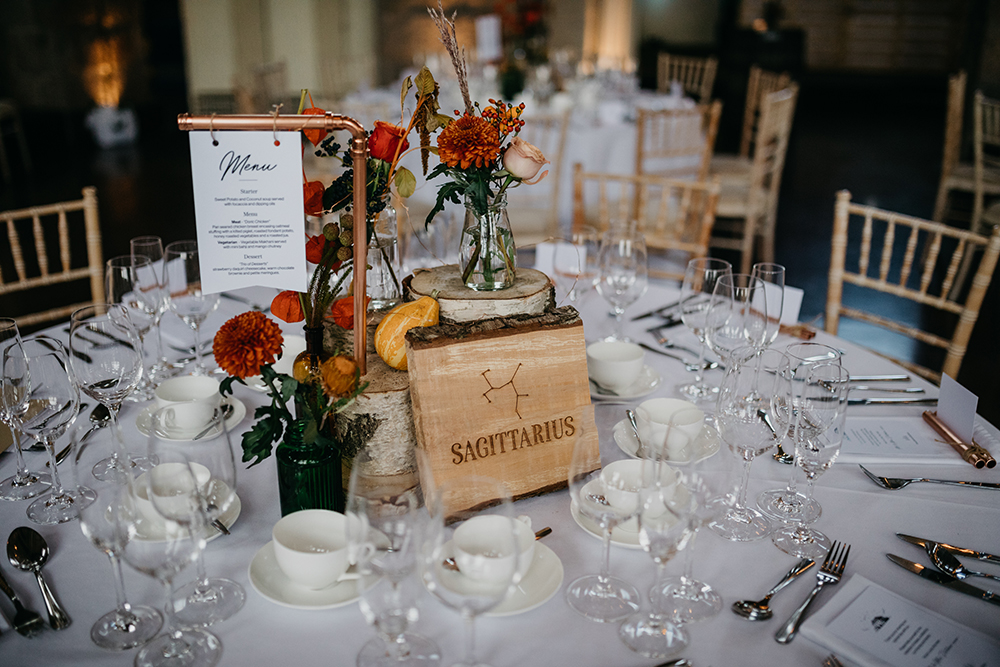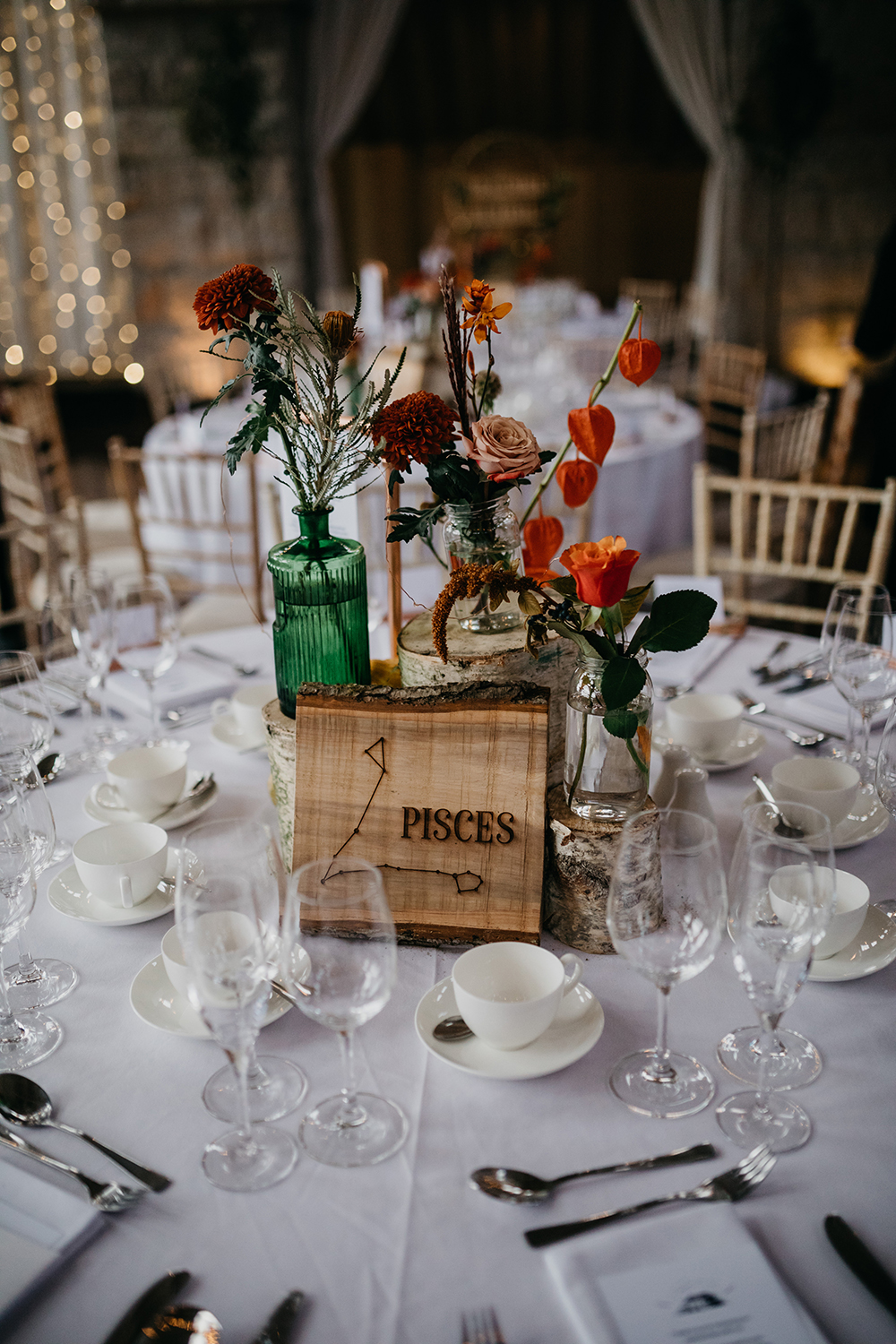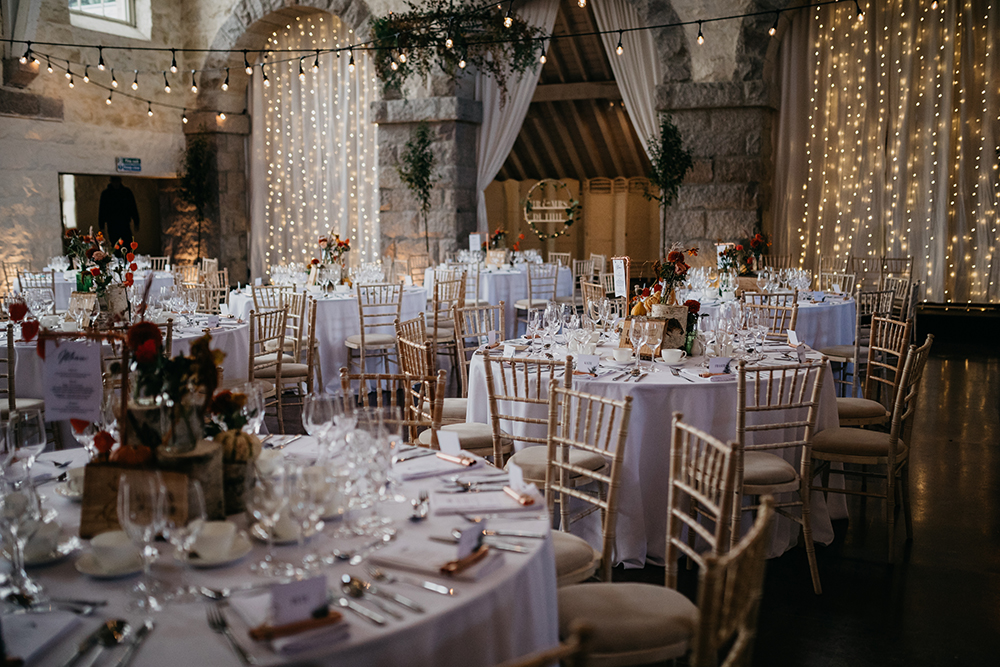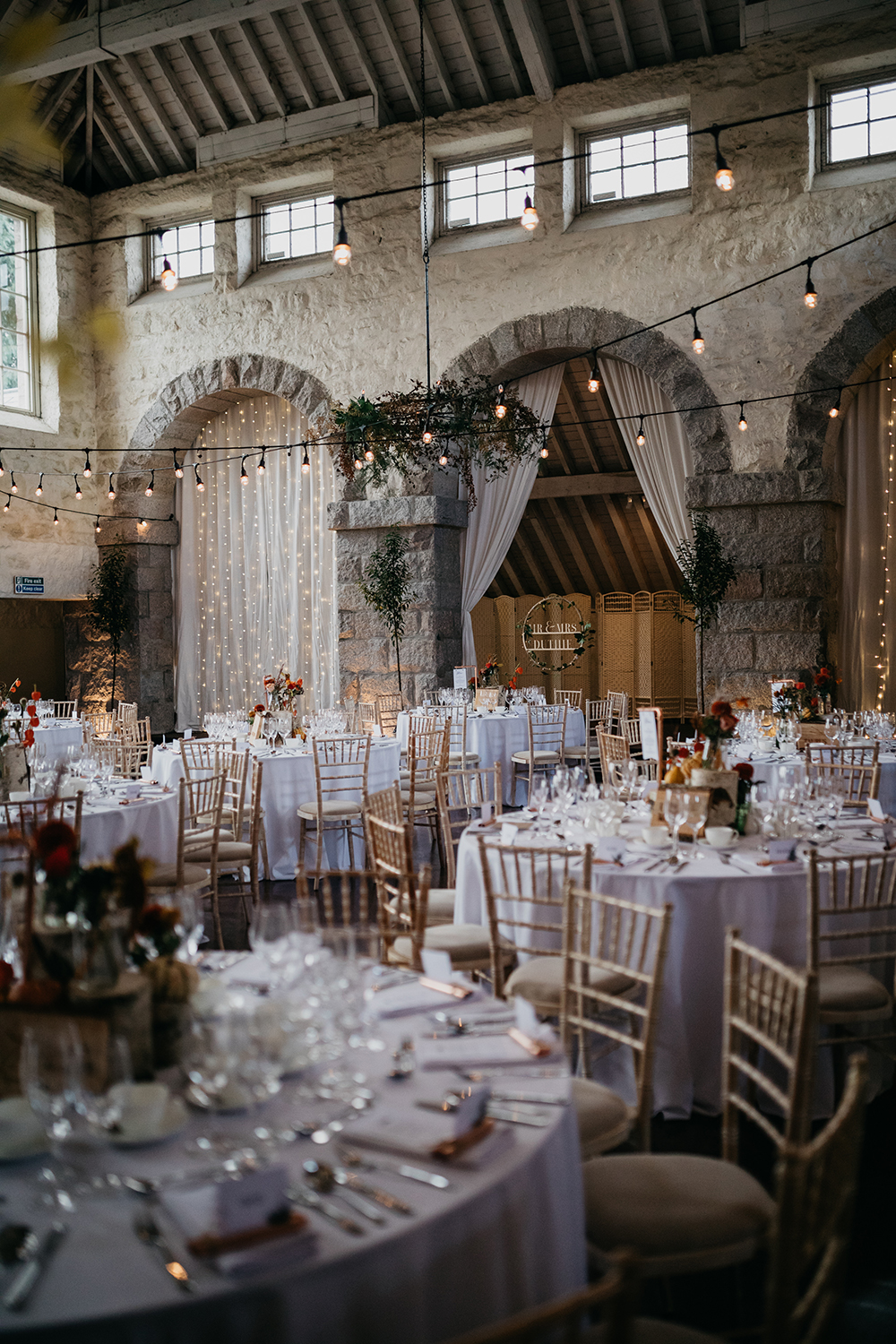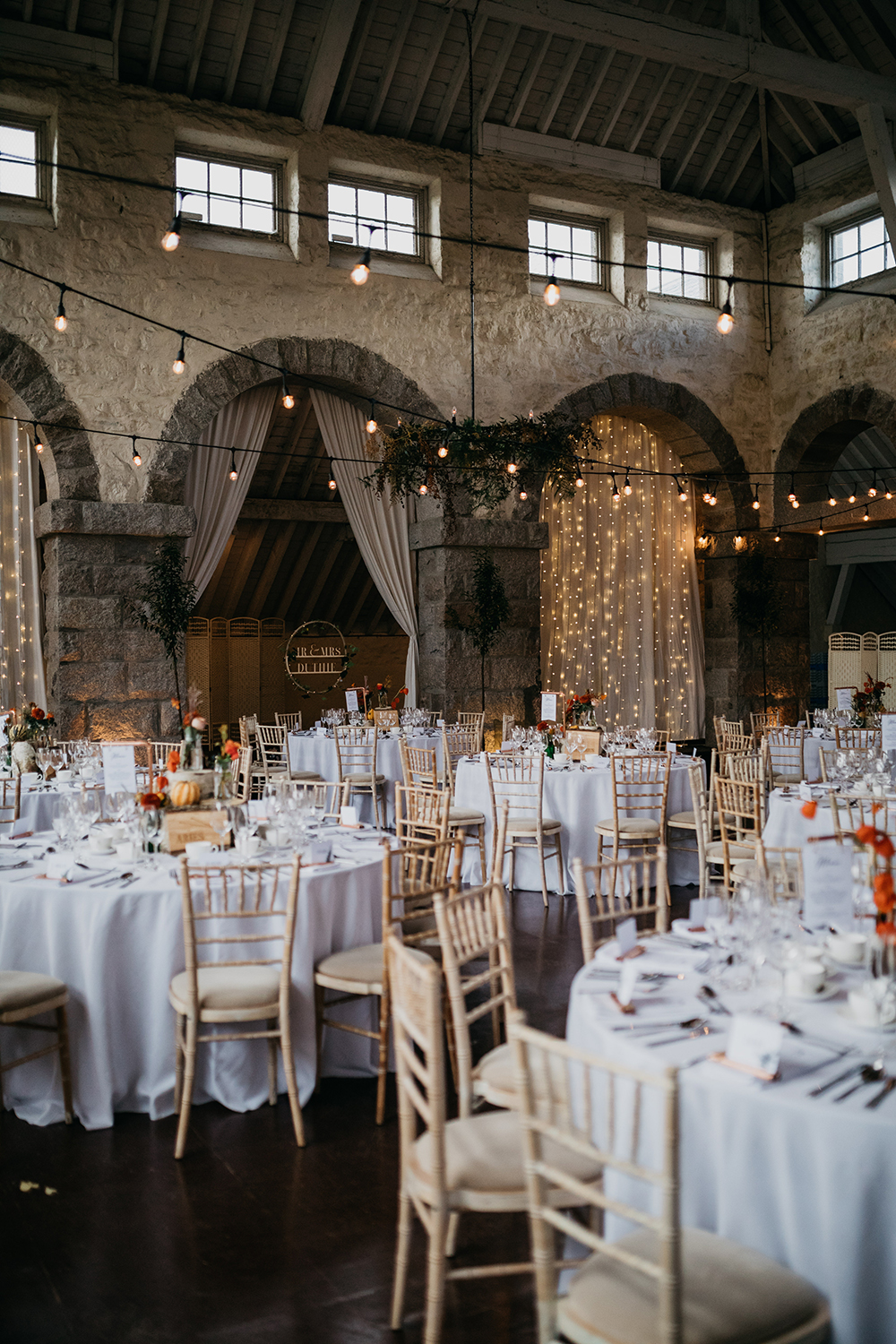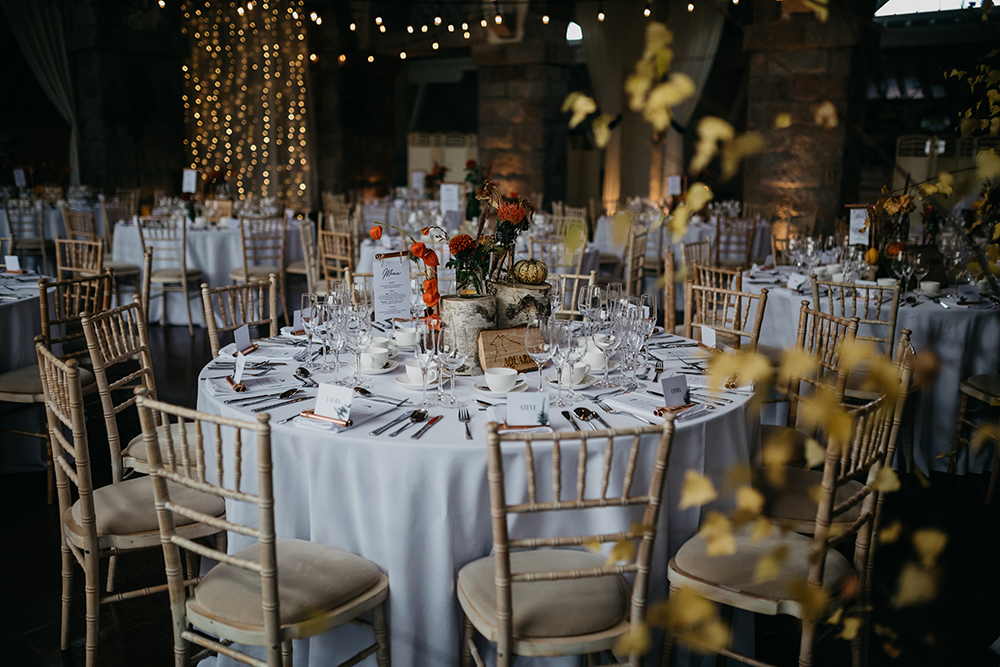 Coos Cathedral is such that it is COMPLETELY empty, save for 10 round tables. That means no kitchen, no heating, no chairs and, what we thought, no problem! We therefore did take on quite a large task of pulling together a lot of suppliers, but luckily for us, the suppliers were great and everything went relatively smoothly.
We also made a lot of things for the wedding ourselves – bought and spray painted hula hoops, collected greenery, found (or took), sliced and lasered trees, bought and cut huge copper pipes, made and designed all of the stationary, to name a few! This, together with designing the venue, was probably our favourite part!
Our advice, particularly to those going down the DIY route, start as early as possible – storing stuff isn't the problem, lack of time is! I would also make sure that all of your suppliers are clear with your vision – it is your style, so it is important that it can be implemented. On the flip side of that, and Cam's pet peeve as a designer, is that you should trust your suppliers! You have chosen them for a reason so try to not annoy them by micro-managing.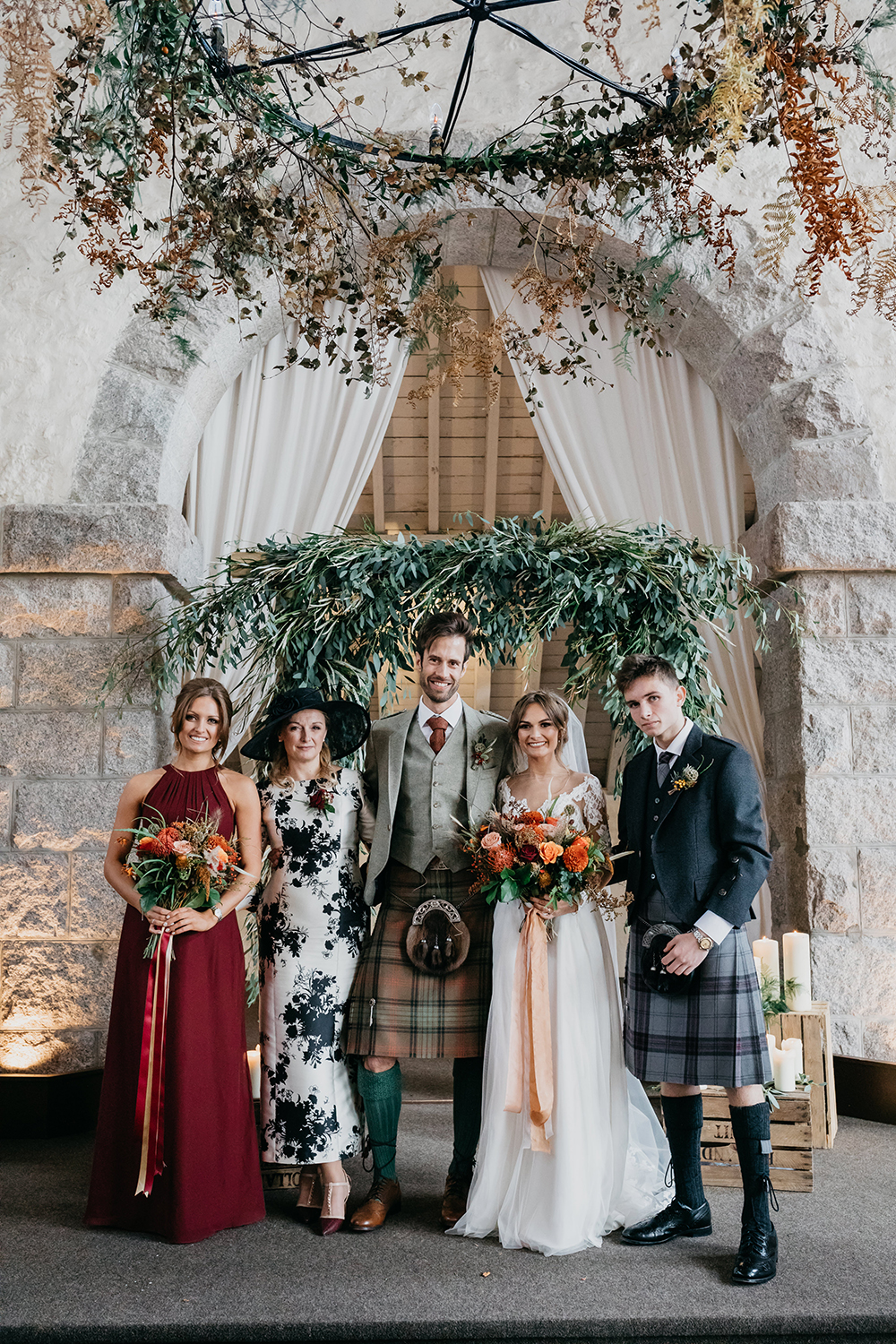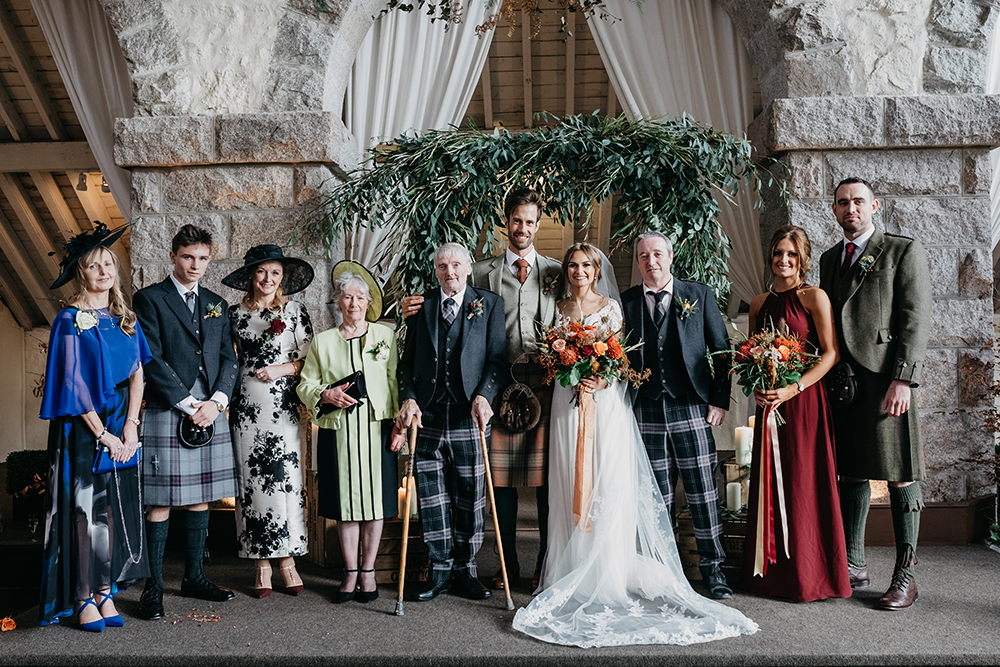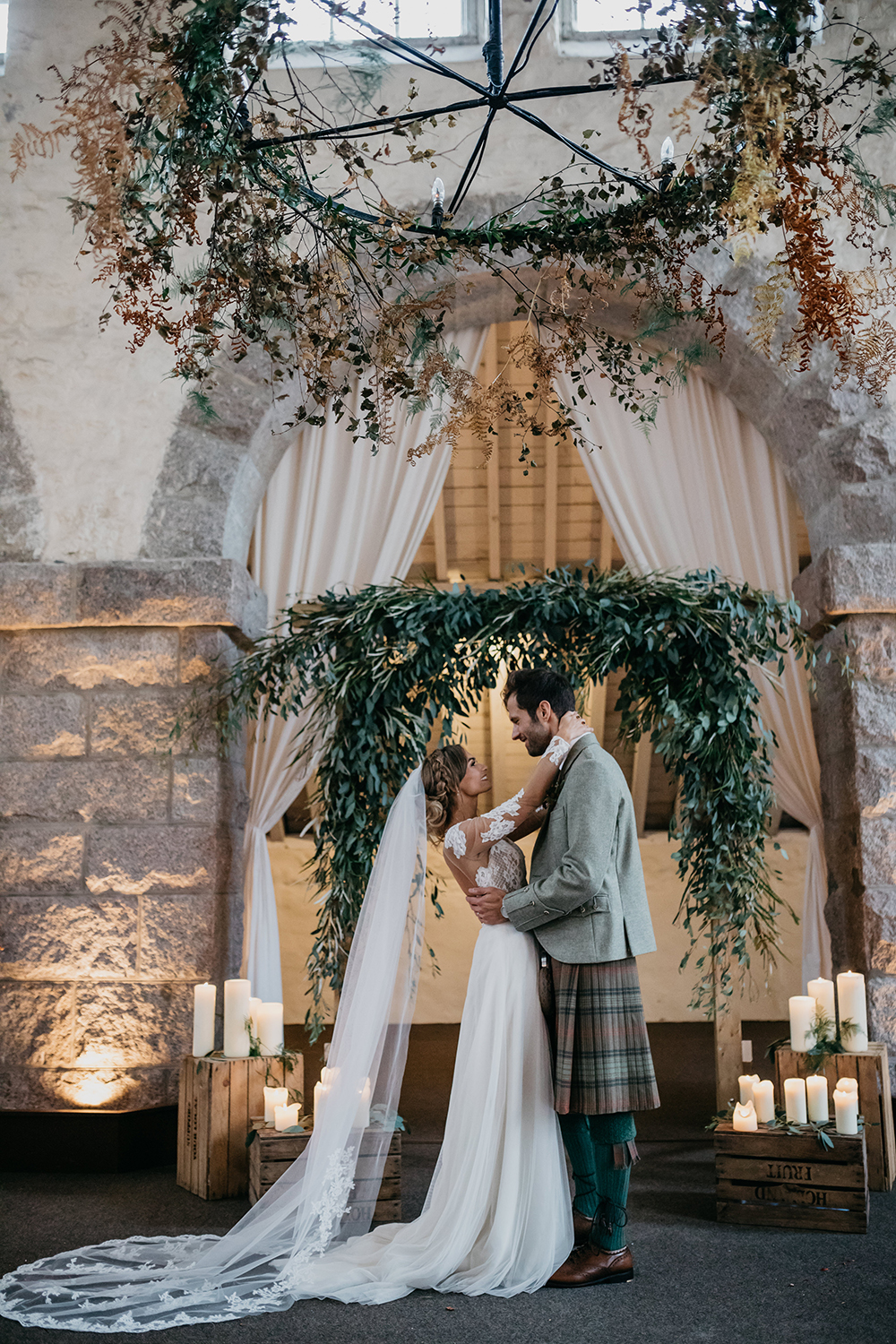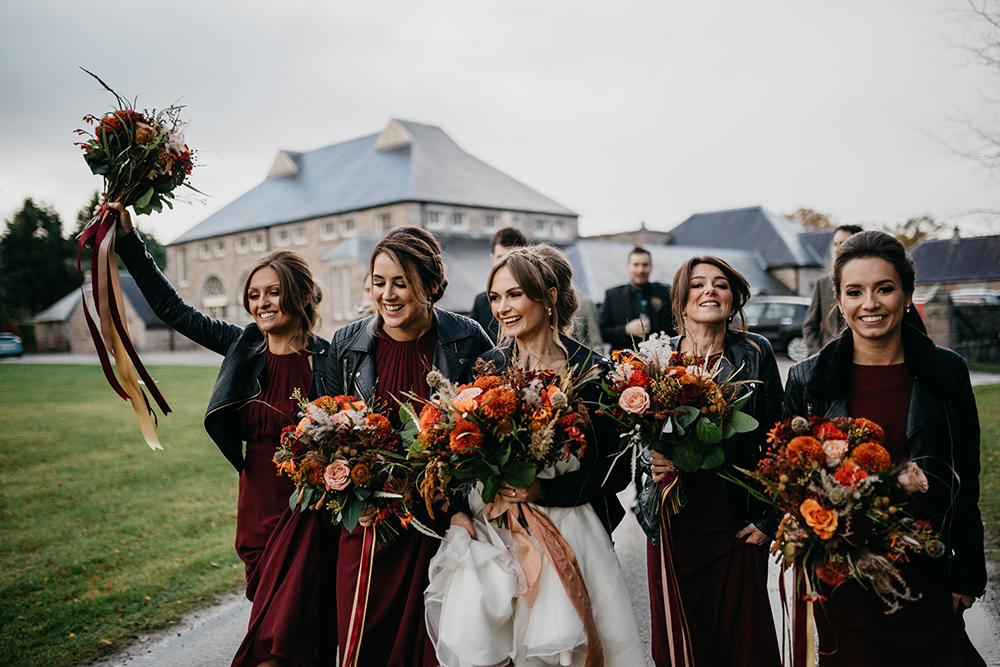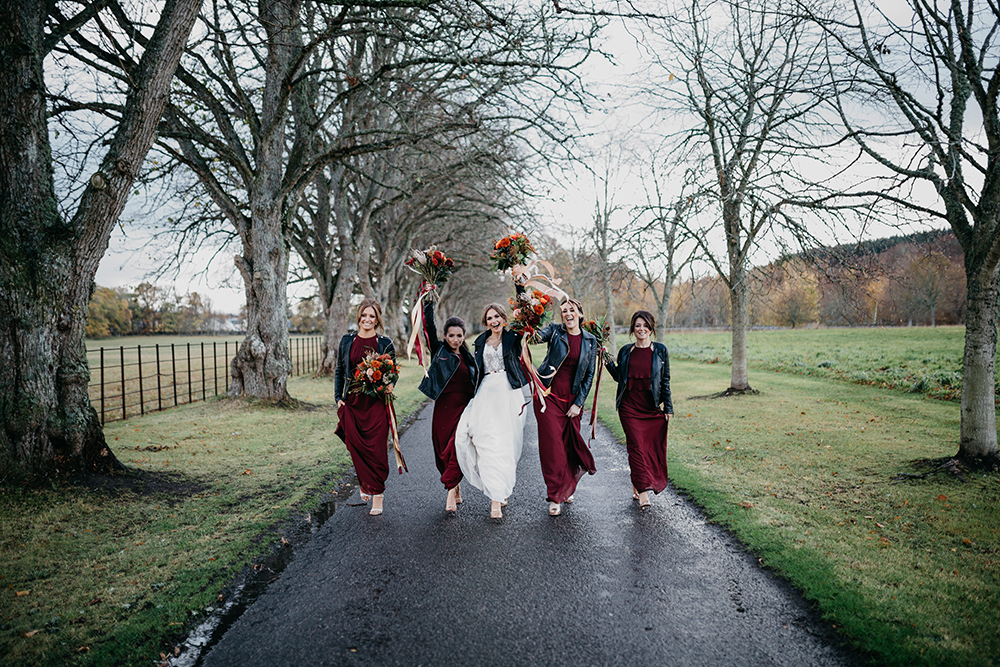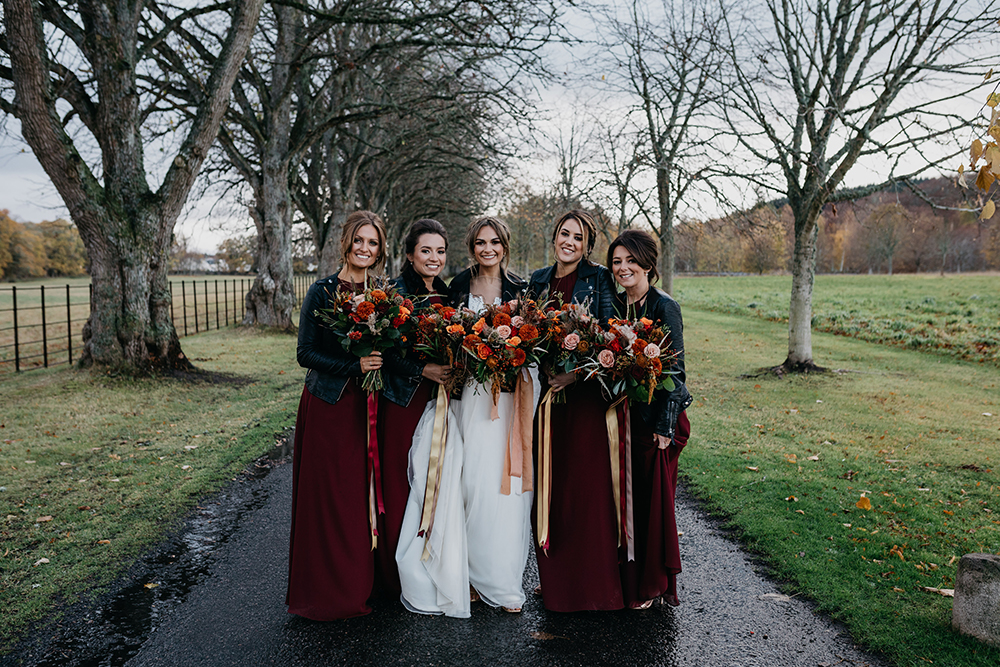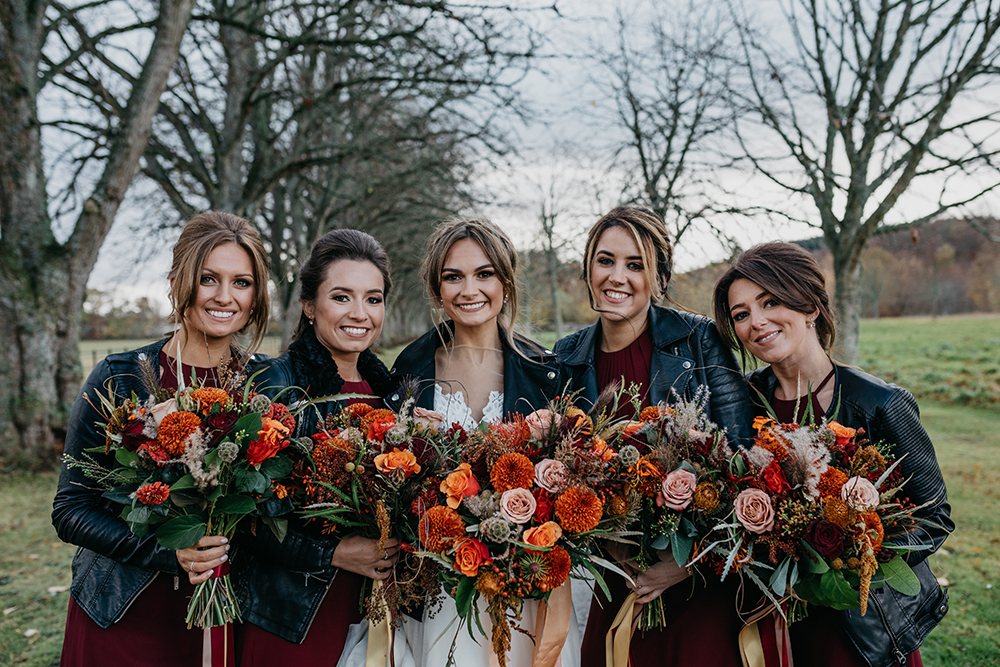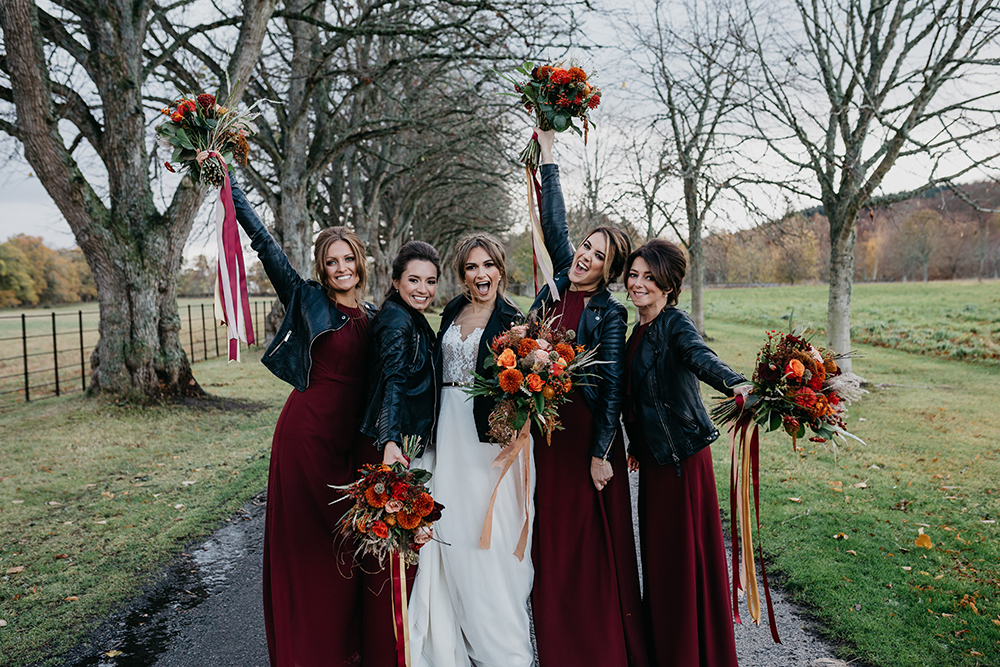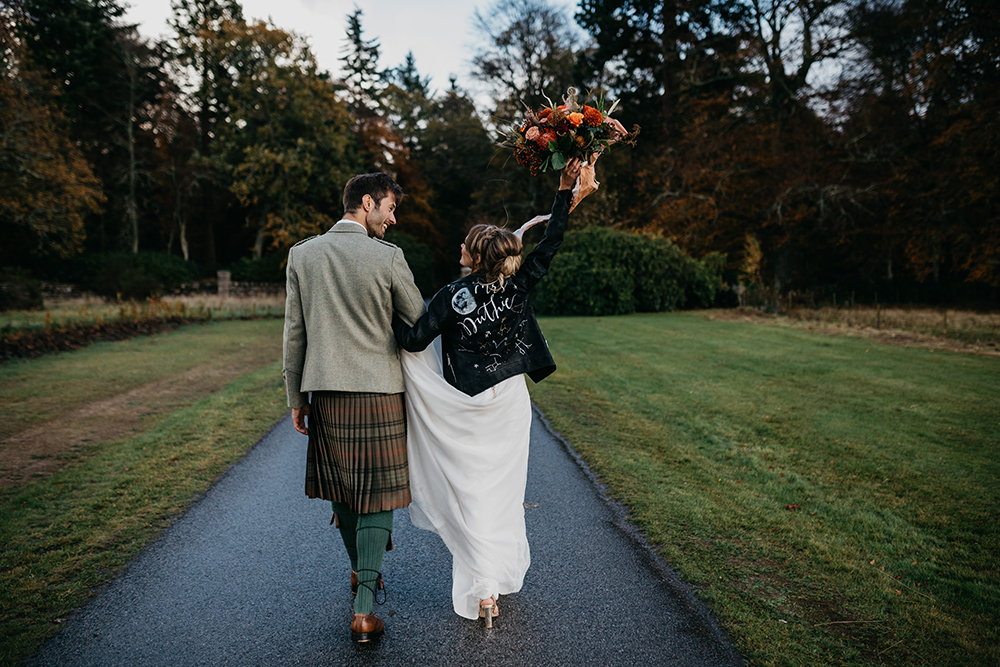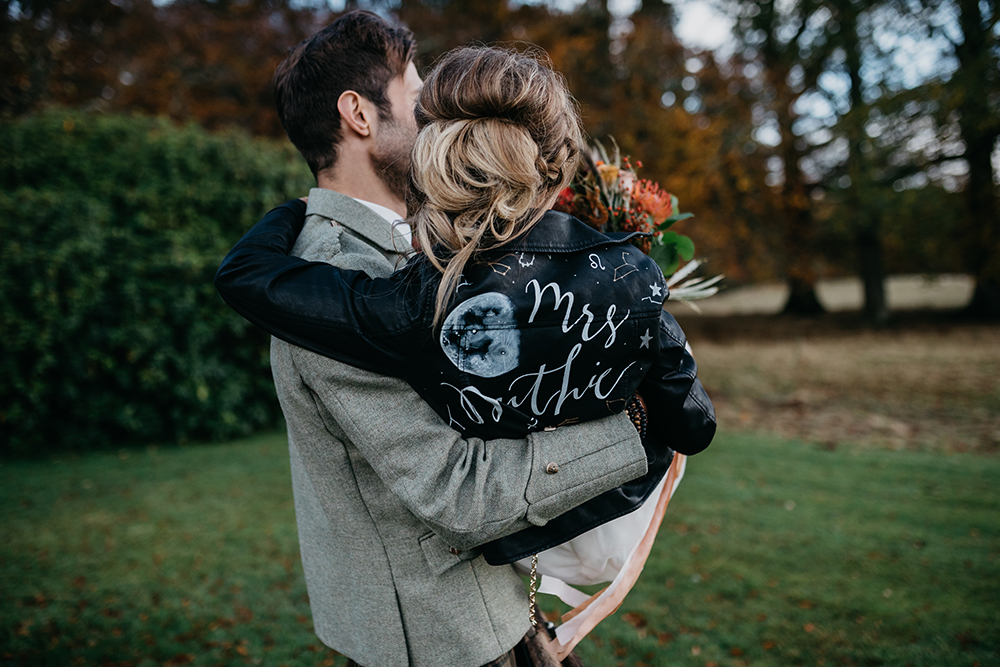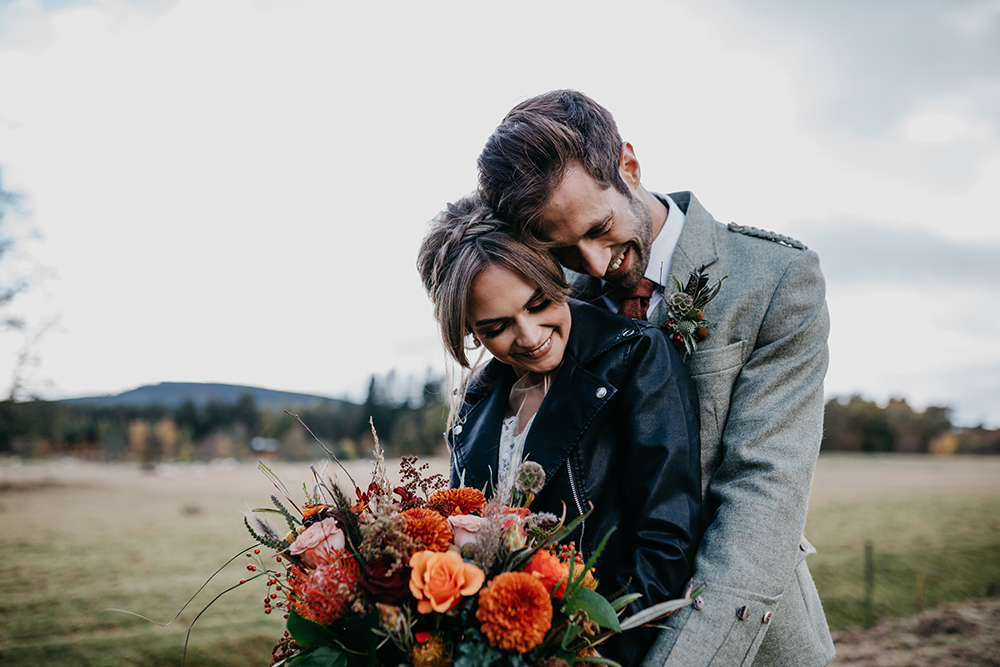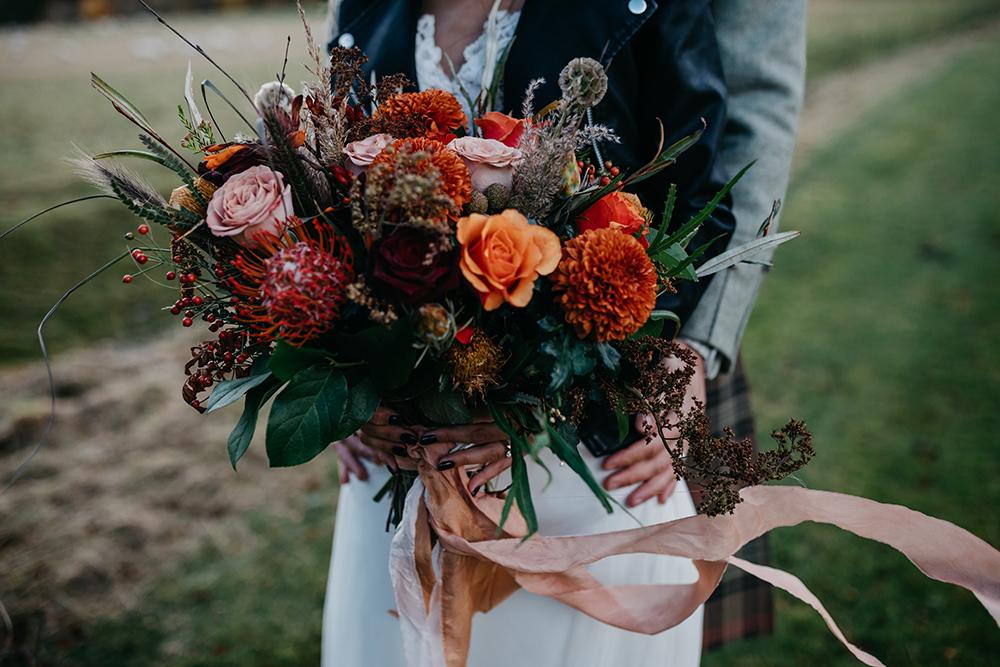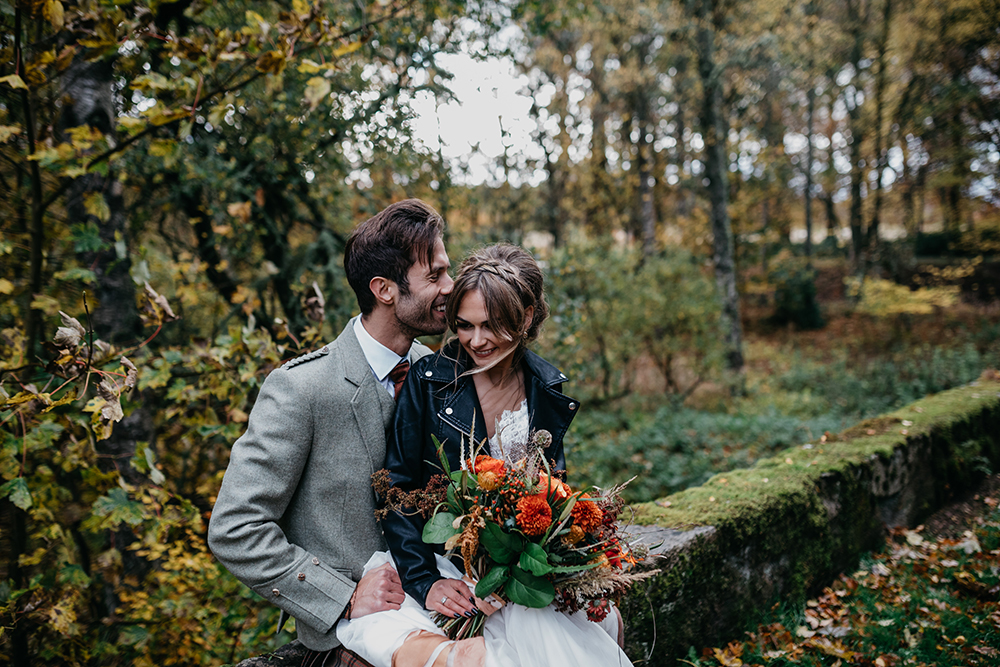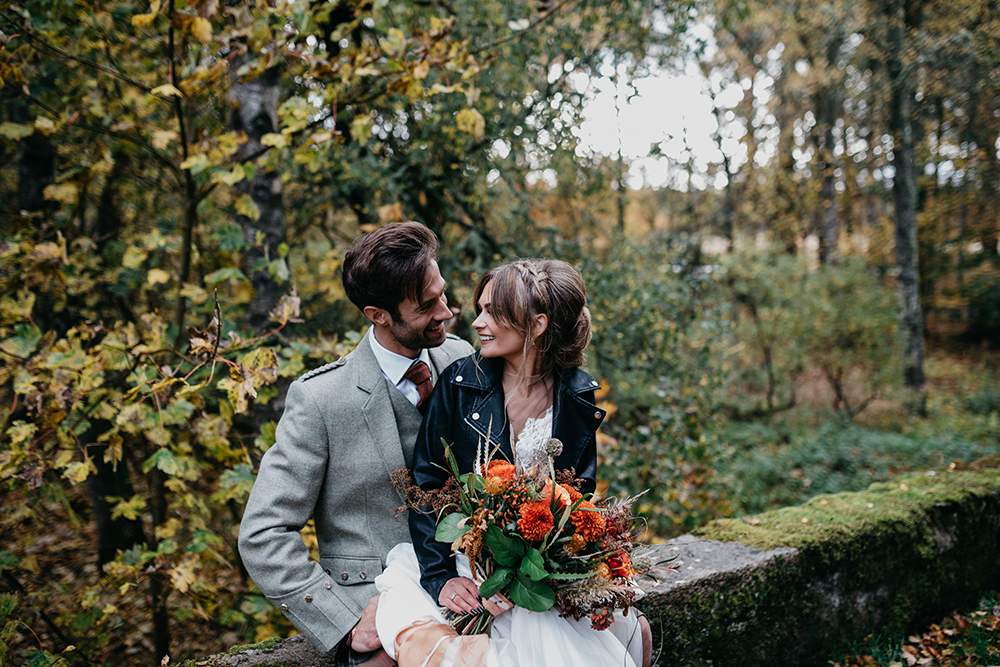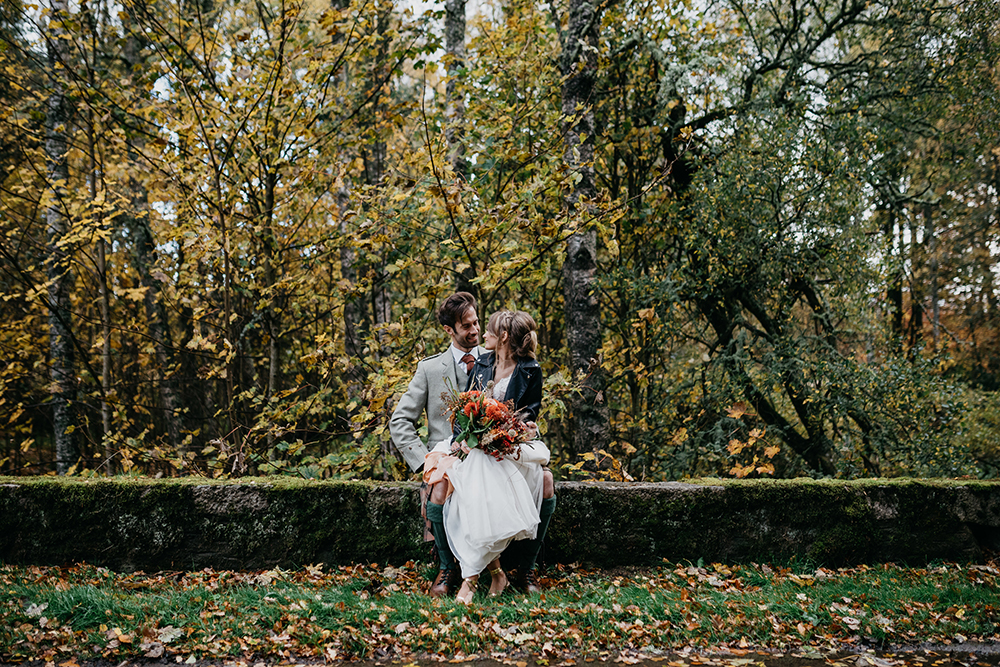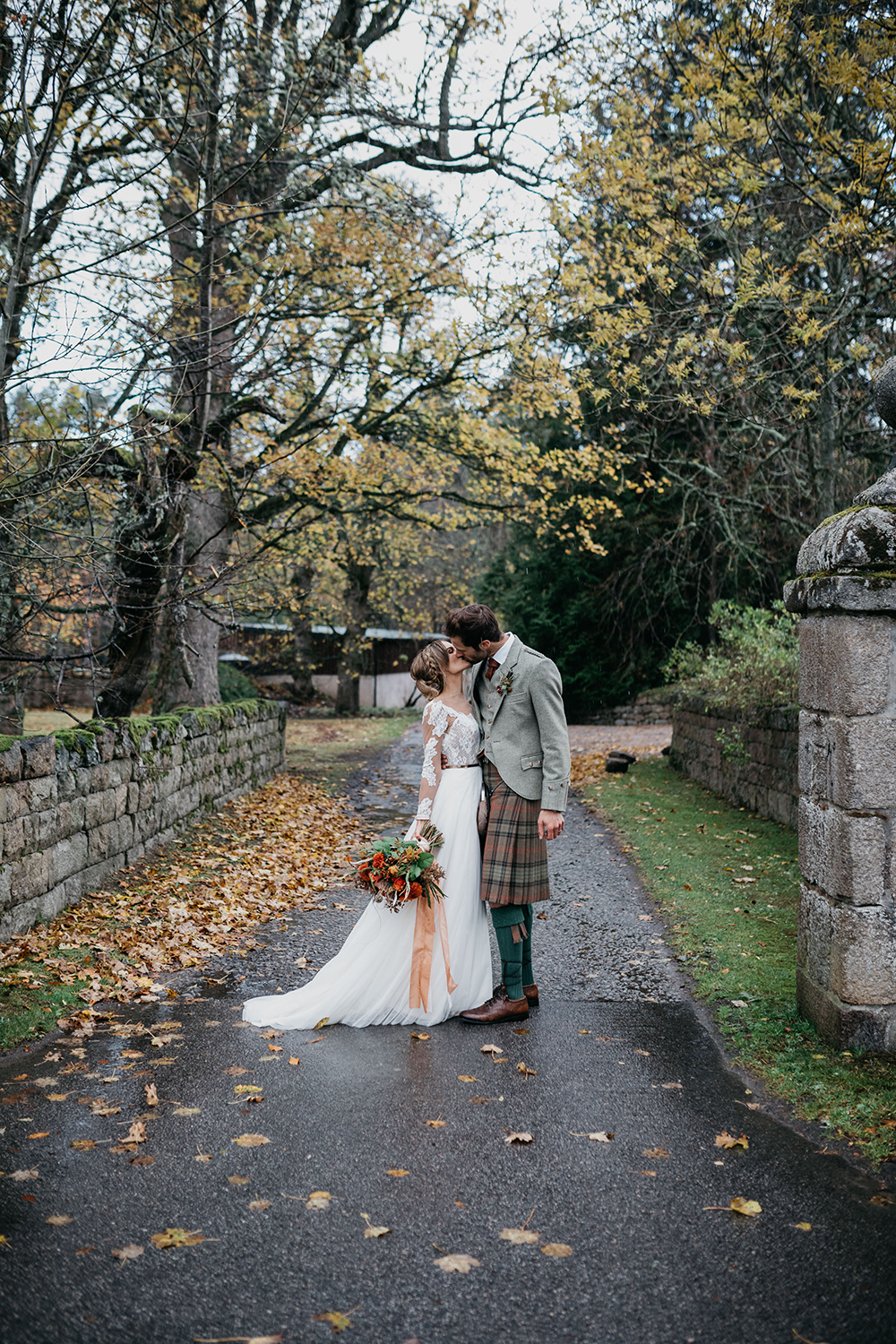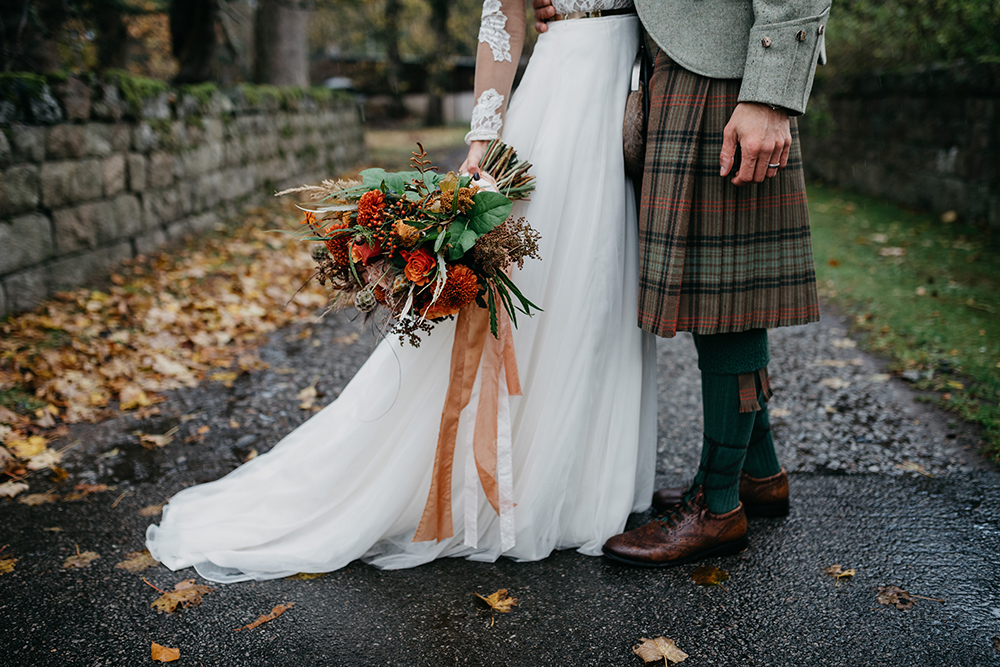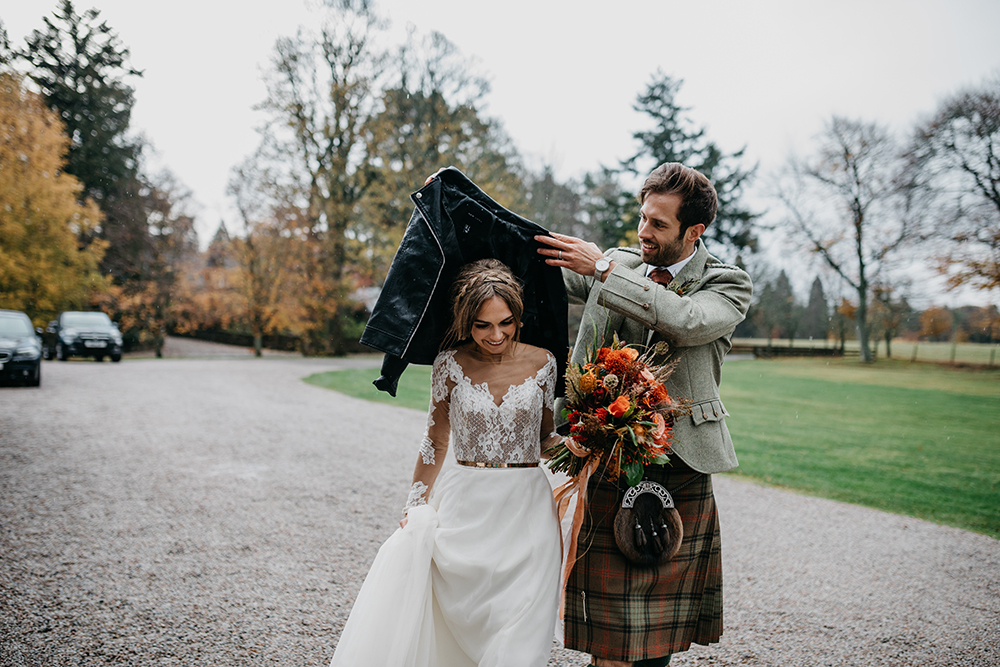 We love deep colours, particularly those which our good friend Mother Nature portrays in autumn! We gave our florist a mood board which was a mash-up of all things autumnal, and even included a photo of a fox in all of his orange glory! I knew that I wanted these kinds of colours in my bouquet, so we worked the bridesmaid colours etc around this (not much goes with burnt oranges/autumnal colours so that narrowed it down for us!).
Our décor process was pretty extensive, and (hopefully) stood out! We were purchasing everything from smaller battery operated fairy lights to wood posts, wheels and ivy to create a 12 ft x 7 ft divider to split the room (which itself split into two parts so could be parted during the evening) and needless to say we needed quite a few trips (and a van) to help get all the things we had made for the wedding out there to the venue.
Cam presented me with a personalised 'Mrs Duthie' leather jacket and paid homage to our love for the moon and space by getting our birth constellations and the moon phase from the date and time we got engaged drawn on the back by local artist Amy Singer.
I knew I was getting a leather jacket (but didn't know what would be on it) so I had asked my bridesmaids to take theirs too (we always end up wearing our leather jackets at the same time when we're together so it was special to incorporate that into our day), and we got some awesome pictures.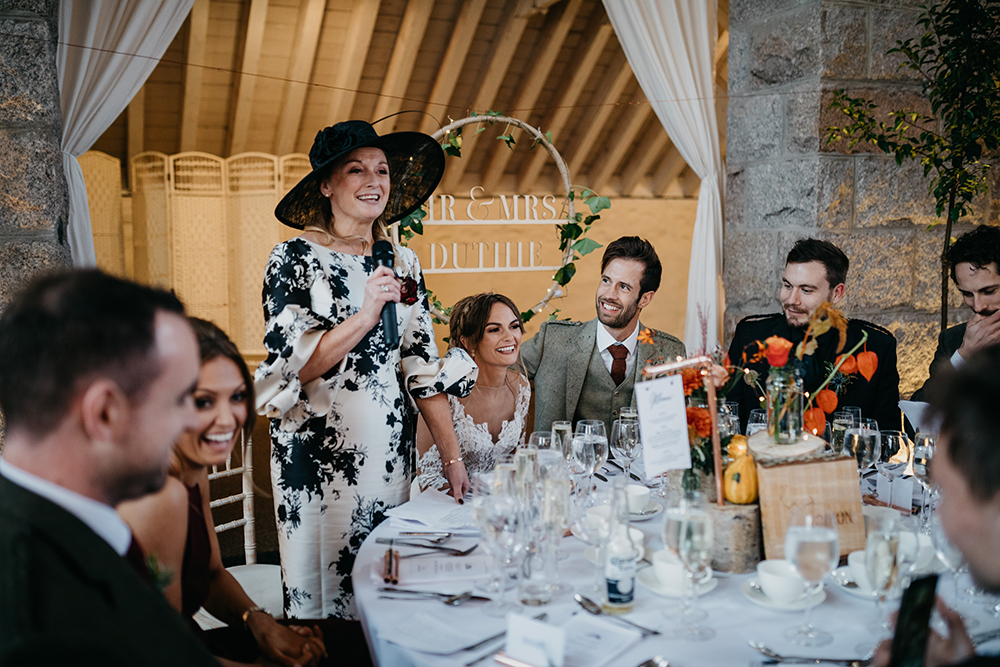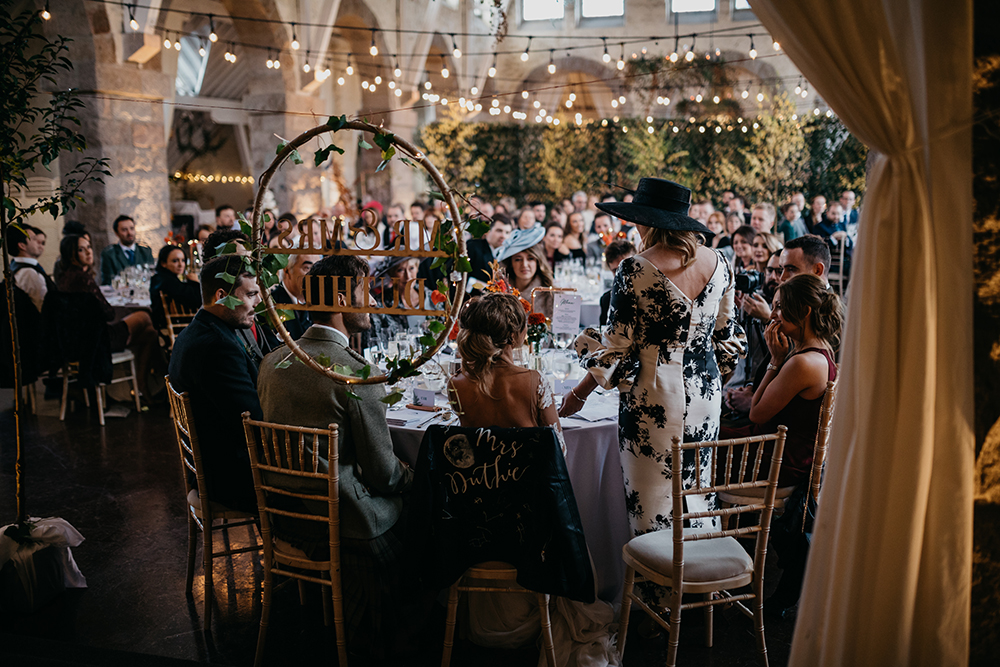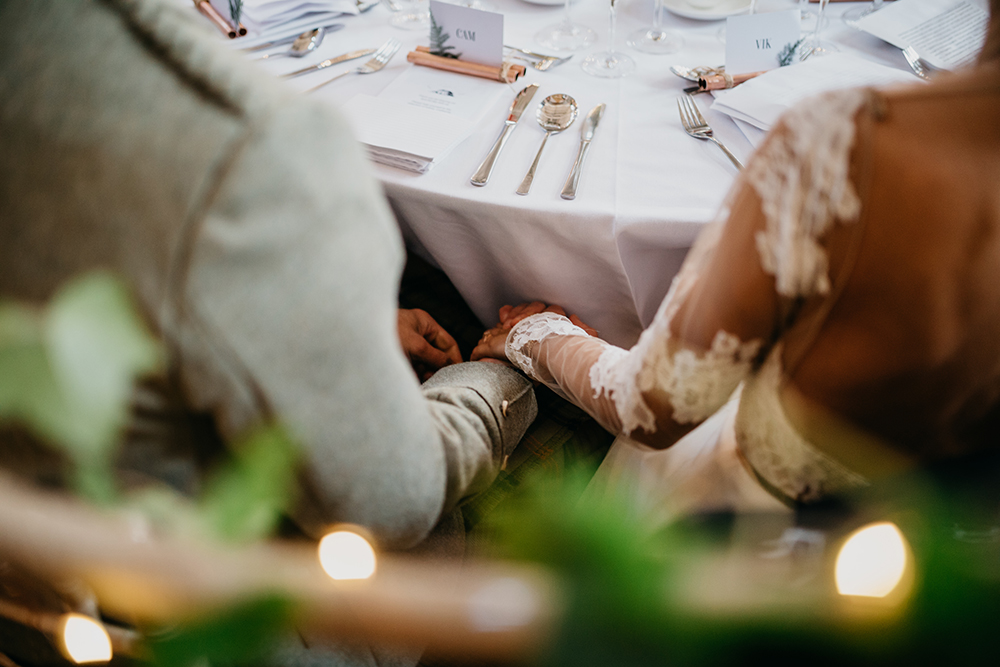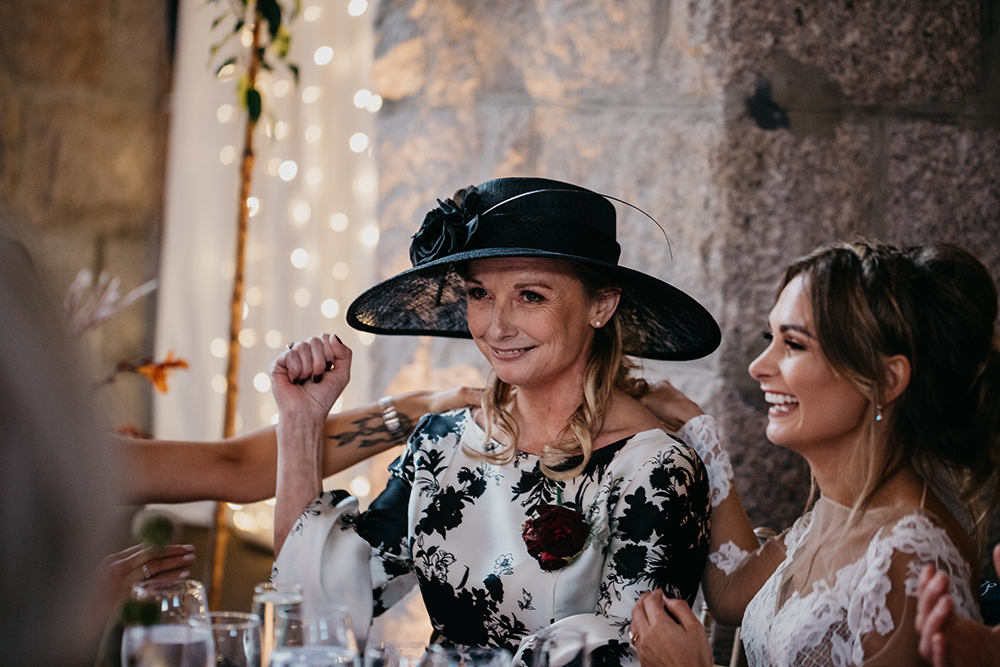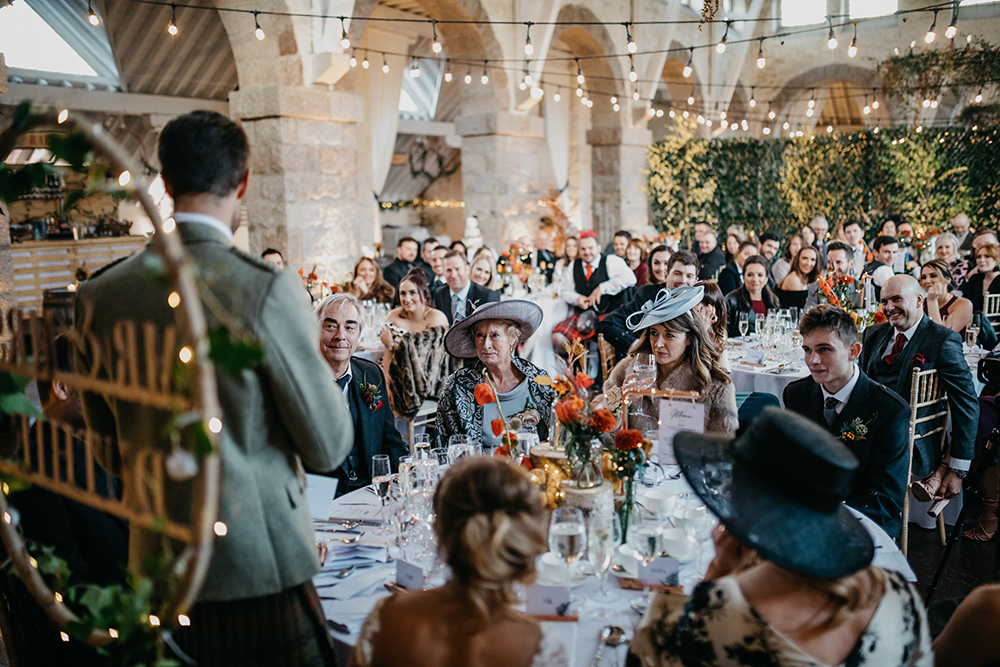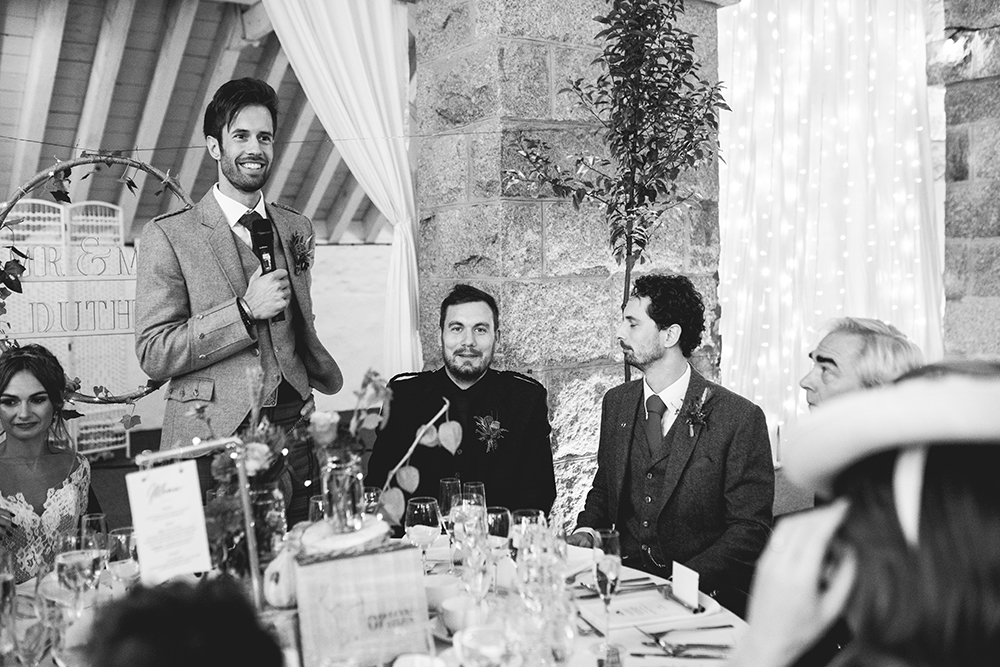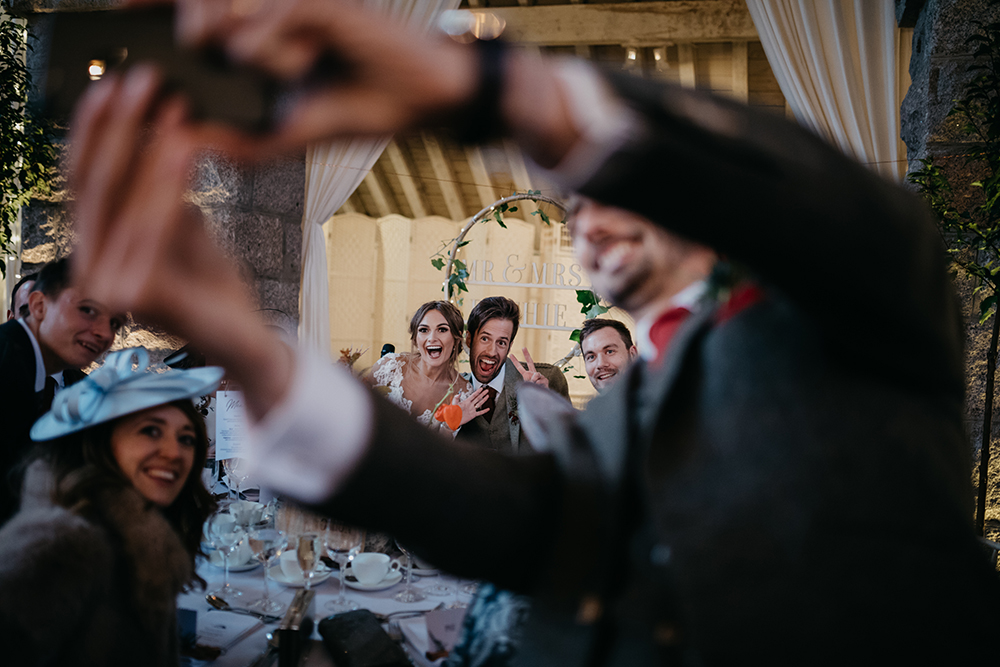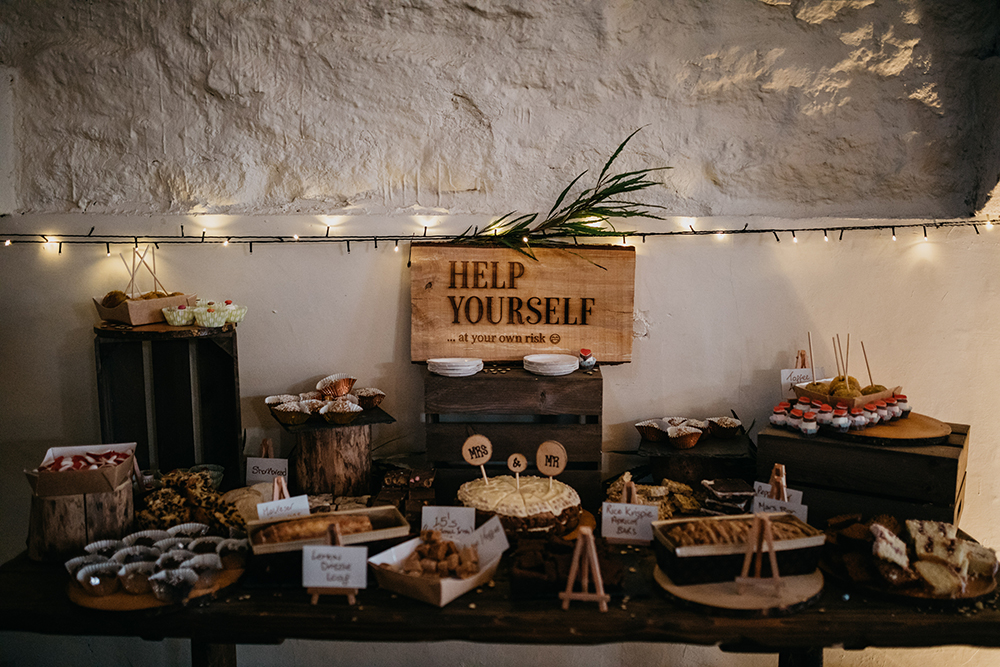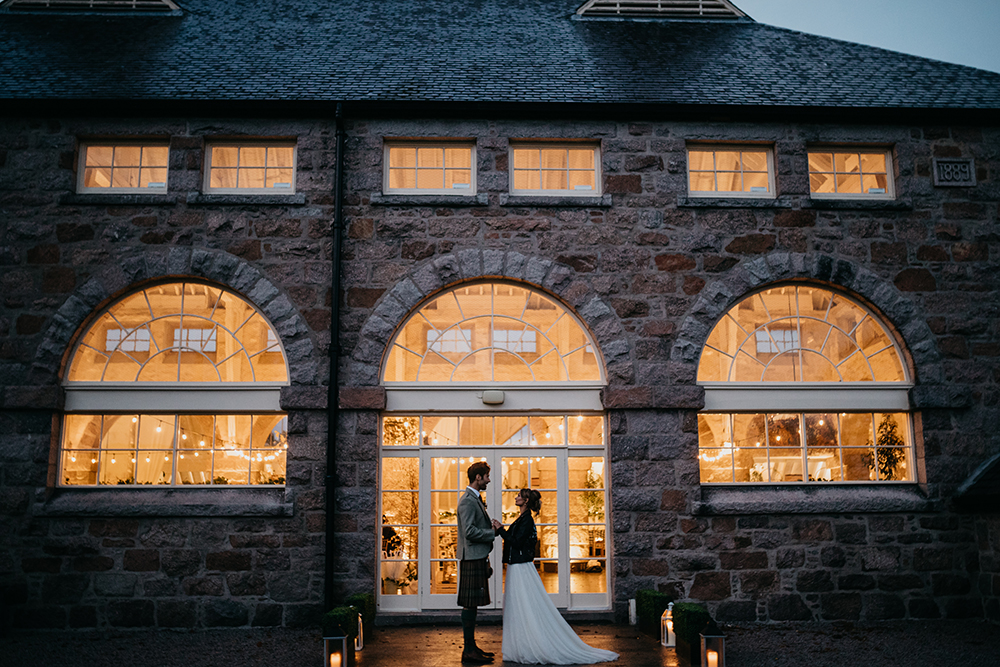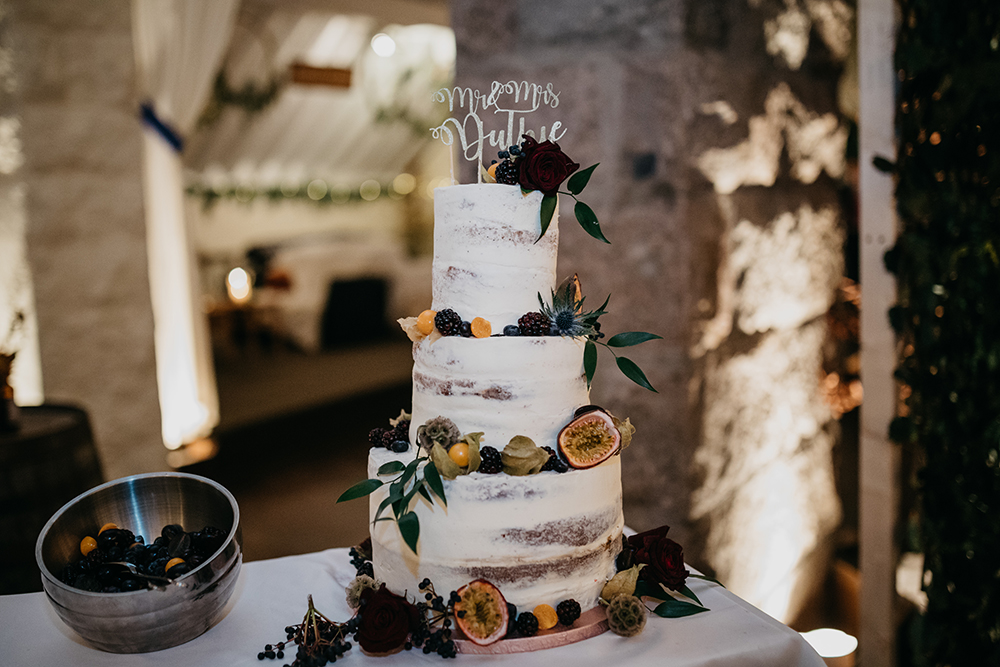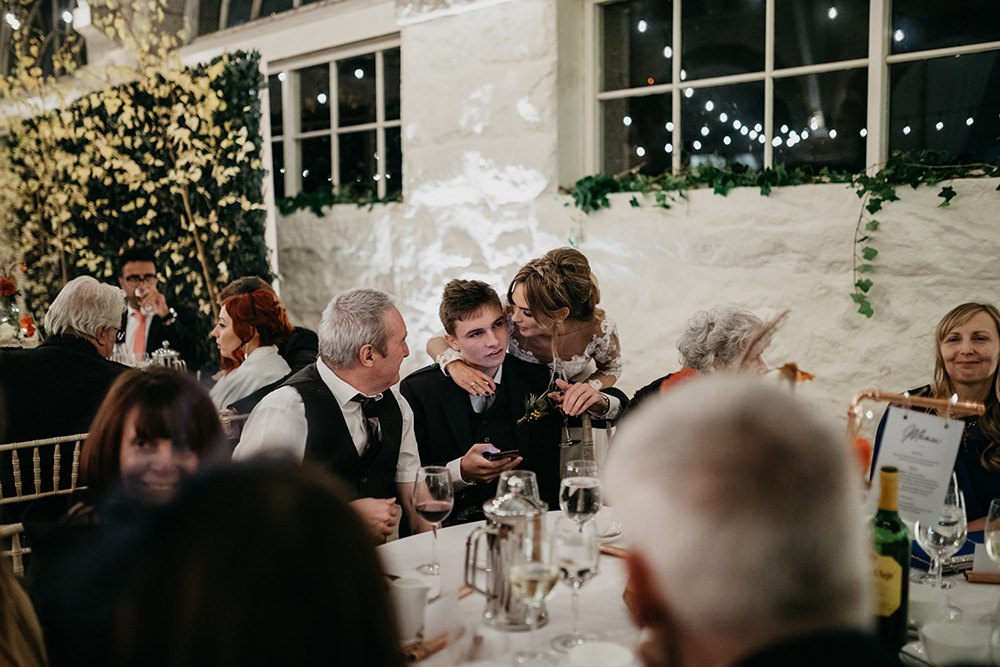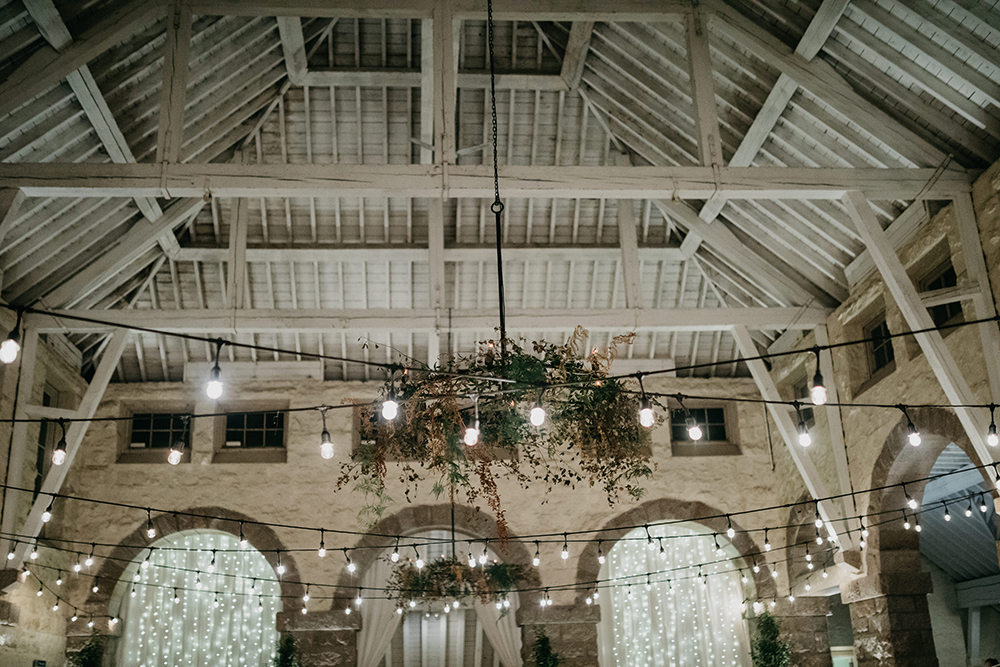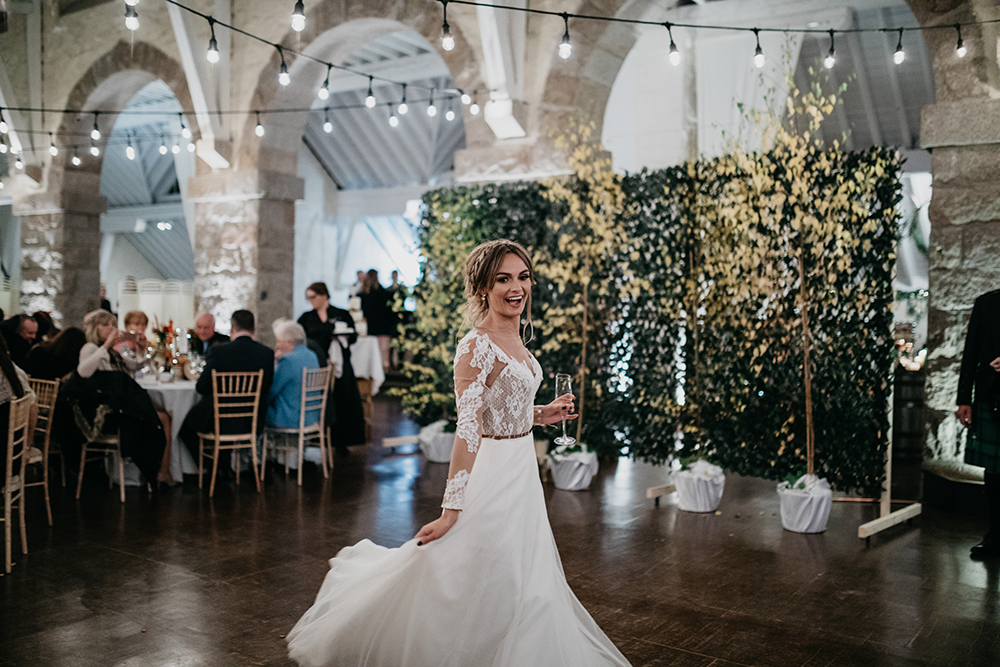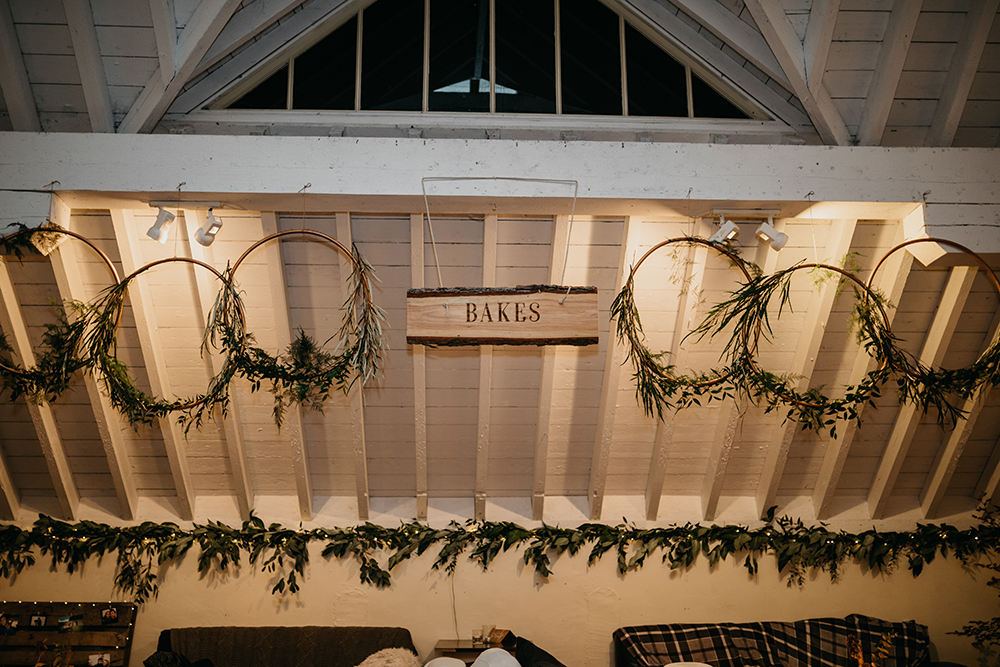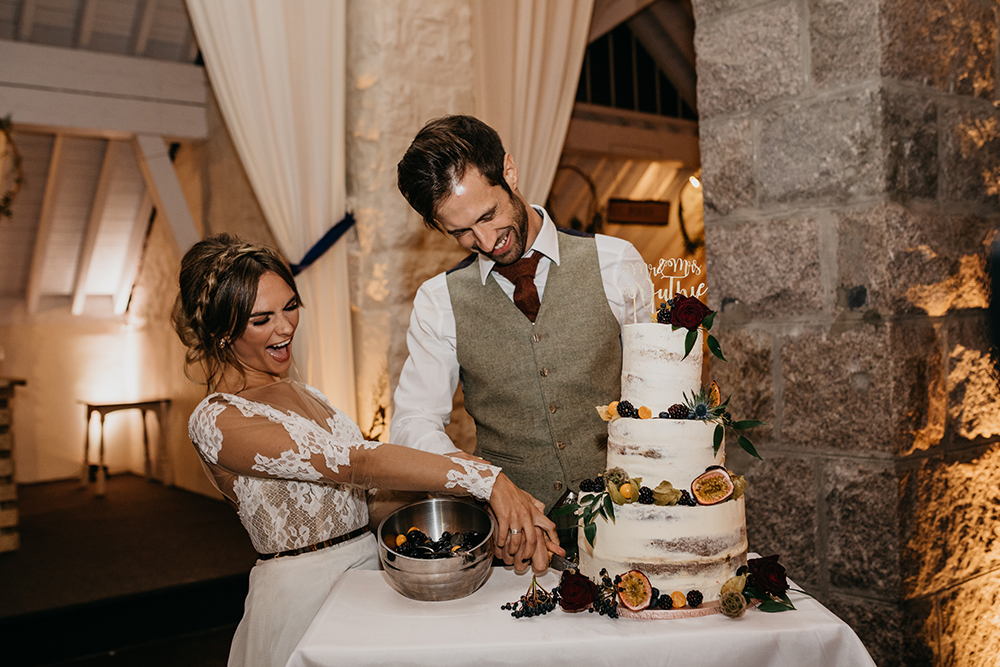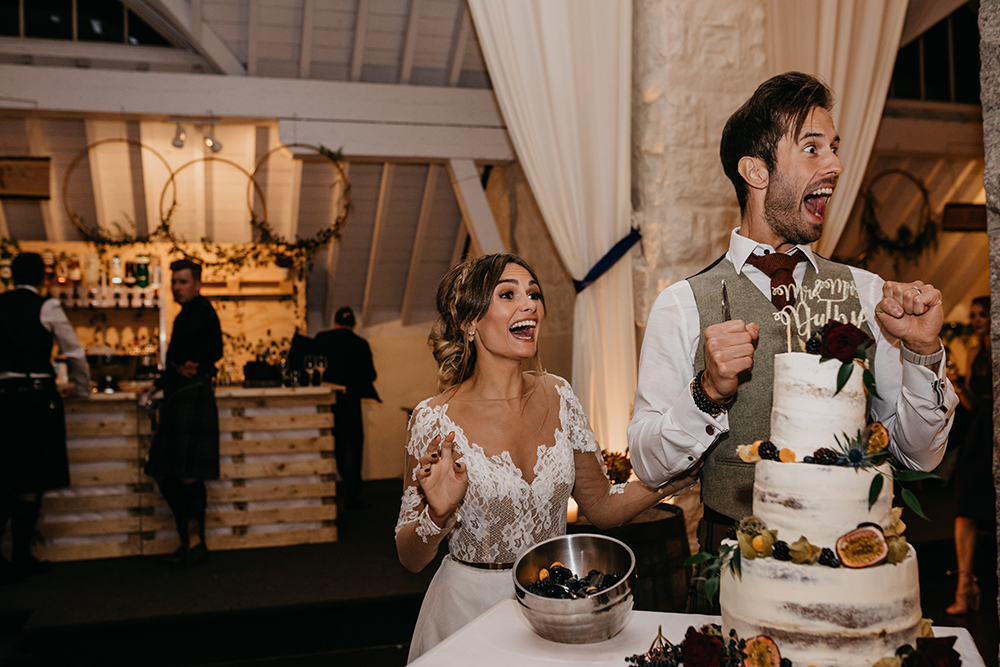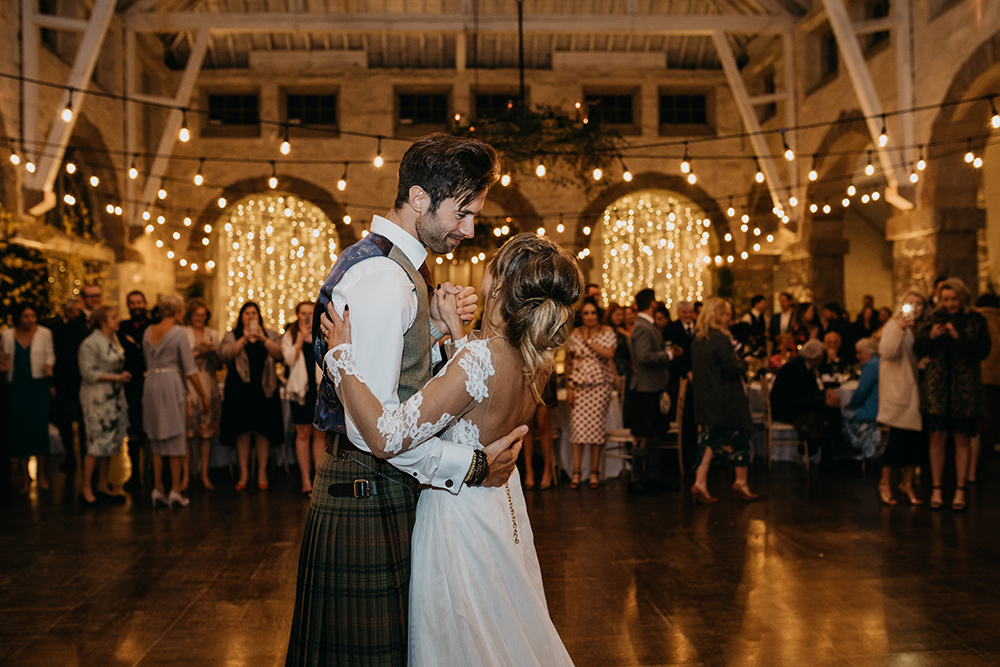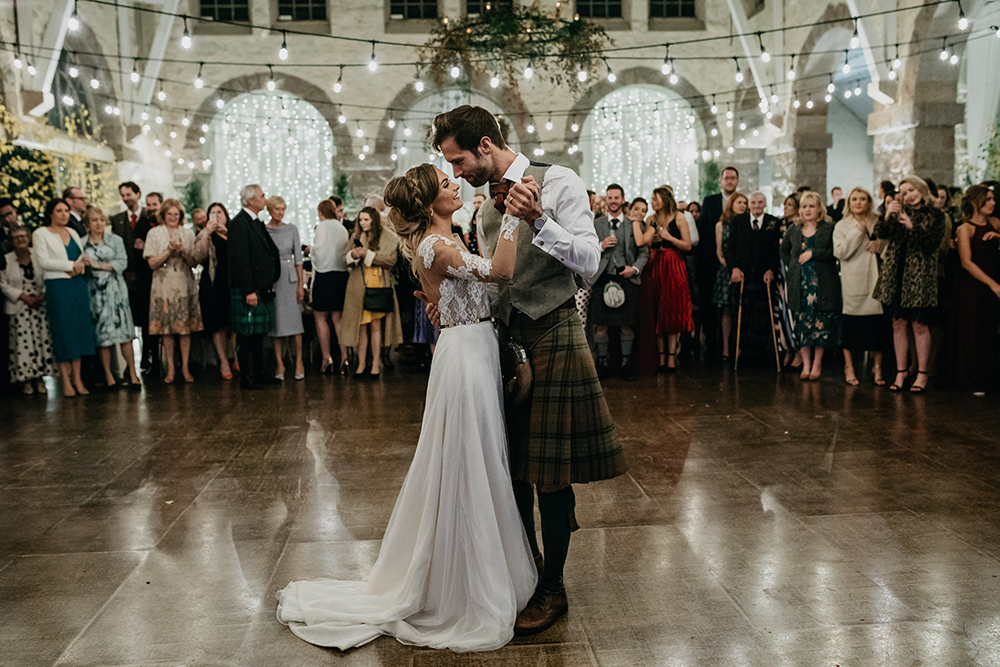 One of my favourite moments was my mum's speech. She is a little nervous and quiet around people she doesn't know but you would never know that during her speech. She had many of us in tears with her stories and words and also provided us with so many funny moments, including ensuring she threw some shade at Cam.
Cam and I love games so we decided to organise a game at our reception with each table working as a team. We chose one person per table to be the captain, and the game was to complete eight tasks as quickly as possible and upload them to our wedding Instagram account which we had created.
Whichever table did it the quickest, won a bottle of Café Patron for their table. Some of the tasks were a table selfie, a forward role, a yoga or dance move, people kissing, people laughing, favourite table decoration etc. As soon as Cam announced the game, it was competitive carnage which made for great viewing (and pictures)!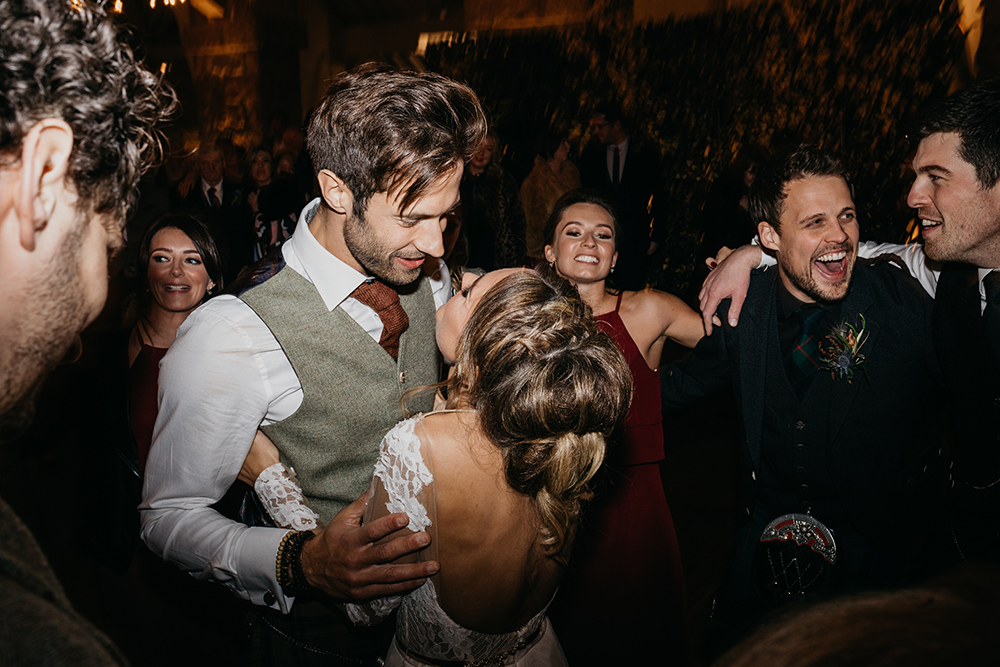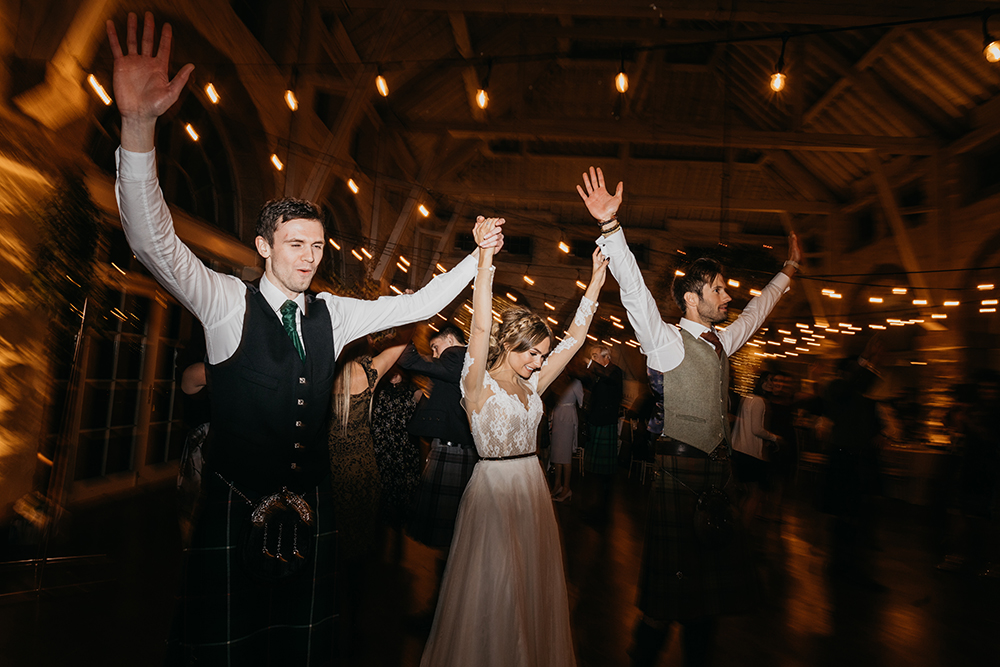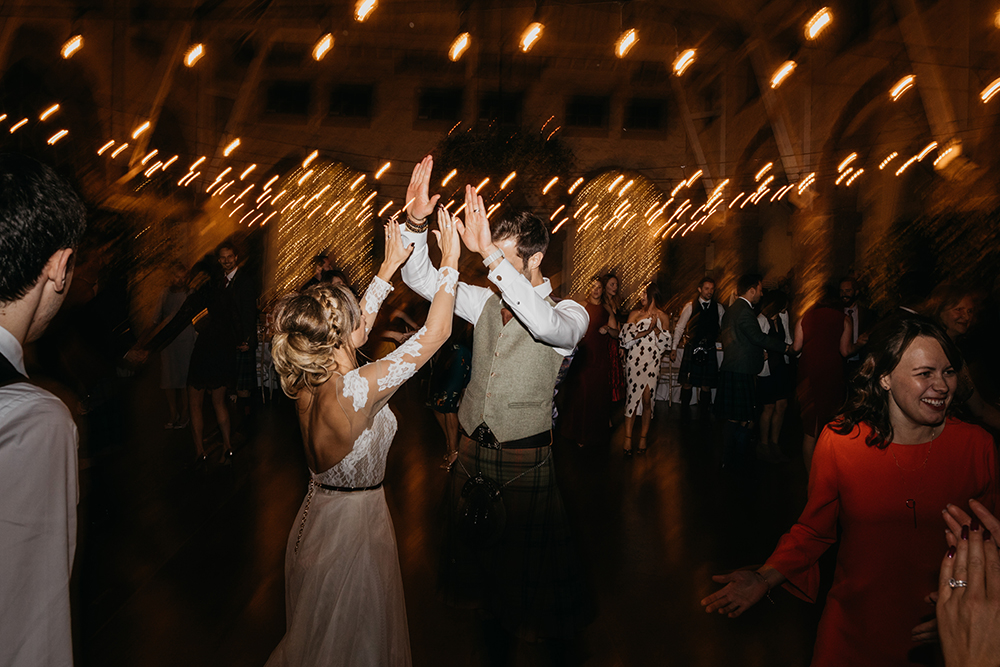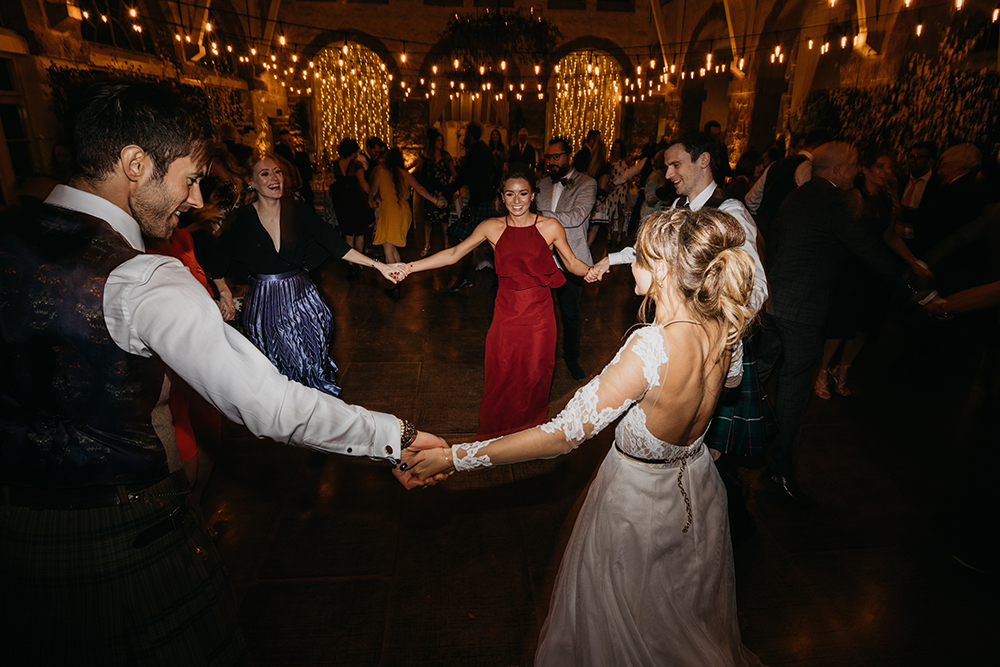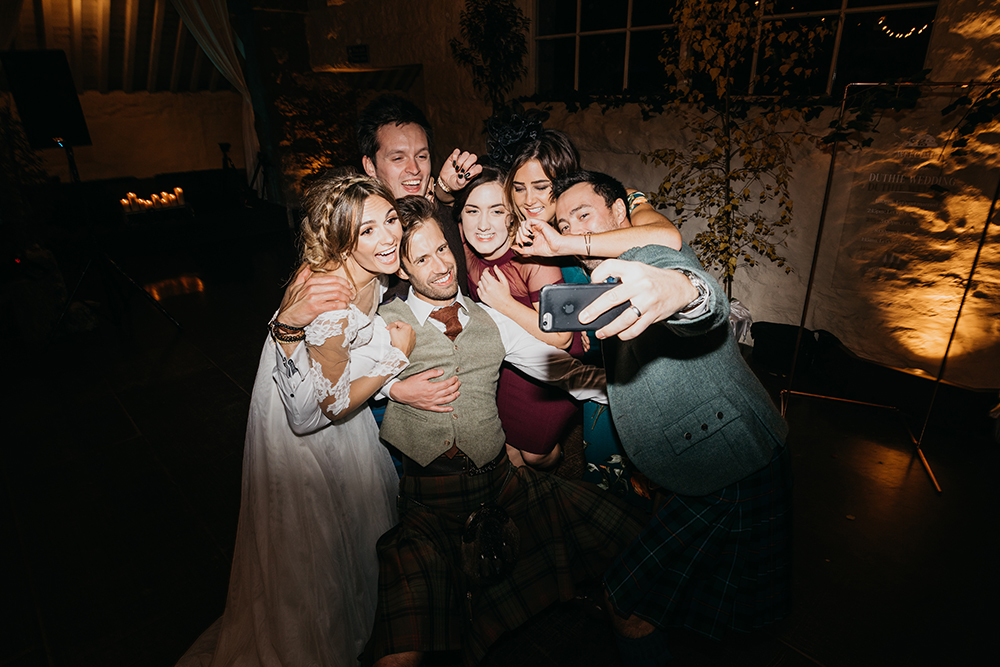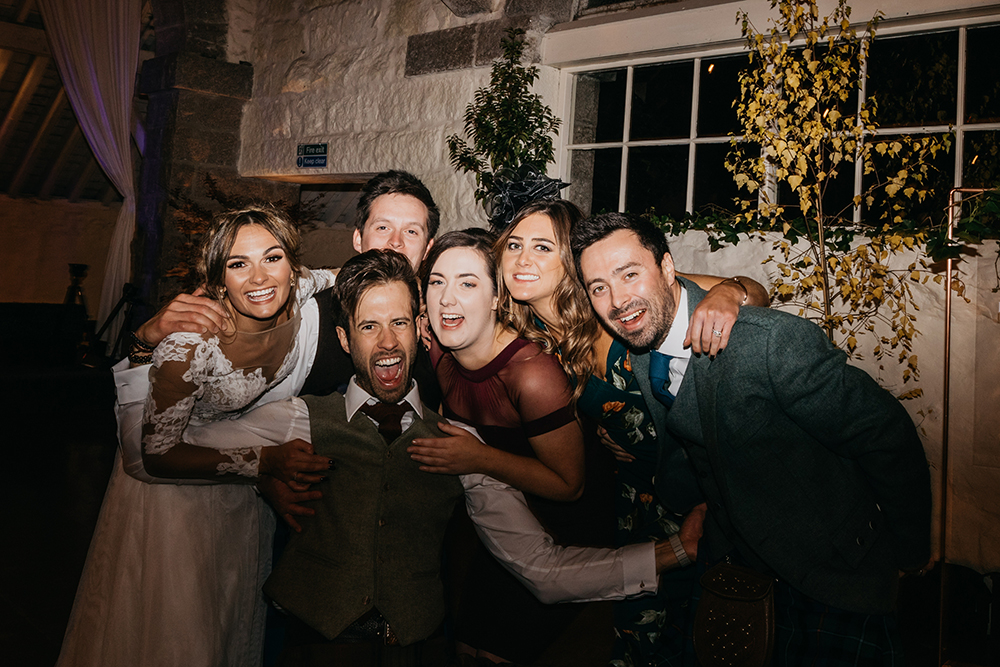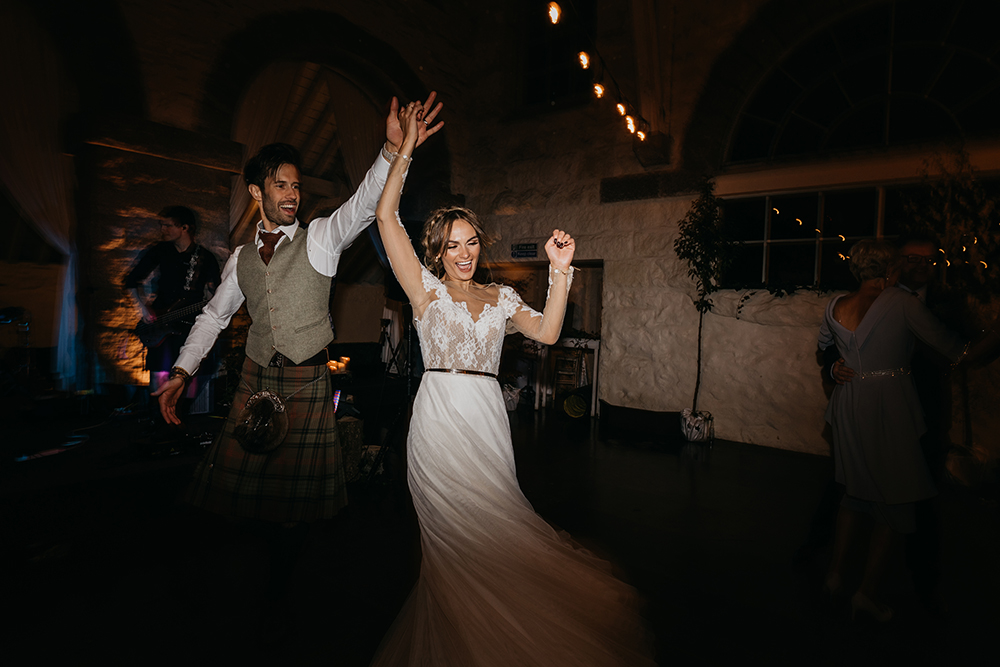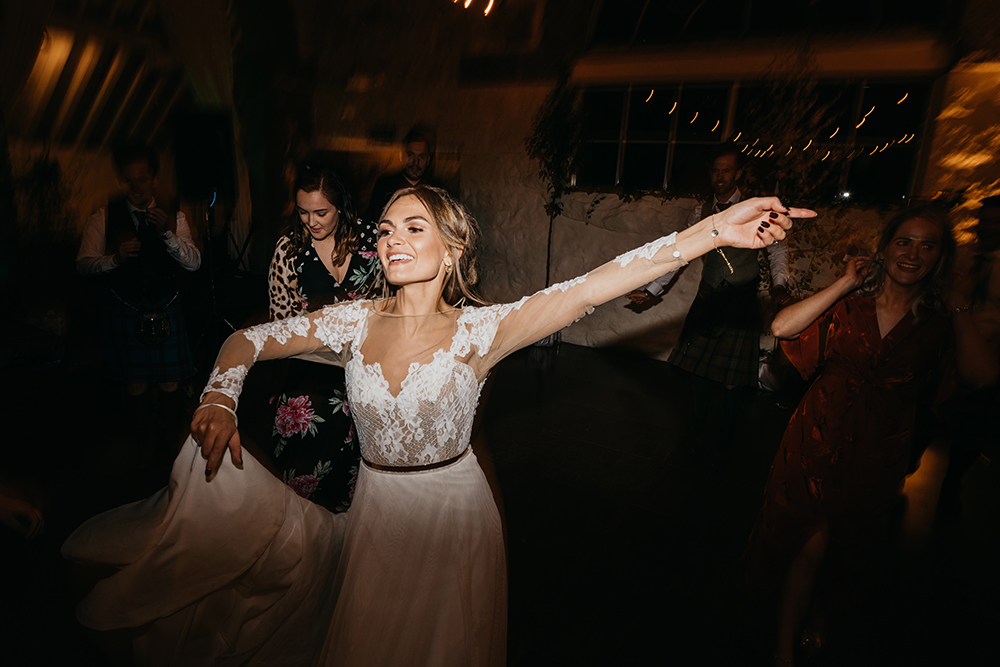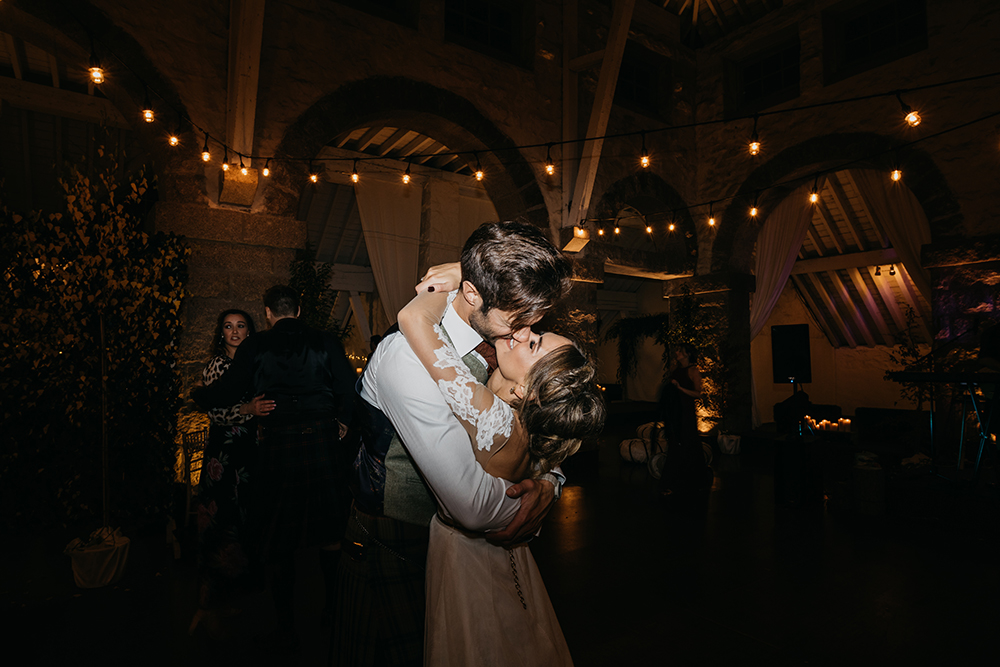 After our wedding we felt amazing! We felt so in love, and part-relieved/ part-want-to-plan-another wedding. But most of all we were happy and grateful to have such amazing friends and family, and to get to spend the rest of our lives goofing around together. Nothing has changed now we're married, and that's important.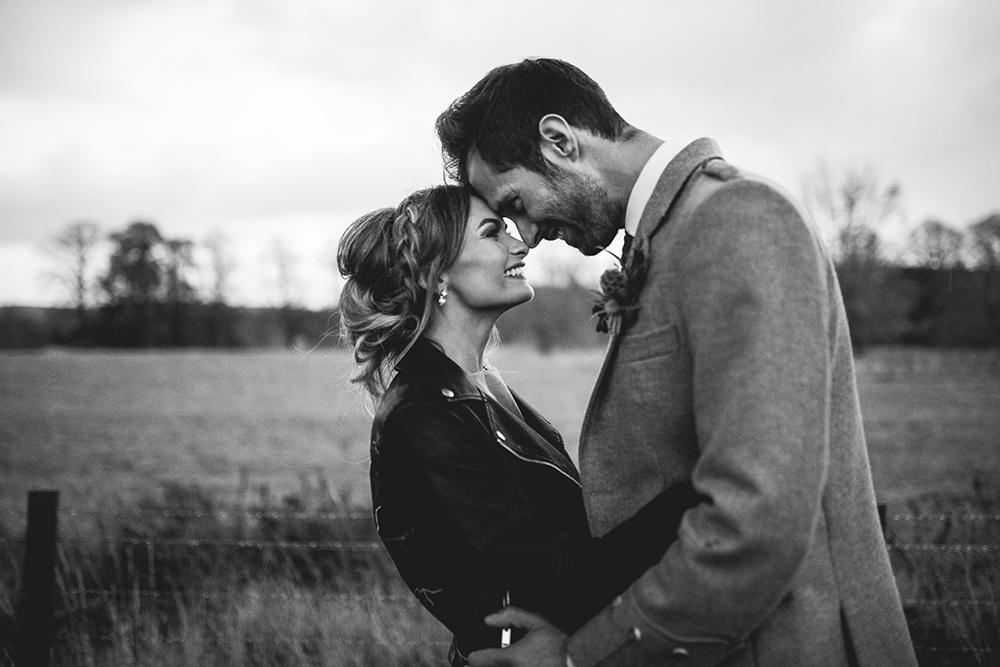 Photographer: Fairytale Asylum Photography | Venue: Coos Cathedral
Florist: Robin's Egg Flower and Event Design | Cake: Elé-Anne Cakery
Videographer: Storybook Films | Bride's dress: Hayley Paige at Ivory Pinks Bridal
Bridesmaids' dresses: JJ's House | Groom's outfit: Neil Selbie & Co
Celebrant: Colette Strachan at Humanist Society Scotland Ceremonies
Daytime music/entertainment: Daniel Mutch | Evening music/entertainment: Bahookie