Bright Lights of Vegas at Dalziel Park Hotel, Motherwell
Kirsty-Ann Gardiner and Liam Rowatt Friday 6th February 2015 St Bernadette's Parish and Dalziel Park Hotel, Motherwell Photographer: View Photography For some couples, the idea of a wedding abroad just isn't possible but, what if you could bring your dream destination to your Scottish wedding? That's exactly what Kirsty-Ann and Liam did at their wedding […]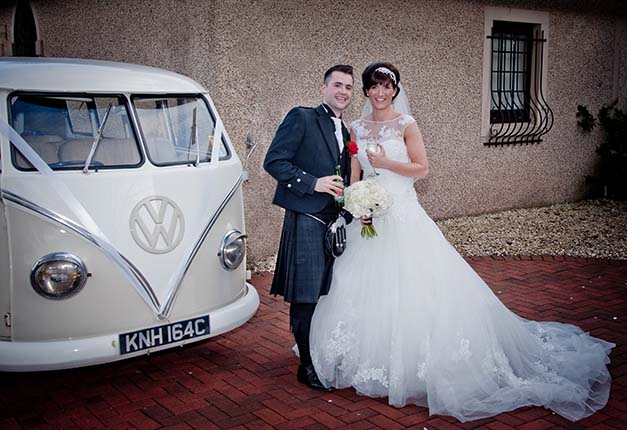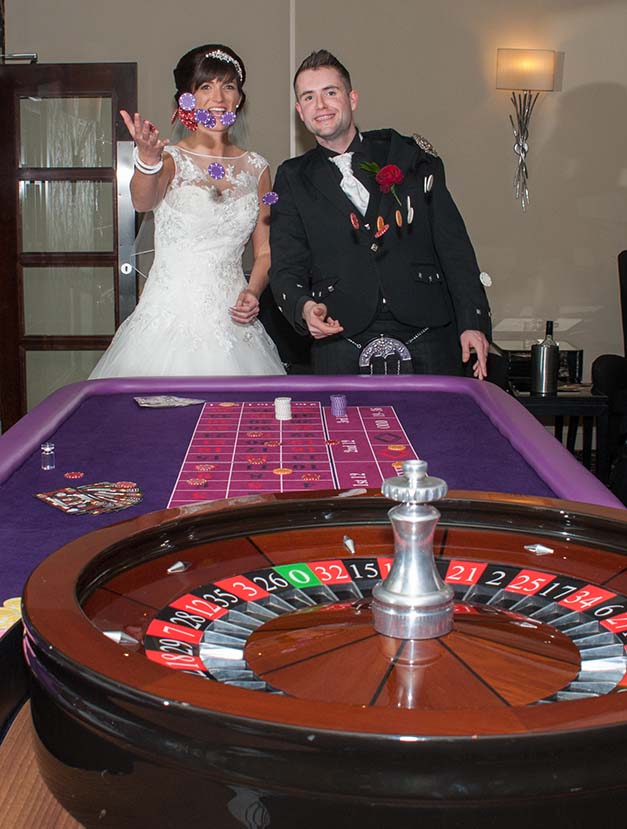 Kirsty-Ann Gardiner and Liam Rowatt
Friday 6th February 2015
St Bernadette's Parish and Dalziel Park Hotel, Motherwell
Photographer: View Photography
For some couples, the idea of a wedding abroad just isn't possible but, what if you could bring your dream destination to your Scottish wedding? That's exactly what Kirsty-Ann and Liam did at their wedding in (not so sunny) Motherwell in February this year.
"We always wanted to opt for a classy black and ivory colour scheme; it's a combination that'll never go out of style," says bride Kirsty-Ann. "To add some fun, we decided to add a hint of Viva Las Vegas to the proceedings, and incorporated red into the scheme in the bridesmaid's flowers."
The couple named their tables after Vegas hotels and gifted their female guests with poker chip favours, as well as hiring huge light up love letters for their reception.
"We also hired a roulette table and gave our guests fun money to use with our picture and wedding date on them," she says."The winners got a bottle of champagne " a lovely touch!"
Planning their wedding was all about instinct and even though the couple already had their original venue booked and sorted, when they visited Dalziel Park Hotel, they knew it was the one.
"We both turned to each other and knew this was the venue we both wanted. We even brought our wedding forward three months to guarantee that we could get the venue!" gushes Kirsty-Ann.
Again, Kirsty-Ann followed her heart when it came to her wedding dress, saying: "I went into The Wedding Store in Newhouse knowing exactly the style of dress I wanted; however as soon as I tried it on, it just didn't feel like The One."
Kirsty-Ann says she "instantly fell in love" with the stunning Persia Modeca gown she opted for in the end. She opted for blinged up white Converse trainers from Blingderella, a company often used by celebrities! Cool and comfy; exactly our style!
The couple ended the night with a DJ reception, after taking to the floor for their first dance as husband and wife to Lifehouse's You and Me with a particular spring in their step. "We had a few dance lessons together before the wedding," says Kirsty-Ann. "Even though I'm a dancer, slow dances aren't my strong point or Liam's!"
So now that the day is over, what do the couple say is the best thing about being married?
"We'd been together for 10 years before the wedding so it did feel like a natural progression to tie the knot," reflects Kirsty-Ann. "It feels great to be able to call him my husband, although we're still getting used to it.
On our honeymoon, Liam downgraded me from wife all the way to girlfriend when asked who he was there with; he's definitely not got used to the husband and wife label yet!"
ABOUT VIEW PHOTOGRAPHY
View Photography are proud to be winners of a selection of awards from being voted the most popular wedding photographers in Glasgow and Scotland by the Wedding Industry Expert Awards.
Contact View Photography by CLICKING HERE. 
Photographer: View Photography. "We booked Robert and Elaine in 2013; after meeting them we instantly knew that they were the photographers we wanted to be part of our day."
Venue: Dalziel Park Hotel, Motherwell
Wedding Filmmaker: Ultimate Moments Videography. "Derek was so professional and discreet during our wedding. Most people didn't even know he was there filming!"
Transport: NIL Limos and Ecosse Cars
Dress: Persia Modeca at The Wedding Store
Groomswear: Ceejays Kilt Hire
Cake: Special Days Cakes. "The service here was outstanding and the cake tasted incredible: classic fruit, vanilla and chocolate with toffee sauce."
Caterer: In house at Dalziel Park Hotel. "The service and the food was unbelievable."
Florist: Thistle Flowers. "Yvonne was so helpful. When my bouquet arrived, I was blown away with how perfect it was. She also provided the candy cart and LOVE letters."
Jewellery: Corinne Smith Design headpiece and Swarovski jewellery. "Liam wore a Micheal Kors watch I bought him as a wedding gift."
Stationery: Lanarkshire Print House. "We loved Jenni's style for our chequebook invites. Very elegant and classy."
Hair: Laura Slaven. "My hairstyle complemented my headpiece and veil perfectly. Laura even helped me into my dress on the day " that's definitely above and beyond!"
Make-up: Katie Malin Makeup Artist. "Our make-up was flawless. Katie is a gem of a make-up artist and definitely someone who I will be using for events regularly."
Roulette table: Big Deal Fun Casino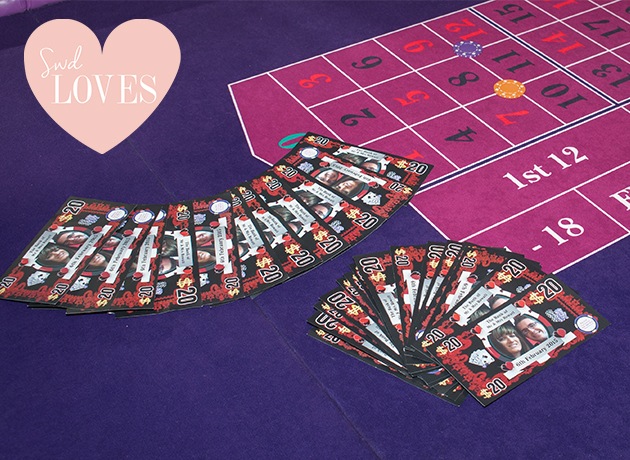 ¦ the roulette table and fun money.
What a great idea and so entertaining for your guests. It really brings Vegas to Scotland!