Tartan Hearts Enjoy Romantic Winter Wedding at Ghillie Dhu, Edinburgh
Alistair and Kate enjoyed a spot of ice skating at their wintery wedding in Scotland's capital city Edinburgh, before a party in Ghillie Dhu.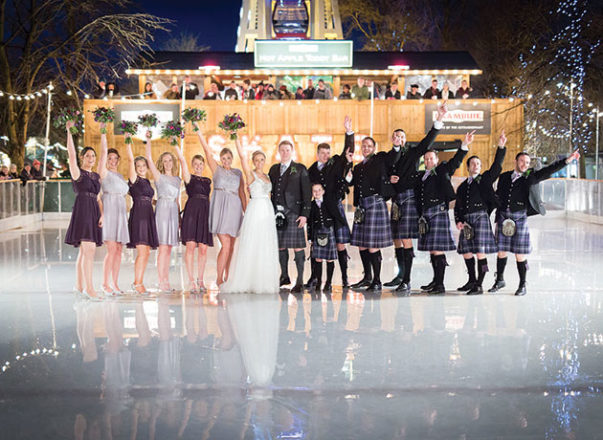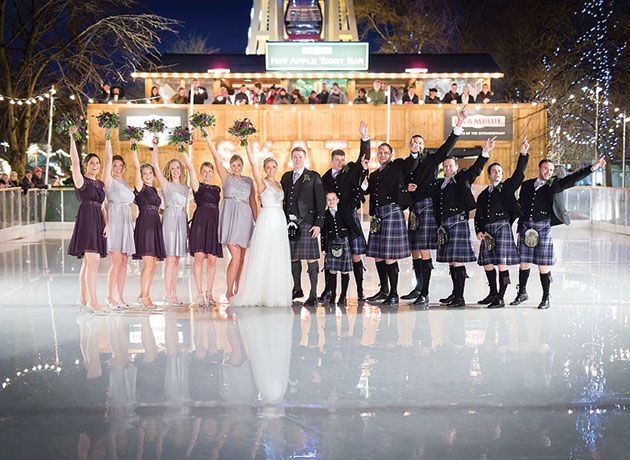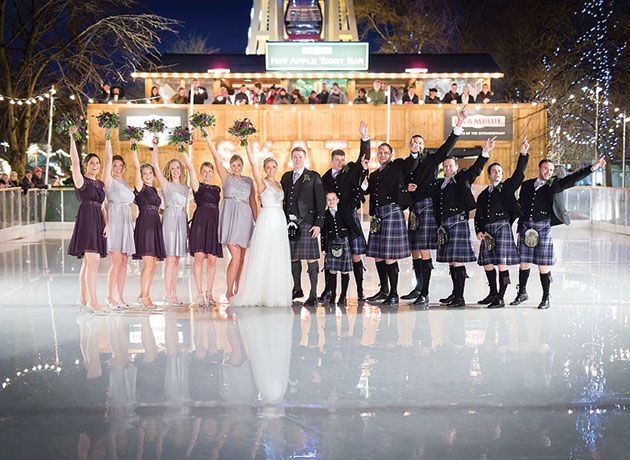 Alistair Smith and Kate Carmichael
Thursday 1st January 2015
Ghillie Dhu, Edinburgh
Photographer: Stuart Craig Photography
Scotland's capital is simply stunning in winter and the perfect location for a festive wedding. The New Year celebrations in Edinburgh are extra special so, when Alistair and Kate decided to marry on the first day of 2015, it was all the more reason to eat, drink and be merry!
As any bride or groom-to-be will know, Edinburgh isn't short of gorgeous wedding venues. The Ghillie Dhu, where the couple opted to hold their ceremony and reception, is among them. It's the perfect choice for those with a more traditional do in mind, which Alistair and Kate definitely did. "We came across Ghillie Dhu by chance," explains Alistair. "I never quite understood it when people say that they ˜just knew' they'd found the right place but that's how it happened."
The Australia-based couple arranged to get hitched before the year they were spending in Scotland came to an end. Both hailing from Scotland, Alistair and Kate were keen to incorporate their roots into the big day.
"[The Ghillie Dhu] has a very Scottish feel to the place, it's historic and beautiful," he adds. "After six years in Australia, we wanted it our day to be as Scottish as we could make it."
While tying the knot on New Year's Day is rather romantic, Alistair admits it was a "logistical nightmare" (think no public transport, inflated prices and a lot of Hogmanay hangovers!). "When we arrived in Edinburgh our room wasn't ready, so the groom party, which consisted of six large men, had to make do with the small changing room area by the pool," laughs Alistair. "Meanwhile the bridal party sipped champagne and were given the pamper treatment!"
After the ˜I do's, the couple surprised the wedding party with a visit to Princes Street. Making the most of having the Christmas market on their doorstep, the party sipped mulled wine and explored the gardens, which were decked out in festive fairy lights. They even managed to persuade market staff to let them on the ice rink " talk about an unbeatable photo opp!
"We became a bit of an attraction and a crowd formed to watch the potential car crash of having a wedding party on an ice rink," Alistair grins. "Being on the ice rink was pretty special since it wasn't really organised, we just used our powers of persuasion."
The couple are thoroughly enjoying married life (although Alistair has to keep reminding himself to replace ˜girlfriend' with ˜wife' when talking about Kate!). "Despite both moving to the other side of the world, we still managed to marry a Scottish person," Alistair smiles. "We had an amazing year and topped it off in the best possible way; having all our family and friends in the same place, enjoying good food, good wine and even better company."
Alistair and Kate are now settling back into life in Australia but, truth be told, they can't wait to come back home. "I desperately miss Scotland," Alistair admits. "We're counting the days until we move back!"
ABOUT STUART CRAIG PHOTOGRAPHY
Stuart is a professional wedding photographer based in Edinburgh, who covers weddings and civil partnerships all over Scotland. He produces a wonderful, natural style of photography and takes pride in operating an honest business with a flair for achieving high quality results.
Contact Stuart Craig Photography.
Venue: Ghillie Dhu. "Our events coordinator, Rebecca Carr, was great and the whole experience was quite easy."
Photographer: Stuart Craig Photography
Dress: Anna Campbell
Cake: Marks & Spencer. "We got the Bauble Cake and everyone raved about it!"
Caterer: Ghillie Dhu
Florist: Stuart Fenwick
Entertainment: Ghillie Dhu DJ. "We had a ceilidh followed by some cheesy 90s dance and pop songs."
Accessories: "I wore a TAG Heuer watch and Kate wore Irregular Choice shoes."
Hair: LS Hair Design
Make up: Emma Motion Makeup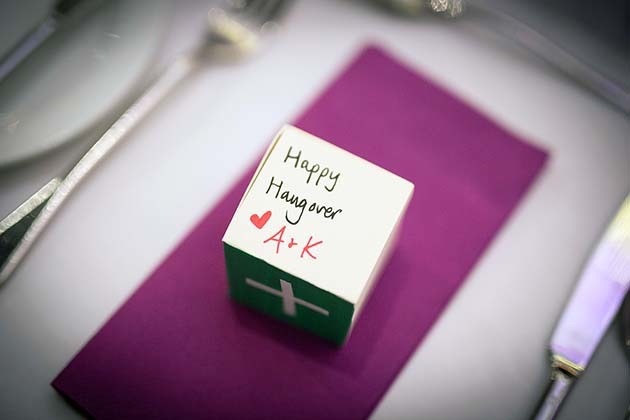 SWD LOVES ¦ The ˜happy hangover' kits the couple gave out!
Persuade guests to get another round in and hit the dance floor, knowing there'll paracetamol within arms reach the next morning.