A stunning Cornhill Castle wedding with outdoor ceremony and cherry blossom trees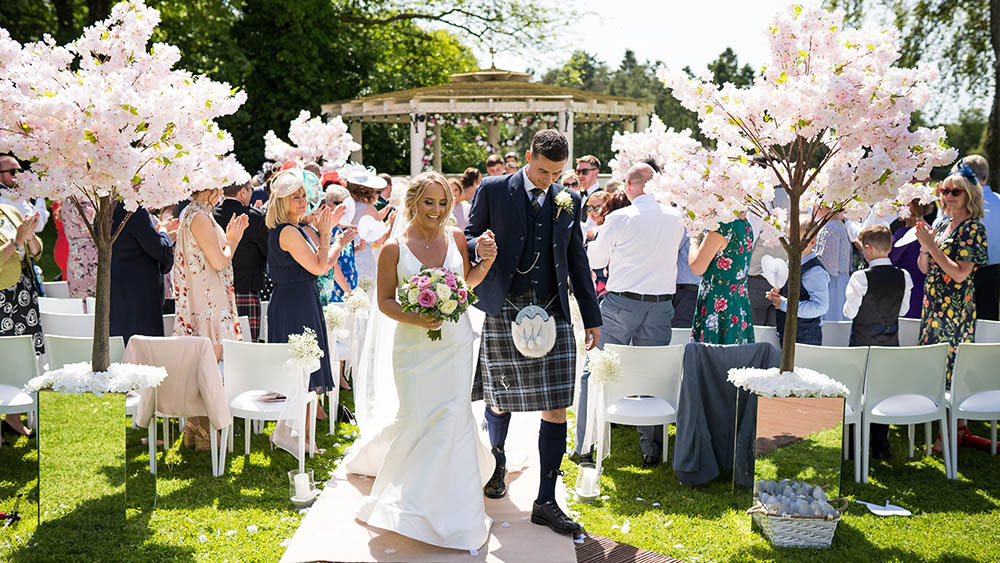 We love it when a Cornhill Castle wedding appears in our inbox at SW: it's a total fairytale venue, as Abby and Andy discovered when they tied the knot there last June.
The couple had their hearts set on saying 'I do' outside and were so lucky to get the incredible weather that allowed them to do just that.
Read on to find out more about their big day in the words of bride Abby, alongside the stunning sun-soaked images captured by Mark Quinn Photography.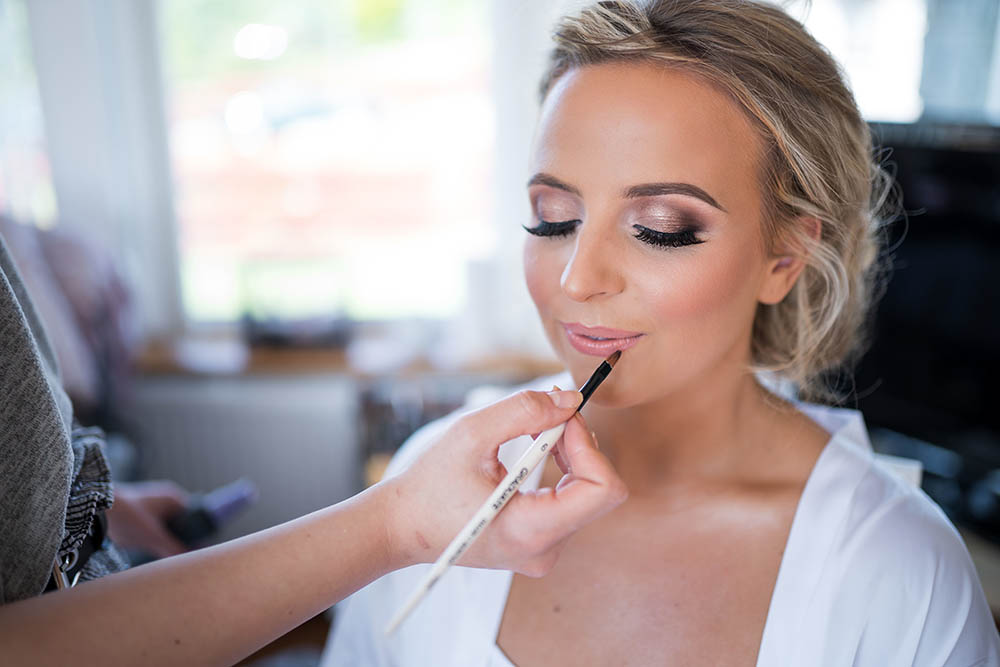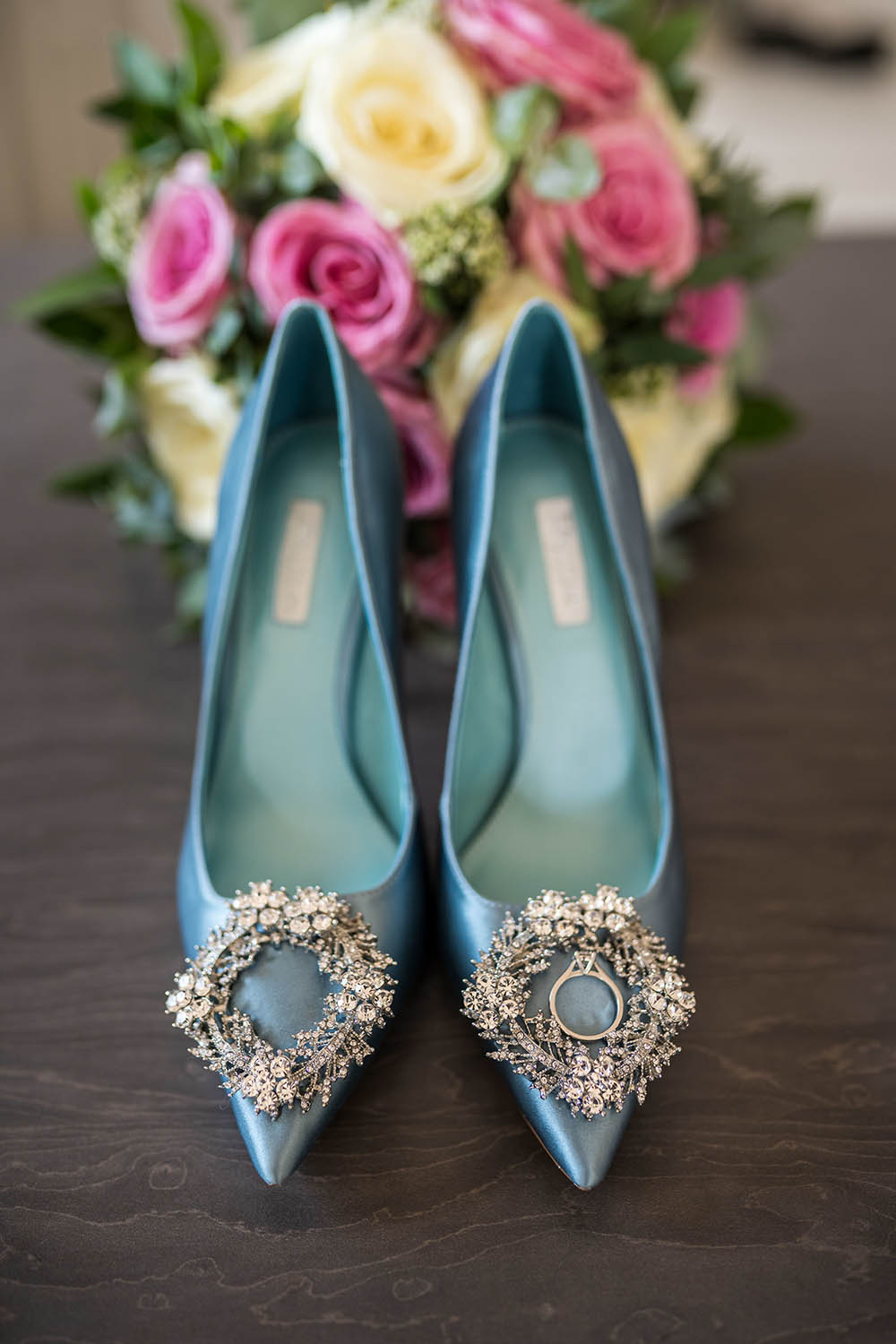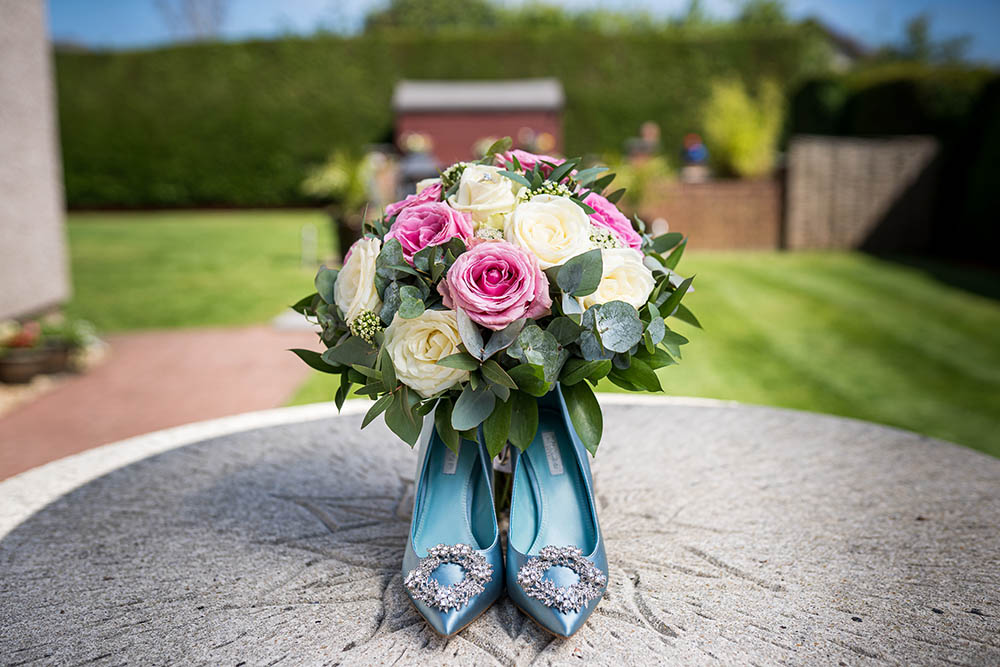 We've known each other since going to school and had our first kiss at a 16th fancy-dress party which definitely makes us laugh now. The proposal was a complete surprise in Mexico during a sunset dinner on the beach.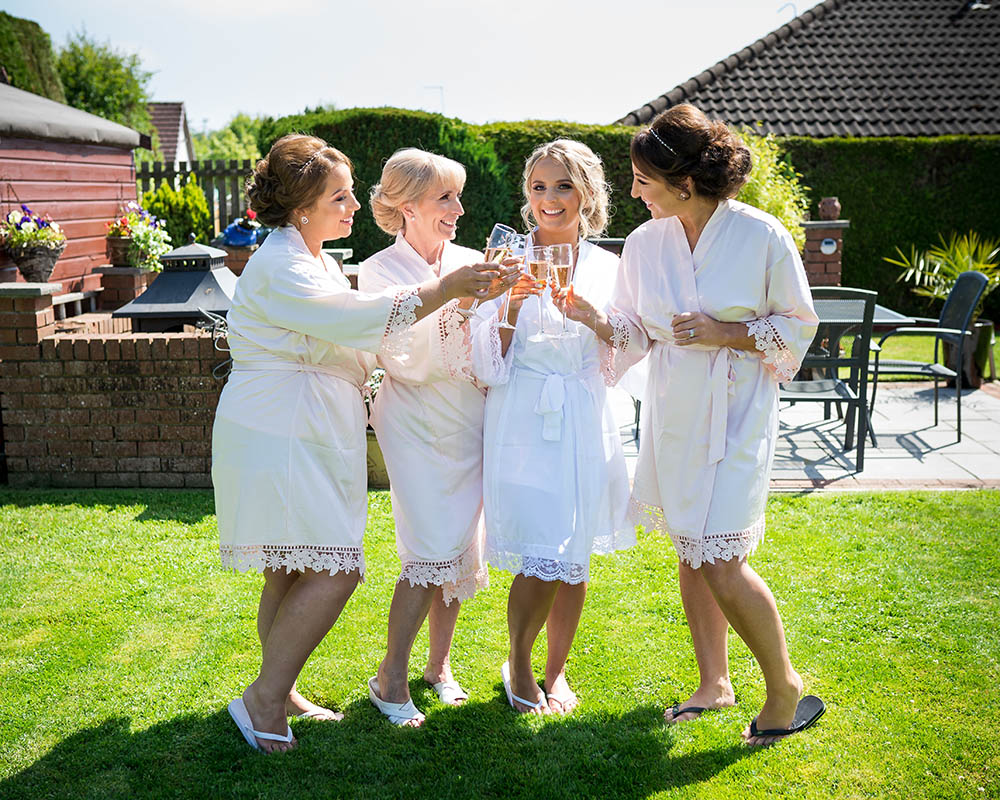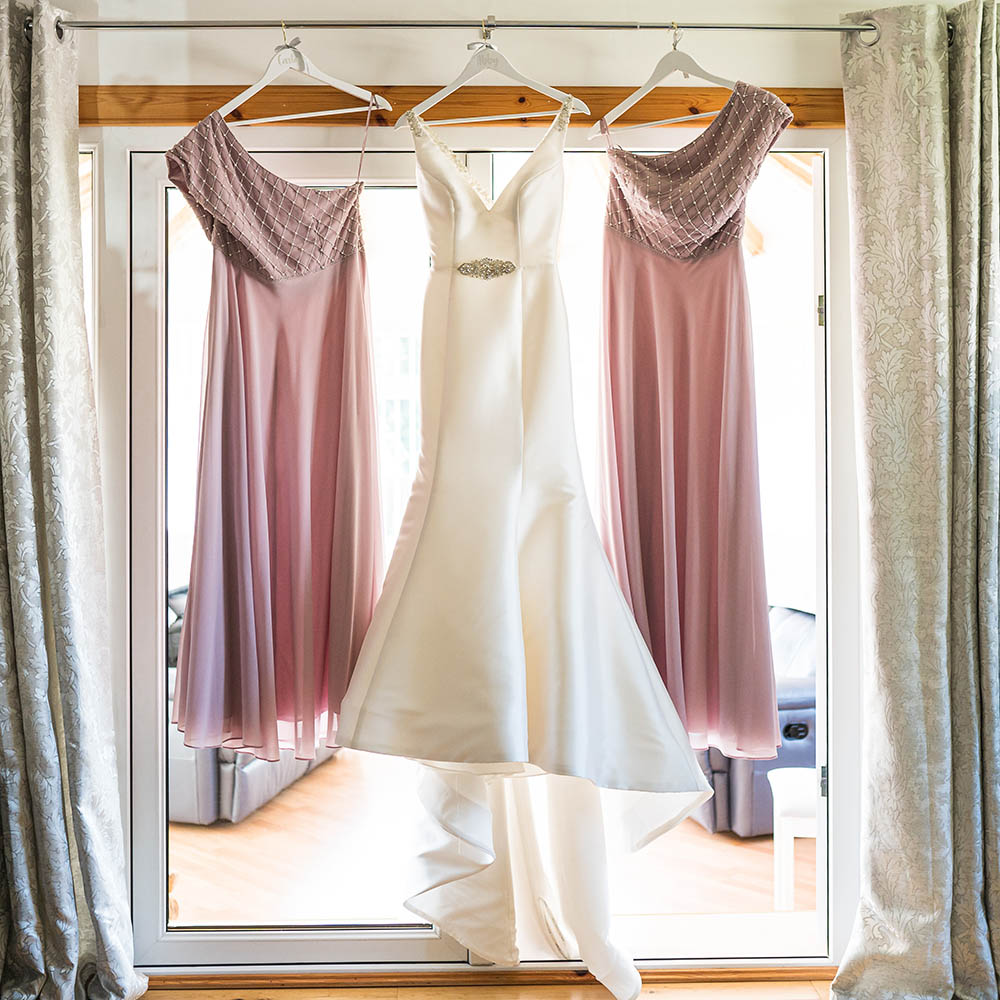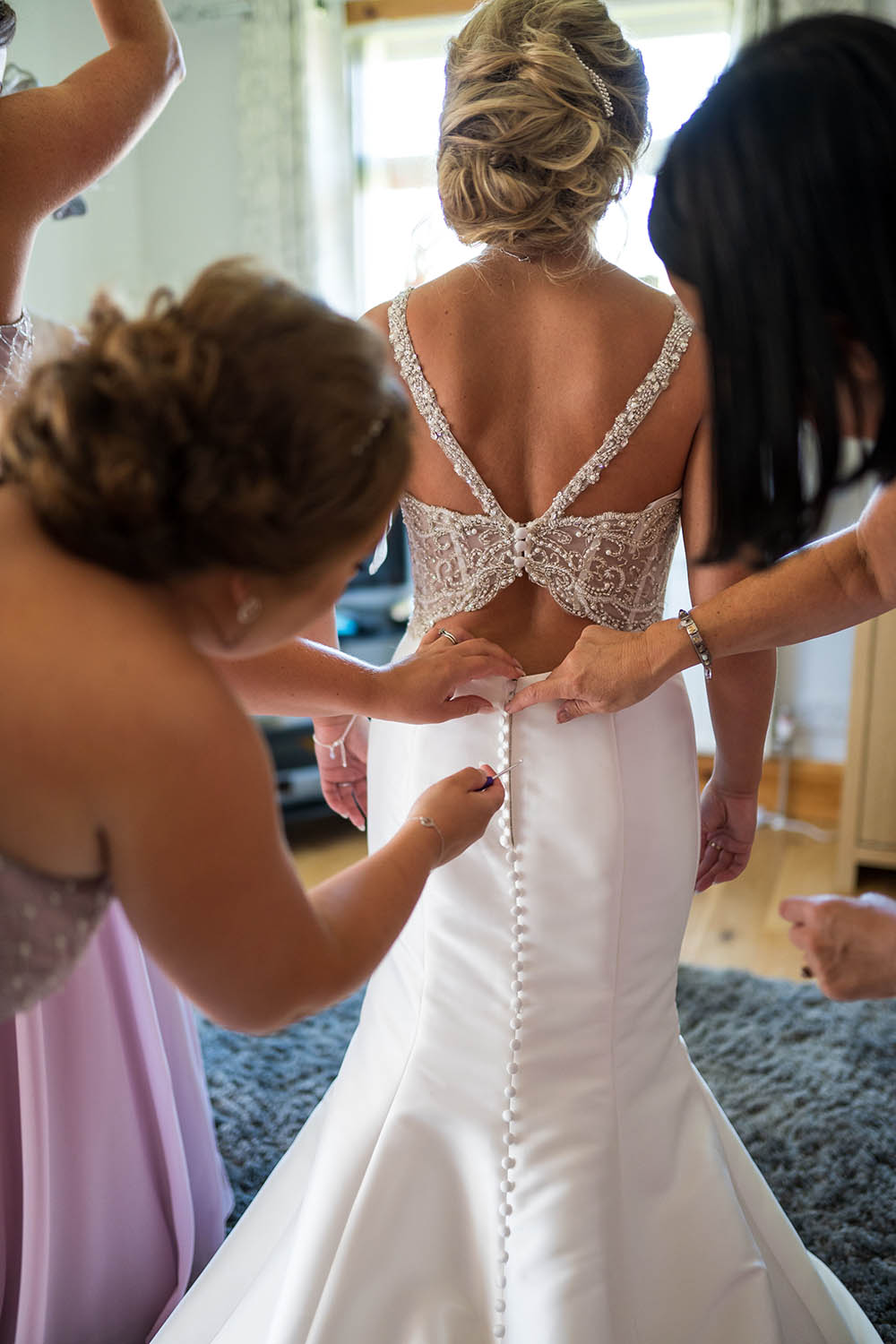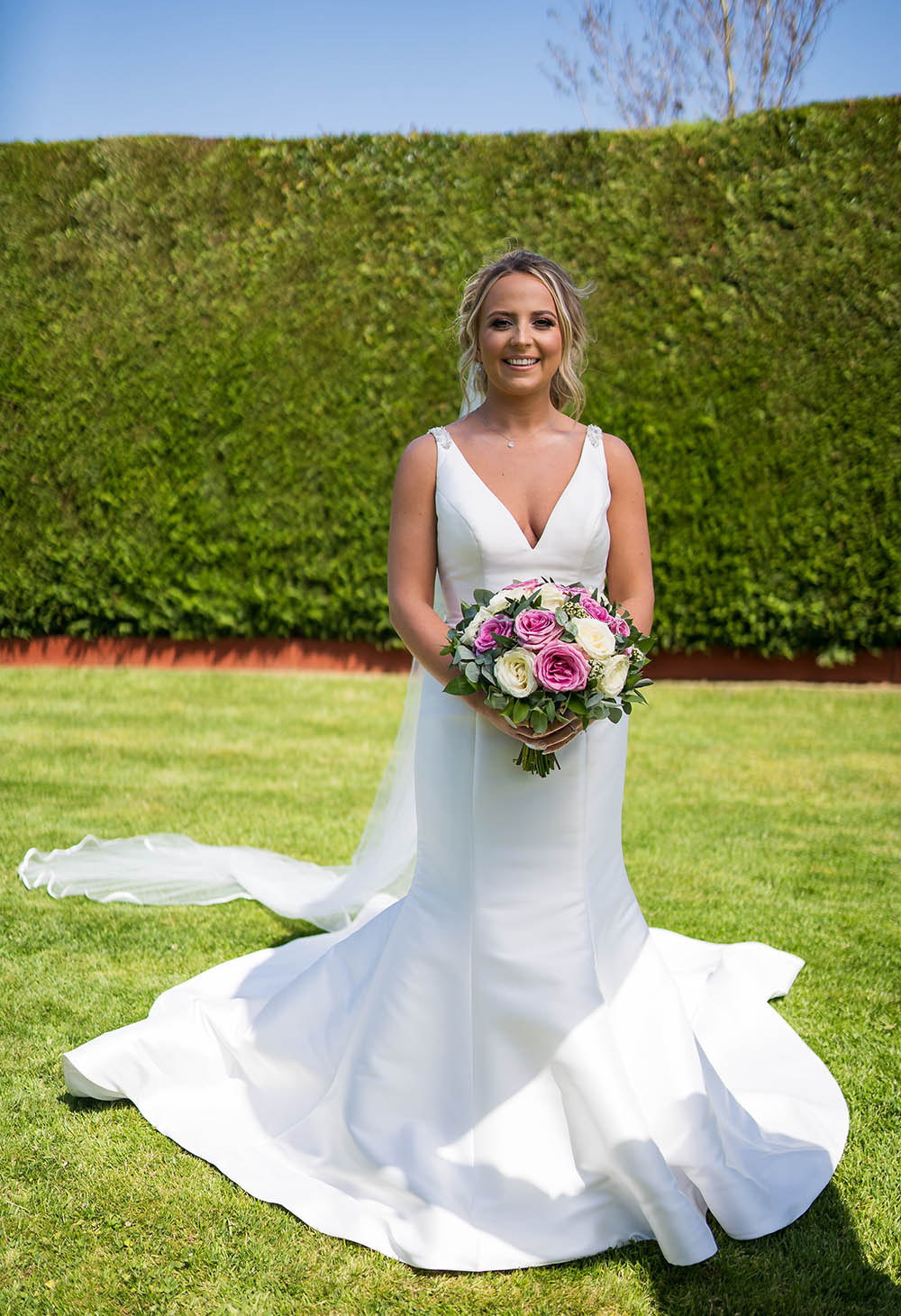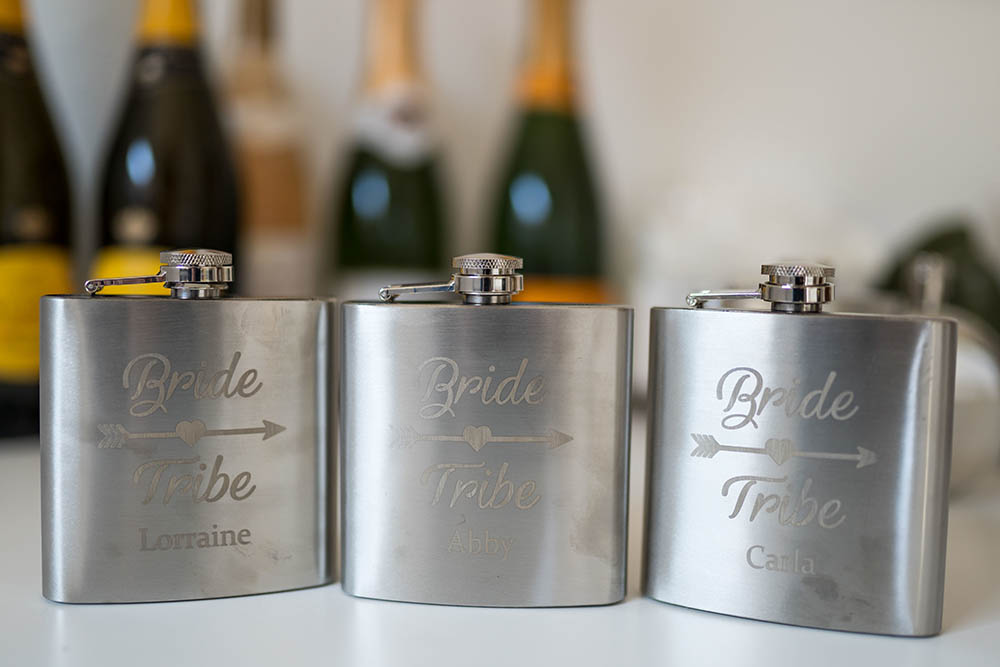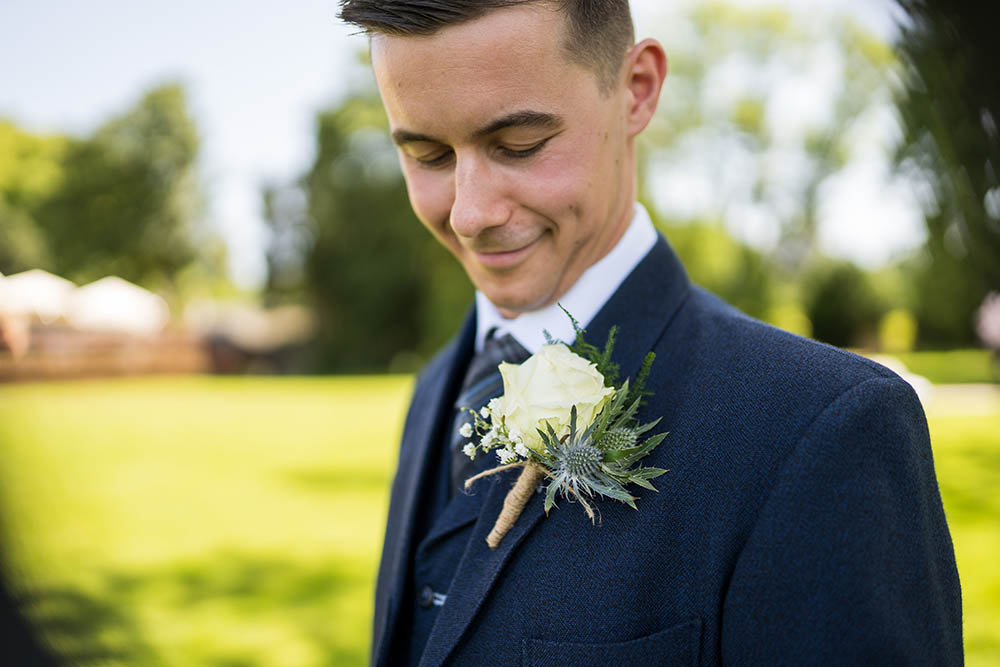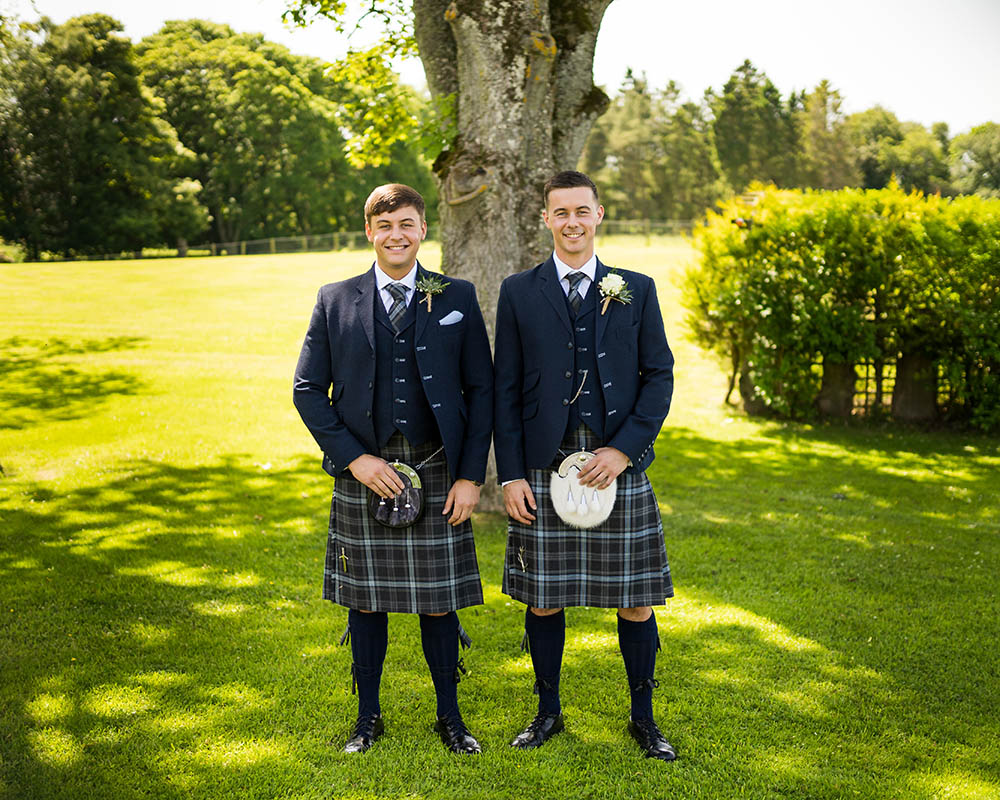 I work as project manager so the planning and budgeting for the wedding was just like a new project at work.
I quite enjoyed the process; the only part that I really didn't enjoy was managing the RSVPs and people changing last minute. We used a wedding website to manage RSVPs and would absolutely recommend this to other couples.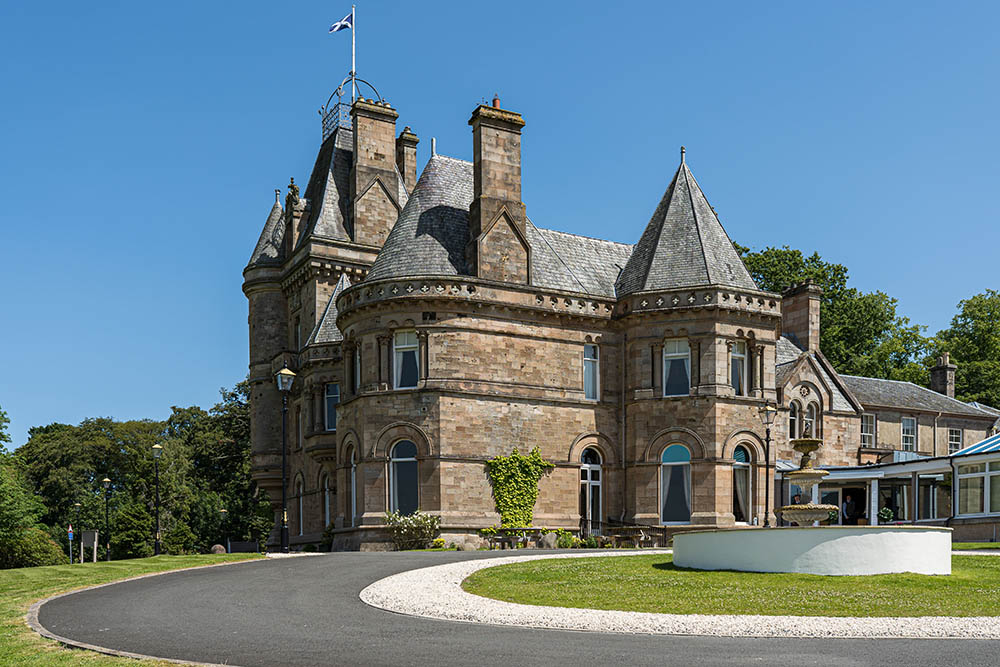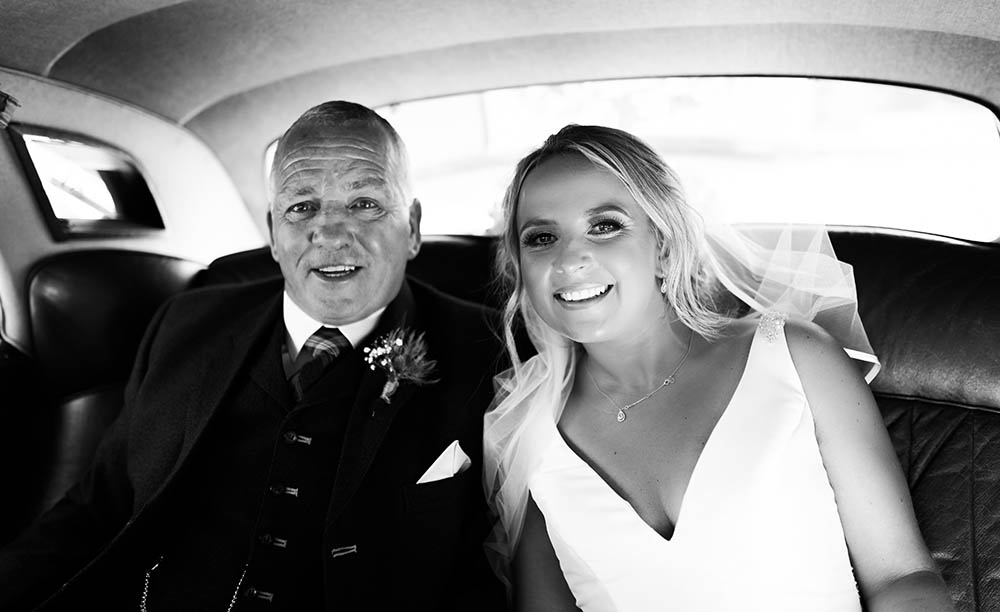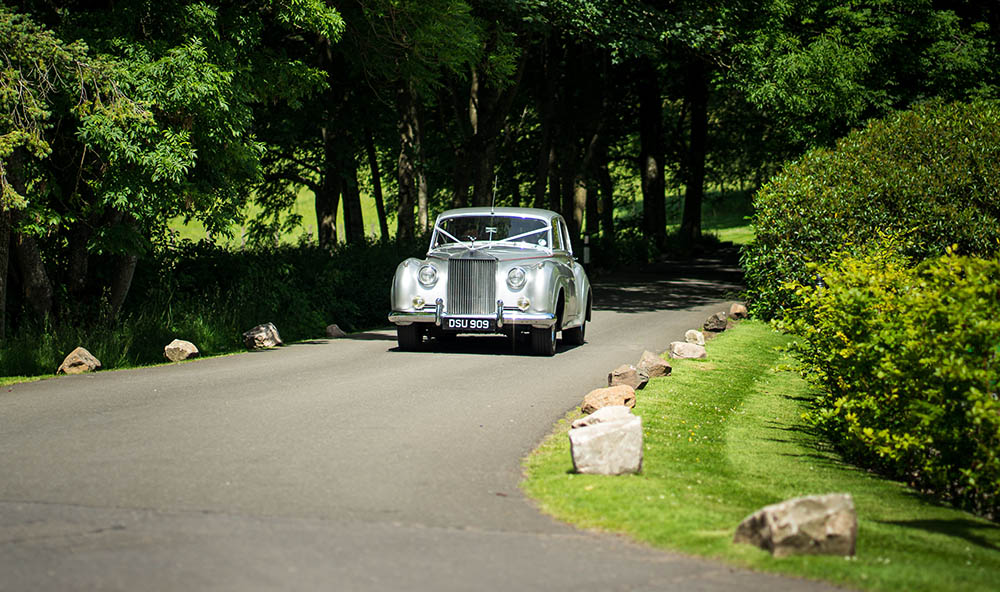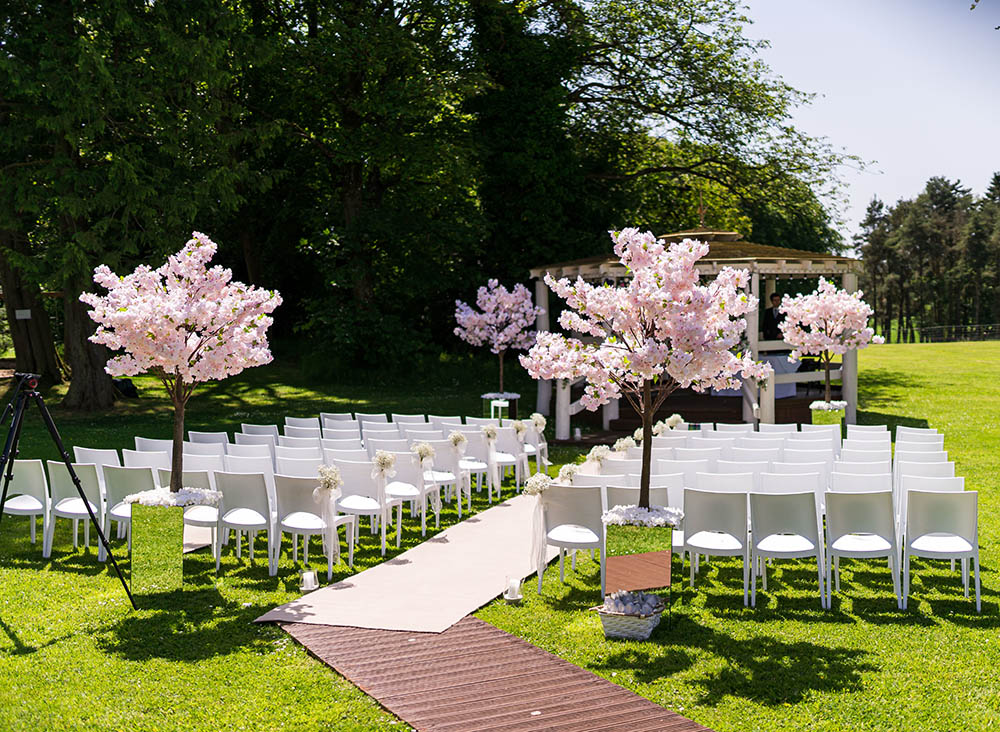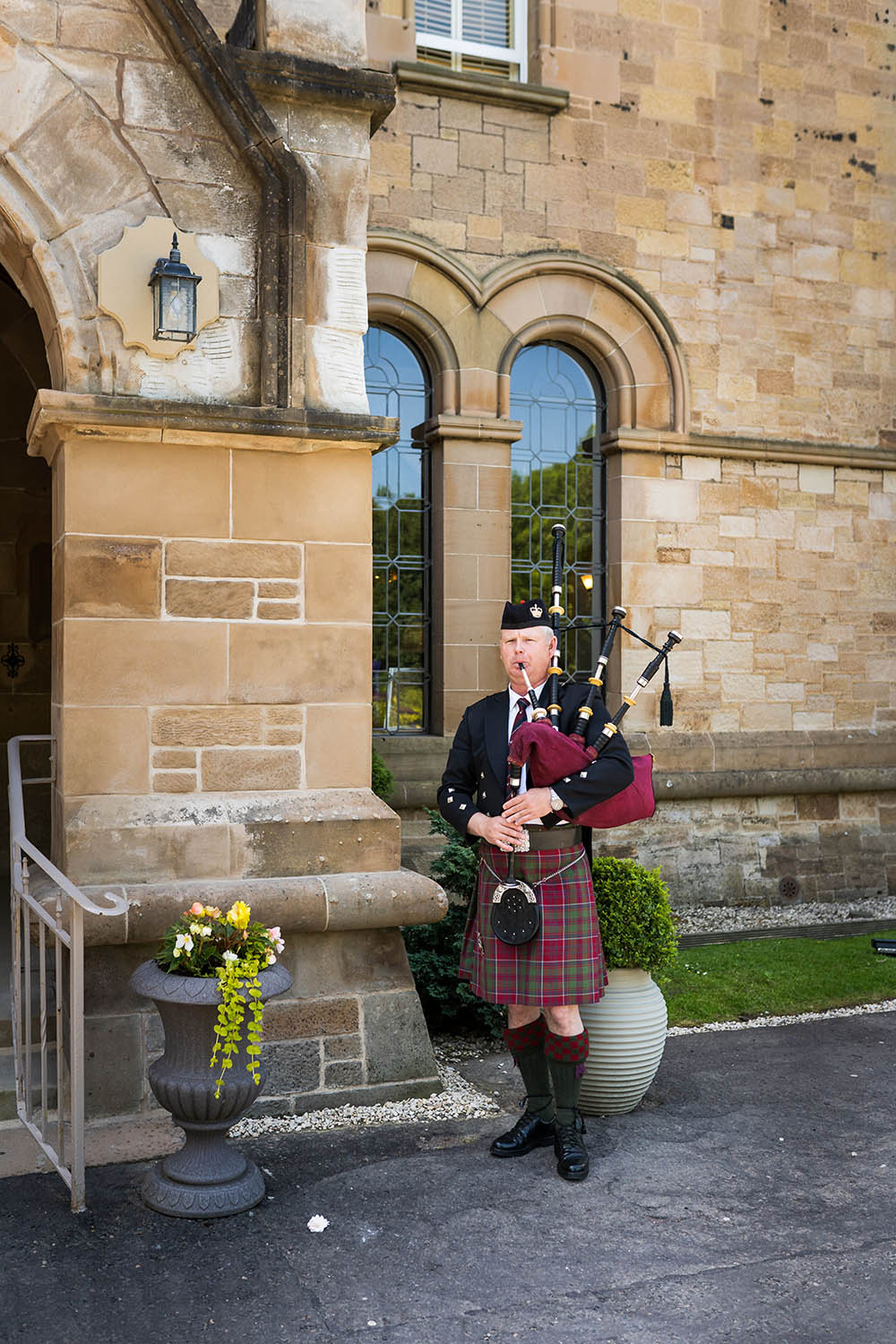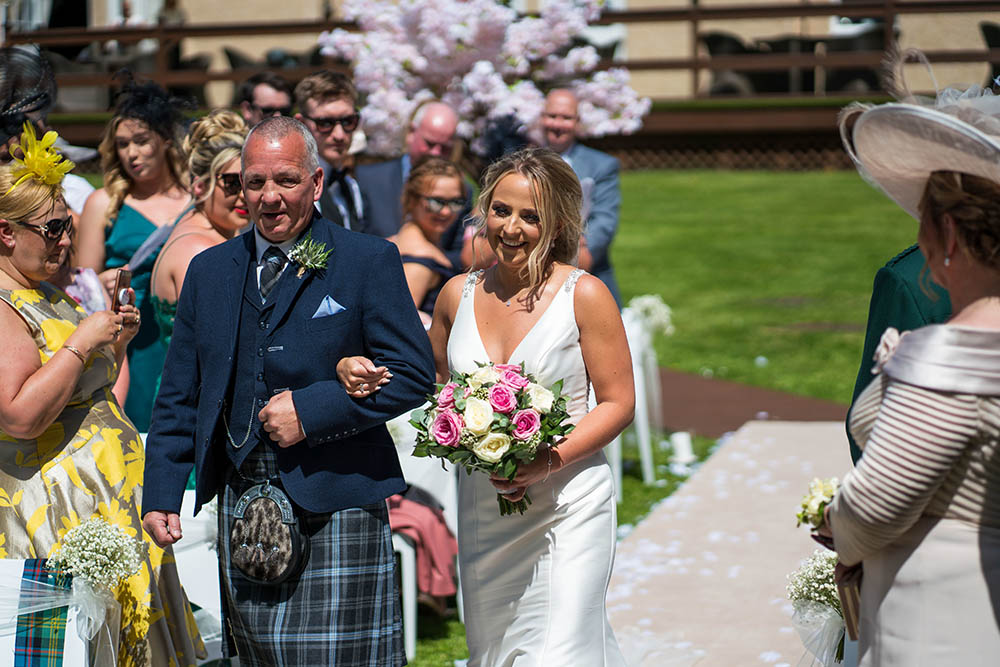 For the venue, one of the key points for us was to have a big reception area with a bar inside the room.
In other weddings we've gone to with different rooms and bars there tends to be a natural split as the night goes on, so it was important to keep everyone together.
The other big attraction was having the option to have an outside wedding ceremony, we knew the chances would be slim but with the weather we had on the day we were delighted with our decision.
Then Cornhill obviously had the appeal of being a beautiful castle with a gorgeous honeymoon suite, which sealed the deal!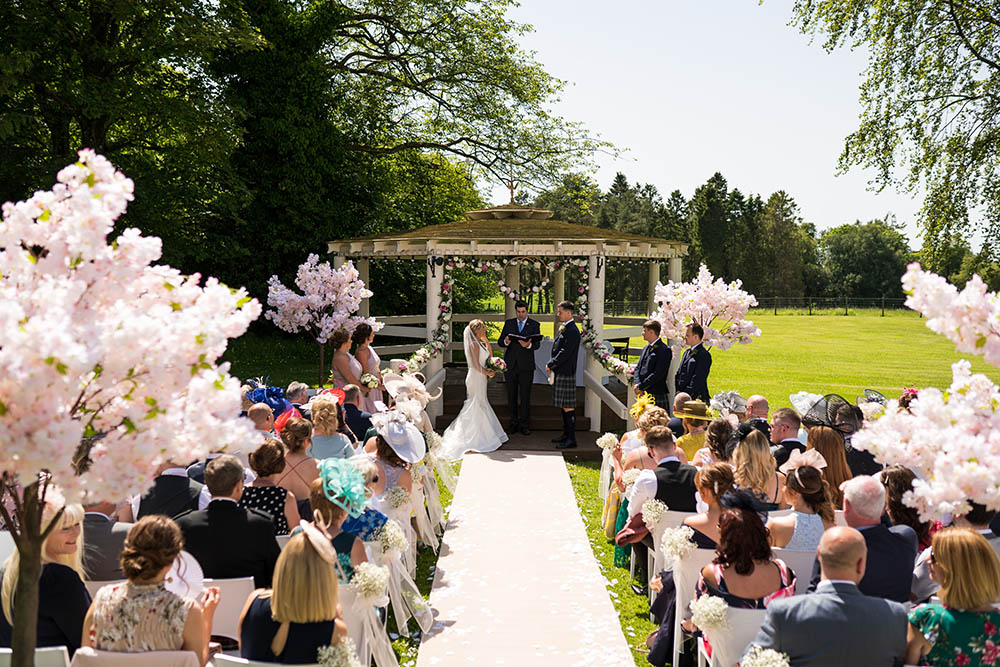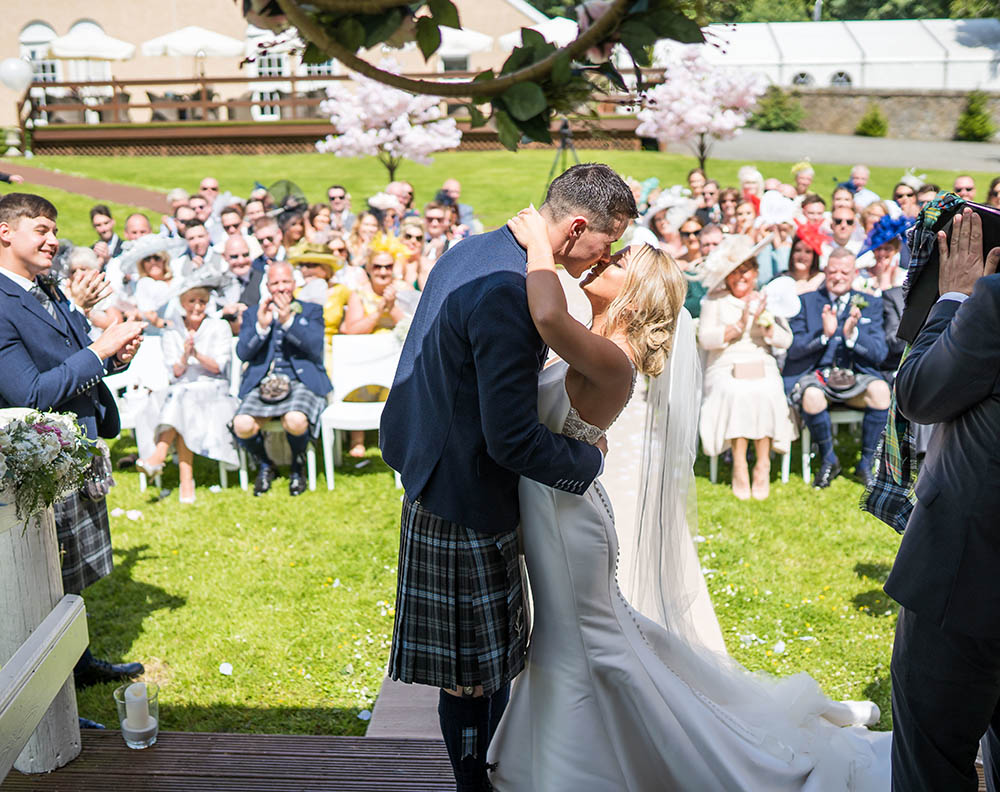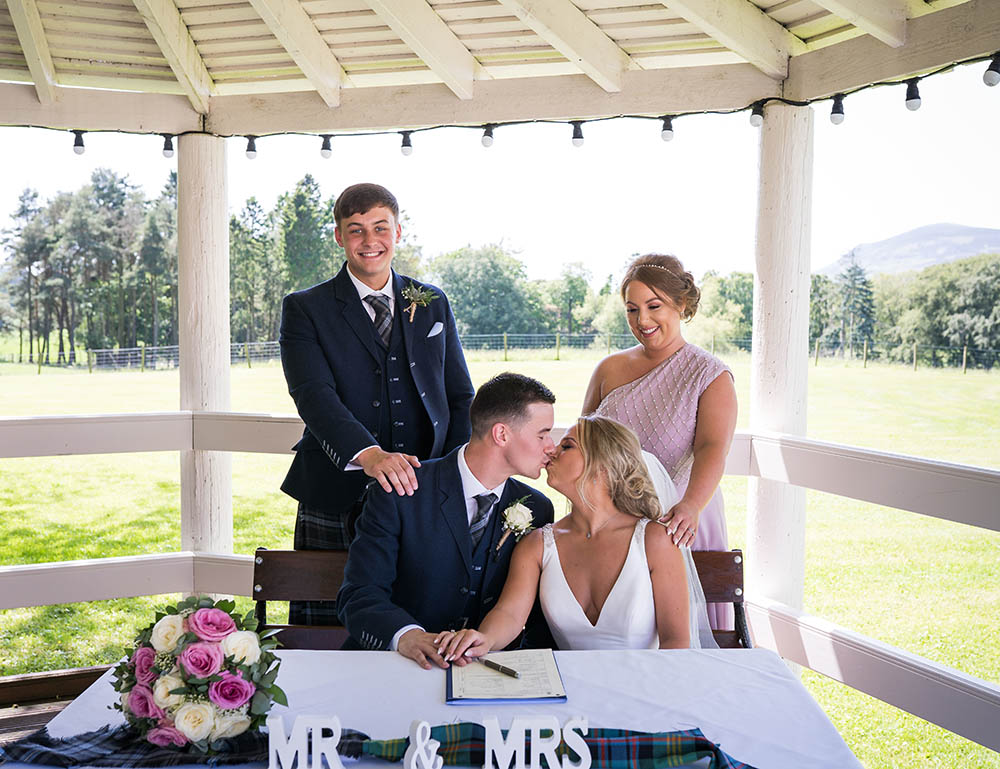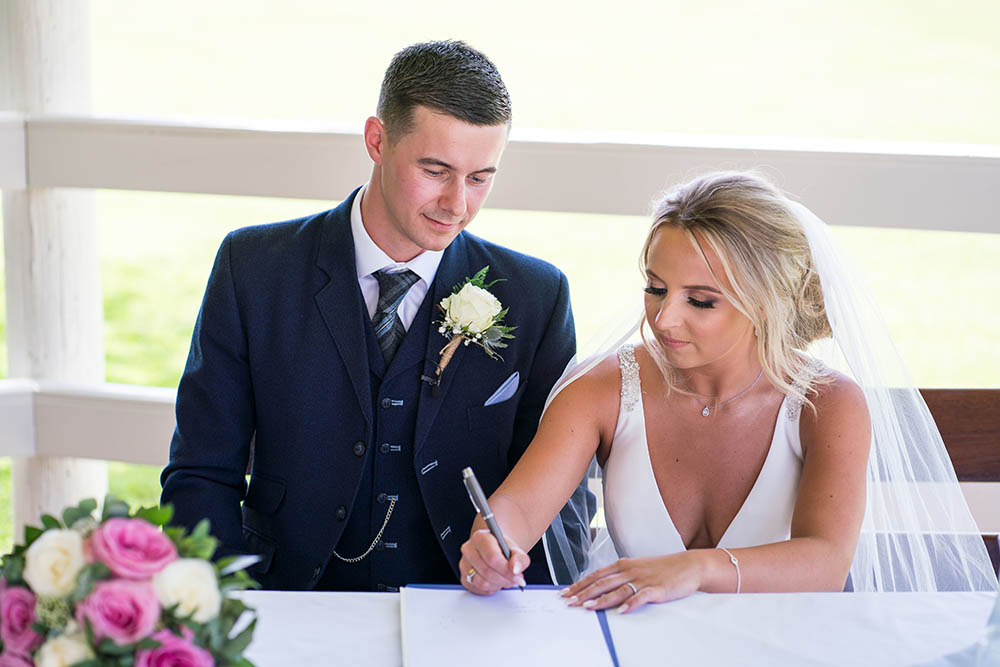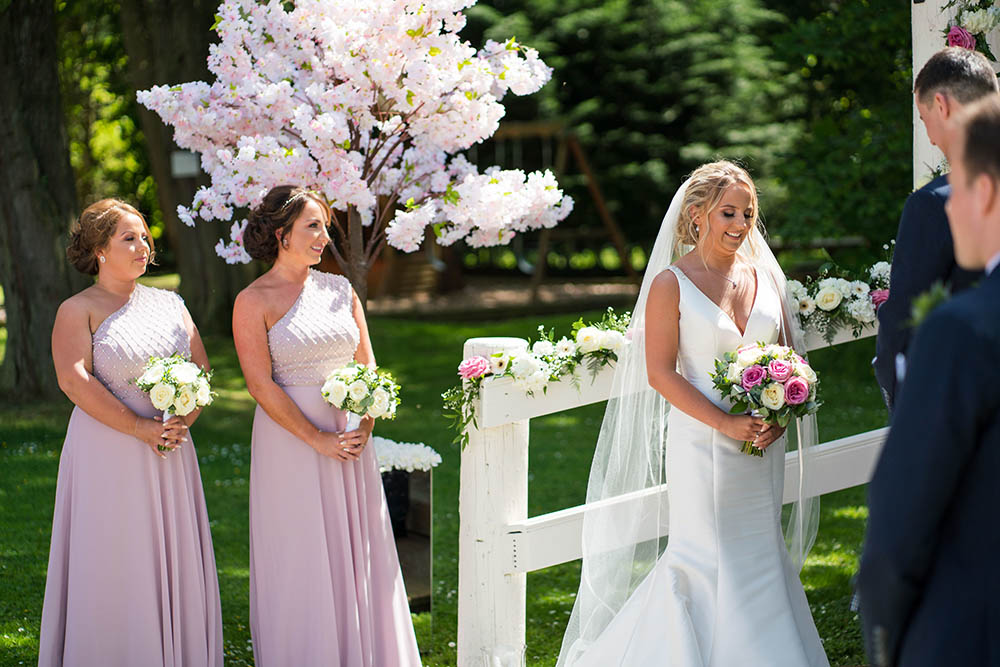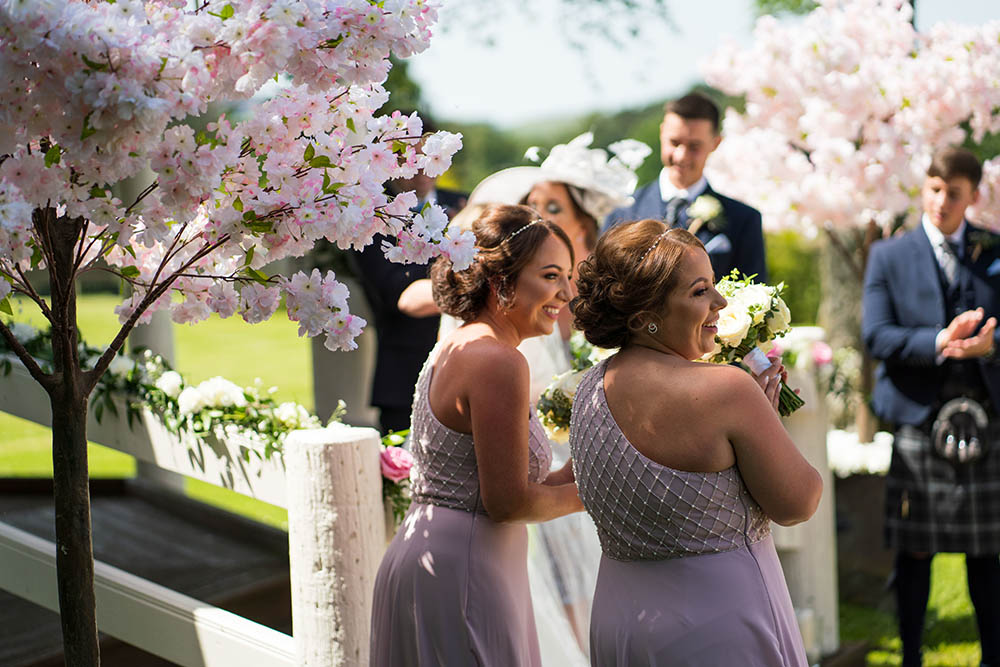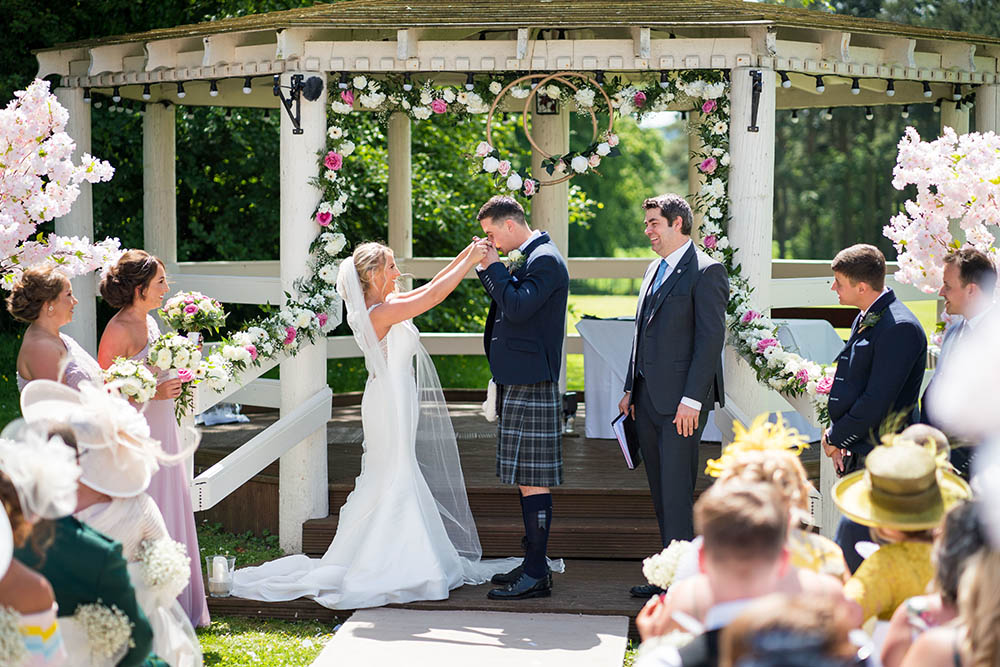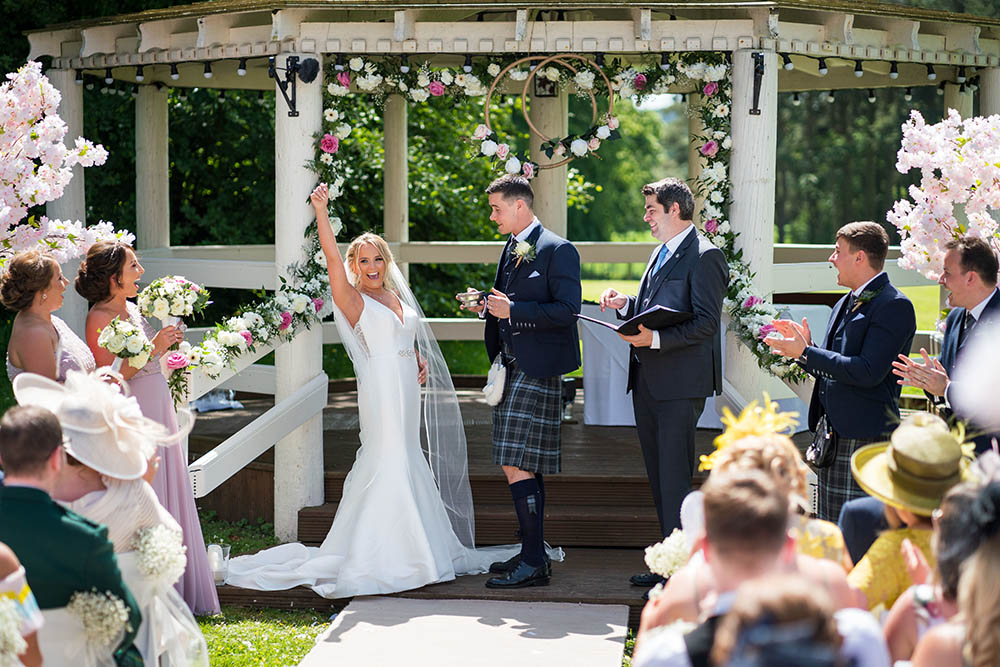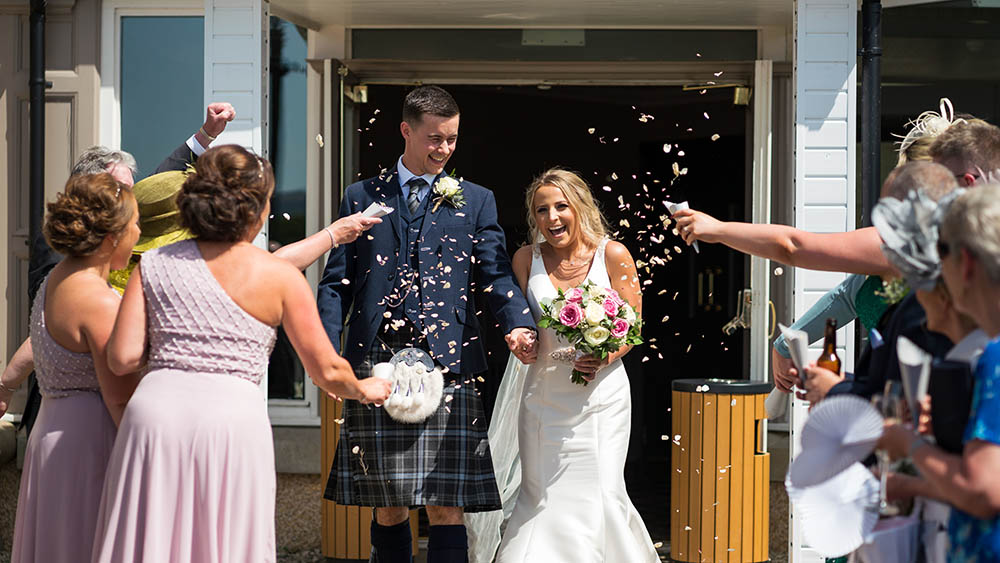 We went with a travel theme as we were going travelling for our honeymoon. Our table plan featured all the countries we had booked for our honeymoon and had boarding passes created for all the table names.
Our order of the day was similar to a flight board with times and our invites centred around the map of the world.
Clare (our stationer) was incredible at coming up with ideas for our theme and nothing was too much trouble. She also created an amazing logo for us using our initial and names.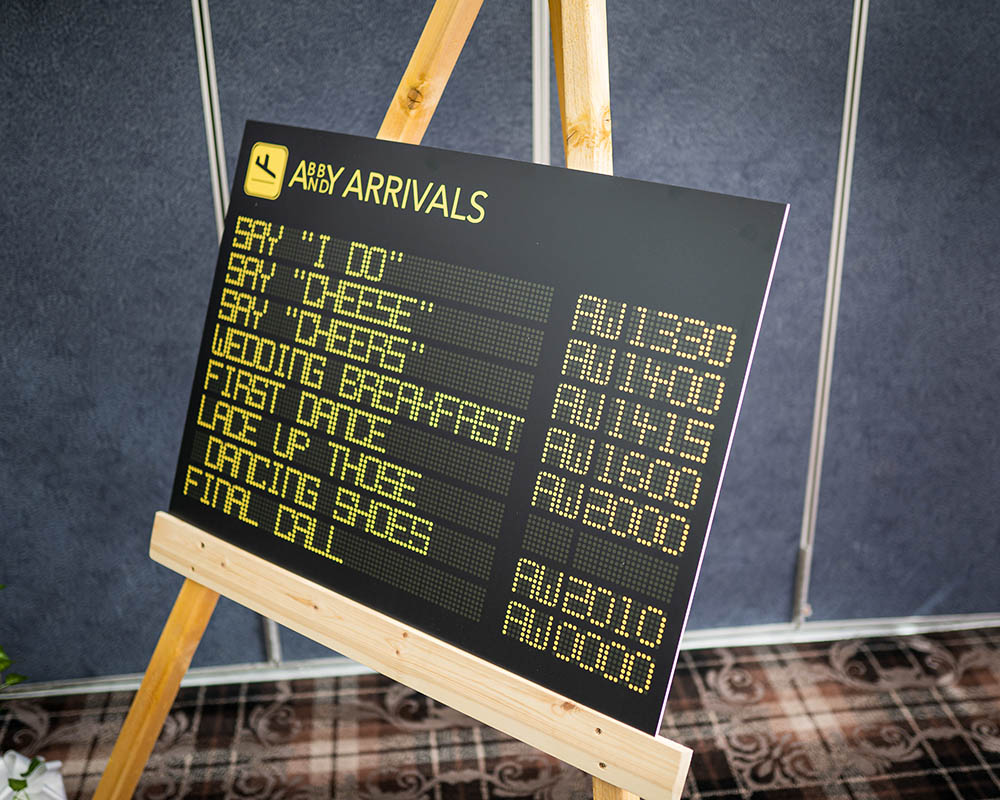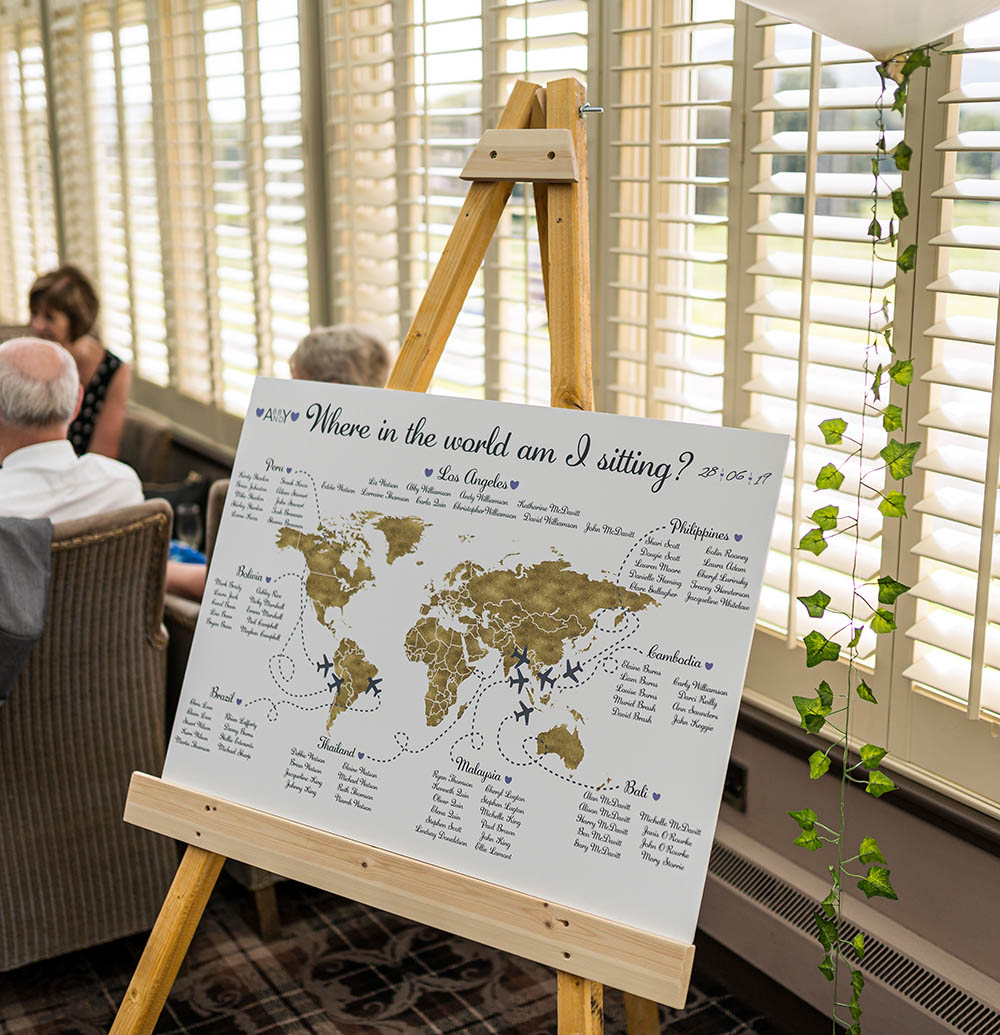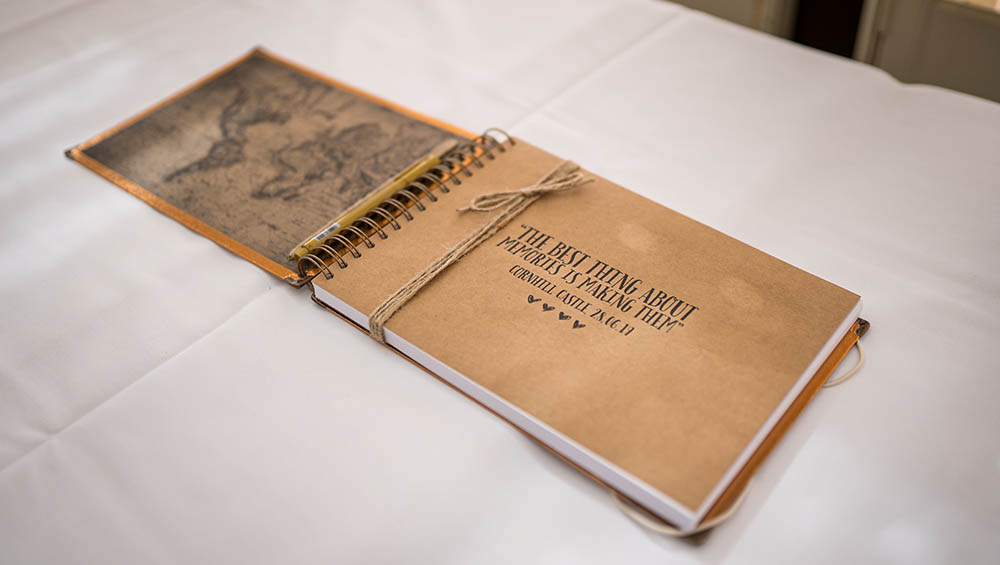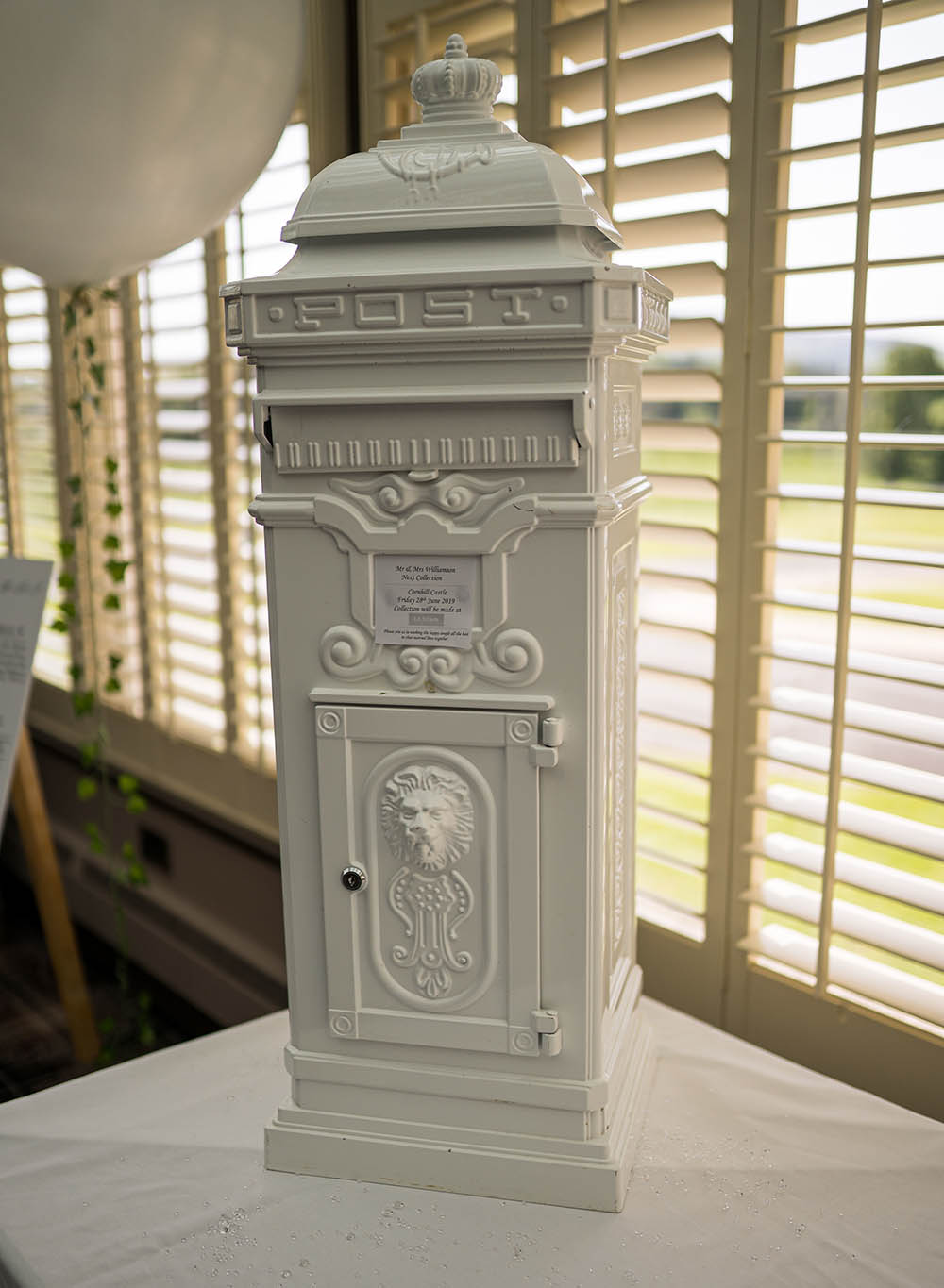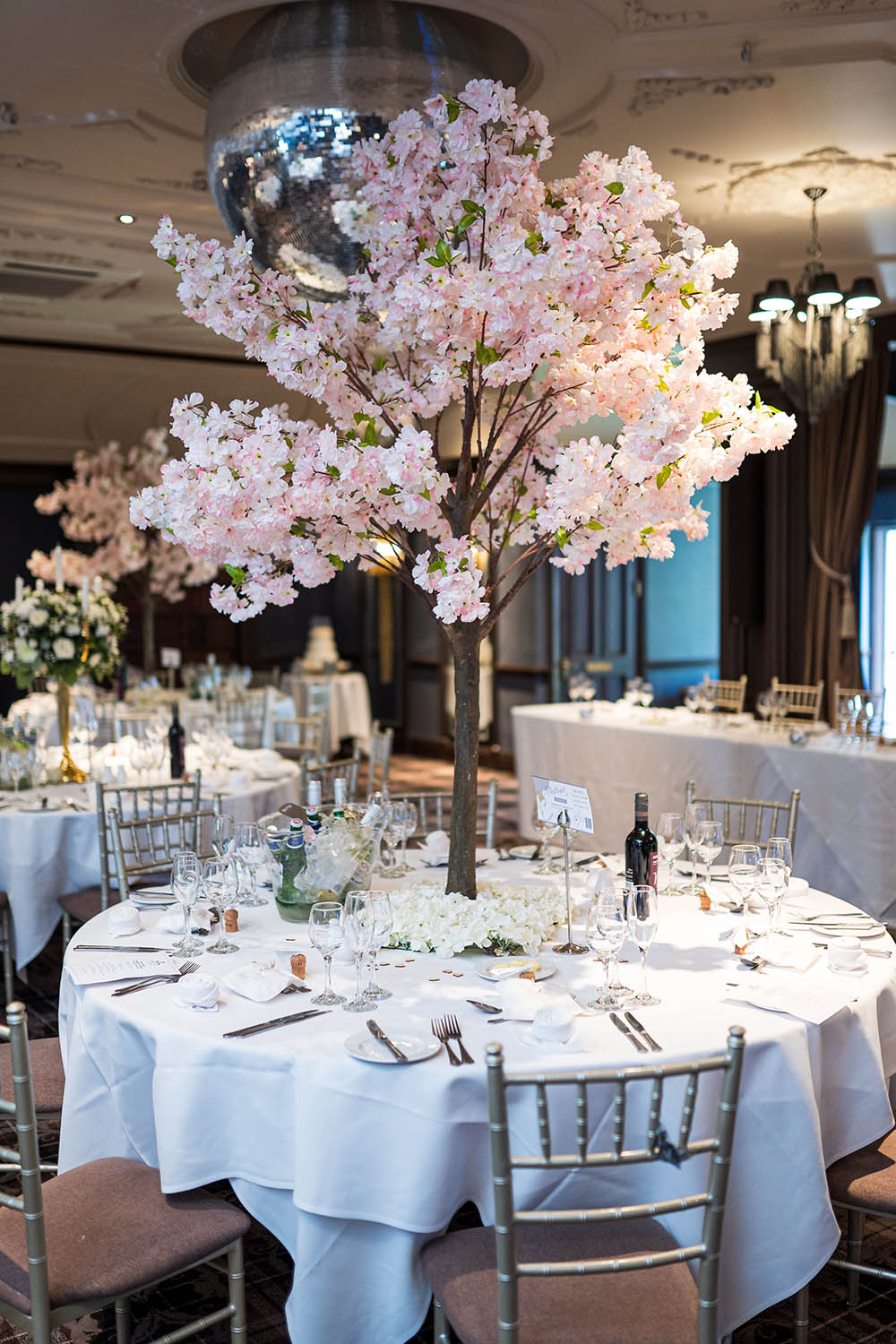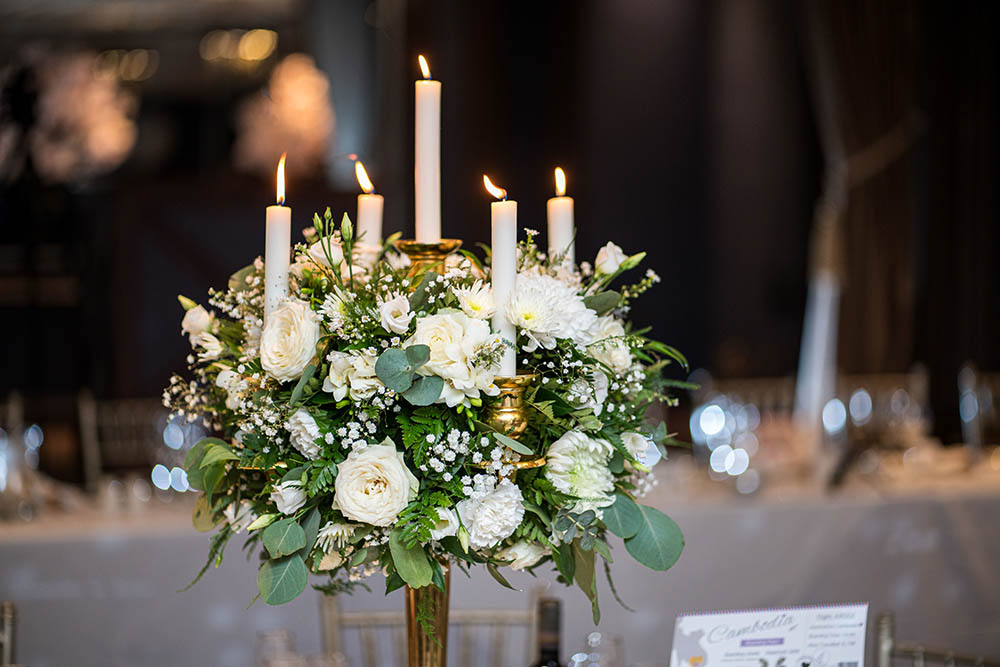 For décor we used cherry blossom trees, candelabra (which Cornhill provided) and giant balloons, which we used both for the ceremony and as centrepieces.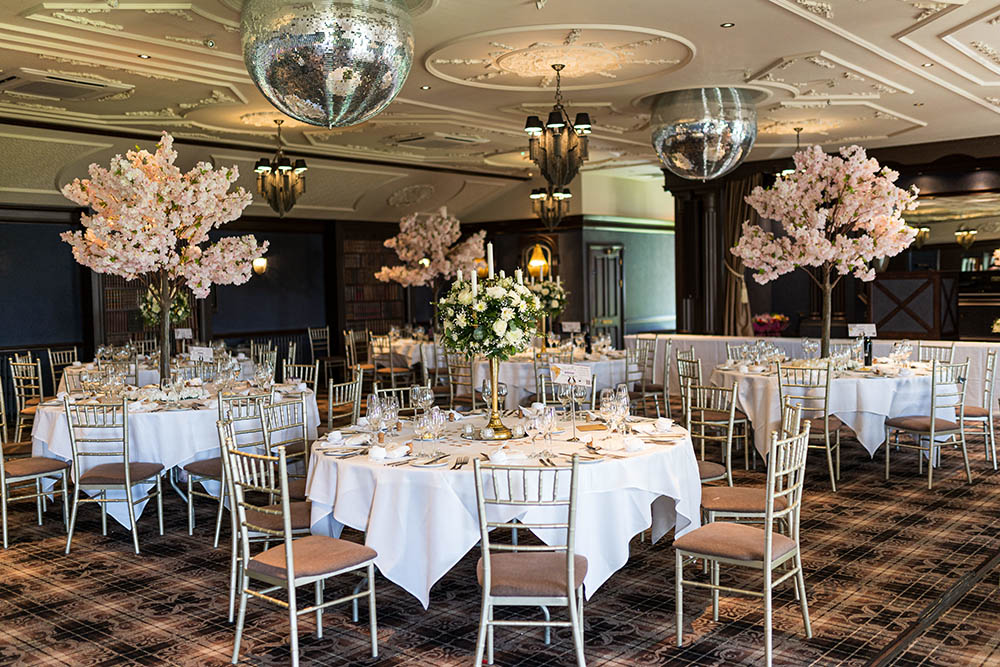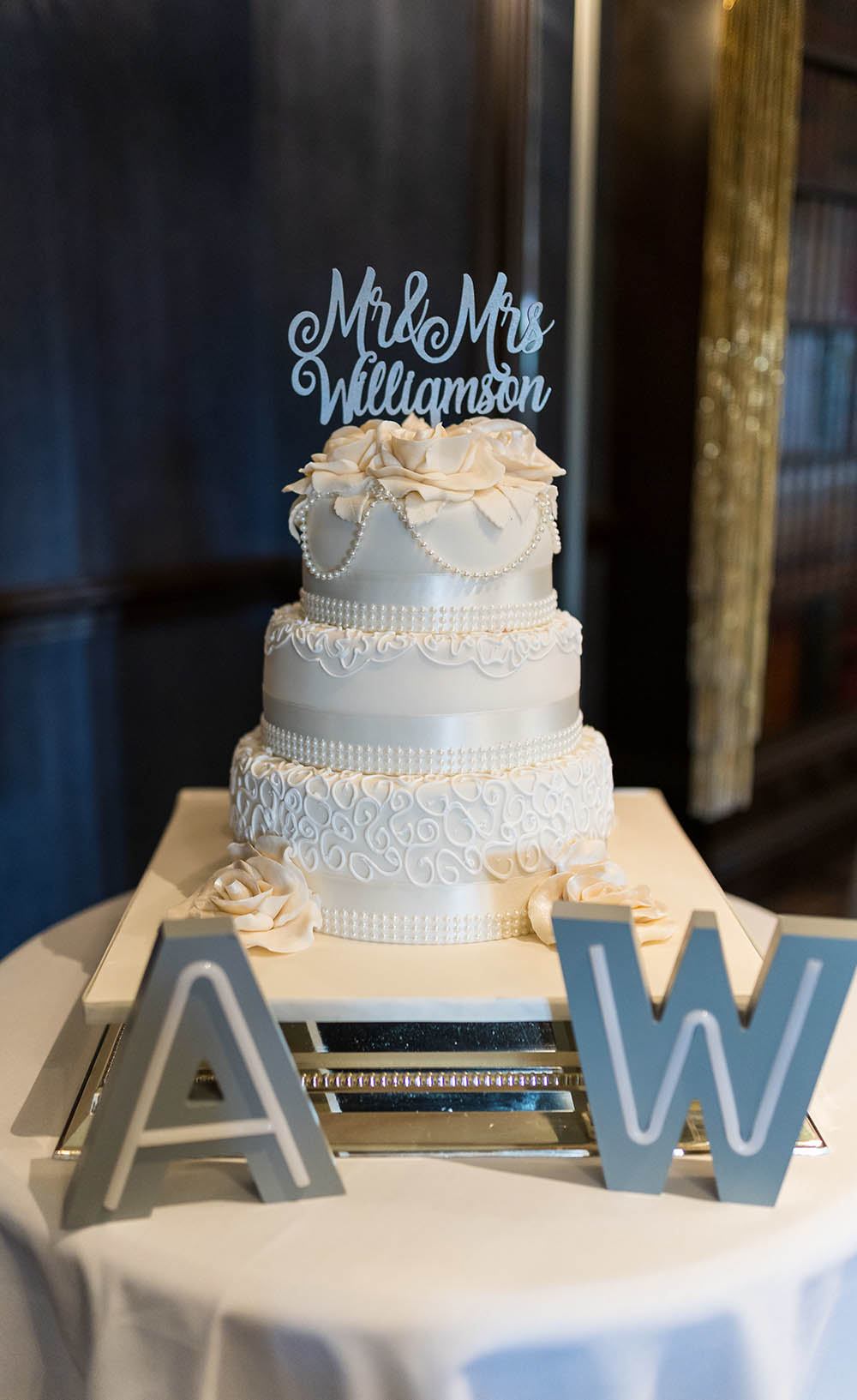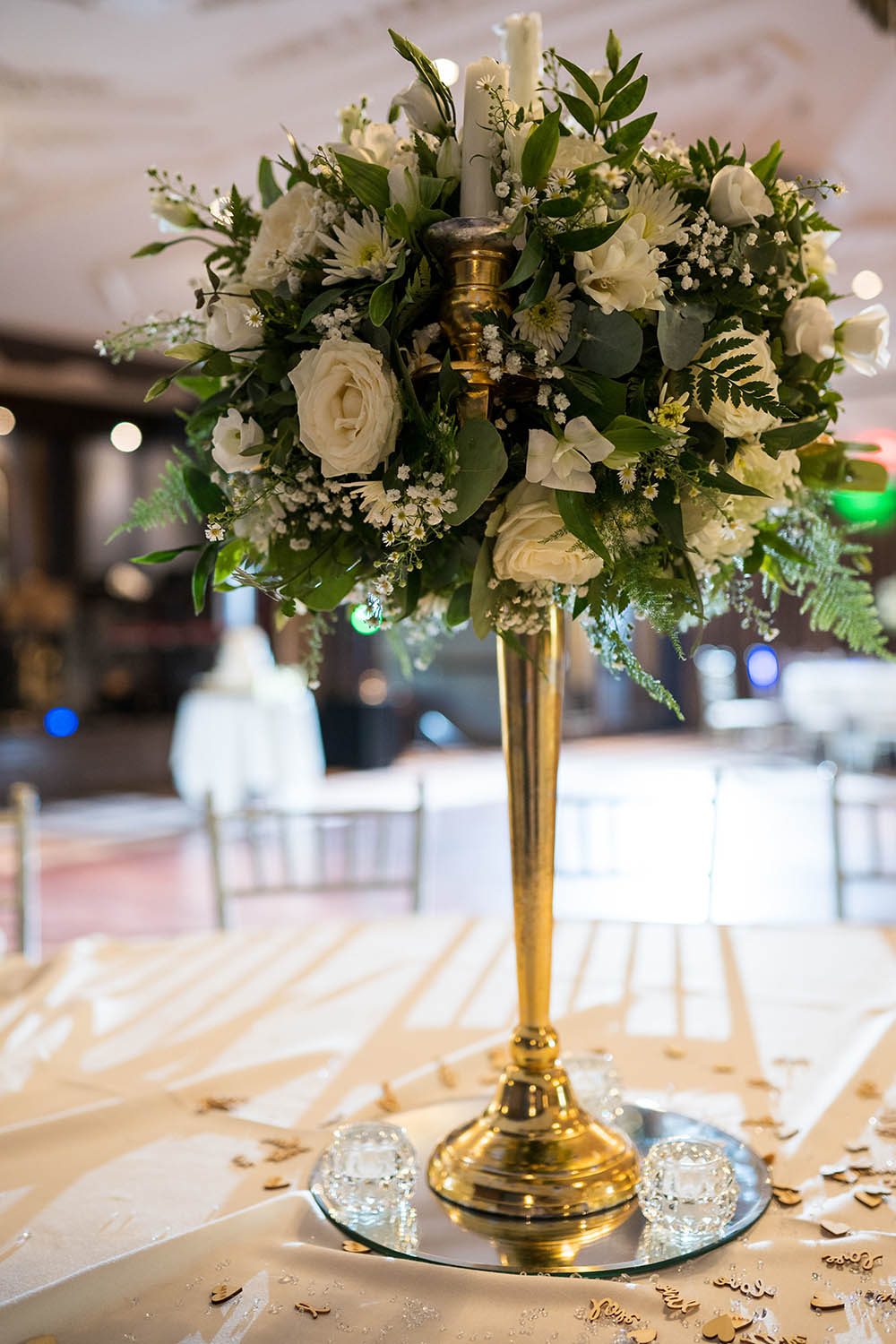 My dress was Mori Lee purchased at Emma Roy in Edinburgh. I tried on my dress in the second shop I visited but it took me several months to commit.
A few months later the dress came into the shop and I got to try it on. It was such a great feeling and I knew I had made the right decision.
Andy knew he wanted to keep it traditional with a kilt but wanted a more modern take on this.
It wasn't until he visited Eight Yards that a kilt stood out, the contrast of the detail around the buttons was a bit more unusual and something we both loved.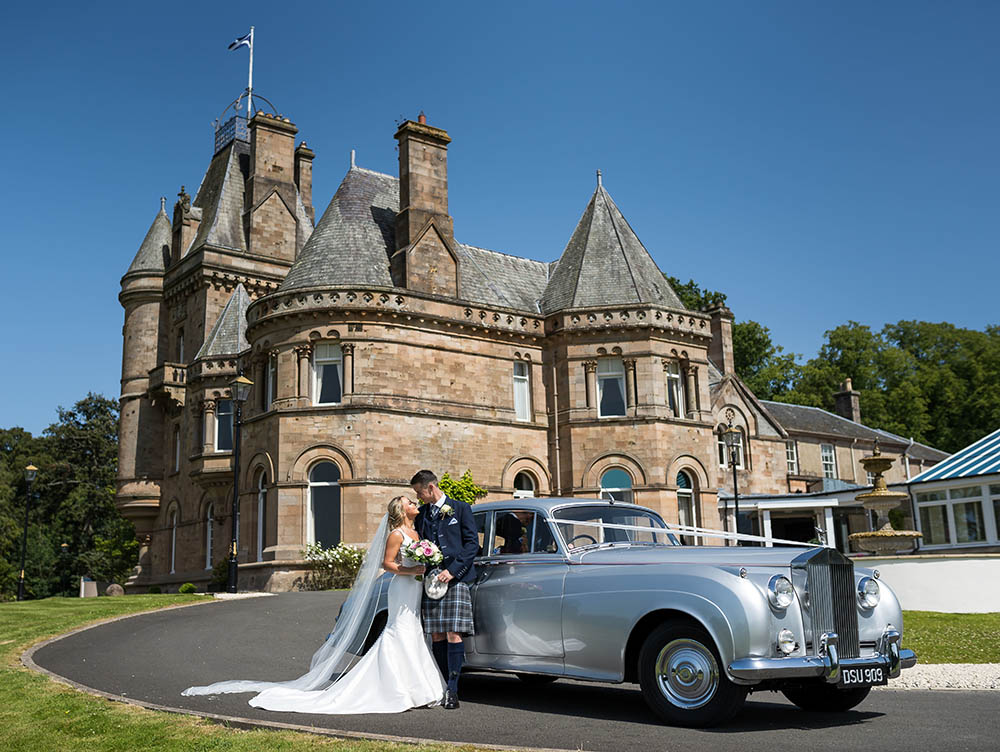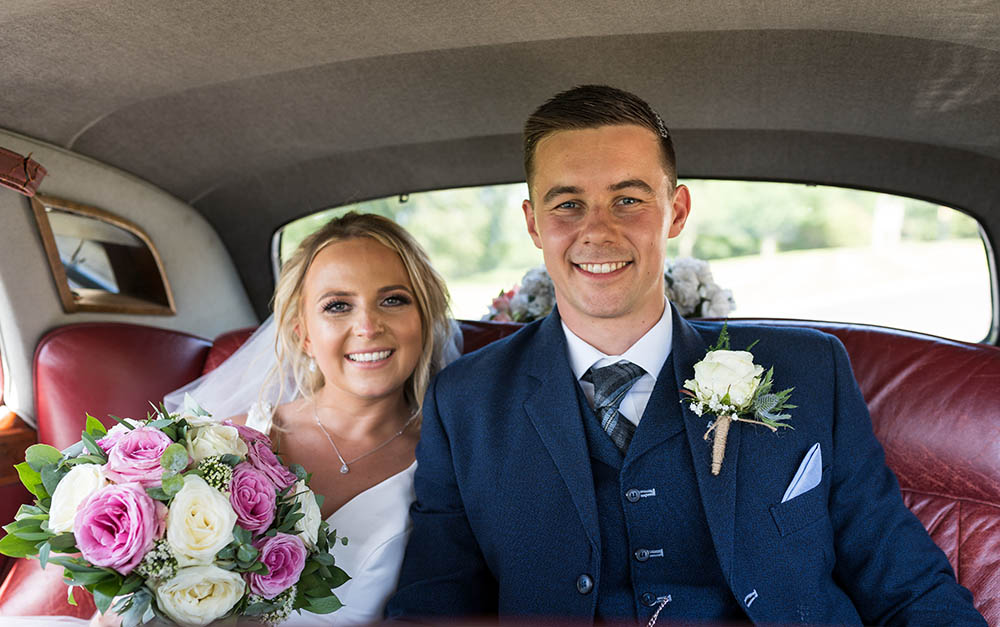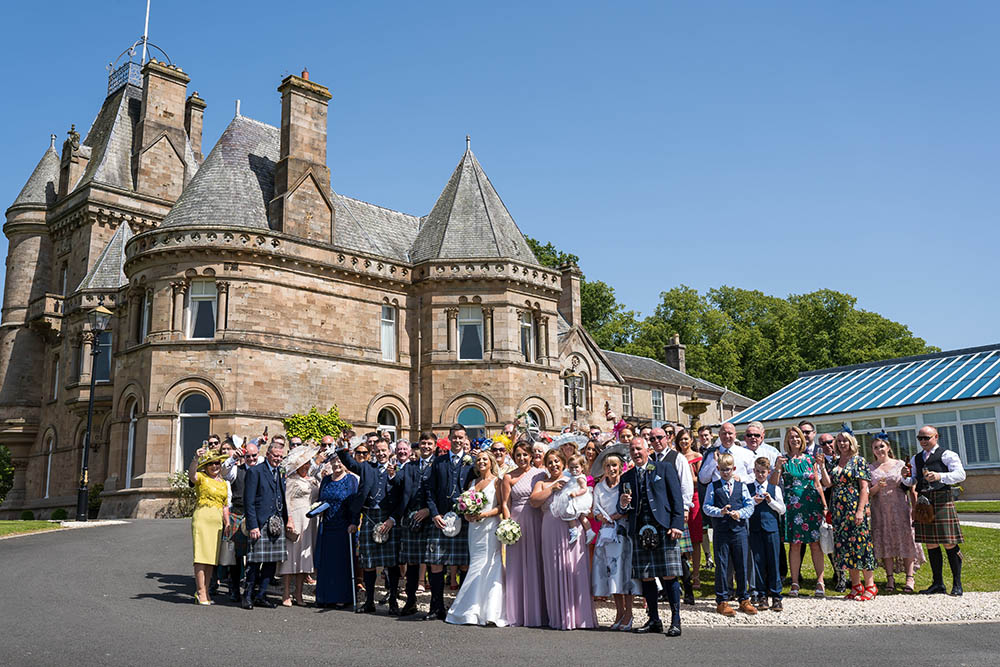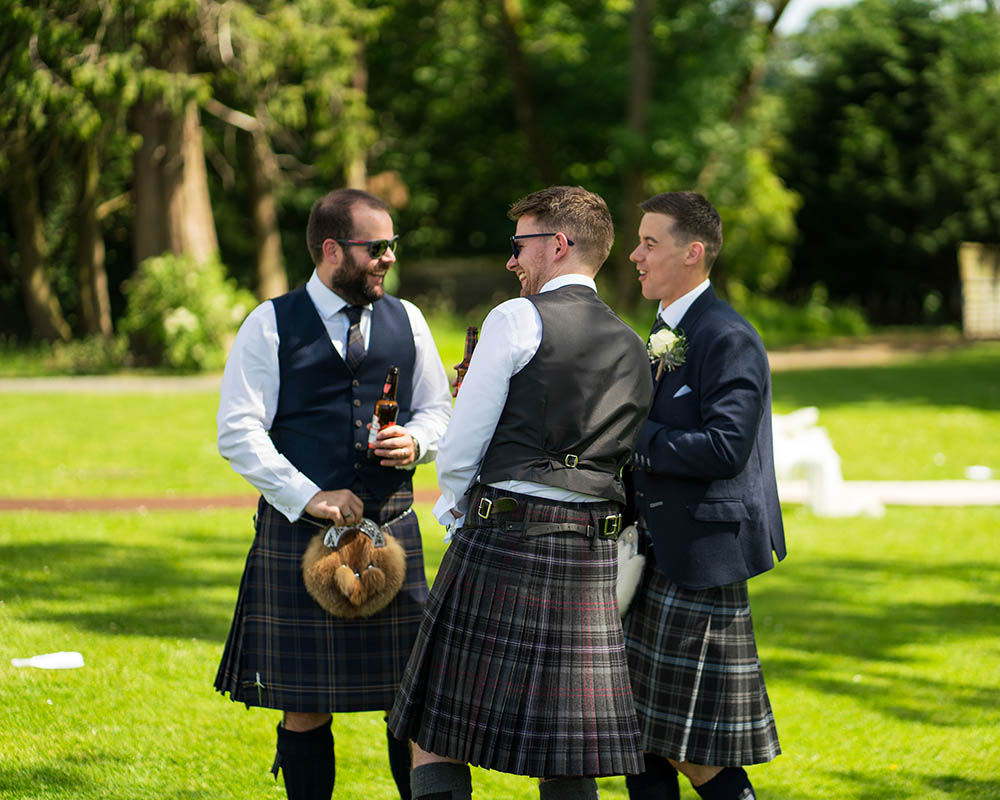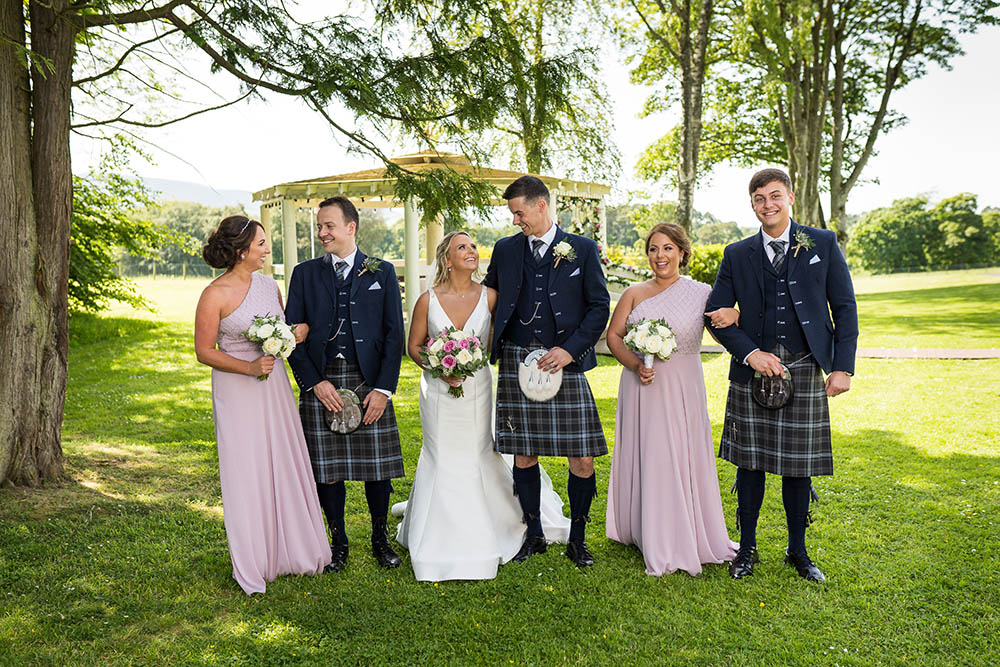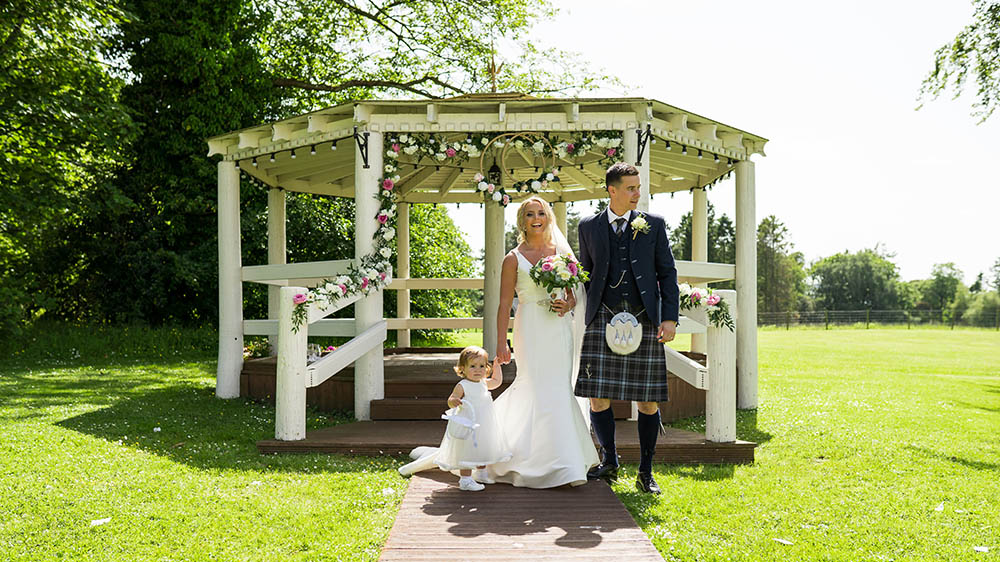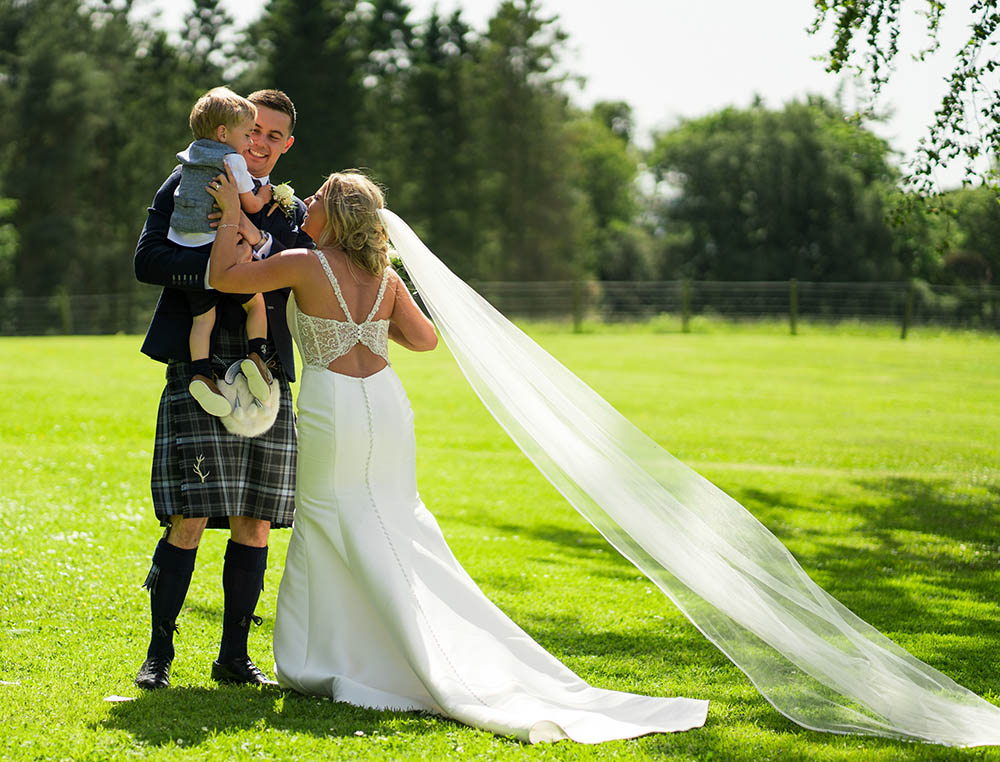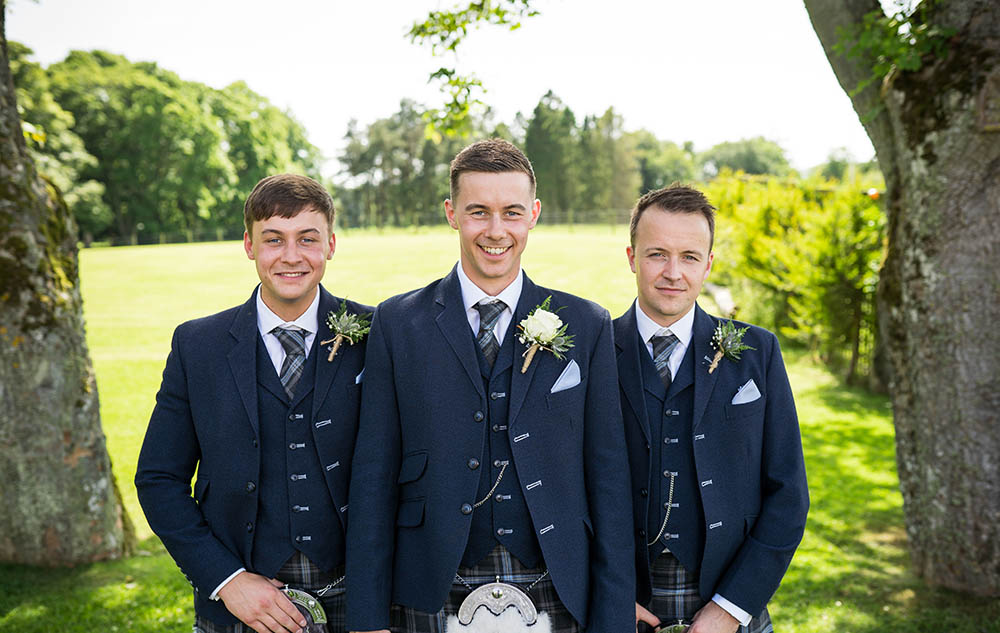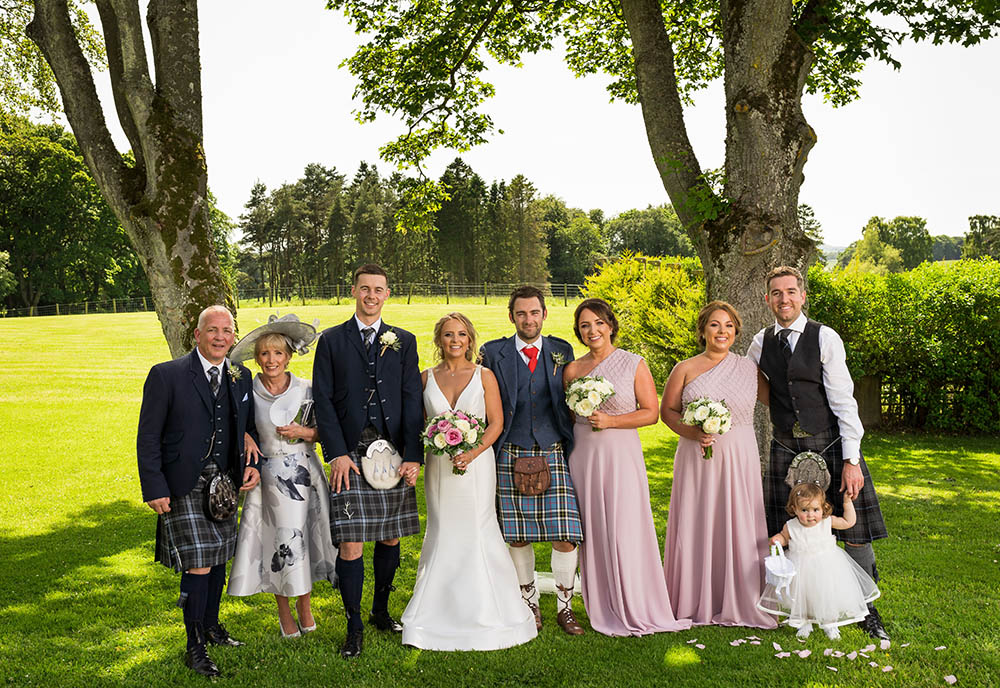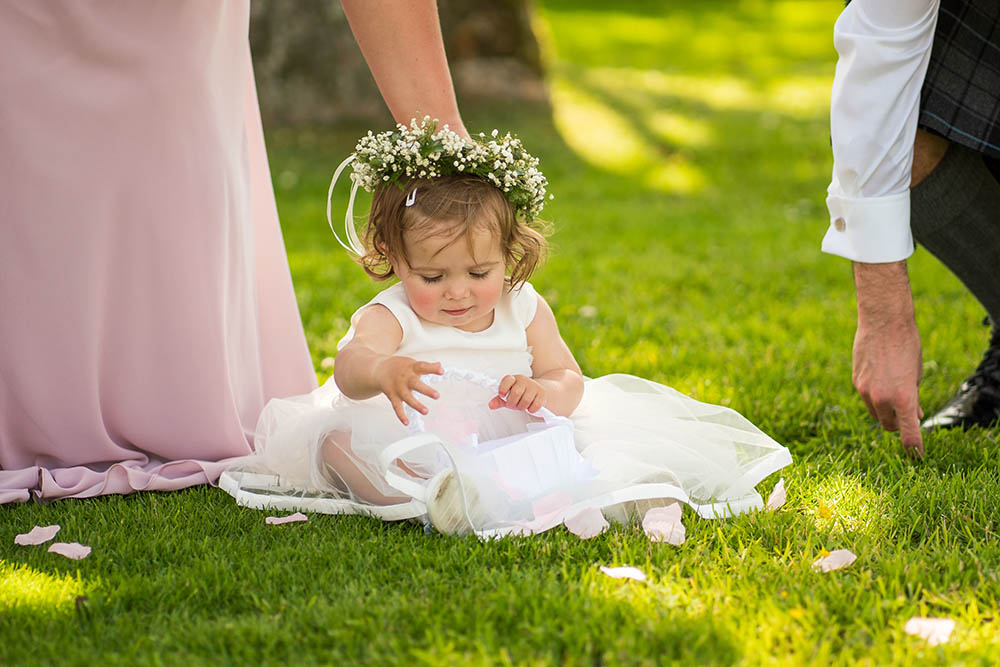 The stand-out moment for us was the ceremony.
We were so lucky to be able to have this outdoors and felt like this really made our day.
It was really relaxed, made us both laugh, and included Andy downing two miniatures of whisky which was impressive for his first drink of the day.
We also decided to write three things we loved about each other and one thing we would change which we heard for the first time at the ceremony (both a cute moment and something that really made us laugh!).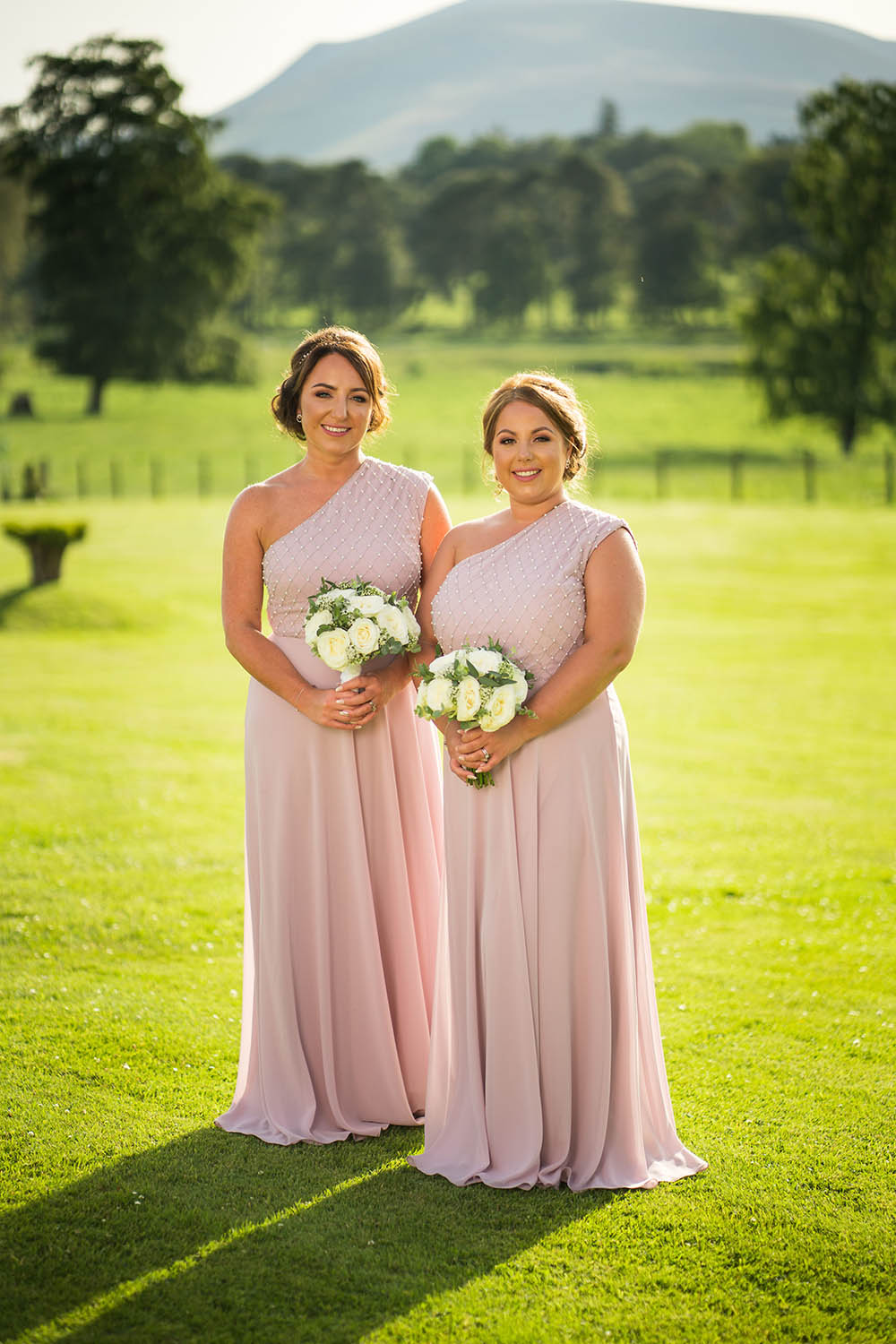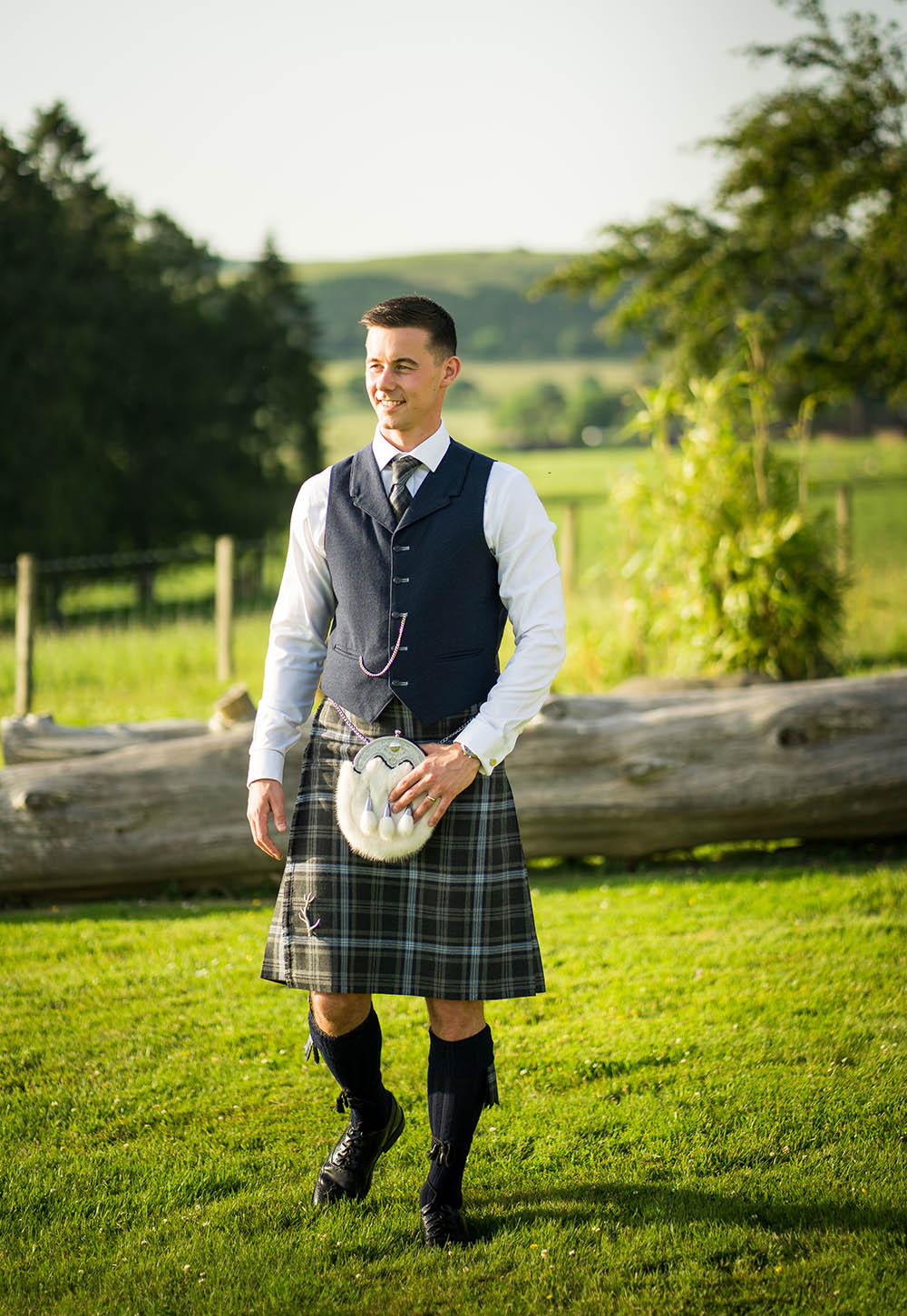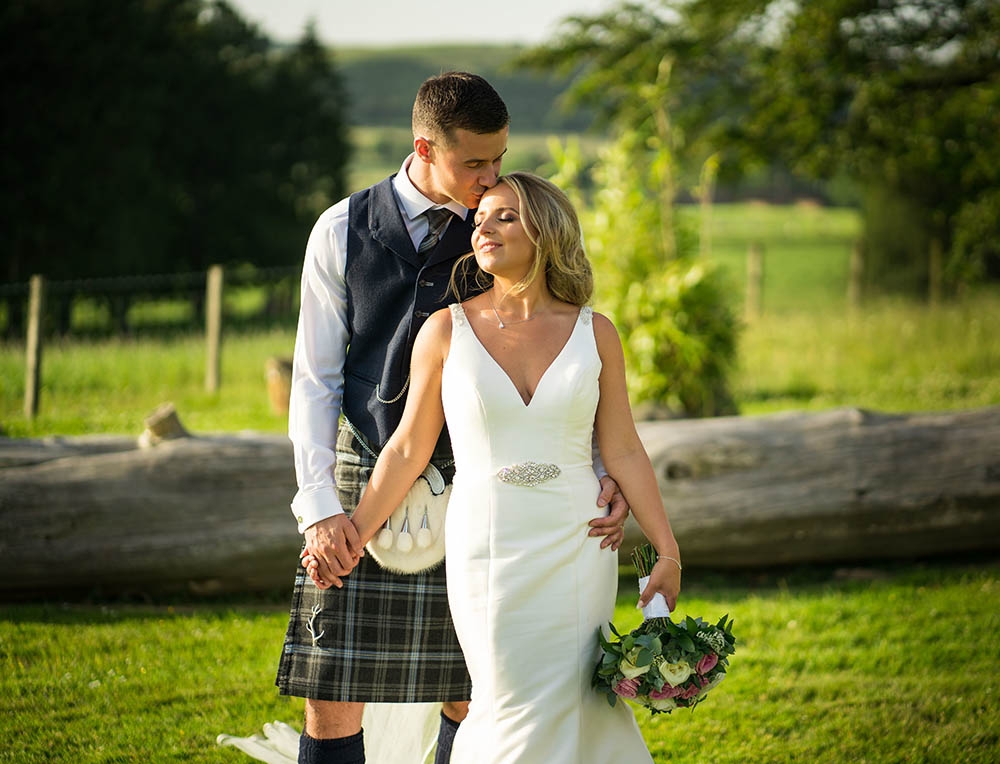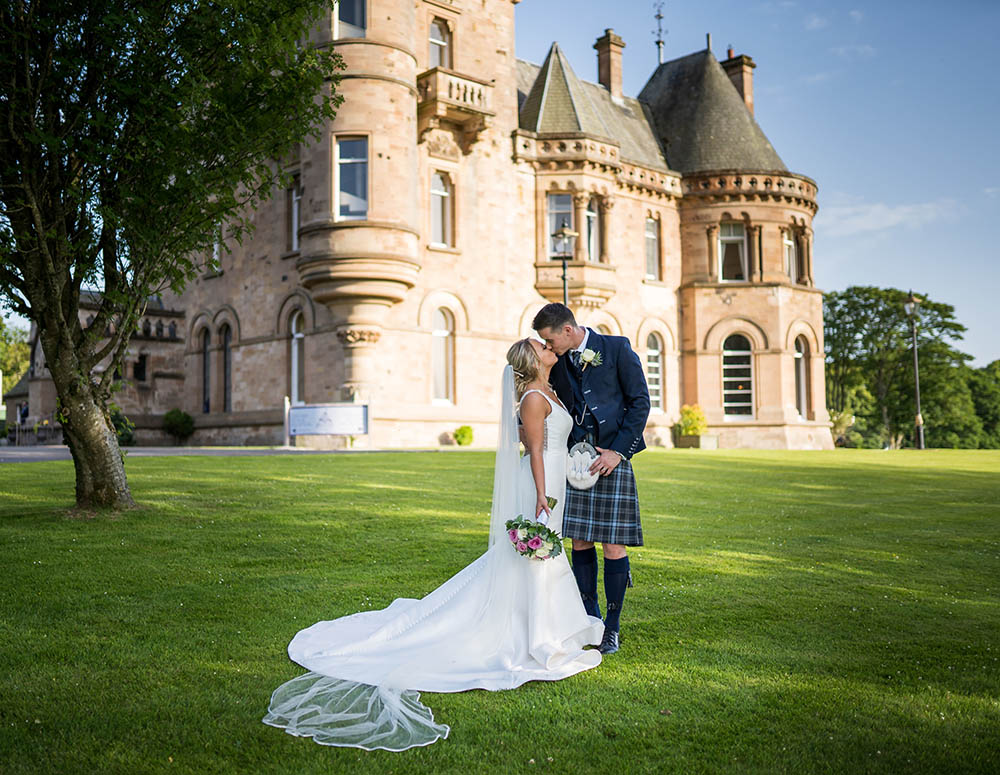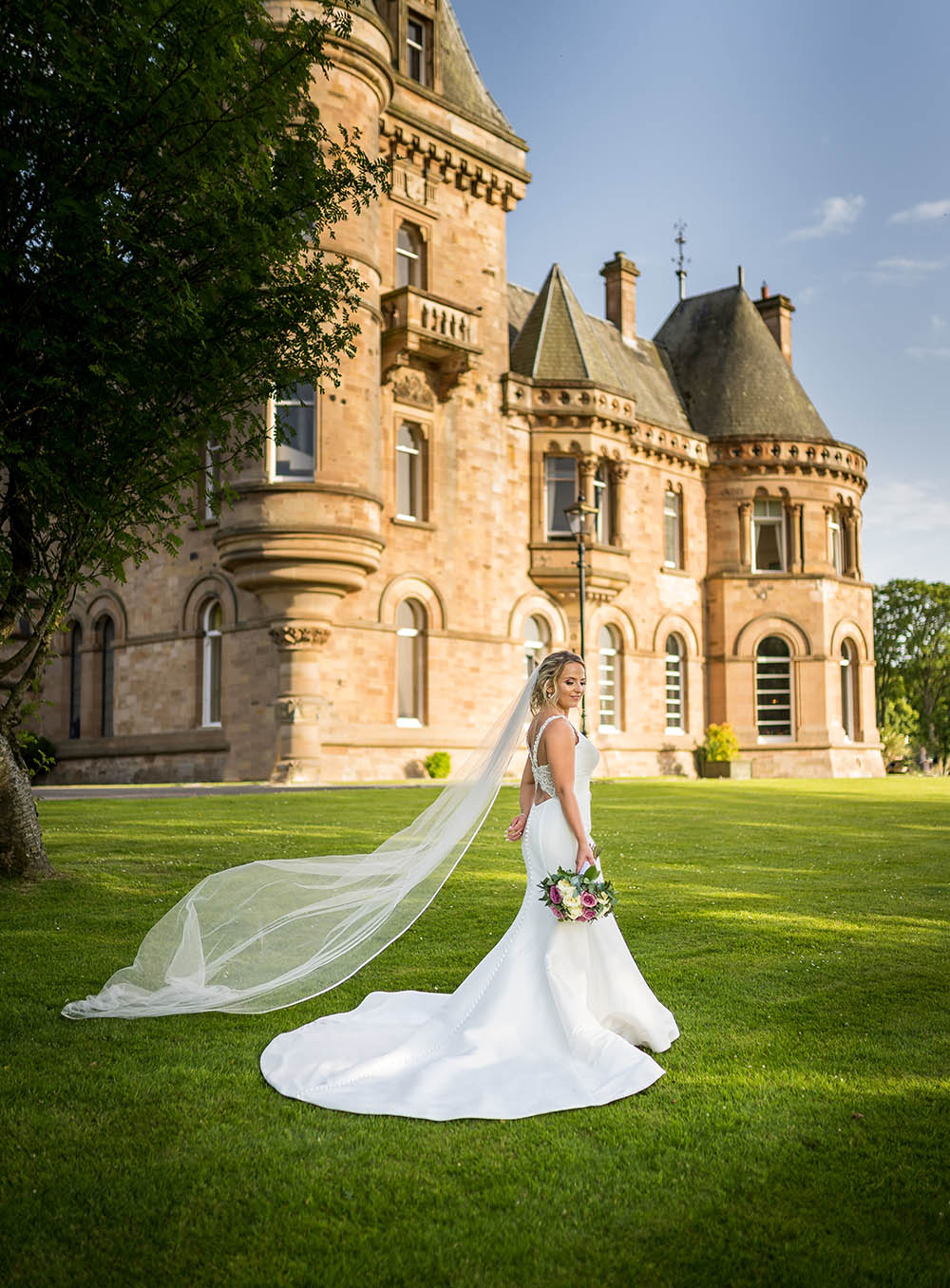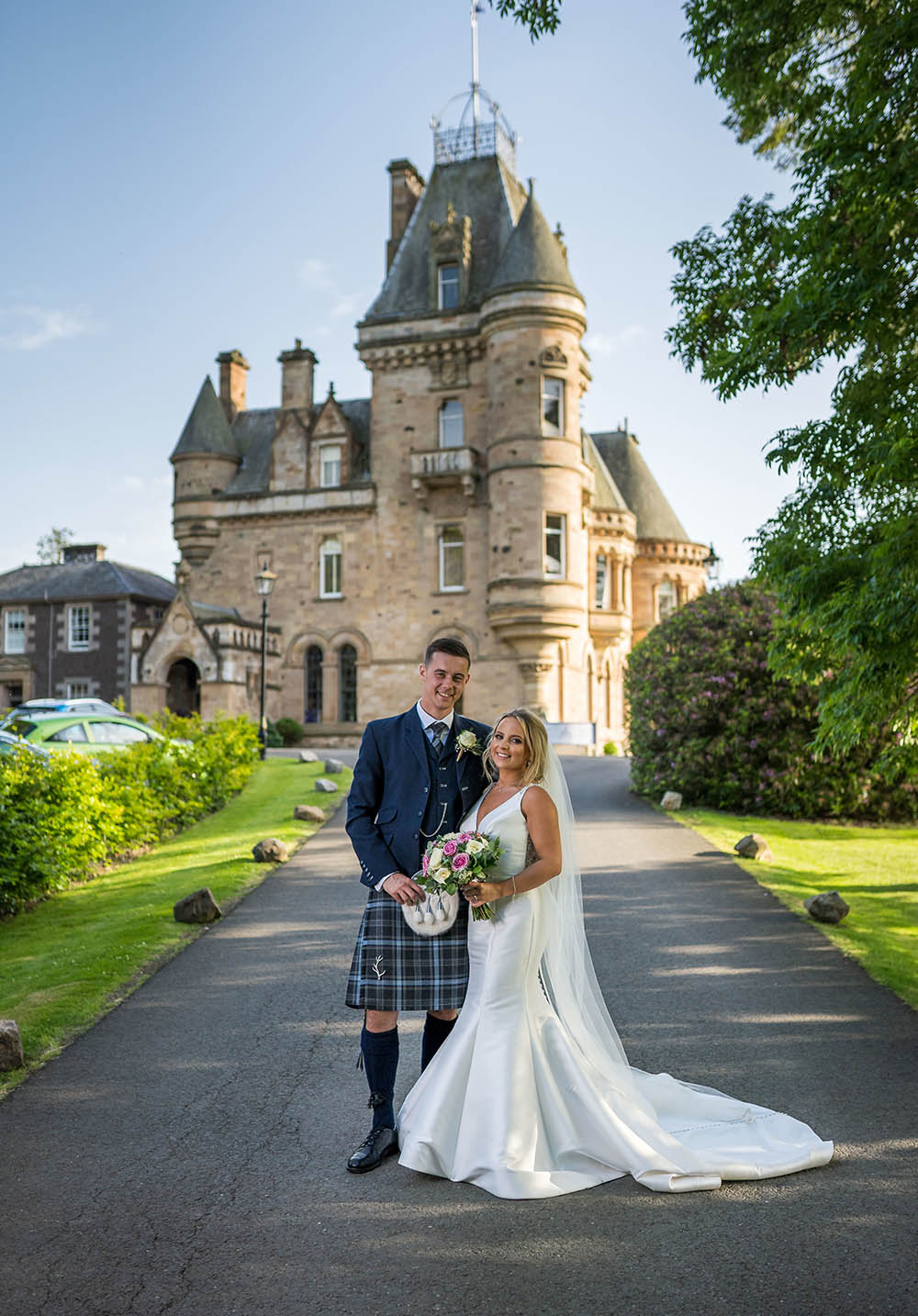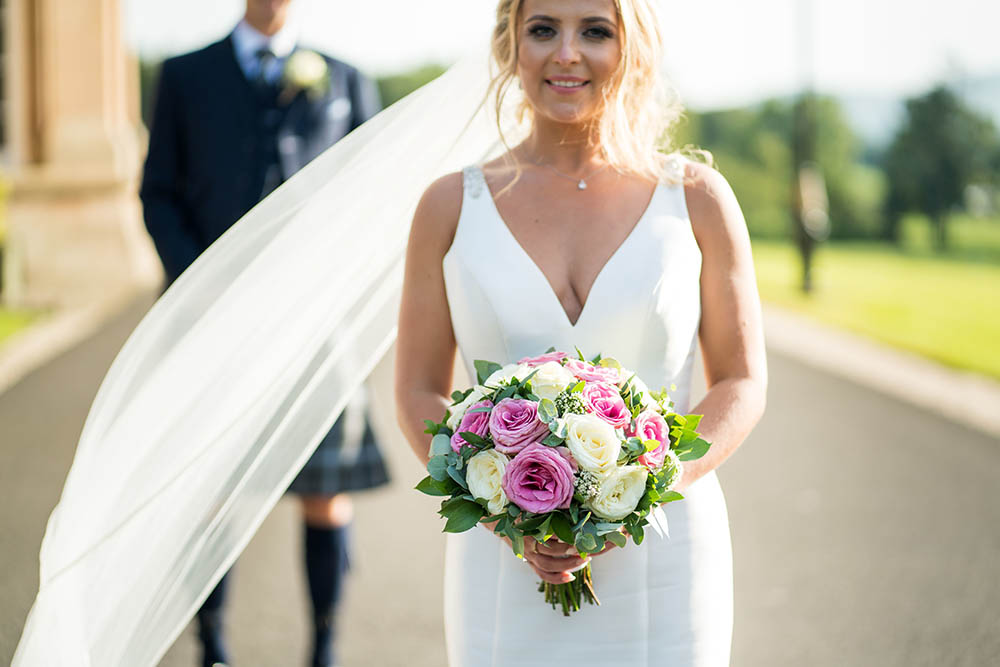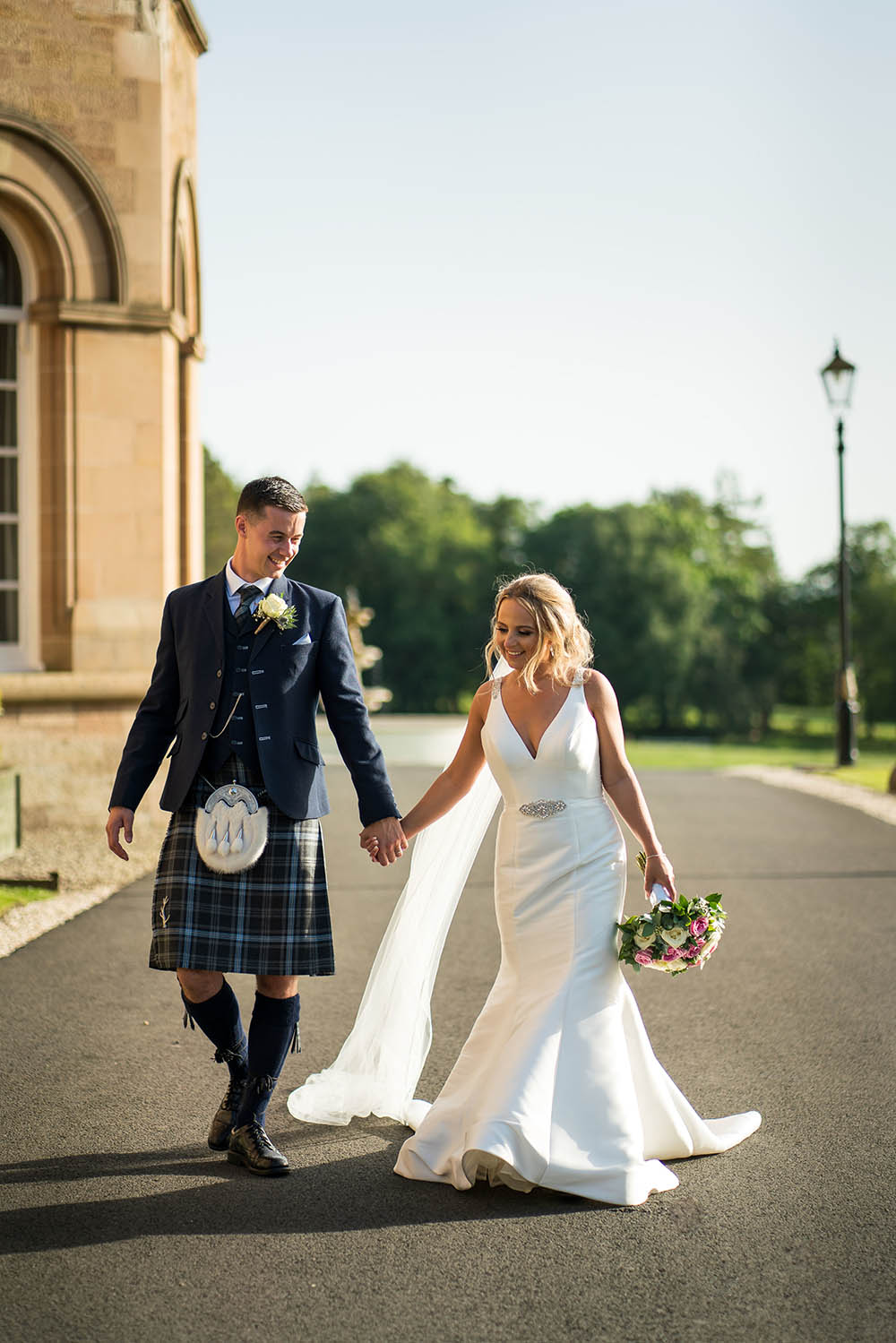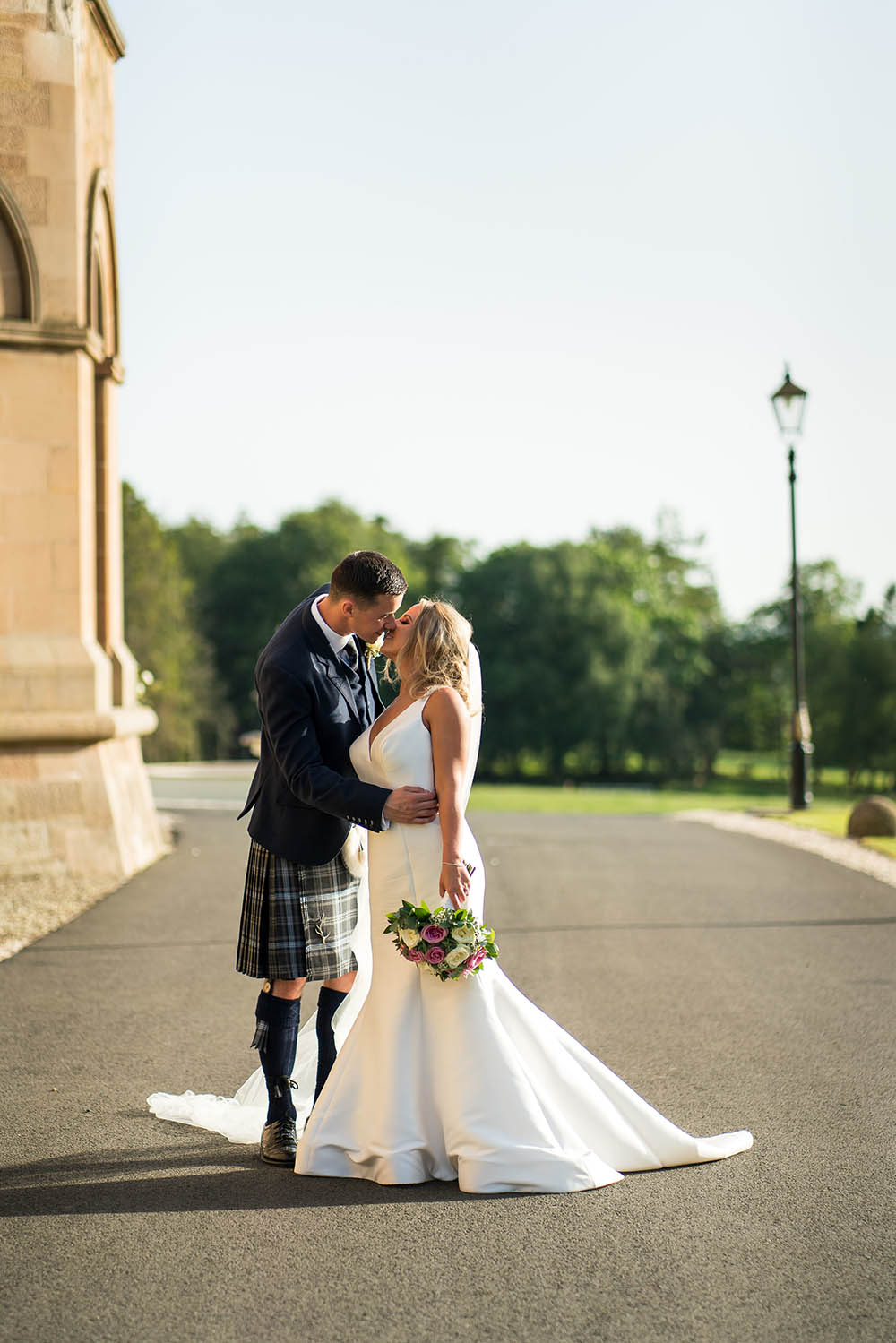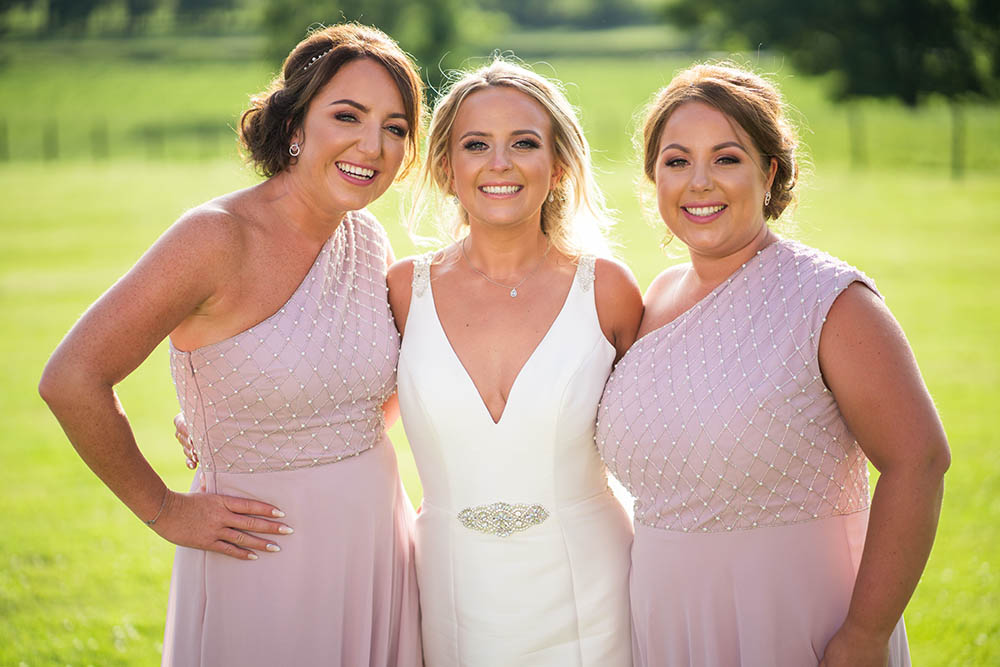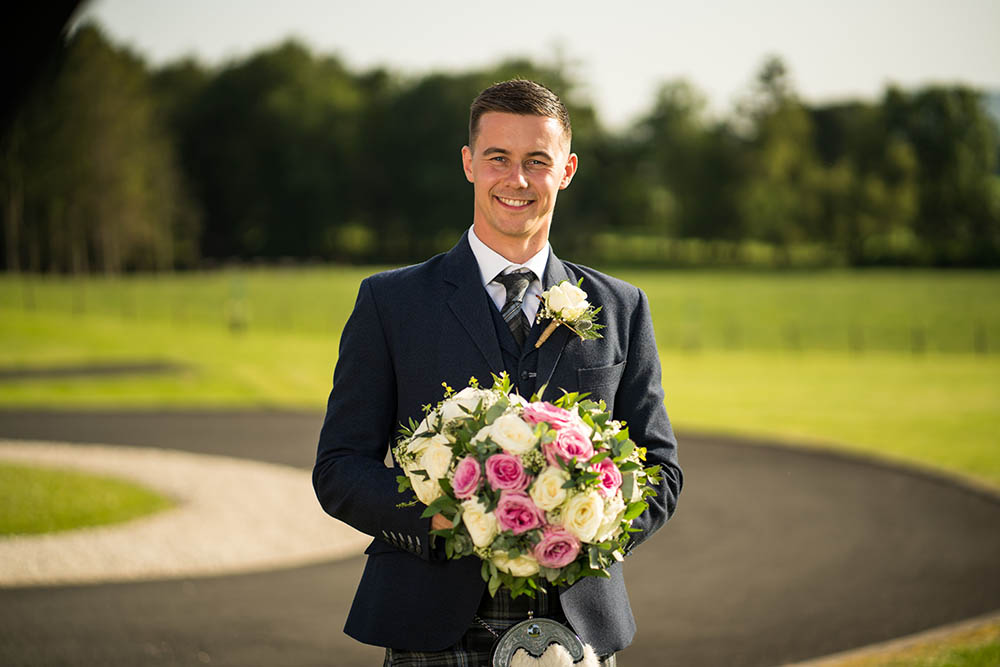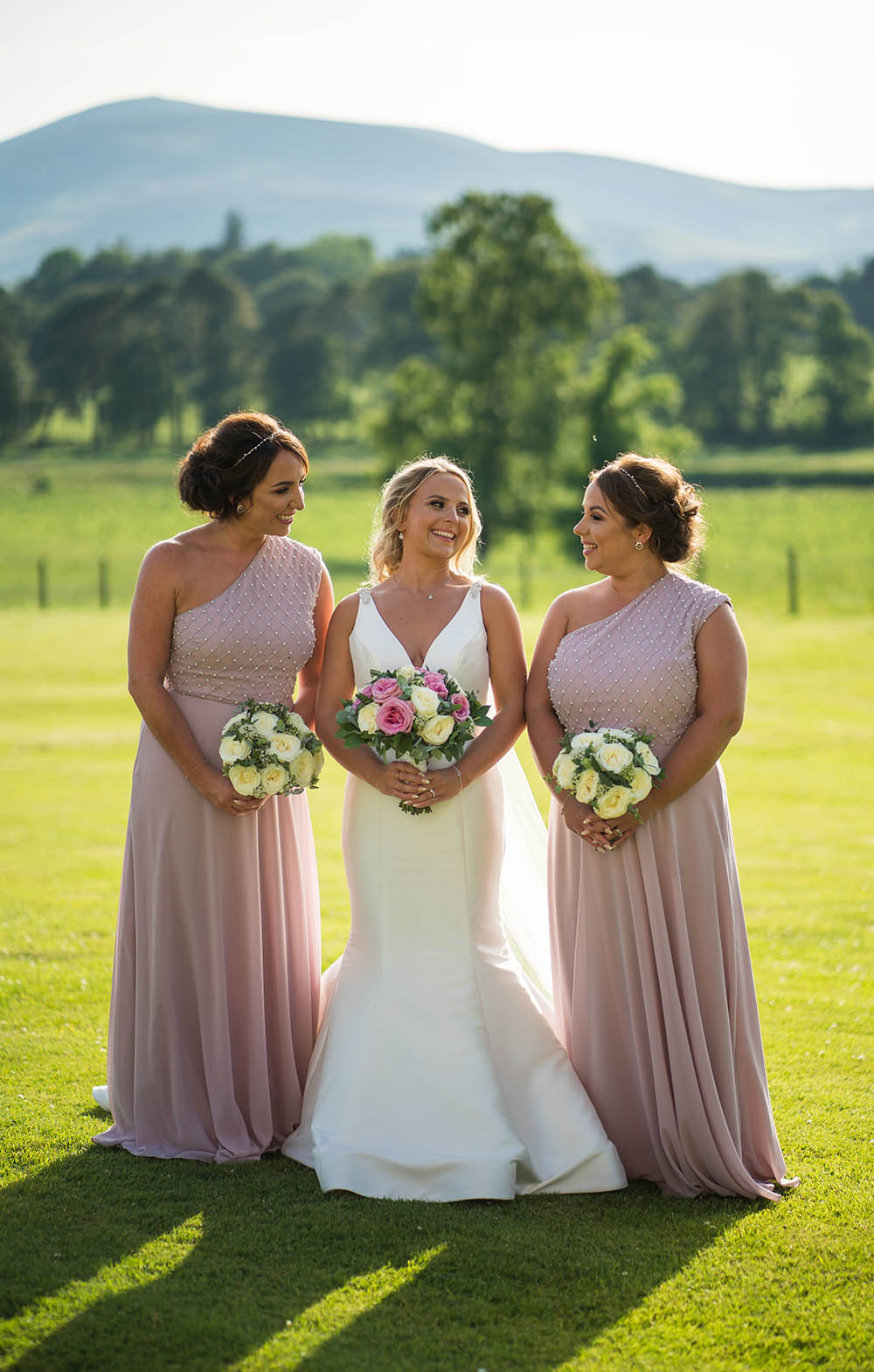 The other stand out moment was the party at night, we hardly left the dance floor all night. Thank goodness for flip flops!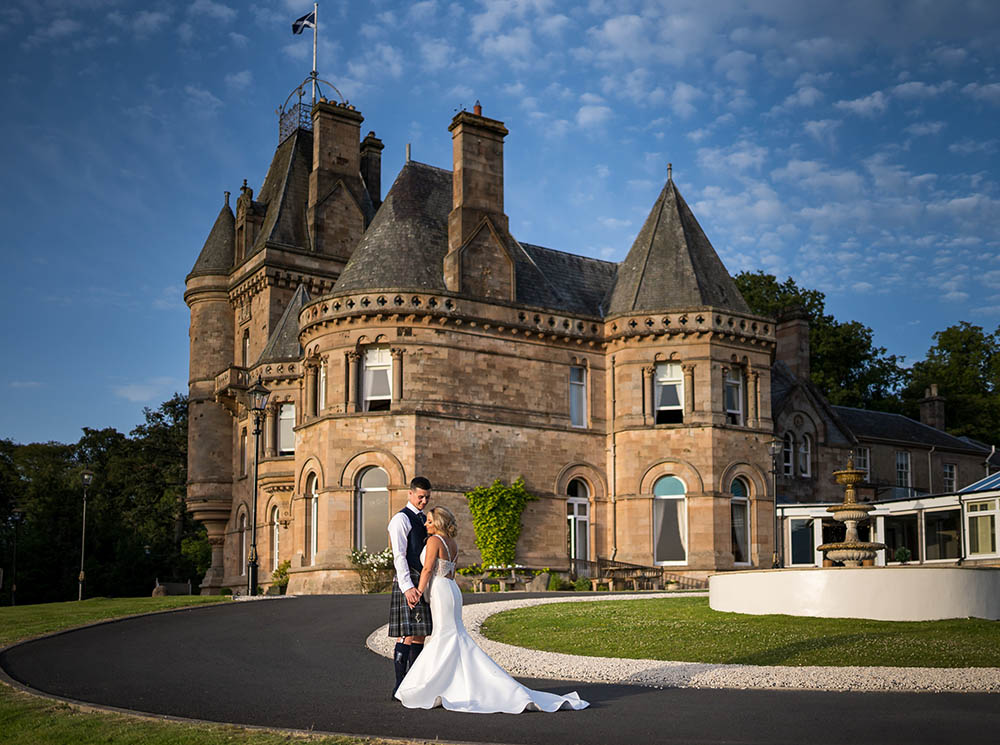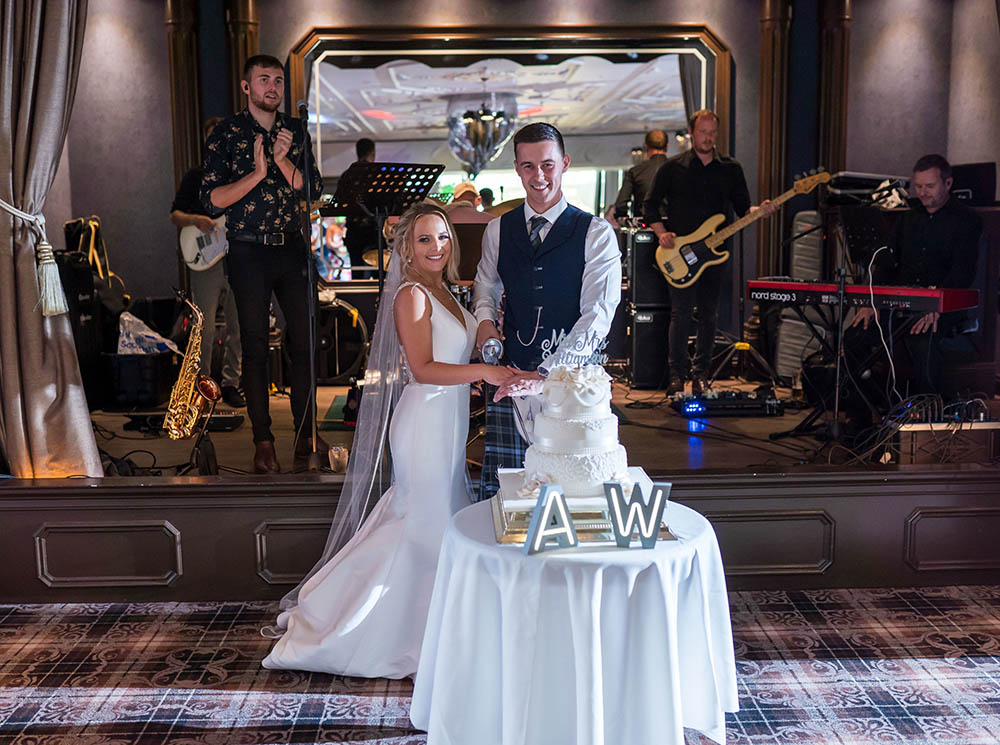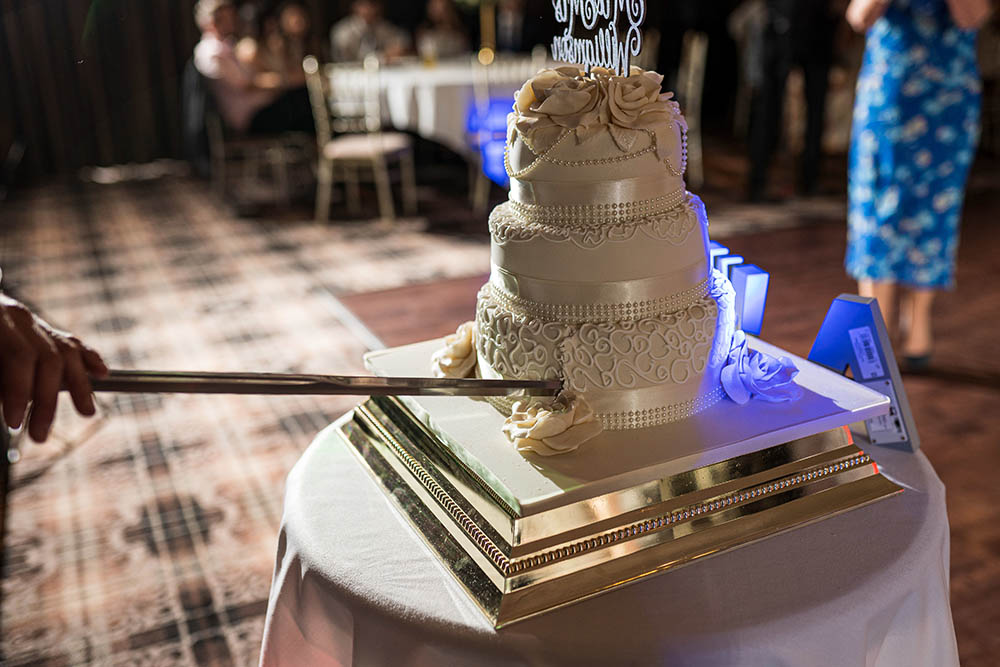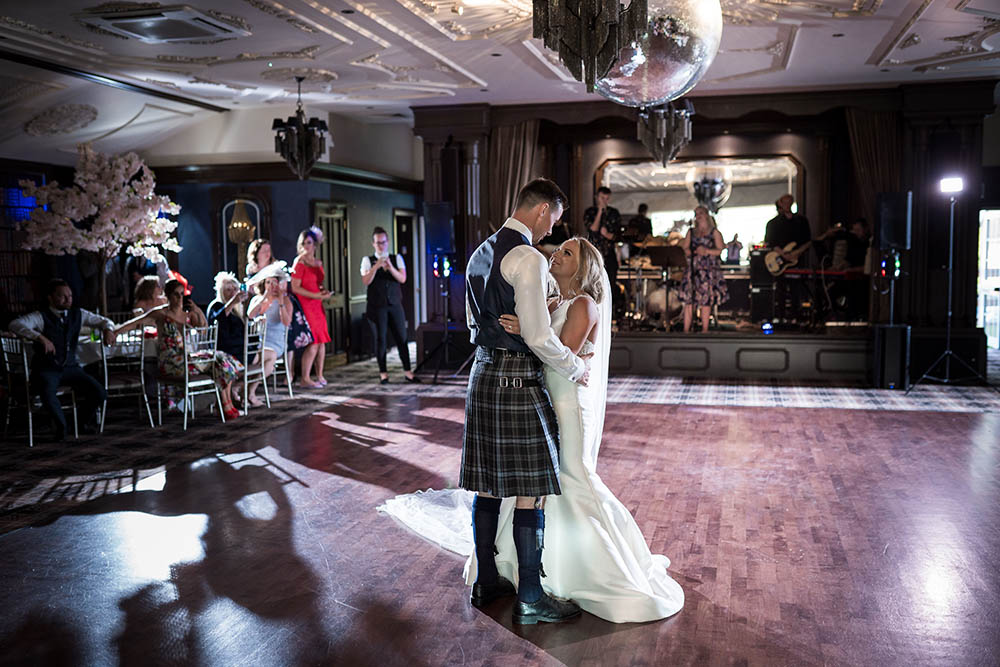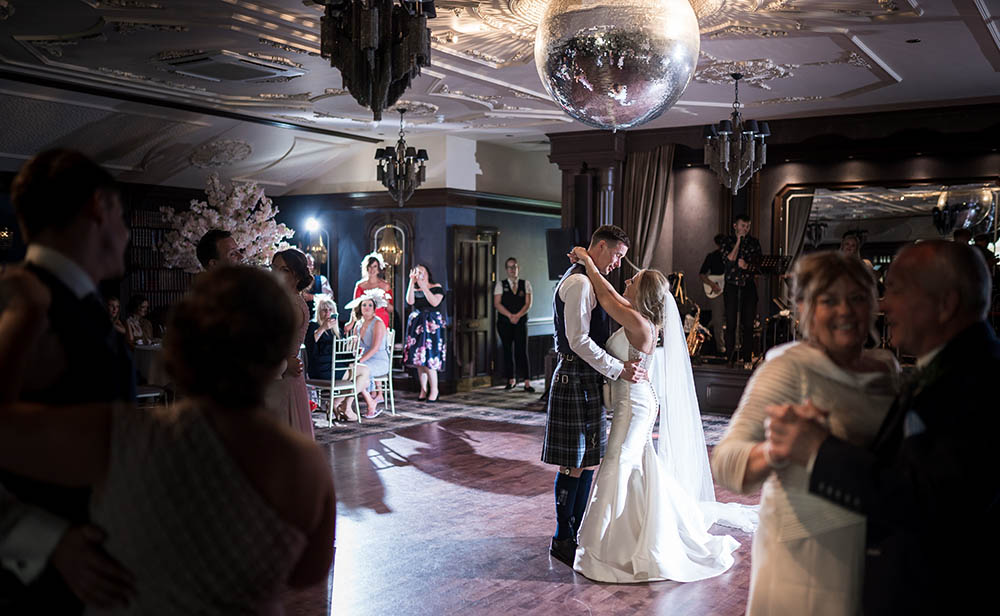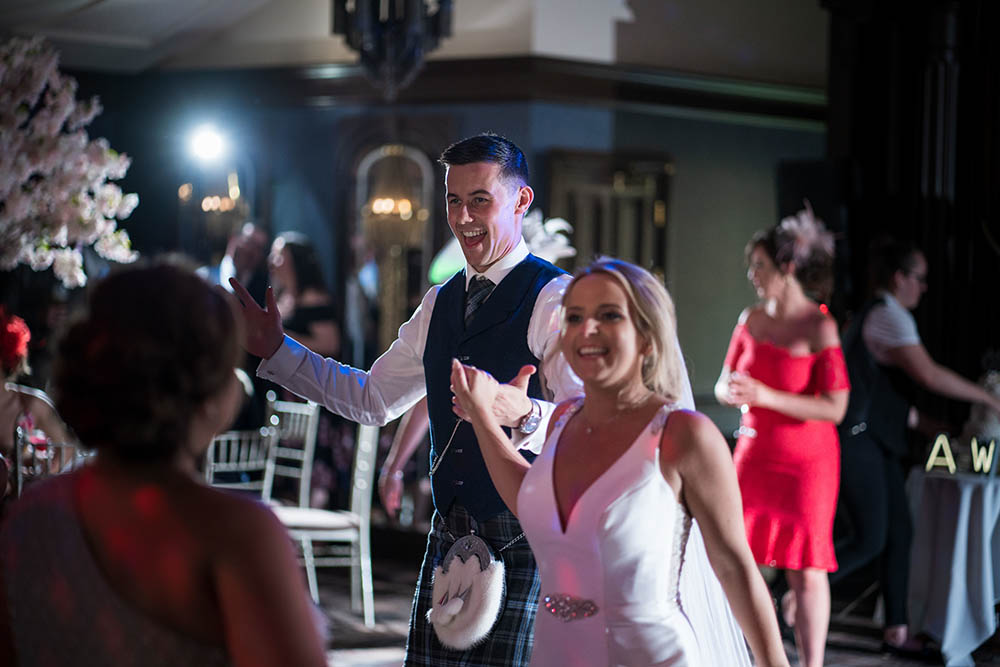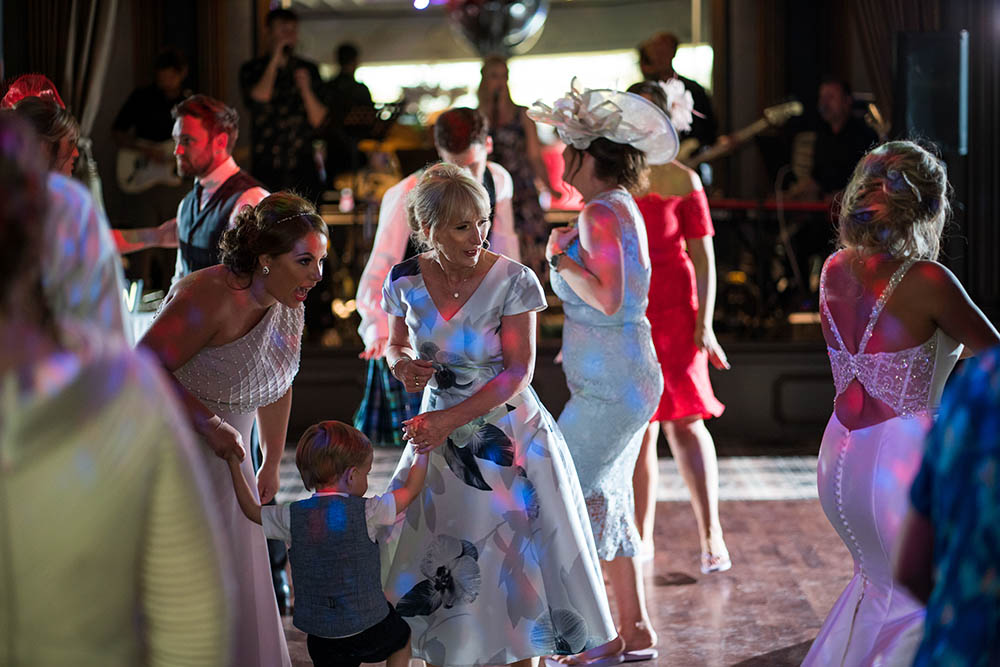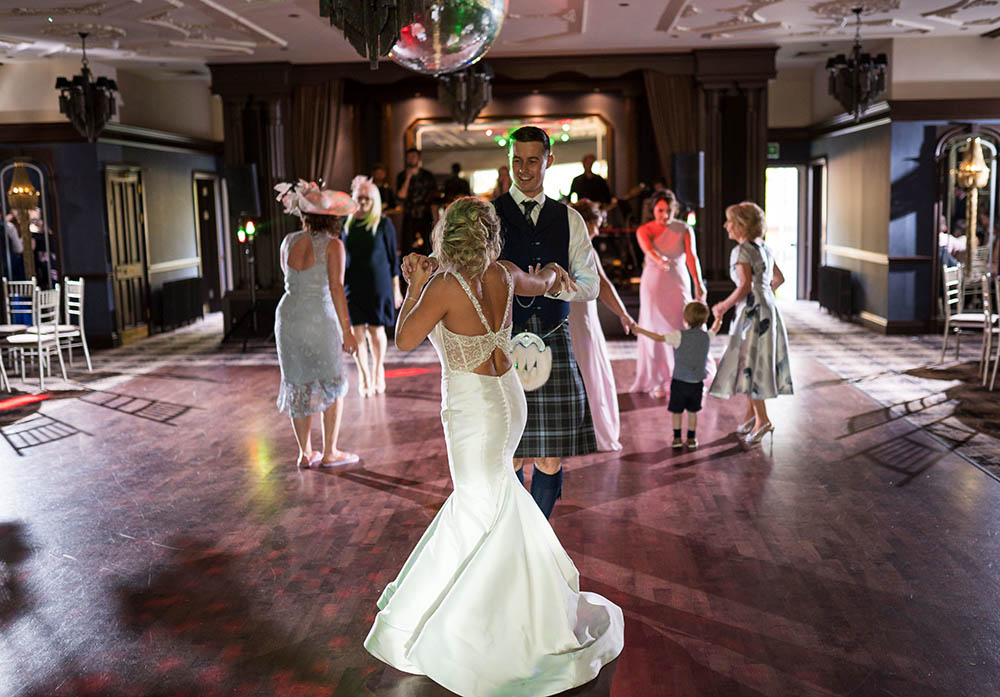 Venue: Cornhill Castle | Photographer: Mark Quinn Photography | Videographer: Solar Films – Scottish Wedding Films | Transport: Edinburgh Classic Wedding Cars | Bride's dress: Emma Roy of Edinburgh | Groom's outfit: Eight Yards | Bridesmaid dresses: Motee Maids at Kudos Edinburgh | Cake: Special Days Cakes | Celebrant: Andrew Smith-Simmons | Florist: Helen Coulter | Evening music: White Doves | Stationer: Clare Designs | Hair: Caroline Boyle | Make-up: Sophie Crompton Make-Up Artistry | Ice cream cart: Luca Ice Cream