Beautifully Intimate Cypriot Wedding in Protaras, Cyprus
Pauline and Paul made the decision to have a destination wedding in sunny Cyprus for a small group of friends and family.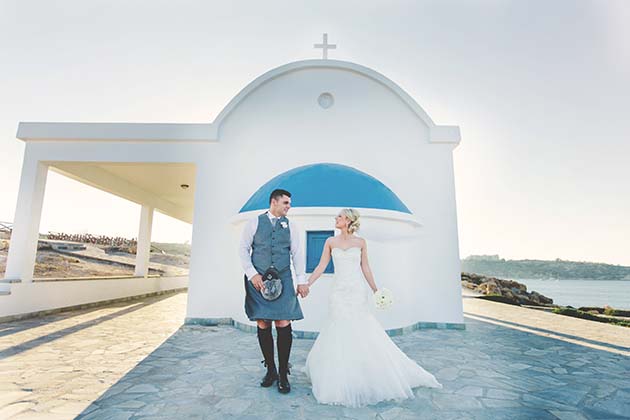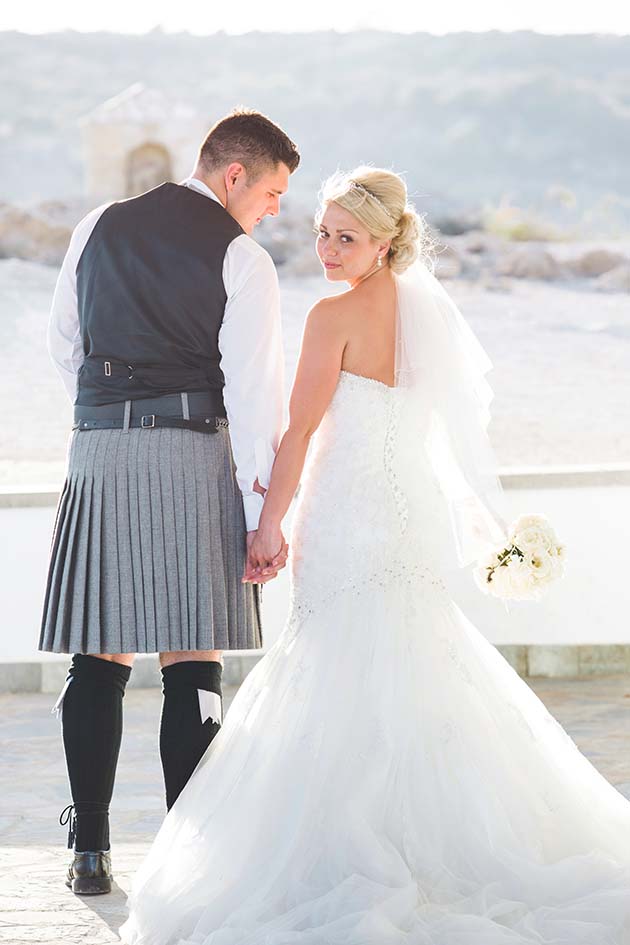 Pauline Cassells and Paul Watson
Tuesday 24th June 2014
Vrissiana Boutique Beach Hotel, Protaras, Cyprus
Photographer: The Gibsons
"We originally booked our wedding in Scotland but we decided to change it to Cyprus as we wanted something more intimate," says bride Pauline.
The couple have close family connections to Cyprus and Pauline has many happy memories from holidaying there. "We had only 25 members of close family present during the ceremony and wouldn't change it for the world."
The couple planned their big day from afar with the help of wedding co-ordinator Angela Bence. "I would say the most challenging part was getting used to the laid back Cypriot approach to weddings compared to how we do things in Scotland," laughs Pauline. "Most of the planning was done via email, however, we did meet Angela in Glasgow when she was at the Scottish Wedding Exhibition which was great."
The couple's guests stayed in the same hotel the night before and on the morning of the wedding, the girls went to the salon for their pre-wedding pamper sessions while the boys got ready together in the hotel.
"The only real difference between our Cypriot wedding day and a Scottish wedding day was that we got married at 3.30pm, because of the heat," Pauline tells us. After the ceremony and the formalities were completed, it was a perfect time for sunset pictures before the evening meal."
What do Pauline and Paul say are their lasting stand-out moments from the day? "Walking down the aisle and seeing each other's reactions after months of planning¦ the day was finally here," says Pauline.
"The evening meal was amazing too; a BBQ on the beach! Not many people can say they had their first dance next to the beach under the stars."
Their friends and family back home didn't miss out either. The couple held a party in Airdrie Town Hall to celebrate their marriage too. Pauline says: "we had the venue dressed for a wedding, a second wedding cake and we had a fab wedding band, Ernest." The beautiful bride got to wear her gorgeous gown again, "the best part!" she says!
"We're best friends as well as husband and wife," smiles Pauline, when asked how it feels to finally be Mr and Mrs. "It feels like the most natural thing in the world to be married. Life is one big adventure and being married means you have someone to share it with."
Congratulations to Pauline and Paul who have just welcomed their baby girl Lara into the world!
ABOUT THE GIBSONS
Wife and husband team Chantal and Scott love to think outside the box to ensure your wedding is unique and personal to you.
Contact The Gibsons.

Venue: Vrissiana Boutique Beach Hotel, Protaras, Cyprus
Photographer: The Gibsons. "Although we were with the photographers, they made us feel like we were alone."
Dress and accessories: Sophia Tolli Marielena from Bibbidi Bobbidi Boo Bridal Boutique, East Kilbride
Bridesmaid dresses: Handmade by family friend
Groomswear: Mackenzie Menswear, Glasgow
Florist: Busy Lizzies Florist, Airdrie
Stationery: The Paper Doll
Hair and make-up: Anastasia Hotel, Cyprus
Wedding co-ordinator: Angela Bence, Tssokos Wedding Co-ordinator
Honeymoon hotel: The Sunrise Pearl Hotel, Protaras. "We stayed in the hotel for two weeks. Our junior suite had a swim up pool! The hotel made us feel like royalty."