Scottish Ballet star Bethany Kingsley-Garner's wedding at The People's Palace, Glasgow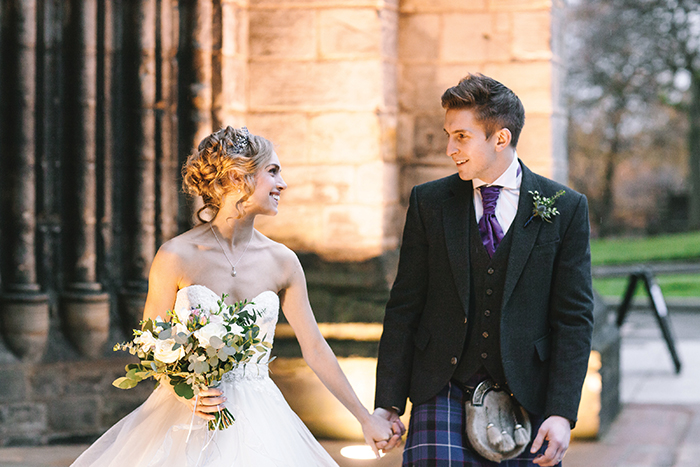 When we found out that former SWD model and ballerina Bethany Kingsley-Garner had got married, we had to catch up with her for the details!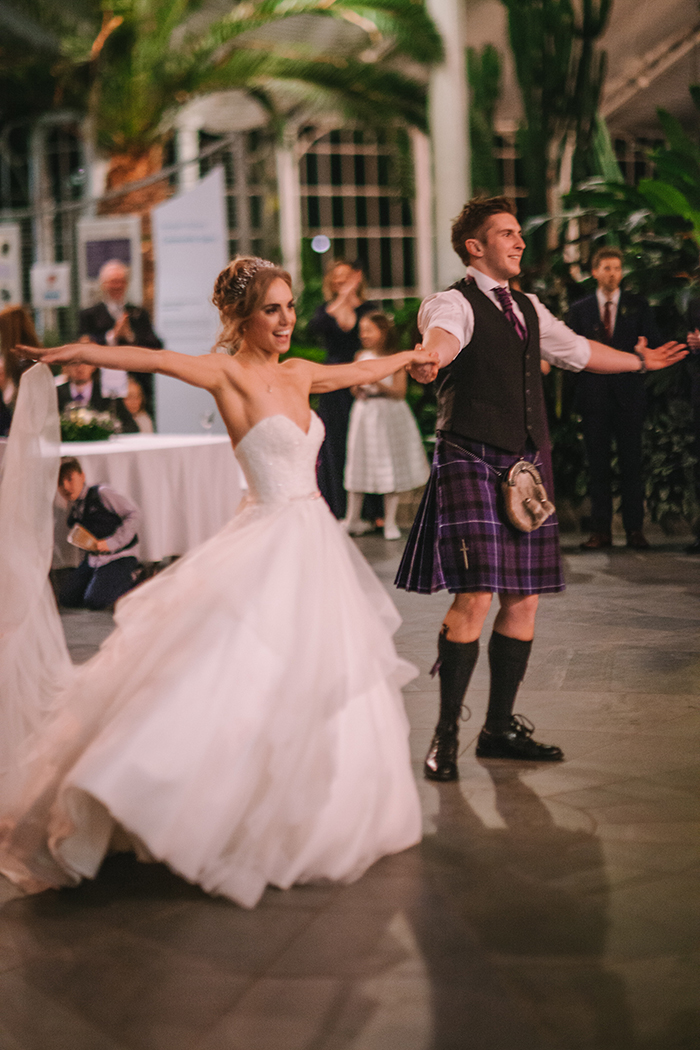 Image | Christina Riley
Back in Autumn 2017, we invited Bethany Kingsley-Garner, principal dancer at the Scottish Ballet – and at the time, a bride-to-be – to model wedding dresses for us in a gorgeous photoshoot by Laura A. Tiliman.
"I was so excited to get to the stage of trying on wedding dresses and was thrilled to be asked to do the photoshoot for SWD," says Bethany.
"The day was so much fun with the team, and I got lots of ideas for my dress and jewellery."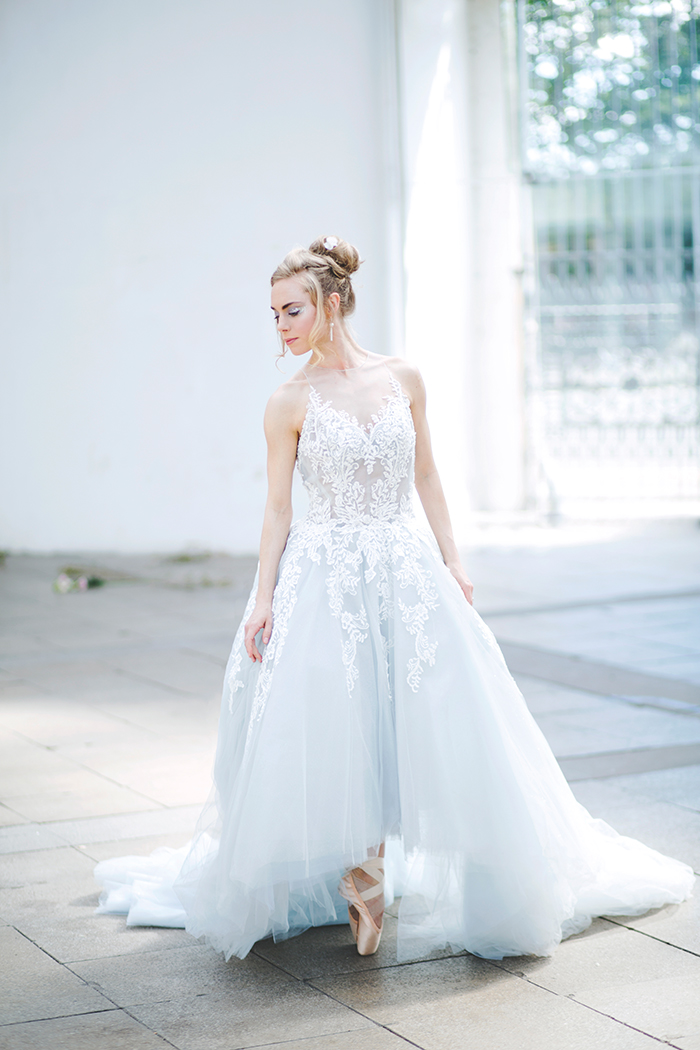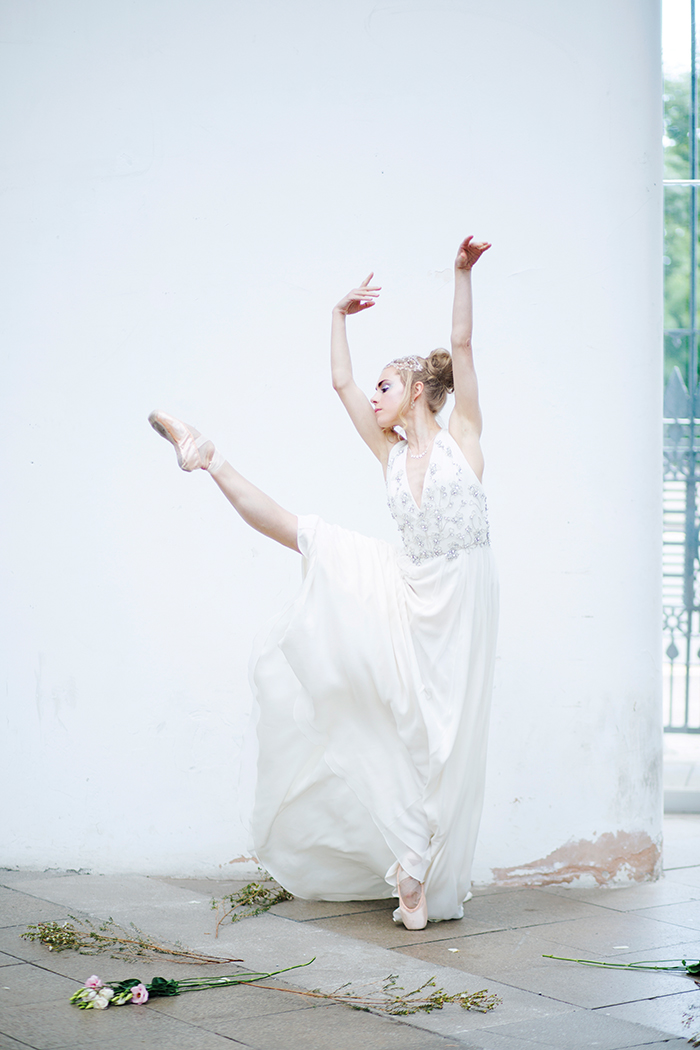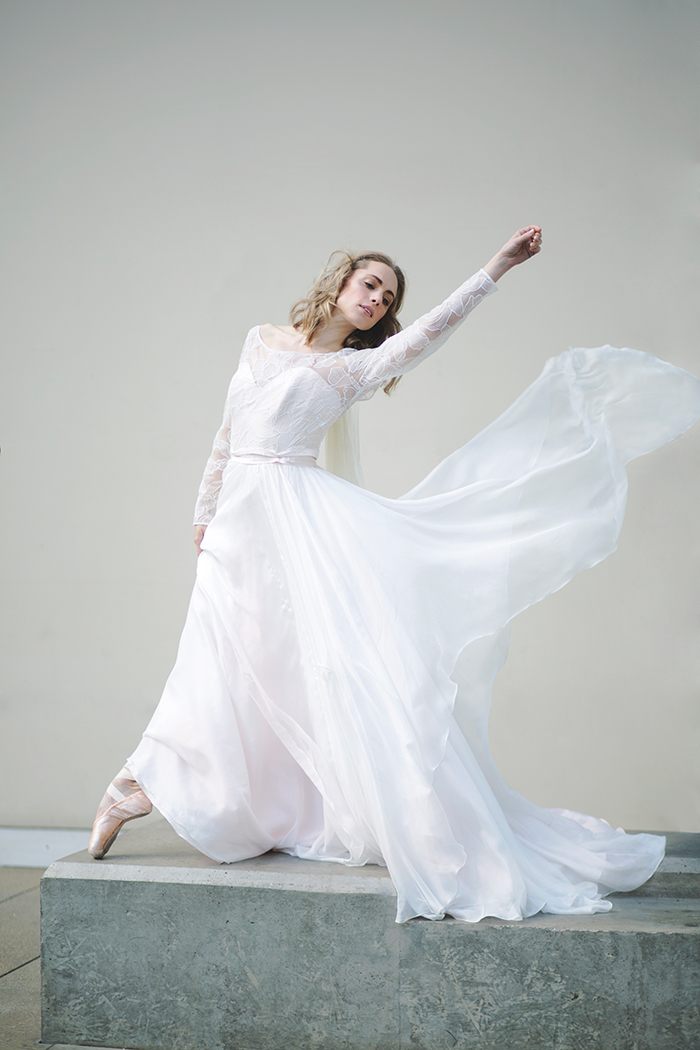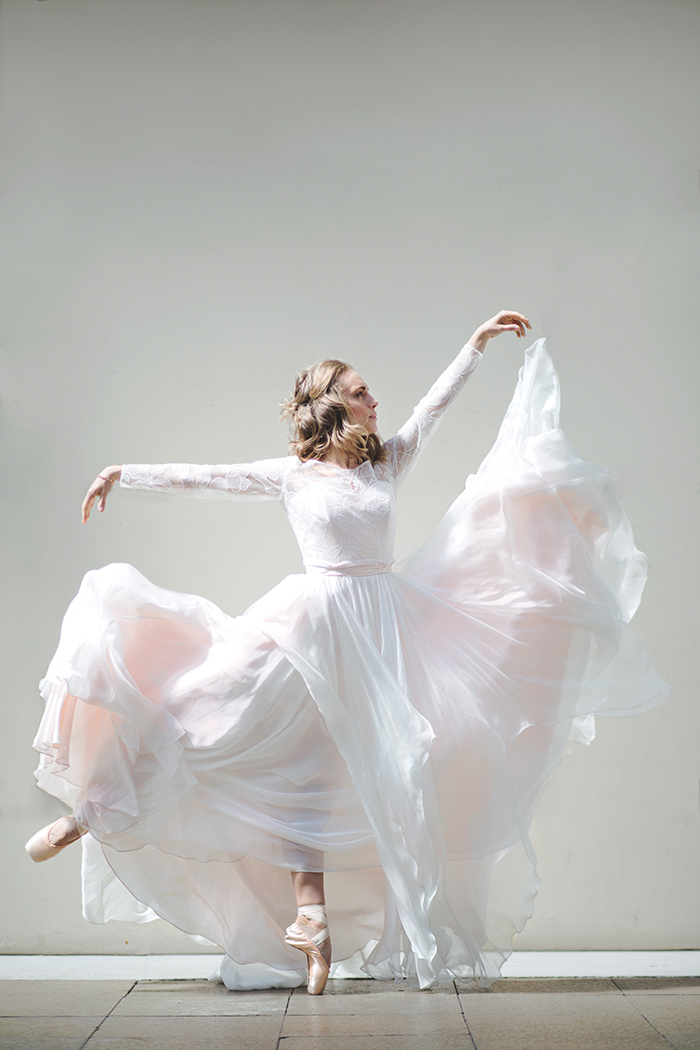 Images | Laura A. Tiliman
Fast-forward just over a year and it was time for the ballerina to wear a wedding dress for real when she married her personal trainer beau Stuart Lane on 10th November 2018 at Glasgow Cathedral, followed by a reception at the People's Palace and Winter Gardens. 
The whole day was beautifully captured by Christina Riley (see photos below).
"We actually met on 10th November 2012 at The Corinthian in Glasgow – little did we know that that would be our wedding date six years later," laughs Bethany
Winter wonderland
Winter has always been significant for the couple, not only because it's the time of year they met, but because it's when Stuart proposed.
"I love Christmas, and each year we would have a special Christmas extravaganza day before my Christmas [ballet]  season started," explains Bethany.
On 26th November 2016, the couple went out to the Christmas markets to choose their Christmas tree. They went home, settled down to watch a film, and Stuart left the room. "He came back with a box and got down on one knee.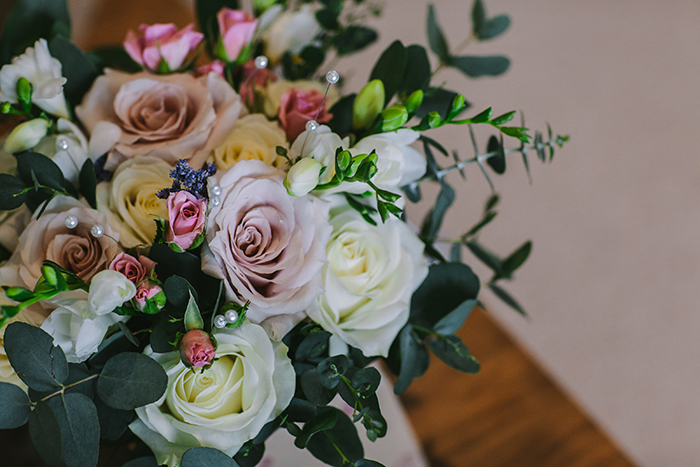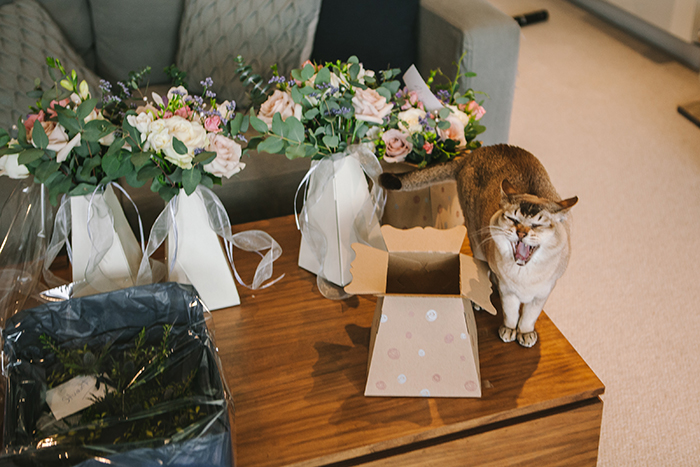 The ring was a Sheila Fleet design that Stuart had chosen based on the waves around Orkney.
"The ring has movement – perfect for a ballerina."
Choosing the ceremony location was easy. The medieval beauty of Glasgow Cathedral instantly stole the couple's hearts.
It took longer to find the perfect reception space,but the People's Palace eventually won out.
"When we saw it at night with the lights sparkling into the park it just looked magical; where our winter wedding wonderland had to be," smiles Bethany.
Because Bethany is from Devon originally but now lives in Scotland, the couple incorporated influences from both places.
"We achieved this by first selecting flowers with colours to complement the tartan," says Bethany. "Heathers to represent those found in the wilds of Dartmoor, and thistles for Scotland."
Naturally, the couple also wanted their day to have a festive vibe, so Bethany's mum set to work on creating a hot chocolate table.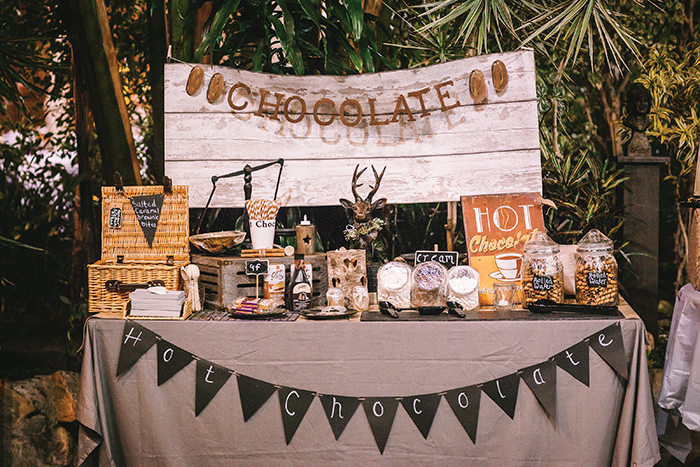 "She did an incredible job designing it in a vintage style, displaying both retro and modern items to provide guests with a self-service selection of hot chocolate complete with toppings,cream and chocolates to eat," says Bethany.
"Me and my mum also made some white and silver cushions to decorate the wooden benches that were dotted around the  rest areas.
My evenings of sewing pointe shoes were replaced with cushion making for a while!"
You wear it well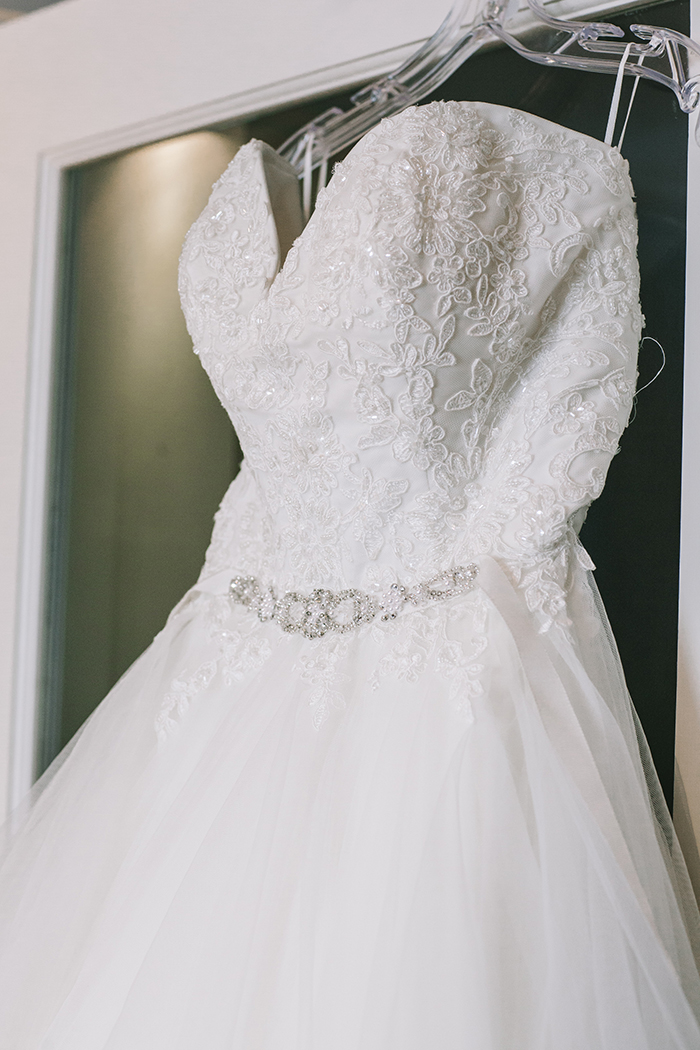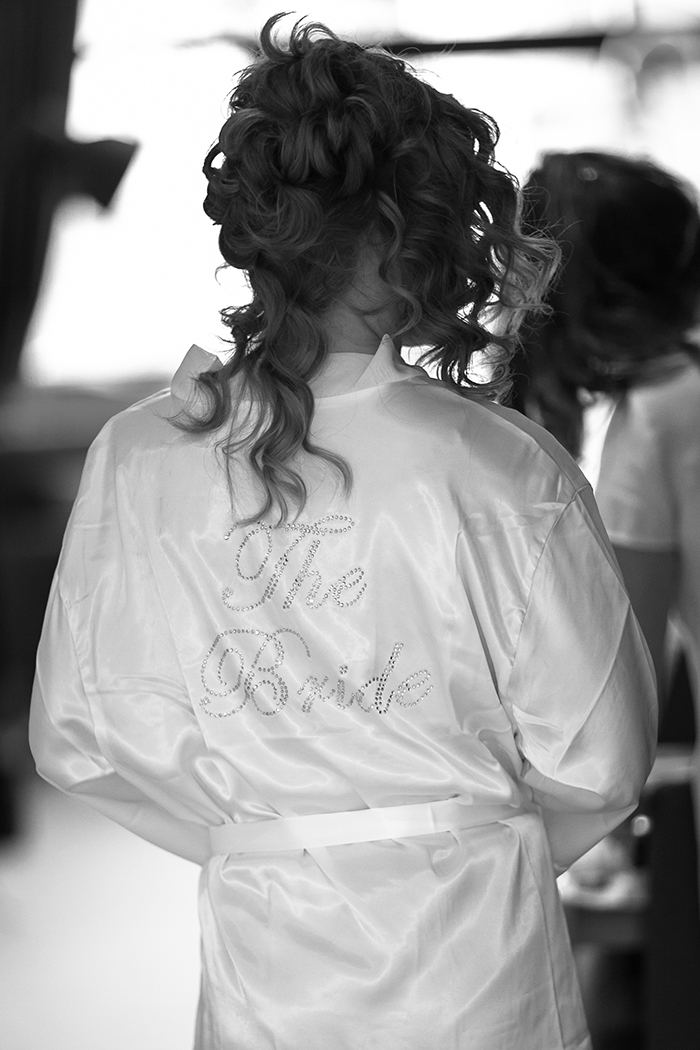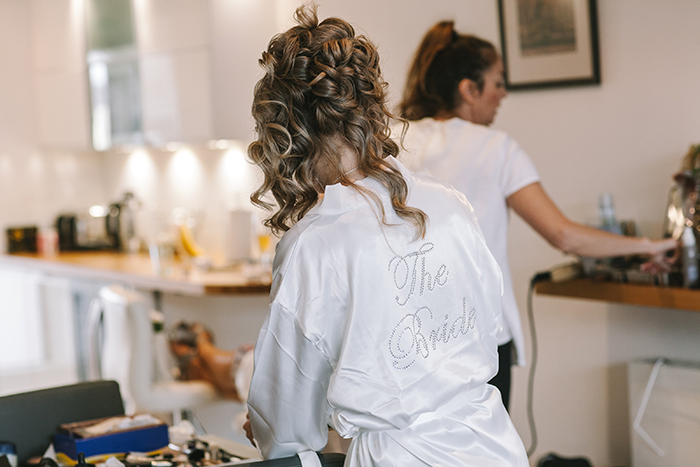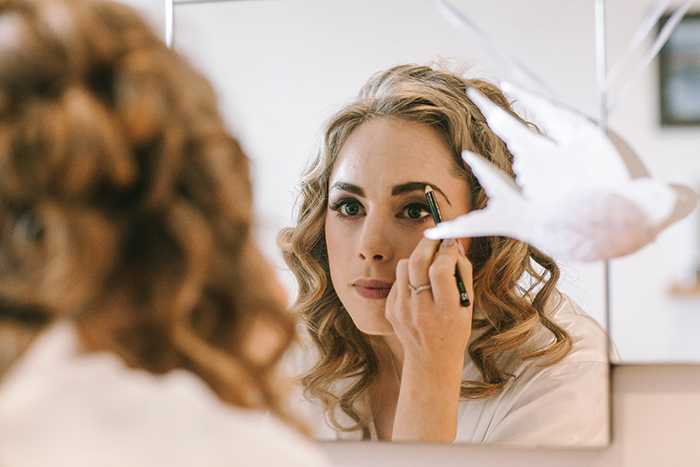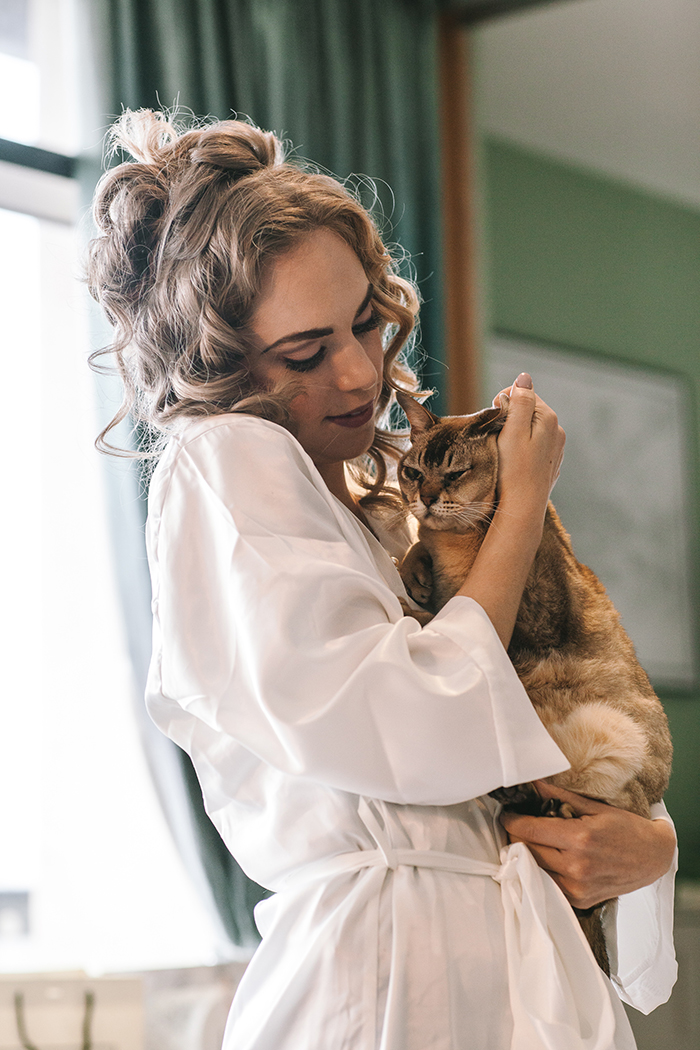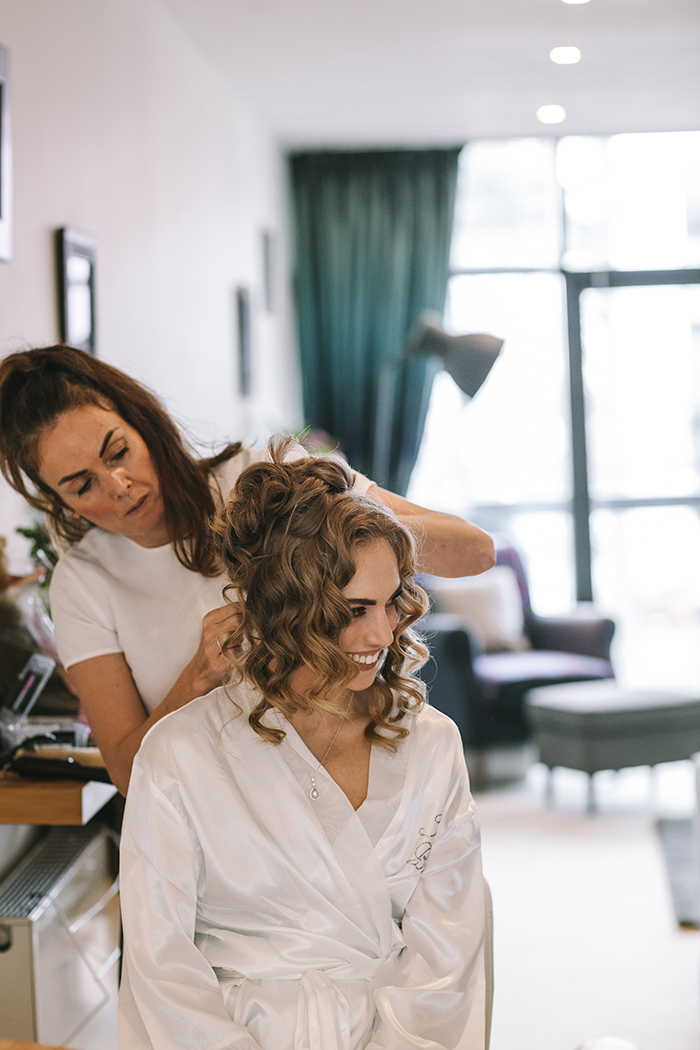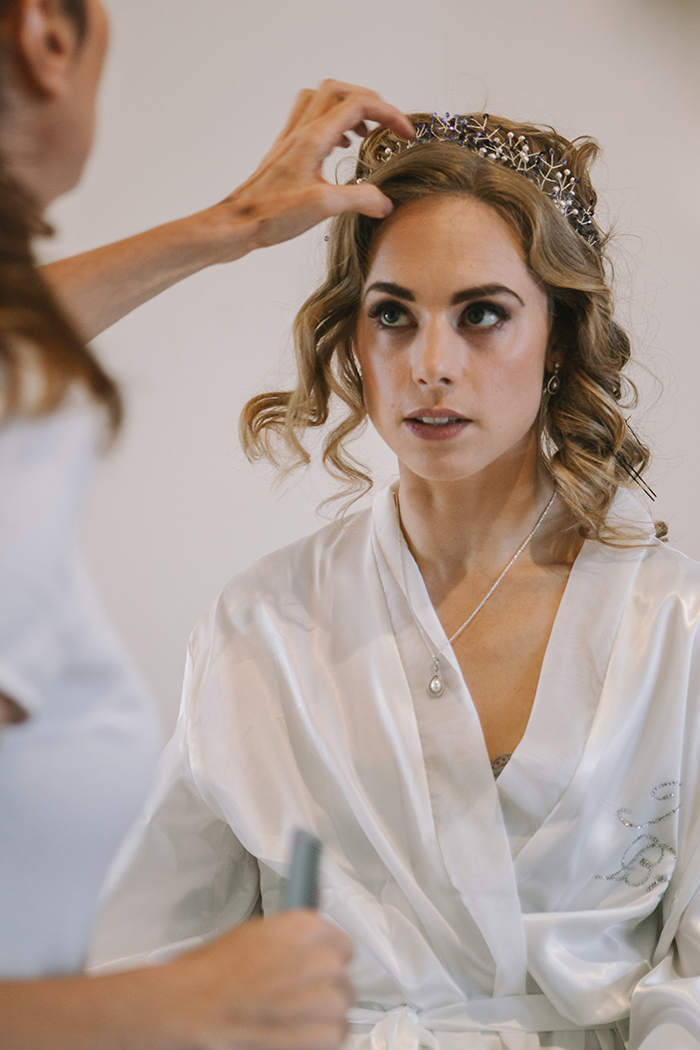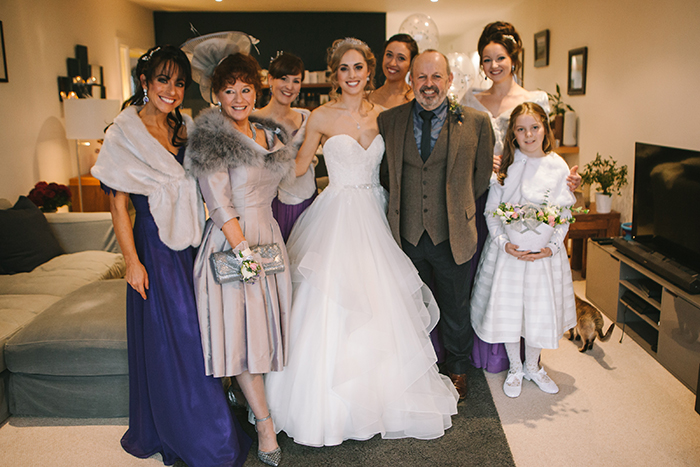 Though Bethany had already tried on a few dresses when modelling for Scottish Wedding Directory, it was during a trip to visit her sister Abi in Lincolnshire that she found The One.
"I knew as soon as I put it on," she says. "It was a sweetheart-style top with an organza layered skirt, similar to a ballet tutu.
I loved the line it gave my neck and shoulders, felt like a million dollars and, more importantly, I could visualise Stuart next to me in that dress."
The bride's accessories were well thought out from top to toe.
During the Scottish Wedding Directory shoot,  Bethany wore a tiara by Samantha Walden, and loved it so much she contacted the designer to commission a piece based around her wedding colours of violet, pearl and silver.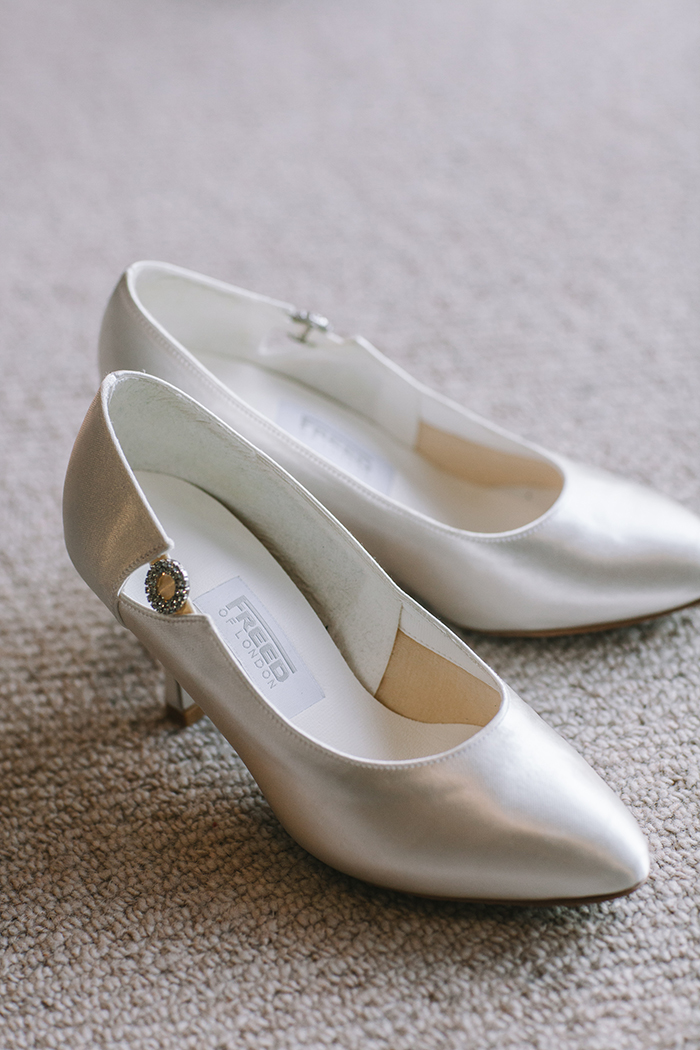 Freed of London, who have been making Bethany's pointe shoes for over 22 years, created a pair of wedding heels for her.
"It was so important for me to have that connection with the ballet world on my wedding day; and I particularly loved the feeling of having my pointe shoemaker share my special day."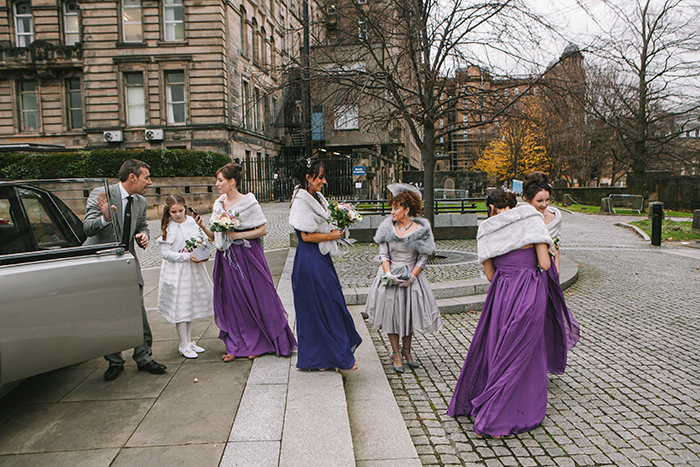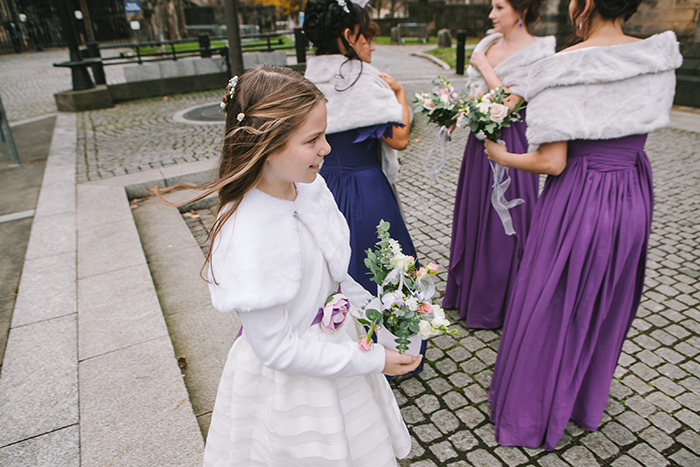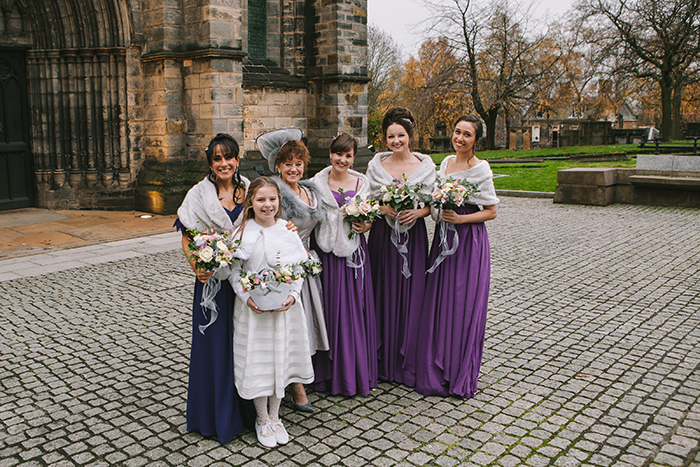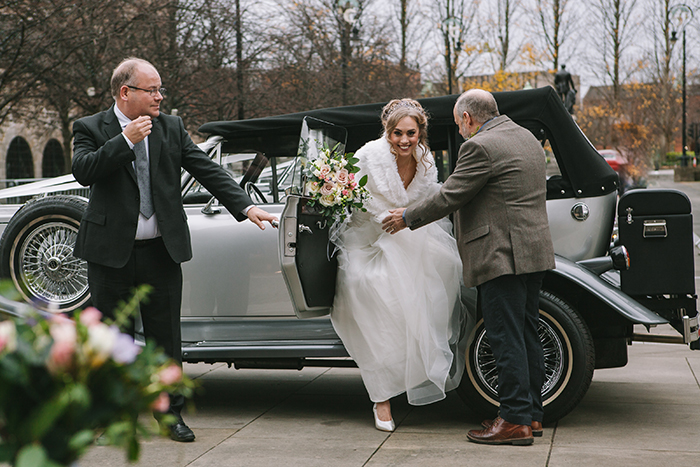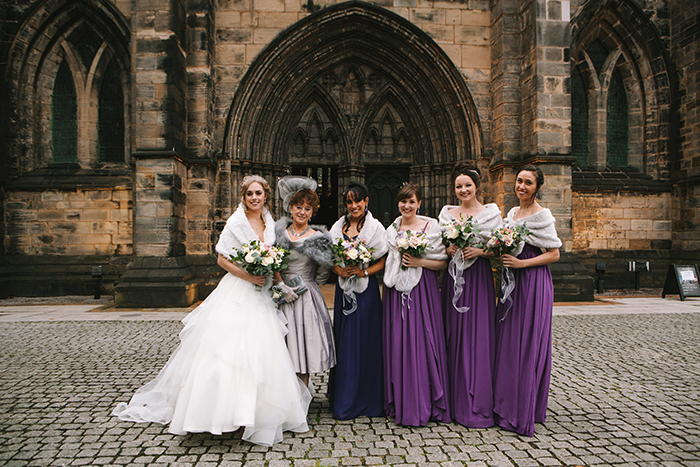 Maid of Honour Abi and bridesmaids Megan, Katie and Minty wore purple Angel gowns to tie in with Stuart's kilt, while groomsmen Oliver, William, Connor, Angus and Euan all sported complementary grey kilt outfits from MacGregor and MacDuff.
And Stuart's niece Rebecca, a flower girl, looked adorable in a pair of sparkly white Freed of London shoes!
The perfect day
The day before the wedding, Bethany went to work to run through the waltz she would be performing  in her role as Cinderella alongside on-stage prince Christopher Harrison, who would be an usher the following day.
And then it was time for her to get ready to marry her IRL prince!
"I had to prepare myself in advance for hearing my wedding aisle music," recalls Bethany, who walked up the aisle to Trumpet Voluntary by Jeremiah Clarke.
"I would feel emotional each time I heard it so decided to listen to it regularly on the way to work in the hope that it wouldn't affect me as much on the day!"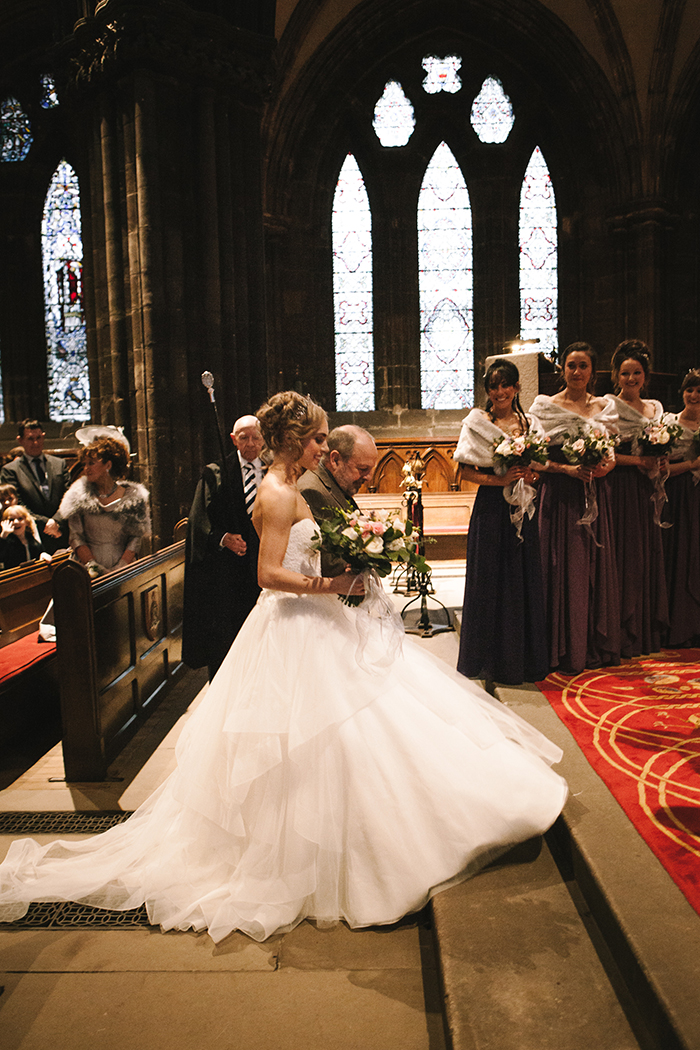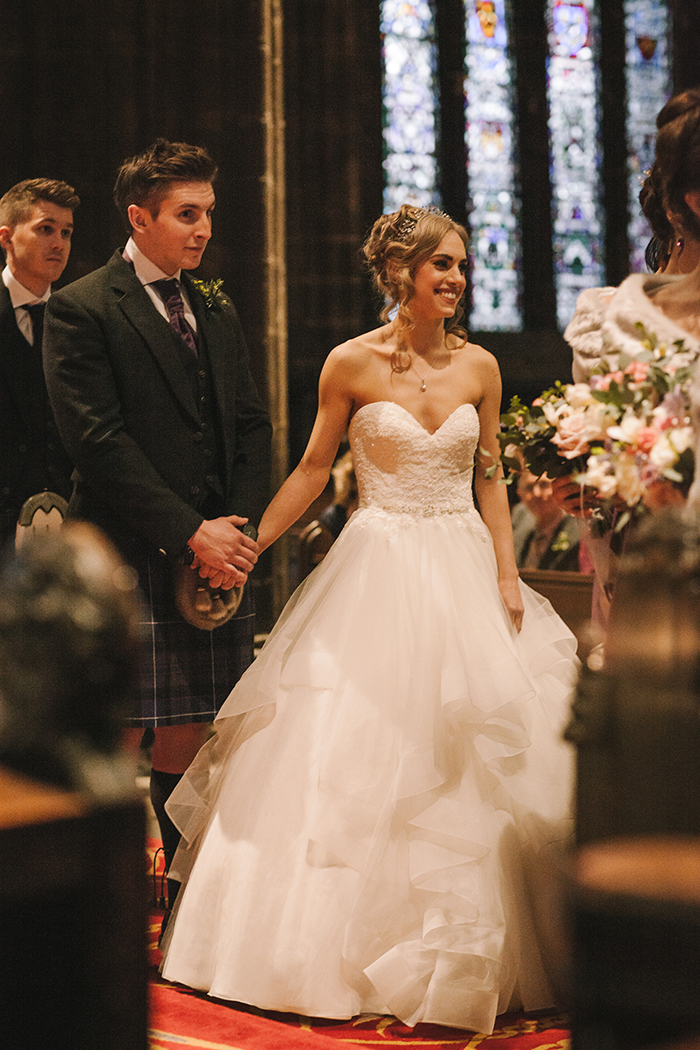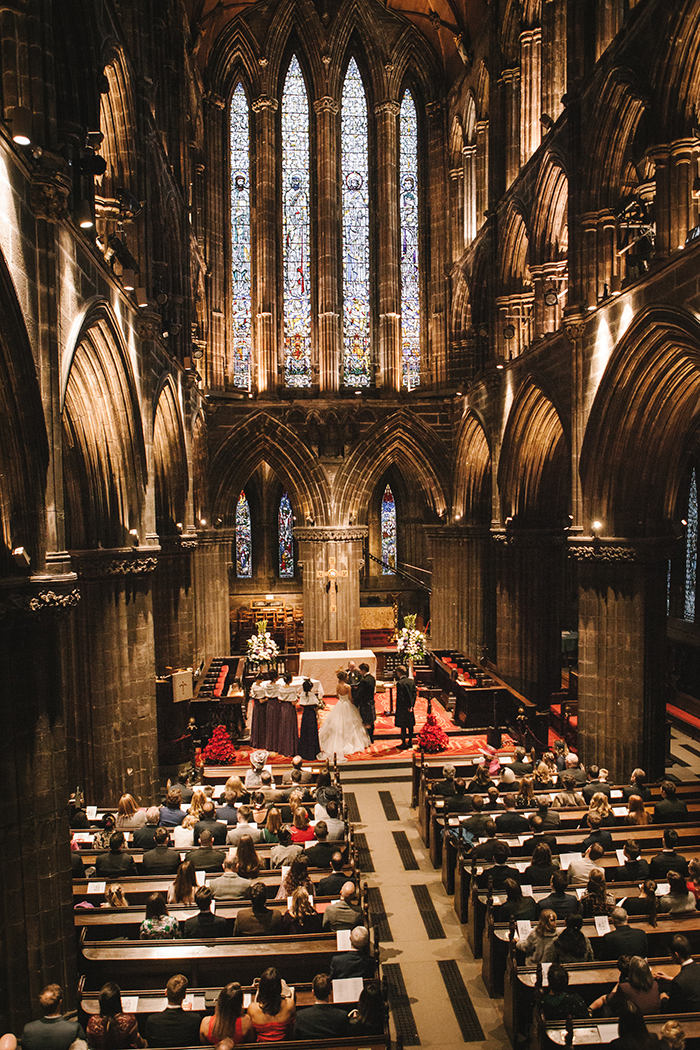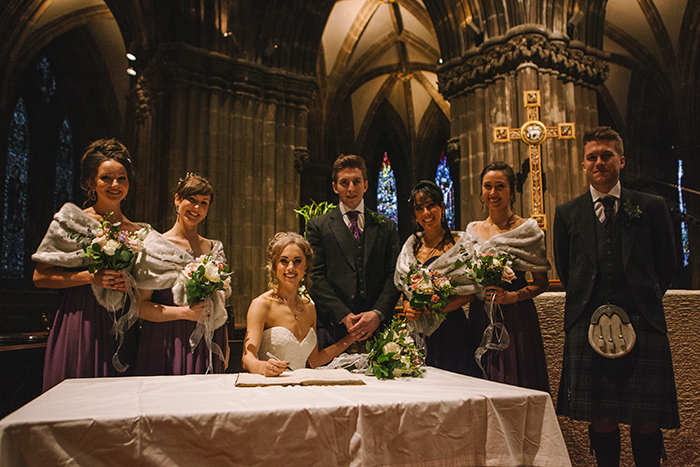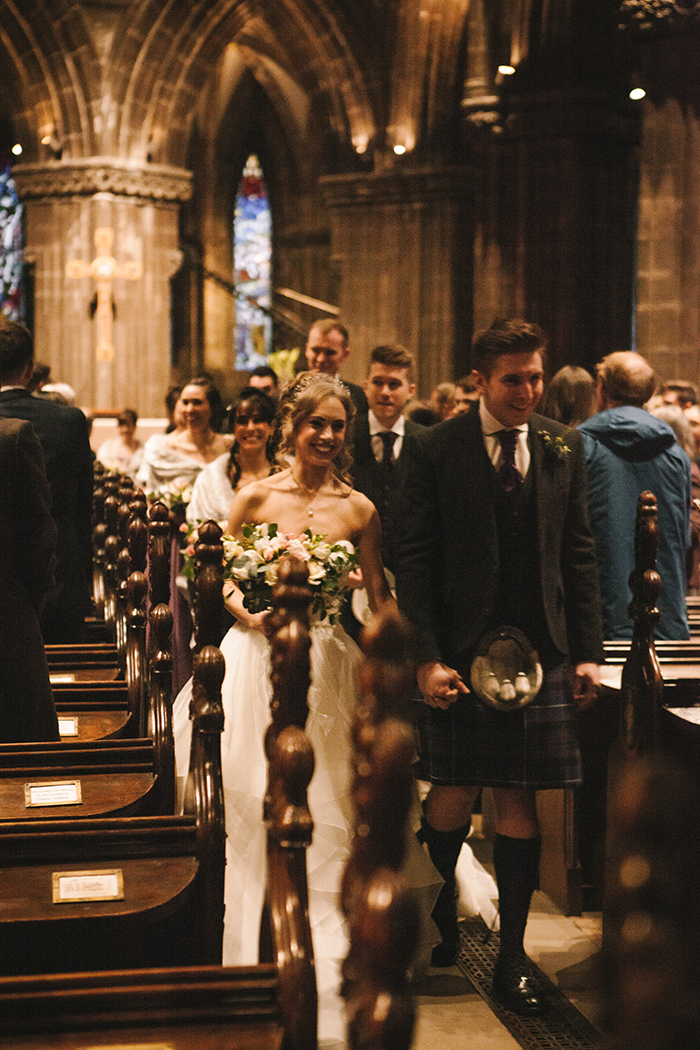 Her plan worked, and though their service was filled with love and emotion, the bride managed to keep it together.
Guests were transported afterwards to the People's Palace for a champagne reception and took the  opportunity to have a stroll through the stunning Winter Gardens.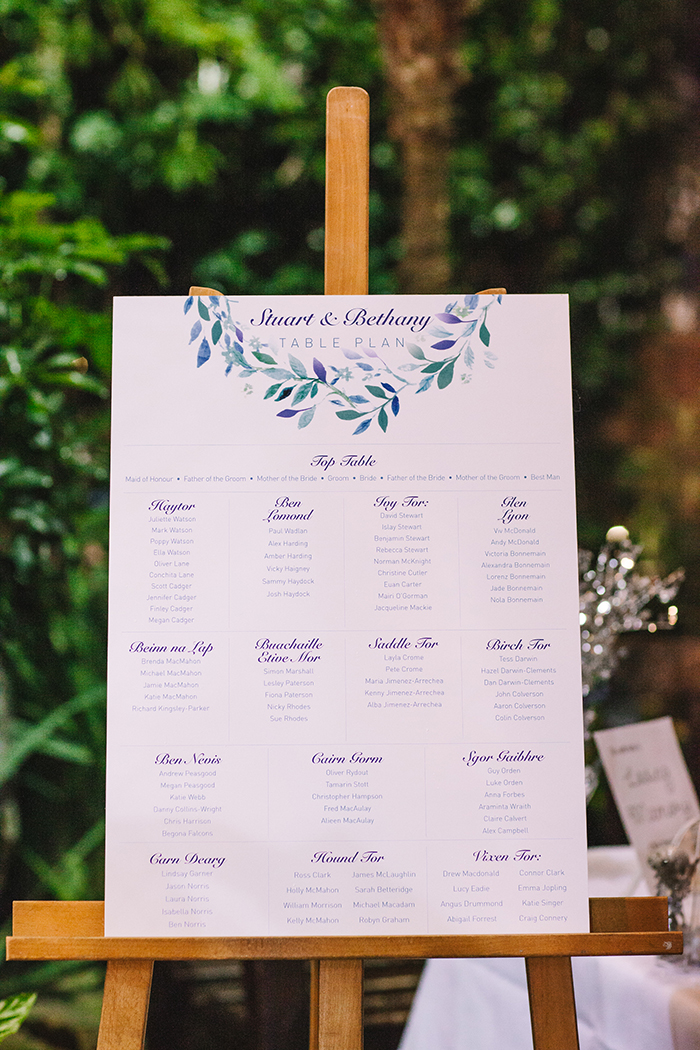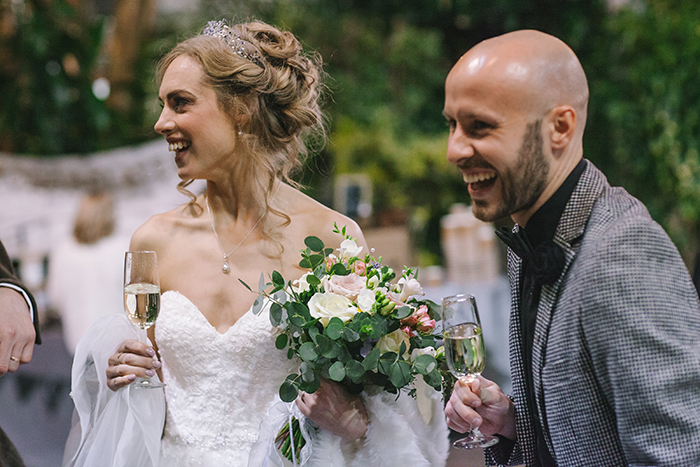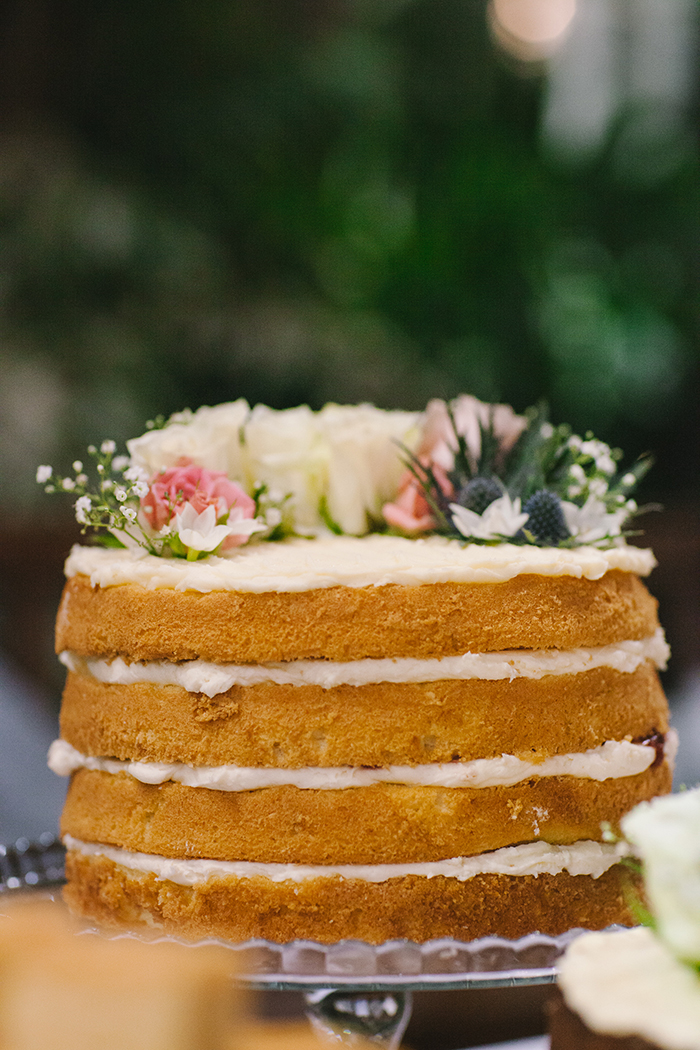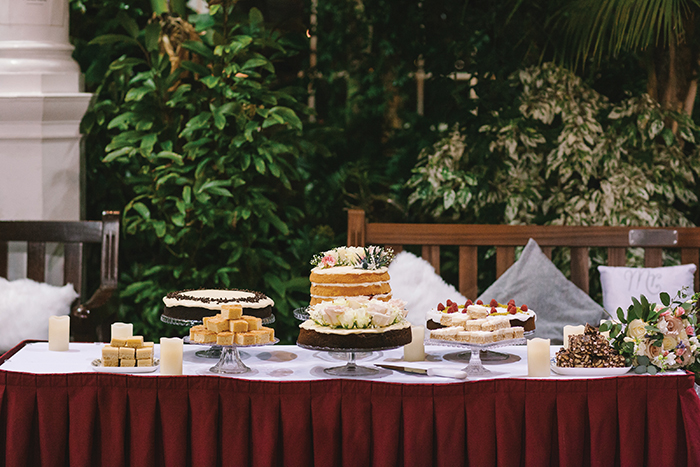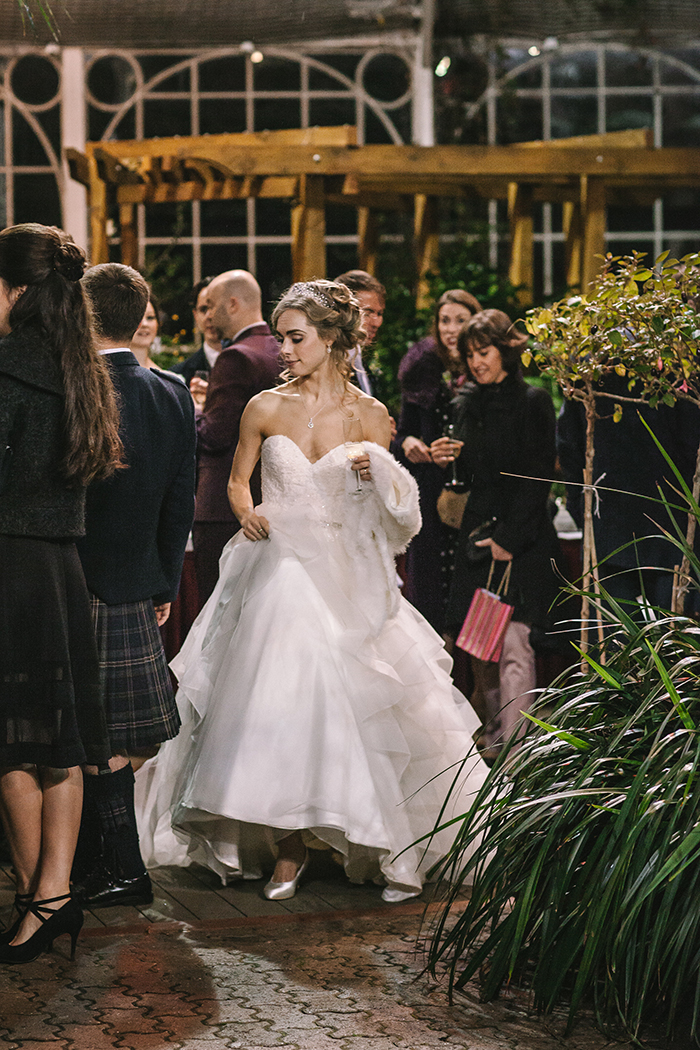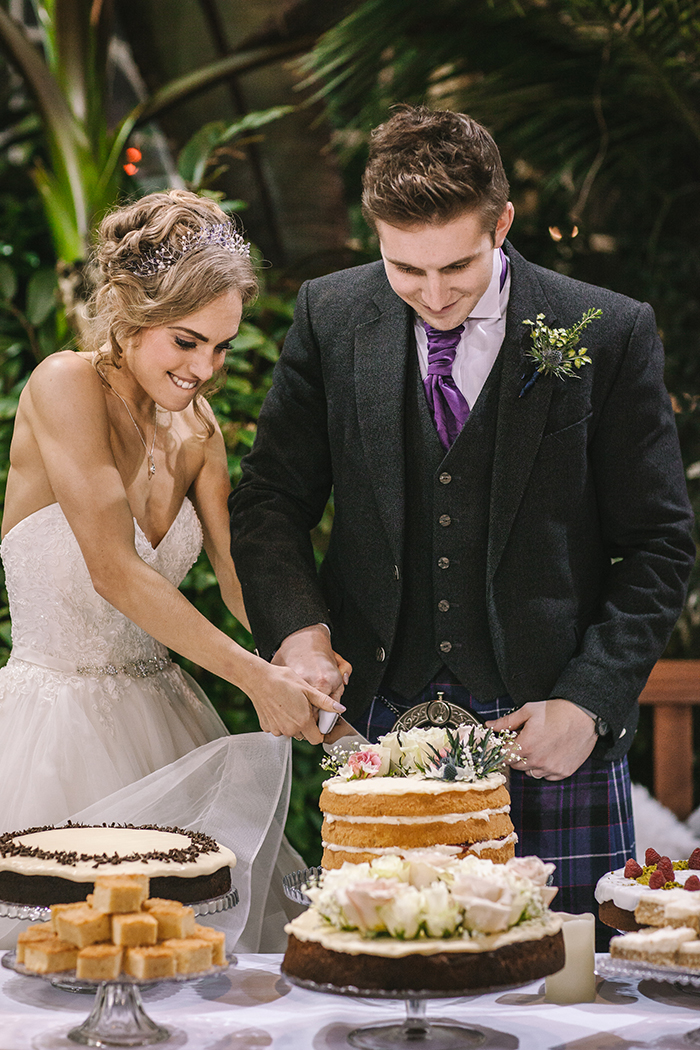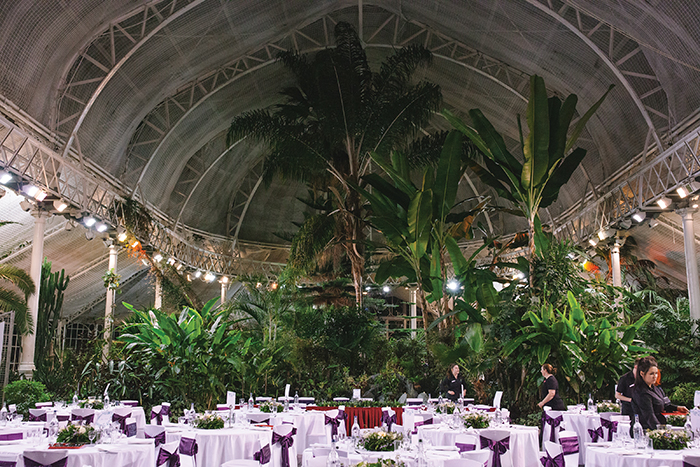 Then after a delicious meal, the ballerina and her new husband took to the dancefloor for their first  dance to (You Make Me Feel Like) A Natural Woman by Aretha Franklin.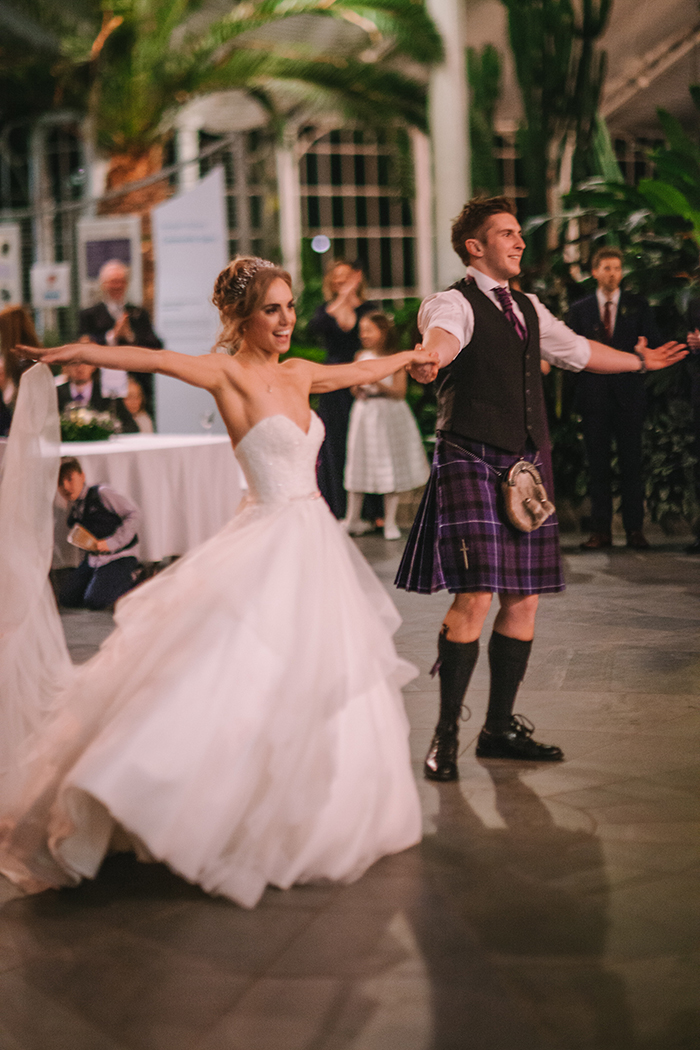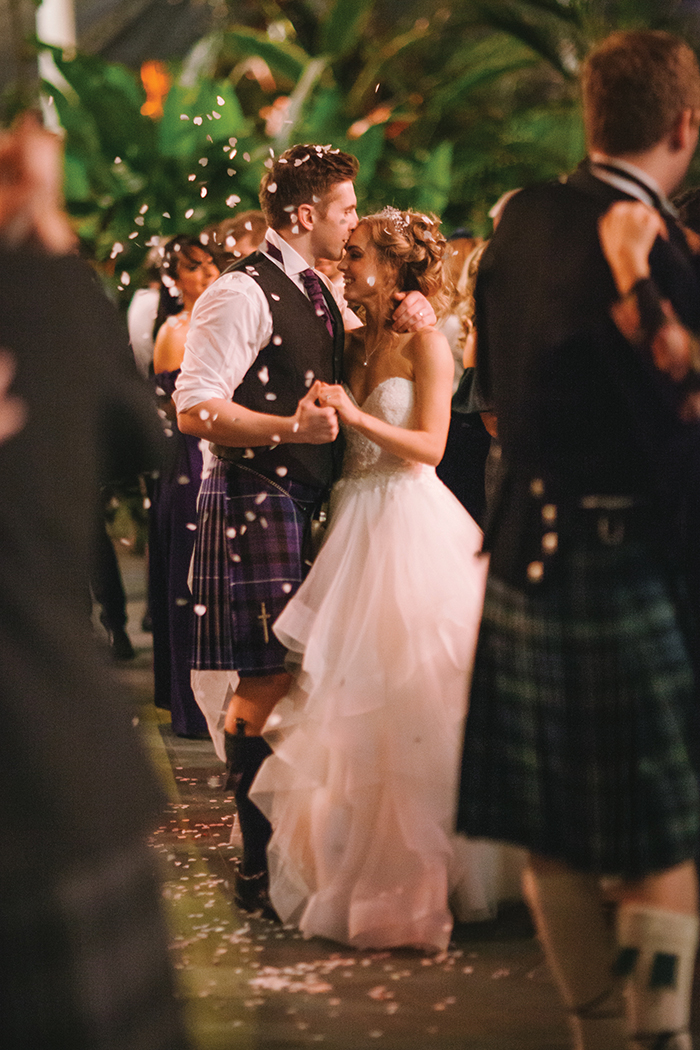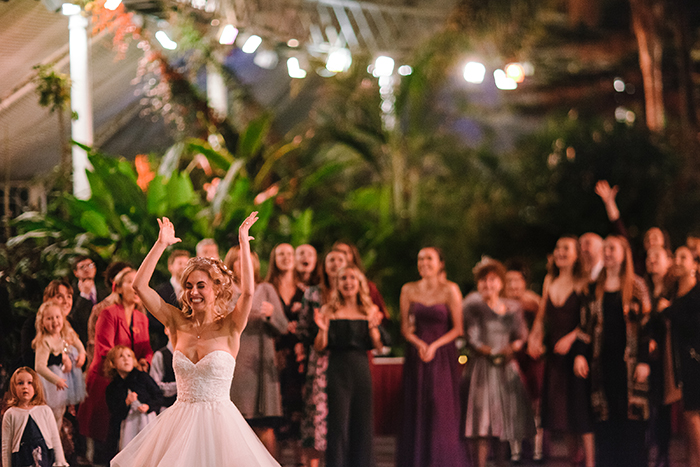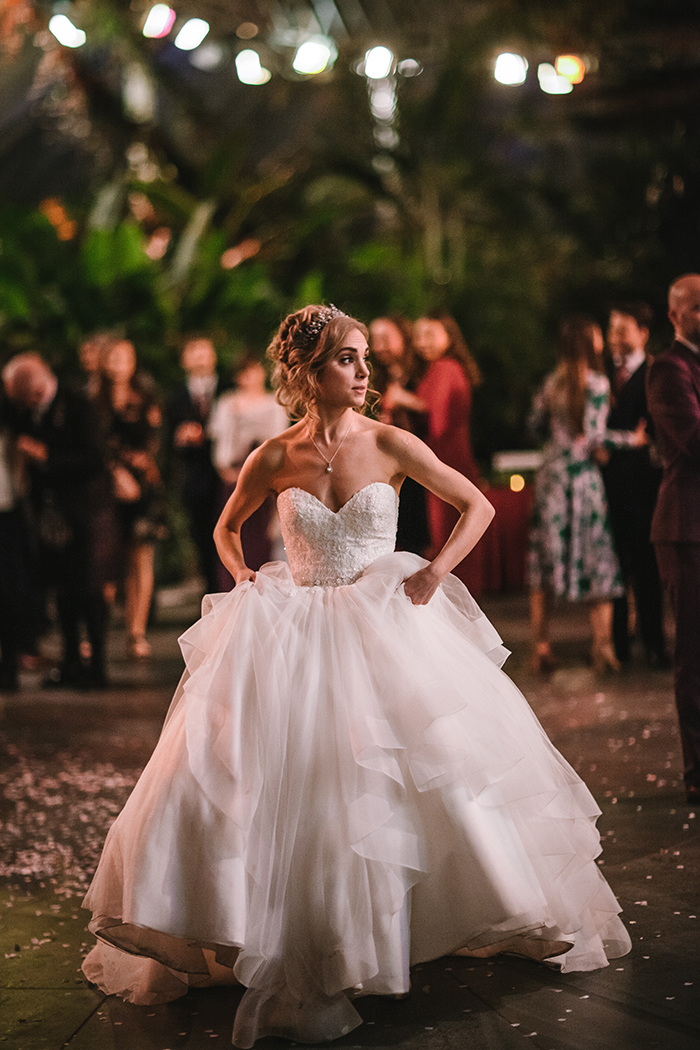 A ceilidh band then kicked the party off, followed by a playlist curated by the couple.
"The whole day was a highlight, but if I had to choose just one moment it would be our last dance to Rocket Man by Elton John, when all the guests encircled us," smiles Bethany.
"At that point you could really tell how happy everyone was to be there enjoying the day with us.
It was a very special moment that we will never forget."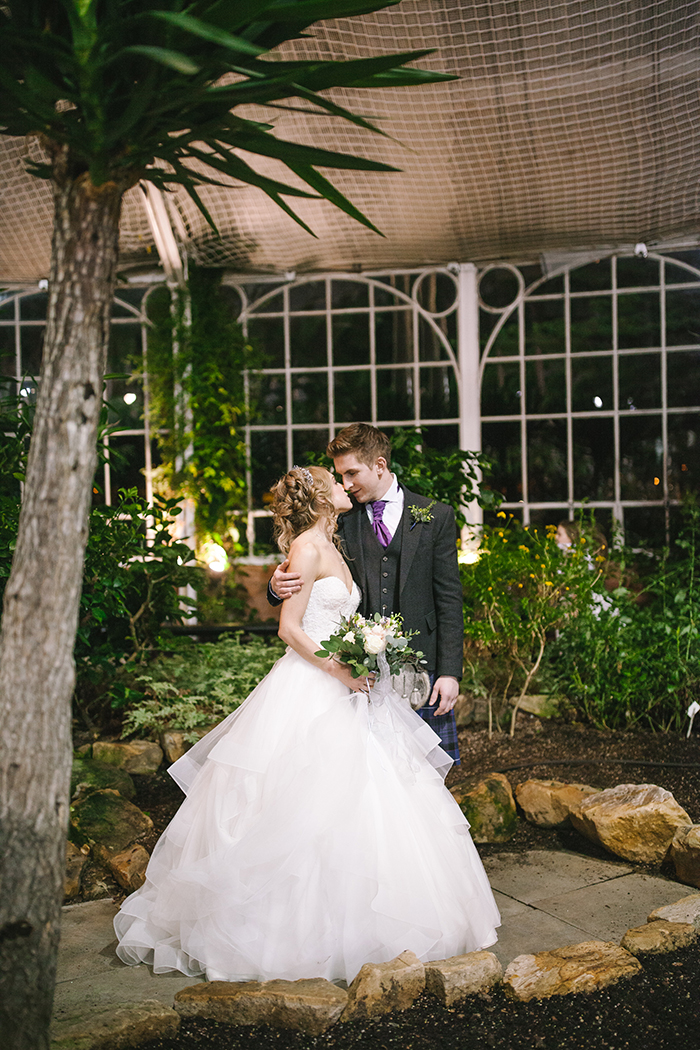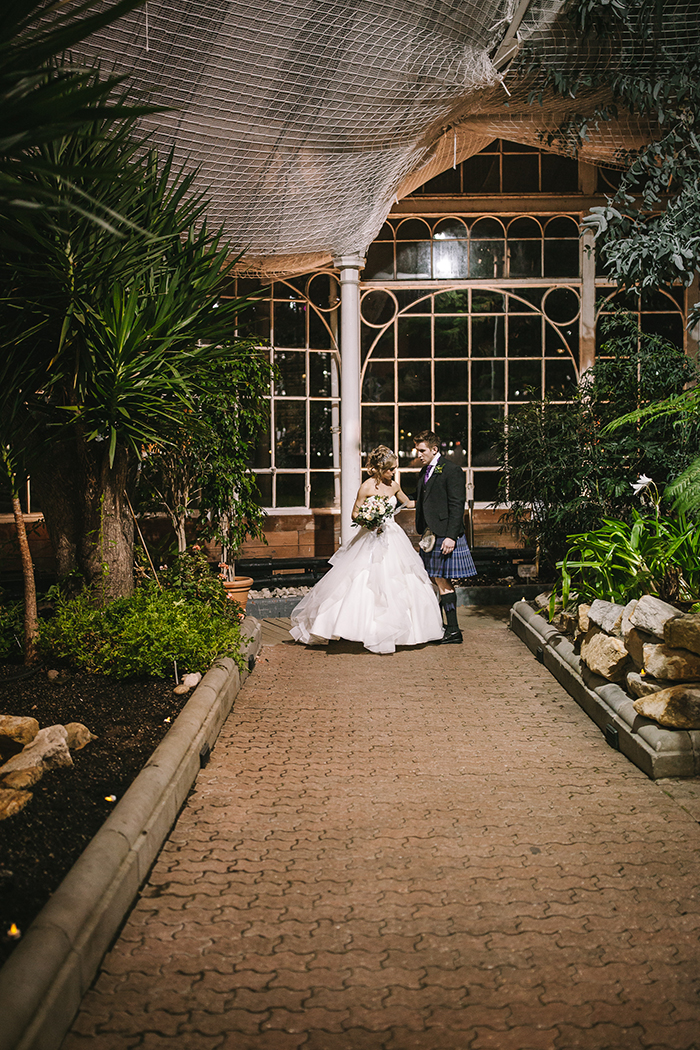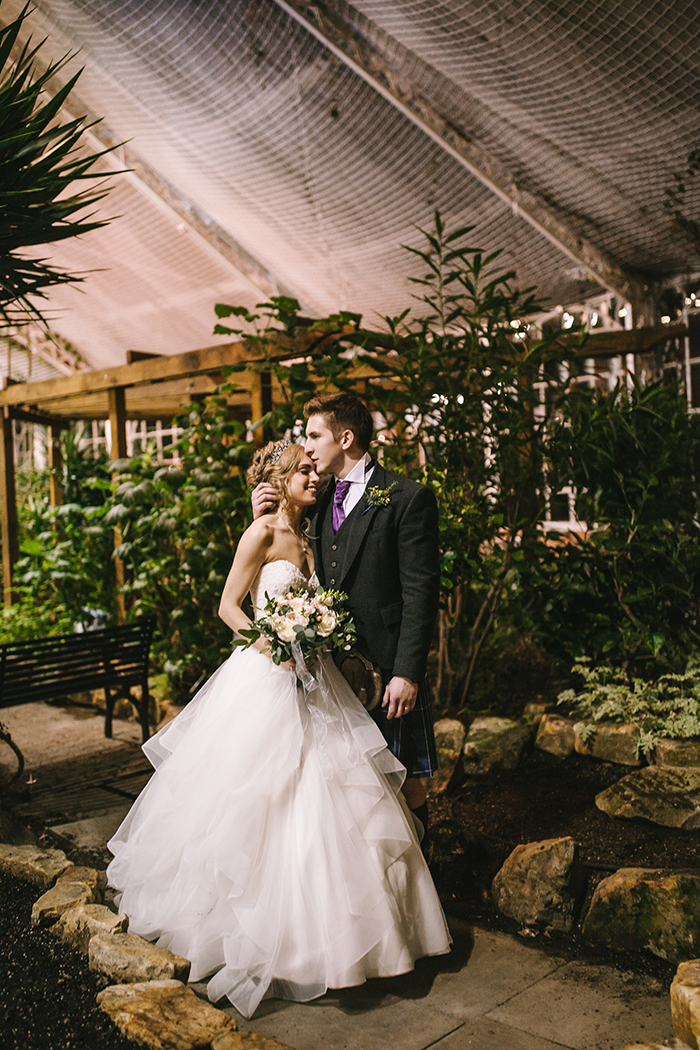 Ceremony venue: Glasgow Cathedral | Reception venue: The People's Palace and Winter Gardens
Photographer: Christina Riley | Bride's dress: The Bridal Lounge | Bride's shoes: Freed of London
Bride's tiara: Samantha Walden | Bride's ring: Sheila Fleet – Scottish Designer Jewellery
Groomsmens' kilt outfits: MacGregor and MacDuff | Stationery: Glasgow Print Studio | Cake: Three Sisters Bake
Flowers: Angela Watson, Local Flowers Glasgow | Transport: Waterside Weddings | Hair + make-up: Alison Chalmers