Rustic floral wedding at The Lodge at Carrick Castle Estate, Lochgoilhead
Lora and Ross wanted a wedding venue that would really showcase the beautiful Scottish scenery.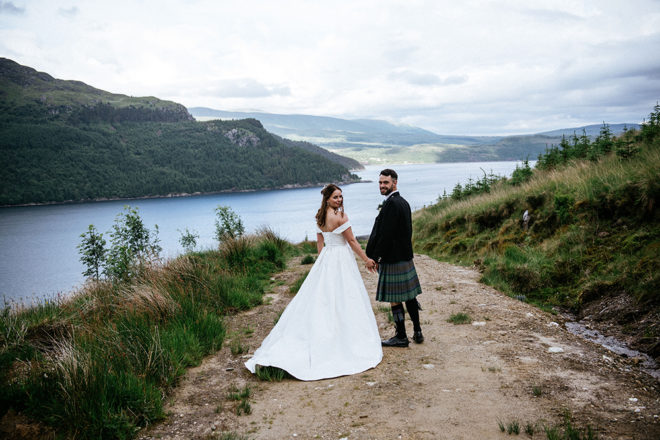 Lora and Ross has been school friends for years before becoming a couple but after six years of dating and a romantic proposal on the Isle of Coll the couple tied the knot in a relaxed weekend-long celebration at The Lodge at Carrick Castle Estate.
Bride Lora looks back on their fun-filled day, pictured by Catching the Moments Photography, below…
"We went to the same high school and we were friends for years before becoming a couple. I remember thinking Ross was handsome and shy. When we became a couple, everything just clicked into place.
Our first priority was finding a venue with an amazing view. We had moved back to the UK two years before we got engaged – we were in Sydney before for three years – so being in Scotland we wanted to make the most of the scenery.
We chose our venue primarily for the views but also because we could stay there Thursday to Sunday with friends and family, turning the wedding into a weekend event.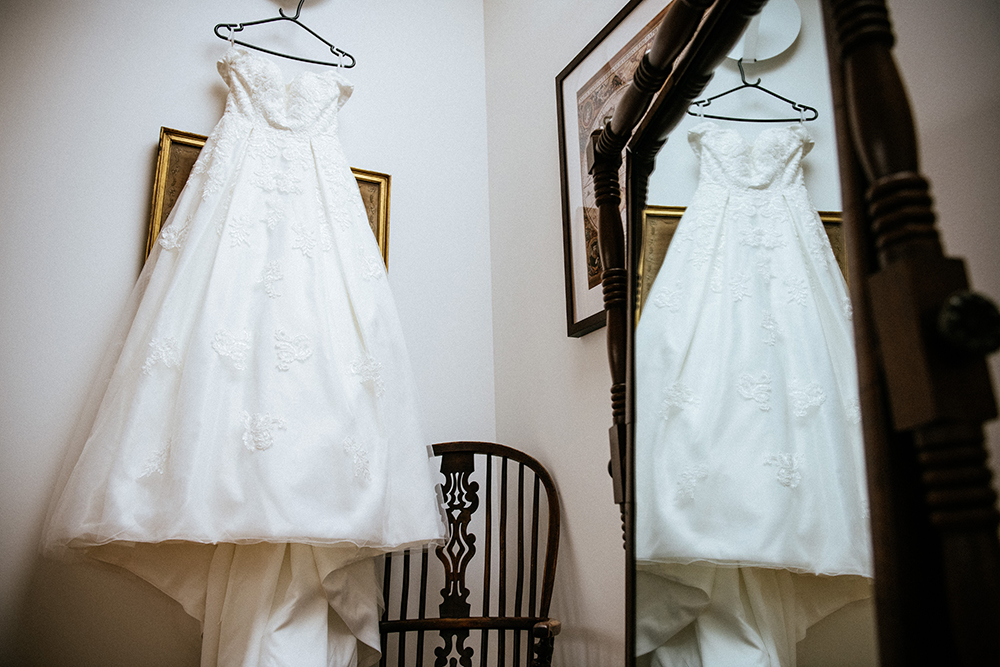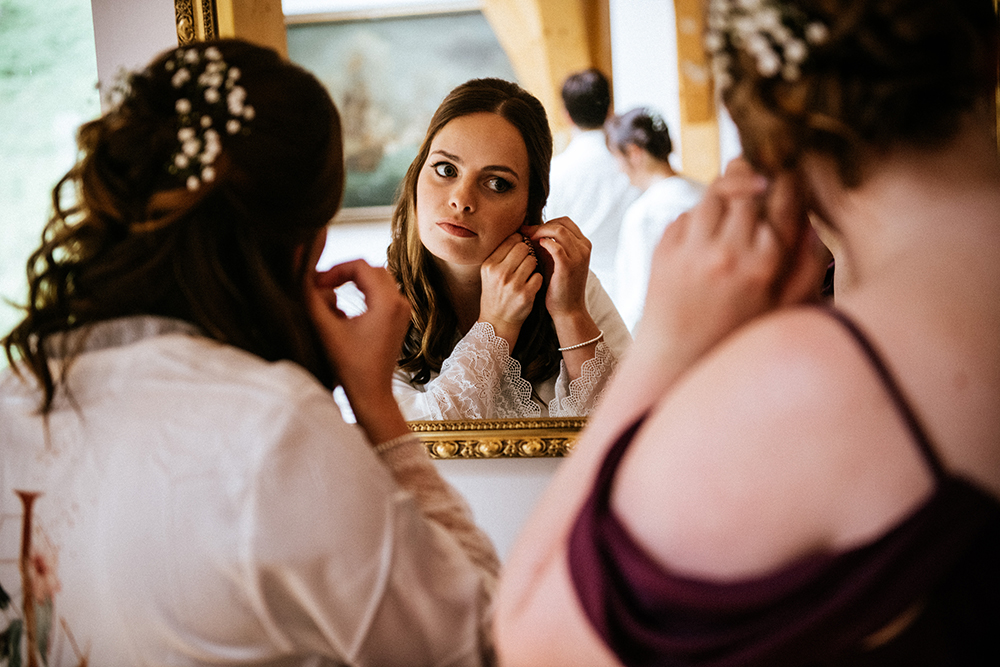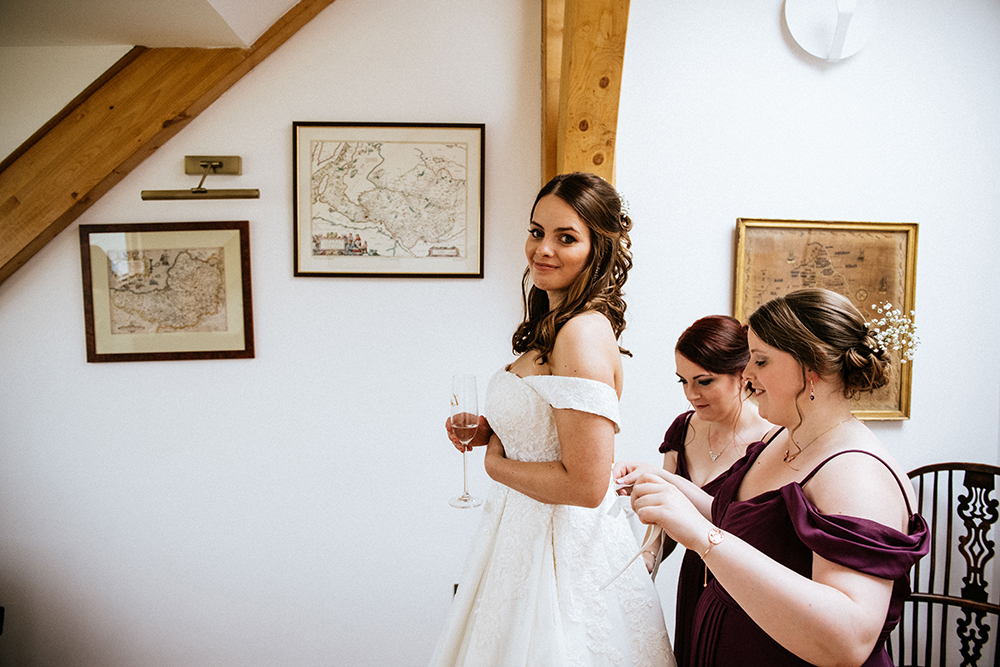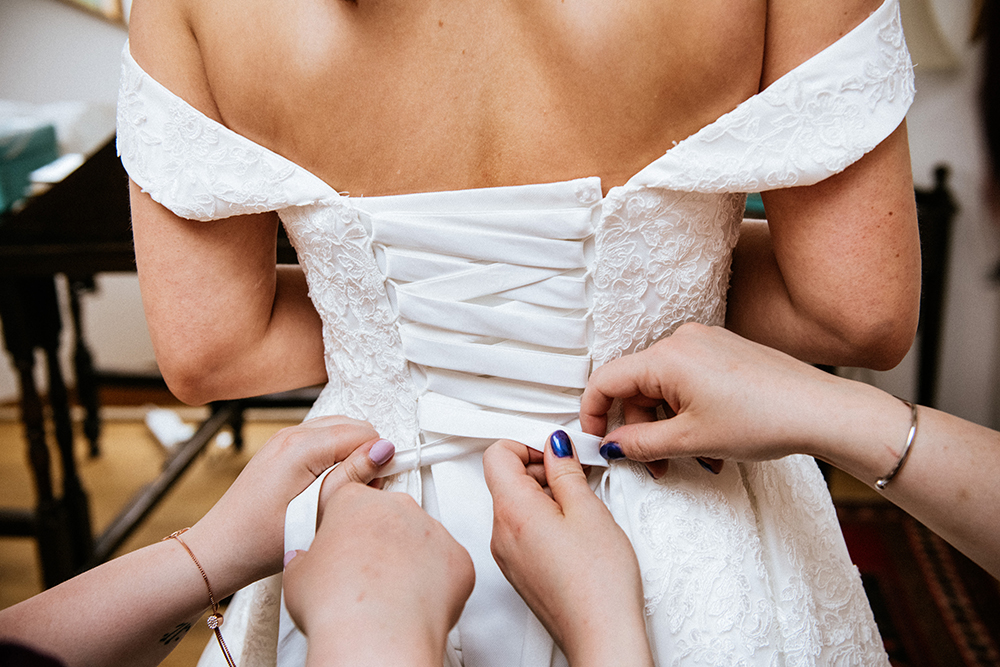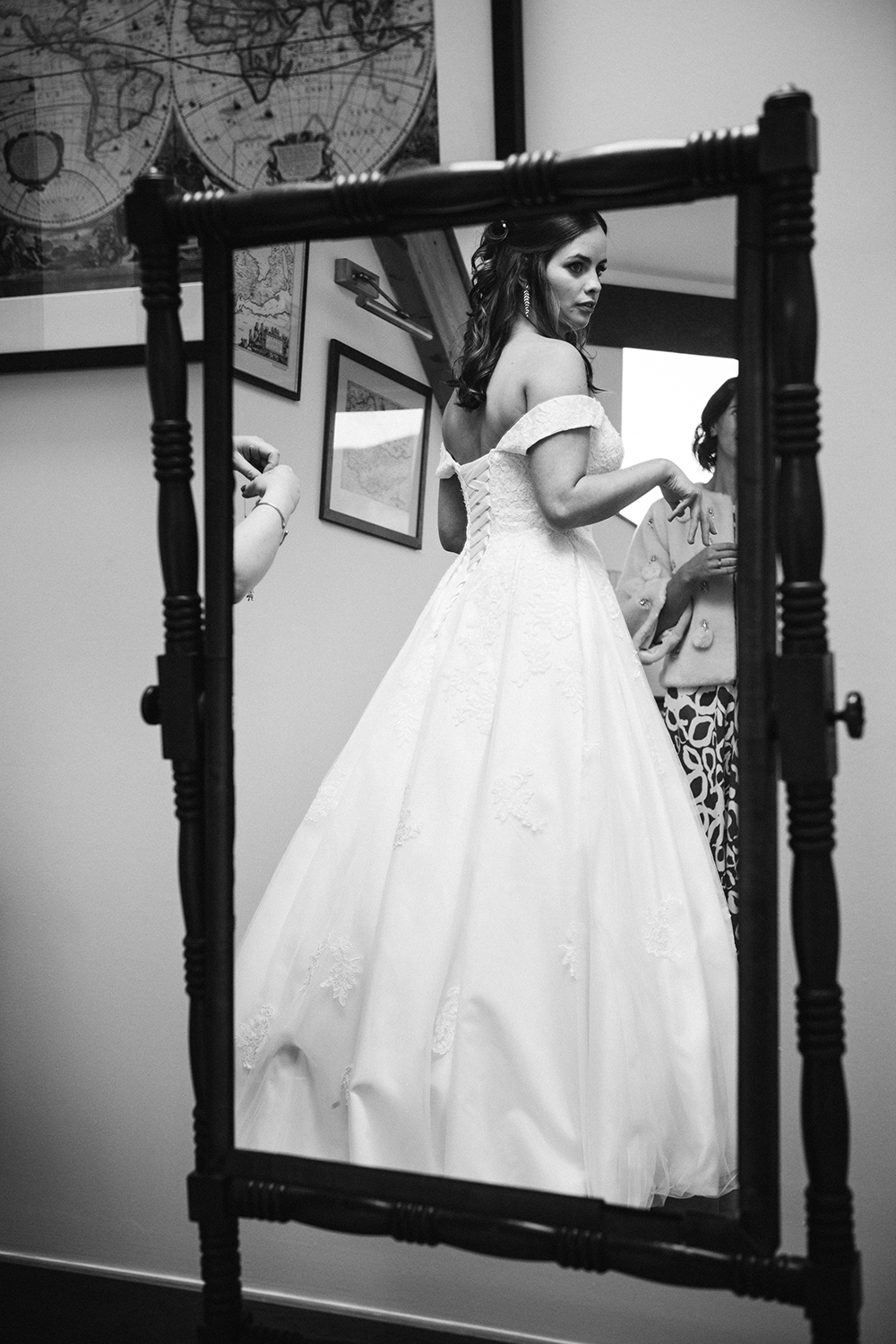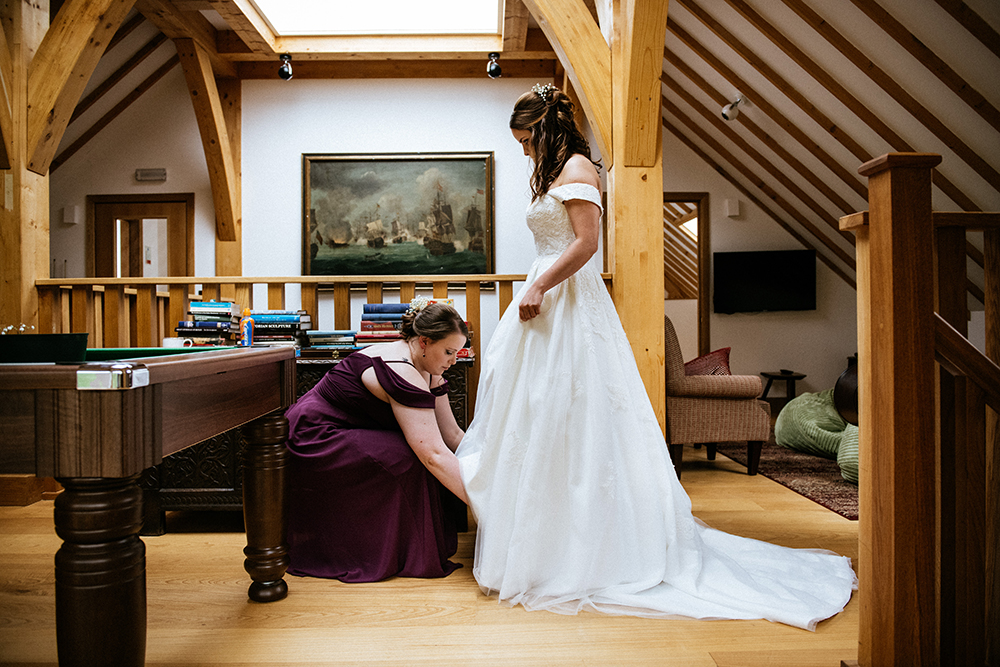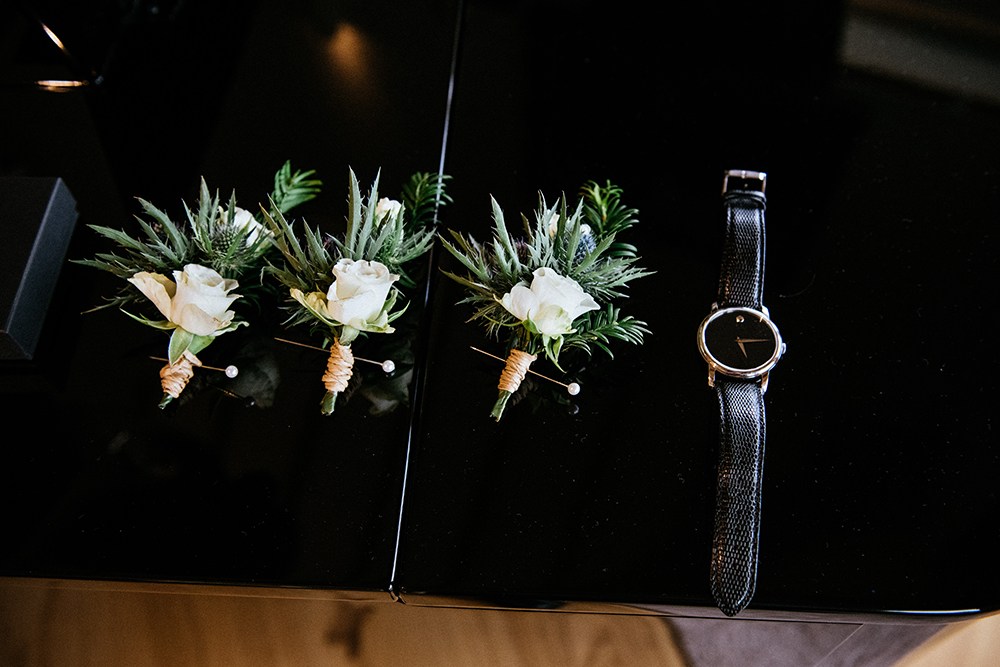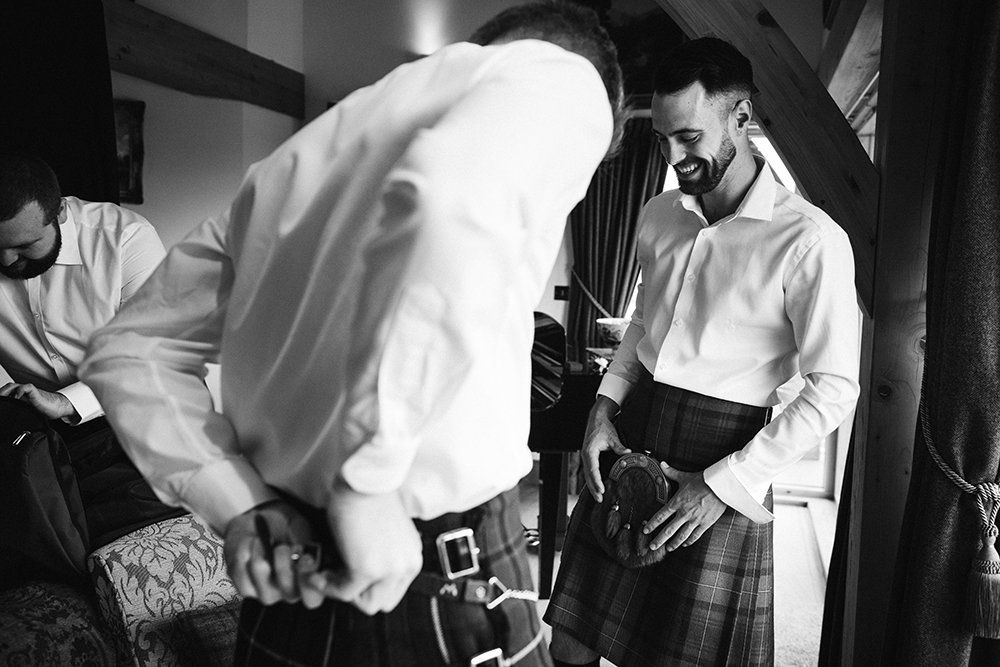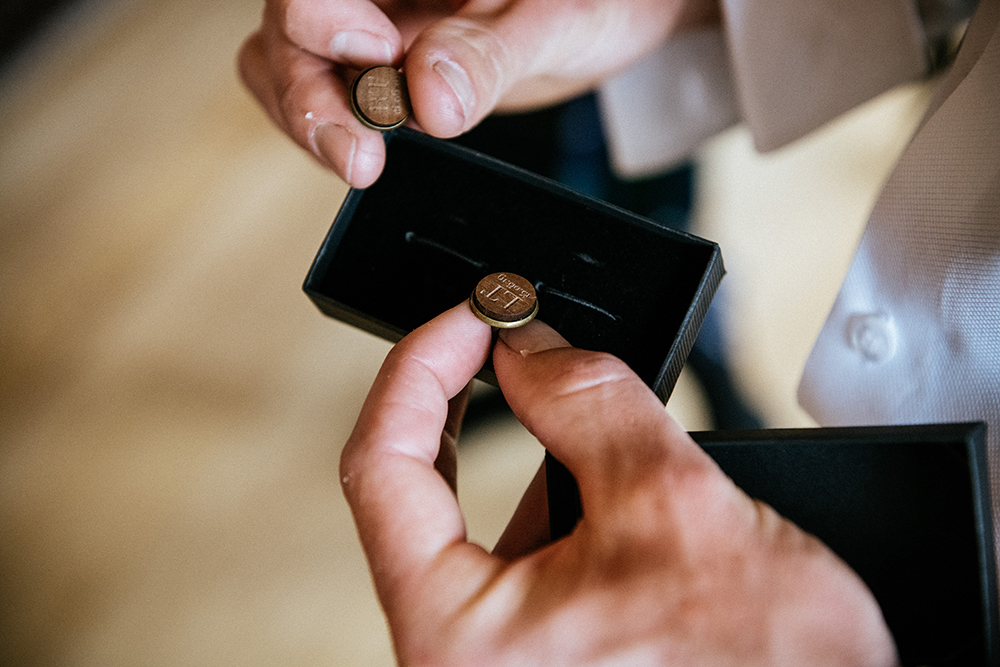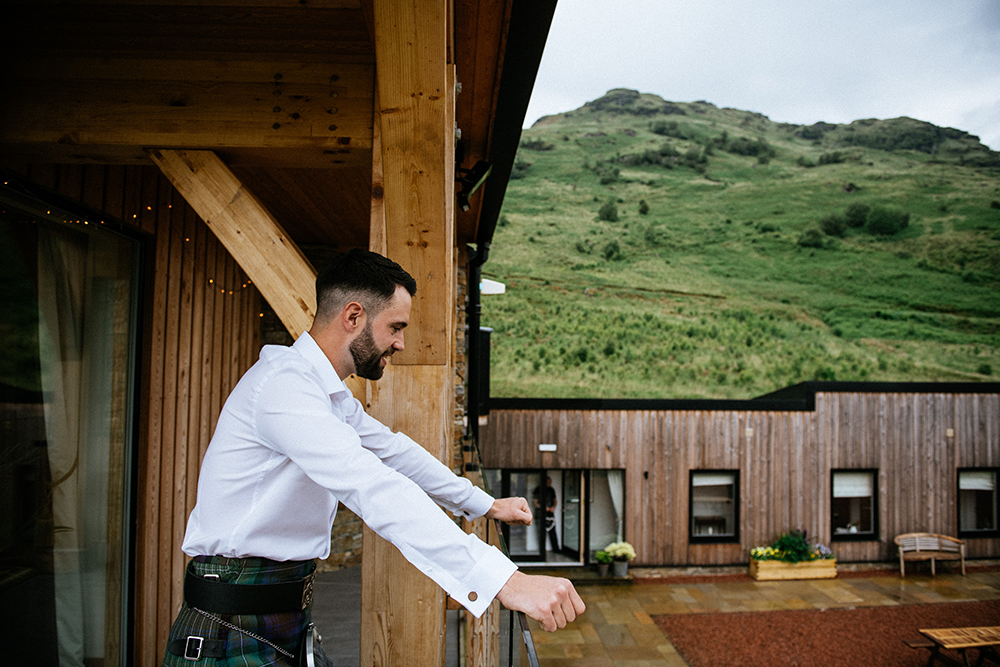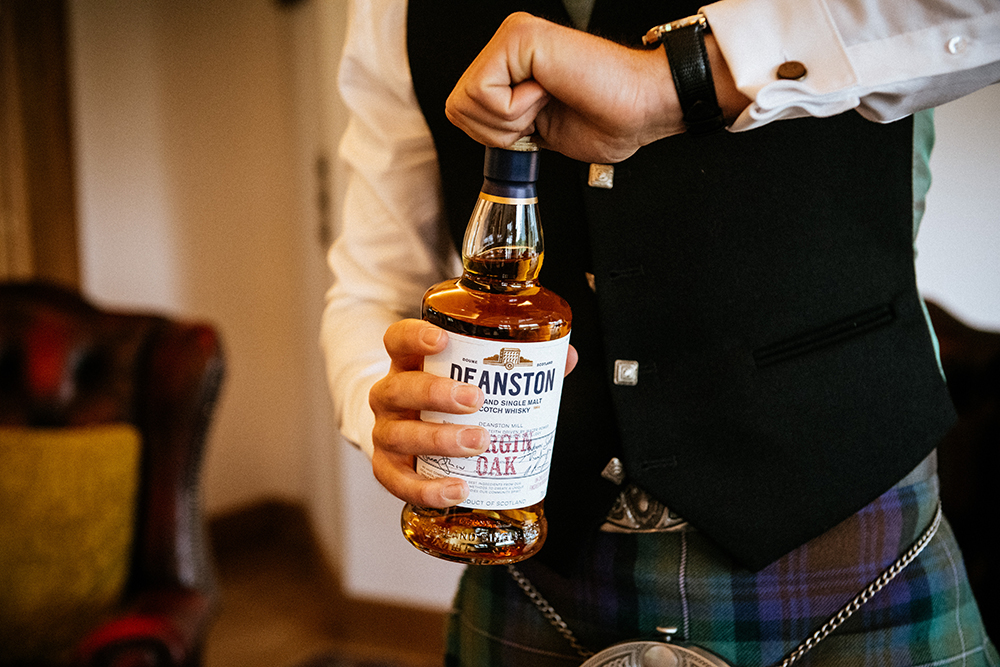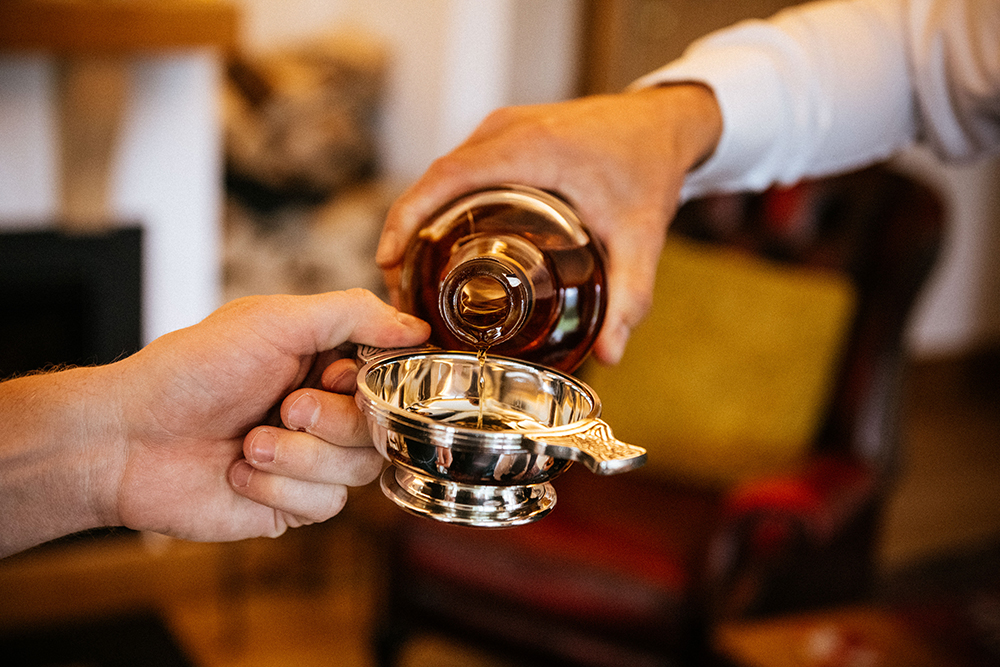 It was also a blank canvas venue so we got to choose everything and customise all the details, which meant we weren't just picking from package A, B or C and we weren't paying for things we didn't really want (like seat covers!)
We based the whole theme around the flowers. Ross' auntie Fiona Eason has her own business, Fiona Eason Floral Design, and she and her daughter Emily were a huge help in the year leading up to the wedding. They took care of all of our decorations and flowers.
To begin with the venue was just an empty barn but they transformed it into something so beautiful and colourful!
They had wild flower displays running around the edges together with fairy lights, beautiful flower arrangements on barrels lining the aisle and a flower wall backdrop for the ceremony and then later for pictures.
Ross also made all our cake stands out of tree trunks and over 50 wooden candle holders to decorate the tables and around the bar, as well as a few welcome signs and the order of the day sign.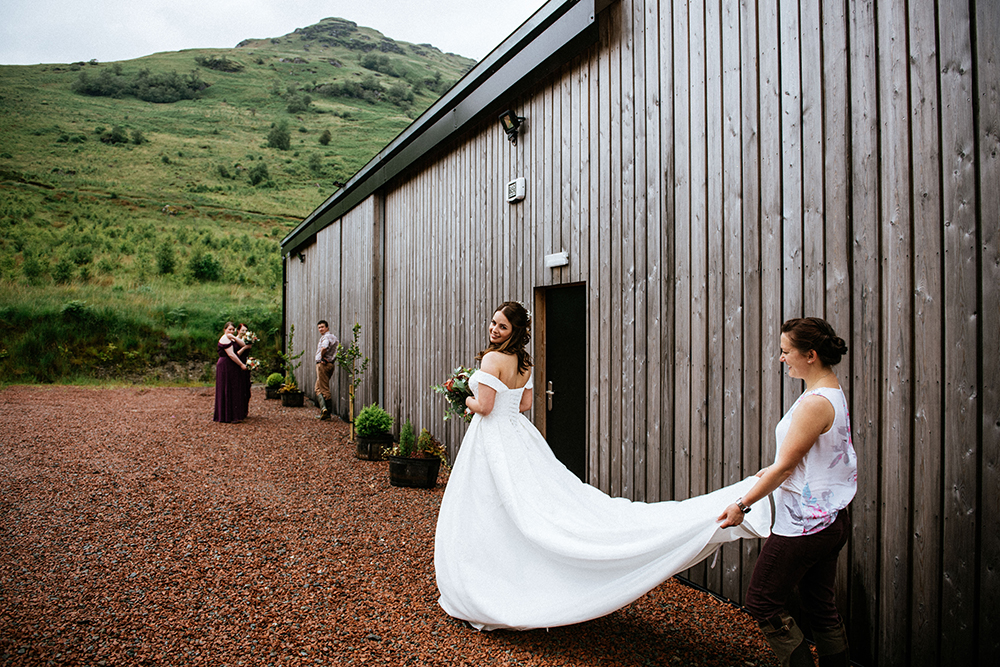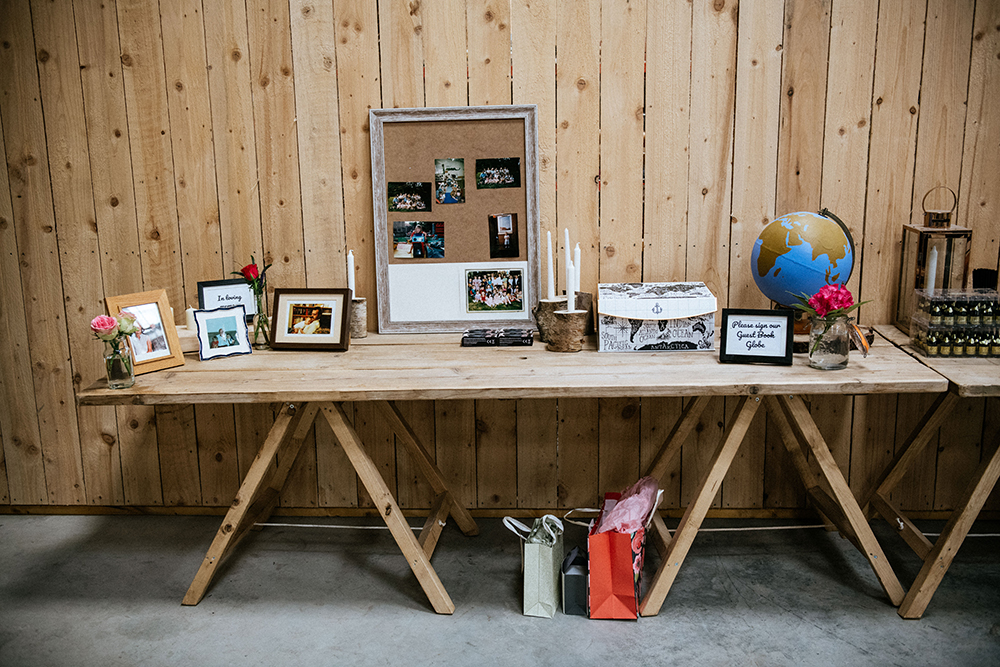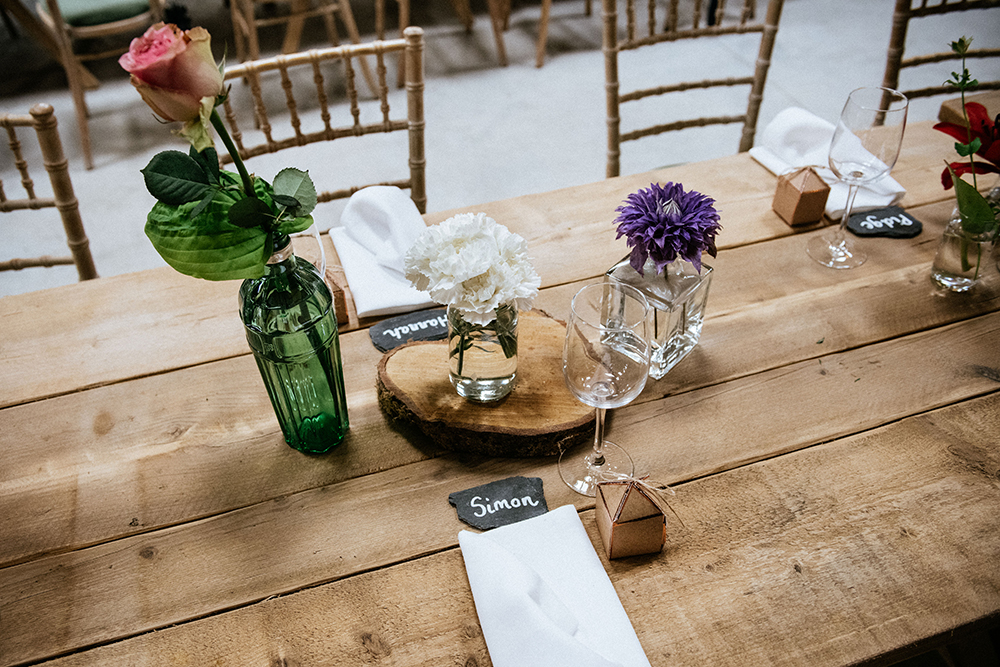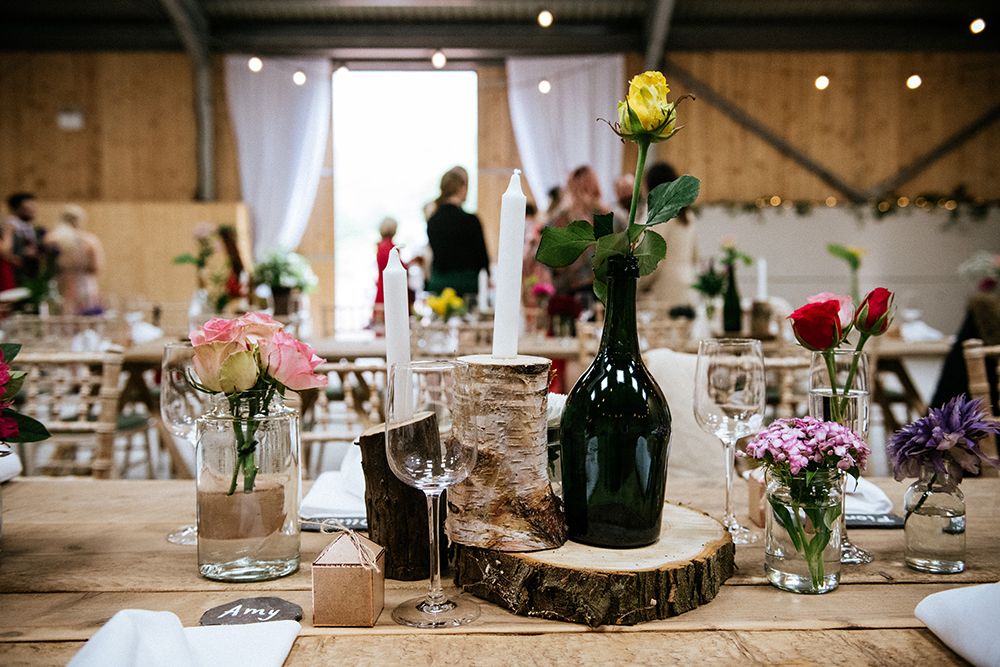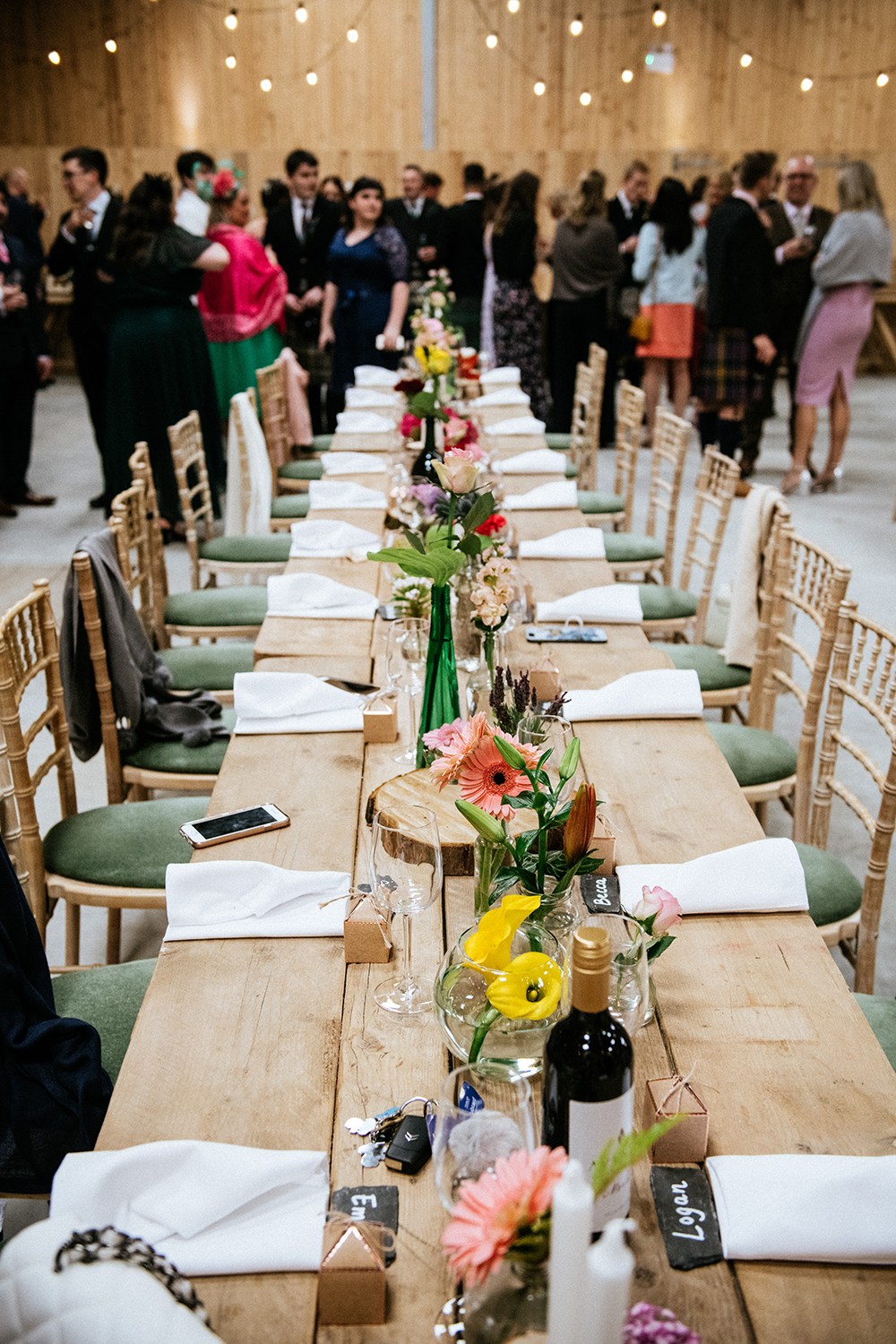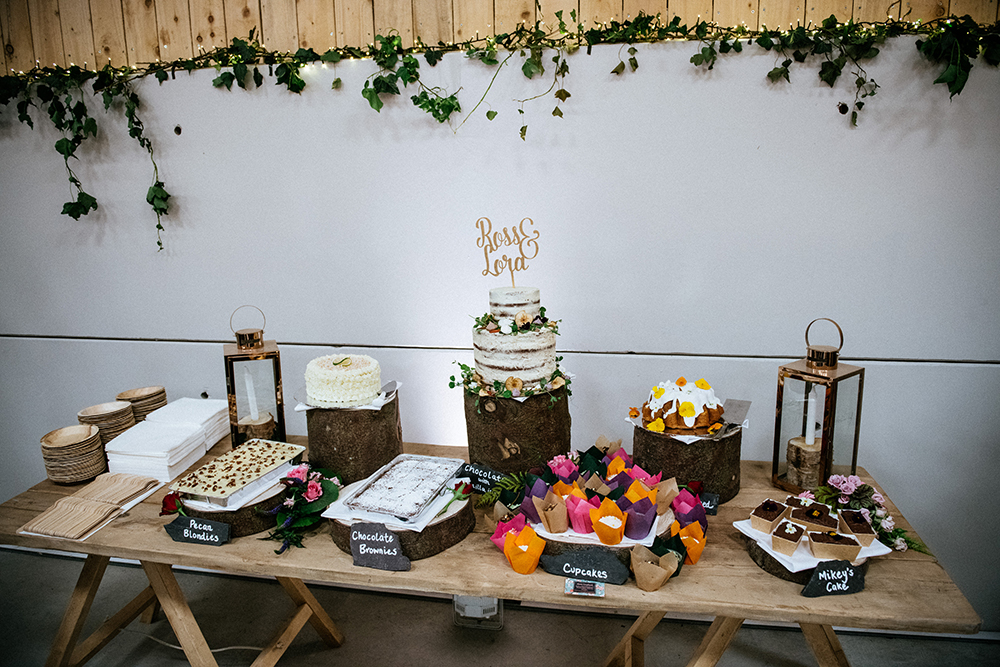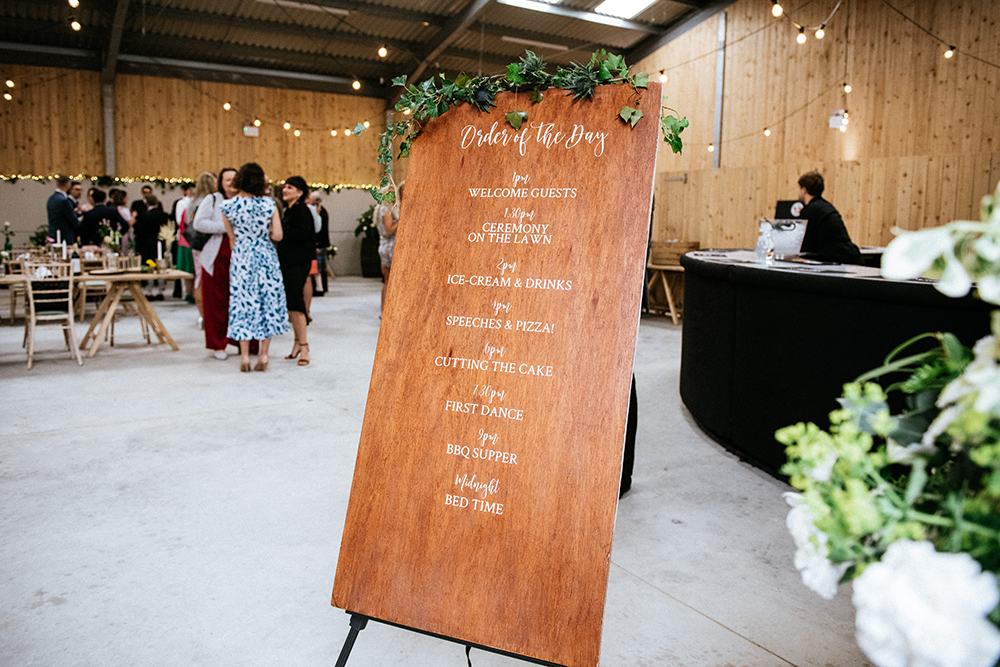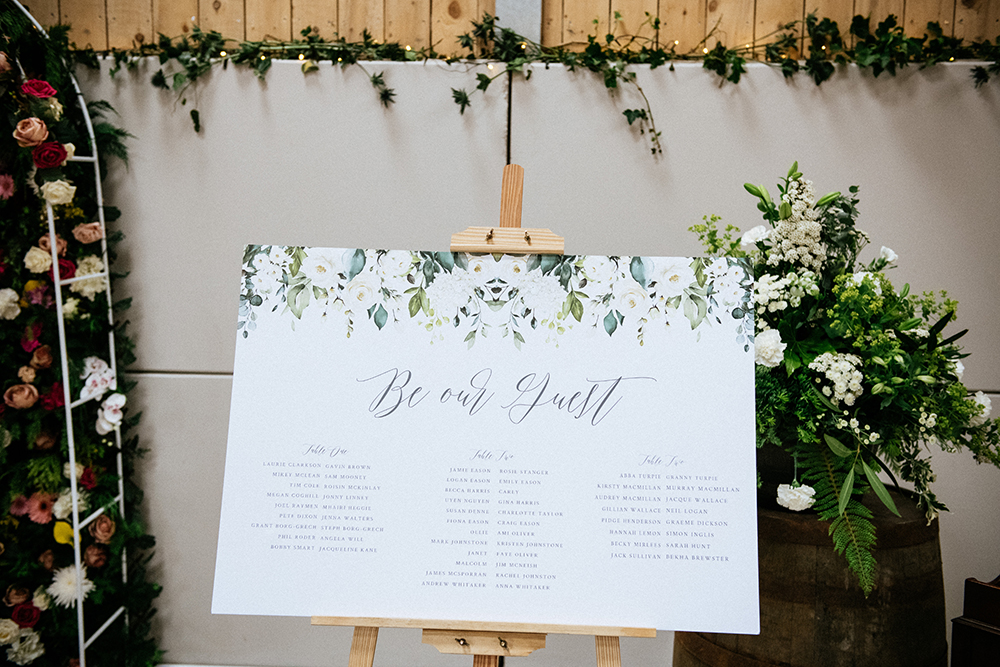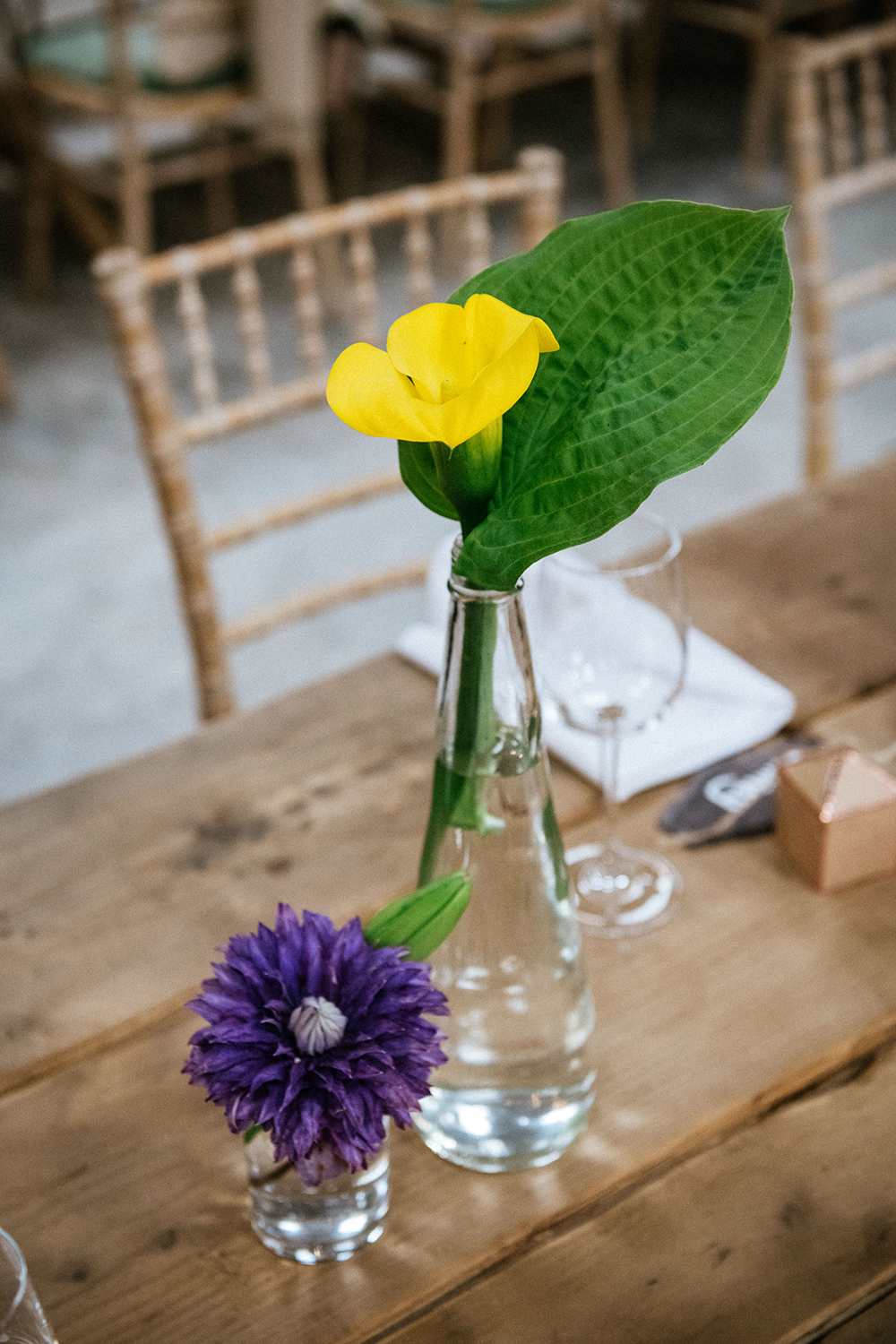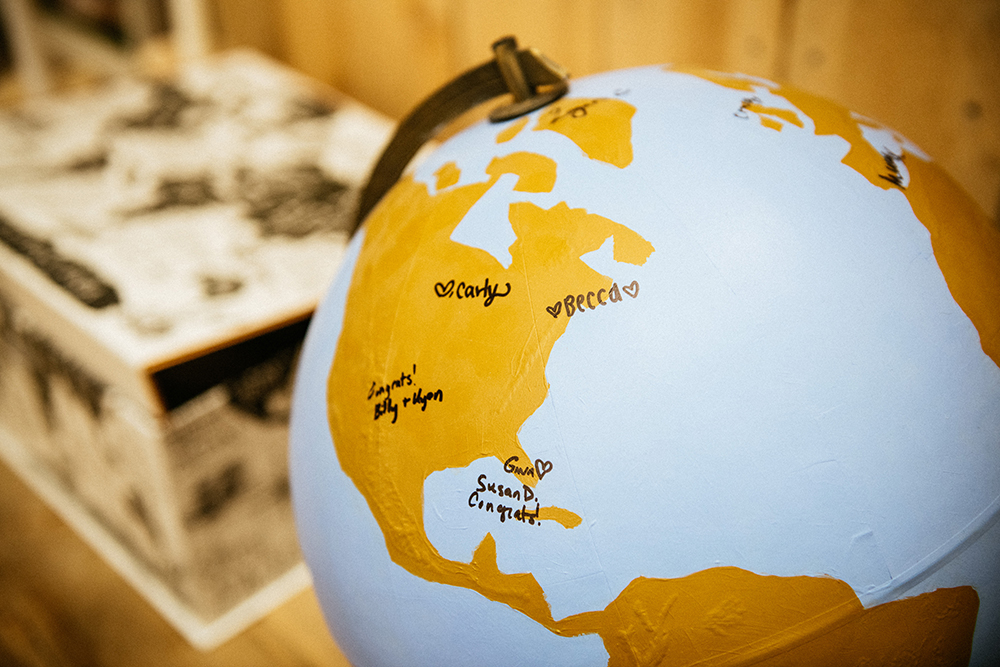 I hated dress shopping. I knew I didn't want anything sparkly but I also didn't want a plain dress. Finding a lace dress which wasn't covered in sparkly bits was very difficult.
My dress is from WED2B but it had some changes. It was perfect in every way except it was strapless.
I bought it the day I tried it on and took it to Alter Girls in Glasgow who added the off the shoulder straps which made it perfect for me.
The night before the wedding was great. We stayed in the venue with 12 of our closest friends.
At some point our American friends challenged people to jump in the loch and a brave few jumped in!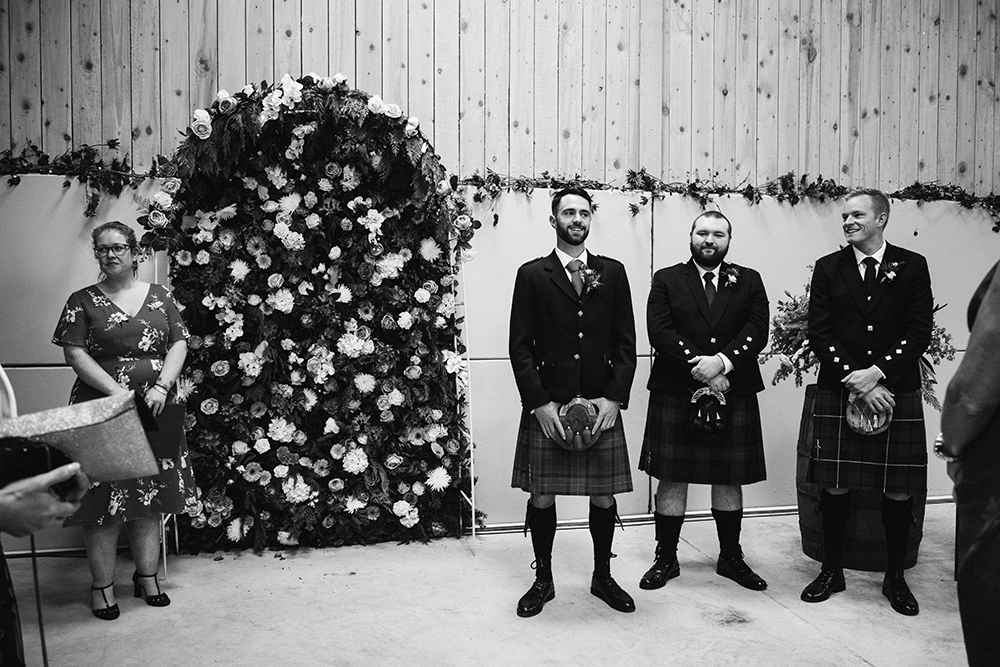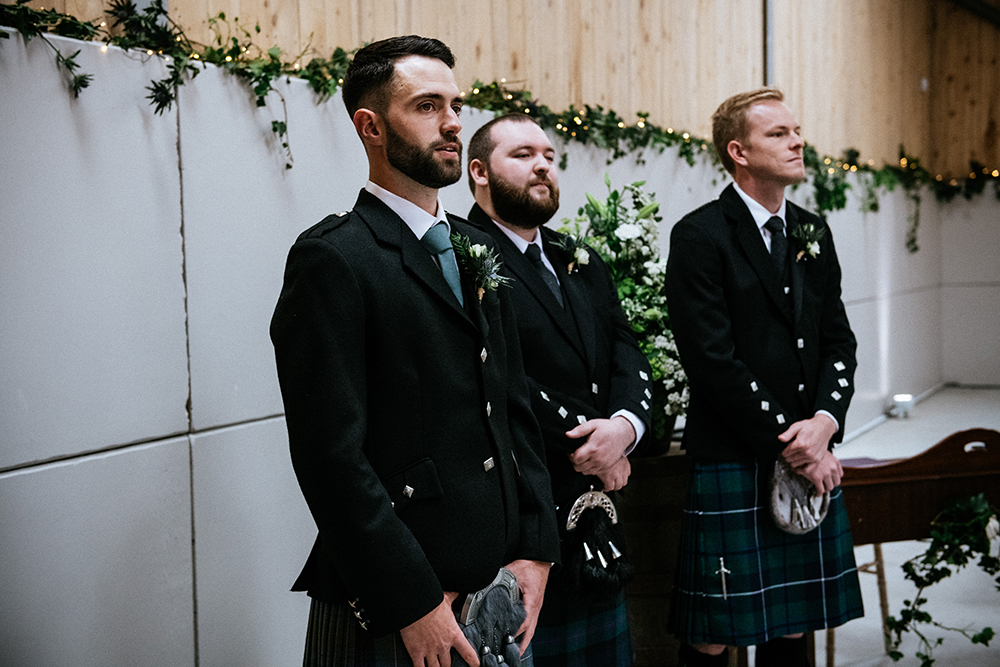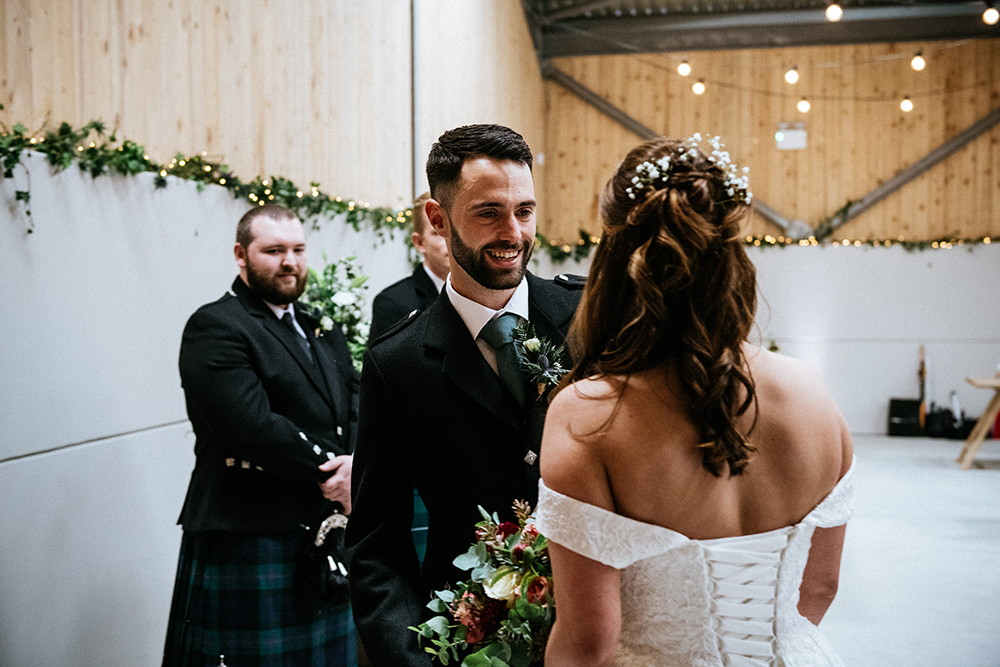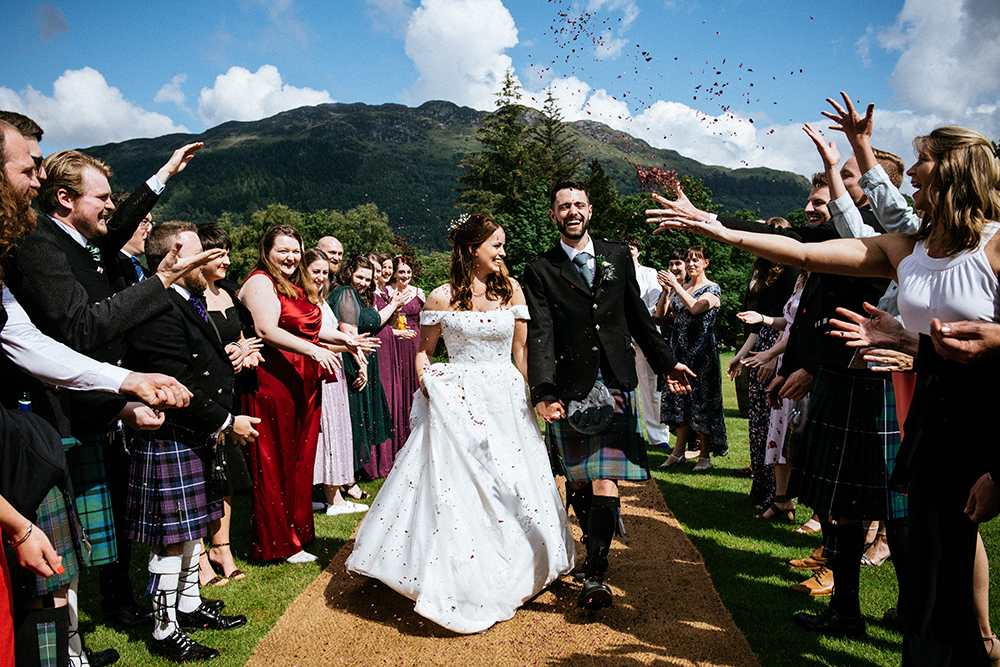 I was emotional walking down the aisle but I managed to focus on the music as a distraction.
Our humanist celebrant Susan wrote our vows but we approved them beforehand and loved them! We promised to laugh with each other, go on adventures with each other, be proud of each other, grow old together and find new reasons to love each other every day.
We felt that these reflected our morals and a modern relationship.
Afterwards, for our drinks reception we had Sangria cocktails, ice-creams and gin and tonic sorbet!
The weather was beautiful so people were mingling outside.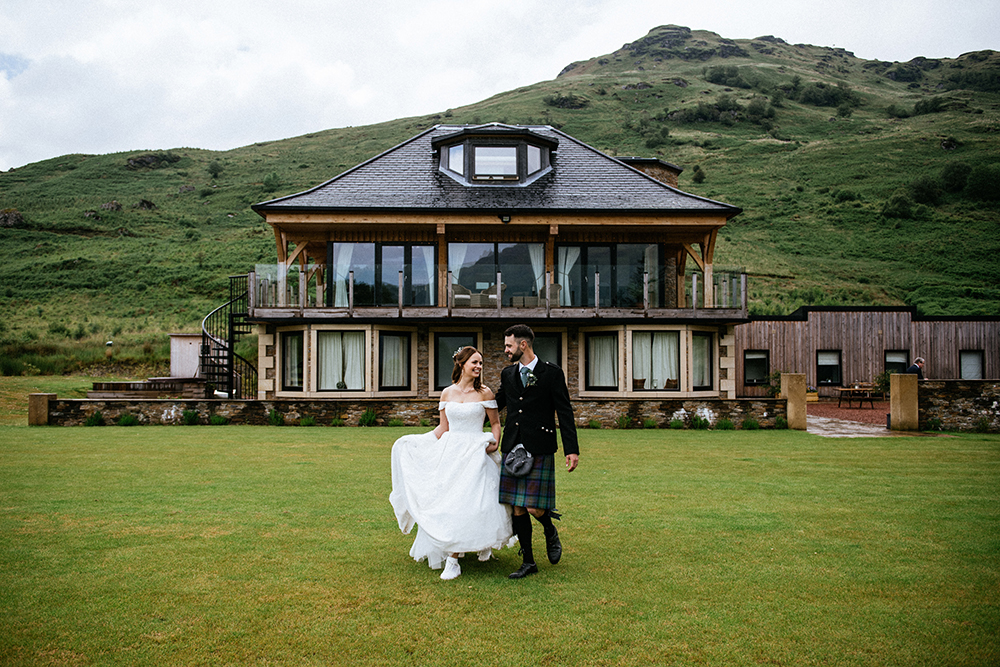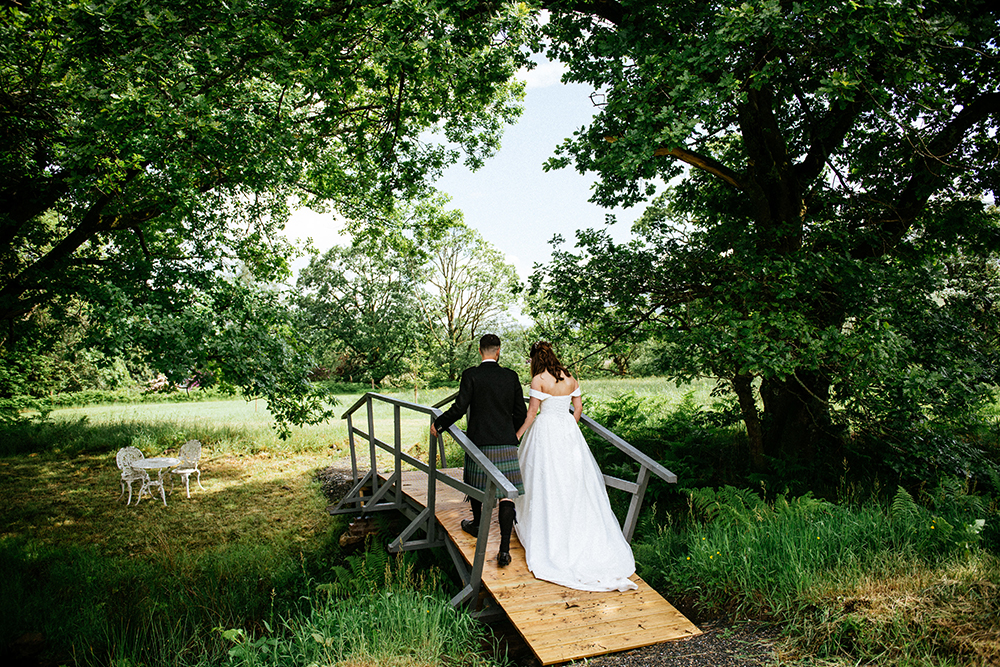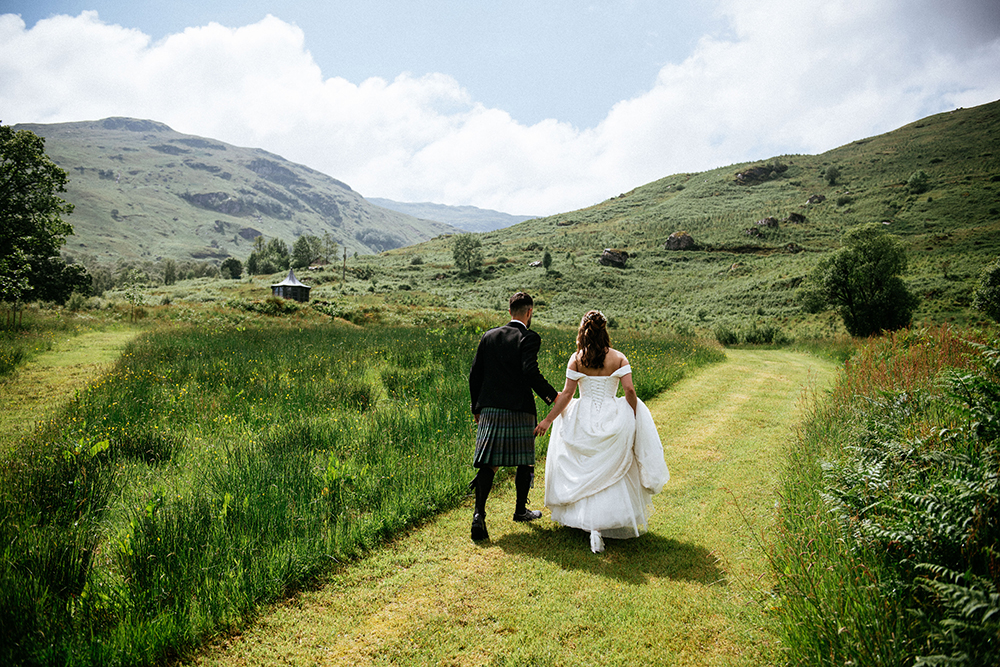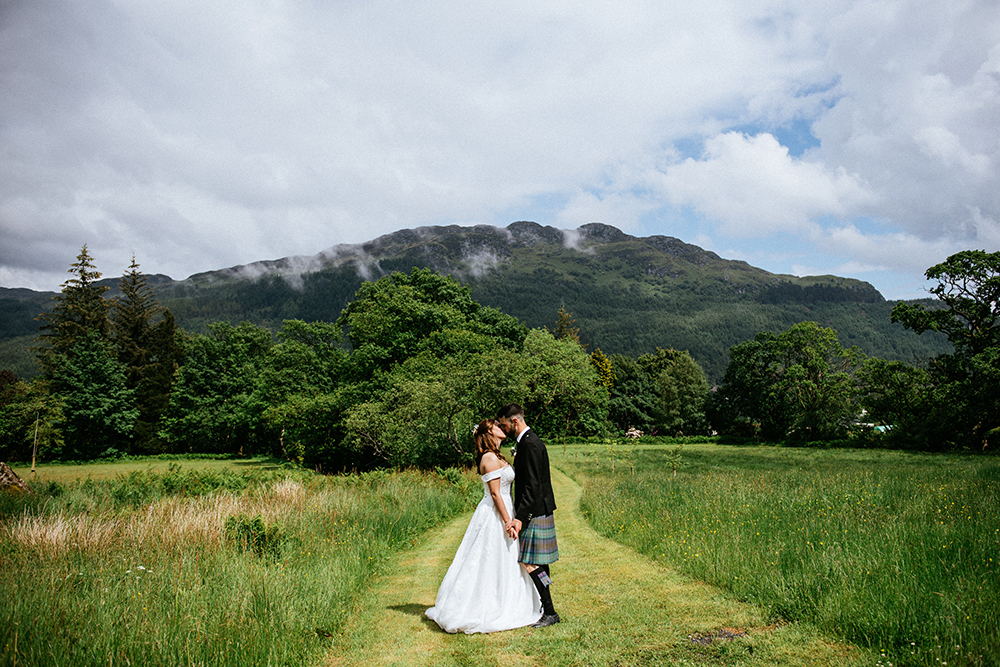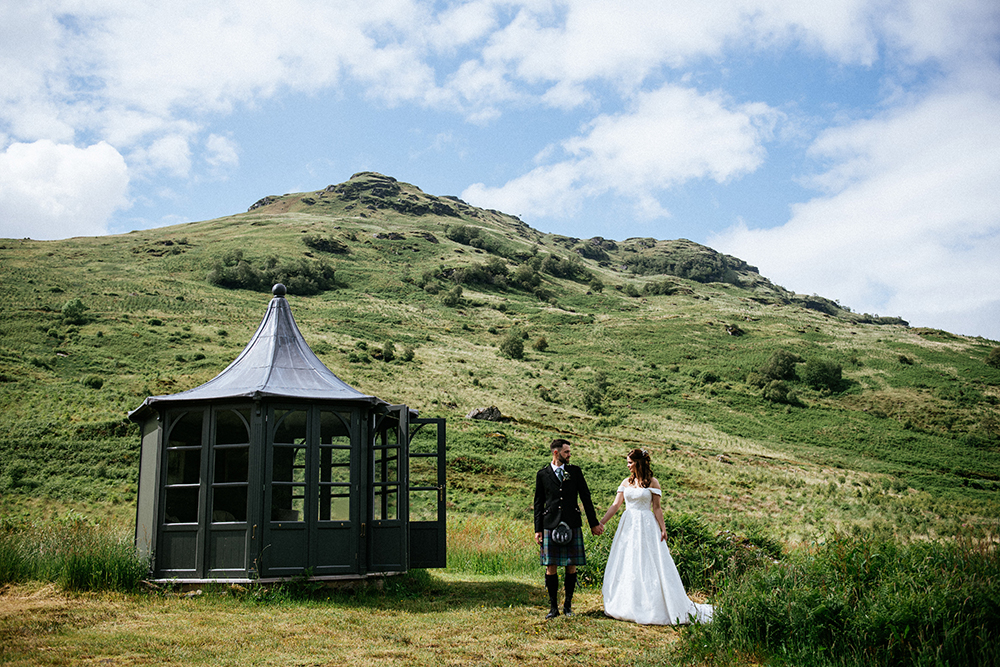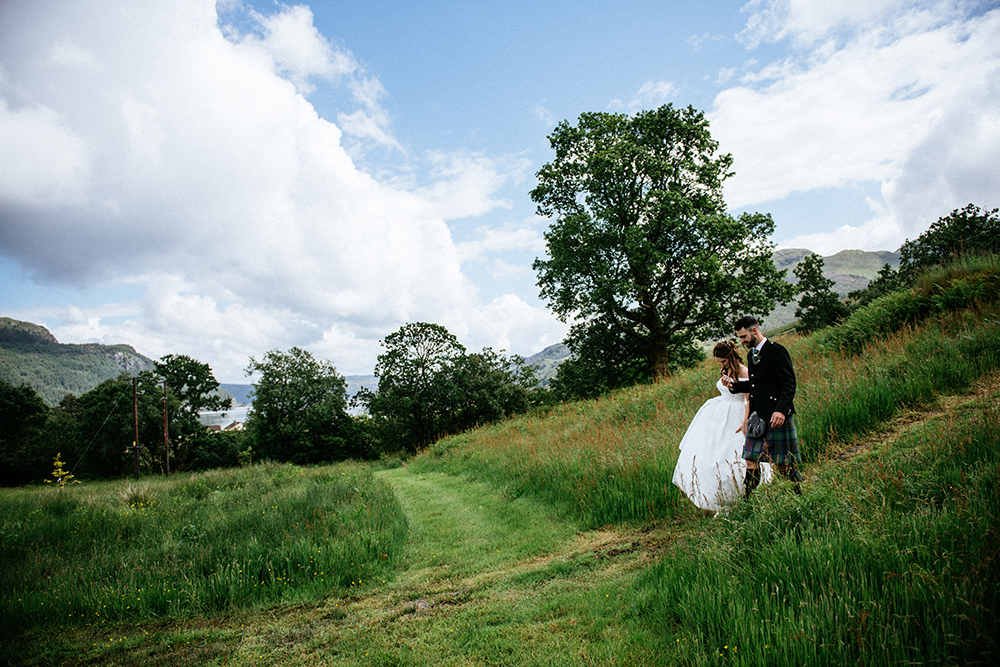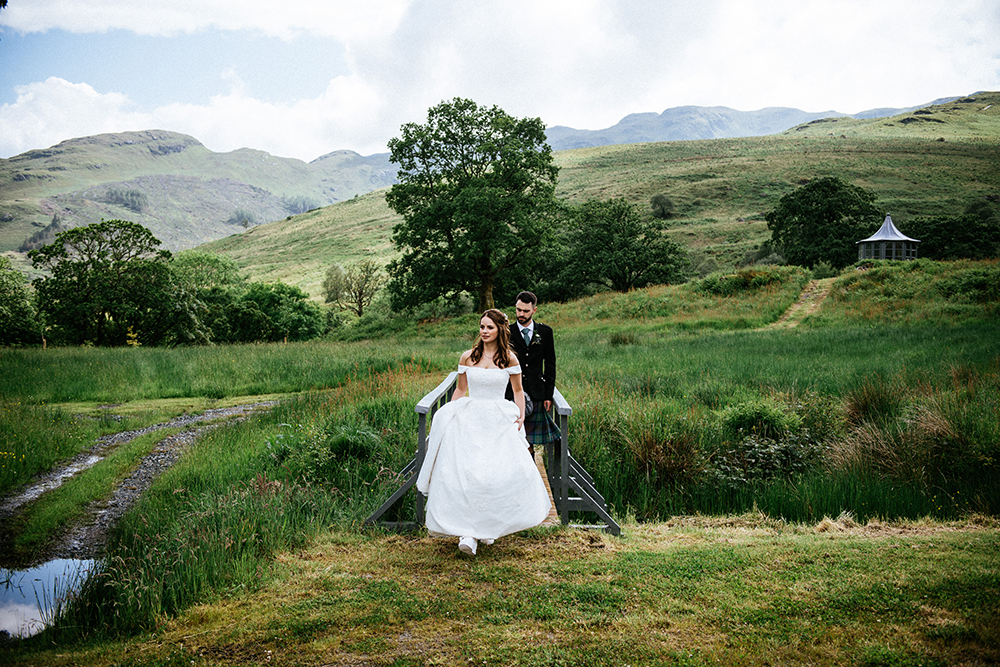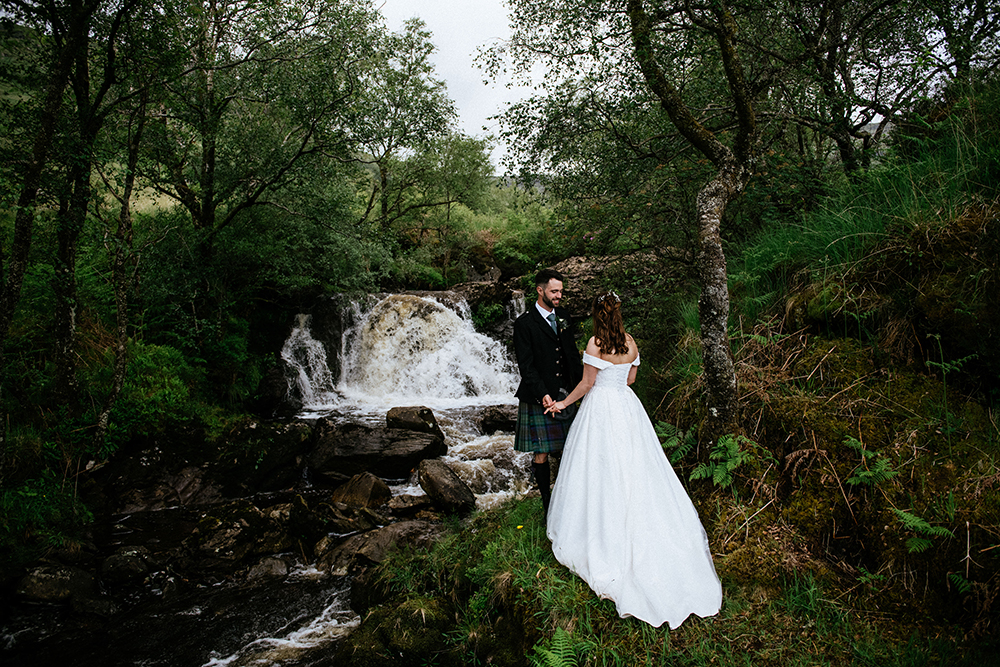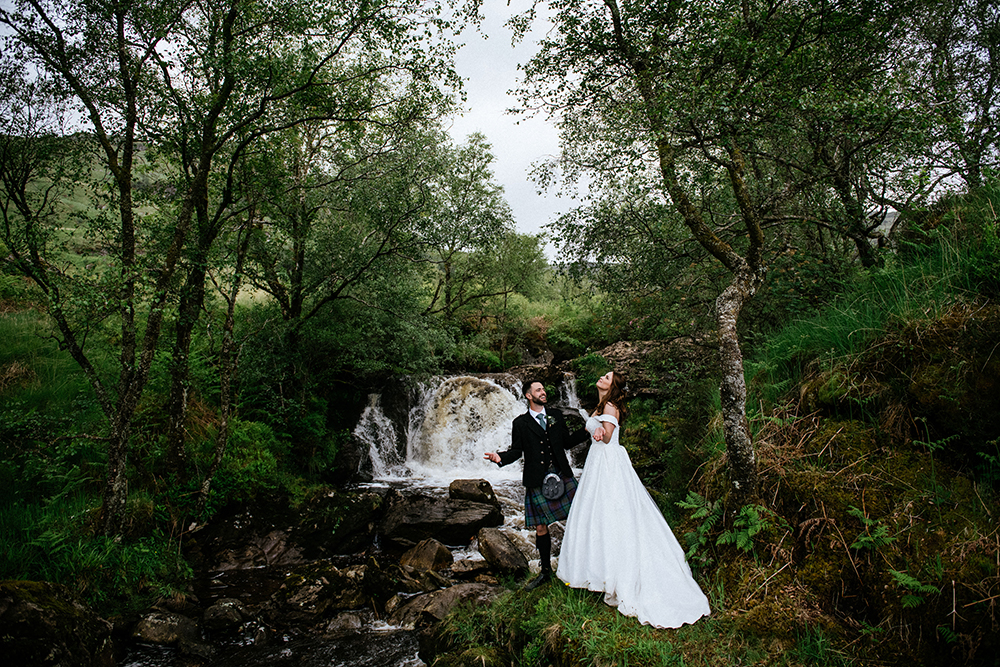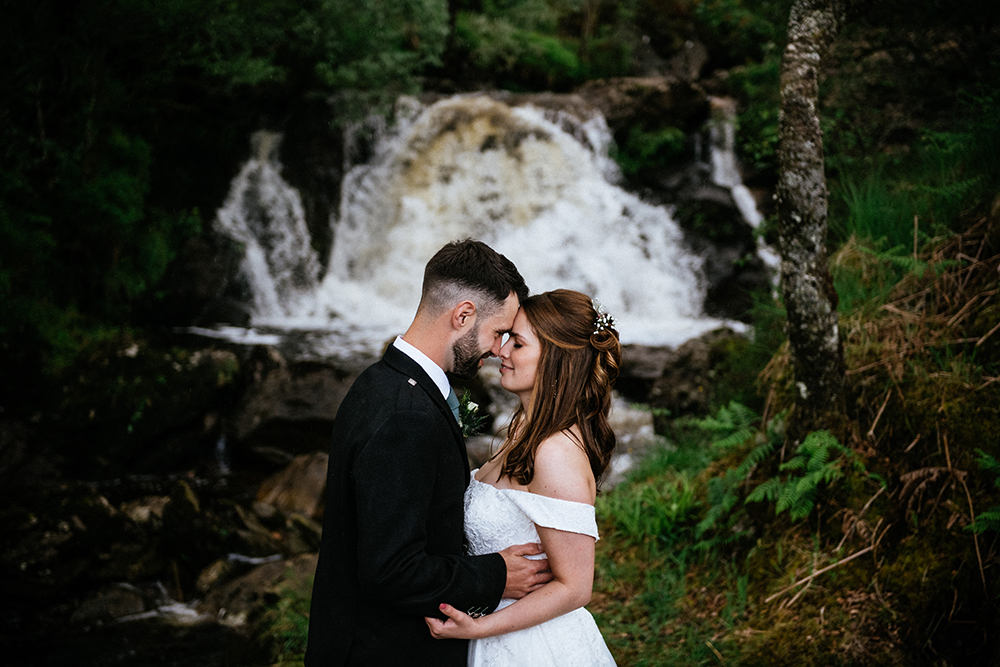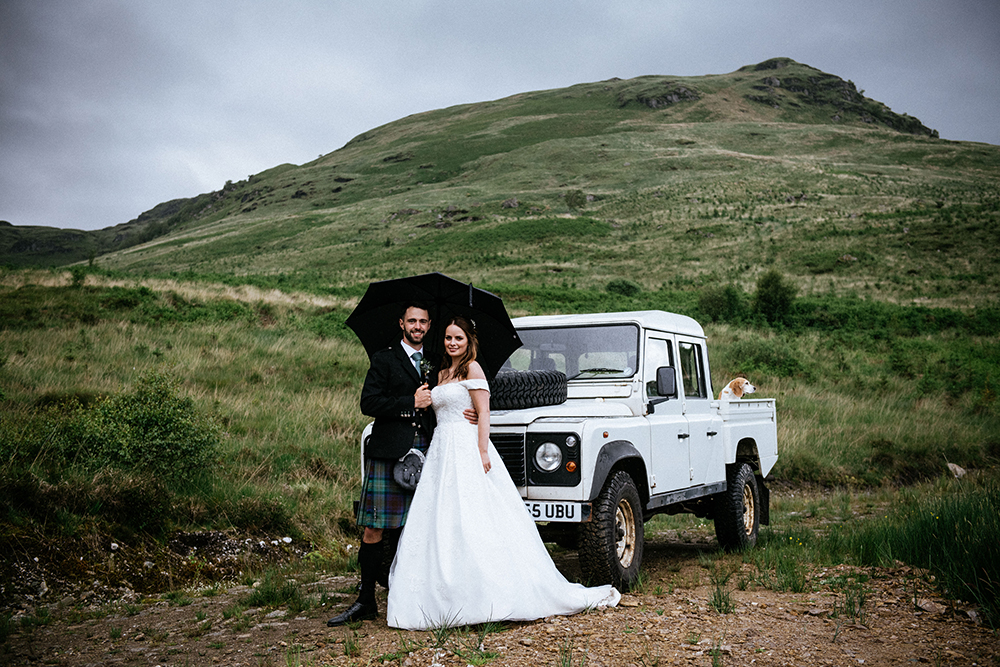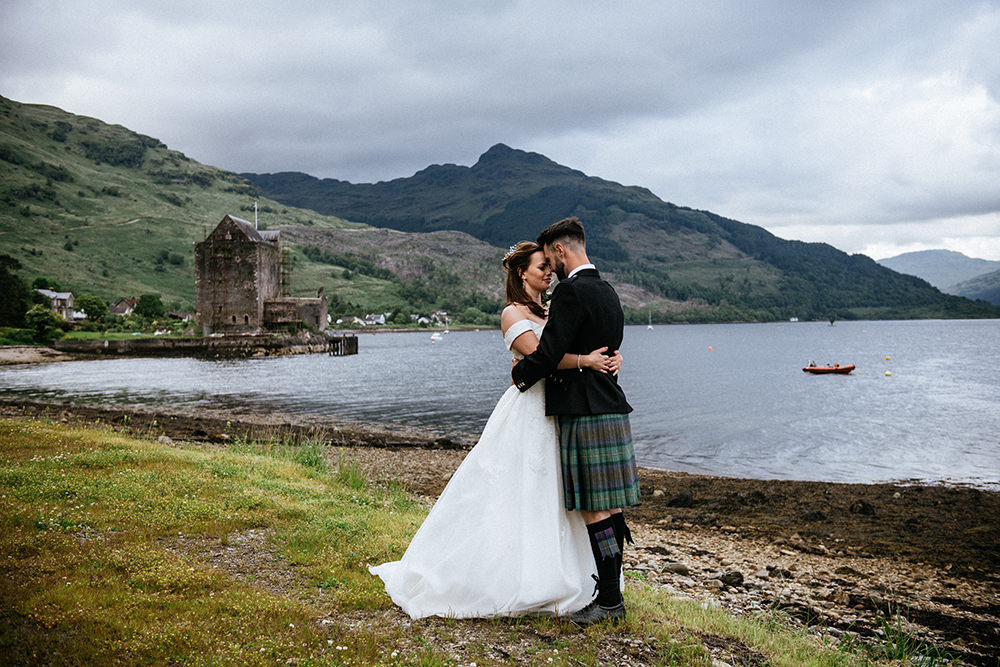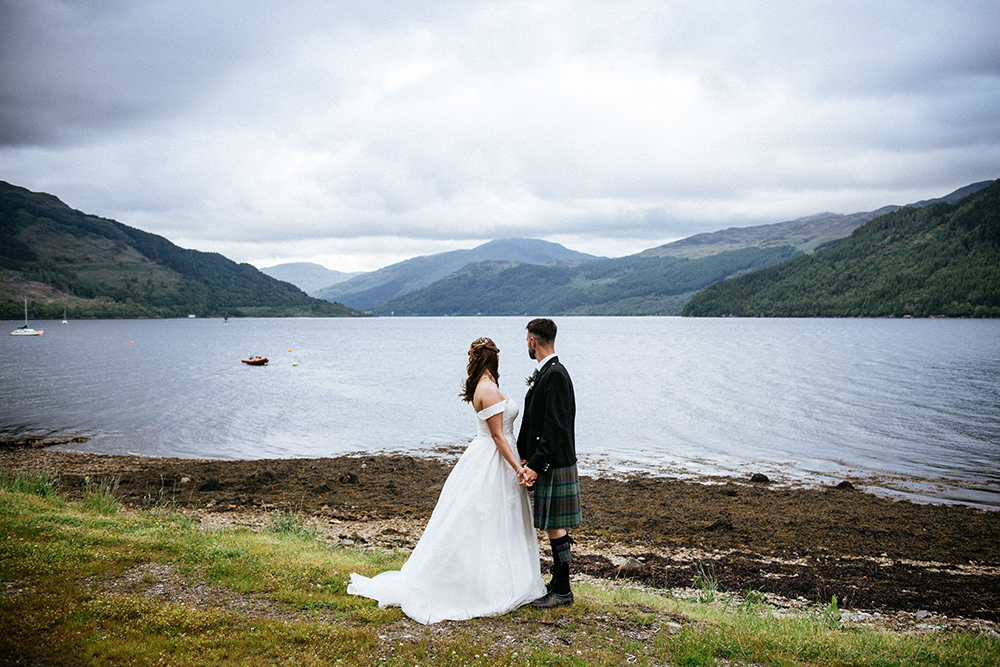 We wanted food that was fun, tasty and less formal than a traditional sit down meal so Scozzese Wood Fired Pizza set up their oven outside the bar and brought in breads, salads and lots of pizzas for everyone to help themselves to.
We had been to too many weddings where the cake gets cut but not eaten so we had a cake table for dessert with blondies, brownies, cupcakes, coconut lime cake, orange and poppy seed cake and the main wedding cake was a chocolate cake with buttercream icing.
In the evening we had a great time! Dancing in the barn with the doors open felt like we were outside and outside the barn doors we had set up seating with firepits which created an amazing atmosphere.
The ceilidh dancing was my highlight. There wasn't a single person in their chair and everyone was having the best time!
Then, after some dancing our local butcher arrived and put on a barbecue with hot dogs, burgers and steaks.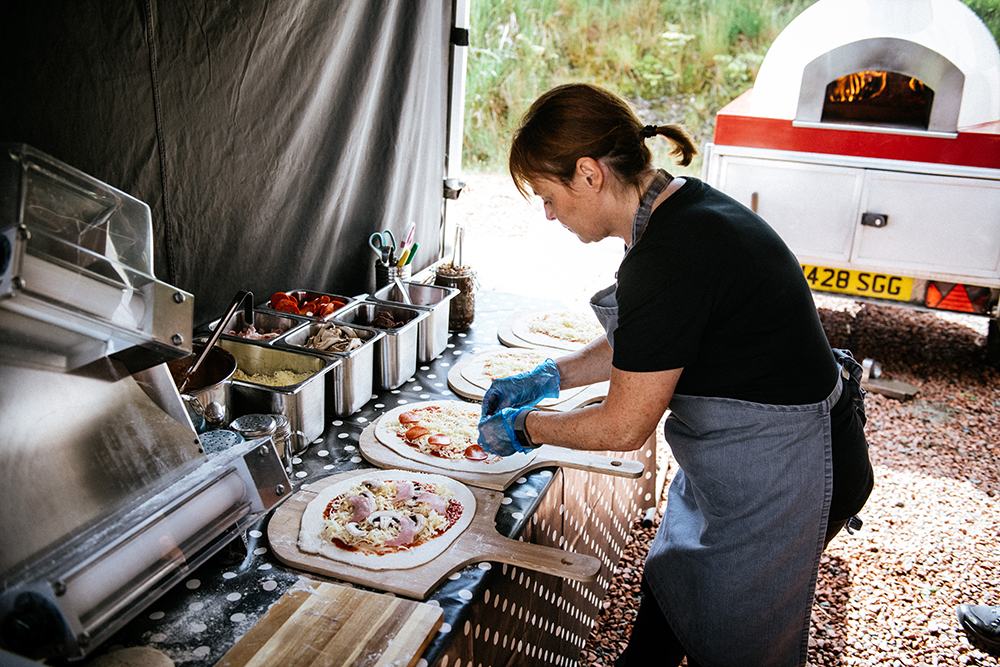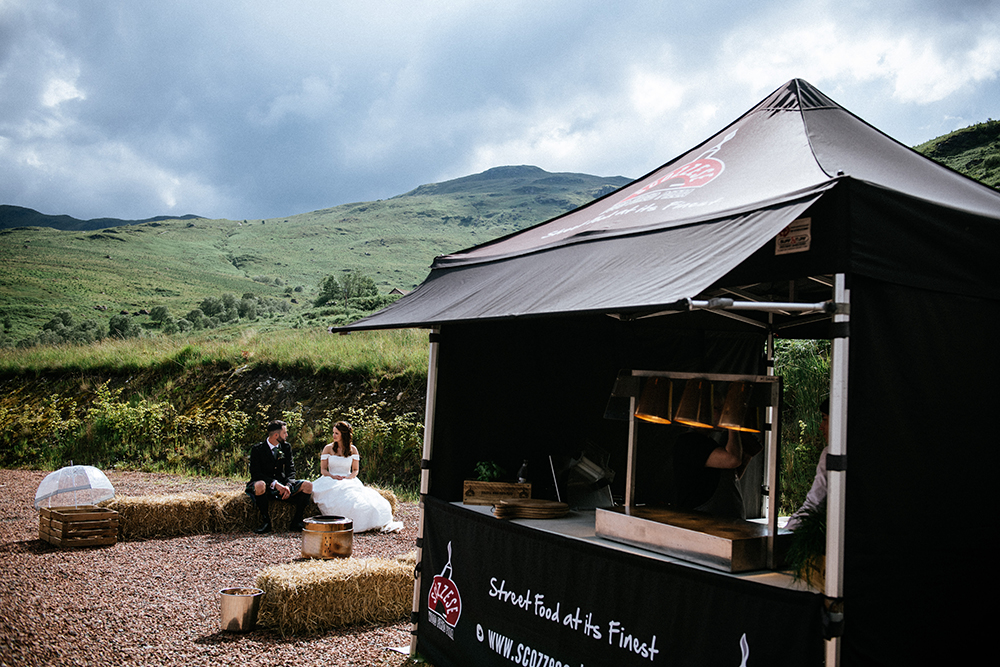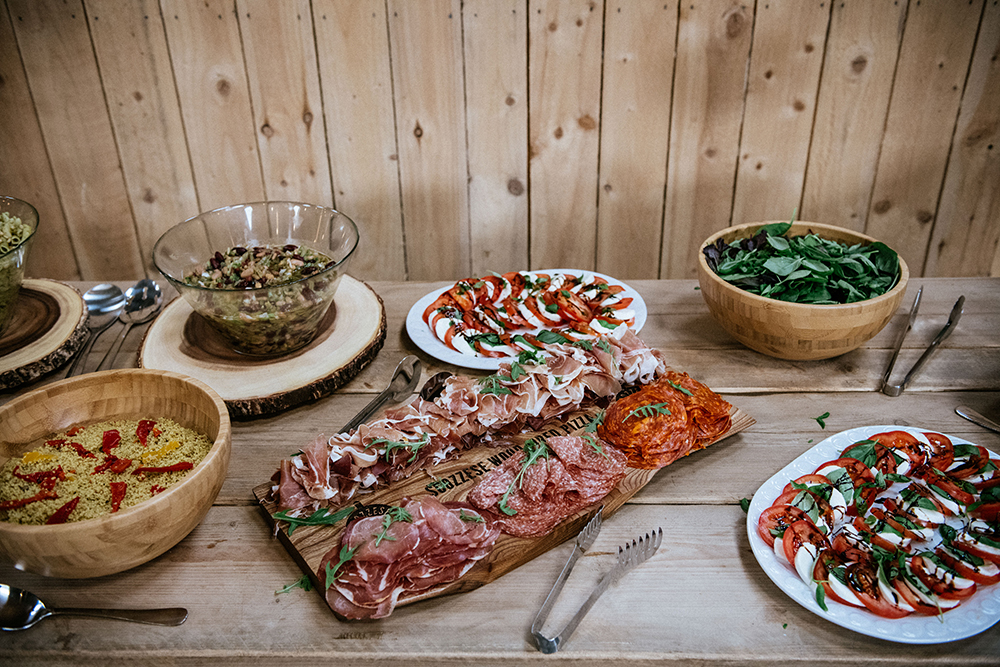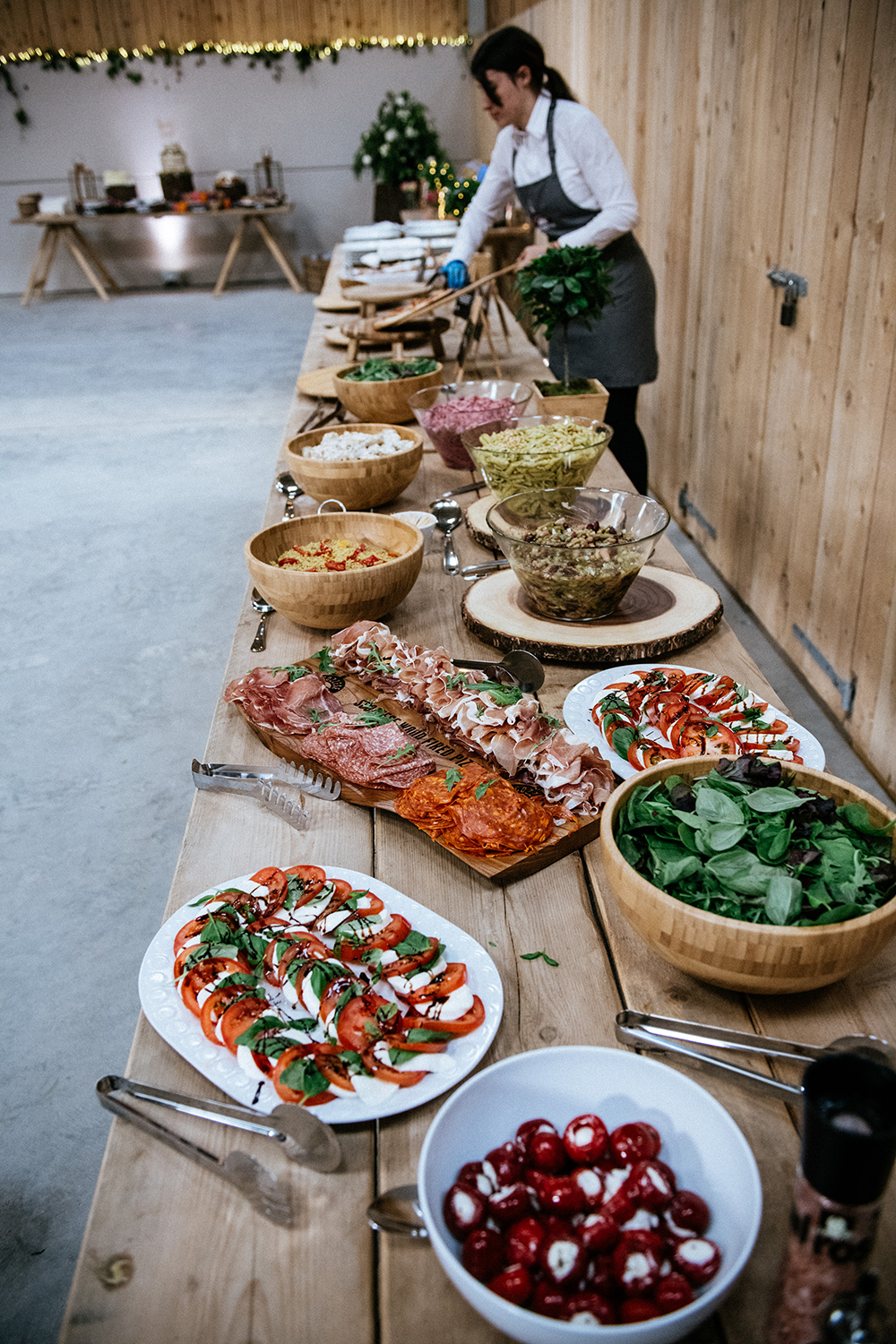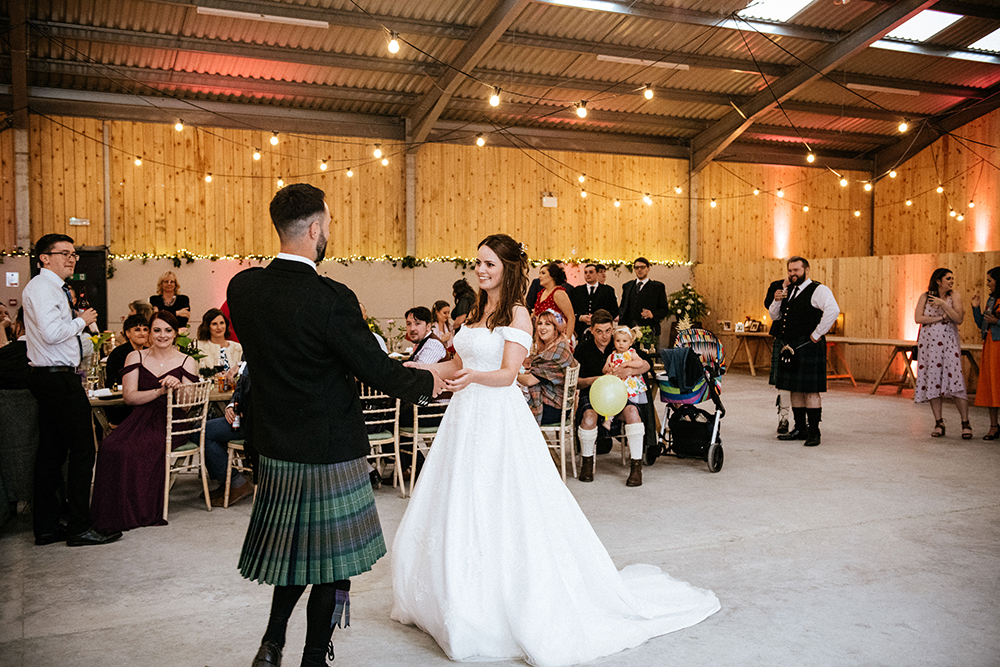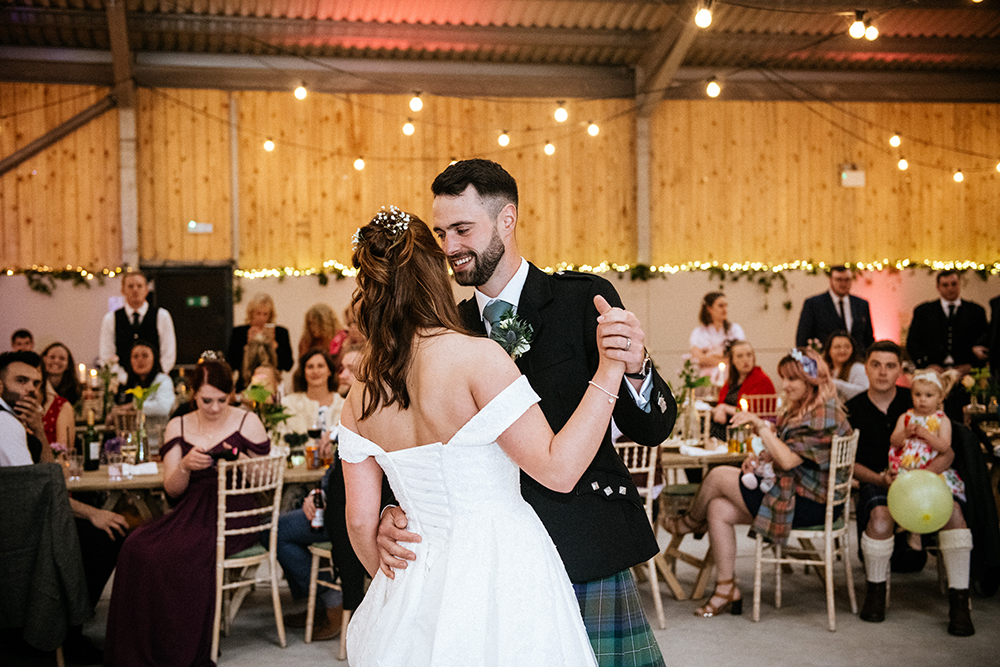 My advice to other couples would be to look back on the weddings you have been to and write down what you remember and what you don't.
There's no point stressing over napkin colours if you can't remember the napkin colour from any wedding you've ever been to!"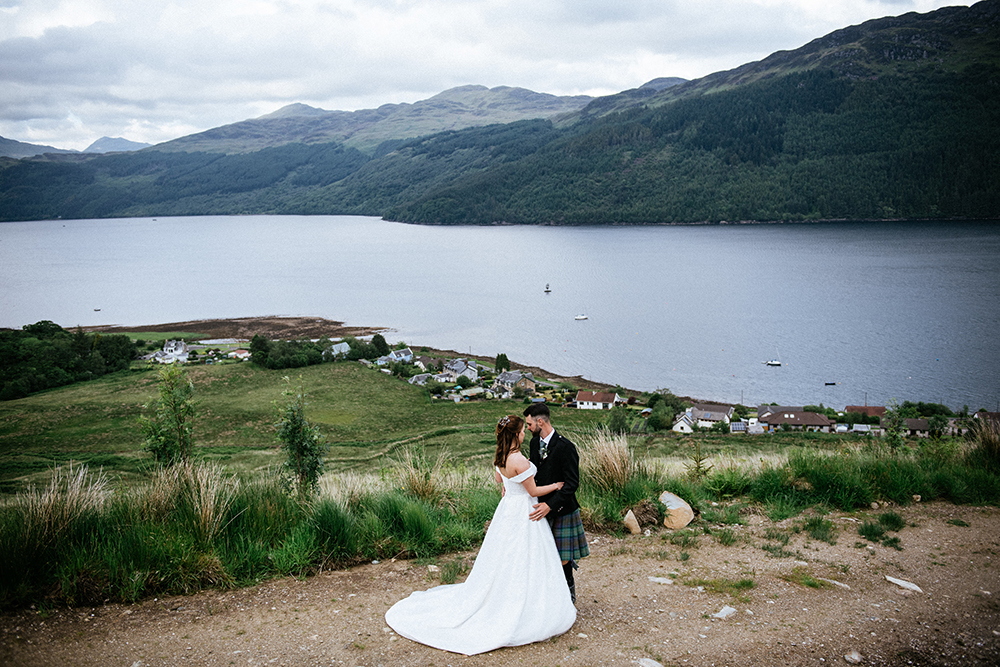 Venue: The Lodge at Carrick Castle Estate | Photography: Catching the Moments Photography
Bride's wedding ring: Laings | Groom's wedding ring: Pristine on Etsy
Flower and decor: Fiona Eason Floral Design | Bride's jewellery: Swarovski
Bride and bridesmaids' dresses: WED2B | Dress alterations: Alter Girls
Groom's accessories: House of Henderson | Cake: Ann Crafted | Favours: Home Bargains
Hair: Hair by Amy Dunoon | Celebrant: Susan Cassidy | Ice-cream: Trike-it-Lucky
Catering: Scozzese Wood Fired Pizza | Butcher: Michael R Moore Butchers
Band: The Hustle