A Soft and Romantic Vintage Inspired Wedding in Edinburgh
Nine years after meeting, Denise and James tied the knot in a classic ceremony with touches of vintage in autumn this year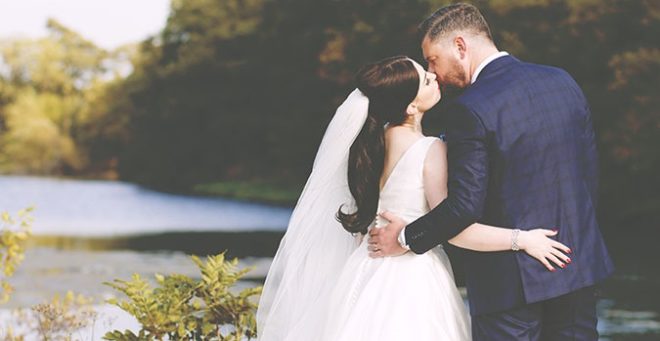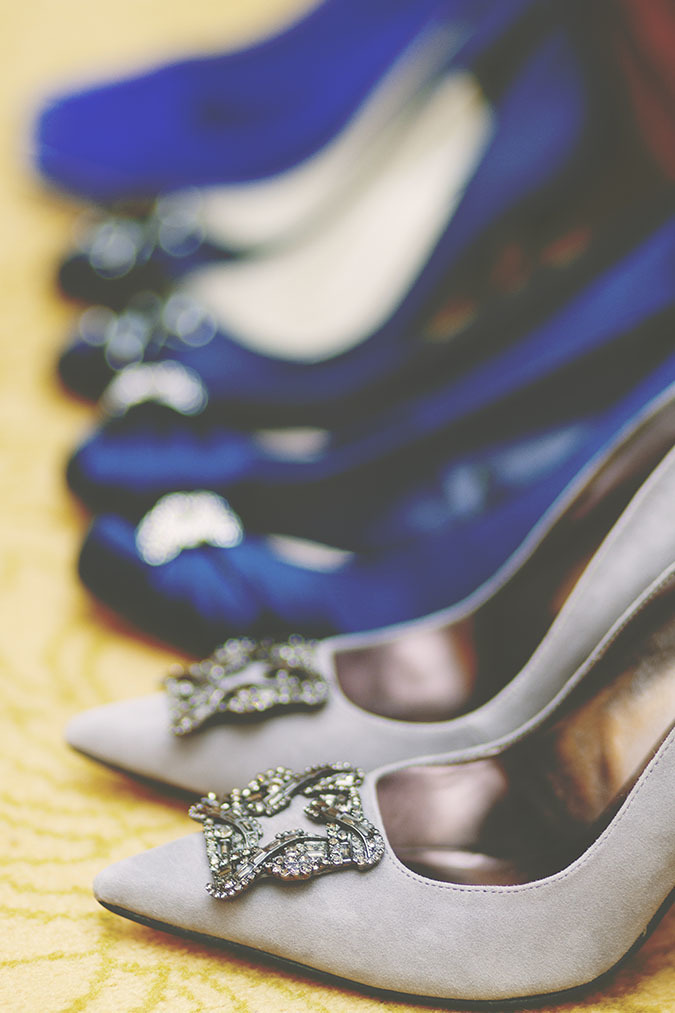 Denise Olsson and James Blyth
Friday 2nd October 2015
Dalmahoy Marriott Hotel and Country Club, Edinburgh 
Photography: Leopardface Photography 
Denise and James chose the Dalmahoy Hotel and Country club, a gorgeous 17th century baronial mansion near Edinburgh, to host their wedding celebrations. The picturesque setting, secluded countryside feel and promise of outstanding service swayed this couple, who have special connections with their chosen venue.
"I used to work at the Dalmahoy as an event manager so I know the team there very well, and I knew that I could be fully confident in the service that would be provided on the day which was very important to us", explains Denise.
The couple didn't start off with a theme, however as the couple planned their day, a vintage twist on the traditional soon became a favourite style, set off perfectly by Denise's amazing wedding dress, designed by Justin Alexander and purchased at Pretty Woman in Edinburgh.
"I wanted a dress that I felt would be timeless and the only thing I knew I wanted was a high neckline," Denise tells us. "The style of the dress I went for reminded me of Audrey Hepburn so I knew it would stand the test of time!" To complement her dress, Denise decided to wear jewellery by Stella & Dot, a jewellery brand which she's a stylist for. "I knew straight away that I had to have the earrings and bracelet from their Casablanca range," she explains. "I love the fact that you can't pick this jewellery brand up on the high street; it just makes it feel that bit more exclusive and special."
James and Denise explain that one of their joint highlights of their day was the speeches, especially those given by Denise's father and the best man.
"My Dad did such a good job, getting a few laughs in along the way. And James's best man stole the show on the comedy front and had everyone in tears of laughter; we could tell that he put in such a lot of effort," laughs Denise.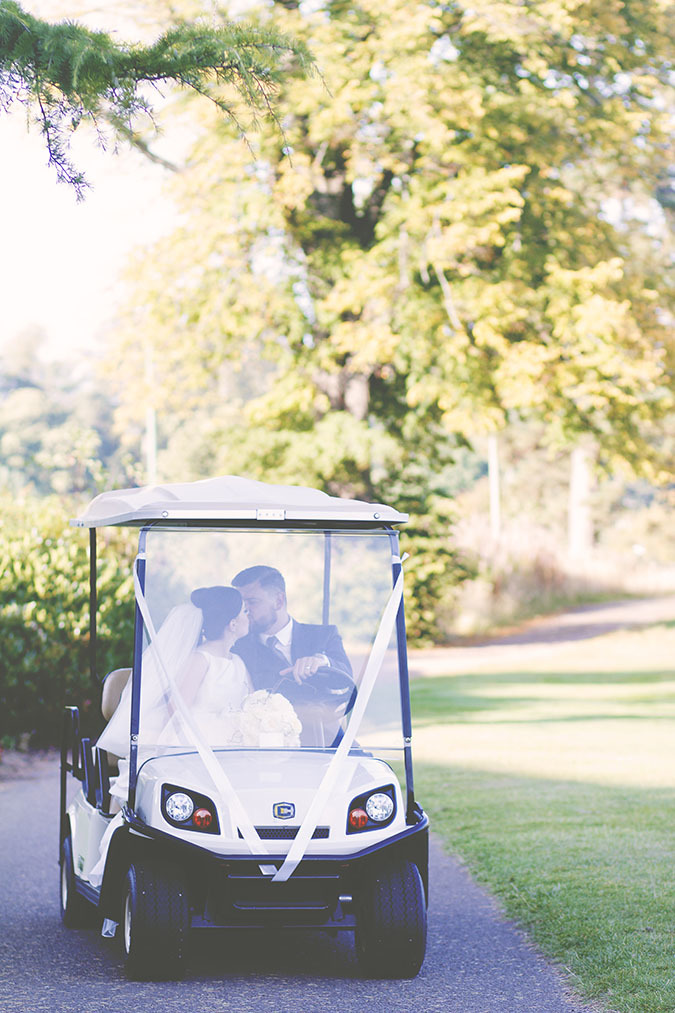 The couple chose Vintage Sound Scotland to entertain their guests through a specially designed gramophone. It created the perfect atmosphere for pre-wedding breakfast drinks and canapes. The evening entertainment was provided by DJ Stephen J Elliot." Stephen really got to know us as a couple, so that meant the music on the night was so completely up our street," recalls Denise. "The service he provided was fantastic and we loved that his set was simple but a real crowd pleaser!"
As far as wedding planning goes, Denise admits that she didn't really have any of the usual moments of stress; her day job set her in good stead to deal with any pre-wedding or on the day dilemmas! "I feel like I'm a fraud because I do it as my day job so I personally didn't find the planning challenging at all, as I've done it many times" says Denise. However she explains that the couple did find one area of their big day planning particularly complex.
"We did find the guest list difficult as we really wanted an intimate affair but we both have a big circle of family and friends which made it very challenging!"
So, nine years after meeting (they met as James was a car salesman and Denise was looking for a new car!) the couple are settled into married life together. "It's just a lovely feeling knowing that you can now call the love of your life husband," she says, "however to be honest, it doesn't feel massively different to our relationship before. I think that means it feels natural to us, which can only be a good thing!"
ABOUT LEOPARDFACE PHOTOGRAPHY
Shell Wight of Leopardface Photography is fairly new to the world of weddings and works from her base in Edinburgh. Shell loves to work outdoors and capture nature and natural light, giving her portraits a soft, wistfully romantic feel.
You can contact Leopardface Photography by CLICKING HERE.

Venue: Dalmahoy Marriott Hotel and Country Club, Edinburgh
Photographer: Shell Wight of Leopardface Photography. "Shell is a friend of my cousin and we just really liked her work. I love that she is naturally creative and that she brings that creativity to her work."
Dress: Justin Alexander at Pretty Woman, Edinburgh. "I can't recommend Pretty Woman enough, all of the girls were lovely and nothing was too much trouble."
Accessories: Cathedral length veil from Pretty Woman
Jewellery: Stella & Dot 
Cake: Jenny's Cakes. "Jenny and Tom were so lovely and friendly. They were also very excited about our grey coloured wedding cake which made it fun for us."
Florist: Rogue Flowers. "I always remember a gorgeous bouquet of flowers James gave me from this florist so it was the first place I thought of when deciding on my wedding flowers."
Stationer: Denise created her own invites, orders of service and menus. "I used pocketfoldinvites.co.uk and Hobbycraft for my supplies."
Transport: Little's Wedding Cars. "My grandad is a chauffeur for this company so I knew I'd get great service and gorgeous cars too."
Entertainment: Vintage Sound Scotland and Stephen J Elliot
Make-up: Nicci Weston Makeup. "If you want flawless for your wedding, Nicci is your girl! We felt that a bold red lip would work well with my complexion and dress."
Hair: Rachel Duncan Hair. "I wanted something simple that didn't take away from the dress so I went for chic looking ponytail, loved it!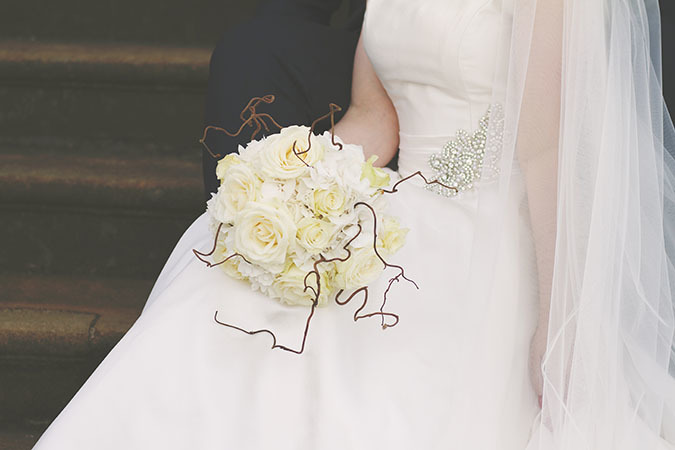 SWD LOVES… the gorgeous bouquet by Rogue Flowers. Denise says, "We opted for twisted willow and hazel for our centrepieces as we wanted something a bit different for our autumnal wedding and Alice came up with the idea of incorporating twisted hazel into my bouquet which I loved."
Check out our ONLINE DIRECTORY for wedding suppliers near you and across Scotland